Mercy Ships - MV Good Samaritan, then Africa Mercy & Mercy Ships INDEX
Please Note: Firefox, iPhones, & some other Search Engines may not be suitable
Use Google Chrome for this Web Page to load perfectly!

Click the logo above to reach the ssMaritime FrontPage for Ships of the Month & News Updates
With Reuben Goossens
Maritime Historian, Cruise'n'Ship Reviewer, Author & Lecturer
Please Note: All ssmaritime as well as my other related maritime & cruise sites are 100% non-commercial and privately owned sites. Be assured that I am NOT associated with any shipping or cruise companies or agencies or any other organisations! The author has been in the passenger shipping industry since May 1960, but although retired and unwell, I occasionally attempt to write an article now and then, in order to bring enjoyment and pleasure to ship enthusiasts past passengers and crew.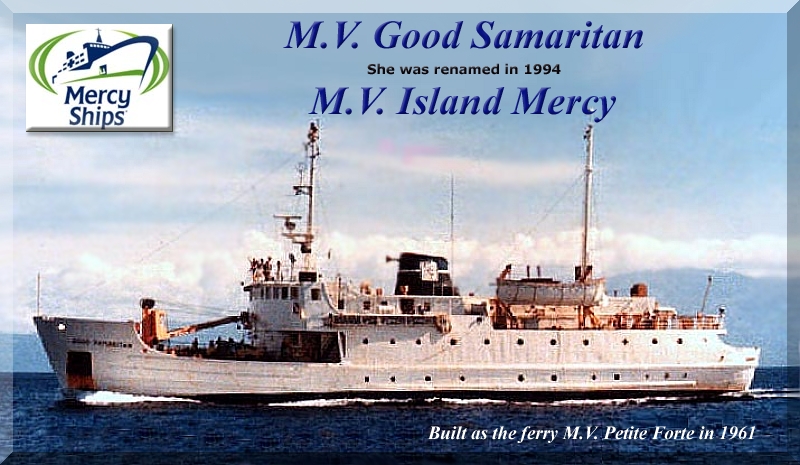 Part One
Introduction
:
The truth is that I have had a long personal interest with MERCY SHIPS an amazing 100% volunteer medical organisation that travels the world by ship and provides free medicine and surgeries wherever it is needed. This wonderful mission commenced in 1978 with their first ship and continued with a number of fine classic style ships, one of these being another fine and well-known classic ship.
History - MV
Petite Forte:
This fine little ship was built in 1961 by Saint John Shipbuilding and Drydock Co. Ltd., at Saint John New Brunswick, Canada for Canadian National as a cargo/passenger ferry named the MV Petite Forte. She served between Newfoundland and Labrador.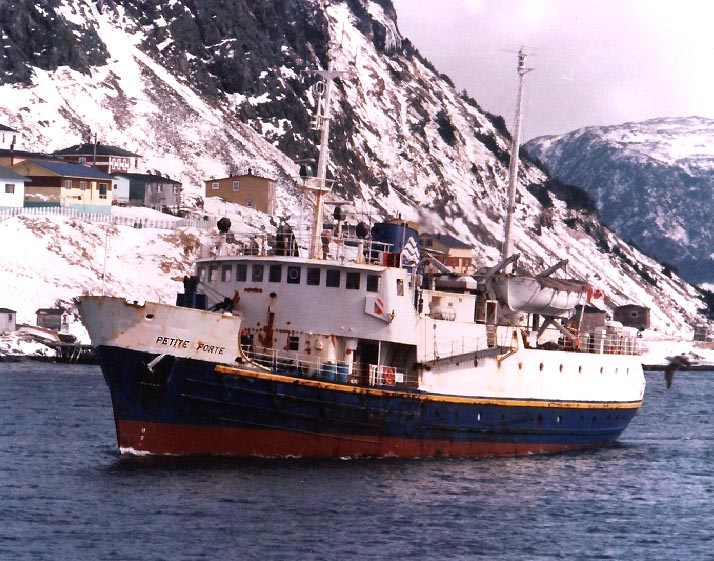 The MV Petite Forte in icy cold conditions
MV Petite Forte - Specifications:
Built in:                              1961.
Built by:                             Saint John Shipbuilding.
Sister Ships:                       MV Tavener & Hopedale.
Registry:                             St. John's, Newfoundland.
Power:                                2 Crossley Diesels (1,100 BHP each).
Tonnage:                            1,135 GRT.
Length:                               57.30m - 188ft.
Beam:                                11.58m - 38ft.
Drought:                             3.96m - 13ft.
Passengers:                         98.
MV Petite Forte operated efficiently for 22 years, however as the times were changing and she became obsolete, it was decided to do something very special and this delightful 1,135-ton ferry was donated to MERCY SHIPS in 1983.
Part Two
MERCY SHIPS sent her to a shipyard where she underwent an extensive but a rapid renovation turning her into an operational floating Medical Centre will all the facilities, this meant building of theatres, wards, and waiting rooms for patients. In addition the ship would have a permanent medical and other staff and crew of 60, but she was able to accommodate up to 80 persons.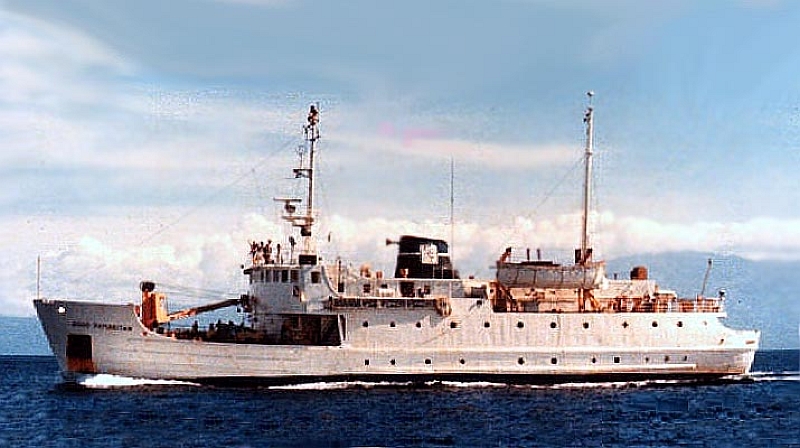 The MV Good Samaritan heading for her next destination where she is needed!
As soon as she was completed she worked for a good 11 years for MERCY SHIPS and "YWAM" being "Youth With A Mission" with her new name being MV Good Samaritan and she operated mostly around the Caribbean, but more in Central and South America where she served many communities well until 1994. Thereafter she was renamed the MV Island Mercy and was redeployed to the South Pacific where she served through to 2001.
Facilities & Features:
The Island Mercy focused mainly on eye and dental services. What made this fine small ship so special was that her shallow draft allowed her access toports where larger Mercy Ships could not enter.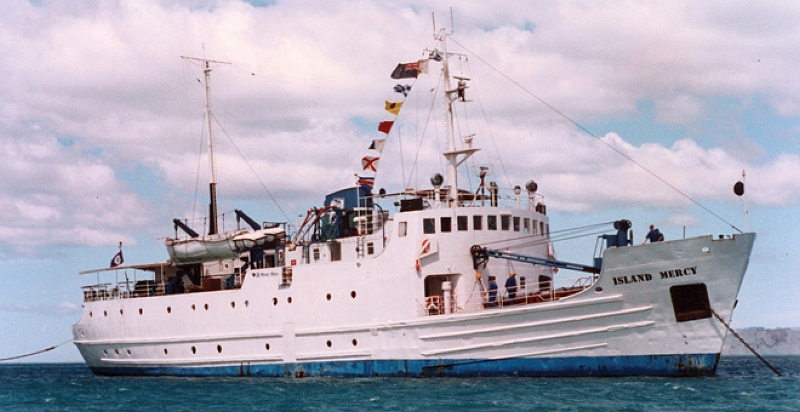 The MV Island Mercy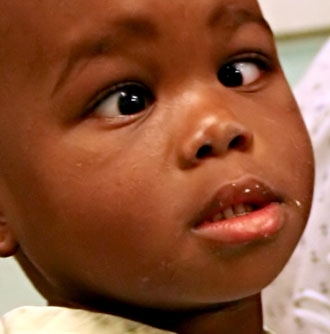 A very young eye patient awaits attention
The Island Mercy had specialised ophthalmic surgeons on board and then as MERCY SHIPS continue to do today, perform free, critical eye surgeries, providing patients with renewed eyesight and improved quality of life. The community based eye clinics provide basic eye care to treat acute problems and prevent blindness.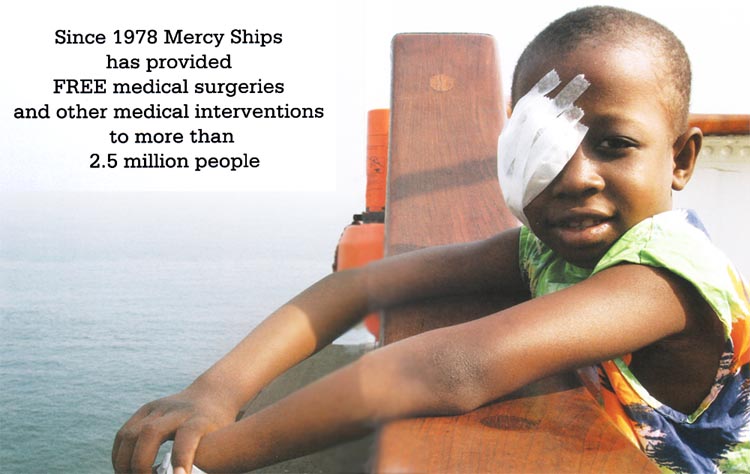 A young eye patient is seen recuperating on board the ship
In addition on the ship there were works to prevent and reduce the effects of a lack of oral health care by providing dental surgery and treatment and performing extractions and inserting fillings. MERCY SHIPS uses hospital ships complemented by mobile dental clinics to deliver dental hygiene education and ongoing training.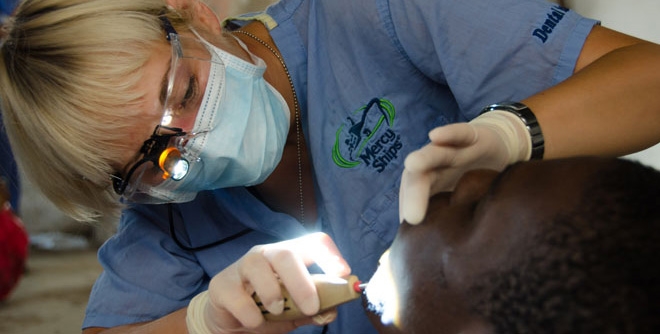 Dentists and Dental Surgeons were always very busy in every single port!
Services Delivered by the Ship:
Crew onboard the Island Mercy offered more than 145,000 services at a value of over $70 million and with 113,000 people as direct beneficiaries.
Performed more than 1,150 surgeries such as cataract removal, strabismus, dental and orthopaedic procedures.
Treated more than 12,750 people in village medical clinics.
Performed an amazing 29,370 dental treatments.
Trained local medical professionals in modern health-care techniques to carry on after the ship's departure.
Taught local health-care workers to train others in basic health care.
Delivered more than $359,000 of vitally needed medical equipment, hospital supplies and medicines.
Ports Visited:
During her 19 years, the MV Good Samaritan and the MV Island Mercy sailed to over 109 ports and conducted medical missions in 88 port visits to 24 developing nations from South America to the South Pacific.
Whilst she was the MV Good Samaritan, she carried cargo and personnel to the Pan-American games for the U.S.A. Olympic committee in 1991, and she became the first ship to legally sail from the United States to Cuba in 30 years. To her staff and crew this fine small ship was affectionately known as the "Little Giant."
In 2001 the MV Island Mercy was sold to Philippine interests where she is used as a training vessel by a navigation school based in Manila.
MV Island Mercy - Specifications:
IMO:                                  5276135
Call sign:                            DYFZ.
Built:                                  1961 Canada.
Registered:                         Panama.
Power:                                2 Crossley diesels (1,100 BHP each).
Tonnage:                            998 GRT.
Length:                               57.30m - 188ft.
Beam:                                11.58m - 38ft.
Drought:                             3.96m - 13ft.
Crew Capacity:                    80.
Cargo Capacity:                   59m3.
Surveyed by:                       Lloyds.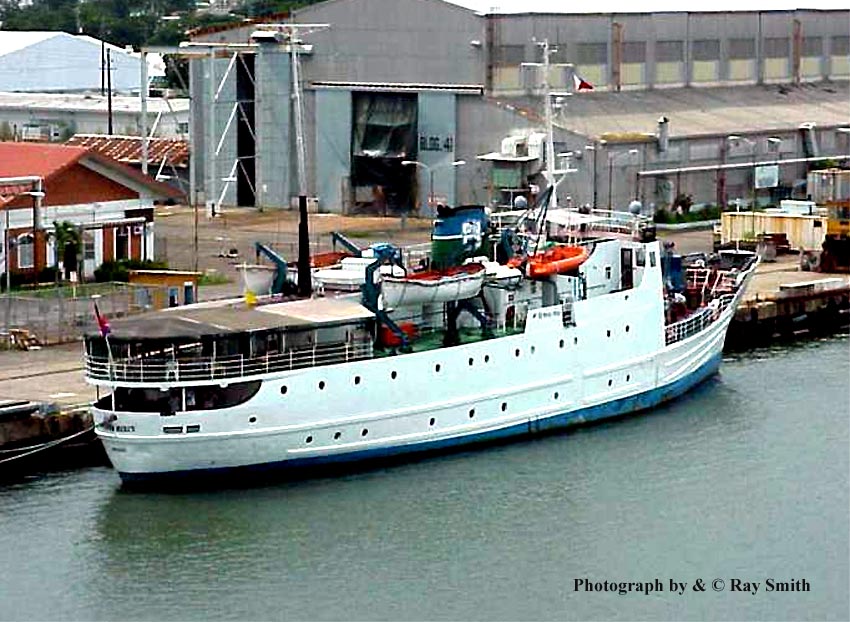 The "Little Giant" the MV Island Mercy is seen at Subic Bay on September 8, 1999
Thank you Ray Smith for an excellent photograph, which is ©!
As I Am a Supporter of MERCY SHIPS I will ask, will you Please HELP those who urgently need your help?

Do I need to say more?
The Current Ship is the Africa Mercy

Healing

countless thousands of those in need!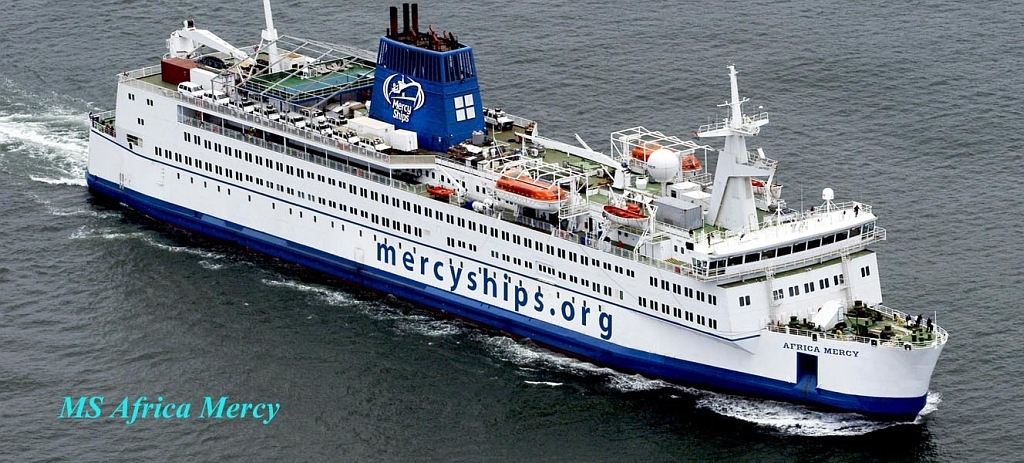 Thank you for supporting MERCY SHIPS and if you have not done so
as yet PLEASE click the button below or even a small amount helps!

Or visit Mercy Ships International: www.mercyships.org/international for your country

View a short "Surgery Ship" trailer 3.48 minutes

Enter:  https://youtu.be/I_5Rei4jFeA

"He who is kind to the poor lends to the LORD, and He (the LORD) will reward him for what he has done."

Proverbs 19:17

MERCY SHIPS INDEX:                                                

1… MV Anastasis:                                          ex MV Victoria.

2…

MV Island Mercy:                                     ex MV Good Samaritan & Petite Forte.

3…

MV Caribbean Mercy:                               ex MV Polarlys.

4…

MV Africa Mercy:                                      ex MV Dronning Ingrid (Operational).

*************************

"Blue Water Liners sailing to the distant shores.
I watched them come, I watched them go and I watched them die."

Return to the ssMaritime MAIN INDEX

ssMaritime.com & ssMaritime.net

Where you will discover over 1,270 Classic Liners & the 1914 built MV Doulos Story

The Author has been in Passenger Shipping & the Cruise Industry for some 60 years!

Also visit the …

"Save The Classic Liners Campaign"

Founded in the early 1990's - The author is the founder and president

Please Note: ssmaritime and associated sites are 100% non-commercial and the author seeks no funding or favours of any shape or form, never have and never will!

Photographs on ssmaritime and associate pages are by; the author or from the author's private collection. In addition there are some images that have been provided by Shipping Companies and private photographers or collectors. Credit is given to all contributors. However, there are some photographs provided to me without details regarding the photographer/owner concerned. I hereby invite if owners of these images would be so kind to make them-selves known to me (my email address may be found on www.ssmaritime.com only), in order that due credit may be given.

This notice covers all pages; although, and I have done my best to ensure that all photographs are duly credited and that this notice is displaced on each page, that is, when a page is updated!

ssMaritime is owned & © Copyright by Reuben Goossens - All Rights Reserved