MV Anastasis, ex Lloyd Triestino's MS Victoria & Mercy Ships INDEX
Please Note: Firefox, iPhones, & some other Search Engines may not be suitable
Use Google Chrome for this Web Page to load perfectly!

Click the logo above to reach the ssMaritime FrontPage for Ships of the Month & News Updates
With Reuben Goossens
Maritime Historian, Cruise'n'Ship Reviewer, Author & Lecturer
Please Note: All ssmaritime as well as my other related maritime & cruise sites are 100% non-commercial and privately owned sites. Be assured that I am NOT associated with any shipping or cruise companies or agencies or any other organisations! The author has been in the passenger shipping industry since May 1960, but although retired and unwell, I occasionally attempt to write an article now and then, in order to bring enjoyment and pleasure to ship enthusiasts past passengers and crew.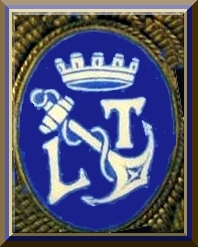 Lloyd Triestino
PART ONE
MS Victoria
Victoria was sold to MERCY SHIPS & renamed MS Anastasis
And her Lloyd Triestino Sister Ship - the MS Asia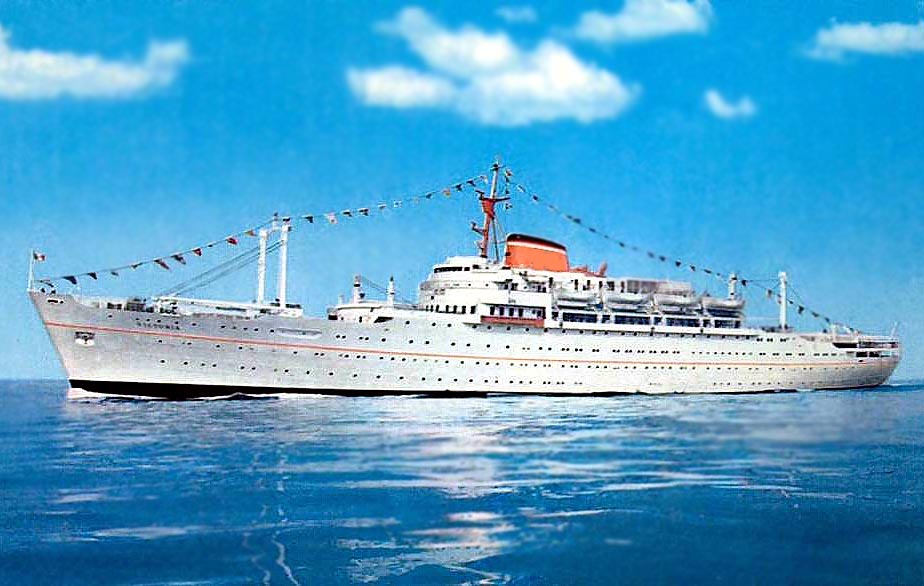 A postcard of the popular and a sleek Passenger-Cargo Liner the MS Victoria
Please Note: Photographs, images & postcards are from the Author's private collection unless otherwise stated!
Part One
Introduction
:
The truth is that I have had a long personal interest with MERCY SHIPS an amazing 100% volunteer medical organisation that travels the world by ship and provides free medicine and surgeries wherever it is needed. This wonderful mission commenced in 1978 with their first ship and continued with a number of fine classic style ships. But let us commence with their very first fine and well-known classic ship.
Introduction:
Part One will deal with the MS Victoria, whilst Part Two is located further down this page and it covers MERCY SHIPS MV Anastasis.
This feature is all about some of the most attractive yacht like passenger-cargo liners the Italian's have ever built, but they hail from the early 1950s! Although on this page I am featuring the MS Victoria and her sister the MS Asia. In addition, you will find links at the bottom of this page to the other five ships that are divided in a trio and a pair.
Lloyd Triestino Societa di Navigazione was one of Italy's great passenger shipping companies and during 1951 to 1953 they built seven superbly beautiful passenger-cargo liners for their long distance services. At that time, it was known as the "Golden Age" of the combination liner, and these fine ships were of the perfect size for the time being from 11,430 GRT to 13,141 GRT (Gross Registered Tons) and were without a doubt among the most beautiful of a class of ships ever built for the company! There were three separate class of ships within this range, from the largest to the smallest, although technically there was not a great deal of difference between them.
1 – The Three 13,000-ton Ships:
The 1951 MS Australia, Neptunia and Oceana were designed to operate on the Australia service sailing via Suez, which they did very successfully two class liners with 136 First Class Passengers and 536 in Tourist Class A & B. The difference in the A & B in Tourist Class was only related to the accommodations as B was berthed from 8 berths to up to 22 berth dormitories. But all public venues, dining room and deck spaces, etc, were the same! Like all the other ships they were fully air-conditioned.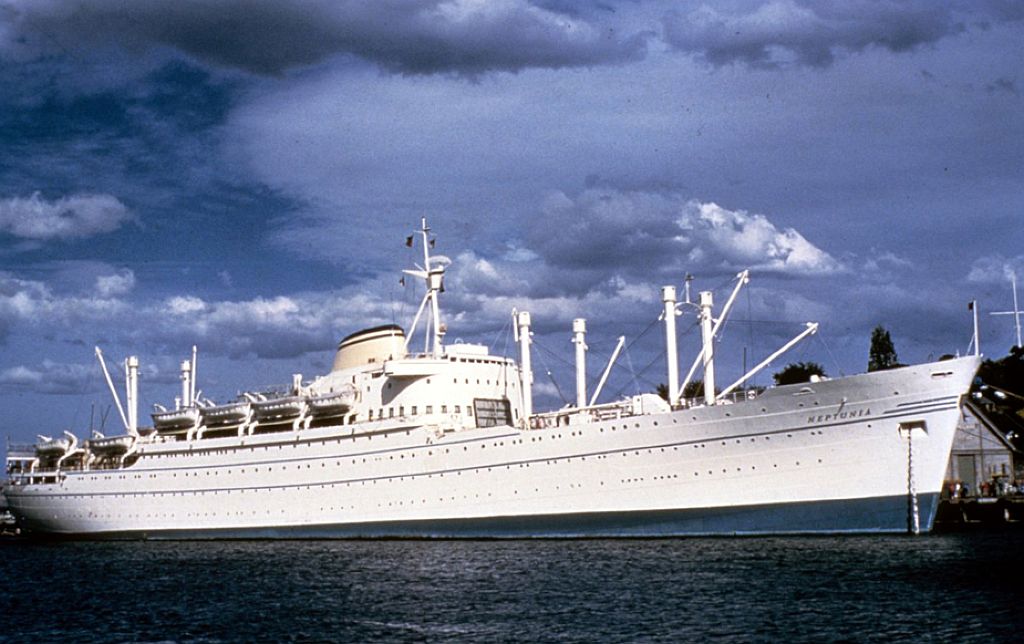 MS Neptunia is seen berthed
Photographer unknown – Please the Photo Notes at the bottom of the page
The Two 11,400-ton Ships:
The MS Africa and the Europa operated on the East and South Africa service and they were completed in 1952. They accommodated 148 First Class and 298 Tourist Class Passengers, no B on these ships!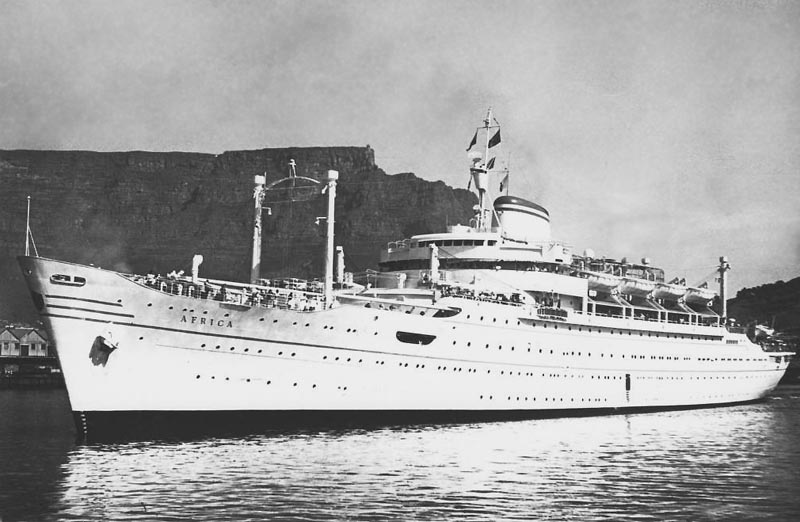 The MS Africa is seen in Cape Town South Africa
Photographer unknown – Please the Photo Notes at the bottom of the page
The 11,600-ton ships the MV Asia & Victoria:
The final pair of sisters built was the 11,693-ton MS Asia and the 11,695-ton MS Victoria that commenced services during the European Spring of 1953. They were designed for the exotic and popular month-long Far East service, sailing originally from Genoa via Naples, Messina, Port Said, Suez, Aden, Karachi, Bombay, Colombo and Singapore to Hong Kong, after which they returned via Singapore to Italy.
Both ships has less passengers than Lloyd Triestino's other five ships, for the Asia and Victoria accommodated just 290 guests in First Class and 141 guests in Tourist Class meaning that Passengers were blessed with ample space in each class.
Many people found it quite amazing that the capacity in First Class was greater than in Tourist Class, for usually it was the other way around, and thus it was not often heard of! In addition, the Tourist class passengers had all the public facilities as the other ships and ample deck spaces, thus for both classes, this was travelling in style!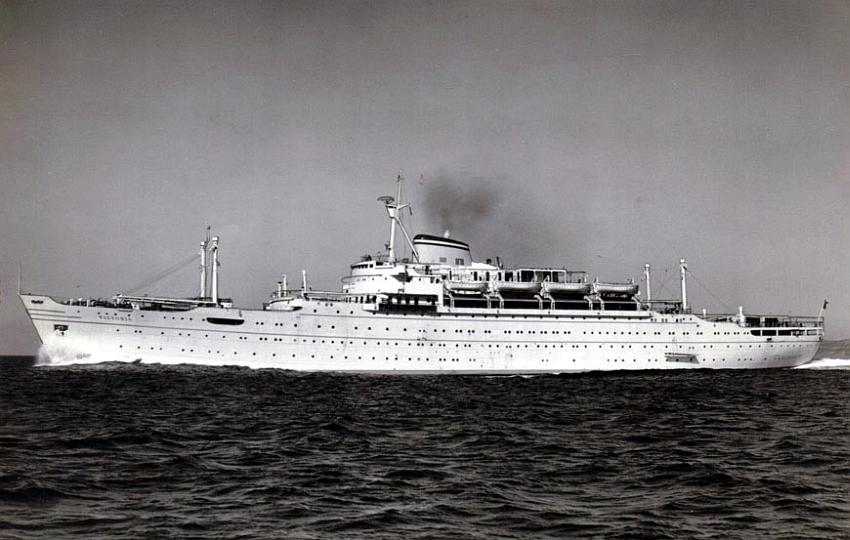 An early black & white postcard of the perfectly designed MS Victoria
These ships offered the very best of accommodations, with First Class having several fine Suites and Deluxe cabins, whilst all other cabins were either twin bedded or had a single bed, but some cabins had an additional fold away berth. All accommodations in First Class had private facilities with a shower or a bath. Tourist Class accommodations were mostly two or four berth having either private facilities, whilst some had to share the bathroom with the cabin next door. All cabins on board were beautifully fitted out with the very latest facilities of the day, including the ship being fully air-conditioned with all cabins having individual temperature controls!
Both First Class and Tourist Class offered identical range of Public Rooms, as each had a Main Lounge, the ever popular Verandah, a Card Room and of course a Writing Room. Considering these ships external streamlined and modern Italian design, featuring that famed curved superstructure, she had a beautiful small but streamlined funnel and those perfectly terraced afterdecks that had the Swimming Pools and a Lido Decks for each class. Therefore these ships earned a reputation for being some of the finest Passenger-Cargo Liners sailing the globe, for they offered not only some of the finest shipboard accommodations, but also offered the very best of Italian and International cuisine combined with the very best of top quality Lloyd Triestino service that they were so famed for!
I found the following interesting and revealing copy by a reviewer at the time:
"On board it is as if you were staying at a Riviera hotel ... On this small but complete floating city, passengers will have the opportunity of spending their days absolutely free of care without any need to forego their most cherished habits."
Ships Layout:
All the First class Public Rooms were located on Promenade Deck, with their Lido Deck and Swimming Pool a deck above, whilst the Tourist Class Public Rooms were located aft on A Deck. On this deck also, but located amidships was the First Class Restaurant then the Gallery followed by the Tourist Class Restaurant. The Tourist Class Swimming Pool and is spacious Lido Deck was located on Lower Promenade aft.
MS Victoria Photo Album
First Class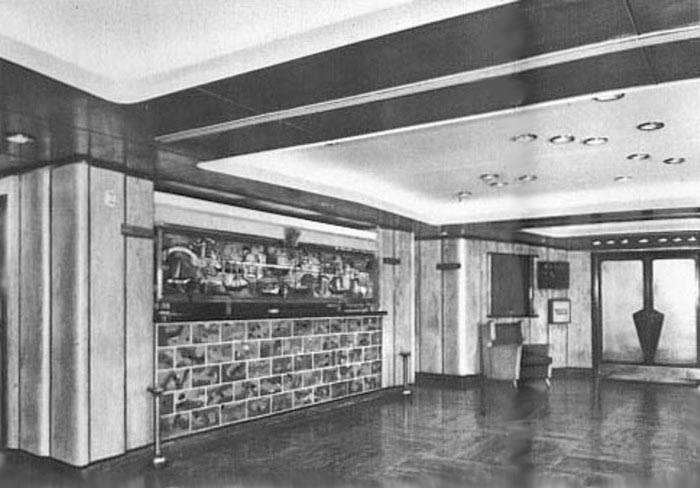 The Lobby and Purses Office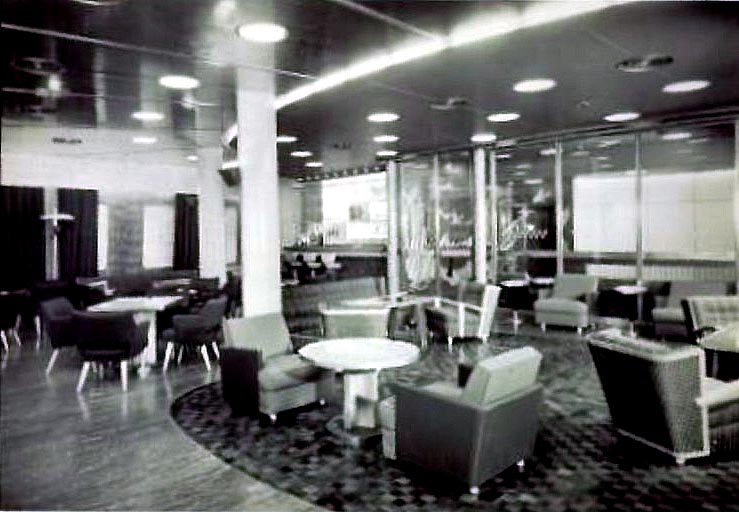 The Main Lounge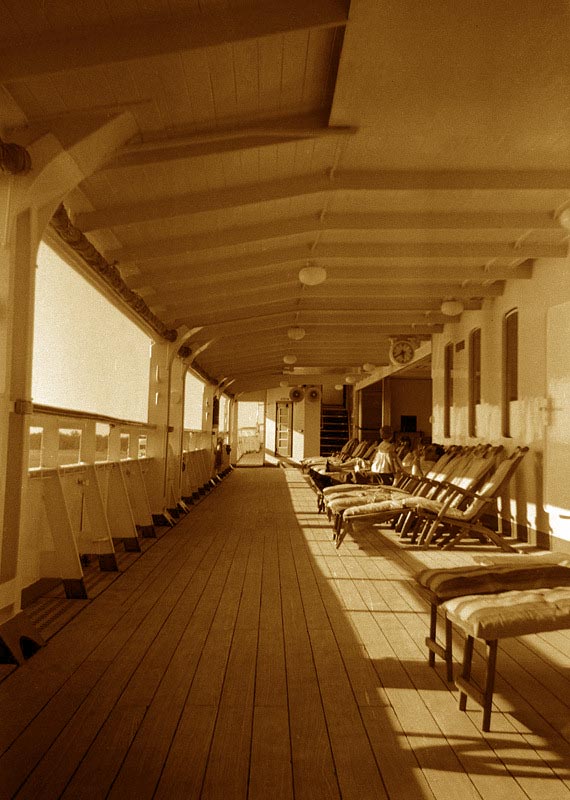 Promenade Deck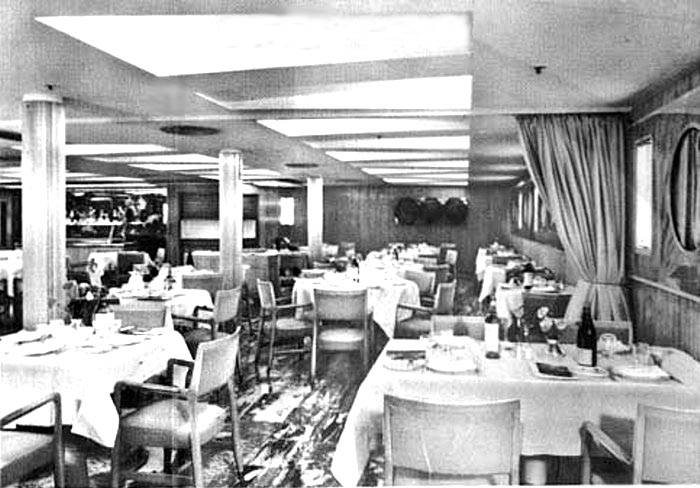 The Restaurant
Tourist Class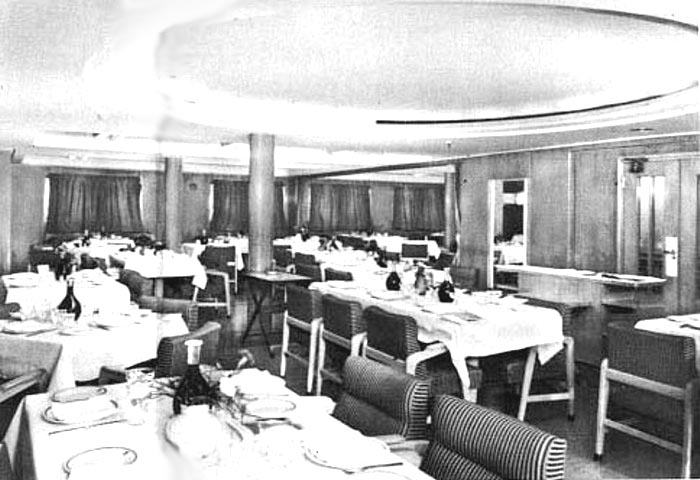 The Restaurant
Being passenger-cargo liners sailing from Europe to the Far East these ships had five cargo holds with hatch number 5 serving as the Tourist Class Swimming Pool.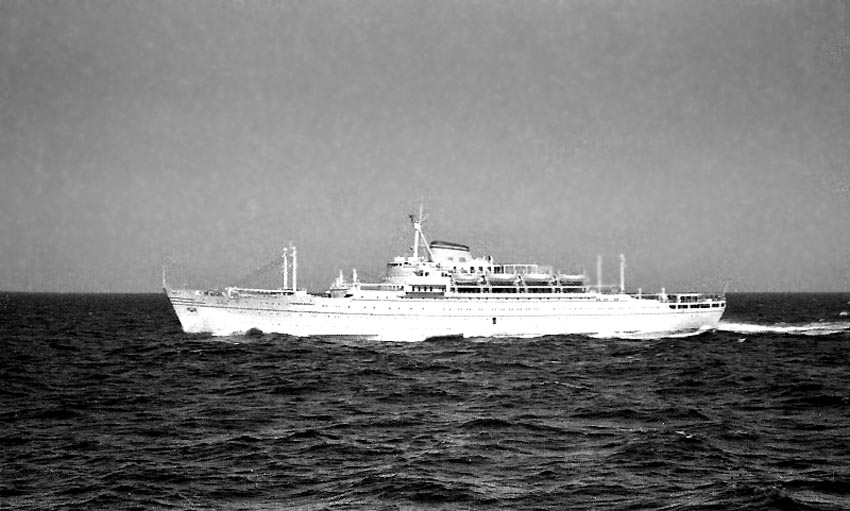 The MS Asia at full speed on the Red Sea
Photographer unknown – Please the Photo Notes at the bottom of the page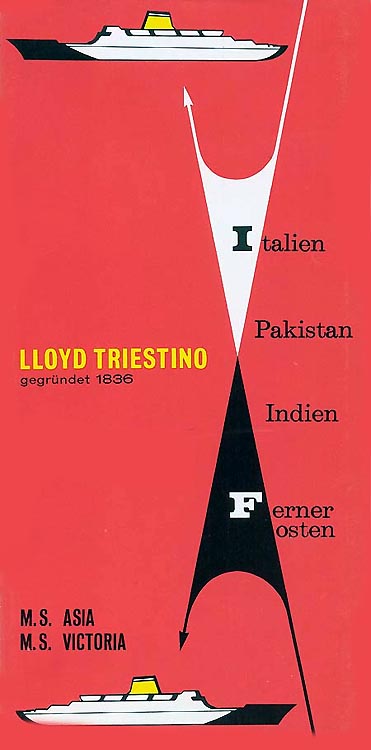 Above & below: Two sailing schedules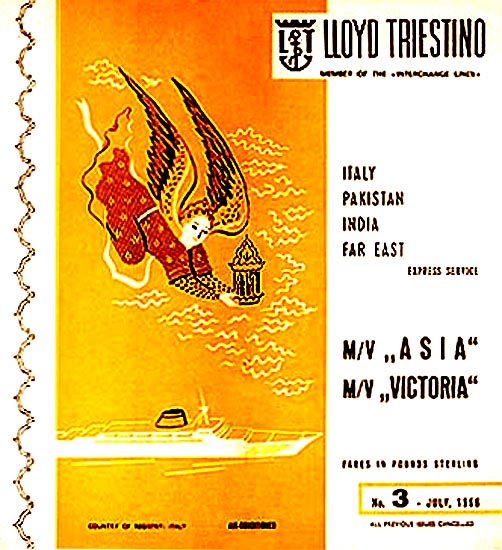 Then in 1965, the ships were relocated to sail from Trieste and they then called on the following ports: From Trieste via Venice, Port Said, Suez, Aden, Karachi, Bombay, Djakarta, Singapore, to Hong Kong and returning via Singapore, etc.
But then, with the closure of the Suez Canal in 1967 due to the Arab/Israeli War, the two Liners were detoured and had to sail via South Africa and they terminated their outbound sailings at Bombay.
Both ships continued faithful service until 1974, but slowly these voyages commenced to lose their appeal with the travelling public and this was due mostly due to the ever-cheaper fares being offered by airlines. But it was also due to the transportation of cargo, for now there was massive competition from the far superior and efficient container ships. Thus tragically all this combined brought the wonderful service of the MS Victoria and the MS Asia to an end!
Specification MS Asia = 1 / MS Victoria = 2:
Built:                                  1953, by Cantieri Riuniti dell'Adriatico, Trieste, Italy
Tonnage:                            1 - 11,695 GRT, 4,222 DW.
.                                        2 - 11,695 GRT, 4,242 DW.
Length:                               522ft - 159m.
Width:                                68ft - 21m.
Drought:                             23ft - 7m
Engines:                             Fiat Type Diesels 16,100 BHP.
Screws:                              Twin Screws.
Speed:…………………………....     19.5kn
Passengers:                         148 First Class & 141 Tourist Class – as built.
.                                        290 First 141 Tourist Class – later.
End of service: Sold 1974
Final Days for the MS Victoria:
The first ship to be sold was the MS Victoria in 1974 and she was obtained by the Italian "Adriatica" S.p.A. di Navigazione, Venice and they gave her a refit in order to operate her for full time cruising, but she retained her original name until she was sold again in 1978.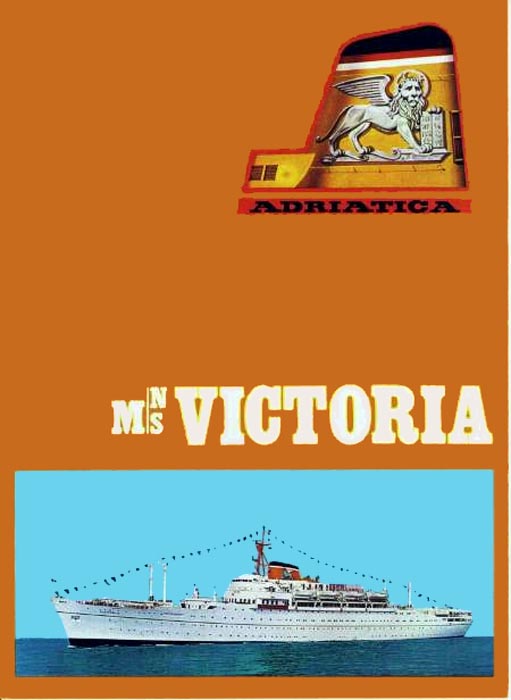 An Adriatica MS Victoria brochure
The Concluding Days for the MS Asia:
Whilst MS Asia was sold in 1975 to a Lebanese Company who renamed her MV Persia, but later she was converted into a livestock carrier in 1977. Late in 1984 she was renamed "Norleb" and she was sold to a Pakistani breaker, thus shortly after she sailed for Gadani Beach in Pakistan where she was duly broken up in 1985.
MERCY SHIPS - MV ANASTASIS
The MV

Anastasis

:
The MS Victoria was purchased from Adriatica Line in 1978 by MERCY SHIPS being a 100% volunteer medical organisation for just £620,000 or US$1 million. But before I continue with her amazing story, I would like to add a little more about the beginnings of MERCY SHIPS and their founder!
"A Man with a Vision, Mr. Don

Stephens
"
In 1964, a 19-year-old Don Stephens was visiting the Bahamas as part of a youth group when Hurricane Cleo swept through the region, in what was a one-in-a-century storm. Don's youth group took shelter in an aircraft hangar, but locals were not so fortunate with Cleo claiming lives and destroying hundreds of homes. In the aftermath of the storm, he was struck by the words of the suffering local people who pleaded for a hospital ship to treat their injured and provide urgently needed medicines.
Hearing this, greatly challenged Don, but it took him another 14 years before his goal became a reality when he and fundraisers paid $1 million for the MV Victoria, a former Passenger Liner and Cruise Ship! Work commenced to convert her into a fully operational hospital ship in 1982, and she had three operating theatres and a forty-bed hospital. When she was completed she sailed as the MV Anastasis the very first ever MERCY SHIPS ship!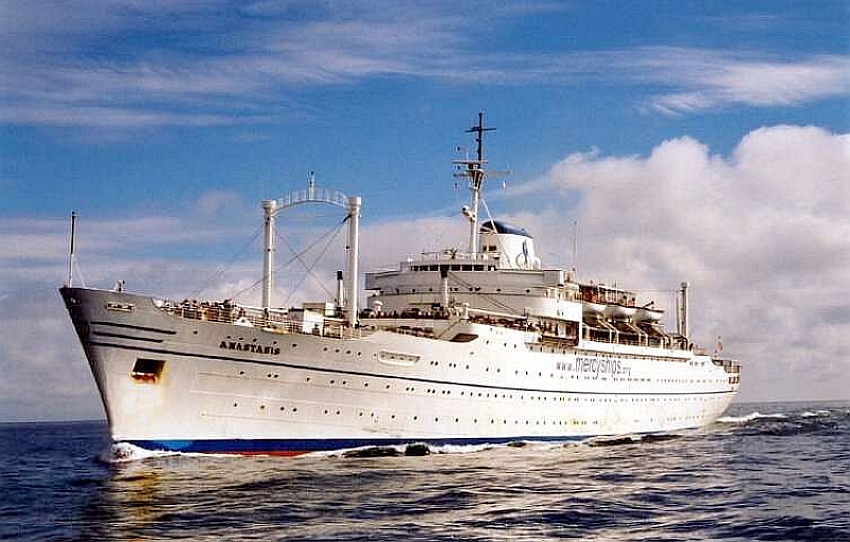 A new name and a wonderful role helping the needy, but she looked as beautiful as ever!
Mercy Ships postcard
Besides having her three operating theatres and a forty-bed hospital, but she also had a fully operational dental and eye clinic, and a laboratory with that all-important X-ray unit. During her career as a mission ship, the MV Anastasis visited an amazing 275 ports and conducted 66 field assignments in 23 nations during which she assisted over 1.5 million people as direct beneficiaries and all services provided and surgeries were provided completely free of charge!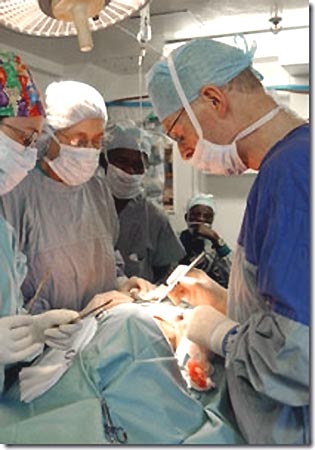 Free surgery done on board to deserving people and little children who could otherwise well die!

Please click the "Theresia" IMAGE ABOVE - Please SUPPORT this Noble Cause by DONATING NOW!
The MV Anastasis sailed the globe and visited ports wherever she was required. As it turned out, a great deal of her time was spent in West Africa, the Ivory Coast and Ghana and this was usually at the invitation by foreign governments, and frequently she would spend up to nine or ten months at a time in any one Port. MERCY SHIPS have used a good number of classic ships during their 35 years of amazing operations, and amazingly all their staff and crew are all volunteers, from deckhands, to the captain, nurse or chief surgeons for each choose to give their time to those who are so much in need! This organisation relies entirely on the kindness of people's generosity! And you also can help, for I have a link to DONATE below!
In conclusion:
This amazing and wonderful ship, the MS Victoria that gave countless lives the best holiday voyages ever, travelling in style and in comfort, and then latter in the ships life as the MERCY SHIPS MV Anastasis she brought hope and healing because there were people of faith that gave of their time and went and with their talents, be it cleaning the ships decks, cooking, operating or navigating their ships or in every other capacity in the amazing medical team who do some of the most amazing cranial reconstructions possible, changing lives forever and countless other operations!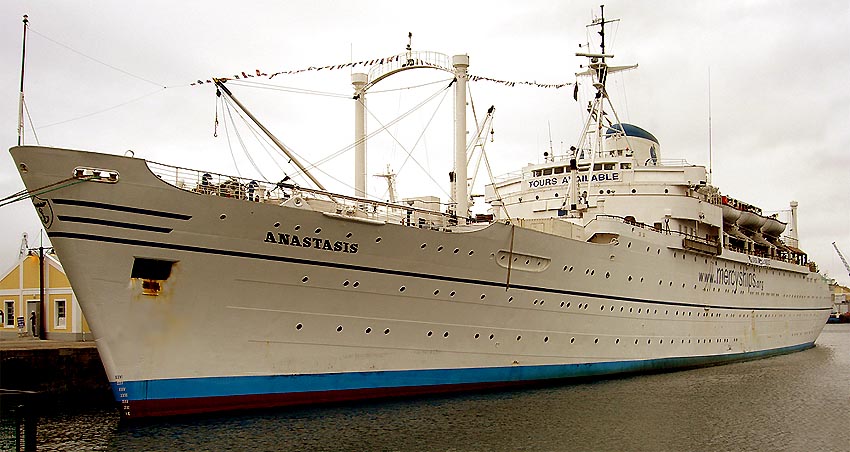 The shapely MV Anastasis is seen berthed
Photographer unknown - *Please see the photo notes at the bottom of the page
But sadly the 54-year old MV Anastasis life had finally come to an end when she was sold in 2007. She departed from her final port, being Monrovia, Liberia on June 28, 2007 with thirty-eight of the Mercy Ships crew onboard and they sailed her for the ship breakers yard in India.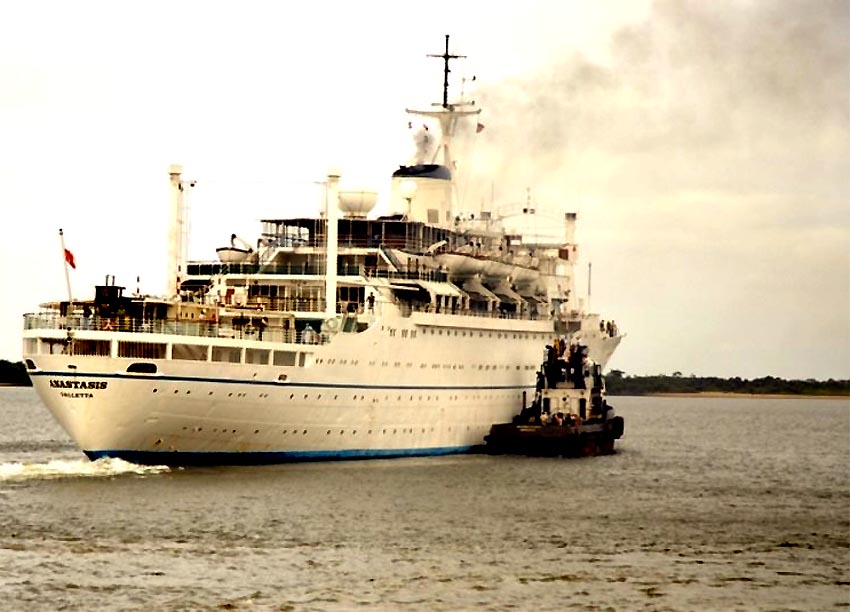 MV Anastasis is seen departing Monrovia, the port of her registration bound for Alang on June 28, 2007
Photograph taken by a dedicated member of the MERCY SHIPS volunteers, who was very sad to see their very first ship go!
Then having sailed 45 days and just over 8,000 miles she arrived late afternoon at the ship breakers yards at Alang India on August 10, 2007. I was told that the breakers management came aboard in the evening to inspect the ship and found that she was in a superb condition! The crew from MERCY SHIPS left and returned home and the Anastasis was beached on the 13th.and soon broken up.
I Am a Supporter of MERCY SHIPS I will ask, will you Please HELP those who urgently need your help?

Do I need to say more?

Please SUPPORT this Noble Cause by DONATING NOW!
Please Note: Although the link takes you to the MERCY SHIPS Australian site, you can donate there for it will do the same thing
"He who is kind to the poor lends to the LORD, and He (the LORD) will reward him for what he has done."
Proverbs 19:17
Other M

ERCY

S

HIPS

Websites:

Mercy Ships International: www.mercyships.org/international - Australia: www.mercyships.org.au

Canada:  www.mercyships.ca - The Netherlands: www.mercyships.nl - & United Kingdom: www.mercyships.org.uk

Other countries are listed on the international site!

View a short "Surgery Ship" trailer 3.48 minutes

Enter:  https://youtu.be/I_5Rei4jFeA

MERCY SHIPS INDEX:                                       

1… MV Anastasis:       ex MV Victoria.

2…

MV Island Mercy:        ex MV Good Samaritan & Petite Forte.

3…

MV Caribbean Mercy:       ex MV Polarlys.

4…

MV Africa Mercy:       ex MV Dronning Ingrid is operational!

Other Lloyd Triestino ships on ssMaritime:

MS Australia and Oceania & Neptunia

SS Toscana - MS Africa & Europa & TN Galileo & Marconi

View a short "Surgery Ship" trailer 3.48 minutes

Enter:  https://youtu.be/I_5Rei4jFeA

"He who is kind to the poor lends to the LORD, and He (the LORD) will reward him for what he has done."

Proverbs 19:17

MERCY SHIPS INDEX:                                           

1… MV Anastasis:       ex MV Victoria.

2…

MV Island Mercy:        ex MV Good Samaritan & Petite Forte.

3…

MV Caribbean Mercy:       ex MV Polarlys.

4…

MV Africa Mercy:       ex MV Dronning Ingrid (Operational).

*************************

"Blue Water Liners sailing to the distant shores.
I watched them come, I watched them go and I watched them die."

Return to the ssMaritime MAIN INDEX

ssMaritime.com & ssMaritime.net

Where you will discover over 1,270 Classic Liners & the 1914 built MV Doulos Story

The Author has been in Passenger Shipping & the Cruise Industry for some 60 years!

Also visit the …

"Save The Classic Liners Campaign"

Founded in the early 1990's - The author is the founder and president

Please Note: ssmaritime and associated sites are 100% non-commercial and the author seeks no funding or favours of any shape or form, never have and never will!

Photographs on ssmaritime and associate pages are by; the author or from the author's private collection. In addition there are some images that have been provided by Shipping Companies and private photographers or collectors. Credit is given to all contributors. However, there are some photographs provided to me without details regarding the photographer/owner concerned. I hereby invite if owners of these images would be so kind to make them-selves known to me (my email address may be found on www.ssmaritime.com only), in order that due credit may be given.

This notice covers all pages; although, and I have done my best to ensure that all photographs are duly credited and that this notice is displaced on each page, that is, when a page is updated!

ssMaritime is owned & © Copyright by Reuben Goossens - All Rights Reserved