Union Steam ship Co SS Moeraki & SS Manuka 1902 & 1903
Please Note: Firefox, iPhones, iPads & some other Search Engines may not be suitable
Use Internet Explorer & Google for this Web Page to load perfectly!

Click the logo above to reach the ssMaritime FrontPage for Ships of the Month & News Updates
With Reuben Goossens
Maritime Historian, Cruise'n'Ship Reviewer, Author & Lecturer
Please Note: All ssmaritime as well as my other related maritime & cruise sites are 100% non-commercial and privately owned sites. Be assured that I am NOT associated with any shipping or cruise companies or agencies or any other organisations! The author has been in the passenger shipping industry since May 1960, but although retired and unwell, I occasionally attempt to write an article now and then, in order to bring enjoyment and pleasure to ship enthusiasts past passengers and crew.Images marked with an * were colourised by the author.Images marked with an * were colourised by the author.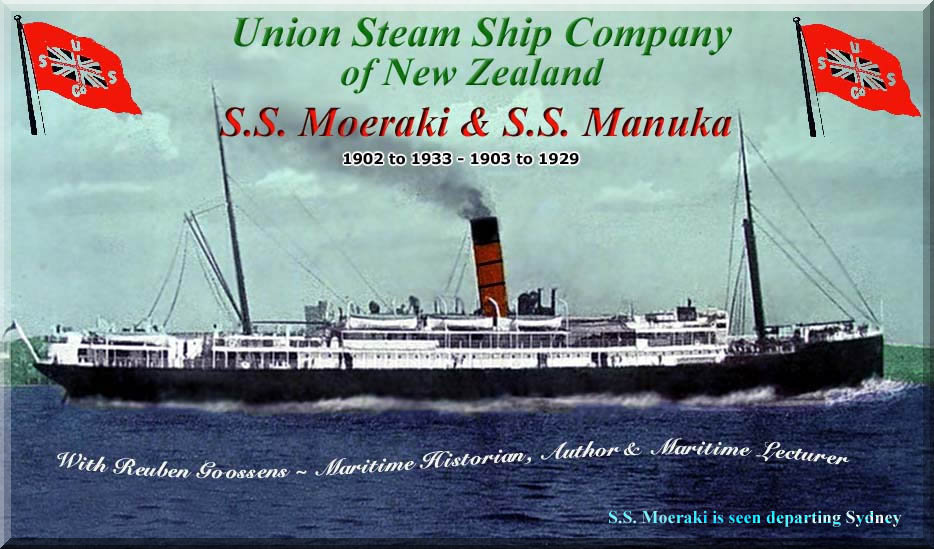 The photographic logo above & all images marked with an * were colourised by the author.
Introduction
The Union Steam Ship Company of New Zealand (USSCo) had been operating since the 1860s and their first passenger ships/liners were five small ships, the 174-ton SS Maori, 177-ton Beautiful Star, 355-ton SS Bruce and the somewhat larger 721-ton SS Hawea and her 723-ton sister SS Taupo. Thereafter other new ships between 1,000 to 2,000-tons came into service, operating on New Zealand Inter-Island and coastal services, as well as the Trans Tasman service, and the Trans-Pacific service to the West Coast of America via the Pacific Islands.
Then between 1898 and 1911 USSCo decided it was time to replace their earlier Trans-Tasman liners and with a new design the placed an order with William Denny & Brothers ship builders at Dumbarton to build the first two of six new larger ships. The first to be built was the SS Moeraki in 1902 and she was followed a year later by her identical sister the SS Manuka in 1903.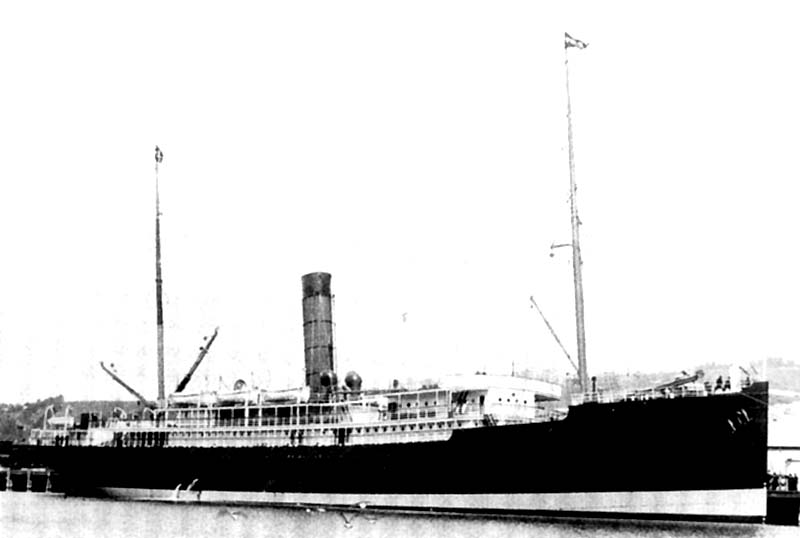 SS Moeraki seen berthed at Wellington New Zealand after arrival from the UK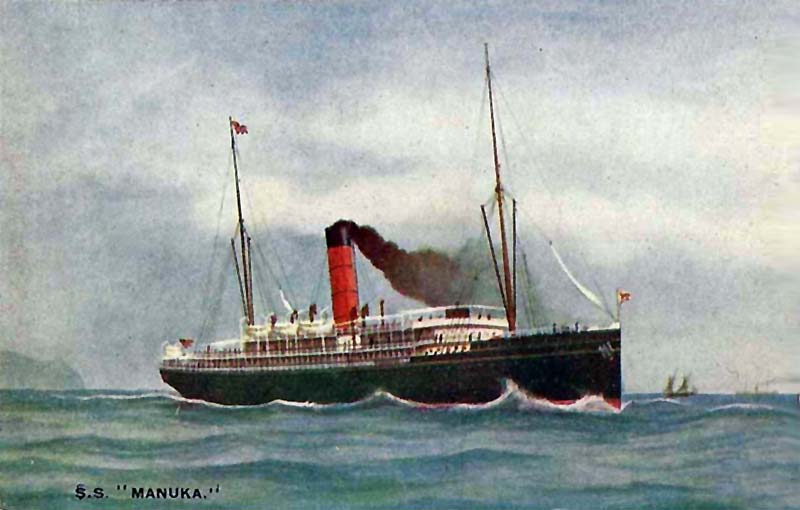 A very early postcard of the SS Manuka
SS

Moeraki Launched:
What was amazing, by the end of 1899 USSCo with their fleet of small ships had already transported a remarkable 212,500 passengers as well having carried a good 1,389,917 tons of cargo and covered an amazing 2,124,704 miles or 3,419,379.6 km.

On Wednesday July 9, 1902 the future of the Union Steam Ship Company began a brand new era of a bright innovative time of shipping for New Zealand, as this the first of two identical liners that featured, two x 3 cylinder triple expansion steam engines, with dual shafts and two screws that whilst in her sea tails could manage a remarkable 15+ knots, which was excellent for the times! The Moeraki was launched on this day (September 9) by

Sedden in the presence of her parents and Lord and Lady Overton, Captain Cameron of the USSCo and many other distinguished guests at this grand occasion!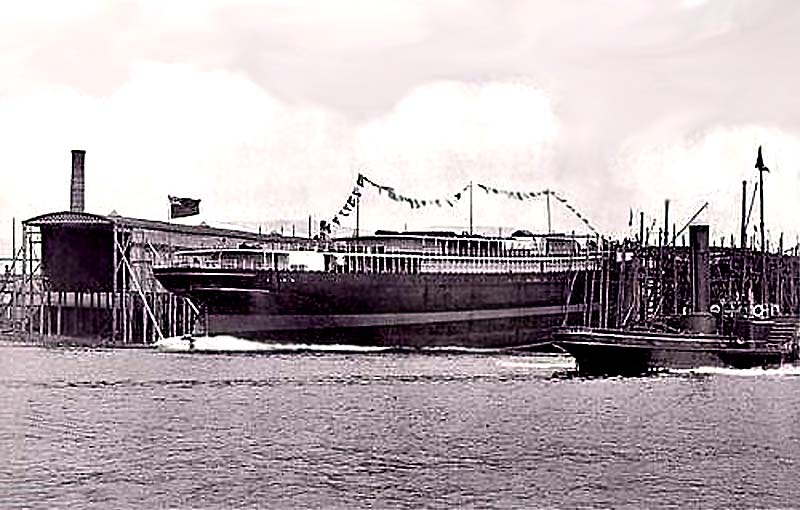 The Moeraki was launched on Wednesday July 9, 1902
SS

Manuka Launched:
The Manuka was launched on September 8, 1903 and she ran her trails on November 14, and was delivered ten days later on November 24. She arrived in Wellington in record time having captured a record for the passage from Lyttelton to Wellington (10 hours, 43 minutes) held by the SS Rotomahana. SS Manuka's time from full speed to stop was 10 hours 30 minutes, and from Lyttelton breakwater to the buoy off Queen's Wharf the time was 10 hours 34 minutes. Those waiting dockside for her arrival discovered that this new steamer was an elegant duplicate of her earlier sister the Moeraki and she only differed just slightly in a few minor details. She had sailed from the UK under the command of Captain E. Philips, with a complement of 133 passengers on board. Interestingly her maiden voyage to New Zealand was on a special charter to the "Houston Line."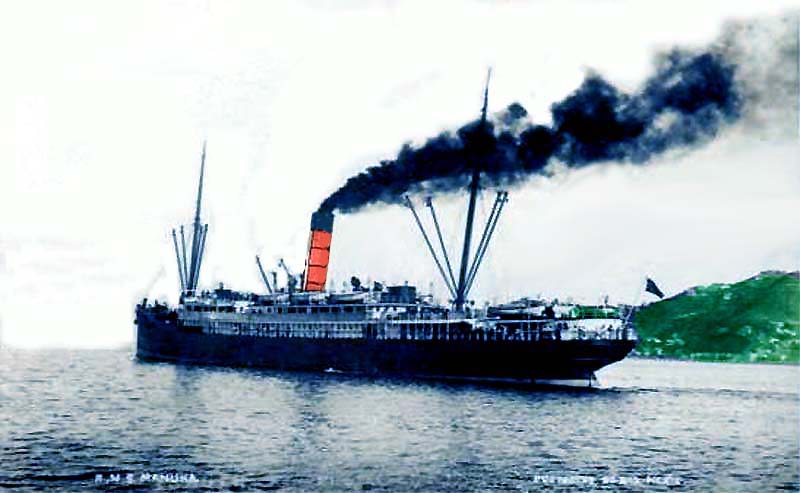 * The delightful SS Manuka was launched on September 8, 1903 and here she is seen
departing Wellington on her maiden voyage to Australia
The Ships Interiors:
Please note: There are slight differences between the two ships and this will be seen as follows such as the dinning room seats on the SS Moeraki 112/104 = on the SS Manuka The same will apply each time the forward / slash is used in the main copy, whilst in the specification section it will be ship 1. or 2.
Sadly I do NOT have any interior photographs of these wonderful ships
Should anyone have any suitable photographs I would greatly appreciate them!
Email me at – rg@ssmaritime.com  
1. First Class:
Both ships provided accommodations for 187-193 First Class passengers as well as 124-135 in Second Class. First Class staterooms were all beautifully fitted out and they were the most modern and up to date accommodations to be found on any ship of the time. Each room had two lower beds having the finest inner spring mattresses and each bed could be folded away during the day to make the room into a lounge, thus increasing the floor space of the room. In addition there was also ample storage with drawers and wardrobes, and yes even a secret, well hidden fold away toilet with a privacy screen, which was unheard of in those days, but certainly appreciated. Each room had flowing water and a hand basin, thus these ships were considered as the most up to date liners of their day! However bathrooms were located down the hall and these were very complete as each had a shower with a fold down seat, a full size bath with a hand held shower, toilet and a bidet and every other possible need required!  All First Class staterooms were located amidships of the vessel where both motion and vibration would be at a minimum! All staterooms were well ventilated, especially whilst these ships were sailing on the Trans-Pacific service. Ventilation was both from a natural source, such as the windows, or by the means by the electric fans installed that would be very useful to keep the room a littler cooler whilst in the topics.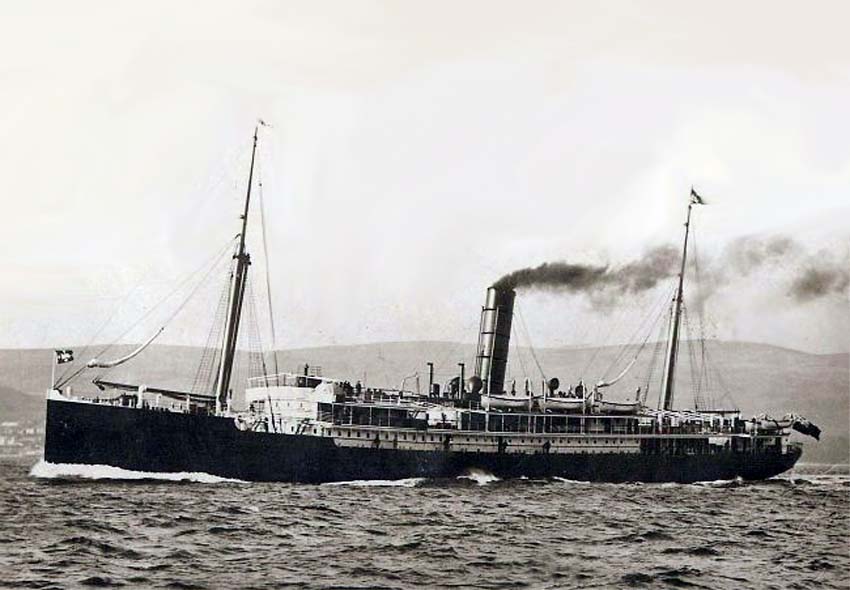 SS Manuka was launched on September 8, 1903 she is seen here departing Wellington for Australia
The Dinning Room was located forward on what would be called later, in the 1950s "Shelter Deck", being the deck just above the hull, and it was able to seat 112/104 dinners at a time. To enter the venue you had to go though large swinging doors that were filled with leaded glass, The venue was clad in waxed oak that was richly carved, decorations in ivory and gold, whilst there was a wall covered with an new feature first created in 1877 Anaglyptic wallpaper. The ceiling was beautifully panelled to match! The upholstery was in a rich sylvan relief velvet., whilst the window boxing tops were of a "wheel" design, which was most unusual on board a ship, and strangely enough that feature was found throughout the ship, such as her decorative mirrors, etc., which were all circular.
Tone deck up was the Smoking Room being the traditional venue and it was fitted out in a true classic style, being fully panelled in a polished mahogany, with additional smaller panels of embossed green Buffalo leather and the upholstery was of course in the same luxurious green buffalo hide! This venue was located just aft of the Music Room with only swinging doors separating the two rooms.
The Music Room was a grand venue indeed and beautifully finished in mahogany and finished with Ivory enamel's. This venue had an especially high ceiling, as well it having a magnificent Dome Skylight made of steel and stained glass, whilst the outer exterior casing being made of teak and plate glass that reached out onto the top deck. In between the two layers of the dome electric lights were fitted in order that the rich and beautiful effects of the colours that could be enjoyed in the evenings! Along the timber walls of the Music Room were images of various popular destinations around New Zealand. Seating was given the very finest as the sofas and chairs were made of sycamore wood and upholstered soft rose colour raised velvet. There was also the traditional Ladies Lounge as was found on all ships in those days, where the ladies could get together and enjoy some quiet times and have a cup of tea and chat or play a game or two. This venue was painted in a cream colour and the chairs had brocade with roses on them.
There was no doubt about it, but these sister ships were indeed the glamour liners of the Union Steam Ship Company in 1903!
2. Second Class:
This class is located in the after part of the ship and it featured a most pleasant Main Lounge that seated around 84 people. This room had its walls beautifully enamelled in French grey, picked out with a light of green and the room was beautifully furnished giving it a good of style, rather than the simple venues found on other ships!
The Dinning Room covered the full width of the ship and although it was relatively plain, painted in cream, but with the tables set it was pleasant. It seated 82 passengers. The accommodations offered were reasonably roomy and comfortable and there was excellent bedding. There was certainly no lack of facilities and bathrooms all being close to all cabins, etc, as they were all nearby!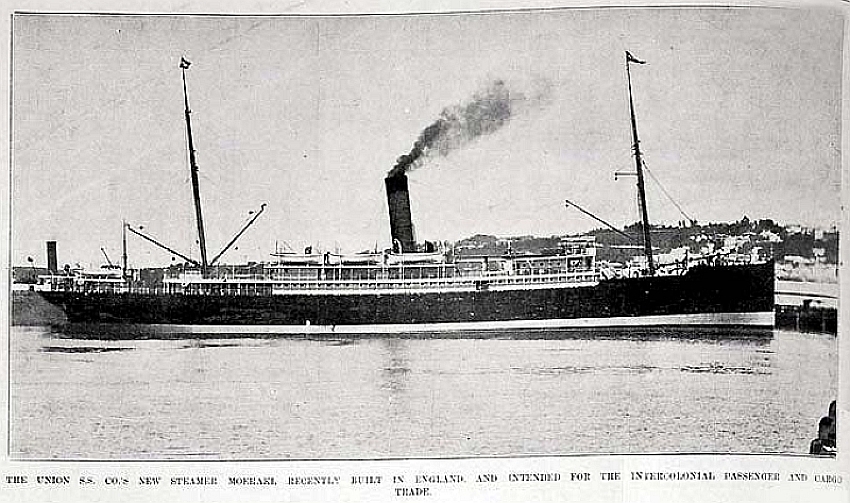 *SS Moeraki is seen arriving in Auckland for the very first time
Service Records
:
SS

Moeraki - 1902 – 1933:
She was handed over to the company on September 30, 1902 and was placed on the Trans-Tasman service. From 1914 to 1918 she was used as a troop ship and survived WWI and upon completion was refitted and resumed pre-war services. Then from 1928 she worked with the Australasian United Steam Ship Company on their Sydney - Fiji route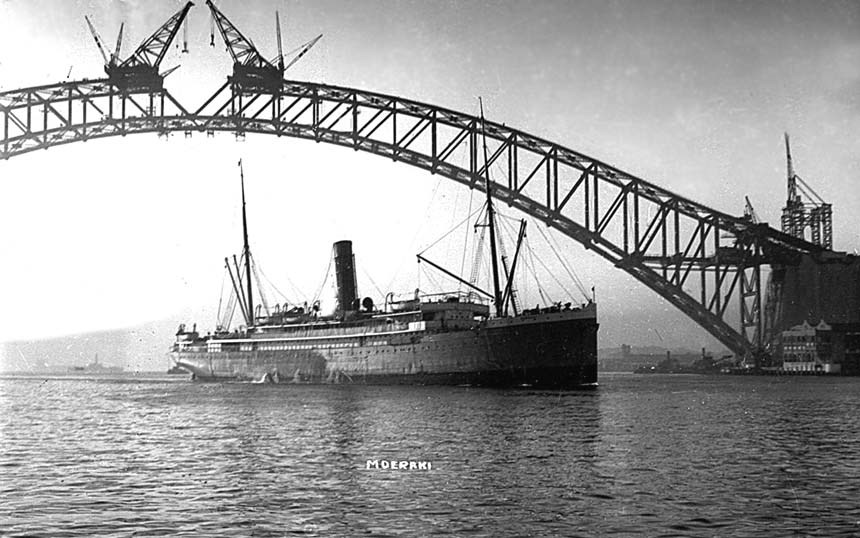 A wonderful photograph of the SS Moeraki passing under the Sydney Harbour Bridge that was almost
complete in 1929. The great Bridge was just beginning, but sadly, the Moeraki was nearing her end!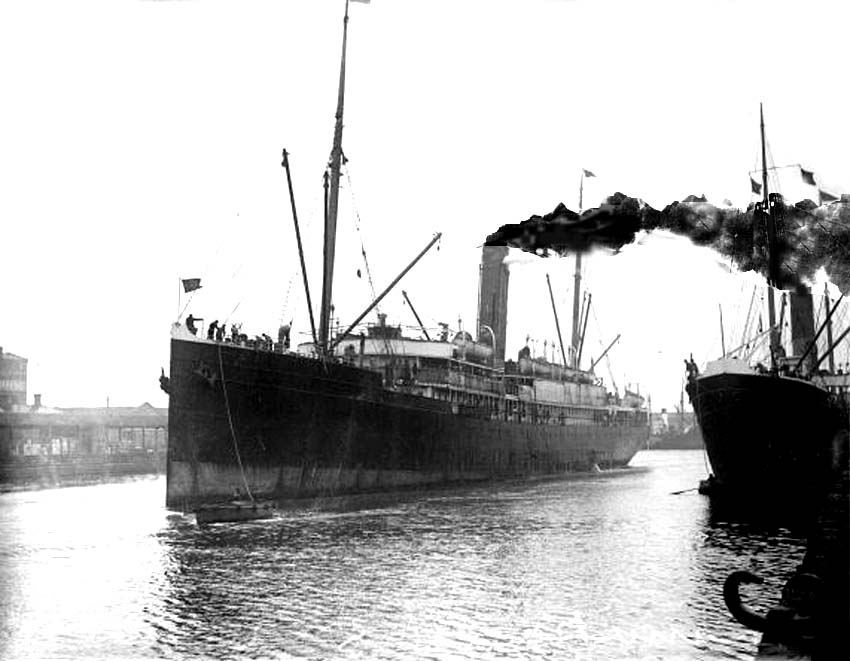 The Moeraki is heading for her berth in Sydney in 1929
In September 1930, this fine ship was laid up in 1930 at Sydney. In December 1932 she was sold to Japanese breakers, and on February 25, 1933 she was ready and departed Sydney with a skeleton crew and sailed for Japan. Not long after her arrival she was broken up by Amakasu & Co at Osaka.
SS

Manuka - 1903 - 1928:
Built for the Trans-Tasman 'horse-shoe' service from Wellington and Bluff to Sydney and Melbourne but transferred to the Sydney-Vancouver service in 1905. Ports of call were Sydney, Brisbane, and Suva, Honolulu and Vancouver and return. I do have a record of her arriving in Brisbane on Tuesday October 7, 1908 from Vancouver.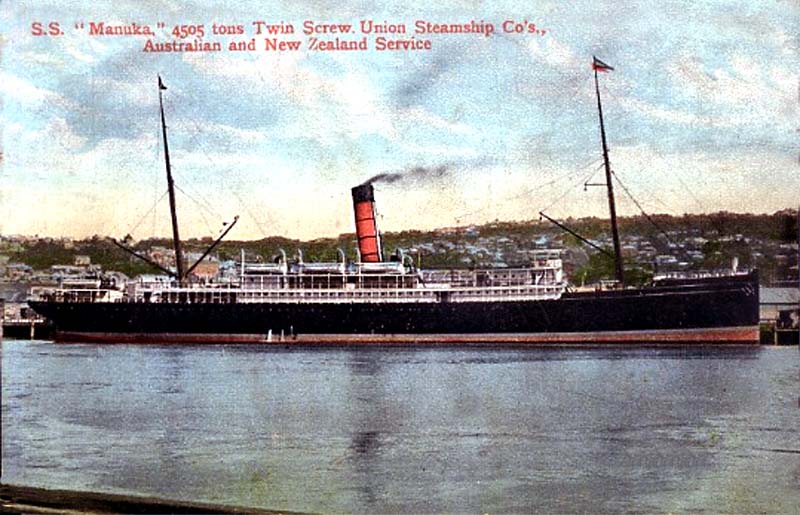 A delightful postcard of the SS Manuka berthed in Brisbane on October 7, 1908
However, she was replaced by newer turbine steamer SS Maheno in 1906 and thus she returned to Trans-Tasman trade but she still made the occasional Sydney to Vancouver voyage over the years when the regular Trans-Pacific ships were in dry-dock. However, like her sister, the Moeraki she also served as a troop ship during WWI and survived it and upon her return home she was refitted to her former glory and resumed her Trans-Tasman duties.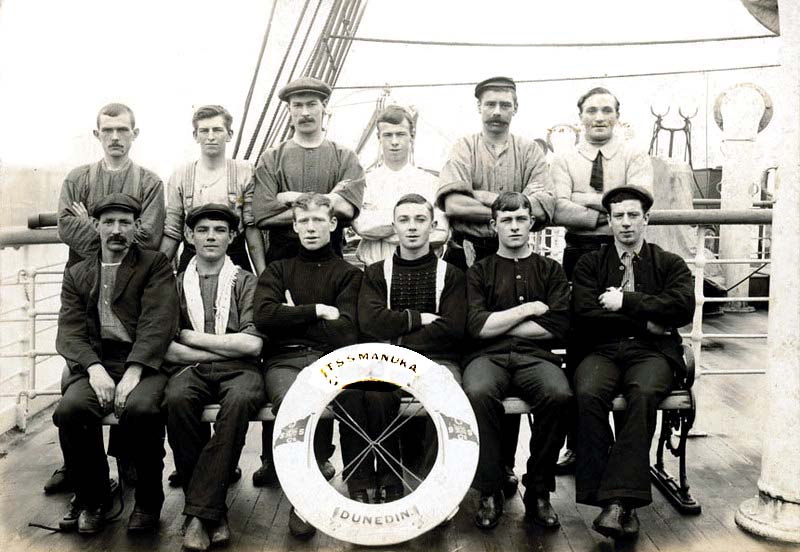 Here we see some of the Manuka's crewmembers
Then in 1927 due to economic circumstances of the times, the Manuka was laid up in Wellington and after 12 weeks in lay-up the USSCo Mararoa was reported unable to sail on her regular duties and the Manuka was called on to take her place. Amazingly the Manuka was made ready with super efficiency in just six hours and she was able to take over the Maranoa's services in such a record time, and considering she had been in lay up for twelve weeks, this was a miracle!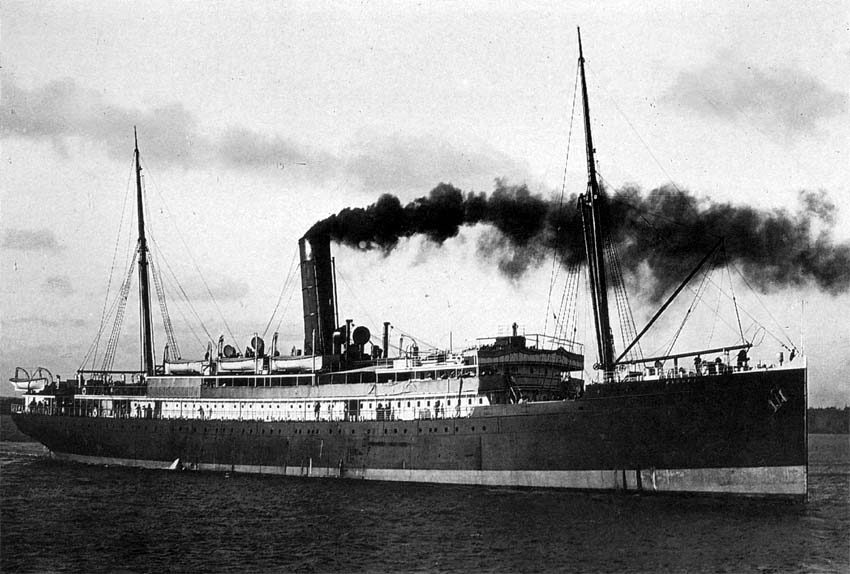 SS Manuka is seen here in her latter days, just before being laid up in Wellington
Then late in 1928, whilst on a voyage between Melbourne and Wellington she would sail around the southern point of New Zealand and Dunedin, however on Monday December 16, 1928 that the SS Manuka was tragically wrecked on Long Point just south of the "Nuggets" at South Otago. This was the end of the beautiful MS Manuka!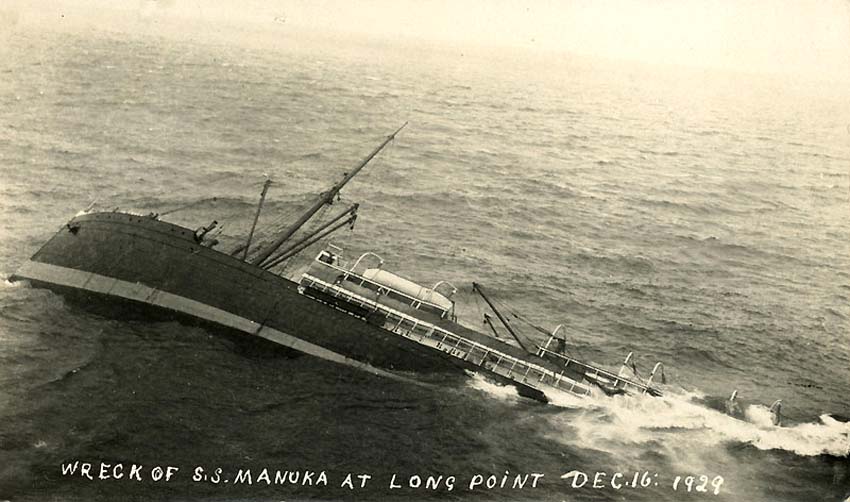 A tragic photo of the Manuka's tragic end!
Thankfully all of her 203 passengers and crew that were on board took to the lifeboats and had an uncomfortable long night in them, but they all landed safely on the beach nearby. However, as there was no one living nearby, they had to walk across paddocks until they finally reached a road from where they found and were transported to a place named Owaka.
Later when a maritime inquiry was held, the inquiry found that the Manuka was located south of the position where she was supposed to be, and that her being wrecked was "due to an abnormal westerly set." In addition, "the ships captain, officers and her crew were praised for their actions after the accident."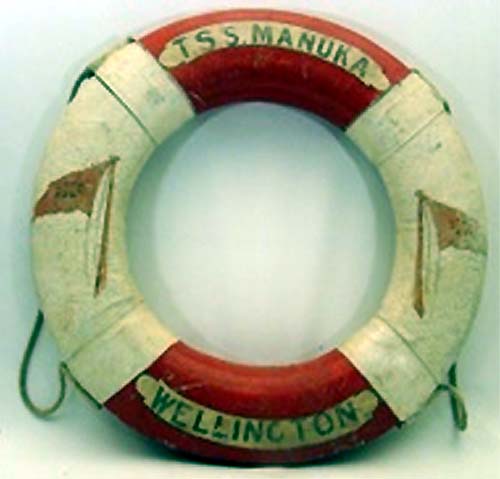 Above & below: A lifebuoy and a pennant that was located after the disaster and is now part of the memorabilia selection
Pennant image sent in by a supporter – Please see photo notes at bottom of page

Specifications:        1 = SS Moeraki – 2 = SS Manuka.
Builder:                    by William Denny & Brothers Dumbarton, Scotland.
Yard:                       1. 664 – 2. 689.
Launched:                 1. July 9, 1902.
.                              2. September 8, 1903.
Cost:                        1. £113,499 – 2. £114,855 delivered.
Tonnage:                  1. 4,392 GRT (Gross Registered Tons). 2,715 Net Tons.
.                              2. 4,505 GRT. 2,812 Net Tons.
Length:……………………..112.41m - 368.8ft.
Breadth:…………………….14.39m - 47.2ft.
Draught:…………………….9.51m - 31.2ft.
Propulsion:               2 triple-expansion steam engines, 4 cranks on the Otto-Schlick balanced system.
Screws:                    Two.
Speed:                     14 knots service speed, maximum 15 knots during trails.
Passengers:              1. 187 First Class, 124 Second Class.
.                              2. 193 First Class, 135 Second Class.
Crew:                       99.
Cargo capacity:         3,928 cubic metres - 138,740 cubic feet.
Wonderful Memories of Two Great Early USSCo Liners!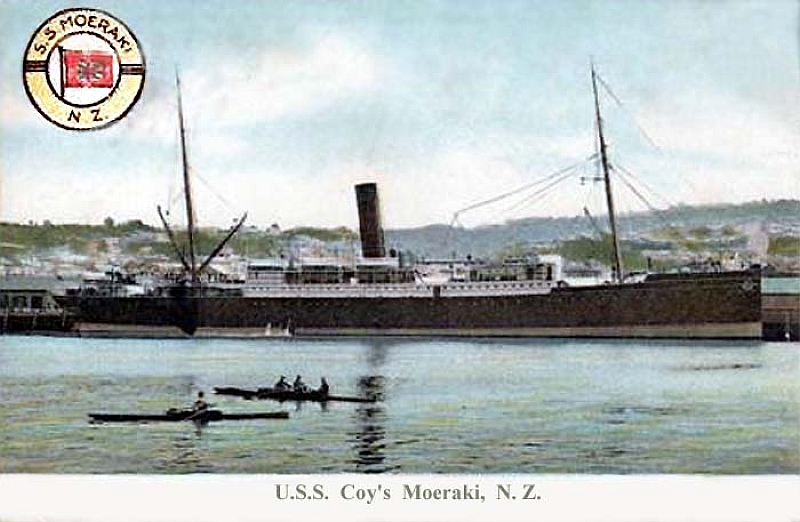 The SS Moeraki is seen berthed at the Hamilton wharves in the Brisbane River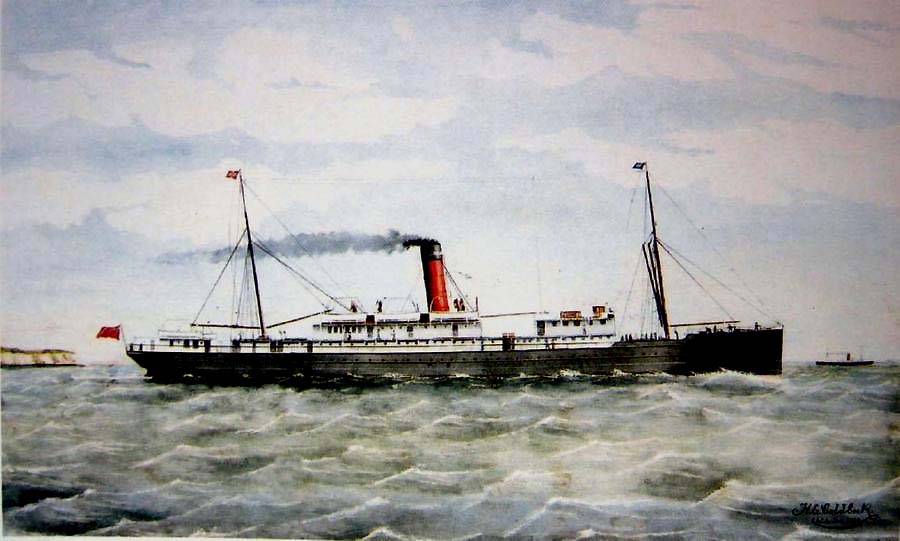 To complete this feature, I will conclude with this superb painting of the SS Manuka by Mr. H.E. Coldbeck
Also view the other USSCo Passenger Ships online, from oldest to the last ever built
SS Waitaki / SS Moeraki & Manuka / SS Marama & Maheno / RMS Aorangi
TSS Monowai / TSS Awatea / MV Matua & MV Tofua
***********************************
 "Blue Water Liners sailing to the distant shores.
I watched them come, I watched them go and I watched them die."
Return to the ssMaritime MAIN INDEX
For over 1,250 Classic Passenger Liners, Migrant Ships & Passenger-Cargo Liners from all over the world!
ssMaritime.com & ssMaritime.net
Where the ships of the past make history & the 1914 built MV Doulos Story
Also visit the …
"Save The Classic Liners Campaign"
Please Note: ssmaritime and associated sites are 100% non-commercial and the author seeks no funding or favours of any shape or form, never have and never will!.
Photographs on ssmaritime and associate pages are by the author or from the author's private collection. In addition there are some images that have been provided by Shipping Companies and private photographers or collectors. Credit is given to all contributors. However, there are some photographs provided to me without details regarding the photographer/owner concerned. I hereby invite if owners of these images would be so kind to make them-selves known to me (my email address may be found on www.ssmaritime.com only), in order that due credit may be given.
This notice covers all pages, although, and I have done my best to ensure that all photographs are duly credited and that this notice is displaced on each page, that is, when a page is updated!
ssMaritime is owned & © Copyright by Reuben Goossens - All Rights Reserved.