Furness Bermuda Line, R.M.S. Monarch of Bermuda, then New Australia & Arkadia
Please Note: Firefox and some other Search Engines may not be suitable
Use Google Chrome for this Web Page to load perfectly!

Please Note: All ssMaritime and other related maritime sites are 100% non-commercial and privately owned, thus ssmaritime is NOT associated with any shipping company or any other organisation! Although the author has worked and been involved in the passenger shipping industry for well over 60 years, but due to his old age and poor health, he was forced to retire. Yet, he has completed well over 1,360 Classic Liners, Passenger-Cargo Liners as well as humble converted C3 converted Migrant Liners, which has transported countless thousands folk to the new world, as well on vacations'. I trust the features online will continue to provide Classic Liner and Ship enthusiasts both the information they are seeking, but more so provide a great deal of pleasure and relive many happy memories!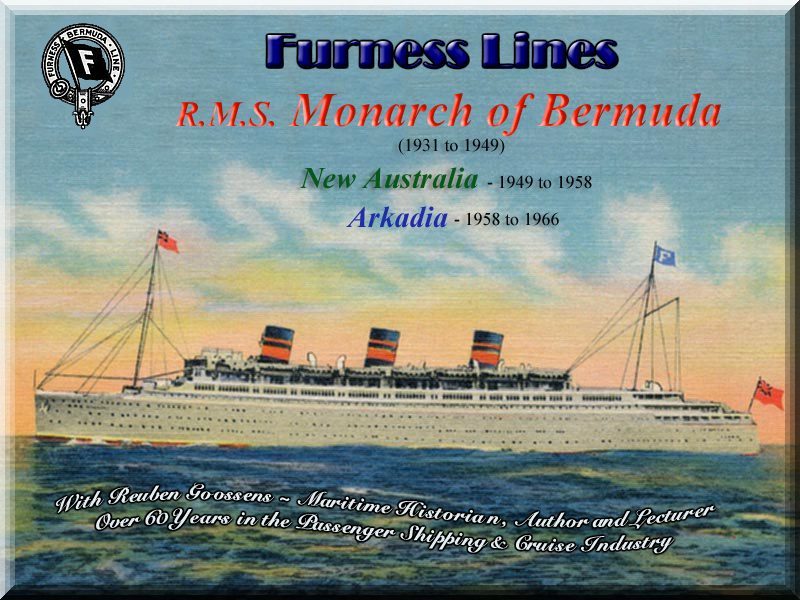 Please Note: Postcards, photographs & other images are either from the author's private collection.
A special thank to the three ssmaritime supporters for sending their most welcome Photos & images
Peter Knowles (USA), Ronny MacQuoid (UK) & Will Ingham (BM)
Page One - R.M.S. Monarch of Bermuda
This feature will cover two pages; Page One will cover this fine ship as built in 1931, as well as her days as a troopship. Page Two has her in her two final guises; the British migrant liner the S.S. New Australia (1949) then she became the Greek Line's S.S. Arkadia (1958) and she sailed until 1966.
Introduction:
The "Furness, Withy & Co Ltd" was awarded the Mail contract for the New York to Bermuda service in 1919, and in that same year they took over the Bermuda service from the "Quebec Steamship Co", who had been operating
The Bermuda service, but initially from Canada as under the name "Quebec & Gulf Ports Steamship Co" as far back as 1874. In 1913, this company was taken over by "Canada Steamship Lines", but they continued to use the company's original name the "Furness Bermuda Line" and they continued in operation for a good 47 years until November 23, 1966 when the R.M.S. Queen of Bermuda, the last of the two sister ships, departed for the very last time.
The "Furness Bermuda Line" commenced their service with the 1904 built, 435 ft long "Quebec Steamship Company's" S.S. Bermudian, which was renamed "Fort Hamilton" in 1920. She was 5,530 GRT (Gross Registered Tons) and she accommodated 263 First Class as well as 42 Second Class passengers.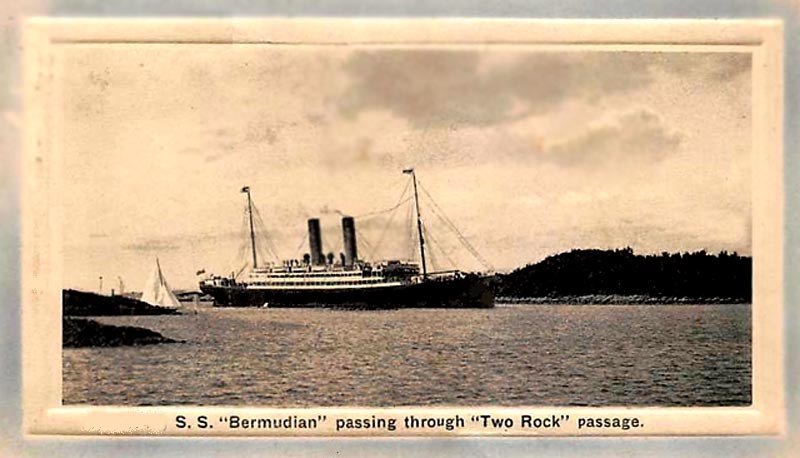 A postcard featuring the S.S. Bermudian
It rapidly became well known that the "Furness Bermuda Line" was a huge success, and during it first year of operation they carried an amazing 22,000 passengers.
A contract was signed in 1930 for a new ship, the 22,424 GRT three funnelled liner the "Monarch of Bermuda", and this is her story.
On March 17, 1930 the "Furness Bermuda Line" ordered two new liners to be built by "Vickers Armstrong Ltd", at Walker on Tyne, England. These ships would be ultra luxury passenger ships and they would be named; "Monarch of Bermuda" and the "Queen of Bermuda".
The first ship the Monarch of Bermuda to be completed in 1931 was the (Quadruple Screw, Turbo Electric Ship) or as she was officially designated (Royal Mail Ship) R.M.S. Monarch of Bermuda, and she was followed by her slightly larger sister R.M.S. Queen of Bermuda two years later in 1933.
The "Monarch of Bermuda" was officially named and launched on March 17, 1931, and she was completed in November of that year. This 22,424 GRT (Gross Registered Ton) liner was powered by steam turbo-electric propulsion, driving 4 screws which allowed her to operate at a respectable service speed of 19.5 knots. Externally she has 3 funnels, with the aft funnel being a dummy; and she had 2 masts and featured a cruiser stern. She had 16 lifeboats more than sufficient for her relatively small number of 830 First Class passengers. She offered the best of accommodations, although if ever required there were some 32 berths that could be used for a Second Class.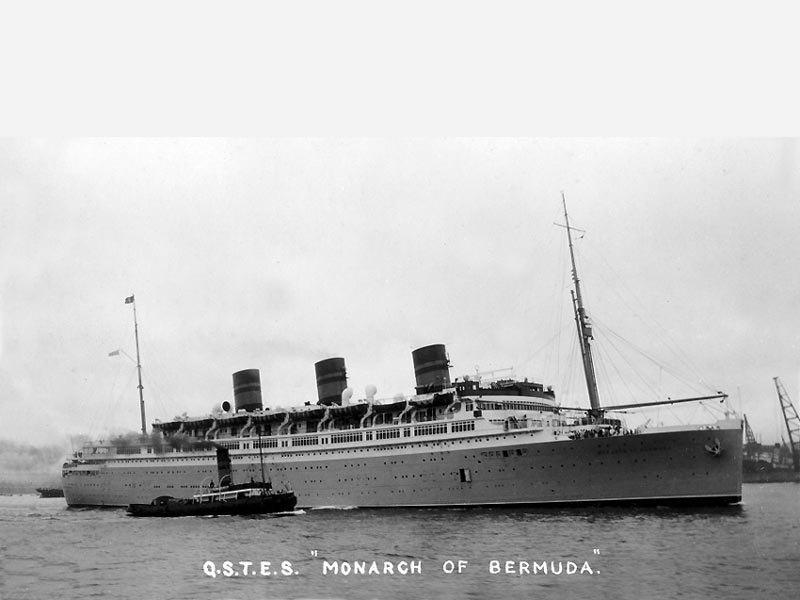 The fine view of the (Q.S.T.E.S.) - R.M.S. Monarch of Bermuda

Their three funnels provided these ships with an impressive exterior appearance, yet compared to the many Trans-Atlantic Liners they did not have that long sleek graceful look. The service from New York to Bermuda would take just 40 hours in both directions, and that allowed for four days to be spent in Bermuda.

After the war the Monarch of Bermuda was gutted by fire while being refitted for passenger service, but her hulk was obtained by the Ministry of Transport and she was rebuilt into a humble emigrant liner. Renamed "New Australia" in 1949, she was operated by "Shaw Savill

Line". Then in 1958 she was sold to Greek Line and was renamed "Arkadia" and she sailed as a liner and cruise ship until late 1966.
Her Construction:
Vickers-Armstrongs built the "Monarch of Bermuda" at its shipyard in Walker, Newcastle upon Tyne for the "Furness, Withy & Co Ltd". She was launched on March 17, 1931 and was completed and delivered in November.
As built, "Monarch of Bermuda" was 22,424 GRT (Gross Registered Tons) and offered luxury berths for 830 passengers and her holds had a capacity for refrigerated cargo as well as a large horse stalls forward on C Deck. She had two swimming pools, there was the spectacular indoor pool featuring marble everywhere as well there being a Bar. This pool was located amidships down on E Deck, and there was the spacious outdoor pool aft on A Deck.
The R.M.S. Monarch of Bermuda was powered by steam from eight (Babcock & Wilcox) water tube boilers that were arranged in groups of four in the boiler-rooms, with a combined heating surface of 42,200 square feet (3,921 m2). The boilers burn oil and the steam generated would drive the turbines, which were coupled to the electric generators. The current is led by cables to the stern of the ship, where it drove four motors, which powered the four propellers giving her a service speed of 19.5 knots.
The Loss of M.S. Bermuda in 1931: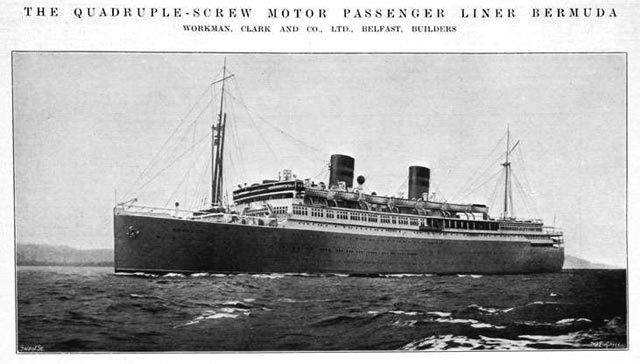 A postcard of the M.S. Bermuda
The 1927 completed M.V. Bermuda was berthed at Hamilton, Bermuda, but whilst berthed there, she was damaged by a huge onboard fire on June 16, 1931, but on the 17th she listed to her starboard side and also partially sunk dockside.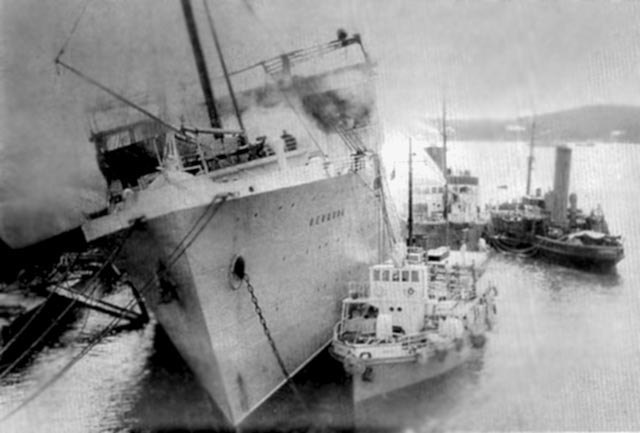 The M.V. Bermuda is seen here at Hamilton on June 18, 1931, listing badly on the 17th
Having been salvaged she was sent to her builders in Belfast, being "Workman, Clark & Company" who would rebuild her superstructure and a refit. With work almost completed in November 1931, yet another fire erupted. This fire sadly made her completely beyond possible repair and she was sold to Scottish breakers. Early in April 1933 she was taken under tow by the 369 GRT powerful steam tug; the "Seaman" and whilst bound to the breakers yard on April 30, her two tow lines snapped and broke, and Bermuda being helpless drifted ashore on the "Badcall Islands" in Eddrachillis Bay, Sutherland, Scotland. Although her tow lines were reattached and the tug "Seaman" managed to pull her off the rocks, but soon the lines broke again and sadly she was washed up further inshore, and was solidly grounded, thus it was impossible to refloat her. In due course all of her superstructure was salvaged, but her engines were already removed prior the tow.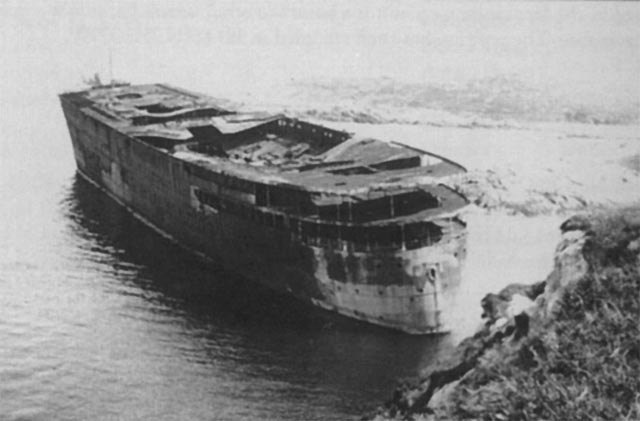 A sad sight of what was a once beautiful liner
Furness

Bermuda Line duties: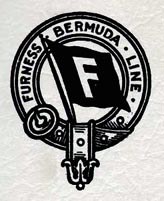 The "Monarch of Bermuda" was built for the "Furness Bermuda Line" a subsidiary of "Furness, Withy & Co Ltd".  She would operate a liner service between New York and Hamilton, Bermuda replacing their lost liner the "Bermuda."
In 1933 Vickers-Armstrongs completed her sister ship, the 22,575 GRT Queen of Bermuda, which joined the "Monarch of Bermuda" on this service.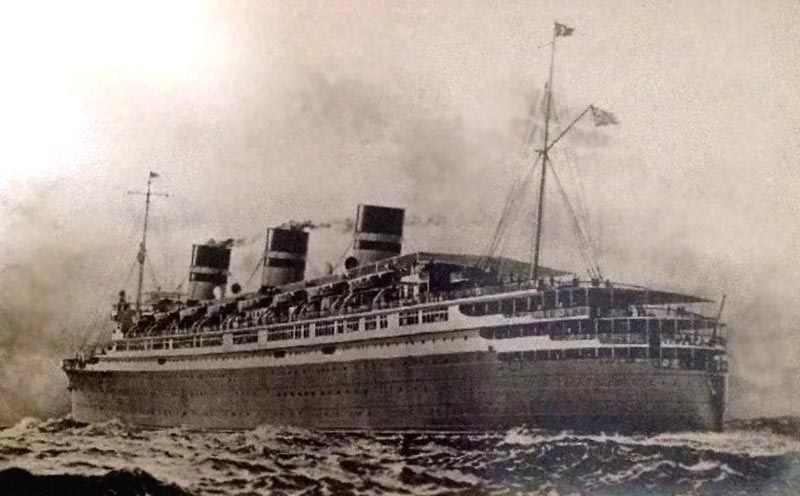 A view of the R.M.S. Monarch of Bermuda's wonderful cruiser stern
The turbo-electric propulsion liner, R.M.S Monarch of Bermuda departed on her maiden voyage from New York on November 28, 1931, and she was under the command of Captain Harry Jeffries Davis. Ashore there were thousands of people who came to see this great new liner depart.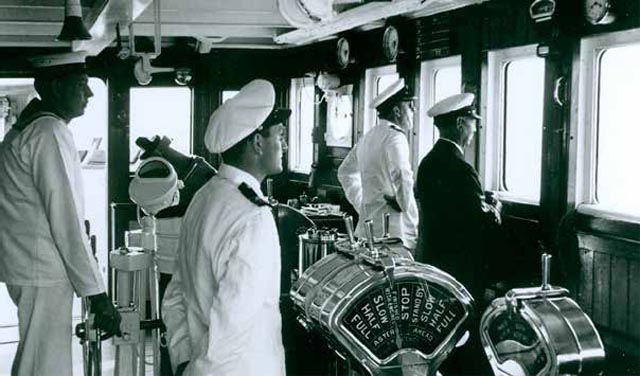 Captain Harry Jeffries Davis on the Bridge
It was during her maiden voyage that she set a brand new record for the voyage to Hamilton, Bermuda. Amazingly, she completed her voyage in just 33 hours and 35 minutes, having sailed at an average speed of 19.85 knots. She clearly beat the earlier record of 36 hours and 25 minutes that was achieved by the "Munson Steamship Co's" S.S. Pan America, which just happened to be in port when the Monarch of Bermuda arrived on November 30, 1931.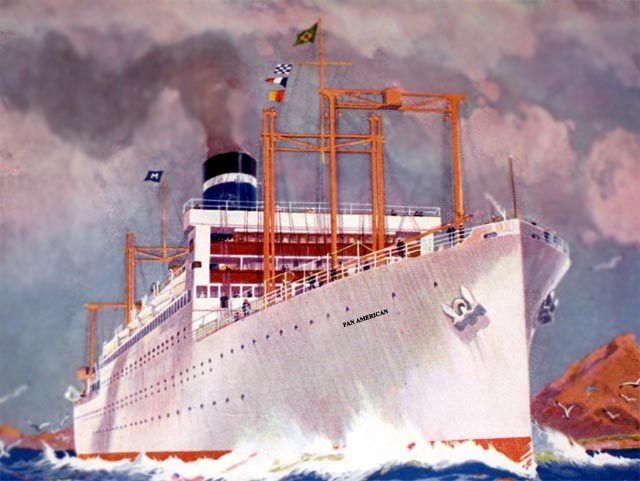 S.S. Pan American
The "Monarch of Bermuda" and her sister R.M.S Queen of Bermuda were without a doubt the most outstanding liners of their day and she, and her sister quickly attracted a following from the wealthy American travellers. These fine ships rapidly became known as the "Millionaires' Ships", mostly due to the lavish and glamorous interiors. "Monarch of Bermuda" and her sister were the very first passenger liners ever to offer bathrooms as well as telephones in every single cabin, being the kind of luxury no other ship had ever offered!
For interest, as a quadruple-screw electric ship, the "Monarch of Bermuda" was an immediate success. But changes were made for her later sister, the "Queen of Bermuda". The differences between the two ships would be as follows, as it was decided to eliminate the indoor swimming pool on lower deck. The reason for the indoor pool was originally as follows; during the winter the ship leaves New York in cold weather, but half-way to Bermuda the ship would reach warmer climes, almost tropical heat. Thus the reason for the indoor pool was that on a luxury liner passengers would use the indoor pool, for at least the first and last days, but then they would enjoy the outdoor pool for the rest of the voyage.
Onboard the "Monarch of Bermuda" all available space was taken up by passenger accommodation. The portion of the ship left over was for its propelling machinery was therefore small. That was another reason for the choice made of her electric propulsion, which could be so conveniently and flexibly arranged in those parts not required for the passenger accommodation. There was a need for as much space as possible for her passenger accommodation and facilities, that the indoor swimming pool was arranged in such a way that it occupied the space that on the next ship the "Queen of Bermuda" was the auxiliary engine-room.
Both the "Monarch of Bermuda" and the "Queen of Bermuda" were luxury liners and they were certainly capable of sailing around the world in comfort. However, they were employed on a short distance service between New York and Bermuda, being a much favoured holiday resort and Americans loved it there.
Interiors:
Below are a few interior and outdoor photographs, which were sourced from several brochures. I am sorry, not all of the images are of the same high quality.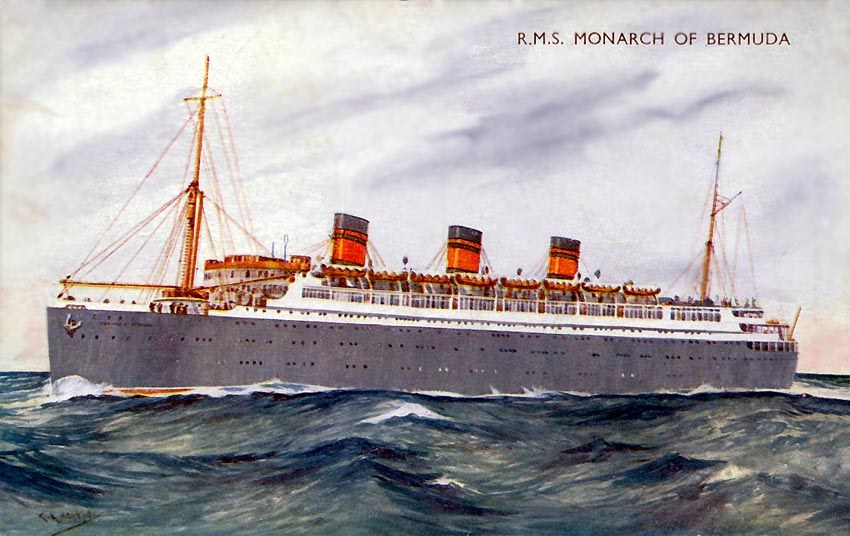 Postcard of the R.M.S. Queen of Bermuda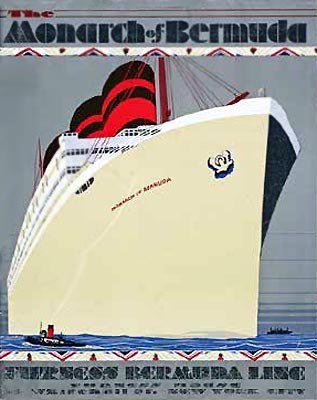 One of the Brochure covers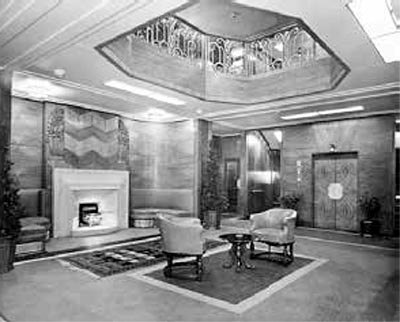 This is the Main Entrance Hall on A Deck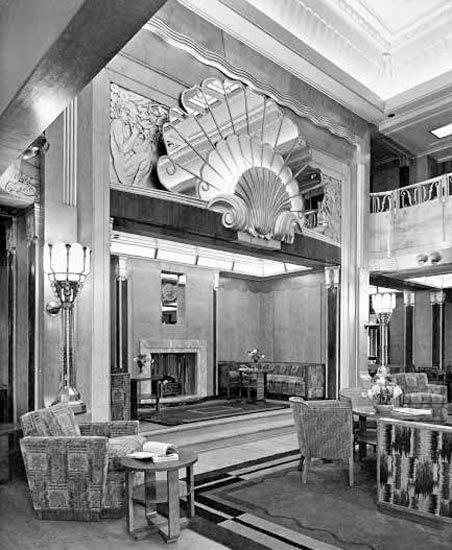 The glamorous multi level Main Lounge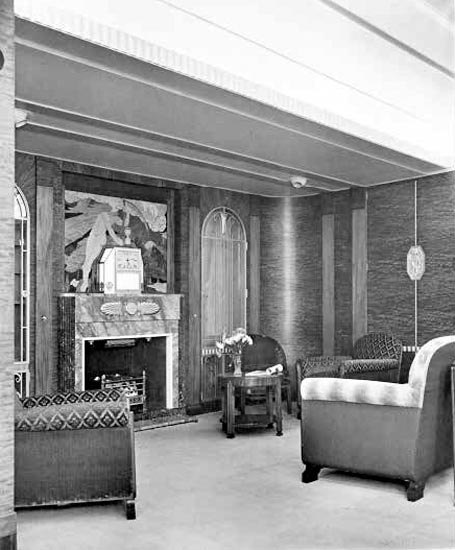 The elegant Library and Reading Room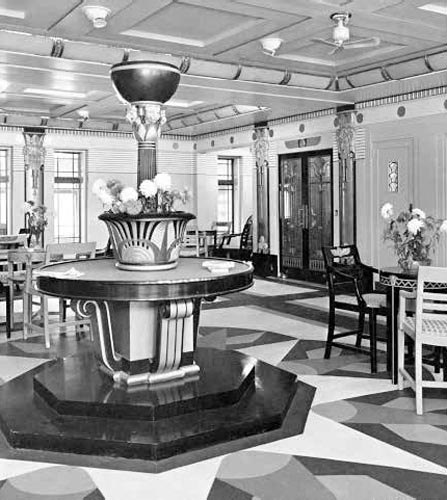 The staggeringly beautiful Verandah Café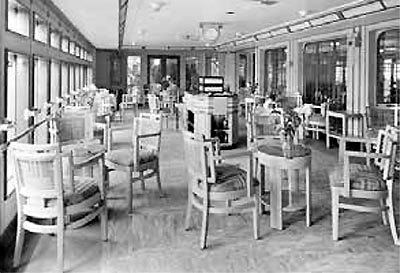 The Verandah Café, indoor (aft) "wing Café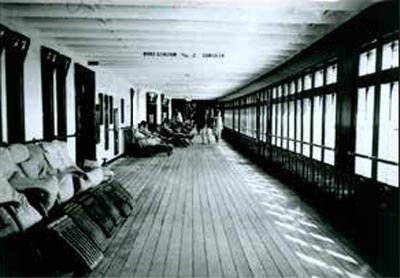 Passengers enjoying the spacious Promenade Deck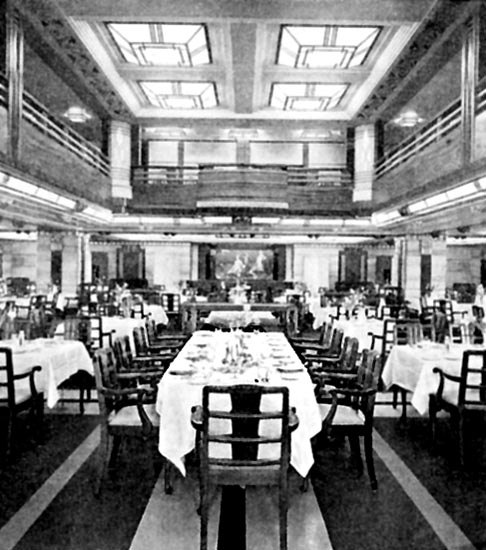 The Restaurant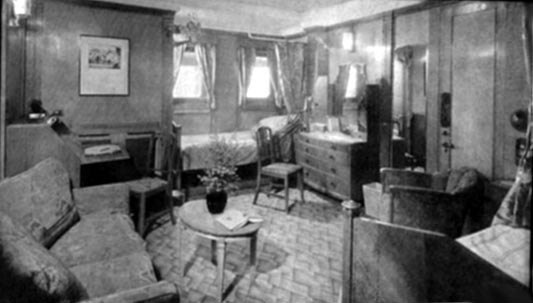 One of the Suites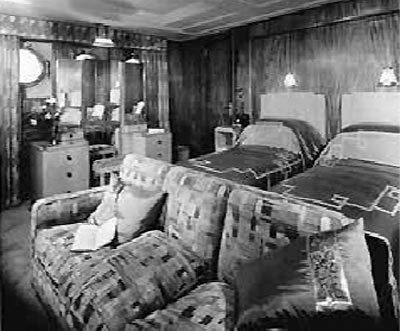 A Deluxe Stateroom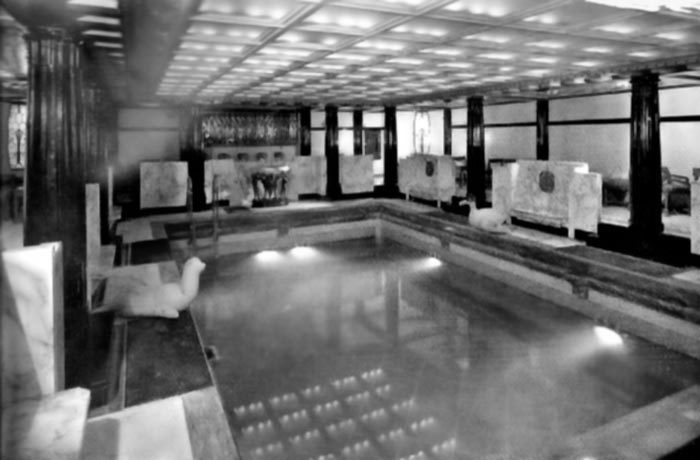 The magnificent indoor pool has marble benches along the side and a bar along the forward wall
The ceiling was golden with some 252 lights, whilst the pool had eight large lights around the sides under water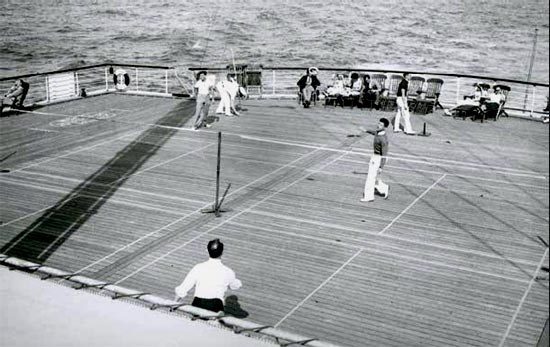 Ample deck space for sports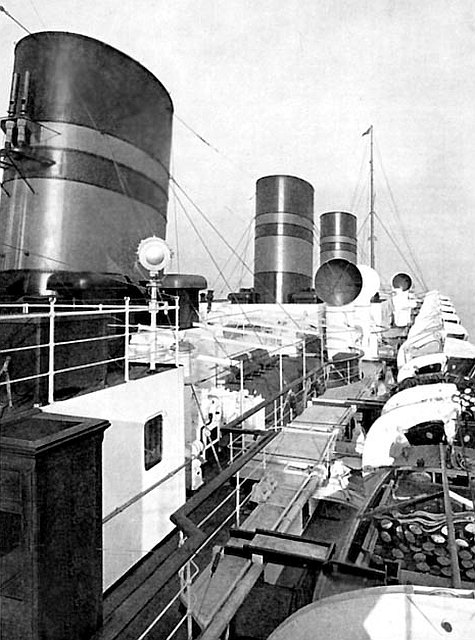 Her three stately red and black funnels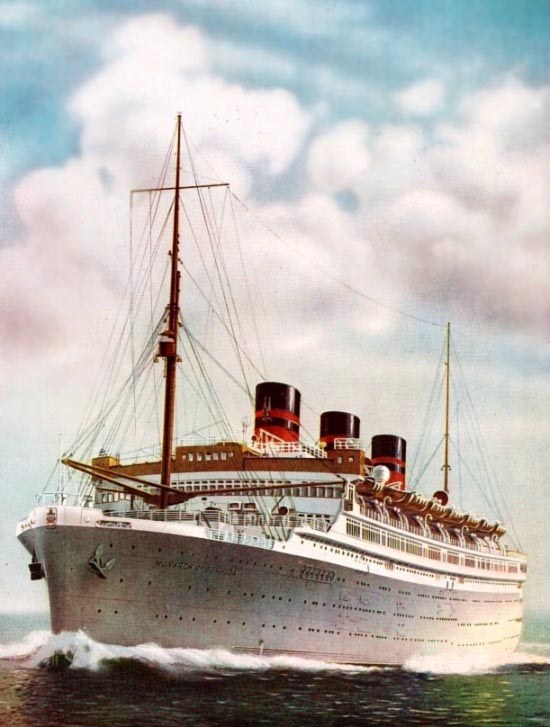 With this bow image she is seen here at sea
A Furness Lines image, but by an unknown artist
The S.S. Morro Castle Incident:
Ward Line's 11,520 GRT liner S.S. Morro Castle was an American liner that tragically caught fire eight miles off the coast of New Jersey and ran aground early on the morning of September 8, 1934, whilst sailing from Havana to New York.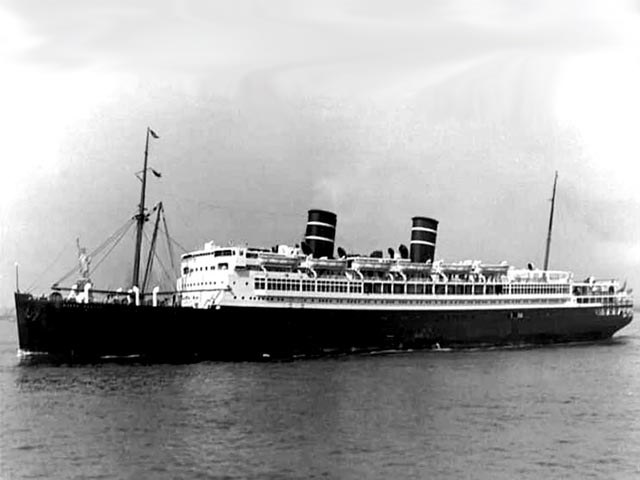 The "Morrow Castle" seen in her better days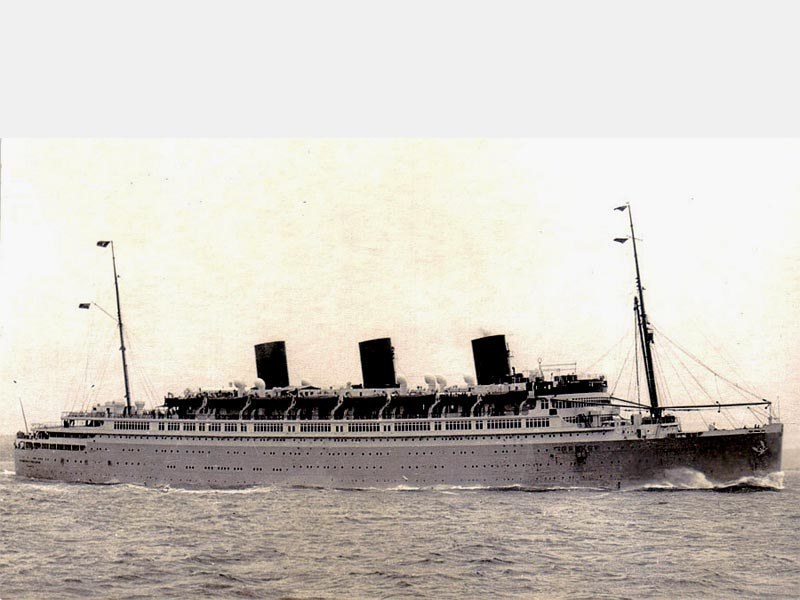 Heading at full speed to the "Morrow Castle"
At that time the "Monarch of Bermuda" was on her voyage and she received an SOS call from the "Morro Castle", which was on fire off the coast of New Jersey. Thus the "Monarch of Bermuda" being nearby headed directly to the disaster area. However the fire onboard the "Morrow Castle" had spread so fast, that many of her passengers just could not get to the lifeboats, thus many jumped overboard into the sea, and thankfully the "Monarch of Bermuda" managed to rescue 71 survivors from the sea, but sadly also picked up a number of bodies of the disaster victims. S.S. Morro Castle had 555 passengers' onboard but sadly 137 passengers and crew were lost.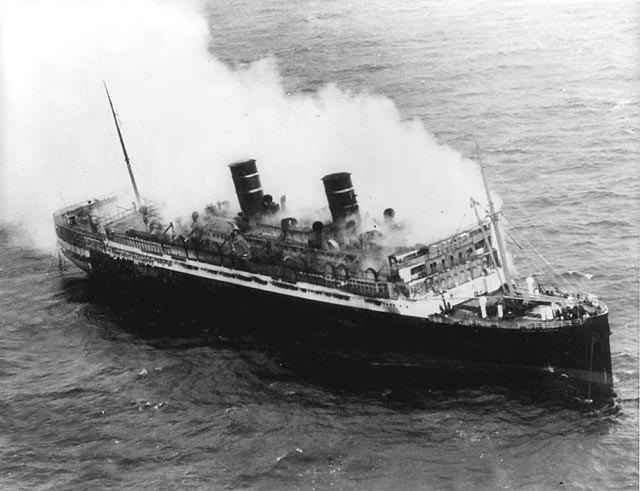 Above & below: two tragic views of the Morrow Castle on fire and having washed ashore
After the "Morrow Castle" rescue in 1934, the "Monarch of Bermuda" continued her regular service for the next five years, until September 1939. This was due to the WW2 having broken out with the invasion of Poland on September 1, 1939 she was laid up in New York.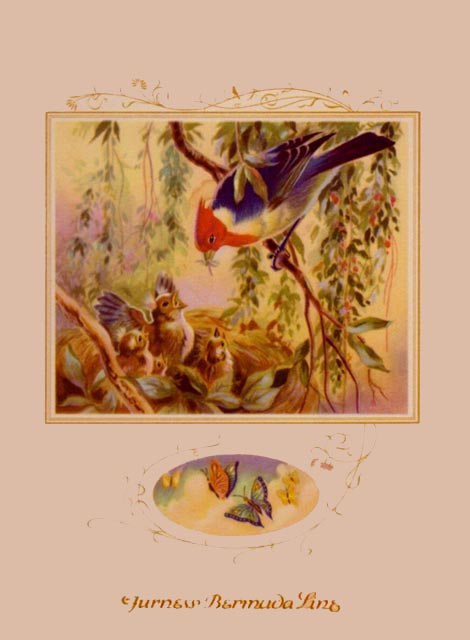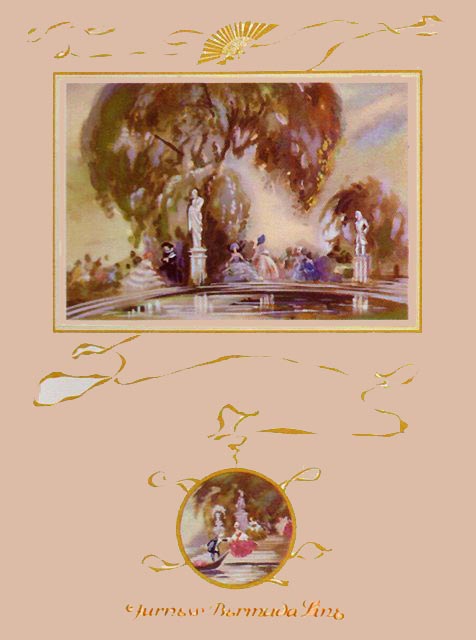 The cuisine on any "Furness Bermuda Line" liner was simply sublime
and they were well known for their beautiful artistic Menu covers
Monarch of Bermuda's Layout:
Below we see the Monarch of Bermuda's general layout, revealing locations of her public rooms, her two forward holds, and her two funnel uptakes, one amidships, as well as one forward just aft of her Bridge. Of course the aft funnel was just for show making the ship look balanced and thus it was a dummy funnel.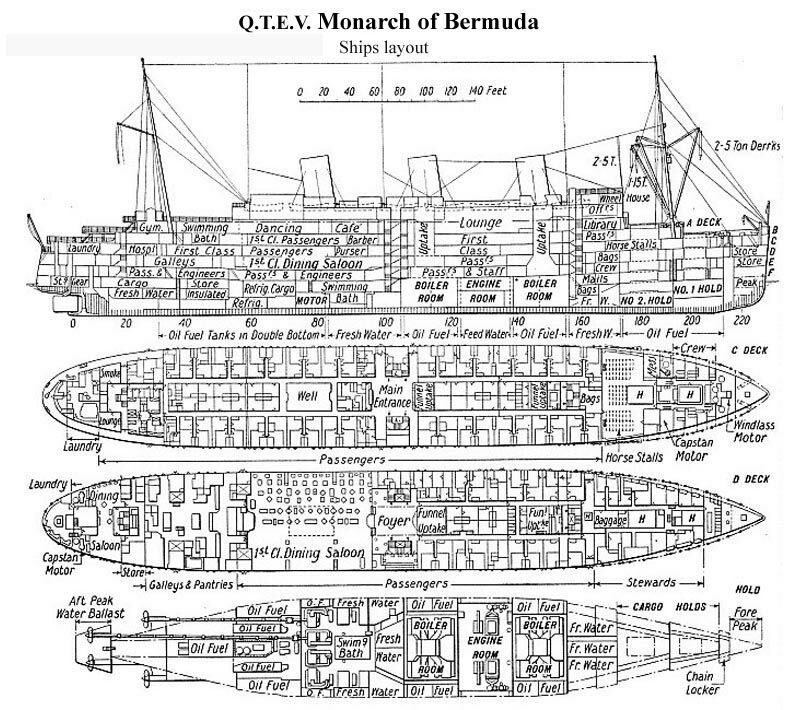 **************
Troopship:
In November 1939, both ships were requisitioned for war duties by the British Government. "Monarch of Bermuda" would become a troopship and was operated by the "Ministry of War Transport". Although the "Queen of Bermuda" became an "Armed Merchant Cruiser', but later she also became a troopship.
The Monarch of Bermuda operated as built, but in the role of a troopship she departed New York and headed for Halifax, Canada, from where on December 10, 1939 she departed Halifax, still a fine luxury liner, with 962 Canadian soldiers onboard and she crossed the Atlantic bound for Gourock, Scotland (on the south shore of the Firth of Clyde some three miles west of Greenock). They were the first Canadian soldiers to land in Britain at the commencement of the World War Two.
Having arrived in the UK and offloaded her compliment of troops, she then headed for Liverpool where all her luxury passenger fittings were removed and new quarters were installed for some 1,383 troops.
On April 14, 1940 she participated in the landing of British forces at Narvik in Norway, thereafter she would have a busy trooping career, but in July the voyage became something very new for the one luxury liner.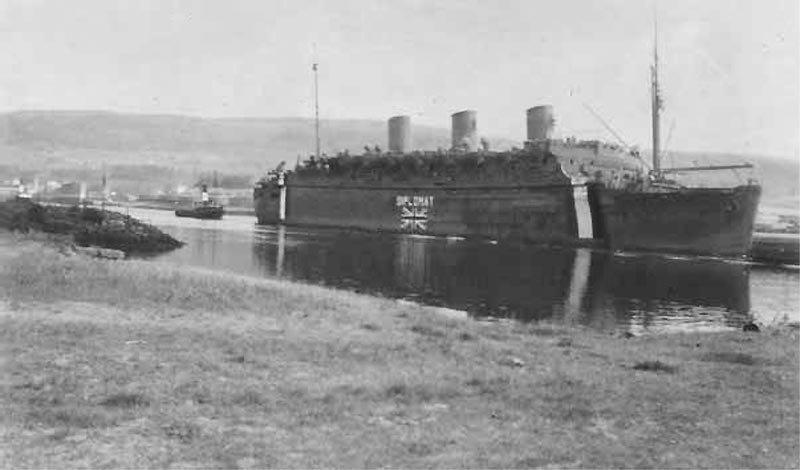 The Monarch of Bermuda is seen here during her Troopship days
In July 1940 she sailed in convoy from Greenock, Scotland with two other ships, an escort of British and Polish warships and they headed for Halifax arriving there on July 13, 1940. Interestingly, she and two other ships in this convoy were transporting millions of dollars of gold bullion from the "Bank of England" to be deposited in the "Bank of Canada" for safekeeping during the War. There were also Royal treasures from "Wawel Royal Castle" in Poland; all together this movement was valued at £690 million UK Pounds.
In 1941 it was decided to increase her trooping capacity to 3,250 troops, and then in August 1942 she received modifications in order to carry landing craft.
During May 5 to 7, 1942 she participated in the Allied landings against the "Vichy French" in Madagascar. But once again her capacity was increased to carry 4,050 men, but with double berthing in the three-tiered bunks up to 5,550 men could be transported.
On November 27, 1942, she was in Liverpool embarking troops for the action against "Vichy French" arriving in Oran, Algeria on December 6, 1942.
Then on July 3, 1943, the Monarch of Bermuda boarded troops destined for action in "Operation Husky" which was the Allied invasion of Sicily and landed them at Pachini on August 17, 1943.
In 1946 she was used to transport Canadian War Brides across the North Atlantic. Then finally in July 1946 she was released from trooping duties, and she had carried a total of 164,840 men and women during the war, and she had sailed an amazing 450,512 miles.
Return to Civilian Duties:
With the war over, in 1947, the Monarch of Bermuda was sent for refitting at the "Palmers Shipbuilding and Iron Company Ltd" at Hebburn on the River Tyne, to be refitted making her ready to be returned to her previous luxury civilian duties, being her passenger service between New York and Bermuda., but that was never going to happen!
For on May 24, 1947, fire broke out onboard and she was extensively gutted, and this once fine ship was duly declared a total loss and she was towed to Rosyth, Scotland, and it seemed that she was destined for scrap, and indeed it could well have been her end.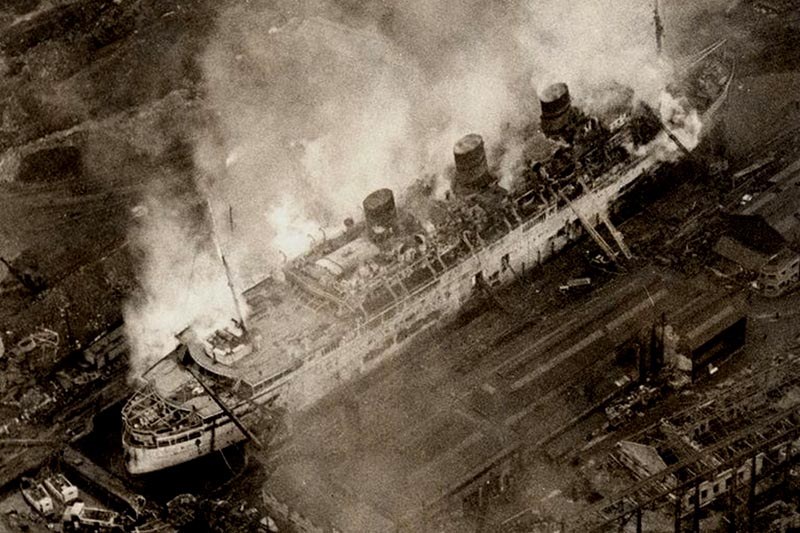 She is seen on fire at the Palmer Yard

However, due to the losses of so many liners during the War, there was an extreme shortage of passenger liners and thus the "Monarch of Bermuda" was placed on the market. The Argentine government put in a bid for her, but this was rejected by the British Government. They found that her engines were still be able operated, thus she was taken out for trials, and indeed her engines were in perfect order.

The "New Australia" and "Arkadia" will be covered on Page Two (the link is below the specifications).

Specifications and Details

:

Ship as built:            R.M.S. Monarch of Bermuda.

Type of ship:             Passenger & Refrigerated Cargo Ship

Builder:                    Vickers-Armstrongs Ltd", Walker on Tyne, England.

Yard;                       "High Walker" - N°1

Launched:                 March 17, 1931.

Delivered:                 November 1931.

Maiden Voyage:         November 28, 1931.

Registration N°:         162650.

Code letters:             LHJD - 1931 to 1933.

Call sign:                  VJQM - 1934 to 1949.

Names:                    Monarch of Bermuda - 1931 to 1949.

.                              New Australia - 1949 to 1958.

.                              Arkadia - 1958 to 1966.

Owners:                   Furness, Withy & Co Ltd - 1931 - 1949

.                              Ministry of Transport - 1949 to 1958.

.                              Arcadia Steamship Corporation / the Greek Line - 1958 to 1966.

Operators:                Furness Bermuda Line - 1931 to 1949.

.                              Shaw, Savill - 1949 to 1958.

.                              Greek Line - 1958 to 1966.

Port of Registry:        Hamilton, Bermuda - 1931 to 1949.

Launched:                 March 17, 1931.

Delivered:                 November 1931.

Tonnage:                  22,424 GRT, 12,876 NRT - 1931 to 1949.

.                              20,256 GRT - 1949 to 1961.

.                              20,259 GRT - 1961 to 1966.

Length:                    553.2 ft - 168.6 m (1931–58).

.                              590 ft -180 m (1958–66).

Beam:                      76.7 ft - 23.4 m.

Draught:                   27.1 ft - 8.26 m.

Installed power:        4,411 NHP

Propulsion:               Two × Steam Turbines, Electric Generators, plus Electric Motors.

Built by:                   Fraser & Chalmers, Erith (Turbines) & General Electric Co Ltd, Birmingham (Motors).

Propellers:                4 Screws.

Speed:                     19.5 knots, 19.85 knots maximum.

Accommodations:      830 First Class only - 1931 to 1939.

Troops:                    1,383 - 1941.

.                              3,250 - 1942.

.                              4,050 to 5,550 max - 1942.

.                              1,600 One Class - 1949 to 1958.

.                              150 First Class, 1,150 Tourist Class - 1958 to 1961.

.                              50 First Class, 1,337 Tourist Class - 1961 to 1966.

Crew:                       456 - 1931 to 1939.

Fitted with:               Direction finding equipment, echo sounding equipment, gyrocompass & submarine signalling equipment.

Go to Page Two -

S.S. New Australia & S.S. Arcadia
Remembering the luxurious …
  

           

R.M.S. Monarch & Queen of Bermuda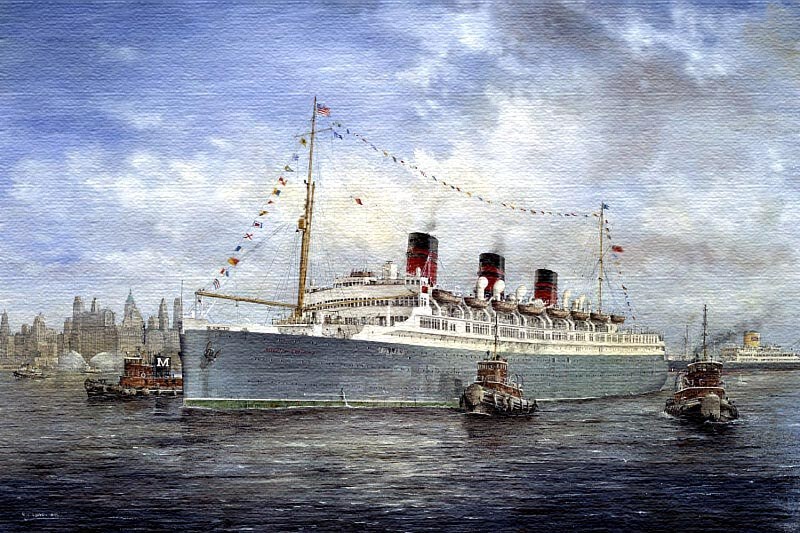 A fine painting representing the two ultra luxurious sisters
**************
"Blue Water Liners sailing to the distant shores.
I watched them come, I watched them go and I watched them die."

Featuring over 1,362 Classic Passenger Liners, Passenger-Cargo Liners & Classic Cruise Ships!
Or ENTER HERE
For interest: Sadly an email service to ssMaritime is no longer available, due to the author's old age and chronic illness as well as being disabled, etc. In the past ssMaritime received well over 120 emails per day, but Goossens can no longer handle same. He sincerely regrets this!
**************
ssMaritime.com & ssMaritime.net
Where the ships of the past make history & the 1914 built M.S. Doulos Story.
The Author has been in Passenger Shipping & the Cruise Industry for well over 60 years
In addition he was the founder of "Save the Classic Liners Campaign" in 1990.
Please Note: ssmaritime and associated sites are 100% non-commercial and the author seeks no funding or favours of any shape or form, never have and never will!
Photographs on ssmaritime and associate pages are by; the author or from the author's private collection. In addition there are some images that have been provided by Shipping Companies and private photographers or collectors. Credit is given to all contributors. However, there are some photographs provided to me without details regarding the photographer/owner concerned.
This notice covers all pages; although, and I have done my best to ensure that all photographs are duly credited and that this notice is displaced on each page, that is, when a page is updated!
ssMaritime is owned & © Copyright by Reuben Goossens - All Rights Reserved