Rederi AB Transatlantic ~ Sweden - M/S Mongabarra
Please Note: Firefox and some other search engines are not suitable - Use "Internet Explorer" for this page to load perfectly!
Click the logo above to reach the ssMaritime FrontPage for News Updates & "Ship of the Month"
With Reuben Goossens
Maritime Historian, Cruise'n'Ship Reviewer, Author & Maritime Lecturer
Please Note: All ssMaritime and other related maritime/cruise sites are 100% non-commercial and privately owned. Be assured that I am NOT associated with any shipping or cruise companies or any travel/cruise agencies or any other organisations! Although the author has been in the passenger shipping industry since 1960, although is now retired but having completed around 680 Classic Liners and Cargo-Passengers Ships features I trust these will continue to provide classic ship enthusiasts the information the are seeking, but above all a great deal of pleasure! Reuben Goossens.

-

Rederi AB Transatlantic ~ Sweden
M/S Mongabarra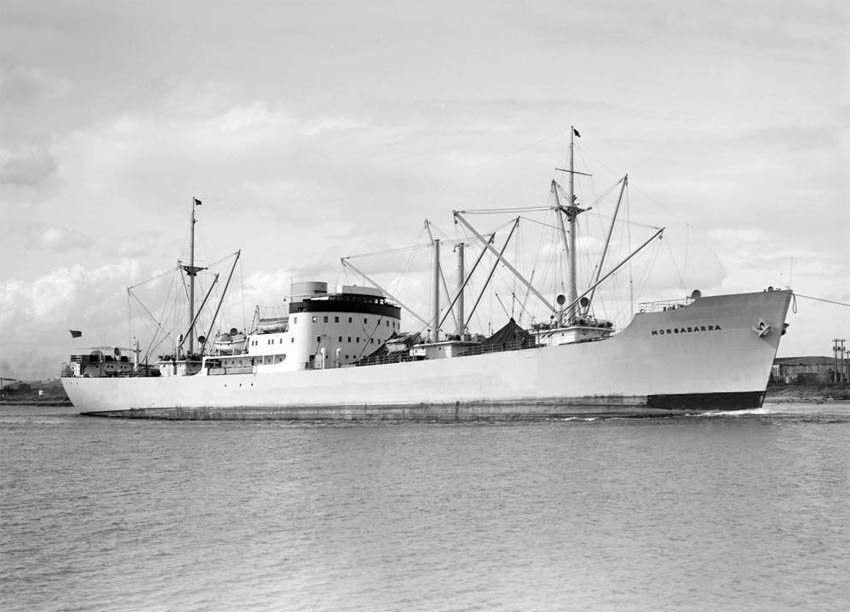 MS Mongabarra seen arriving in Melbourne give or take 1948
Photographer is unknown – Please see the photo notes at the bottom of the page
A new passenger-cargo liner was ordered to be built by the Swedish "Eriksbergs Mekaniska Verkstad" at G?teborg Sweden on September 13, 1944. On September 27, 1945 the ship was launched and named Mongabarra and taken to her fit-out berth. The completed 5,029 GRT (Gross Registered Ton) ship was delivered on December 20, 1945 to her owners; Rederi AB Transatlantic.
For interest, the name "Mongabarra" comes from an Australian Aboriginal word that translates as "Pigeon."
The MS Mongabarra offered excellent accommodations for 12 passengers, in cabins as follows; 3 Twin bedded cabins, 2 Two-berth cabins and 2 Single bed cabins. However the Two-berth cabins did have a Sofa and these could convert into a third bed, making the total passenger capacity 14.
Passengers could certainly enjoy the delightful intimate facilities of this small ship as she sailed the globe, for she had a well appointed and comfortable Lounge and Dinning Room, in addition there was ample Deck space including the Veranda located aft.
At first she operated on the Trans-Atlantic service departing from various European ports, but she later ventured further afield to the West Coast of America and it is recorded that she also called into ports of Australia as well as occasionally to New Zealand during the 1950s.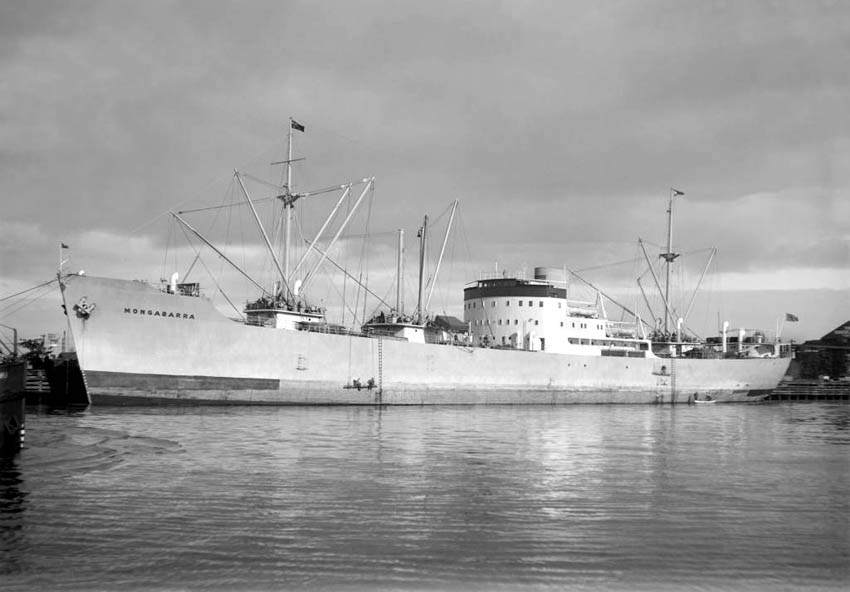 The Mongabarra is now seen berthed in Melbourne
Photographer is unknown – Please see the photo notes at the bottom of the page
Mini Photo Album: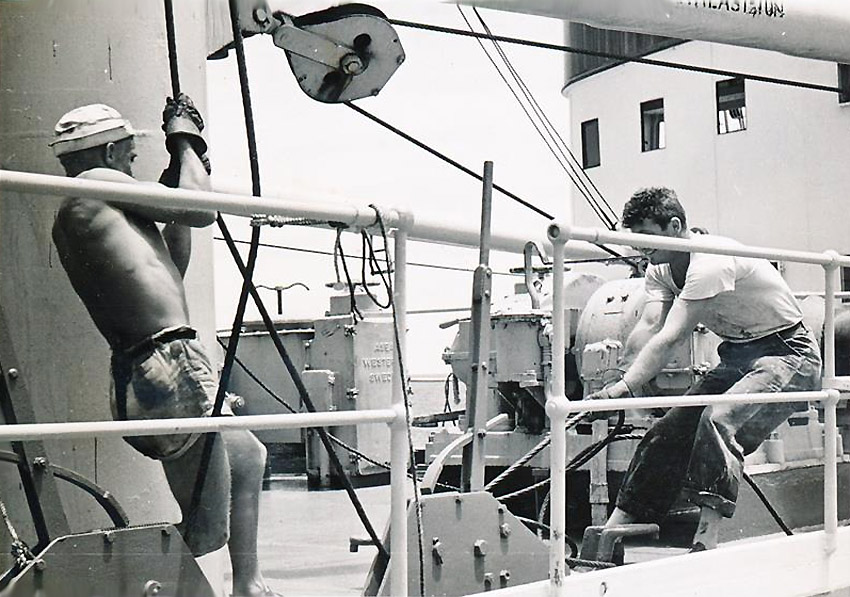 A typical scene of crew at work on the Foc'sle as they are fastening all derricks and making ready for departure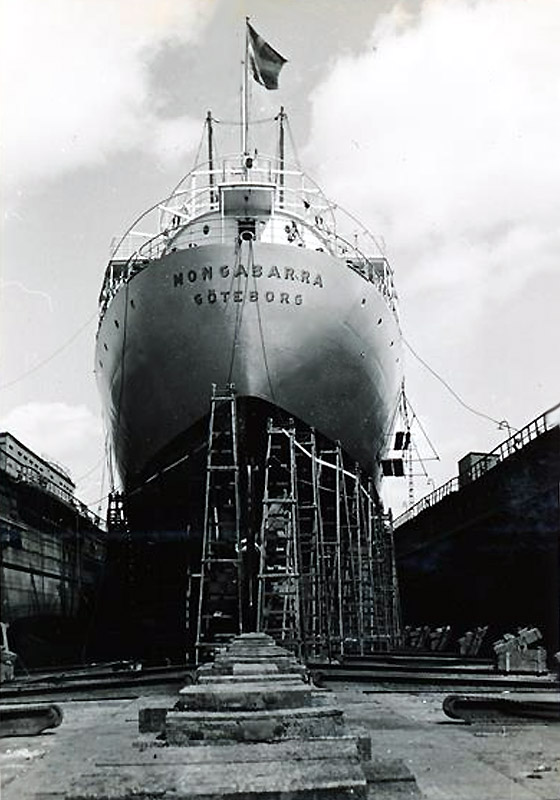 The Mongabarra is seen in Dry-Dock for her annual maintenance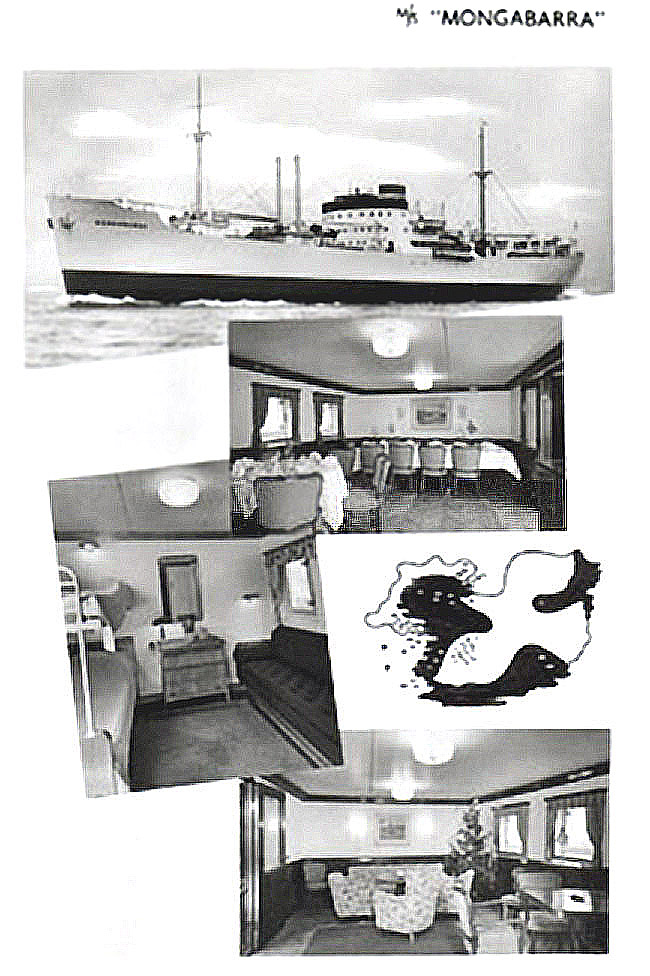 Here we see four images from her brochure …
1. The ship, 2. The Dining Room, 3. A two berth Cabin with a convertible sofa to a single bed
4. A very comfortable Lounge obviously seen around Christmas time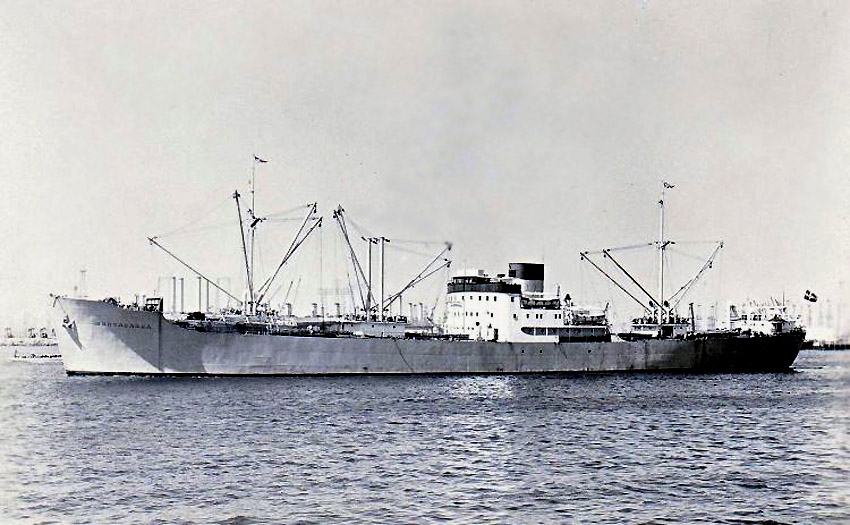 A fine view of the Mongabarra berthed in a port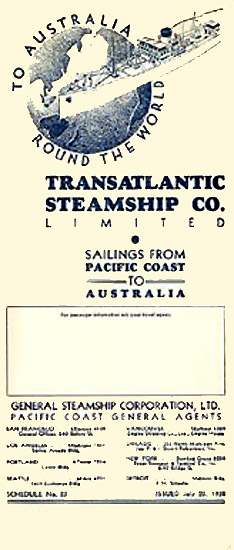 Her sailing schedule
Her schedule was as far as we know follows: Vancouver, Puget Sound (optional), Columbia River (optional), San Francisco, Los Angeles (optional), Brisbane, Sydney, Melbourne and Adelaide. Optional ports of call to New Zealand were made occasionally enroute to Australia but were not shown on the schedule, as these would be pending cargo loadings and if space was available passengers could board.
**********************************
Mongabarra Voyage to New Zealand:
In May/June 1953 the MS Mongabarra made her maiden visit to New Zealand and the Port of Whangarei. For the small town and its Port this was a big event for it was the very first time passengers had boarded a ship in this town, thus a Municipal Band was arranged to play for the ships 12 passengers, crew and the 150 or so people and family members who were on the wharf to see this ship sail, for it was it was certainly considered tobe a major event for Whangarei! In fact the Newspaper, "The Northern Advocate" very clearly described the event with fanfare!
The Northern Advocate – printed the day before departure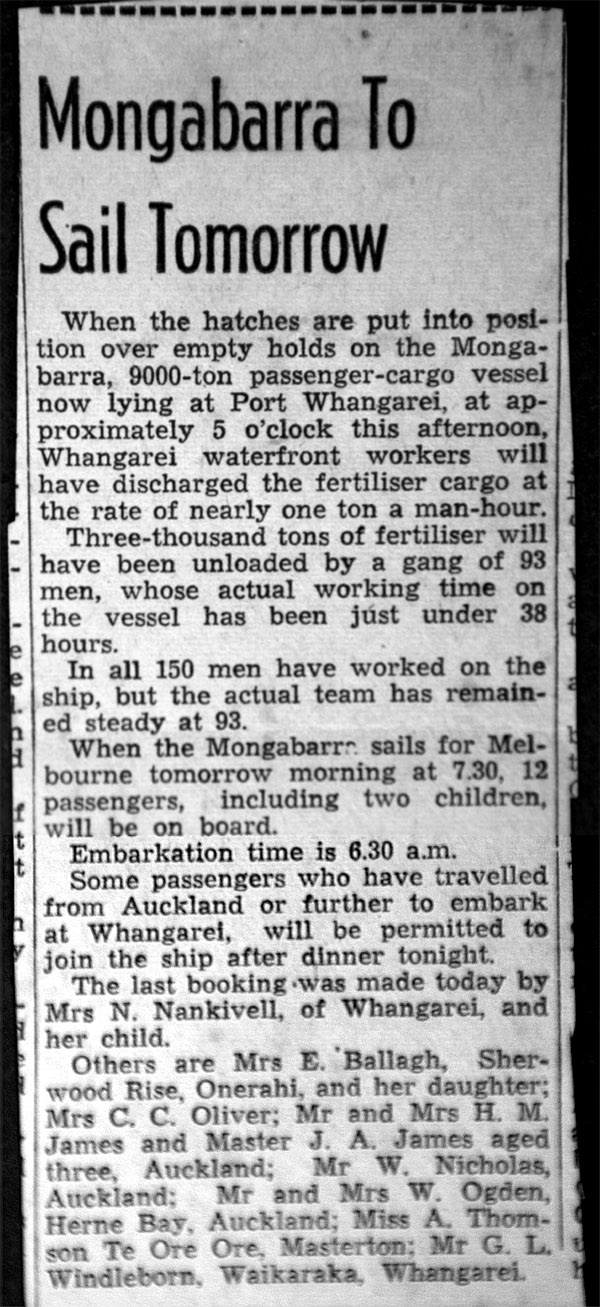 As you will have read, one of the passengers who embarked was bound for Melbourne Australia was Mrs. Ethel Nankivell and her twelve-month-old son Louis. She had one of the comfortable single bed cabins, which had been provided with a special cot suitable for a one year old.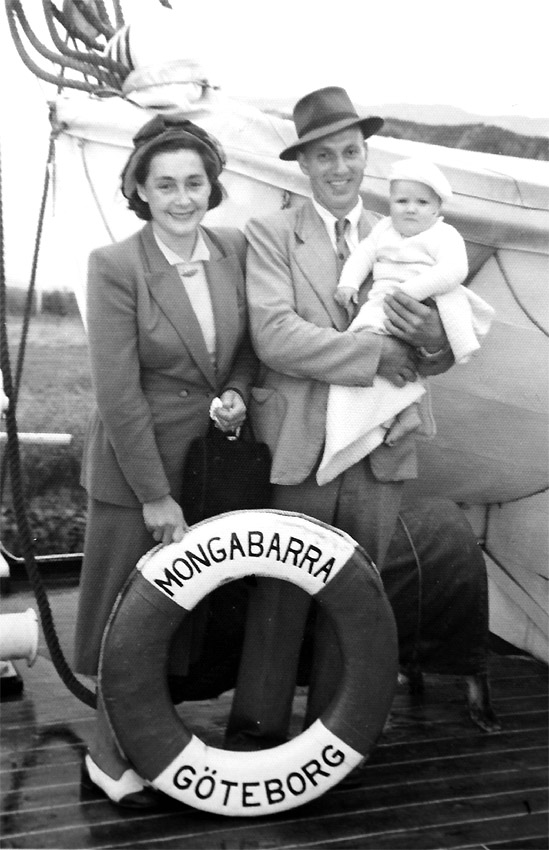 Mr. and Mrs. Ethel and Noel Nankivell is seen up on Boat Deck with the proud Dad holding baby Louis in his arms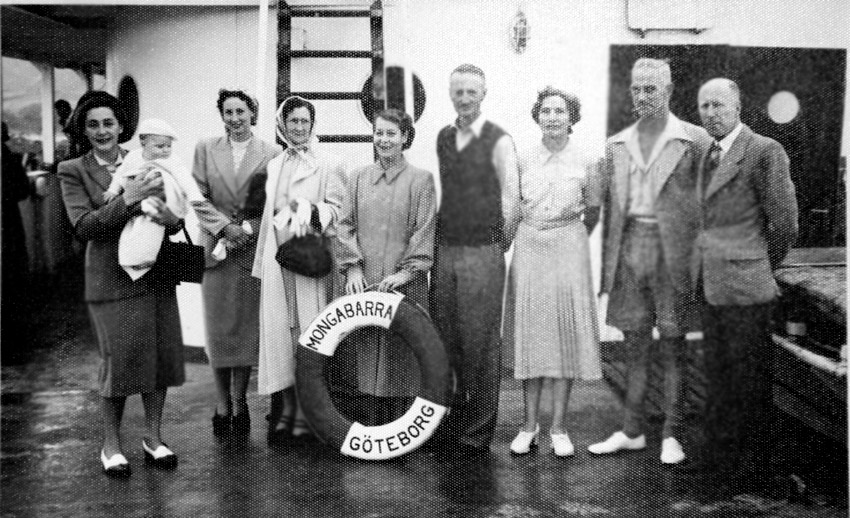 A group of passengers pose aft on Shelter Deck with Ethel with baby Louis seen on the left
The Northern Advocate – printed on the day of departure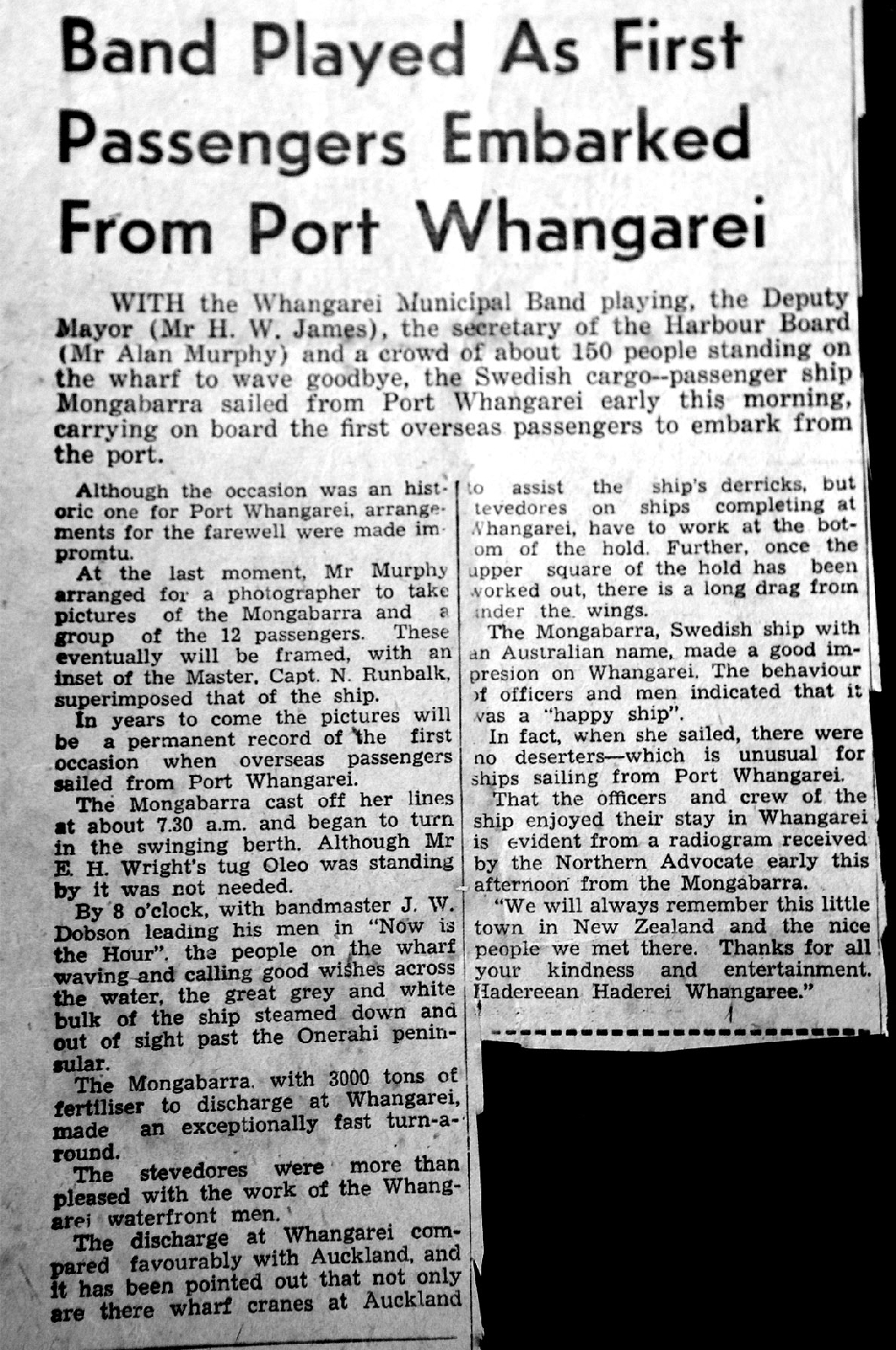 With the Band playing the emotional song, "Now is the hour" the Mongabarra at 7.30am pulled away from the terminal and she did not require a tug. As Whangarei is located on the East Coast of the North Island of New Zealand as well north of the countries largest city, Auckland, thus the ship headed north to the very top of New and then turned to port and headed west and then south to Melbourne her next port of call where she would offload much of her cargo and most of her passengers, before taking on new passengers who would sail for the USA!
MS Mongabarra Sad End:
The Mongabarra departed Hamburg on May 18, 1960 laden mostly with new German cars as well as some general cargo, bound for New York. Then around midnight whilst on the North Sea in extreme fog the ship collided with the BP tanker, the Harland & Wolff built 8,573 GRT, MS British Workman at position 53.46N/ 7.20.30 (E), the depth at the collision site being around 9m.

The BP tanker MS British Workman
The British Workman was on her way to Bremen when she collided with the Swedish freighter. Five British members of the tanker's crew were at one time reported missing in thick fog in the North Sea, in a ship's boat which had been lowered after the collision off the German coast. Those from both ships had taken to their lifeboats, which was difficult as there was a big swell running, but the Mongabarra's Captain and a small number of his crew remained onboard.
Soon the 485-ton Dutch vessel Wegro was on the scene and she took on survivors from both the tanker and lifeboat with 16 persons from the Mongabarra, including some women who were obviously very upset. A little later, another one of the Mongabarra lifeboats reached another small vessel, the Nicola with 17 persons. From what the captain said later, "when the fog lifted, at least eight vessels were around my ship, all desiring to salvage her, but I remained on board, thus they were unable!"
Considering that she had been badly damaged her owners did make an attempt to have her towed away, thus two Dutch salvage tugs, the Stentor and Samson both carrying additional pumps where sent to the Mongabarra. They arrived in the evening of May 20 and noticed that her she was still visible, but part of the ship was well under water. In the morning they first had to try to free her, as she was stuck in the mud below as well as being full of water. But their attempts failed, they used explosions to break her into two allowing the Mongabarra to sink, which she did on May 22, 1960.? A sad end indeed, although scuba divers love to visit her on a regular basis to this day!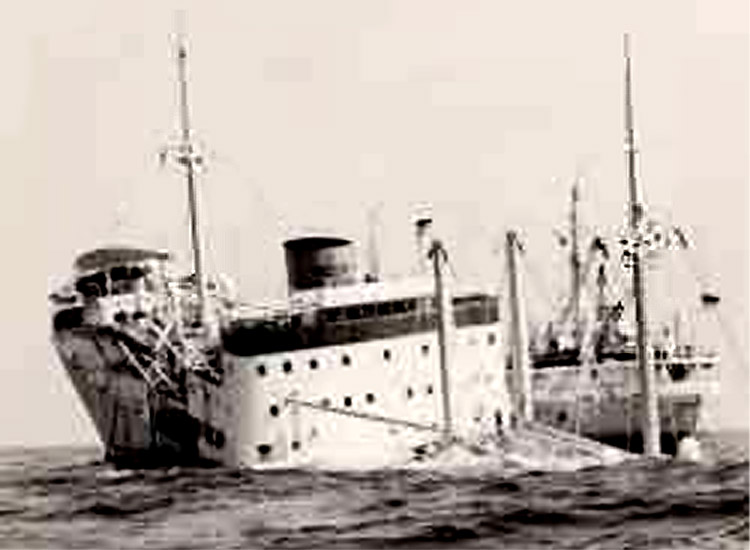 The last day afloat for the MS Mongabarra, May 22, 1960 for she is about to go down to the bottom!
Specifications:
Builder:………………………………………Eriksbergs Mekaniska Verkstad, G?teborg Sweden.
Yard No:…………………………………….336.
IMO Number:……………………………..3008741.
Ships Signal:………………………………SJAT.
Length:……………………………………...127.46 - 418.2ft.
Width:………………………………………..17.25m - 56.7ft.
Draught:……………………………………..7.65m - 25.1ft.
Tonnage:…………………………………….5,029 GRT & 9,160 DW - Dead Weight.
Machinery:...............................6-cyl Burmeister & Wains-Eriksberg diesels.
Power:………………………………………..5400 BHP.
Speed:……………………………….……….14 knots.
Screws:……………………………………...Single.
Passengers:………………………………..12.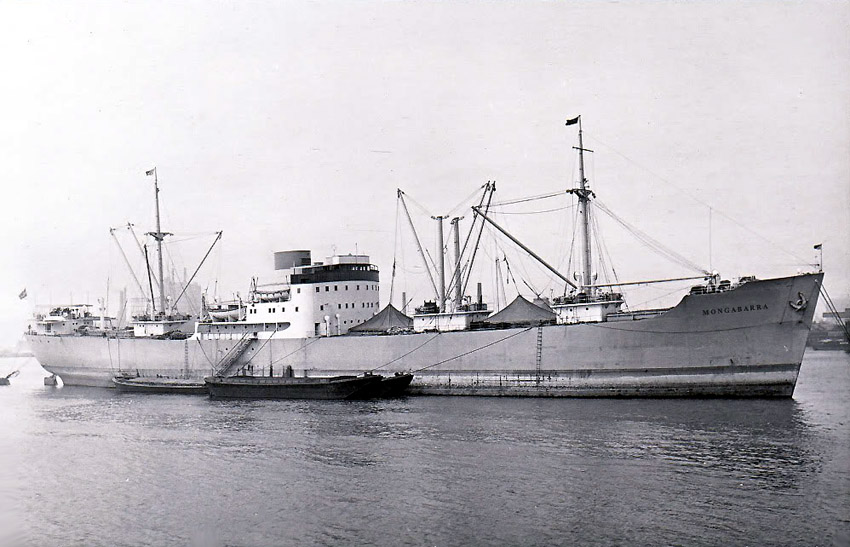 The M/S Mongabarra is seen at anchor in port
"Blue Water Liners sailing to the distant shores.
I watched them come, I watched them go and I watched them die."
****************************
Visit our ssMaritime Main INDEX
Where you will discover around 680 Classic Passenger & Passenger-Cargo Liners!
ssMaritime.com & ssMaritime.net
Where the ships of the past make history & the 1914 built MV Doulos Story
Please Note: ssmaritime and associated sites are 100% non-commercial and the author does not seek funding or favours and never have and never will.
Photographs on ssmaritime and associate pages are either by the author or from the author's private collection. In addition there are some images and photographs that have been provided by Shipping Companies or private photographers or collectors. Credit is given to all contributors, however, there are some photographs provided to me without details regarding the photographer or owner concerned. Therefore, I hereby invite if owners of these images would be so kind to make them-selves known to me (my email address can be found at the bottom of the page on www.ssmaritime.com), in order that due credit may be given.
????? ssMaritime is owned & ? Copyright by Reuben Goossens - All Rights Reserved?????????????????????????????????????????????????????????????????????????????????????????????????????????????????????????????????????????????