The complete history if the 1922 P&O RMS Mongolia and her next four incarnations as the liners; SS Rimutaka 1938, SS Europa 1950, the luxury cruise ship SS Nassau 1951 & SS Acapulco 1960 to 1964
Please Note: Firefox & some other Search Engines may not be suitable
Use Google Chrome for this Web Page to load perfectly!

Click the logo above to reach the ssMaritime FrontPage for Ships of the Month & News Updates
With Reuben Goossens
Maritime Historian, Cruise'n'Ship Reviewer, Author & Lecturer
Please Note: All ssMaritime and other related maritime sites are 100% non-commercial and privately owned, thus ssmaritime is NOT associated with any shipping company or any other organisation! Although the author has worked and been involved in the passenger shipping industry for well over 60 years, but due to his old age and poor health, he was forced to retire. Yet, he has completed well over 1,550 Classic Liners, Passenger-Cargo Liners as well as humble converted C3 converted Migrant Liners, which has transported countless thousands of folk to the new world, as well on vacations'. Amazingly, ssmaritime.com has received well over 573.4 million visitors to date I trust the features online will continue to provide Classic Liner and Ship enthusiasts both the information they are seeking, but more so provide a great deal of pleasure and relive many happy memories!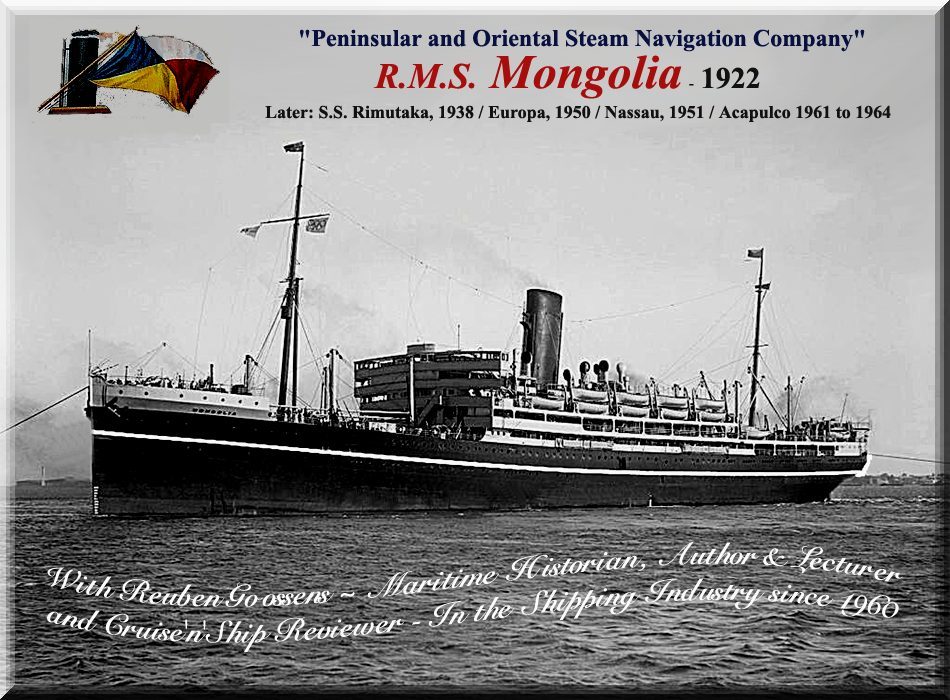 Please Note: Postcards, photographs & other images are either from the author's private collection or from my supporters.
Thus thank you to the my ssmaritime supporters for sending me their wonderful
photographs & images for I could not have completed this feature without your help!
Page One
Introduction:
The S.S. Mongolia (3) was a well built steam turbine-driven twin-screw Passenger Liner, built for the "Peninsular and Oriental Steam Navigation Company" (P&O) and she was launched in 1922. However, she was the last of the three P&O liners built with the name of "Mongolia". Amazingly, although the last with the name, she is the only P&O ship to have been either chartered out or sold on number of times and she had four new names as can be seen on the logo of the R.M.S. Mongolia above.
It is for this reason that this feature has three pages, although under different names, but listed as Page One, Two & Three in the Index at the bottom of the page.
However, let us first look at the two S,S, Mongolia's before the one in question, and below are their details, which I will keep as brief as possible.
***********************************
S.S. Mongolia (1):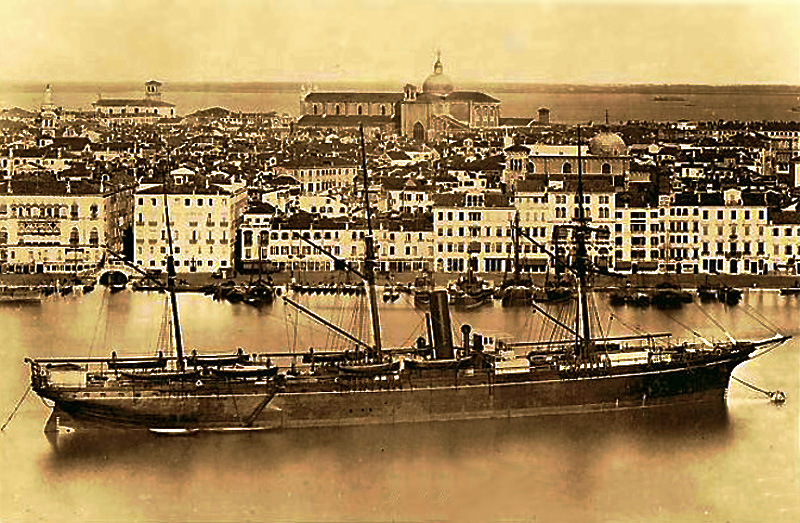 A fine sepia photograph of the SS Mongolia taken in Venice
This fine triple masts steam-sailing ship was built by Scott & Co., Greenock, in their Cartsdyke East Yards & Yard No. 106. She was launched March 1, 1865, and delivered to P&O in August 1865. Her dimensions were as follows; 2,999 GRT - L 319.4 ft: W: 40.2 ft: Depth 32.7 ft. She was scrapped in Bombay in November 1888.
S.S. Mongolia (2):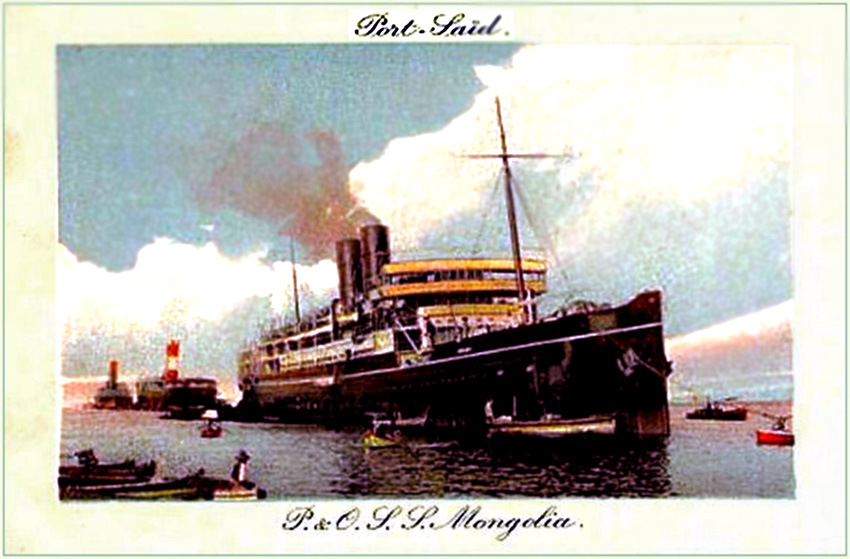 Postcard of the S.S. Mongolia (2) seen in Port Said, Egypt
This time P&O decided to construct a two funnelled liner and she was built by "J Caird & Co.," in Greenock, Yard 302. She was 12,358 GRT, and her dimensions were Length: 168, Breadth: 19 m & Draught: 10.7 m, she has twin screws and an excellent speed of 19 knots.
During a voyage in June 1917 filled with passengers, and mail bound for India, China, as well as her holds filled with general cargo bound for Australia, she suddenly struck a mine on June 23, 1917 some 50 miles S/W of Bombay. Apparently, this mine had been laid by the German raider the SMS Wolf.
The mine caused an explosion, which saw 3 passengers as well as 3 officers in the engine room and 14 native and 3 European crewmembers were killed by the fiery and wild explosion. All the ships survivors from the Mongolia were rescued without any further loss by nearby vessels, but obviously it was not possible to save the Royal Mails that sadly went down with the ship.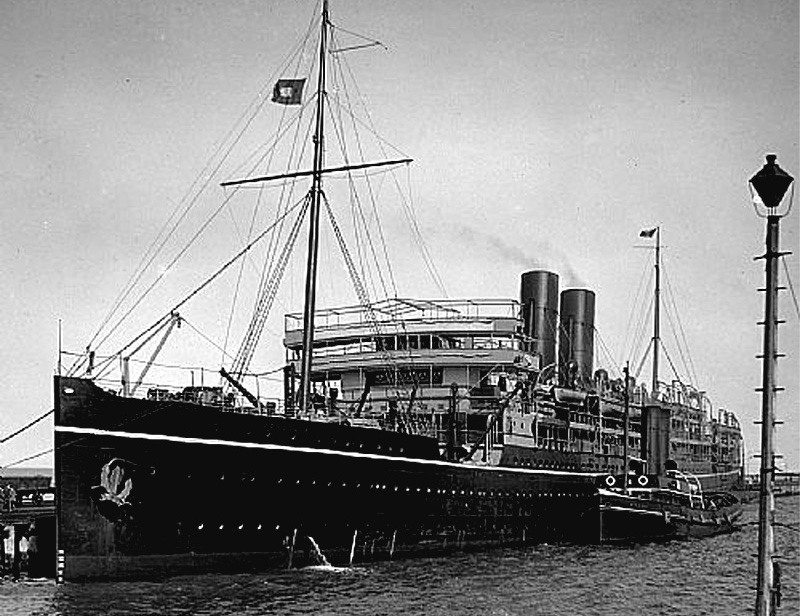 S.S. Mongolia is seen here in Melbourne Australia, ready to return to the UK
She was a fine and a reliable ship, but had a tragic ending in Indian waters
***********************************
Mongolia
(3):
P&O ordered the third ship that would be named "Mongolia" from the Sir W G Armstrong, Whitworth & Co. Ltd. of Newcastle upon Tyne on 22 November 1918, at an agreed cost of £1 million (English Pounds).
However, due to post war refits of existing ships her construction was delayed and her first steel plate was laid down in due course in yard No. 964. When ready, she was finally launched on August 24, 1922 and once in the water she was towed to her fit-out berth where she was completed. When this fine new ship was completed she undertook her deep sea trials on April 25, 1923 with great success as she managed a remarkable top speed of 17.6 knots, although she would usually sail at a service speed of 16.5 knots. She was delivered the next day.

Here we see a starboard side-view of the Mongolia's deck layout
The R.M.S. Mongolia was completed and delivered to P&O in London on April 26, 1923 and P&O made the ship ready for her maiden voyage.
R.M.S. Mongolia Maiden Voyage:
On May 11, 1923 there were great crowds of people, let alone passengers travelling to various destinations, as well as migrants who were heading off for a new life in Australia. As the time for departure arrived, her decks were packed with her passengers whilst family and friends filled the dockside and streamers were flying with everyone holding on, and the band played, thus as she blasted her horn as she pulled away three times it was an emotional time for all, especially as the streamers finally broke the bond of those on board and the loved ones ashore. As she headed out to sea it became an exciting new adventure, but as this was also was a brand new ship made it even more exciting for all the passengers, and the same applied for the crew and a proud master on her Bridge taking her out on her maiden voyage!
The R.M.S. Mongolia having departed London on her maiden voyage bound for Sydney, and this would became a four-weekly mail service for several years. Her ports of call were as follows; London, Gibraltar, Marseilles, Port Said, Aden, Bombay, Colombo, Fremantle, Adelaide, Melbourne, Sydney and return.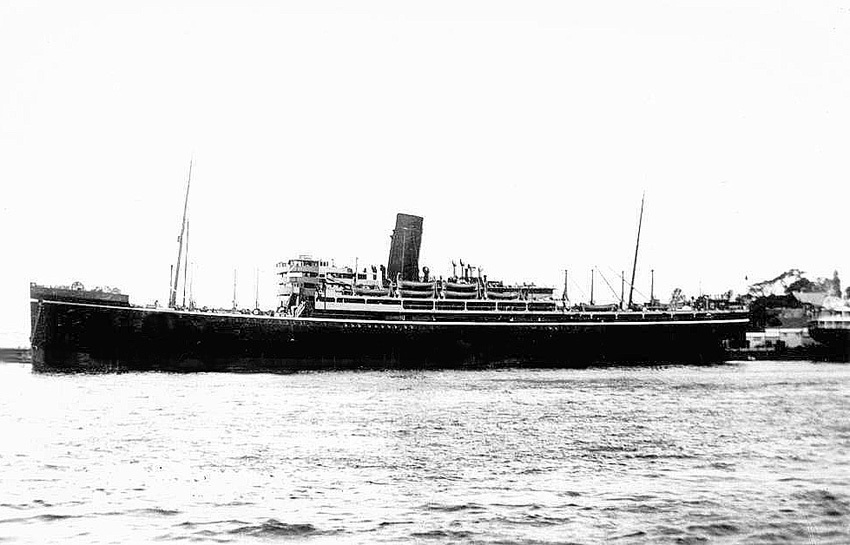 The R.M.S. Mongolia is seen in Sydney, Australia during her maiden voyage.
Photo Credit: The late Allan Green collection - Australia
Ship details and photographs of decks and interiors:
The 16,385 GRT R.M.S. Mongolia accommodated 230 First Class and 180 Second Class passengers, and she had and able officers and crew of 353 persons.
However, it should be noted, that the R.M.S. Mongolia was actually considered as being a "passenger-cargo ship", as she had six holds, three forward and three aft, with space for 669,000 cu ft (18,900 m3) of cargo, including 136,000 cu ft (3,900 m3) of refrigerated space, as she would bring back meat and other foods, etc from Australia and spices from India, etc. And not to forget her being a Royal Mail Ship, this she carried mail to various countries, especially Australia.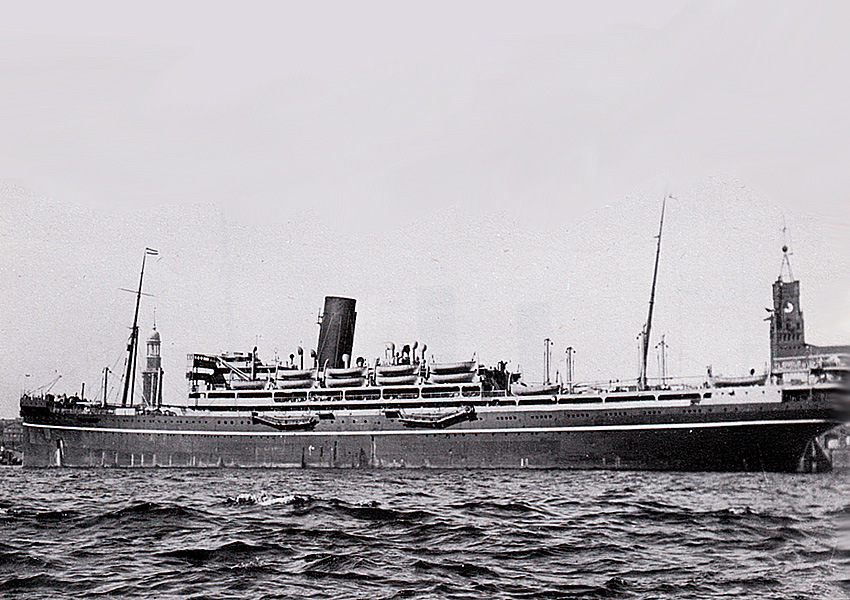 A fine portside view of the R.M.S. Mongolia
The Mongolia had a length of 573 ft - 175 m and she was powered by six double-reduction-geared steam turbines, having two screws 13,000 SHP, and had a service speed of 16.5 knots. Her engines were built by the ships builders, "Armstrong Whitworth." For complete details see her specifications below.
First Class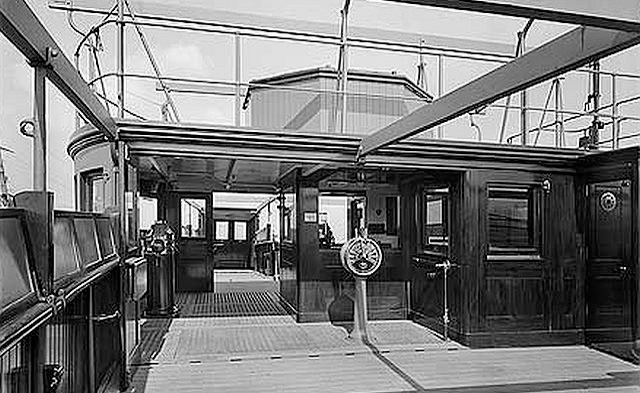 Above & below: Here we see the ships Bridge looking to starboard & a view along Boat Deck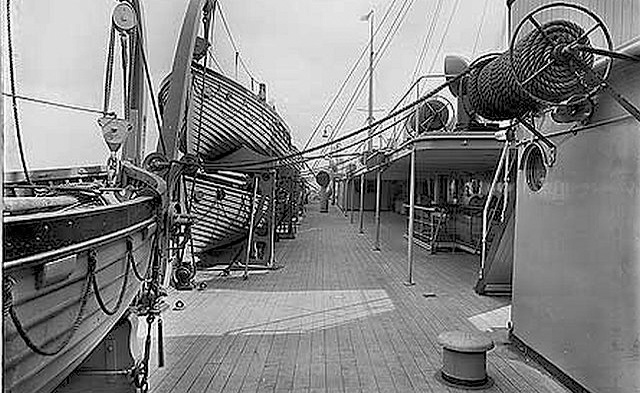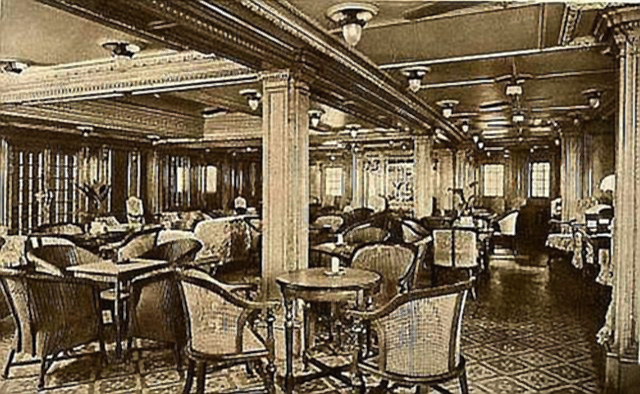 The elegant and beautifully timbered First Class Main Lounge Located forward of Promenade Deck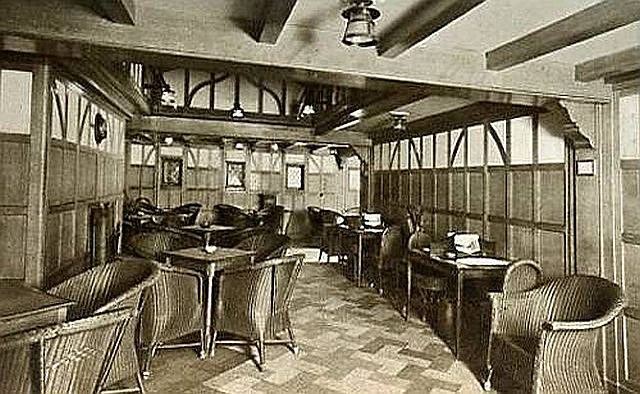 Close by is the elegant Card and Writing Room with its domed ceiling in the centre with stained class up on Boat Deck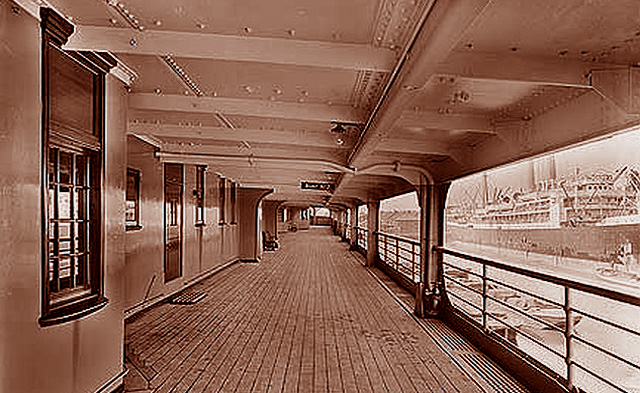 A wide and long Promenade seen on the starboard side, looking forward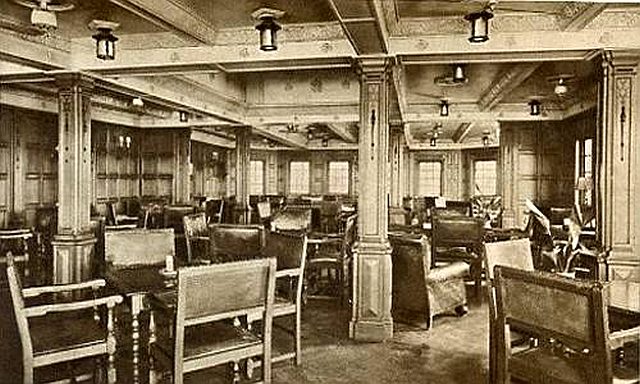 The Smoking Room is located centre aft of Promenade Deck and has windows on three sides. It is once again beautifully timbered with fine and deep leather lounge chairs and other quality furnishings.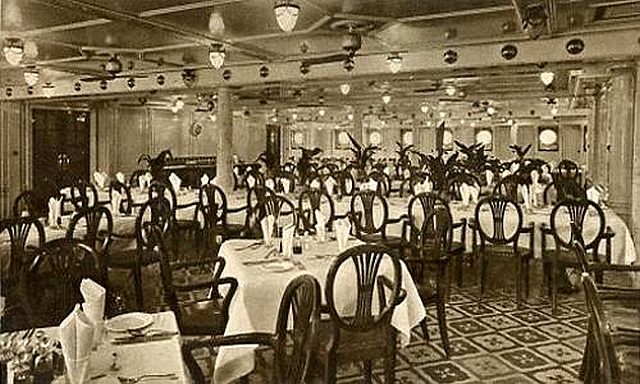 The Dining Room located forward on Shelter Deck and as was typical of P&O's
in keeping with typical First Class style and tradition of high quality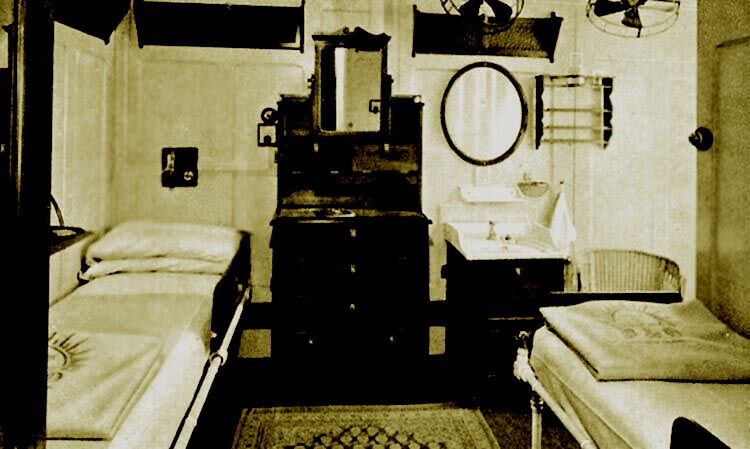 Here we see a First Class twin bedded cabin (above) and a Second Class 4 berth cabin (below)
As we can see they are very similar, although there is no rug and a few other fineries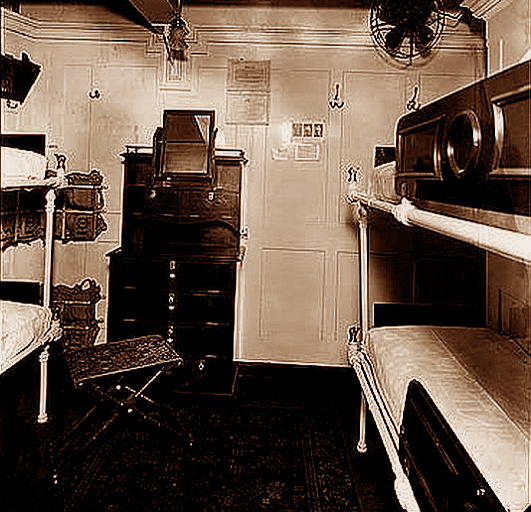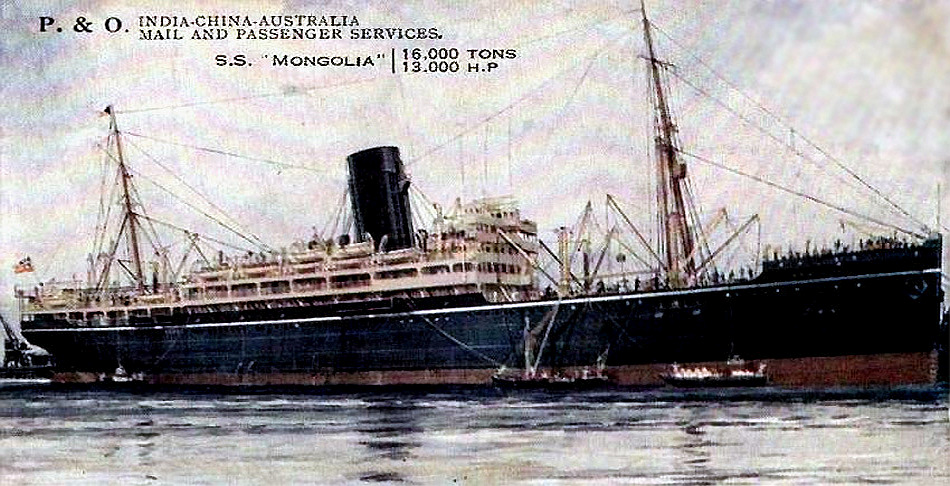 A postcard released by P&O of the "S.S. Mongolia", although a Royal Mail Ship (R.M.S.),
on this postcard they designated her as just being a  … S.S. (Steam Ship)
In 1925 another ship was added, thus the Royal Mail service now became a fortnightly service. The Mongolia proved to be a successful ship and Passengers, in both classes were very happy with their voyage and their overall experience with the food, service and activities, etc.
In 1928 it was decided to convert her to operate her on oil-burning fuel, which was a great improvement, and she continued on her successful career. Operating as follows; London, Plymouth, Tangier, Gibraltar, Marseilles, Port Said, Aden, Bombay, Colombo, Fremantle, Adelaide, Melbourne, Sydney, Brisbane, and return.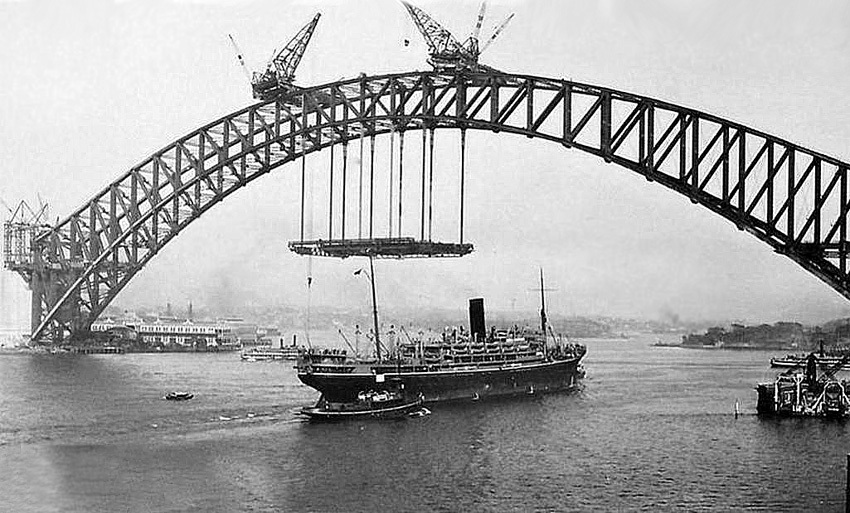 R.M.S. Mongolia is seen arriving in Sydney in 1931 and sailing under the as yet incomplete Sydney Harbour Bridge
As the Mongolia continued her excellent career sailing to and from Australia, via what was called the spice route, there were a number of events this fine ship could have done without. One of these was a collision on July 16, 1933 with a tanker by the name of "British Venture" and a breakwater in Copenhagen. She even ran aground at little later but she did manage to get loose and continue her voyage without any real damage.
The M/S Villa de Madrid Incident:
But on December 3, 1936 whilst close to Marseille the R.M.S. Mongolia collided with the Spanish "Compañía Trasmediterránea Line" passenger liner, the M/S Villa de Madrid, and here are some details regarding this fine 6,942 GRT ship that sailed for an amazing 47 years.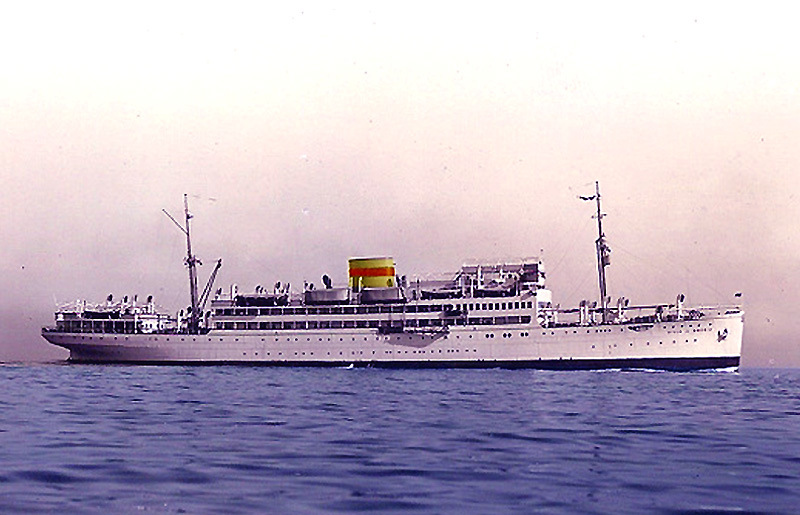 M/S Villa de Madrid
This beautifully balanced looking ship was built by the German shipyards "Krupp Germania Werft AG", Kiel and her first keel plate was laid down in Yard 515 in 1930. She was launched and named on June 6, 1931. The ship was finished and was almost ready to be delivered to her owners the "Trasmediterránea Compañía" Please Note: This is not the company that ended up owning the ship after she was completed.
The reason for the afore-mentioned notice is that when the final trials and tests were carried out, she did not reach her contracted speeds, and the ship was rejected by the intended owner. Instead of fixing the problem, "Krupp Germania" announced the she would be sold at a public auction. However as there was 0nly a single buyer present who were willing to pay the amount asked for her, which was lower than the one originally agreed with the original owner, but the offer was declared void due to there not being any other bidders. Therefore "Krupp" announced another auction, and this time they received an even lower price then which was agreed to at the earlier auction, and this time she was sold to "Compañía Trasmediterránea" (yes a similar name but "Compañía" for this company is before "Trasmediterránea", whilst with the original owner it came after), once again they being the only company that actually submitted a proposal, and thankfully the ship having been reregistered she retained her original name; "Villa de Madrid".
Having received her new livery she was placed on what was known as; "Linea Gran Express de Lujo", or the "Luxury Grand Express Line" from Barcelona, Cadiz to the Canary Islands with intermediate ports of call.
In July 1936 the M/S Villa de Madrid was ordered home to Barcelona, due to the commencement of the Spanish Civil War and she was confiscated by the authorities and was used temporarily as a prison ship, but then later in that year she was operated as a liaison ship between Barcelona and Marseille. It was during one of these voyages to Marseille that the R.M.S. Mongolia and the M/S Villa de Madrid collided, however, both ships seem to survive without too much damage and were able to continue, The Spanish ship sailed on and from mid 1959 to July 1962 she received an extensive rebuilding program, which gave her a new longer streamline profile, with a more luxurious interior than she already had. She continued sailing and was only broken up in 1979. There is more information of her, as well as exterior and interior photographs online.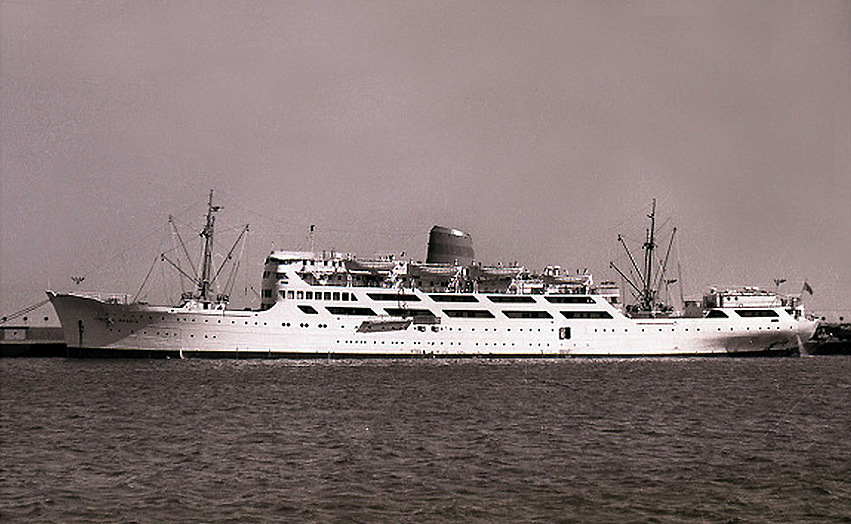 A new, modern and a sleek looking M/S Vila de Madrid after it had been completed
The final days for P&O's R.M.S. Mongolia:
After the incident with the M/S Villa de Madrid on December 3, 1936, the R.M.S. Mongolia made several more voyages to Australia, but these would be her final return sailings to Australia.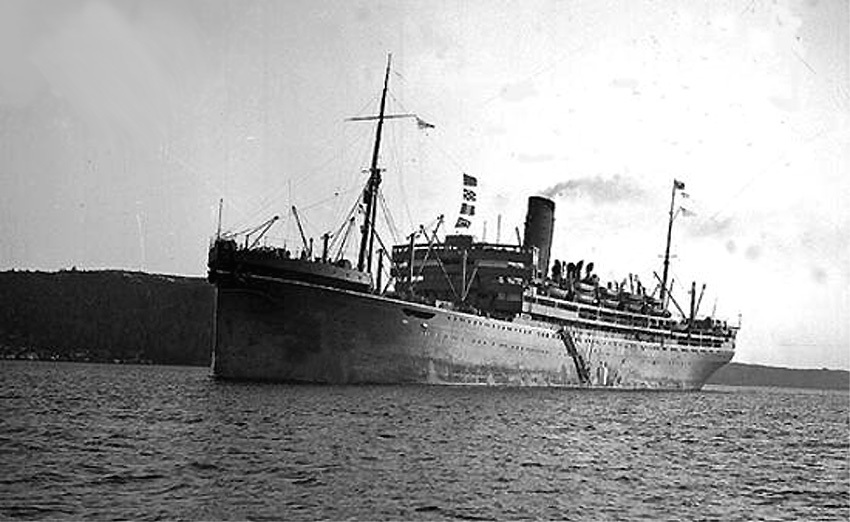 Just needing a good paint job, the Mongolia is seen arriving in Sydney Harbour early in the morning during her final visit in May 1937
Photograph by Samuel J. Hood
When R.M.S. Mongolia arrived home to London in July 1937, P&O laid her up and placed her on the market hoping to find a buyer for her as she was still in an excellent condition. But at the time there were no buyers to be found for her, yet amazingly she would have four new and very successful lives in the future and her next stage will be revealed in detail below the Mongolia's Specifications, etc.
Specifications R.M.S. Mongolia as completed in 1923:
Lloyd's Register ID:              145517.                    
Name:                                Mongolia 1922 to 1938.
Owner:                               Peninsular and Oriental Steam Navigation Company.
Ordered:                             November 22, 1918.
At a cost of:                        £1 million Pounds.
Builder:                              Armstrong Whitworth, Newcastle upon Tyne.
Yard Nr:                              964.
Launched:                           August 22, 1922.
Completed:                         April 26, 1923.
Maiden Voyage:                   May 11, 1923.
Port of registry:                   Newcastle upon Tyne.
Route:                                UK to Australia.
Tonnage:                            16,385 GRT - 10,383 NRT.
1928:                                 16,504 GRT.
1931:                                 16,596 GRT.
Length:                              573 ft - 175 m.
Beam:                                72 ft - 22 m.
Draught:                             30 ft - 9.1 m.
Engine:                               Armstrong Whitworth built six double-reduction-geared steam turbines.
Propeller:                            Twin screws - 13,000 SHP,
Speed                                 16.5 knots service speed, 17.6 knots maximum.
Accommodations:                230 First Class and 180 Second Class.
1928:                                 Second Class became Third Class.
1931:                                 Accommodations reconfigured to 800 Tourist Class only.
Crew:                                 353.
Holds:                                Six, three forward and three aft.
Capacity:                            669,000 cu ft (18,900 m3) of cargo, with 136,000 cu ft (3,900 m3) of refrigerated space.
Out of Service:                    July 1937.
Later Names:.                      Rimutaka 1938 to 1950.
.                                        Europa 1950 to 1951.
.                                        Nassau 1951 to 1961.
.                                        Acapulco 1961 to 1964.
.                                        Seng Kong No.1 - 1964.
Later owners:                      1938 - Chartered by P&O to the "New Zealand Shipping Company."
.                                        1950 - "Compania de Navegacion Incres SA," Panama.
.                                        1951 - "Incres Nassau Line," Liberia.
.                                        1961 - "Compania Navegacion Turística Mexicana SA" ("Natumex Line") Mexico.
*********************************** 
S.S. Rimutaka (3):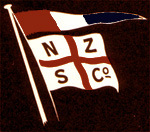 New Zealand Shipping Company House Flags
It would be on May 7, 1938, that P&O transferred the now prefixed S.S. Mongolia under a long-term charter agreement to the "New Zealand Shipping Company" (NZSCo) being a P&O subsidiary, who renamed her "Rimutaka", but she remained registered in the UK.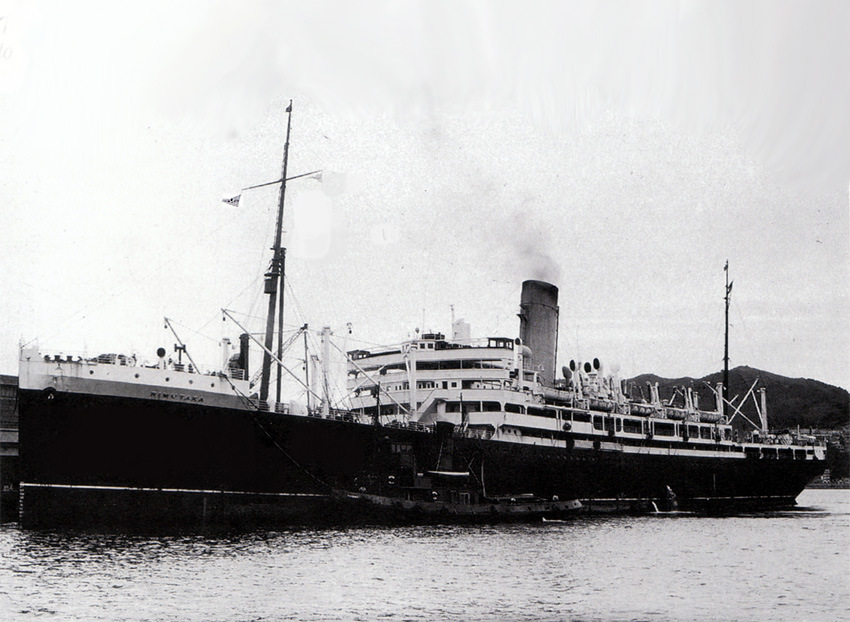 Here we see the S.S. Rimutaka in Wellington, the Capital of New Zealand early during her new career
She was in fact the third ship to carry this proud Maori name for the company, thus she was S.S. Rimutaka number 3, and the name originated from the beautiful mountain ranges in New Zealand, and all ships operated on the traditional NZSCo's voyages between the UK and New Zealand, sailing via the Panama Canal.
S.S.

Rimutaka

1 & 2:
The first ship to proudly carry this name was the beautiful S.S. Rimutaka (1) of 1884, was built by "John Elder & Co", Glasgow and launched in October 1884. She had a steel hull and had a magnificent clipper bow and was 4,473-ton liner and featured three-masts, thus she could sail under both sail and steam. The New Zealand Shipping Company operated this fine ship until 1899; the reason for her demise was that a new and larger ship had already been ordered. A photographic postcard of her can be seen below.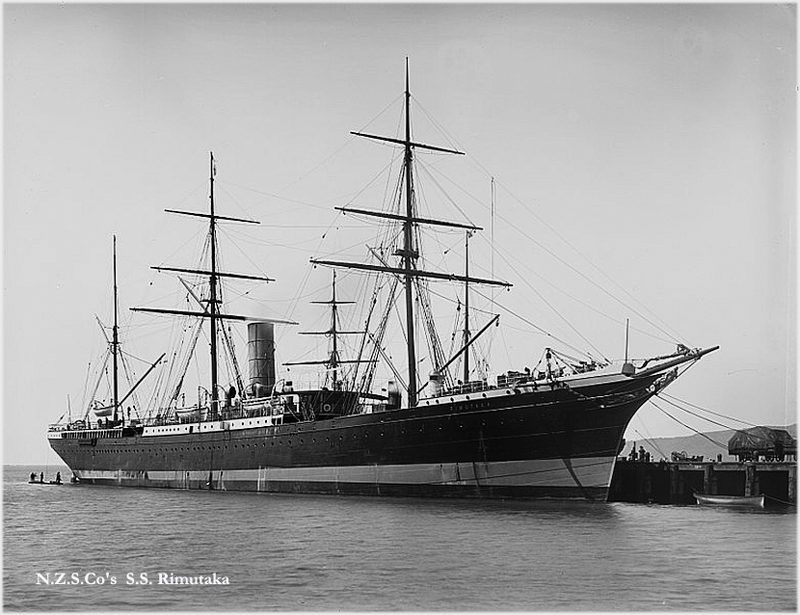 Look at her, for this is sheer maritime beauty!
The second was the S.S. Rimutaka (2) which arrived on the scene in 1900. She was built by "Wm Deny & Bros", Dumbarton, Scotland. The 7,765-ton liner and operated until 1929, a good nine years before the before the arrival of the new ship to arrive and carry this proud name in the company history.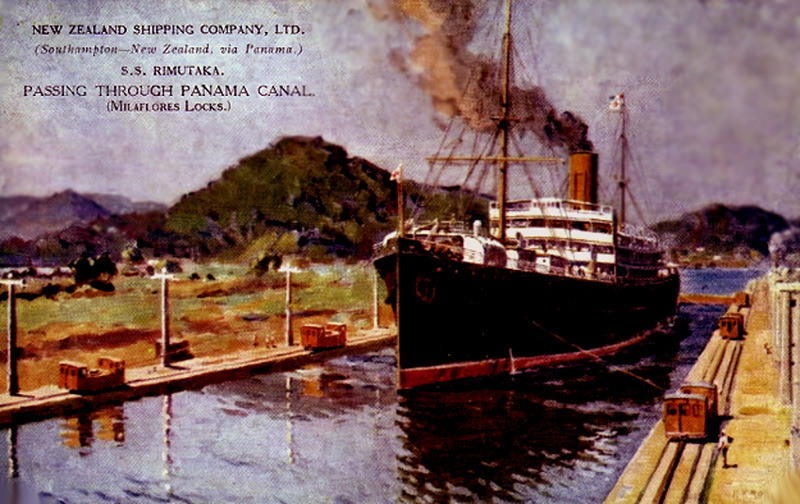 A painting of the S.S. Rimutaka (2) is seen on the NZSCo postcard
***********************************
Back to the S.S.

Rimutaka

(3):
The NZSCo reconfigured the S.S. Rimutaka to carry 840 Tourist Class passengers and her Public Venues were all upgraded somewhat, upon completion of her refit she was registered at Plymouth in the UK.
However before entering service, she somehow collided with Corfleet off the Nore causing some damage, thus after repairs were completed, and the S.S. Rimutaka finally departed on her maiden voyage on December 12, 1938.
Thus she commenced her regular service from London, through the Panama Canal, to Auckland, but she would then head south as she would terminate her voyage in New Zealand's Capital, Wellington.
She suffered a fire in hold No. 3 on March 9, 1939, which was rapidly extinguished and no great damage was done to the ship. Sadly her role as a passenger liner was very short, for in September of 1939, she was requisitioned by the British Government to be converted into an armed merchant cruiser due to the commencement of World War II on September 1.
However, she was released before any actual conversion took place, and there are doubts what actually happened to her during this time and her next call as follows. The Brit's once again requisitioned the Rimutaka, but this time for their "Liner Division" to operate from May 15, 1940 to June 14, 1946, thus she remained on UK to New Zealand service for most of the war under British command, but the ship was managed and operated by NZSCo!  After hostilities ceased, she was officially returned to the NZSCo and she continued on her original civil duties.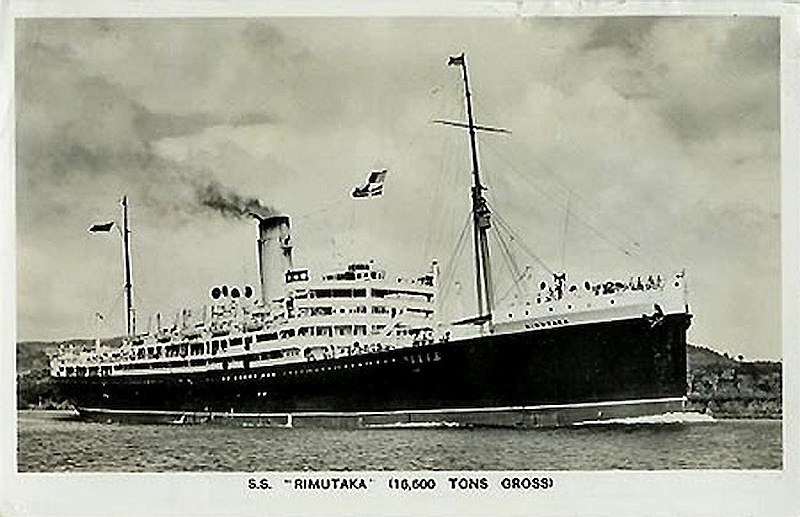 A post war postcard of the S.S. Rimutaka
The S.S. Rimutaka continued her regular duties and she would make occasional visits to other ports in New Zealand, such as Lyttelton (Christchurch) and Port Chalmers (Dunedin) in the South Island of New Zealand.
The S.S. Rimutaka is seen arriving at the port of Lyttelton

She continued as a very busy ship for a full years, however considering as less inexpensive new and larger motor ships were coming on the scene, the Rimutaka was becoming redundant having been a much loved KIWI ship for 11 years, and thus she was about to be returned to her owners P&O London.

S.S. Rimutaka's final voyage for the "New Zealand Shipping Company" departed Wellington for London very early in January, 1950, and upon arrival in London the ship was returned to P&O, who already had a buyer, as she was sold on January 10, 1950 whist the ship was on her voyage home.

INDEX

: From S.S. Mongolia 1922 to S.S. Acapulco 1964.

Page One:           RMS Mongolia & S.S. Rimutaka.

Page Two:           S.S. Europa, S.S. Nassau & S.S. Acapulco.

Page Three:         S.S. Nassau Brochure & Memorabilia Page.

SS Moldavia:       Is the slightly earlier sister of the "Mongolia".

***********************************

"Blue Water Liners sailing to the distant shores.
I watched them come, I watched them go and I watched them die."

Featuring over 1,550 Classic Passenger Liners, Passenger-Cargo Liners & Classic Cruise Ships!
Or ENTER HERE
For interest: Sadly an email service to ssMaritime is no longer available, due to the author's old age and chronic illness as well as being disabled, etc. In the past ssMaritime received well over 120 emails per day, but Mr. Goossens can no longer handle same. He sincerely regrets this!
*********************
ssMaritime.com & ssMaritime.net
Where the ships of the past make history & the 1914 built M.S. Doulos Story.
The Author has been in Passenger Shipping & the Cruise Industry for well over 60 years
In addition he was the founder of "Save the Classic Liners Campaign" in 1990.
Please Note: ssmaritime and associated sites are 100% non-commercial and the author seeks no funding or favours of any shape or form, never have and never will!
Photographs on ssmaritime and associate pages are by; the author or from the author's private collection. In addition there are some images that have been provided by Shipping Companies and private photographers or collectors. Credit is given to all contributors. However, there are some photographs provided to me without details regarding the photographer/owner concerned.
This notice covers all pages; although, and I have done my best to ensure that all photographs are duly credited and that this notice is displaced on each page, that is, when a page is updated!
ssMaritime is owned & © Copyright by Reuben Goossens - All Rights Reserved