Adelaide Steamship Co, MV Moonta, later MV Lydia
Please Note: Firefox and some other search engines are not suitable – Use "Internet Explorer" for this page to load perfectly!

Click the logo above to reach the ssMaritime FrontPage for News Updates & "Ship of the Month"
With Reuben Goossens
Maritime Historian, Cruise'n'Ship Reviewer, Author & Maritime Lecturer
Please Note: All ssMaritime and my other related ssMaritime sites are 100% non-commercial and privately owned sites. Be assured that I am NOT associated with any cruise or shipping companies or travel/cruise agencies or any other organisations! The author has been in the passenger shipping industry since May 1960 and is now semi-retired, but continues and I hope that the well over 675 Classic Liners and Cargo-Passengers ships I have written on will continue to provide classic ship enthusiasts and continue a great deal of information and pleasure!
MV
Lydia
 "Casino Le Lydia."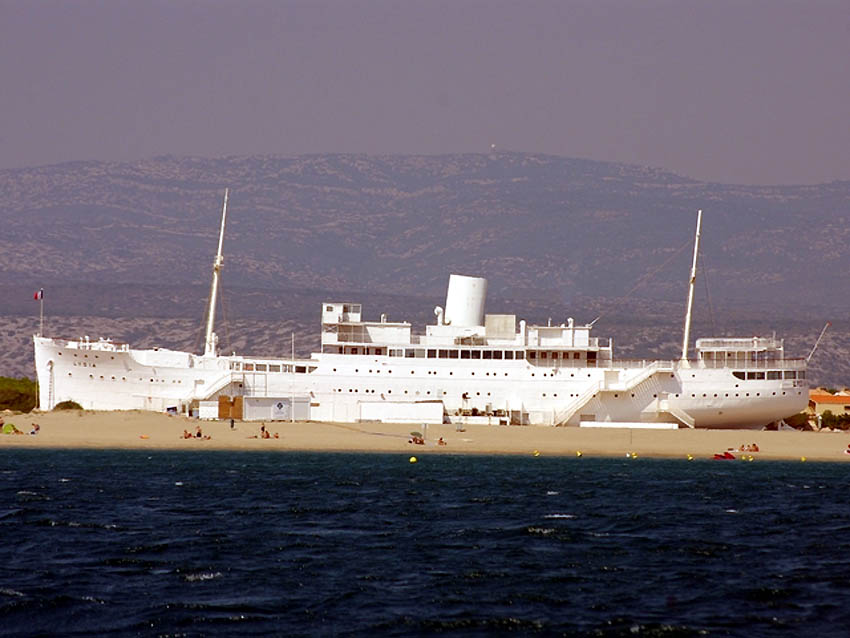 A fine view of Lydia or "Casino Le Lydia" from the sea
Provided by Le Lydia, à Port-Barcarès – see the bottom of page for a link to their page
Page Two
"Casino Le Lydia" Photo Page
Please Note: Photographs of the Ex MV Moonta, & Lydia, currently the "Casino le Lydia" located in France were provided by Mr. Stanley Evans, Newcastle Australia and "Le Lydia, à Port-Barcarès," unless noted otherwise.
If you have arrived at this page via a search engine and not via Page One being this ship's history Page and I strongly suggest that you read that page first, for it contains all her information as the delightful Australian small passenger liner MV Moonta and later she became the Greek liner renamed the Lydia. That is followed with her sale to a French company who had a long lasting plan for this ship, and there are details of her refit and how this once fine ocean going passenger liner became land or better said, a sand locked vessel on the Mediterranean coast of France.
Be assured Page One is a worthwhile read - Enter the … MV Moonta-Lydia Story HERE.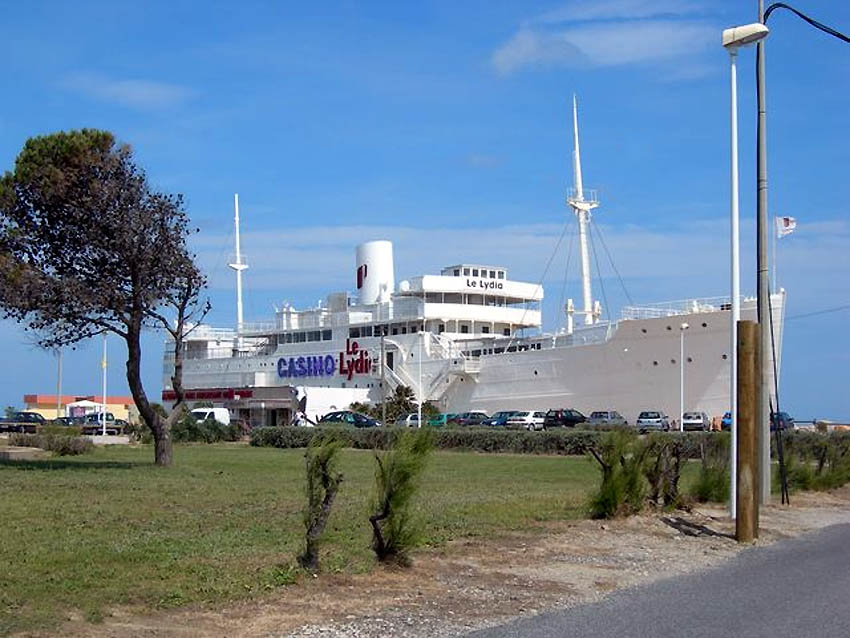 A view of the Lydia from the driveway to the car park
Provided by Le Lydia, à Port-Barcarès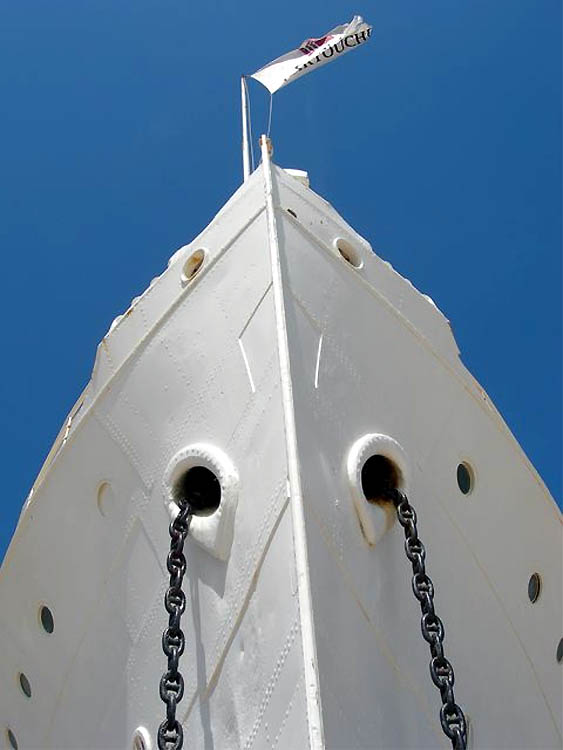 Above & below: The bow of the once proud ex MV Moonta now the Lydia proudly sits above the sands of France!
Provided by Le Lydia, à Port-Barcarès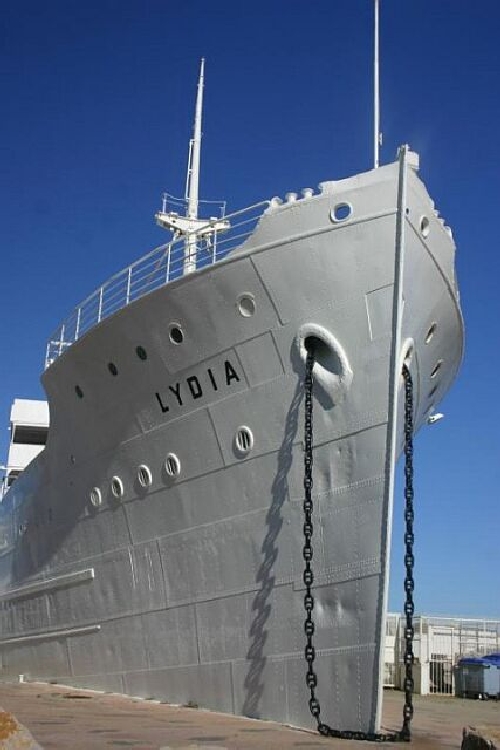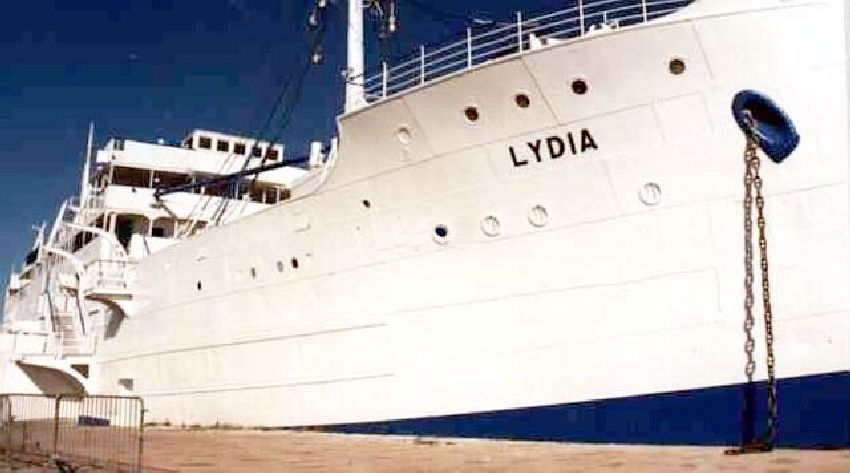 A starboard bow view of the ship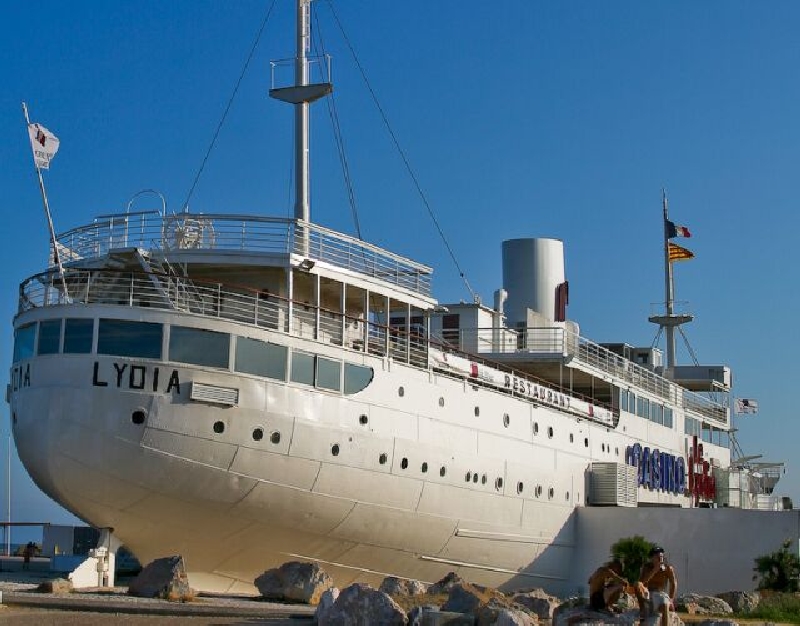 And here is an excellent view of her stern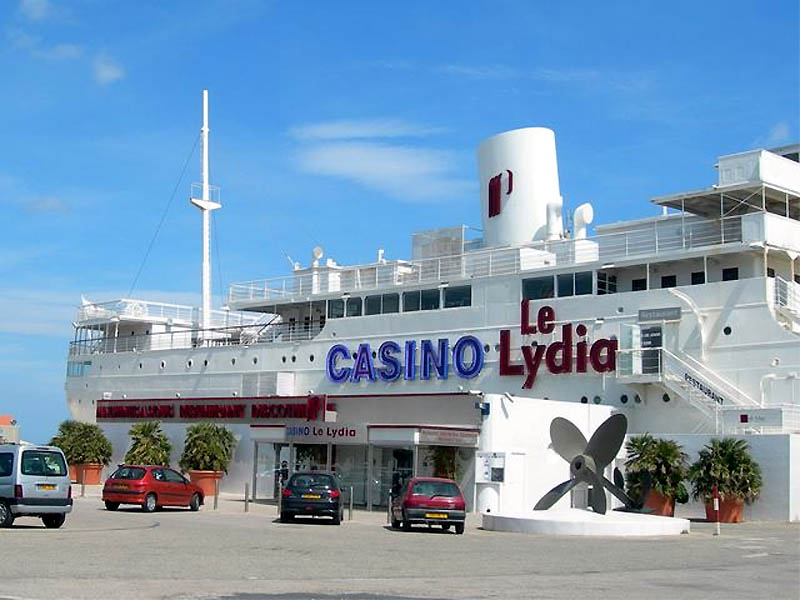 Here see the main entrance to the vessel via her main Lobby
Provided by Le Lydia, à Port-Barcarès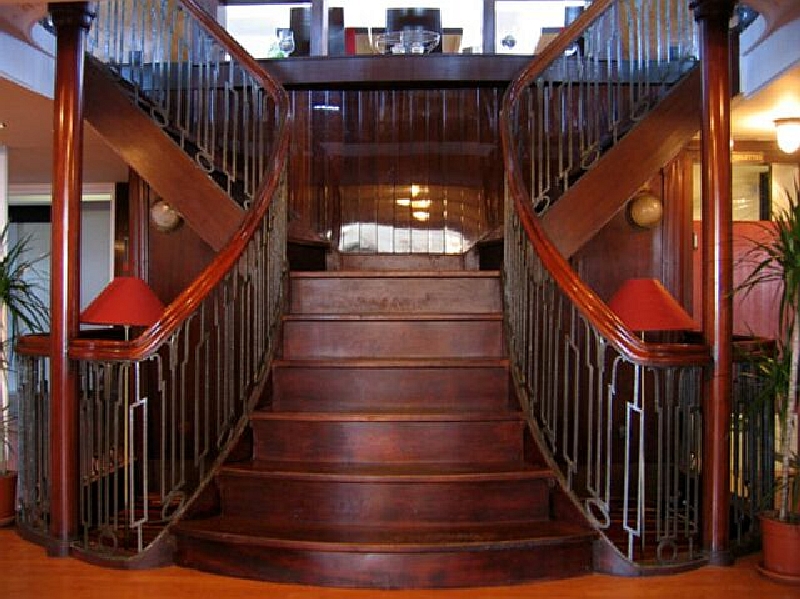 As you enter you will soon discover the beautifully timbered staircase heading up to Promenade Deck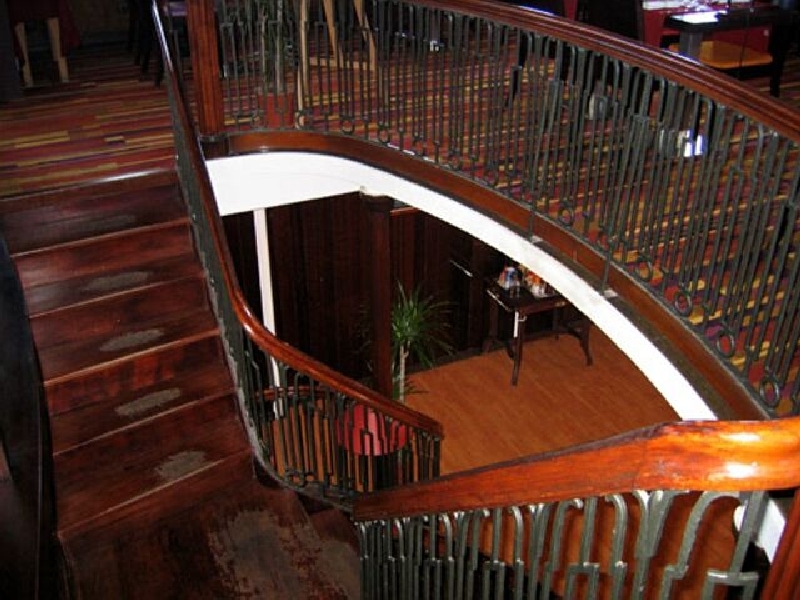 And here we are upstairs and looking down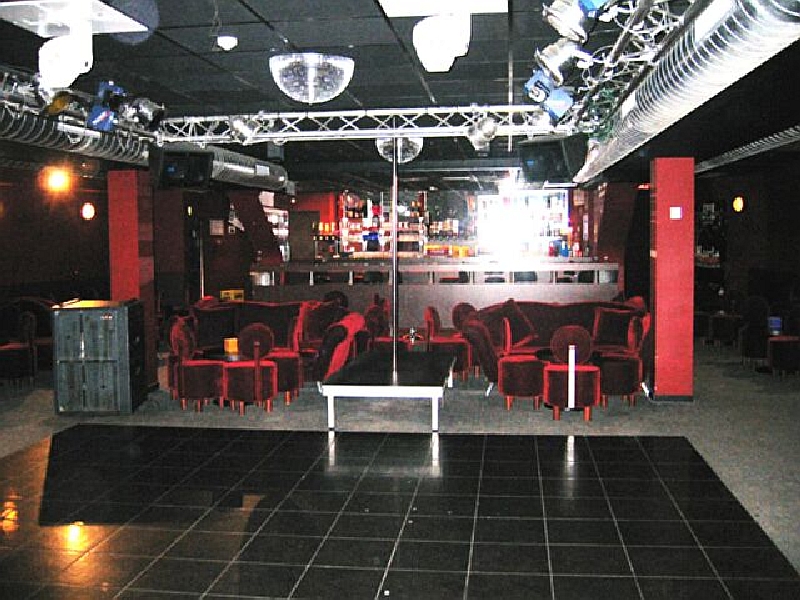 Here we see just a small area of the lounge that is so much larger and a popular venue at night, as it is also the ships Disco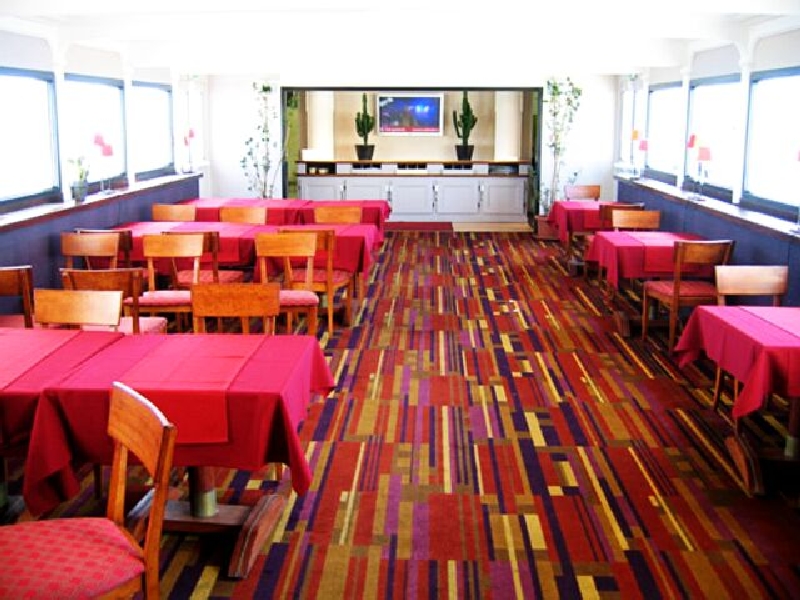 This is the very popular Café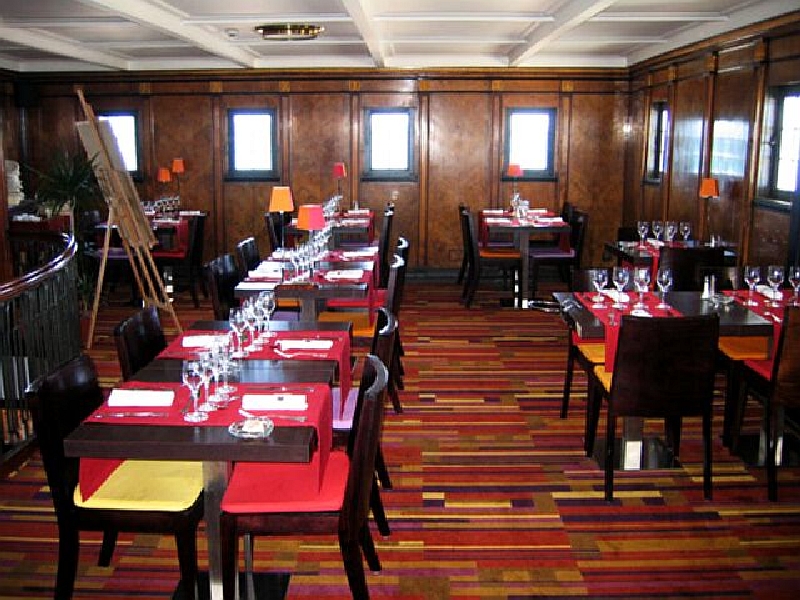 And here is one of the ships Dining Rooms lined with beautiful Australian timbers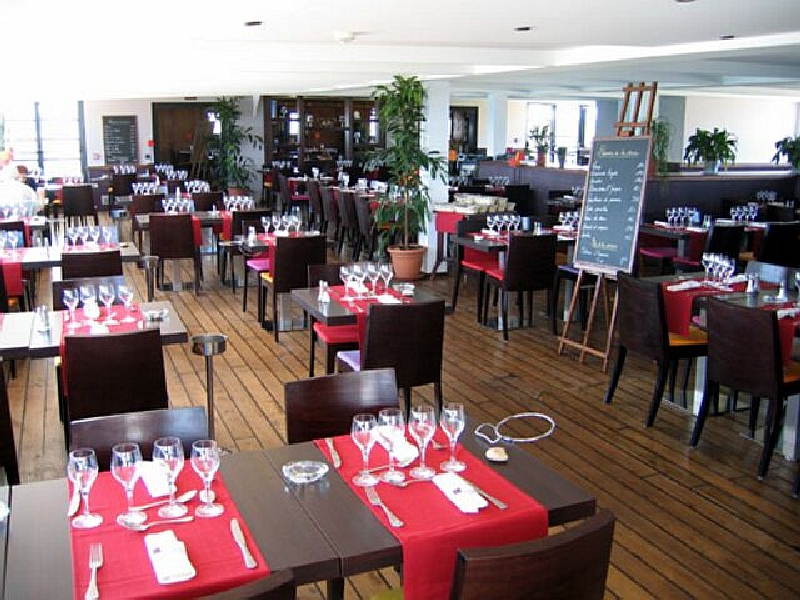 And here is the more spacious Dining Room complete with a Bar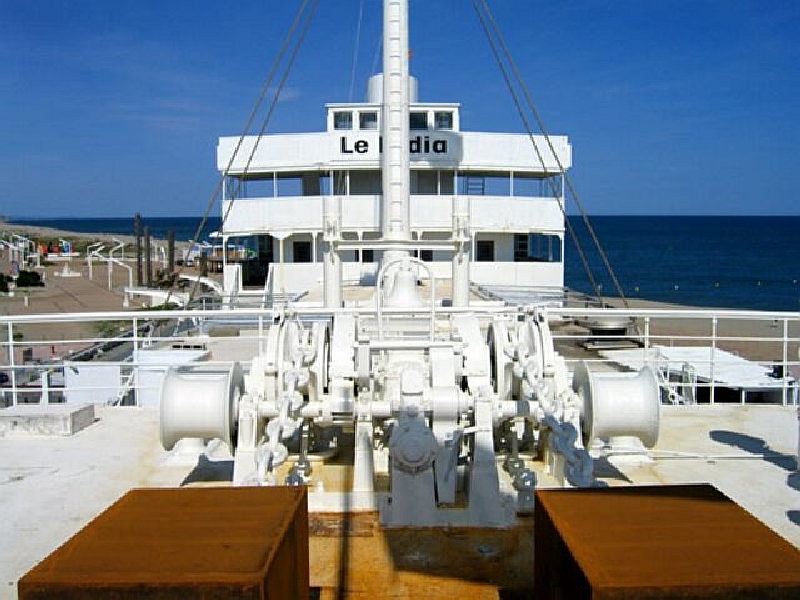 Looking from her bow aft to her Bridge and general superstructure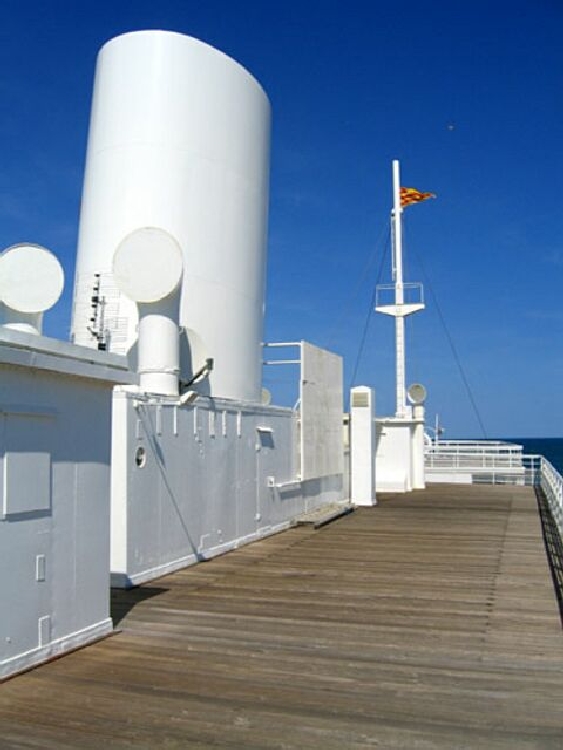 Here we are heading aft along the port side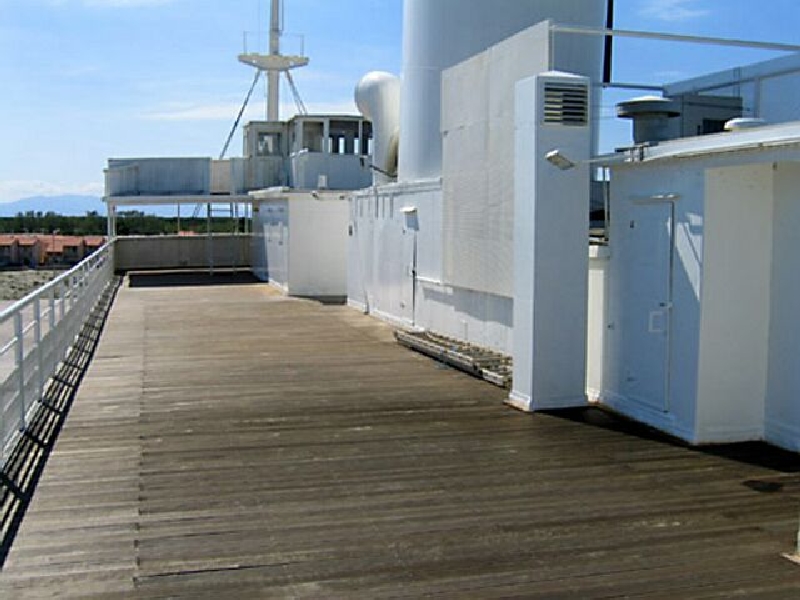 And another view looking back to forward and the Bridge wing and her foremast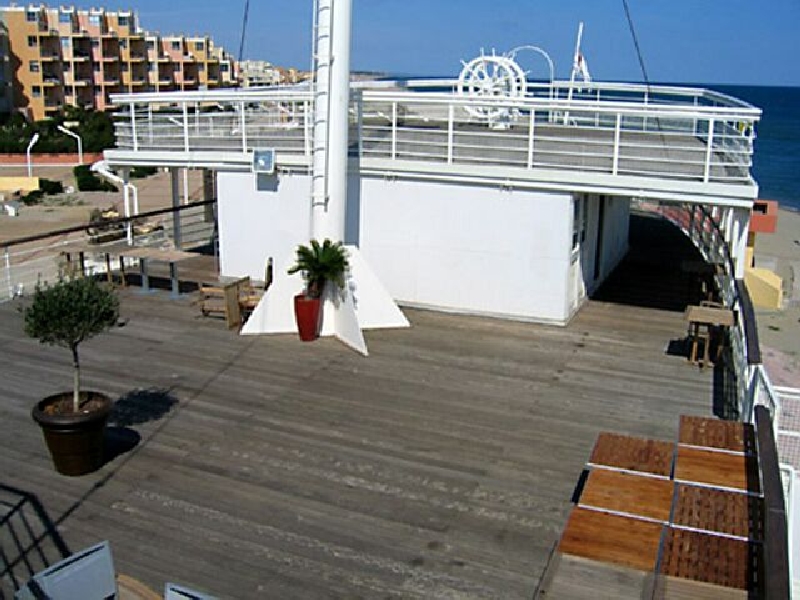 Overlooking her aft decks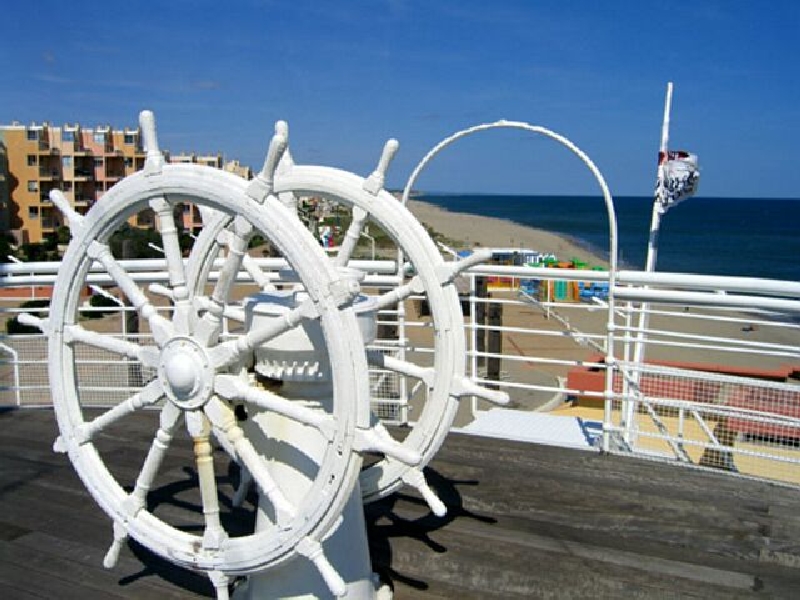 And far aft we find her original secondary steering wheel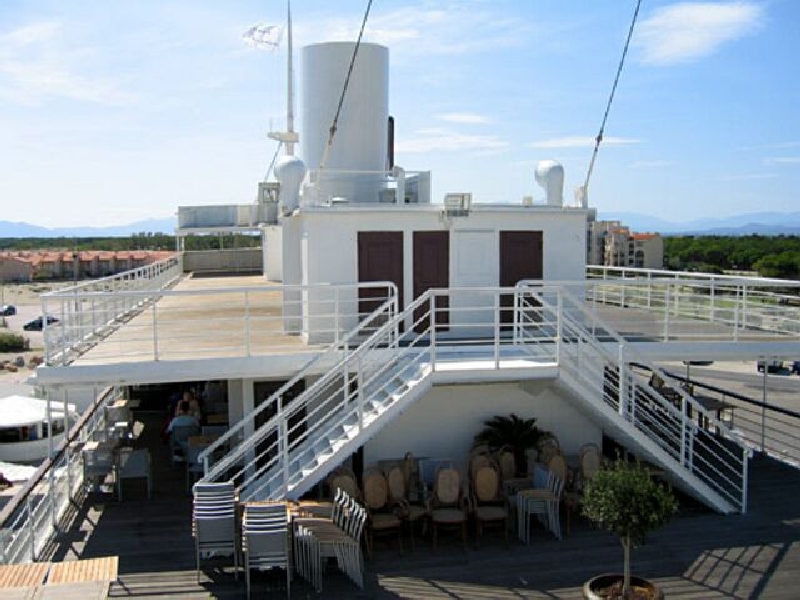 From the aft poop Deck we look back over the Promenade deck below and the original Sports deck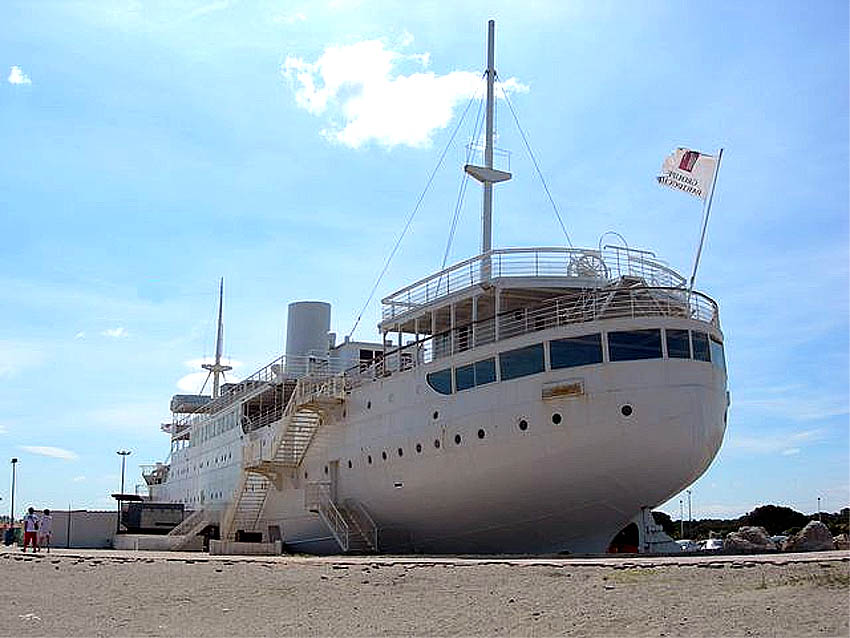 As we can see her visitors can walk all around the vessel
Provided by Le Lydia, à Port-Barcarès
Remembering the Original 1931 Australian Liner, MV Moonta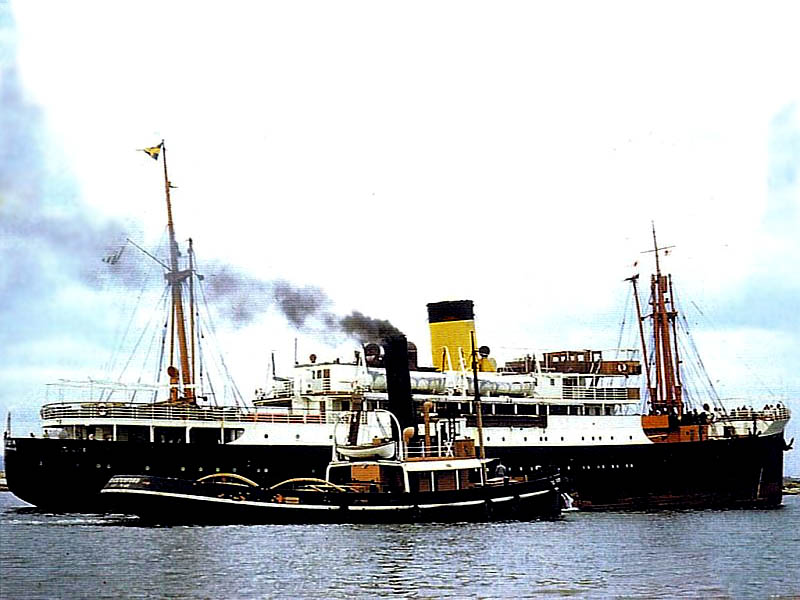 Here we see the delightful Moonta with a tug
Photographer is unknown, Please see photo notes at the bottom of the page
For Photographs that are marked "Le Lydia, à Port-Barcarès"
Click HERE - to View the Source Page of those wonderful photographs
I hereby wish to show my sincere gratitude for the use of these photographs!
Return to Page One the MV Moonta-Lydia History
****************************
Visit our ssMaritime Main INDEX
Where you will discover more than 675 Classic Passenger & Passenger-Cargo Liners!
ssMaritime.com & ssMaritime.net
Where the ships of the past make history & the 1914 built MV Doulos Story
Also visit my
"Save The Classic Liners Campaign"
Please Note: ssmaritime and associated sites are 100% non-commercial and the author seeks no funding or favours of any shape or form, never have and never will!
Photographs on ssmaritime and associate pages are by the author or from the author's private collection. In addition there are some images that have been provided by Shipping Companies and private photographers or collectors. Credit is given to all contributors. However, there are some photographs provided to me without details regarding the photographer/owner concerned. I hereby invite if owners of these images would be so kind to make them-selves known to me (my email address may be found on www.ssmaritime.com only), in order that due credit may be given.
ssMaritime is owned & © Copyright by Reuben Goossens - All Rights Reserved