Please Note: Firefox and some other search engines are not suitable – Use "Internet Explorer" for this page to load perfectly!
Click the logo above to reach the ssMaritime FrontPage for News Updates & "Ship of the Month"
With Reuben Goossens
Maritime Historian, Cruise'n'Ship Reviewer & Author
Commenced in the Passenger Shipping Industry in May 1960
U.S. Maritime Administration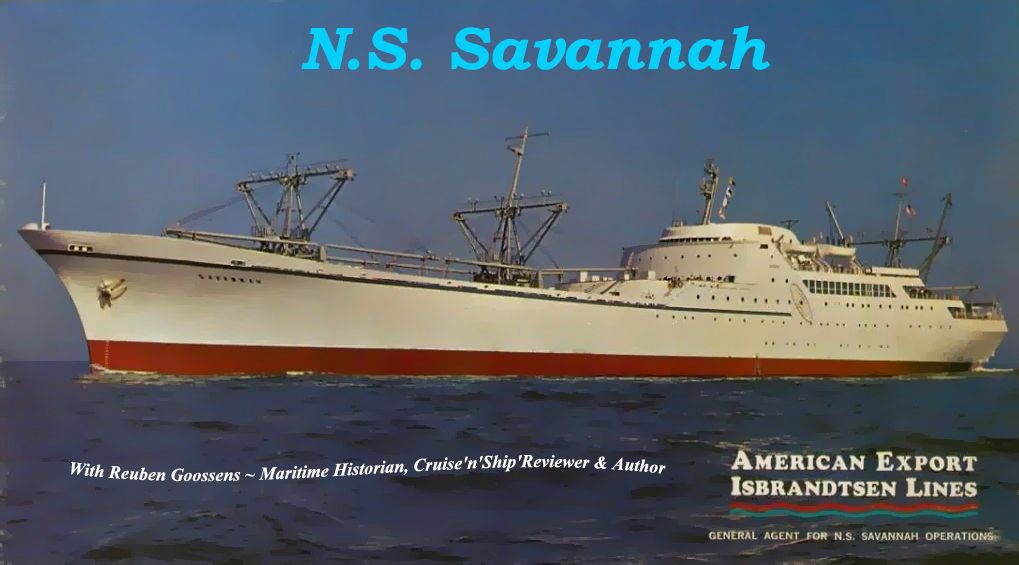 Please Note: Some images are from the author's collection, others with great thanks to NS Savannah Association
In addition, there are several from *unknown sources, for these, please see the *photo notes at the bottom of page!
Introduction
I have always called this, what I believe is a beautiful looking ship, a "Ship of Fools," and I am well aware that this may sound rather condescending and I know that there will be those who will attack me for that statement. But let us be really honest with ourselves and stick to the truth and recognise that the nuclear-powered steam ship N.S. Savannah was in reality a failure in many more ways than one and it was a foolish Presidential venture from the very start, as this feature will reveal. Let's face it, politicians should never involve themselves in these matters for what do they really know about the shipping industry, they are always in a power race, attempting to outdo other nations in the nuclear race, etc., and this was precisely what Eisenhower was doing at the time! This extremely expensive ship for her day carried passengers for less than three years and within ten years from her maiden voyage in 1962 she was already out of service and has been laid up ever since! There is no doubt that she looks ultra modern, elegant and that she was certainly one of the most streamlined ships around and she is still a beautiful to this day. In addition, she had some of the finest passenger accommodations that any ship could possibly offer, but sadly she was a failure from the very beginning, very much like her namesake, a ship that was built in America in 1818, SS Savannah.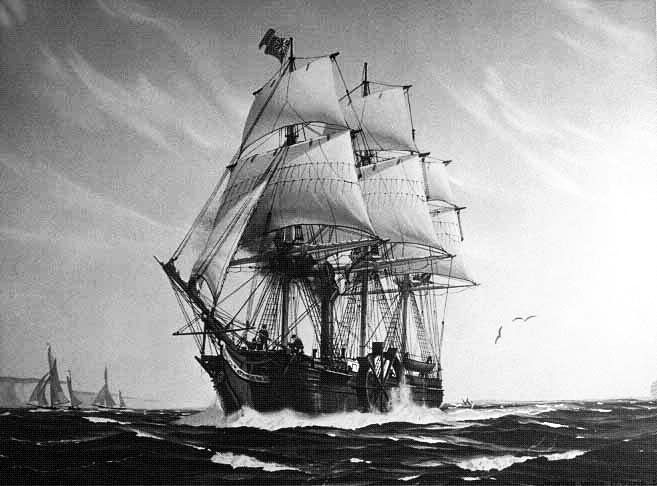 The tragic sailing/steamship - SS Savannah built in 1818
The SS Savannah became notable for being the very first steamship in the world to cross the Atlantic Ocean. On May 22, 1819, the Savannah departed on her historic voyage that would take her to England, Sweden as well as to Russia with additional stops in Norway and Denmark and home. However, it would only a fraction of the actual distance of the voyage whilst the ship would be sailing under steam power, for the rest of the time she was under wind power and thus using her sails for the majority of the voyage. Her steam engines drove her two large side paddle wheels. However, in spite of this historic voyage which received great praise in the press in England, sadly the Savannah the steamship was not a commercial success and she was soon converted into a fulltime sailing ship after she returned to the USA from her voyage. The sailing ship Savannah sadly had a short life as was she was tragically wrecked off Long Island in 1821. No other American owned steamship would cross the Atlantic for another thirty years after Savannah's pioneering voyage.
Yet America's maritime world did continue to grow and it became famed as a great shipbuilding nation offering the world some of the grandest liners and shipping companies, such as Grace Lines, Matson Lines, and not to forget the grandest of them all the United States Lines who built towards the end of their days the superb SS America and the worlds fastest liner ever the SS United States, a ship that remains with us to this day and is currently being preserved. See: www.savetheclassicliners.com.
The Building of the N.S. Savannah
Back in 1955 President Dwight Eisenhower proposed the idea of building a nuclear-powered luxury Passenger-Cargo liner to showcase his "Atoms for Peace" initiative. Then in 1956, Congress authorized the building of the now named project "N.S. Savannah", which would be a joint project between the "Atomic Energy Commission", the "Maritime Administration" (MARAD), and the "Department of Commerce". The N.S. Savannah would be designed by George G. Sharp, Incorporated of New York.
Her keel was laid down on May 22, 1958, at the "New York Shipbuilding Corporation" at Camden, in Yard 529. Her nuclear reactor was manufactured by Babcock and Wilcox and her two steam turbines were by the De Laval. She was officially named at the launching by American First Lady, Mamie Eisenhower on July 21, 1959, and she was moved to her fit-out berth where she would remain until December 1961 where she was completed.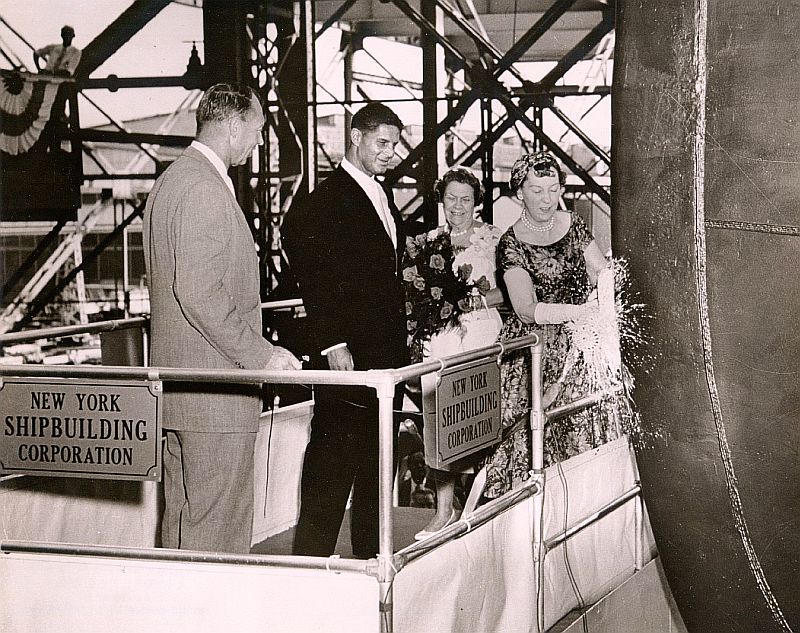 Above & Below: American First Lady, Mamie Eisenhower officiates at the launching of the Savannah - July 21, 1959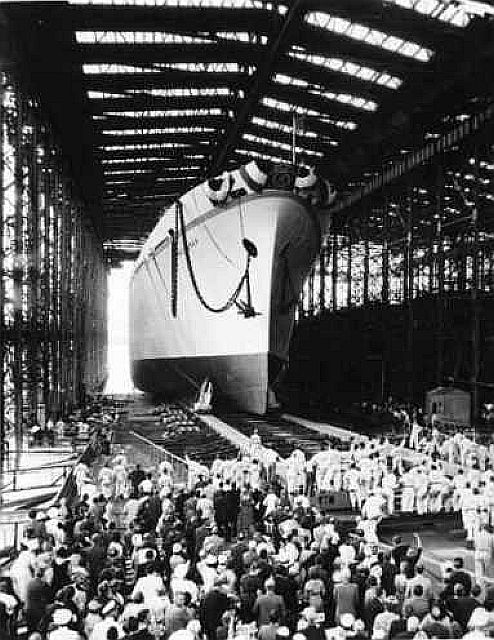 Upon completion she underwent extensive sea trails which lasted until April 1962 and she was finally officially delivered to State Maine Lines on May 1, 1962. However, she would not depart on her maiden voyage for almost three months. Finally she was ready for her maiden voyage and she departed loaded with passengers and cargo on August 20.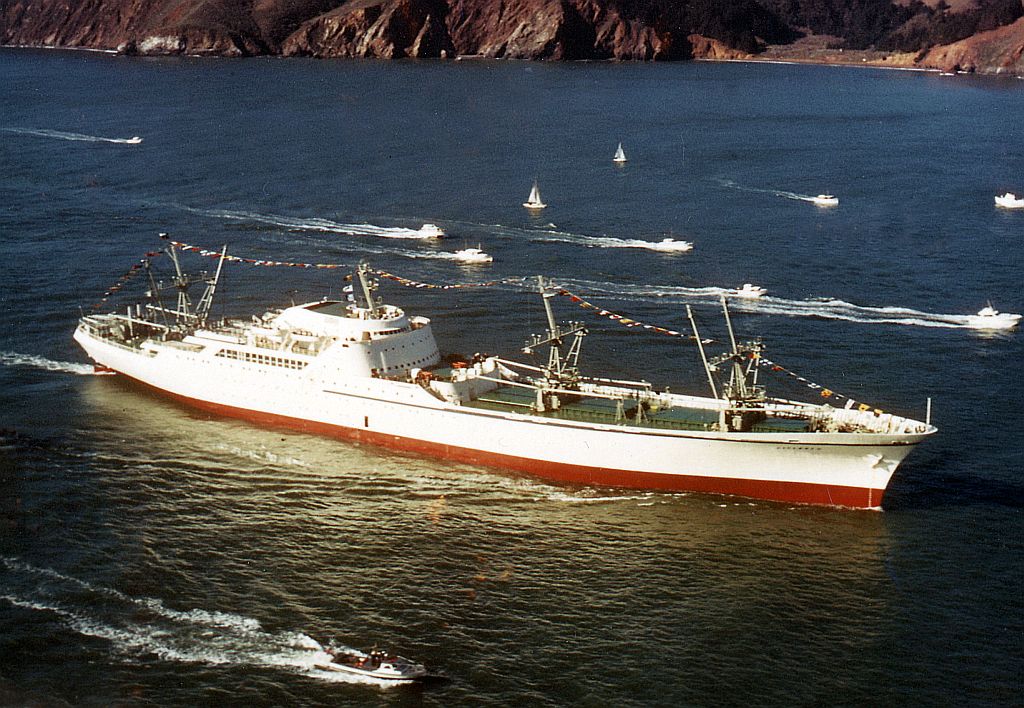 N.S. Savannah seen arriving at Seattle in 1962 for the World Fair
Nuclear Propulsion
In 1969, The N.S. Savannah became the first nuclear powered ship to dock in New York City. It was a centrepiece for a city-wide information festival called "Nuclear Week" In New York. Thousands of persons toured the Savannah and the other special events of Nuclear Week. These events included demonstrations of advancements in peaceful uses of atomic energy, such as food products purified by radiation, new applications for technology and many information and education programs. The Johnny Carson "Tonight" TV Show featured Nuclear Week in New York on two programs. Dr. Glenn T. Seaborg, Chairman of the U.S. Atomic Energy Commission was the featured speaker and President Dwight D. Eisenhower was honoured for his introduction of the global Atoms for Peace program. The appearance of the Savannah and the Nuclear Week in New York program was designed and implemented by Charles Yulish Associates and supported by contributions from leading energy companies.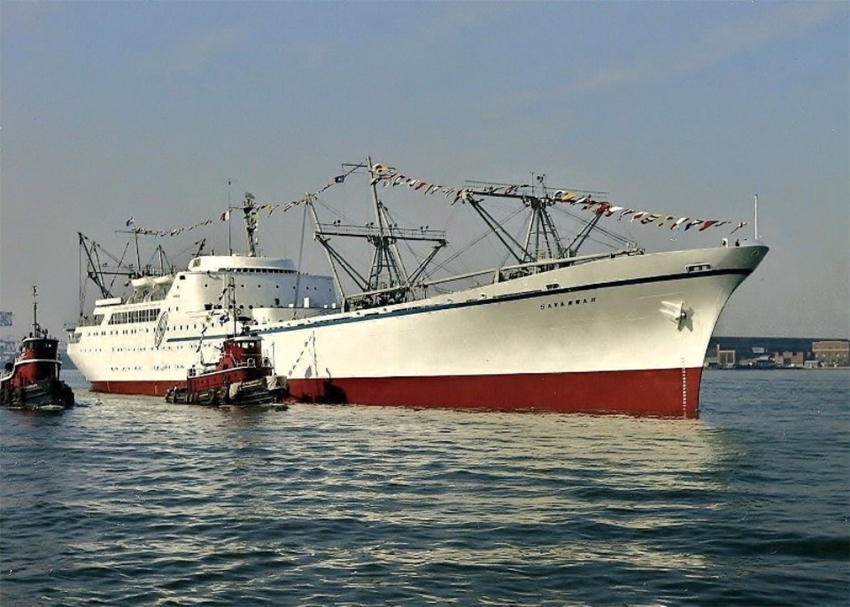 The N.S. Savannah is seen for her maiden arrival in Philadelphia
Photographer is unknown - Please see *the photo notes at the bottom of page!
Her two "De Laval" Steam Geared Turbine Engines used one "Babcock & Wilcox" Pressurised Water Nuclear Reactor that used Uranium Oxide fuel (4% enriched U-235) developing a reactor rating of 74MW that drove her single screw, which gave her a service speed of 21 knots, but achieved a maximum of 24 knots during her sea tails. The Savannah was built at a considerable cost for the day of US $46.9 million, which included US$28.3 million for the nuclear reactor and fuel core, making her one of the most expensive ships of her time!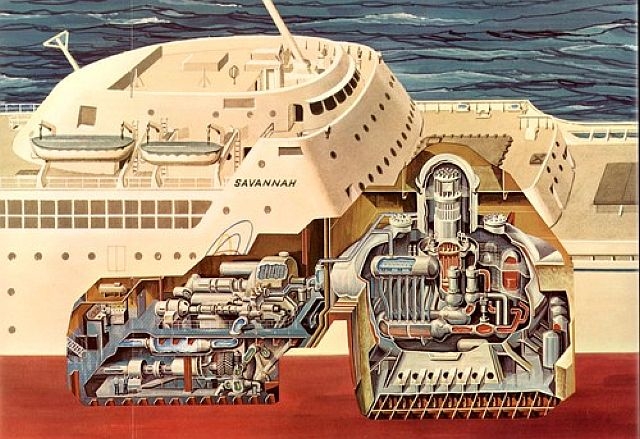 An Overall view of the engine room location on the N.S. Savannah
The nerve centre of the engine (control) room! One deck above the "Bull Gear"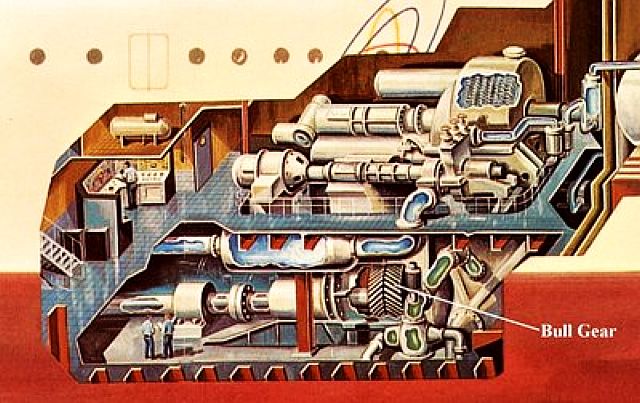 A closer view of the Bull Gear – Note the Control room above
The "Bull Gear" is the largest movable (rotating) piece of the ship's steam turbine drive train except for the propeller. It is mounted between the aft end of the turbines and the propeller shaft/thrust bearing and served as a reduction gear reducing the shaft speed to a nominal 108 RPM. This precision manufactured bull gear has a 13.5 foot diameter and a 34 inch face and weighs in at 66,000 pounds. At 108 RPM, the gear face on the bull gear was travelling at a speed of about 55 miles per hour.

This is what the water reactor looked like.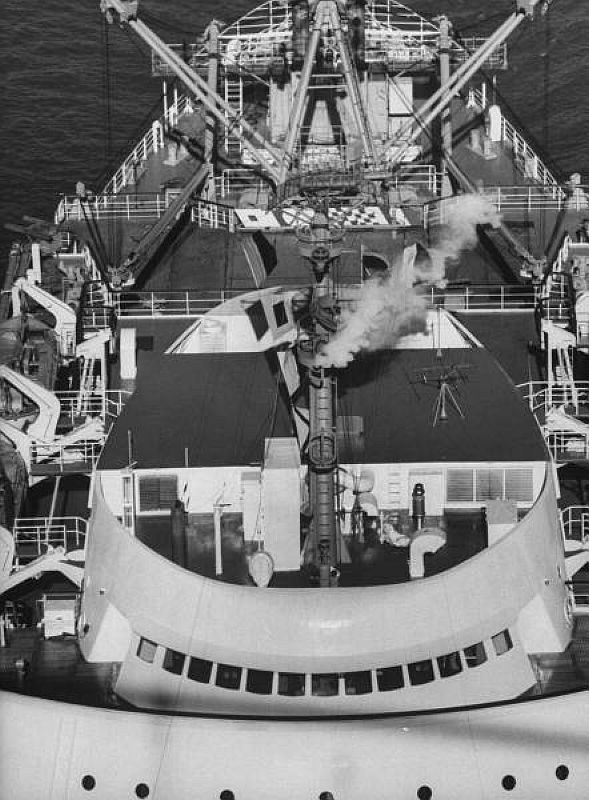 This is a view from the crows nest located on the mast just forward of the bridge
Note the steam coming from what appears to be a mast atop the bridge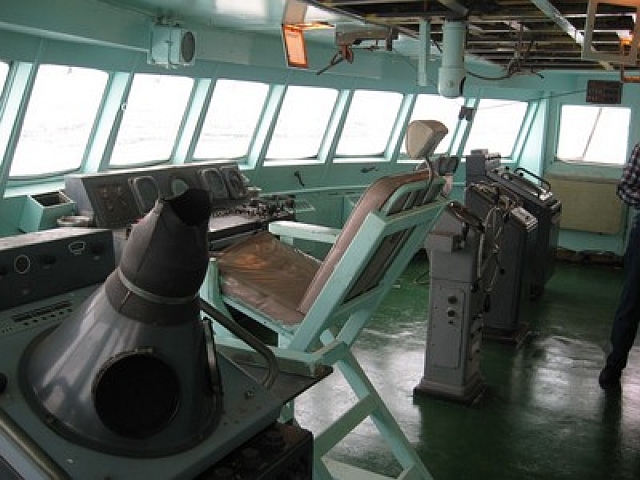 A view of her bridge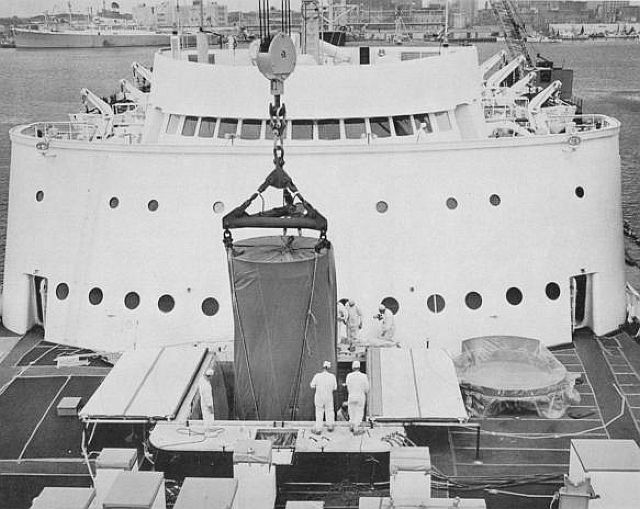 Here we see the unusual refuelling process
N.S. Savannah the Passenger-Cargo Liner
The Savannah was obviously a political demonstration of the technical feasibility of American nuclear propulsion for a luxury Passenger-Cargo ship, although it had not been expected at large for her to be a commercial success, which soon became rather obvious, for she certainly was not! She was designed to be visually impressive and there was no doubt that she looked more like a sleek luxury yacht, rather than a passenger-cargo ship.
She had seven holds served by three unusual looking "Ebel" rigged self-slewing derricks mounted on lightweight tubular frame "masts.' Although cargo her capacity was only 8,500 tons of freight in 652,000 cubic feet (18,000 m³), which was considered to be far too small for a ship of her size and the massive crew that had to man her.
Promenade Deck
Main Lounge:
For Savannah's passengers, she offered superb luxury public venues having two delightfully decorated spacious and modern lounges, such as a cosy Main Lounge located far forward on Promenade Deck. The room walls were painted in light colours and were bedecked with paintings on her aft wall. It featured beige coloured furnishings on a very pale grey carpet, there was also a few fawn settees as well as some blue and green lounge chairs, all adding a little additional colour to this room. Large windows on her three sides overlooked her glass enclosed side and forward promenade deck.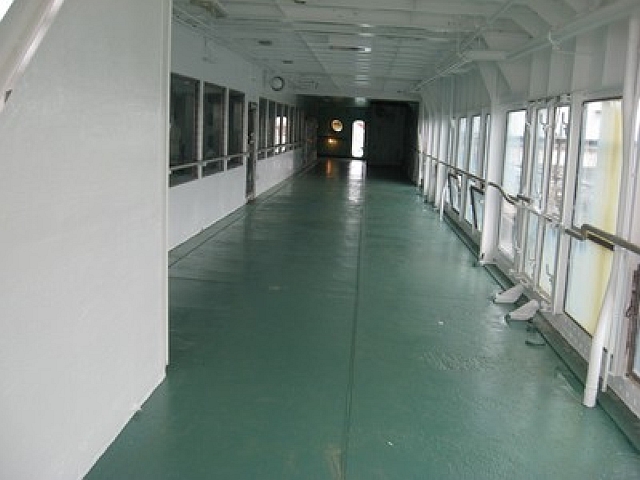 Promenade Deck – Portside looking aft
In addition the Main Lounge was also equipped with a Projection Room (starboard aft) and movies would be shown at appropriate times. Aft of this room, but walk through, where two separate smaller venues. On the portside was the Card Room; whilst on the starboard side was the location of the Library and Writing Room followed by the ship's rather small shop. These venues had a delightful understated elegance, yet there was that exclusive feel about all her venues that spoke of luxury at its very best!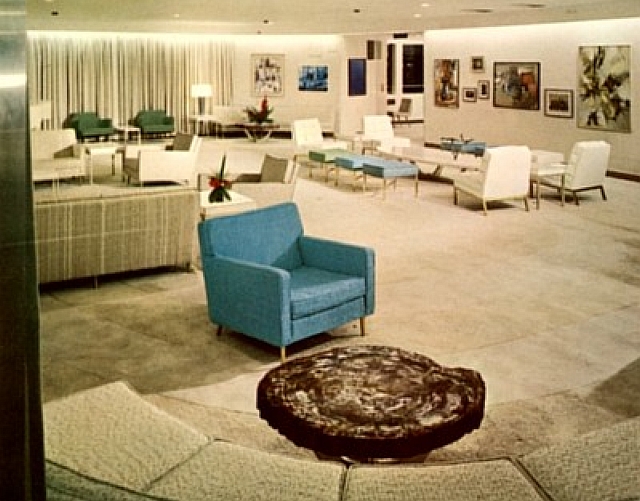 The attractive and modern Main Lounge that converts into the ships cinema when required

Veranda Lounge and Bar

:

Far aft on Promenade Deck was the spacious Veranda Lounge and Bar, complete with a large dance floor in the middle and a Bar located on the portside wall. Unlike the Main Lounge, this room was not carpeted, but had its floor covered in a non-slip blue tilling and the dance floor in white. Furnishings were streamlined and ultra modern in style befitting the day. The colour scheme varied from white, blue and grey leather, as well as red leather bar stools and blue and white striped upholstery chairs. At night when the lights were dimmed, all the cocktail tables would be illuminated and bring a whole new kind of charm to this venue. The Veranda's huge aft facing windows looked out to the swimming pool and Lido Deck. The overall idea of the decorator's was not to overcrowd this venue and to keep it simple and use just a few splashes on colour and as can be seen no curtains, giving this venue that beach and club like feel during the day.

The Bar was surrounded by a beige sculptured feature wall that was created by artist Pierre Bourdelle, who also did a feature wall in the Dinning Room. In addition, the Bar's deep blue back wall has an unusual colourful lit up feature, being a futuristic sculpture made from glass and metal that is meant to represent the "Periodic Table of Elements"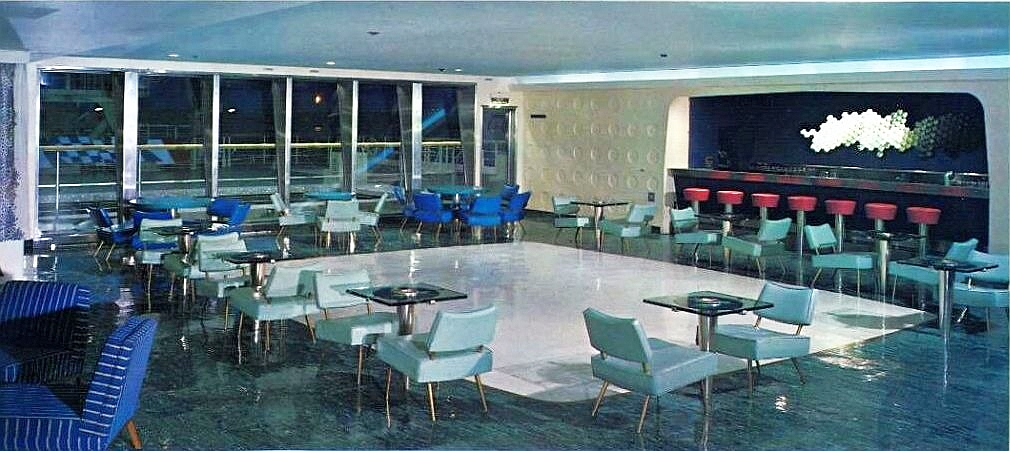 The Veranda Bar that overlooks the pool

The futuristic Veranda Bar sculpture named - "Periodic Table of Elements"
A Deck
Down on A Deck far forward starboard side was the hairdresser and the men's barber, whilst amidships the rather streamlined over modernistic Main Lobby and the Pursers Desk located on the centre aft wall. Personally it was not my favourite feature of the ship as it was rather bland, but when I saw her in Rotterdam Holland, this venue certainly looked far better than in this photograph as the glass display cases on both sides were filled with various items.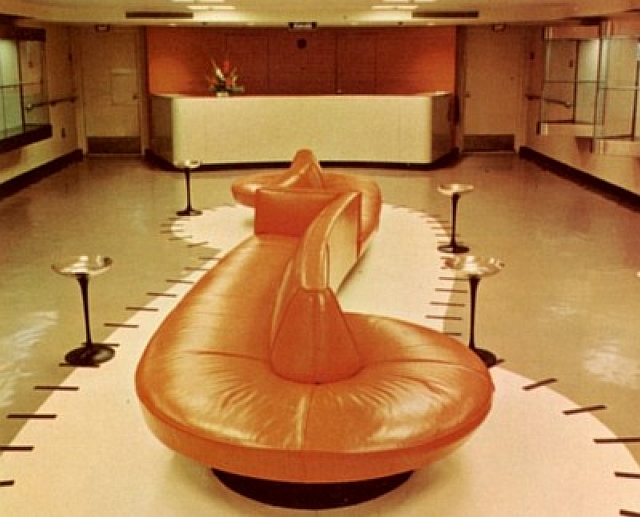 The Main Lobby - looking towards the Pursers Office
In addition A Deck also contained all the ships passenger accommodations consisting of thirty superbly furnished staterooms all having private facilities. Cabins A-01 to A-16 located forward had one berth as well as one sofa bed in the lounge area and a bathroom with a shower, etc. Located along the Main Lobby are two series of cabins - A-17, 19 & 21, and A-18, 20 & 22. These are the suites of the ship which can be sold independently as both A-17 and A-18 are the most spacious rooms on-board. However, as there is a connecting passage between these three cabins on each side of the ship they can also be sold as three roomed deluxe suites. Rooms 17 to 20 have full sized baths, as do rooms 25 to 28 further aft, all other cabins have showers. See the Cabin Plan below for details. However all rooms had a sofa, one or two lounge chairs and as well as a coffee table in the lounge areas, ample wardrobe space and every possible comfort that would be expected on a luxury ship.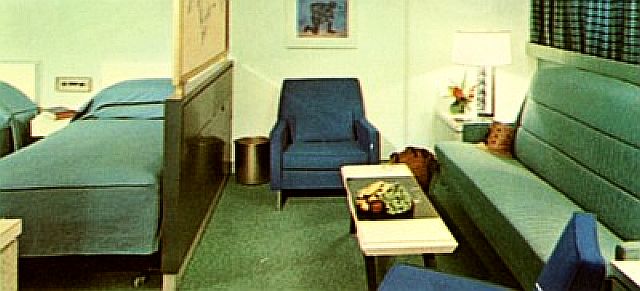 A typical cabin, having a bedroom and a lounge
B Deck
Dinning Room:
Amidships on B Deck, being the lowest passenger level was just one passenger facility the Dinning Room. It could only be reached via the main stairwell, just forward of the main Lobby of from promenade Deck. This delightful venue was light and bright, very modern with mid toned blue walls and blue and lighter blue stripped carpet. The main special features include the superb bronze model of the 1818 SS Savannah at the entrance on the Port side, on a stand in the garden bed, as well as such as a delightful slightly off white sculptured curved wall by artist Pierre Bourdelle called "Fission." This wall did have a purpose, for it allowed stewards to enter and come out of the galley on the respective sides, thus beautifully hiding the entrance to the galley!
The Dinning Room was furnished with tables for two, four, eight to twelve with red and blue chairs with the venue offering sufficient seating for all passengers in one sitting. Although the Savannah was built to carry 60 guests, this venue could actually hold more, this was done as at various times the captain and his officers would dine with the guests at times, in addition, whilst the ship was on goodwill voyages, guests would come aboard and also dine with passengers.
There was just one thing lacking in this remarkable venue and that was natural light and views, for there were no portholes whatsoever! The walls were covered with what was more of a mural of blue with vertical misshapen stripes of several lighter colours that really looked very attractive. However, as I stated at the outset this venue was indeed light and bright as special lighting was installed and it mage the Dinning Room a wonderfully happy place to be in and no one would have missed the exterior!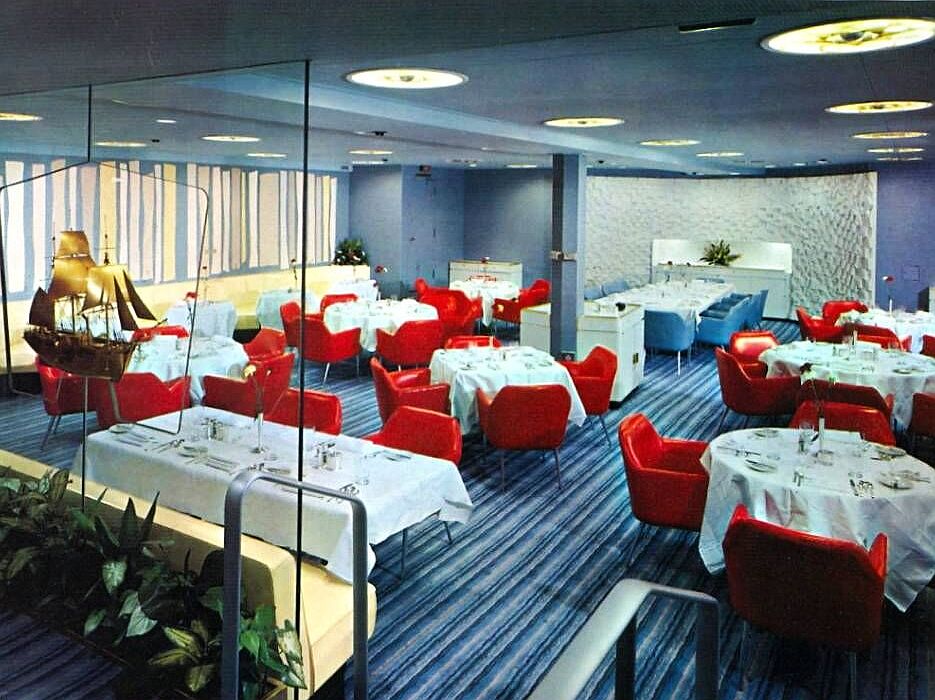 The ships delightful Restaurant – note the bronze model of the1818 SS Savannah on the left hand side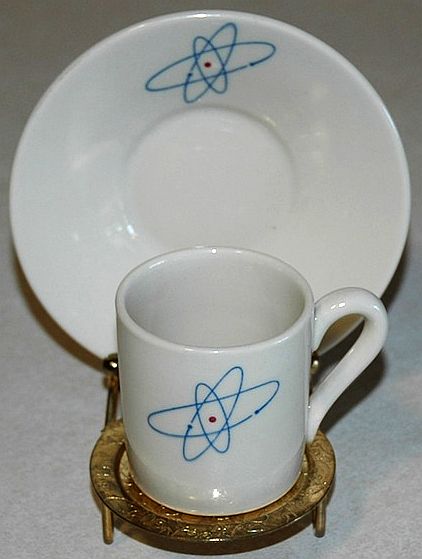 N.S. Savannah memorabilia - a mug and saucer - provided by John Simpson – Savannah USA
N.S. Savannah ~ Deck Plan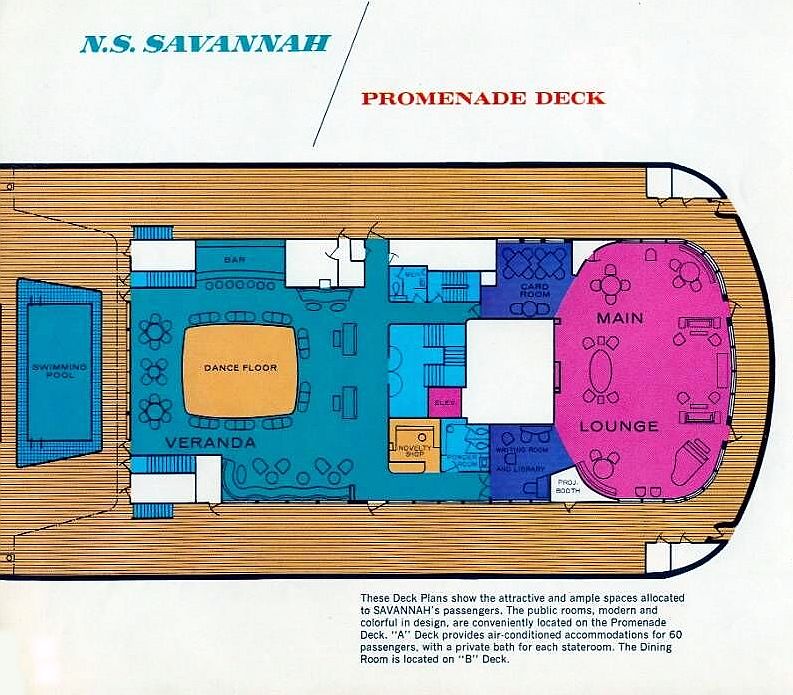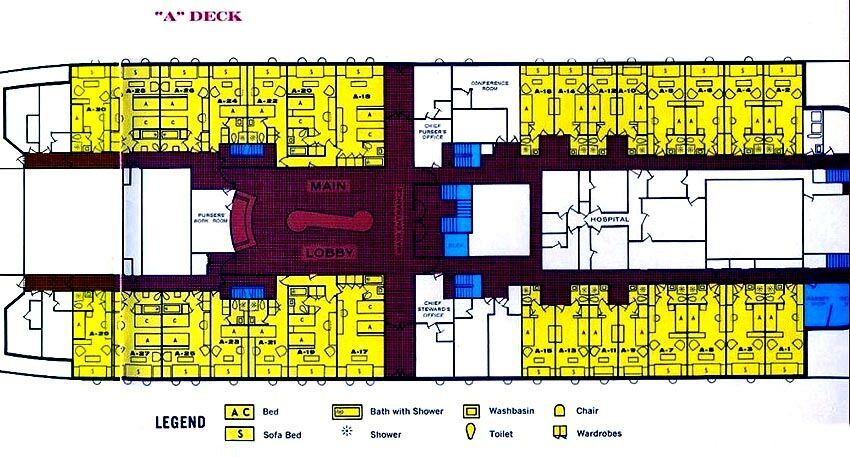 There is no deck plan available for B Deck
Some will say that the ship was a success and that she performed well at sea and that her safety record was quite impressive. Her fuel economy was unsurpassed and her gleaming white paint was never smudged by exhaust smoke. Even her cargo handling equipment was designed to look good.
However, her life as a passenger ship was sadly a total disaster and a short lived one for she stopped transporting passengers ceased in 1965, this is just three years after her maiden voyage. Thus, was she a success? I would say without any doubt NO she was certainly not, and that she was one of America's biggest maritime failures and a typical politician's fancy trying to big note themselves. Politicians do not look into the real picture with any sense of reality, they thought that by going nuclear they were grandstanding, but it failed!
In 1965 the Maritime Administration leased the N.S. Savannah to the "First Atomic Ship Transport Inc", of the famed "American Export-Isbrandtsen Lines" and they decided that she would no longer carry passengers as she was unsalable and that she be just a cargo ship. Thus Savannah's sublime and very expensive passenger accommodations were totally wasted. She was placed on the U.S.A., Europe, Mediterranean service and this continued for six years, after which she was laid up in 1971. Although had her design been better she could have gone on, but she was beset with problems.
Summing up the N.S. Savannah
I was sent the following statement by a good friend in America who found it written on a website regarding the N.S. Savannah … "By many measures, the ship was a success. She performed well at sea, her safety record was impressive, her fuel economy was unsurpassed, and her gleaming white paint was never smudged by exhaust smoke. Even her cargo handling equipment was designed to look good."
All this may be good and true, but with the author having been the owner of a shipping company, I can tell you nothing said in that statement makes that ship a success, for she was a total financial and a design failure and sadly that a fact and the simple truth as I will comprehensively describe as I continue her story below.
It is sad to say that in truth the beautifully sleek lines of the Savannah did nothing to aid her future wellbeing, as she was a failure and from the very beginning, for she was plagued with a variety of design problems. Obviously passengers were fearful to sail on her, for the very thought of sailing on a nuclear powered ship did not seem to be safest of things to do in the sixties as people did not trust this new technology! In addition there was a massive design error when it came to her overall hull design as the future would comprehensively prove and put her our of business for good, as well as the eventual cost of operation which was mostly due to having to crew the ship with too many mariners. Thus the cost of keeping her sailing was far too great and she could not make a sufficient profit to cover the costs!
One of her major design problems was the fact that Savannah's cargo space was limited to a mere 8,500 tons of freight in 652,000 cubic feet (18,000 m³), whilst other ships of a similar size could carry a great deal more. In addition Savannah's sleek and ultra streamlined hull may have looked simply superb to all who saw her, but it made loading cargo, especially in her two forward and aft holds extremely difficult and this became a huge disadvantage, especially when ports became more and more automated and all too soon this ultra modern futuristic looking N.S. Savannah had become obsolete, out of date and totally useless in the modern age.
We also need to understand that she had a massive crew, a third larger compared to a regular ship, in addition Savannah's mariners had to go and study additional highly specialised technology, having already completed all their regular training requirements for their maritime licenses, etc. In addition, the Savannah's operating budget included the maintenance of special and separate shore organisations for negotiating her port visits as well as a special shipyard facility unique for any needed repairs, and this was something that was not required for any other ship. All this would add massive additional costs.
No ship with these disadvantages could possibly hope to be commercial success. Thus the solution became a simple one, already her once beautiful passenger space was totally wasted since 1965, and already her cargo capacity was insufficient for a ship of her size operating with such a large crew. As a result with her many handicaps the Eisenhower's pride, the N.S. Savannah ended up costing over US$2 million a year more in operating subsidies compared to a similar sized cargo ship, that was powered by a diesel/motor or turbine steam engine.
The Maritime Administration (MARAD) finally had to decommission the N.S. Savannah early in 1972, which was a wise decision because she was losing them massive amounts and she was no longer the ship that was originally intended, the "Pride of America", a luxury ship transporting 60 happy passengers in luxurious surroundings, for as we know that had turned out to be a total failure and tragically her passenger days ceased back in 1965 after just two and a half or so years a sad failure indeed! One that could have possibly been better far managed had they had the right media team!
As we read earlier in this story, N.S. Savannah's namesake, the SS Savannah in 1819 became the very first steam powered ship to cross the Atlantic and she was also a commercial failure even though she was innovative when it came to propulsion in her age, indeed she made history, and so it would be for her namesake the N.S. Savannah. The Savannah was officially decommissioned on January 10, 1972, as she was laid up at Savannah, but thankfully it would not be the end of her for thankfully she did have many friends and she survives to this day!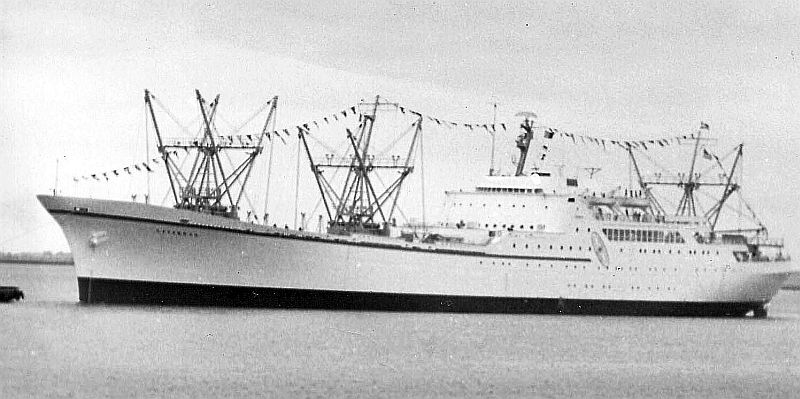 N.S. Savannah seen during her earlier days with passengers out on deck
***********************************
N.S. Savannah - Specifications:
Built:                                     New York Ship Building Co, Camden, USA.
Yard Number & launched:         529 – July 21, 1959.
Maiden Voyage:                       August 20, 1962.
Decommissioned:                    January 10, 1972.
Tonnage:                                15,858 GRT (Gross Registered Tons).
Length:                                  181.5m - 595ft.
Width:                                   23.8m – 78.1ft.
Reactor:                                 Babcock & Wilcox - Pressurised Water Nuclear Reactor.
Engine:                                  De Laval - Steam Geared Turbine Engines - 22,000 SHP.
Screw:                                   Single.
Speed:                                   21 knots service speed (max 24 knots).
Passengers:                            60 First Class.
Crew:                                    124.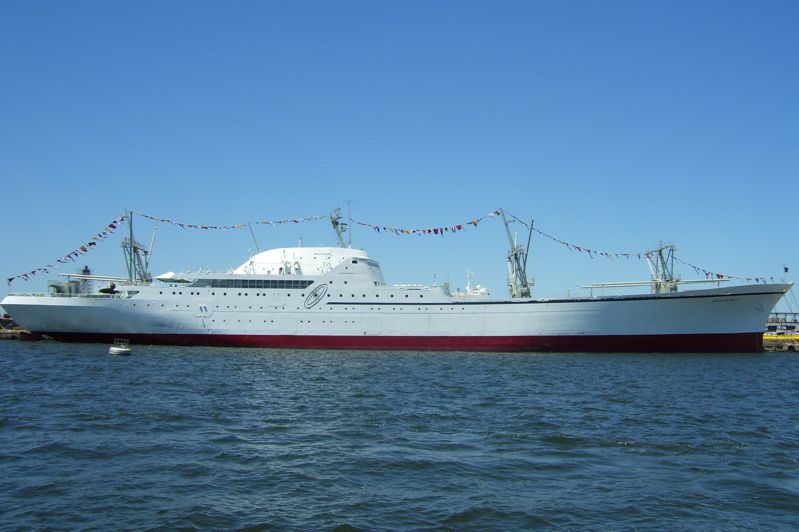 The Savannah is seen here whilst on display to the public
Savannah the Museum Ship
When decommissioned, the Savannah was first obtained by the City of Savannah and she was docked at the end of River Street. There were plans for her to become a floating hotel and tourist complex. However, finding investors was difficult and other ideas had to be looked into. For a short period of time during the late 1970s, she was relocated to Galveston, Texas.
Then in 1981, the Savannah was obtained as a bareboat charter for display at the Patriot's Point Naval and Maritime Museum near Mount Pleasant, South Carolina. Although the museum had use of the vessel, ownership of Savannah remained with the Maritime Administration and the Patriot's Point Development Authority had to be designated what is known as a "co-licensee" for the ship's reactor. Periodic radiological inspections were also necessary to ensure the continued safety of the ship. Once Savannah was open for display, visitors could tour the ship's cargo holds, view the reactor spaces from an observation window, look into staterooms and passenger areas, and walk the ship's decks.
The museum had hoped to recondition and improve the ship's public spaces for visitors, but these plans never materialized. Savannah never drew the visitors that the museum's other ships, notably the aircraft carrier Yorktown, did.
When a MARAD inspection in 1993 indicated that the Savannah required dry docking, Patriot's Point and the Maritime Administration agreed to terminate the ship's charter in 1994. She was moved and dry docked in Baltimore, Maryland in 1994 where some maintenance and any repairs that were required was undertaken, she was then moved to the James River Merchant Marine Reserve Fleet near Newport News, Virginia. It had also been decided to remove her nuclear power plant upon retirement.
Museum Savannah - Images
The following photographs were taken by Fred Fry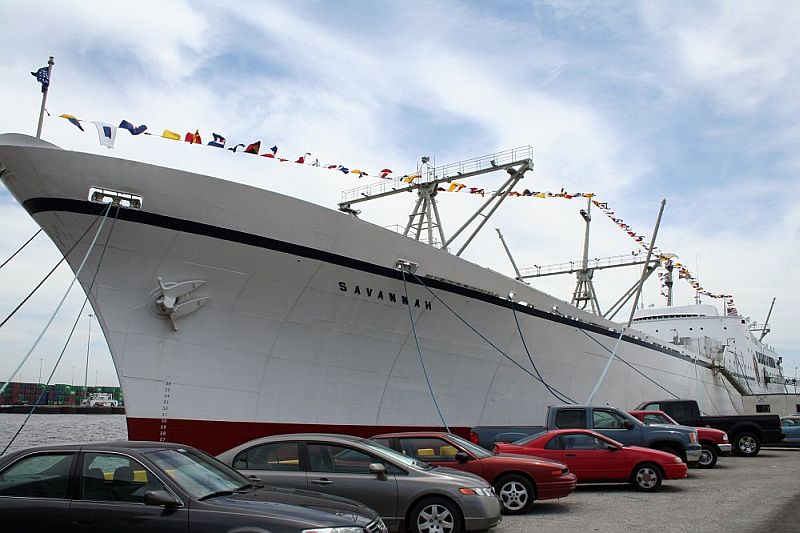 The Savannah seen fully dressed in flags!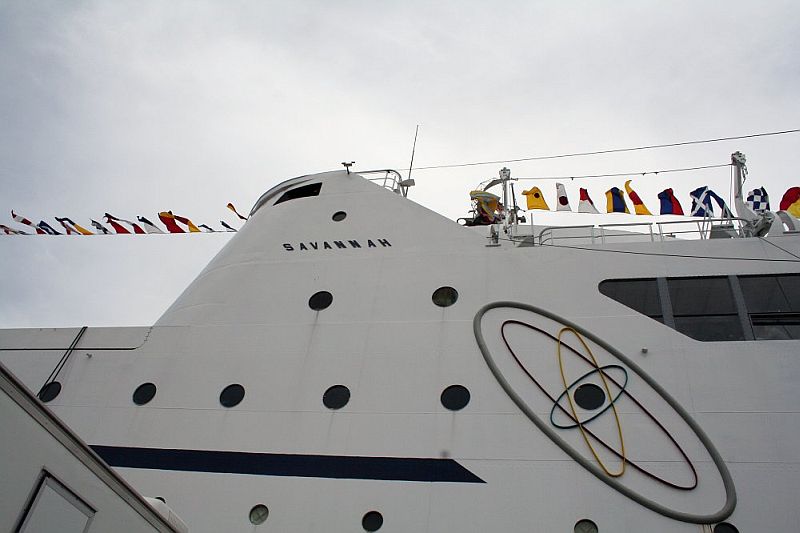 A fine view of her forward superstructure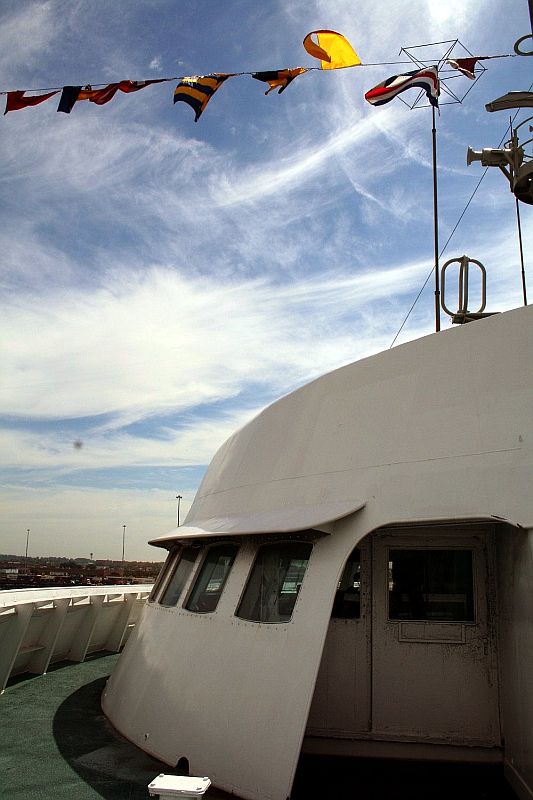 On the port side wing of the bridge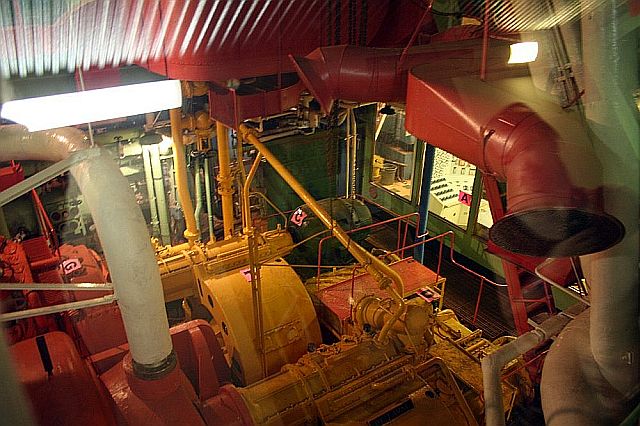 Looking down into the engine room
The Maritime Administration has funded decommissioning and removal of the ship's nuclear systems. The Savannah had undergone work at Colonna's Shipyard of Norfolk, Virginia, beginning 15 August, 2006. That US$995,000 undertaking included exterior structural and lighting repairs, removing shipboard cranes and wiring, refurbishing water-damaged interior spaces, and removing mould, mildew and painting some of her interiors. Then on January 30, 2007, she was towed to Pier 23, which is owned by the City of Newport News. On May 8, 2008, the N.S. Savannah arrived in Baltimore under tow from Norfolk, for removal of the vessel's remaining radioactive material. The Savannah is expected to remain in Baltimore for up to 3 years under a $588,380 U.S. Maritime Administration contract with the Vane Brothers' shipyard at the Canton Marine Terminal in the Canton section of Baltimore.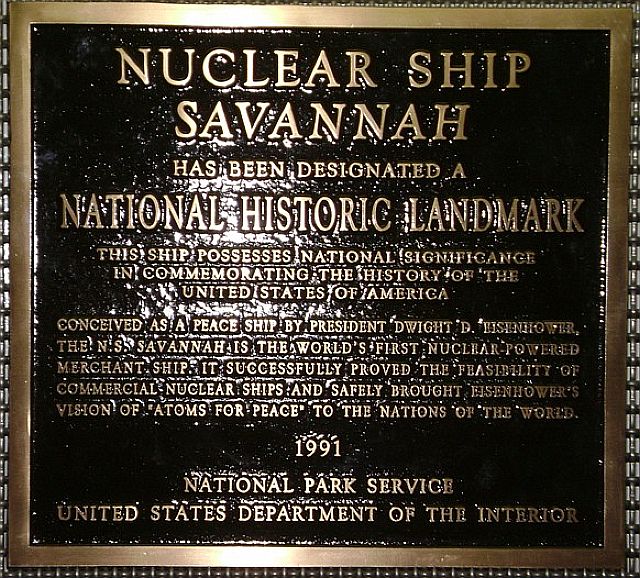 Since the N.S. Savannah is historically significant and has been designated a "National Historic Landmark", MARAD has expressed interest in offering the ship for preservation once Savannah's DDR (Decommissioning, Decontamination and Radiological) work is completed. A MARAD spokesman told The Baltimore Sun in May 2008 that the maritime agency envisions the ship's eventual conversion into a museum, but that no investors have yet offered to undertake the project. We are still waiting for a final result on what will happen to the ship, but she was officially declared in 2001 a "National Historic Landmark."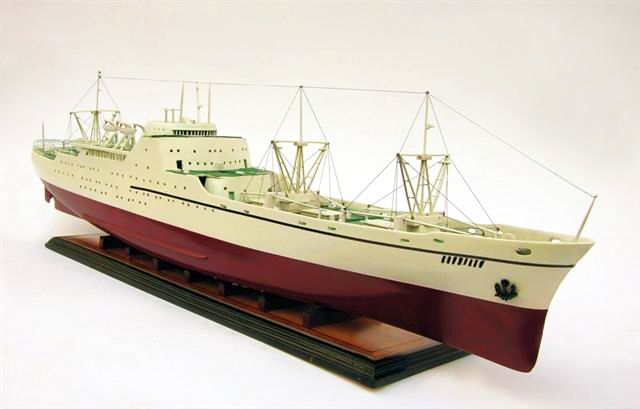 A beautiful model of N.S. Savannah
***********************************
Get your copy of …
"Once Upon a Nuclear Ship"
A

Superb

NS Savannah

Documentary

!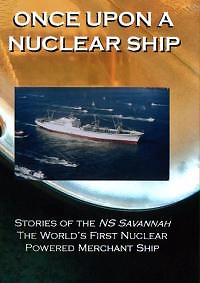 Watch the superb One hour and five minutes long film entitled "Once Upon A Nuclear Ship" covering the N.S. Savannah so superbly! It is without a doubt the very best way to get to know this still ultra modern looking lady, but is yet historic ship! 1. You can watch it online for just US$4.99, or buy the full DVD for $US24.00 within the U.S.A, including shipping, or $US30.00 internationally including shipping. Visit: http://nssavannahdocumentary.com.
My personal thoughts on this DVD;
I have watched only a small part of this documentary, and all I can say that this is a simply remarkable achievement and a must have DVD! It contains so much great footage of this amazing ship and it will provide you with so much more than just an insight into the ship!
Thus do yourself a favour and for a pittance get yourself a copy of this excellent DVD and enjoy it for yourself, as you will need to watch it again and again!
Reuben Goossens.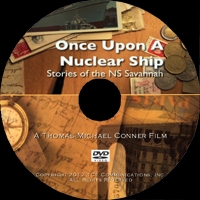 Click the DVD above
***********************************
Soon to come Online
Three Other Nuclear-Powered "Merchant" Ships
N.S. Otto Hahn - N.S. Mutsu & N.S. Sevmorput
Use the Back button on your browser or Close the Page to return to the previous page
or go to our INDEX
Links …
Who is the Author of ssMaritime?
Commenced in the passenger Shipping Industry in May 1960
ssMaritime.com & ssMaritime.net
Where the ships of the past make history & the 1914 built MV Doulos Story
Also visit my …
"Save The Classic Liners Campaign"
Photographs on ssmaritime and associate pages are by the author or from the author's private collection. In addition there are some images that have been provided by Shipping Companies and private photographers or collectors. Credit is given to all contributors. However, there are some photographs provided to me without details regarding the photographer/owner concerned. I hereby invite if owners of these images would be so kind to make them-selves known to me - my email address is rg@ssmaritime.com in order that due credit may be given.
This notice covers all pages, although, and I have done my best to ensure that all photographs are duly credited and that this notice is displaced on each page, that is, when a page is updated!
ssMaritime and associated five Websites are owned and © Copyright by Reuben Goossens - All Rights Reserved