T.S.S Neptunia of 1948 to 1958
Please Note: Firefox and some other Search Engines may not be suitable
Use Google Chrome for this Web Page to load perfectly!

Please Note: All ssMaritime and other related maritime sites are 100% non-commercial and privately owned, thus ssmaritime is NOT associated with any shipping company or any other organisation! Although the author has worked and been involved in the passenger shipping industry for well over 60 years, but due to his old age and poor health, he was forced to retire. Yet, he has completed well over 1,435 Classic Liners, Passenger-Cargo Liners as well as humble converted C3 converted Migrant Liners, which has transported countless thousands folk to the new world, as well on vacations'. I trust the features online will continue to provide Classic Liner and Ship enthusiasts both the information they are seeking, but more so provide a great deal of pleasure and relive many happy memories!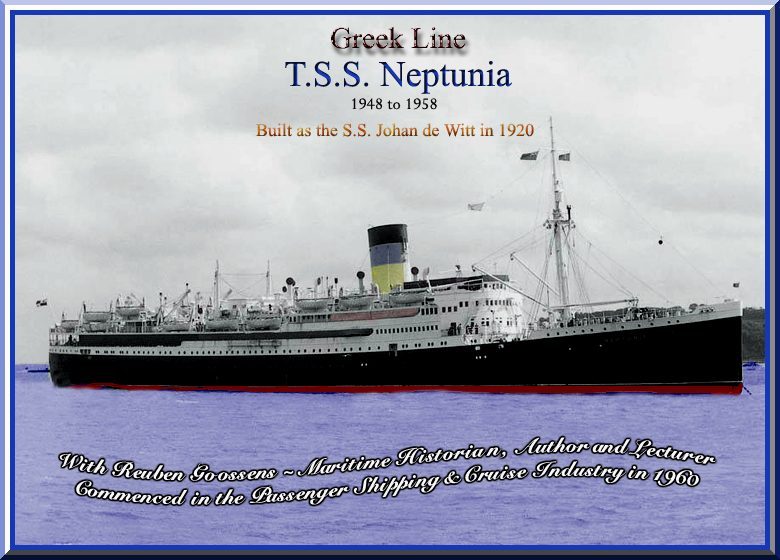 Please Note: Postcards, photographs & other images are either from the author's private collection.
A special thanks to the ssmaritime supporters for sending their most welcome photos & images
Sjohn van der Velden (NL), Joop van Staveren (NL), Peter Reekman (NL) & Joseph Best (AU)
And a special 'thank you' to the "Australian War Memorial"
*********************
The "Neptunia" commenced her days when she was built by "Netherlands Shipbuilding Company" in Amsterdam and was launched on May 2, 1919 for the "Netherlands Line" as the S.S. Johan de Witt. She had two funnels and two masts and accommodated 188 in First Class, 120 Second Class, 36 Third Class and 42 passengers in Steerage. She departed Amsterdam on her maiden voyage July 27, 1920 sailing via the Suez to the Dutch East Indies (being today's Indonesia).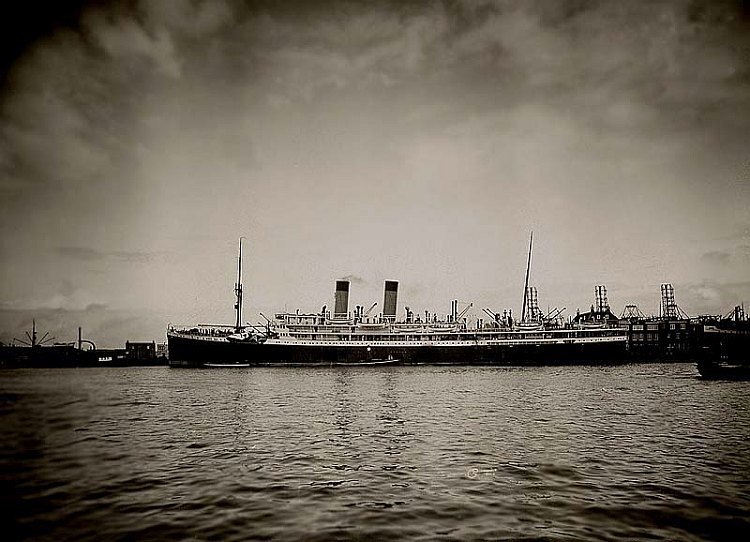 S.S. Johan de Witt is seen berthed Amsterdam having just had a major refit in 1932-1933
During World War 2 she served as a troopship, and after the war she operated as a One Class ship and was often under charter until she was sold in 1948 to a company owned by the Greek "Goulindras Brothers Ltd" who operated the "Greek Line" and she was renamed the T.S.S. Neptunia.
For the full story of the "Johan de Witt" read the "S.S. Johan de Witt" page, but there is another link at the bottom of the page.
*********************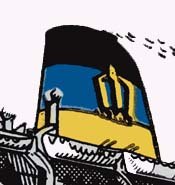 T.S.S. Neptunia 1948 to 1958
The Dutch liner "Johan de Witt" was sold on December 15, 1948 for ƒ2.595.600 Dutch Guilders to the "Compania Maritima del Este SA", registered in Panama, although this Company was owned by the famous Greek Goulindras Brothers" who were based in London at that time. Of course the Brothers were best known for being the owners of the "Greek Line" and after an refit she would be renamed "Neptunia" in 1949 and then she would join the other ships of their fleet.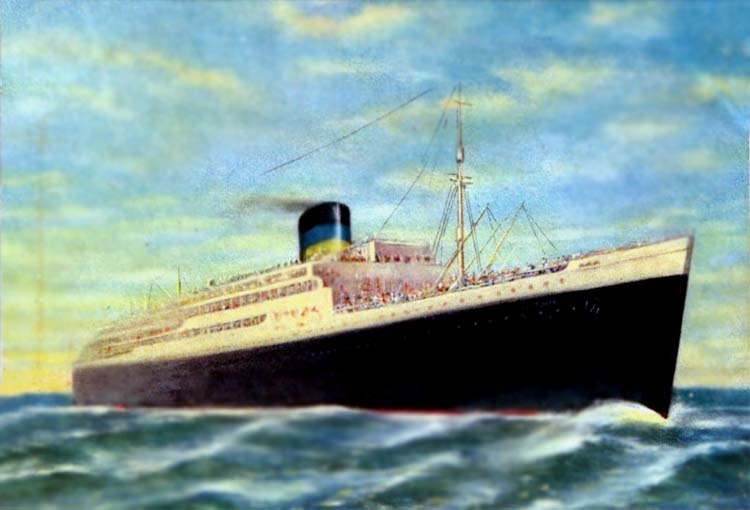 Above & below: A pre release artistic postcard of the new T.S.S. Neptunia as she would look after her refit
Note her funnel features the official "Greek Line" funnel colours, but without the "Yellow Trident"
Below we see the back of the card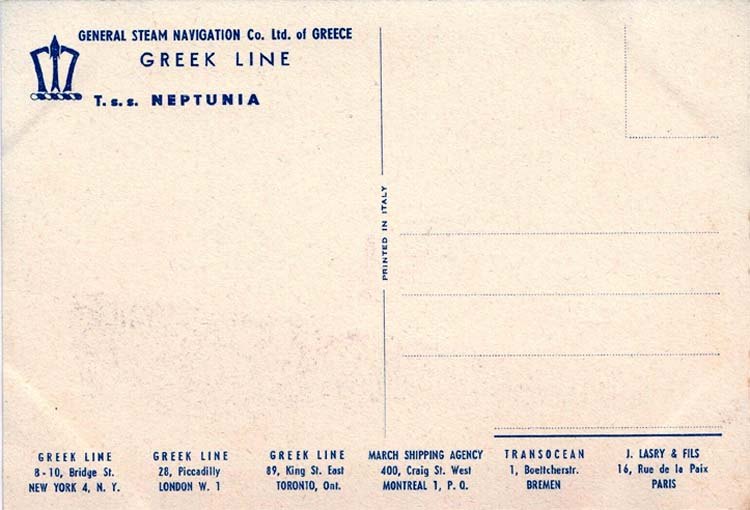 The ship was given an extensive refit and both her tall slender forward funnel and the aft dummy funnel were removed and the forward funnel was replaced by a new shorter thicker funnel. In addition her aft mast was also removed. Most importantly, all her Public Rooms were superbly modernised as was all the accommodations. Upon completion she had a Passenger capacity of 251 First Class and 563 Tourist Class.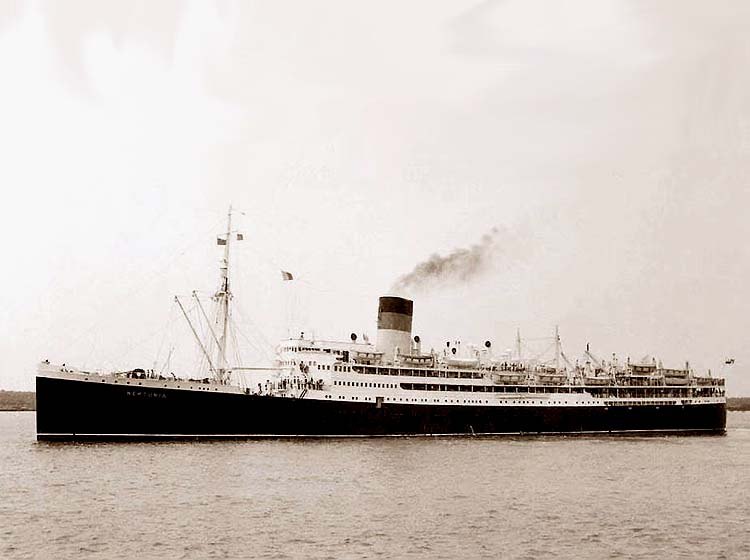 Being operated by the "Greek Line" the T.S.S. Neptunia is seen after her refit, but she retained her black hull
In May 1949 the renamed the "Neptunia" departed on her maiden voyage from Genoa, sailing via Naples, and Lisbon to New York returning to Piraeus, and thereafter she commenced her Piraeus to New York service.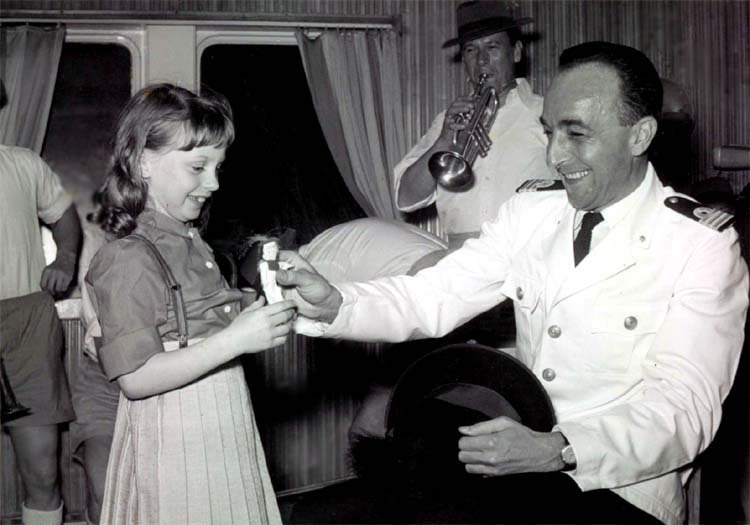 The Captain gives one of the passenger's daughters a small gift
Then on April 9, 1951 she departed from New York and sailed via Boston, Cherbourg, and Southampton to Bremerhaven and remained on this service until 1954 when she was transferred to a new company.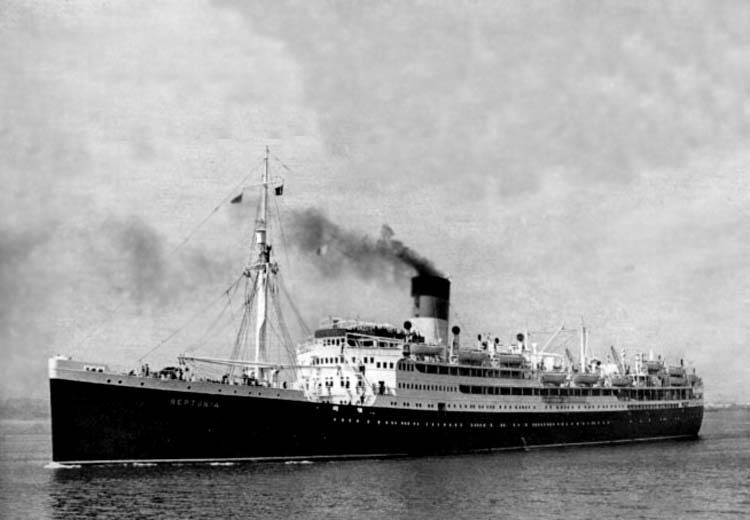 Another view of the "Neptunia"
T.S.S. Neptunia 1954 to 1958: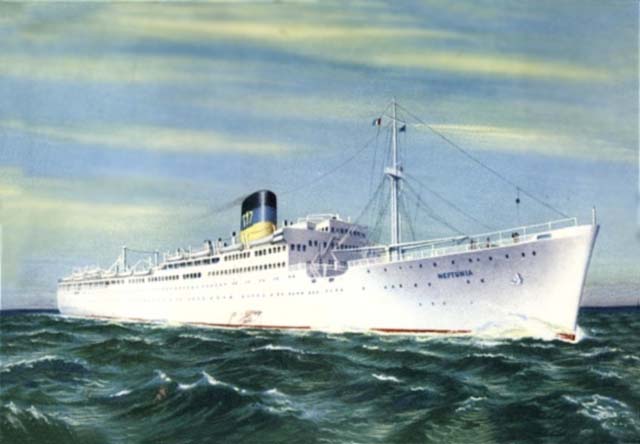 A postcard revealing the new look all white "Greek Line" ship T.S.S. Neptunia
She now features the "Greek Line" - "Yellow Trident" on her funnel
In 1954 the now 34-year-old ship was transferred to "Neptunia Shipping Co. SA" in Panama, being another "Goulindras Brothers" company, but they were now based in Piraeus, Greece and the "Neptunia" would again sail under the "Greek Line" banner. But now she was painted all white, like all the other "Greek Line" ships and the companies' "Yellow Trident" was finally added to the funnel.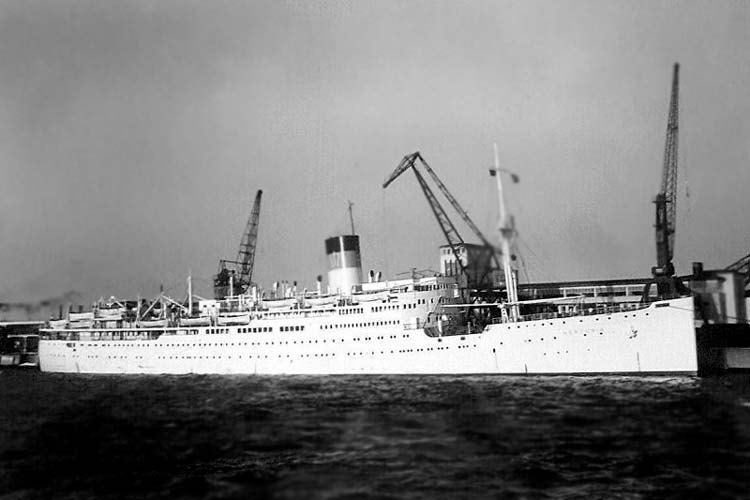 T.S.S. Neptunia is seen berthed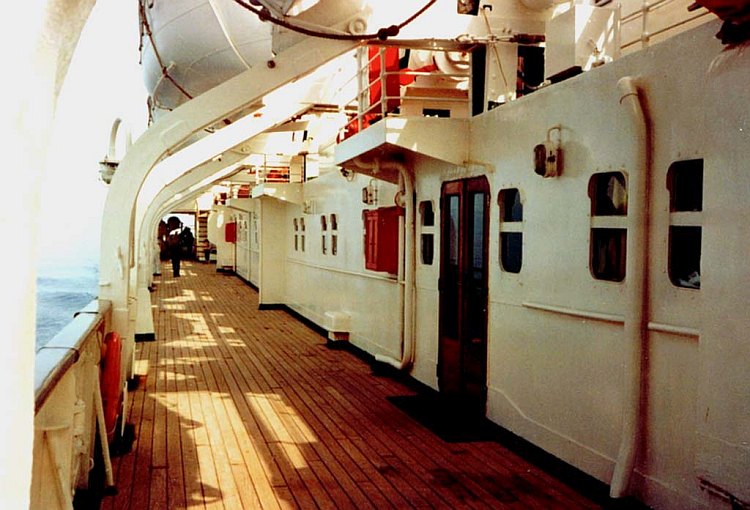 Her starboard side Boat Deck looking aft
As it was still three years before any German ship was could operate a post-war service to the United States with any of their ships, thus the Goulindras Brothers had previously worked with the "Hapag-Lloyd Travel Agency" and organised to use the T.S.S. Neptunia on the Trans-Atlantic service to the United States and Canada. With her new appearance the T.S.S. Neptunia first departure from Bremerhaven commenced on April 26, 1951. To ensure the comfort for the German guests onboard as well the Greek crew, when commencing the German voyages they especially employed 113 German crew for the German passengers. In addition all tickets could only be purchased directly through "Hapag-Lloyd". The "Neptunia" proved to be extreamly successful on this service and the Germans loved the this modern ship and she was well promoted by Bremen's political and shipping circles, and soon the Greek Line's two other ships, the "Canberra" and "Columbia" would join the "Neptunia" in that same year.
Her schedules were as follows: Bremerhaven, Southampton, Cherbourg, Cobh, Halifax and return, New York.
And then; Bremerhaven, Southampton, Cherbourg, Cobh, *Quebec, and return (one voyage to/from *Montreal). Cobh omitted on some return voyages.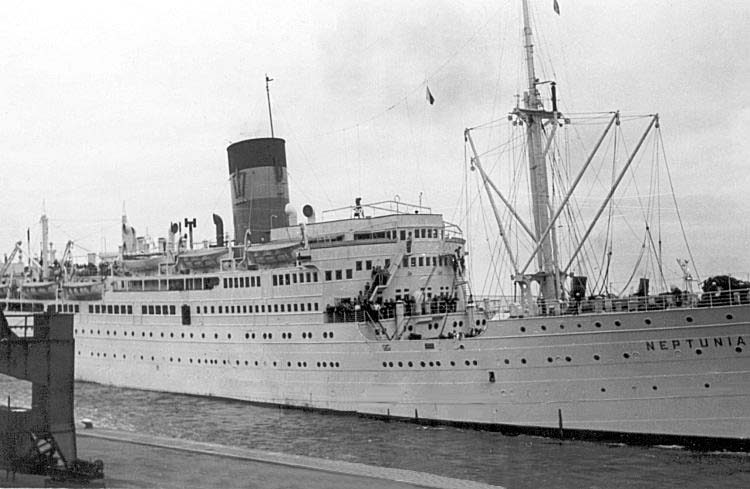 She is seen here at Le Havre, France in October 1955
T.S.S Neptunia Brochure & Deck Plan:
This brochure reveals how she was modernised back in 1948 and that she had become a fresh modern looking ship internally and she had become very popular, especially with the German and British passengers.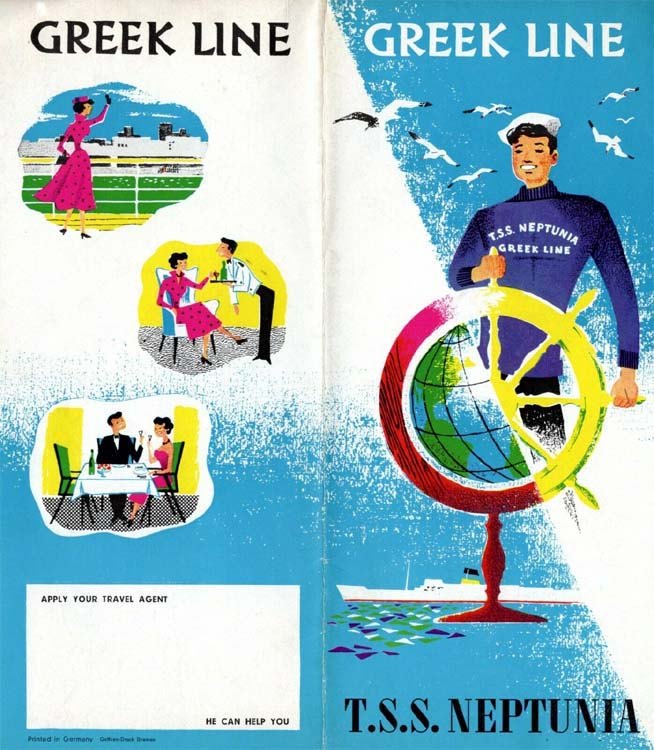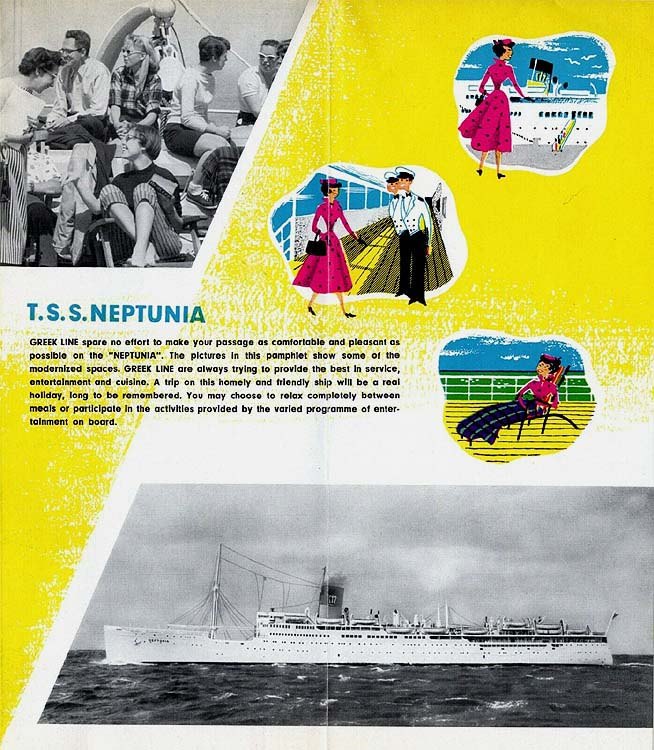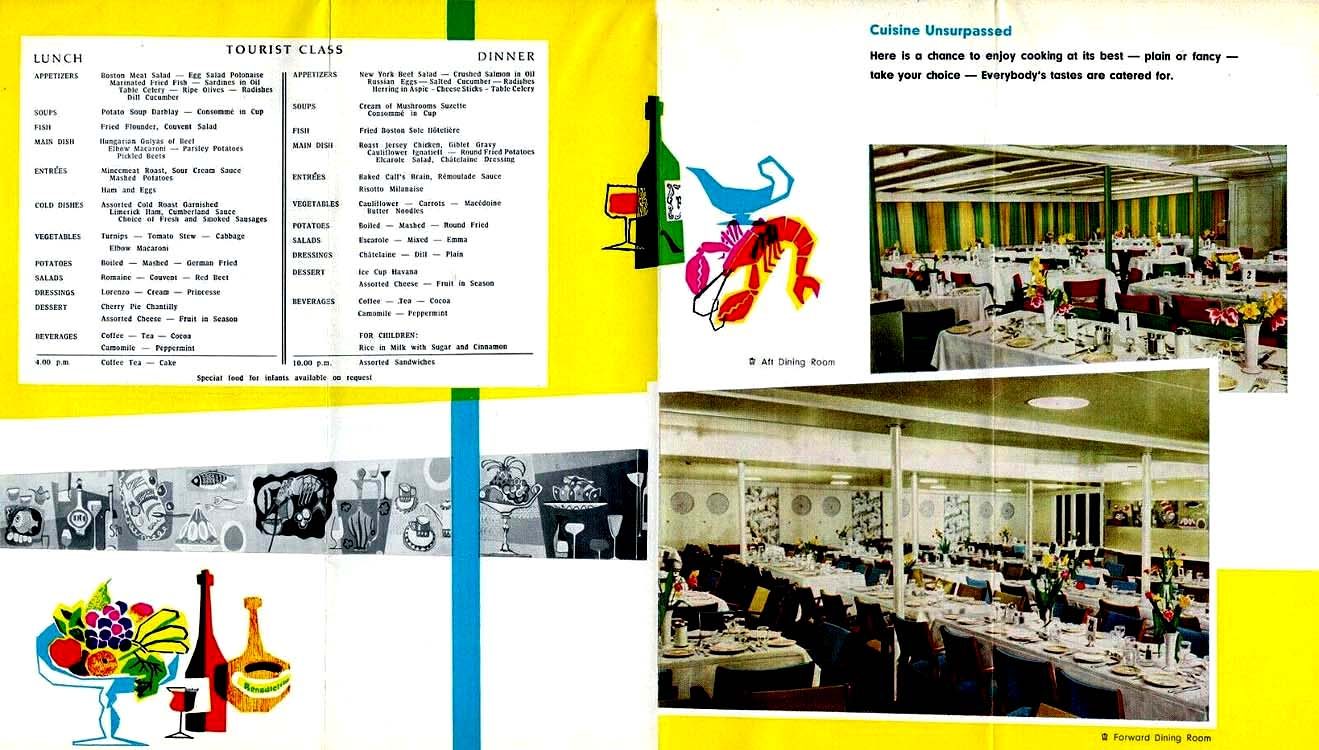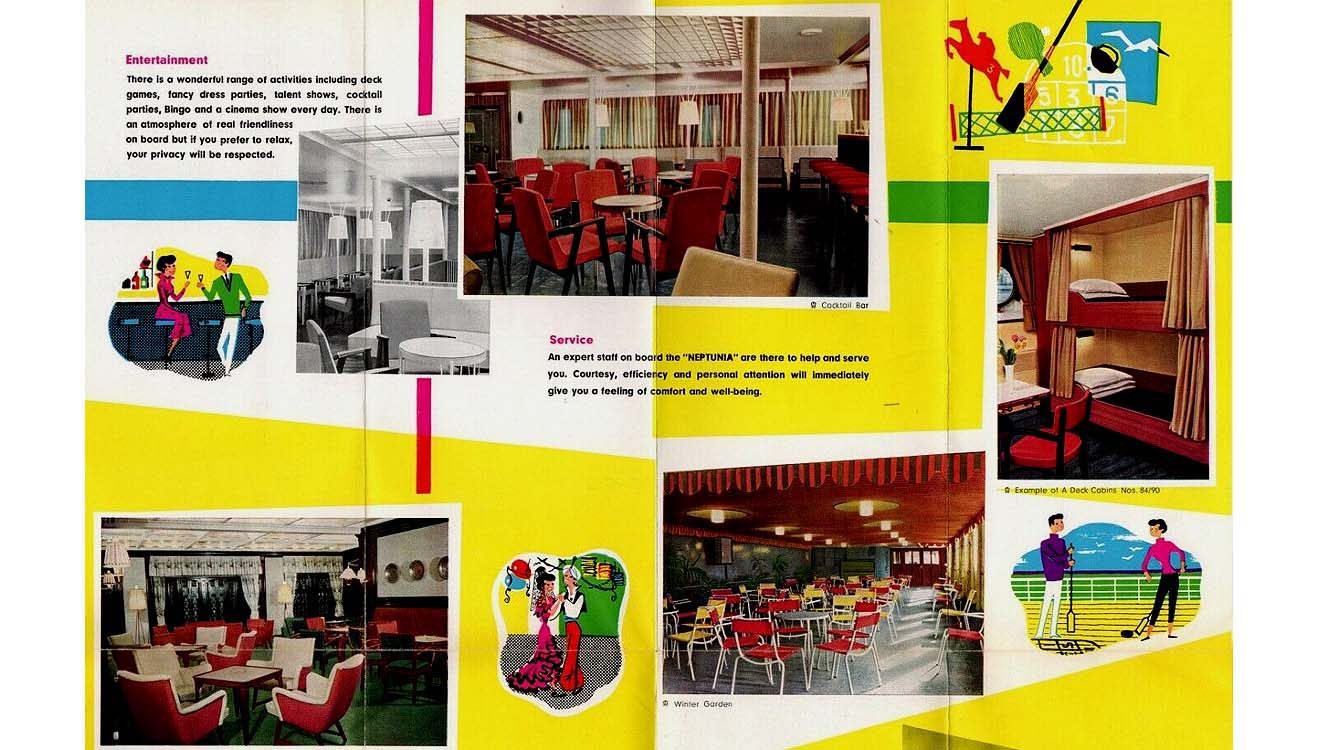 Deck Plan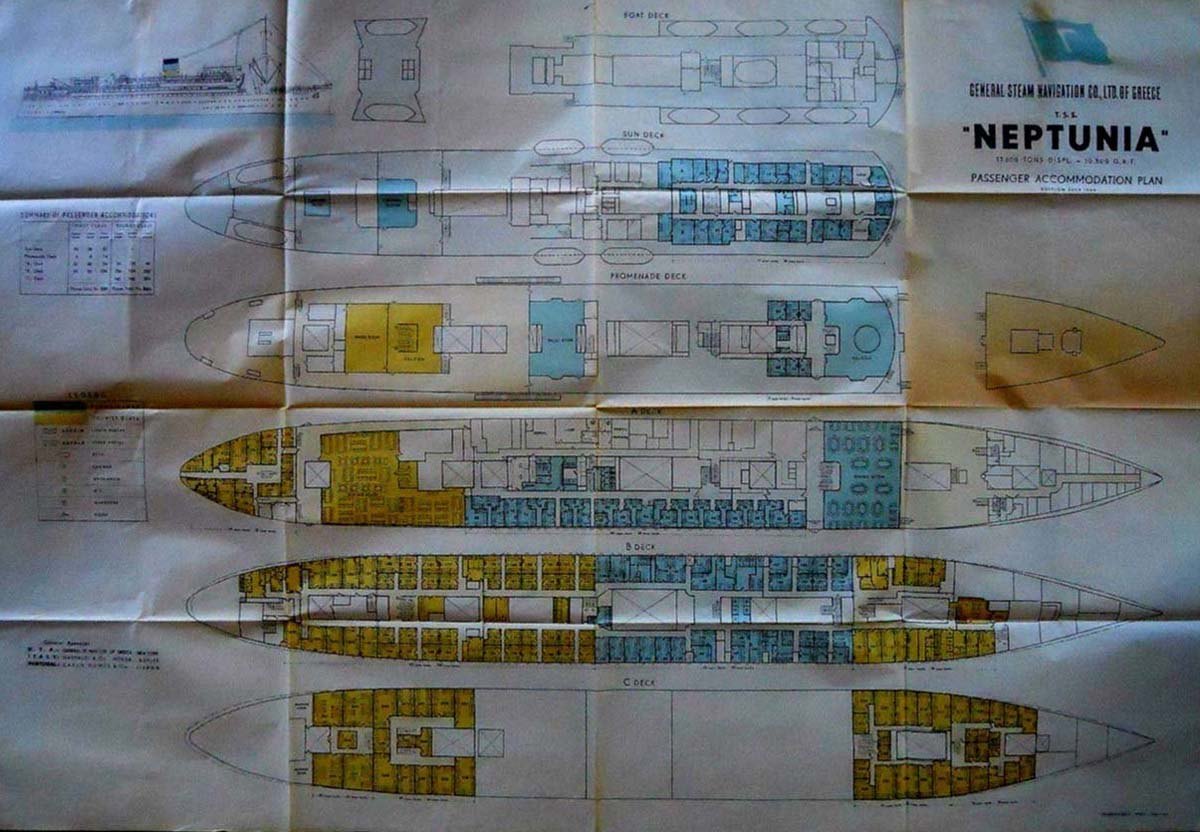 Whilst the "Neptunia" was on a voyage from Boston sailing via Cobh and heading to Bremerhaven, as she was  calling into the port of Cobh on November 2, 1957 the "Neptunia" ran onto "Daunt Rock". To stop her from sinking she was successfully towed on the same day but as she was so heavily damaged she had to be grounded being in a partially sinking condition. Thankfully all passengers and crew were able to leave the ship. Later the ship was declared a "total loss".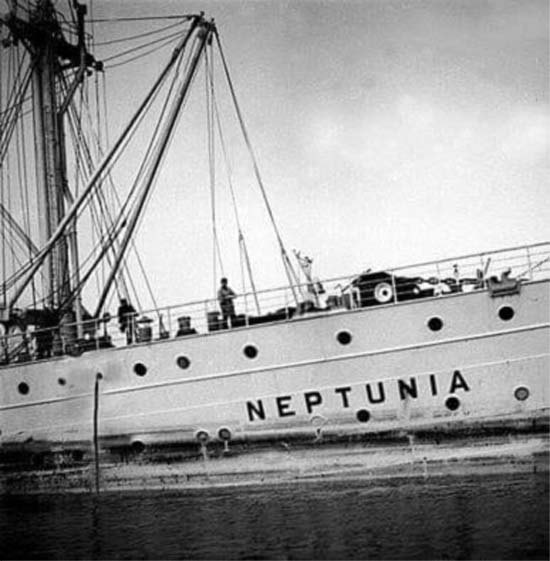 The "Neptunia" is seen partially sunk, but beached near Cobh
She was sold for scrap on January 29, 1958 to "NV Levie Simons Scheepsslooperij" (Ship breaker) in Rotterdam. Then in February 1958 the wreck had her holes temporarily sealed and she was salvaged. Having been refloated she departed from Cobh on March 2, 1958, in tow of the Dutch Ocean tug "Gele Zee", later assisted by the Ocean tug "Maas", and they arrived at the "Nieuwe Waterweg" being the canal and entrance to the port of Rotterdam on March 7, 1958. However, when they were approaching the Nieuwe Waterweg she ran aground again, but thankfully she was able to be refloated. They headed to the former site of the "Maatschappij (Company) Fijenoord". It was on May 6, demolishing commenced.
*********************
Please Note: Specifications & Details for both the S.S. Johan de Witt & T.S.S. Neptunia can be found on Page One, see the link below the next image.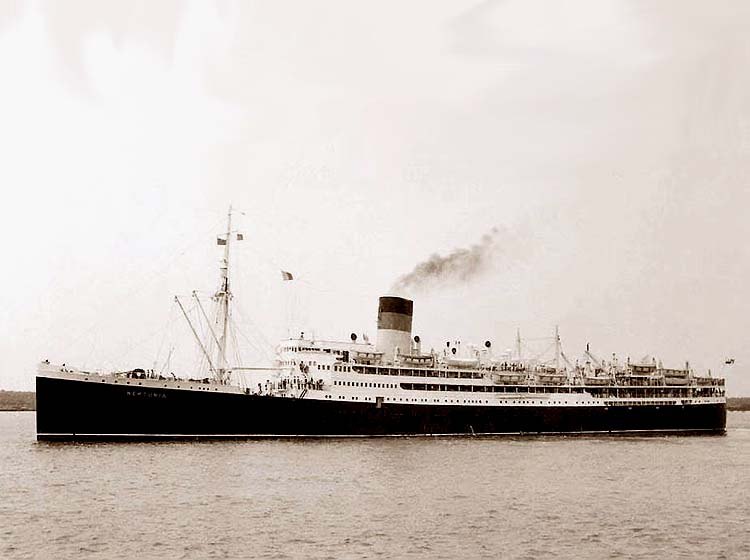 T.S.S Neptunia is seen during her days of 1948 to 1954
Return to Page One - the S.S. Johan de Witt page
*********************
"Blue Water Liners sailing to the distant shores.
I watched them come, I watched them go and I watched them die."

Featuring over 1,435 Classic Passenger Liners, Passenger-Cargo Liners & Classic Cruise Ships!
Or ENTER HERE
For interest: Sadly an email service to ssMaritime is no longer available, due to the author's old age and chronic illness as well as being disabled, etc. In the past ssMaritime received well over 120 emails per day, but Goossens can no longer handle same. He sincerely regrets this!
*********************
ssMaritime.com & ssMaritime.net
Where the ships of the past make history & the 1914 built M.S. Doulos Story.
The Author has been in Passenger Shipping & the Cruise Industry for well over 60 years
In addition he was the founder of "Save the Classic Liners Campaign" in 1990.
Please Note: ssmaritime and associated sites are 100% non-commercial and the author seeks no funding or favours of any shape or form, never have and never will!
Photographs on ssmaritime and associate pages are by; the author or from the author's private collection. In addition there are some images that have been provided by Shipping Companies and private photographers or collectors. Credit is given to all contributors. However, there are some photographs provided to me without details regarding the photographer/owner concerned.
This notice covers all pages; although, and I have done my best to ensure that all photographs are duly credited and that this notice is displaced on each page, that is, when a page is updated!
ssMaritime is owned & © Copyright by Reuben Goossens - All Rights Reserved