SS New Australia - 1949 & SS Arkadia - 1958 - built as the Monarch of Bermuda in 1931
Please Note: Firefox and some other Search Engines may not be suitable
Use Google Chrome for this Web Page to load perfectly!

Please Note: All ssMaritime and other related maritime sites are 100% non-commercial and privately owned, thus ssmaritime is NOT associated with any shipping company or any other organisation! Although the author has worked and been involved in the passenger shipping industry for well over 60 years, but due to his old age and poor health, he was forced to retire. Yet, he has completed well over 1,360 Classic Liners, Passenger-Cargo Liners as well as humble converted C3 converted Migrant Liners, which has transported countless thousands folk to the new world, as well on vacations'. I trust the features online will continue to provide Classic Liner and Ship enthusiasts both the information they are seeking, but more so provide a great deal of pleasure and relive many happy memories!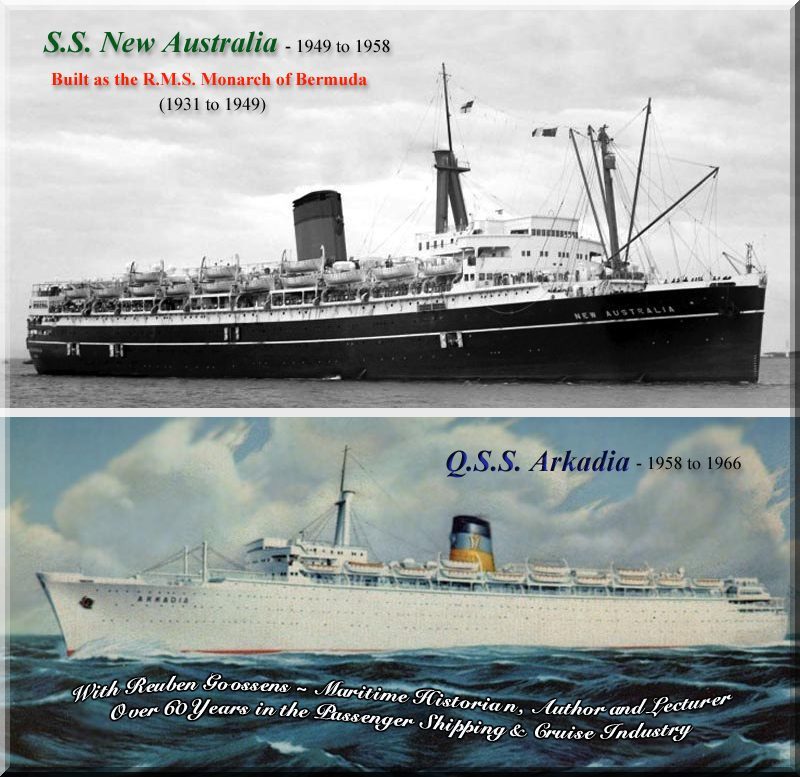 Please Note: Postcards, photographs & other images are either from the author's private collection, unless stated otherwise.
A special thank to the ssmaritime supporters for their very kind assistance
Page Two
S.S. New Australia & S.S. Arkadia
This feature covers two pages; Page One will feature this ship as built in 1931, including her days as a troopship.  This page, Page Two will cover this ship in her two final guises; 1. The British migrant liner the S.S. New Australia of 1949; and the Greek Line's S.S. Arkadia of 1958. To read about this ship as built the ultra luxury liner R.M.S. Monarch of Bermuda visit Page One - or use the link at the bottom of the page. In addition "Specifications & Details" covering this ship, in all her three guises is located on Page One.
S.S.

New Australia:
After her fire on May 24, 1947 whilst at the "Palmers" shipyard at Hebburn on the River Tyne, where she was to be restored to her luxury liner days, after her years as a troopship, with the damage being severe the owners intended to scrap the "Monarch of Bermuda".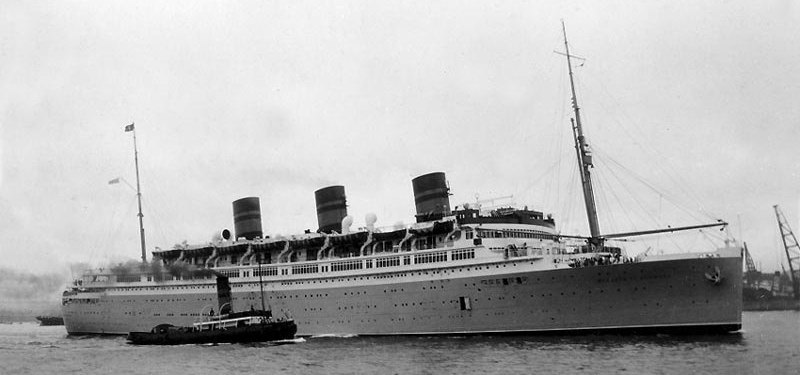 The R.M.S. Monarch of Bermuda is seen as built
Although there was a great shortage of passenger ships with so many having been lost during WW2, and thankfully the "British Ministry of Transport" (MoT) decided to purchase this badly damaged ship, but with her powerful engines being in perfect working order, and have her rebuilt into a basic emigrant liner for British migrants to head to Australia. She was moved under her own power to Southampton where she arrived in April 1948 and she was placed at the "Vosper Thornycroft" shipyards to be rebuilt. Payment for the rebuilding programme was shared equally by the British and Australian Governments.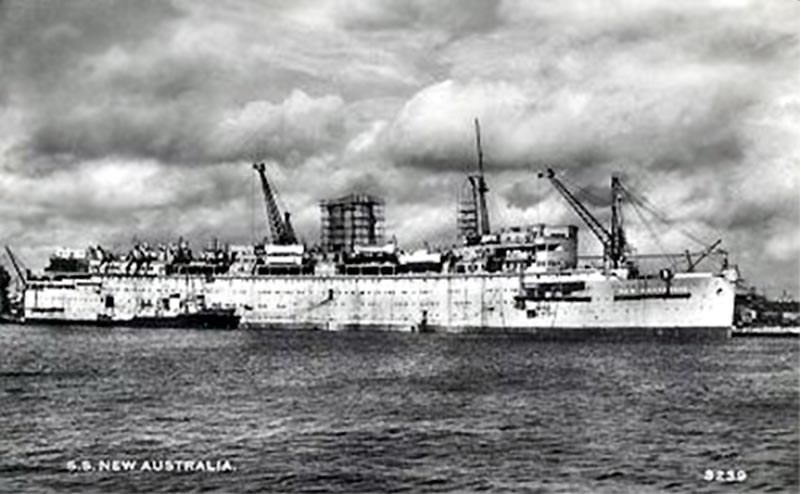 She is seen here at "Vosper Thornycroft" whilst being rebuilt
During her rebuild her distinctive three funnels were removed and replaced with a single funnel, as well as an unusual bipod structure just aft of her bridge that served as both a funnel and a mainmast. Accommodation wise, she would now accommodate 1,600 passengers in a One Class configuration. In her new guise she offered some 4 berth cabins, but there were a large number of 6 and 8 berth cabins. Although the grand public facilities had long gone, she had been the ultimate of luxury, but now she only offered the most basic facilities, the only reminder of those past glamorous days were the outdoor swimming pool aft on A Deck and the stunning indoor pool located amidships down on E Deck.
In 1949 MoT renamed her "New Australia" and they appointed "Shaw, Savill & Albion Line" to manage and operate her. Due to various reasons her refit took much longer than had been expected, and finally she operated her trials on July 18, 1950, yet there were problems during her trials with repairs needed. Thankfully the repairs were done within several days, having worked day and night to finish her, and she reran her trials successfully on the 20th and she was officially registered as being 20,256 GRT (Gross Registered Tons) and MoT took delivery.
Her "Shaw, Savill" livery was as follows; she had a black hull with a thin white ribbon surrounding the hull, her boot topping was red, and she had a white superstructure that was topped by a single yellow and black funnel. Although her bipod mast atop just aft of the Bridge was also a funnel, as well as her main mast, this and her forward mast completer with the traditional lookout were corn coloured.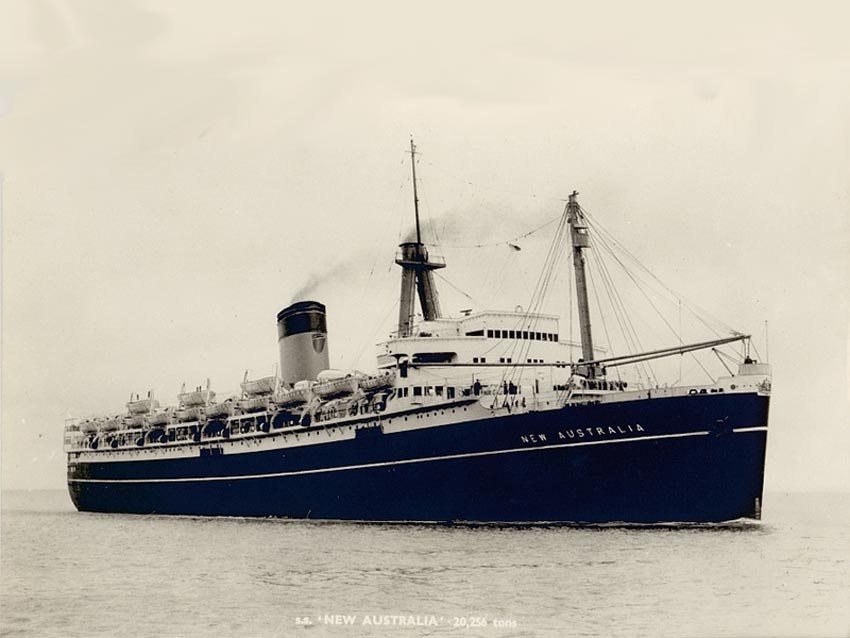 The newly completed "New Australia" featuring her official "Shaw, Savill & Albion Line" livery
As I said earlier, the "New Australia" was rebuilt exclusively to enter the migrant trade, transporting British emigrants to Australia a service she operated from 1950 through to 1957, and the British migrants under this assisted passage scheme were later nicknamed "Ten Pound Poms". However, her return voyages were nothing short of interesting, and this will be covered below.
Maiden Voyage as the "New Australia":
S.S. New Australia departed Southampton on August 15, 1950, and she headed via the Suez Canal to Fremantle (West Australia), then continued to Adelaide (South Australia) arriving in Melbourne (Victoria) on September 15, 1950, and then to Sydney (New South Wales) arriving there on September 18, 1950. During this voyage S.S. New Australia lost an anchor during some wild weather in the Bay of Biscay.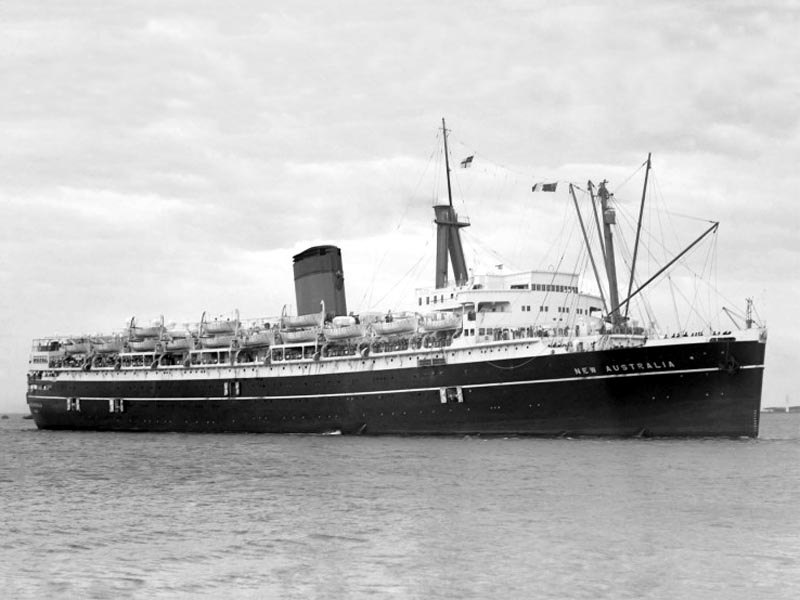 She is seen arriving in Melbourne on September 15, 1950
The Voyage Southampton to Sydney:
For those sailing on the "New Australia", it would only be upon boarding they discovered that families would be split up, boys would stay with their fathers, and girls and babies remained with their mothers. Frequently, two families would have to share a cabin. Although some families would be berthed in one of the two six-berth cabins onboard, although there were some four-berth cabins and countless eight-berth cabins. For those berthed up on the poop deck aft, just above the main passenger decks, the few cabins there generally had good ventilation, and that was important in the tropical regions, although those accommodated on the lower decks tended to suffer from the heat when in the tropics.
Children would have to dine at a separate "children's sitting" whilst the adults then dined in several sittings. The ship had a number of play areas for the children and generally the majority of children would play there. They entertained us with books, stories and games.
On the voyage from Southampton, she passed through the Straits of Gibraltar, into the Mediterranean Sea, after which she would head for the Suez Canal. She then transited the Suez Canal that connects the Mediterranean and the Indian Ocean.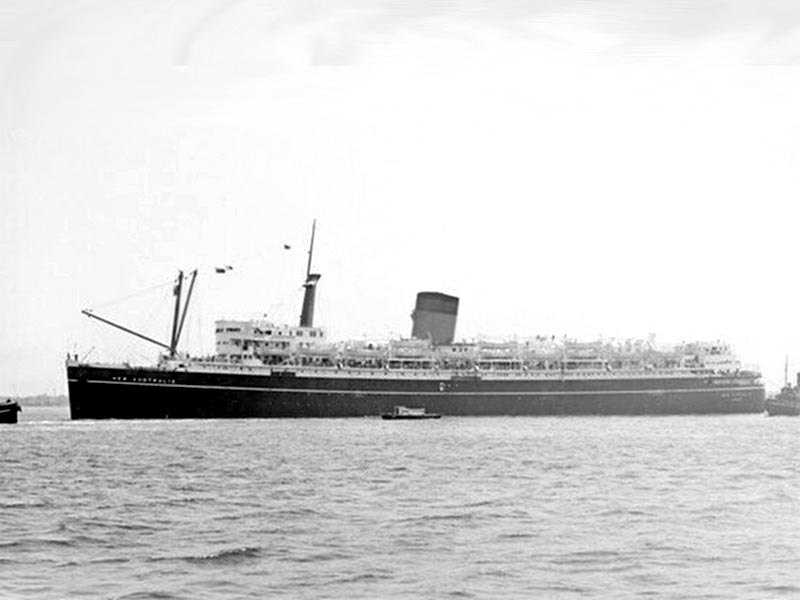 S.S. New Australia is seen departing Southampton
In the Suez Canal, "New Australia" stopped at Port Said but remained at anchor, and to the amusement of passengers countless little boats crowded all around the ship and they are selling souvenirs to the passengers. Purchases would be hauled up in baskets to the ship as long ropes would be placed along her side, and the passengers would send down the money to pay for their purchases. It all worked very well.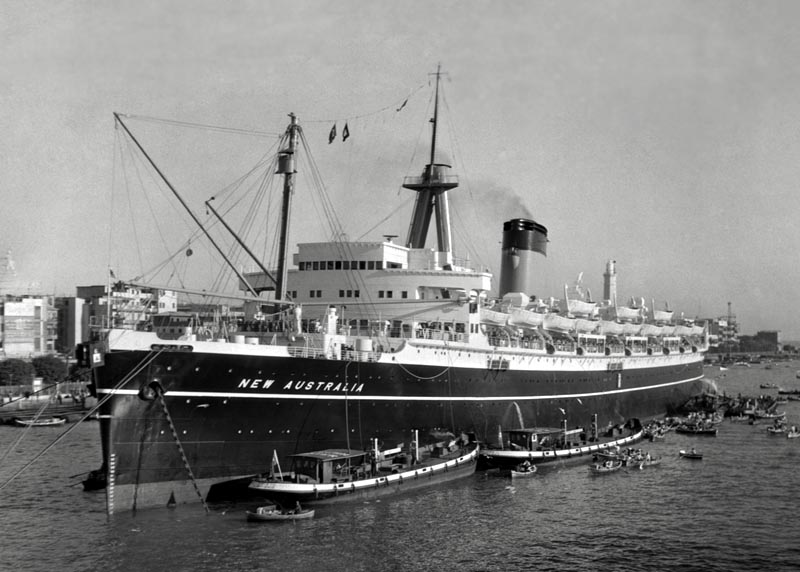 Above & below: Here she is seen at Port Said bunkering (Taking on fuel)
and locals in their small boats selling Egyptian souvenirs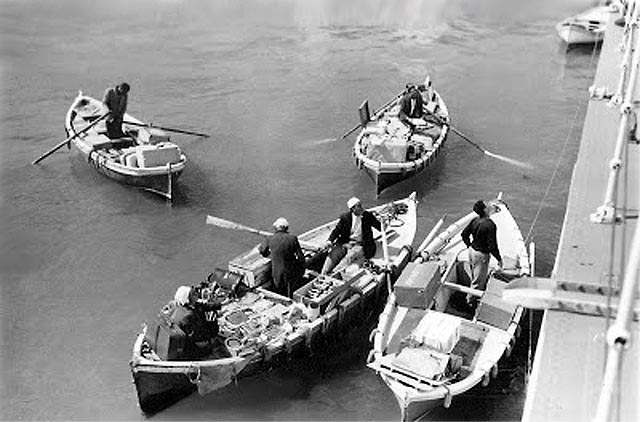 Having reached Red Sea, the ship would head for the Port of Aden, where she would again anchor, and passengers could go ashore per life boat. Next she would head out into the Indian Ocean and sail to Colombo in Ceylon (today's Sri Lanka).
Then, there was a long voyage across the Indian Ocean bound for Fremantle, Adelaide, Melbourne and her destination being Sydney.
A Migrant Liner & Troopship:
Having offloaded all her passengers in Australia, for her homeward voyage she headed for Jakarta, Indonesia, and picked up soldiers and their families as well as Moluccan's who were in danger in Indonesia, and they were all taken to the Netherlands. She left Surabaya on April 7, 1951 and arrived in Amsterdam on April 29, 1951. Her voyages Australia continued and she brought countless British migrants to Australia. But there was one voyage of note, when she departed Southampton on January 28, 1953, and she arrived at her final Australian destination, being Sydney on March 1, 1953.
The Australian Government and the Australian Military took over the New Australia for special trooping duties and important role for the Australian military action in the Korean and as well as Malayan conflicts.
In March 1953 the "New Australia" carried troops of the 2nd Battalion (2 RAR), "The Royal Australian Regiment" (2RAR). She departed on March, and she headed for Pusan in Korea.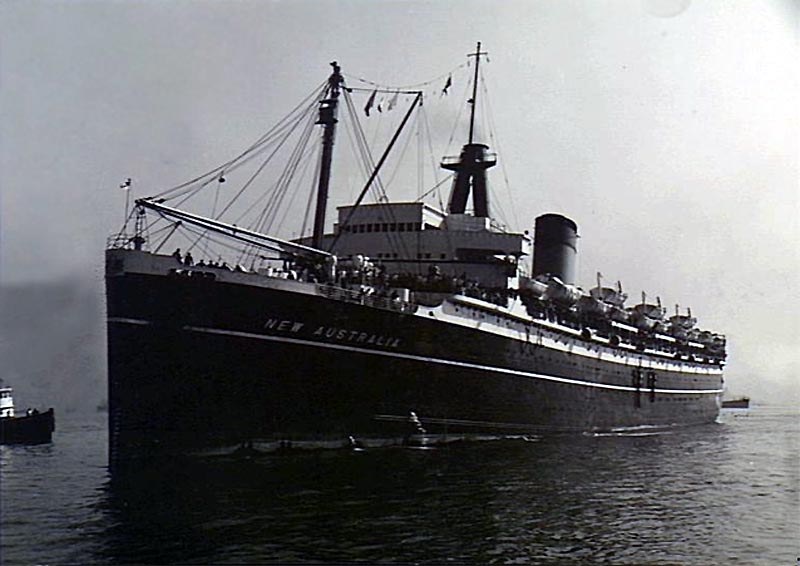 She is seen pulling into Pusan harbour on March 21, 1953
With the 2nd Battalion having disembarked, but troops from the 1 Battalion (1 RAR) having completed their Korean duties embarked the "New Australia" and they headed back to Sydney arriving there on April 6, 1953. The ship then returned to the UK with a number of paying passengers and as she would do at times call in at Singapore.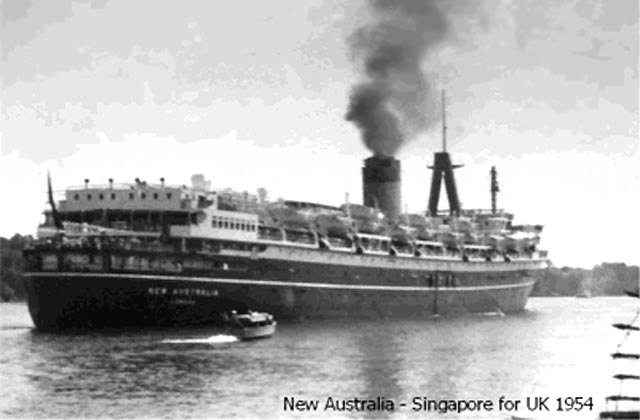 S.S. New Australia is seen departing Singapore on September 1, 1953
Being back in Sydney, she departed from there to return to England, and upon arrival she was taken over by the British Government to transport their troop to Korea. She continued on this trooping service until April 1954, having offloaded troops in Korea she returned to Australia, heading first to Brisbane.
Onboard the troopship "New Australia" was the First Battalion of the "Royal Australian Regiment", and she arrived in Brisbane at Hamilton Brett's wharf on. April 9, 1954. On board, some of the Australian soldiers arrived with their Japanese brides and children. When the troops disembarked they were reunited with loved ones, families and friends.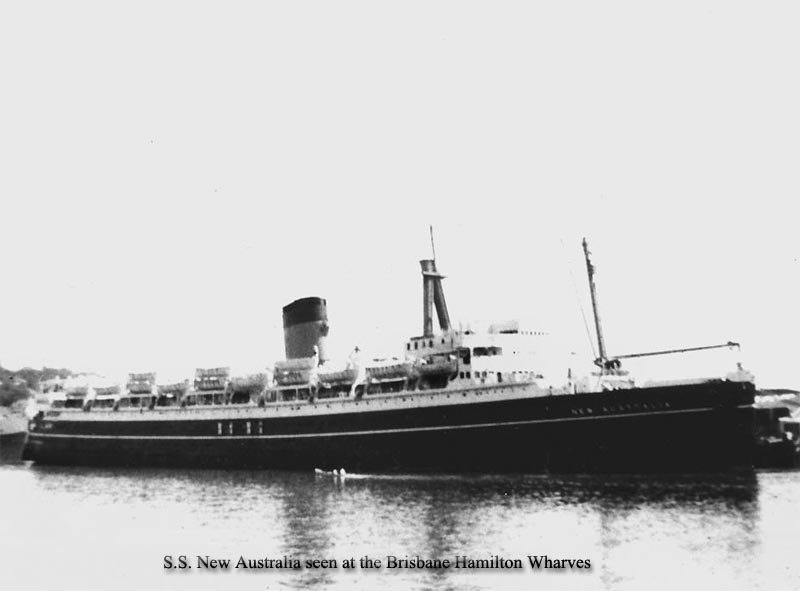 Troopship "New Australia" is seen in Brisbane (Queensland) on April 10, 1954
At an organised march past ceremony to Brisbane City's Town Hall, one soldier lead the Battalion's mascot, being a Shetland pony. The Prime Minister the Right Honourable Sir. Robert Menzies took the official salute, and the huge crowd gave the soldiers a tumultuous welcome home.
She departed Brisbane on April 17 and headed for Sydney where she arrived on April 1954. She departed soon after having taken some passengers onboard and returned to the UK via Singapore, etc, in order to return to her migrant trade.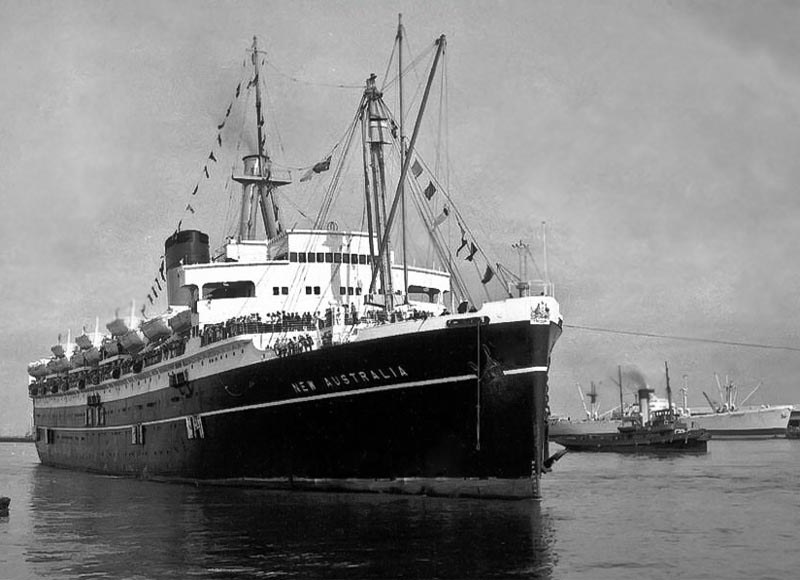 She is seen arriving in an Australian port, with most of her passengers out on deck
Having arrived in Southampton, for the rest of 1954 and 1955 she continued her migrant service to Australia. But in 1956 she would once again be used as a troopship.
She departed Southampton on February I, 1956 filled with migrants and she headed for Australia via her regular service, arriving in Sydney on March 4, 1956. She departed on March 8 and headed one more to Korea, first to Kure where she arrived on March 19, and then to Inchon arriving on March 26. At these ports, she took onboard Australian troops and she returned to Sydney arriving there on April 5, 1956. Once they had all disembarked, several days later she returned to Southampton on her regular schedule.
S.S. New Australia departed Southampton for her very last migrant voyage to Australia on August 16, 1957, and having discharged all her passengers in Australia she undertook a trooping voyage to Singapore laden with the 3rd Battalion of the Royal Australian Regiment, with their families, to Malaya for a two year tour of duty.
The above proves that the "New Australia" played an important role for the Australian military action in the Korean and Malayan conflicts.
Collision with the tanker France Stove:
However upon returning to Sydney, troopship New Australia was involved in a collision with the tanker M.S. France Stove on September 29, 1957. The tanker owned by "Lorentzens Rederi Co" of Oslo, was on a time charter to "Ampol Petroleum", when she collided with the "New Australia" in the Prince of Wales Channel near Hammond Rock off North Queensland.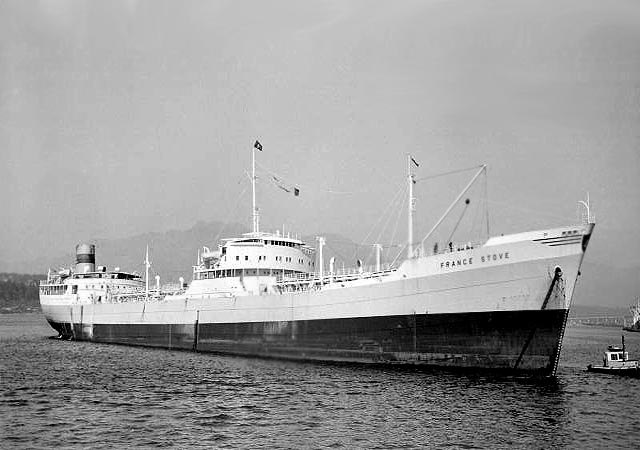 The 16,551 GRT - tanker M.S. France Stove
Thankfully there were no casualties. Although the New Australia sustained damage to her bow, whilst the France Stove was holed on her starboard side and lost her starboard bridge wing and both starboard life boats, and she suffered severe damage, especially to her stern superstructure.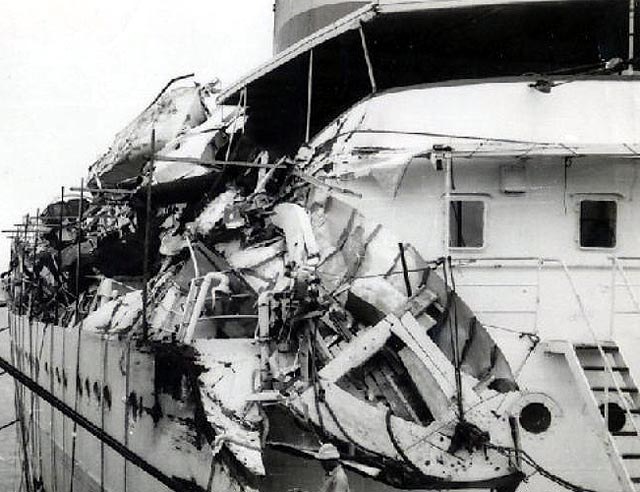 Damage is seen of France Stove's aft (stern) superstructure
A fire broke out aboard the tanker which spread to oil on the surface of the sea that had leaked from a ruptured tank. The fire aboard was rapidly extinguised by the crew and caused little damage. Both ships had pilots aboard at the time and both remained at the site of the incident for three days while temporary repairs were made. At the time of the collision the troopship New Australia was taking troops of the 3rd Battalion of the Royal Australian Regiment, together with their families, to Malaya for a two year tour of duty. The France Stove was on passage to Kurnell, Sydney from Sungai Pakning, Indonesia. Both ships needed to be dry docked later for repairs to be carried out.
This incident had the potential to turn into a disaster of tragic consequences, considering the circumstances and the number of people onboard, but fortunately it wasn't to be.
At the time, it should be noted that both ships were under the command of a Pilot at the time and the New Australia was nearing the northern limits of the Great Barrier Reef Pilotage off Thursday Island.
She finally arrived in Sydney on October 31, and she departed again on November 2, and headed to Adelaide and Fremantle, where she departed Australia for the last time on November 8 1957 and was bound for Southampton, where upon arrival with all passengers having gone ashore, she was laid up.
New Australia's final Year:
The "New Australia" had been operating on what was called the "Migrant Charter". However whilst on her last voyage Down Under, on September 21, 1957 the "Migrant Charter" was  officially terminated, being the end of this ships role to Australia!
With her "Migrant Charter" concluded she was laid up and placed on the market and it was assumed that she would end up at a breakers yard. However, she was sold to a London based shipping company very early in January 1958.
Q.S.S.

Arkadia:
Thus in January 1958, the S.S. New Australia was saved once more as MoT had sold her to "Ornos Shipping Co Ltd" of London, who then resold her days later to the "Arcadia Steamship Corporation", being part of the "Greek Line".
They sent her to "Blohm & Voss" in Hamburg who gave her a partial rebuild and massive internal refit turning her into a modern ship, with the best facilities.
Her foremast was replaced with two king-posts, and a new shapely traditional Greek Line funnel, being yellow, blue and black top, with the company's golden logo in the centre. As her forepeak had been damaged in the collision in September 1957, it was remodelled to give her a stylish new curved stem, increasing her length to 590 ft - 180 m. Air-conditioning was installed in her Dining Rooms and her other Public Venues, and she was fitted to carry 150 passengers in 1st class and 1,150 in tourist class, and when completed she was a more modern looking ship having been painted all white.
Greek Line renamed the now 20,256 GRT ship (Quadruple Screw Steamer) Q.S.S. Arkadia, and they used her as a traditional passenger liner on the Trans-Atlantic service to Canada, as well as a cruise ship for most of the 1960's.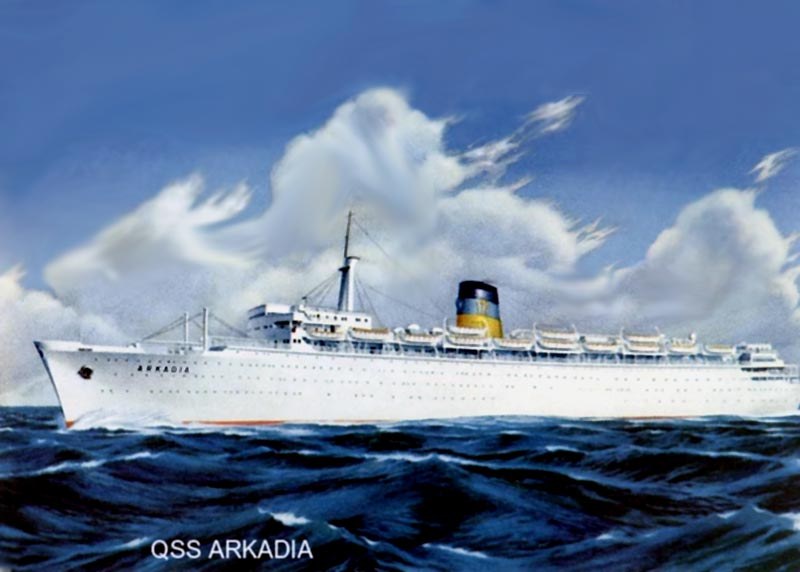 An early release postcard of the Q.S.S. Arkadia
Finally on May 22, 1958, the Arkadia departed on her first voyage from Bremerhaven, via Cherbourg, Liverpool and Greenock to Quebec and Montreal.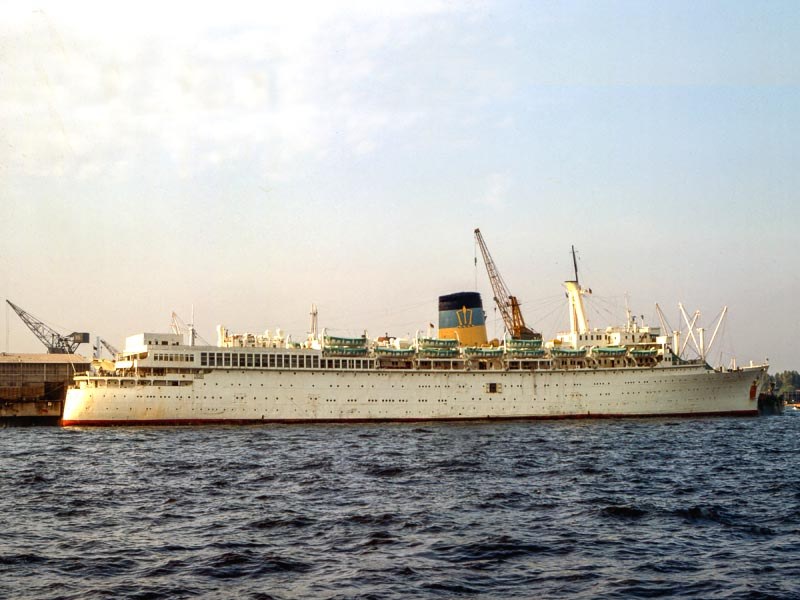 She is seen here in port
On June 17, 1958, she commenced her first voyage from Bremerhaven sailing to Southampton, Cherbourg, Cobh, Quebec and Montreal.
In 1959 the "Arkadia" did operated some cruises from New York and in the next year she also operated cruises out of Southampton, they proved to be very popular.
It was decided in 1961, to give the "Arkadia" a further refit at the "Blohm & Voss" yard in Hamburg; her tonnage was increase slightly to 20,259 GRT and she would now accommodate just 50 passengers in First Class and 1,337 passengers in Tourist Class. In addition all her public venues were modernised even further.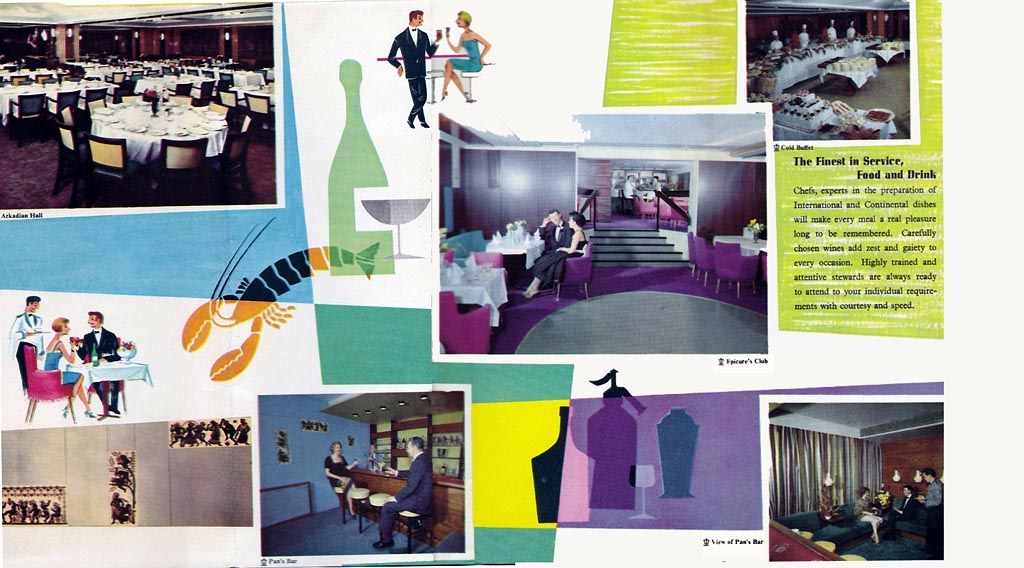 Here is part of a post 1961 brochure, revealing her attractive interiors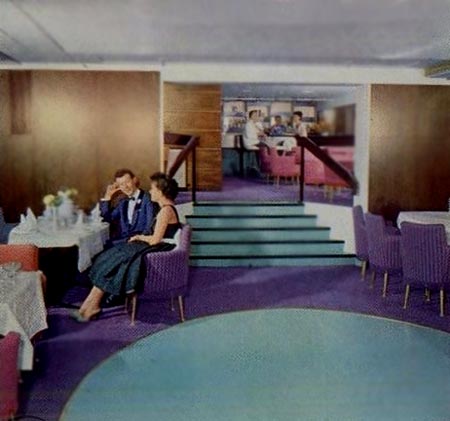 A better photo of the First Class Restaurant
The "Arkadia" continued her Trans-Atlantic services as well as her popular cruises.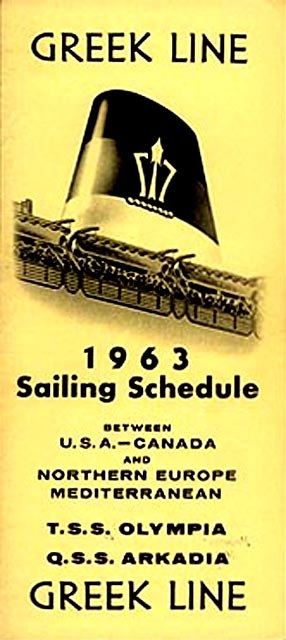 Q.S.S. Arkadia and her running mate the T.S.S. Olympia's 1963 Trans-Atlantic sailing schedule cover
But on October 23, 1963 she departed Bremerhaven and headed for Tilbury, from where she left on the 25th, and she yes, she headed back to Australia. She visited Fremantle, Melbourne on November 23, and she arrived in Sydney on November 25. She departed for her return voyage on November 26, but due to circumstances, her career would change drastically.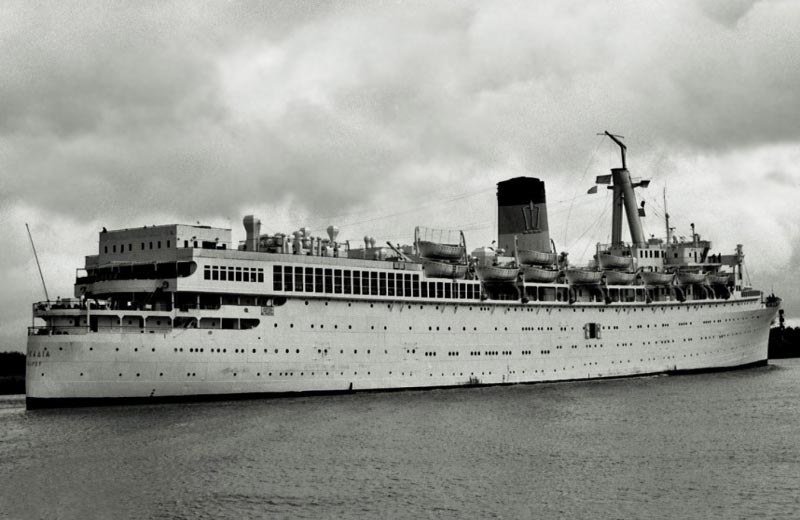 This Cruiser Stern shot was taken during her last visit to Australia
The Greek Line's T.S.M.S. Lakonia:
On December 19, 1963, this now elderly ship which less than a year earlier she had been the popular and very reliable Dutch liner the M.S. Johan Van Oldenbarnevelt, but she had been renamed T.S.M.S. Lakonia. And she cast off for what was an 11-day Christmas cruise of the Canary Islands, but this was also her very last voyage. She departed two hours late at 7 pm due to a number of problems that had occurred aboard due to the refit.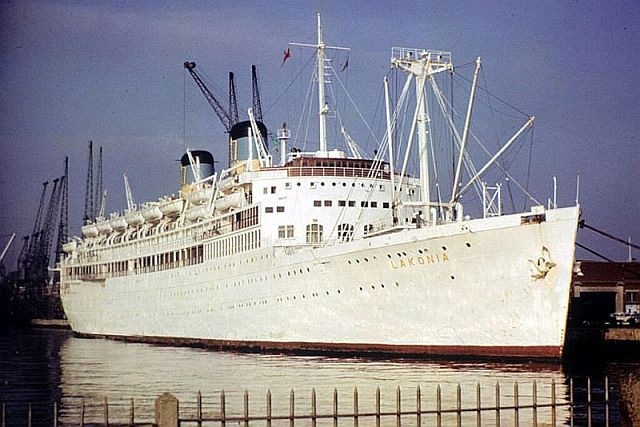 The T.S.M.S. Lakonia looking excellent after her refit and she is
ready for her 11-day "Christmas Cruise" on December 19, 1963
Onboard were 1,022 persons, being 646 passengers and 376 crew, all ready to serve these happy vacationer's. Commanding the "Lakonia" was Captain Mathios Zarbis who was a veteran sailor from the Aegean Island of Andros. Her crew was multi-national, a mix of Greek, Cypriot, Dutch, German, British, Canadian, Belgian, French and a handful of Chinese laundry men. All were involved and concerned with the smooth running of a big ocean-going cruise ship and to look after the welfare of her over six hundred passengers.
On December 22, at around 11 pm, a steward noticed thick smoke seeping under the door of the ship's hairdressing salon. Upon opening the door, he found the room completely ablaze, and the fire rushed into the hallway toward the state rooms. He and another steward tried to fight the flames with fire extinguishers, but the fire spread too fast to be contained.
Due to the severity of the fire, the Captain ordered "abandon ship" and many took to the very poor lifeboats. When all of the usable lifeboats were away, there were still people in the water and at least 100 people remained on the burning ship. The "Lakonia" continued to burn fiercely and she was rocked by violent explosions. Those who remained aboard flocked to the glass-enclosed "Agora Shopping Centre" located on Promenade Deck at the very stern section of the ship. After several hours, the flames closed in on them, and they were forced to descend ropes and rope ladders into the ocean. All the port and starboard gangways had been lowered and people walked down the gangways single file and jumped into the sea.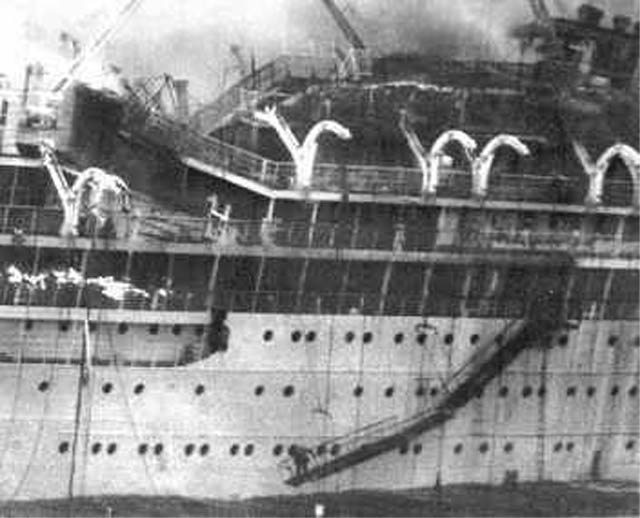 Passengers are still onboard and we see a man on the gangway
When the "Arkadia" returned to the UK, she was rescheduled to operate a fulltime cruise operation from Southampton, taking over the "Lakonia's" cruise programme, which she continued to operate for a considerable time.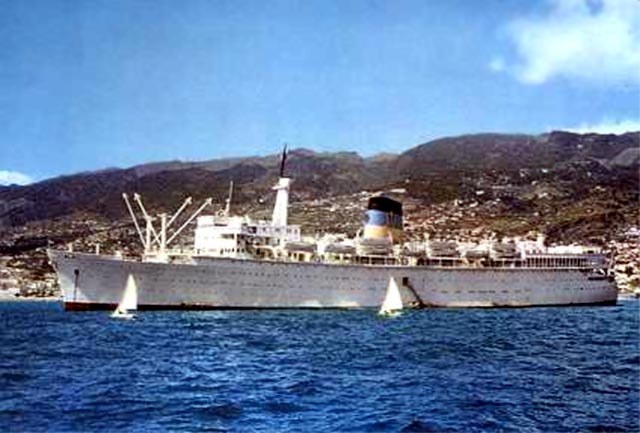 Arkadia seen as a fulltime Canary Islands cruise ship
The Ships Final Days:
Then on August 16, 1966 the Q.S.S. Arkadia made her last voyage, departing Bremerhaven sailing via Amsterdam, London, Havre, Cobh to Quebec and Montreal, from where she departed on August 26.
Then on November 21, 1966, the "Arkadia" was laid up in the River Fal, Falmouth, Cornwell, and within a few weeks she was sold to Spanish breakers. It was on December 8, 1966, when she arrived at Valencia, Spain, where she was duly broken up.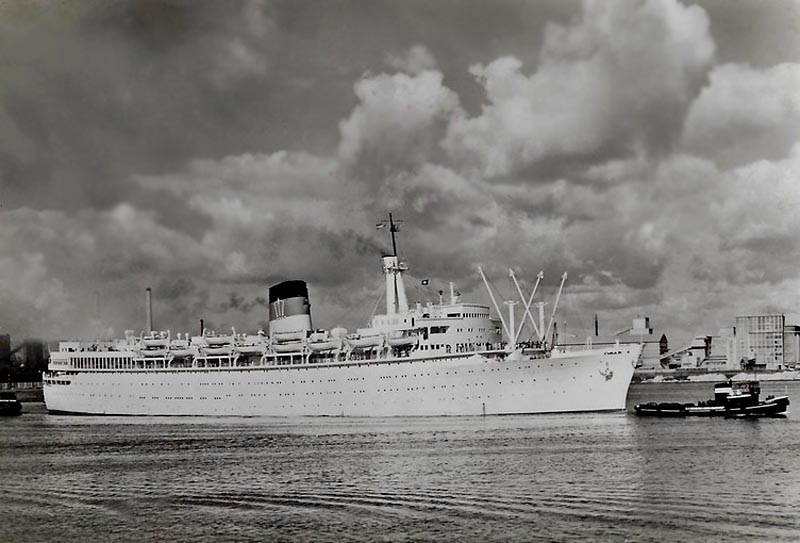 I will close with one of the best angles of the Q.S.S. Arkadia

Visit Page One to read about and see the R.M.S. Monarch of Bermuda 1931 to 1949.

**************

"Blue Water Liners sailing to the distant shores.
I watched them come, I watched them go and I watched them die."

Featuring over 1,362 Classic Passenger Liners, Passenger-Cargo Liners & Classic Cruise Ships!
Or ENTER HERE
For interest: Sadly an email service to ssMaritime is no longer available, due to the author's old age and chronic illness as well as being disabled, etc. In the past ssMaritime received well over 120 emails per day, but Goossens can no longer handle same. He sincerely regrets this!
**************
ssMaritime.com & ssMaritime.net
Where the ships of the past make history & the 1914 built M.S. Doulos Story.
The Author has been in Passenger Shipping & the Cruise Industry for well over 60 years
In addition he was the founder of "Save the Classic Liners Campaign" in 1990.
Please Note: ssmaritime and associated sites are 100% non-commercial and the author seeks no funding or favours of any shape or form, never have and never will!
Photographs on ssmaritime and associate pages are by; the author or from the author's private collection. In addition there are some images that have been provided by Shipping Companies and private photographers or collectors. Credit is given to all contributors. However, there are some photographs provided to me without details regarding the photographer/owner concerned.
This notice covers all pages; although, and I have done my best to ensure that all photographs are duly credited and that this notice is displaced on each page, that is, when a page is updated!
ssMaritime is owned & © Copyright by Reuben Goossens - All Rights Reserved