Click the logo above to reach the ssMaritime FrontPage for News Updates & "Ship of the Month"
With Reuben Goossens
Maritime Historian, Cruise'n'Ship Reviewer & Author
Presents the delightful …
MS Ocean
Odyssey
Ex MTS Jason, Eros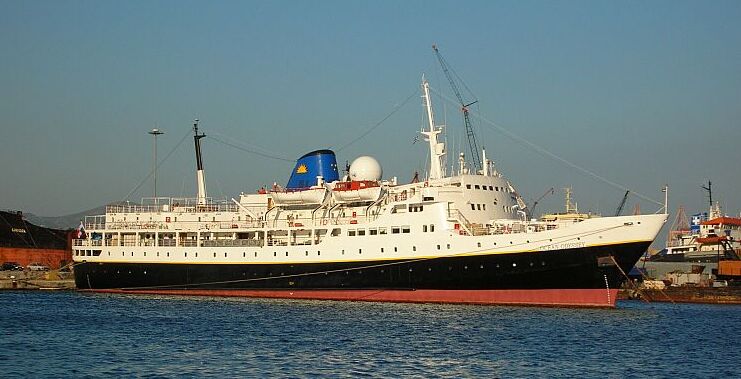 ************************************
Part One - MTS Eros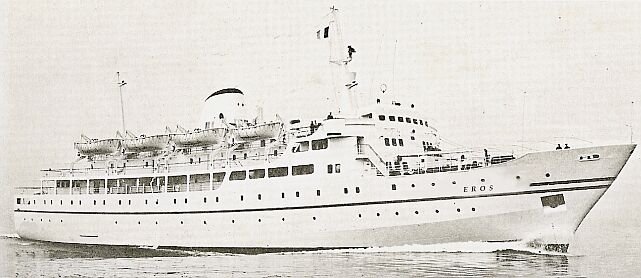 The Typaldos Lines MTS Eros is seen here as built
Introduction: MTS Stella Oceanis, Jason, Atlantis
Three inter-island passenger/car ferries were built by the famed Italian shipbuilder Cantieri Runiti dell' Adriatico at Monfalcone as an Italian war reparation to the Greek government on behalf of the Hellenic Tourism Organisation. These ferries were to be operated by different companies and placed on various inter island services. The three sisters were pleasant design wise, but were they were remarkable ships for their time as they provided a new and upcoming propulsion technology that would prove to be a massive cost saving device in the future lessening the use for tugs in most ports.
Keels for all three were laid down in 1964. MTS Eros was the second of the trio, the first being Aphrodite, operated by Kavounides Shipping Co, and the third ship was the Adonis, operated by Nomikos Lines. Built in 1965, the MTS Eros commenced its career with Typaldos Lines sailing from Piraeus and the Greek Islands.
Each ship was designed to carry 414 passengers in accommodated in deluxe or tourist class cabins or aircraft style seats in two rooms. Her public rooms included a spacious lounge on boat deck, the main dinning room, and a lounge and bar on promenade deck, whilst up on navigation deck, just aft of the funnel is the swimming pool and the spacious lido deck. The garage extended throughout garage deck with a stern door as well as side doors.
MTS Eros sailed three times per week from Piraeus to either Rhodes and Dodecanese or Crete and she continued on this typical tourist Greek Islands service. However, just twelve months later she and her sisters were withdrawn from service and were duly sold to be transformed into much loved cruise ships.
Specifications - Eros:
Tonnage:                4,300 GRT
Length:                  318ft
Width:                    52.2ft
Drought:                 15.5ft
Engines:                 Sulzer type Diesels, 5,500 BHP
Screws:                  Single & bow thrusters
Speed:                   Service speed 18 knots, maximum 19 knots
Passengers:            414 - accommodated as follows:
                            109 in deluxe cabins
                            66 tourist class cabins
                            64 in aircraft style seats located in two lounges
                            Fully air conditioned / Denny Brown Stabilizers
************************************
Part Two - MTS Jason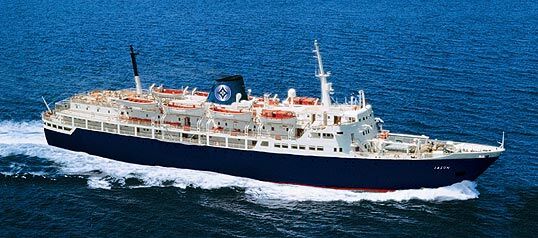 Jason is seen here in her later Sun Lines livery
The Eros was refitted to become the luxury cruise ship MTS Jason, whilst her sister the Aphrodite became the much loved Sun Lines MS Stella Oceanis and the MTS Adonis became the K Lines cruise ship MS Atlantis.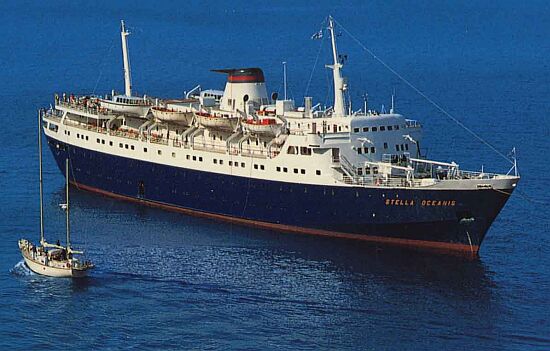 Jason's sister Aphrodite was renamed Stella Oceanis. She had her promenade deck fully closed in
During her conversion her garage doors removed but also her she was lengthened by 16 feet. All of her accommodations were greatly improved and new cabins were added on garage deck previously and on a lower deck.
MTS Jason was placed under the management of the well known Epirotiki Cruise Line, a company that did more than just provide a cruise vacation, but offered a cruise combined with a land based adventure. Each cruise had the appropriate historians and lecturers onboard. These cruises were intimate and were of the highest standard, although Jason was never considered to be stuffy and over pretentious. Jason offered the perfect environment whilst Epirotiki Line supplied their classic friendly environment, service and fine Greek cuisine etc.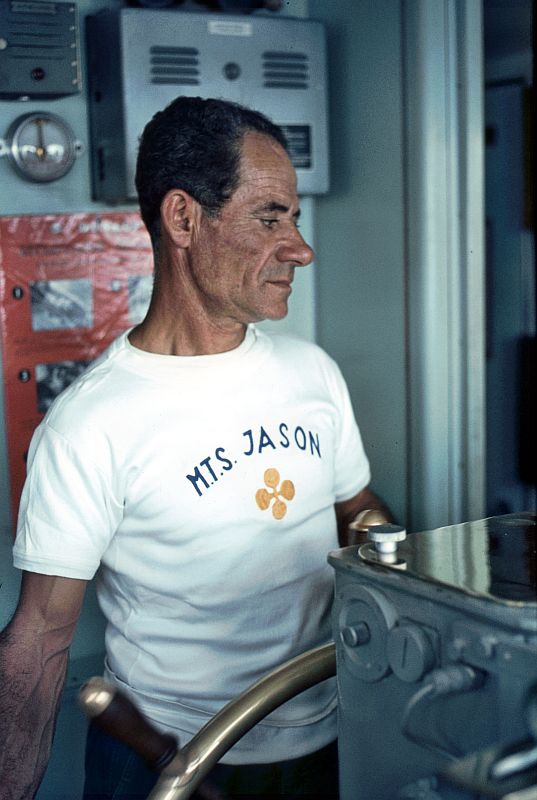 The helmsman on board MTS Jason late in November 1971
Photograph kindly provided & © by Hartmut Paas
The ship was simply beautifully decorated with themes from Greek mythology scattered throughout her public rooms. Almost all cabins are outside and are able to be converted sitting rooms by day.
In 1992 she received a refit utilising the unique skills of the American designer Arminio Lozzi who left his artistic touch throughout this fine ship. Jason continued sailing the Mediterranean for Epirotiki Lines and later Royal Olympic Cruises. She was and thankfully remains an intimate yacht-like cruise ship.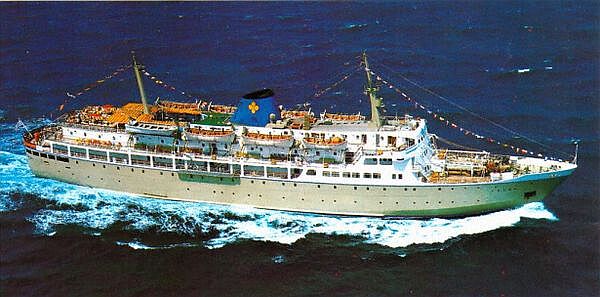 Jason in her Epirotiki livery and is still seen with all her eight lifeboats
In 1997 Sun Lines and Epirotiki Lines eventually merged to become Royal Olympic Cruises. As The Olympic Federation complained the  name had to be changed and it became Royal Olympia Cruises, however, the new management decided to rid themselves of the very ships that had made their respective companies the great success' it had been and they decided to build two super fast monohull ships. These ships proved to be a financial disaster and ROC were rapidly loosing their past passengers who simply did not want to sail on these super fast ships.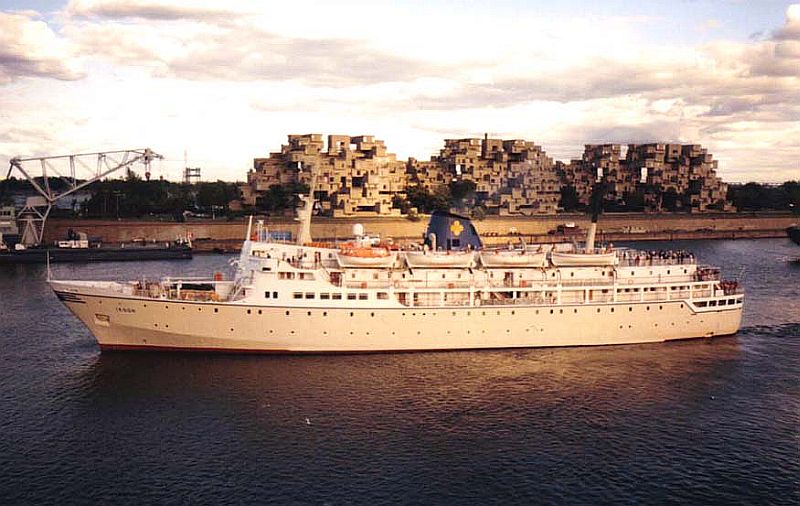 Above and Below: Here we see the Jason still in service, but her days were now coming to an end with the company fast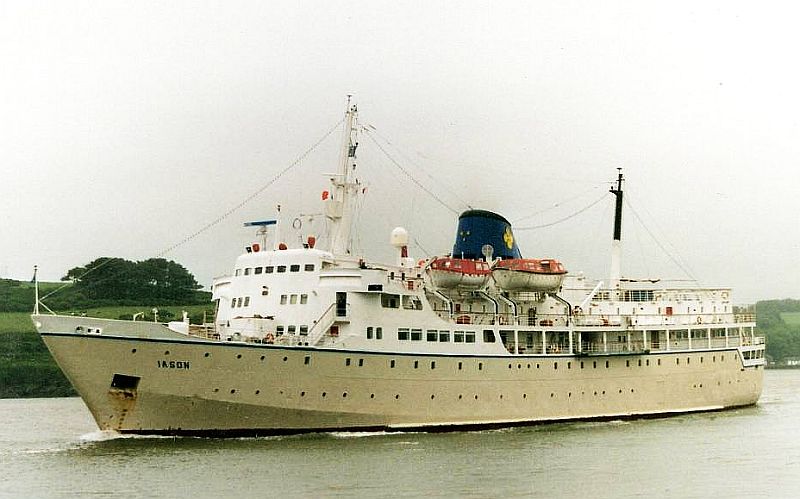 Note that by 1999 her aft lifeboats had been removed
In addition ROC commenced to sell all their smaller ships including the Jason. However, many of their other ships were sold to the breakers, including Stella Oceanis one of Jason's original sisters. Many in the industry believe that bad management and the decisions made was the reason why in 2004 Royal Olympia Cruises collapsed in a financial heap. In 2005 the MTS Jason was ready to head to far more exotic places.
Specifications - Jason:
Tonnage:                5,250 GRT
Length:                  101.6m / 333ft
Width:                    15.9m / 52.2ft
Drought:                 4.1m / 15.5ft
Engines:                 Sulzer type Diesels - 5,500 BHP
Screws:                  Single & bow thrusters
Speed:                   Service speed 17 knots, maximum 19 knots
Decks:                   6
Passengers:            272 (302 all berths)
Total cabins:           136
Crew:                     139
                            Fully air-conditioned / Denny Brown Stabilizers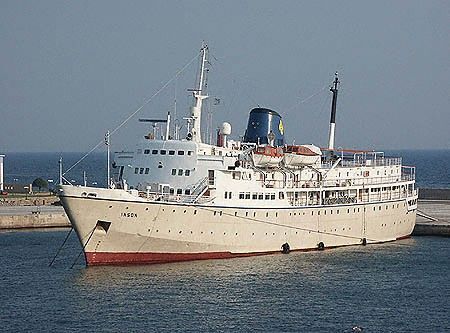 Her days had come to an end as the MTS Jason
************************************
Part Three - MS Ocean Odyssey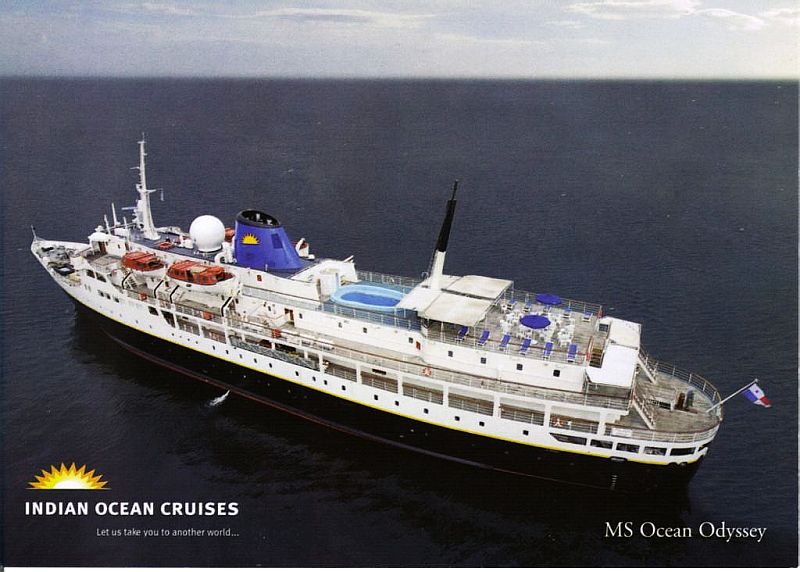 A company postcard of their new ship the MS Ocdean Odyssey
Late 2005 the Jason was purchased by the Derwent Ocean Ltd. S.A. of Panama and was renamed Ocean Odyssey. She was fully refurbished and her interiors received a bright new and much improved look with an extra touch of colour, yet always retaining that touch of intimacy throughout. Her cabins were greatly enhanced and the overall effect was that she very much looked like a new ship, rather than a 1960's classic. For a ship of her size she has ample teak deck space, a swimming pool and a Jacuzzi.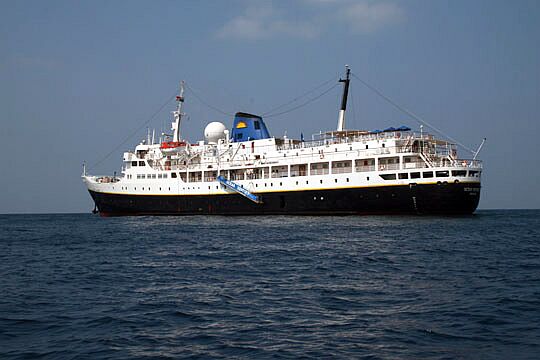 Ocean Odyssey continues to amaze all who sail on her as "her facilities are simply superb"

Her public rooms are stunning, from the elegant Seven Seas Restaurant forward on Dionysos (Promenade) deck, or Trade Winds lounge and intimate bar located aft. Amidships is the casino, library, shop and reception. Forward on Apollo (Boat) deck is the colourful Ocean Sports bar & Night Club with the walls clad with large TV screens.

She has become famed for her superb service. As one passenger wrote in a review, "It has to be said that the waiters and the entire corps of stewards aboard were, to a man, an utter tribute to their ship; they simply could not do enough for their guests, predicting most of our whims and jumping to comply with those they had not foreseen."

In many ports the ships tenders are used, alternatively they are provided by the port
Indian Ocean Cruises operated 6/8 & 14 night cruises out of Goa and Cochin cruising exotic Indian Ocean Islands and Sri Lanka and those voyages were reasonably popular with the English as well as American, Australian and New Zealand holidaymakers. But she was sold and she headed for Mauritius where she would undergo a refit.
February 2009: I am pleased to announce that I have been in contact with the ships new owners and she is about to go into dry dock to be upgraded and made SOLAS 2010 compliant and receive yet another refit.
Update: Sadly having undergone the refit this venture was unsuccessful and later that year the ship was sold to the breakers. She soon headed for Greece and continued via the Suez to Alang India and was broken up in 2010, having given 45 years of excellent service and great joy to thousands of her passengers. The truth is, she was still in superb condition and had she been better managed, she may still have been with us!
Specifications - Ocean Odyssey:
Last refit:                2006 / 2009
Tonnage:                5,500 GRT
Speed:                   15 Knots
Passengers:             250 (max)
Cabins:                   125
Crew:                     120 (International)
                             Fully air-conditioned / Denny Brown Stabilizers
But we shall always have wonderful Memories of a fine small ship!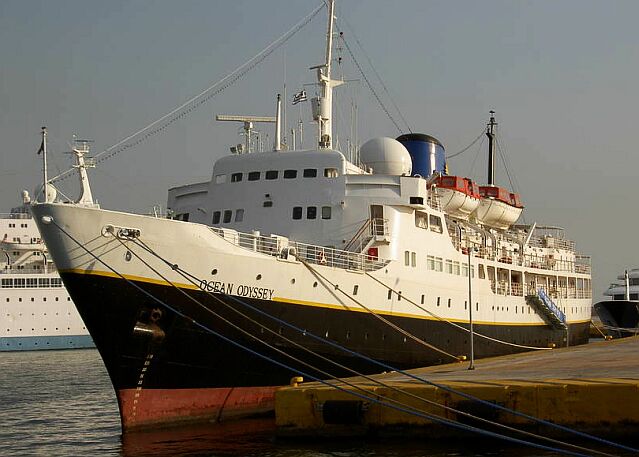 MV Ocean Odyssey seen whilst in Piraeus Greece
Found on www.shipsnostalgia.com by Jonathan Thurston - UK
View the … MS Ocean Odyssey Photo Page
**************************************************
Use the Back button on your browser or Close the Page to return to the previous page
or go to our
INDEX
Who is the Author of ssMaritime?
Commenced in the passenger Shipping Industry in May 1960
ssMaritime.com & ssMaritime.net
Where the ships of the past make history & the 1914 built MV Doulos Story
Also visit my …
"Save The Classic Liners Campaign" & "Classic Ocean Voyages" pages
Photographs on ssmaritime and associate pages are by the author or from the author's private collection. In addition there are some images that have been provided by Shipping Companies and private photographers or collectors. Credit is given to all contributors. However, there are some photographs provided to me without details regarding the photographer/owner concerned. I hereby invite if owners of these images would be so kind to make them-selves known to me (my email address may be found on www.ssmaritime.com only), in order that due credit may be given. I know what it is like, I have seen a multitude of my own photographs on other sites, yet these individuals either refuse to provide credit or remove them when asked, knowing full well that there is no legal comeback when it comes to the net. However, let us show these charlatans up and do the right thing at all times and give credit where credit is due!
This notice covers all pages, although, and I have done my best to ensure that all photographs are duly credited and that this notice is displaced on each page, that is, when a page is updated!
ssMaritime is owned and © Copyright by Reuben Goossens - All Rights Reserved