Orient Line RMS Ormuz 1886 to 1912 - SS Divona 1912 to 1922
Please Note: Firefox or Google Chrome may not be suitable - Please use Internet Explorer for this page to load perfectly!

Click the logo above to reach the ssMaritime FrontPage for News Updates & "Ship of the Month"
With Reuben Goossens
Maritime Historian, Cruise'n'Ship Reviewer & Author
Please Note: All ssMaritime and other related maritime/cruise sites are 100% non-commercial and privately owned. Be assured that I am NOT associated with any shipping or cruise companies or any travel/cruise agencies or any other organisations! Although the author has been in the passenger shipping industry since 1960, although is now retired but having completed over 690 Classic Liners and Cargo-Passengers Ships features I trust these will continue to provide classic ship enthusiasts the information the are seeking, but above all a great deal of pleasure!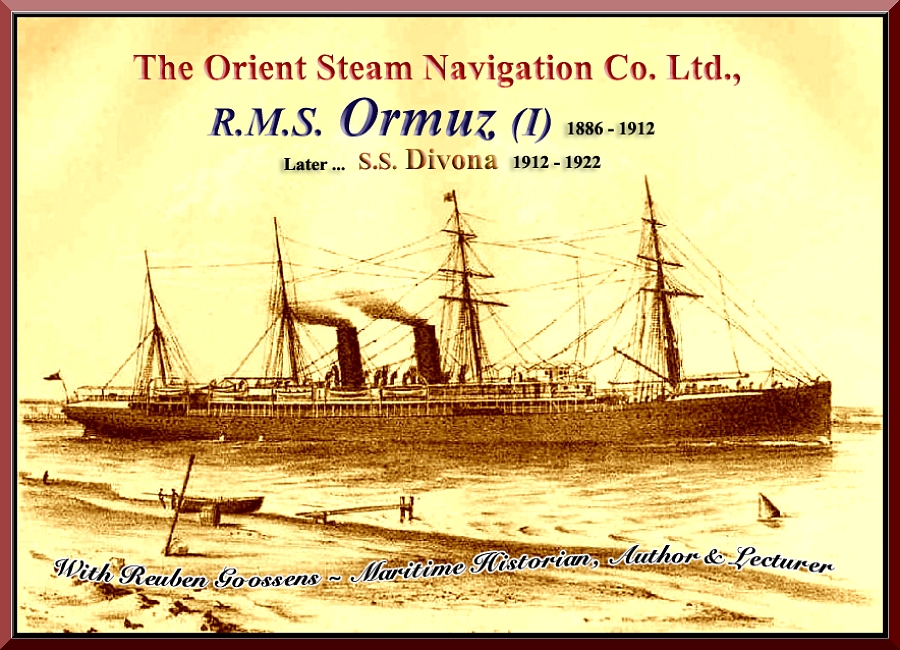 Page Two
The R.M.S. Ormuz I
My Thoughts on Travel Today & in the late 1800s:
In these the modern days, it simply takes just a day to travel from Australia to anywhere in Europe, the United Kingdom, the United States or Africa for that matter, and all this is due to the comfort of fat aircraft and thanks to long haul flights. However, in the late 19th and early 20th centuries travel was so much more of an adventure for you would have to board a Passenger Liner that was more of a floating city with Staterooms or even a Suite in the luxury First Class. Then there were the comfortable accommodations in Second Class and both classes had their lounges and dining rooms with fine meals served up to four timed per day, and everything was included in your fare! Then there were the rather humble abodes in Third Class, which was usually reserved for the emigrant sailing to Australia or New Zealand. However, Third Class would usually be closed for the return voyage, as holiday makers would travel in First or in Second Classes.
One of the exciting new ships completed in 1886 was the RMS Ormuz, built in the Glasgow shipyards and she was capable of sailing from Sydney, as it was advertised locally, to London in just 30 days. The truth is that she was indeed capable, and she even did it once, however, filled with passengers and with suitable ports of call for the enjoyment of the ships guests, the voyage would usually take six weeks.
Her beginnings:
In 1883 The Orient Steam Navigation Co. Ltd., of London signed a contract with the Government of New South Wales, Australia to carry emigrants from the United Kingdom. The Company would be paid £15 per head for up to four hundred persons and £14 and 10 Shillings for numbers between four and six hundred persons per voyage.
Five years later, in 1888, Orient Line had not only taken delivery of their new liner the RMS Ormuz, but she had already made the News, as it was reported in a London Periodical that the Orient lines Ormuz had landed a consignment from South Australia consisting of apples, pears, grapes, oranges, quinces, lemons, melons and pomegranates." And then they made it very clear that all this must have come over on the Ormuz's "cold storage, otherwise it would not have arrived as fresh as it did, considering it having sailed through hot and tropical waters!
Note: RMS means Royal Mail Service!
RMS Ormuz (I):
Having been carefully planned and using one of the company's finest interior designers, such as  J. J. Stevenson F.R.I.B.A., who had already worked on a number of earlier ships and would now place his stamp on the Ormuz! Thus an order was placed for her to be built at Fairfield Shipbuilding and Engineering Co. Ltd., Glasgow, where her hull was laid down in Yard 317.
The new almost completed liner was officially launched on September 29, 1886 and after her fit-out and trials were completed, on December 29, 1886 she was registered at Glasgow in the ownership of the Orient Steam Navigation Co. Ltd., London, named the "Ormuz." She was then officially handed over to the Orient Line at Tilbury.
The 6,031 GRT (Gross Registered Ton) RMS Ormuz was 464.5ft - 141.55m long and she and she accommodated 106 passengers in a well fitted out and comfortable First Class, and 170 in a well appointed Second Class. In addition there a more humble migrant accommodations in Third Class, which was also known as steerage, which carried 120 passengers. Third Class offered both male and female dormitories for assisted emigrants, as well as some smaller cabins for ladies with babies and young children. In addition there were 8 and 6 berth and a few 4 berth cabins for Third Class fare paying passengers. Thus the Ormuz carried a total of 396 passengers!
When it came to cargo she carried general cargoes in her five holds, but she did have 44,501 cubic feet of cooled cargo space to transport lamb, butter, and fruit from Australia to Great Britain, to ensure it arrived in a fresh and excellent condition!
The RMS Ormuz departed on her maiden voyage from London (Tilbury) to Australia on February 3, 1887 and it was a most successful voyage. She received a wonderful welcome in Sydney as what was the grand new four mast twin funnelled Orient Line steamship, which for her day would have looked quite a sight as she entered Sydney in record time!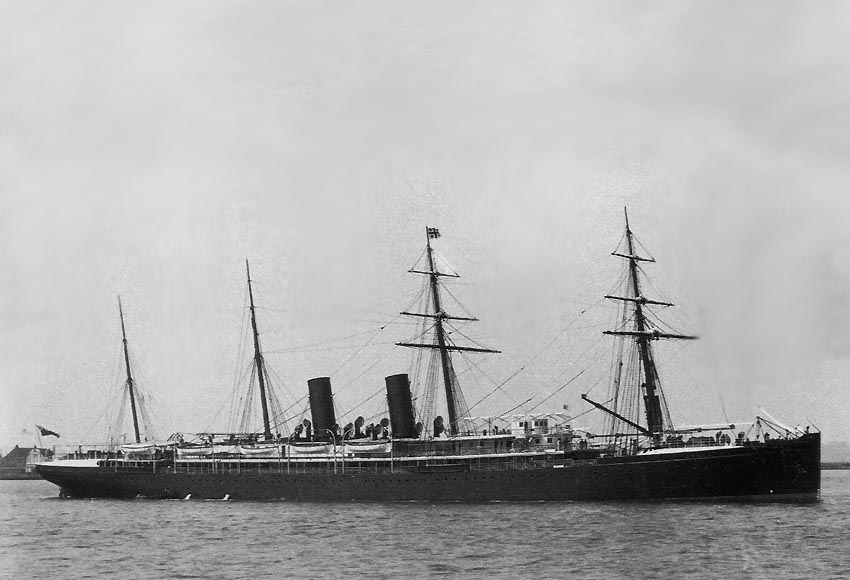 Here we see the Ormuz whilst she is still on her maiden voyage and her Promenade deckhouse has not been painted white as yet
Having arrived again in Melbourne on November 20, 1887, the RMS Ormuz had improved on her earlier time, thus the very next day the "Melbourne Daily Telegraph" described the Ormuz as "The Fastest Ship in the World" on the basis that it had "placed the metropolis of the world within twenty-seven days six hours of its antipodes."
The truth is that Orient Line was so proud of the Ormuz, that they had mounted an inscription above the entrance to the First Class Saloon that read:
--"Were the World a Ring of Gold, Ormuz would be its Diamond."--
As I mentioned above, she made the news upon her return to Britain, due to her being able to transport so much fresh and delicious fruit from Australia. It was quite a headline, and better still the passengers who sailed on her were extremely happy and gave the reporters on the dock great reviews!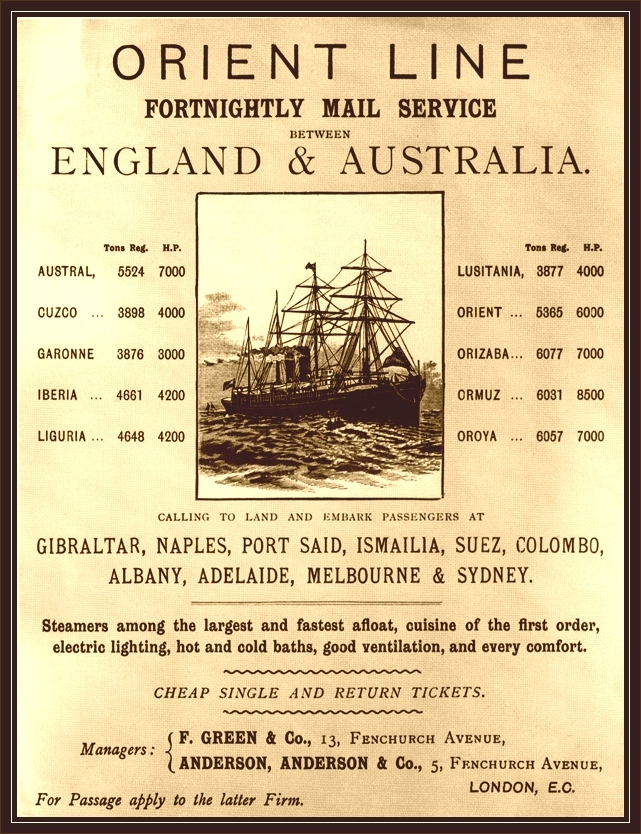 As we can see, the Orient Steam Navigation Company had been busy promoting their ships on posters
The RMS Ormuz is on the right hand column, the fourth down
Images of her Interiors
Obviously, photographs of the ship's exterior are available, and I have some of these on this page, but her interiors are confined to sepia line drawings, which I present below. On Page Two, I have her Deck Plan, but it only contains First and Second Class and sadly I have not been able to locate her Third Class Plan as it seems to be missing it altogether. However, I have noted that there were three stairwells heading down to C Deck to, I assume the Third Class accommodations. I do know that it was not unusual in those days that bunks were stacked three high! I have these stairwells clearly marked by the means of an enlarged insert! Please Note: The Ormuz Deck Plan is on Page Two - Use the link at bottom of this page.
First Class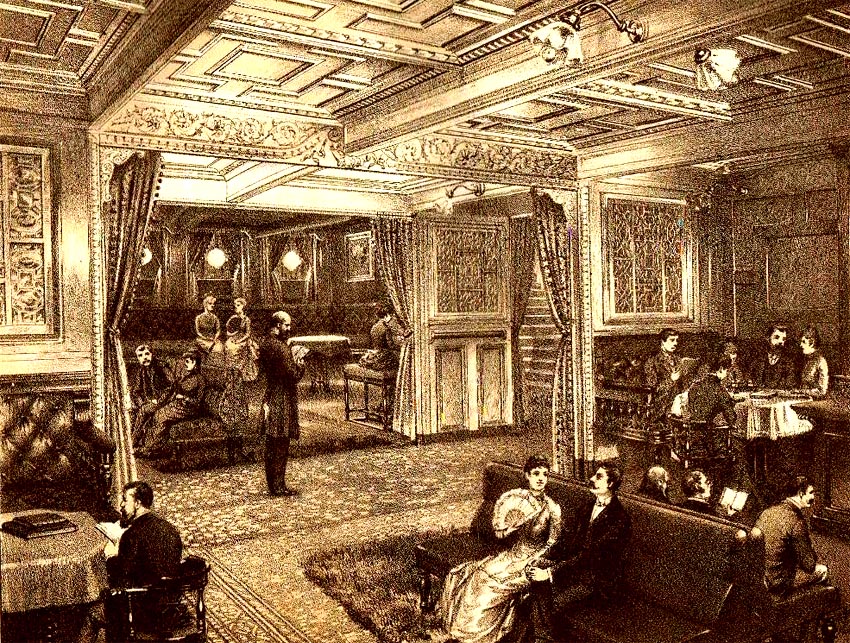 The delightful Drawing Room and Library was located just ahead of the A Deck Lobby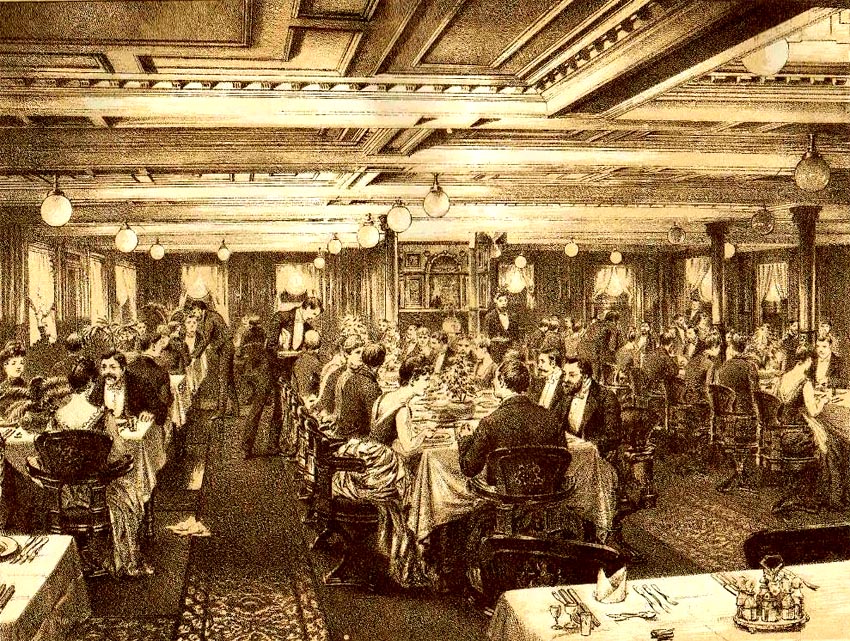 The elegant and spacious Dining Saloon was located forward on Promenade Deck
Just forward of this venue were the Smoking Room and the Deck Saloon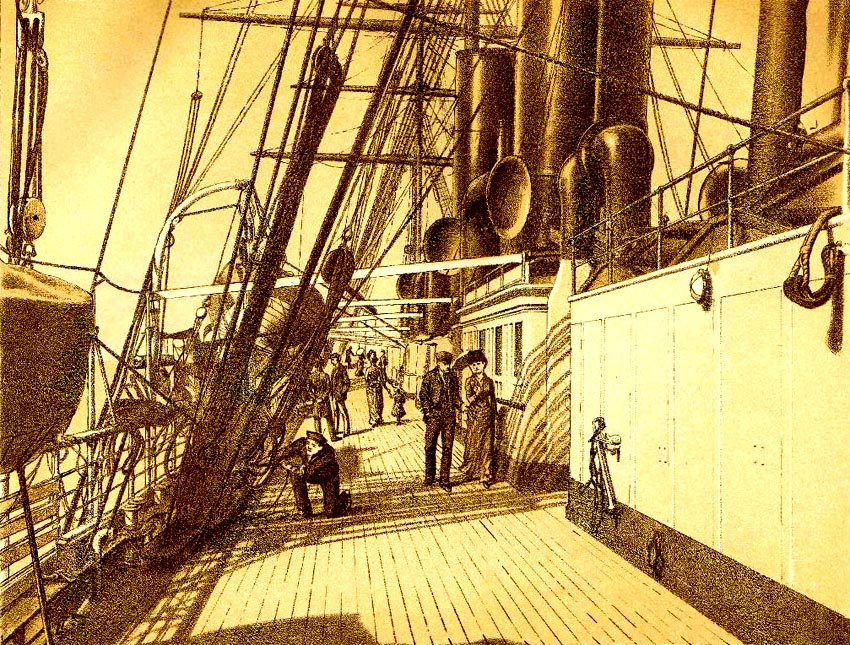 Although the First Class part of the deck ended where the two passengers stood, and a gate
would separate it from the Second Class deck space, as there were 2nd.class cabins located there
Second Class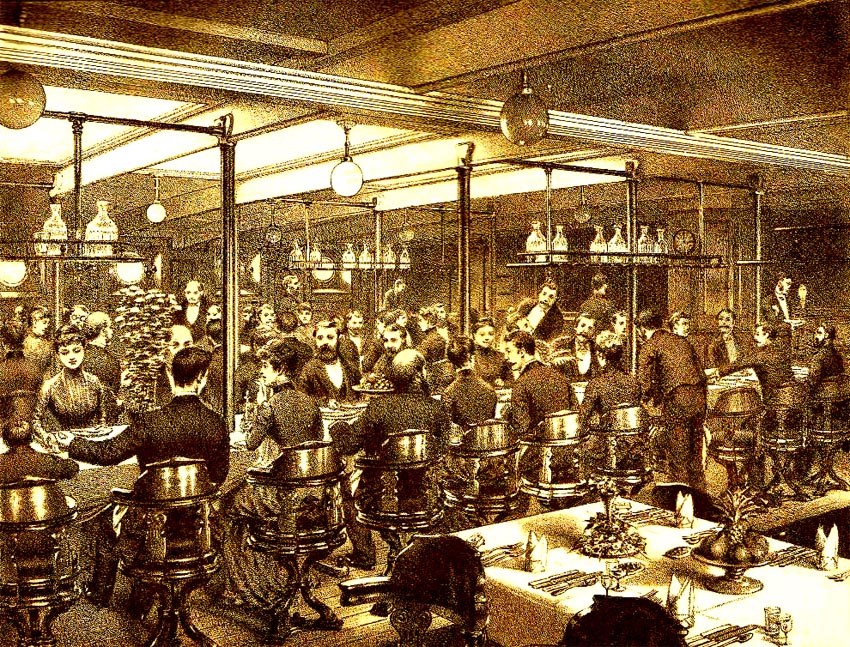 The Second Class Dining Saloon was also spacious and was of a high standard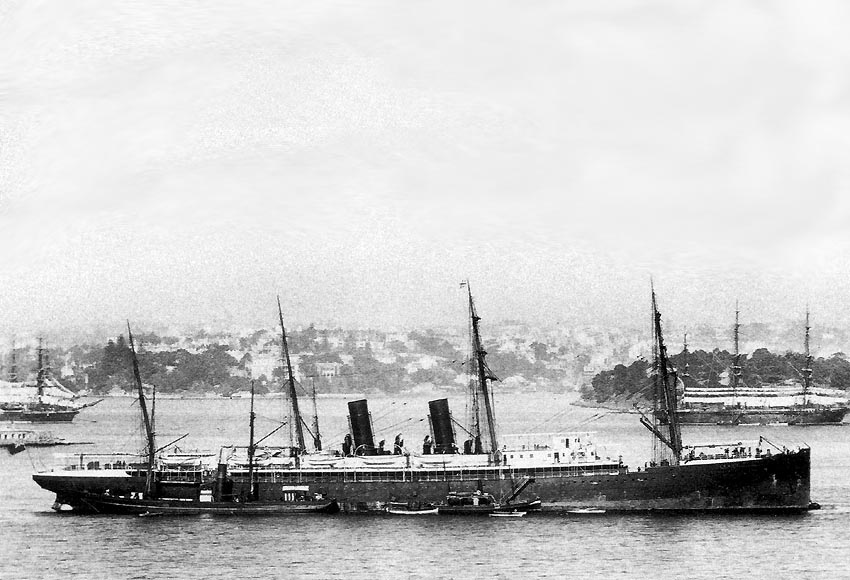 The RMS Ormuz is seen arriving in Sydney and she now has had refit with a
white superstructure and her masts altered, as she would mostly sail by steam
R.M.S. Voyages:
Below is just one of the R.M.S. Ormuz's voyages that I have been able to obtain, as the following was listed in the "Shipping News" of the "London Times" as follows:

Feb 2: "S.S. ORMUZ embarked passengers and 41 sacks of long-sea-route mails at Plymouth on Saturday and proceeded at 4 p.m. for Gibraltar, Naples, Colombo, and Australia."

Feb 4, 1891: "The Orient Line s.s. ORIENT, from London for Sydney, passed Perim at 6 a.m. yesterday. The ORMUZ, from London for Sydney,
passed Guia at 9 a.m. yesterday."

Feb 5: "The ORMUZ, from London, arrived at Gibraltar at 9 a.m. yesterday, and left at 7 p.m. for Sydney."

Feb 10: "The ORMUZ, from London, arrived at Naples at 7 a.m. on Sunday, and left at 3 a.m. yesterday for Sydney."

Feb 13: "The ORMUZ, from London for Sydney, arrived at Port Said at 10 a.m. yesterday."

Feb 16: "The ORMUZ, from London, arrived at Suez at 11 a.m. on Friday and left at 1 p.m. for Sydney."

Feb 18: "The ORMUZ, from London for Sydney, passed Perim at 6 a.m. yesterday."

Feb 24: "The ORMUZ, from London for Sydney, arrived at Colombo at 11 a.m. yesterday."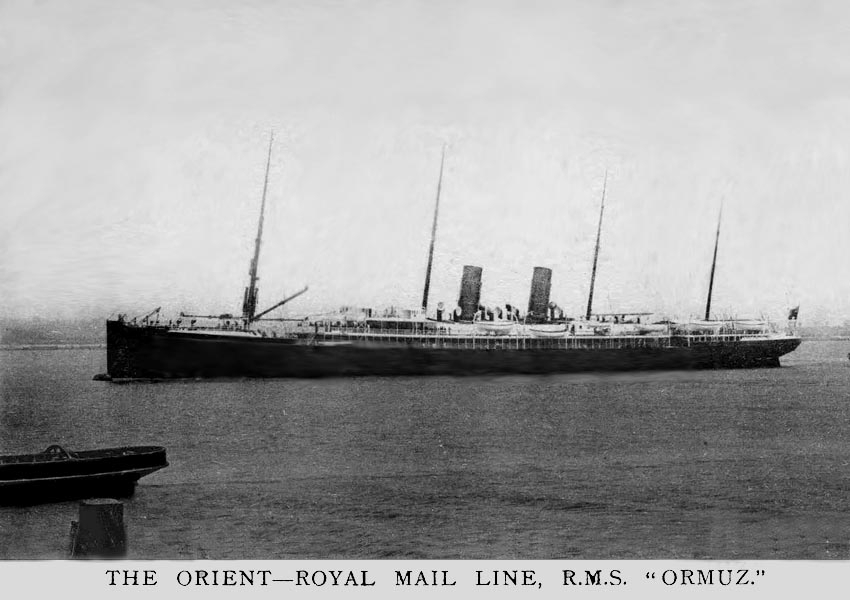 A postcard sold on board

Feb 25: "The ORMUZ, from London for Sydney, left Colombo at 5 a.m. yesterday."

March 12: "The Orient Line S.S. ORMUZ, from London for Sydney, arrived at Adelaide at 5 a.m. on Tuesday."

March 17, 1881: "The Orient Line S.S. ORMUZ, from London, arrived at Sydney yesterday morning."
There is no details regarding her return voyage, however there is a photographic record of the RMS Ormuz departing Sydney when she had offloaded her passengers, cargoes, and then taken on cargo and last, but not least new passengers for the voyage home. She usually remained in Sydney between four to five days, and thus she would have departed around March 22.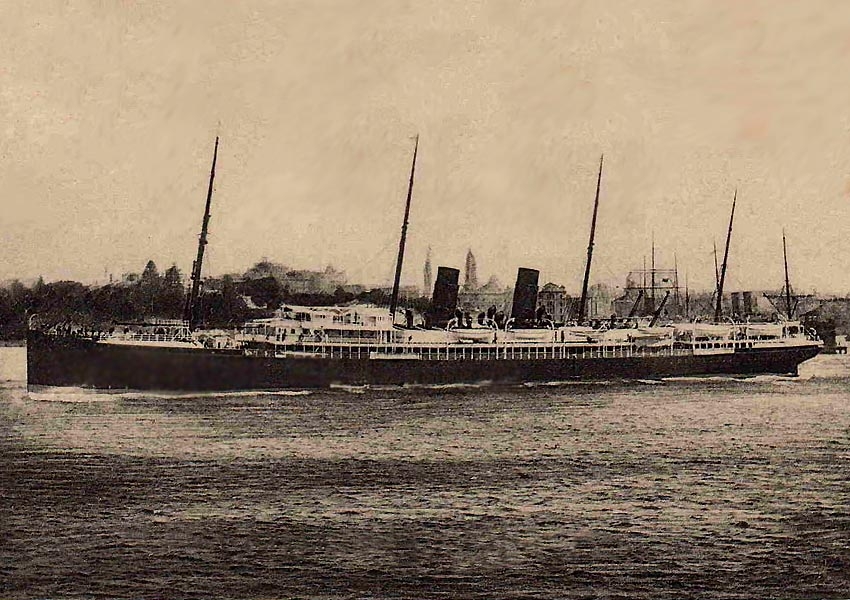 The Ormuz is seen departing Sydney (I believe) on Mach 22, 1891 bound for Tilbury, London
The Sad Night of December 11, 1900:
Although the RMS Ormuz made many voyages to and from Australia with great success, however there was one occasion when she departed Melbourne in the evening and that night with the ship in the hands of the pilot as turned into what was nothing short of a disaster, because Ormuz collided with another ship on Tuesday night December 11, 1900. Below are the details as reported in Melbourne's main newspaper "The Age" on December 12, 1900.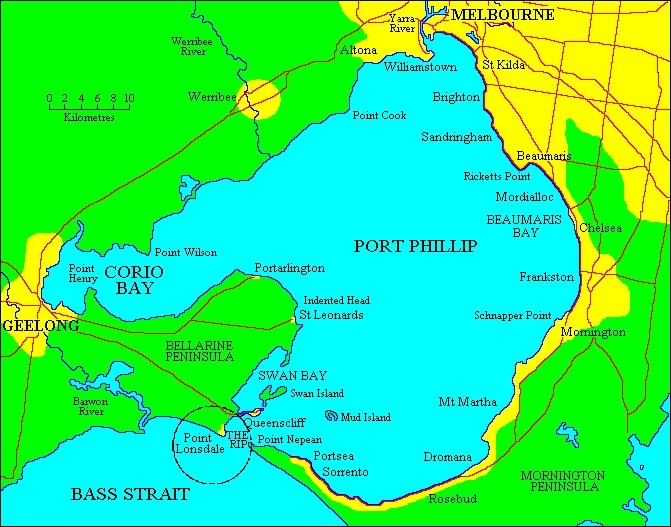 Note: Both the Rip and Point Lonsdale lighthouse is highlighted, Port Philip Bay is well known
to be treacherous and the Rip is narrow and it takes a good pilot to navigate a passenger liner through it
COLLISON IN THE RIP.
"Queenscliff, Tuesday Night. At 9 o'clock this evening the light keeper at Point Lonsdale reported a collision in the rip between the supposed outward bound R.M.S. Ormuz and an incoming steamer, supposed to be the Ismalia. The weather was fine, with a clear sky, and the sea was smooth, while a strong ebb tide was prevailing. After colliding the steamers hung together for about five minutes and the shouts from those on board could be distinctly heard from the shore.
Both steamers remained stationary near each other until 11 o'clock, when the incoming steamer proceeded slowly up the south channel, after which the Ormuz went on with her voyage. No signals of distress were shown by either vessel.
Wednesday Morning.
At 1 a.m. the supposed R.M.S. Ormuz which had collided with another steamer four hours previously in the Rip, re-entered the Heads, and under easy steam returned to Hobson Bay, proceeding up the south channel. She will reach the Bay about daylight."
Blame and Repairs:
There was a lengthy court case, but on Wednesday February 9, 1901, the court blamed and suspended the Pilot, Captain Emerson with the charge of miss-conduct for he apparently did not navigate according to Maritime article 21, causing the collision. His licence was suspended for 12 months and he was ordered to pay a very hefty sum of £100 and that would be that would be a good £10,888.81 today.
The Ormuz finally departed Melbourne on April 10, 1901 after her repairs were completed to her bow and whilst she was in dock both her funnels were heightened.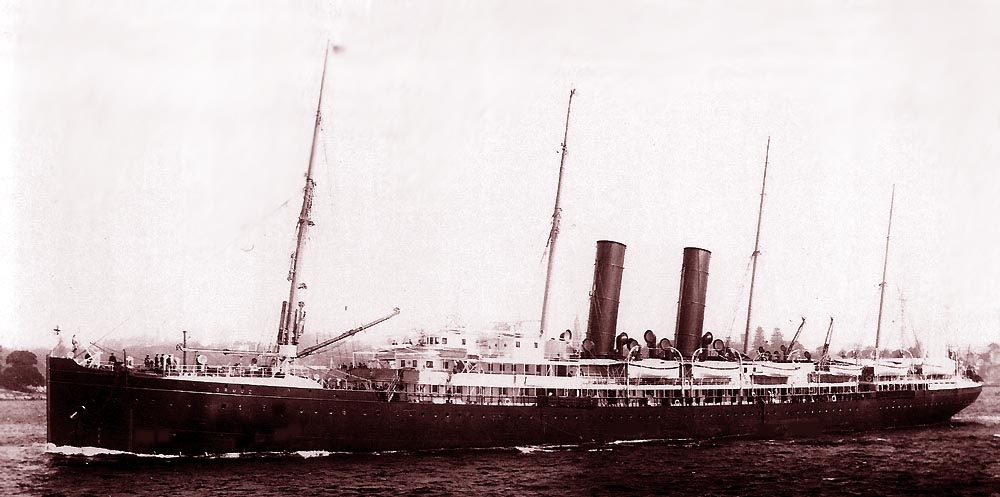 The RMS Ormuz is seen departing Melbourne with her new tall funnels and all-white superstructure
The R.M.S. Ormuz may not have been the most remarkable ships ever built, however she certainly was a good and a faithful ship that caused the company no problems, with her engines working perfectly, as it was well maintained, as was the rest of the ship! In thirty two Years she has made seventy Royal Mail Voyages to Australia and back and the Orient Line had decided to sell  the Ormuz, as the had on order new and improved ships, with greater capacities and far more modern than her. Thus in 1912 she was sold to a French Shipping Company.
Two Fine Artistic Postcards of the R.M.S. Ormuz: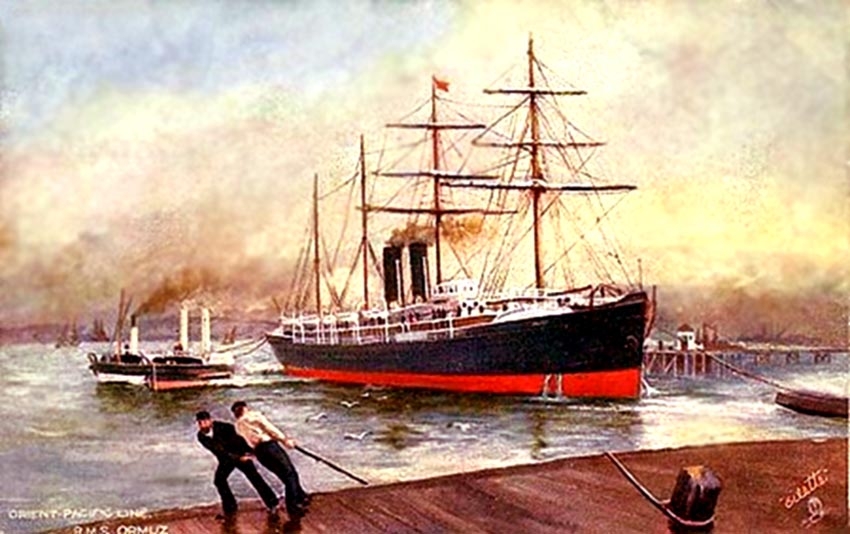 Above & below: Here are two very special artistic postcards one of the RMS Ormuz early days (above) and the other from her latter days!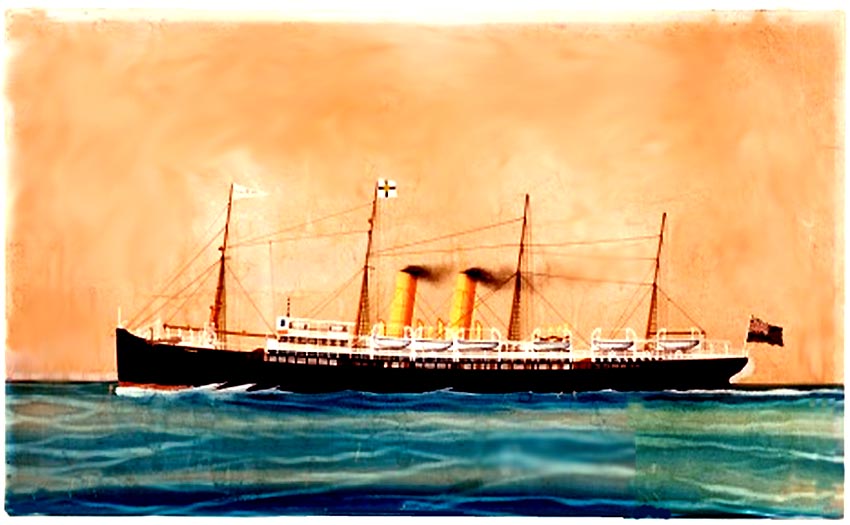 SS

Divona

, ex RMS Ormuz:
It was on April 10, 1912 that the Orient Line sold the Ormuz to Compagnie de Navigation Sud Atlantique, of Bordeaux, France and they renamed her "Divona." She was soon refitted and when completed six months later she was a greatly improved ship with superior interior comforts. She was placed on the company's main service, being the South American service and she departed on her maiden voyage as the SS Divona from Bordeaux to South America on October 19, 1912.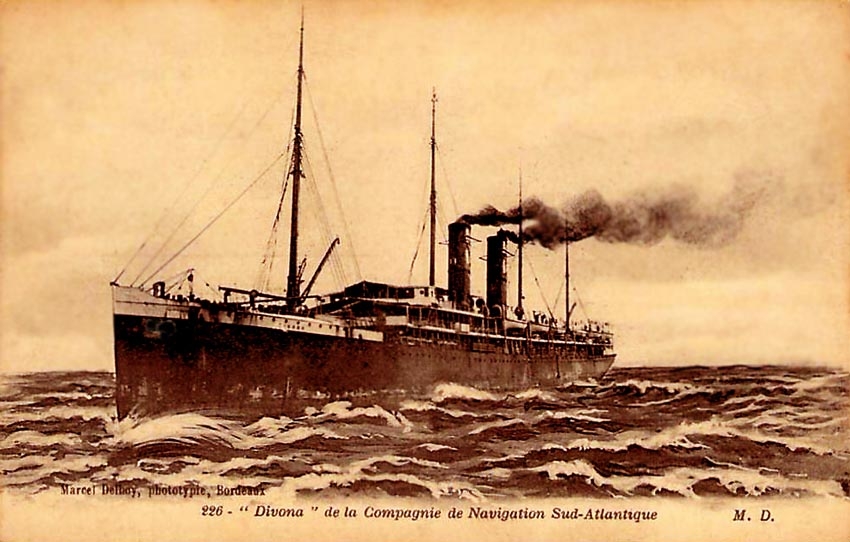 A Postcard of the SS Divona released by Compagnie de Navigation Sud Atlantique in 1912
However, on December 5, 1915 the SS Divona was requisitioned by the French Government and she was converted at Toulon to become a 600-bed hospital ship for war duties. She served the French well for the next three years, transporting thousands of badly injured from the battlefields!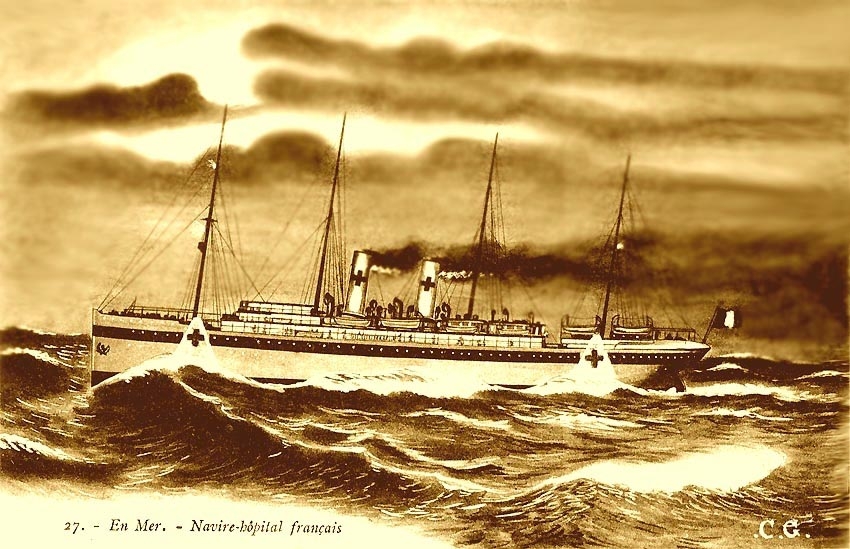 Here we see the Divona
The on April 1, 1918 she was returned to her owners, however, no sooner they were going to refit her, the French Government again requisitioned her, bit this time to operate as a for troop ship.
Two years later, in March 1920 she was again returned to her owners, however, considering the ship was now 34 years old, and for those days that was considered at least 4 years after retirement days, as well as her having gone through the war and having taken on beating from her duties as a Hospital and a Troop ship for the last 4+ years, the cost of refitting her would be far to costly and thus she was laid up and placed on the market. However, because she was an old style ship, there were no buyers for her and thus it was decided in due course to sell her to be broken up.
The ex RMS Ormuz, SS Divona departed Bordeaux under tow in June 1922, and she arrived on June 11 at Marseilles to be demolished, which was completed later in that year.
RMS Ormuz Specifications:
Built by:                                  Fairfield Shipbuilding and Engineering Co. Ltd., Glasgow.
Yard:                                       317.
Launched:   September 9, 1886.
Maiden Voyage:                        February 3, 1887.
Tonnage:                                 6,031 GRT – 2,940 NET.
Length:                                    464.5ft - 141.55m.
Breadth:                                  52.1ft - 15.87m.
Draught:                                  34.1ft - 10.38m.
Power:                                     2x 3 Cylinder engines, 1,400 MHP, 9,000 IHP.
Propellers:                               Two.
Speed:                                     15.5 knots, 18. knots Maximum.
Passengers:                              106 First, 170 Second and 120 Third Class (Steerage).
Passenger Decks:                      3.
Cargo:                                     5 Holds , which included *cooled cargo.
Other Names:                           April 10, 1912 SS Divona - Late 1922 she was broken up.     
*In addition to her considerable cargo space, she had that amazing 44,501 cubic feet of cooled cargo space, which was to transport, as we read earlier various fruits and other food items, especially lamb butter and other goods back from Australia to Britain!
Remembering the Early Days of the Emigrants Coming to Australia
On an Orient Liner the … R.M.S. Ormuz (I)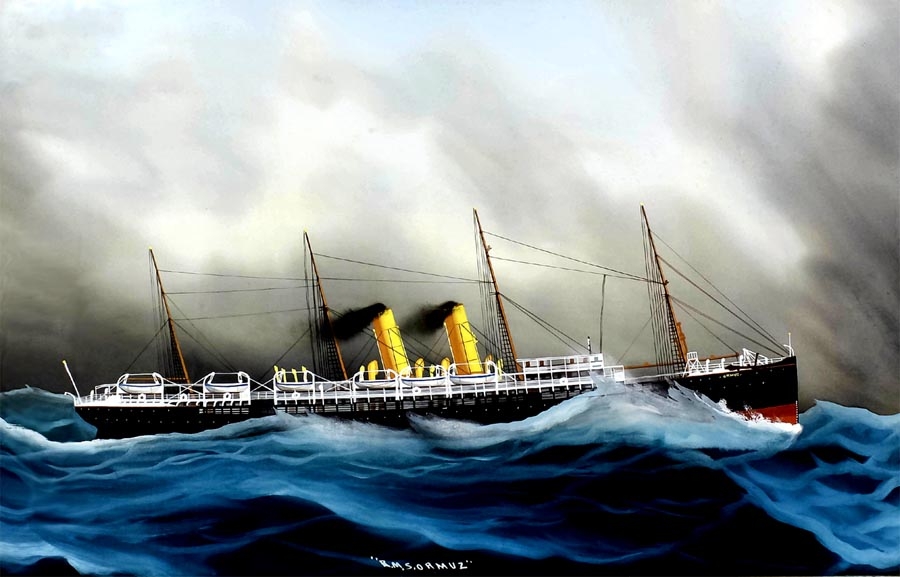 The RMS Ormuz on a Stormy Indian Ocean
Sadly the painter of this superb work is unknown- See the photo notes at the bottom of the page!
RMS Ormone (1) & Ormonde (2) Index:
Page One …                       RMS Ormuz (1) History page.
Page Two …                       RMS Ormuz (I) Deck Plan.
Page Three …                    RMS Ormuz (2) History page.
"Blue Water Liners sailing to the distant shores.
I watched them come, I watched them go and I watched them die."
****************************
Return to the ssMaritime Main INDEX
Where you will discover well over 750 Classic Passenger & Passenger-Cargo Liners!
ssMaritime.com & ssMaritime.net
Where the ships of the past make history & the 1914 built MV Doulos Story
Please Note: ssmaritime and associated sites are 100% non-commercial and the author seeks no funding or favours of any shape or form, never have and never will!
Photographs on ssmaritime and associate pages are by the author or from the author's private collection. In addition there are some images that have been provided by Shipping Companies and private photographers or collectors. Credit is given to all contributors. However, there are some photographs provided to me without details regarding the photographer/owner concerned. I hereby invite if owners of these images would be so kind to make them-selves known to me (my email address may be found on www.ssmaritime.com only), in order that due credit may be given.
This notice covers all pages, although, and I have done my best to ensure that all photographs are duly credited and that this notice is displaced on each page, that is, when a page is updated!
ssMaritime is owned & © Copyright by Reuben Goossens - All Rights Reserved