Norddeutscher Lloyd (NDL) SS Zeppelin 1915 to 1919 - Orient Line RMS Ormuz (2) 1920 to 1927 - NDL SS Dresden 1927 to 1934
Please Note: Firefox, iPhones, iPads & some other Search Engines may not be suitable
Use Internet Explorer & Old Google for this Web Page to load perfectly!
Click the logo above to reach the ssMaritime FrontPage for News Updates
With Reuben Goossens
Maritime Historian, Cruise'n'Ship Reviewer, Author & Lecturer
Please Note: All ssmaritime and my other related ssmaritime sites are 100% non-commercial and privately owned sites. Be assured that I am NOT associated with any cruise or shipping companies or travel/cruise agencies or any other organisations! The author has been in the passenger shipping industry since May 1960 and is now semi-retired, but continues to write article on classic liners and cruise ships in order to better to inform cruise and ship enthusiasts for their pleasure!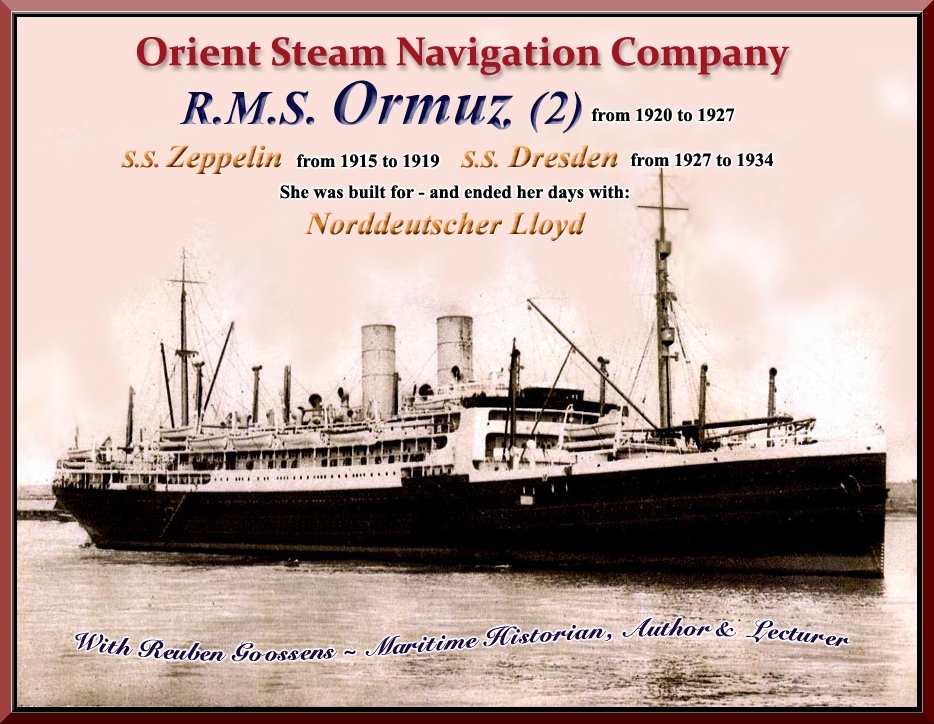 Page Two

R.M.S.

Ormuz 2
Introduction:
The Orient Steam Navigation Co., Ltd., built one of the most exciting new ships back in 1886, being a sailing steamship, thus its four tall masts, she was the RMS Ormuz I. As the Orient Line had signed a contract with the Government of New South Wales in Australia to transport emigrants from the United Kingdom to Sydney, making the Ormuz (I) one of the first major migrant liners to Australia under contract!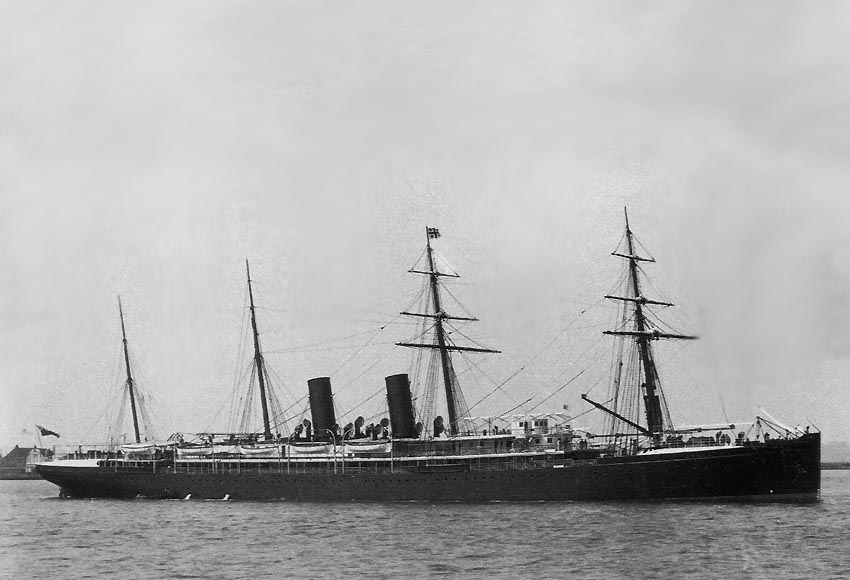 Here we see the RMS Ormuz (I) in March 1887 during her maiden voyage
The remarkable and innovative RMS Ormuz made an amazing 70 return voyages to Australia, but finally due to new and larger ships having been built, Orient Line decided to sell her in 1912. You will find this ships full story located on Page One. There is another link to this page one at the bottom of this page.
The German ship that became the next RMS Ormuz:
Orient Line planned for a second liner and it was intended for this ship to be named the "Orford," but Orient Line changed their mind, as the name "Ormuz" had been greatly loved in Australia due to the first ship of that name! However, this ship that was planned was never built for the Orient Line, instead as fate would happen, she was launched as a German liner and she certainly had quite a history and after her short time with Orient Line, she had a strong Nazi connection, which in the end meant the end of what was a fine ship! Therefore you will find that there is a rather interesting story to be told, thus I trust you will enjoy reading the RMS Ormuz 2 story, as well gain a great deal from it! My only regret is not having any interior photographs or images of the ship, nor a Deck Plan, but who knows, I may be able to obtain some in the future and thus I will have my maritime memorabilia agent keep on searching!
Reuben Goossens.
Introduction to the German ship that became the British RMS Ormuz (2):
Norddeutscher Lloyd (NDL) ordered for a 14,000 GRT passenger liner to be constructed Bremer Vulkan Ship-Yards at Bremen-Vegesack in Germany, and she was launched and named the SS Zeppelin on June 9, 1914.
Upon completion the Zeppelin was handed over to her owners on January 21, 1915 but due to due to the Great War having commenced, NDL decided to keep her safely laid up throughout the war and they intended to bring her out of retirement as soon as the hostilities had ended.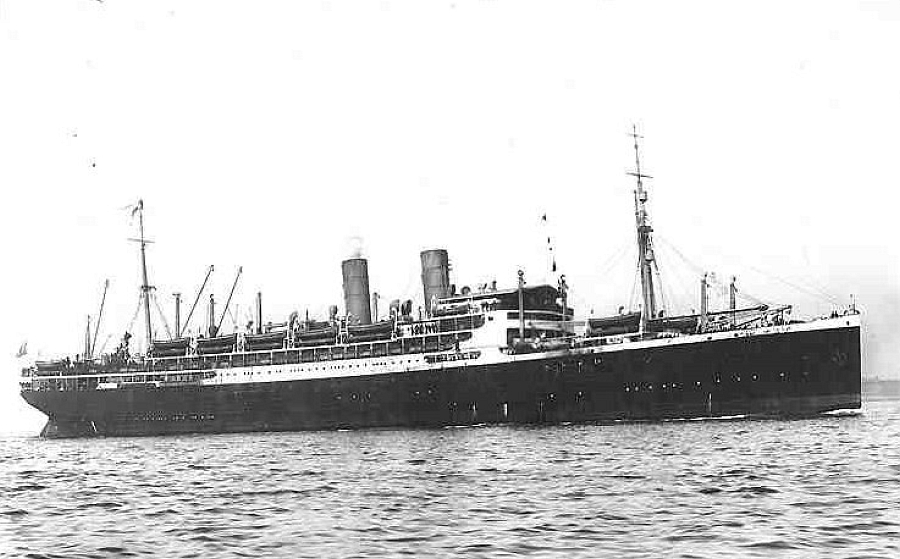 SS Zeppelin seen being delivered to her owners on January 21, 1915  
The Zeppelin was a steamer built to be operated on the Bremen to Baltimore service. Even at during the official launching ship, no less than Count von Zeppelin attended the official party, for it was he who had sailed to the United States in 1861 when the Civil War had commenced and he had met President Lincoln. Whilst Count von Zeppelin was in the States he managed to undertake some very worthwhile studies on "dirigible (airship) balloons," which would later end up become the famous massive "Zeppelin Airships!"
Looking Forward:
However let us briefly look forward: After the war, the Zeppelin had a varied career, although they were mostly short ones. She was then laid up for 5 years, then she was even used as an American troop ship for 19 months, after which she was handed over to the Orient Line who renamed her the "Ormuz" (2) in 1920. Having given her an extensive refit, Orient Lines placed on the London (Tilbury) to Australia migrant service, which proved to be very successful. However, it was necessary that in 1927 she would be restored to her original owners NDL, who renamed her 'Dresden', but sadly seven years later she would have a tragic end in 1934. But all the details of the aforementioned will be fully described below!
SS Zeppelin the Troop Ship:
The SS Zeppelin was officially surrendered as war reparations to the UK Government in March 28, 1919, who placed her under the management of the White Star Line. She was rapidly commissioned by the United States Navy to be used as a troop ship, USS Zeppelin (ID 4042) on March 25, and assigned her to the New York Division of the Transport Force with Commander William W. Galbraith to be her master. She remained manned by a Cunard crew, but she had an American Captain and Officers.
USS Zeppelin made two round-trip voyages between the United States and Europe, returning 15,800 American soldiers back home.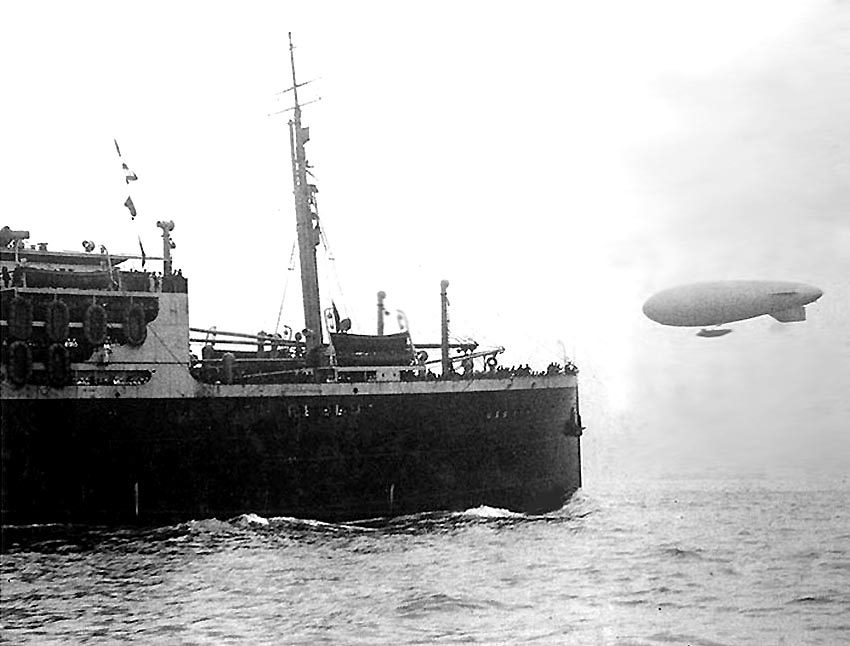 A Naval C-Type Blimp greets the USS Zeppelin as she arrived in New York on June 28, 1919
She completed her commission and returned to Europe where she was decommissioned on November 15, 1919. The Zeppelin was then returned to British control (White Star Line) on December 27, 1919.
Return to Civilian Service:
The SS Zeppelin was renamed the "Ormuz" on December 10, 1920, although originally the Orient Line was going to name her the "Orford" but decided that "Ormuz" was a name greatly loved Down Under! However, she was not acquired by the Orient Steam Navigation Company until March 28, 1921 and she was rapidly refitted to be restored as into a passenger liner. When she was completed, the Orient Line placed her in service on the service between Great Britain and Australia and she began her maiden Orient Line voyage on November 12, 1921.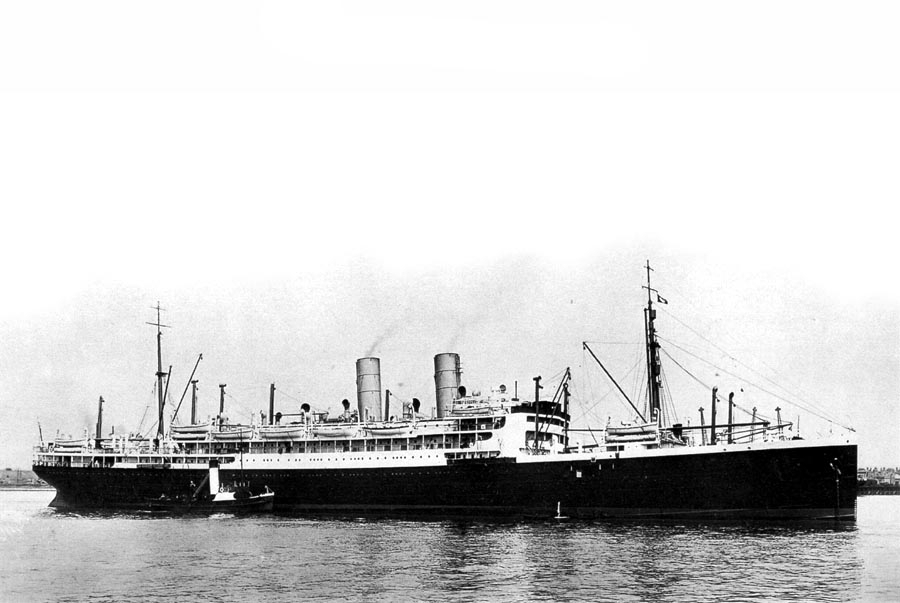 Here we see the RMS Ormuz on the Thames Australia bound!
Her itinerary was as follows, however it varied from time to time: London, Gibraltar, Toulon, Naples, Port Said, Suez, Colombo, Fremantle, Adelaide, Melbourne, Sydney to Brisbane. She sailed back to London via the same ports, but with a call to Plymouth prior to London.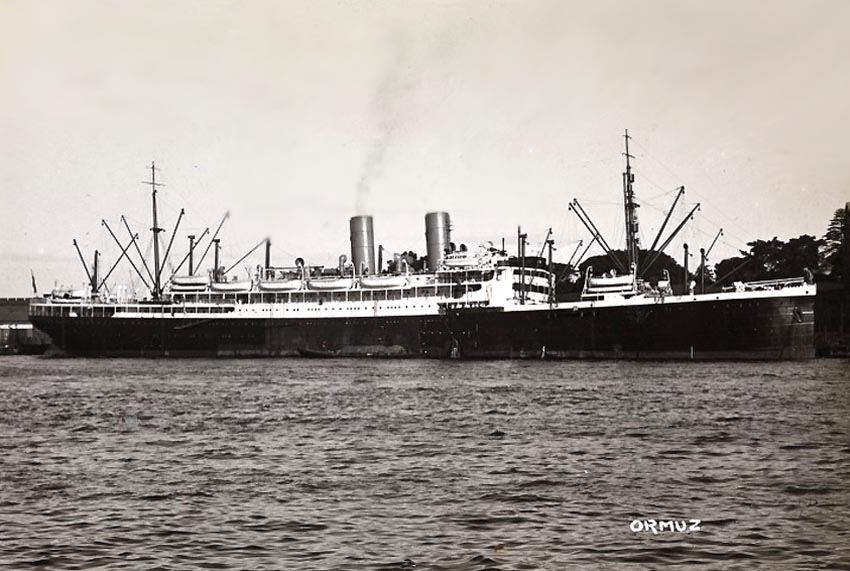 The Ormuz 2 is seen at Fremantle (Perth) Western Australia
Although this ship when built had 2,165 passengers in four Classes with the majority in steerage. When the Orient Line refitted her, they decided on just two classes, First 293 passengers and Third Class 882 passengers, thus a good one thousand passengers less that on the Zeppelin, for on the Orient Line all passengers had cabins, although some would have multiple berths. Both classes had spacious lounged on Promenade Deck for First Class and for Third Class on A Deck aft, as well as Dining Rooms on D Deck fore and aft. However, sadly I have not been able to obtain any photographs of her public venues, neither a Deck plan at this stage. When I do, I will place it online.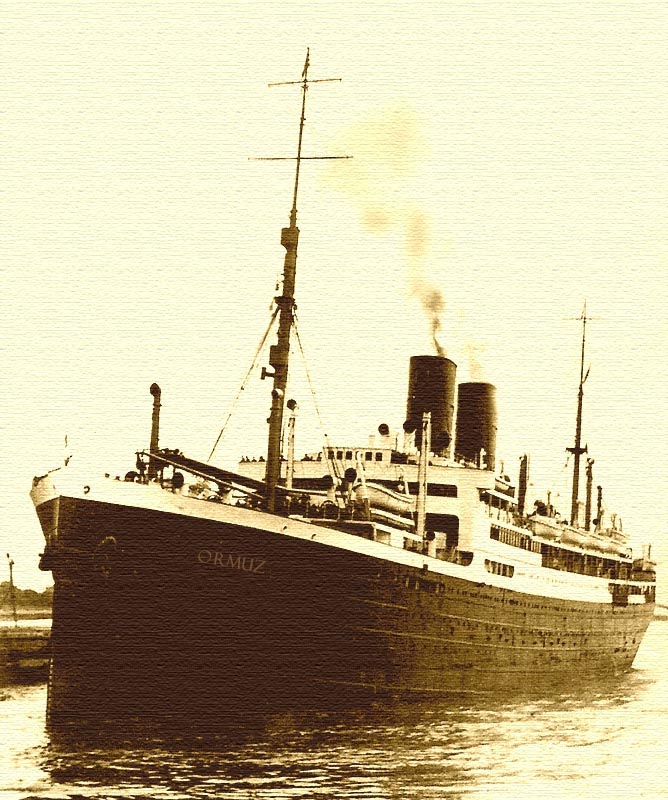 A fine view of the RMS Ormuz bow on as she arrives in port
The RMS Ormuz 2 continued her return voyages to and from Australia; however, she was never as popular as the RMS Ormuz I, for she was a very social liner and was never forgotten by the Australians as being a very special liner, having set records, etc! Although, RMS Ormuz 2 did prove to offer a good service and had a reliable run with 68 return voyages just over five years of sailing on this service. However, the time had come that the Norddeutscher Lloyd (NDL) desired the return of their original ship, the SS Zeppelin. Thus, with the rebuilding of new Orient liners, Orient Line was quiet happy to sell the ship back to her original owners NDL and then at a profit!
The German Liner SS Dresden:
In 1927 NDL bought Ormuz back and had her refitted to upgrade much of the third class accommodation to first class or tourist class. NDL renamed her SS Dresden and placed her in service on the Bremen - New York route for which she had originally been built.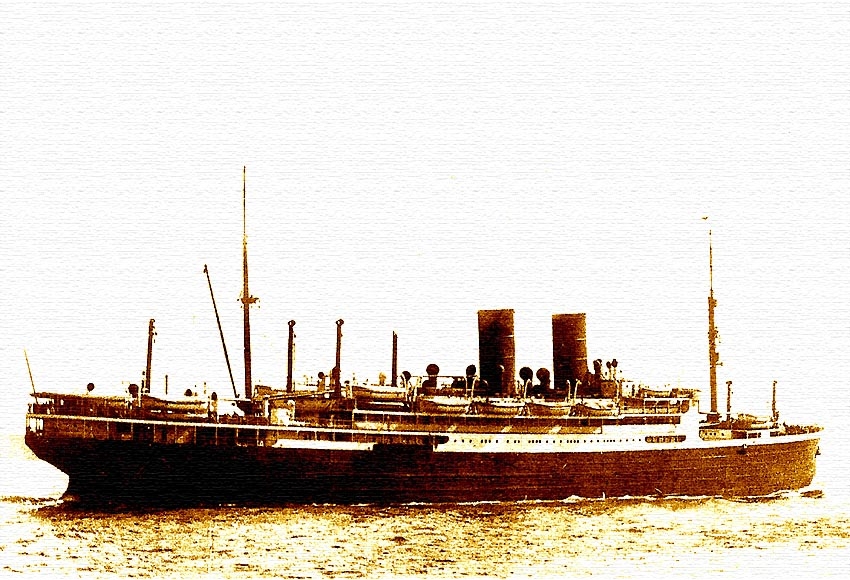 Here we see the SS Dresden outbound for New York
KdF cruise and Loss:
In 1934 the Nazi "Kraft durch Freude" meaning "Strength through Joy" Organization commenced to operate cruises and they decided to charter the SS Dresden, as they considered her to be the perfect German ship for their needs. The SS Dresden departed on her first KdF cruise on June 11, 1934. However, it was if LORD above was not pleased with those Nazis for on June 20, the SS Dresden on her KdF Cruise struck a rock off "Aregrunden" by the Norwegian island of Bokn and soon she partially sank. However, she was soon refloated and then, for safety sake she was towed and was beached near Blikshavn on the island of Karmoy.
However, in the early hours of June 21, the ill-fated Dresden listed to port and fell on her side, as small Norwegian "Hurtigruten" ship, the 874-ton Kong Haakon was one of the six vessels/ships that came to the rescue and take the Dresden's passengers to safety. However one life was lost in an accident during the transfer to the passenger ship, whilst four people lost their life total.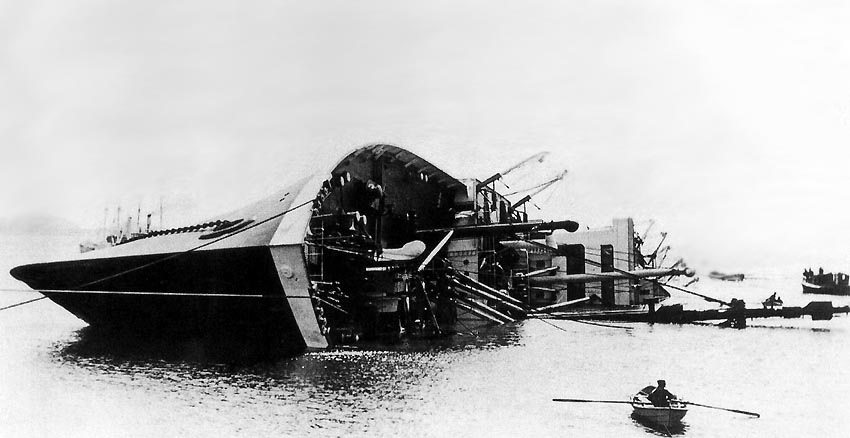 Above & below: A tragic Nazi cruise gone wrong and the SS Dresden is seen on her side after her tragedy with 4 lives lost!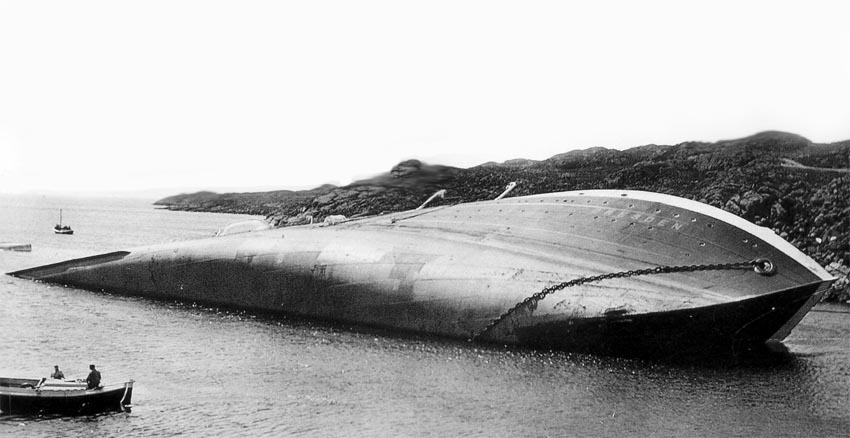 A total of six ships/vessels came to the rescue of the 975 passengers and the ships 323 crew, such as the Kong Haakon I mentioned before, the French vessel Ardente and the Norwegian ships; Kong Harald, Kronprinsesse Martha, Kvitsoy and Stavanger.

In August of 1934 the wreck of the Dresden was sold to a firm of ship breakers from Stavanger who would scrap the ship where she lay. However, it is said that some remnants of the wreck remain near the shore line around 4m to 50m or 13ft to 160ft deep.

Specifications for:

1 = SS Zeppelin, 2. = RMS Ormuz, 3. = SS Bremen.

Built by:       Bremer Vulkan Ship-Yards at Bremen-Vegesack, Germany.

Yard No:       579

Names & Tonnage:       1. Zeppelin 14,167 GRT.

.       2. Ormuz 14,588 GRT.

.       3. Dresden 14,690.

Length:       550ft - 173.7.

Beam:       67.2ft - 20.5.

Draught:       26.6ft - 8m.

Draft:       35.1ft - 10.7m.

Engines:       Two Quadruple-expansion Steam Engines by Vulkan.

Propellers:       Twin Screws - 9,500 IHP.

Speed:       15.5 knots - Maximum 17 knots.

Passengers:       1,319 1st.class, 156 2nd.class & 1,348 steerage.

.       2. 293 1st.class & 882 3rd.class.

.       3. 399 1st.class, 288 tourist class & 284 3rd.class.

Crew:       340 to 398.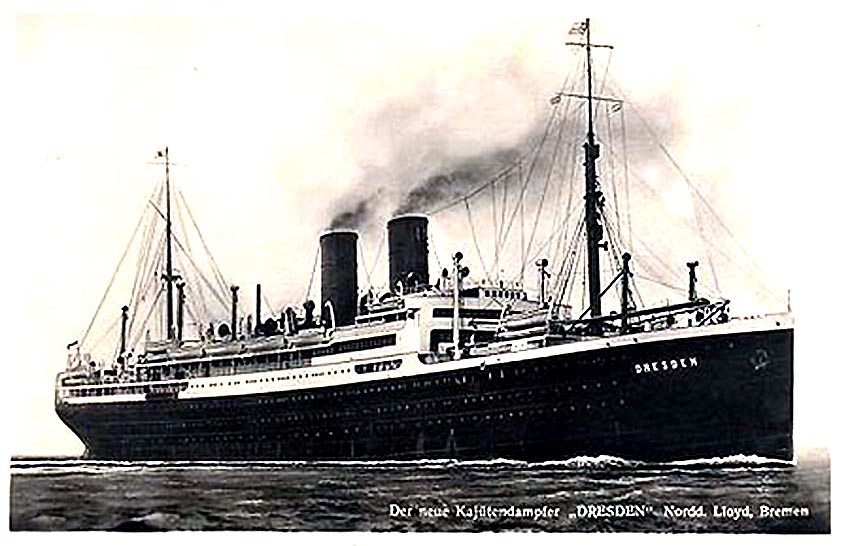 The Ship in Summery:
Norddeutscher Lloyd SS Zeppelin built & laid up 1915 - 1919
SS Zeppelin was a fine American Troop ship for just several months 1919
Orient Line RMS Ormuz 2 made 68 return voyages to Australia 1920 - 1927
SS Dresden operated voyages from Bremen to New York 1927 - 1934
Then it took KdF Nazi cruises to see her on the Rocks on their first cruise 1934
RMS Ormone (1) & Ormonde (2) Index:
Page One …        RMS Ormuz (1) History page.
Page Two …        RMS Ormuz (I) Deck Plan.
Page Three …        RMS Ormuz (2) History page.
 "Blue Water Liners sailing to the distant shores.
I watched them come, I watched them go and I watched them die."
ssMaritime.com & ssMaritime.net
Where the ships of the past make history & the 1914 built MV Doulos Story
Photographs on ssmaritime and associate pages are by the author or from the author's private collection. In addition there are some images that have been provided by Shipping Companies and private photographers or collectors. Credit is given to all contributors. However, there are some photographs provided to me without details regarding the photographer/owner concerned. I hereby invite if owners of these images would be so kind to make them-selves known to me (my email address may only be found on www.ssmaritime.com), in order that due credit may be given.
This notice covers all pages, although, and I have done my best to ensure that all photographs are duly credited and that this notice is displaced on each page, that is, when a page is updated!
ssMaritime is owned & © Copyright by Reuben Goossens - All Rights Reserved