British & Irish Steamship Company MS Munster 1948 - Epirotiki Lines - MTS Orpheus II
1968
Please Note: Firefox and Google Chrome search engines are not suitable - Use "Internet Explorer" for this page to load perfectly!

Click the logo above to reach the ssMaritime FrontPage for News Updates & "Ships of the Month"

With Reuben Goossens

Maritime Historian, Cruise'n'Ship Reviewer & Author

Please Note

: All ssMaritime and other related maritime/cruise sites are 100% non-commercial and privately owned. Be assured that I am NOT associated with any shipping or cruise companies or any travel/cruise agencies or any other organisations! Although the author has been in the passenger shipping industry since 1960, although is now retired but having completed over 700 Classic Liners and Cargo-Passengers Ships features I trust these will continue to provide classic ship enthusiasts the information the are seeking, but above all a great deal of pleasure!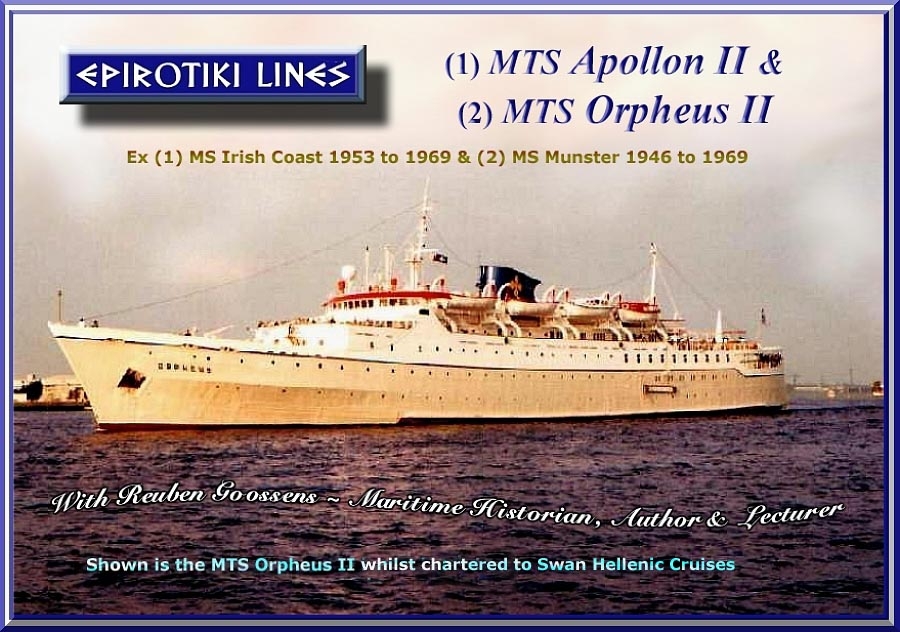 Page Five
Introduction:
This page is devoted to the MTS Orpheus built as the MS Munster in 1948, whilst her running-mate the MTS Apollon II or as she was lovingly known the Apollo II, built as the MS Irish Sea in 1953, and she will be featured on Page Six! Deck Plans for both the Orpheus and Apollon will be located on Page Six B.
MS Munster 1948:
With the loss during WW2 of the MV Leinster (3) and Munster (3), it was in 1946 that British & Irish Steamship Company quickly recommenced rebuilding its fleet and ordered two new ships from Harland & Wolff in Belfast. These new ships were longer than their old name sakes, and they were completed in 1948 as the MV Leinster (4) and Munster (4).
The MV Munster (4) was laid down on March 25, 1947 and launched on January 17, 1948. She was 4,100 GRT (Gross Registered Tons) and had a total passenger capacity, both in First Class cabins as well as those in seats of 1,500 persons.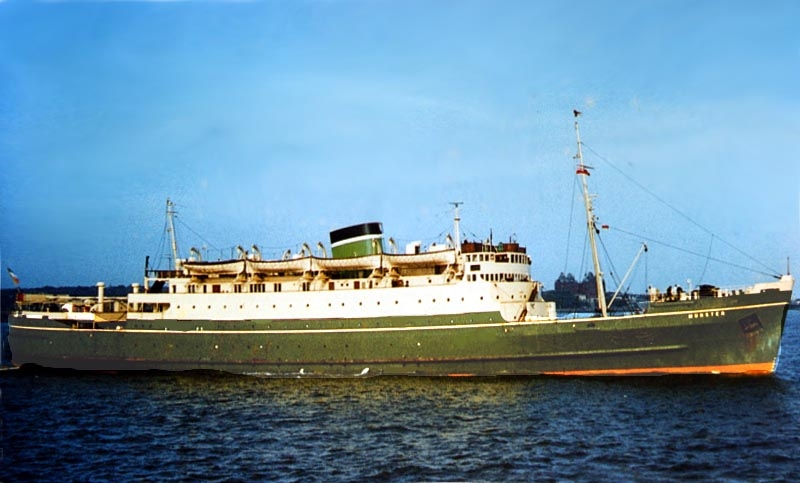 A fine photograph of the MV Munster, although it is noteworthy that the MV Leinster was identical to her sister
Photograph by & ? Dennis J. Dubinsky
However, externally these ships differed from their predecessors in that they had just a single funnel and also, in that the stump main mast was shorter and it was mounted in front of the well deck. Two derricks were located in the well and all the windows directly below boat deck had round portholes compared to rectangular windows on the pre-war sisters.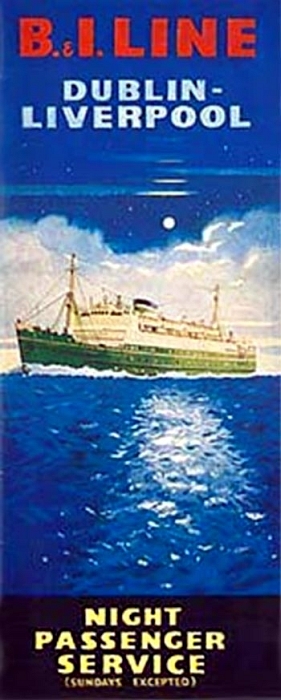 --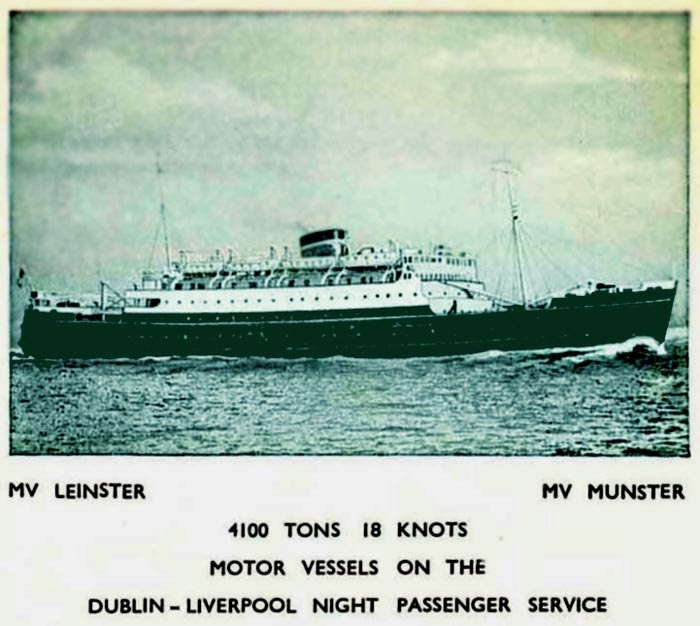 The above brochure was released February 1957 and was valid only until June 15 that year
Brochure obtained with thanks from www.timetableimages.com/maritime/index.htm
Strangely enough, cars were still being loaded on board the ships by crane and thus these ships were beginning to date considering that more advanced roll-on, roll-off ferries were being built. Therefore this would make the Munster and the Leinster rapidly considered as being old and too slow and thus they soon became obsolete. B&I decided to sell both ships at the same time and they were sold in 1968 to different Greek owners.
The MV Leinster was sold to the 'Mediterranean Sun Lines' who renamed her MV Aphrodite and became a cruise ship until she was sold to be broken up in 1988.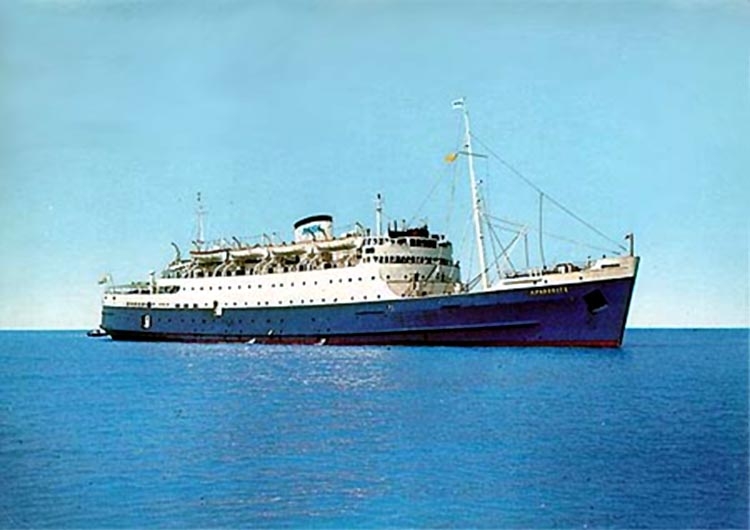 Here we see the Mediterranean Sun Lines MV Aphrodite; you will note that there was less
external reconstruction to her than her identical sister, which became a very different ship
MTS Orpheus II:
With the MV Munster was also being sold in 1968, but she was obtained by Epirotiki Lines and she departed Liverpool for Piraeus on April 8, 1968 renamed MTS Theseus. Upon arrival, she entered the shipyards and she was given a comprehensive conversion and refit. When completed, she operated for around year under the name of 'Theseus' but then Epirotiki Lines decided to rename her the 'Orpheus' and she became one of the most popular and most loved of all the older Epirotiki's cruise ships.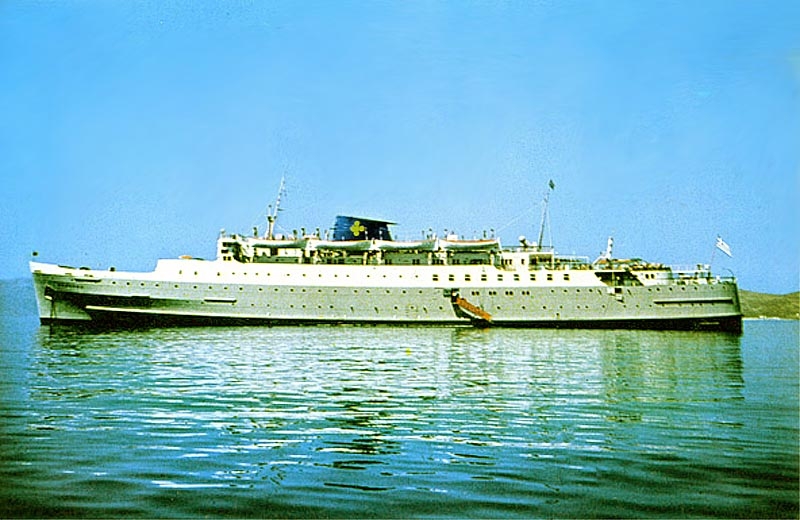 MTS Orpheus II seen in 1970 just after her original conversion
Her conversion was an extensive one and took almost two years. The rebuild saw her well-deck filled in, as two decks of her superstructure, directly below Boat Deck were extended forward as well as far aft. In addition her tall fore-mast was removed and a new stylish Signal and Radar Mast was placed above the Bridge. Her funnel was completely remodelled and it now featured a smoke deflector, but sadly her new modernised blue funnel was rather too low to be considered to be attractive. A swimming pool was installed into the newly added Aft Apollo (Boat) Deck.
However it was her exciting new interiors where the greatest changes that had taken place, for she had suddenly become a modern colourful luxury hotel. The Orpheus was fully air-conditioned and all her cabins were beautifully furnished and could be made up as a sitting room during the day and as bedrooms at night. In addition, every cabin on board had private bathroom, a telephone and air-conditioning controls. These kinds of features were not usually found on other cruise ships in those days, but Epirotiki were luxury cruise line! In total, there were 155 cabins providing accommodations for up to 372 passengers utilizing all berths.
Another important factor was; considering she was designed to sail across the often very rough Irish Sea, was the reason that this well built ship was so sturdy and was such a strong sea-ship, for she certainly proved to be an excellent ocean-going ship as she crossed the Atlantic, which she did several times.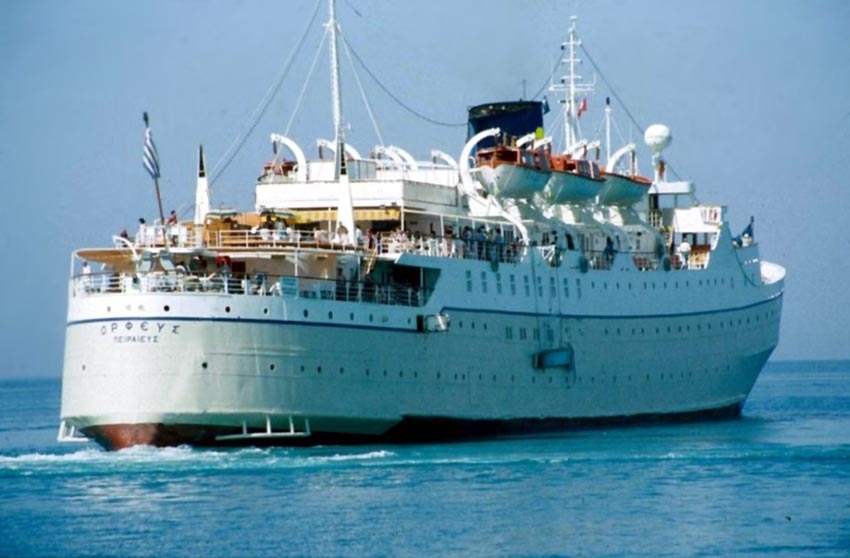 An early stern view of the Orpheus II whilst on a cruise a little later in her cruising days
In 1970 West Tours chartered the just completed MTS Orpheus to operate their summer service in Alaska, after which operate winter cruises to Mexico. Considering the classic style of the Orpheus, yet being internally modern and such a comfortable cruise ship that had every possible facility, she was very popular with the passengers that sailed on her. She remained with West Tours right through 1972 before she was had to return to Greece, as she was due to commence her own cruise duties from Greece to the Mediterranean and Aegean Seas.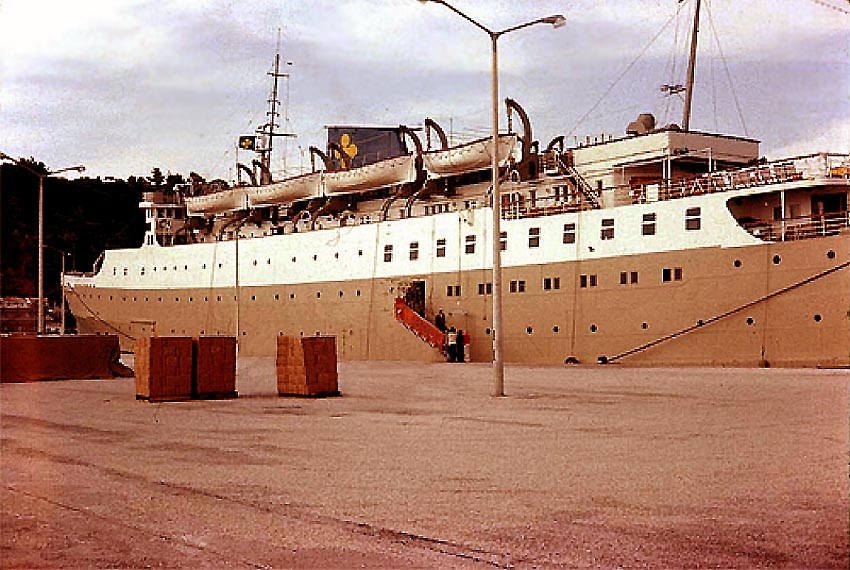 A fine portside view of the Orpheus whilst she was berthed
MTS Orpheus and the MTS Apollo II, (which is located down the page) 3 and 4 Day/Night cruise schedules from Piraeus were as seen below. However, these are dated 1972/73 and did vary over the years!
3-Night Cruise:
Day 1. Fri: Piraeus, Greece depart 1.00 pm. Myconos, Greece, arrive 7.00 pm, depart 11.59 pm. Day 2. Sat: Helicarnassus, Turkey, arrive 7.00 am, depart 9.30 am. Rhodes, Greece, arrive 2.00 pm, depart 9.00 pm. Day 3, Sun: Herakleion, Crete, arrive 8.00 am, depart 12.00 noon. Santorini, Greece, arrive 4.30 pm, depart 8.00 pm. Day 4 Mon: Piraeus, arrive 7.00 am.
4-Night Cruise:
Day 1 Mon: Piraeus, Greece, depart, 11.00 am. Myconos, Greece, arrive 5.00 pm Day 2 Tue: Myconos, depart 2.00 am. Santorini, Greece, arrive 7.00 am, depart 1.00 am. Herakleion, Crete, arrive 3.30 pm, depart 9.00 pm. Day 3 Wed: Rhodes, Greece, arrive 8.00 am, depart 10.00 pm. Day 4 Thu: Ephesus, Turkey, arrive 7.00 am, depart 1.00 pm. Patmos, Greece, arrive 4.00 pm, depart 8.00 pm. Day 5 Fri: Piraeus, arrive 7.00 am.
The Map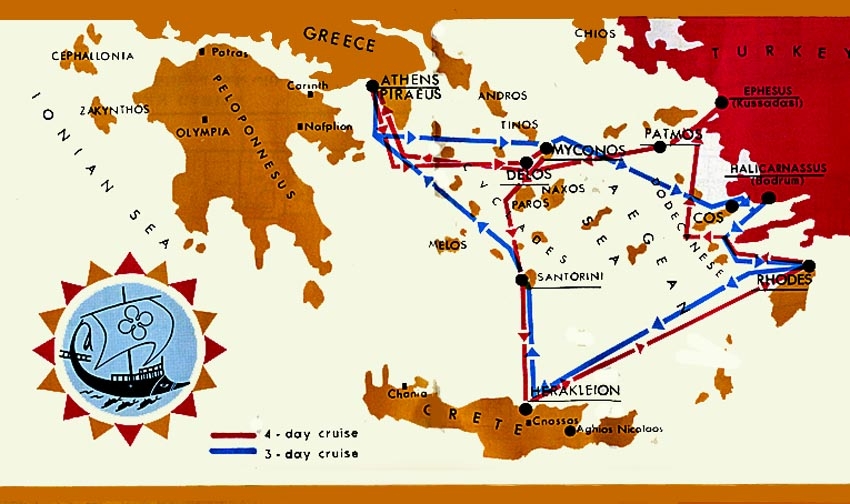 There was no doubt that her original refit was most extensive and she certainly had become a delightful and a very popular Greek cruise ship and not just by the British and European public, but she was gaining a worldwide reputation for excellence, yet at excellent fares. Not that she was pretensions in any shape or form, no it was just that she offered a good quality cruise and she was a fine stable and a comfortable ship with excellent service!
Her long and enduring popularity may also be due to the excellent work done by the famed designers of Maurice Bailey, and the amazing decorative work that was done by Arminio Lozzi and Russell Holmes, which made this fine 5.078 GRT cruise ship such a welcoming and a friendly ship! It was said by one passenger:
"If ever a ship could sing welcome songs from her heart, the Orpheus is that ship!
Another past Orpheus passenger wrote me and said;
"I was frankly amazed by her for I did not expect anything much at all from this old timer, yet within a very few minutes from boarding, I know that it is hard to believe but this ship and I seemed like we were old friends., she was a true classic, yet with a world of comforts we expected from a far more modern and a much larger cruise ship, but the Orpheus was simply perfection to say the least!"
The MTS Orpheus - Deck by Deck:
I will commence from the highest Deck being Jupiter (Bridge) Deck topside and then head downwards to Nereus (C) Deck. In addition, I will start from the forward end of the ship and then head aft on each deck. Please Note in 1983/84, she had a refit that saw a new sharply raked bow fitted lengthening her overall length by 11ft. In addition cabins in the forward section of Nereus (C) Deck were all removed, and thus that only left the aft section with cabins.Best Replica Watches Deck plans of the Orpheus of the 1970s and 1984 are on Page Six B.
Jupiter (Bridge) Deck:
This deck obviously has the ships Bridge located far forward, whilst further aft of the funnel and the amidships housing is a spacious deck that was known as the "Solarium." The Solarium was reached via external stairs located on the portside.
Apollo (Boat) Deck:
This deck has a great deal more to offer, as far forward, ahead of the main superstructure, several decks above were the well-deck had been was the spacious Observation Deck. Directly aft there was a traditional wide Promenade Deck that was a full walk around deck. Inside forward there was five twin or single cabins. Then amidships, portside was the Library and Card Room.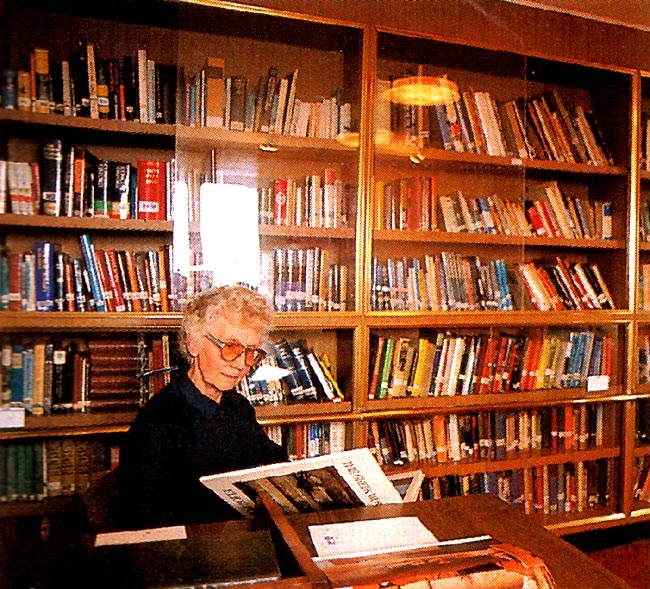 The beautifully timbered Library and Card Room was a warm and a restful place!
The Library followed by the wonderful Argonaut Lounge and then directly aft was the popular Apollo Pool Bar. These two venues combined were also the ships Night Club. Outdoors was the spacious Lido Deck and the Apollo Swimming pool, which was surrounded by countless tables and chairs and sun lounges each of which has a comfortable soft mattress! Omega Replica Watches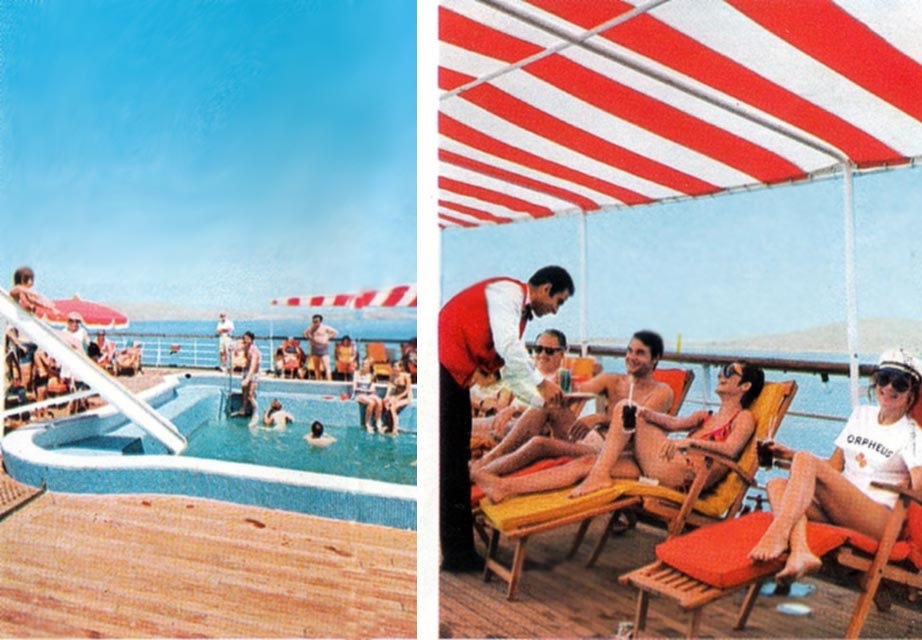 The Pool and Lido Deck
Venus (Lounge) Deck:
Forward on this deck there were 32 outside cabins and just 3 inside cabins. Cabins V1 to V6 were large deluxe cabins. Aft of the accommodations was a lobby and then the public rooms. The first lounge was "Lounge of the Muses", with a delightful corner shaped bar located on the aft wall somewhat to port and named the Orpheus Bar. The venue featured red carpets and yellow/gold seating with touches of colour of reds and green. Then far aft was the exotic Jason Taverna Lounge, which was one of the most delightful hideaways on the ship. The venue had the best of furnishings in reddish colouring and the walls featured some of the best artist's murals, which made this venue one of the reasons this ship became so much loved by cruise lovers around the globe. Further deck space was located aft.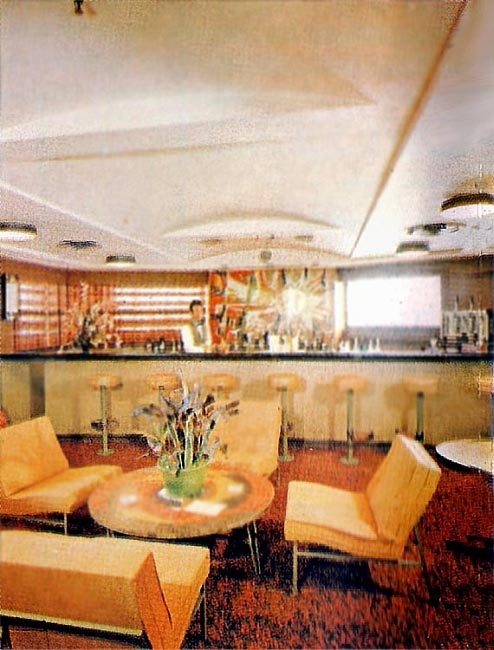 The and Orpheus Bar located aft of the lounge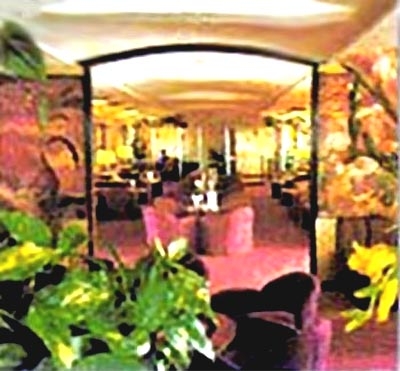 The intimate and delightful Jason Taverna Lounge far aft on this deck
?I am sorry for the small size of this image, but you will get the picture, I am sure!
Dionysos (A) Deck:
Again cabins were located in the forward section, as well as the Ladies Hair and Beauty Salon located closer to the forward stairwell. Aft of the accommodations were the Main Reception Hall and the Pursers Office, as well as the entrance to the spacious and elegantly appointed Dionysos Dining Room.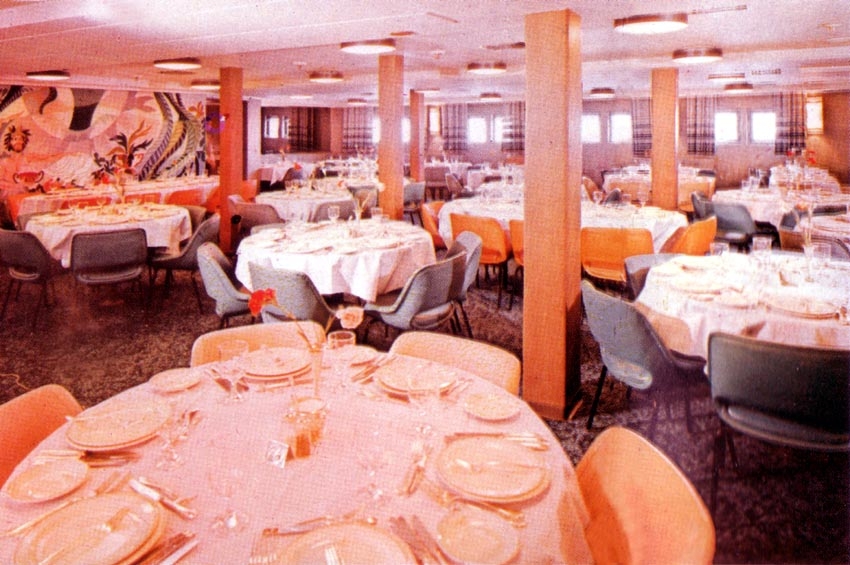 A Bright and colourful Dionysos Dining Room, again featuring some amazing murals!
Poseidon (B) and Nereus (C) Decks:
These two decks have cabins for and aft separated by the engine room and other spaces. Although during her 1983/84 refit and her receiving the new bow, the forward cabins on Nereus Deck were eliminated.
But no matter what cabin a passenger decided on, each and every cabin was superbly appointed with the best of everything, a comfortable mattress, being the most important, carpeting throughout, a bathroom, a telephone and the comfort of air-conditioning that could be changed via the remote control in each cabin. In addition every cabin on board would during the day be a sitting room, and transfer into a bedroom by night, a luxury that was unheard of before Epirotiki commenced to install them onto their ships! Options available were deluxe large cabins, other cabins, either twin bedded, there berth or four berth cabins. There were also single berth cabins. After 1984 there were only singles, twin and some three berth cabins.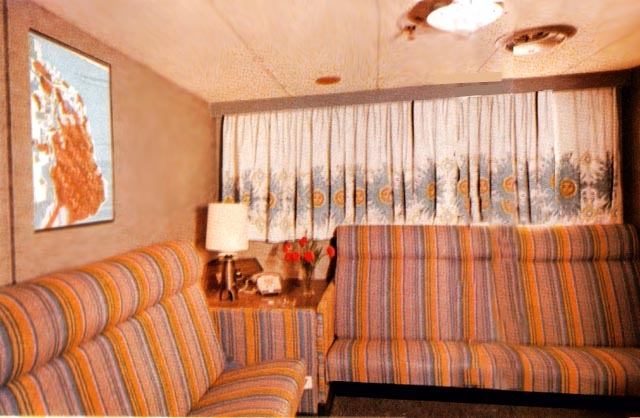 A typical twin bedded cabin is seen as a day room prior to 1984
In due course she continually had further refits and improvement, which meant this ship, remained so popular! And thus the Orpheus II had a long 30 years with Epirotiki, proving that she was one of the most successful and profitable ships in their stable! As I have already indicated her passengers simply loved this ship and I received so many emails regarding her over the years! Another of her passengers stated;
"From the dock this ship certainly did not impress, that is in you were after a modern style cruise ship. For this relatively small and classic style ship will surprise many, for it did me! The Orpheus was a beautiful and a spotless ship and she gleamed in her perfectly painted Epirotiki livery. She looked very much like a ship that was designed to cruise in a more classic luxurious style, like it was in days gone by sailing the still waters of the Aegean and Ionian seas. My wife and I loved this oversized private yacht far more that we ever imagined and we returned again for our 25th.wedding anniversary!"
The above was a very personal review that I received in around 2004 about a cruise taken in 1987, and I believe it not only says a great deal about this ship, but also of the style and quality of Epirotiki Lines, for I have never heard a bad word about them, well that is until things started to go wrong, when they merged to become Royal Olympic Cruises, which was a complete disaster, which brought the company into its demise and bankruptcy! But that is another story altogether and it is told on the MTS Jason Page!
MTS Orpheus & Swan Hellenic Cruises: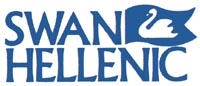 One of the major charters was under taken in 1974, by the British based "Swan Hellenic Cruises" who decided that the Orpheus would be the perfect ship for them, despite her being a good 26 years of age at the time. But the truth was that her classic style combined with her refined stylish and modern interiors and excellent cabins made her perfect and popular ship not just with the British travellers, but also with European and International passengers from all around the globe.
More About Swan and their ships: Obviously, Swan Hellenic had already established themselves as the Discovery cruise company, as they commenced in 1954 with a reasonably new ship that was completed in 1952, being the Nomikos Line, MS Miaoulis, however she only operated that years summer season as she proved to be unsuitable. Swan waited for a number of years for the right ship! The next ship was the famous 6,178 GRT Turkish Maritime Lines SS Ankara, which was built in 1927. This wonderful classic ship operated a total of 105 cruises for Swan Hellenic between 1959 & 1974 and as we already know the MTS Orpheus was the next ship, which would be the ship that would be the vessel that would sail for the longest time for Swan, in fact 22 years and operated 154 cruises!
MTS Orpheus Refit and New Raked Bow: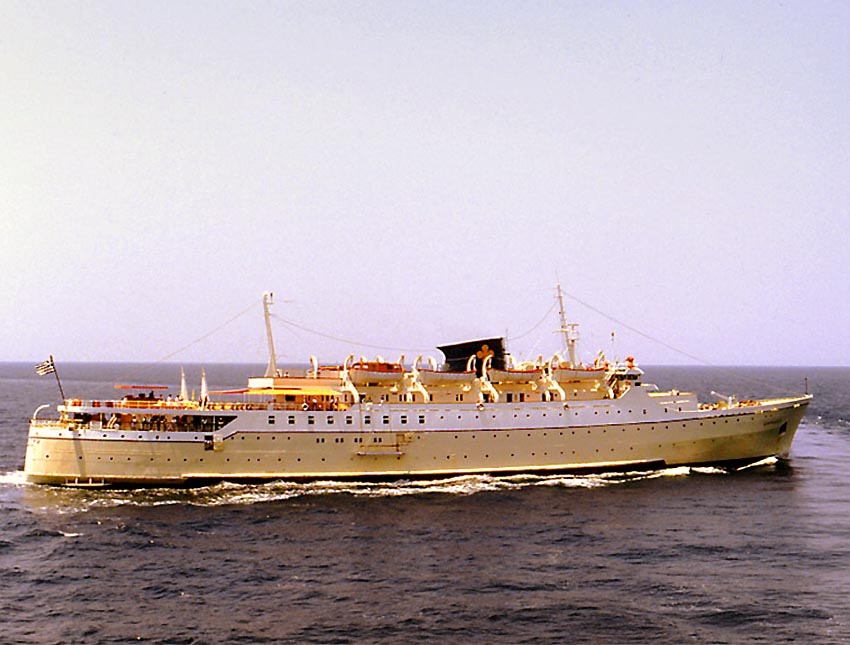 The updated and refitted MTS Orpheus seen just after she had been given her new raked and modernised bow
During the off season time in 1983 and 1984, Epirotiki Lines decided that the MTS Orpheus required an extensive refit as well as giving her a new beautiful raked bow, which lengthened the ship by 11ft - 3.35m. Other exterior changes were seen around the Lido deck with new shade areas installed and other canopies, and a new improved Buffet area. One other important alteration was the removal of two standard lifeboats aft of the ship and the addition of the much needed fully enclosed motorised tenders.
In addition, her interiors were superbly updated with new soft furnishings and other delicate touches, and down on Nereus (C) Deck all her forward cabins were removed. In addition, four berth cabins were no longer available, thus it was single, twin and just a small number of cabins available that offered three berths. All cabins were extensively refurbished with a brand new look as can be seen below.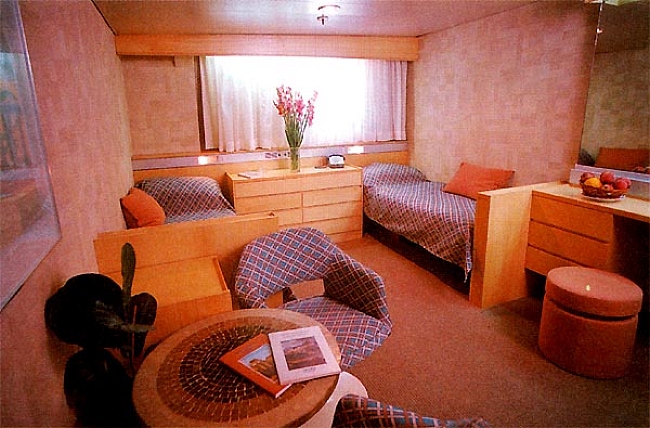 --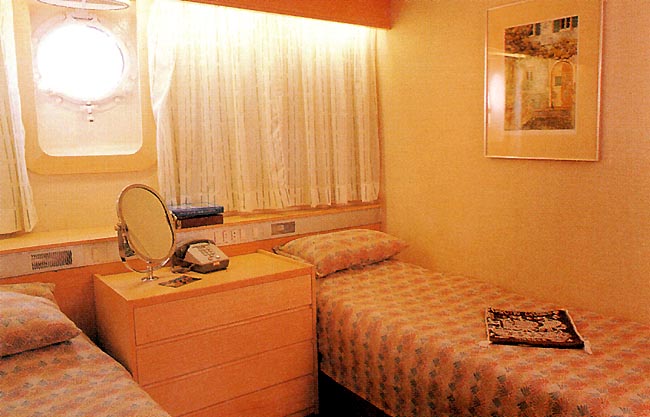 Left: A twin deluxe cabin D Grade on Venus Deck - Right: A twin outside cabin D Grade on Dionysos Deck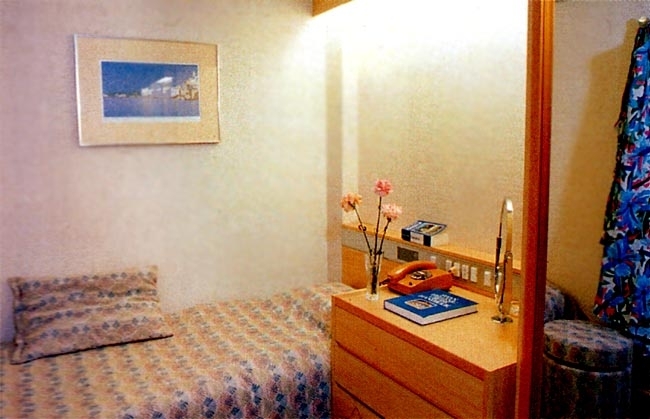 --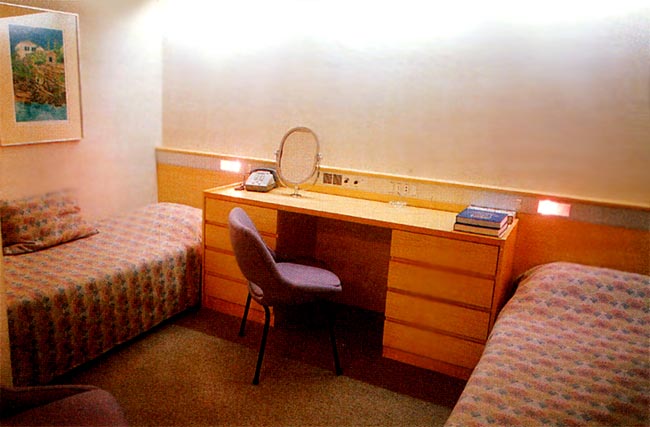 Left: Single bedded inside cabin B Grade on Dionysos Deck - Right: A twin inside cabin I Grade on Dionysos Deck
The Orpheus now accommodated 280 guests in 159 cabins. Many other changes were made, some around the pool area and of course the public rooms and other facilities received a massive facelift, making her an even better cruise ship! It stands to reason her extensive makeover had a great deal to do with Swan Hellenic having signed in 1983, a long term charter agreement to operate the MTS Orpheus. See Page Six B for cabin and Grade details as seen above.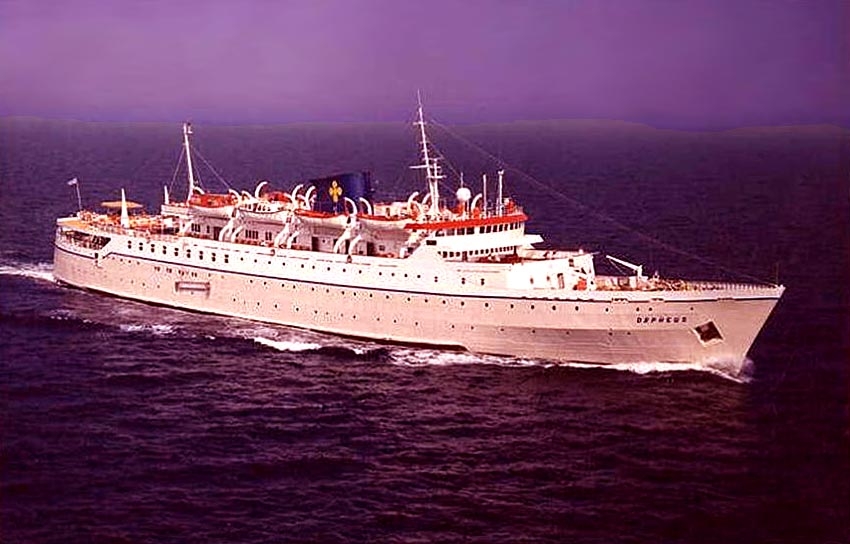 A Swan Hellenic postcard of the Orpheus for when she sailed with Swan she featured that red marking atop
the Bridge roof line. This also reveals her newly raked bow and new aft decks fittings and note the aft tenders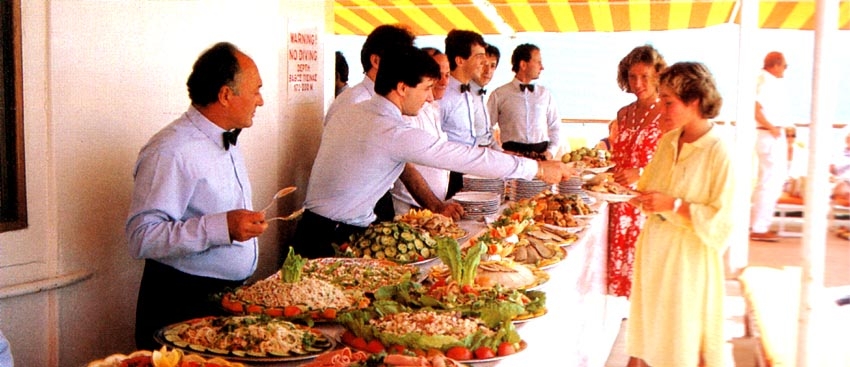 A new Buffet facility was now located aft of the Apollo Bar out on Lido deck
Swan Hellenic prided itself on never repeating any itinerary making it exactly the same, but it concentrated, as the name suggests, on classical sites in the Aegean Sea, around the coats and Islands of modern Greece and Turkey and Israel. It also visited classical and other ancient sites in North Africa, including Egypt and the eastern Mediterranean. Unlike most commercial cruises, in which the onboard entertainment is as important as the destinations visited, Swan Hellenic cruises landed almost every day in order to visit historic sites, and travel between sites was undertaken by the ship overnight. The operation was characterised by an English high standard and culture, although Swan Hellenic did have an international following, in fact as far as from New Zealand and Australia, as the Australian version of their brochure below attests!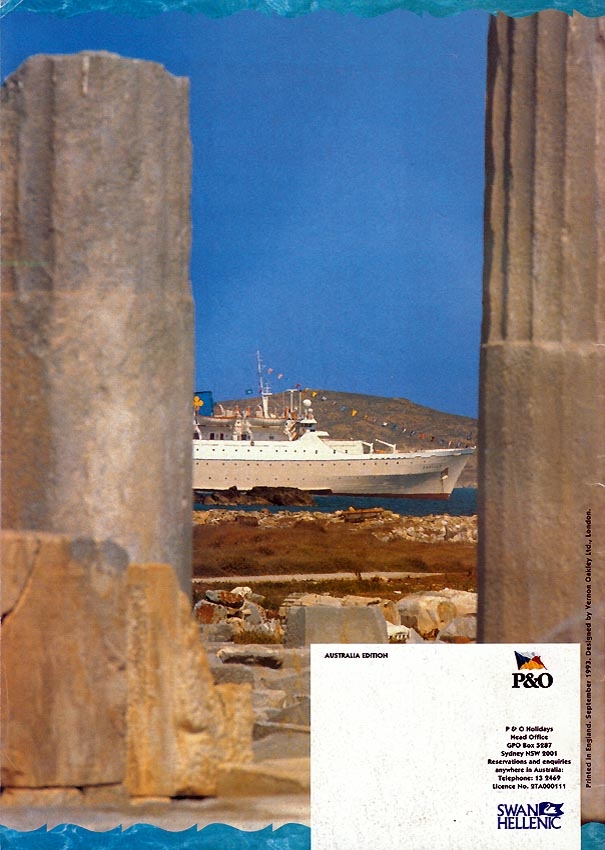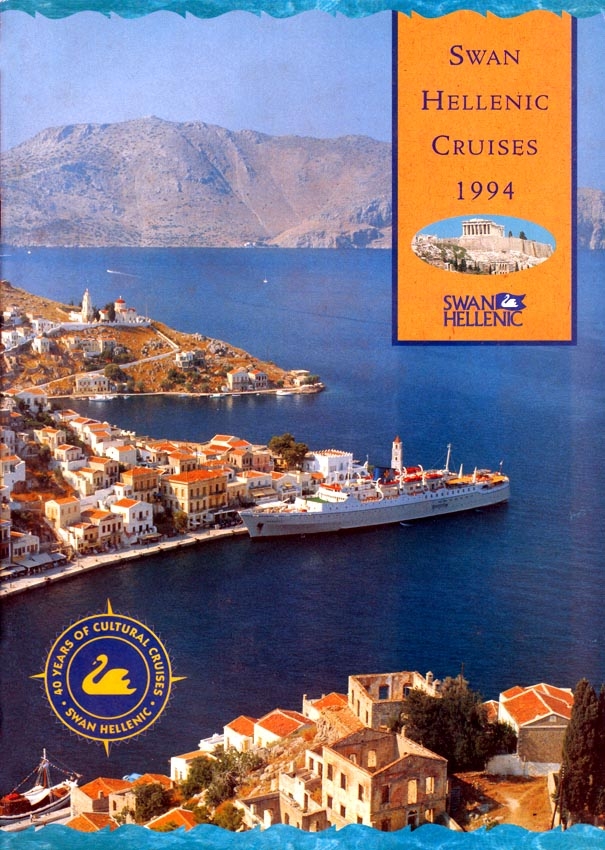 Here we see the front and back cover of the 1994 Australian 40th.Anniversary Swan Hellenic Cruises brochure
This brochure of Swan Hellenic Cruises 40th.Anniversary (having commenced in 1954) contained 18 amazingly exotic and historic cruises, with the first cruise commencing with a flight arriving in Athens on Wednesday April 6, 1994 with an overnight stay aboard the MTS Orpheus at Piraeus and then the next morning do a tour of Athens and sail at lunchtime for the 14 day "Unveiling the Classics" cruise.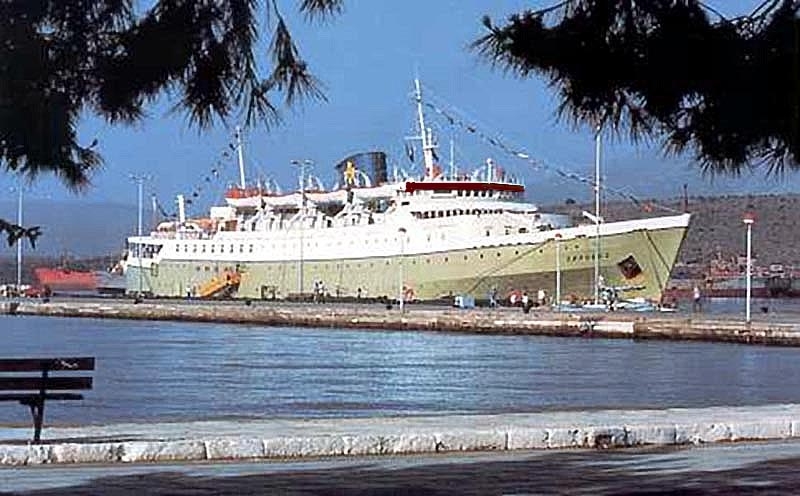 The Orpheus is seen here in her Swan livery
The cruise series concluded after a 14 day "Ancient Holy Lands" cruise at Piraeus, Greece with a flight home on Sunday December 4, 1994. Amazingly during this period there would be an amazing 57 Guest Lecturers with a list of influential people, straight out of Who's Who!" For each of these special speakers were Knights of the Realm, Academics, Historians, well known Archaeologists, Writers and a number of very well known Clergymen who were regularly featured as guest lecturers. All of them would lecture on board the ship, but also would be there providing historical details whilst ashore at those ancient historic sites visited.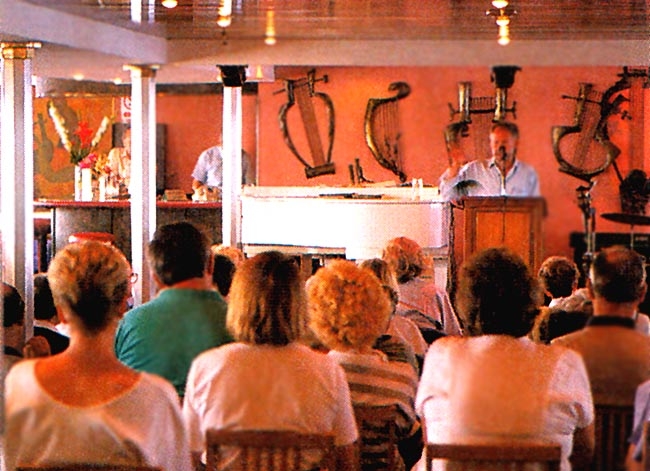 A lecture given on board the Orpheus during a Swan Hellenic Cruise
Swan Hellenic prided itself on never repeating any itinerary making it exactly the same, but it concentrated, as the name suggests, on classical sites in the Aegean Sea, around the coats and Islands of modern Greece and Turkey and Israel. It also visited classical and other ancient sites in North Africa, including Egypt and the eastern Mediterranean. Unlike most commercial cruises, in which the onboard entertainment is as important as the destinations visited, Swan Hellenic cruises landed almost every day in order to visit historic sites, and travel between sites was undertaken by the ship overnight. The operation was characterised by an English high standard and culture, although Swan Hellenic did have an international following.
As the Orpheus would only operate with Swan Hellenic during the summer, during the off-season Epirotiki or another charter company would use her and she would often venture further afield outside the Mediterranean region.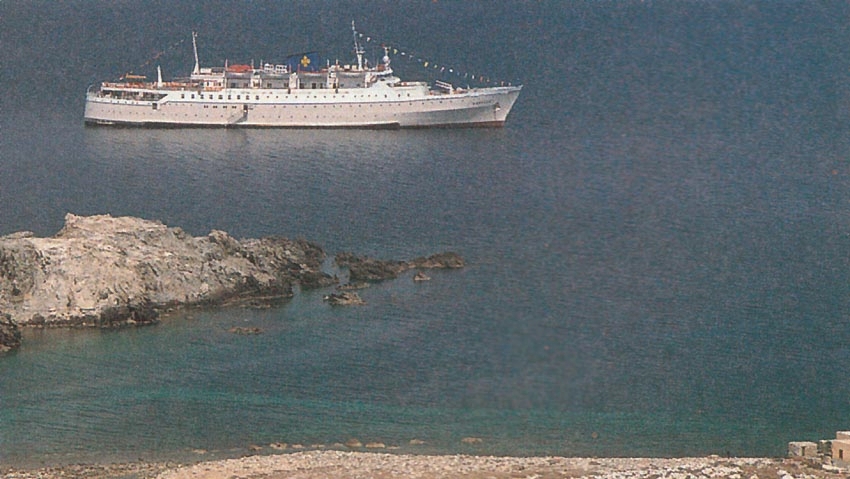 The Orpheus is seen here at anchor at one of the Greek Islands
For Interest: Swan Hellenic Cruises was acquired from the Swan family by P&O in 1983 and later it sadly became of that horrid American shipping giant the British-American Carnival Corporation & plc. Under Carnival Cruises, this led to a number of changes that led to some criticism Swan regulars saying, that that the traditions and the intimacy of the original Swan Hellenic Cruise concept had been somehow compromised!
Voyages on the Orpheus were usually sold out as she sailed on cruises of exploration with lecturers to offer slides and films on locations to be visited as well as excellent commentary whilst ashore!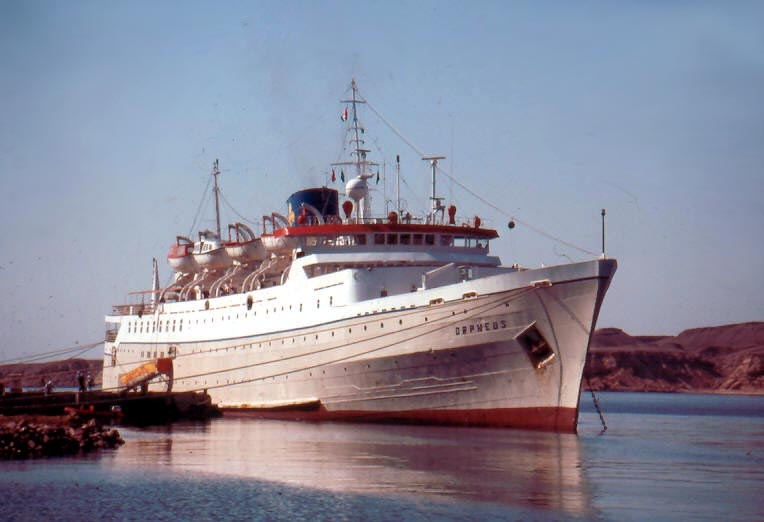 Here we see the Swan Hellenic cruise ship Orpheus with that superb new bow
However in 1996 Swan/Carnival decided to replace the greatly loved MTS Orpheus with a more modern 12,892 GRT ship, that accommodated 350 passengers, being the 1989 built MV Minerva. Although she was replaced just seven years later, by a much larger ship, which is what Carnival had always intended!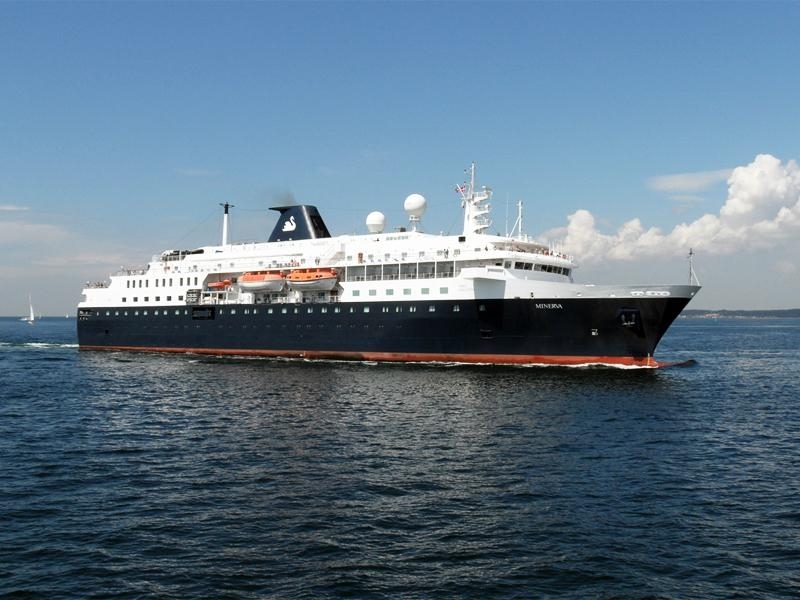 Swan Hellenic's new ship the 300 passenger MV Minerva built in 1989
Then the American giant, ala P&O-Carnival Britain owners of Swan Hellenic, decided they wanted a much larger ship and obtained the 2001 built, 30,277-ton MV Minerva II in 2003. This was such a typical move for the Carnival Group, as it is always more about the almighty American dollar than the passenger, for Swan had based their entire history on small and intimate ships, but that was not the Carnival way, they want to get big and then even bigger still! Precisely what occurred from 1996 onwards!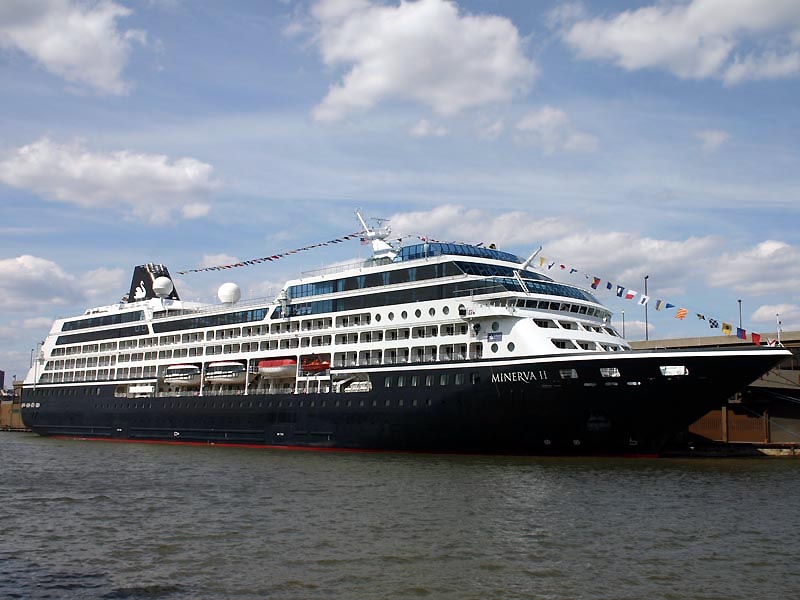 The MV Minerva II was built in 2001 as the 'R Eight' and became the Minerva II until 2007 when she was
Transferred to Princess Cruise to become the Royal Princess, but today she is P&O UK MV Adonia
MTS Orpheus Final Years:
However, in 1998 the MTS Orpheus returned to her Mediterranean and Aegean Sea duties and operated her very last ever series of cruises. These were Twenty-three 7-Day summer cruises, the "Classical Aegean & Ionian Voyages" departing from Piraeus and visiting:
Corinth Canal, Itea (Delphi), Ithaca, Perga, Corfu, Zante, Katakolon (Olympia), Rethymnon (Crete), Santorini, Mykonos, Nauplion, back to Piraeus. All ports were in Greece.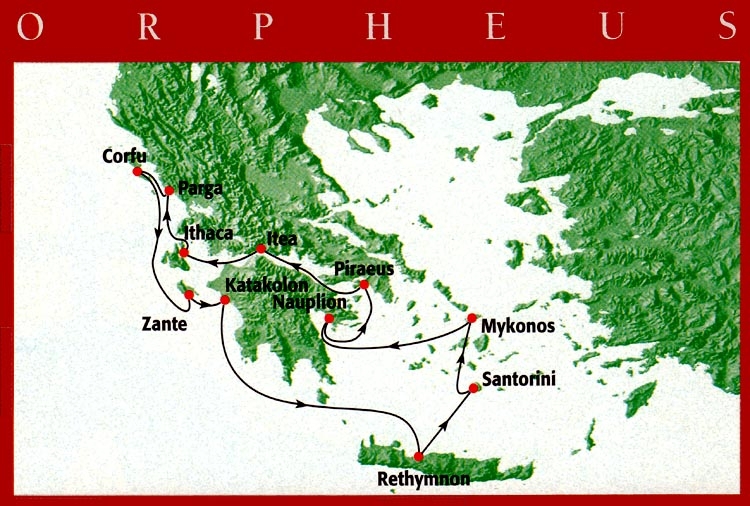 These were her final cruises ever!
However in later in 1998 she was chartered for the use as an accommodation ship and she headed for Fincantieri Shipyards at Venice-Marghera where she would be berthed. During the time she was there she accommodated members of the crew of the Disney Magic, who were being trained and were obviously being indoctrinated into the Disney philosophy whilst the Disney Magic was being completed.
After this charted had finished, she was decommissioned and laid up, for finally the sad moment had come that Epirotiki, or should I say Royal Olympic Cruises who was now the new company, had to make a decision what to do with this old faithful girl, for she was now a good 50 years on age. The decision was to sell her, thus the MTS Orpheus, ex Irish Coast, was sold to an Indian ship breaker in October 2000, who upon ownership renamed her 'Orpheu' in order for her to make her delivery voyage to Alang India under her own steam. She arrived off the beach at Alang on December 24, 2000, and she was beached some ten days later. Thus, she was broken up within the first five months of 2001.
Amazingly, the amazing MS Irish Coast and MTS Orpheus had sailed the world's seas continually for half a Century - 50 wonderful years and she was with Epirotiki Lines for a very successful 30 years!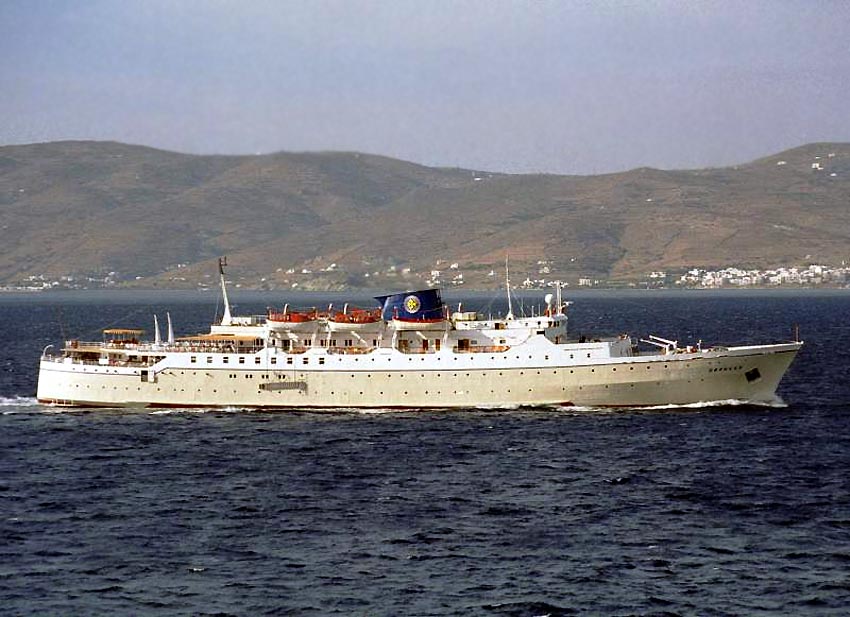 The amazing long lasting, yet spotless looking MTS Orpheus is seen in 1998 her final year of cruising and
showing the Royal Olympic Cruises logo on her funnel, the very next year she would be sold to the breakers.
Photograph is by & ? Tony Garner, provided by Johannes Michelson
The greatly loved MTS Orpheus was one of those ships that brought so much happiness to so many people, it just amazes me, and I know that this fine old Classic cruise ship is greatly missed, as for 1. Cruising these days is simply not what it used to be, as it has lost its reined glamour and style. Today, it is simply all about the company attempting to obtain as many dollars out of their passengers as possible, whilst in the days of Epirotiki and other similar cruise lines, offered their passengers a cruise to remember, with cuisine that offered the best of caviar and so much more and today that is no longer found! 2. I continue to receive emails to this very day containing accolades to the Epirotiki Cruises MTS Orpheus, for her past passengers, especially those from Swan Hellenic are not satisfied with the replacements that P&O-Carnival has made. Although the current ship, the Minerva II is a reasonably good ship, but she missed the mark so much for her interiors that look like it is classic, but it is all fake, and it so obvious to all that she remains a Carnival based ship and she is very money hungry!
MTS Orpheus Specifications::
IMO:???????????????????? 5243762.
Built at:??????????????? Harland & Wolff, Belfast at the MS Munster in 1948.
Tonnage:????????????? 5.078 GRT, 942 DWT.
.????????????????????????? 6,000 GRT after lengthening & new bow.
Length:???????????????? 353ft
.????????????????????????? 364ft after lengthening & new bow.
Breadth:??????????????? 50ft
Draught:?????????????? 15ft
Power:????????????????? Two Diesel Engines by B&W duel shafts.
Propellers:???????????? Two.
Speed:????????????????? 17 knots.
Passengers:?????????? 372 as first rebuilt.
.????????????????????????? 280 as of 1984.
Crew:?????????????????? 110????? "
****************************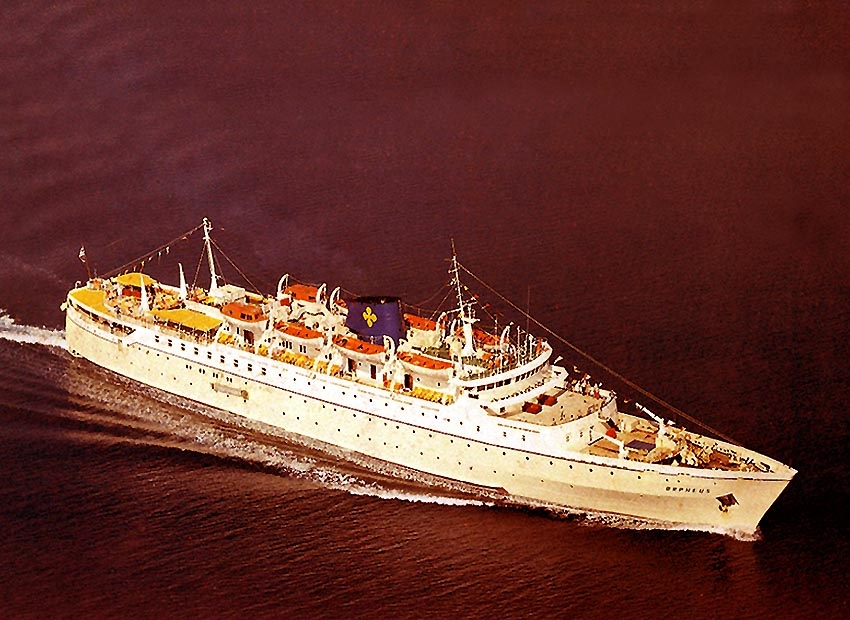 A fine aerial photograph of the amazing, always spotless looking and
exceedingly popular Epirotiki MTS Orpheus featuring seen after 1984
Epirotiki Index:?????????????????????
Page One

…????????????????????????????? MV Semiramis the first ship!
Page One B

…?????????????????????????? MV Semiramis Deck Plan.
Page Two

…????????????????????????????? The Early Ships - SS Hermes, Atreus, Pegasus & Hermes II.
Page Three

…?????????????????????????? MS Argonaut.
Page Three B

…??????????????????????? MS Argonaut Deck Plan.
Page Four

…???????????????????????????? MTS Jason.
Page Four B …????????????????????????? MTS Jason, later MS Ocean Odyssey - Deck Plans.
Page Five …????????????????????????????? MTS Orpheus II.
Page Six …?????????????????????????????? MTS Apollon II.
Page Six B …??????????????????????????? MTS Orpheus II & Apollon II - Deck Plans.?????????? "
"Blue Water Liners sailing to the distant shores.
I watched them come, I watched them go and I watched them die."
****************************
Return to the ssMaritime Main INDEX
Where you will discover over 700 Classic Passenger & Passenger-Cargo Liners!
ssMaritime.com & ssMaritime.net
Where the ships of the past make history & the 1914 built MV Doulos Story
Please Note: ssmaritime and associated sites are 100% non-commercial and the author seeks no funding or favours of any shape or form, never have and never will!
Photographs on ssmaritime and associate pages are by the author or from the author's private collection. In addition there are some images that have been provided by Shipping Companies and private photographers or collectors. Credit is given to all contributors. However, there are some photographs provided to me without details regarding the photographer/owner concerned. I hereby invite if owners of these images would be so kind to make them-selves known to me (my email address may be found on www.ssmaritime.com only), in order that due credit may be given.
This notice covers all pages, although, and I have done my best to ensure that all photographs are duly credited and that this notice is displaced on each page, that is, when a page is updated!
ssMaritime is owned & ? Copyright by Reuben Goossens - All Rights Reserved