R.M.S. Ortona & the R.M.S.P. Arcadian 1899 to 1917
Please Note: Firefox and some other Search Engines may not be suitable
Use Google Chrome for this Web Page to load perfectly!

Please Note: All ssMaritime and other related maritime sites are 100% non-commercial and privately owned, thus ssmaritime is NOT associated with any shipping company or any other organisation! Although the author has worked and been involved in the passenger shipping industry for well over 60 years, but due to his old age and poor health, he was forced to retire. Yet, he has completed well over 1,550 Classic Liners, Passenger-Cargo Liners as well as humble converted C3 converted Migrant Liners, which has transported countless thousands of folk to the new world, as well on vacations'. Amazingly, ssmaritime.com has received 573.4 million visitors to date I trust the features online will continue to provide Classic Liner and Ship enthusiasts both the information they are seeking, but more so provide a great deal of pleasure and relive many happy memories!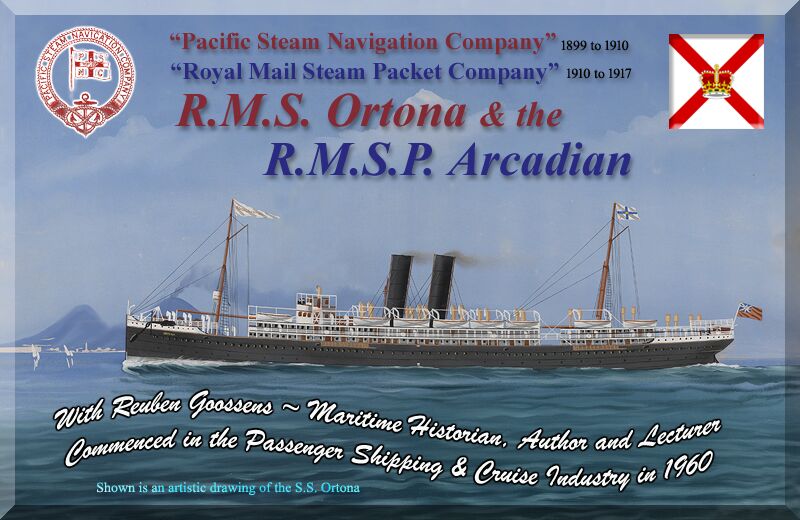 Sadly we do not know who the artist is, but thank you Daniel Freiberg for sending it; Daniel Morris (Yorkshire UK)
Please Note: Postcards, photographs & other images are either from the author's private collection or from my supporters.
Thus thank you kindly all my ssmaritime supporters for sending me your wonderful
photographs & images, for I could not have completed this feature without your help!
I am sorry but some of the images may not be of the highest quality, but they are the best that were available.
Page One
Page One contains her full history in both her guises, as the R.M.S. Ortona and the R.M.S.P. Arcadian, complete with her external and interior photographs as well as her complete 'Specifications and Details'.
Whilst Page Two contains Deck Plans Souvenirs and other items of interest! But most importantly it has the remarkable true story as told by Medical Military Officer 'Lieutenant Colonel, George Bray' (1864 - 1933) R.A.M.C, (Royal Army Medical Corp), who was in charge of the Egyptian Corp's at that time, and he was one of the survivors when the Troopship H.M.T Arcadian was torpedoed and sank so fast with so many lives lost, and he survived to tell the tale. His story is an amazing account of the events that took place on that terrible day! The Link to Page Two is at the bottom of this Page.
*********************
The "Pacific Steam Navigation Company" Story:
Who is the "Pacific Steam Navigation Company" (PSNCo)? This company was formed by an American named 'William Wheelwright' to operate steamship services along the Pacific coast of South America. However in the USA he had failed to raise sufficient funds, but he succeeded in London where he was granted a 'Royal Charter of Incorporation' in 1839.
PSNCo services commenced in 1840 with two wooden paddle steamers to Chile and to Peru and the company built up a large fleet of coastal paddle steamers in 1865, and 1867 it was decided to introduce a through service from Liverpool via the Straits of Magellan. Five screw steamers were ordered to operate this new service, but rather than wait for delivery of these new ships, PSNCo inaugurated the new venture in 1868, using their paddle steamers that the company had built for their coastal services back in 1865. The ships ordered in 1867 arrived in 1869 and commenced to operate between Liverpool and Valparaiso.
In 1870, the PSNCo decided to extend services to Callao, and a further four steamers were ordered. In 1872, a mail subsidy of £10,000 per annum was granted and the PSNCo began operating a weekly service from Liverpool. The calls at this time included Bordeaux (later Pauillac), Lisbon, Sao Vincente (Cape Verde Islands), Rio de Janeiro, Montevideo and Punta Arenas.
The PSNCo was the largest steamship company in the world in 1873, but their success was short-lived. Due to a combination of circumstances, including political unrest, and competition from other shipping lines (White Star amongst them), PSNCo found themselves in financial difficulties and many ships were laid up, service speeds were reduced, and departures became fortnightly again. Two ships were sold to 'Royal Mail Lines', and four others were chartered (and later sold) to the 'Orient Line' for a new steamship service from London to Australia via the Suez Canal. Conditions in the PSNCo original trade area continued to deteriorate, and Chile went to war with Peru and Bolivia in 1879. The 'Orient Line' venture had been so successful, that sailings were increased from monthly to fortnightly, and the extra ships required again came from the PSNCo, which then entered into a joint venture with the 'Orient Line', marketed as "Orient-Pacific Line". The best PSNCo vessels were now all deployed on the Australian route and it is important to note that they were managed and operated by "Orient Steam Navigation Company" (OSNCo). Thus the Or-prefix being introduced for the Australian ships, in line with the 'Orient Line' practice.
*********************
Construction of the R.M.S. Ortona: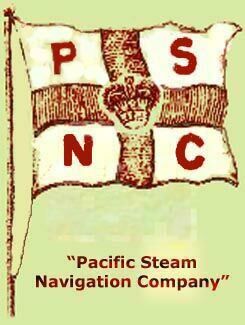 The passenger liner "Ortona" was ordered to be constructed by 'Vickers, Sons & Maxim Ltd' at Barrow-in-Furness in 1899, for the "Pacific Steam Navigation Company" (PSNCo) and she was laid down in yard 272.
She was launched on July 19, 1899 and she was officially given the name "Ortona", which is also the name of an Italian deep water port in the Adriatic sea (opposite Split in Croatia), not far from where she would eventually be sunk in 1917 by a German torpedo in the Mediterranean. When she entered the water, as always tugs took her in tow to the builder's fit-out berth where she would be completed.
On October 26, 1899 the fine looking R.M.S. Ortona was officially registered at Liverpool and the very next day she headed off on her sea and speed trials and she did very well achieving a respectable 17.9 knots maximum speed, although she would generally sail at a service speed of 16 knots. After her trails, the "Ortona" was delivered to her owners and she headed to Tilbury. As it turned out the "Ortona" became the last ship that PSNCo would have built for their Australian service.
Her Maiden Voyage:
R.M.S. Ortona departed Tilbury (London) on her maiden voyage on November 24, 1899, and like all their ships on the Australian service, she was managed and operated by "Orient Steam Navigation Company" - the "Orient Line" or OSNCo under the name of the "Orient Mail Line".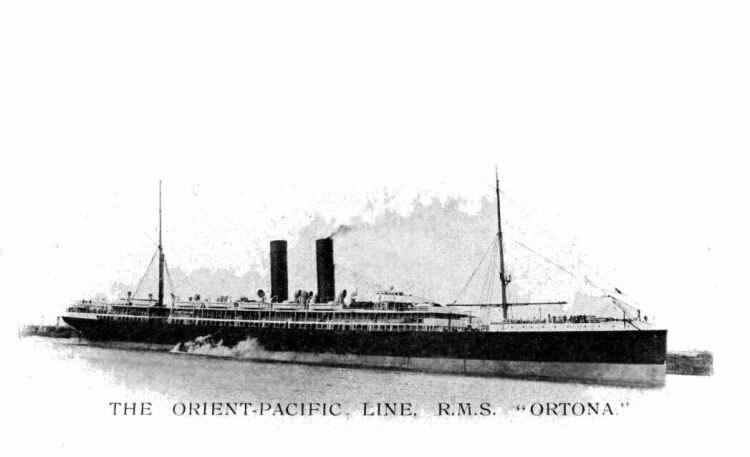 A very early postcard of the "Ortona"
The "Ortona accommodated 140 First Class, 180 Second Class and 300 Third Class passengers, being a total of 620 passengers.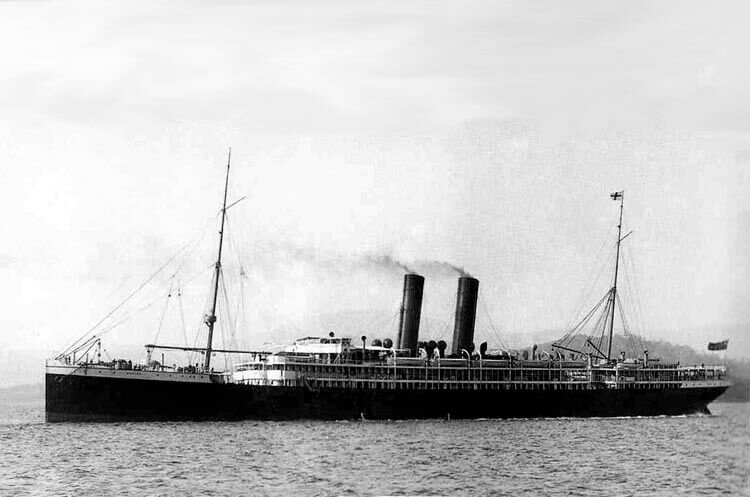 The R.M.S. Ortona is seen during her maiden voyage to Australia in December 1899
Her schedule was as follows; London, Gibraltar, Toulon, Naples, Port Said, Suez, Colombo, Fremantle, Adelaide, Melbourne, Sydney, Brisbane. Her voyage home to the UK was the same route but with an additional stop at Plymouth.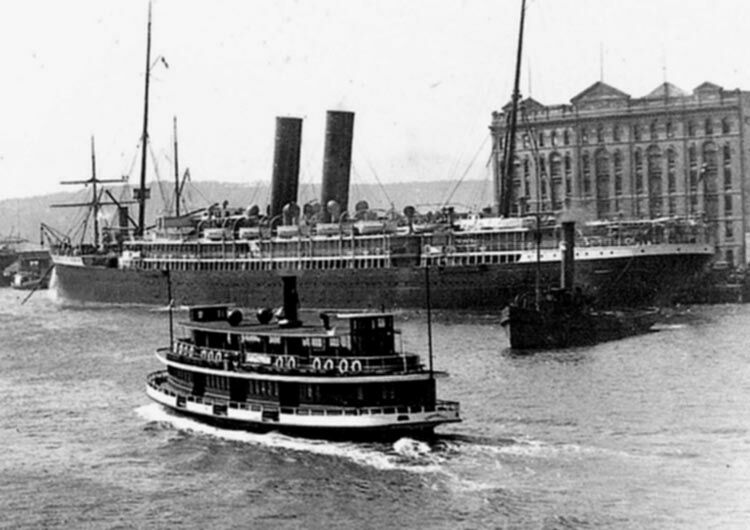 The Sydney ferry "Carabella" from 1900 is seen passing the "Ortona" as she
pulls away from her Sydney Cove wharf being bound for Brisbane.
She sailed on her route to Australia for six and a half years and did so very reliably and she was a well-liked ship. Passengers who sailed in her first class section were most impressed with her grandiose Restaurant which was two decks high with a balcony level aft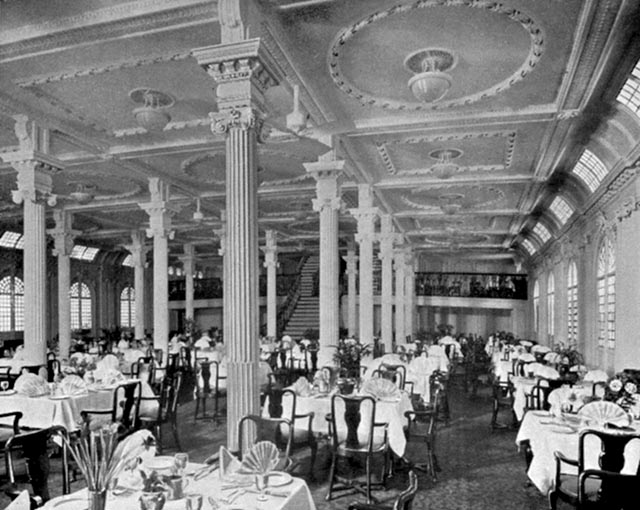 A magnificent Dining Room indeed!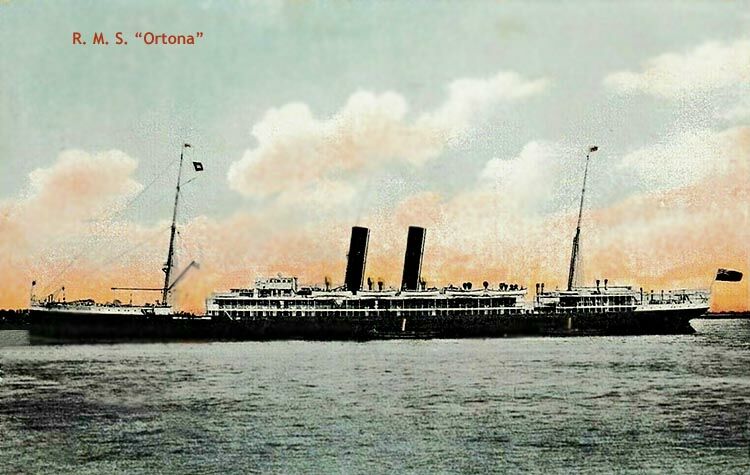 A fine colour postcard of the R.M.S. Ortona, which could be purchased from the ships shop
From December 1902, the "Ortona" was used for 10 months as a troop ship at the end of the Second Boer War. Then on October 9, 1903 she returned to the Australia service.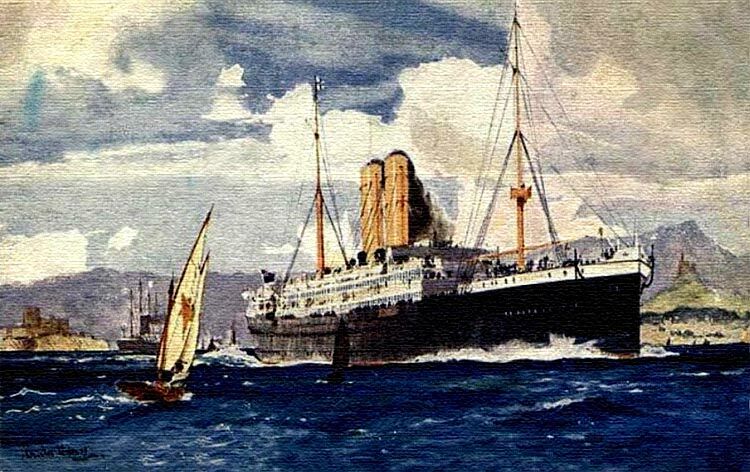 A painting of the R.M.S. Ortona
By an unknown artist
R.M.S. Ortona sold: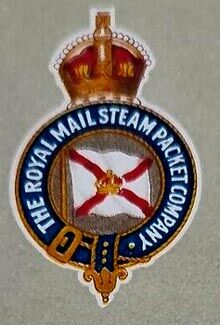 On May 8, 1906 the R.M.S. Ortona was purchased by the "Royal Mail Steam Packet Company" (RMSPCo) together with the balance of the PSNCo Australian fleet. For the time being, RMSPCo continued to operate her as usual under the "Orient Mail Line" management name. The R.M.S. Ortona was reregistered at Belfast on May 15, 1906.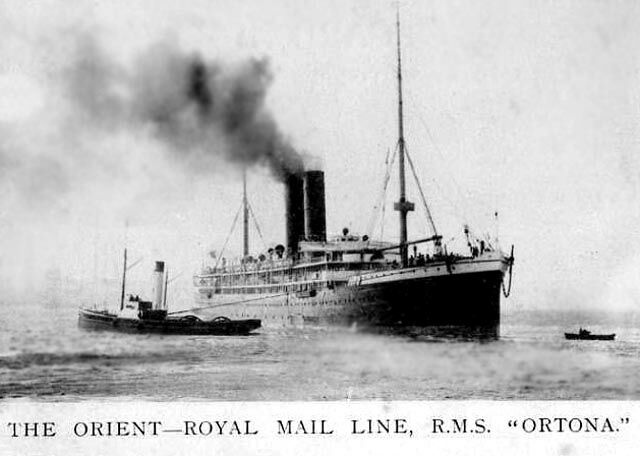 A postcard of the R.M.S. Ortona remaining under the "Orient Royal Mail Line" management until 1907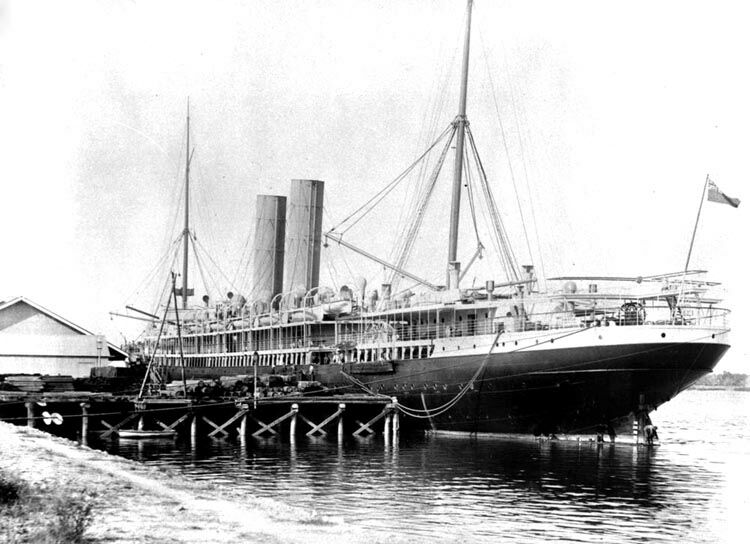 A fine stern photograph of the R.M.S. Ortona seen berthed at the Pinkenba Wharf
on the Brisbane River, Australia on January 1, 1907
In August-September 1907, the "All Gold's", or the world famous New Zealand "All Blacks" Rugby League team sailed on the R.M.S. Ortona from Australia to France. Whilst they were in Colombo, Ceylon (today's Sri Lanka) they played a game with the "All Ceylon Team" on Saturday September 7, 1907 under the caption "All Blacks" Vs "All Ceylon".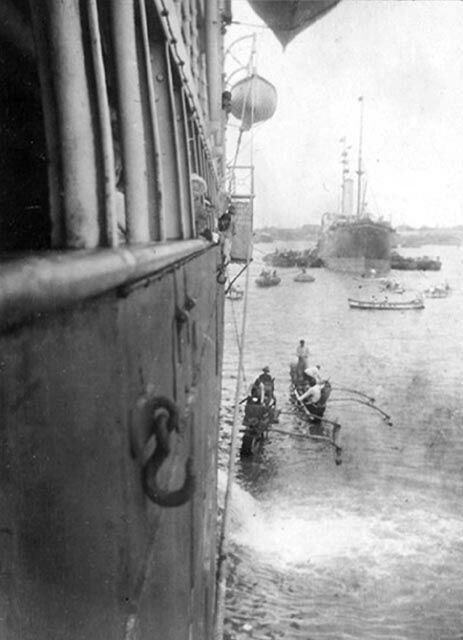 Above & below: The "Ortona" is seen at Colombo harbour on September 7, 1907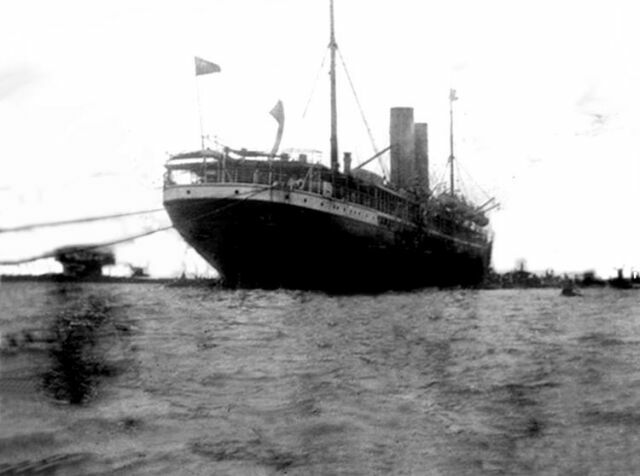 Above & below: The 'All Blacks' Rugby League team are seen at Colombo & an advertisement in the "Times of Ceylon"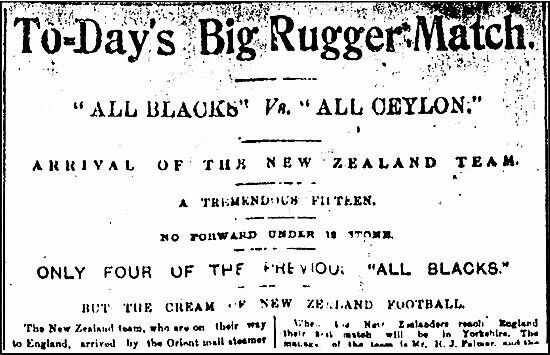 For interest, the "All Blacks" won the match! The ship then continued via Aden and the Suez Canal to their destination, Marseilles.
The R.M.S. Ortona continued operating her regular Australian schedule until her very last voyage to Australia, which she departed London (Tilbury) on April 30, 1909 and sailed via Gibraltar, Toulon, Naples, Port Said, Suez, Colombo, Fremantle, Adelaide, Melbourne, Sydney to Brisbane. On her return voyage she would call at the same ports but also make a call at Plymouth before arriving at London.
Upon the return to the UK of the R.M.S. Ortona, 'Royal Mail' finally took over the management and operation of the "Ortona" and they now placed her on their West Indies services together with one of their smaller luxury cruise ships the 5,545 GRT, R.M.S.P. Tagus.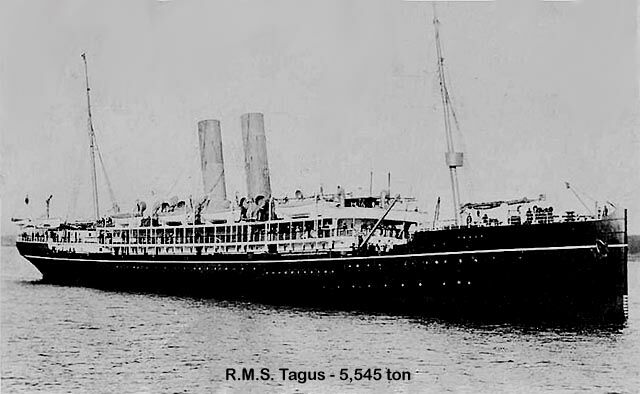 The 1899 built R.M.S.P. Tagus
From the day "Royal Mail" (RMSPCo) took delivery of the R.M.S. Ortona and they had plans for their acquisition and they now commenced to set this into motion. The truth is, they had huge plans for this very special ship, for she had many qualities not found on many other liners in those days, such as her excellent sailing capabilities, for she was such a well-built ship, for she was an exceptionally stable ship even in roughest of seas, also her machinery was the best of the time and without a doubt the most reliable! Thus "Royal Mail" commissioned their finest maritime architects and designers to work on her plans and recreate a whole new style of ship for she was to become the "Arcadian the Finest Yachting Cruiser in the world"!
Refitted into a Luxury Cruise Ship "Arcadian":
In 1910, the "Ortona" was sent to the "Harland & Wolff' shipyard in Belfast for a comprehensive conversion and a massive refit, as she was redesigned to become a super luxury cruise ship offering the very highest standards of the time! Upon completion she had a total capacity of just 320 First Class guests. Upon completion she was officially renamed *"Arcadian" on September 21, 1910, her new tonnage was now 8,939 GRT. She was registered at Belfast in September 23, 1911.
She became rapidly a famous ship, for she was officially the world's largest dedicated "Yachting Cruiser" at that time, and there was no doubt that the Media had proclaimed her as being "The most luxurious cruise ship to come on the market to date!"
*As all "Royal Mail" (RMSPCo) ships had names beginning with the letter "A", was the reason why she was given a new name commencing with the letter "A".

The "Royal Mail" (RMSPCo) House Flag
*********************
The Ship and her Luxurious Facilities:
Amazingly her decks were strangely marked, for they commenced from what is usually Boat Deck, which was officially "E Deck" and her deck went down to "A Deck", with only another facility located aft of the engine room on what was termed as "Orlop Deck". Thus there were a total of six passenger decks for a mere 320 guests.
As always I will commence topside far forward and slowly work aft and then go down deck by deck.
E (Boat) Deck:
To read this deck, you would come either out of the forward Main Lobby onto the Promenade deck and walk aft just a little and there are stairs on either side that goes up to E Deck. Alternatively use the aft Lobby and use the nearest stairs there.
E (Boat) Deck was a long and a spacious deck and it was used for sports activities as well as for sunning and guest's getting together for conversations. As the deck went far forward of the main superstructure guests could look back towards the Bridge one deck above, and the deck ended aft of the forward superstructure, as there used to be a hold between where there was a break the First and the Tourist Class section aft, but the ship was now all First class of course.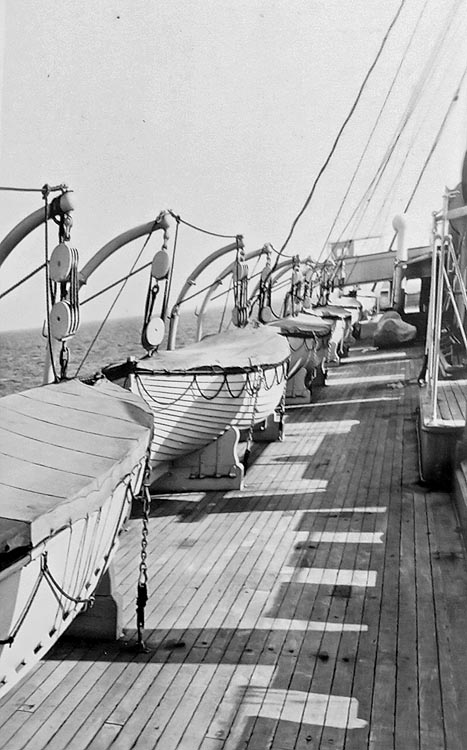 E (Boat) Deck portside looking forward to the Bridge wing
She was fitted with 12 lifeboats, 2 dinghies, 4 launches and 1 special motor boat.
Forward located above the two main Lounges below were Observation Decks and stairs would take you up above as these rooms were rather high with flat sides.
D (Promenade) Deck:
Social Hall:
Far forward on this deck was the very spacious Social Hall that featured windows on three sides, port, forward and starboard sides. The venue featured wall and ceilings that were panelled in an Ivory cladding, but the lower walls and columns with touches of highly polished dark ebony, which was so beautiful! But what made this venue really stand out was the spectacular central stained glass dome!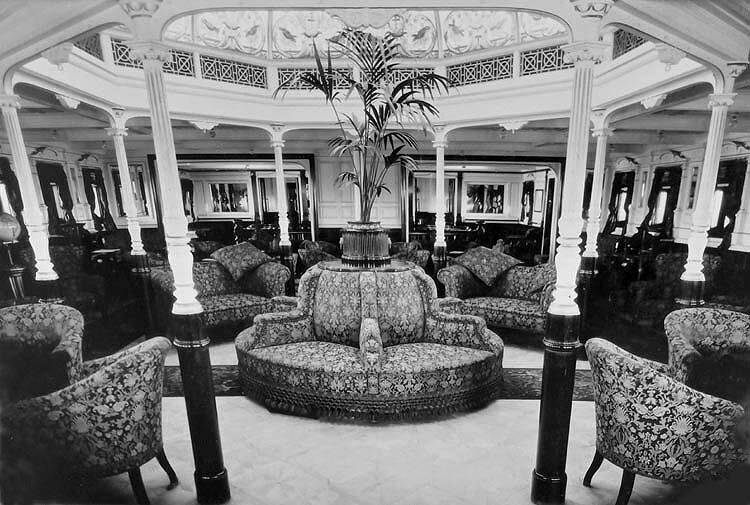 Above & below: The Grandiose Social Hall and its superb stained glass dome above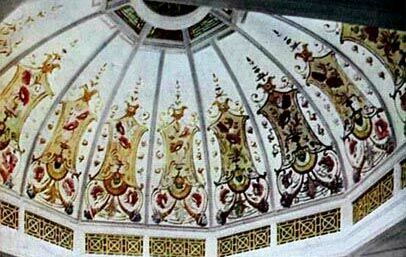 Although the carpeting was in a light shade, but the furnishings were as we can see of the very highest quality and comfort! The brocade was colourful and had touches of red, yellow, green and blue and a darkish background and it was elegantly created just for this ship. The central round sofa was especially created to be topped by a palm tree. There was a band stand located forward for the ships String Band with a Grand Piano (out of sight) forward slight of centre to starboard side. Aft the glass doors took you into the forward Foyer.
In the Foyer was the beautiful carved timber Main Stairwell which commences here on D Deck and goes all the way down to A Deck and the Restaurant.
On both sides of the Foyer were doors out to the Promenade deck.
Promenade Deck:
This fine deck was a long and a wide external deck and would be well used during her luxury cruises. Ample seating would be placed all along the deck as well as tables, and her highly trained stewards would always be at hand to serve drinks, tea and coffee, and of course the traditional hot bouillon at 10.30 to 11.00 am.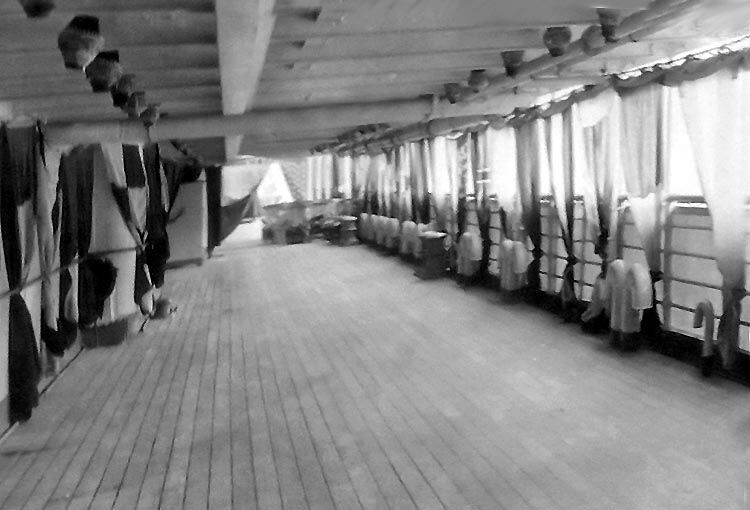 Promenade Deck - portside looking aft
The Lounge:
On the Foyer's aft bulkhead were two doors on each side being the entry into the Lounge. This venue was not exceptionally large, yet with it very high rounded ceiling it felt bigger than it actually was. This was a light shaded venue that was elegantly furnished with several writing tables, as well as timber tables and chairs all standing on a darker carpet.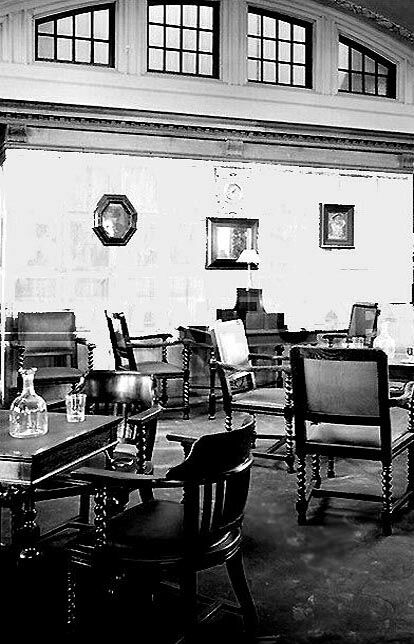 The Lounge
The aft bulkhead featured three paintings and high above there were a series of four curved windows facing aft of the ship.
To reach the next Public Venue, you would have to reach it via the Promenade Deck.
Writing & Reading Room:
This is another elegant venue and it has the identical Dome as the one in the Social Hall, and also in the Library for that matter. This dome was a feature on this fine ship!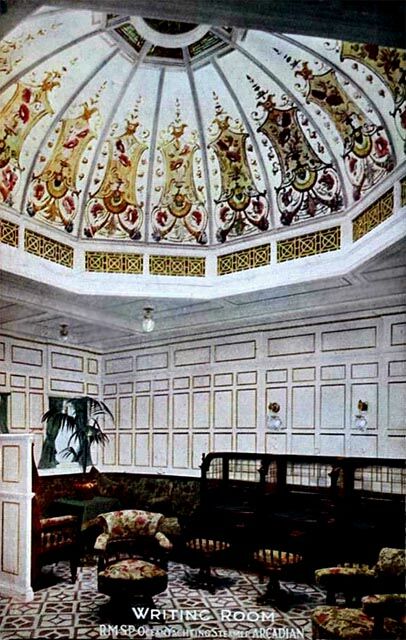 The luxurious Writing Room
The other Public Venues further aft, one would either take a walk along the Promenade Deck, or reach them via the aft Stair Well.
Further aft was the very spacious Smoke Room, although I'd not have a photograph of this magnificent venue, which again had a grand dome like the other Public Venues, aft of this was a spacious fully equipped Gymnasium! And yes the ship had an indoor Pool down below, on the aft "Orlop Deck". And below is a photograph of same.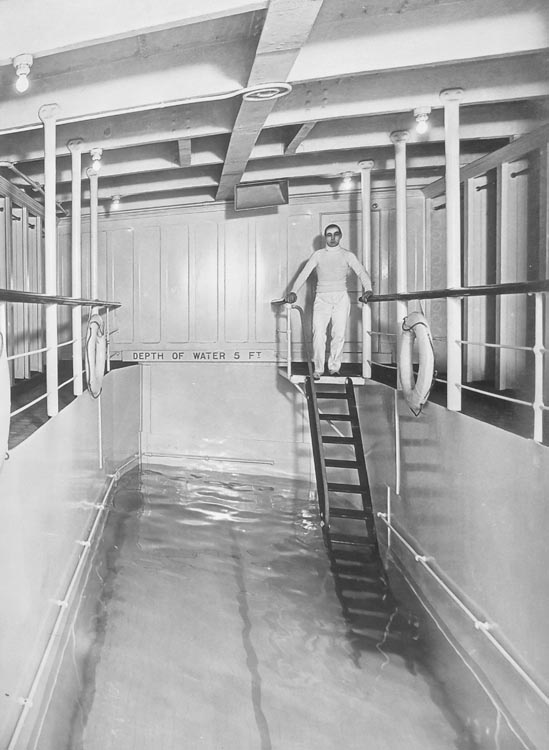 As you can see it was designed to be a two lane pool
C & B Decks:
As we come down the forward Stairwell on C Deck we arrive at the Ships Main Entrance Hall which is very spacious and has all along the forward and the aft bulkheads.
This is the first of the decks that contain accommodations, and it is interesting to note that the Arcadian had no upper berths whatsoever! Thus every bed was just that a bed and not a bunk, for cruising on the "Arcadian" was sailing in sheer luxury, thus this was not sailing on some sort of migrant ship pretending to be a cruise ship, like all the others at sea in those days. This ship was designed 100% as a luxury vacation resort at sea!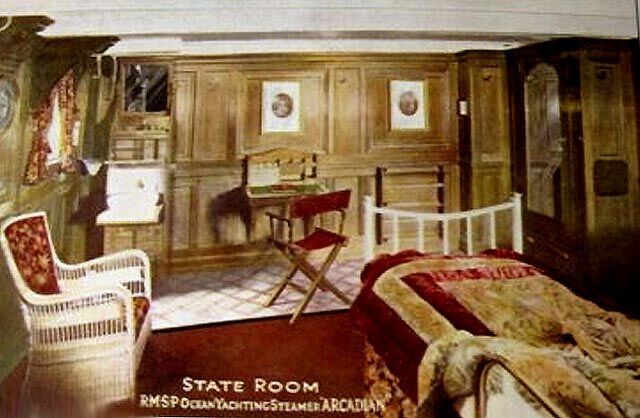 A typical single bed cabin
Cabins on board were either a single, twin bed or a three bed cabin most rooms did have to use share facilities, but these were of exceptionally high standard and kept to the highest possible standard with staff on hand 24 hours per day.
Further aft was the Pursers Office, a Tours Office as well as a Ships Shop, with the ships Doctor's waiting room and office and the ships hospital a little further aft of these, etc.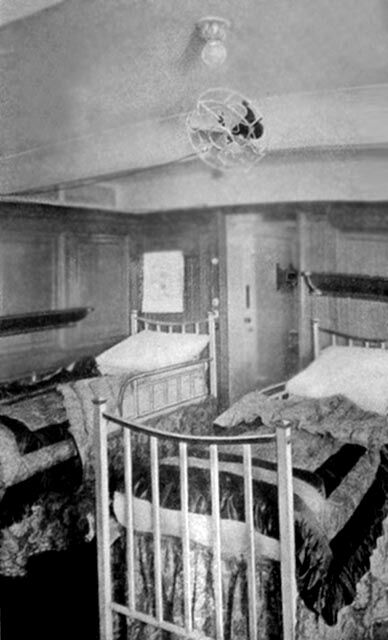 A partial view of a twin bedded cabin
The forward Main Stairwell will have you arrive on B Deck where there were two very spacious multi-room super luxury Suites located amidships on the starboard side and both had spacious bed room and a very large Lounge, and full private bathrooms with a full sized bath with a shower, WC, and a Bidet, and hot and cold wash basin etc. I just wish there were images available of these magnificent suites, but I have been unable to locate any, sorry for that.
Forward of the Main Stairway was the Grand Dining Room's upstairs aft Balcony hanging high above the huge spectacular Dining Room below, which was unchanged from the day the ship had been built, for it was a piece of art to behold! But a grand stairs did come down from this balcony into the Restaurant.
There was also a forward restaurant Balcony on B Deck being a large Band Stand where the String Band would play softly during dinner. Forward on B Deck were some more cabins with their own stairwell.
Located at the aft Lobby was the Beauty Salon and the Men's Hair Dresser, and yet another shop and of course further cabins.
A Deck:
From the Main Stairwell you would arrive in a grand style, walking down a huge stairway into the Dining Room, thus ladies would come to dinner wearing their finest gowns and jewellery and their finest fur stoles, and French perfumes. Men would wear their dinner suits and a white scarf for this Venue demanded absolute Elegance! The Dining Room was elegance supreme and the company decided that it would not be changed from when it was originally constructed as it was simply perfection!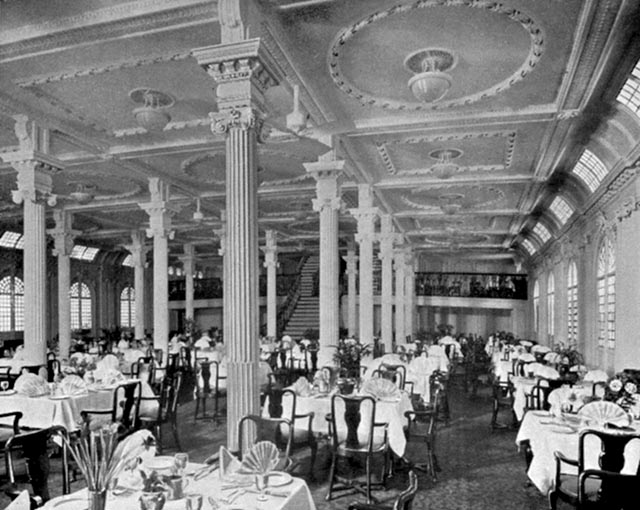 The Grand Restaurant
The venue featured three rows of six round fluted highly decorative floor to ceiling marble columns that made a huge impression to this huge impressive venue. Along the sides she had all those large rounded windows with even smaller curved windows at the top, giving an impression if this was a venue placed on top of the ship, but no it was located on a lower deck of the ship. All this was a clever illusion for these windows were simply backlit and gave the impression it was exterior light, but it was not.
Furnishings were finished in fine dark timbers and seating was at tables for two or three, four, five, six and eight. The balcony only had tables of six.
There were cabins located forward of the Dining Room via a separate stairwell there were 10 twin bedded rooms, all having a porthole. Whilst far aft there were 18 cabins with a porthole for single bed, twin bedded or three bed cabins, but also 12 inside cabins all being single bed cabins.
This ends the tour of the ship, and I am so sorry that many images were simply not available, but I have done my very best to present this as much as possible of this very special ship to you!
*********************
R.M.S. Arcadian the Finest Yachting Cruiser in the world:
The now 8,939 GRT, R.M.S. Arcadian was completed on September 23, 1911, and although she was officially prefixed as R.M.S., but "Royal Mail" (RMSPCo) decided to prefix her as the *R.M.S.P. Arcadian.
*R.M.S.P. of course stands for "Royal Mail Steam Packet" (Company). For some reason they liked promoting her like that, but occasionally we would see her as "R.M.S."
Although she did operate longer cruises, but at first it seemed that "RMSPCo" was going to employ her mostly on a more regular basis on their Bermuda service, as an advertisement they released seem to suggest this.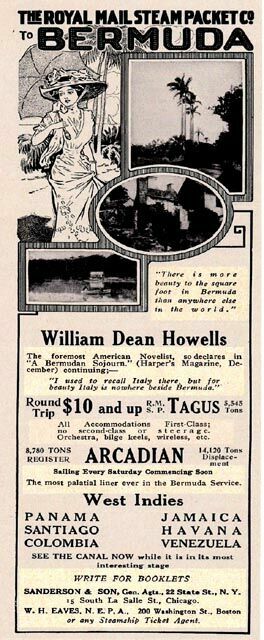 Note that under her name "Arcadian" it states "Sailing Every Saturday Commencing Soon"
And she did operate a certain number of voyages to Bermuda until the end of the year (1911).
R.M.S.P. Arcadian Cruise 1 was due to depart in January 1912 and this voyage she did depart from Bermuda. Whilst she was on the first leg of this Grand World Voyage to New York, a Miss "Olave St Claire Soames" met "Lieutenant General Sir Robert Baden-Powell", who was of course the founder of the Scout Movement, and yes this wonderful meeting actually led to a wonderful long and a very happy marriage for them on Wednesday October 30, 1912.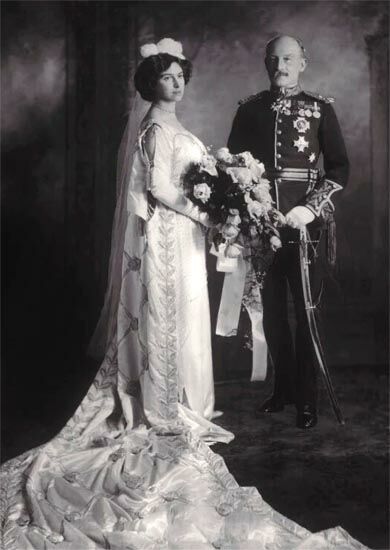 Lieutenant General Sir Robert Baden-Powell & Olave St Claire Soames are seen here on their wedding day
Cruise 1 concluded her Grand World Voyage in the UK at the Port of Grimsby and any American Guests on board returned home either by another pre-arranged ship.
From the UK, the R.M.S.P. Arcadian would commence her cruises from the Port of Grimsby, being a port town and the administrative centre of North East Lincolnshire. The port opened officially on May 27, 1852 and the dock's railway lines of 2 mi - 3.2 km which included lines for the Grimsby Docks Railway Station and the Grimsby Pier Railway Station were completed on August 1, 1853.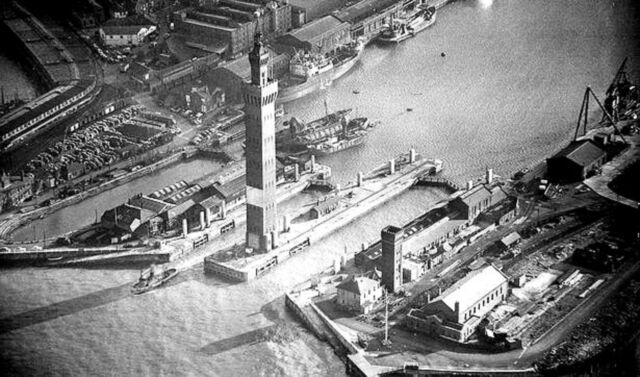 Prot Grimsby's tower was completed on March 27, 1852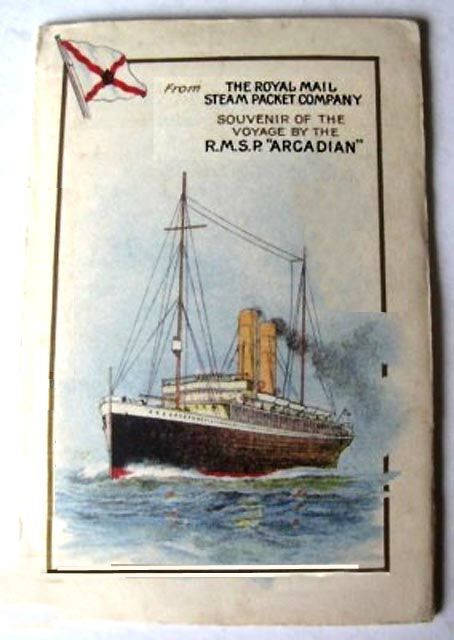 R.M.S.P. Arcadian's Guest Cruise Guide
R.M.S.P. Arcadian's Cruise No. 2 was to 'The Norwegian Fjords', departing from Grimsby on in June 18, 1913 was under the command of Captain - Commander F.H.M. Custance, R.R., R.N.R., and his chief Officer being Lieut. B. Shillitoe, R.N.R., and below is an interesting photographic Passenger report of that cruise. But first here is her schedule.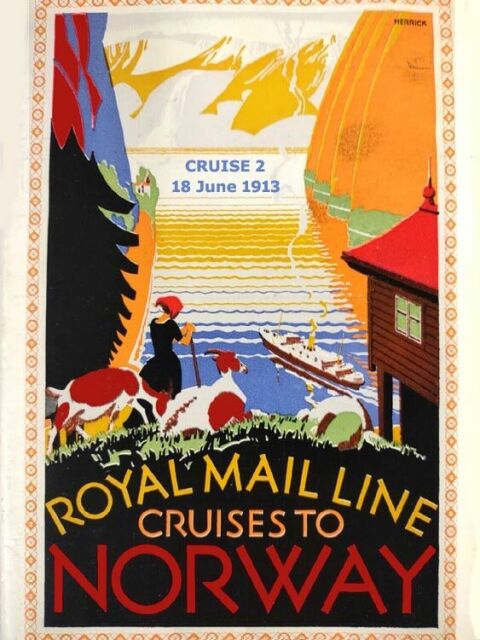 Above & below: A brochure cover of Cruise 2, and the Itinerary below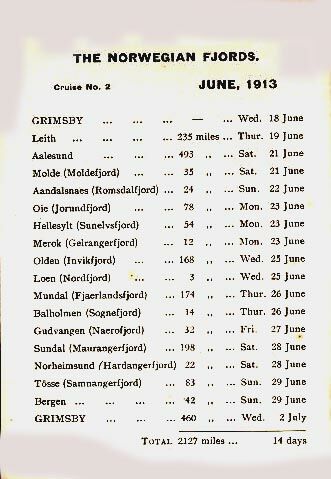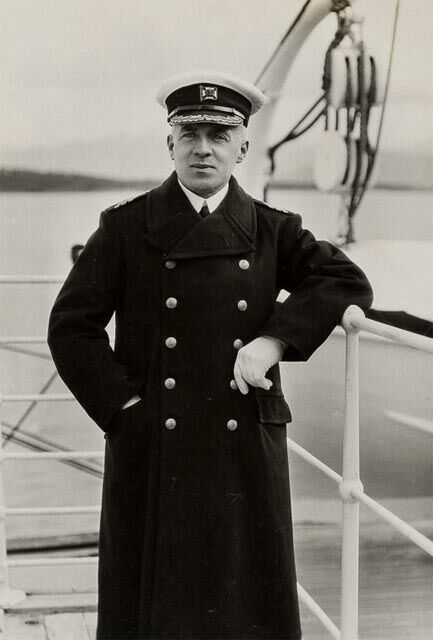 A photograph of Captain - Commander F.H.M. Custance, R.R., R.N.R.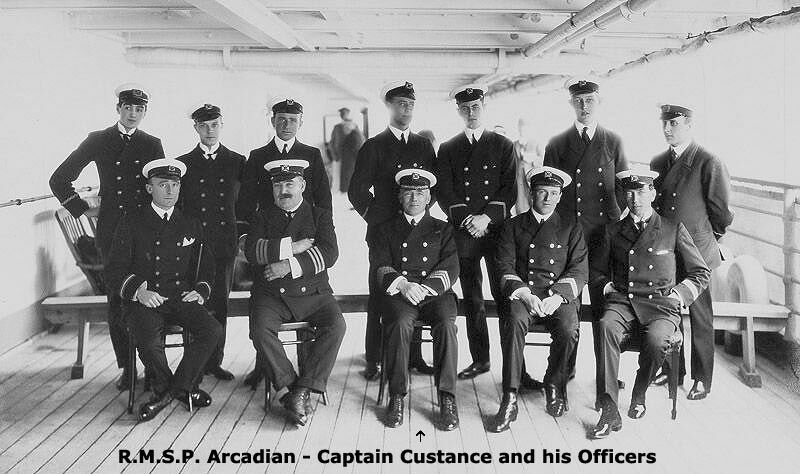 The Captain and His Officers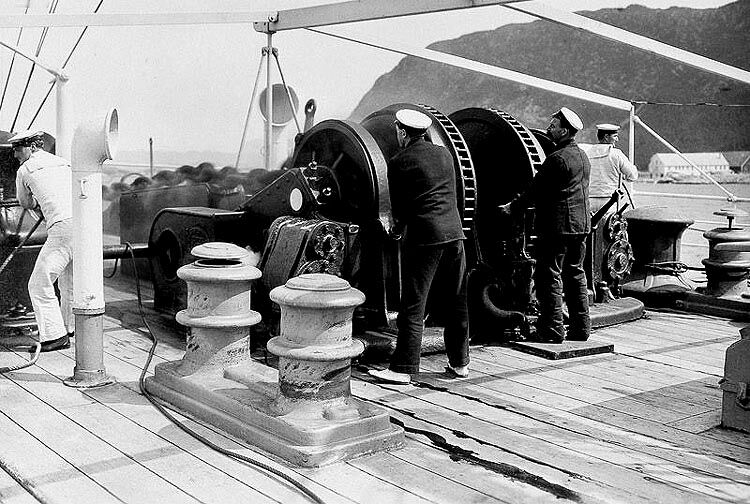 Drop anchor as it is time for Guests to explore the region
Located aft on Boat Deck lying across the ship, there is a very special sleek motor boat which is lowered by an electric crane into the water. In addition there are four more spacious motor boats located two on each side aft of boat deck.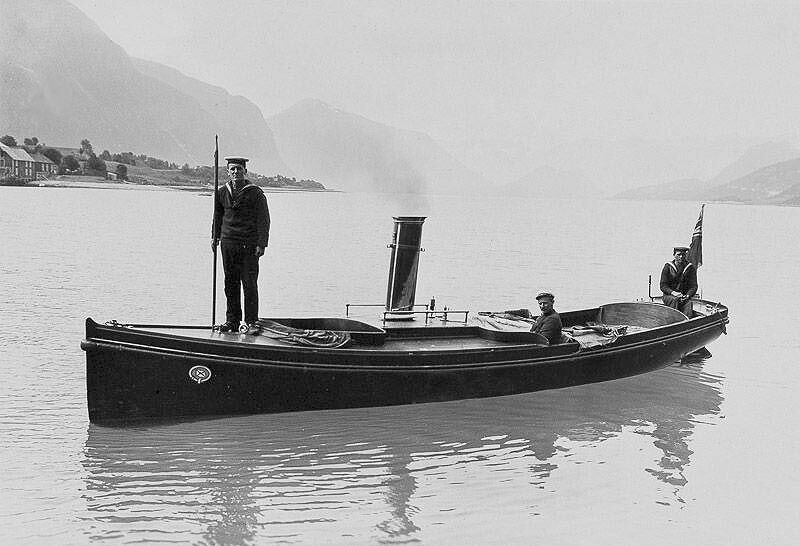 The ships special motor boat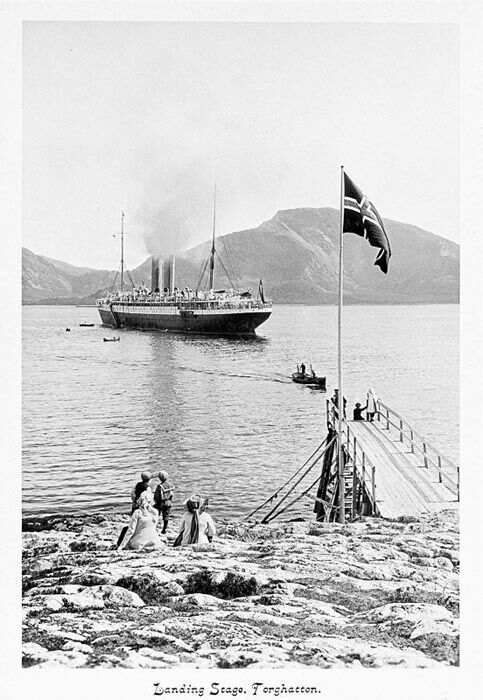 The "Arcadian is seen at anchor at Forghatten, Norway as a boat approaches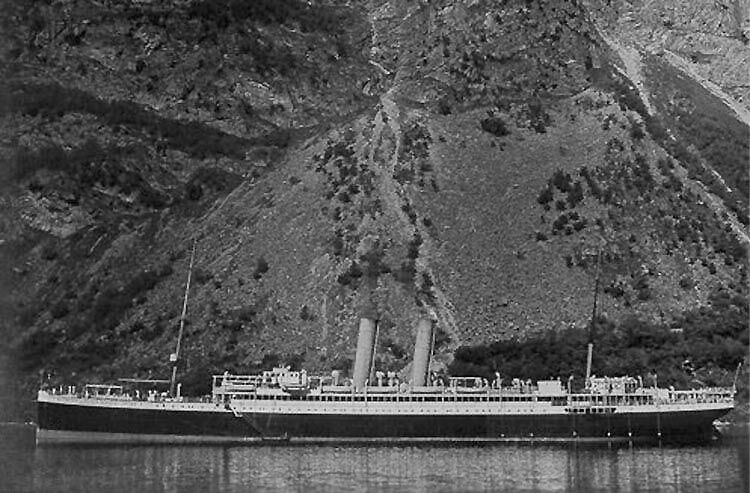 The "Arcadian" is seen here at anchor at another Norwegian bay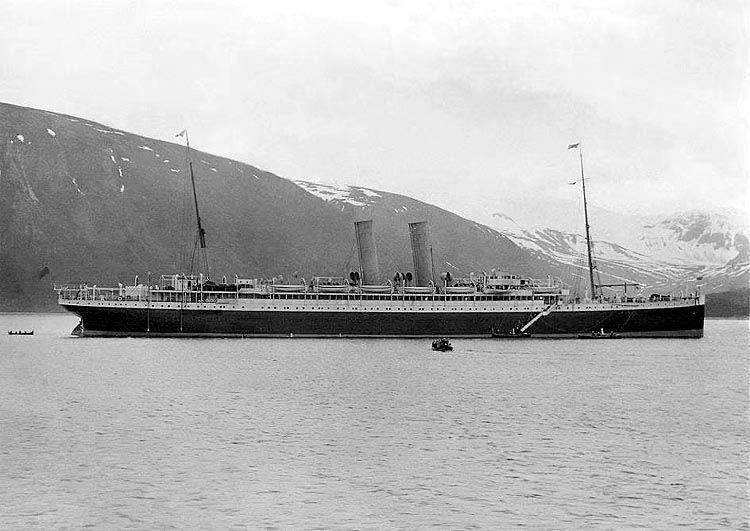 She has now reached Tromso the Arctic Circle and the guests are having a look around
The "Arcadian" continued to Cruise not only to Scandinavia, but also the Mediterranean and the Middle East and other exciting destinations over the next years until 1915. But then there came an end to her roaming the globe duties due to WWI.
*********************
World War One:
Although WW1 commenced on June 28, 1914, it was not until February 1915, that the R.M.S. Arcadian was taken up by the British Admiralty and she was converted to an Armed Merchant Cruiser H.M.S. Arcadian.
On April 7, 1915 at Alexandria, General Sir Ian Hamilton came aboard and used the H.M.T. Arcadian, together with the battleship H.M.S. Queen Elizabeth, as his headquarters during the opening phase of the Gallipoli Campaign. Once Hamilton's staff had transferred to a shore base at Imbros, in 1916 the H.M.T. Arcadian was now operating as a troopship in the Mediterranean.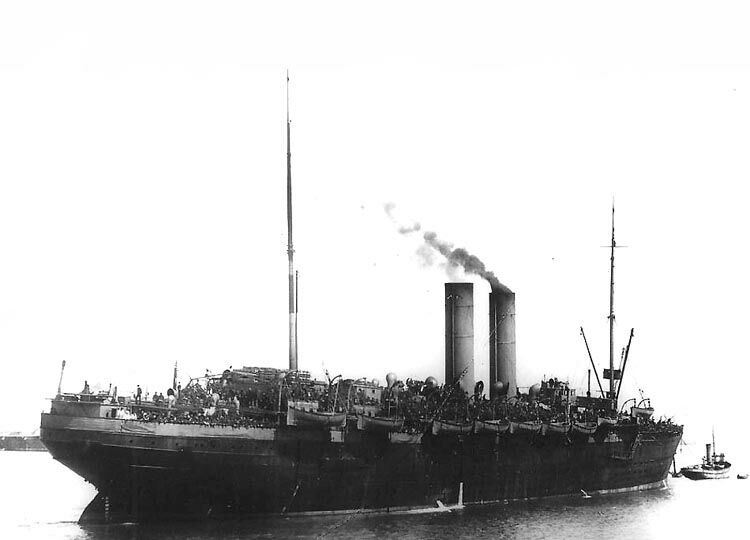 Troopship H.M.T. Arcadian
Some of

H.M.T. Arcadian's

known Duties:
March 17 to 22, 1916 - Alexandria to Marseilles March with the 5th Australian Field Ambulance.
May 12 to 16, 1916 - Malta to Alexandria.
June 5 to 12, 1916 - Alexandria to Marseilles.
H.M.T. Arcadian's Final Sailing:
H.M.T. Arcadian set sail on April 15, 1917 with a company 1,335 troops and crew on aboard and she was being escorted by a Japanese Navy destroyer. It would be 26 miles north east of the Greek island of Milos in the Aegean Sea en-route from Salonika to Alexandria, that she became the target for the German submarine, the UC-74 being under the command of Kapitänleutnant Wilhelm Marschall who was slowly hunting down the "Arcadian", and at this point her story was going to be cut terribly short.
Shortly after completing a boat drill at 1730 hours, and as one soldier stated:
"And we were dismissed just before a quarter to. About seven minutes afterwards a torpedo suddenly got us. Within 5 to 6 minutes of her being hit the "Arcadian" sunk, taking with her the lives of 277 of those who had been on board on this voyage, 10 out of 25 had been medical officers, including the eminent bacteriologist Sir Marc Armand Ruffer". What amazed us all is that she sank within just five or six very short minutes, and before we knew it there was nothing left but a struggling mass of humanity and wreckage".
A contemporary newspaper article described how four of "Arcadian's" overcrowded lifeboats were successfully lowered before she sank. Some of the dead were cooks and stokers who were working below decks. The escorting destroyer had two torpedoes launched at her while she was attempting to rescue men from the water; survivors reported that she had lowered three of her own boats while going "at full speed". More survivors, who had been clinging to a raft, were rescued at midnight by the Q-ship HMS Redbreast.
After many of the survivors had arrived home to the UK news was release around the globe including as far away as in Australian's Island State of Tasmania, and the capital's newspaper release the following report;
"The Mercury" (Hobart, Tasmania, Australia) 17 May 1917
SINKING OF THE ARCADIAN.
STORIES OF SURVIVORS.
LONDON, May 15.
"Survivors of the troopship Arcadian, which was torpedoed by the enemy in the Mediterranean last month reached England today. They state that at the time of the attack the sea was perfectly smooth. The explosion smashed some of the lifeboats. The vessel turned over to port, but righted herself in a few minutes, enabling four boats to be launched. All were crowded, one of them being loaded with more than 70 men. Then the soldiers and the members of the crew began to throw themselves into the water, clinging to rafts and wreckage.
A patrol boat did its best to help the swimmers. The submarine unsuccessfully fired two torpedoes at the patrol boat while it was engaged in rescue work. The men of the patrol boat performed a fine feat in launching here lifeboats while going at full speed.
The Arcadian had gone almost before it could be realised, there was no time for discipline. A large proportion of the engine room staff and of the cooks perished".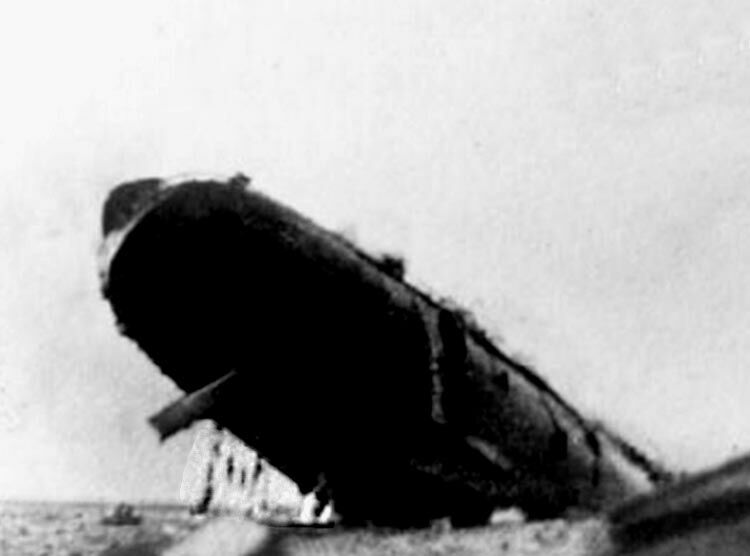 The "Arcadian" is seen sinking and men are seen climbing down ropes at her stern
On board the H.M.T. Arcadian at the time of the tragedy was Medical Military Officer 'Lieutenant Colonel, George Bray' (1864 - 1933) R.A.M.C, (Royal Army Medical Corp), who was in charge of the Egyptian Corp's at that time, he would survive to tell the tale. His story is of his amazing survival, and his own account of events that took place on that terrible day, and it is located on Page Two. The Link is located at the bottom of this page.
PS: Kapitänleutnant Wilhelm Marschall had sunk 120.460 GRT of ships, being 43 merchant ships operating as troop or in other capacities, or even in a civilian roles, and 1 warship and killed countless lives. I Wonder if he could sleep at night, being a Nazi, suppose he did, they had no heart anyway, just like that scum (and it's leader who encouraged them) that invaded Capital Hill in Washington, D.C.
*********************
Specifications & Details R.M.S. Ortona:
Names: R.M.S. Ortona (1899-1910).
. R.M.S. Arcadian (1910-1917).
Owners: Pacific Steam Navigation Company (1899-1906).
. Royal Mail Steam Packet Company (1906-17).
Management: Orient Steam Navigation Company (1899-1907).
. Royal Mail Steam Packet Company (1907-1917).
Port of Registry: Liverpool (1899-1906).
. London (1906-1910).
. Belfast (1910-1917).
Service: London to Australia (1899-1910).
. Luxury Cruise Ship (1912-1915).
. World War Two Duties (1915-1917).
Builder: Vickers, Sons & Maxim Ltd, Barrow-in-Furness.
Yard No: 272.
Launched: July 10, 1899.
Trials: October 27, 1899.
Delivered: October 29, 1899.
Maiden Voyage: November 24, 1899.
Identifications:
UK Official Number: 110613.
Code Letters: RJQT.
Tonnage: 7,945 GRT - 4,115 NRT.
1912: 8,939 GRT.
Length: 500.6 ft - 152.55 m.
Beam: 55.3 ft - 16.84 m.
Draught: 33.7 ft - 10.24 m.
Installed Power: 10,000 indicated horsepower (7,500 kW).
Propulsion: Triple-expansion steam engine by Vickers.
Propellers: Twin Screws.
Speed: 14 Knots service speed, 17.9 Knots maximum.
Accommodations:
1899: Total 610 Passengers: 130 First Class, 180 Second Class, 300 Third Class passengers.
1912: 320 First Class passengers.
Passenger Decks: 6.
Fate: Torpedoed April 15, 1917 by German submarine UC-74 near Milos, Greece, in position 36° 50' N, 24° 50' E.
*********************
R
emembering the Superb …
R.M.S.
Ortona &
R.M.S.P.
Arcadian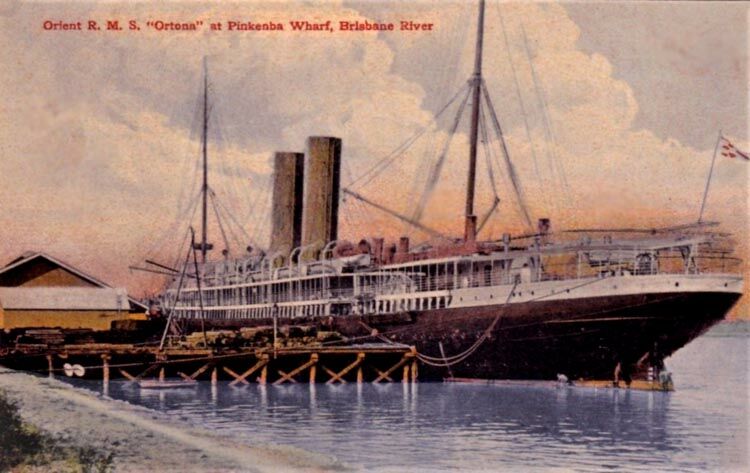 A fine stern postcard of the R.M.S. Ortona seen berthed at the Pinkenba Wharf
on the Brisbane River, Australia on January 1, 1907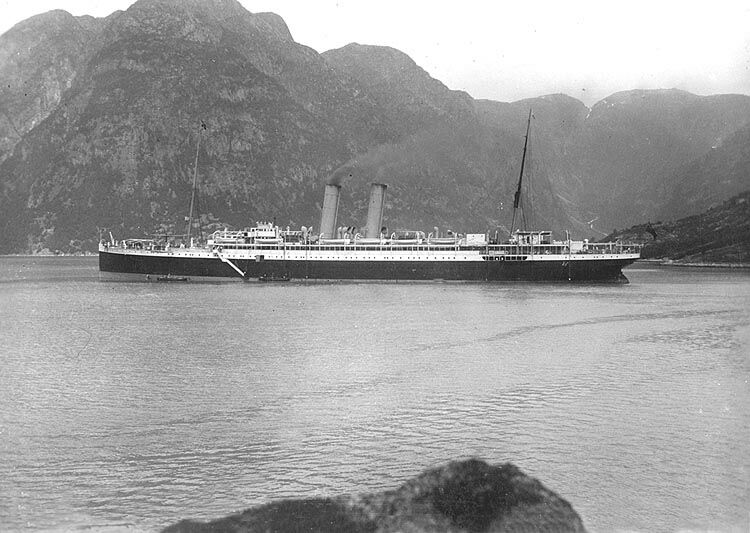 The R.M.S.P. Arcadian is seen here during one of her Norwegian cruises
*********************
Visit - Page Two for Lieutenant Colonel, George Bray (1864 - 1933) R.A.M.C, (Royal Army Medical Corp)
Story of the German sub's torpedo and the rapid sinking of the ship and his amazing full story!
Also her Deck Plans, Souvenirs and other items of interest!
"Blue Water Liners sailing to the distant shores.
I watched them come, I watched them go and I watched them die."

Featuring over 1,550 Classic Passenger Liners, Passenger-Cargo Liners & Classic Cruise Ships!
Or ENTER HERE
For interest: Sadly an email service to ssMaritime is no longer available, due to the author's old age and chronic illness as well as being disabled, etc. In the past ssMaritime received well over 120 emails per day, but Mr. Goossens can no longer handle same. He sincerely regrets this!
*********************
ssMaritime.com & ssMaritime.net
Where the ships of the past make history & the 1914 built M.S. Doulos Story.
The Author has been in Passenger Shipping & the Cruise Industry for well over 60 years
In addition he was the founder of "Save the Classic Liners Campaign" in 1990.
Please Note: ssmaritime and associated sites are 100% non-commercial and the author seeks no funding or favours of any shape or form, never have and never will!
Photographs on ssmaritime and associate pages are by; the author or from the author's private collection. In addition there are some images that have been provided by Shipping Companies and private photographers or collectors. Credit is given to all contributors. However, there are some photographs provided to me without details regarding the photographer/owner concerned.
This notice covers all pages; although, and I have done my best to ensure that all photographs are duly credited and that this notice is displaced on each page, that is, when a page is updated!
ssMaritime is owned & © Copyright by Reuben Goossens - All Rights Reserved