R.M.S. Narkunda of 1920 to 1942
Please Note: Firefox and some other Search Engines may not be suitable
Use Google Chrome for this Web Page to load perfectly!

Please Note: All ssMaritime and other related maritime sites are 100% non-commercial and privately owned, thus ssmaritime is NOT associated with any shipping company or any other organisation! Although the author has worked and been involved in the passenger shipping industry for well over 60 years, but due to his old age and poor health, he was forced to retire. Yet, he has completed well over 1,435 Classic Liners, Passenger-Cargo Liners as well as humble converted C3 converted Migrant Liners, which has transported countless thousands folk to the new world, as well on vacations'. I trust the features online will continue to provide Classic Liner and Ship enthusiasts both the information they are seeking, but more so provide a great deal of pleasure and relive many happy memories!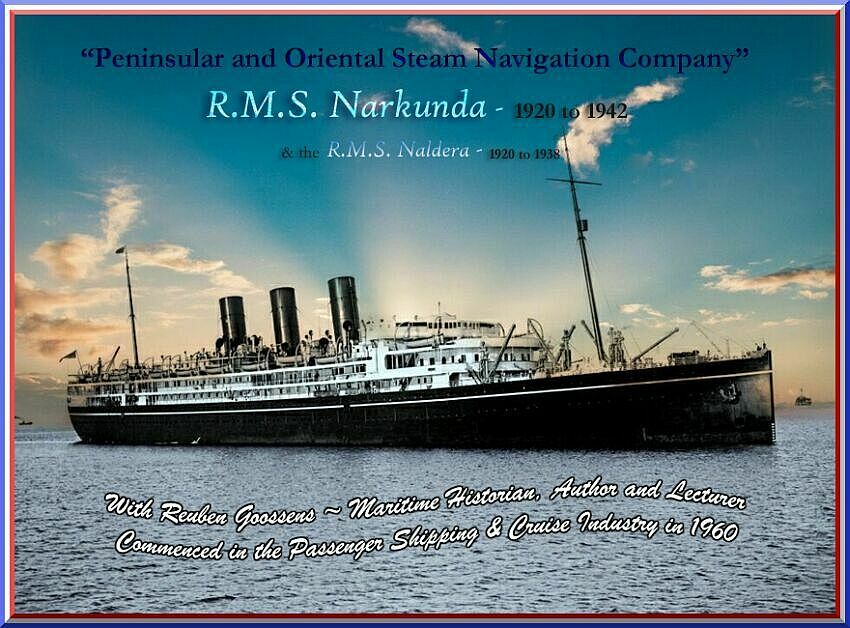 The R.M.S. Narkunda is seen above in her later days with her superstructure painted white
and some of the ugly structures far forward between the forward lifeboats removed
Photograph was colourised by the author
Please Note: Postcards, photographs & other images are either from the author's private collection.
A special thank to the two ssmaritime supporters for sending their most welcome photos & postcards
Collin Teehan (IE) and Stephen Newton (AU)
I am sorry but some of the images shown on this page are not of the greatest of quality, but they were the best available
What is located below is usually called the "introduction", but as the almost similar sisters the "Naldera" and the "Narkunda" had a rather shaky start as they were ordered not long before the beginning of World War One. Thus I will first cover their plans being made, and "Peninsular and Oriental Steam Navigation Company" placing orders for them to be built by two different shipyards, and the events that followed right to the ships completion.
Construction, War service and completed as Liners:
"Peninsular and Oriental Steam Navigation Company" had finalized plans for a pair of ships, the 15,825 GRT (Gross Registered Ton) "Naldera" and her slightly larger sister the 16,118 GRT "Narkunda". These two ships would become the company's very first three funnelled ships, as well as being their very first ship's to have cruiser sterns.
The "Peninsular and Oriental Steam Navigation Company" ordered the first of the pair the "Naldera" in 1913, and she would be built by "Caird & Company" shipyards, Greenock, Scotland (although "Harland & Wolff" did take them over not long after), and she was laid down in Yard 330.
Whilst the second of this pair the "Narkunda" was ordered to be built by "Harland & Wolff Ltd" in Belfast around the same time as the Naldera in 1913, and she was soon laid down in Yard 421, slipway 8.
However, all work on these ships was completely stopped at the outbreak of World War One that officially commenced on June 21, 1914, and for the next three years their unfinished hulls laid idle remaining in their respective stocks, as other more important ships needed to be completed first for war duties, these being ships such as the "Olympic" and "Britannic", etc. However, then came a time that proved to be nothing short of a time of confusion in relation what to do with these two ships. Around 1917 the British Government thought to complete them as large cargo ships, but then the idea came to finish them as troop ships, but that was dropped, next it was thought to have them as hospital ships, and finally the idea came around to reconstruct them as aircraft carriers, but it was quickly decided that this would be far too costly. Finally it was decided to complete them as "Armed Merchant Cruisers"
The "Naldera" was launched on December 29, 1917, and the "Narkunda" was launched on April 25, 1918.
Mid 1918 both ships were officially requisitioned by the Admiralty for use as "Armed Merchant Cruisers" and were fitted out with eight 6-inch (150 mm) guns and two 7.5-inch (190 mm) howitzers and they entered service and they were used for a relatively short time in their respective wartime operations. It was around mid March 1919 they were returned to their owners "P&O" to be completed as passenger liners.
Restored for Merchant Duties:
Having been returned to their respective shipyards, they would finally be completed as luxury passenger liners, which would be operating on the lucrative Australian mail and passenger service. As built, both ships had coal-fired boilers, but for interest, in 1927 the "Narkunda" was converted from coal to being oil fired, which gave her a much longer operational life, whilst her slightly earlier sister "Naldera", which for some reason was never changed and thus she had a much shorter life at sea for she was broken up in 1938.
As built, both ships had black hulls, with red boot topping, and a thin white ribbon high around their hulls. The "Naldera" as built had her superstructure painted white, but this was soon changed to fit in with the rest of the P&O fleet, including the "Narkunda", thus her superstructure was soon repainted in the company's traditional rather dull stone livery.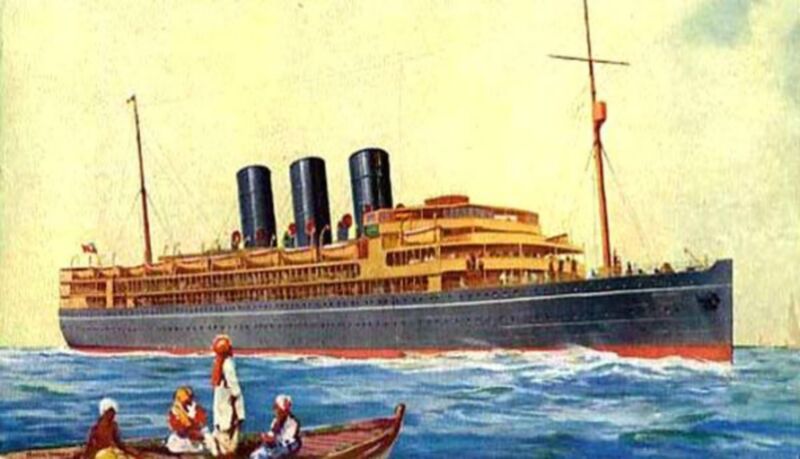 Postcard of the R.M.S. Naldera in the P&O's dull traditional livery
Also when built, their bridges were finished in the traditional dark brown, but during a later refit their superstructures and Bridge were painted all white which revealed that rather unusual centred rounded bay style feature of their Bridges, as seen below.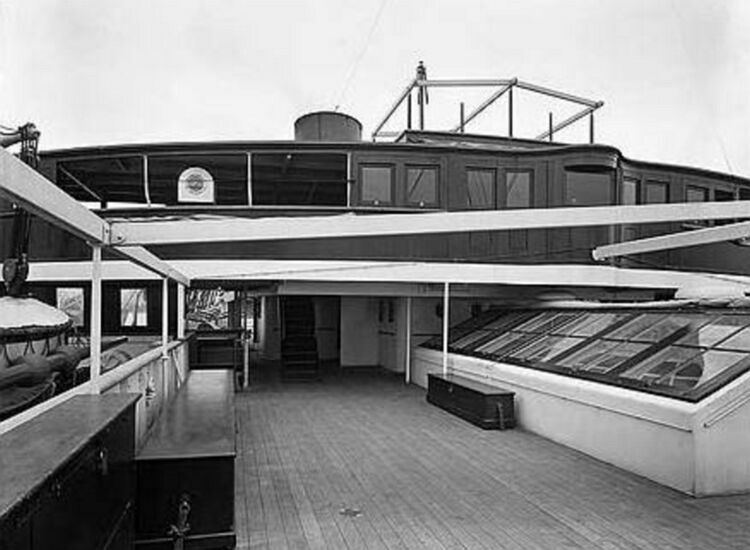 The "Naldera's" unusual shaped Bridge and forward Boat Deck is seen here
The "Narkunda" had cabins on both sides, where we see the deck space above
It is generally claimed that they were sister ships, but technically that was not true, for they differed in certain areas. First the "Narkunda" was a slightly larger ship, both in length and tonnage, in addition she had a rather large and an unsightly forecastle with cabins added on both sides, whilst the one on the "Naldera" was more petite. They featured two tall masts and three black funnels, but only the two forward funnels were operational, whilst the aft funnel contained the ventilator system for the engine room.
Their engines were built by their respective builders, and installed were Quadruple-expansion steam engines, 1,430 NHP, 18,000 IHP, operating twin screws and sailed at a service speed of 17 knots, 18.5 knots maximum.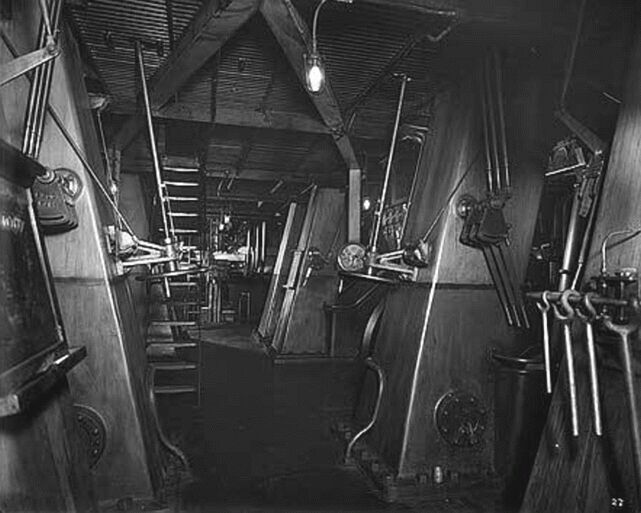 Here we see the Engine Room's - Starting Platform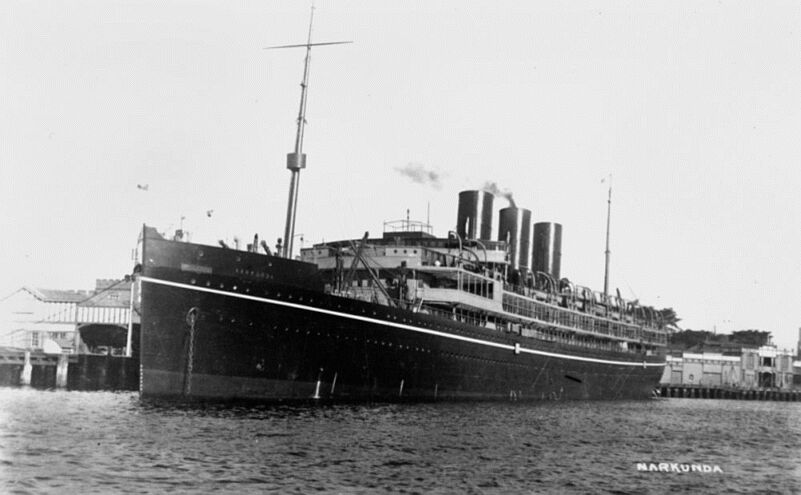 The "Narkunda" is seen berthed, however this image provides a good view of the far
forward deck section up on Boat Deck and some of her additional cabins can be seen there
Provided by Collin Teehan (Ireland) thank you so much for this postcard
With the R.M.S. Naldera completed, she undertook her sea trials and was delivered to P&O on March 24, 1920, and she commenced her maiden voyage to Australia on April 10, 1920. Her voyage was as follows; she sailed from London, Gibraltar, Marseilles, Port Said, Aden, Bombay, Colombo, Fremantle, Adelaide, and Melbourne to Sydney and then returned to London.

The R.M.S. Naldera is seen here as built with her white superstructure
Provided by Stephen Newton (Australia) thank you so much for this photo
Whilst on March 30, 1920, the "Narkunda" operated her sea and speed trials, which was very successful having reached a maximum speed of 18.5 knots, and she was delivered that same day to "The Peninsular and Oriental Steam Navigation Company" having cost a total of £1,550,110 UK pounds.
As already mentioned, R.M.S. Narkunda's passenger facilities were slightly different from the Naldera's, including those cabins having been built on both sides of the far forward large unsightly forecastle located forward of the bridge on Boat Deck. Yet these cabins did prove to be very popular, although these cabins had 'athwart ship bunks', meaning they ran across the ship, rather than lengthwise.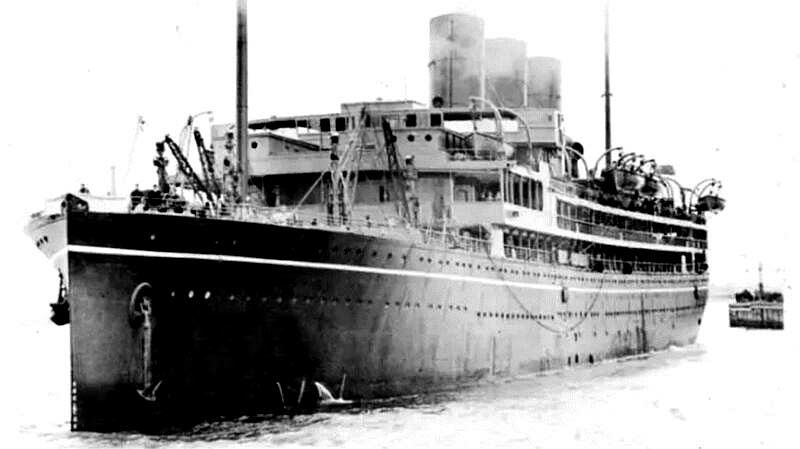 Here is a close up of her bow section and those two boxlike cabin blocks up on Boat deck
With the R.M.S. Narkunda fully crewed and stocked up and having been made ready for her maiden voyage, she did so on April 24, 1920, but strangely not to Australia, but she operated a single return voyage to India; sailing from London, Gibraltar, Algiers, Marseilles, Malta, Port Said, and Aden to Bombay and return to London.
Having returned to the UK, on July 9, 1920 she then commenced her first voyage to Australia, and she rapidly became the favoured ship of the pair, and all other ships for that matter. When she arrived in Sydney for the first time she received a grandiose welcome from the city and the people of Sydney; and as visitors were allowed to come on board and visit her they fell in love with her and the media gave her great praise, which ensured many advanced bookings.
On her Australian voyages, she, like her sister, sailed as follows; London, Gibraltar, Marseilles, Port Said, Aden, Bombay, Colombo, Fremantle, Adelaide, and Melbourne to Sydney and returned to the UK.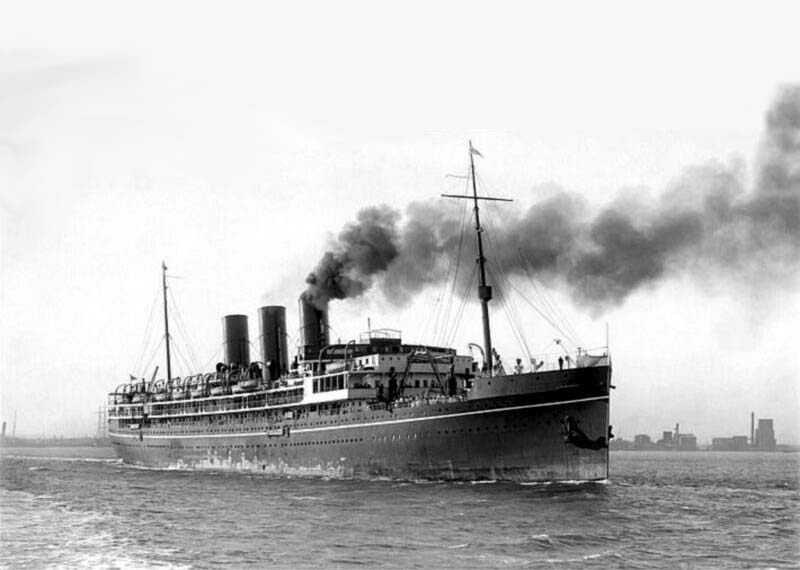 R.M.S. Narkunda is seen departing bound for Australia
Provided by Collin Teehan (Ireland) thank you so much for this image
With the R.M.S. Narkunda having become such a loved and popular ship with the public; quite some time ago I spoken to a past passenger, a Mr. Davis (sadly now deceased) who sailed on this much loved liner, and he told me that "My darling wife and I cherished this wonderful ship and we remember our departure so well from Princess Pier on March 31 (1923) and we had the most wonderful trip to England. The service, food and everything on board was simply wonderful. After our time in England, we sailed on her again to Melbourne and again it was a splendid voyage. We would have done it again, but never had the chance as sadly times became difficult as world war two was approaching. I am sending you a pin we purchased from the ship's shop, thought you would like it."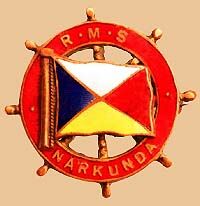 The delightful "Narkunda" pin received from Mr. Davis, which I have reworked for this page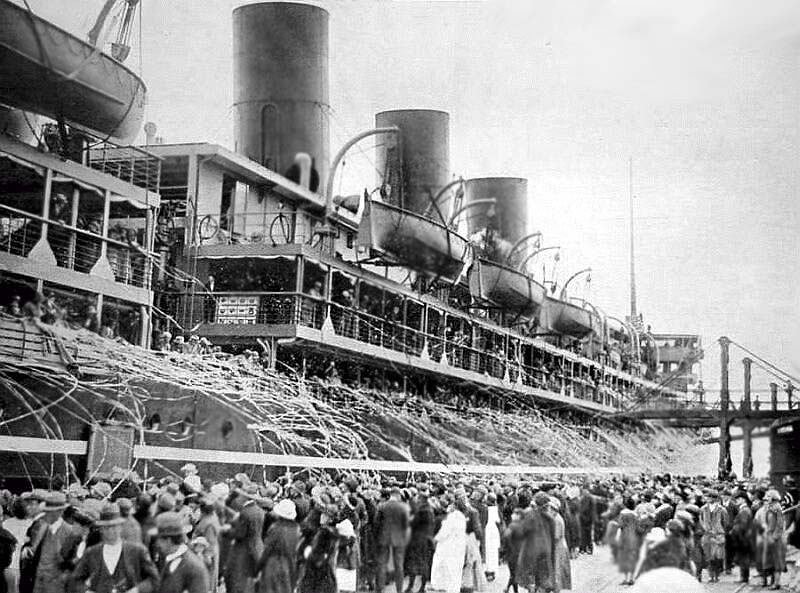 R.M.S. Narkunda is ready to depart "Princes Pier" Melbourne on March 31, 1923
This was this voyage our above passenger and wife sailed to London. They were far
forward on up on Promenade Deck and sadly cannot be seen on this photo
Provided by Stephen Newton (Australia) thank you so much for this photo
For her day, her interiors became noted for all the magnificent timber panelling that was used throughout her Public Rooms, especially in that magnificent and most imposing Main Lounge that was located forward on Promenade Deck. But the Dining Saloon was the grandest venue on the ship as it was an imposing four deck high, with some fine fresco's painted up above. Thus let us take a look on board!
****************************
R.M.S. Narkunda Photo Album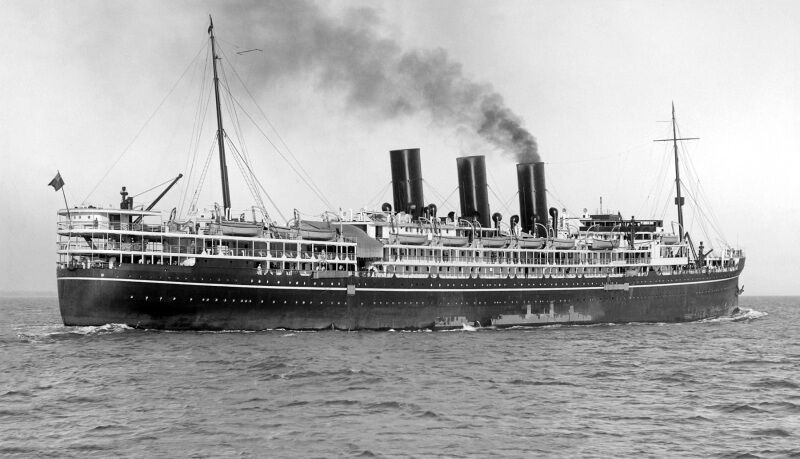 R.M.S. Narkunda is seen at full speed at sea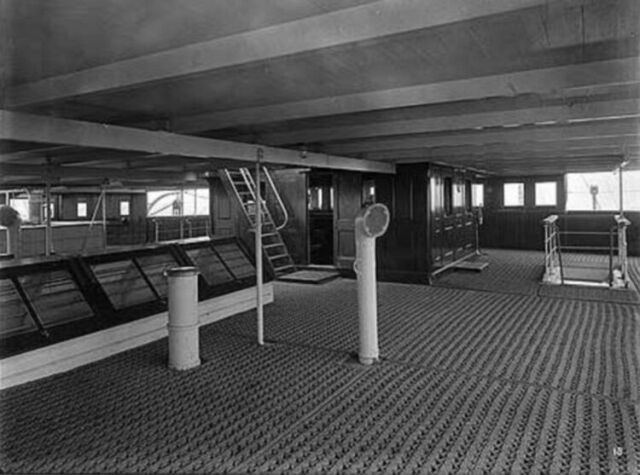 Topside far forward he very spacious Bridge, looking from aft to forward on the starboard side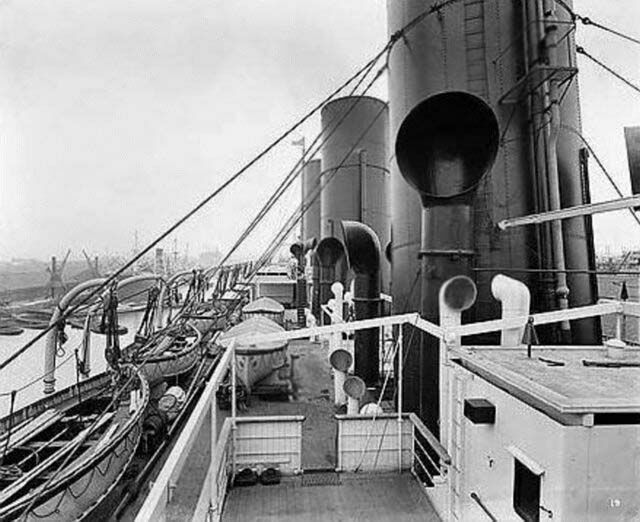 Looking aft from the Bridge we see the Boat deck and her three funnels
First Class: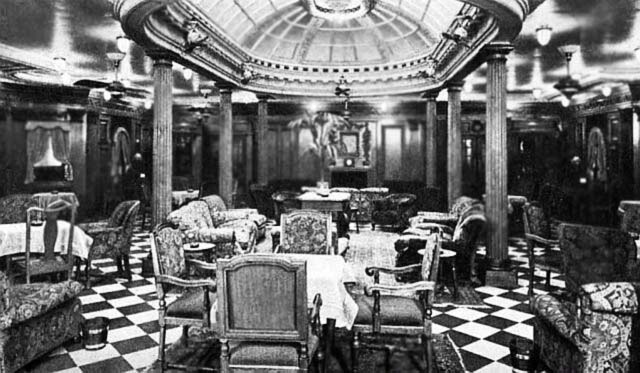 The Main lounge forward on Promenade Deck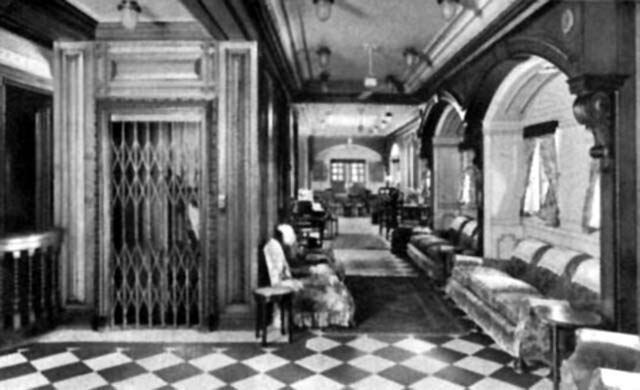 Hallway with a lift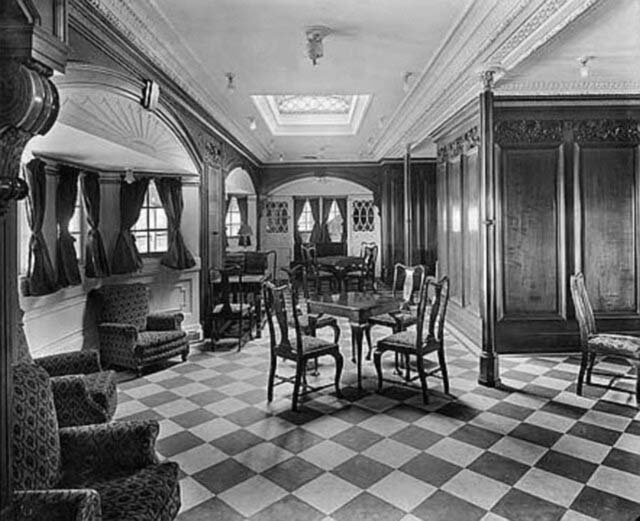 Above & below: Views of the Long Galleries also used as the Writing and Reading Rooms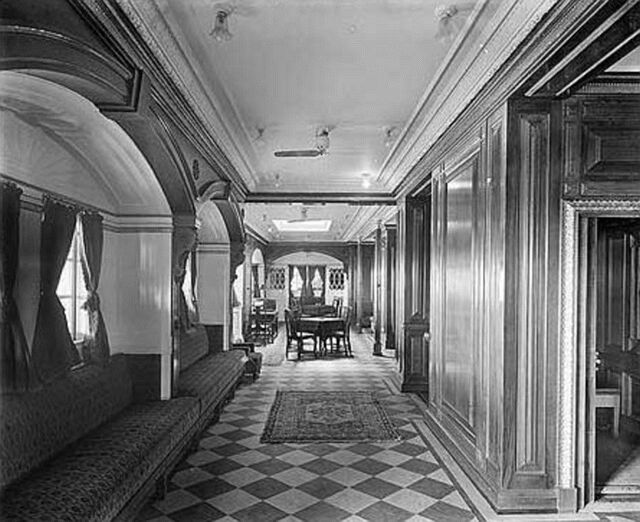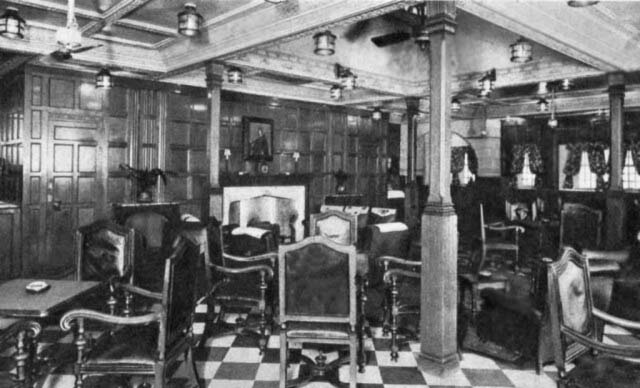 Above & below: Here we see the beautifully panelled Smoking Room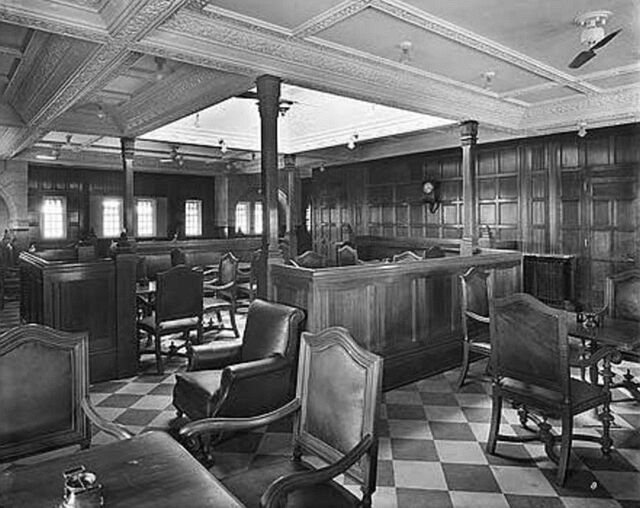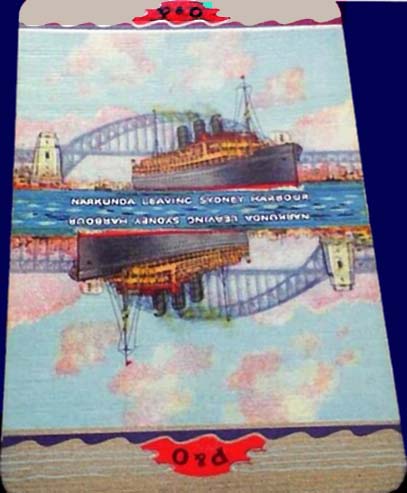 One of the ships playing cards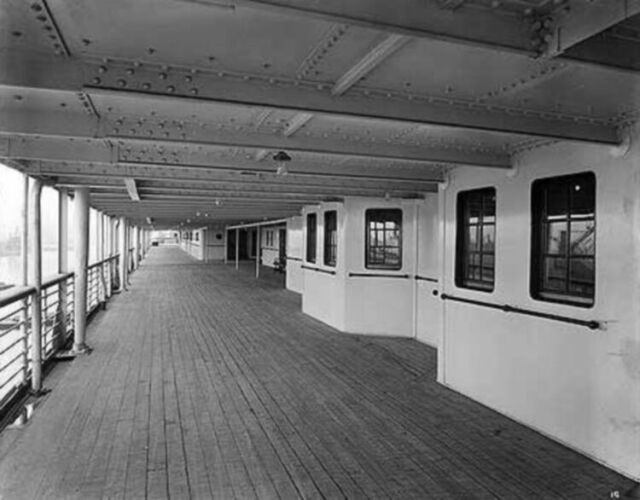 The spacious Promenade Deck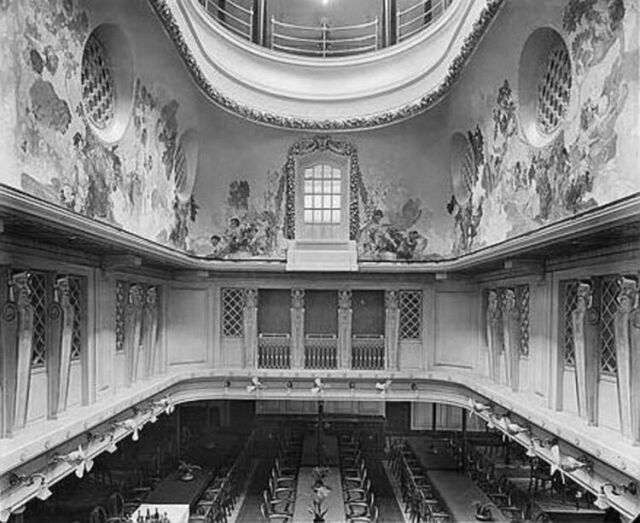 Above & below: The spectacular four level high Dining Room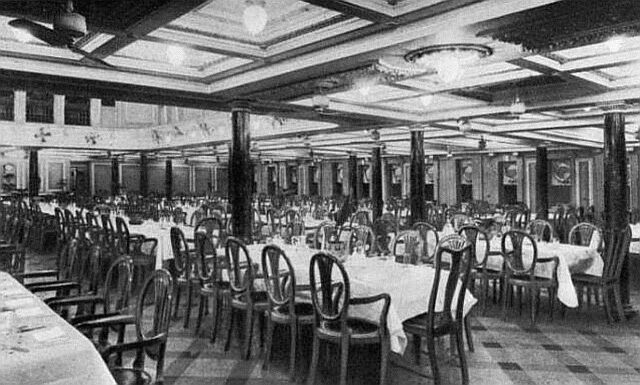 Below: A Luncheon Menu and a special St Andrew's night Dinner Menu over 17 years apart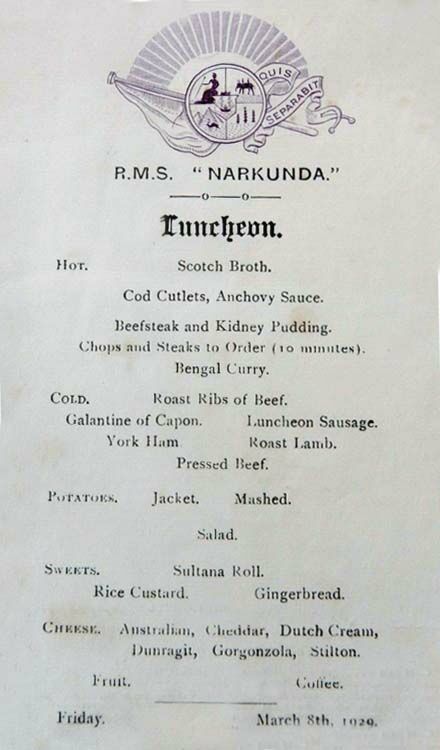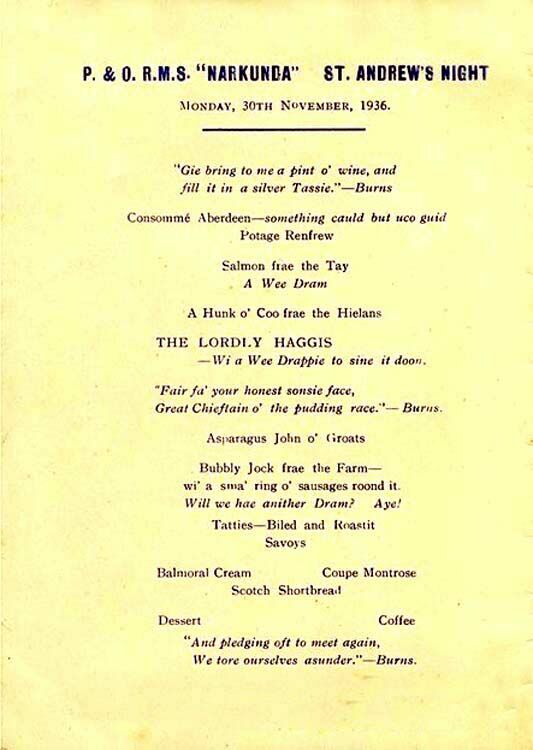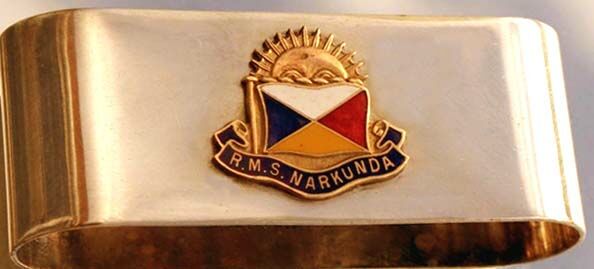 Here we see a "Narkunda" First Class napkin ring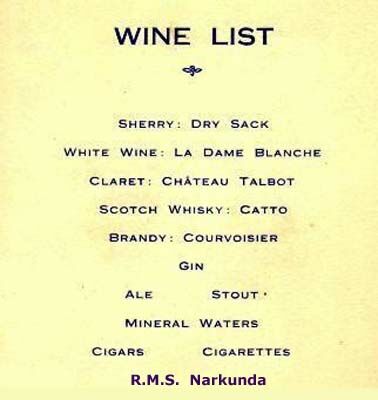 Each night a new Dinner Wine List was on offer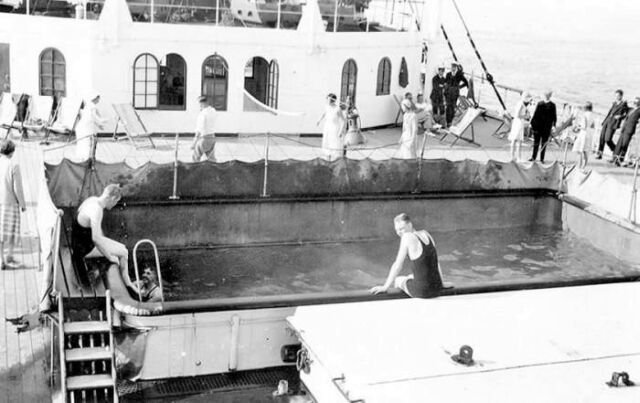 On outdoor pool would be erected in warmer climates
Although she did have a fine indoor pool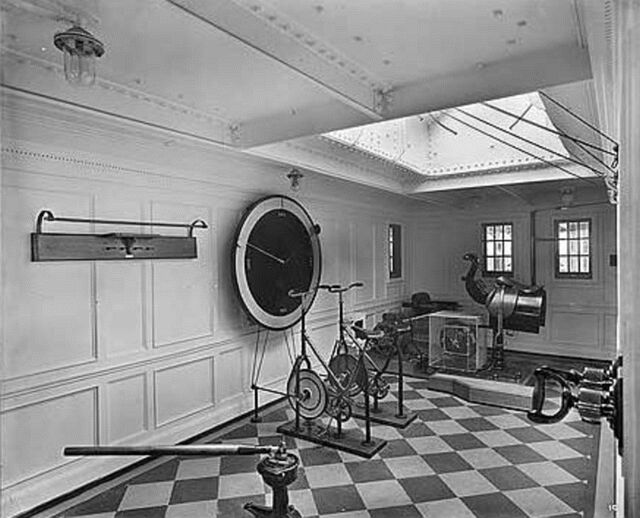 There was also a Gym at the passenger's disposal
Accommodations:
All Suites, Staterooms and cabins were located outside having one or two windows, or one or two portholes. The higher grades of accommodations had a private bathroom.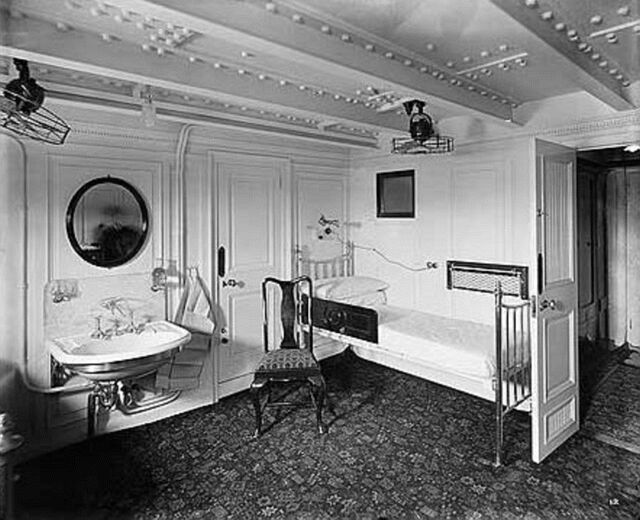 Here we see one of the spacious Deluxe Suites that had private facilities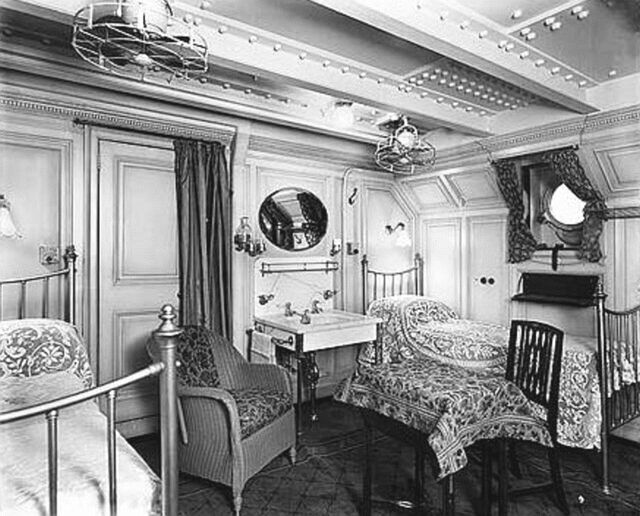 Above & below: Here we see two of the Deluxe Staterooms having private facilities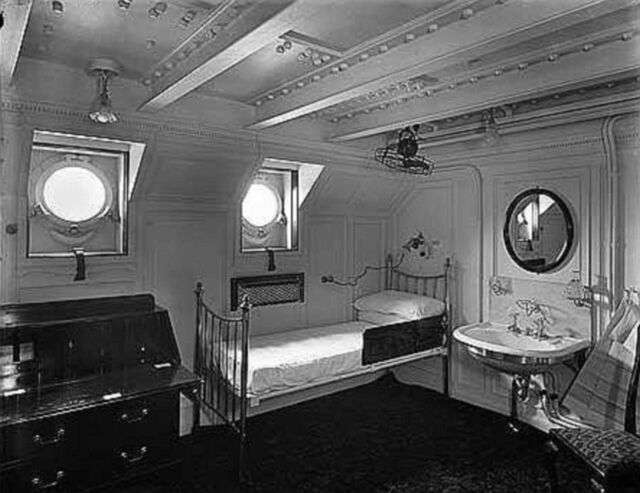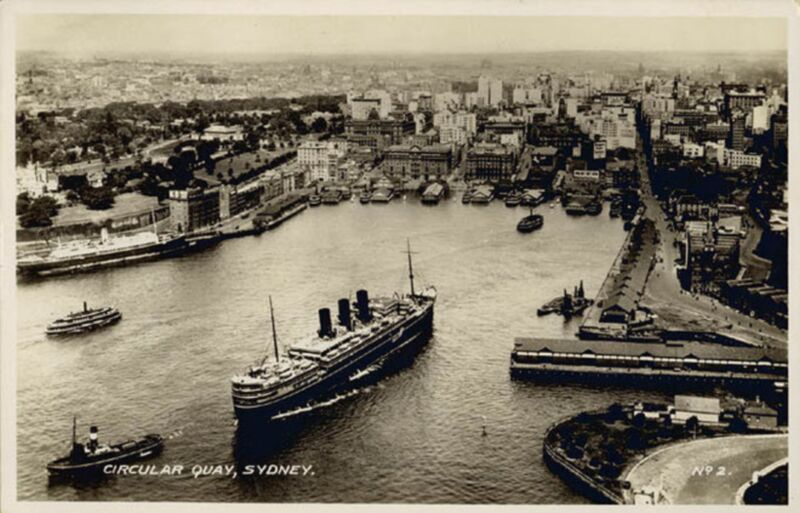 R.M.S. Narkunda is seen departing Sydney Australia for her return voyage to the UK
Provided by Stephen Newton (Australia) thank you so much for this photo
****************************
Second Class:
Although the public rooms in this class may have been somewhat less luxurious to those in First Class, however they were light and pleasant venues, providing everything a passenger needed to make their voyage enjoyable. Each venue featured comfortable furnishings as can be seen below, and there was a main Lounge, a Ballroom, Music Room, Library and Writing Room and of course the all important Dining Room.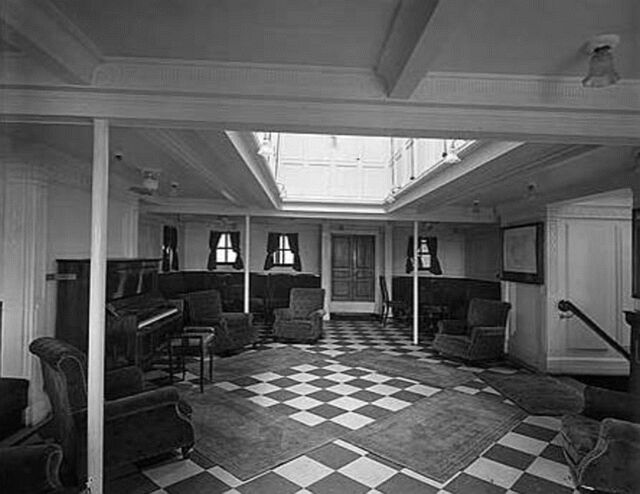 The Music Saloon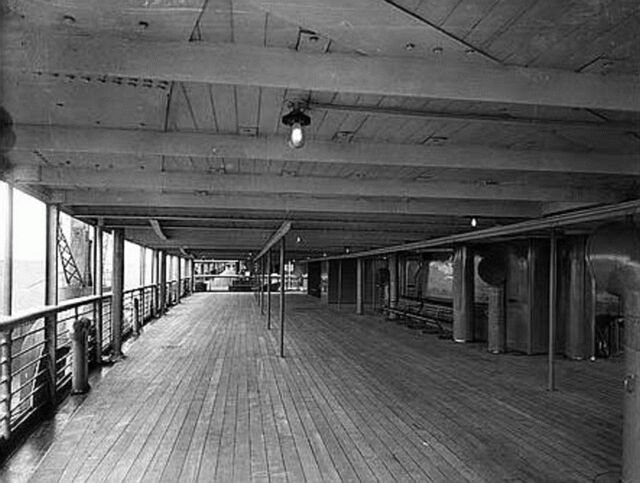 A spacious covered Promenade Deck, and there were ample open-air decks as well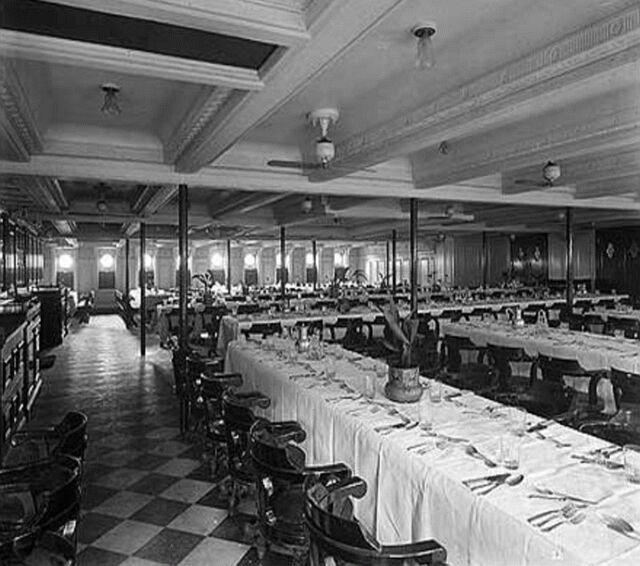 The Dining Room spread the full width of the ship!
Accommodations:
All cabins (except for three rooms) were located outside and had a porthole and they were for the times well fitted out, with all having a hand basin with running water. Outside would be the public bathrooms and other facilities.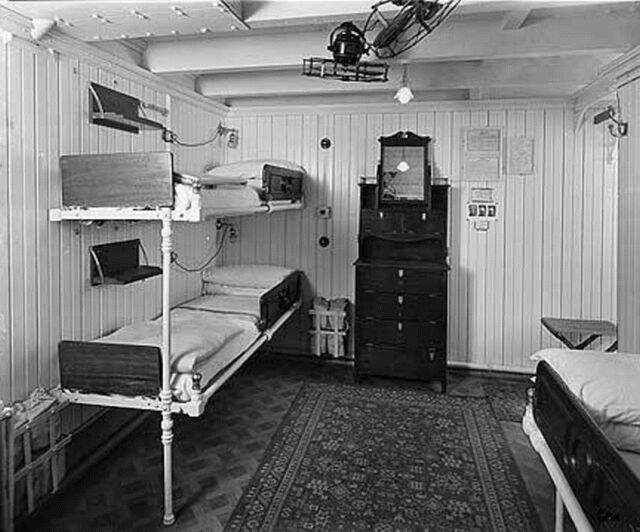 This here we see a typical three berth cabin, there were also a few single and two berth cabins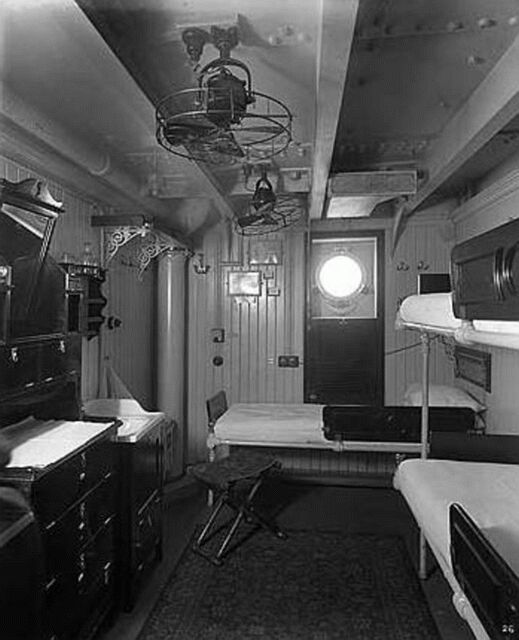 This is three berth cabin; however there were also four and several six berth cabins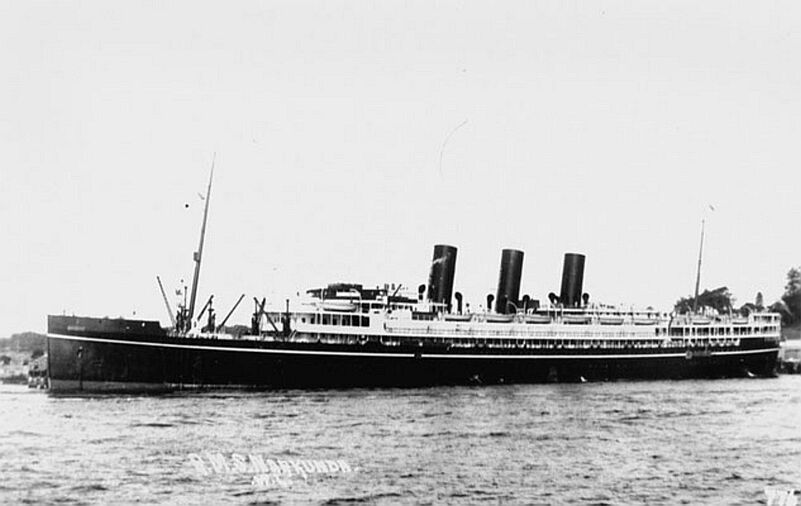 The R.M.S. Narkunda is seen in Sydney in her later days, having a white superstructure but still with a brown Bridge
Those two cabin blocks forward of the Bridge on Boat Deck had by then been removed during her 1935 refit
****************************
She continued sailing to Australia, but in 1931 she was temporarily transferred to Far East run, but a little later she was returned to the Australian service.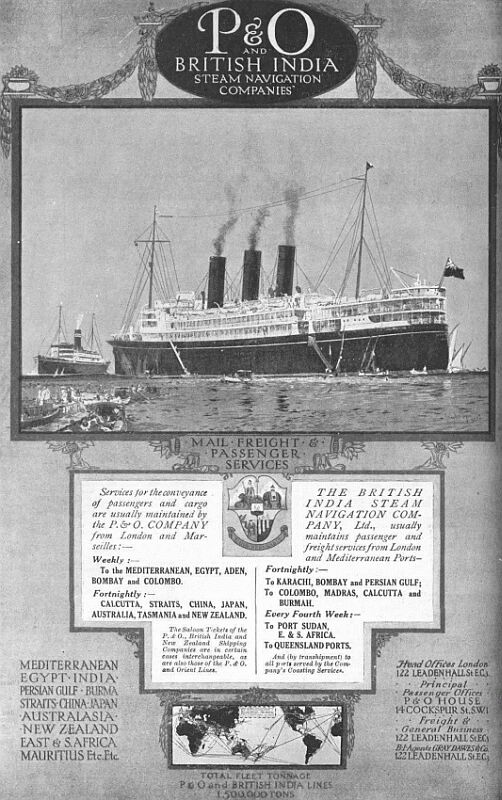 In the 1930's a combined P&O and British India Line poster was released
On January 11, 1935 the R.M.S. Narkunda and under the Command of Captain Sudell F.R.G.S., R.D., R.N.R., departed London and she sailed as follows; London, Tangier, Gibraltar, Port Said, Aden Bombay, Karachi, Colombo, Fremantle, Adelaide, Melbourne, and Sydney to Brisbane.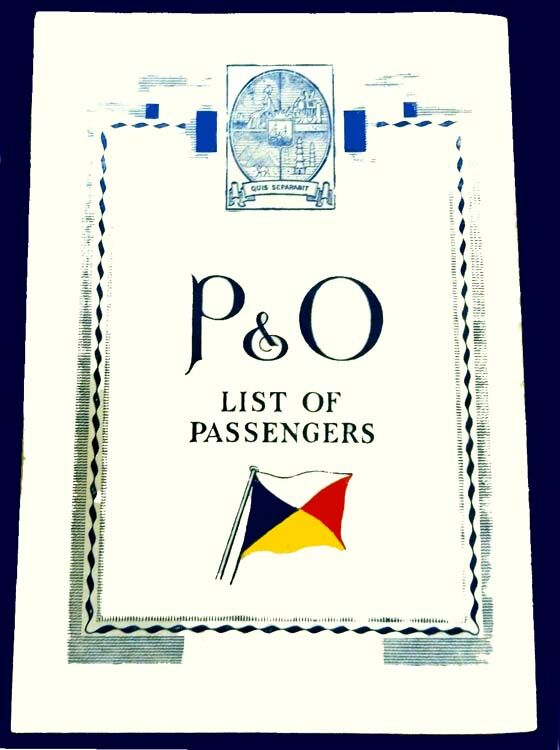 The cover of that voyage's Passenger List
In 1935 she was given another refit and her Second class became "Tourist class" as the word "second" had become sounding somehow rather cheap and "Tourist" sounded far more respectable. With her superstructure already being white, her Bridge was now also painted white, with some other minor modifications made to her, and those unsightly cabins far forward were removed making her look more like her sister the "Naldera".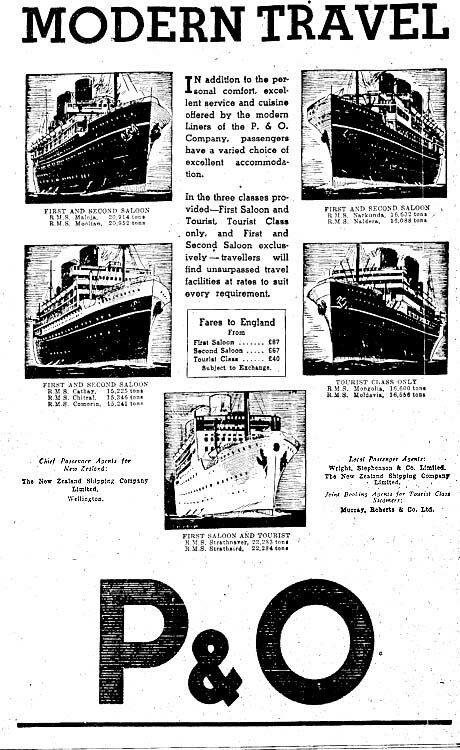 An advertisement for P&O ships sailing to the UK, including the "Narkunda" & "Naldera" (top right)
"Narkunda

" as a Cruise Ship:

Having arrived in Sydney from London and after all her passengers had disembarked, on Christmas Eve Tuesday December 24, 1936 the "Narkunda departed Sydney for a pleasure Cruise to New Zealand.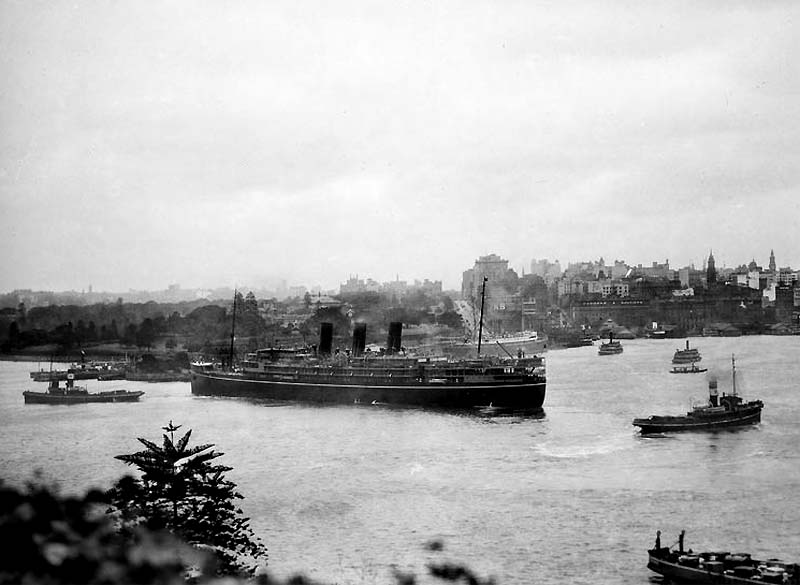 H.M.S. Narkunda is seen departing Sydney for her cruise to New Zealand on December 24, 1936
However there was a very special feature on this cruise and her passengers would be able to enjoy not just seeing movies but they were 'talkies' using the then revolutionary "Rayeophone sound".
The Motion Picture Magazine "Everyones" dated December 30, 1936 revealed the following;
Talkies on the R.M.S. Narkunda.
The R.M.S. "Narkunda," which left Sydney on Christmas Eve for a cruise to New Zealand, was equipped with Rayeophone sound, under the supervision of Engineer Kelly. Passengers will have the opportunity of enjoying talkies during the cruise.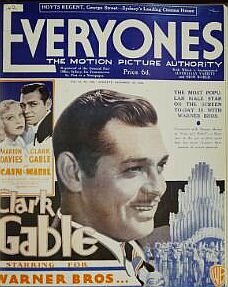 ****************************
Fire on board;
On July 15, 1939 a fire reported in No.6 hatch as she was about to arrive at Colombo whilst on a voyage to Australia. Apparently a gas explosion resulting from fermentation in the cargo killed 2 quartermasters, a yeoman of mails and a lascar seaman, and injuring some 23 of the crew, and damaging 350 tons of cargo; the fire was put out after 4¼ hours being assisted by two local tugs, the "Hercules" and the "Goliath".
The following is from the Melbourne based newspaper at the time - "The Argus" dated July 27, 1939.
FIRE ON R.M.S. NARKUNDA
The P&O liner 'Narkunda' is due in Melbourne next week after one of the most eventful voyages in her history.
As the liner was approaching Colombo on July 15 a fierce fire broke out, which was followed by an explosion. Four members of the crew were killed and 22 were injured. None of the passengers was injured.
The chief officer of the Narkunda (Mr. Tonkin) said later that he had found smoke coming from the hold and had ordered a tarpaulin to be thrown over the case of the blaze.
"When we were approaching Colombo," he added, Tonkin returned to the bridge to supervise the ship's entry. "I sent the second officer to look after the fire. Later I looked aft from the bridge and saw a mass of debris in the air. Six men were working in the burning hold and saving the mailbags. Four of them were near the seat of the fire, and the other two some feet away."
At the inquest held at Colombo the coroner recorded a finding that the deaths had been accidental.
****************************
Amazingly after 19 years on the Australian service the "Narkunda" remained the most popular P&O ship in their fleet, the truth is that passengers loved sailing on this delightful ship and even as she was slowly aging the "Narkunda" remained in perfect condition.
The "Narkunda" continued her duties to and from Australia, but sadly her life as a passenger liner was about to end in 1940 as sadly another evil war was about to commence.
****************************
R.M.S. Naldera's Final Days: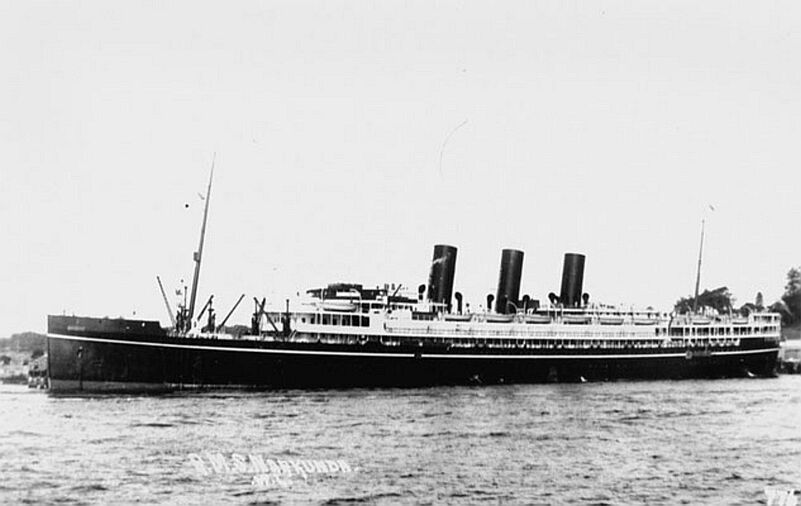 The R.M.S. Naldera is seen departing Sydney for the final time
Provided by Stephen Newton (Australia) thank you so much for this photo
In October 1938, the "Naldera" having had a varied career was paid off after what was a relatively short career of 18 years. However she was immediately hired to transport the British Legion Volunteer Police Force to continental Europe to police the proposed plebiscite following the *"Sudeten Crisis". 700 volunteers boarded "Naldera" and on October 12, 1938 she departed Tilbury to anchor off Southend with another 3,330 volunteers being on board the M.S. Dunera. However, by October 14, sudden changed circumstances meant that the force was thankfully no longer required thus the "Dunera" and the Naldera returned to Tilbury with the volunteers disembarking the next day.
*The "Sudeten Crisis" of 1938 was provoked by the Pan-Germanist demands of Germany that the Sudetenland was to be annexed to Germany, which happened after a later Munich Agreement. Part of the borderland was invaded and annexed by Poland.
On 15 October 15, 1938 the R.M.S. Naldera was made ready to be sold, and the very next month she was sold for scrap to "P & W McClellan Ltd" and she arrived at the "Forth Ship breaking Yard" at Bo'nes on November 21, 1938 and she was duly broken soon thereafter.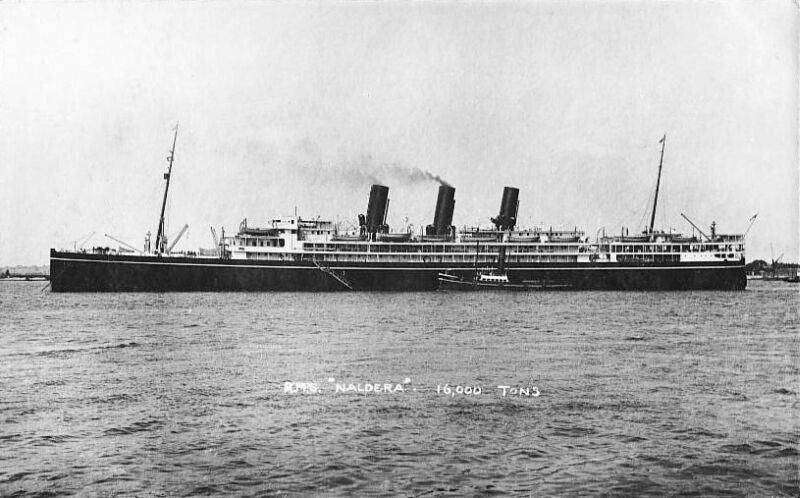 Goodbye R.M.S. Naldera
****************************
World War Two:
On May 31, 1940 H.M.S. Narkunda arrived at Southampton having been unable to land passengers at Marseilles and she had even been fired at by an unidentified ship off Gibraltar, which was thought to have been an Italian armed vessel.
It was in April 1941 when she was officially requisitioned by the Admiralty and she was rapidly converted to become a Royal Navy troopship, and soon the completed H.M.T. Narkunda was operating as a "Troop Transport Ship".
Below is a list of some of H.M.T. Narkunda's Trooping Voyages during 1942.
Early in 1942 she was employed in the evacuation of Singapore.
1… Convoy DM1:
The H.M.T. Narkunda was part of a troop reinforcement convoy of four ships, hurriedly assembled at Durban. They carried the 53rd Infantry Brigade Group, part of the British Army's 18th Division; 232 Squadron RAF; 51 crated Hurricane fighter aircraft; the 6th Heavy and 35th Light Anti-Aircraft Regiments, and the 85th Anti-Tank Regiment and 24 Hurricane pilots. "Narkunda" embarked 1,773 troops of the 6th Heavy Anti-Aircraft and the 35th Light Anti-Aircraft regiments of the Royal Artillery.
The "Narkunda" departed Durban in Convoy DM1 on January 5, 1942 with four other ships, being New Zealand's "Aorgangi", the Dutch "Abbekerk", the British "Sussex" and the American U.S.S. Mount Vernon. All ships were filled with Military Personal and headed together being escorted by the H.M. Emerald, H.M. Exeter, H.M.I.S. Jumna and H.M.S. Durban and they all headed for Singapore where they arrived on January 13, 1942.
On June 21, 1942 the 7th Battalion embarked the H.M.T. Narkunda which departed that day from Greenock, Scotland, and headed for Gibraltar arriving there on June 28 and the troops disembarked the next day. The 7th Battalion was there to re-enforce Gibraltar.
2… Convoy 0600Z:
The "Narkunda" departed Durban on March 2, 1942 and she was escorted by H.M.S. Alaunia. They arrived within Mombassa on March 9, with 2168 troops.
3… The Convoy KR1:
With the "Narkunda" still carrying 2168 troops and she together with seven other ships departed Mombassa on March 10. Although the seven ships were all bound for Colombo, but the "Narkunda" was detached after dark at about 8 degrees N, 65 degrees east to proceed independently to Bombay. The H.M.S. Falmouth would meet the "Narkunda" during her voyage on March 18, and escort her into Bombay on March 19, 1942.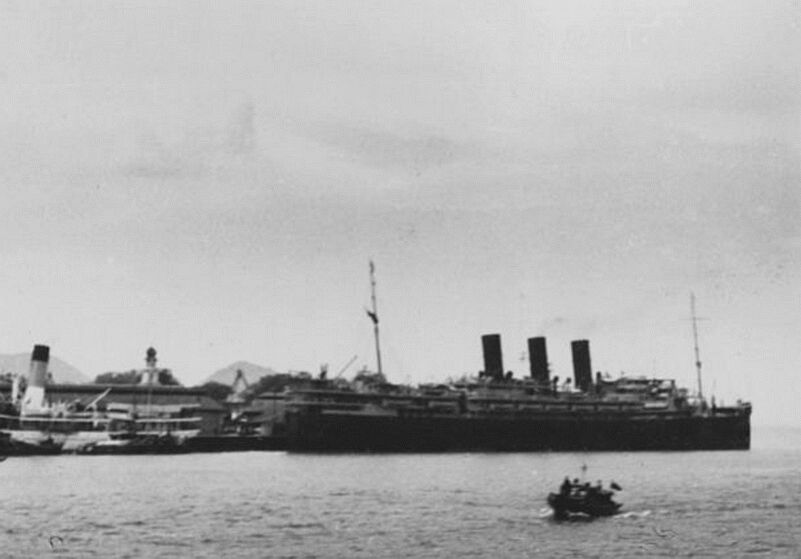 Here we see the H.M.T. Narkunda berthed at Bombay on March 22, 1942 being
a very rare photo of her seen as a troopship painted in a wartime dull grey
Provided by Collin Teehan (Ireland) thank you so much for this rare image
A Voyage from Bombay to the UK:
The troops and other ship crews escaped from Rangoon & Hong Kong having had many heroic adventures in China and Burma, and they were all shipped to India to connect with a ship bound for the UK.
They all boarded the just constructed Danish ship S.S. Heinrich Jessen which departed Rangoon on March 8, 1942 and she headed for Calcutta along with the remaining ratings from Hong Kong. Then from Calcutta it was a long and tiring thirty six hour train ride across the Indian sub-continent as their ship would be awaiting them in Bombay.
On March 26, 1942 at 10.00 am they arrived at the "Victoria Terminus" being one the most magnificent buildings in Bombay, and they were all speedily transported to the H.M.T. Narkunda, as she would depart later that day.
The "Narkunda" was under the command of Captain M. G. Draper, and on March 26, at 3.30 pm she departed Bombay heading via Durban, Cape Town and Freetown to Glasgow. On board were Hong Kong troops that had been based in various locations in Asia, as well as survivors from the H.M.S. Prince of Wales and the HMS Repulse, which had been sunk by the 'Imperial Japanese Army' during a battle on the South China Sea on December 10, 1941. (Read their story HERE).
On April 6, 1942 the "Narkunda" arrived in Durban, where she took on board 657 Italian prisoners of War. She departed on April 9, and headed first to Cape Town arriving on the 12th.
H.M.T. Narkunda departed Cape Town on April 19, but she was forced to return to Cape Town as she encountered some engine troubles. Troops on board did not mind very much about spending some more time in Cape Town, that is until she dropped anchor out in the middle of the bay, and next it was discovered that there were no boats running for anyone to enjoy some shore leave.
With her engines having been repaired she departed from Cape Town on April 28, and she had an uneventful voyage to Freetown Harbour in Sierra Leone, where she arrived on May 8. There was a Royal Navy shore base in Freetown.
On May 15, 1942 the H.M.T. Narkunda departed Freetown and headed for Glasgow and that night a special concert was performed by the then well known and much loved "The Killjoys", who were billed as being "good clean fun". Below is their programme.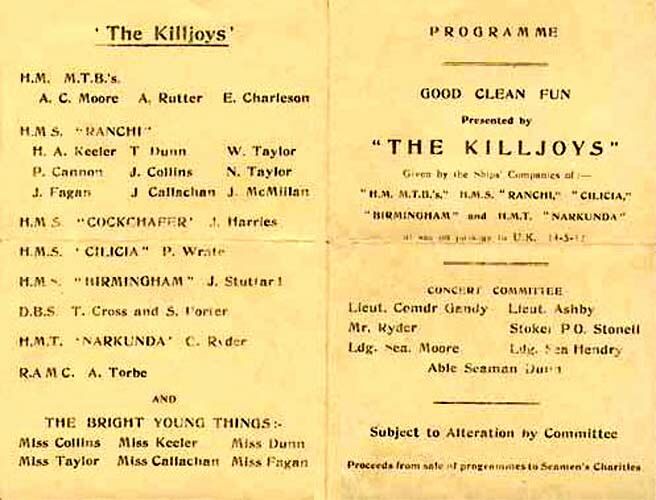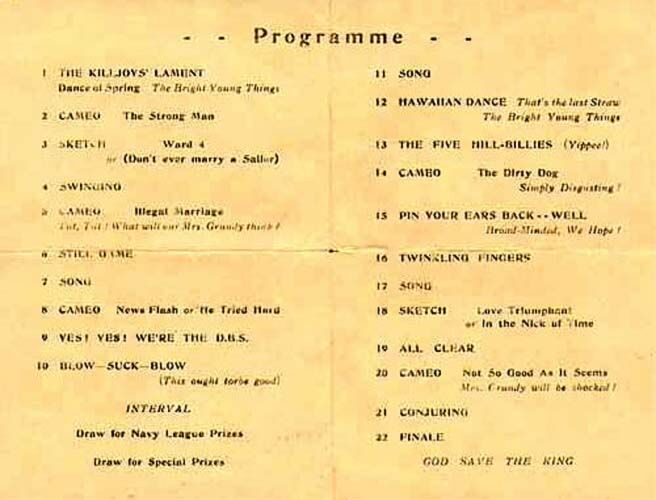 Seven days later on May 22, the "Narkunda" arrived at the King George V dock (Sheildhall), Glasgow late in the afternoon.
A Special Exchange Mission:
In August 1942, the H.M.T. Narkunda was involved in a very special mission, being a programme where Japanese diplomats would be exchanged for British civilians who were prisoners, and this was orchestrated in the neutral port of "Lourenco Marques" in Mozambique.
Of course there were other voyages During WW2 but to obtain details on these are very difficult indeed, but above is a reasonably good list revealing the excellent work she did during the war! But sadly we now come to the very last voyage of the wonderful liner and troopship the "Narkunda".
H.M.T. Narkunda's" final tragic voyage:
H.M.T. Narkunda also served during the Allied landings in French North Africa, in November, 1942, and she was under the command of Captain L. Parfitt, D.S.C. With all of the troops having disembarked at Bougie (currently Béjaïa in Algeria), she departed on November 14, 1942, and was heading home to the UK.
However having departed Bougie and as she headed out of port with the evening about to arrive and she was just off Cape Carbon, when a German long range, high speed bomber an "Ardo Ar E.555" suddenly appeared out of the clouds and attacked the H.M.T. Narkunda dropping several bombs on her and she was badly damaged and holed as she had been hit on her port side as well as astern. Tragically the attack killed thirty-one persons onboard. She duly sunk near Cape Carbon, at 36°52'N 05°01'E (click the link for a map of the region).
Her survivors were picked up by the minesweeper H.M.S. Cadmus and returned to Bougie, and there the survivor's boarded P&O's ship the "Stratheden" as well as the Orient Line's "Ormonde" and they were all returned to England. Thankfully Captain Parfitt was one of the survivors.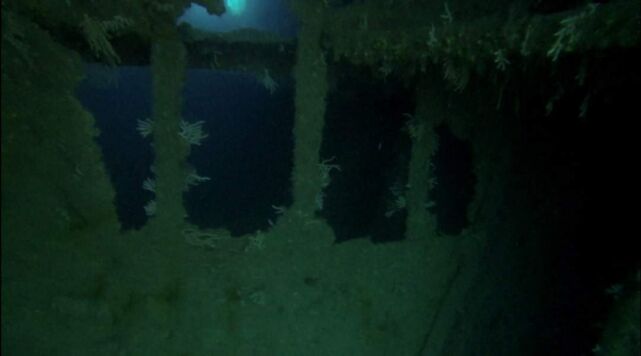 A sad view of "Narkunda's wreck
Provided by Collin Teehan (Ireland) thank you so much for this very sad image
****************************
Details & Specifications of the R.M.S. Narkunda.
Type:                       Passenger liner 1920-1942.
.                              "Auxiliary Troop Transport" ship WWI & WW2.
Registered owners:    "The Peninsular and Oriental Steam Navigation Company" (P&O).
Managers & operator: "The Peninsular and Oriental Steam Navigation Company".
Builder:                    "Harland & Wolff Ltd", Belfast, UK.
Yard No:                   471.
Slipway No:              8.
Registry:                  Belfast, later in London, UK.
Official number:         142496.
Signal letters:            KFDN.
Call sign:                  GCVB.
Tonnages:                16,118 GRT, Net tonnage 9,705 NRT, Deadweight 8,650 tons.
.                              16,227 GRT in 1922.
.                              16,572 GRT after 1935 refit.
Launched:                 April 25, 1918
Delivered:                 March 30, 1920.
Length:                    177.15m - 581.4ft).
Breadth:                   21.15m - 69.4ft).
Draught:                  8.921m - 29.3ft).
Engines:                   Quadruple-expansion steam engines.
Engine builders:         "Harland & Wolff Ltd", Belfast
Power:                     1430 NHP, 18000 IHP.
Propulsion:               Twin screw.
Speed:                     17 knots service speed, 18.5 knots maximum.
Accommodations:      Total 673 passengers, with 426 in First Class, 247 in Second Class.
.                              Second Class became Tourist in 1935.
Crew:                       Total 227, being made up of 9 officers, 60 seamen, 18 engineers, 140 saloon and cabin crew and firemen.
Cargo capacity:         8,829 cubic m (311,841 cubic ft) including 2,916 cubic m (103,000 cubic ft) insulated space.
Fate:                        Bombed and sunk November 14, 1942.
Service:                    UK to Australia service & Far East (India) service for a short period from 1931.
****************************
Enter here for a YouTube video of the "Narkunda" and her interior's
Although there is German writing under the video, it is a musical and visual YouTube presentation
Remembering the …
R.M.S. N
arkunda &
N
aldera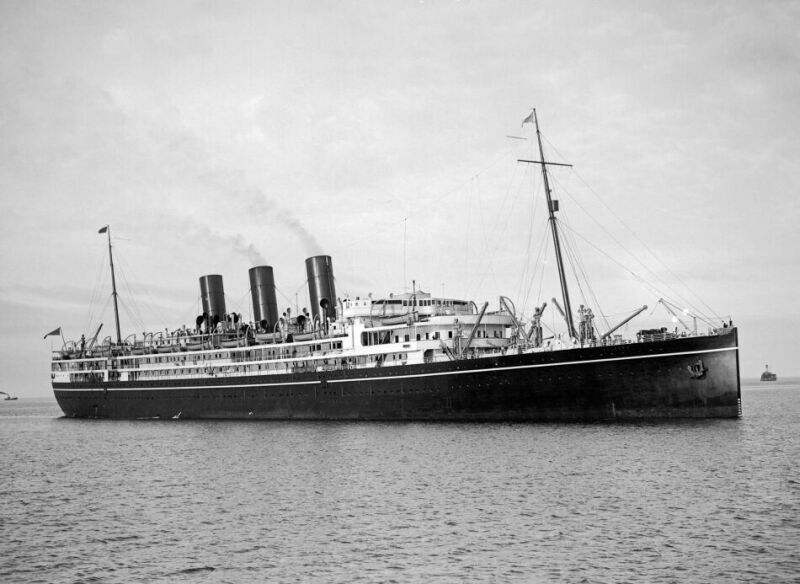 A magnificent view of the remarkable R.M.S. Narkunda seen during her final days as a liner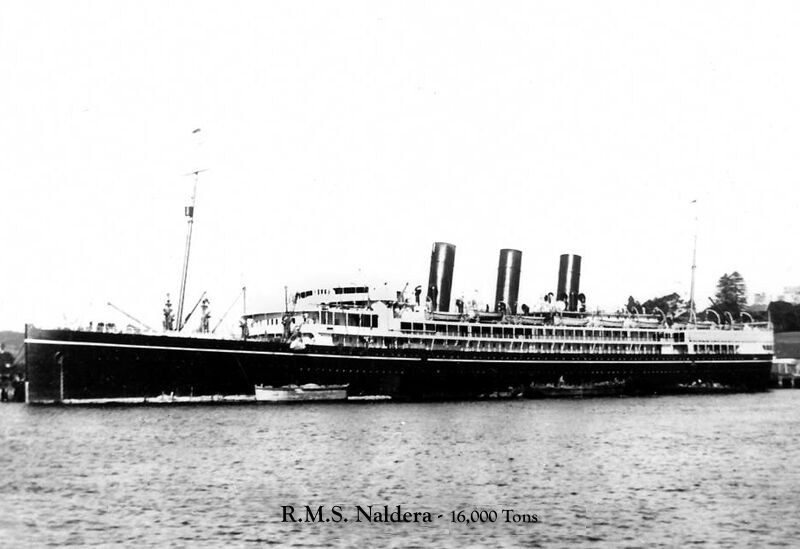 A fine postcard of the R.M.S. Naldera towards her final days
****************************
"Blue Water Liners sailing to the distant shores.
I watched them come, I watched them go and I watched them die."

Featuring over 1,435 Classic Passenger Liners, Passenger-Cargo Liners & Classic Cruise Ships!

Or ENTER HERE

For interest: Sadly an email service to ssMaritime is no longer available, due to the author's old age, severe chronic illnesses as well as being completely disabled and poor eyesight, etc. In the past ssMaritime received between 120 to around 140 emails per day, but

Goossens can no longer handle these. Be assured that he sincerely regrets this! His prayer is that you enjoy the many ships he has covered!

****************************

ssMaritime.com & ssMaritime.net

Where the ships of the past make history & the 1914 built M.S. Doulos Story.

The Author has been in Passenger Shipping & the Cruise Industry for well over 60 years

In addition he was the founder of "Save the Classic Liners Campaign" in 1990.

Please Note: ssmaritime and associated sites are 100% non-commercial and the author seeks no funding or favours of any shape or form, never have and never will!

Photographs on ssmaritime and associate pages are by; the author or from the author's private collection. In addition there are some images that have been provided by Shipping Companies and private photographers or collectors. Credit is given to all contributors. However, there are some photographs provided to me without details regarding the photographer/owner concerned.

This notice covers all pages; although, and I have done my best to ensure that all photographs are duly credited and that this notice is displaced on each page, that is, when a page is updated!

ssMaritime is owned & © Copyright by Reuben Goossens - All Rights Reserved