M/S Sea Venture, Pacific Princess, Pacific - M/S Island Venture, Island Princess, Discovery
Please Note: Firefox and some other search engines are not suitable – Use "Internet Explorer" for this page to load perfectly!
Click the logo above to reach the ssMaritime FrontPage for News Updates & "Ship of the Month"
Please Note: All ssMaritime and my other related ssMaritime sites are 100% non-commercial and privately owned sites. Be assured that I am NOT associated with any cruise or shipping companies or travel/cruise agencies or any other organisations! The author has been in the passenger shipping industry since May 1960 and is now semi-retired, but continues and I hope that the well over 675 Classic Liners and Cargo-Passengers ships I have written on will continue to provide classic ship enthusiasts and continue a great deal of information and pleasure!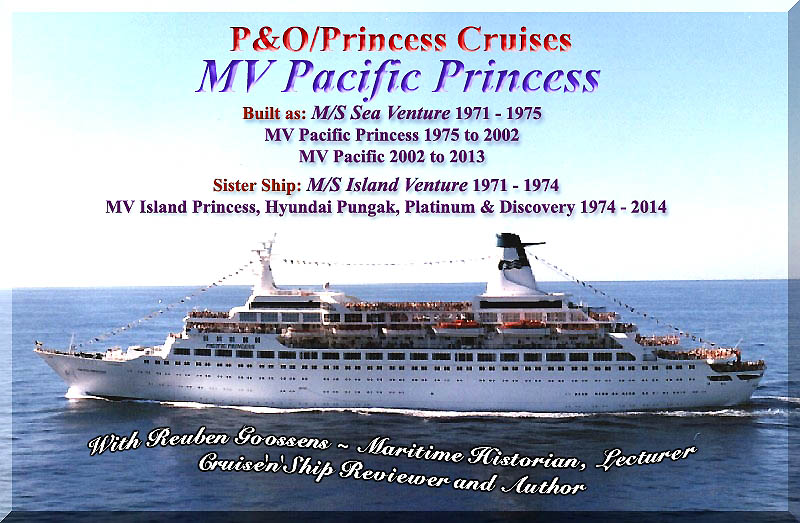 The Once Much Loved MV Pacific Princess
Was TV's Popular "Love Boat"
Photographs are mostly from the author's private collection, unless otherwise mentioned. However, I wish to thank those who
have images on this page especially my dear friend and maritime historian Peter Knego, who visited the MV Pacific in 2012.
Norwegian Beginnings - M/S Sea Venture:
Norwegian Cruiseships A/S of Oslo Norway commence planning two revolutionary cruise ships that would not just have outstanding features, such as a spectacular lobby and stairway, but also an aft lounge with a wall of glass that spanned two decks high! Her engines were aft providing additional passenger space aboard the ships that had the most attractive profiles!
Both ships would be built by the "Nordseewerke" (North Sea Works) at Emden in West Germany at a cost of US$25 million each.
The first ship to be commenced and the ship being the subject matter had her keel laid down in Yard 411 and she was launched, but not named on May 9, 1970. She was completed and undertook her sea trials a year later. The on May 8, 1971 she undertook a private company cruise, after which she was delivered to her owners and officially "Christened" dockside and was named Sea Venture on May 14 in Oslo. The ship would be operated under the banner of Flagship Cruises Ltd., and she was placed on the popular New York to Hamilton Bermuda service.
The M/S Sea Venture featured a gold sea horse on the blue part of her funnel and looking simply sublime, she commenced her official cruise duties in June 1971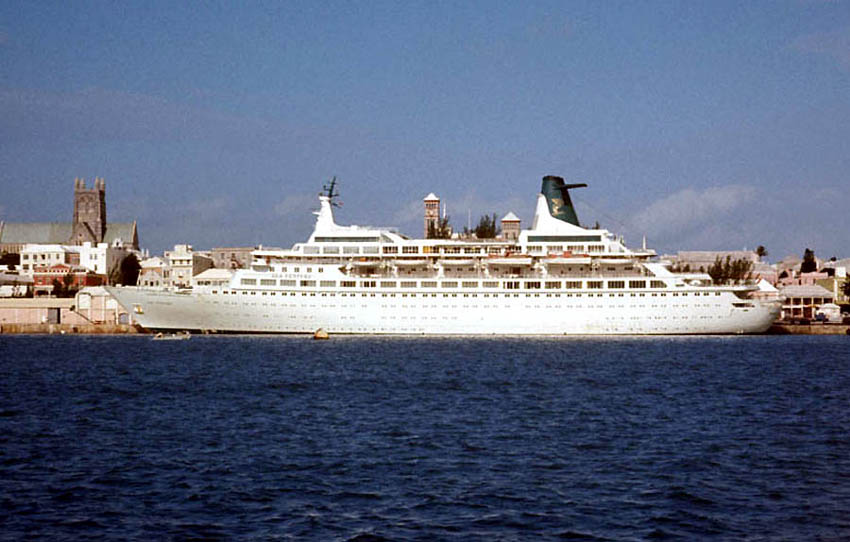 Here we see the brand new M/S Sea Venture on her maiden call at Hamilton, Bermuda in June, 1971
Photograph by R. Pelletier – From the Rich Turnwald collection.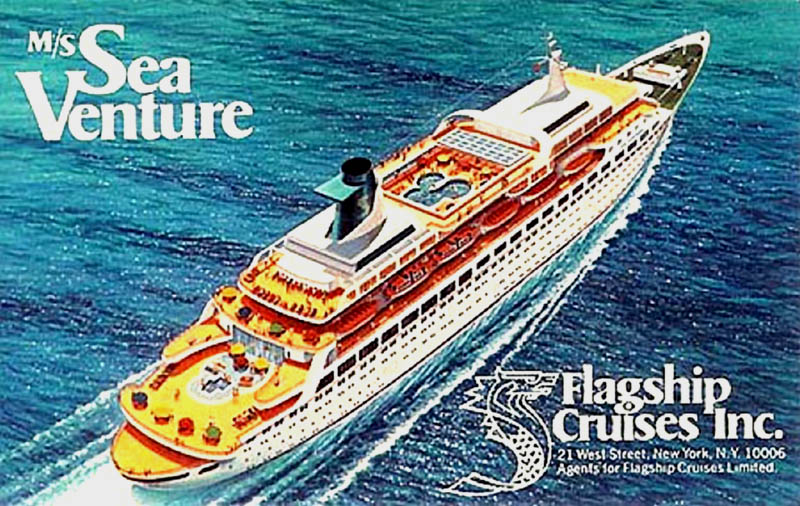 A delightful postcard published by Flagship Cruises M/S Sea Venture
In 1972 she was officially taken over by O. Lorentzen of Oslo, for previously she had been under the official joint ownership of Norwegian Cruiseships, being; O. Lorentzen and Fernley & Eger. But the MV Sea Venture continued on her regular cruise services and remained popular!
A past passenger wrote: "Many thanks for the very complete history of the M/S Sea Venture on your web site. I sailed on it when younger to Bermuda in 1974 and still have the passenger list and a souvenir sea horse. I have been on other cruises since, and my opinion is that the new ships are just too big, you might as well go to a resort somewhere. Sadly, they just do not make ships like the used to!" (Slightly edited).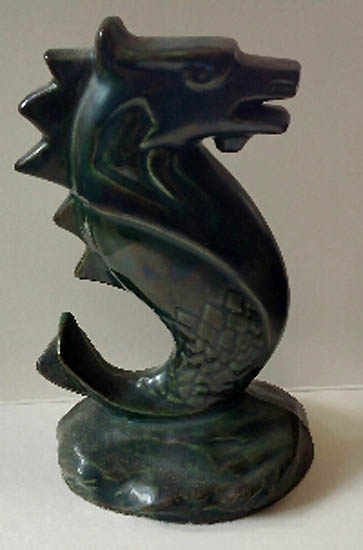 M/S Sea Venture souvenir Sea Horse from a 1974 cruise
Provided by Marinna Martini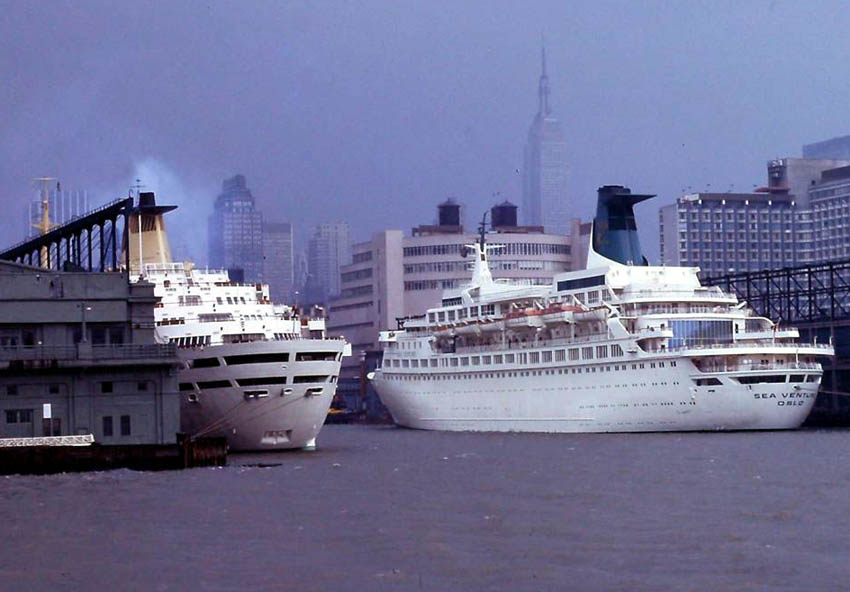 Here we see two fine classic cruise ships on a Saturday afternoon readying for their departure.
On the left we see the great SS Oceanic and the M/S Sea Venture.
Photograph is & ? by Finn Tornquist
MV Island Venture Story in full: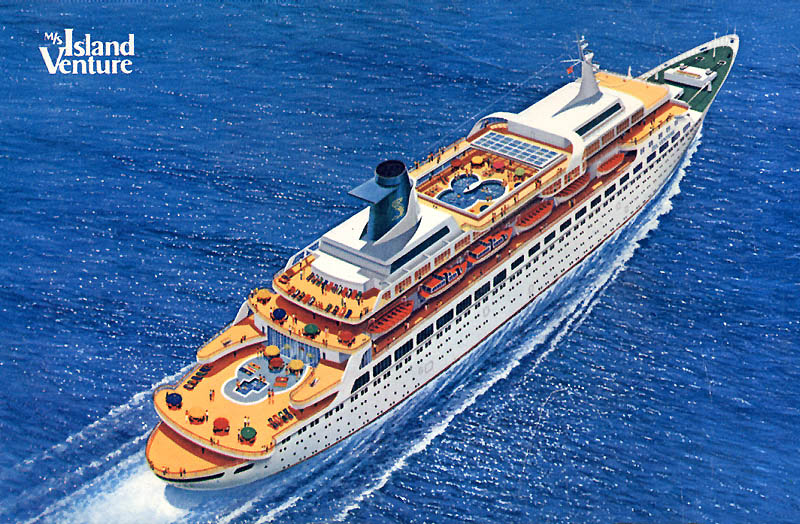 Original postcard of the M/S Island Venture
She was the second of this revolutionary pair of ships to be built, and she was laid down in yard 414. She was launched on March 3, 1971. Having been fully fitted out and operated her speed trails on November 20 she was "Christened" and named the Island Venture in Oslo on December 14, 1971. She was, officially delivered to her owners on January 4, 1972 and not long thereafter she commenced her maiden voyage to Bermuda. For interest, her statistics are identical with her sister.
In 1974 she was with her sister sold to P&O Princess Lines and she was renamed MV Island Princess. She, like her sister also appeared in the famed "Love Boat" TV show, when the Pacific Princess was not available, for let's face it they were identical ships! Island Princess was sold in 1999 to Hyundai Merchant Marine of South Korea and they renamed her MV Hyundai Pungak and used her to transport South Korean pilgrims to religious sites in North Korea.
From 2001 to 2002 she sailed named as the MV Platinum, but she went through a major refit between 2001 and 2003. Since then, this great ship has been sailing as the popular MV Discovery owned by the "All Leisure Group Plc" but was operated by the popular "Voyages of Discovery" and she cruised out of Harwich and Liverpool, England. "Voyages of Discovery" operated these cruises predominately to the British, American, Canadian, New Zealand, Australian and South African markets.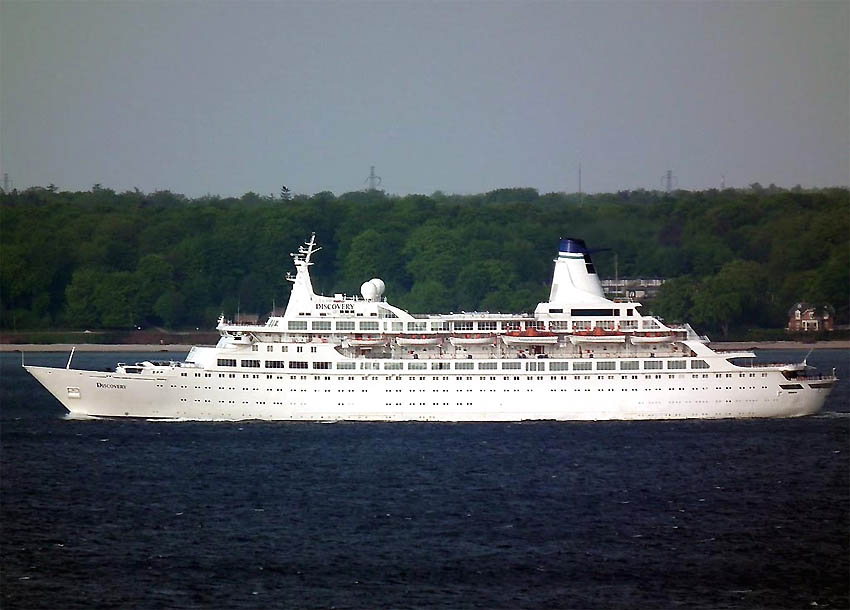 The beautifully maintained MV Discovery is seen departing Helsinki Finland
Then in February 2013, the Discovery began operating under a special agreement for Cruise & Maritime Voyages, but in late October or early November 2014 the Discovery was taken out of service by her owners "All Leisure Group" due to losses in operating. Mid September, the Discovery was sold on an "as is" basis for US$5 million.
Renamed "Amen" she departed Bristol for the very last time on October 9, with the St. Kitts and Nevis flag at her stern, and she headed for Alang India were she was beached in December 2014 and duly broken up.
M/S Sea Venture sold to P&O Princess Lines - MV Pacific Princess:
However, In October 1974 she was sold to the British P&O Line. But delivery would be in April 1975. When she was taken over by P&O she received the traditional buff/slightly yellowish funnel, with the P&O logo on her funnel, but her hat was strange being a dark blue, whilst other P&O ship had black hats. She was renamed Pacific Princess and she commenced cruising from American ports as well as during the Australian summer months in 1975 and 1976.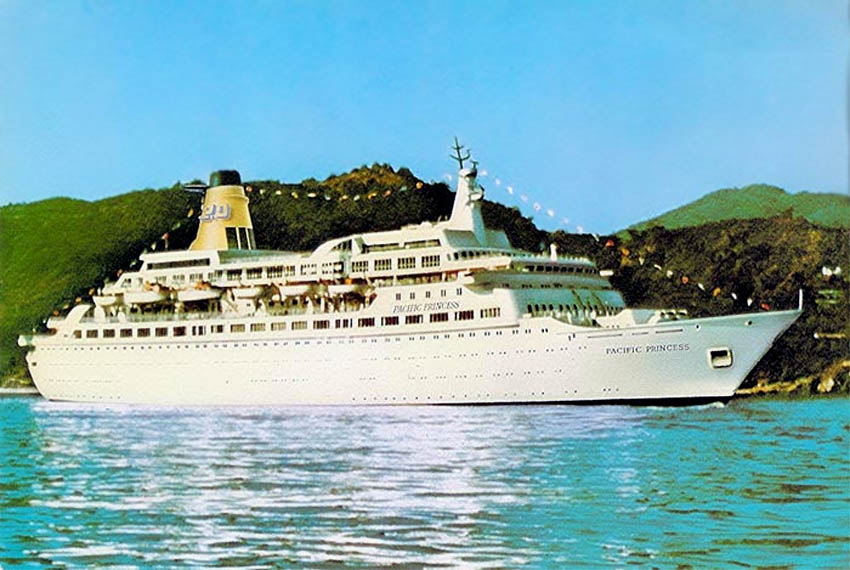 Above & below: The P&O cruise ship MV Pacific Princess seen in the Pacific and in Sydney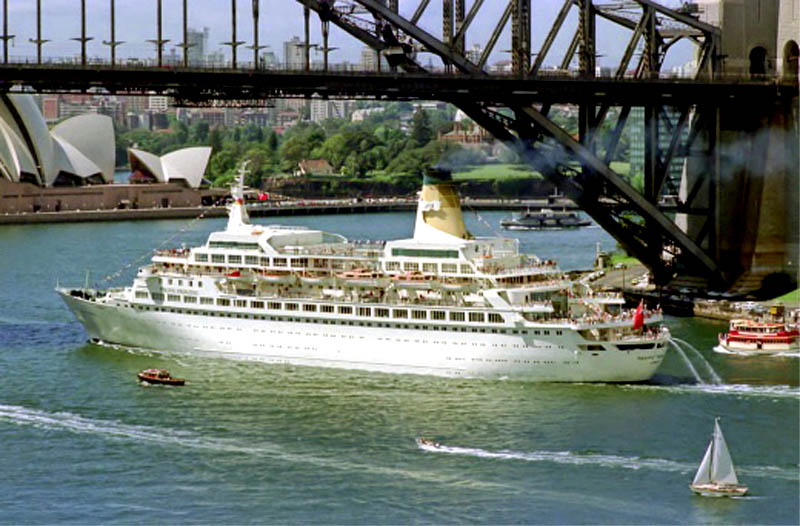 In 1977 the ship was transferred to Princess Cruises and continued a successful cruise operation from the USA.
The Much Loved "Love Boat":
In a very smart move, Princess Cruises agreed to have their two of their ships widely featured in a new television romantic/comic sitcom named "The Love Boat" that debuted in 1977. The ship that was featured in almost every episode of the series was the Pacific Princess and at times also her sister, the Island Princess.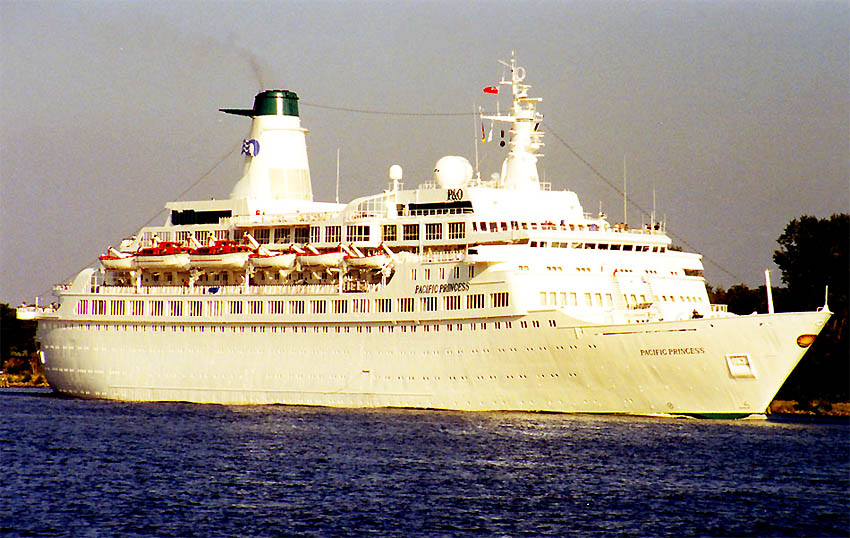 An excellent view of the Princess Cruises the MV Pacific Princess
You can visit the MS Pacific Princess Deck Plan
When the plan opens, you cam enlarge it by using the tool that will show!
There is another link at the bottom of the page
The term and song "The Love Boat" was heavily used by Princess Cruises in their marketing and it became synonymous with the Pacific Princess brand. However, these days, the song is sung on just about on every single cruise ship afloat!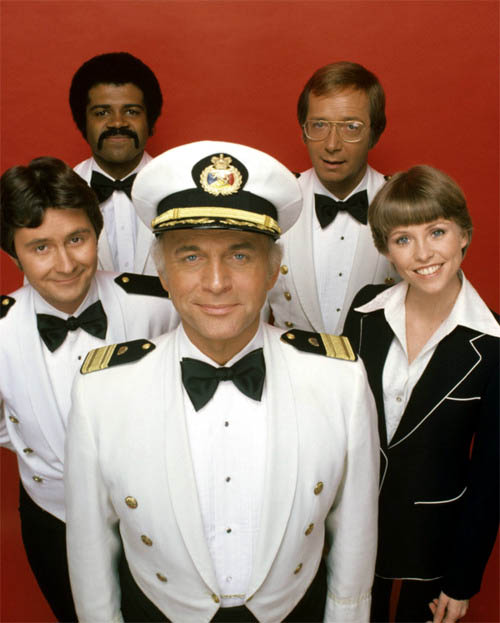 The ever-popular Love Boat crew with Captain Stubbing and his happy crew!
The success of this popular TV show that remained on air until 1986 and is still shown in countless countries around the world every single day to this very day is mostly credited with the massive increase in the popularity of cruising around the world!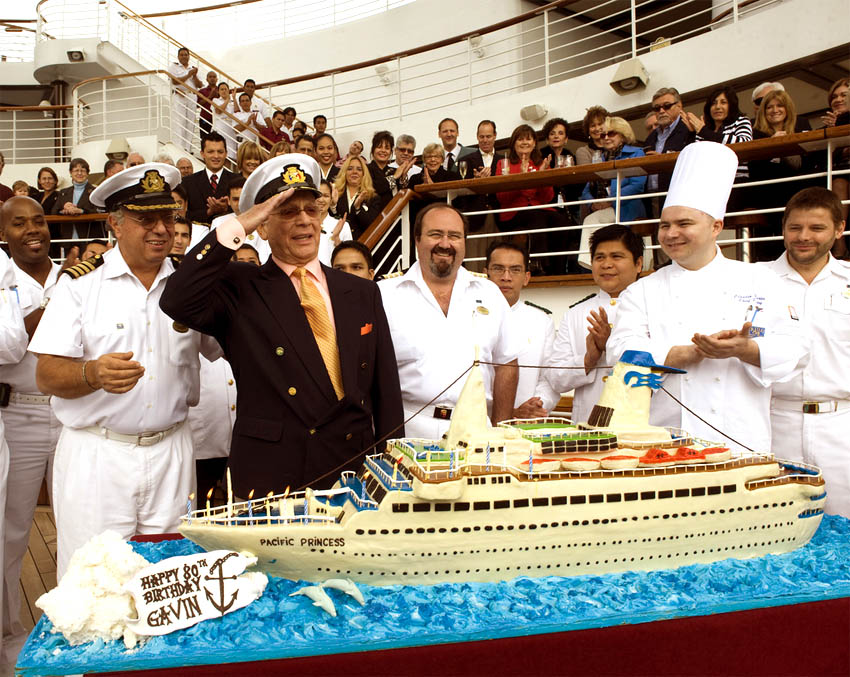 Above Photograph: On February 28, 2011 Gavin MacLeod's was on board the Golden Princess for his 80 birthday to celebrate a proper birthday bash, that was complete with a 5-foot-long, 3D replica of the original "Love Boat," the Pacific Princess. Gavin MacLeod played "Captain Merrill Stubing" in the popular television series.
Photograph by & ? Princess Cruises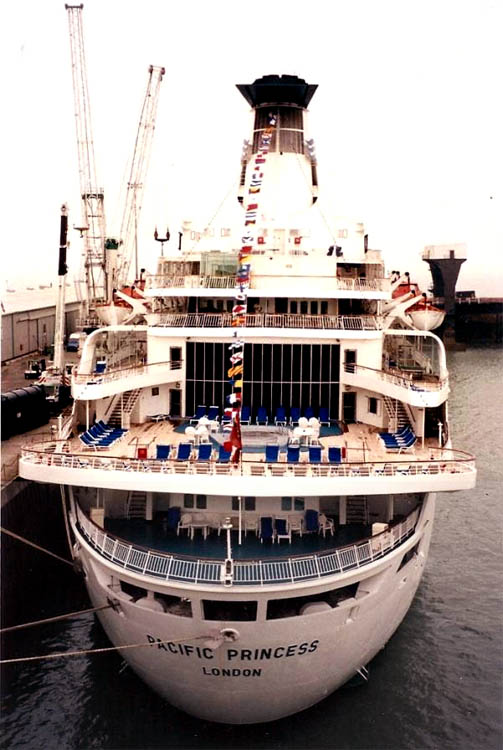 A brilliant stern view showing the huge windows of the popular two deck high
Pacific Lounge, or as it was originally called the Terrace Lounge
The ship is seen at Dover: Photograph is by and ? Peter-Wearing
Due to Princess Cruises' having purchased one of the former luxury Renaissance Cruises ships, the R3 to replace the Pacific Princess, and the new ship would be named when ready, Pacific Princess. However, The Pacific Princess "the Love Boat" the ship that made Princess Cruises one of the most loved cruise companies in the world, was sadly disposed off and sold to Pullmantur Cruises of Spain in 2001, but she was leased back in order that she could continue to operate as part of the Princess fleet until late in 2002, awaiting the delivery and refit of their new modern ship.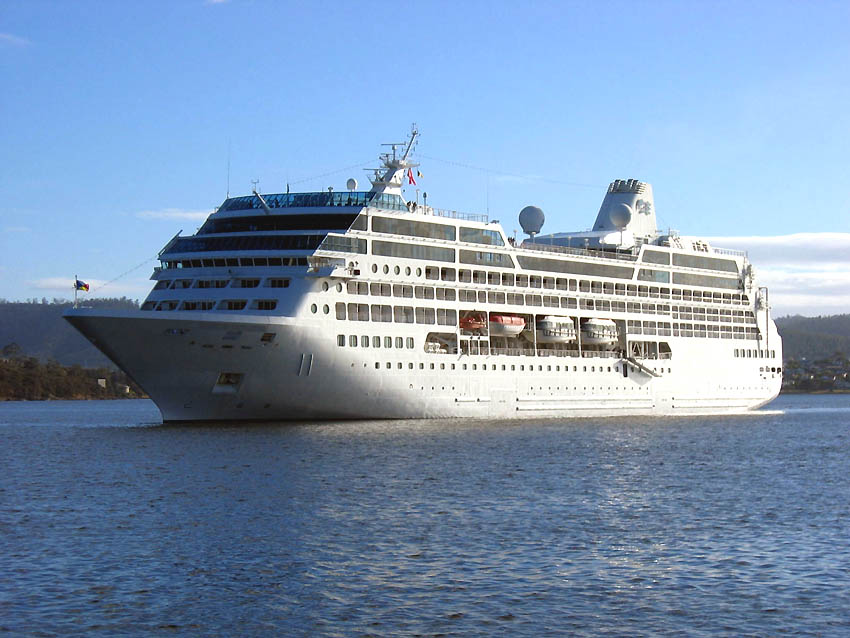 The new Pacific Princess, the ex MV R3, although internally superb, she was never the same!
Photograph by & ? Princess Cruises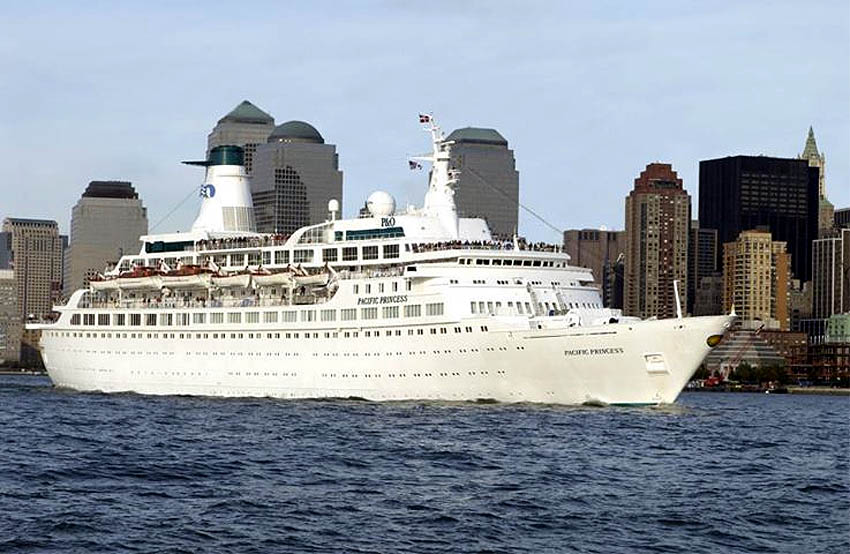 Pacific departs New York on her final Princess Cruises voyage to Rome in October 2002

Photograph by & ? Princess Cruises

The very popular MV Pacific Princess made her very final voyage for Princess Cruises late October 2002 as she departed from New York City and headed for Rome, Italy

arriving in November and she would never cruise for the English speaking market again!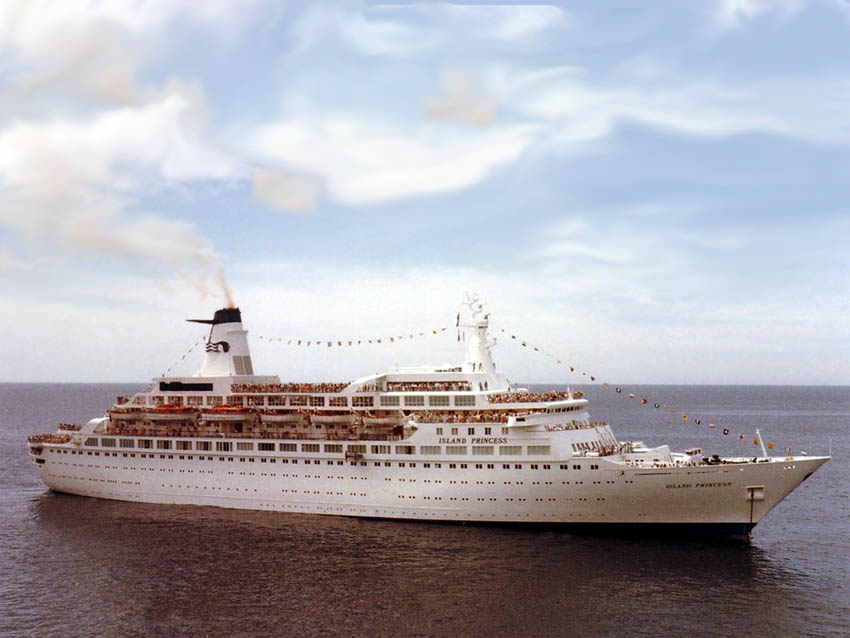 Before we continue, her sister the MV Island Princess, built for Flagship Cruises Island Venture

Photograph by & ? Princess Cruises

She was officially handed over to her new owners in November and after a refit Pullmantur Cruises gave her the shortened name of MV Pacific and she began operating mostly around the Caribbean, where she had been such as success.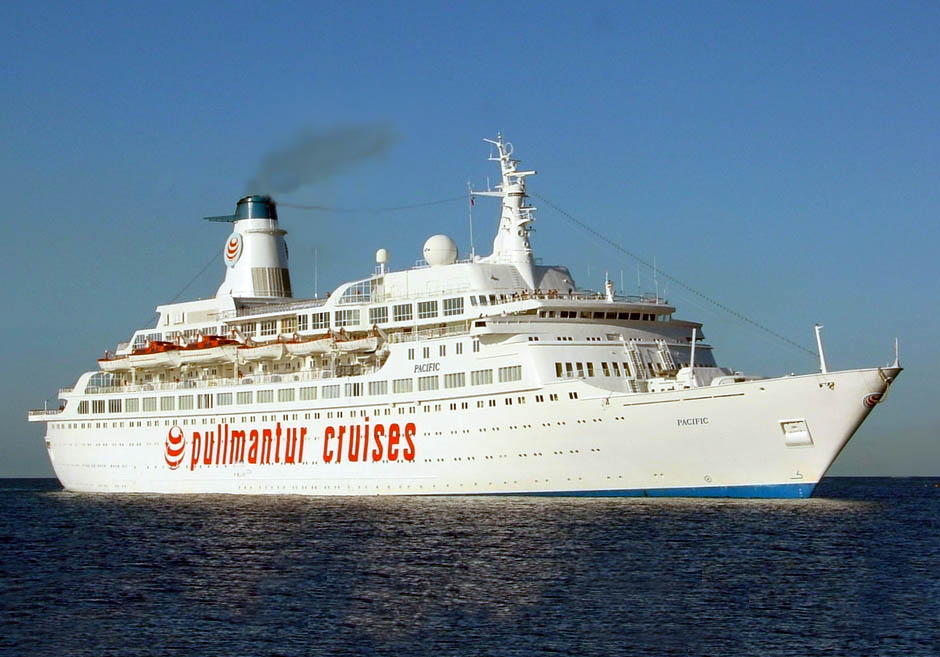 MV Pacific still looking supremely beautiful is seen in her new livery
Photograph ? Pullmantur Cruises
Now a Spanish cruise ship, she was perfect to be chartered and operated by Viagens CVC for the Brazilian market during the Southern summer and by Quail Cruises operating from Spain during the Northern Summer.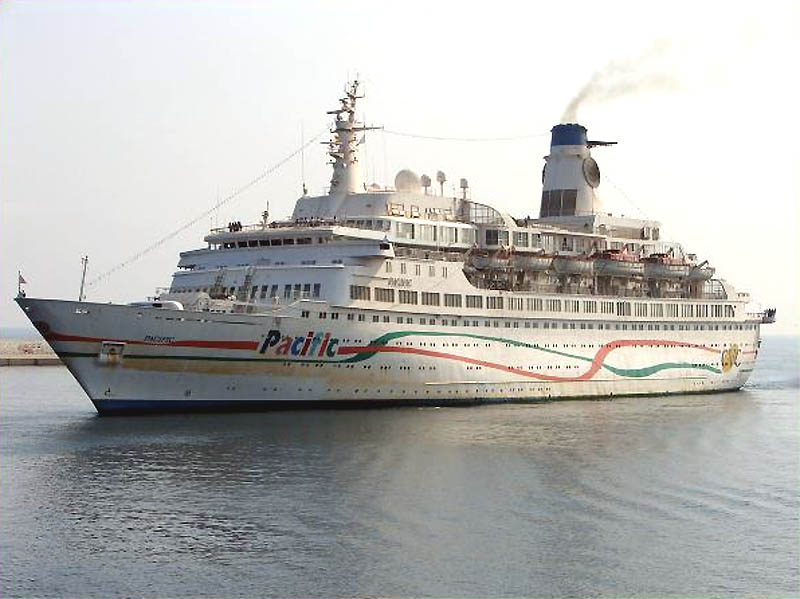 Here we see the MV Pacific in her CVC livery
Photographer unknown – *Please see Photo Notes at bottom of page!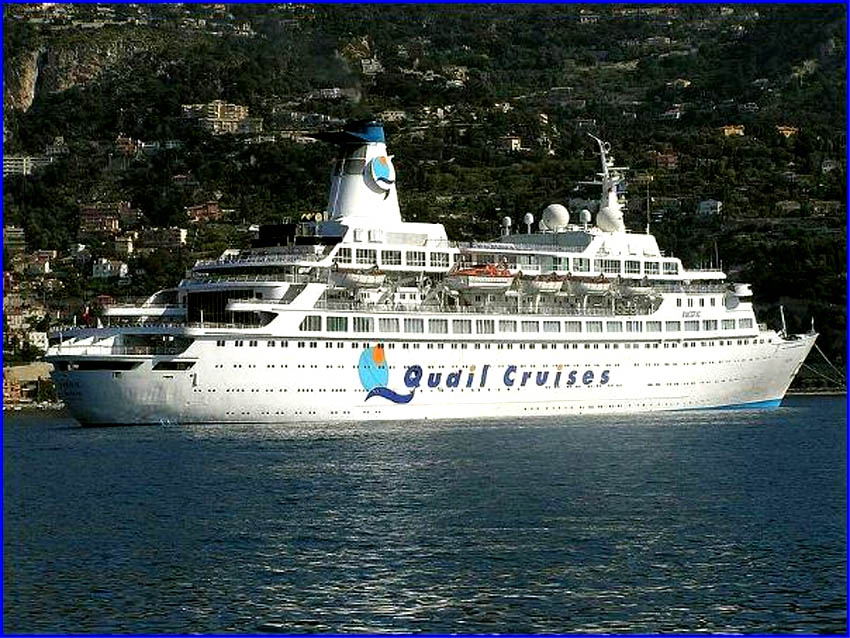 And here we see the MV Pacific in her Quail Cruises livery
This arrangement continued until she was sold in December 2007 to Templeton International Inc of Florida who had intended to charted the ship our and thus ensured that she had the repairs that were requited, which was quite extensive. It would be Quail Cruises who took over the Pacific and she received the Quail Cruises livery and she returned to her new cruise duties on March 8, 2008 operating one-week circle Mediterranean cruises. But this new cruise venture would sadly be one that ends this magnificent ships career some six months later!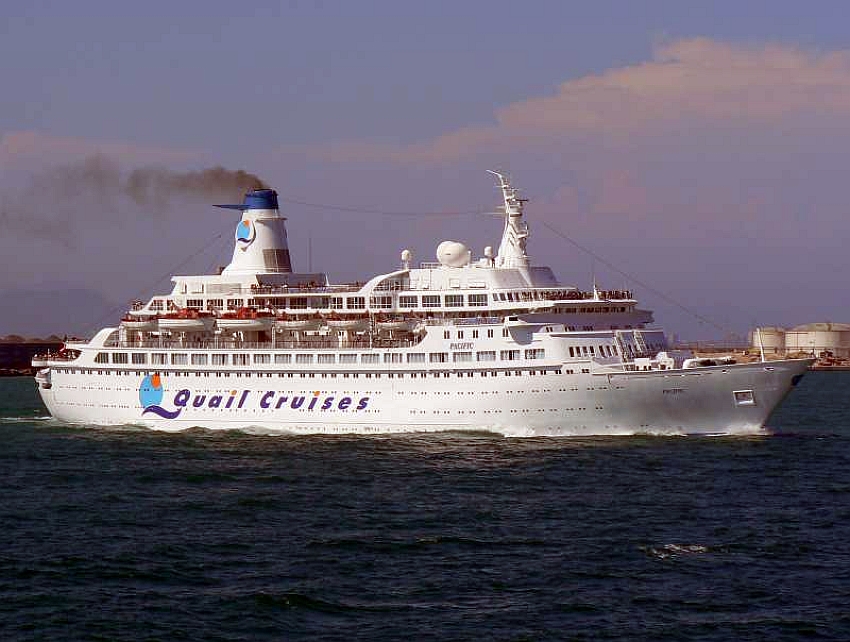 Quail Cruises MV Pacific
Where is the Love for the MV Pacific?
Tragically, the MV Pacific was seized by the Italian Coast Guard in 2008 for a massive repair bill of US$14 million that was due to San Giorgio di Porto Shipyards by Templeton International Inc. Although we should understand that the debt in question had nothing to do with Quail Cruises it was owned by Templeton International Inc who owned the Pacific. For interest, Quail had purchased Templeton from Flameck International, S.A., an entity controlled by Viagens CVC who had operated the ship before Quail Cruises.
There were three attempts to sell the MV Pacific by the Italian authorities and although the minimum bid for her was fixed at just € 3.4 million Euros, but no bids were received. However, also the company who previously owned the ship and owned the massive debt seemed to play games with the system, for on February 9, 2011 although the Genoa Court had the scheduled an auction for February 3, for the MV Pacific, it had been postponed per the request of "Templeton International" and it would now take place on February 14. We should need to understand that Quail Cruises (now operating as "Happy Cruises") had only been acting as the ships charterer and not the owner!
There was another auction on November 16, 2011, with a starting price of Euro €2,737,080 Million Euros, but again without success. Sadly during this time, the ship being laid up in Genoa was deteriorating very badly and she had come to a point were rust on her upper decks had become so severe that there were massive holes appearing and when it rained water would leak into the upper decks. Interior wise she looked delightful when my dear friend and maritime historian Peter Knego visited her in June 2012 see: http://maritimematters.com/2012/06/visit-to-the-former-pacific-princess/ and you will discover that there was some internal water damage, but it did get very much worse during the winter of 2012, and the terrible rust on board and the sad state of her once beautiful teak promenade deck continued to deteriorate badly. Sadly the once much "Love Boat" was now very much an unloved ship indeed!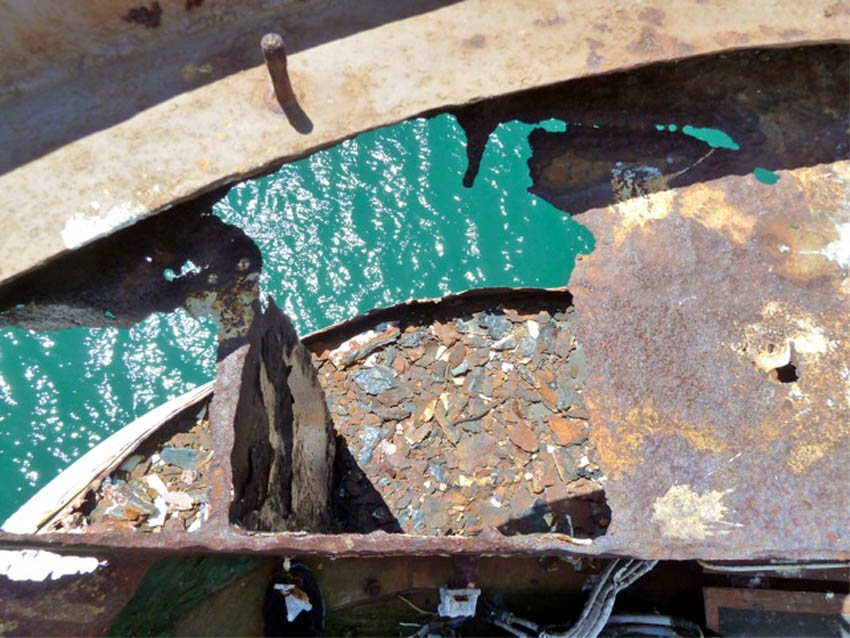 This the sad tragedy that is the Love Boat of the MV Pacific in 2012 - for here
we see the starboard bridge wing floor and how it has rusted right through
Photograph by & ? Peter Knego from his visit on board the Pacific in 2012 - http://maritimematters.com
Then in March 2012 the ship was sold for €2.5 million to Cemsan Ship breakers of Izmir in Turkey, however they defaulted on their payment and from May 2012[update] the ship was up for sale once more and the poor Pacific remained laid up in Genoa.
The Unloved "Love Boat" Tragic Day!
But then I was advised on July 28, 2013 (Australian time or July 27, European time), that obviously she had been obtained by a breaker for she was towed out of Genoa on July 27, 2013, and I was told she is bound for the breaker in Turkey. If there are any further news updates, these will be at the bottom of the page!
Obviously, this was sad news indeed for a ship that was so much loved, but became a very sad and such an unloved ship in her final years! Some of her top decks had rusted so much that huge holes had appeared and rain was pouring into her interiors, ruining carpets, furnishings, as well as electrical wiring, and so much more. The former and superbly beautiful MV Pacific Princess became completely neglected in her last days, which was a great tragedy!
Farewell, my beautiful and beloved Princess, you will always be my "Love Boat"!
Reuben Goossens.
Maritime Historian, Author & Maritime Lecturer
And Cruise'n'Ship Reviewer.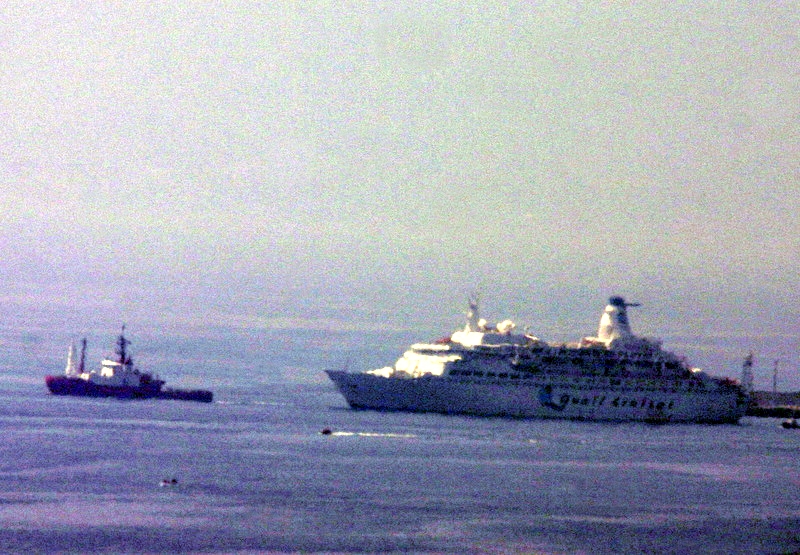 A tragic sight as the ex Sea Venture, Pacific Princess, Pacific is towed to the breakers

Photographer unknown – *Please see Photo Notes at bottom of page!

Specifications:

Built:???????????????????

Nordseewerke" (North Sea Works) at Emden in West Germany.

Yard:??????????????????? 411.

Launched:???????????? May 9, 1970.

Maiden Voyage:????? May 8, 1971.

Names:???????????????? Sea Venture 1971 to 1975.

??????????????????????????? Pacific Princess 1975 to 2002

??????????????????????????? Pacific 2002 to 2013.

Call-sign:????????????? C6SB5.

IMO number:???????? 7018563.

Tonnage:?????????????? 19,903 GRT – MV Pacific 20,630 GRT.

??????????????????????????? 3,390 DW.

Length:???????????????? 550.4ft – 167.74m.

Width:????????????????? 80.8ft – 24.6.

Draft:??????????????????? 24.3ft – 7.4m.

Engine:???????????????? 4 ? Fiat Geared Diesels C420, 10SS 18,000 BHP, 13,240 kW.

Screws:???????????????? Twin.

Speed:????????????????? 20 knots – 21.5 max.

Decks:????????????????? 8.

Passengers:?????????? 767 One-Class MV Sea Venture.

??????????????????????????? 626 MV Pacific Princess.

??????????????????????????? 640 MV Pacific – lower berths.

??????????????????????????? 750 MV Pacific – all berths.

Crew:??????????????????? 184 to 220.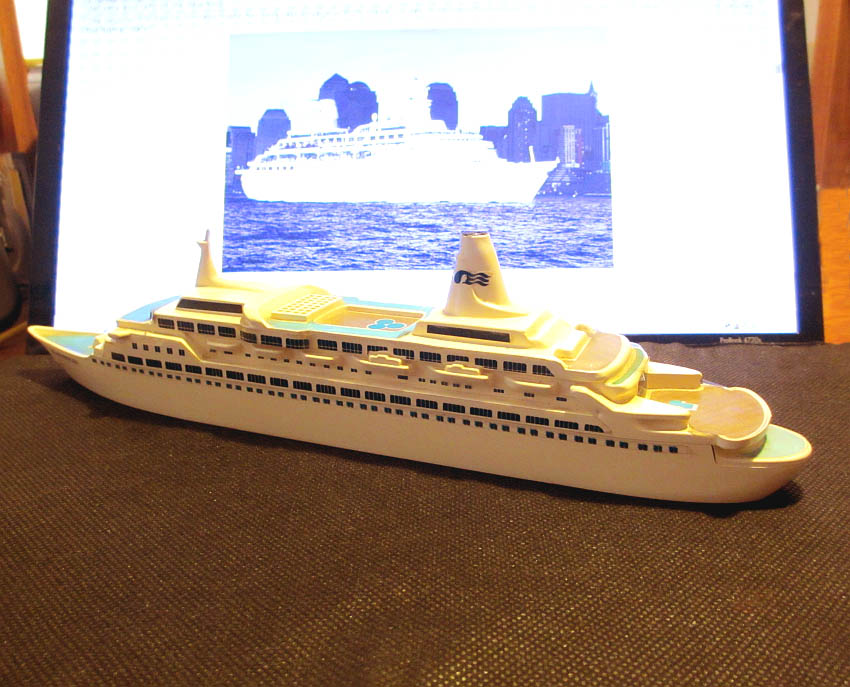 The author's beloved waterline model of the Pacific Princess
Pacific Princess Photo Album
Photographs are from a variety of sources Princess, the author, Peter Knego and *unknown sources
Owners of the unknown images, please see the Photo notes at the bottom of the page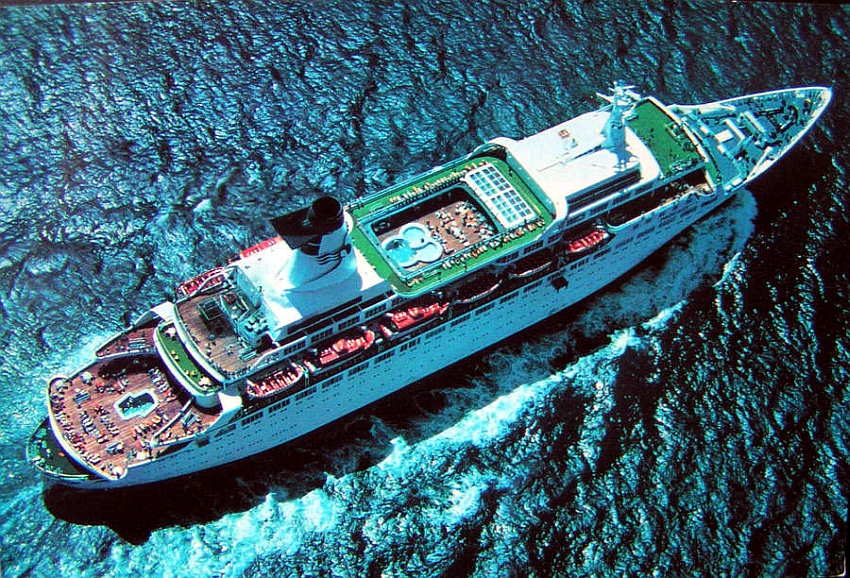 An excellent view of the Princess Cruises the MV Pacific Princess' extensive decks
Photograph by & ? Princess Cruises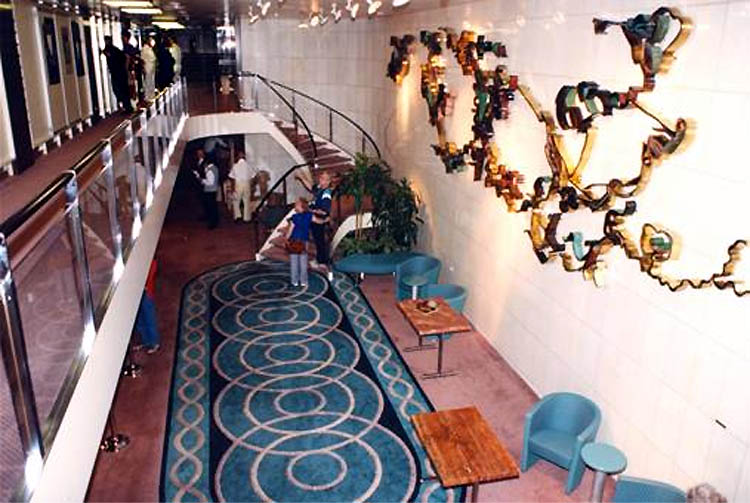 The famed two deck high Lobby
Above is the original Lobby with the fine marble wall spreading high and low!
Below we see the Lobby much later after renovations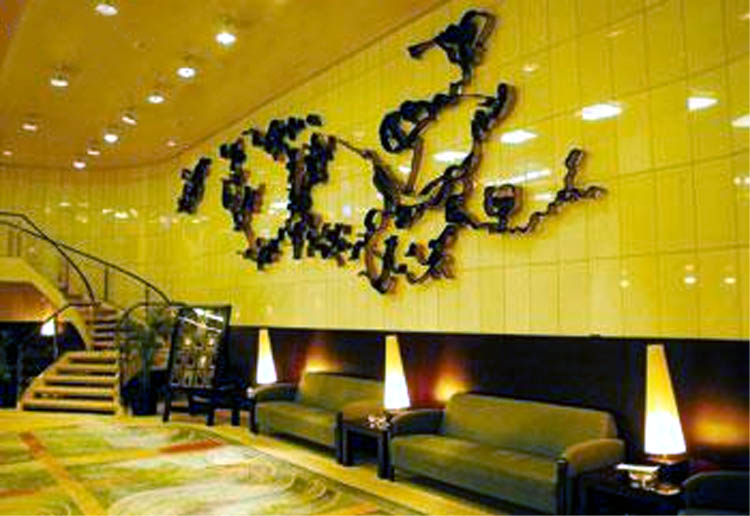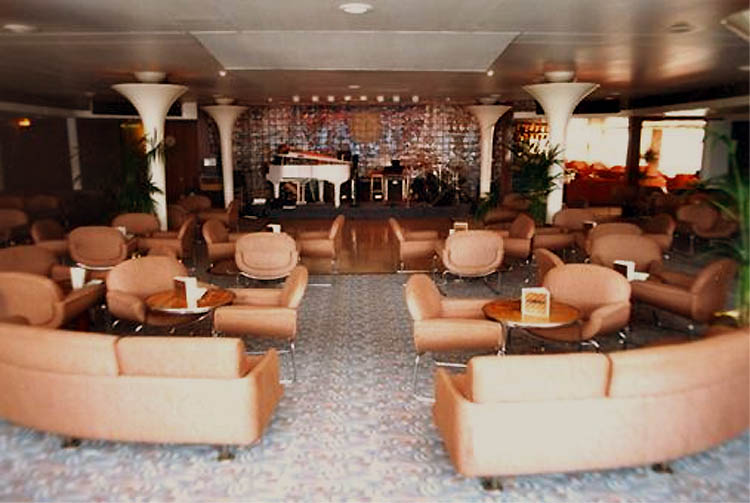 The popular Princess Lounge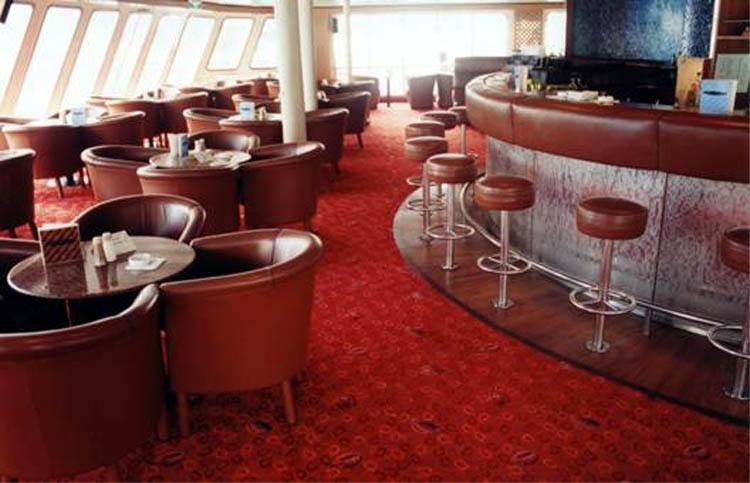 Top of the ship is the Starlight Lounge
These Days it would be called the Crow's Nest!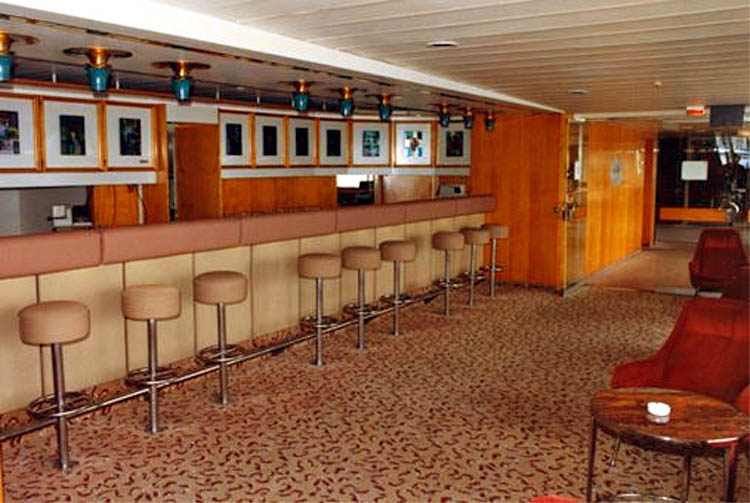 The Carousel Bar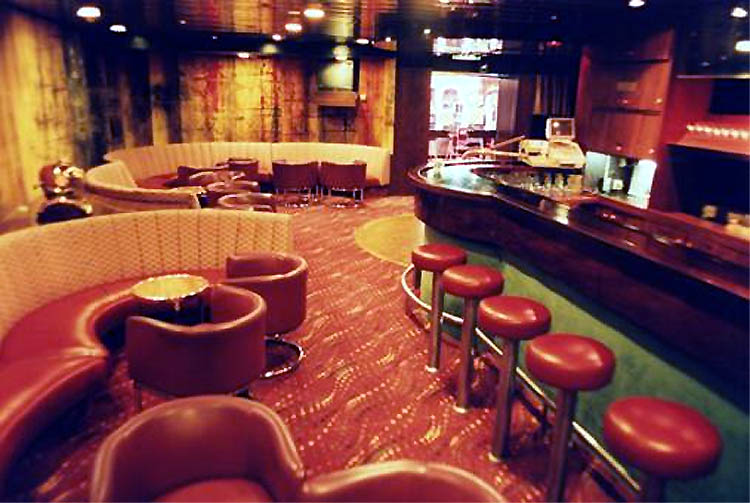 The Skaal Bar was a late addition to Pacific Princess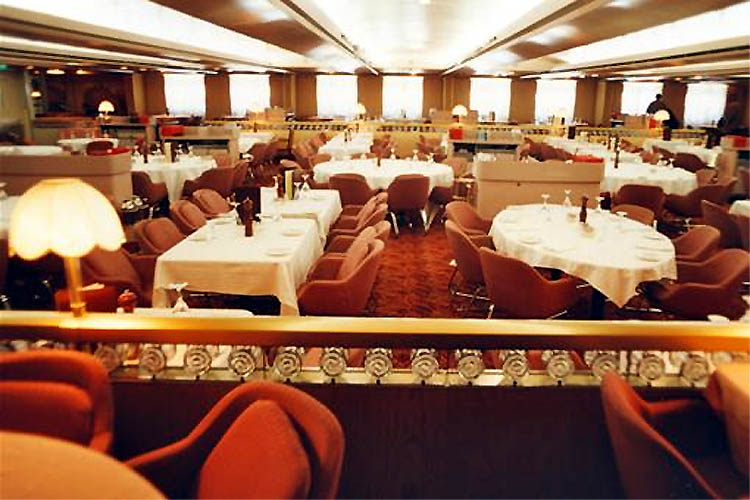 Coral Dining Room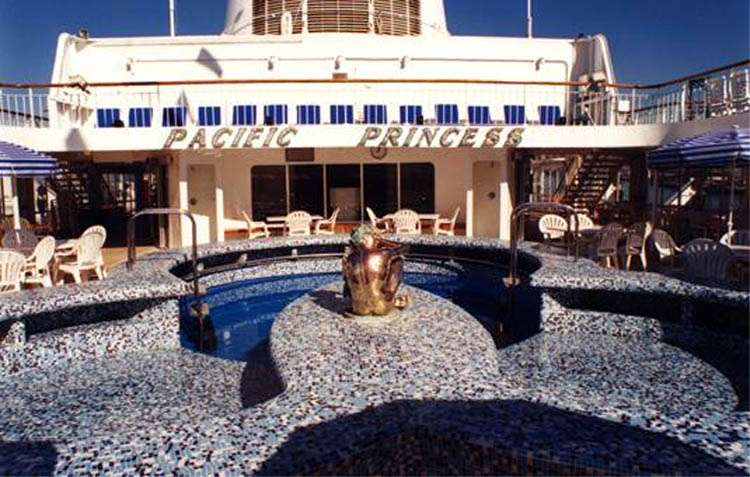 The much loved amidships pool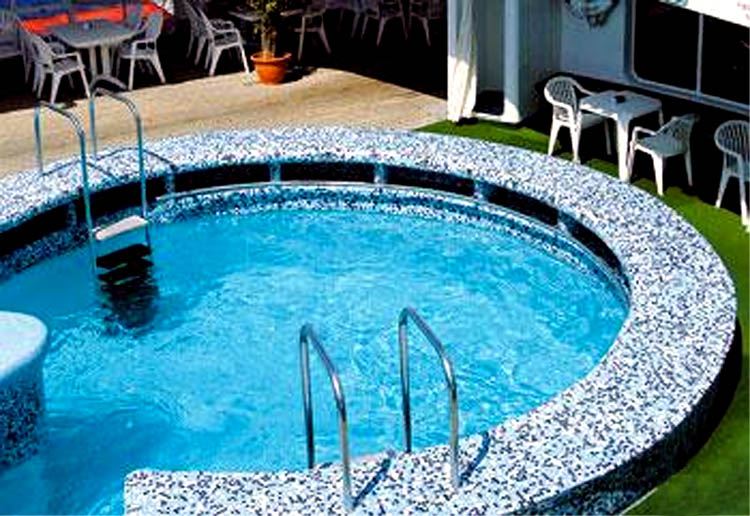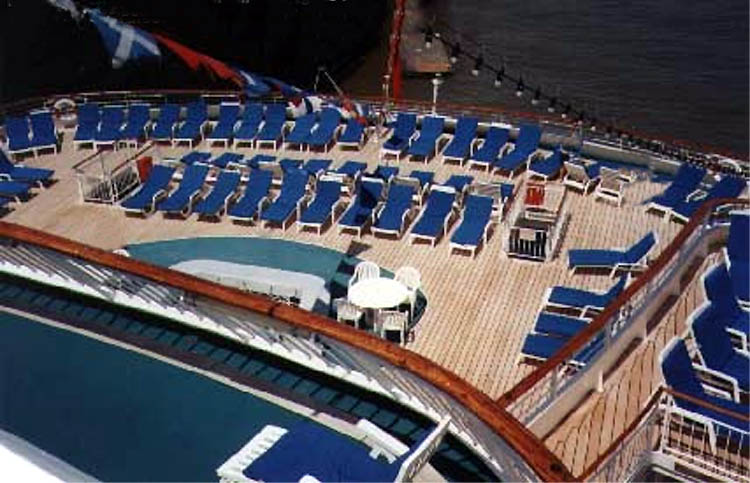 Overlooking the aft pool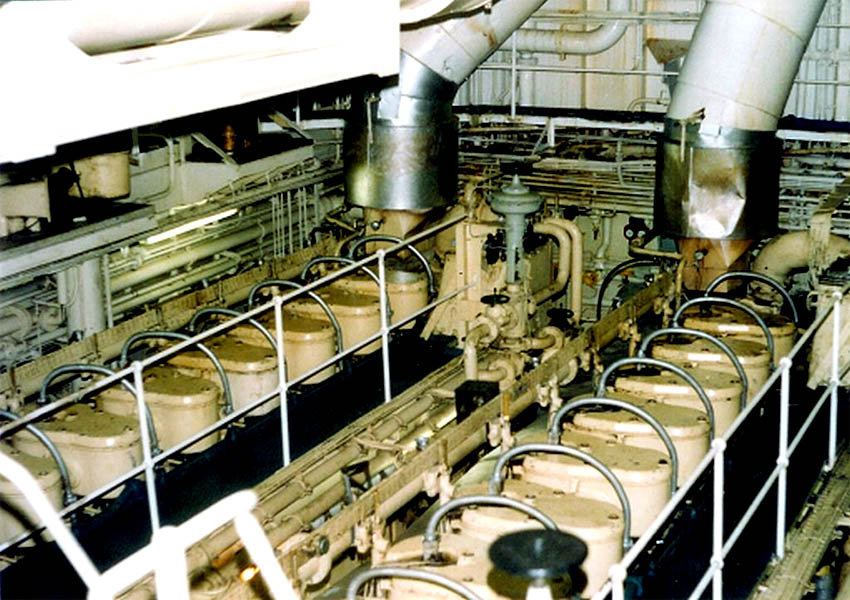 Here we see the Nr. 3 and 4 Fiat main engines that are on board both ships
Photograph by & ? Phil Archer
Thankfully, there is still One of the Two Ships built Sailing
MV Discovery, ex Island Princess, Island Venture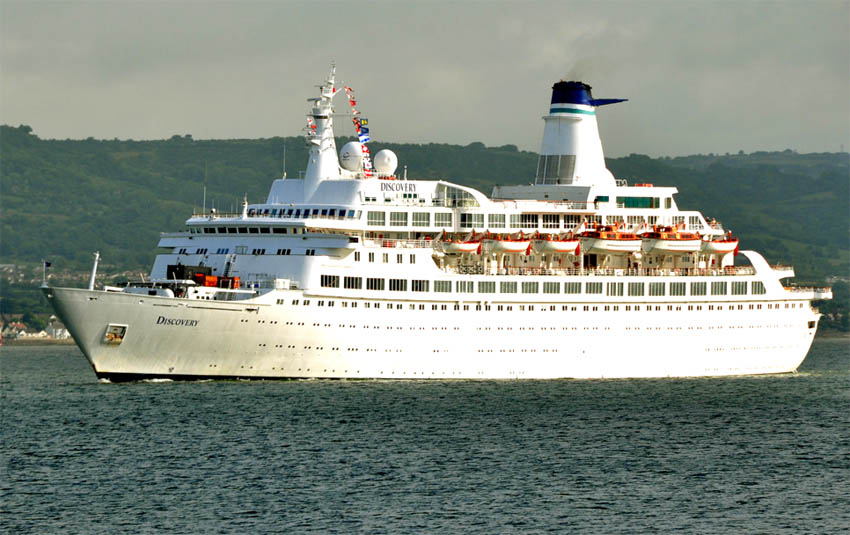 To conclude, we see the wonderful MV Discovery, a ship that just seems to go on!
MV Pacific Final Days the Tragic News Updates!
Update:
Finally after all those aforementioned attempts she was sold in February 2012 to unknown buyer and in late in July 2013 she left Italy undertow with the name "ACIF" being the name PACIFIC, but without the letters "P….IC" on her bow and she was registered in Togo, being a port for convenience.
I was told a number of days later that she was heading for a breakers yard with the name "ACIF" on her bow and registered in Togo for convenience, and she was being towed at a speed of 5.4 knots across the Aegean Sea for at Aliaga, Turkey. The same reports told me that she is due to arrive at her destination sometime late afternoon on August 6, 2013.
She departed Genoa with a number of her lifeboats and tenders that remained ashore in Genoa, although her two forward lifeboats remained in place for the voyage, which I was told was quite rough in part and she may well have taken on water being undertow, thus the list. But, you will note that a tender is placed above her bridge, and a lifeboat is even on top of the aft sliding glass magadome roof.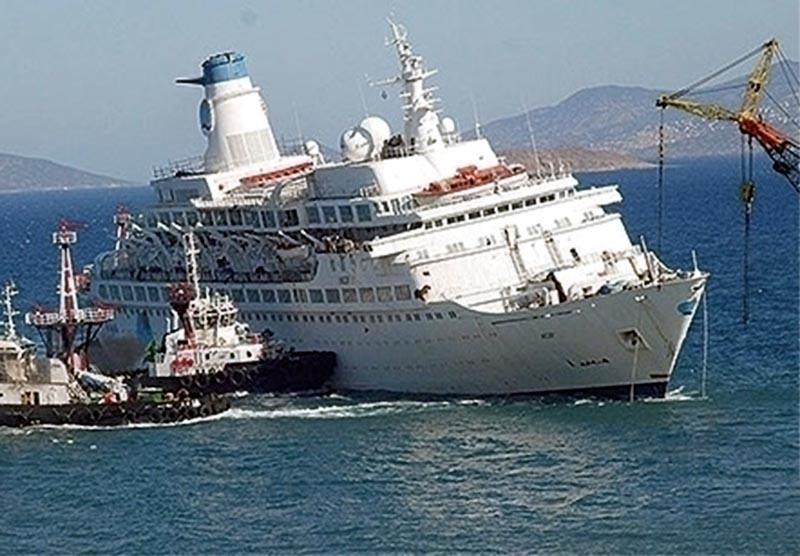 A telelens shot of the ACIF arriving at the breakers yeard
Photographer unknown – *Please see Photo Notes at bottom of page!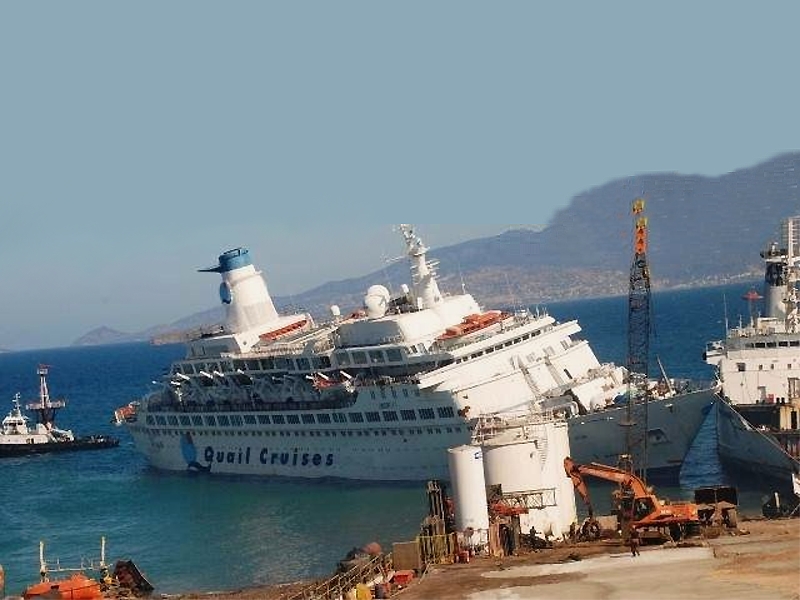 A sad sight that is the Pacific that is seen at the breakers yard and she at a list!
Photographer unknown – *Please see Photo Notes at bottom of page!
Obviously, this is the END of the much loved; "The Love Boat"
Tragic Conclusions: I have been advised that sadly a number of breakers yard workers died whilst they were working in her engine room. In addition another six men were severely injured by toxic gases and were hospitalised.
I have been advised that she continued to list and that water had been pumped out and leaks plugged. Having done that they moved the ship to another berth as she was located between two other ships and she was endangering these ships and the work on their breaking up. Then by November 2013 she had again listed worse than before to starboard.
That is what happens when there are no stringent safety measures at hand for these poor men who are paid very little, and believe it or not, it is far better in Turkey than it is in those evil yards such as Alang in India and Chittagong in Bangladesh, where men, women and even children work in the worst of conditions and are treated very much as if they are rubbish at these horrid breakers yards, that are run by very rich men who care nothing for anyone but their extreme wealth! Yet the majority of shipping companies in general have little to no conscience to selling their ships to these breakers. This is one of the great human tragedies of today, but sadly no-one cares! The question is, why can these ship breakers not be better regulated?
Visit the MS Pacific Princess Deck Plan
When the plan opens, you cam enlarge it by using the tool that will show!
Visit Eckhard Herrnsdorf MS Pacific Cruise Photo Album in June 2008
This was very close to being one of her last cruises
***********************************
Return to the ssMaritime Main INDEX
ssMaritime.com & ssMaritime.net
Where the ships of the past make history & the 1914 built MV Doulos Story
Also visit my
"Save The Classic Liners Campaign"
Please Note: ssmaritime and associated sites are 100% non-commercial and the author seeks no funding or favours of any shape or form, never have and never will!
Photographs on ssmaritime and associate pages are by the author or from the author's private collection. In addition there are some images that have been provided by Shipping Companies and private photographers or collectors. Credit is given to all contributors. However, there are some photographs provided to me without details regarding the photographer/owner concerned. I hereby invite if owners of these images would be so kind to make them-selves known to me (my email address may be found on www.ssmaritime.com only), in order that due credit may be given.
This notice covers all pages, although, and I have done my best to ensure that all photographs are duly credited and that this notice is displaced on each page, that is, when a page is updated!
ssMaritime is owned & ? Copyright by Reuben Goossens - All Rights Reserved