Please Note: Firefox and some other search engines are not suitable – Use "Internet Explorer" for this page to load perfectly!
Click the logo above to reach the Cruise-Australia FrontPage for News Updates & "Ship of the Month"
With Reuben Goossens
Maritime Historian, Cruise'n'Ship Reviewer, Author & Lecturer
Please Note: All ssmaritime and my other related ssmaritime sites are 100% non-commercial and privately owned sites. Be assured that I am NOT associated with any cruise or shipping companies or travel/cruise agencies or any other organisations! The author has been in the passenger shipping industry since May 1960 and is now semi-retired, but continues to write article on classic liners and cruise ships in order to better inform cruise and ship enthusiasts for their pleasure!
Istanbul Deniz Otobusleri
M/S Pasabahce
The oldest Turkish Passenger Ferry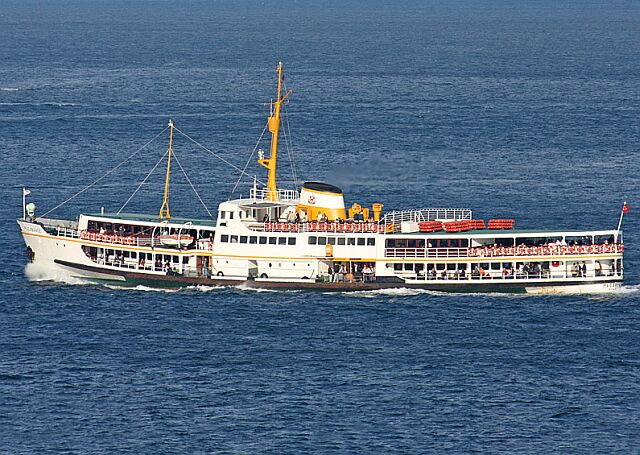 The remarkable

MS Pasabahce seen crossing the Bosphorus

MS Pasabahce is a remarkable all steel ferry which was ordered by "Turkive Denizcilik Isletmeleri A.S." and she was completed in 1952 in the shipyards of Cantiere Navale di Taranto S.p.A., Taranto in Italy. Having been launched and completed she commenced her ferry service from west side of Istanbul across the Bosphorus River to the East, or Asian side of the city. She is officially operated by "Istanbul Deniz Otob?sleri A.S." of Istanbul, but owned by "Turkive Denizcilik Isletmeleri A.S."

MS Pasabahce departs Kabatas Pier, which is adjacent to Dolmabah?e Palace, at 9.10am and sails via Kadikoy (9.30), Kinaliada (10.00), Burgazada (10.15), Heybeliada (10.30), arriving at Prince's Island stop of Buyukada at 10.40. From Buyukada she makes several return voyages to other destinations before returning to Kabatas where she arrives at 3.00pm. She then does one more sailing to Buyukada at 6:30pm but remains there overnight and departs Buyukada at 6.00am returns to Kabataş at 7.30am recommencing her day all over again. These times are from the IDO Ferry services 2009 Winter Timetable and may be subject to change. Rolex Replica Watches

Three captains currently operate the MS Pasabahce and these are: Captain Yasar Cakır, Captain Nuri Lor and Captain Askı Gulactı. Captains Yasar Cakır and Nuri Lor were both captains of the other famous Istanbul ferry the MS Fenerbahve. However they moved to MS Pasabahce after Captain Cemalettin Hıra retired.

Now in 2014, this remarkable 62 year old MS Pasabahce is the oldest, largest and apparently the fastest ferry which I believe is still in operation on the Bosphorus, but she is in danger due to her age of being sold in the near future for scrap, and there are many who would like to see her survive and hope to find her buyer who could giver a new and an extended future in Istanbul for she has so much to offer this and future generations. For why should we destroy all of our maritime history when there is so little superb classic Turkish maritime history left! The truth is that today Turkey has only one genuine classic passenger liner left, being the superb 1955 German built MV Akdeniz, and then there is the Grand Old Dame of the Bosphorus, the proud MS Pasabahce. Thus, let us try and retain her for our future generations to enjoy before this beauty of Turkish maritime history is gone forever. Rolex Replica Watches

Now is the time to get together and start thinking of saving the MS Pasabahce as well as the MV Akdeniz in order that both may proudly make a statement in the future about the days of excellence of Turkish maritime history!

Reuben Goossens

Maritime Historian, Author & Lecturer (Retired)

Commenced in the Passenger Shipping Industry in May 1960

Official Historian of the 100-year-old MV Doulos

Founder (1994) President "SCLC"

"Save a Classic Liner Campaign"

Featuring over 594 classic Liners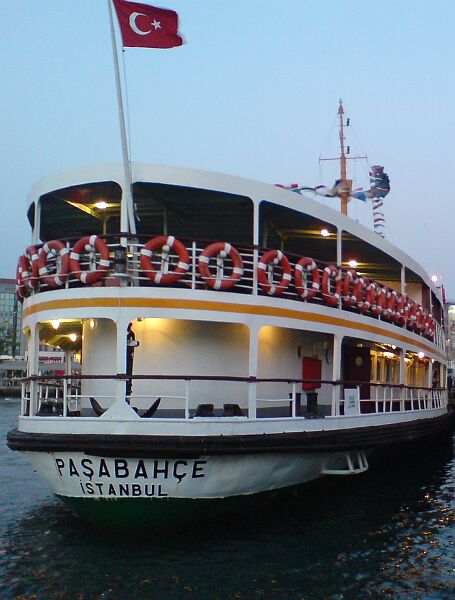 A fine stern view of the Pasabahce berthed
Specifications:??????????????
Built by:?? Cantiere Navale di Taranto S.p.A., Taranto in Italy - 1952.
Building number:?? 141.
IMO:?? 5271070.
Call Sigh:?? TC5444.
Port of Registry:?? Istanbul.
Tonnage:?? 1,042 GRT (Gross Registered Tons).
Engines:????????????????????????? 2 Sulzer TD36 original diesel engines – total BHP 3,200 – KW 2,354.
Screws:?? Twin.
Service speed:?? 12 knots - Max 18 knots.
Length:?? 74,46m.
Width:?? 11.21m.
Draught:?? 3.85m.
Passengers:?? 2,100.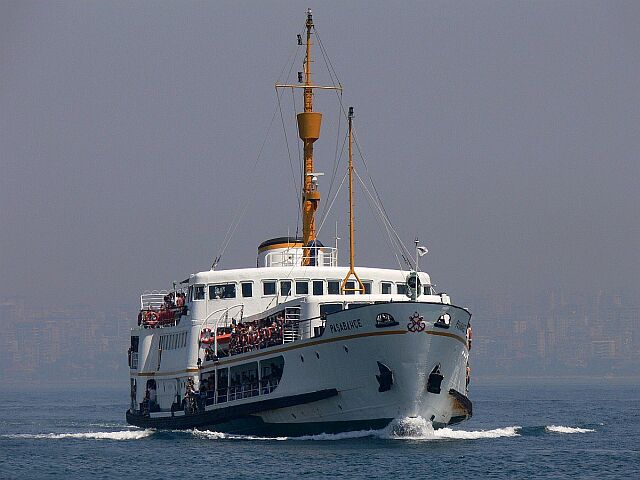 A fine bow on photograph of this fine Turkish ferry!

INDEX

??????????????????????? whilst she has been at anchor as an accommodation vessel

????????????????????????????????????

***********************************

Return to the ssMaritime Main INDEX

ssMaritime.com & ssMaritime.net

Where the ships of the past make history & the 1914 built MV Doulos Story

Also visit my

"Save The Classic Liners Campaign"

Please Note: ssmaritime and associated sites are 100% non-commercial and the author seeks no funding or favours of any shape or form, never have and never will!

Photographs on ssmaritime and associate pages are by the author or from the author's private collection. In addition there are some images that have been provided by Shipping Companies and private photographers or collectors. Credit is given to all contributors. However, there are some photographs provided to me without details regarding the photographer/owner concerned. I hereby invite if owners of these images would be so kind to make them-selves known to me (my email address may be found on www.ssmaritime.com only), in order that due credit may be given.

This notice covers all pages, although, and I have done my best to ensure that all photographs are duly credited and that this notice is displaced on each page, that is, when a page is updated!

ssMaritime is owned & ? Copyright by Reuben Goossens - All Rights Reserved