Click the logo above to reach the ssMaritime FrontPage for News Updates & "Ship of the Month"
With Reuben Goossens
Maritime Historian, Cruise'n'Ship Reviewer & Author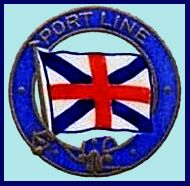 Original Port Line badge
Author's private collection
MS Port Sydney
Later names: Akrotiri Express, Daphne, Switzerland, Ocean Monarch
Currently cruising as the MV Princess Daphne
Dave James Sails – UK to Sydney in 1961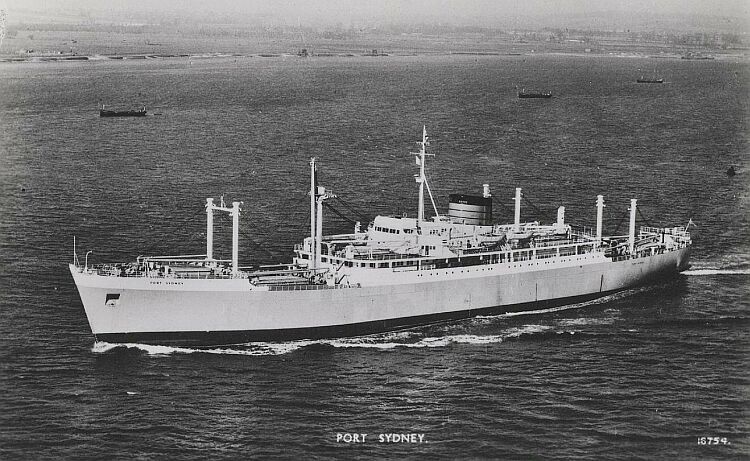 Postcard of the Port Sydney
From the ssMaritime collection
"I was a Junior Engineer on the MS Port Sydney and I had, to say the least an ecstatic and a wonderful homeward voyage back to Sydney Australia in 1961. We sailed via Cape Town and across the Indian Ocean and during our long ocean stretches I greatly enjoyed such wonderful company amongst the engineers, crew and when mixing with the passengers.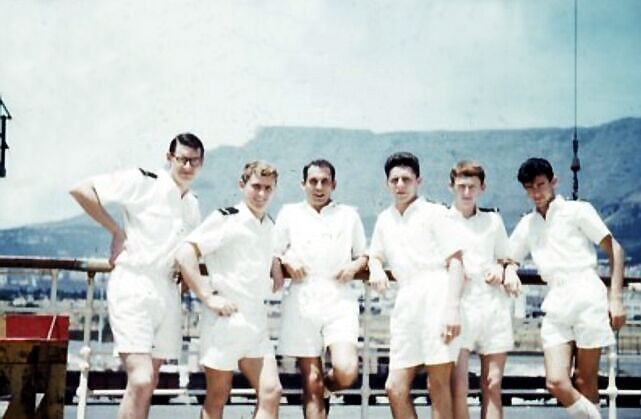 A group of engineers out on deck on the Indian Ocean
Provided by & © David James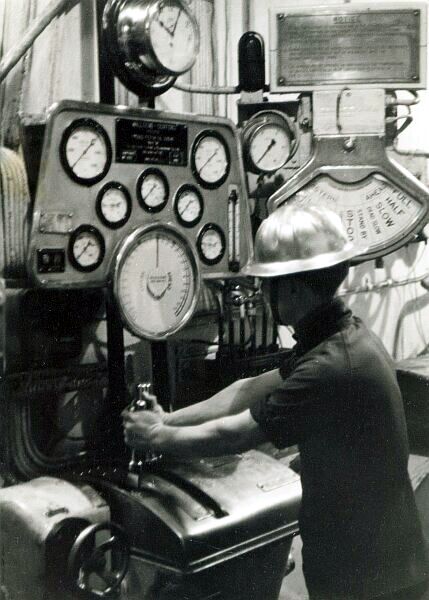 Here I am at the controls in the engine room
Provided by & © David James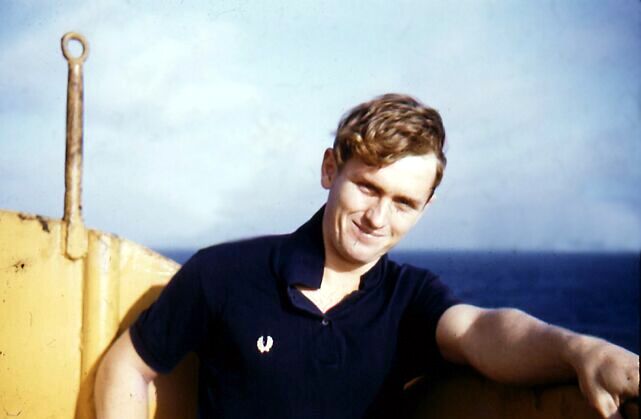 This me at the top of the mast standing at the Crows Nest (look out)
Provided by & © David James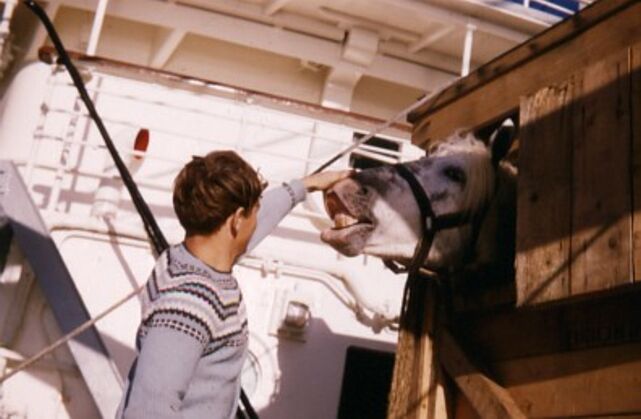 There was a Percheron horse on board and I befriended it and often went to visit for a pat
Provided by & © David James
In all I have had some forty four years of seafaring, sailing with companies such as Port Line, Burns Philp, Union Steamship's (Australia's) sheep carrier such as the 1936 built SS Trangie, as well as Sydney's famed Hydrofoil ferries, Salvage tugs but more recently Dredges. However, all of these have never diminished my fond memories of one of the most beautiful and solid ships ever built, the MS Port Sydney, indeed the best ship I have ever sailed on!
David James - Australia."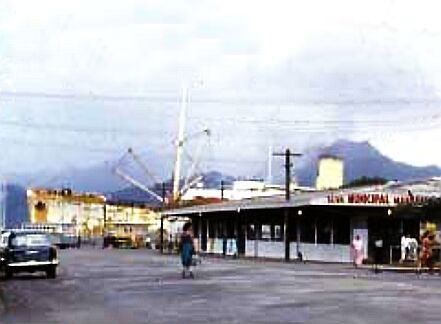 The SS Trangie whilst at an Pacific Island
Provided by & © David James
An additional short Note regarding the SS Trangie: She was built by Harland and Wolff, Belfast in 1936 for a single ship company associated with the United Fruit company of Boston, USA. Her main purpose was the carriage of bananas between Caribbean ports and the UK and USA. She also had some luxury accommodations for a limited number of passengers. She retained her registration at Belfast for almost her entire life. However, she operated from Australia for Union Steamship for some time and became rather well known after she had returned to Australia from a dramatic voyage to Mexico in 1964 with her Australian crew and she was tied to a buoy off Cockatoo Island. During her last sheep carrying voyage many of the sheep on board had apparently died and this had made big news worldwide. She soon departed to be broken up.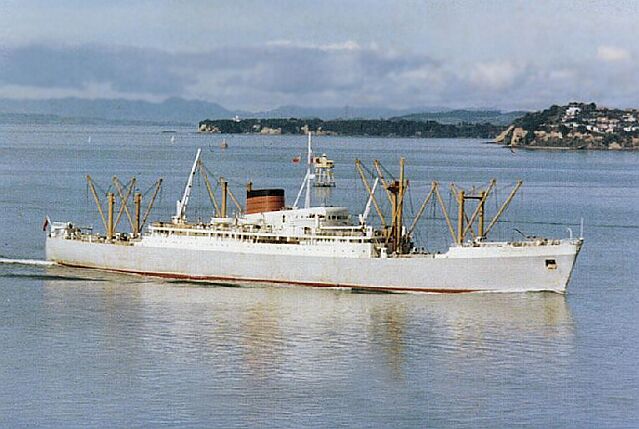 The delightful MS Port Sydney is seen arriving in Sydney
Author's private collection
Part One:                  Read about the history of the Port Sydney
Part Two:                  John Whitehead Story - Page One - Story & photographs by John Whitehead 3rd Engineer 1959/60
                                          John Whitehead Story - Page Two – The story continues
                                          John Whitehead Story - Page Three – Online in the near future
                                  Dave James Story –        Page Four – Dave an engineer sails home to Australia
Part Three:               Discover her as a modern, but classic cruise ship – (on my cruise site - cruise-australia.net)
Part Four:                 Princess Daphne DECK PLAN - (on my cruise site - cruise-australia.net)
Why not Cruise on this Ship, or one of the superb Classic Ships still sailing today
Believe me it is worth it!
**************************************************
Use the Back button on your browser or Close the Page to return to the previous page
or go to our
INDEX
Who is the Author of ssMaritime?
Commenced in the passenger Shipping Industry in May 1960
ssMaritime.com & ssMaritime.net
Where the ships of the past make history & the 1914 built MV Doulos Story
Also visit my …
"Save The Classic Liners Campaign" & "Classic Ocean Voyages" pages
And …
Photographs on ssmaritime and associate pages are by the author or from the author's private collection. In addition there are some images that have been provided by Shipping Companies and private photographers or collectors. Credit is given to all contributors. However, there are some photographs provided to me without details regarding the photographer/owner concerned. I hereby invite if owners of these images would be so kind to make them-selves known to me (my email address may be found on www.ssmaritime.com only), in order that due credit may be given. I know what it is like, I have seen a multitude of my own photographs on other sites, yet these individuals either refuse to provide credit or remove them when asked, knowing full well that there is no legal comeback when it comes to the net. However, let us show these charlatans up and do the right thing at all times and give credit where credit is due!
This notice covers all pages, although, and I have done my best to ensure that all photographs are duly credited and that this notice is displaced on each page, that is, when a page is updated!
ssMaritime is owned and © Copyright by Reuben Goossens - All Rights Reserved