Click the logo above to reach the ssMaritime FrontPage for News Updates & "Ship of the Month"
With Reuben Goossens
Maritime Historian, Cruise'n'Ship Reviewer & Author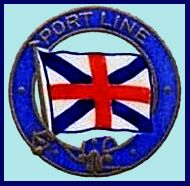 Original Port Line badge
Author's private collection
MS Port Sydney
Later names: Akrotiri Express, Daphne, Switzerland, Ocean Monarch
Currently cruising as the MV Princess Daphne
The John Whitehead Story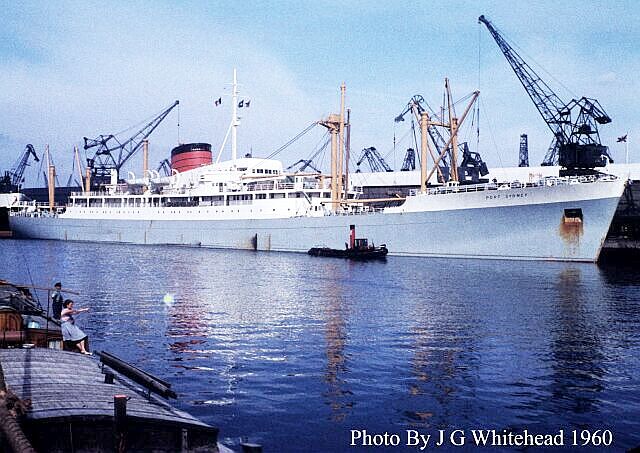 The graceful lines of Ms Port Sydney seen at Dunkirk in 1960
A Note by the author of ssMaritime: I am most grateful to ex senior 3rddEngineer of the Port Sydney from October 1959 to March 1960, who also sailed on various other ships during his career, for this excellent three webpage feature containing an excellent insight to this remarkable ship and its daily workings. I am sure that we will all be enlightened as we delve into her engine room as well as other facets of the ship and her daily life. If you have sailed on her late in 1959 or the early 60's we would love to hear from you, especially if you were a shipmate of John Whitehead.
All images, except for those marked otherwise, were taken and provided by John Whitehead and they are © Copyright. Images may not be copied for any purpose, be it for personal use or for publication. Should you wish to use any of the images shown on this site for a specific reason see the photo notes at the bottom of the page.
Reuben Goossens.
Page One
Life as an Engineer on MS Port Sydney
By John Whitehead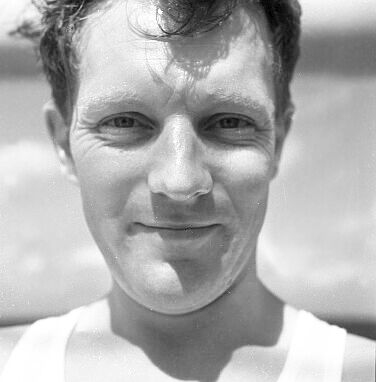 John Whitehead seen in 1960
I joined MS Port Sydney as Senior 3rd engineer in London Tilbury docks in October 1959 in order to gain enough sea time for my chief diesel endorsement ticket having sailed most of my sea time on steam driven ships with Ellerman Lines, and curiously I also sailed on the SS City of Sydney as senior 3rd engineer when this ship was involved on April 1, 1958, in the dramatic rescue of almost 1,300 people from the burning Scandinavian migrant ship MS Skaubryn, which of course is another story!
However, getting back to the MV Port Sydney, I always had an interest in Port Line having served my five year engineering apprenticeship with R&W Hawthorn Leslie and Co Ltd. St. Peters works, on Tyneside, who also built and repaired many of the Port Line ships.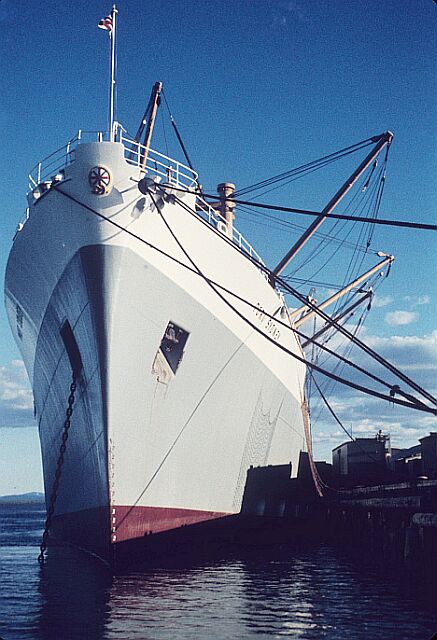 The shapely bow of the Port Sydney – taken whilst in Australia
Yet Port Sydney, a twin screw ship, was built in 1954 by the famed Swan Hunter & Wigham Richardson shipyards on the Tyne, which belonged to the group that also comprised the "Wallsend Slipway and Engineering Company Ltd," where the engines were made under license from "Doxford" of Sunderland and these were known as the "Wallsend-Doxford Opposed Piston Oil Engines."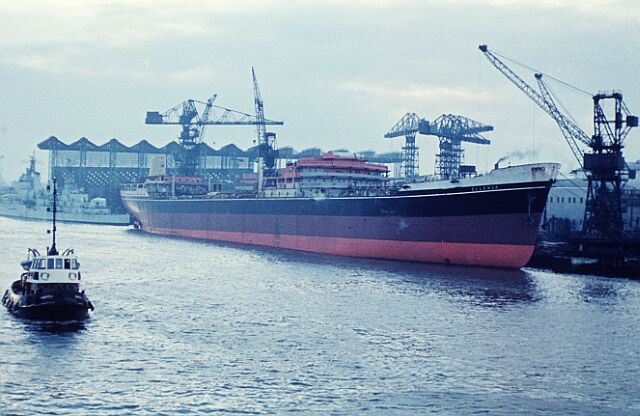 The Swan Hunter & Wigham Richardson's shipyard at Wallsend on Tyne where Port Sydney was built
The Port Sydney engine room was extremely well managed, and when in port most of the engineers were on day work servicing and inspecting the main engines and the auxiliary plant. Usually at least one main engine cylinder would be opened up, the pistons would be withdrawn and its wear would be measured and bearing clearances checked (using thin lead wire strips which after being flattened after being squeezed between the bearing halves indicated the existing clearance) and crankshaft deflections would also be measured.
Photographs – Engine Room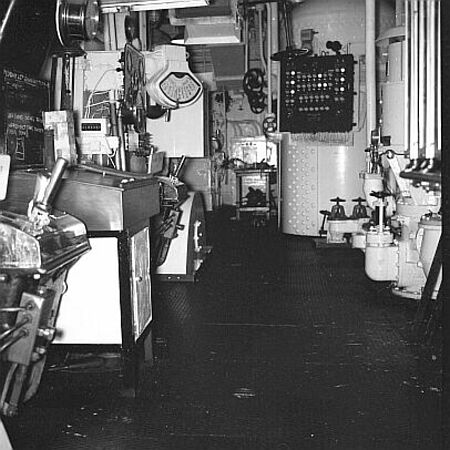 View across control the platform showing starting air cylinder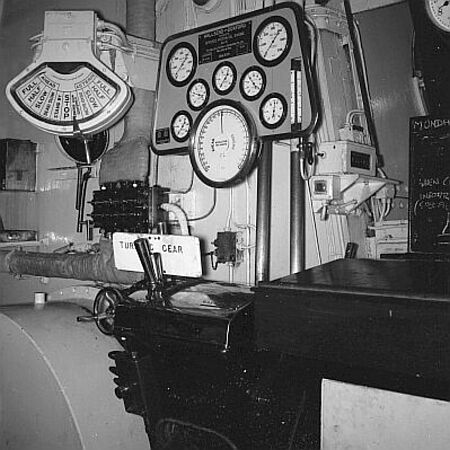 The starboard engine control platforms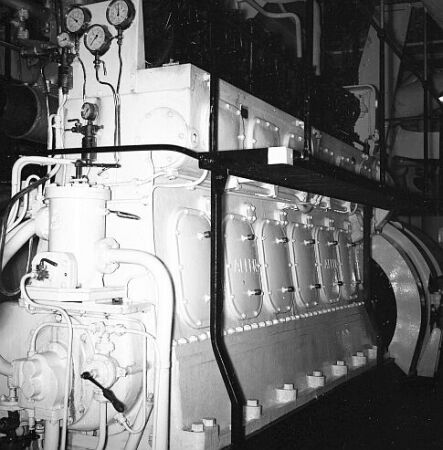 Above: A good view of one of the four Allen diesel driven generators on board. Usually three of these were running whilst carrying refrigerated cargo at any one time. The fourth generator was normally dismantled and inspected during each voyage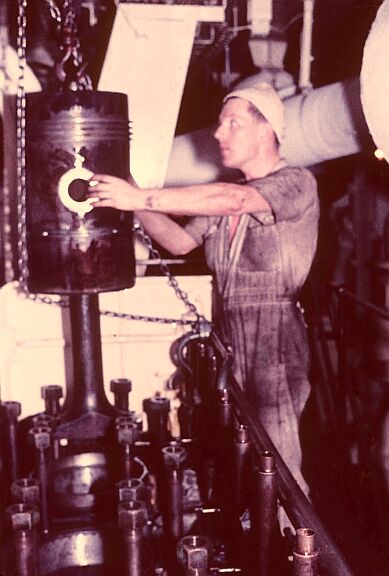 That's me lifting a generator engine piston whilst on the voyage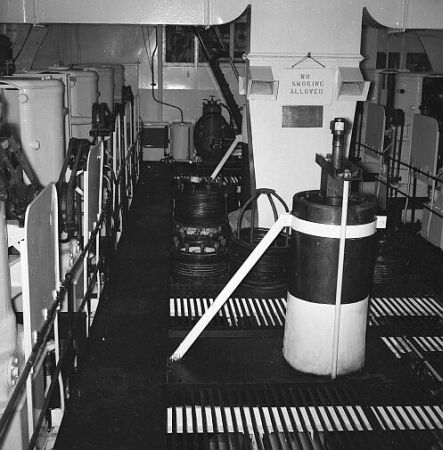 An upper platform view located between the main engines. In the middle is a spare piston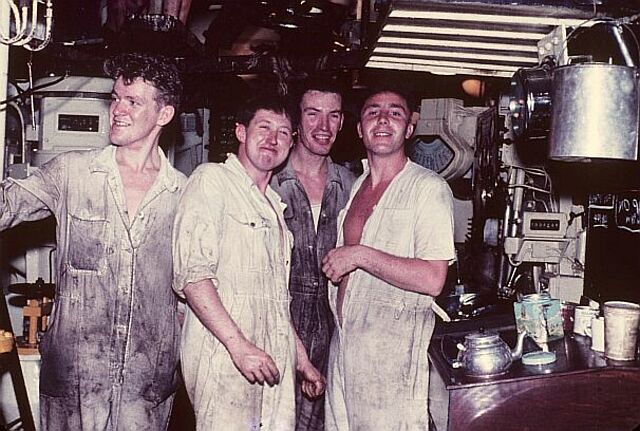 My four shipmates & Engineers having a tea break and a laugh in the engine room
Andrew McGregor Snr 4th.engineer / Richard A Dow Dall (? engineer) / Peter Nicholson 4th.engineer / Ian Walker (? Engineer)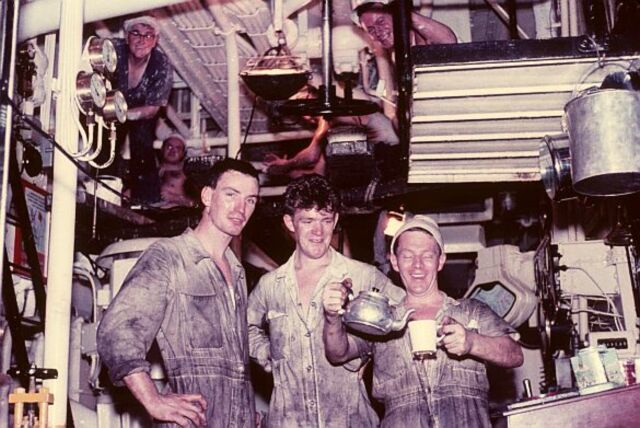 John (on the right), as well as the 5thaand 4thhengineers taking a tea break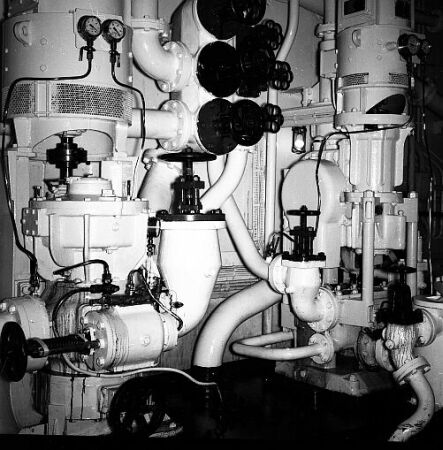 The variety of pumps and valves in the engine room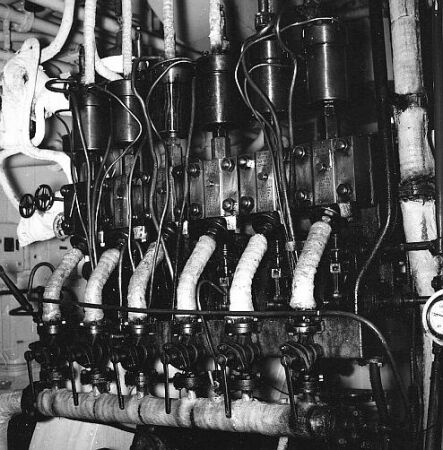 The Fuel Oil pumps operate at 6,000 lbs per sq inch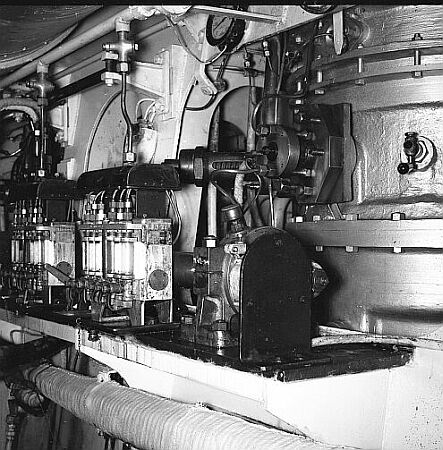 Main engine lubricators and fuel injectors
The work was heavy, but it was quite straight forward; our boiler suits needed frequent cleaning as oil seemed to get everywhere, especially after working inside the main engine casings.
There was also quite a contrast between the engine room environment and then later in the day, we were expected to be in the dinning room for our evening meal in our uniforms with clean white shirts together with the passengers, unless of course if you managed to be excused and used the engineers mess in which case it was possible to sit at a small white plastic top table for your meal in your boiler suit!
The engineers mess was a crowded small room especially when in port and all the day workers would converge for their tea break, some sitting on the deck as can be seen in the "tea break" photographs.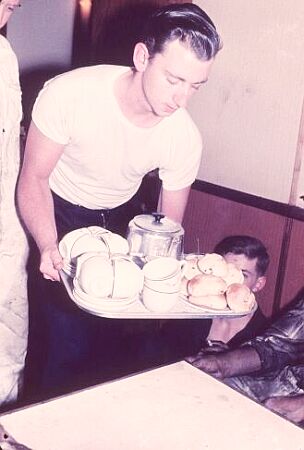 Tea is served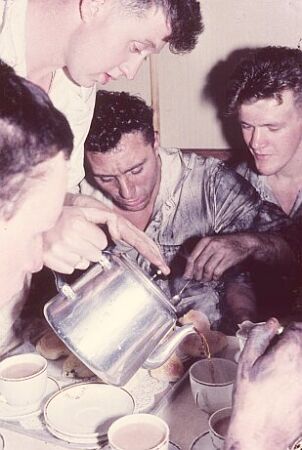 Char time means serious concentration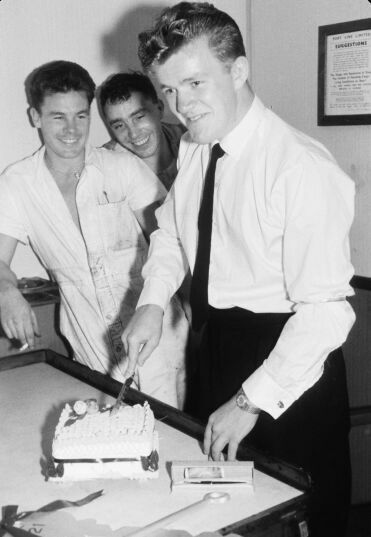 Our 5thhengineer celebrates his 21sttBirthday at sea

Our Chief Engineer as I recall was Mr. Linklater who tended to keep very much to himself, and he was rarely seen away from his office, where he spent no doubt most of his time checking the fuel and water consumption figures-etc, thus we did not really get to know him as much as our fellow engineers. At meal times

Linklater tended to be seated at the table with Captain Lawrey, along with some of the passengers.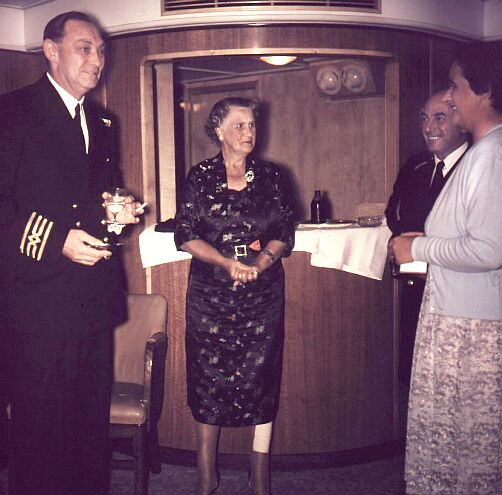 Chief Engineer Mr Linklater socialises with some passengers in the lounge
Sports deck was wide and spacious as shown in one or two of my photographs, and this encouraged the game of deck quoits with the passengers most afternoons and was frequently led by our Captain. The only problem was (if you can call it a problem) that I was one of the watch keepers in the engine room, at what you might call "odd hours" and my rest period would be at the very time they were playing, thus sleep would be frequently broken by the loud noise of the missed wooden hammer blow on the deck right above my cabin, but this was not the quoits itself! Thus, a lot of sleep would be lost.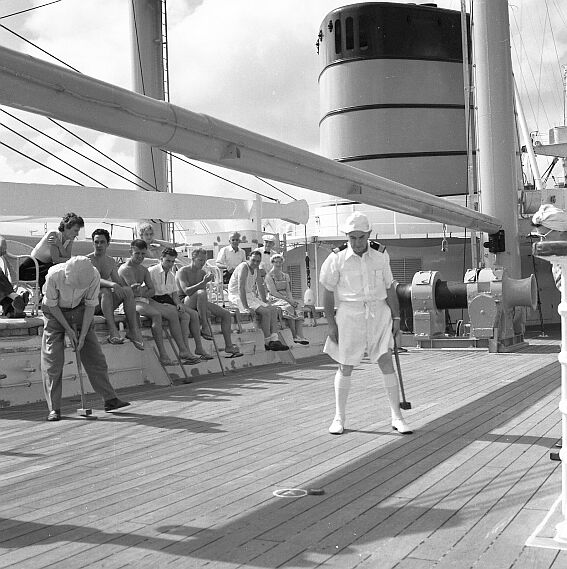 Captain Lawrey and passengers enjoying some deck quoits – sports deck starboard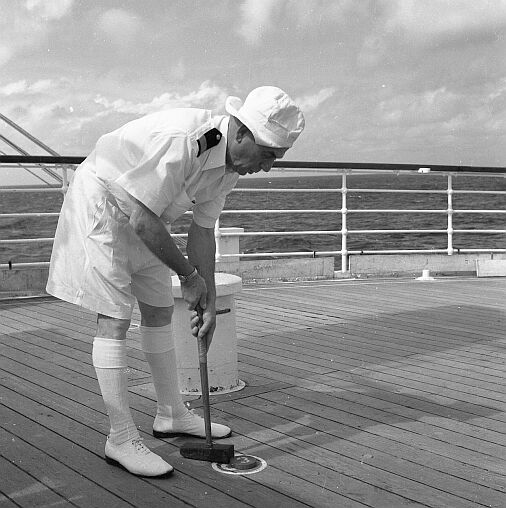 The Captain became such an expert at deck quoits and he challenged the passengers on every voyage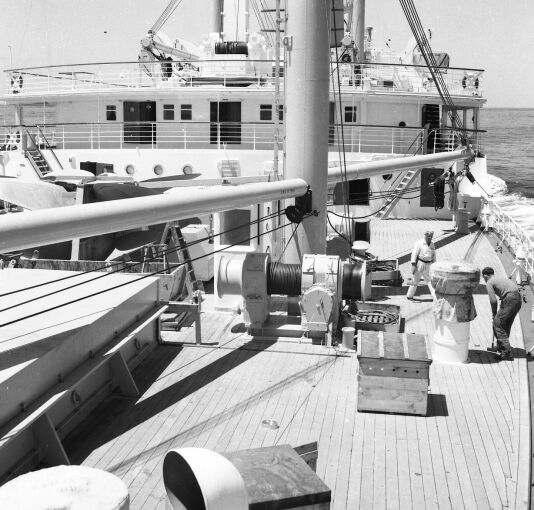 Two crew members are enjoying a game of deck quoits on the aft deck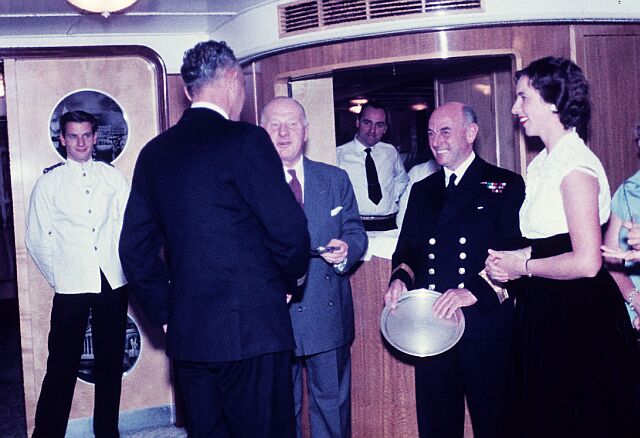 The Captain's presentation of prizes won for sport events, etc., always took place in the bar during each voyage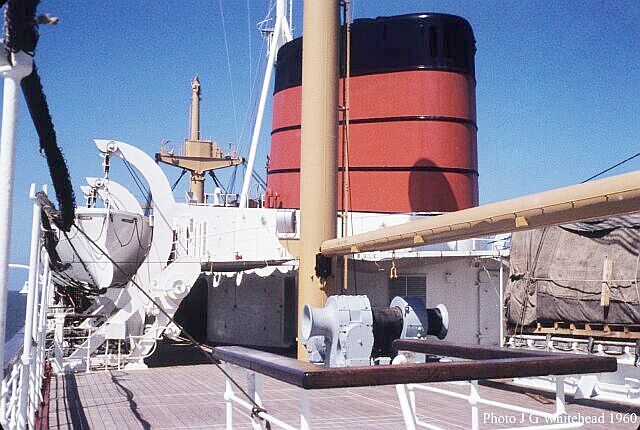 Sports deck -

port side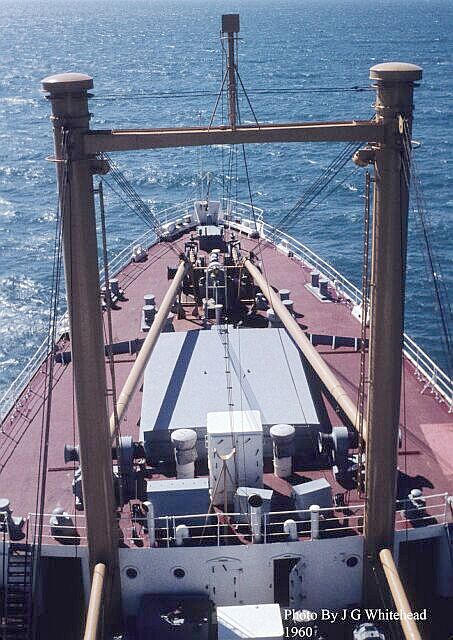 Overlooking her forward decks and holds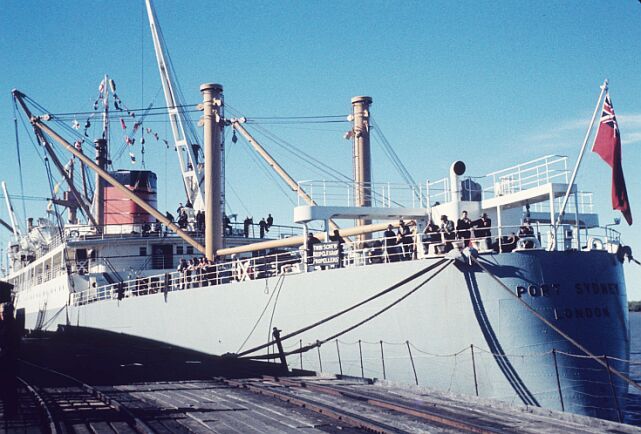 A stern view of Port Sydney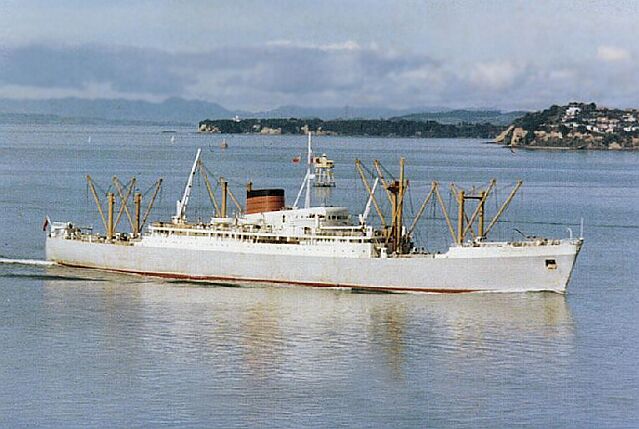 Port Sydney seen arriving in Auckland New Zealand in 1960
Postcard from the ssMaritime collection
Go to the John Whitehead Story - Page Two – Also see the Port Sydney INDEX below for other pages!
*********************************
Port Sydney lives on as the …
Classic International Cruises
MV Princess Daphne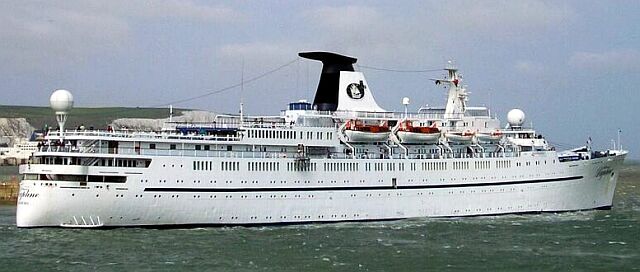 The classic ship that has become the elegant MV Princess Daphne
From the Cruise-Australia.net collection
Part One:                  Read about the history of the Port Sydney
Part Two:                  John Whitehead Story - Page One - Story & photographs by John Whitehead 3rd Engineer 1959/60
                                          John Whitehead Story - Page Two – The story continues
                                          John Whitehead Story - Page Three – Online in the near future
                                  Dave James Story –        Page Four – Dave an engineer sails home to Australia
Part Three:               Discover her as a modern, but classic cruise ship – (on my cruise site - cruise-australia.net)
Part Four:                 Princess Daphne DECK PLAN - (on my cruise site - cruise-australia.net)
Why not Cruise on this Ship, or one of the superb Classic Ships still sailing today
Believe me it is worth it!
**************************************************
Use the Back button on your browser or Close the Page to return to the previous page
or go to our
INDEX
Who is the Author of ssMaritime?
Commenced in the passenger Shipping Industry in May 1960
ssMaritime.com & ssMaritime.net
Where the ships of the past make history & the 1914 built MV Doulos Story
Also visit my …
"Save The Classic Liners Campaign" & "Classic Ocean Voyages" pages
And …
Photographs on ssmaritime and associate pages are by the author or from the author's private collection. In addition there are some images that have been provided by Shipping Companies and private photographers or collectors. Credit is given to all contributors. However, there are some photographs provided to me without details regarding the photographer/owner concerned. I hereby invite if owners of these images would be so kind to make them-selves known to me (my email address may be found on www.ssmaritime.com only), in order that due credit may be given. I know what it is like, I have seen a multitude of my own photographs on other sites, yet these individuals either refuse to provide credit or remove them when asked, knowing full well that there is no legal comeback when it comes to the net. However, let us show these charlatans up and do the right thing at all times and give credit where credit is due!
This notice covers all pages, although, and I have done my best to ensure that all photographs are duly credited and that this notice is displaced on each page, that is, when a page is updated!
ssMaritime is owned and © Copyright by Reuben Goossens - All Rights Reserved