Netherland Line S.S. Prinses Amelia 1874 to 1906
Please Note: Firefox & some other search engines may not suitable
Please use Google Chrome for this page to load perfectly!
Click the logo above to reach ssMaritime FrontPage & & the Featured Ships
With Reuben Goossens
Maritime Historian, Author, Cruise'n'Ship Reviewer and Maritime Lecturer
Please Note: All ssMaritime and other related maritime sites are 100% non-commercial and privately owned, thus ssmaritime is NOT associated with any shipping company or any other organisation! Although the author has worked and been involved in the passenger shipping industry for well over 60 years, but due to his old age and poor health, he was forced to retire. Yet, he has completed well over 1,360 Classic Liners, Passenger-Cargo Liners as well as humble converted C3 converted Migrant Liners, which has transported countless thousands folk to the new world, as well on vacations'. I trust the features online will continue to provide Classic Liner and Ship enthusiasts both the information they are seeking, but more so provide a great deal of pleasure and relive many happy memories!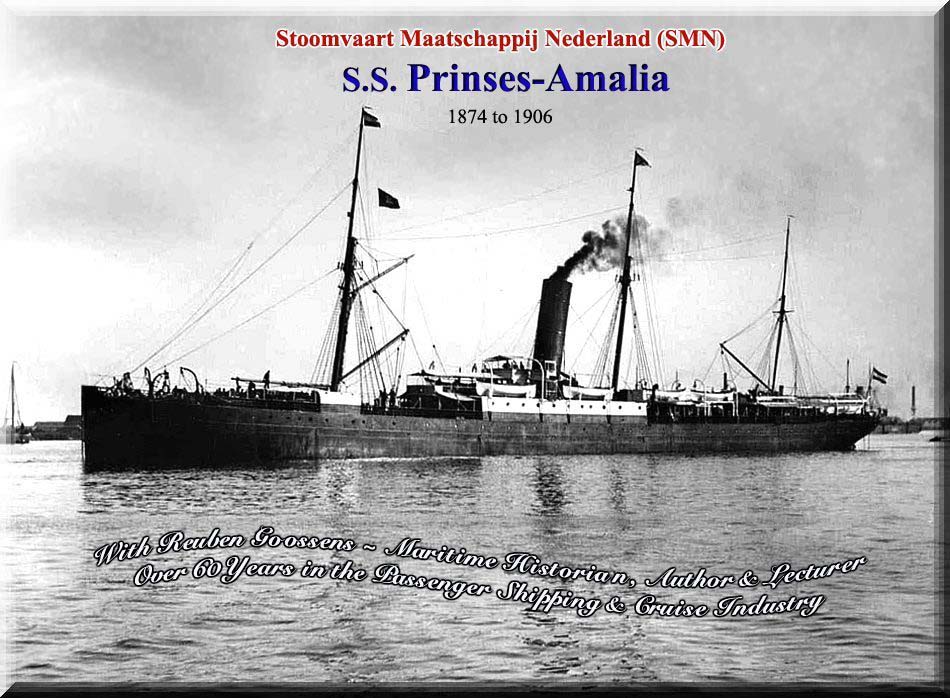 The "Stoomvaart Maatschappij Nederland" or the "Netherlands Steamship Company" also known as just SMN, in later years they became known by a shorter name of the "Netherland Line" or de "Nederland Line" in Dutch. They were one of the major Dutch shipping companies that operated from 1870 for a full one hundred years, until 1970, when they merged with a number of other large companies to form what would become "Royal Nedlloyd".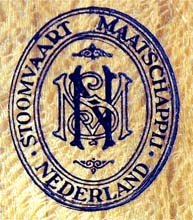 Above & below: The Company's logo and house flag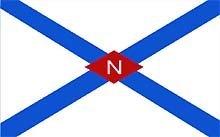 They had countless fine passenger liners with the final two of their major ships on operation being the M.S. Johan van Oldenbarnevelt, which was sold in 1963 to the Greek line to become the ill-fated T.S.M.S. Lakonia. With their final passenger liner being the M.S. Oranje, which was sold to Lauro Lines in 1964 to rebuilt as the M.S. Angelino Lauro. Thereafter SMN operated mostly cargo ships, some taking a small number of passengers.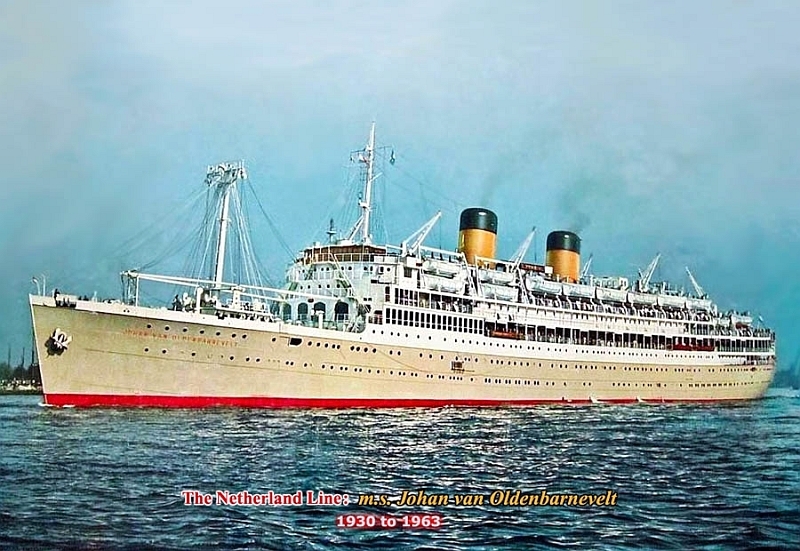 Above: M.S. Johan van Oldenbarnevelt (lovingly called the "JVO") Below: M.S. Oranje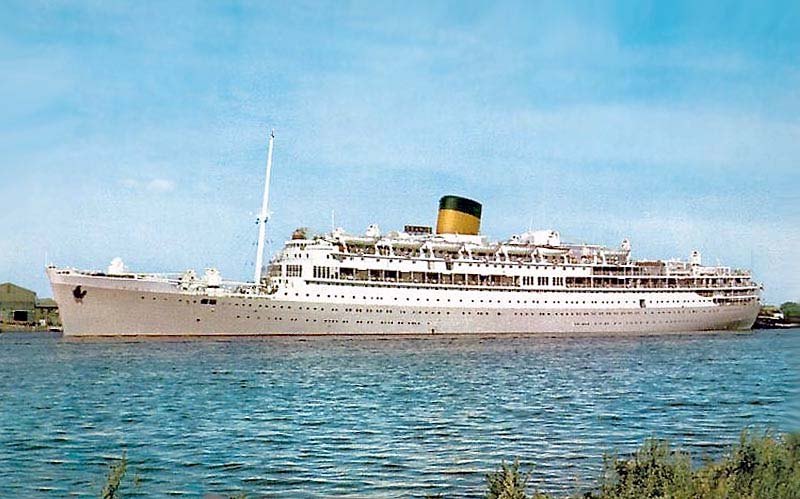 Construction to Delivery:
"Stoomvaart Maatschappij Nederland" (SMN) had decided to design and build a new passenger-cargo liner for their Dutch East Indies (today's Indonesia) service, sailing via the Suez Canal. But this new three mast ship complete with sails would also be a steam ship.
On June 21, 1873, SMN ordered their new ship to be constructed by "John Elder & Company" at their Govan yard at Glasgow, Scotland.
She was officially named Prinses Amalia and launched on March 19, 1874, and once in the water she was towed to the company's fit-out berth where she was completed. She was originally expected to be delivered early in May 1874, but early in April it became obvious that delivery would be delayed by at least a month, and that the S.S. Prinses Amalia would depart the Netherlands for the Dutch East Indies in June.
On June 6, 1874, Prinses Amalia undertook her trial runs on the Clyde and she reached a good maximum speed of 12 knots. That very same evening she departed the River Clyde and headed for her home port, and on June 10, the brand new S.S. Prinses Amalia arrived at her the home port of Nieuwediep (Den Helder) the Netherlands and she was officially delivered to SMN.

A fine impression of the competed S.S. Prinses Amalia
Drawing by & © Mr. C.E.A van Boeckel
S.S. Prinses Amalia was one of the earliest steam ships to operate on the Netherlands to the Dutch East Indies service, a service that was inaugurated by SMN in 1871, and she would spend all her sailing days operating on this one service.
Her Machinery:
Her compound steam engines were built by her builders. The nominal power of her engines was 400 HP, having two direct acting cylinders, one being 86 inch in diameter, the other being 50 inch in diameter, each with a stroke of 3.6 ft. In addition there were also steam engines to operate the anchor winch as well as other winches including her sails.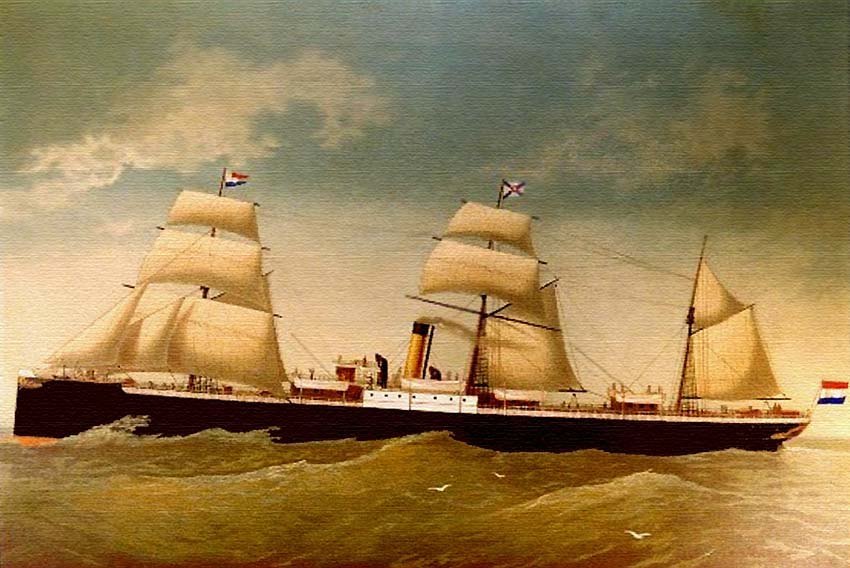 A painting of the S.S. Prinses Amalia seen under sail
Sadly the artist is unknown
Accommodations:
S.S. Princess Amalia accommodated 76 First Class passengers, 32 passengers in Second Class, as well as a small number in Third Class. Whilst at the bow section of the ship contained space for soldiers, and obviously it was certainly not the most comfortable part of the ship. Bedding for the soldier's was very basic, in fact they ad to sleep in hammocks. Directly aft of the soldier's section, was the location for the 32 second class passengers and their cabins and public facility. These cabins were grouped around a Salon where their meals were served and it was also their main gathering and lounging space. There was also a pantry in this salon which was also used as a bar for drinks. When the army was onboard, non-commanding officers would be accommodated in Second Class.
First Class was located aft of Second Class. All senior military officers would be housed in First Class. Their saloon was beautifully gilded and had fine painted panels. This room had three large tables to accommodate all 76 first-class passengers.
It was notable for the day that every first class cabin had two washstands, this was to ensure that if there were three or four gentlemen sharing a cabin, two of them would able to freshen themselves up at the same time. There were also cabins for families that had internal doors to an adjoining cabin for their children.
Maiden Voyage and Service:
For her maiden voyage to the Dutch East Indies the Prinses Amalia carried many parts of "Batavia Dock" being an iron floating dry dock, and this was transported to the Dutch East Indies in parts, there it would be assembled on "Untung Jawa" (Amsterdam Island).
It became known that the S.S. Prinses Amalia was gong to be the largest ship ever to steam from the Netherlands, thus her maiden voyage was a big event for SMN!
It was on June 16, 1874, that the 371.6 ft - 113.2 m long S.S. Prinses Amalia departed from Nieuwediep (an inland river port north east of Amsterdam) and she headed for Southampton, then to Naples and via the Suez Canal bound for Batavia.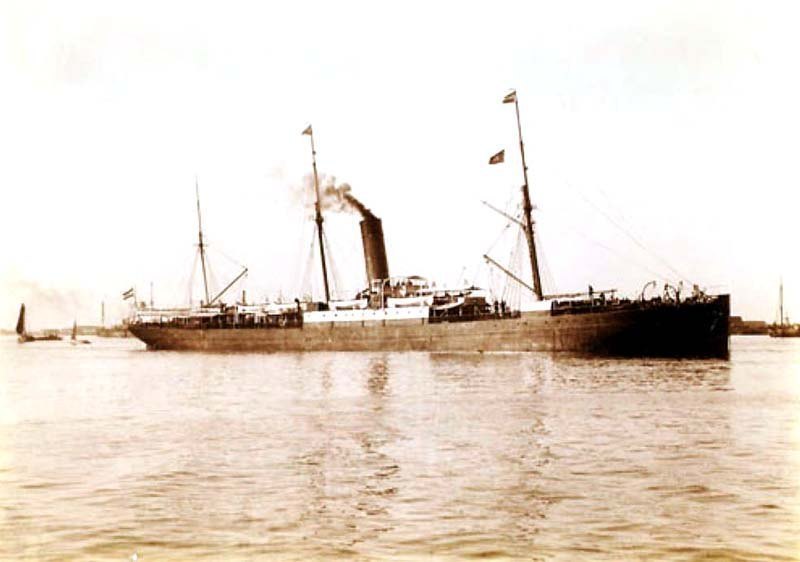 S.S. Prinses Amalia seen on her way to Batavia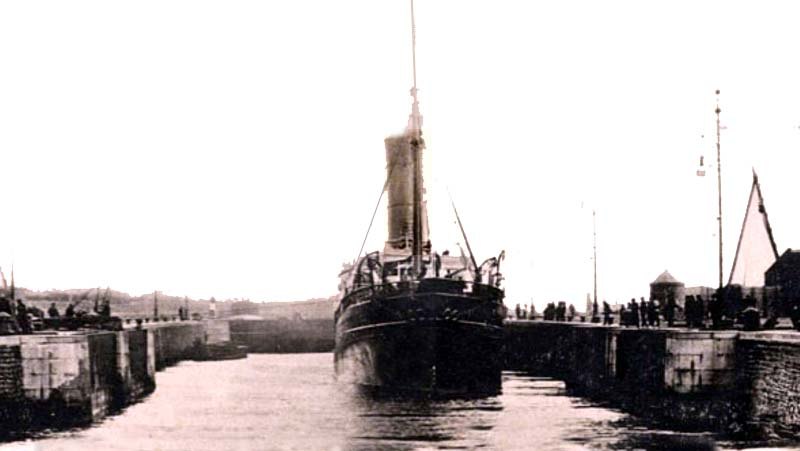 Prinses Amalia is seen departing and in "Nieuwe Sluis" (a lock) at Ijmuiden
On the evening of the June 17, 1874, she arrived in Southampton and departed again on June 19. She arrived in Naples on June 29, from where she departed the next morning. On July 2, she arrived at Port Said and on July 6, she departed from her anchorage at the port of Suez.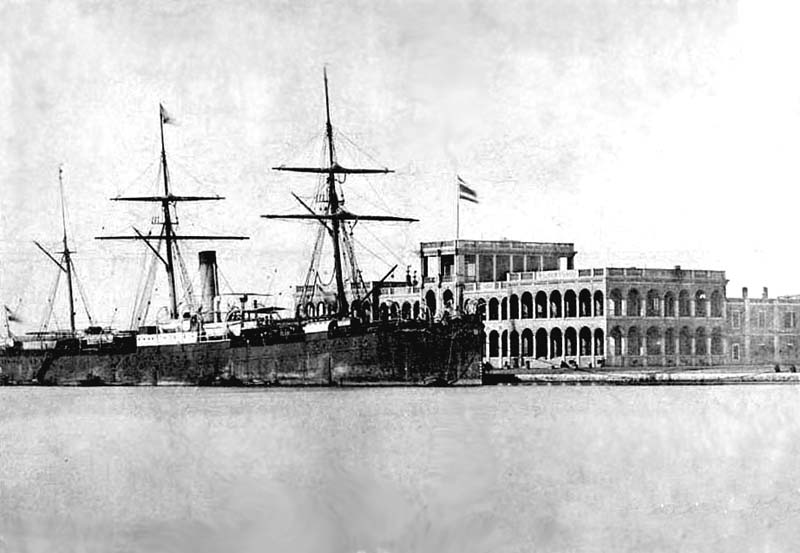 Above: The Prinses Amalia is seen at Port Said & below: at anchor at the port of Suez
But not necessarily during her maiden voyage, but at sometime during her career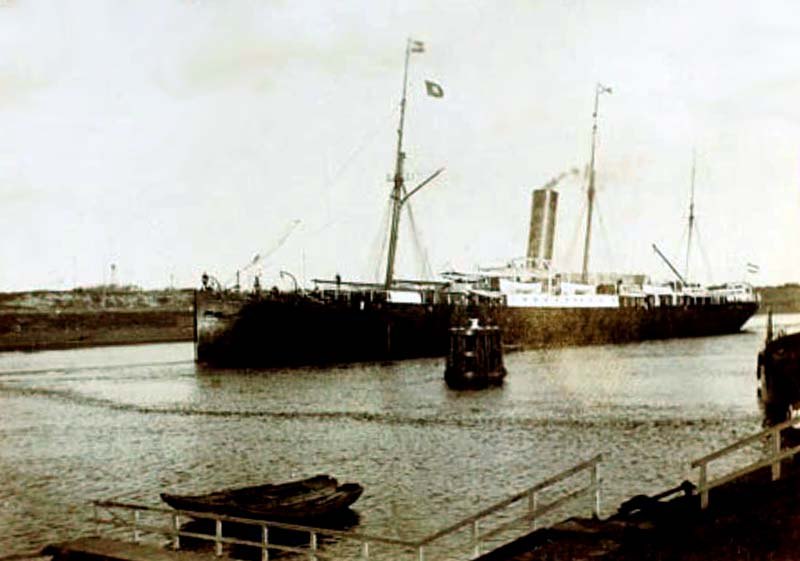 Having departed Suez she headed for the Dutch East Indies and on July 24, the Prinses Amalia arrived in Padang. Then on July 31, she arrived in Batavia. It was an excellent and a fast voyage, for without all the ports of call, this would have been the fastest voyage from Nieuwediep to Batavia to that date.
During her many voyages she carried many notable people, but also one who became the most infamous personage of WW1. This was the woman who became known as Mata Hari, who travelled with her husband who was a soldier and a Captain from Holland bound for Batavia on May 1, 1897. Of course she became the evil spy who worked for the Germans.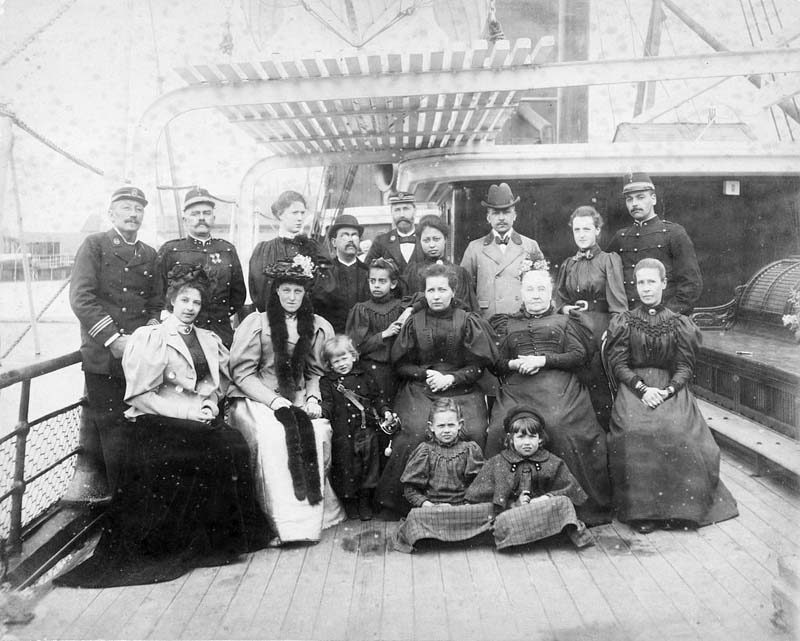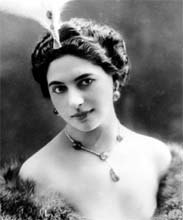 Mata Hari seen in her past career as an exotic dancer
Above: Mati Hari's actual name was; Margaretha Geertruida MacLeod-Zelle (1876-1917), she is seen front row far left and standing behind her is her husband Captain Rudolph John MacLeod on the S.S. Prinses Amalia whilst on their way to the Dutch East Indies. I was told that this photo may have been taken whilst the ship was berthed in Southampton.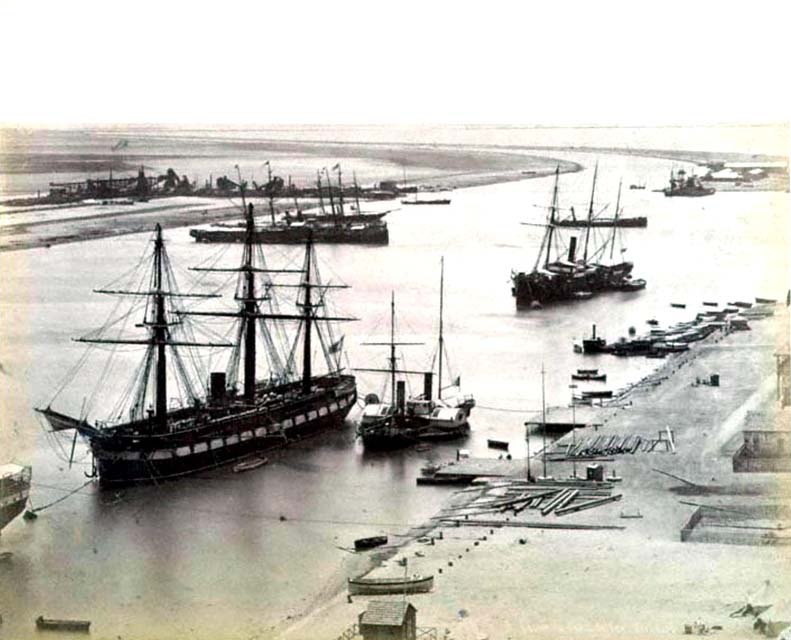 The Prinses Amalia is seen on the right at the Suez Canal staging area
Her Final Years:
S.S. Prinses Amelia continued her Netherland's to Batavia service for a good 29 years, however as there was unrest in the Dutch East Indies, in 1903 SMN decided to lay-up their fine ship, Prinses Amalia and use her as a reserve ship, but eventually it was decided by the company to sell her. It was in 1906 that this much loved ship was sold to be broken up to "J.J. King & Son".
However, they sold her on to; "L. Pittaluga" being the owner of an Italian breaker's yard, who renamed her "Amalia" for her final voyage to their yard at Genoa. Breaking up on this remarkable liner commenced on November 28, 1906 and she was completely dismantled by January 1907.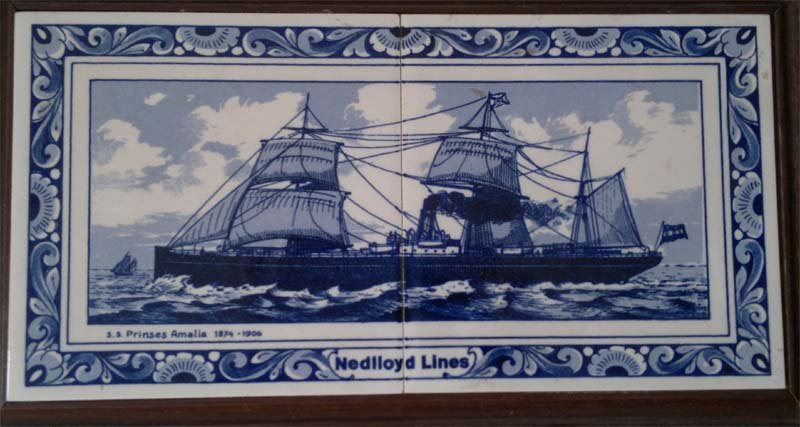 A commemorative Delft Blue tiles of the S.S. Prinses Amalia
S.S. Prinses Amalia Specifications and details:
Name:                               Prinses Amalia.
.                                       Amelia 1906.
Owner:                             "Stoomvaart Maatschappij Nederland" 1874-1906.
.                                       "J.J. King & Son" 1906.
.                                       "L. Pittaluga" 1906.
Constructed by:                  John Elder & Co, on the River Clyde, Glasgow Scotland.
Yard number:                     166.
Cost:                                984,840 Dutch guilders.
Laid down:                        August 14, 1873.
Launched:                         March 19, 1874.
Maiden Voyage:                  June 16, 1874.
Class and type:                  All Iron Passenger Cargo liner.
Tonnage:                           3,480 GRT 2,581 NET.
Length:                             371.6 ft - 113.2 m.
Beam:                               39.9 ft - 12.1 m.
Draught:                           22.2 ft - 6.8 m.
Installed power:                 1,600 ihp (1,200 kW) (as built).
Propulsion:                        2-cylinder 50 & 86 in × 42 in (1,300 & 2,200 mm × 1,100 mm) steam engine.
From 1892:                       Single screw, triple-expansion 3-cylinder steam engine by Royal Company "De Schelde" of Vlissingen.
Propeller:                          Single screw.
Sail plan:                          3-masted barque.
Speed:                              11.5 knots, 12 knots maximum.
Accommodations:               76 First, 32 Second and some Third Class passengers as well as space for soldiers.
Cargo space:                      3,500 tons.
Out of service & sold:         1906.
Renamed:                          Amalia November 1906.
Fate:                                 Demolition commenced November 28, 1906 & was completed January 1907.
Remembering the S.S. Prinses Amalia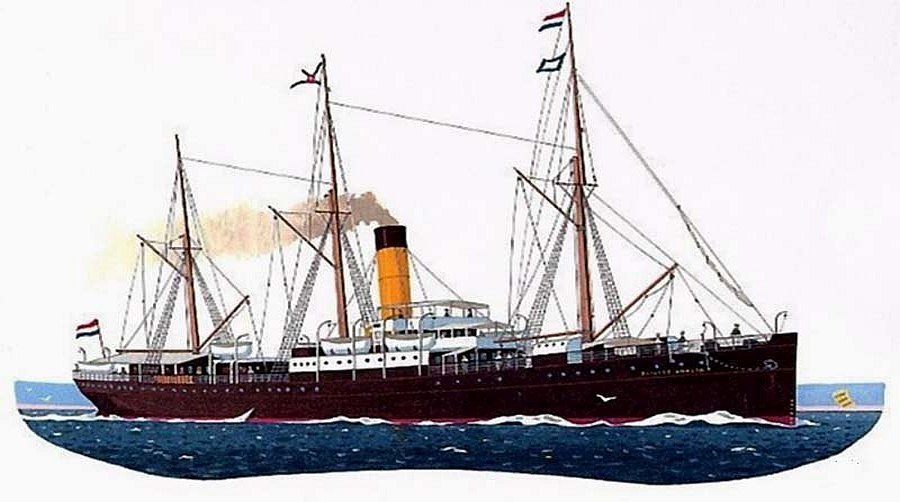 By artist Nico Keus

Also visit the S.S. Prinses Juliana

and the M.S. Johan van Oldenbarnevelt and the M.S. Oranje features

***************************

 

"Blue Water Liners sailing to the distant shores.
I watched them come, I watched them go and I watched them die."

ENTER OUR …

ssMaritime Main INDEX

Where you will discover well over 1,360 Classic Passenger & Passenger-Cargo Liners!

The Author has been in Passenger Shipping & the Cruise Industry for over 60 years!

For interest: Sadly an email service to ssMaritime is no longer available, due to the author's old age and chronic illness as well as being disabled, etc. In the past ssMaritime received well over 120 emails per day, but Goossens can no longer handle same. He sincerely regrets this!

ssMaritime.com & ssMaritime.net

Where the ships of the past make history & the story of the 1914 built MV Doulos

Please Note

: ssmaritime and associated sites are 100% non-commercial and the author does not seek funding or favours and never have and never will.

Photographs on ssmaritime and associate pages are either by the author or from the author's private collection. In addition there are some images and photographs that have been provided by Shipping Companies or private photographers or collectors. Credit is given to all contributors, however, there are some photographs provided to me without details regarding the photographer or owner concerned.

ssMaritime is owned & © Copyright by Reuben Goossens - All Rights Reserved