Q.T.E.V. Queen of Bermuda 1933 to 1966
Please Note: Firefox and some other Search Engines may not be suitable
Use Google Chrome for this Web Page to load perfectly!

Please Note: All ssMaritime and other related maritime sites are 100% non-commercial and privately owned, thus ssmaritime is NOT associated with any shipping company or any other organisation! Although the author has worked and has been involved in the passenger shipping industry for well over 60 years, but due to his old age and poor health, he was forced to retire. Yet, he has completed well over 1,435 Classic Liners, Passenger-Cargo Liners as well as humble converted C3 converted Migrant Liners, which has transported countless thousands of folk to the new world, as well on vacations'. I trust the features online will continue to provide Classic Liner and Ship enthusiasts both the information they are seeking, but more so provide a great deal of pleasure and relive many happy memories!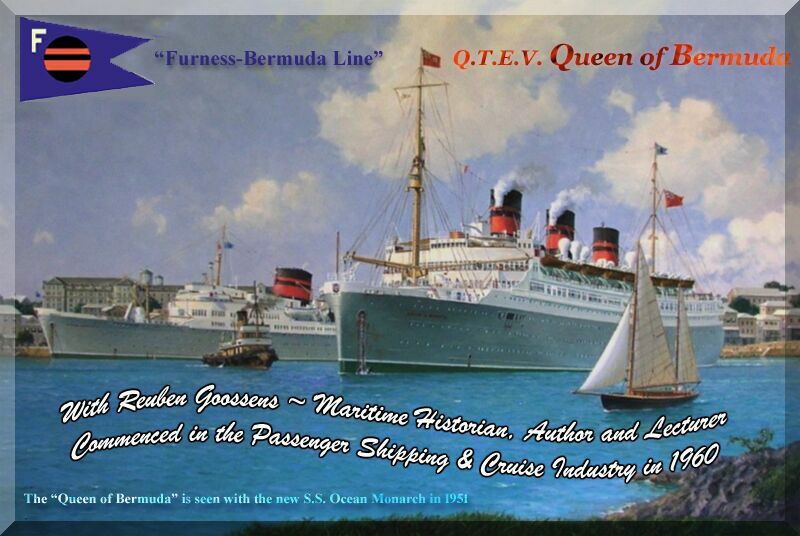 Thank you Shaun McGrath for this brilliant painting, but it is sad that you were not able to provide who actually created it, for it is a fine work. If anyone knows the artist please let me know and send an email via info@cruise-australia.com and I will be advised.
Please Note: Postcards, photographs & other images are either from the author's private collection or from supporters.
Thus thank you to a number of very special ssmaritime supporters for sending me their wonderful photographs & images for I certainly could not have completed this feature without them.
I am sorry but some of the images shown may not be of the greatest quality, but they were the best that were available.
********************
A Brief Intro:
There are two parts to this feature, Part One takes care of the Companies beginnings and some of their earlier ships, and then Part Two cover's the Q.T.E.V. Queen of Bermuda from her construction to the day she was broken up. Enjoy!
The Q.T.E.V. Queen of Bermuda was considered by many to be one of the most graceful class of passenger ships ever built, and she served the "Furness Bermuda Line" for over a quarter of a century and in doing so was one of the first ships to offer a luxury cruise, and became known as the "Millionaire's Ship".
PS: Q.T.E.V. means "Quadruple Turbo Electric Vessel".
Part One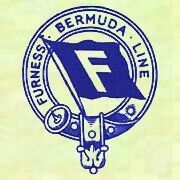 The 'Furness Bermuda Line' Logo
Introduction to the
"Furness, Withy & Co" and their early ships:
In 1919 "Furness, Withy and Co" was awarded the mail contract for the New York to Bermuda run. It was in that same year they took over the Bermuda service from the "Quebec Steamship Company", which had been operating services to Bermuda from Canada as the "Quebec and Gulf Ports Steamship Company" from 1874.
The company had been renamed the "Quebec Steamship Company" in 1880 and then in 1913, they were taken over by the "Canada Steamship Lines" but continued to trade in its original name.
The Furness Bermuda Line, as it became, operated for 47 years until 23 November 1966 when the Queen of Bermuda, the last of the sister ships, left for the final time.
The "Furness Bermuda Line" started service with the "Quebec Steamship Co" ship, the S.S. Bermudian that had been built in 1904, but she was renamed "Fort Hamilton" in 1920. She ship had a tonnage of 5,530 GRT and accommodated 263 First Class and 42 Second Class passengers, and she had 435 ft long, with a beam of 50 ft, and she operated at a service speed of 18 knots.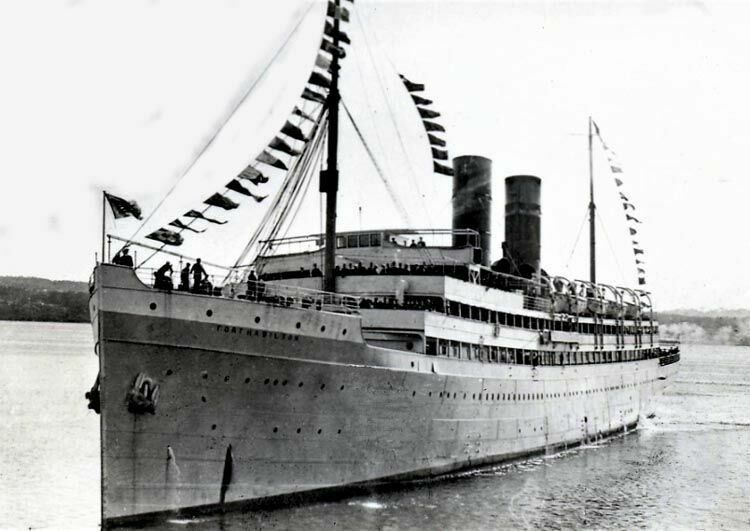 The S.S. Bermudian is seen after she was renamed the "Fort Hamilton" in 1920
Soon thereafter, the company added their first pair of sister ships, the "Fort Victoria", which had been built by 'Wm. Beardmore & Company Ltd', in Glasgow in 1913 as the Australia ship, the "Willochra" for the 'Adelaide Steamship Company', she had a tonnage of 7,784 GRT, accommodating 380 passengers in First Class and 50 in Second Class. She measured 427 ft long with a beam of 56 ft and she operated at a service speed of 16 knots.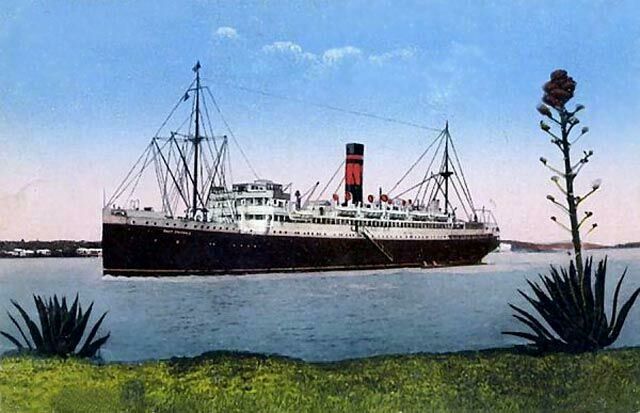 The S.S. Fort Victoria
She was followed by her sister ship the "Wandilla" from 1911, and she was renamed the "Fort St. George". She had a tonnage of 7,785 GRT and accommodated 262 passengers in First Class and 15 in Second Class. The 'Furness Bermuda Line' soon became a huge success.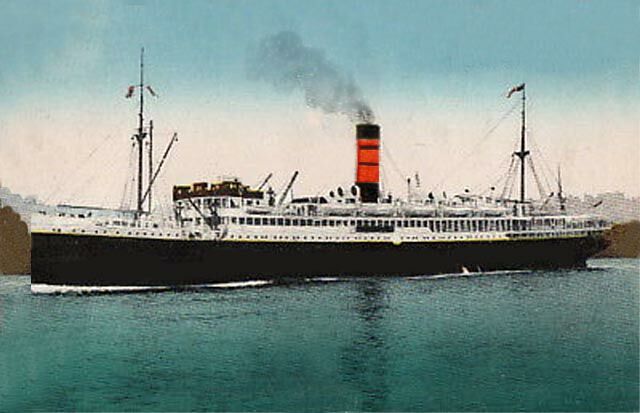 S.S. Fort St. George
And they carried some 22,000 passengers in their first year of operation. By 1920 'Furness' realised the need for additional hotel accommodation for their passengers while in Bermuda as at that time, passengers generally disembarked and stayed ashore for the duration of their visit, thus 'Furness' purchase the St. George Hotel upgraded it to their very high luxury standard and added many new rooms, as well as a swimming pool and a golf course. The 200 GRT tender the 'Bermudian', which was formerly the 'Artic Whale' built in 1915, was acquired especially for transporting passengers from the anchored ship to the hotel.
Shortly thereafter 'Furness' formed the 'Bermuda Development Company Ltd', acquiring 645 acres of land at Tuckers Town. This property became the Mid Ocean Club and golf course, and was completed in 1923. The following year the Hotel 'Bermudiana' was constructed in Hamilton and finally a larger, 287 room hotel was built in Tuckers Town, which opened 1931 as the Castle Harbour Hotel and golf course.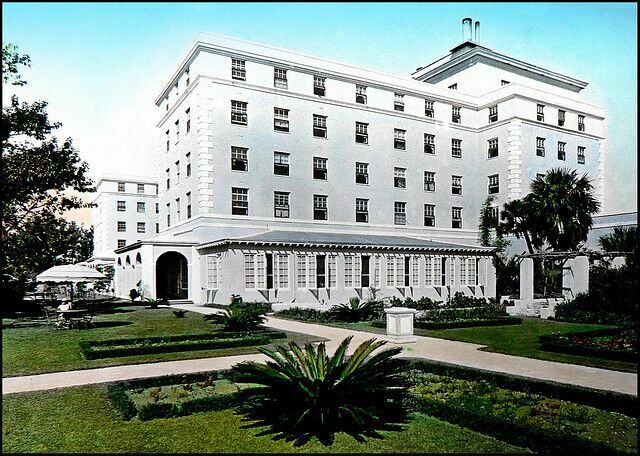 The luxurious "Hotel Bermudiana"
'Furness, Withy and Company' invested a great deal in the tourist and holiday trade in Bermuda and, during these years of hotel development, ordered a new ship with the largest dimensions that could enter the Hamilton Harbour at the time.
'Harland & Wolff' in Belfast laid the keel on October 13, 1926, and the ship was launched on July 28. 1928. The 19,086 GRT, M.S. Bermuda would offer accommodations for 616 First Class and 75 Second Class passengers. She was launched on July 28, 1927 and she commenced in service in January 1928. Her interiors were stunning especially her main Lounge!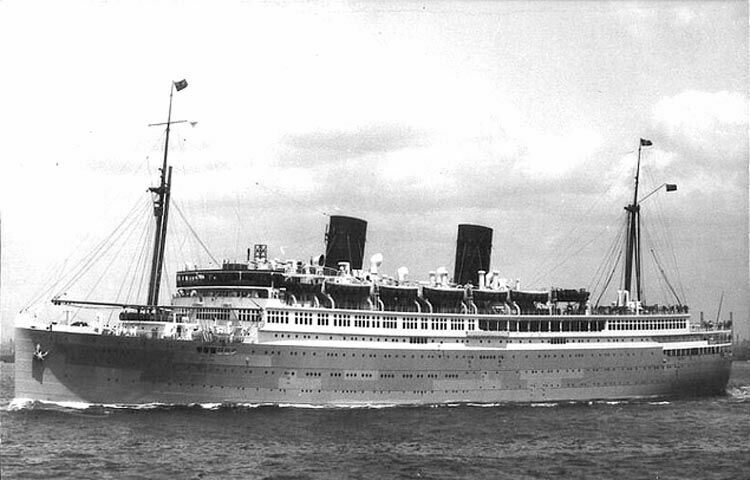 Above & below: The M.S. Bermuda and her magnificent two level Main Lounge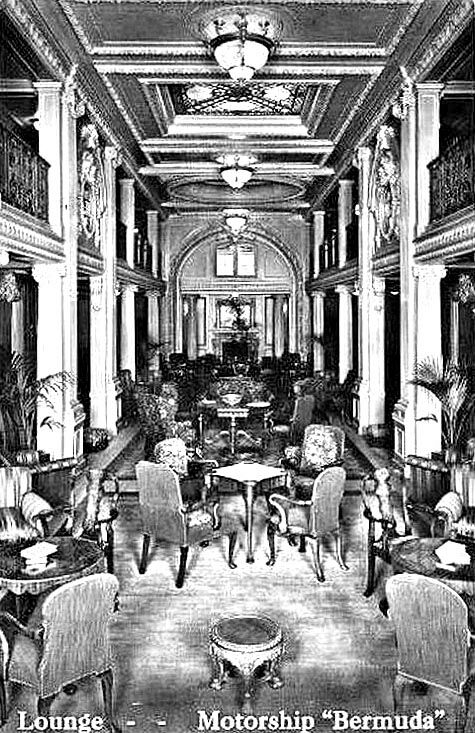 She was 547 ft long and had a beam of 74 ft, and had a service speed of 17 knots. An order was also placed with 'Blythswood Shipbuilding Company' for another larger tender, being the 730 GRT 'Mid Ocean' which was completed in 1929 and renamed 'Castle Harbour' during a year later.
However, on a fateful voyage the "Fort Victoria" departed New York on December 18, 1929, with 206 passengers, when at 4:00 pm whilst stationary dropping off the pilot, at the entrance to the Ambrose Channel during heavy fog, suddenly out of the thick fog, the 'Clyde Mallory Line' liner, the S.S. Algonquin" sliced right into her on her port side. Thankfully, all of her passengers and crew were safely evacuated, but by 7:30 pm the 'Fort Victoria' had slipped beneath the waves and as the wreck was obstructing the Ambrose Channel she had to be blown up soon after.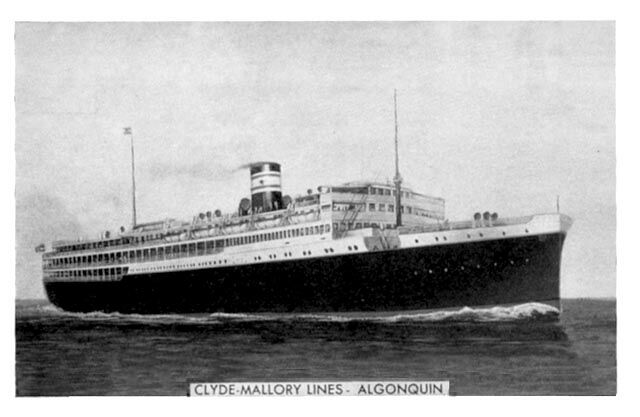 Following the tragic loss, 'Furness' secured the charter of the luxurious "Holland America Line" liner the S.S. Veendam.
Then within three months, the company placed an order for a new ship. The contract was signed on March 30, 1930 with 'Vickers-Armstrong' at Newcastle, upon Tyne for a suitable companion to run alongside the M.S. Bermuda. Their new ship would be larger and she would employ the new turbo-electric propulsion system. However, unbeknown to the 'Furness, Withy & Company' at that time, their new ship was going to be in fact the first of a pair of an identical sister ships. The Quadruple (screw) Turbo Electric Vessel Q.T.E.V. Monarch of Bermuda was launched within a year of the signing of the contract, on March 17, 1931. She departed on her Maiden voyage on November 28, 1931. (A link to her feature is at the bottom of this page).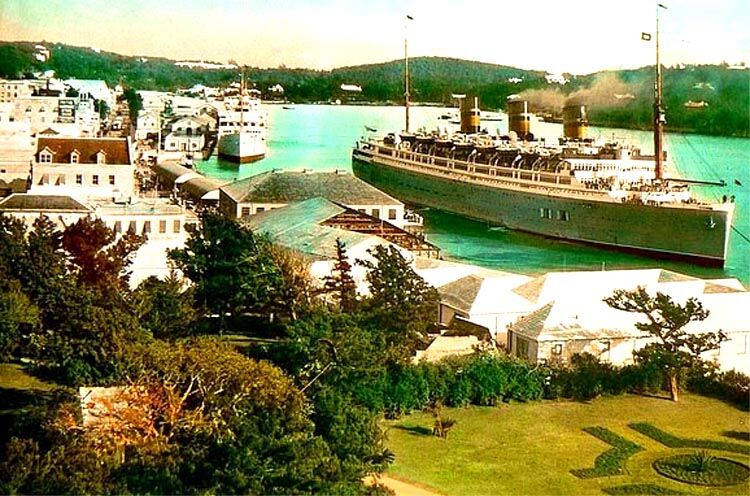 The Q.T.E.V. Monarch of Bermuda is seen departing Hamilton, Bermuda
But then suddenly there was more huge misfortune for the 'Furness Bermuda Line'. Tragically, early in the morning of Wednesday June 17, 1931, a disastrous fire broke out onboard the "Bermuda" while at the dock in Hamilton. Fortunately there was only one passenger on board the ship at the time, a Mrs. Shipley Dixon. Earlier, Captain Jeffries Davis and friends, including Mrs. Dixon, had been enjoying the evening at the Belmont Hotel. Upon leaving the Belmont around 11:45 pm, Mrs. Dixon decided to stay in Hamilton, rather than trying to go all the way to Tuckers Town by horse and carriage at that hour of night. She telephoned Pomander Gate Guest House, but found they were closed. Captain Davis suggested that the simplest thing she could do was to go on board and spend the night in the room, which had been allotted to her for the voyage back to New York the next day.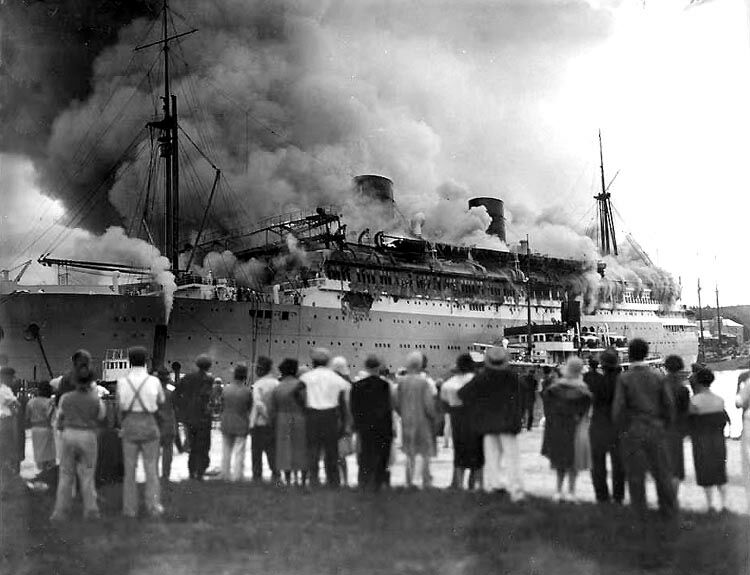 The M.S. Bermuda is seen on fire on June 17 & 18, 1931, whist berthed at Hamilton
With boats attending to fire hoses, as well as fire-men from ashore
Arriving back at the ship around 12:30am, the captain saw her to her cabin B-139 and then went to his quarters on the bridge. Mrs. Dixon was awakened by the smell of smoke and, upon opening her door, the cabin started to fill with heavy smoke. She closed the door and climbed up on the washstand, which was under the porthole, clambered out, and dropped 35 feet into the water before swimming to the ferry terminal near the bow of the ship. There was just one sad fatality that morning, the assistant barber Mr. Helme, who was believed to have been sleeping on a sofa in the Barber Shop.
The "Bermuda" had settled on the shallow harbour floor by the morning, after Captain Davis gave instructions to fill all of the double bottom tanks as a preliminary aid to stability. Consequently, as long as they could keep her listed towards the dock, she would rest on the starboard under-body when grounded. Oil was transferred from side to side when the tide rose and fell to maintain a list to starboard, as it was possible that if she listed to the port during high tide she would roll over. The fire was finally contained at 9:00 pm on June 18.
Following an inspection of the extensive damage, 'Furness' decided that the liner could be repaired, and arrangements were soon finalised for her to return to her builder's yard in Belfast. After basic repairs had been done including the installation of a temporary bridge, the "Bermuda" left Hamilton on July 6, under her own power, arriving at Belfast on July 14. Within three days of the fire on the M.S. Bermuda an agreement was signed, on June 20, 1931, to charter the Cunard Lines 'Franconia'. Her first voyage commenced on July 11.
Back in Belfast, repairs to the "Bermuda" had been proceeding quickly, but suddenly the news came on November 19, whilst the new Monarch of Bermuda was on her maiden voyage from UK to New York, that the M.S. Bermuda had again caught on fire and this time the fire raged throughout the night and it caused far more damage it was so extensive than the earlier fire in June, that this time her entire interior was completely gutted. During the morning of November 20, 1931, she was flooded and allowed to settle on the bottom, as this time the "Bermuda" had become a total loss as she in reality had been completely destroyed with her hull having been severely damaged beyond repair. Not long thereafter she was raised and amazingly her engines somehow had survived almost intact, and they were they removed and reused in some other ship later.
The wreck was sold to ship-breakers but, but as it is said; "Things happens in three's", for whilst she was under tow from Belfast to Rosyth to be broken up, her tow line snapped during heavy weather and she ended up being blown ashore on the Scottish coast. The wreck was left and she was smashed to pieces by those massive waves. Over time the once beautiful M.S. Bermuda gradually rusted away.
Within days of the "Bermuda" having been being declared a total loss, 'Furness Bermuda Line' placed an order with 'Vickers-Armstrong' to build a sister ship to the "Monarch of Bermuda", and the new ship was to be named "Queen of Bermuda".
********************
Part Two
Q.T.E.V. Queen of
Bermuda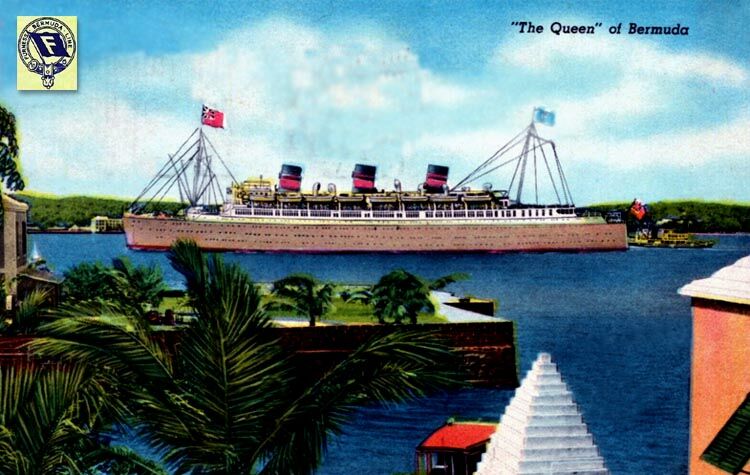 A superb mage of the great liner Q.T.E.V. Queen of Bermuda arriving at Hamilton at the Island of Bermuda
Like her sister, the "Queen of Bermuda" was one of the most beautiful cruise ships of all time. This 'Furness, Withy & Co Ltd' ship was exclusively designed for cruising to and from Bermuda, yet she was a ship that was constructed in the style of a great and an exclusive ocean liner. She sailed for thirty three wonderful years until 1966, during which she also served as a British armed ship during World War Two! Back in 1919 the 'Furness Bermuda Line' was awarded the Mail Contract for the New York to Bermuda service, thus she could be prefixed as the R.M.S. Queen of Bermuda, or 'Q.T.E.V.' I have chosen the later.
Construction, Lunching, Sea Trial, to Delivery:
'Furness, Withy' ordered their new ship the "Queen of Bermuda" early in 1932 as they needed to replace their 19,086 GRT (Gross Registered Ton) M.S. Bermuda, which had tragically been destroyed by a number of fires. First in June 1931, and even after raising her and whilst restoring her, she again caught fire that completely destroyed her in November that year at the shipyard in June. Sadly, she had only served for three and a half years.
The "Queen" was constructed by 'Vickers Armstrong Ltd', at Barrow-in-Furness, England, and she was laid down on December 15, 1931 in Yard 691, and amazingly she was ready within just nine months to be launched.
At the launching Sir Herbert Lawrence, Chairman of Vickers Armstrong, Ltd, stated that; "She had been the fastest ship ever built in British shipbuilding history, yet she was built to perfection in every detail!"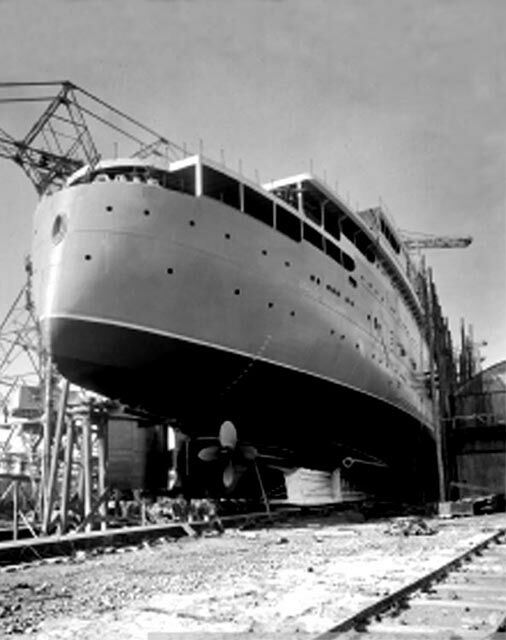 Here we see her just a day prior to her launch day
She was ready to be launched on September 1, 1932, and officiating was Lady Cubbitt, who was the wife of the Governor of Bermuda. She named and launched the ship with very costly bottle of 'Empire Wine' as soon as the bottle hit her bow, the "Queen of Bermuda slowly slid down the slipway into the river.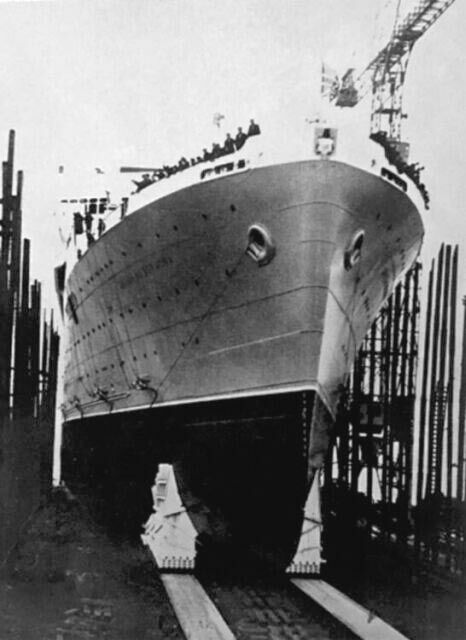 Above & below: The "Queen of Bermuda" head down the slipway and enters the water for the very first time
Watch a short video of her launching; https://www.youtube.com/watch?v=jUeZE2SKsW8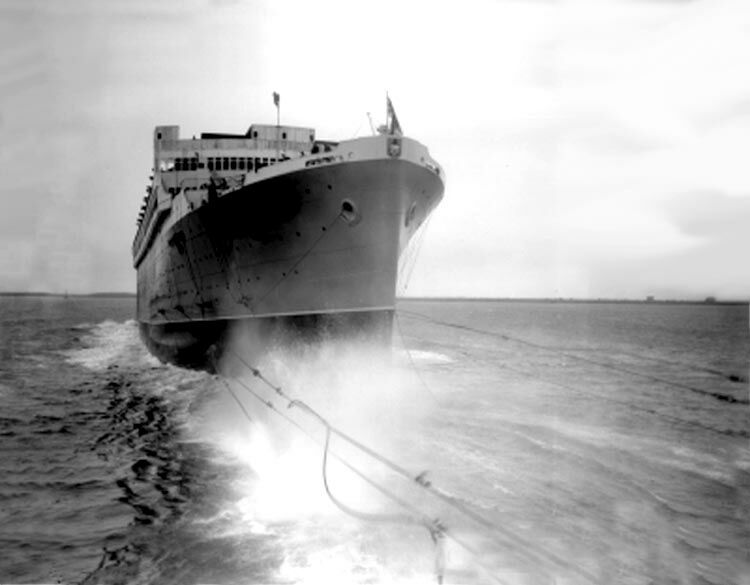 Tugs soon took her in tow and took her to the Vickers yard and her fit-out berth where she would be completed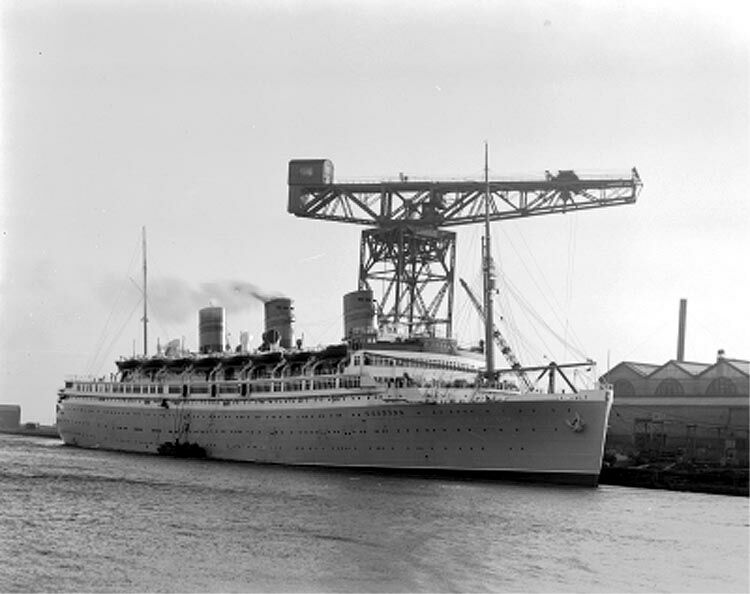 The "Queen of Bermuda" is seen at her Fit-out berth and is close to completion
The "Queen of Bermuda" having been completed, left the builders basin at Barrow-in-Furness on February 10, 1933. Then four days later she ran her progressive speed trials in the Firth of Clyde on a measured mile, over which she reached an excellent maximum speed of 21.07 knots and an average speed of 20.7 knots. Immediately after the speed trials she successfully completed her forty-two hours' endurance trials.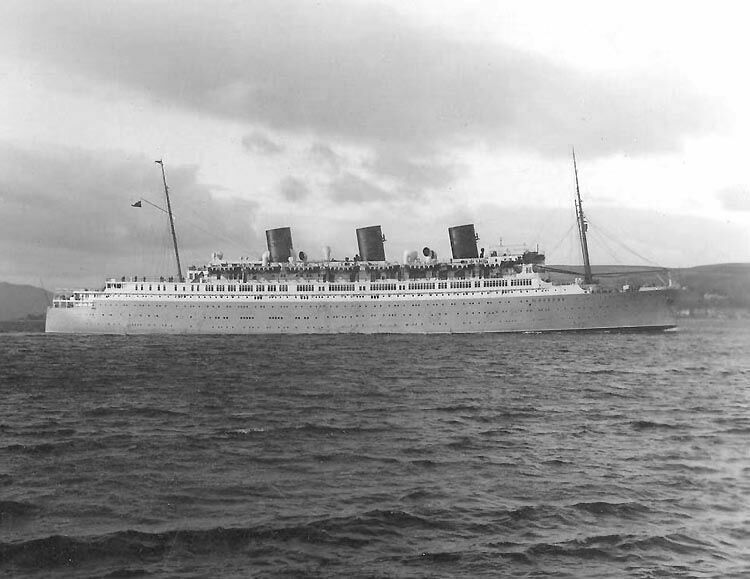 She is seen her heading out of the Clyde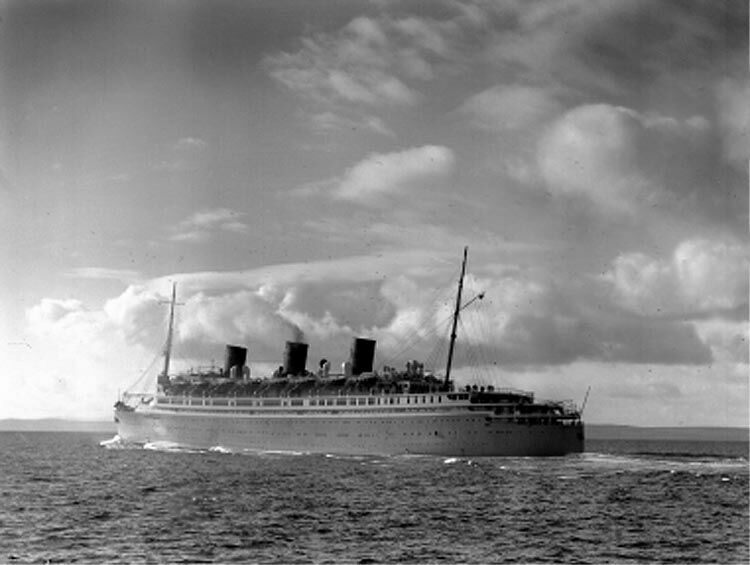 Here we see the "Queen" during undergoing her 'speed trail'
She was delivered to her owners on February 14, 1933.The 553.47 ft - 168.7 m long ship, offering luxury accommodations for just 700 First Class guests and just 31 passengers in an excellent Second Class. It was no wonder that the Q.T.E.V. Queen of Bermuda became soon known as "the Millionaires Ship" and thus she became popular with the wealthy as well as the newly wed!
She and her sister the "Monarch of Bermuda" was constructed to such a high standard for hose days, with magnificent Public venues and a large Deck spaces and private facilities in all Staterooms. Although the "Queen of Bermuda" may well have been more of a luxury cruise ship, but had all the attributes of a genuine luxury Atlantic Ocean Liner, in profile with her three proud funnels, her two tall masts, thus she could easily be mistaken for the "Queen Mary", even though she was much smaller at just 22,575 GRT.
Some details regarding the ship and its machinerary:
The hull is of handsome external appearance, with its lofty white superstructure characteristic of the modem passenger liner. The cruiser stern, three black funnels with bands of deep red, two well-raked masts, the topsides with a green band at the water-line, a narrow white band above, and the remainder finished in French grey, give the vessel a striking appearance. As in the Monarch of Bermuda, electricity is used on the most extensive scale possible throughout the entire ship. It is used for the propulsion and steering of the vessel, for the lighting and ventilation of all the public rooms and cabins, for the refrigeration and cooking of food, for the handling of cargo, for the signalling and indicating devices and for the driving of the laundry machinery, gymnasium equipment and printing presses. The electrical equipment required for these purposes involved the manufacture of turbo-alternators, propulsion motors and control switchgear, auxiliary generating plant, and over 270 marine-type electric motors for auxiliary machinery totalling approximately 3,000 horse-power in capacity.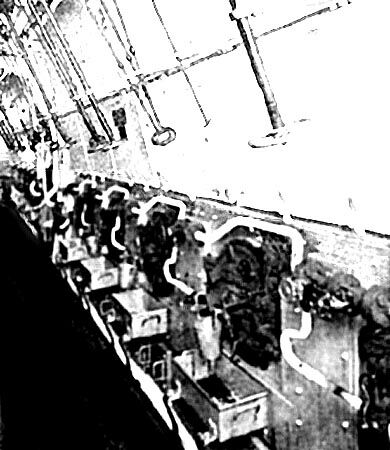 The Electric Propulsion Unit
The power for the electric propulsion of the "Queen of Bermuda" was supplied by steam from eight water tube boilers arranged in groups of four in the boiler-rooms having a combined heating surface of 39,720 square feet - 3,690 m2. The boilers supplied steam at 400 lbf/in2 to two steam turbines. The boilers burn oil and the steam generated drives turbines which are coupled to the electric generators. The turbines drove electric generators that powered electric motors to drive her Quadruple (four) propellers giving her a speed up to a maximum of 21.07 knots.
Her Inaugural Voyage:
On February 21, 1933 was the day she would depart Liverpool and head for her American Home port New York, for she would be based there and operate her highly specialised New York to Hamilton, Bermuda, voyages being only a 40 hour voyage there and back and whilst at Hamilton, she would remain there for four full days and then return.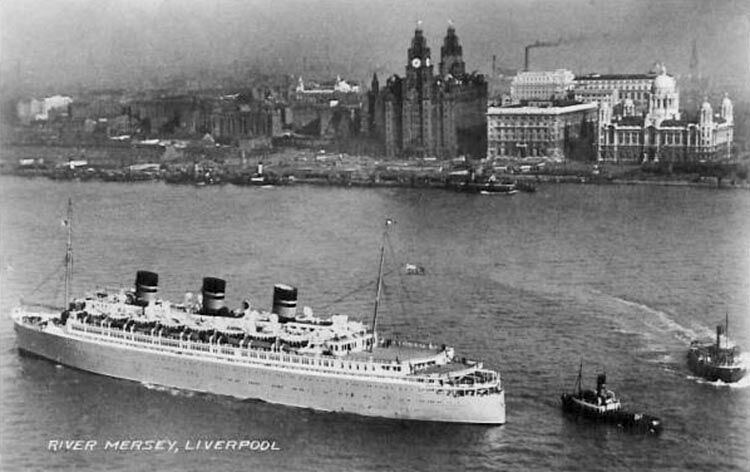 Q.T.E.V. Queen of Bermuda departs Liverpool on her Inaugural voyage bound for New York on February 21, 1933
PS: Captain Musson always said that "Q.T.E.V." really meant "Quick Turnaround Every Voyage"
This would be one of not too many Atlantic peacetime Atlantic voyages she would operate with passengers on board, but for her guests they were certainly travelling in style!
Upon arrival in New York on March 3, fire tugs were out with their hoses spraying their usual welcome to the new ship as is customary in NYC for all great new passenger ships!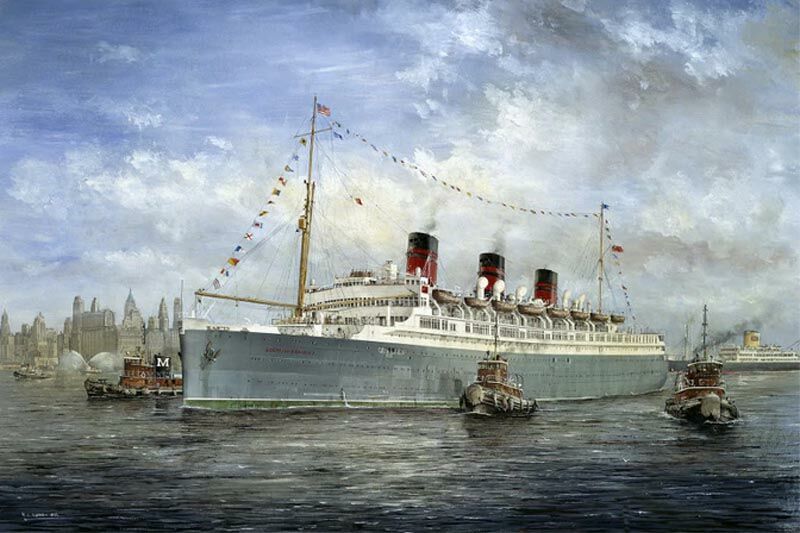 She headed for her berth with the aid of her allotted tugs
This painting is by a great marine artist a Robert G. Lloyd
It soon became known that the "Queen" had one of the most amazing 'steam horn', for it had a most beautiful and a powerful Six-Chime sound, being deep and a melodic resonating sound that could be heard from a great distance, announcing all her departures.
Her local agency had been promoting their new ship with a fine new brochure which revealed many of her magnificent public venues and her excellent Staterooms and the Huge multi room De-Luxe Suites.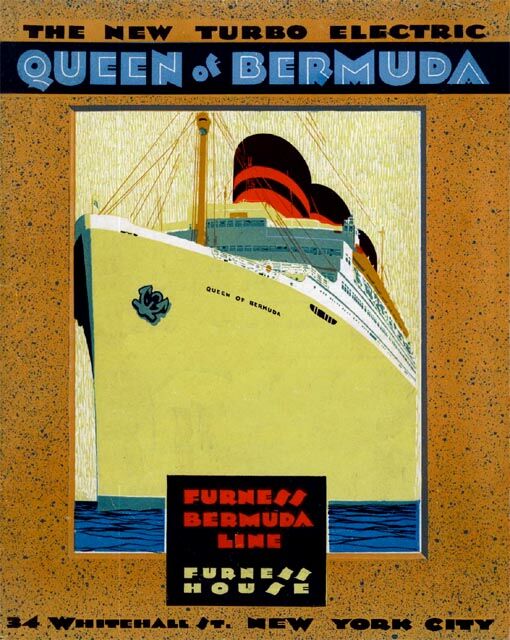 An early release Brochure
Then arrived the big day for the Q.T.E.V. Queen of Bermuda, for she was about to join her sister the "Monarch of Bermuda" for on March 7, 1933 she was about to depart on actual her maiden voyage from New York and head on her 40 hour voyage to Hamilton, Bermuda. She was fully booked with excited passengers, and they had already toured this magnificent ship and loved what they had seen and looked forward to their vacation!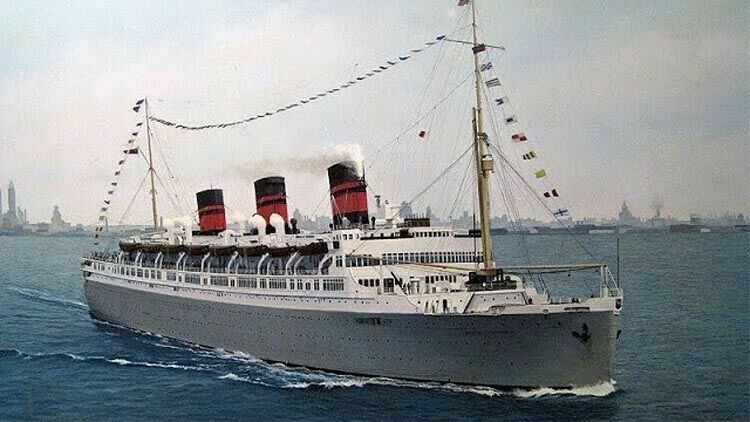 The "Queen" departs New York on March 7, for her maiden voyage to Hamilton, Bermuda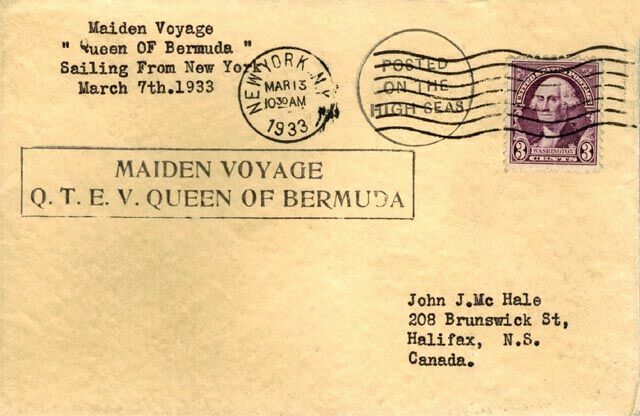 A special Maiden Voyage cover envelope sent during her outward voyage to a John Mc Hale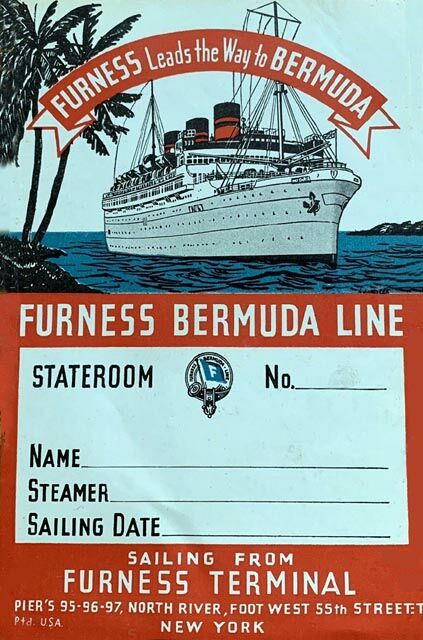 A "Furness Bermuda Line" luggage label
Sadly her maiden voyage was not one of the typical sunny balmy voyages previous passengers were used to, in fact this voyage they experienced the complete opposite, stormy weather, which saw her arrive three hours late at Hamilton on March 9, which is very rare indeed! "The New York Times" reported the next day;
"Hamilton - Bermuda, March: Ten thousand persons greeted the new Furness flagship Queen of Bermuda as she steamed into Hamilton this morning three hours late on her maiden voyage from New York due to wild storms. Speed boats and other harbor craft, their occupants waving greetings, furnished an escort for the final mile, and watchers crowded the harbor wall and other points of vantage along the way".
During another voyage the "Queen of Bermuda" set a brand new record on the New York to Bermuda run, for she sailed from Sandy Hook, New York, to David's Head, Bermuda, in just 32 hours 48 minutes, at an average speed of 20.33 knots, meaning she beat her sister ship, the "Monarch of Bermuda" by half a knot, which was the previous record held by her.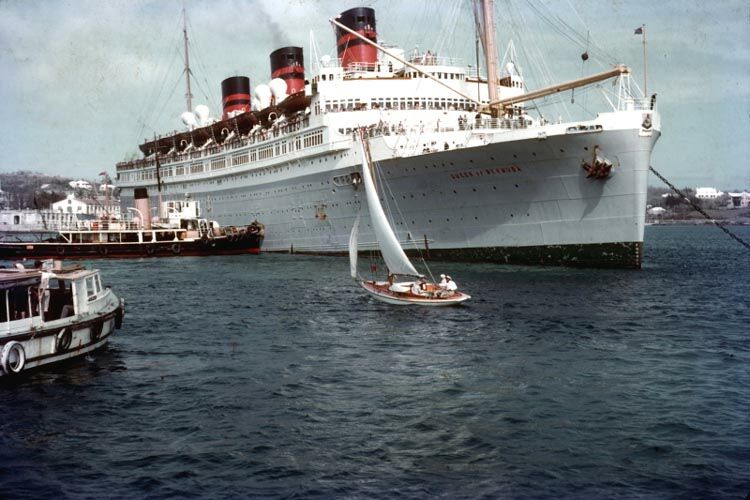 "Queen of Bermuda is seen at Hamilton, Bermuda
The next six years went well and both ships gained more and more popularity, for not only were these ships greatly loved, but they offered the complete package, as the 'Furness Bermuda Line' offered the finest cuisine at sea, combined with top quality service in the Restaurant, Staterooms and in every section of the ship!
Menus: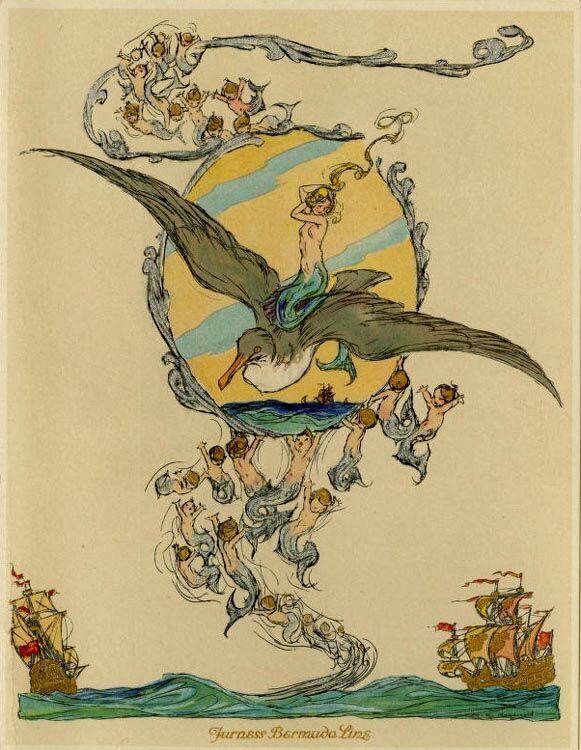 Above & Below: Lunch Menu on January 4, 1934 including notice of a Movie at 2.30 pm in the Lounge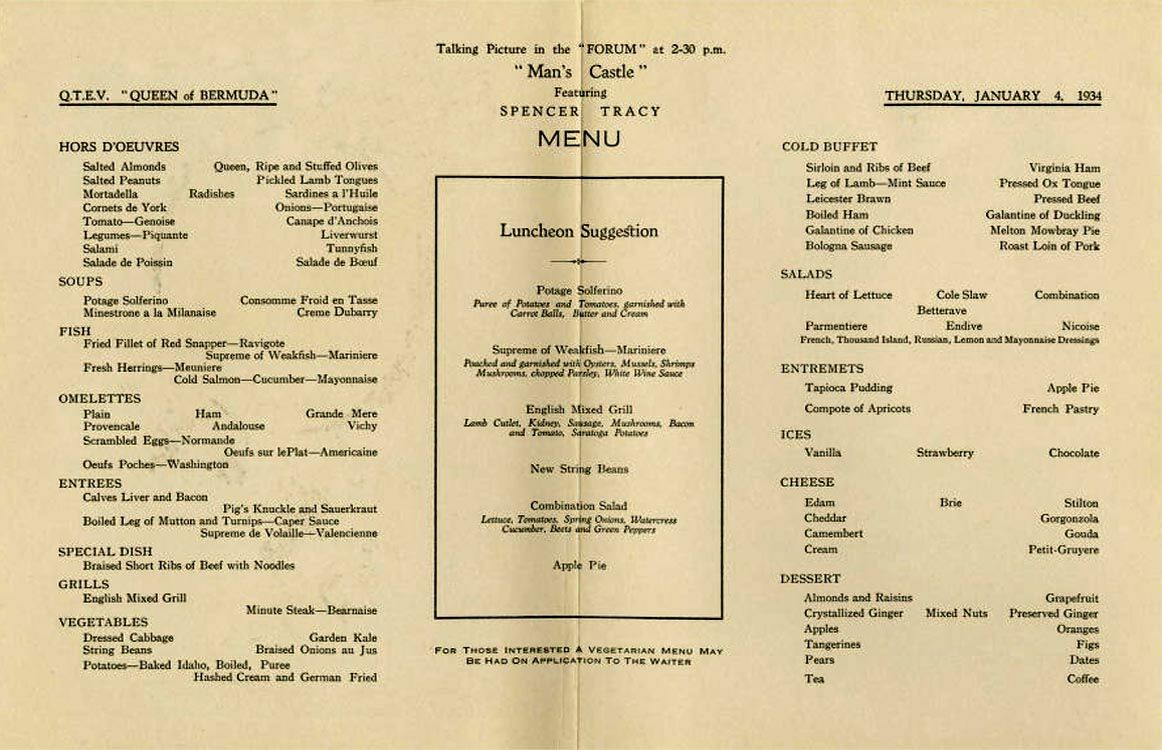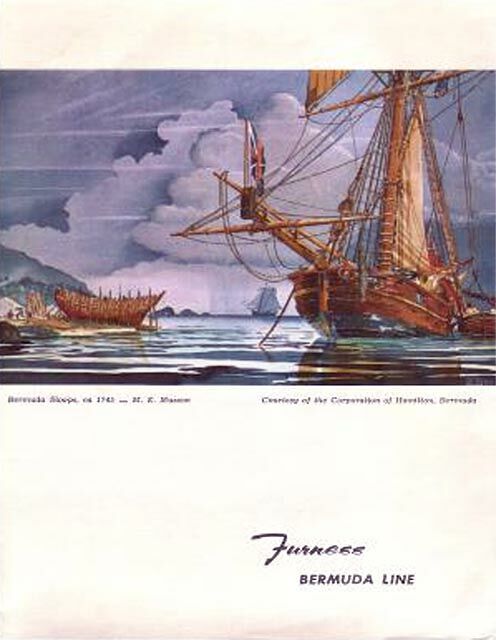 -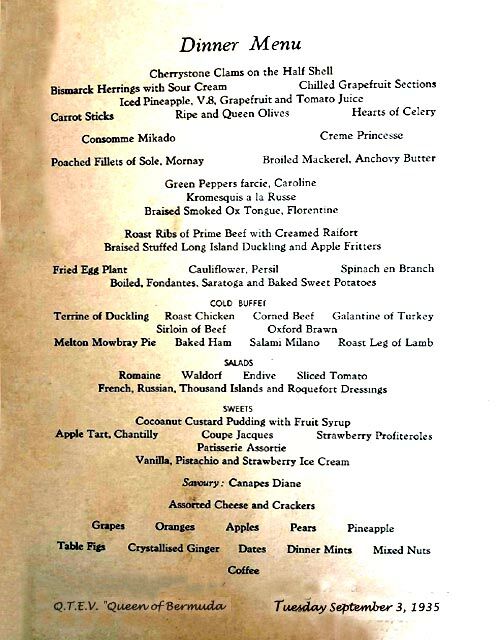 A Dinner Menu Tuesday September 3, 1935
I am sorry that the menu page was rather aged, but I did try to clean it as much as possible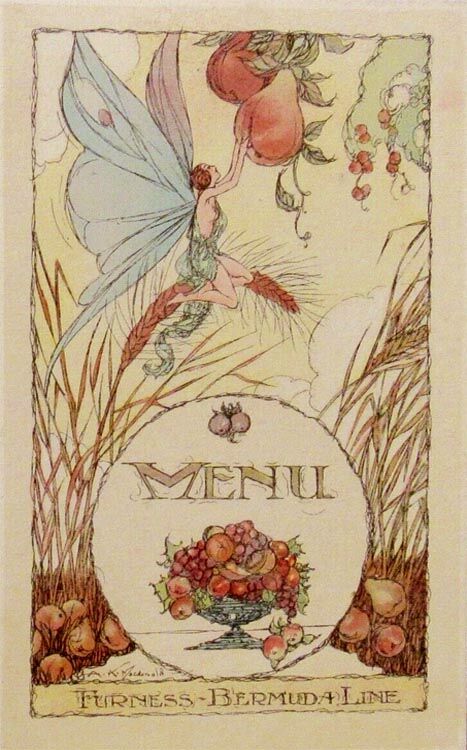 Above & below: Purser Dalziel had invited several Guests to a private Luncheon and this was their Menu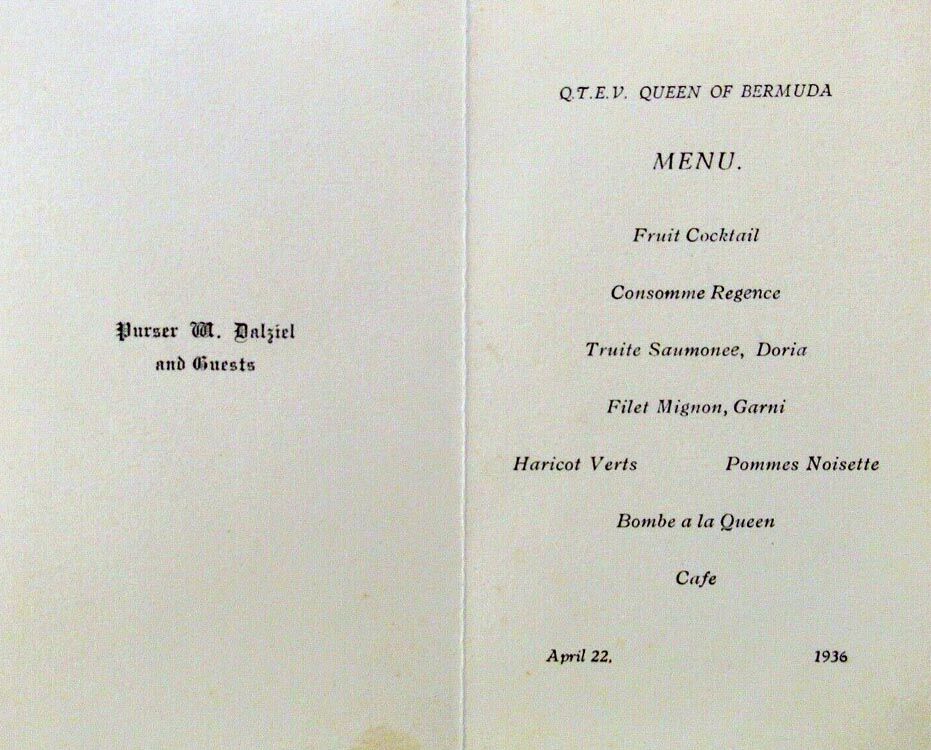 Entertainment was always made special and it was certainly the very best available! Thus it was no wonder that passengers would return again and again! Many of the famous and the very rich, such as the Vanderbilts and the Rockefellers would sail on her, including countless movie stars, opera greats and singers, from crooners, country and western singers to Rock & Roll starts. Just some of the stars that sailed were; Clark Gable, T.S. Eliot, Gertrude Lawrence as well as child film star Shirley Temple and great authors like Hemmingway and Noel Coward.
The truth is that Americans loved the "Queen of Bermuda" so much, they even chose her to feature in the biggest photograph ever created, the 60 ft long and 18 ft high, and it was displayed on the concourse of New York's Grand Railway Station! It is the very painting shown further above of her arriving in New York for her Maiden arrival by marine artist a Robert G. Lloyd.
********************
Her Interiors and Facilities:
I will commence topside always and will commence from forward and then slowly head aft, and then go down deck by deck!
Bridge Deck: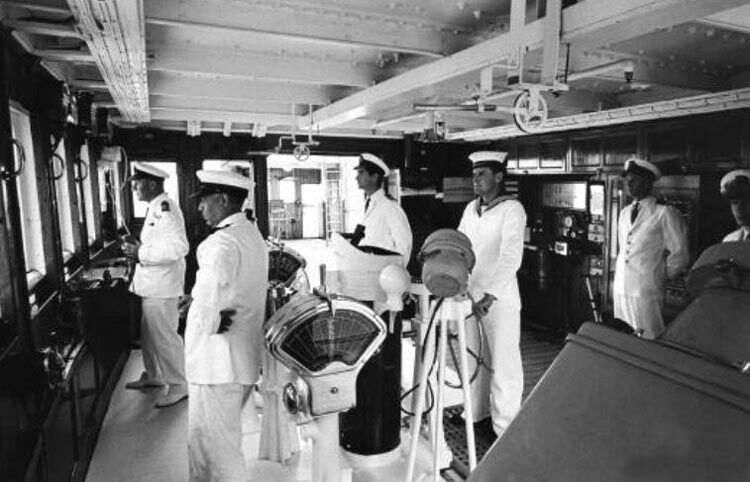 Here we see Captain on the Bridge (nearest to the camera looking forward with his hand at his side)
as well as other officers and the helmsman at the wheel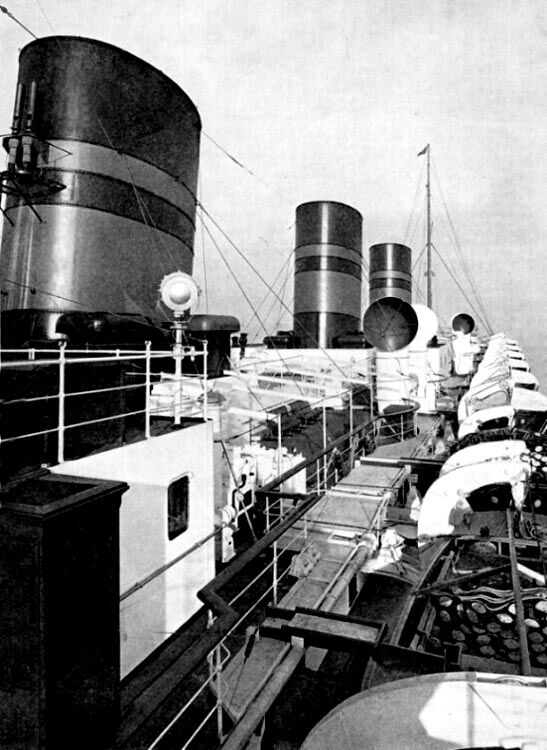 Looking aft from the portside Bridge wing and we see her three magnificent three funnels
Sun Deck:
The interiors of the "Queen of Bermuda" were quite remarkable as she was designed in a variety of contemporary and period styles. Most of her Lounges and Bars had lavish lighting and detailing, that later became known as 'Art Deco', but at the time it was simply referred to as "modern as Radio City".
Far forward was a narrow hallway come lobby, from port to starboard with a single Elevator (lift) and a timber Stairway that commenced on the portside and wrapped around the lift down to A Deck. Of course there were doors on both sides of this hallway that led out onto the Sun Deck. There were also two narrow hallway's that led aft to the Lounge's upper Galleries that featured decorative metal work, and had luxurious seating and small mahogany drinks-tables. This area over-looked the huge Main Lounge below on Promenade (A) Deck. Whilst directly behind the galleries there was a windowed wall, and behind them there were the popular 'Sun Deck Verandas' popular location for afternoon tea or coffee.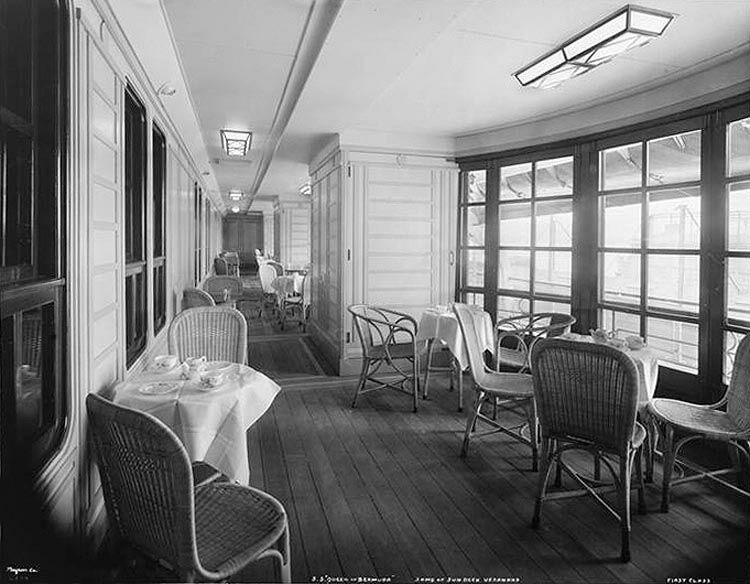 The Sun Deck Verandas
Aft of the Lounge Gallery area, amidships was the large Central Main Lobby and its magnificent fine timber Stairwell and the two large Elevators (Lifts) one on each side of the deck. This Lobby and lifts commenced down on E Deck and went up a total of 6 decks to Sun Deck. In the centre of the Lobby here was an opening with a beautiful decorative balustrade with a view three decks below to the "Main Entrance Hall" on C Deck.
De-Luxe Staterooms:
Then just aft along a central hallway there were ten beautiful De-Luxe two bed Staterooms all with private facilities, but then of course every single Stateroom on board regardless of Class had private facilities, with either a bath or a shower!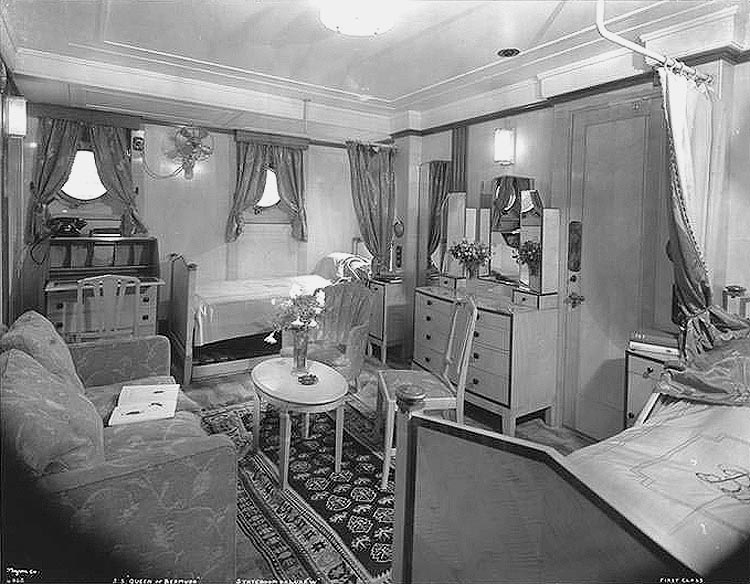 One of the ten De-Luxe Twin Bedded Staterooms on Sun Deck
At the end of the central hallway there was a smaller lobby which led into another main venue being the magnificent and elegant Smoking Room.
The Smoking Room:
The "Corona" Smoking Room was very much a traditional British style venue, being panelled in English oak, and it had large bay windows and it featured fine heavy mahogany timber Tudor and Jacobean furnishings with either velvet or leather upholstery; genuine Persian rugs were scattered around the floor in several places, and the venue had a large Fire Place on the forward wall. Above there was a dome that reached up high onto Bridge Deck featuring sets of three windows long the sides allowing light to enter during the day and viewing the stars at night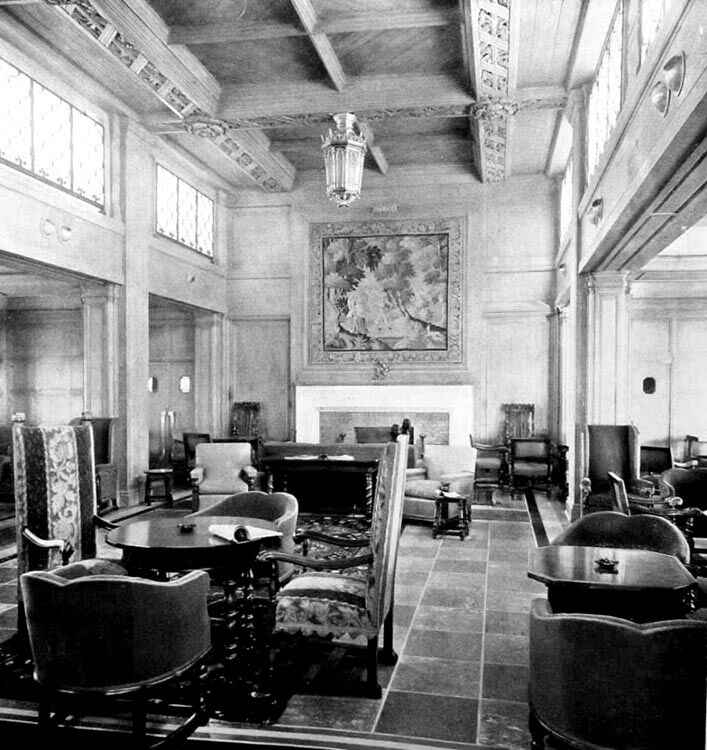 Above & below: Two view of the Smoking Room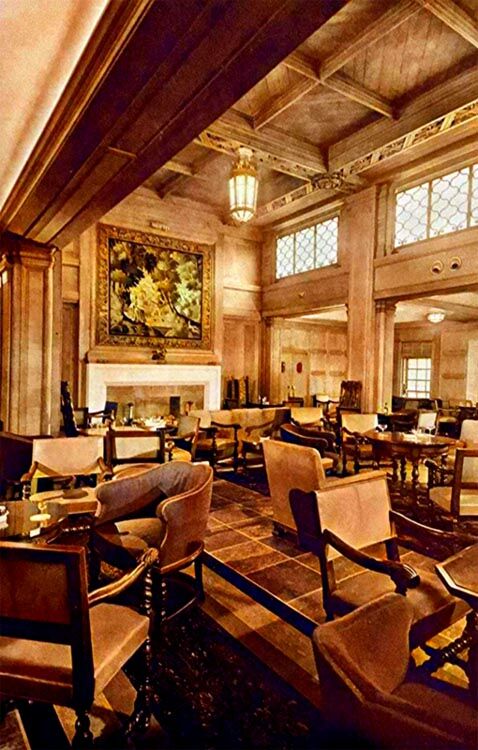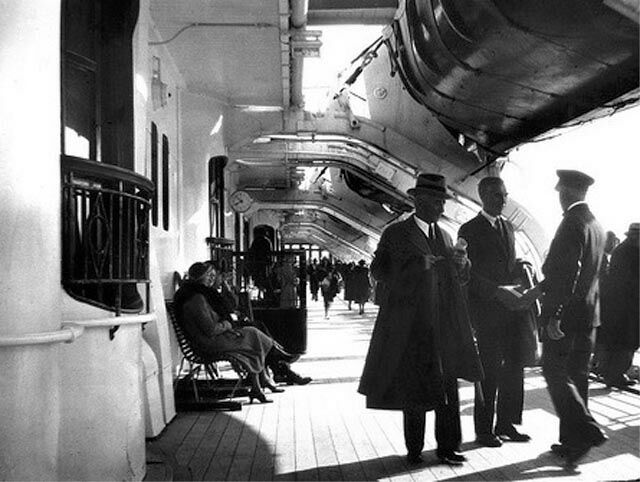 Passengers seen relaxing and having a chat on Sun Deck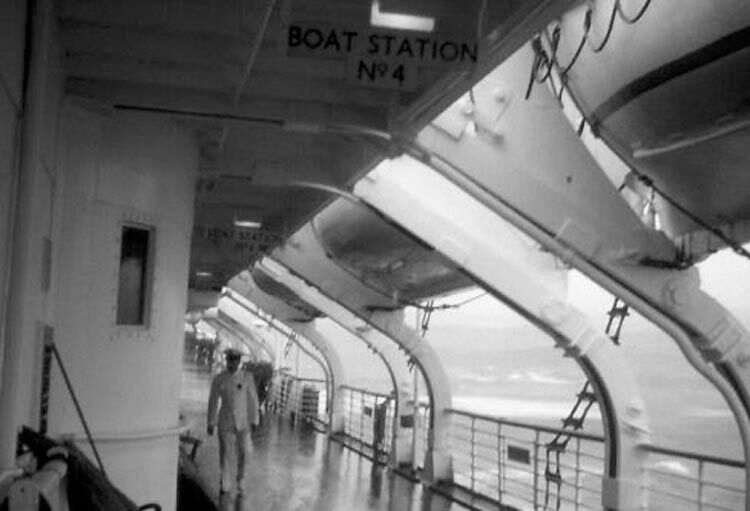 Sun Deck seen on a rainy day
Passing through the Smoking Rooms doors aft was an open Verandah which was glazed-in at the sides, but had six curved openings on the starboard side and six on the port side offering a view of the Sports Deck aft.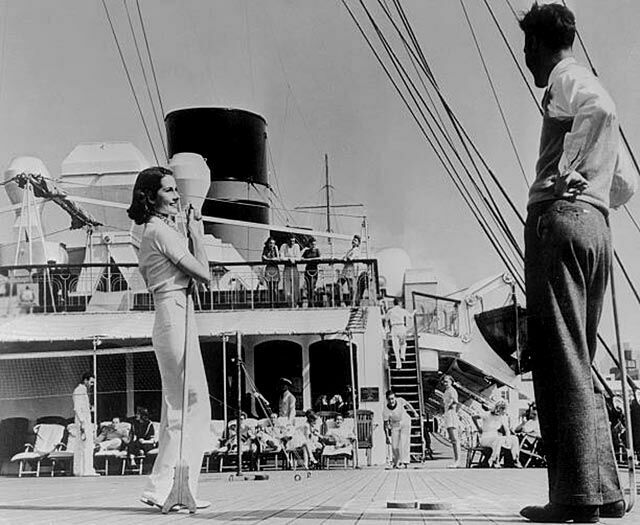 Sun Deck aft was the main Sports Area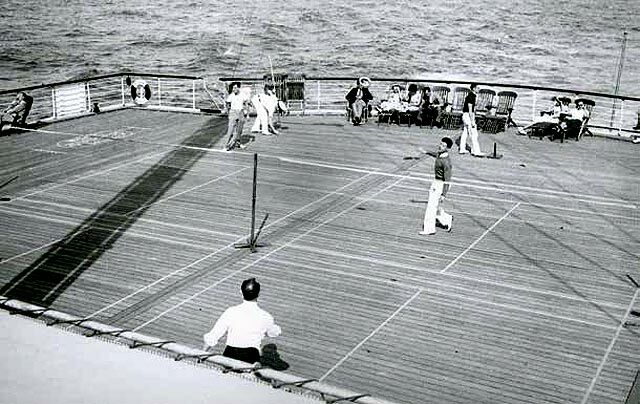 Passengers playing deck quoits which is a great game!
Promenade (A) Deck:
The Library:
The "Homer" Library was located far forward on this deck, enjoyed fine views overlooking the bow. The venue was styled in the glamorous Empire style, panelled in the exotic African 'Bubinga' timber.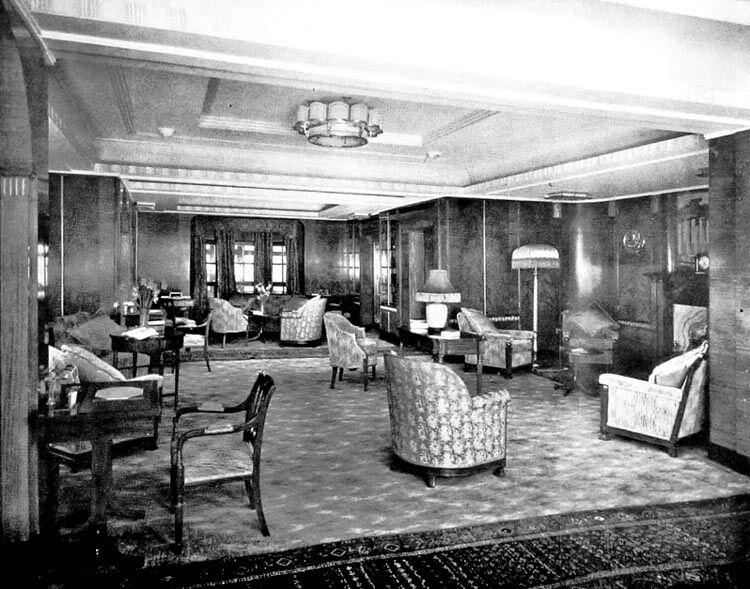 The Library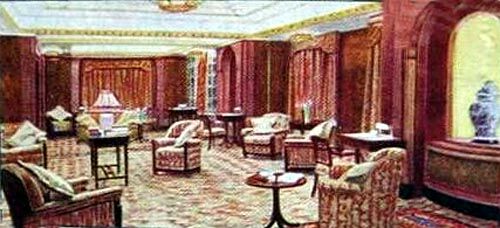 A small colour version of the Library, giving us a better idea of the beauty of this fine venue!
The Main Lounge:
The magnificent "Forum" Lounge was over 20 feet high and it featured a decorative upper level gallery up on Sun Deck as described earlier. This venue was had a hidden box that was fitted for Cinema projection and was capable for full scale Theatrical Productions having a spacious Stage. This fine venue was panelled in Golden Sycamore, and its column's capitals were finished with silver leaf. The furnishings covered beautifully upholstered large sofas, and matching lounge chairs, as well as velvet club chairs with tables being mostly single posted in mahogany. At the wall with the fireplace at the side stood two tall silver light towers and a huge mural featured on the wall above. High above in the dome was a huge glass decorative ceiling light system.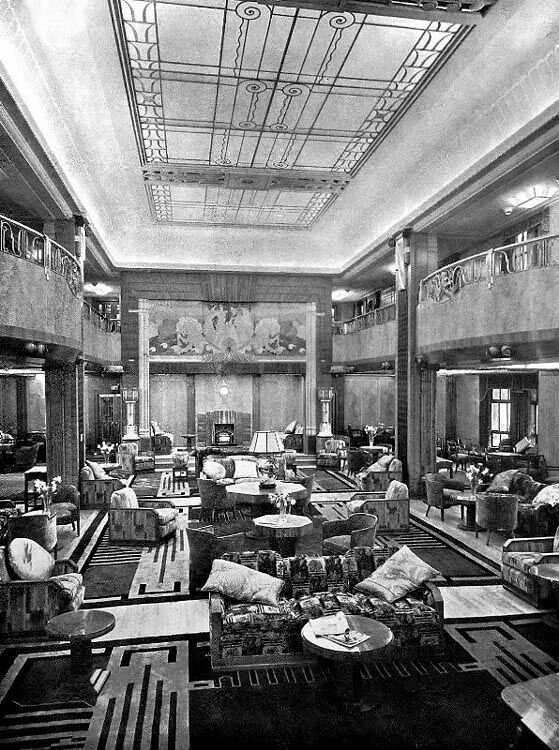 The elegant Main Lounge and above we also see the Gallery's up on Sun Deck
as well as the huge glass and wrought iron featured light fitting
Directly aft was the Ships Central Lobby with its Stairwell and lifts, which led into the of two Cafés, the first was named the "Siris Café" and it was located forward of the "Elysium Dancing Hall", whilst the second was the "Isis Veranda Café".
Siris Café:
I only have an artist impression of this café, but it will give us an idea of what it would have looked like. Both of these Café's had their own bar to satisfy the desires of the American clientele who were of course living under Prohibition. The Bar was located in the center of the forward wall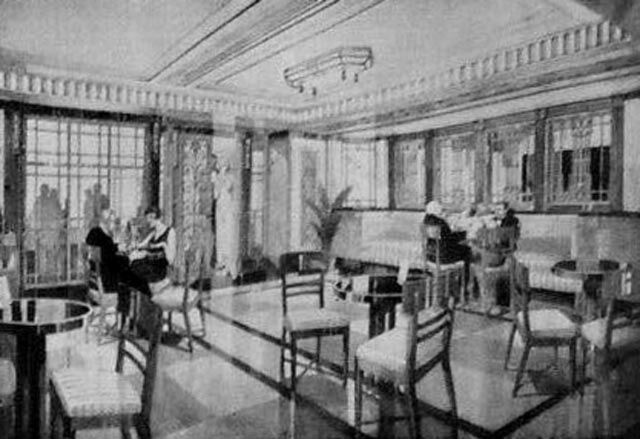 Here we see the forward "Siris Café"
The Elysium Dancing Hall:
The "Elysium Dancing Hall" spanned the full width of the ship, and it featured an island bandstand on the port side. The surrounding full-height glass panelled windows could be removed in order to allow in balmy tropical breezes, whenever it was needed. This venue was considered to be "Party Central".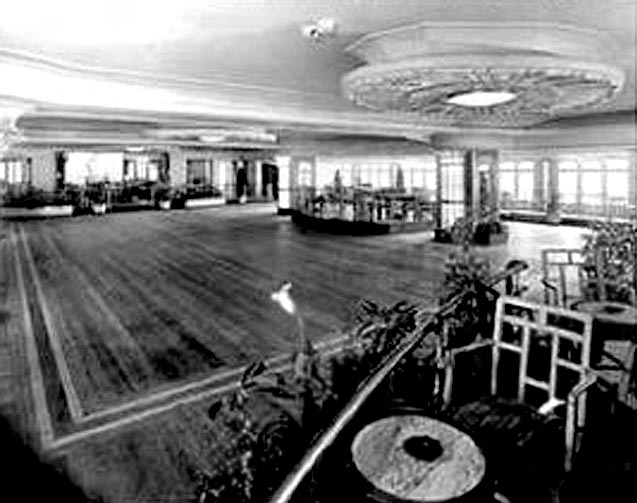 The popular "Elysium Dancing Hall"
Isis Verandah Café:
As I stated earlier, there were two Verandah Cafés, the forward of the Dancing Hall was named the "Siris" and he one directly aft was the "Isis". Below we see the aft Verandah Café "Isis".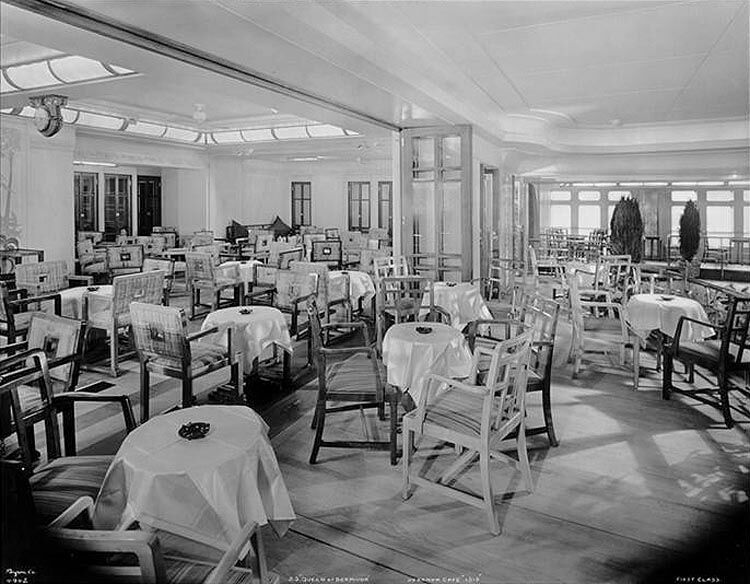 "Isis Verandah Café" and we see that the tables are overflowing into the dance hall area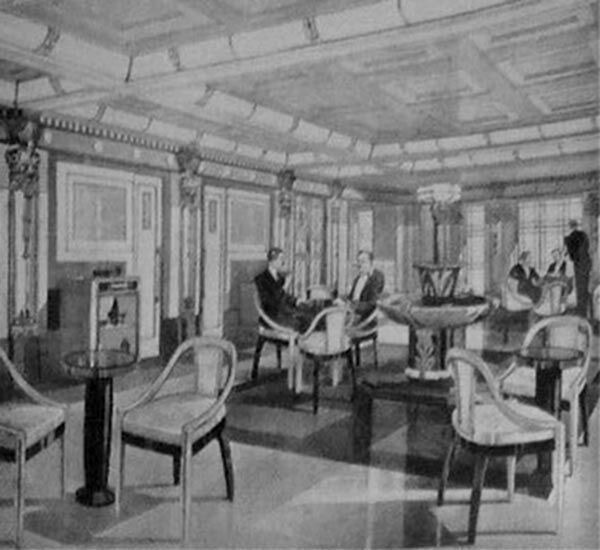 And this is the "Isis" artist impression. The fountain was in the venue,
but was out of sight in the photograph above being out of shot to the left
The Silver Lagoon Pool:
Adjoining the dancing paradise and the 'Isis' Verandah Cafe was the "Silver Lagoon Pool," the ships semi indoor swimming pool, which was flanked by a well-equipped gymnasium on the port side, and the changing rooms being on the starboard side, both having ocean views. A bulkhead of folding glass screens separated the pool from the aft sun deck and would frequently be open, as the weather would mostly be fine.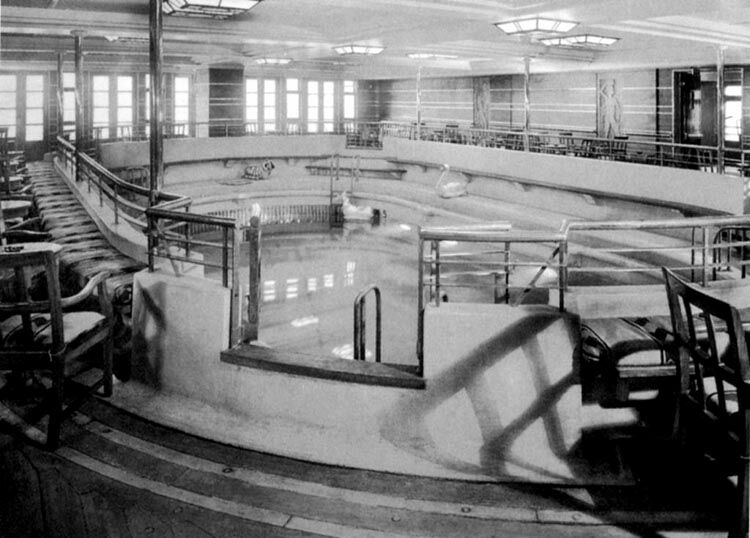 The Magnificent Silver Lagoon Pool
Directly aft was a spacious Sun Deck with ample sun-lounges with soft coverings and sun umbrellas and drink tables, with ample waiters at hand for the guests needs!
B Deck:
Accommodations:
This deck contained mostly Staterooms, both those that were located outside with a view, and inside ones.
However amidships there were six magnificent Suites, three on each side. Each Suite had a spacious Lounge and a separate Bedroom, as well as a spacious bathroom and a trunk-room. These fine suites were known as the "Marlborough Suites".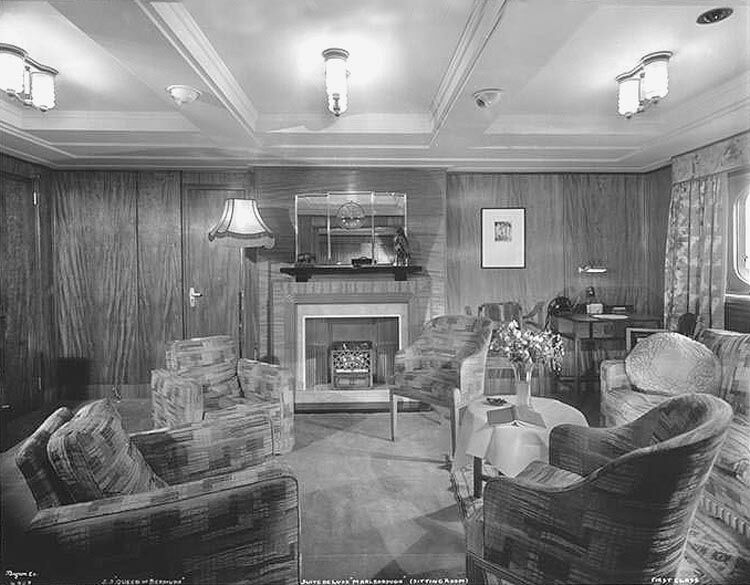 The Suites' superb Lounge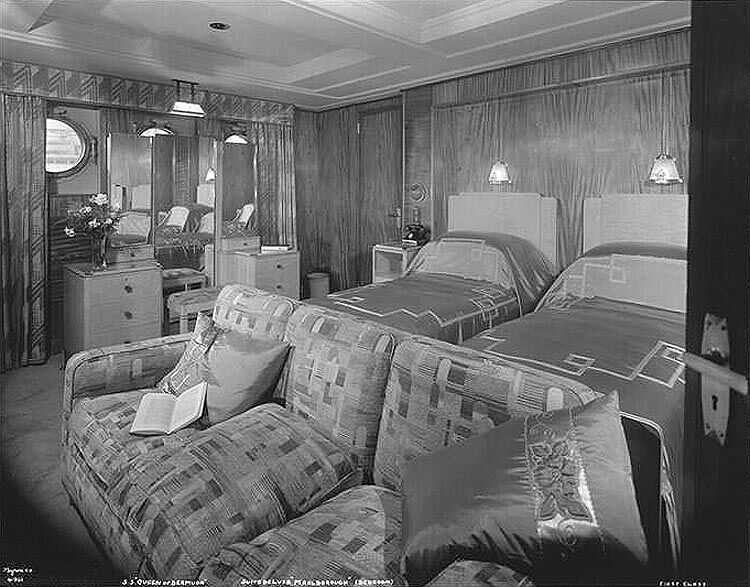 And this was the beautiful spacious bedroom
There were also ten De-Luxe outside Staterooms, and these Staterooms had additional facilities to the other Staterooms, although in many ways they were all seemed to be somewhat similar on the surface.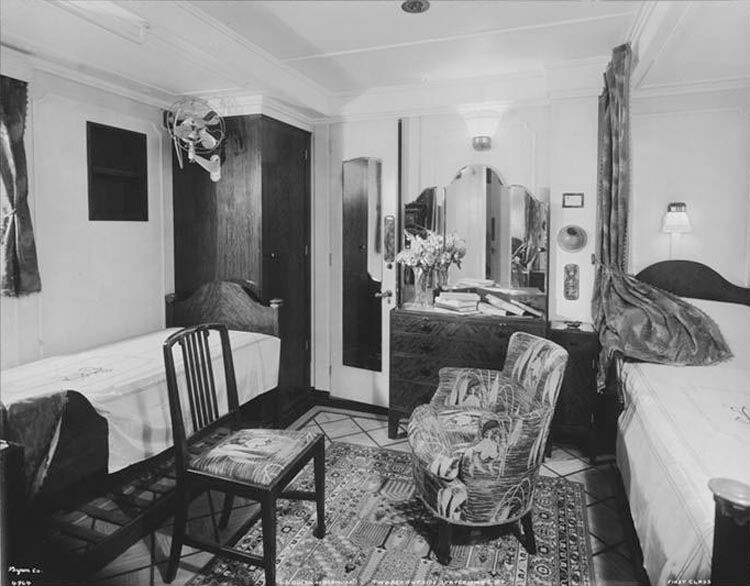 Two bed De-Luxe Stateroom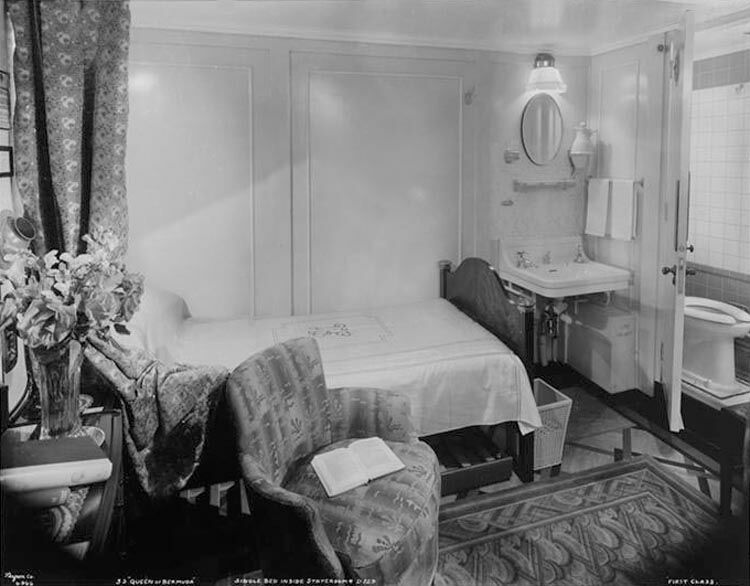 De-Luxe single bed Stateroom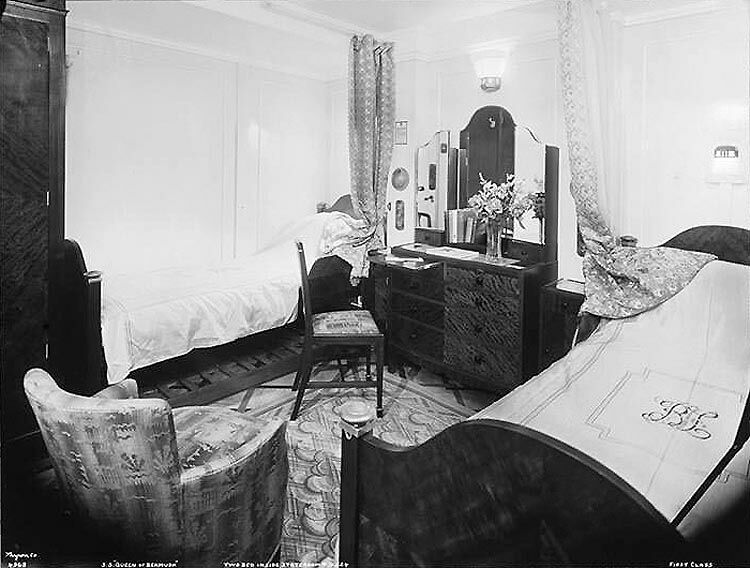 An inside two bed Stateroom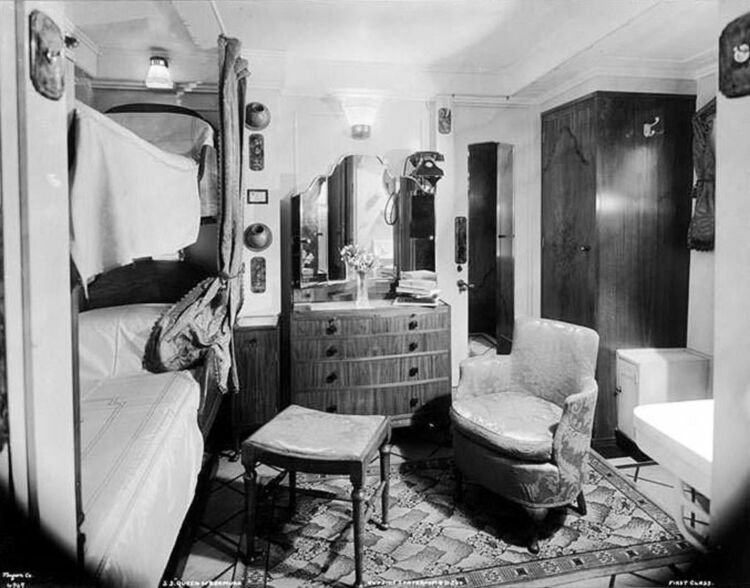 This is a two berth Stateroom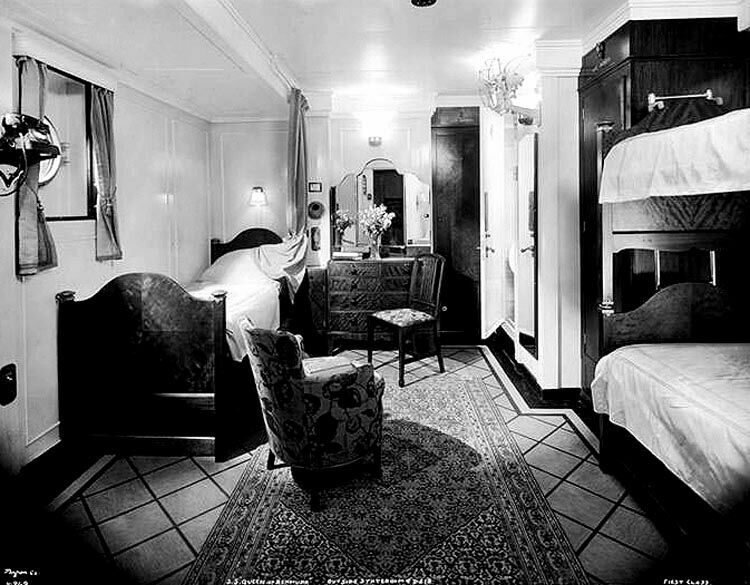 A three berth Stateroom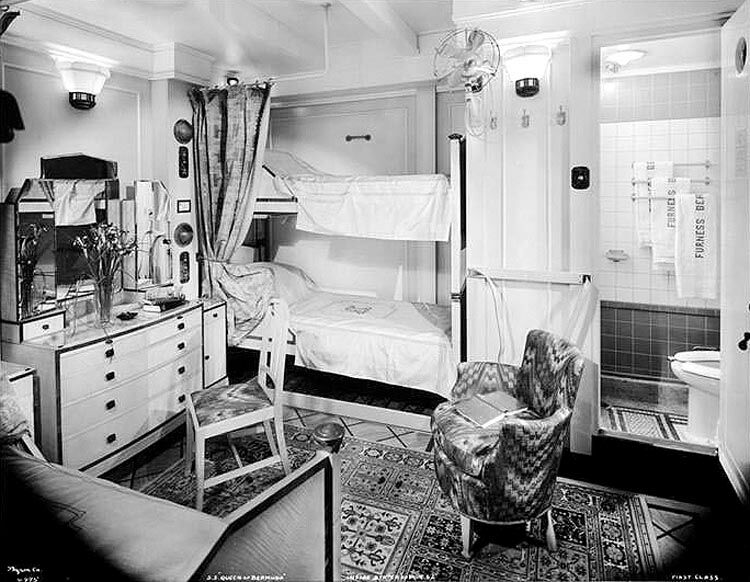 And finally a four berth Stateroom
The above does cover all of the ships First Class accommodations, and from here I will cover the rest of her Public Facilities.
Amidships was the Central Main Lobby with its two Elevators (Lifts) on the two sides, and this venue as we learned earlier, had a view up to Sun and down to E Deck. There was ample seating in the Lobby and in the middle aft was the Ladies Beauty Salon and the Gents Barber, as well as there being several shops.
C Deck:
Again this was mostly an accommodation Deck, but there were some other interesting venues of note here.
Far forward of the Passenger area was the rather large full width of the ship Horse Stalls, as horses as well; as at times cattle could be transported to Bermuda.
Amidships was of course the Main Lobby, but in this cat it was also the Main Entrance Hall. Here was most of the Maitre D' and the Head Steward's Office, and centred on the aft wall was the Pursers Office. Further aft was the ships Doctors Surgery and waiting Room as well as the ships Hospital and far aft the ships Laundry.
D Deck:
This deck only has a relatively small number of outside and even less inside Staterooms, but there are two main features, being the Main Lobby with was more like a attractive Lounge, as there was a rather fine Cocktail Bar along the side.
Nubian Cocktail Bar:
The adjacent to the lobby on the starboard side was the "Nubian" Cocktail Bar which was an intimate venue that featured black lacquer bulkheads, with a long stunningly rough timbered bar, and horse being ridden on the walls and other art items, yet it had an atmosphere of calmness yet sublimely beautiful! The Bar itself was fitted against the hull so to say and it was without a doubt the most popular Bat on board, especially before and after meals!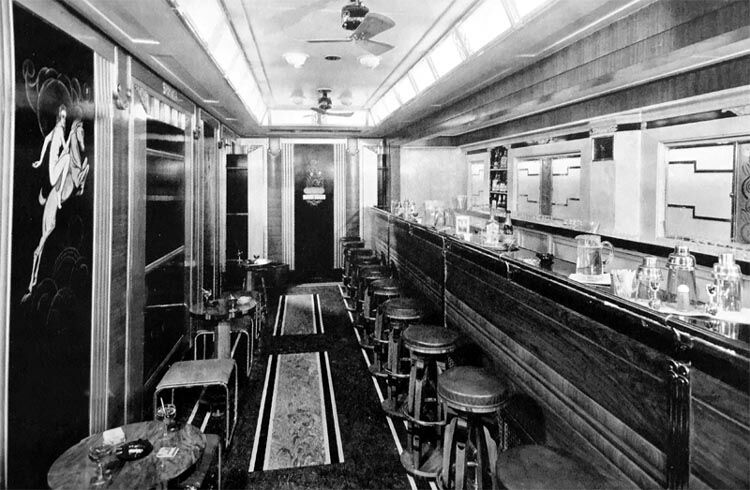 The Nubian Cocktail Bar
Directly aft of the Lobby was the ships stunning Dining room!
Dining Room:
The Dining Room featured light Sycamore walls with jade and silver frieze, the Atrium was done in what was known as 'Chinese Deco', with illuminated columns, jade, silver and red lacquer panels with Oriental themes, and there were rich Chinese silk curtains,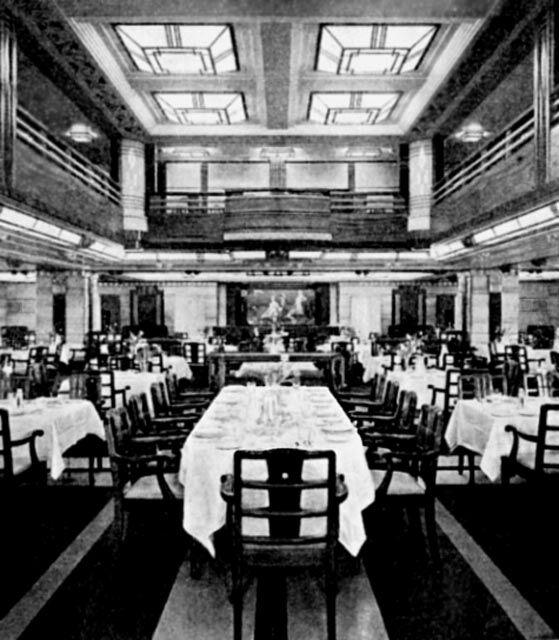 The Dining Room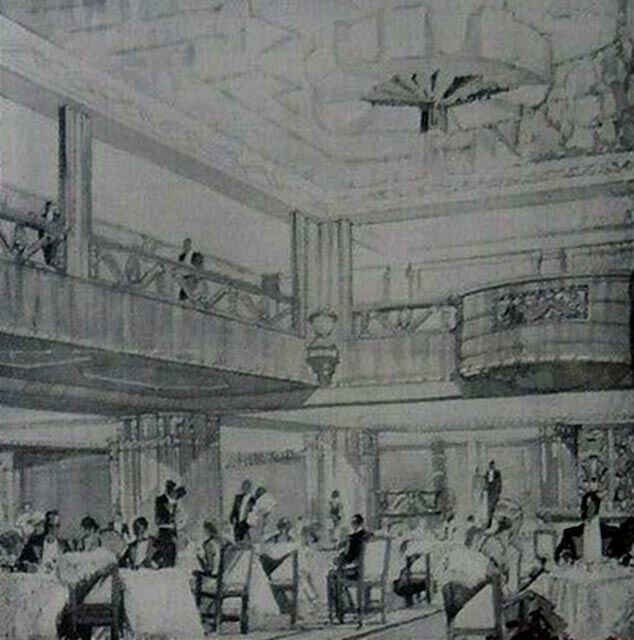 An artist impression of the Dining Room
E Deck:
Again this is the final deck with Staterooms, but the Main Lobby is rather nice and it is the one you would look down to fro the very top of the ship up on Sun Deck right don to here on E deck, were there is a setting of two chairs and a table, a fire place on the forward wall and two curved sofas. Thus a most pleasant place as are all the lobbies!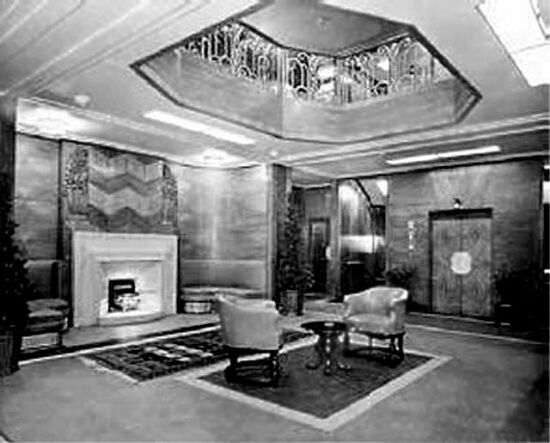 The Main Lobby on E Deck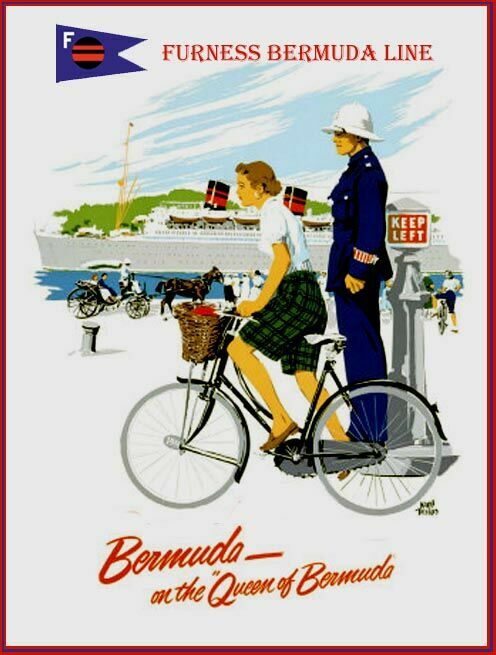 A popular "Furness Bermuda Line" Poster promoting both the "Monarch" and the "Queen of Bermuda"
Second Class:
In regard to Second Class, sadly I have no photographs whatsoever, but the 31 berthed in this class were used mainly by passengers who required one-way transportation to or from Bermuda, rather than the return cruise, with the stay in Bermuda.
As I stated earlier the Cabins here were very similar, although possibly slightly smaller, but they all had private facilities, but with a shower, and not with a bath tub.
There was a Lounge, a Smoke Room aft on C Deck as well as their Promenade Deck and their Dining Room on D Deck, all located aft
********************
The closing days of the 1930's:
Thus the thirties were really wonderful days on board the "Queen of Bermuda" and nothing could possibly ruin it, or could it? But as we well know all too soon things would go terribly go wrong as the world was about to change very dramatically! It is generally understood that World War 2 commenced on September 1, 1939, beginning with the German invasion of Poland, although Great Britain and France did not officially declare war on Germany until 2 days later on September 3.
World War Two:
Whilst the "Queen of Bermuda" was in New York, early in the morning on August 30, 1939 she received a message that she had been requisitioned by the Admiralty as they obviously had advanced notice things were about to go terribly wrong with Hitler in charge, and the crew was given a task to quickly paint her hull in a grey colour.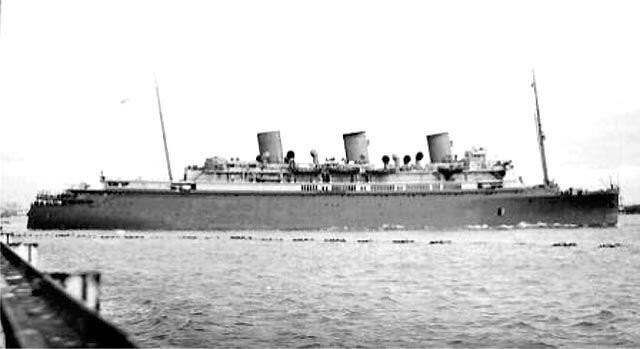 She is seen here heading to Belfast to be converted for war duties
She departed New York on August 31, 1939 and independently headed to Belfast arriving on September 8, where she would be converted to an "Armed Merchant Cruiser" (AMC). It was decided that one of her three funnels (her aft funnel) would be removed, possibly this could have been done as a disguise, or it could also have improved the field of sight to fire her guns.
Her primary armament was seven BL 152 mm - 6-inch Mk XII Naval guns, and her secondary armament included two QF 76 mm - 3-inch 20 cwt Anti-Aircraft guns. She also carried 2 Fairey Seafox aircraft.
Her conversion was completed on October 28, and her having worked at her engines, she would now sail at a speed of 20 knots. On the day of her completion she was also officially commissioned as the H.M.S. Queen of Bermuda with the pennant number F 73.
Her duties as an AMC:
First I will list her Commanders from September 2, 1939 to April 1943.
Commander: From: To:
Captain (retired) Miles Brock Birkett, DSO, RN: September 2, 1939 - December 6, 1939.
Captain Geoffrey Alan Brooke Hawkins, DSC, RN: December 6, 1939 - April 23 1941.
Captain Allan Thomas George Cumberland Peachey, RN: February 1, 1941 - November 15, 1941.
Commander (retired) Geoffrey Healey, RN. November 15, 1941 - December 6, 1941.
A/Captain (retired) …
the Hon. Sir Archibald Douglas Cochrane, DSO, RN: December 6, 1941 - April 1943.
From November 1939 to March 1942 and July 1942 to August 1942, she served on patrol duty as an AMC, as well as operated as a convoy escort from the South Atlantic Station. Although in March 1941 she visited "Deception Island" and destroyed certain shore facilities there in order to prevent it being used by German merchant cruisers.
Then from September 1942 to January 1943 she served with the Eastern Fleet in the Indian Ocean.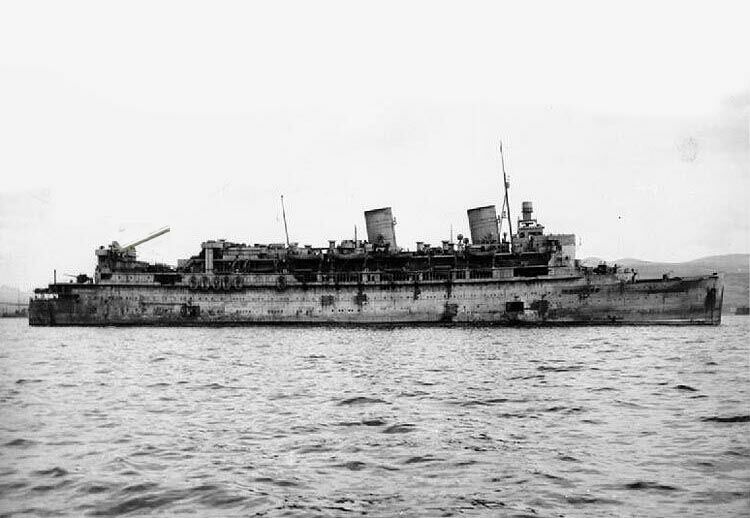 The Armed Merchant Cruiser "Queen of Bermuda" F 73, seen somewhere
at anchor in an Indian Ocean port on October 12, 1942
The aircraft were stored aft topside, where we see the crane facing forward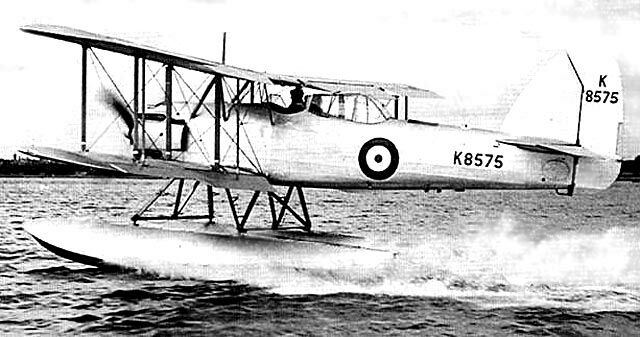 A Fairey Seafox aircraft
Then from January 24, to April 1943 and this included a visit to Fremantle, the port for the City of Perth (being the capital of Western Australia). Below are the details of that Convoy!
Operation Pamphlet (also called Convoy Pamphlet):
This was a convoy operation conducted during January and February 1943 to transport the Australian Army's 9th Division back home from Egypt.
The AIF began embarking on a number of troop ships on January 24 1943. The ships assigned to carry the troops home were the converted ocean liners 'Aquitania', 'Île de France', 'Nieuw Amsterdam' and 'Queen Mary'. Whilst the Armed Merchant Cruiser the H.M.S. Queen of Bermuda was the convoy's armed escort, however she also managed to embark 1,731 Australian soldiers. As the Suez Canal ports were too small for the four troop ships to load simultaneously, the embarkation process had to be staged, and the convoy's five ships sailed separately through the northern Red Sea and rendezvoused near Massawa in Eritrea. British destroyers H.M.S. Pakenham, 'Petard', 'Derwent' and 'Hero' and the Greek destroyer 'Vasilissa Olga' were transferred from the Mediterranean fleet to guard the troop ships from attack by Japanese submarines as they passed through the Red Sea.
The "Queen Mary" was the first ship to complete loading, and left 'Port Tewfik' on January 25. She anchored at Massawa three days later, and the soldiers on board endured very hot conditions until she resumed her journey. The "Aquitania" was next to load, and embarked the entire 20th Brigade between January 25 and 30. "Île de France" completed loading and departed Egypt on January 28, and the "Nieuw Amsterdam" and "Queen of Bermuda" sailed together on February 1. Overall, 30,985 Australians were embarked on the five ships; "Aquitania" carried 6,953, "Île de France" 6,531, "Nieuw Amsterdam" had 9,241 on board and 9,995 sailed on 'Queen Mary'. A total of 622 AIF personnel remained in the Middle East after the five ships departed Egypt, but this figure was steadily reduced to below 20 by March 1949.
The five ships of the convoy rendezvoused off Perim on the morning of February 4, and passed Aden later that day. The destroyers left the convoy as it passed Cape Guardafui, and were replaced by the heavy cruiser H.M.S. Devonshire and light cruiser H.M.S. Gambia which were to serve as ocean escorts. Captain James Bisset, commander of the "Queen Mary", served as the convoy commodore. The four large ocean liners sailed in line abreast formation and "Queen of Bermuda's" position varied based on the time of day and the situation. The convoy maintained a speed of 17 knots; while the liners typically sailed at much higher speeds during their independent voyages, they were constrained by the maximum which "Queen of Bermuda" could maintain.
After entering the Indian Ocean, the convoy sailed south-east. The ships manoeuvred together in a zigzag course; avoiding collisions during the frequent turns placed heavy demands on the watch-keeping officers, who found their shifts exhausting. The troops endured very uncomfortable conditions on the crowded liners, but morale was high. They entertained themselves with sports, sun baking and gambling. The convoy arrived at Addu Atoll on the evening of February 9, and anchored there to refuel and take on supplies. This atoll served as a secret supply base for Allied ships in the Indian Ocean, and the Australian soldiers were not told where they were while the refuelling took place. The ships sailed again on the afternoon of February 10.
A strong escort force was provided the guard the convoy as it travelled through the eastern Indian Ocean. For this, most dangerous, stage of the journey Force "A" of the British Eastern Fleet sailed near the troop ships. This force comprised the battleships H.M.S. Warspite, 'Resolution' and 'Revenge', as well as the light cruiser H.M.S. Mauritius and six destroyers. The Australian soldiers were pleased to see this powerful force sailing near their ships on February 10, though Force A subsequently patrolled over the horizon from the convoy. As the convoy neared the Western Australian port of Fremantle, its escort was reinforced by the Dutch cruisers H.N.L.M.S. Jacob van Heemskerck and 'Tromp' as well as the destroyers H.N.L.M.S. Tjerk Hiddes and 'Van Galen'.
The ships arrived at Fremantle on February 18. "Nieuw Amsterdam" and "Queen of Bermuda" berthed in Fremantle Harbour, and the other three liners dropped anchor at Gage Roads. The Western Australian members of the 9th Division were disembarked, and the ships loaded supplies and mail..
After unloading her troops at Fremantle, the Commander of the "Queen of Bermuda" transferred her remaining 517 passengers to the "Nieuw Amsterdam" and then she departed for the UK on March 3, arriving there on April 13.
Refitted as a Troop Ship:
Whilst in the UK she did minor operations in and around the North sea, but in May 1943 the Admiralty decided to return her to her owners, 'Furness, Withy', but that was very short lived, for within days the "Ministry of War Transport" (MoWT) decided to have her refitted, but this time as a Troop Ship with accommodations for 4,500 troops. For the next two years she carried troops between Britain, Gibraltar, Port Said in Egypt and Taranto in Italy, and in 1945 she visited Bombay. In 1946 she repatriated Italian prisoners of war from Liverpool to Naples and UK military personnel from the Far East back home to Britain. Then she operated between Liverpool, Bombay and Singapore.
A list of Troop Voyages:
March 29, 1944 sailed the Clyde in escorted convoy KMF30 detached off Gibraltar for Freetown.
May 15, 1944 sailed Port Said in escorted convoy MKF31 to Liverpool arriving May 29, 1944 carrying 4,000 troops.
July 18, 1944 sailed the Clyde in escorted convoy KMF33 carrying 3,601 Gibaltarians from camps in Northern Ireland
July 28, 1944 sailed Port Said in escorted convoy MKF33 carrying 4,000 troops to Liverpool arriving August 11, 1944.
October 1, 1944 sailed the Clyde in escorted convoy KMF35 carrying 4,029 troops to Naples. RFA WAVE KING was also in this convoy.
November 16, 1944 sailed Port Said in escorted convoy MKF36 to Liverpool arriving November 30, 1944. Carrying 3,367 troops
December 16, 1944 sailed the Clyde in escorted convoy KMF37 to Gibraltar arriving December 21, 1944.
November 13, 1945 sailed Suez independently to Bombay arriving November 23, 1945.
November 30, 1945 sailed Bombay independently to Suez arriving December 8, 1945.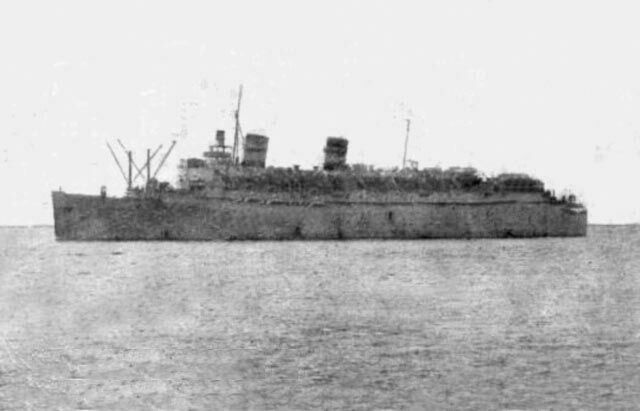 She is seen here as a troop ship around 1944 – 1945
Sorry about the quality of the image, but it is hard to get actual photographs of her as a troop ship
December 9, 1945 sailed Port Said independently to Liverpool arriving December 20, 1945.
January 9, 1946 Greaser John Lightfoot awarded the British Empire Medal (Civil Division) in the New Years Honours List and published in the London Gazette this day.
July 28, 1946 sailed Liverpool for Naples with 2,500 Italian prisoners of war being repatriated.
September 4, 1946 berthed at Liverpool from the Far East with British military passengers returning home for release.
November 10. 1946 sailed Port Said for Liverpool when on passage from Singapore.
November 15, 1946 passed Gibraltar west bound for Liverpool.
December 5, 1946 sailed Liverpool for Bombay.
December 7, 1946 stood by the Union Castle Liner Rustenburg Castle which had broken down off the northern coast of Spain and was drifting towards the Spanish shore. Temporary repairs were made and she resumed passage towards Southampton slowly. December 24, 1946 sailed for Bombay and Singapore, very early in January 1947 she was returning to the UK.
********************
Back to the Furness
Bermuda
Line:
Having arrived home in January 1947 the UK Government released the "Queen of Bermuda" back to the "Furness Bermuda Line", and she could finally return to her original services. She was sent to the 'Vickers' Walker Naval Yard' on the Tyne where she was given an extensive overhaul and refit returning her to her being once again a magnificent luxury passenger ship, as well as restoring her beloved third funnel.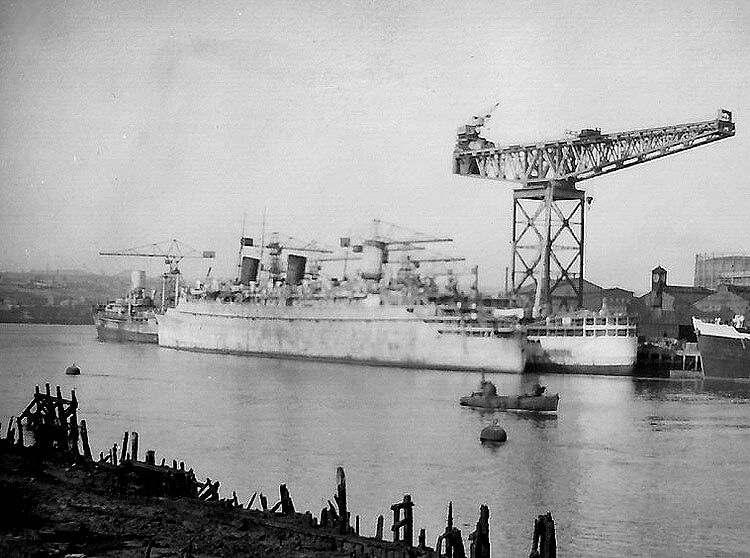 Above & below: "Queen of Bermuda" seen at the "Vickers' Walker Naval Yard" on the Tyne, January 1948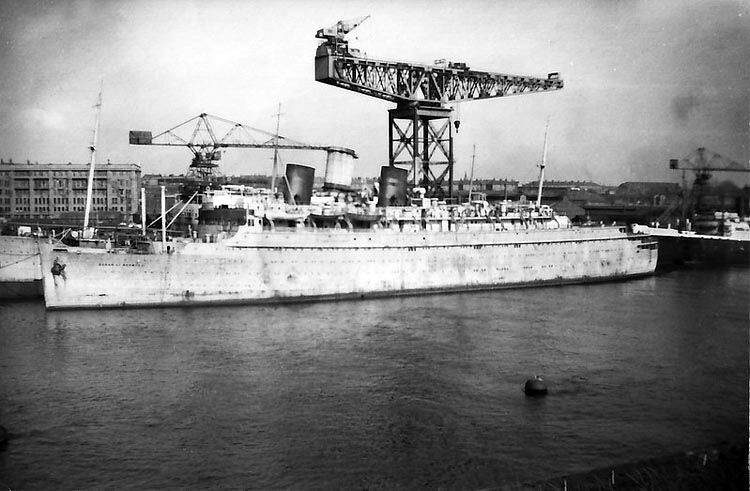 When her refit was completed she now only offered First Class accommodations for 733 passengers, thus she was now a 100% First Class luxury Cruise Ship!
On February 14, 1949 she arrived at Hamilton, Bermuda for the very first time since before the war, and there was a huge crowd awaiting her along the shores. Of course sadly her sister the "Monarch of Bermuda" could not join her having been so badly damaged by fire in a shipyard in 1947 and thus she had been sold.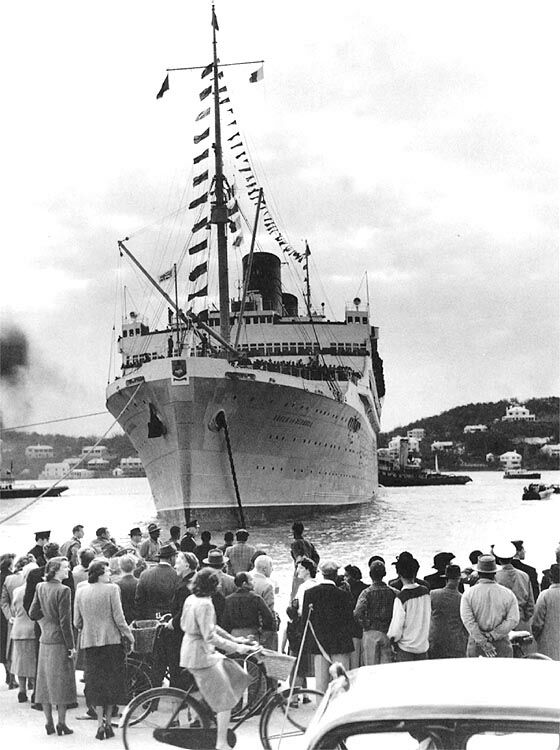 She received a massive welcome HOME from the locals; many shop keepers even closed their doors just
to come dockside and see her arrive and berth and then head beck and do great business once again!
In 1951 a brand new US$15 million "Furness Bermuda Line" ship arrived on the scene being the S.S. Ocean Monarch, and she joined Queen of Bermuda on the route she arrived on her maiden arrival at Hamilton on May 3, 1951, taking over from the "Monarch of Bermuda".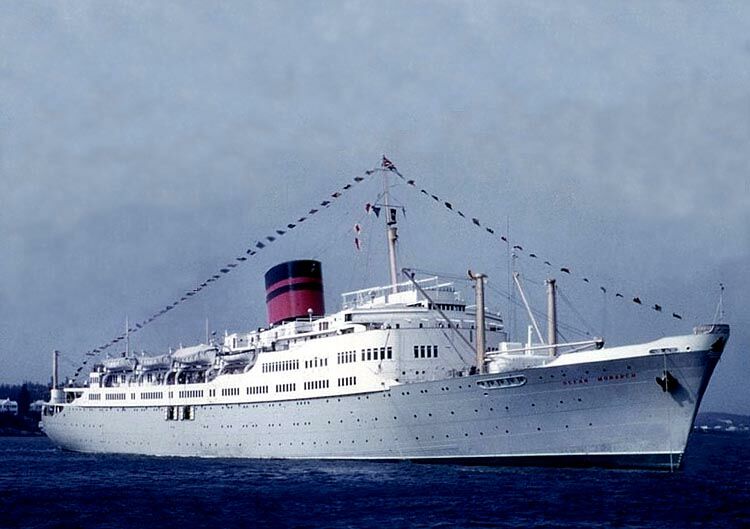 The new 13,834 GRT S.S. Ocean Monarch
But, although the new ship was relatively popular, the great "Queen of Bermuda" somehow remained the No One darling of the fleet as she was sublimely elegant and luxurious!
A Notable Crewmember:
In the 1950's the Queen of Bermuda had a very notable British crew member, and his name was "Tommy Hicks", who would later to become the world famous Tommy Steele, one of Britain's very first rock stars. Soon thereafter he had the lead in greatly loved Musical Movies such as "Tommy the Toreador" and "Half a Sixpence" as well as many other movies, and appeared in countless musicals and continues in the music industry to this day. What makes him so important for the purposes of this story is not just his fame.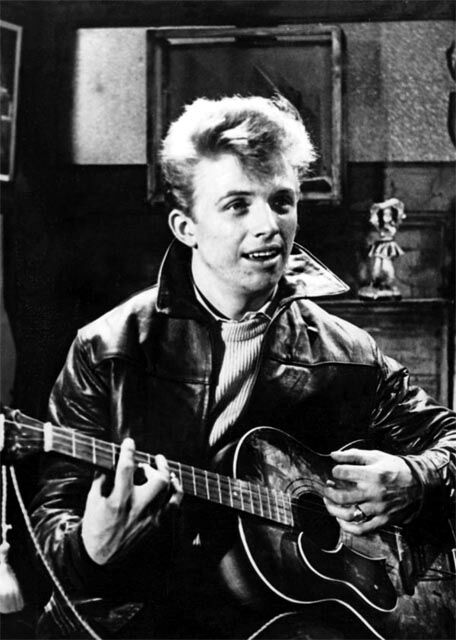 Tommy Steele seen in the 1950's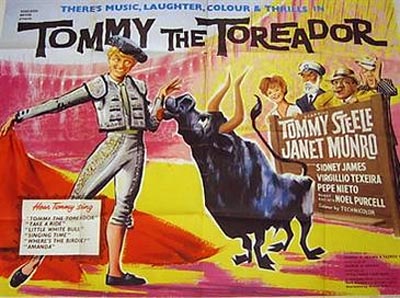 Above & below: Two of his famous Musical Movies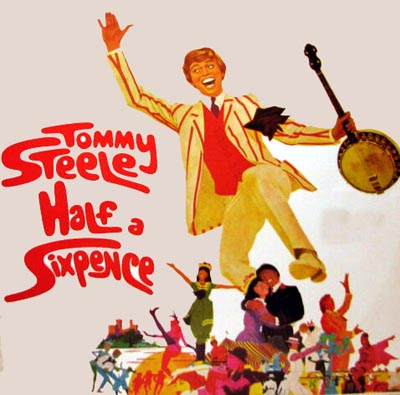 Tommy first job on board was to man the lift from 9 am until 6 pm, but that did not mean he could go and have a rest, or go and do his own thing, no way, for then he could go and have a rapid meal in the crews quarters and then he had to go and assist with horse the racing or bingo in the Main Lounge until 1 am, only then could he relax.
He loved talking to people when working on the elevators where his Cockney accent had such an effect on the mostly American guests and "they would open up like the Red Sea" as he once stated. Later, he was promoted to become a waiter and everything he did, he did exceptionally well and he was very well liked by the passengers.
But a little later, back home in the UK, he was discovered and he became a very famous singing, movie and stage star.
Tommy was born on December 17, 1936, and it was in 1979 he received an O.B.E., an "Officer of the Order of the British Empire". Then in 2021 he was knighted by Princess Anne and she told him that she was a fan, and knew his artistic history very well. Thus he became Sir. Tommy Steele at the fine age of 83, but now (in April 2022) he is of course 85 years young, and at an good old age he was still working creating the "Glen Miller Show", which he not only conducted, but also vocalised, and very well I have to say. There is a short video of the rehearsals below. He commenced this show in 2015 with the rehearsals, to performances that continued for several years, due its massive popularity finally ending in 2018 when he was 81 years of age. Tommy Steele Glenn Miller Story.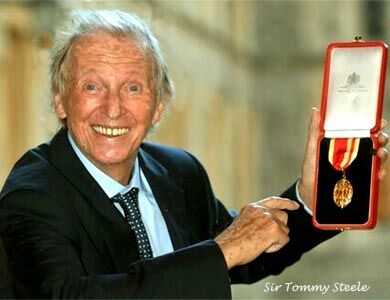 Sir Tommy Steele was knighted in 2020 aged 83 years of age.
********************
The "Beautiful Queen" as many began to call her, sailed on and in 1958 her final Captain boarded her, being Captain Magnus Musson, who remained with her (except for his vacations) until her final voyage in 1966.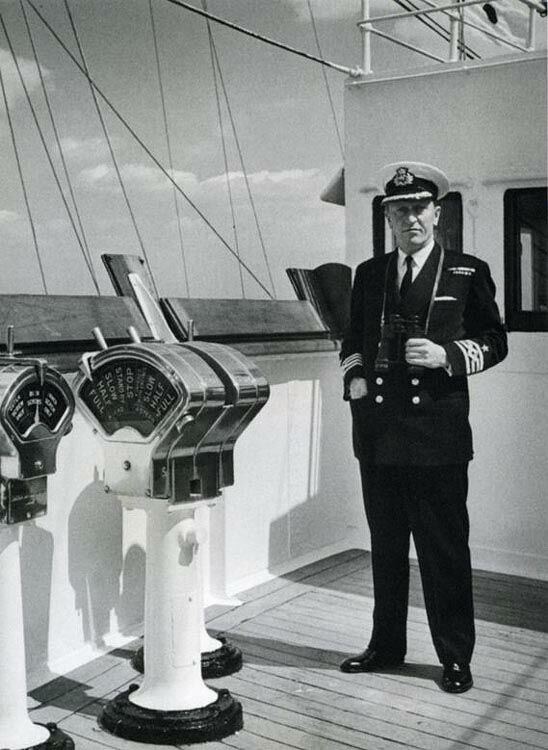 Captain Musson became the "Queen of Bermuda's" last permanent Captain
A Refit in 1961:
In October 1961 she was sent to 'Harland and Wolff' in Belfast where work commenced to modify the "Queen of Bermuda". 'Harland and Wolff' reshaped her bow, as her straight stem was modified to have a slightly raked bow, extending her forward some eight feet. Fortunately, her lavish interiors were hardly altered, and she retained her original warmth and charm. But they did remove her three funnels replacing them with one shapely more modern funnel being installed amidships. The fact is that this gave the "Queen of Bermuda" the distinction of being the only ocean liner ever to have sailed with One, Two and Three funnels during her career at sea!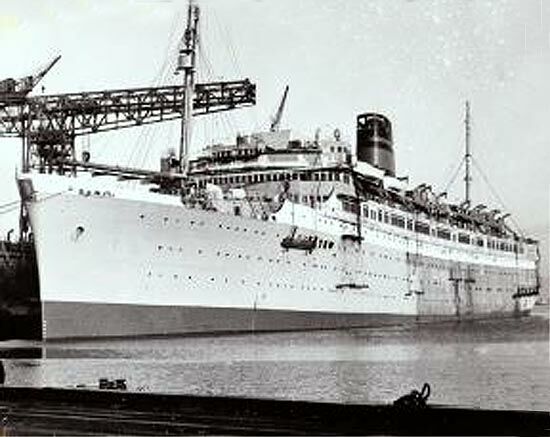 The "Queen of Bermuda" is seen at the 'Harland & Wolffe' yard, under going her massive refit in 1961-62
When she was completed she was registered as being 22,552 GRT, and she headed off for her sea trials on February 23, 1962, after which she returned to her regular service on April 7, 1962.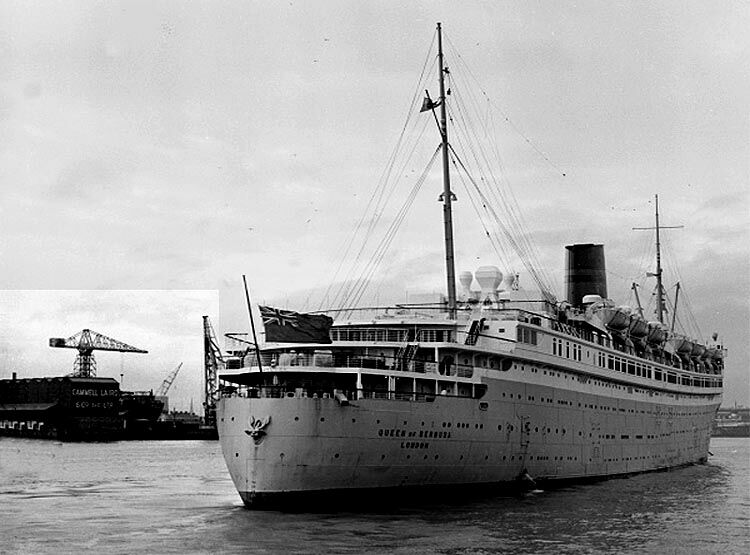 She is seen departing Liverpool returning to New York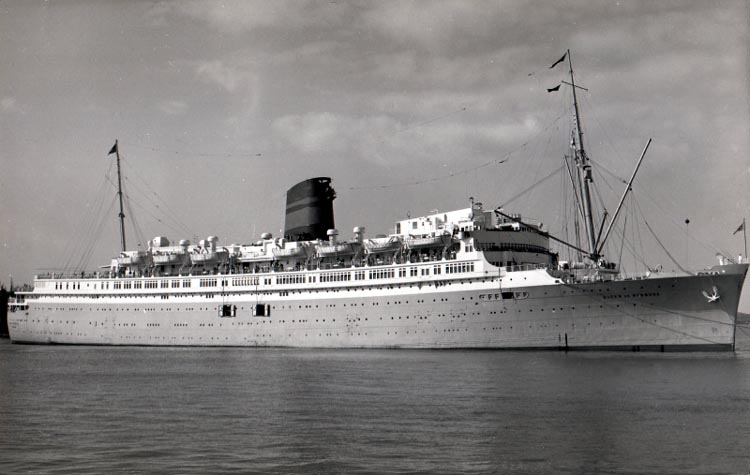 Above & below: Several photographs of the new look "Queen of Bermuda"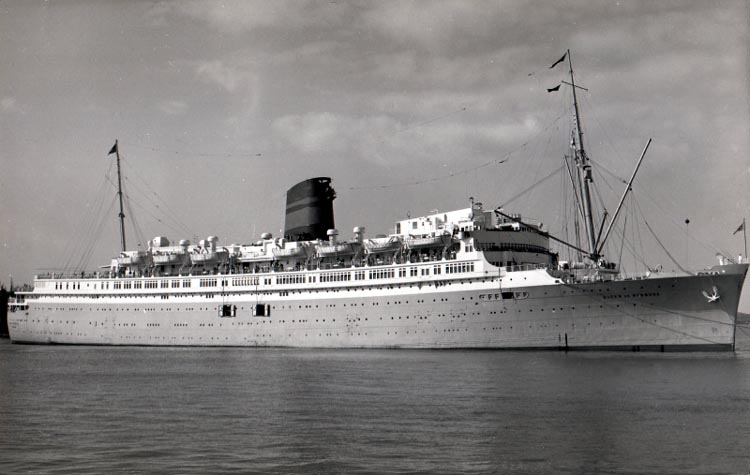 Her followers still loved her and they continued to sail on her, but the truth is that slowly the time came about that the heyday for "Furness Bermuda Line" was slowly declining with air travel gaining more and more favour, and even the wealthy would fly First Class and be there in just a few hours, and enter in their Five Star luxury hotels!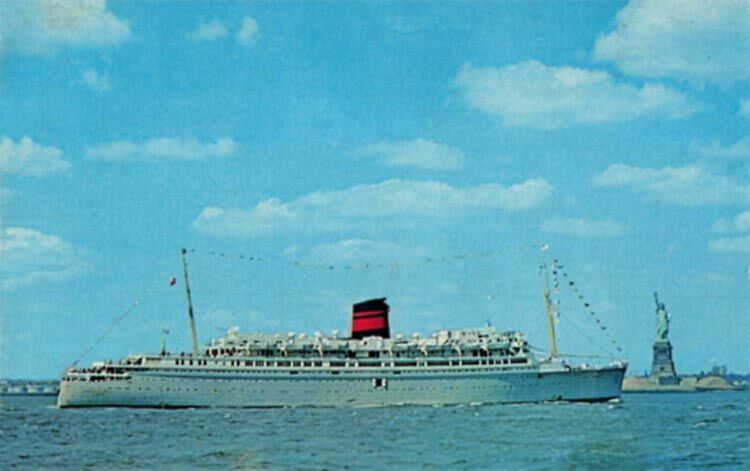 Q.T.E.V. Queen of Bermuda is seen departing New York bound for Hamilton
Thus she was sailing her last few years and her passengers numbers were slowly declining, although still reasonable, but by mid 1966 it was getting to the point decisions needed to be made.
Her final Days:
Thus she was sailing her last few years and her passengers numbers were slowly declining, although still reasonable, but by mid 1966 it was getting to the point decisions needed to be made. After deliberations, it was decided by 'Furness, Withy' that officially it would be late in November they would end their Bermuda service and they decided to place her on the market, and she was soon sold to new owners for further passenger service, with delivery in December 1966..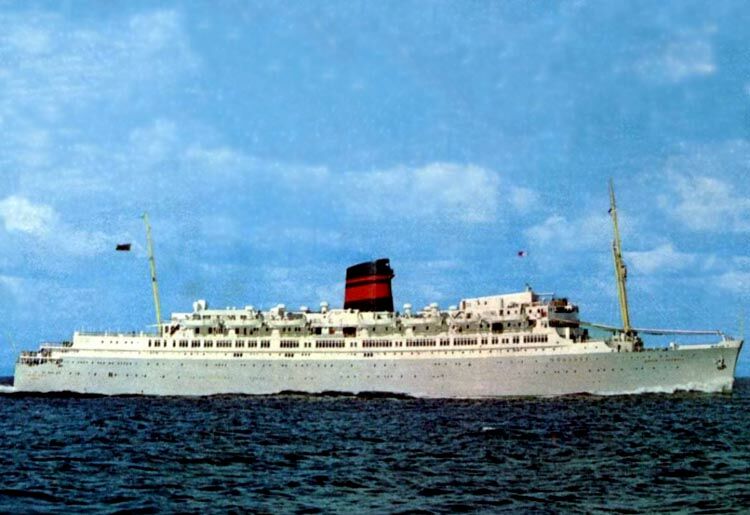 She is seen here heading for Hamilton in November 1966 her final run.
Whilst the "Queen" was in Bermuda there was so much happening such as special events, farewell parties, and finally sad farewell's! Then came that sad day for so many Bermudian's for the ship they had come to love as their own, was leaving forever, and thousands upon thousands turned out, not just dockside, but all along the shores right to the very edge of the heads as people wanted to see her disappear in the distance out at sea.!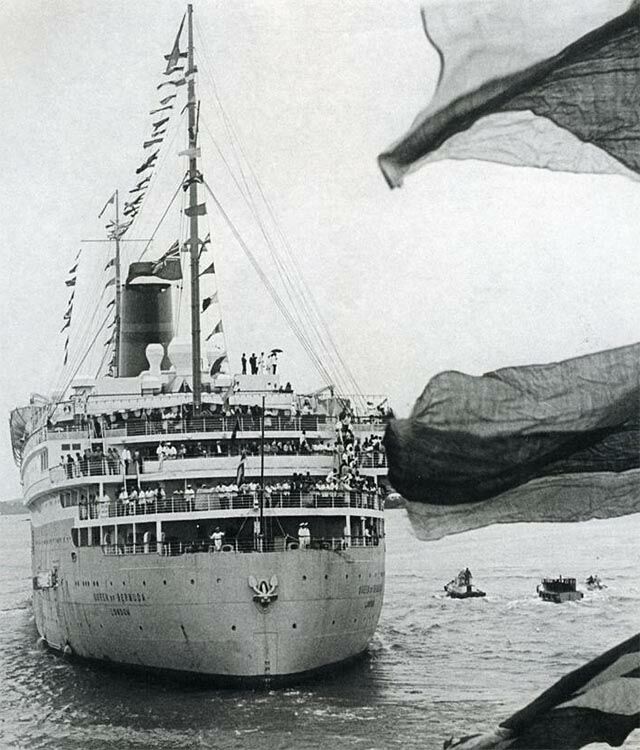 The Great and magnificent Q.T.E.V. Queen of Bermuda is seen making her emotional final departure
from Bermuda on November 23rd, 1966 with huge crowds all along her shores everywhere
However, her new owner resold her and the beautiful "Queen of Bermuda" was sold instead to be broken up. On December 6, 1966, she arrived in Faslane in Scotland where she was broken up.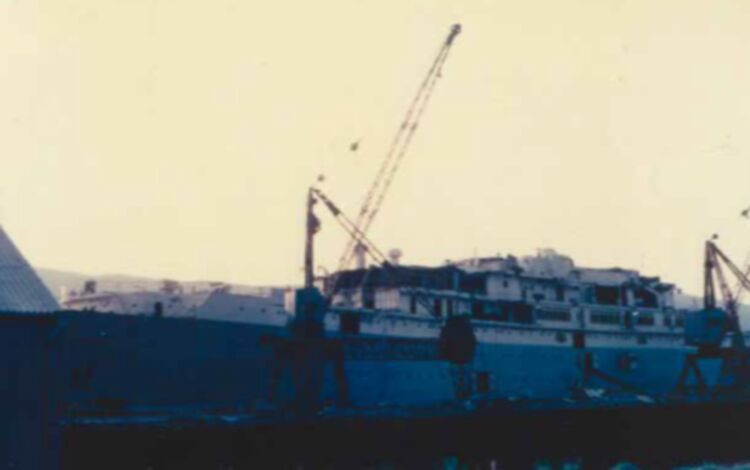 The once great "Queen of Bermuda" is seen looking very sad indeed at the Scottish breakers yard
*********************
Specifications & Details Q.T.E.V. Queen of Bermuda:
Name: Queen of Bermuda - 1933 to 1966.
Owner: Furness, Withy & Co Ltd.
Operator: Furness Bermuda Line - 1933 to 39 & 1943 to 1966.
. Royal Navy - 1939 to 1943.
Port of Registry: Hamilton, Bermuda.
Route: New York to Hamilton.
Built by: Vickers Armstrong Ltd, at Barrow-in-Furness, England.
Laid Down: December 15, 1931.
Yard No: 681.
Launched: September 1, 1932.
Sea Trials: February 1, 1933.
Delivered: February 14, 1933.
Inaugural voyage: February 21, 1933, Liverpool to New York.
Arrived New York: March 3, 1933.
Maiden voyage: March 7, 1933, New York to Hamilton, Bermuda.
UK Official No: 156189.
Call Sign: VQJP.
Pennant number: Pennant number F73 - 1939 to 1943.
Tonnage: 22,575 GRT, 12,777 NRT.
Length: 553.47 ft – 168. 7 m.
Beam: 76.7 ft – 23.4 m.
Draught: 26.9 ft - 8.2 m.
Installed Power: 4,274 NHP.
Propulsion & Engines: Fraser & Chalmers, Erith (turbines) & General Electric Co Ltd, Birmingham (motors) - 2 x Steam turbines plus electric motors.
Propellers: Quadruple screws, 200,000 SHP.
Speed: 19 knots service speed, 21,07 knots maximum speed.
Accommodations: 700 First Class & 31 Second Class passengers – 1933 to 1939.
. 733 all First Class - 1949 to 1961.
Crew: 410.
Sensors & Processing Systems: Direction finding equipment, Echo sounding equipment, Gyrocompass, Submarine signalling equipment.
Armament: 7 × BL 6-inch Mk XII naval guns.
. 2 × QF 3-inch 20 cwt anti-aircraft guns.
Fate: She arrived at Faslane in Scotland on December 6, 1966 to be broken up.
Sister Ship: "Monarch of Bermuda" of 1931, also broken up in 1966 as the "Arkadia".
*********************
View an 11 minute youtube Video Q.T.E.V. Queen of Bermuda
Also Visit …
RMS Monarch of Bermuda … From 1931 to 1949, when she was to become the S.S. Australia. In 1958 she was sold to the Greek Line and renamed S.S. Arkadia and she sailed on until 1966.
*********************
R
emembering the
M
agnificent…
Q.T.E.V
.
Q
ueen
o
f
B
ermuda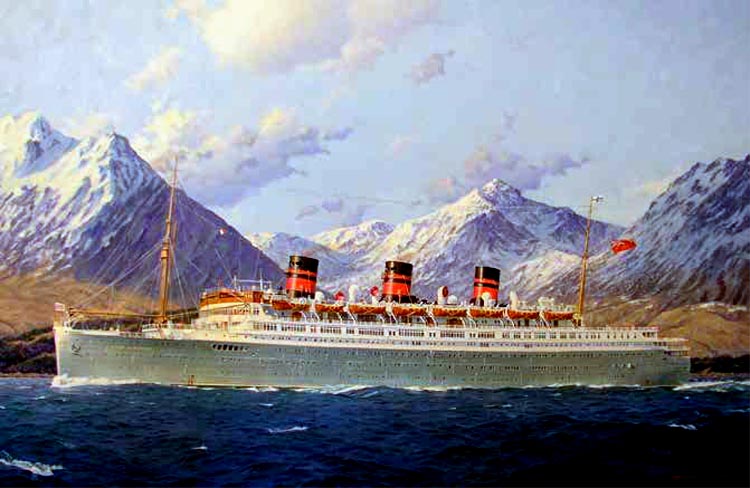 An excellent painting of the Q.T.E.V. Queen of Bermuda seen during one of her longer cruises
This painting is obviously by a great marine artist, but he is sadly unknown thank you Jonathon Malloy for sending it
Is it possibly by the great Stephen J. Card, but is does not seem to be signed and his work always is!
*********************
"Blue Water Liners sailing to the distant shores.
I watched them come, I watched them go and I watched them die."

Featuring over 1,435 Classic Passenger Liners, Passenger-Cargo Liners & Classic Cruise Ships!
Or ENTER HERE
For interest: Sadly an email service to ssMaritime is no longer available, due to the author's old age and chronic illness as well as being disabled, etc. In the past ssMaritime received well over 120 emails per day, but Mr. Goossens can no longer handle same. He sincerely regrets this!
*********************
ssMaritime.com & ssMaritime.net
Where the ships of the past make history & the 1914 built M.S. Doulos Story.
The Author has been in Passenger Shipping & the Cruise Industry for well over 60 years
In addition he was the founder of "Save the Classic Liners Campaign" in 1990.
Please Note: ssmaritime and associated sites are 100% non-commercial and the author seeks no funding or favours of any shape or form, never have and never will!
Photographs on ssmaritime and associate pages are by; the author or from the author's private collection. In addition there are some images that have been provided by Shipping Companies and private photographers or collectors. Credit is given to all contributors. However, there are some photographs provided to me without details regarding the photographer/owner concerned.
This notice covers all pages; although, and I have done my best to ensure that all photographs are duly credited and that this notice is displaced on each page, that is, when a page is updated!
ssMaritime is owned & © Copyright by Reuben Goossens - All Rights Reserved