P&O Line RMS Canton (3) 1938 to 1962
Please Note: Mobiles, Firefox & some Other Search Engines may not suitable
Use Google Chrome for this page to load perfectly!

Click the logo above to reach the ssMaritime FrontPage for News Updates & "Ship of the Month"
With Reuben Goossens
Maritime Historian, Cruise'n'Ship Reviewer, Author & Maritime Lecturer
Please Note: All ssMaritime and other related maritime/cruise sites are 100% non-commercial and privately owned. Be assured that I am NOT associated with any shipping or cruise companies or any travel/cruise agencies or any other organisations! Although the author has been in the passenger shipping industry since 1960, although is now retired but having completed over 1,300 Classic Liners and Cargo-Passengers Ships features I trust these will continue to provide classic ship enthusiasts the information the are seeking, but above all a great deal of pleasure! Reuben Goossens.
R.M.S. Canton (3)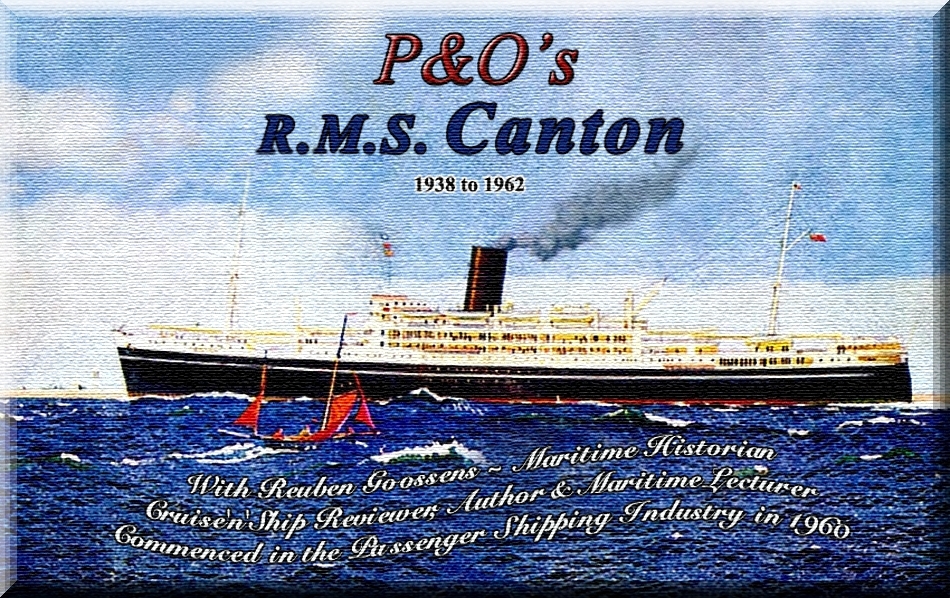 Introduction:
The arrival of the Canton (3) in 1938 marked the end of an era for the P&O Company, for she was the ship that marked an end of an era and on a number of "lasts."
1… She was the third ship to bear the name Canton, but she would be the last of the liners to do so!
2… She was the last ship to enter service before the outbreak of World War Two.
3… The Canton was the very last liner to commence service with her hull painter black, as in future all ships were painted all white, par the boot topping and the buff funnels!
4… She was also the last liner to be built for the P&O Lines by Alexander Stephen and Sons of Linthouse, Glasgow Scotland.
There was no doubt that the RMS Canton was a most handsome ship, and her single funnel gave her a similar profile to that of the RMS Strathmore, Corfu and the Carthage being mostly designed for the Far East Service to Singapore, China & Japan, etc!
Let us now commence the story of this fine somewhat smaller of the P&O Liners; R.M.S. Canton.
Building the Canton 3:
The company built two previous ships named 'Canton,' commencing with the 400 GRT side Wheel Paddle Steamer, PS Canton, built in 1848 operating with P&O until 1859. Next came the 3,171 GRT SS Canton 2, built in 1889 and she was sold to a French Company in 1903.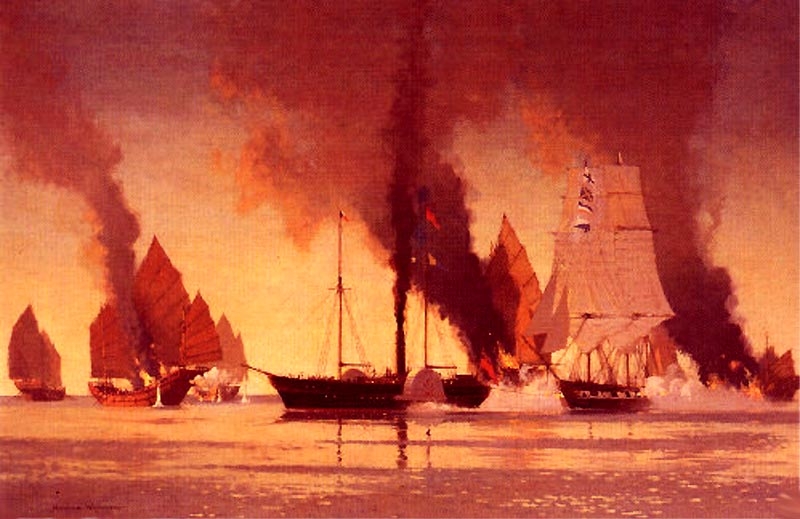 A fine painting of the first Canton towing a larger but damaged ship, the Columbine to Hong Kong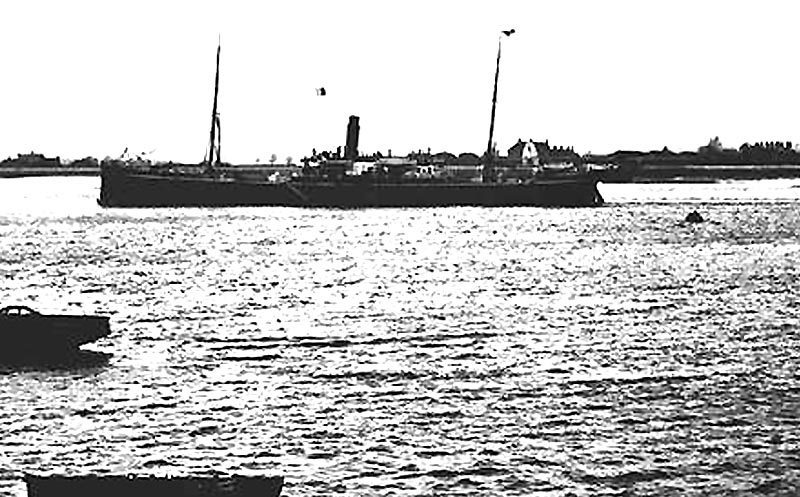 Canton 2 is seen heading for port
However the time had come that P&O or (The Peninsular and Oriental Steam Navigation Company) decided to build a new Turbine Steamer, and she was ordered to be built by Stephen Shipbuilding in Glasgow, Scotland in November 1936. Her keel was laid down in 1937 Yard in number 557.
When ready, she was launched and named Canton on April 14, 1938, by Miss Thalia Shaw, the daughter of Lord Craigmyle, being the P&O's recently retired Chairman. One in the water, tugs towed the hull to her builder's Fit-Out berths. Once the Canton was completed she headed out for her sea trails on September 9, 1938, which proved to be successful, after which she returned to the builders yard for some final touches. Once she was fully completed the RMS Canton was delivered on September 13, to the Peninsular and Oriental Steam Navigation Company.
P&O had just under a month before her maiden voyage from the UK to India, Hong Kong and Japan, thus they had sufficient time in preparing their new liner and take on cargo heading to various ports during her voyage, as well as manning her. There were many last special final changes on board ensuring her passengers would not just be comfortable, but also feel completely at home aboard!
The handsome 15,784 GRT (Gross Registered Tons) P&O Liner was the last ship of the company to have hull painted black and with a white ribbon, whilst her superstructure was all white. Her boot topping was painted in P&O's traditional red and topside there was a tall slanting black funnel, as well as two tall majestic white masts as well as kingposts with derricks for cargo movements.
The Canton offered a considerable cargo capacity with six holds that had a capacity of 10,341 cubic metres or 365,248 cubic feet, including 927 cubic metres or 32,730 cubic feet of insulated space.
Her passenger capacity was as follows; 257 in First Class and 221 in Second Class. The ship had a crew of 319: These consisted of both European and Indian. The Captain and officers, Pursers were mostly European, whilst the Engineers' department, Stewards, and Deck crew were Indian. In addition the Canton was the very first P&O liner to have a fulltime "Cinema Operator" on the ship!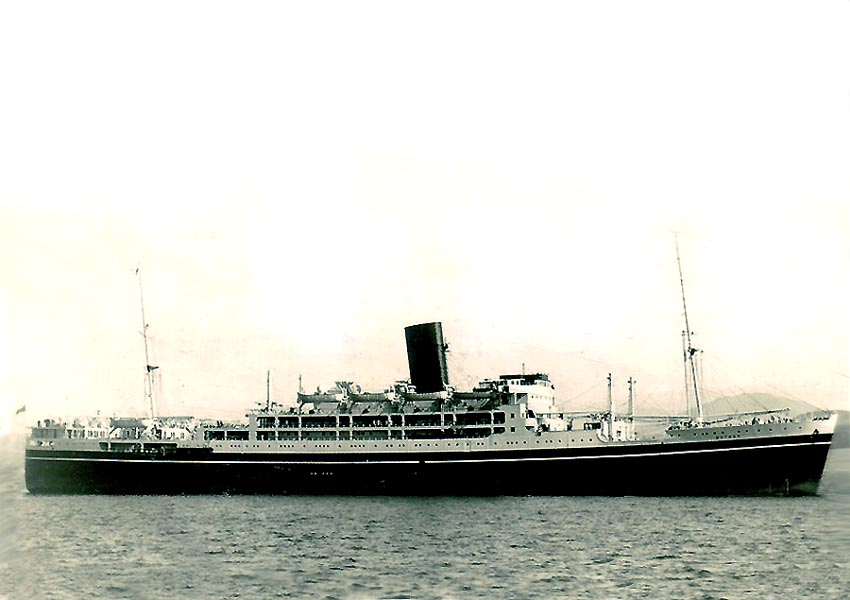 RMS Canton
Interiors and Facilities:
Décor onboard the Canton was typical of P&O, as it featured a great deal of fine timber of various varieties, fine carpets, the best furnishings and drapes. First class as always featured the Main Lounge forward on Promenade Deck, followed by the Smoking Room and amidships the ever-popular Dance venue with a Bandstand, which was also used as the ships Cinema, although it was closed by folding glass doors, for on fine days these could be opened. Aft on Promenade was be the very popular Verandah Café overlooking the open decks and the Swimming Pool. Cabins were sumptuous and superbly decorated and furnished. All Cabins were for two persons or a single person, all First Cass Cabins had a private bathroom. Second Class was also superbly looked after with an excellent Lounge and Smoking Rooms. Both Classes had fine Dining Rooms, either forward and Second Class aft!
First Class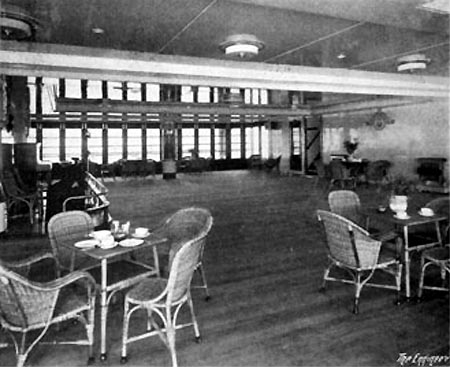 -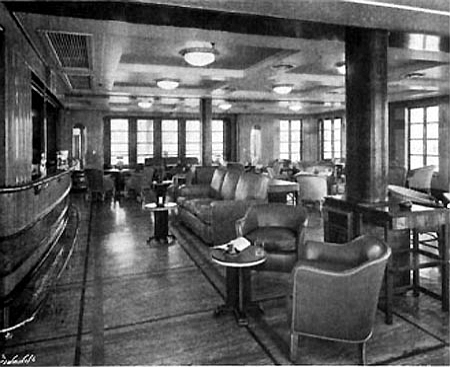 Left: the Dance, Entertainment Centre, and Cinema Right: The elegant Verandah Café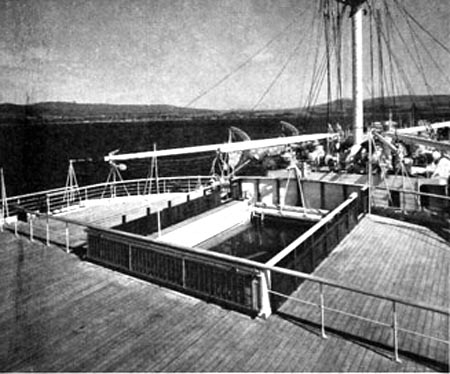 A view of the First Class sports and sun deck and the Swimming Pool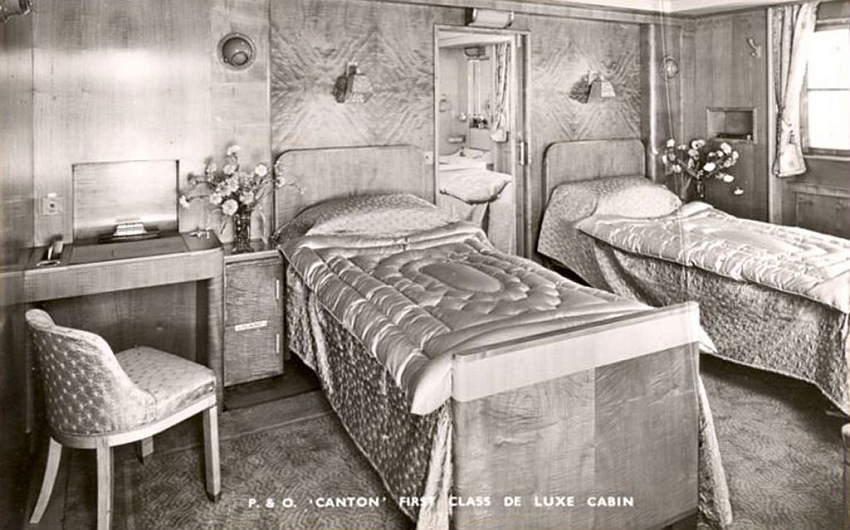 A spacious Deluxe Cabin with large windows and with the option of an interconnecting room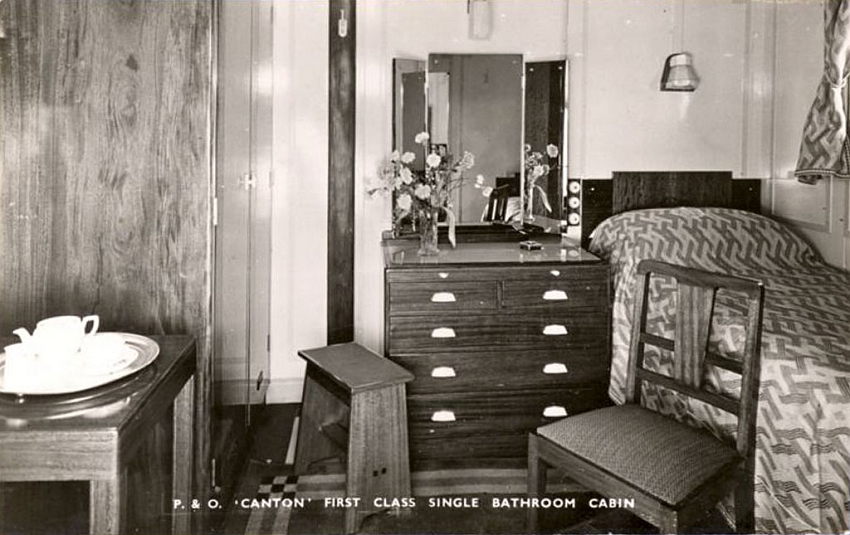 First Class Single Cabin
Second (Tourist) Class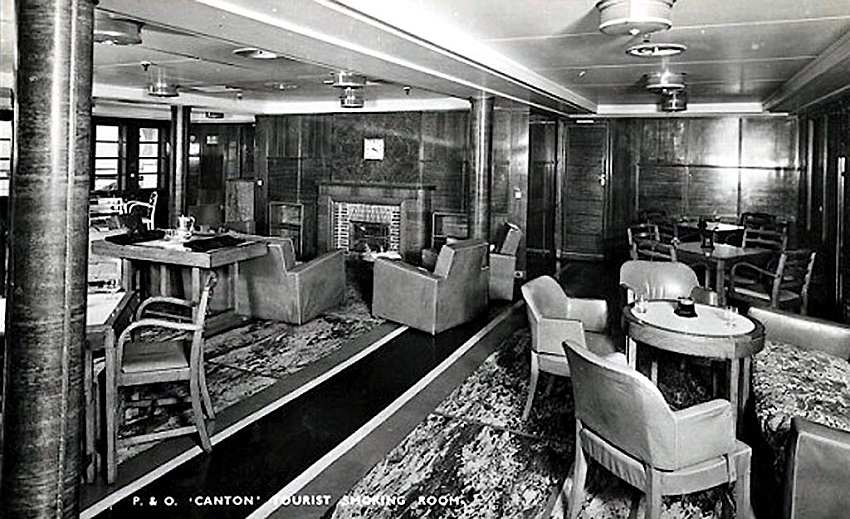 The delightful Smoking Room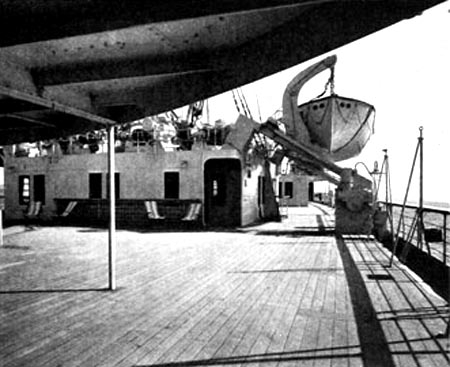 The aft Sports Deck
Maiden Voyage and Initial Voyages:
The spotless RMS Canton departed on her maiden voyage on October 7, 1938, from London (Tilbury) Tangier, Gibraltar, Marseilles, Malta, Port Said, Aden, Bombay, Colombo, Penang, Singapore, Hong Kong, and Yokohama and return via the same ports homewards, with various exceptions as required. However, her maiden departure from London certainly did not go smoothly, for as she departed Tilbury she grounded briefly on a mud bank off Grays shortly after sailing however, she was of the bank within a very short time and she was able to continue, as she was without any damage.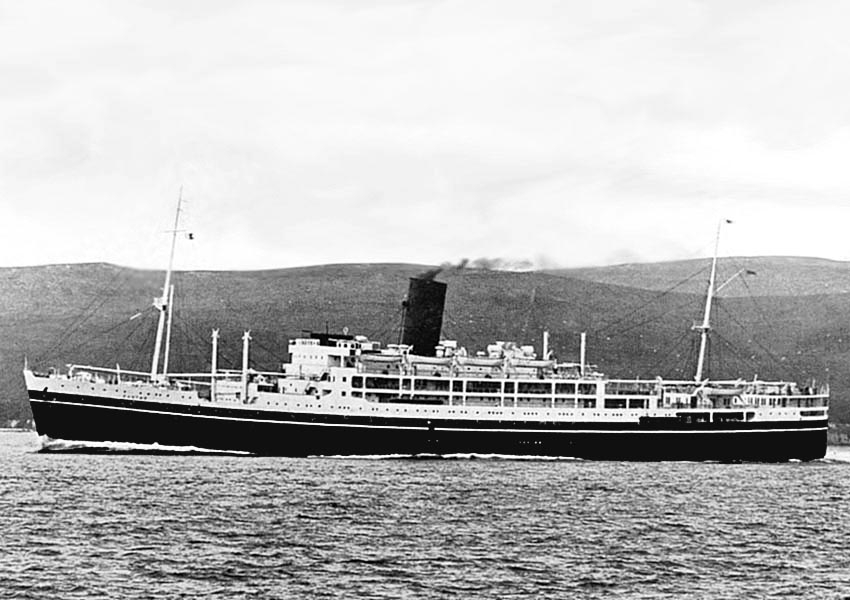 RMS Canton seen during one of her voyages to the Far East
After several return voyages to the Far East the RMS Canton was involved with another mishap for on March 30, 1939, during thick fog she collided with the French liner MS Marechal Joffres (1933) off Hong Kong. Thankfully, there were no casualties on either ship, but the Canton spent the next three weeks in dry-dock in Hong Kong for repairs to her starboard side near the engine room.
Then am amazingly during her return voyage to the UK, on May 10, 1939, the Canton rescued 35 passengers and a number of the crew from the Danish liner 'Asia,' which had caught fire some 15 km off Galle, (Ceylon). The rescued passengers were landed safely in Colombo, Ceylon, which is today's Sri Lanka.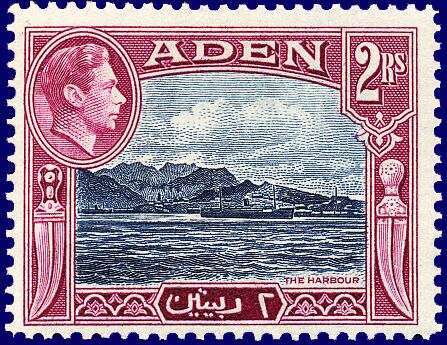 A special stamp was released as the RMS Canton always visited Aden in Yemen on each voyage to and from the Far East
The Canton converted into an AMC - Armed Merchant Cruiser:
On October 19, 1939 the RMS Canton was requisitioned by the Admiralty to be converted into an AMC, or an Armed Merchant Cruiser. The conversion was undertaken by her builders at Glasgow, and she was completed on November 4, 1939.
During her conversion the HMS Canton was equipped with an aircraft hanger and she had a Kingfisher single engine aircraft and an aircraft recovery crane. She had also been fitted with eight 6-inch and two 3-inch guns. She was rather distinctive for she had been fitted with a new tripod mast located just behind the bridge.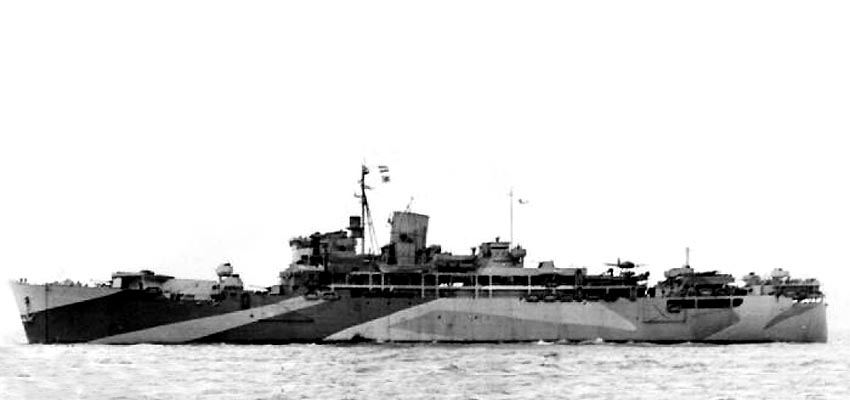 HMS Canton seen as an AMC, note the tripod mast just aft of her bridge
As an Armed Merchant Cruiser, the HMS Canton served bravely, having been attacked by U-Boats, having been partially sunk but repaired and so many other dangerous encounters, yet she sailed throughout the war. In 1944 she became a troopship and carried countless soldiers!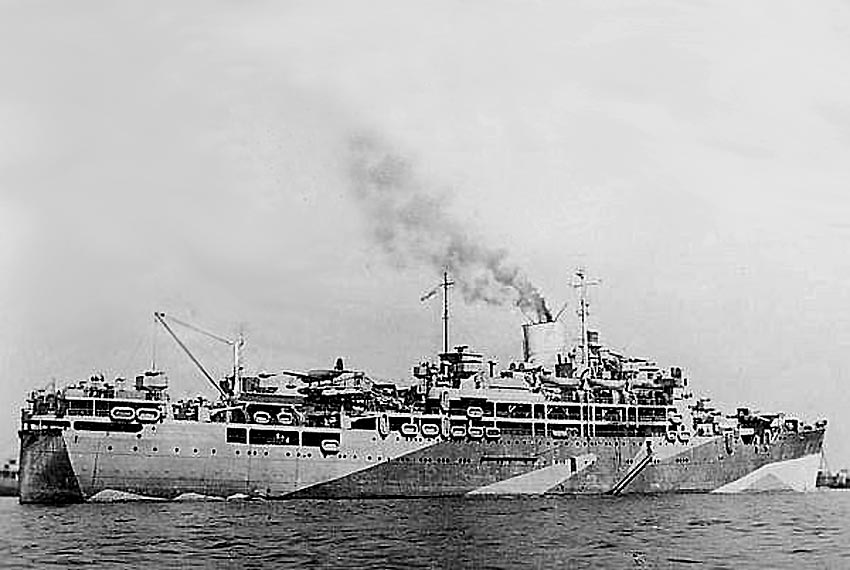 Another view of the troopship Canton
It is recorded that the HMS Canton served bravely through the war and she survived the most dangerous encounters but even this long war had to come an end thus in mid 1946 the Canton was finally decommissioned. During the war, she had sailed an amazing 415,068km (257,967 miles) as an AMC - Armed Merchant Cruiser and then another 33,515km (20,830 miles) as a troopship, and she transported a good 6,825 troops under two years.
Canton

Refitted back into a Liner:
On August 17, 1946 the Canton arrived at the Alexander Stephen & Sons, Glasgow to be completely restored into a passenger Liner, considering her public venues had suffered badly during the war. During her comprehensive overhaul she did receive a number of additional features, for when she was completed an almost brand new ship seem to appear! The most obvious and striking external difference was the ships all white livery, as well as the new traditional P&O buff (yellowish) funnel and masts, in place of the pre-war black hull and funnel. Another change was the extension of the superstructure forward of shelter deck, one deck below Promenade Deck. This was stretched over the top of hold three, although this hold was still accessible, but new cabins were fitted in this new section. Forward above another new section was added, which contained the First Class Nursery and a playground on one side and a lookout on the other side.
RMS Canton was now registered as being 16,033 GRT and her accommodation configuration was now: 298 First Class and 244 Tourist Class passengers.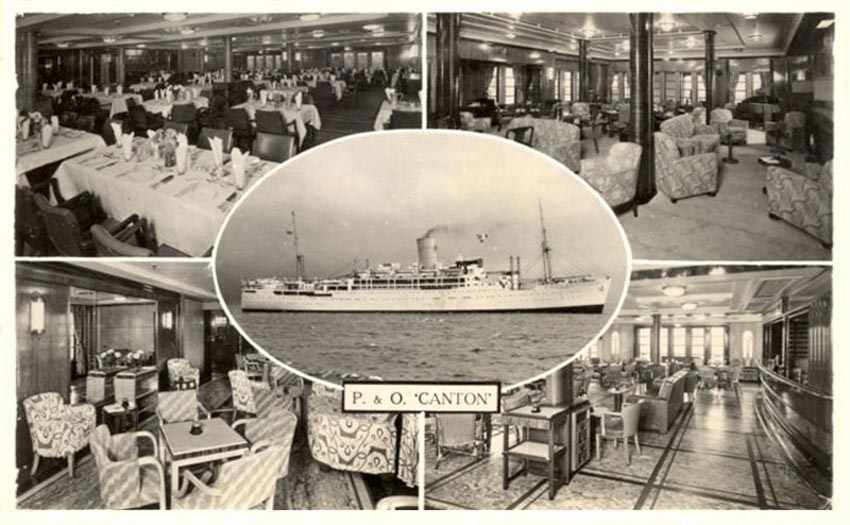 P&O postcard released of the all new, al white 1947 RMS Canton
On September 28, 1947 the RMS Canton was redelivered once again by her builders to P&O and she was made ready for her second maiden voyage in one lifetime! Cargo was loaded, she was fully stored and manned, and soon on an October day passenger boarded for the ships first post war voyage from London (Tilbury) to the Far East again. She sailed via the Suez and calling at Ceylon, Singapore, Malaya, Hong Kong and China. But this time the service did not extend to Japan due to their involvement in the war.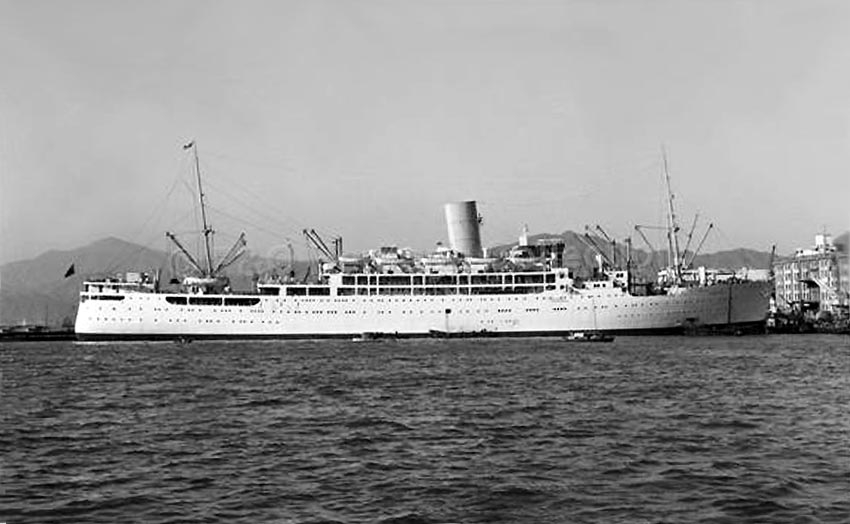 The all white RMS Canton seen at Hong Kong during her first post war voyage in 1947
In October 1947 she departed on her first post war voyage London (Tilbury) to the Far East again via the Suez and calling at Ceylon, Singapore, Malaya, Hong Kong and China. But due to the war the service no longer extended as far as Japan, which was obviously due to their involvement in WW2.
There was one special voyage that became very famous for the RMS Canton for she accommodated three Rear Admirals, such as Rear Admiral A.F. Pugsley, Rear Admiral N.V. Dickinson and Rear Admiral G.A. Clifford all Admirals were returning home having relinquishing their commands in the Far East.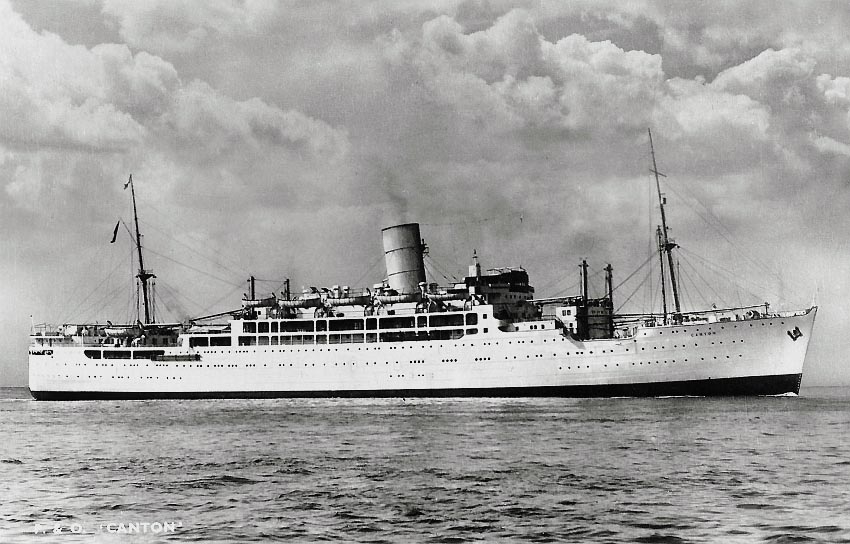 A fine view of the RMS Canton, it clearly reveals her forward extensions
It was in May 1960 that her management was transferred to P&O-Orient Lines, which had come following the merger of P&O and Orient Lines. Then in 1961 her voyages were extended once again to Japan following acquisition of two Belgian passenger cargo liners, the 13,820 GRT SS Baudouinville which became the very popular SS Cathay and the SS Jadotville, which became the equally popular SS Chitral.
The Canton continued her duties, but times somehow commenced to change as loading started to dramatically fall to a point that P&O was forced to decide that this combined with falling passenger loadings they were forced to sell the now aging girl, as she was also the last pre-war non air-conditioned liner on P&O's Far East service, and there were now many new all fully air-conditioned ships in service.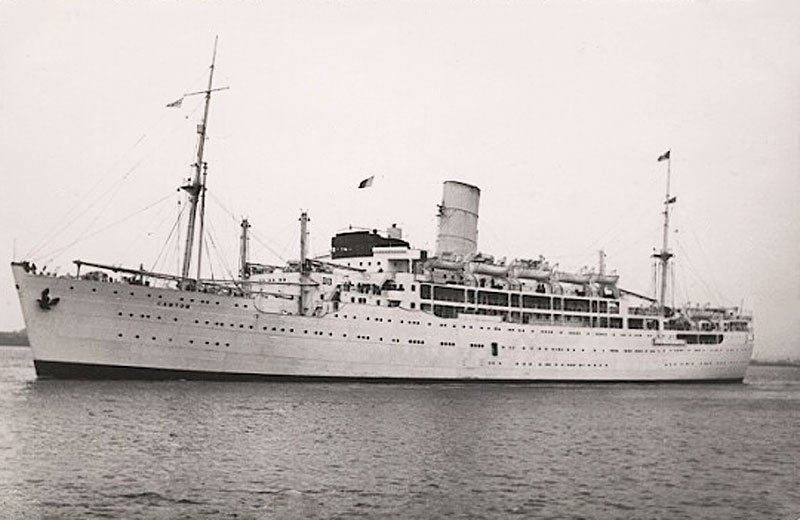 The RMS Canton was one a few passenger liners afloat that still had a varnished timber bridge
Her final Voyage & to the Breakers Yard:
On August 28, 1962 RMS Canton was retired from service at the conclusion of her final voyage back from the Far East to the UK.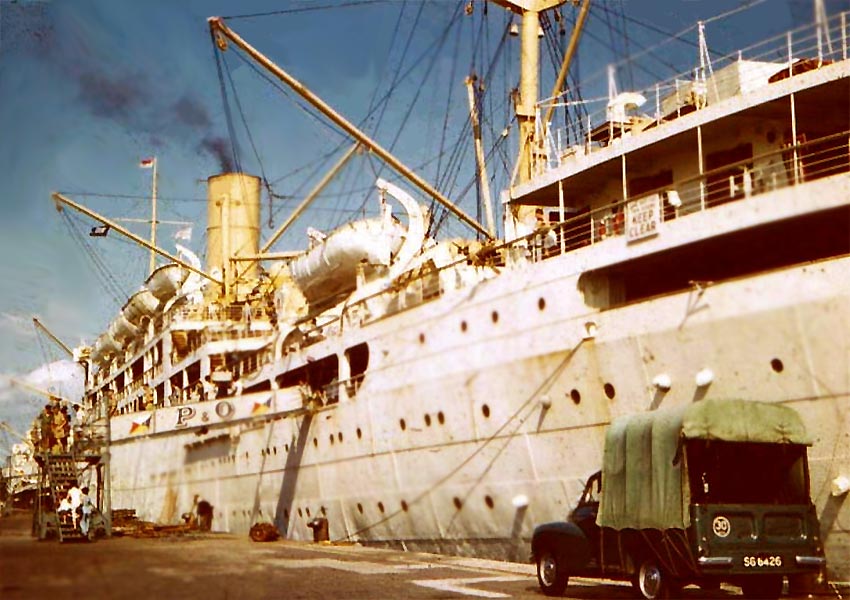 A tired looking Canton seen berthed at Singapore heading homeward during her final commercial voyage in 1962
The Canton had already been sold to Leung Yau Shipbreaking Co. Ltd of Hong Kong to be demolished.
Sadly the 24-year-old SS Canton departed Southampton on August 31, 1962 for the final time and she headed for Hong Kong and the breakers yard. She arrived at the Leung Yau Shipyards in Hong Kong on October 3, and before long breaking up of the Canton commenced, and it was the end of what was a fine passenger liner, and a brave Armed Merchant Cruiser and a Troopship!
RMS Canton Specifications:
Builders:…………………………………Alexander Stephen & Sons Ltd.
Yard:……………………………………….Linthouse, Glasgow, UK.
Yard Number:…………………………557.
Registry:…………………………………London, UK.
Official Number:…………………….166555.
Call Sign:……………………………….GDDT.
Classification Society:……………Lloyd's Register.
Service:………………………………….UK, India, China and Japan service.
Tonnage:………………………………..5,784 GRT, 9,255 NRT, 10,320 tons DWT.
Length:…………………………………..171.63m - 563.3ft.
Breadth:………………………………….2.33m - 73.3ft.
Draught:………………………………….8.988m - 29.6ft.
Engines:………………………………….Single-reduction-geared Steam Turbines.
Engine built by:……………………..Alexander Stephen & Sons Ltd.
Power:…………………………………….18,500 SHP.
Propellers:………………………………Twin screw.
Speed:…………………………………….18 knots, 20 maximum.
Accommodations:…………………  220 First Class, 260 Second Class as built.
1946:………………………………………298 First Class, 244 Second Class.
Crew:………………………………………370, after refit in 1947 319.
Cargo Capacity:………………………10,341 cubic metres (365,248 cubic feet) including 927 cubic metres (32,730 cubic feet) insulated.
Remembering the R.M.S. Canton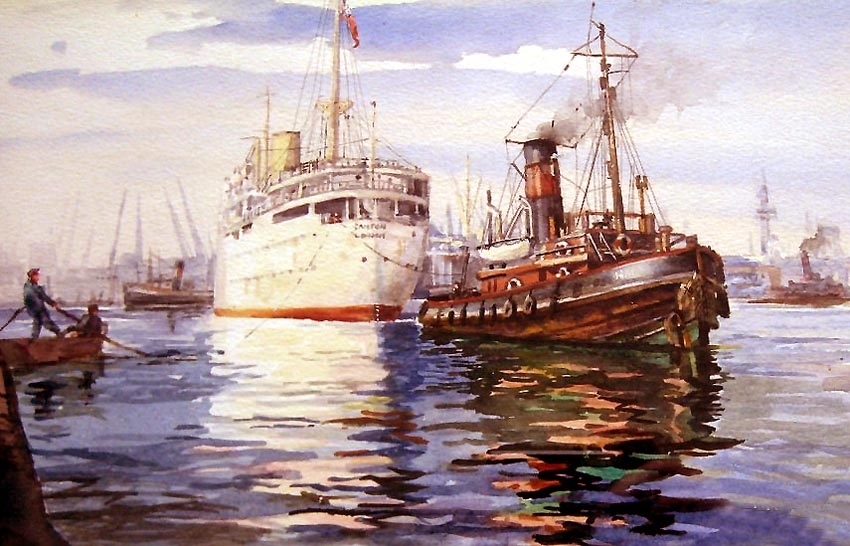 The tug Napier is seen towing the RMS Canton in Port of London (Tilbury) in 1950
A fine watercolour by & © Michael Crawley
"Blue Water Liners sailing to the distant shores.
I watched them come, I watched them go and I watched them die."
****************************
Visit our ssMaritime Main INDEX
Where you will discover over 1,300 Classic Passenger & Passenger-Cargo Liners!
ssMaritime.com & ssMaritime.net
Where the ships of the past make history & the 1914 built MV Doulos Story
Also visit the …
Save The Classic Liners Campaign
Founded in the early 1990's - The author is the founder and president
Please Note: ssmaritime and associated sites are 100% non-commercial and the author does not seek funding or favours and never have and never will.
Photographs on ssmaritime and associate pages are either by the author or from the author's private collection. In addition there are some images and photographs that have been provided by Shipping Companies or private photographers or collectors. Credit is given to all contributors, however, there are some photographs provided to me without details regarding the photographer or owner concerned. Therefore, I hereby invite if owners of these images would be so kind to make them-selves known to me (my email address can be found at the bottom of the page on www.ssmaritime.com), in order that due credit may be given.
ssMaritime is owned & © Copyright by Reuben Goossens - All Rights Reserved