RMS Carinthia 1925 to 1939 - HMS Carinthia 1939 to 1940
Please Note: Firefox, iPhones, iPads & some other Search Engines may not be suitable
Use Internet Explorer & Old Google for this Web Page to load perfectly!
Click the logo above to reach the ssMaritime FrontPage for News Updates
With Reuben Goossens
Maritime Historian, Cruise'n'Ship Reviewer, Author & Lecturer
Please Note: All ssmaritime and my other related ssmaritime sites are 100% non-commercial and privately owned sites. Be assured that I am NOT associated with any cruise or shipping companies or travel/cruise agencies or any other organisations! The author has been in the passenger shipping industry since May 1960 and is now semi-retired, but continues to write article on classic liners and cruise ships in order to better to inform cruise and ship enthusiasts for their pleasure!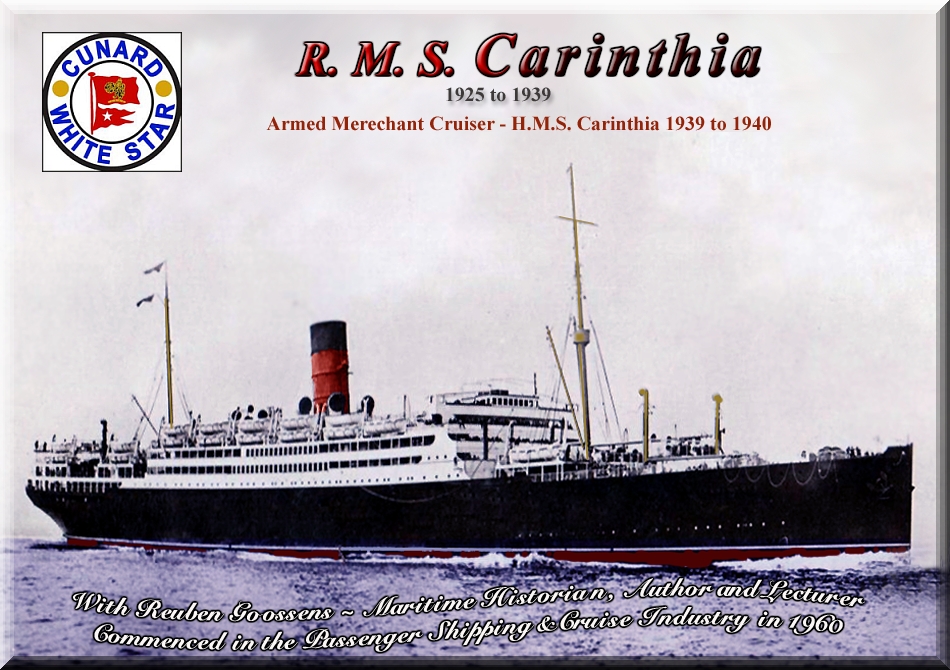 Black & white photograph was colourised & © by the author, Reuben Goossens
Please Note: photographs and postcards on this page are from the Author's Private Maritime Collection, unless mentioned otherwise
Introduction:
The Turbine Steam Ship Carinthia was Cunard White Star Line's second ship to use this name, although the first SS Carinthia was a 5,598 GRT (Gross Registered Tons) Cunard Line freighter, which was in service from 1895 to 1900. However, this superb name would be used for two further greatly loved Passengers Liners, the first of these being completed in 1925 and the second in 1956.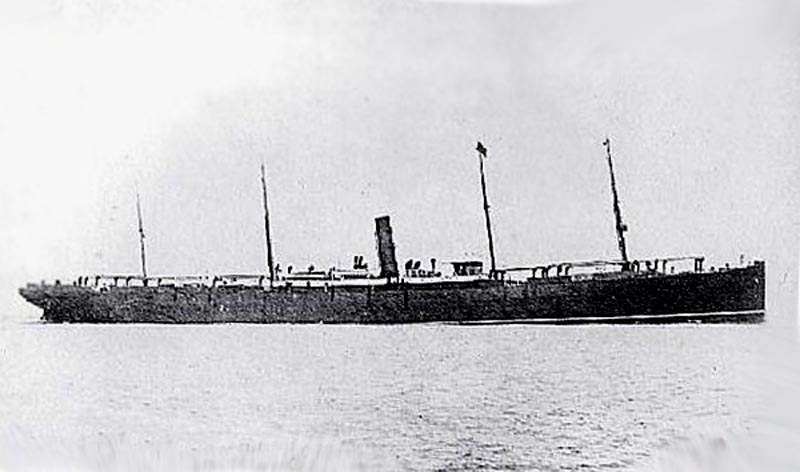 This is the humble 5,598 GRT SS Carinthia, was a four-mast cargo steamer with a tall slender slanted black funnel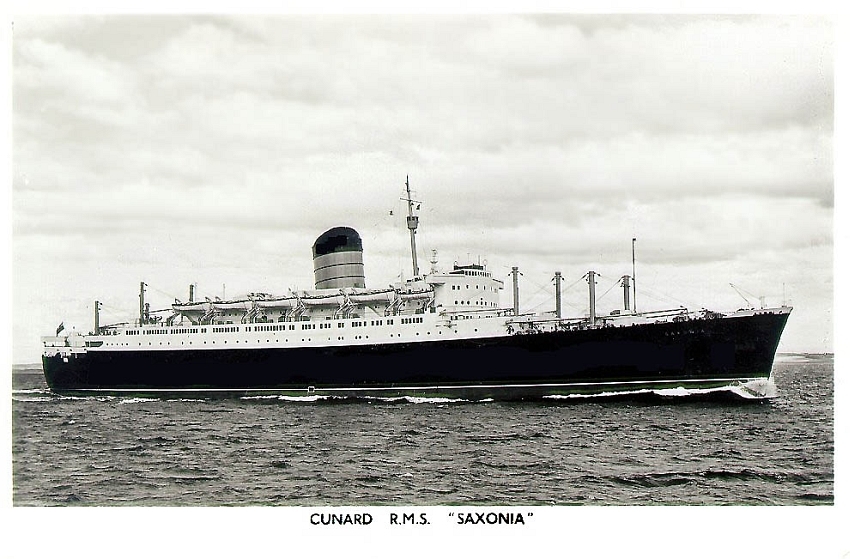 The RMS Saxonia of 1956 was sold to and rebuilt by Sitmar Lines to become the superb
TSS Fairsea in 1971 & TSS Fair Princess in 1988 and remained afloat until 2005
RMS Carinthia II:
RMS Carinthia II was built by Vickers Armstrong & Co., Barrow-In-Furness and was laid down in yard number 586 in 1924. However, she was originally named 'Servia,' but was later renamed.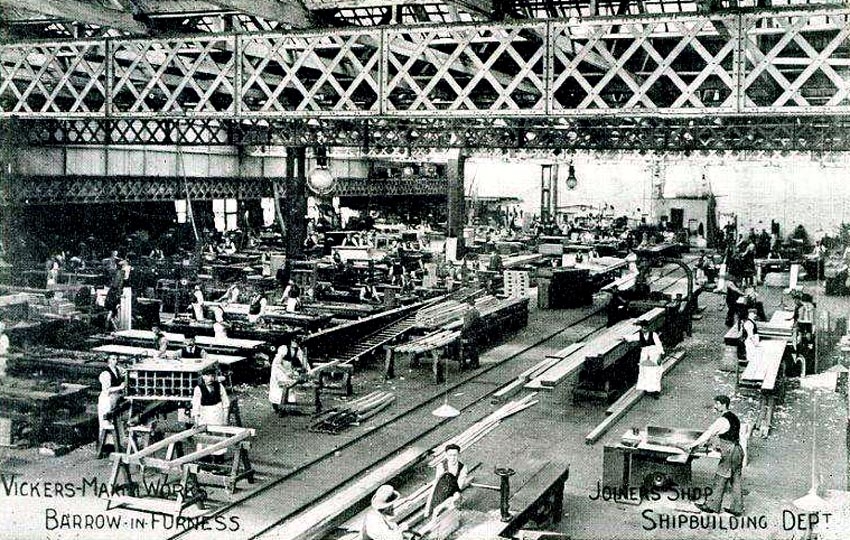 The shipyards joiners shop working on all her interior fittings
The ship was launched and officially named "Carinthia" on February 24, 1925. Once she was in the water, she was towed to her Fit-out berth where construction was completed, including her superstructure being added as well as her interiors being fully fitted out. For interest; at her launching she was the largest of the five post WWI intermediate sized liners.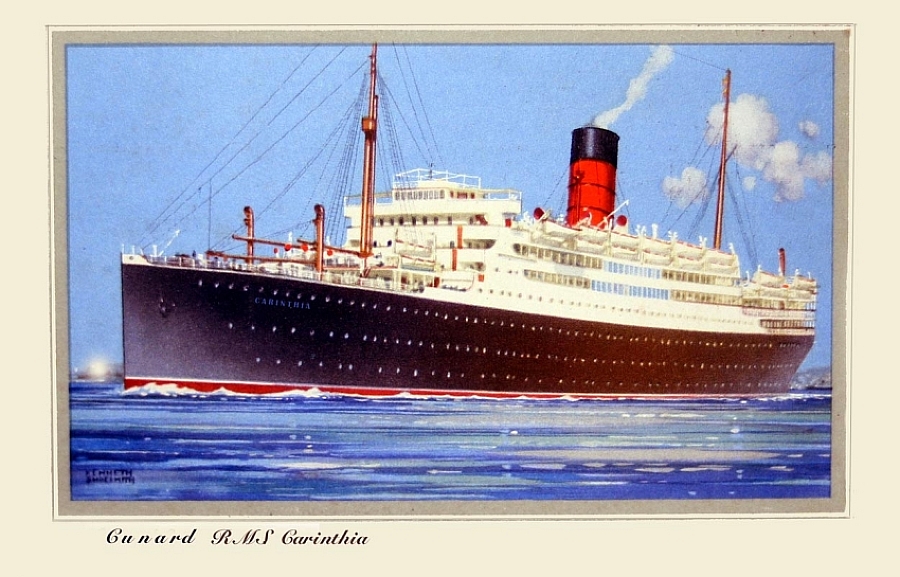 This postcard of the R.M.S. Carinthia II was released by Cunard-White-Star Line prior to her maiden voyage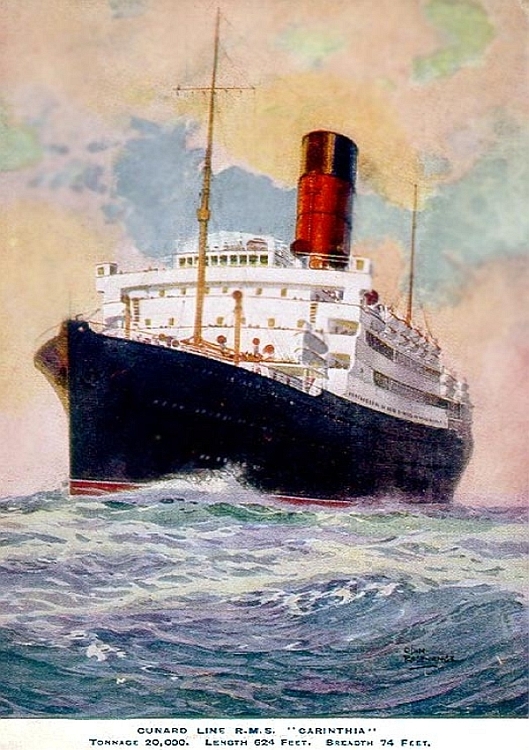 A postcard with an artist impression of the RMS Carinthia
Then early August 1925 having been completed she headed out to sea for her speed trials, which she completed with success, having achieved an excellent 17.5 knots. There after, she was delivered to her owners in Liverpool and she was made ready to commence her Trans-Atlantic voyages. Her passenger capacity was as follows: 240 in First Class, 460 in Second Class, and 950 in Third Class. The Carinthia had a crew of 450.
Interiors and Facilities:
RMS Carinthia was noted for her glamorous First Class public venues, such as the grand two stories high El Greco Smoke Room on A Deck, which had been modelled after the house of the famed Spanish painter 'El Greco,' this venue also contained an American Bar. Her First Class lounge was furnished and decorated to represent the period of King William of Orange. The Restaurant was named the 'Adams Room' and it was a grandiose venue, with silver lamps on every table, which was something very new for the day!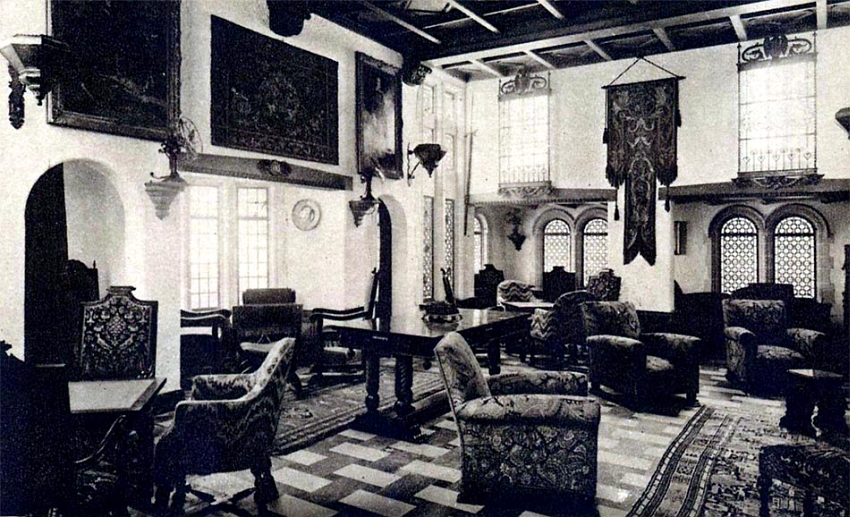 This is the El Greco Smoke Room
Her Second Class was certainly not far behind, as they had a beautifully designed Main Lounge with a grand piano and space for the band to play for nightly dancing. As was usual on all liners there was a decorative Smoking Room with a Bar as well as ample deck space and excellent accommodations.
She was also noted for her comfortable Third Class facilities and accommodations. The Dining Room offered ample smaller tables for travelling parties of family and friends; this was an innovation for those days, as usually there were only long tables for 20 to more passengers. Third Class also had a timbered Smoking Room, a small Library, and a Shop for passenger comfort and needs.
RMS Carinthia was also well equipped for sunning and swimming during the summer days, , and ample space for sports, with an arena that covered 5,000 square feet (460 m2) over two decks, and there was also a spacious Swimming Pool. In addition, the ship offered a Gymnasium; Racket Courts and Massage treatments were available.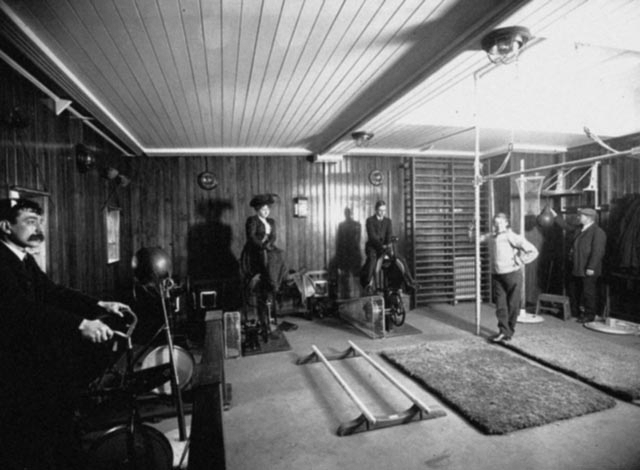 The ships Gym
The Carinthia was built from steel, and her hull was painted black, with red boot topping being topped by a thin white ribbon. Her superstructure was white, and amidships she had a single tall slightly slanted slightly slanted red and black topped funnel. RMS Carinthia having a traditional bow for the 1920's, and with her two tall masts looked a well balanced and a stately liner.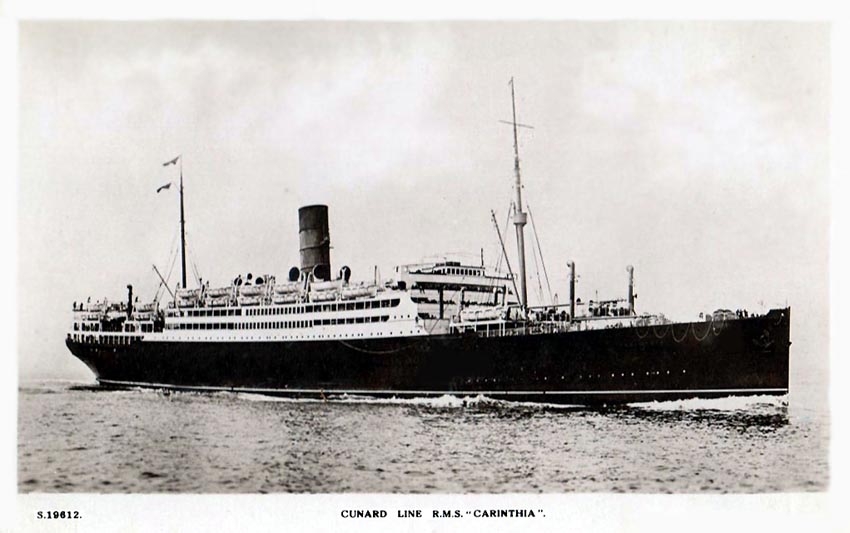 The best of all Cunard Line's postcard of the RMS Carinthia
Liner Duties & Cruises:
When she was completed RMS Carinthia departed on August 22, 1925 for her maiden Trans-Atlantic voyage from Liverpool sailing via Boston to New York City, and she continued this service for the next nine years. However, during the colder months of the year she would become a cruise ship, operating with greatly reduced passengers numbers.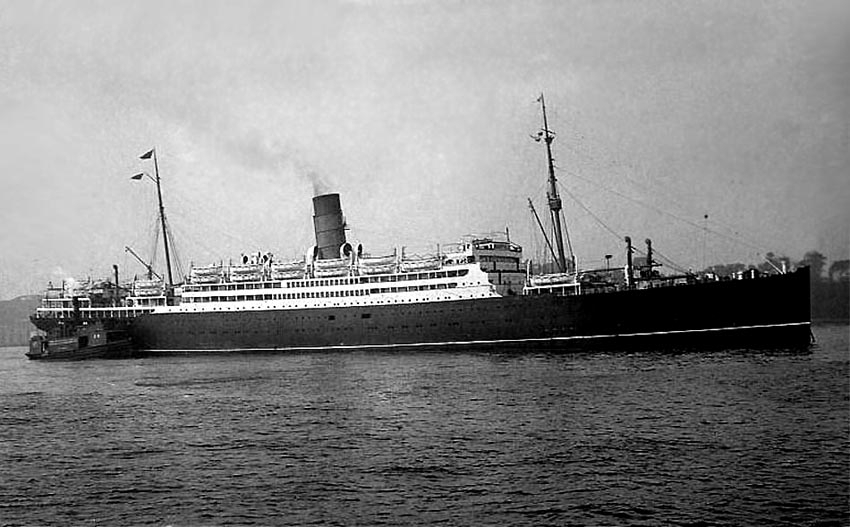 A fine photograph of the RMS Carinthia seen arriving in Liverpool
Late in 1926 the Carinthia undertook an around the world cruise calling at some 40 ports and she covered an amazing 40,000 miles (64,000 km). During this cruise Australia was included in her itinerary.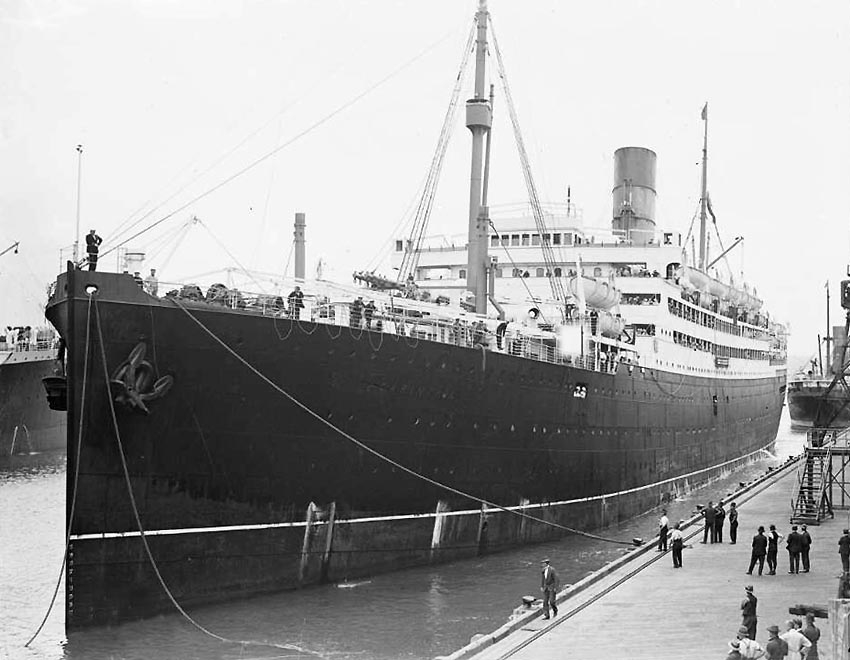 R.M.S. Carinthia is seen casting off from Fremantle (Perth), Western Australia on January 15, 1927
Photograph © National Library of Australia (Canberra, ACT)
In 1931 Carinthia's passenger accommodations were rearranged, which meant that First Class was renamed Cabin Class, Second Class became Tourist Class, and Third Class remained unaltered.
In 1933 the Carinthia made one of her by now famed around the world cruises and visiting countless ports in the States, Caribbean, the Panama Canal, Pacific Islands, Asia and then headed for  Sydney Australia and other Australian ports, returning via Colombo and the Suez Canal, etc.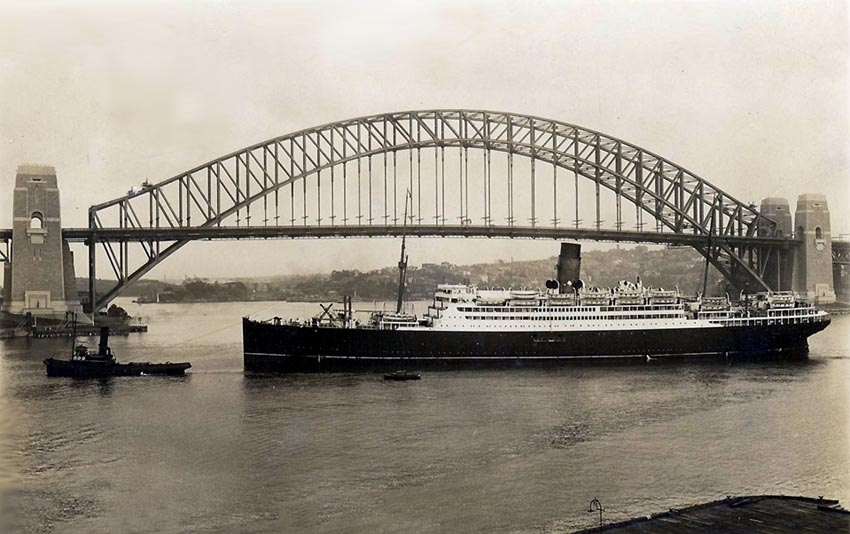 A fine photograph of RMS Carinthia arriving in Sydney during her 1933 world cruise
In September 1933 RMS Carinthia received an SOS from a Latvian cargo ship, the 2,265 GRT SS Andromeda built in 1904, the news was that she had struck an unknown submerged object, around eighty miles from Ushant in the English Channel. But due to the Carinthia being too far away to reach the sinking ship in time to rescue her crew, the ship sadly sank on September 9, 1933. However, all the crew of SS Andromeda were rescued by the crew of the British 3,785 GRT cargo ship, the SS Hartside having been built in 1925.
In 1934 the Carinthia was relocated to London and she commenced a new service sailing from London via Le Havre, and Southampton to New York and return directly to London.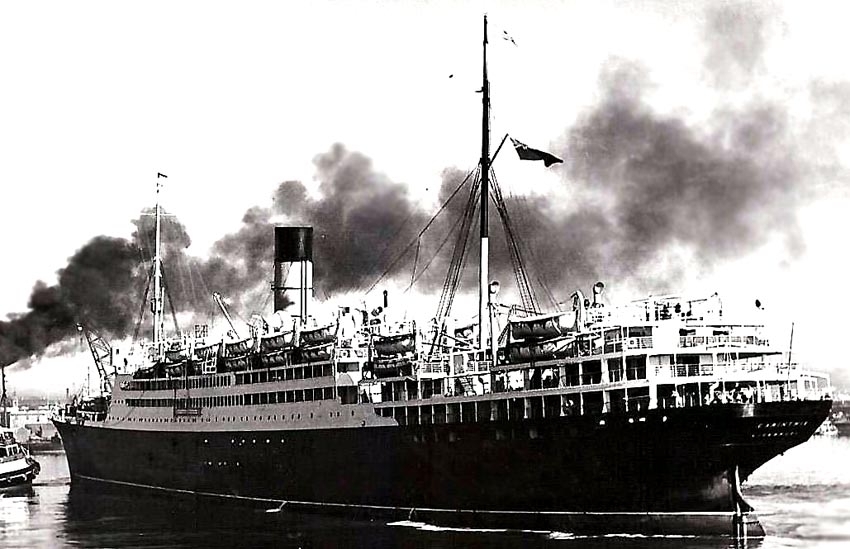 Here is a fine stern view of the RMS Carinthia
In 1935, just as a number of other Cunard ships, Carinthia's hull was painted white with a green boot topping making her more suitable for her cruise duties, which were proving to be very popular.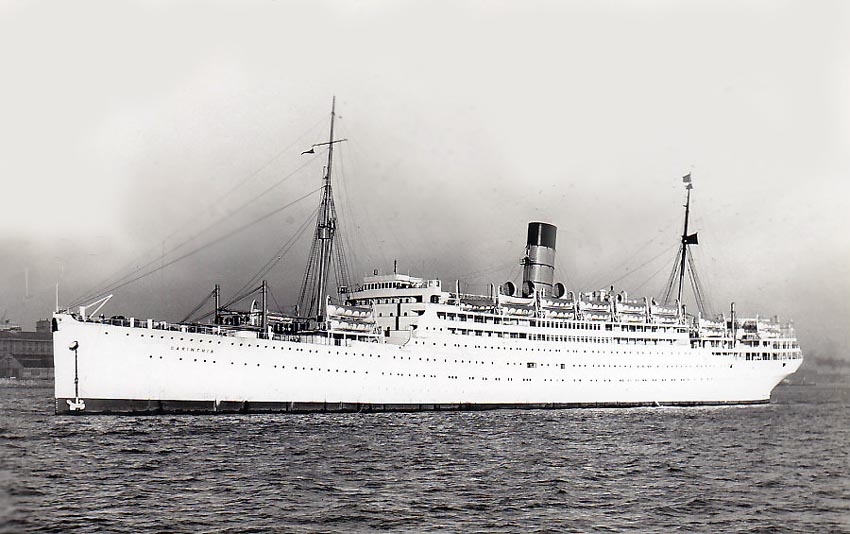 A photograph (above) and a postcard (below) of the all white RMS Carinthia looking very much like a tropical style of cruise ship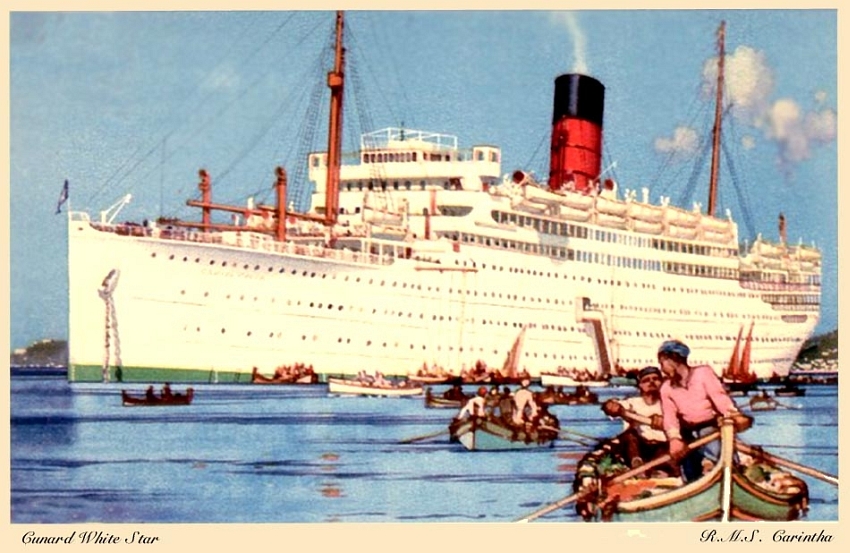 Then on September 20, 1938 during on a cruise, from New York to the Caribbean, being 150 miles north of Florida the ship was warned of extremely bad weather ahead, it turned out to be the infamous 1938 hurricane. Although the Carinthia changed course to avoid the storm, yet the storm also changed direction and the Carinthia sailed directly into that hurricane. Despite the massive category 5 winds and huge seas, she survived the storm with just minor cosmetic damage, and many of her passengers being terribly seasick.
World War II:
In August 1939 she was converted into an armed merchant cruiser, retaining the name Carinthia. She was officially commissioned on December 30, 1939.
For interest: HMS Carinthia was armed with 8 x 152/45 Mk-VII (20) & 2 x 76/45.
At 13.13 hours on June 6, 1940, with HMS Carinthia being on a northern patrol west of Galway Bay Ireland in coordinates 53°13'N 10°40'W, being under the command of Captain John Francis Benjamin Barrett RN, was struck aft of the ship by a single G7e torpedo, which had been fired by German U-Boat - U-46, which was under the command of captain Engelbert Endrass.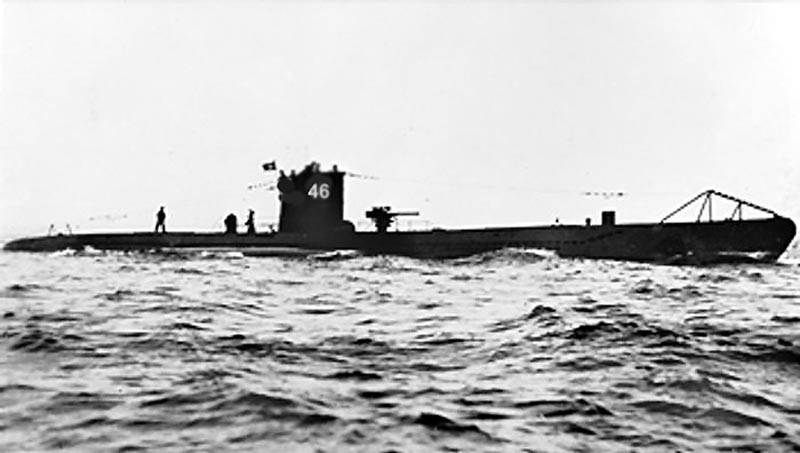 German submarine U-46 was a Type VIIB U-Boat for Nazi Germany's Kriegsmarine
She was commissioned on November 2, 1938, and was considered by the Nazi's as
One of the most successful submarines, having sunk many ships
As the torpedo hit the ship there was a large explosion, which tragically instantly killed four men, being two crewmembers and two ratings; thankfully, later all other hands aboard would be saved.
The Germans remained to observe the ship, whilst she turned uncontrolled in circles, all the time dropping depth charges from her stern. Then at 13.47 hours, another G7e coup de grāce was fired from now afloat U-46, but it missed and this was answered by rapid gunfire from the Armed Merchant Cruiser. Thus the Germans decided not to waste any more torpedo's and departed quickly, for they could clearly see the ship was burning fiercely, and she was already going slowly down by the stern, as well as developing a list to port.
However, in a salvage attempt, the RMS Carinthia was taken in tow the next day, and amazingly from the explosion on June 6, the badly damaged ship remained afloat for over 30 hours before she would finally sink.
Late on June 7, 1940,the crew abandoned ship when it became obvious that she was about to go down, thus the once great RMS/HMS Carinthia slowly vanished into the deep at position 55°12.010' N 009°30.040' W to a depth of 384ft - 117m, 30 miles east of Bloody Foreland.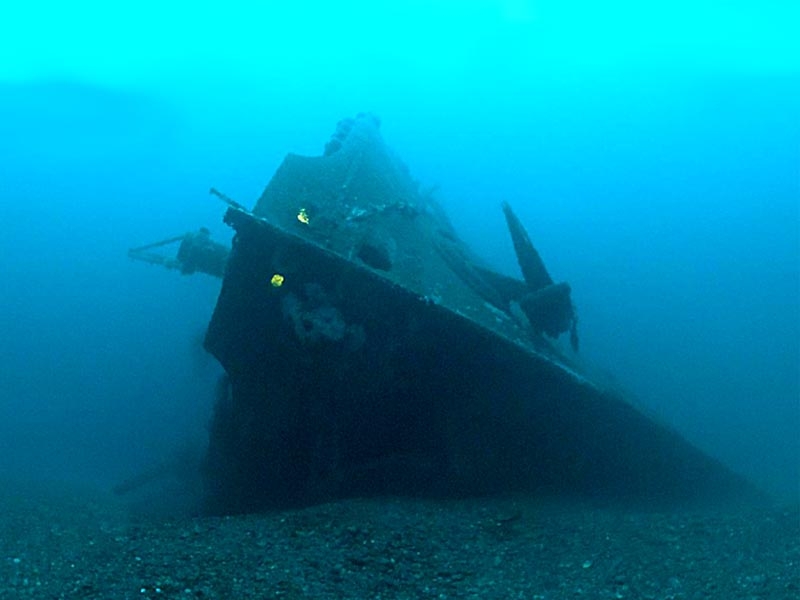 A tragic sight, the bow at the bottom of the Sea
Specifications RMS/HMS Carinthia II:
Built by:………………………………………………..Vickers Armstrong & Co., Barrow-In-Furness.
Yard Number:………………………………….……586.
Owner:…………………………………………………..Cunard White Star Line, Liverpool, UK.
Registered:…………………………………..….…… Liverpool, UK.
IMO: …………………………………………………….147318.
Launched:………………….…………… . …………February 24, 1925.                                         
Maiden Voyage:……..……………………….……August 22, 1925 - Liverpool to New York.
Tonnage:…………………………………….………. 20.277 GRT.
Length:………………………………………………….624ft - 190.2m.
Beam:……………………………………………………73.5ft - 22.4m.
Draught:……………………………………………….45ft - 14m.
Engines:…………………………………….………….Four Steam Turbines, S.R. Geared by builders - 2,437 NHP.
Propellers:……………………………………….……Two.
Speed:…………………………………………………..16.5 knots, 17.5 knots maximum.
Passengers:…………………………………………..1,650 - 240 in First Class, 460 in Second Class & 950 in Third Class.
Crew:…………………………………………………….450 officers and men.
Armed Cruiser: ……..……………………….……1939 to 1940 - sunk after she was torpedoed in June, 1940.
Remembering a fine Liner & Cruise Ship - RMS Carinthia II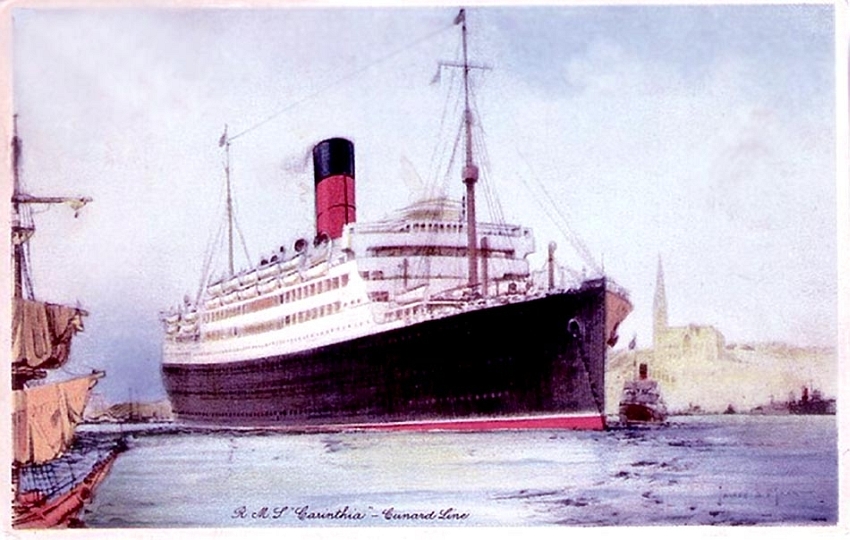 A Cunard White Star Line postcard with an excellent artist's impression of RMS Carinthia, which was sold onboard

Also read the RMS Carinthia III  Feature

"Blue Water Liners sailing to the distant shores.


I watched them come, I watched them go, and I watched them die."

************************

ENTER OUR ssMaritime MAIN INDEX

Where you will discover over 700 Classic Passenger & Passenger-Cargo Liners!

ssMaritime.com & ssMaritime.net

Where the ships of the past make history & the 1914 built MV Doulos Story

Photographs on ssmaritime and associate pages are by the author or from the author's private collection. In addition there are some images that have been provided by Shipping Companies and private photographers or collectors. Credit is given to all contributors. However, there are some photographs provided to me without details regarding the photographer/owner concerned. I hereby invite if owners of these images would be so kind to make them-selves known to me (my email address may be found on www.ssmaritime.com only), in order that due credit may be given.

This notice covers all pages, although, and I have done my best to ensure that all photographs are duly credited and that this notice is displaced on each page, that is, when a page is updated!

ssMaritime is owned & © Copyright by Reuben Goossens - All Rights Reserved