R.M.S. Mauretania (2) 1939 to 1965
Please Note: Firefox and some other Search Engines may not be suitable
Use Google Chrome for this Web Page to load perfectly!
Click the logo above to reach the ssMaritime FrontPage for News Updates & "Ship of the Month"
Please Note: All ssMaritime and other related maritime sites are 100% non-commercial and privately owned, thus ssmaritime is NOT associated with any shipping company or any other organisation! Although the author has worked and been involved in the passenger shipping industry for well over 60 years, but due to his old age and poor health, he was forced to retire. Yet, he has completed well over 1,435 Classic Liners, Passenger-Cargo Liners as well as humble converted C3 converted Migrant Liners, which has transported countless thousands folk to the new world, as well on vacations'. I trust the features online will continue to provide Classic Liner and Ship enthusiasts both the information they are seeking, but more so provide a great deal of pleasure and relive many happy memories!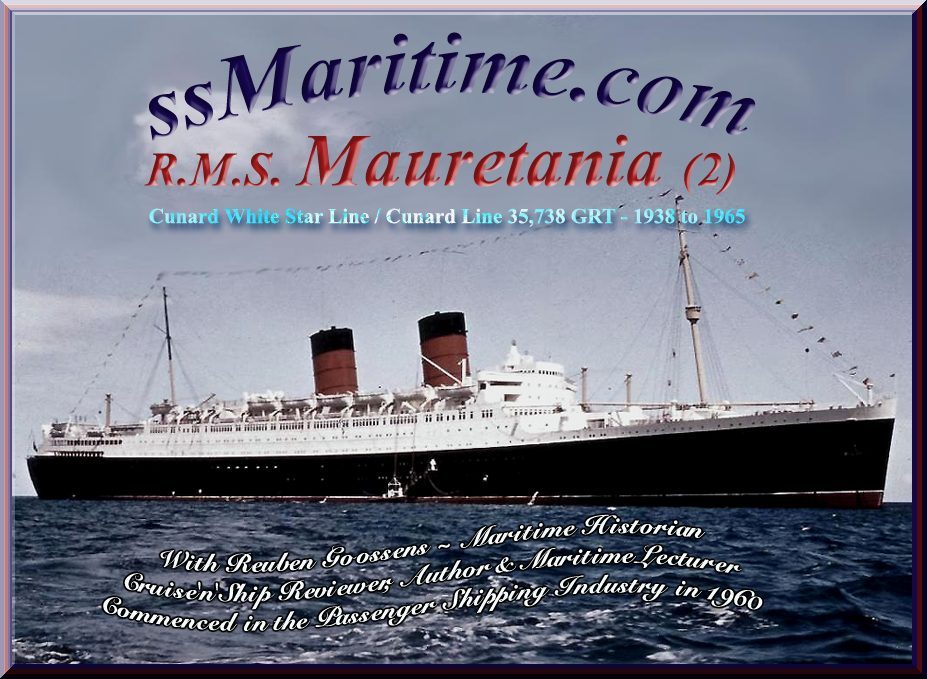 Please Note: Postcards, photographs & other images are either from the author's private collection or from my supporters.
Thus a very special thank you to the very special ssmaritime supporters for sending me their wonderful
photographs & images for I could not have completed this feature to this point.
Introduction:
After decades of prosperous transatlantic business, all shipping companies were suddenly faced with great financial troubles when the great crash occurred in 1929. In fact times became so bad for Cunard, that the two former rivals Cunard Line and White Star Line decided to merge in 1934, forming the "Cunard White Star Line." Due to the merger, they were granted with greatly needed government subsidies to complete the ship, which Cunard had commenced to build back in December 1930. To date the ship was only known as; "Hull 534" and this great ship would eventually become the legendary R.M.S. Queen Mary. Although the Queen Mary could now be finished with the merger, but it did not mean that the hard times were over.
Cunard White Star did not have the money to build further new ships and therefore they were forced to rely on their old liners. It would not be until 1937 before the Company was able to order a new ship to be constructed.
Building a Grand New Liner:
Due to economics recuperating, Cunard White Star Line ordered their first new ship to be built by Cammell Laird & Co. Ltd, Shipyards at Birkenhead. The first keel section was laid on May 24, 1937 on Number 6 slipway, which was also birthplace of the H.M.S. Rodney, H.M.S. Ark Royal and the R.M.S. Samaria. Work continued and it was on October 23, 1937 that Sir Percy Bates, the Chairman of Cunard, announced that his wife Lady Bates would launch the ship on July 28, 1938 and that it had been decided to name the new liner *Mauretania, stating; "thus reviving a name which has been made famous the world over by her distinguished 1906 predecessor."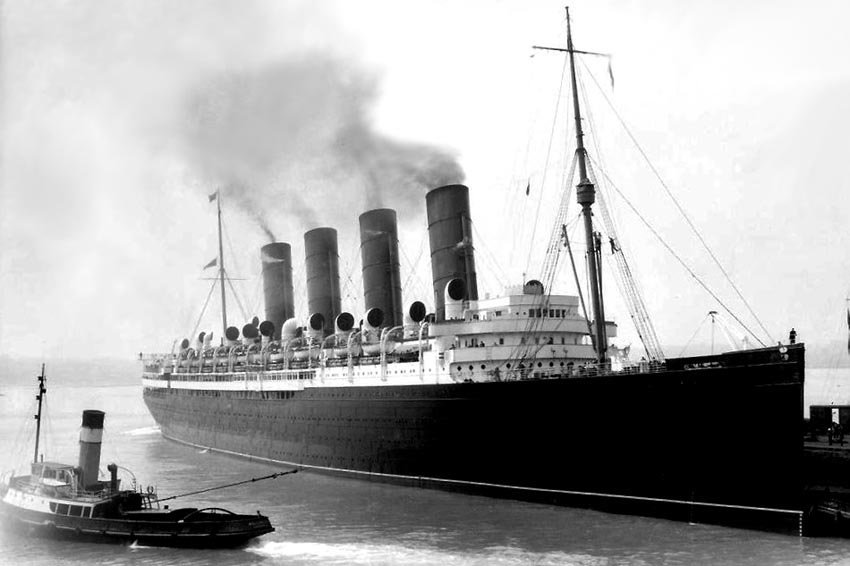 The great R.M.S. Mauretania 1 built in 1906
Her feature is now also online see the link at the bottom of the page
Very rapidly Cunard White Star Line commenced to promote their new Trans-Atlantic liner, as she would be the very largest ever all English built Liner due to commence sailing in 1939.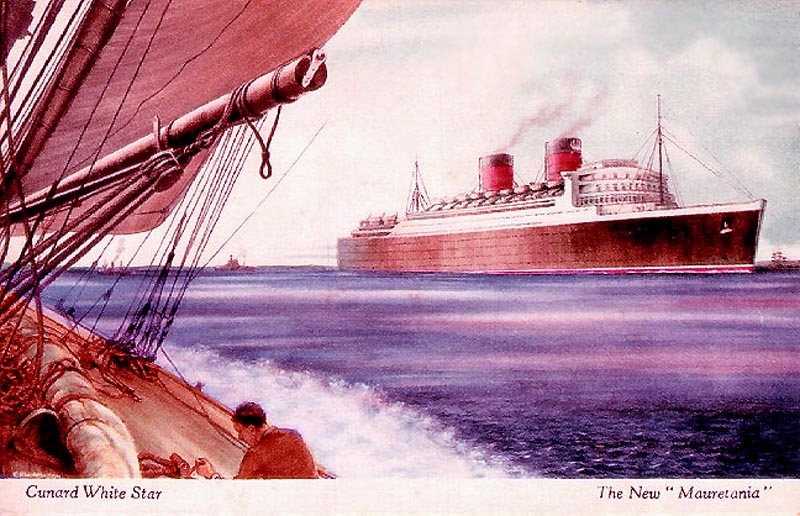 Cunard White Star Line released this promotional postcard of the R.M.S. Mauretania (2) prior to her launching
*In relation to her name, when the 1906 Mauretania (1) was sent to the breakers' yard at Rosyth in July 1935 her name removed from Lloyd's Register, thus Cunard decided to safeguard her famous name for their new forthcoming liner. For this reason Cunard approached a local Southampton company "Red Funnel Steamers" and requested their Directors if they would rename one of their excursion paddle steamer's "Mauretania" in order to keep the name available for them. They were more than happy to oblige and the South Coast excursion steamer "Queen" was renamed "Mauretania" from April 1, 1936 until November 1937, when the new ship was officially registered.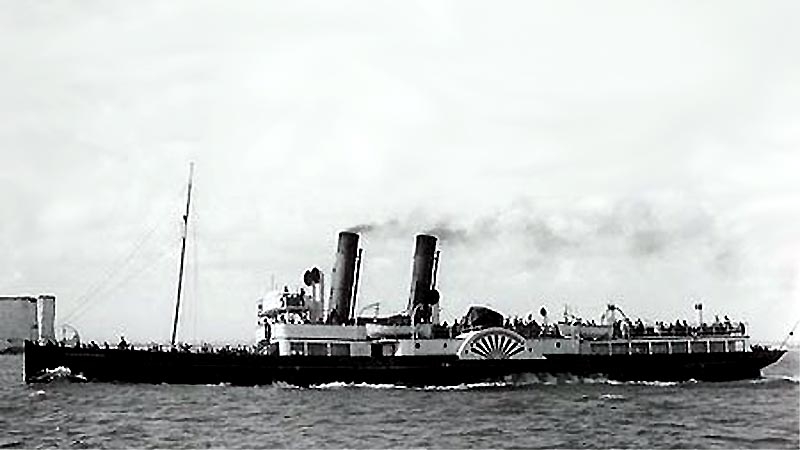 The South Coast excursion Steamer, which was renamed "Mauretania"

The Mauretania would be when completed the largest ship to be constructed in England at a projected gross tonnage of over 35,000 GRT (Gross Registered Tons). It is true that bigger ships had been built before in the United Kingdom however these liners had been built in either Scottish or Irish Shipyards.

Finally on July 28, 1938, the day had arrived that the very first Cunard White Star vessel was ready to be launched and workers and countless onlookers were at hand to see the great sight. As had already been announced by

Percy Bates, the honour of christening of the new liner was given to his wife, Lady Bates. At 12.15 pm Lady Bates officially named her the "Mauretania" being a great name that naturally brought to Mind of the legendary *R.M.S. Mauretania of 1906 the famed Blue Riband-holder, and she pressed the button that sent the new liner into the water from No 6 slipway. Eight tugs awaited her and they towed her to her fitting out berth.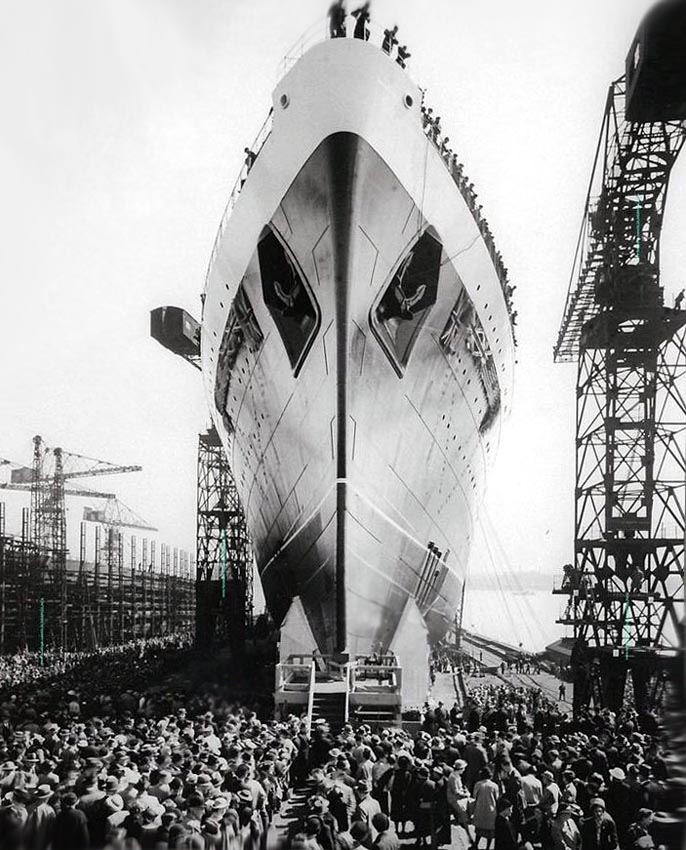 The ships great bow towered above the official party and the massive crowd watching her slowly slip into the water
From her construction yard the eight tugs towed the Mauretania to the Cammell Laird Fit-Out berth for further work to be completed, including her upper works and her interiors, as well as her masts and funnels being fitted. However, she was located next to the H.M.S. Ark Royal, the aircraft Carrier, which had preceded her by 15 months.
On May 14, 1939, after the ship had been placed in a wet basin, the Mauretania was taken out of Cammell Laird's wet basin, and with the aid of six tugs she was escorted through the Gladstone River Entrance and into the Gladstone Graving Dock, being no mean navigational feat. It was here where her 50-ton rudder was fitted.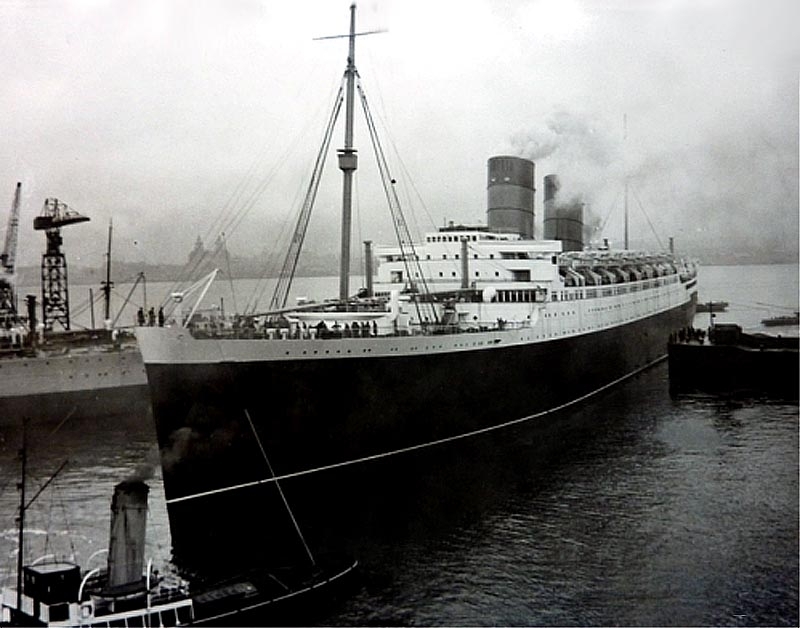 The Mauretania is seen leaving the Cammell Laird wet basin with the aid of six tugs

Some 17 days later, on May 31 1939,, the Mauretania departed Liverpool for her acceptance trials on the Clyde, with Captain A.T. Brown, RD, RNR, being in command. Her trials were run over the 'Arran Mile' and the Mauretania recorded a run of 25.34 knots at 47,800 SHP. Her trials were completed to the satisfaction of the builders and the Cunard-White Star and her owners. The Mauretania (2) returned to Liverpool where she was formally handed over to Cunard-White Star. A very happy

Percy Bates, commented; "There has never been a Cunard ship that has gone through her trials with less trouble, with less fuss with almost an air of casual ease, than this ship has done." Statistically, the R.M.S. Mauretania 2 was the twelfth largest and sixth fastest liner in the world in 1939.
Passengers & Interiors:
As time would pass in the future, the R.M.S. Mauretania would always be considered as a somewhat smaller version of the R.M.S. Queen Elizabeth as her overall design and profile was so very similar, as can be seen below.

This illustration of the Mauretania reveals the Queen Elizabeth similarity, having that same beautiful hull and
 a traditional cruiser stern, two tall masts and funnels as well as a similar lifeboat and deck arrangement
The Mauretania's interiors were superbly designed and her interiors featured what was known as the "Late Art Deco-style," which could be seen throughout each of the three classes, although in a lesser degree in Third Class.
It had been decided no to commence with a First Class, but instead the highest grade being Cabin Class, which had 440 passengers, Tourist Class had 450 passengers, and Third Class had 470. Looking after them were a good 780 to 803 officers and crew. However, it need to be said that both Cabin and Tourist Classes were equal to First and Second Class on the larger major Trans-Atlantic liners!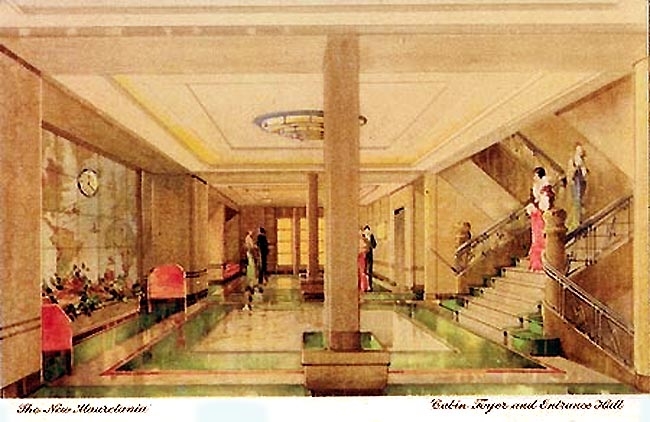 A stylish Cabins Class Entrance Hall and a finely crafted Staircase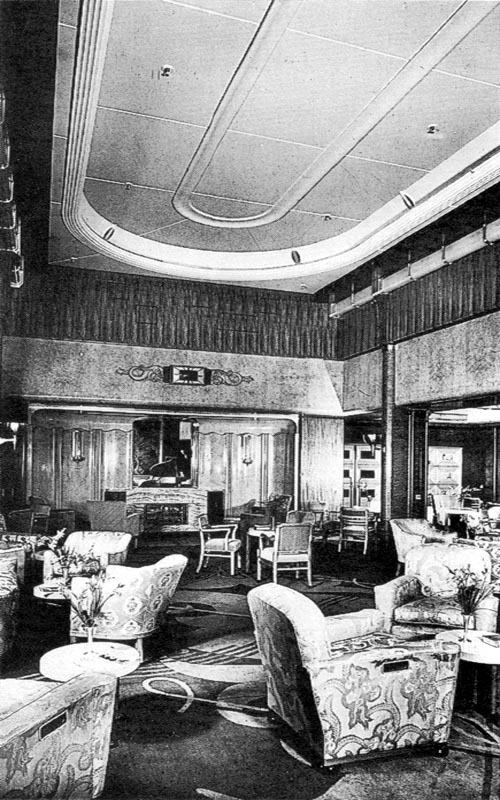 Above & below: The Cabin Class Grand Hall was two decks high in the middle
and was in fact far more grandiose that these photographs reveal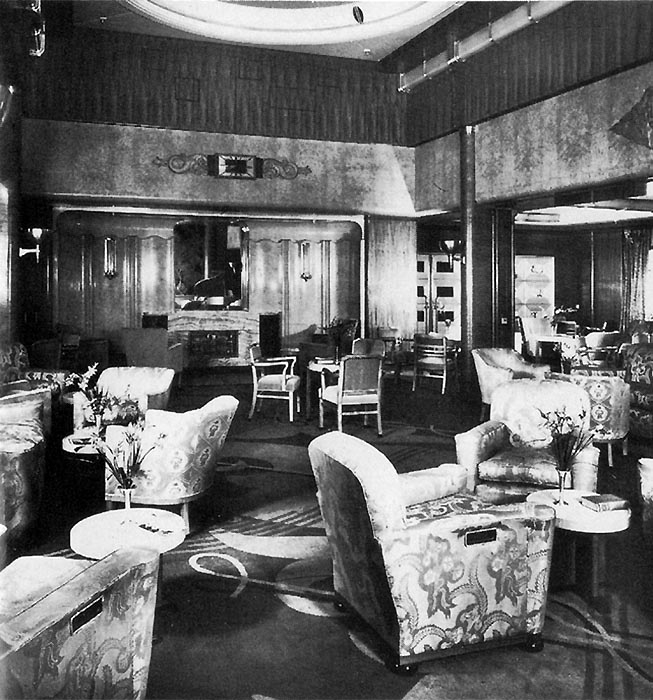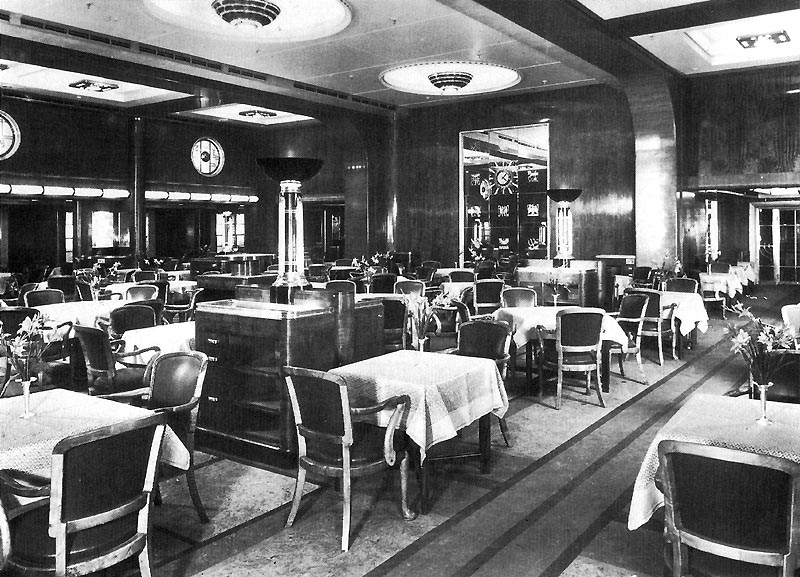 Here we see a most comfortable and an elegant Cabin Class Dining Saloon, and which does look so very British!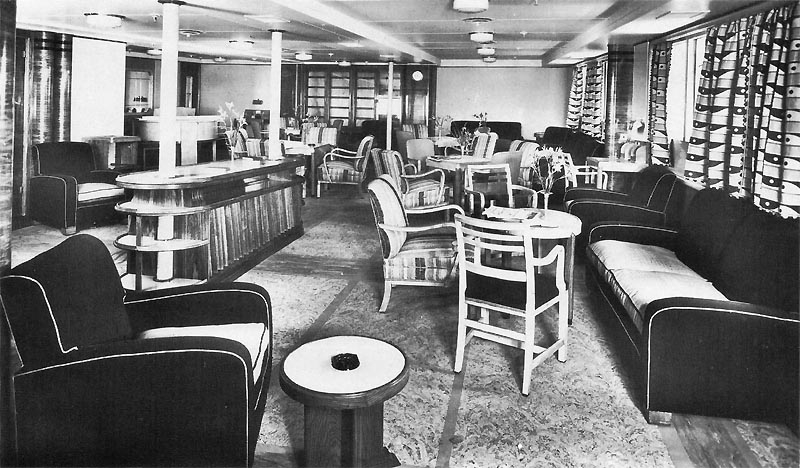 One of the delightful Tourist Class Lounges with a bar placed along a sidewall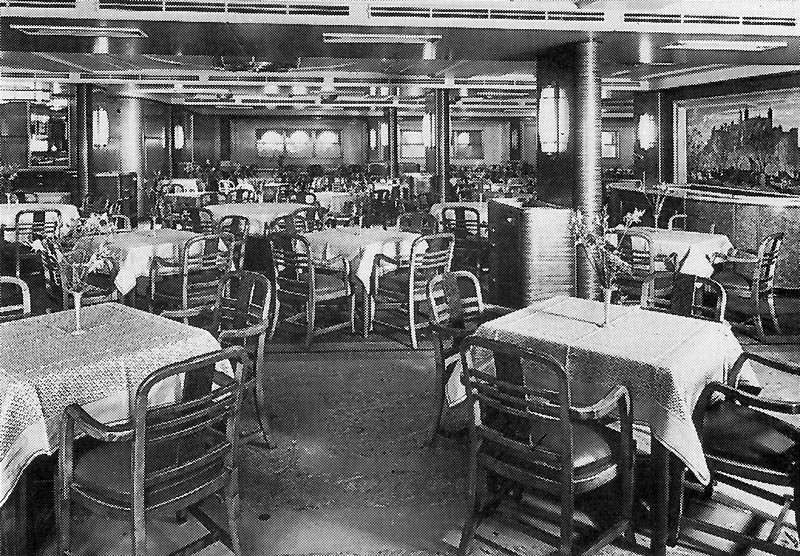 The Tourist Class Dining Saloon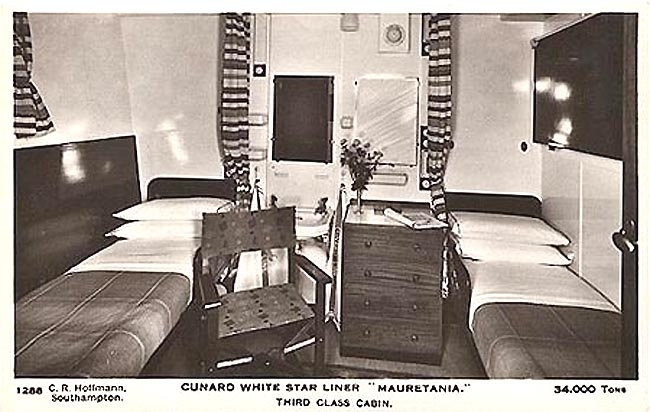 Considering this is a Outside Third Class 2 or 3 berth cabin, it certainly is of a high standard for the 1930!
Maiden Voyage & Early Voyages:
On Saturday June 17, 1939 with a complement of a good 1,000 passengers aboard, the new R.M.S. Mauretania (2) departed Liverpool for her maiden voyage under the command of Captain A. T. Brown, who had delivered the 1906 Mauretania (1) to the ship breakers in July 1935. The R.M.S. Mauretania 2 sailed via Cobh Ireland and after a very short stay to take on board some immigrants; she headed across the Atlantic Ocean for New York. She arrived at New York early in the morning of Saturday June 24, and as she steamed up the Hudson where she received that famous traditional New York harbour welcome.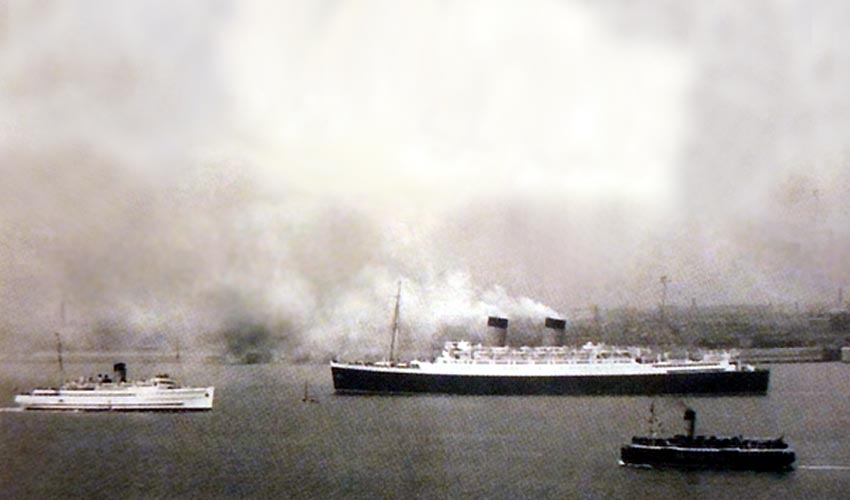 R.M.S. Mauretania seen departing Liverpool for her Maiden Voyage to New York
The white vessel forward of the liner is the Isle of Man ferry Mona's Queen
Her return voyage from New York was to Southampton and a call to Cherbourg. This time, she had a full complement of passengers and the Mauretania arrived at Southampton on July 7. For interest, her times for her maiden round-voyage were as follows:
Westbound: Mersey Bar Lightship to Ambrose Channel Light Vessel at New York: 5 days, 21 hours & 40 minutes; Average speed 20.60 knots (including a stay at Cobh of 4 hours and 24 minutes).
Eastbound: Ambrose Channel Light Vessel to Cherbourg: 5 days, 22 hours, 22 minutes; average speed: 22 knots.
She again headed to New York, and after a one-week turnaround in "The Big Apple" the R.M.S. Mauretania returned to Southampton. Following her next westbound crossing, she called at Southampton, Le Havre and finally London on her return trip. The Mauretania was the largest ship ever to navigate the Thames and use the Royal Docks.
It was on August 6, 1939 that the Mauretania arrived in London's King George V Dock. There were over 100,000 people watching the almost three-hour passage from Tilbury, with the London Pilot Harry Stowers on the Bridge. The Mauretania cleared the entrance lock with a mere 42 inches to spare on either side. The new ship was the largest ever to enter the King George V Dock, and this was the one and only occasion she would.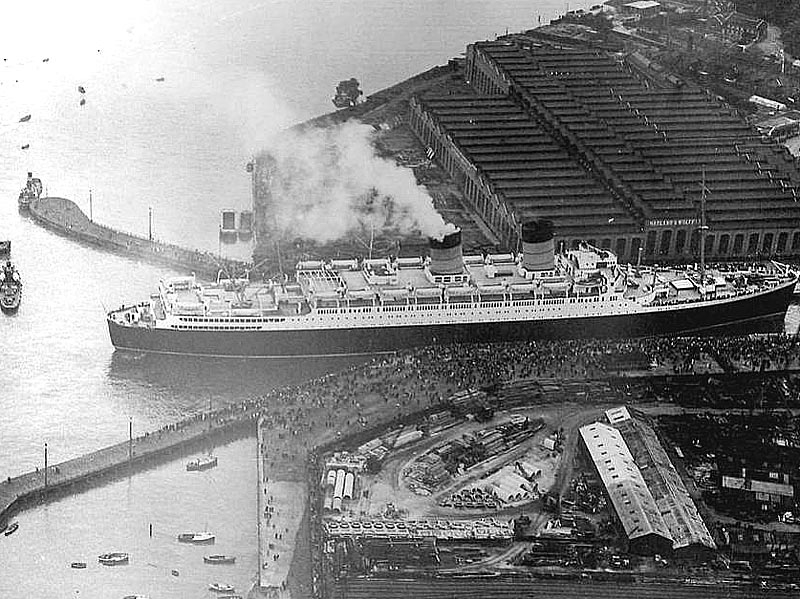 Mauretania is seen entering London's King George V Dock on August 6, 1939
On August 12, 1939 the Mauretania departed London for Southampton, Le Havre and headed for New York, where she arrived on August 18, with 1,152 passengers. The next day she sailed on a six-day cruise to Nova Scotia and Bermuda.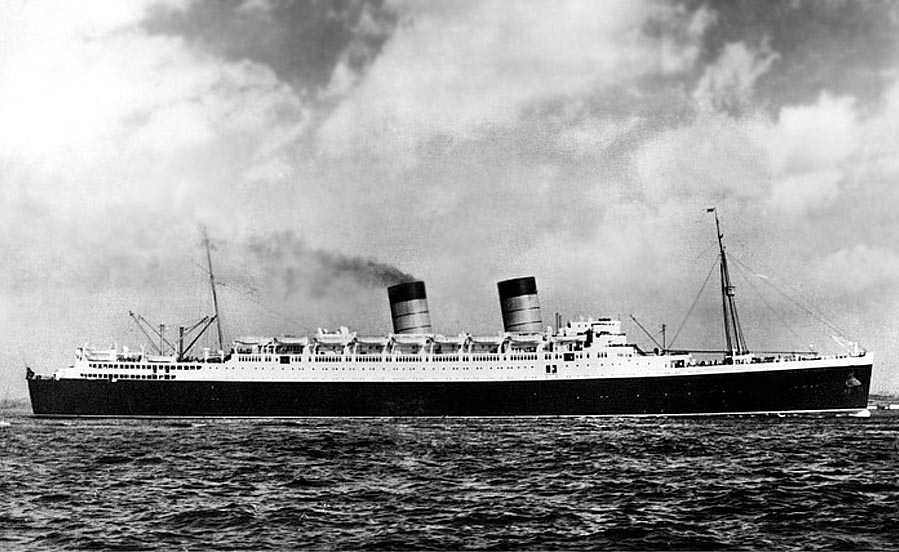 An excellent starboard view of the R.M.S. Mauretania
H.M.T. Mauretania the WW2 Troopship:
But sadly, after a mere two months of Trans-Atlantic service, Hitler's German Armies invaded Poland and commenced what became one of the most hideous and murderous wars waged by man, for Hitler and his madmen commenced to slaughter as many Jews, those with Mental problems, Homosexuals, the disabled and Jehovah Witnesses and any he did not like, but the Holocaust saw the slaughter of six million Jews and an equal number of other poor souls, let alone soldiers who died because evil people allow a mad man take control. This was World War Two.
As the situation in Europe was rapidly deteriorating, after a seven-day turnaround in New York the H.M.T. Mauretania departed on August 26, with 740 passengers on board, for close to her departure there had been 262 cancellations. Then, the news came that Germany had invaded Poland on September 1, 1939 was received in mid-Atlantic, and the Mauretania was ordered to proceed directly to Southampton, and not call at Cobh. She arrived at Southampton on the very day that war was declared; September 3, 1939.
On her return she was requisitioned by the Government. The Mauretania was armed with two 6-inch (150 mm) guns and some smaller weapons, whilst she was painted in battle grey, and she was despatched to America by the end of December 1939.
For three months the Mauretania lay idle in New York, docked alongside the Queen Elizabeth, Queen Mary, and the French Line's Normandie, until had been decided to use her as a troopship. On March 20, 1940 the H.M.T. Mauretania departed from New York bound for Sydney Australia, sailing via Panama. She had an exciting voyage out to Australia via Bilbao, San Francisco and Honolulu, tracked for much of the way by the enemy and having to evade concentrations of U-boats that were known to be lying in wait for her. In Sydney she would be converted for her new trooping role. This conversion work was carried out in April and in May and then she left Sydney as part of one of the greatest convoy's ever mustered for the transport of troops. The convoy consisted of the Queen Mary, Queen Elizabeth, and the Aquitania, with 2,000 troops on board the H.M.T. Mauretania bound for the River Clyde as she sailed via South Africa. Other notable liners in this great convoy were Empress of Britain, Empress of Canada, Empress of Asia, and the famous Dutch liner Nieuw Amsterdam.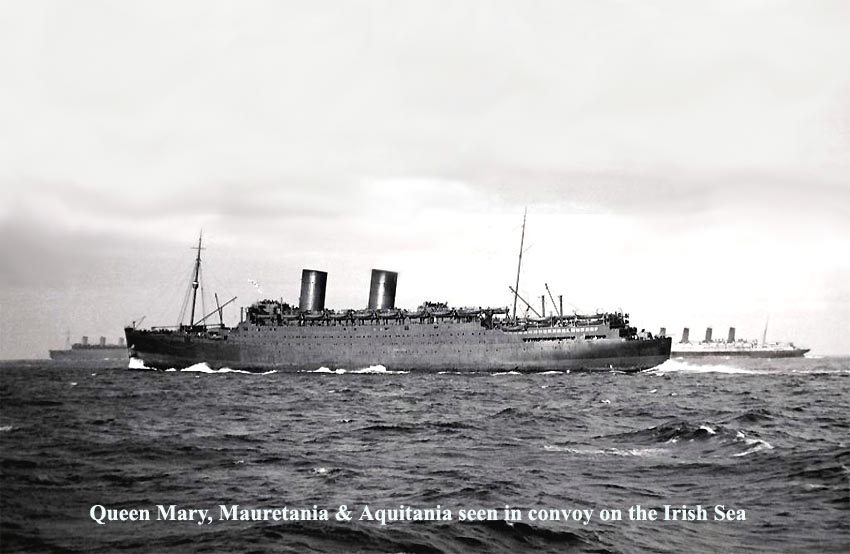 The H.M.T. Mauretania seen in Convoy and in great company!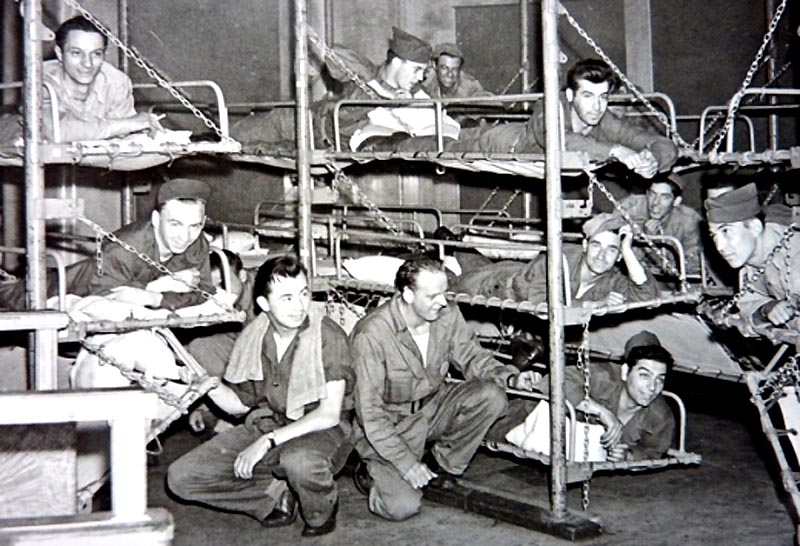 Soldiers slept in simple bunk bed style of accommodations, but beds in this photograph
happened to be in a Cabin Class lounge as vertical mahogany panels can be seen on the walls
During the early stages of the war H.M.T. Mauretania transported Australian troops to Suez, India as well as to Singapore but later she mostly served in the North Atlantic. Like Aquitania she amassed well over 50,000 sea miles during the course of her early war duties, first crossing of the Indian Ocean, then working the Atlantic with American and Canadian troops and finally serving in the Pacific.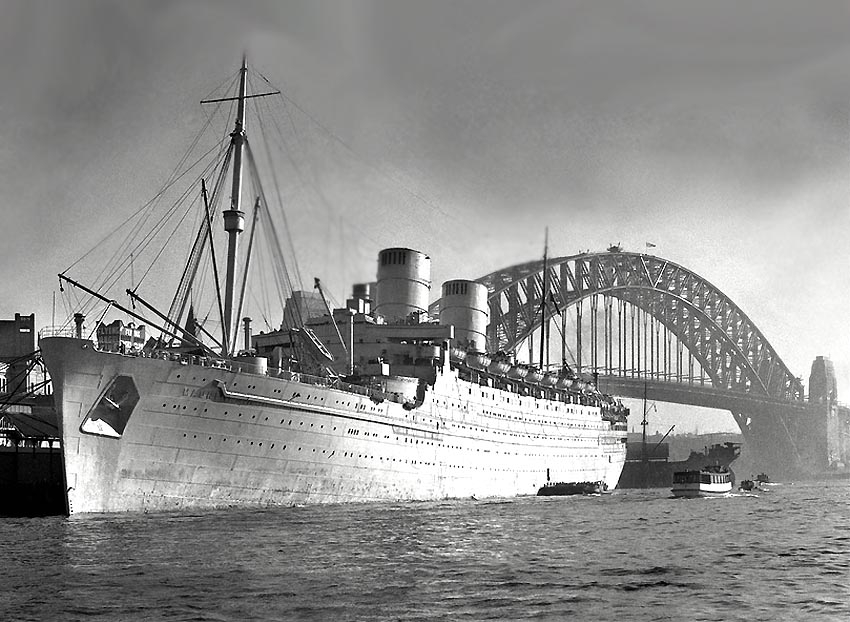 Troopship H.M.T. Mauretania is seen in her wartime grey livery in Sydney
One of her wartime voyages, of 28,662 nautical miles (53,082 km) duration, took her right around the world, taking 82 days to complete. During this epic voyage she established a speed record for the crossing time from Fremantle, Australia to Durban, South Africa. The 4,000-mile (6,400 km) distance was covered in 8 days and 19 hours at an average speed of 21.06 knots (39.00 km/h). Another wartime troop transport voyage began in New York on May 10, 1943 and ended in Bombay on June 24, 1943, with ports of call being, Trinidad, Rio de Janeiro, Cape Town and Diego Suarez. However, on January 8, 1941 she was involved in a minor collision with the American tanker S.S. Hat Creek in New York harbour.
Once the war had concluded, the H.M.T. Mauretania made several further voyages for the Government repatriating troops. This mainly saw the ship heading to Canada and Singapore. In addition, the H.M.T. Mauretania took the first dedicated sailing of English War Brides and their children (400 wives and 354 babies) being taken to Canada to join their husbands, she departed Liverpool on February 5, 1946 and they landed at Pier 21 at Halifax. She returned to Liverpool with 2,752 German Prisoners of War on board.
The now highly regarded Trooper, the H.M.T. Mauretania made one last voyage to the Far East from Liverpool to Singapore on June 26, 1946 and it proved to be yet another voyage for the record books: Mersey Bar Lightship to Sultan Shoal in Singapore a total of 8,426 miles, completed in 16 days, 20 hours and 31 minutes. However her homeward voyage was even faster, being completed in 16 days, 1 hour and 30 minutes. Altogether she had sailed 16,863 miles at an average speed of 23.11 knots, a great testament to her engineers, considering the ship had had no maintenance over the past six-years!
The H.M.T. Mauretania's very last voyage as a troopship was from Liverpool once again to Halifax, Nova Scotia, but this voyage was indeed very special, for who was on board?  It was no other than Field Marshall Viscount Montgomery.
Finally after six long years, she may have been weather beaten, scarred, but a very proud ship lovingly known as the H.M.T. Mauretania  and she finally arrived home in Liverpool for the last time in that wartime grey livery, on September 2, 1946 where she disembarked 600 passengers.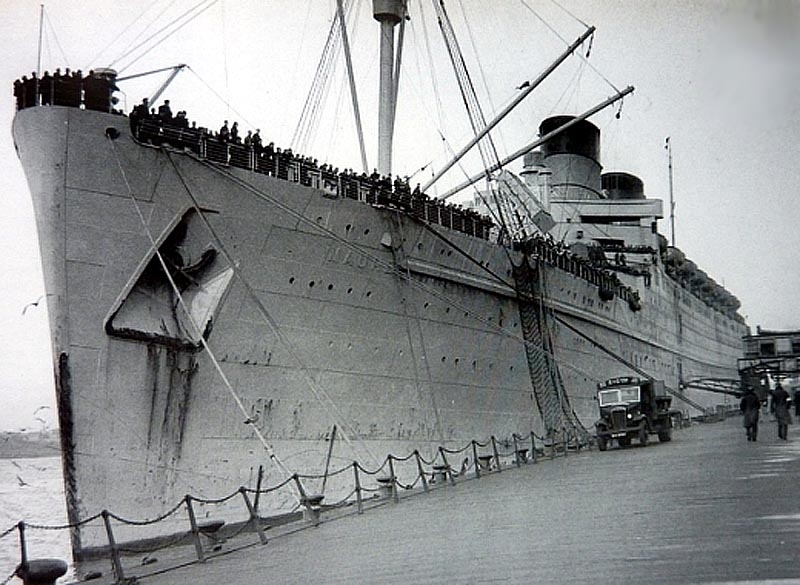 H.M.T. Mauretania is seen here berthed at the Princes Landing Stage, disembarking the last of her wartime passengers
As a troopship H.M.T. Mauretania travelled a grand total of 542,446 miles (870,000 km) and carried 350,178 troops. Although the H.M.T. Mauretania was not designed to be an exceptionally fast ship, and during her war duty her engines had received little attention for her six long years of service operating as a troopship. However, she achieved a turn of speed in 1945 making the passage from Bombay to the UK via the Cape at an average speed of 23.4 knots. On September 2, 1946 she returned to Liverpool and she was officially released from Government service. and she was sent to Gladstone Dock to be reconditioned by Cammell Laird & Co., to be returned return to Cunard White Star service.
Return to Being a Luxury Liner:
Within a few hours of disembarking her 600 passengers at the Princes Landing Stage in Liverpool the Mauretania was moved into the Cammell Laird Gladstone Dock to commence the huge process of restoring the ship back to her designed role as a luxury Trans-Atlantic liner.
Cammell Laird had a workforce of some 1,500, many of whom had helped build the ship, for her restoration was almost like starting over again. The rusty grey wartime paint had to be sandblasted off, a great deal of weathered decking had to be replanked with new teak planks, worn machinery had to be renewed or completely replaced as well as the gun emplacements having to be removed. In addition there was furniture and fixtures that had been stored, be it close by or as far away as Sydney Australia. All had to be obtained and carefully restored. Also, the wartime ballast of 400 tons of pig iron and 700 tons of sand had to be removed. In the meantime, the Mersey Docks & Harbour Board's floating crane Mammoth removed the 76-ton aft funnel on September 23, 1946 to allow access to the engine room. In total the ship refit cost £1 million pounds and Cunard White Star Line announced on March 2, 1947 that the R.M.S. Mauretania would return in all her glory to service on April 26, 1947.
The, the as good as new R.M.S. Mauretania departed Liverpool on April 18, 1947 on a special two-night "Shakedown Cruise" to the Hebrides for 400 special guests of the Company. However, it seemed that the British weather conspired to make this one of the liner's most challenging of voyages. Heeding gale warnings, Captain R. G. B. Woollatt brought his ship off the Mersey Bar on April 21, by then, however, the winds were so fierce that the Mauretania was not able to proceed up the sea channels to Liverpool and she was forced to seek shelter in "Moelfre Bay," off the north coast of Anglesey. Her anchors were dragging, and therefore the Mauretania had to ride out the storm on the Irish Sea. It was not until April 24 that she was able to return alongside Princes Landing Stage. Thus the Shakedown Cruise did not prove to be a great success, except for those who did not mind a heavy sea! In Liverpool, her crew and shipyard workers rapidly completed final work required, including storing within forty-eight hours to keep the ship to schedule.
The heavily booked R.M.S. Mauretania finally departed on what was likened to being her second maiden Trans-Atlantic voyage from Liverpool to New York, departing on April 26, 1947. Although she had another rough and a somewhat slow crossing and she arrived in New York on May 2, several hours late.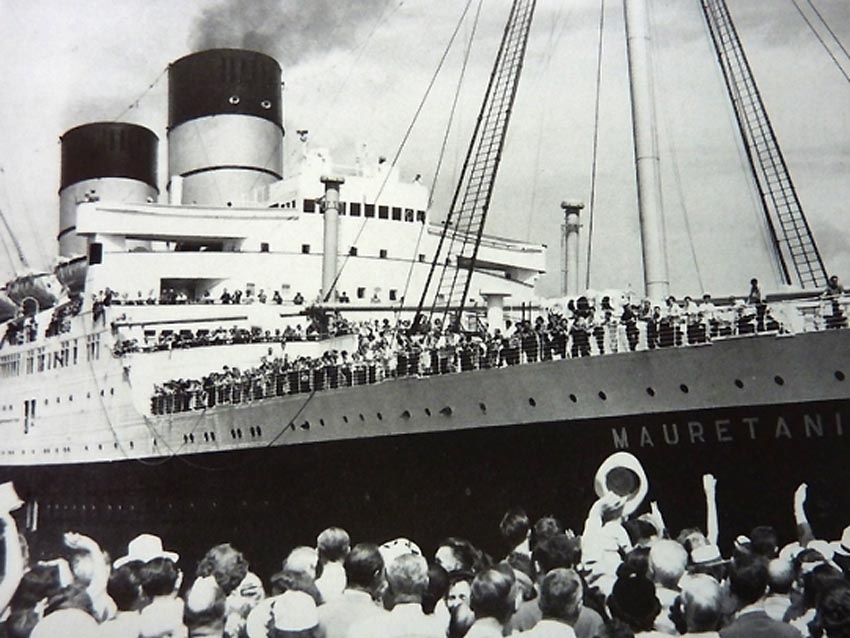 The R.M.S. Mauretania was given a huge send-off on her first post-war commercial departure from Liverpool
The Mauretania was never in more demand, and during the balance of 1947 carried 23,997 passengers, or better than 90% passenger capacity. Even when the R.M.S. Queen Mary returned to service in August 1947, the R.M.S. Mauretania continued to supplement the 'Queens' with Southampton, Cherbourg, Cobh to New York sailings every seventeen days. But, she never returned to London and her previous cargo capacity was never fully utilised again.
Mauretania
the Part Time Cruise Ship:
In January 1948 she commenced to operate the first of five cruises from New York to the West Indies. Whilst cruising she would accommodate no more than 750 passengers in a One Class configuration. In addition for her new role, four of her lifeboats were replaced by motorised tenders, as at some Caribbean ports passengers required to be transferred ashore and back to the ship per tender.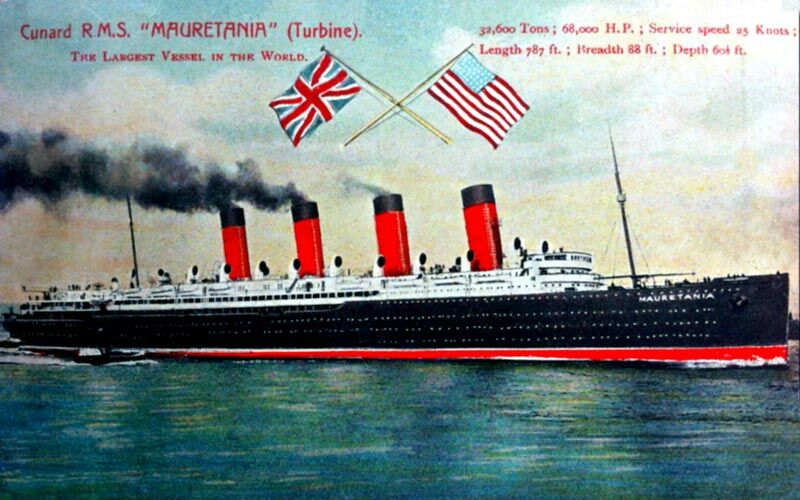 A fine colour postcard of the R.M.S. Mauretania
These so-called 'dollar earning cruises' assisted the "shattered British economy." But for the rest of the year she continued on the Southampton to New York service and during the Northern Hemisphere winter months she operated cruises from New York. When Mauretania was taken in for her annual overhaul at Liverpool in December 1957 the opportunity was taken to fit air conditioning throughout the ship.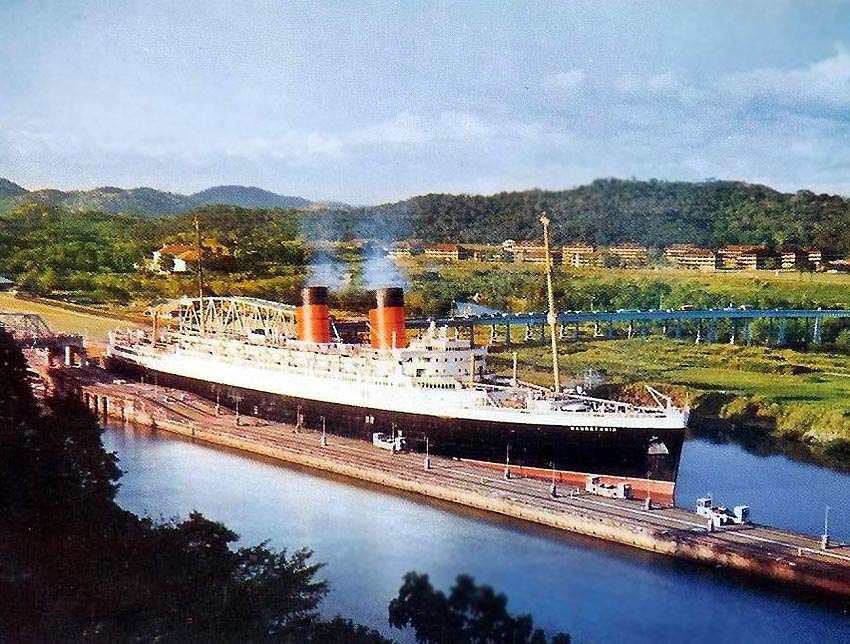 The Mauretania is seen in one of the Locks, during one of her Panama Canal cruises
The R.M.S. Mauretania soon gained her own loyal following and between 1947 and 1957 she made some 260 Atlantic crossings, transporting a good 241,286 passengers, being an average passenger loading of 82.5%. She sailed without any faults or problem and she proved to be a far steadier sea boat than the two much larger 'Queens,' and she certainly had none of the newer R.M.S. Caronia's of 1948, engine problems and handling difficulties.
In 1950 the Mauretania was transferred to the sole ownership of Cunard Line
In October 1957, the now middle-aged liner Mauretania returned to Liverpool where she would be given a comprehensive £500,000, three-month refit. This would see the ship receive the installation of air-conditioning throughout the ship. Air-conditioning certainly made the popular Mauretania more competitive on the Caribbean cruise trade.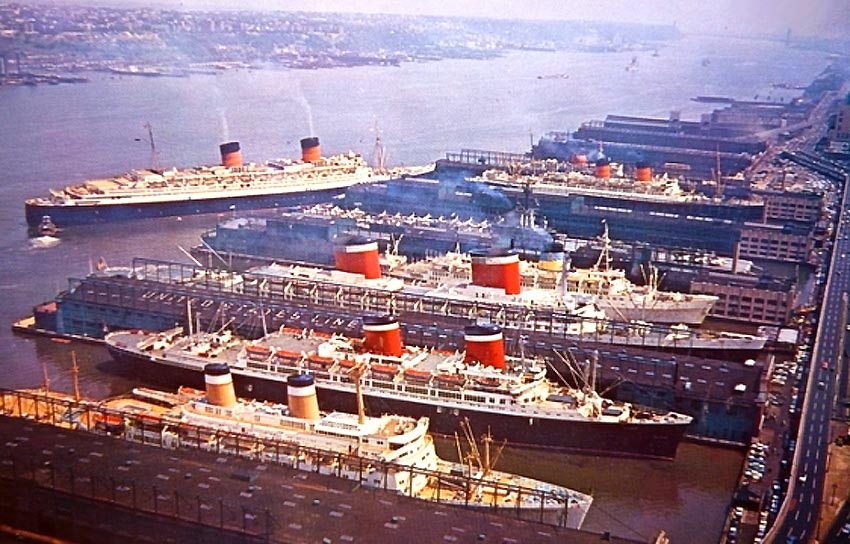 This is one of those amazing New York Harbour port photographs. R.M.S. Mauretania is seen berthed at the top Pier 92
Coming in is R.M.S. Queen Elizabeth heading for Pier 90, the smaller white ship is the Greek Line TSS Olympia, next to her
is the United States Lines S.S. Unites States and the S.S. America, finally the American Export Lines S.S. Independence
However, as with all shipping on the Atlantic and world-wide passengers were difficult to find for liner services, as air travel was becoming more and more popular, for it was both faster and fares were coming down rapidly! Thus, Mauretania's services on the Trans Atlantic run was becoming very much a surplus, with the ship frequently carrying no more than just a third of her total capacity. Thus
In 1962 the H.M.T. Mauretania made no profits for her owners, and so it was decided that she would be used almost only for cruising. She was painted in light green, like the Caronia, giving her a more leisure look. Her passenger capacity was reduced a little to make her more suitable as a cruise ship. The following year, on March 28th 1963, she started her new Mediterranean service between New York, Cannes, Genoa and Naples. But this was a new route for Cunard and the competition was hard. The Italian Line's Leonardo da Vinci and Cristoforo Colombo stole almost the whole clientele, and Cunard soon returned the H.M.T. Mauretania to her old service in the Caribbean. She made periodic appearances on the transatlantic run, but spent the most of her time cruising in warmer waters.
The Cruising Green Mauretania in 1962:
In October 1962 the Mauretania it was decided to Drydock her at Southampton for a complete transformation and a refit. Her accommodation was revised as follows', 406 First Class, 364 Cabin Class, and 357 Tourist Class. In addition, she was repainted in Caronia's "Cruising Green."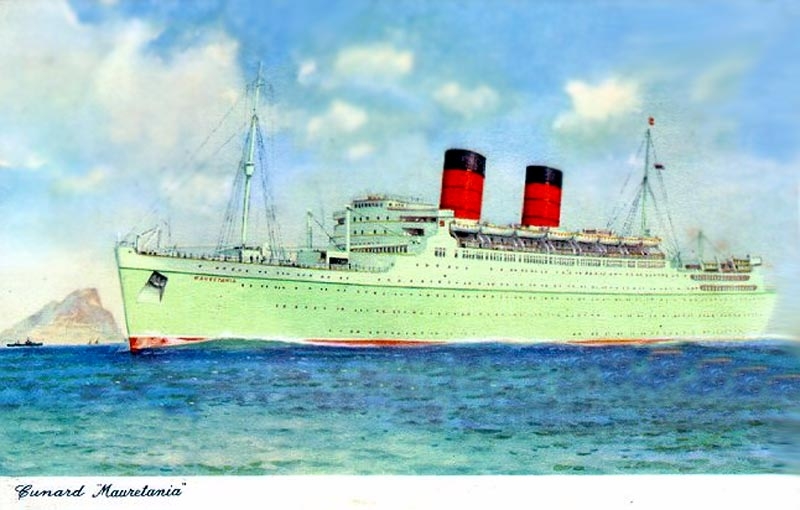 Cunard released this postcard of the new look Mauretania
The all-new looking R.M.S. Mauretania emerged two-and-a-half months later, yet what was somehow that "Caronia's image" detracted from the beautiful classic lines of the Mauretania. That rather bilious green hull came to symbolise Mauretania's declining years.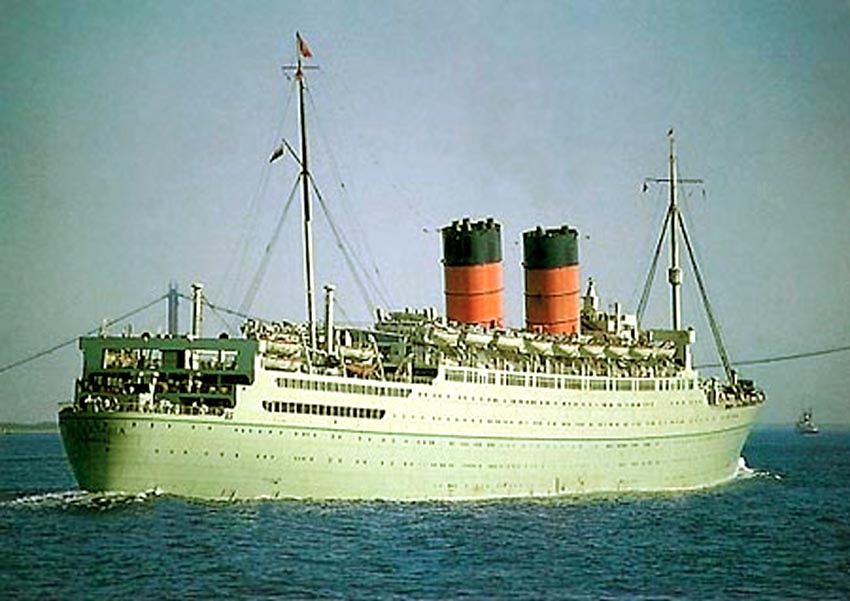 The new look Green Mauretania seen in New York
Then, in August 1962 Cunard Line decided to commence a new cruise operation from New York to the Mediterranean, being a 41-day cruise. She operated this cruise in February and March 1963, with the Mauretania departing New York on March 28, with 676 passengers, calling at Gibraltar, Cannes, Genoa, and Naples. She departed Naples on April 19, with a mere 123 passengers bound for New York, However, there was a slight improvement, as her average load factor was sadly a miserable 14% on this new Mediterranean cruise service. One of the big problems was that Italy and the United States were protecting their subsidised services, not granting permission for emigrants to travel on the Mauretania.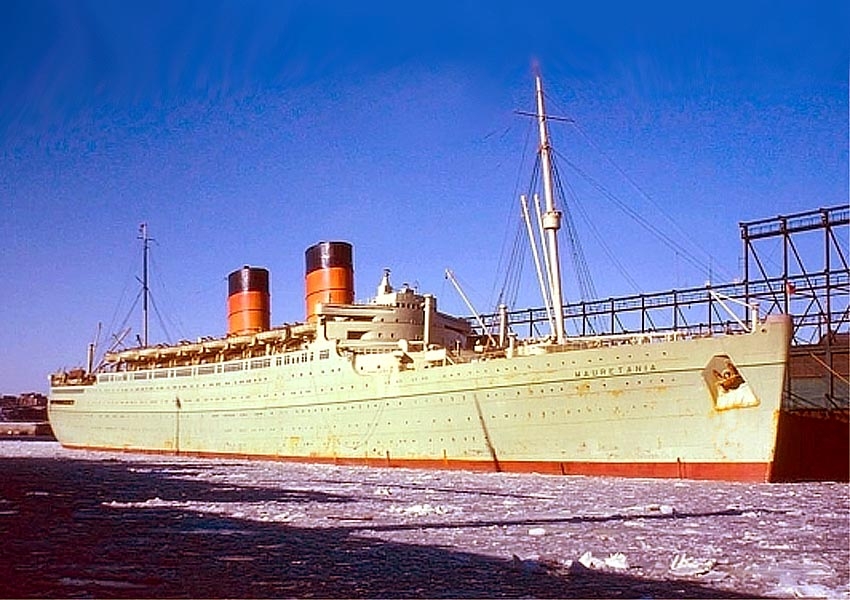 Mauretania is seen in New York's Cunard Pier 90 in icy wintery conditions
She resumed her summer Trans-Atlantic services but now she was sailing from Southampton to New York, but loadings proved to be very poor, thus for the 1964 cruise season she was again employed on the popular New York to the West Indies cruise again, which had generally good loadings. However that was only for a short period of the year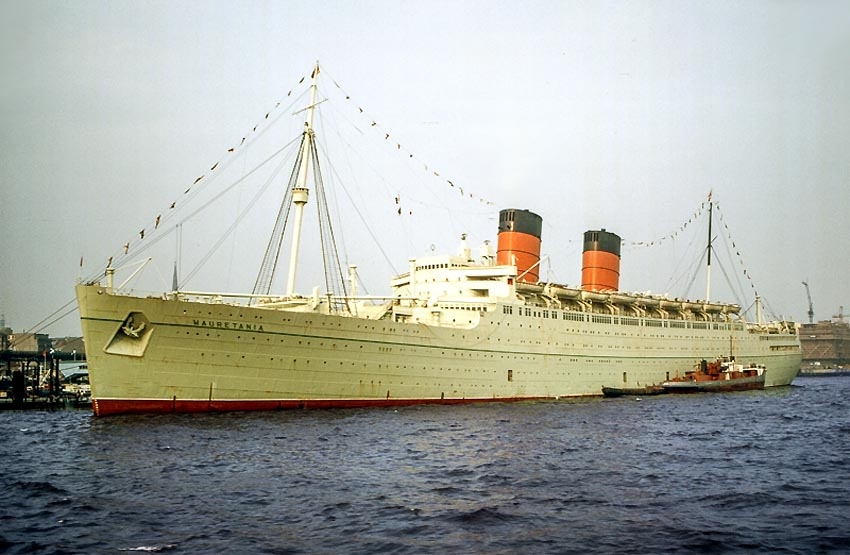 The Mauretania is seen here in the port of Hamburg Germany in around 1964/1965
Photograph by & Copyright © Helmut-Groening
The R.M.S. Mauretania was sailing with the other Cunard Passenger Liners and were doing so as Cunard was losing a good £1 million in the first six months of 1965. Therefore, finally on February 10 1965 Cunard sadly announced that due to "excessive costs to keep the Liner up to Company standards," the Mauretania would be withdrawn in November.
R.M.S. Mauretania departed New York for the final time on September 12 1965 for an epic last voyage, having some 307 passengers on board, who would spend sixty-one days and 14,600 miles visiting some thirty-one ports. Although it being an already melancholy cruise, it was made sadder with the announcement on October 4, that the Mauretania would soon be broken up. She would be the largest British liner to be scrapped since the R.M.S. Aquitania.
Thus, it was on September 15, 1965 that Cunard announced that she was to be decommissioned and sold to the highest bidder. In fact, even before R.M.S. Mauretania returned to Southampton on November 10, a highest bidder had already been accepted at 360,000 made by "Thomas W. Ward" at Inverkeithing on the Firth of Forth, Scotland.
R.M.S. Mauretania departed New York for the final time on September 12 1965 for an epic last voyage, having some 307 passengers on board, who would spend sixty-one days and 14,600 miles visiting some thirty-one ports.
Her Final Days:
Although it being an already melancholy cruise, it was made sadder with the announcement on October 4, that the Mauretania would soon be broken up. She would be the largest British liner to be scrapped since the R.M.S. Aquitania.
But as the R.M.S. Mauretania returned home for the very last time and sailed up Southampton Water on November 10, the weather was suitably dismal as the Mauretania was flying her paying-off pennant from her aft Mainmast!
Destoring commenced, and a few items were removed whilst Mauretania was in Southampton and she was then taken away. On November 23rd the H.M.T. Mauretania arrived at Ward's ship breaking yard in Inverkeithing, Scotland. There she was cut up during the years of 1965 and 1966.
The great R.M.S. Mauretania, which had served both; Cunard White Star Line and then Cunard Line, as well as her country during WW2, and now she had finally come to the end of her days after 27 wonderful years of service.
This Great Lines and Cruise Ship departed Southampton at 12 noon on November 20, 1965 under the commanded by Captain John Treasure Jones (also was the captain of the R.M.S. Queen Mary on her final voyage), who navigated the mud straits of the Forth without tugs, and she arrived alongside The Ward's wharf at Inverkeithing on November 23. Captain Treasure Jones rang "Finished with Engines" on the telegraph and the life then ebbed from the once great Liner!
The Mauretania is seen at the Thomas W. Ward Ship breakers yard on November 23, 1965
R.M.S. Mauretania Specifications and Details:
Official Number:…………….………166267.
Signal Letters:……………………….GTTM.
Operators:………………………………Cunard White Star Line - 1938 to 1950.
……………………………………………….Cunard Line:1950 to 1965
Owned by::………………………….…Cunard Steamship Co. Ltd.
Port of Registry:……………………..Liverpool.
Builder:…………………………………..Cammell Laird of Birkenhead, England.
Launched:……………………………….July 28, 1938.
Maiden Voyage:………………………June 17, 1939
Gross Tonnage:………………………35,738 GRT, 19,654 Net.
Length:……………………………………772ft - 235m.
Beam:……………………………………..89.6ft - 27m.
Draught:………………….………………30.10ft - 9.39m.
Propulsion:………………………………6 Parson Single Reduction Steam Turbines.
Screws:…………………………………..Twin, 42,000 SHP.
Speed:…………………………………….23 knots, maximum of 25.34 knots.
Passengers:…………………………….440 Cabin Class, 450 Tourist Class, and 470 Third
……………………………………………….Class - as built.
……………………………………………….406 First Class, 364 Cabin Class, and 357 Tourist Class
……………………………………………….after 1962 refit.
Crew:………………………………………780 to 802.
Fate:……………………………………….Sold to be broken up November 1965.
Broken up at:………………………….Thomas W. Ward shipbreaking Yard in Inverkeithing,
………………………………………………..Fife in Scotland in 1966.
Remembering the Grand Dame
Of the Atlantic ~ R.M.S Mauretania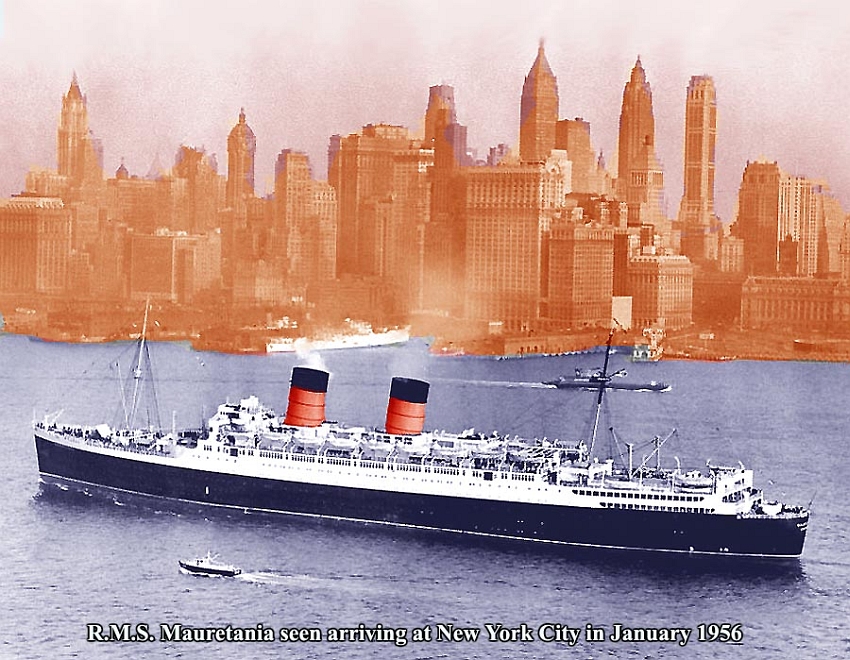 Also Remembering her as the World War Two Hero that Came Home!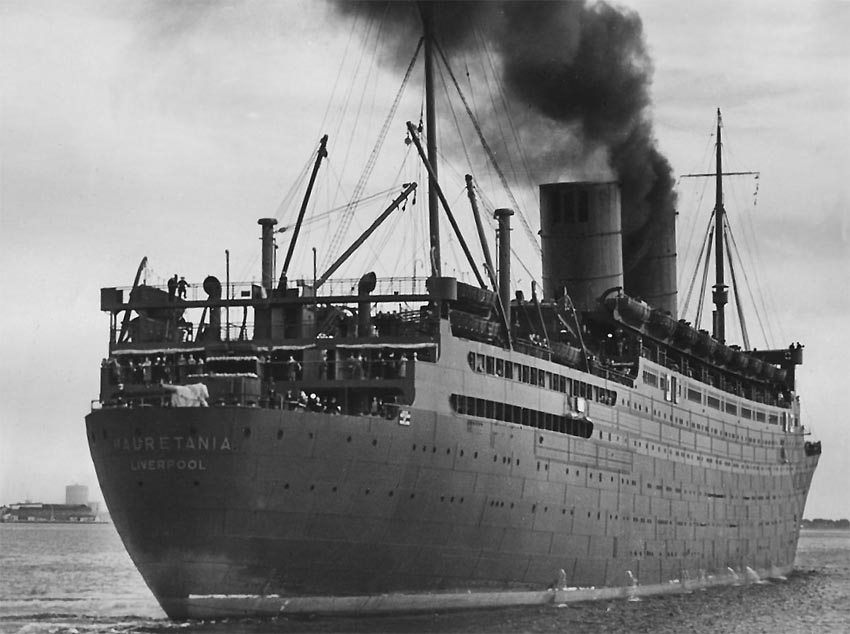 An excellent stern view of H.M.T. Mauretania as she returns home having travelled a

grand total of 542,446 miles (870,000 km) and carried 350,178 troops

Also see … R.M.S. Mauretania (1) – Now Online

***********************************

"Blue Water Liners sailing to the distant shores.
I watched them come, I watched them go and I watched them die."

Return to the ssMaritime MAIN INDEX

ssMaritime.com & ssMaritime.net

Where you will discover over 1,435 Classic Liners & the 1914 built MV Doulos Story

The Author has been in Passenger Shipping & the Cruise Industry for over 60 years!

In addition he was the founder of "Save the Classic Liners Campaign" in 1990.

For interest: Sadly an email service to ssMaritime is no longer available, due to the author's old age and chronic illness as well as being disabled, etc. In the past ssMaritime received well over 120 emails per day, but

Goossens can no longer handle the same. He sincerely regrets this!

Please Note: ssmaritime and associated sites are 100% non-commercial and the author seeks no funding or favours of any shape or form, never have and never will!

Photographs on ssmaritime and associate pages are by; the author or from the author's private collection. In addition there are some images that have been provided by Shipping Companies and private photographers or collectors. Credit is given to all contributors. However, there are some photographs provided to me without details regarding the photographer/owner concerned.

This notice covers all pages; although, and I have done my best to ensure that all photographs are duly credited and that this notice is displaced on each page, that is, when a page is updated!

ssMaritime is owned & © Copyright by Reuben Goossens - All Rights Reserved