White Star Line RMS Olympic, the ill-fated RMS Titanic, and the HMHS Britannic
Please Note: Firefox and some other servers are not suitable
Use Google Chrome for this page to load perfectly!

Click the logo above to reach the ssMaritime FrontPage for News Updates & "Ship of the Month"
With Reuben Goossens
Maritime Historian, Cruise'n'Ship Reviewer, Author & Maritime Lecturer
Please Note: All ssMaritime and other related maritime/cruise sites are 100% non-commercial and privately owned. Be assured that I am NOT Please Note: All ssMaritime and other related maritime sites are 100% non-commercial and privately owned, thus ssmaritime is NOT associated with any shipping company or any other organisation! Although the author has worked and been involved in the passenger shipping industry for well over 60 years, but due to his old age and poor health, he was forced to retire. Yet, he has completed well over 1,365 Classic Liners, Passenger-Cargo Liners as well as humble converted C3 converted Migrant Liners, which has transported countless thousands folk to the new world, as well on vacations'. I trust the features online will continue to provide Classic Liner and Ship enthusiasts both the information they are seeking, but more so provide a great deal of pleasure and relive many happy memories!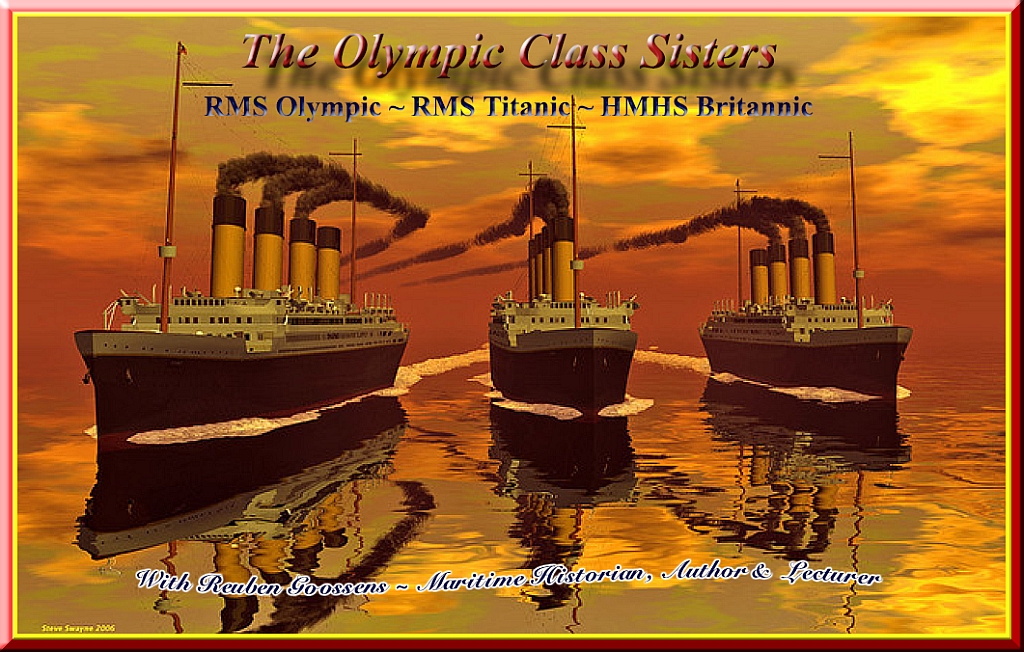 The original image was created by Steve Swayne – copy by ssMaritime
Introduction:
Via this page you can reach two of the magnificent trio of ships built by Harland & Wolf in Belfast, being the Olympic Class liners – RMS Olympic, the ill-fated RMS Titanic and the Hospital ship, HMHS Britannic. For many years I have been asked, "Reuben why have you never written about the Titanic, for you have covered well over 700 hundred ships from all over the world, but never her?"
I have to be very honest, my personal feeling is that although the event related to the Titanic was of mammoth proportions and with a tragic loss of life, but she seems to be the only ship the vast majority seems to be interested in. Whenever I look up eBay for maritime memorabilia, there are hundreds of items listed related to the Titanic and it all seems like simple greed and based on a tragedy. Frequently I read the statement "Titanic the Unsinkable Ship." Excuse me, she was never the worlds greatest or an "unsinkable" ship, for White Star Line never ever promoted her to be "unsinkable." That stupid lie was a media beat up that came about after the tragic event and of course the movie industry loves this kind of thing, for it is perfect for the theatre and thus they took it up, and today the majority of people just take it as being an absolute fact, for the human race are just media idiots!
However, considering that I was going on a voyage from Australia to England on the delightful 500 passenger MV Athena, built in 1948 as the MS Stockholm and was completely rebuilt from her hull up in 1994/95 into a luxury cruise ship, but we departed on April 14, 2012. Her owner had asked me if I would be so kind to give some further lectures on this voyage as I had done the year before, and as it was the 100th.Anniversarry of the Titanic's tragedy, they requested if I would give a lecture on her on the 15th.and follow that up on the with two further sesions, one being a special question and answers session. The one question was, "Did White Star Line ever promote the Titanic as being unsinkable?" Amazingly, out of a packed theatre only six people said no, which I felt was simply unbelievable! But, that proves the power of the media. I now have the basic's of this lecture, but modifies online, Thus finally, I have written about the RMS Titanic after all!
Before the Titanic, was that great and superb Trans-Atlantic liner, the RMS Olympic that served her passengers in grand style from 1911 to 1934, in addition she served her country well as a troopship with great success! Thus I always ask the question, why has the Olympic been so badly ignored by the vasy majority in the Maritime industry and historians, except by the few true and genuine ship lovers!
Then last of the Olympic Class Liners was the RMS Gigantic which was rapidly renamed after the tragedy of the Titanic, RMS Britannic. However she never did become a commercial Liner, for she entered the was as a Hospital Ship the HMHS Britannic that served her country well, but tragically after just eleven months she struck a German laid mine that brought about her sad end, much too soon for such a great ship!
I trust that you will enjoy reading the features what have many photographs: To enter, just click on the image of the ship you wish to visit first. Then on each of the pages you visit you will find the relevant links at the bottom of each page to continue or change ships.
Reuben Goossens.
Maritime Historian, Author, Lecturer & Cruise'n'Ship Reviewer.
Commenced in the Passenger Shipping Industry in 1960.
RMS Olympic ---------- ----- ---- RMS Titanic-------- --------HMHS Britannic
"Blue Water Liners sailing to the distant shores.
I watched them come, I watched them go and I watched them die."
****************************
Visit our ssMaritime - Main INDEX
Where you will discover over 1,365 Classic Passenger & Passenger-Cargo Liners!
ssMaritime.com & ssMaritime.net
Where the ships of the past make history & the 1914 built MV Doulos Story
The Author has been in Passenger Shipping & the Cruise Industry for well over 60 years
In addition he was the founder of "Save the Classic Liners Campaign" in 1990.
Please Note: ssmaritime and associated sites are 100% non-commercial and the author does not seek funding or favours and never have and never will.
Photographs on ssmaritime and associate pages are either by the author or from the author's private collection. In addition there are some images and photographs that have been provided by Shipping Companies or private photographers or collectors. Credit is given to all contributors, however, there are some photographs provided to me without details regarding the photographer or owner concerned.
ssMaritime is owned & © Copyright by Reuben Goossens - All Rights Reserved