Click the logo above to reach the ssMaritime Front-Page for News Updates & "Ship of the Month"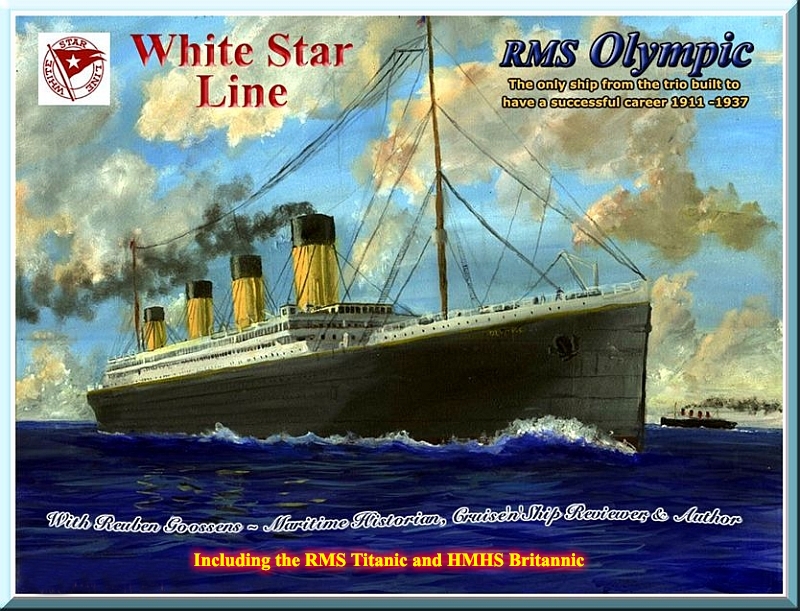 Please Note: Photographs / postcards, etc, on this page are from the author's private collection unless stated otherwise!
Page One
I was asked to give a lecture on the RMS Titanic as I was departing on the Classic International Cruises M/V Athena, which was built in 1948 as the MS Stockholm, a superb intimate classic style but wonderfully updated and modern cruise ship! The last time I sailed on her as a passenger in 2011, the cruise director asked me if I would be so kind as to provide several maritime lectures, and I provided two during the 40 night cruise. However, considering we were departing Australia for England again this year on April 14, and prior to departure I received an email from the ship asking if possible, could I provide several more, as my lectures had been so popular the last time. Considering it was a significant departure date being April 14, 2012 being the 100th.Anniversarry of the Titanic tragedy, thus the next day on the 15th.the very day she actually sunk, I provided a lecture on her, although covering more about the ship and not too much about the horror stories, just the basics, considering we were heading off on a long voyage! In addition I also covered a little about her sisters the RMS Olympic and the HMHS Britannic.
Thus you will now realise how this feature has come about, for I have never desired to write about the Titanic, for it has been done by every Maritime Tom, Dick and Maritime Harry! Thus I will generally cover the ship that was such a great success for the White Star Line, the ship that became known as "Old Reliable," the RMS Olympic, however in this feature I will also touch on her two sisters the RMS Titanic and HMHS Britannic.
White Star Line's Background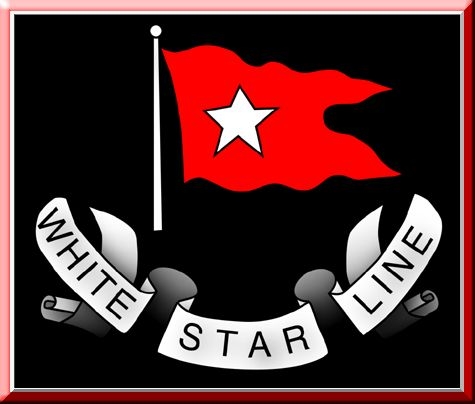 The RMS Olympic was part of the White Star Line and was owned by the British "Oceanic Steam Navigation Company." However, all of this company's stock was owned by the "International Navigation Company Ltd," of England, which in turn, was fully owned by the "International Mercantile Marine Company" (IMMCO), which was an American Corporation.
Therefore White Star Line and later Cunard Line may have been British operated, and Cunard still is today, but in reality it is a wholly American owned company both then and now! The only difference is that today Cunard Line is owned, by different American company, being the Carnival corporation, or as most people know them to be - Carnival Cruises, which is a massive company that now owns so many of the well known cruise brands, such as P&O Australia, P&O UK, Princess Cruises, Costa, Aida and Seabourn Cruises, even the outstanding Dutch company Holland America Line, and the list just goes on! Thus Carnival influences all these cruise companies, except for Holland America, who does stand apart, as they are self managed and marketed, whilst all the others are marketed by Carnival Plc!
The Ship that became

Lovingly

known as … "Old Reliable"
As we commence looking at the great RMS Olympic and knowing that she spent her years transporting not just passengers to and fro across the Atlantic, but also having served so well during World War I and was fortunate to survive, whilst so many others perished, including her newest sister, the Hospital Ship the Britannic. There was no doubt about it, but she was a beautiful ship and her lines were wonderfully clean for those days. When built she was the largest ship in the world and she was the first of trio, being a new and exciting class of great liners. The Olympic proved herself a very comfortable ship and she was sublimely fitted out and her First Class and even her Second Class décor was rather exceptional, in fact she was the most luxurious British liner to be built at that date! As the years continued it became obvious that this great ship somehow attracted countless repeat passengers as well as crew and this continued right through to her very last days and when her end eventually came there was such great sadness for she had been such a happy ship, more-so than most others!
As most will know the Olympic was the very first of a trio of Atlantic liners, which included Titanic and the Britannic. All these ships were built at the great Harland & Wolff shipyards at Belfast, Ireland.
The keel for the Olympic, Harland & Wolff Yard 400 was laid on December 16, 1908, whilst her identical sister the Titanic, was built alongside her, but she was several months behind the Olympic time wise., and she was built in Yard number 400, right next to her sister the Titanic in Yard number 401. We know that during the building of her hull that some three million rivets were used to complete the huge job.
Images of the building of the Olympic
These images originate from Harland & Wolff, but are now part of the author's collection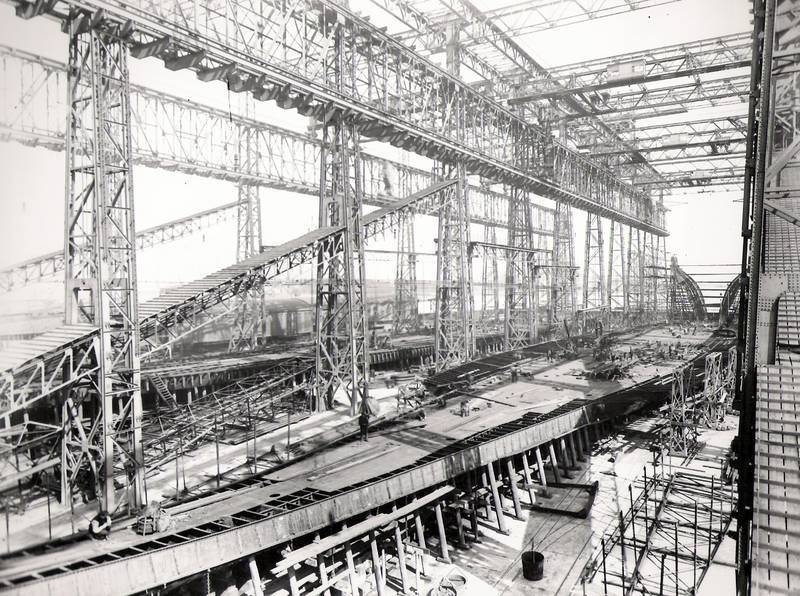 Here we see her double hull having been laid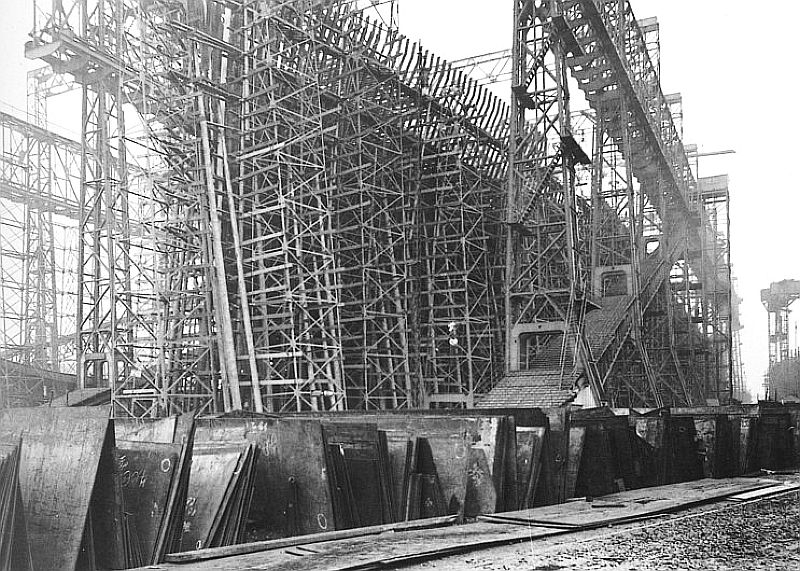 Olympic is taking shape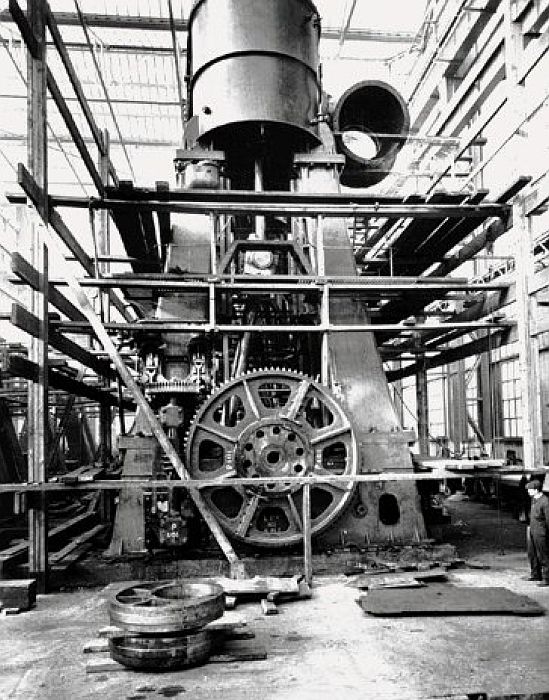 Her engines being constructed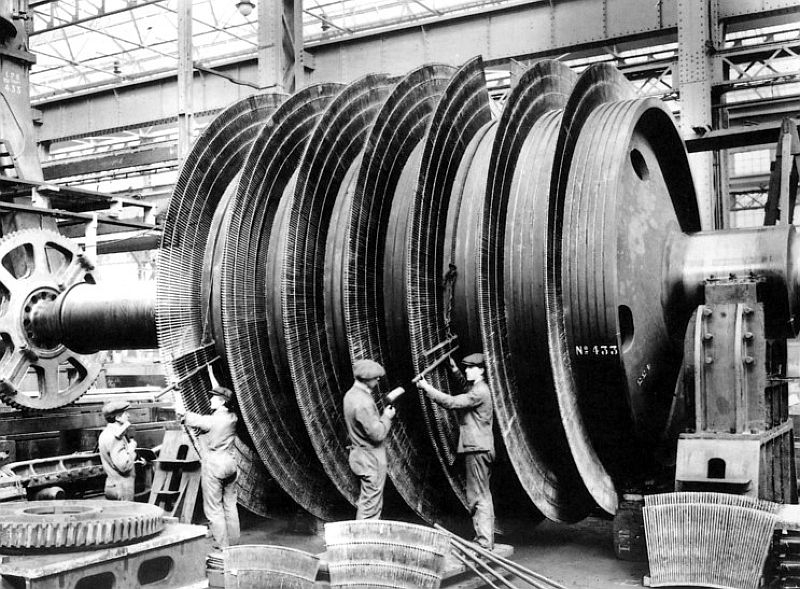 Here we see her turbines being finished
Olympic's power Plants:
RMS Olympic had two four-cylinder steam reciprocating engines and one low pressure turbine engine.
The turbine, which drove the center propeller, utilized the exhaust steam from the other engines.
This design recycled the exhausted steam instead of wastefully venting it up the funnels. The result was an increase in efficiency.
Her engines had a total of 51,000 IHP.
She had 29 boilers of which 24 were double ended and 5 single ended.
Amazingly there were 159 furnaces to be fired up, thus can you imagine how many men were required for that terrible job?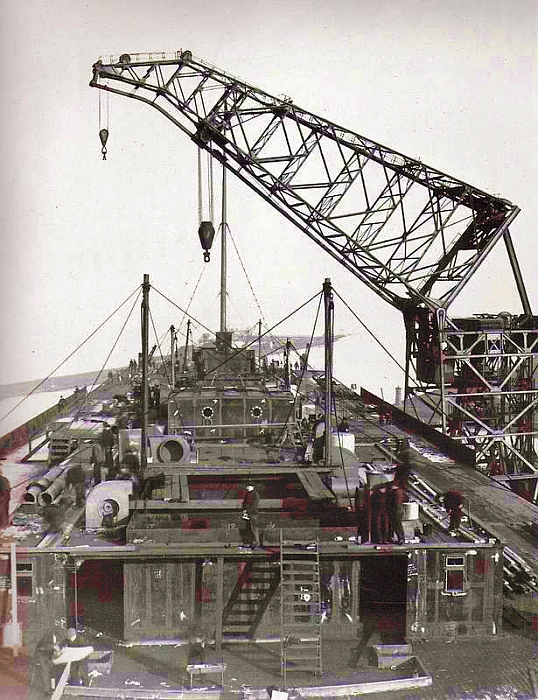 Looking at her foredeck as work continues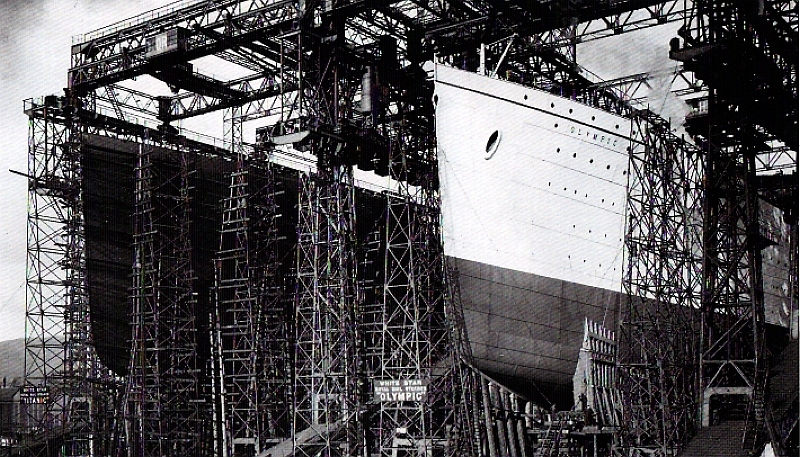 The two sisters, the Olympic with the white hull and next to her the Titanic
Just under two years later by October 1910 the Olympic's hull was complete and on Thursday October 20 Olympic's great white hull was launched and all those present were amazed how easily and rapidly she slid down into the water, for it took just one minute and two seconds for this massive 20,600 ton hull to enter the water and float! The many dignitaries that were at the ceremony included the Lord Lieutenant of Ireland and the Lord Mayor of Belfast. Olympic was taken to the Harland & Wolff refit berth where she would be fitted out and be completed.
The Launch & Completion Images
These images originate from Harland & Wolff, but are now part of the author's collection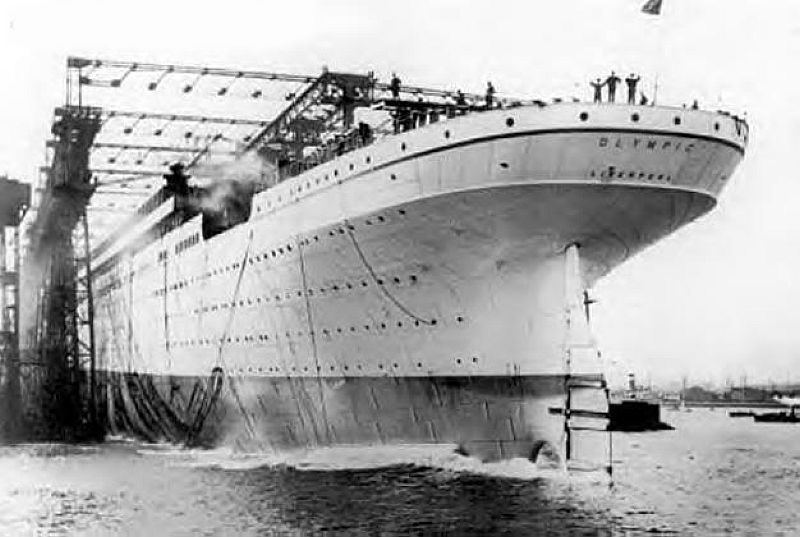 She commences her journey towards the water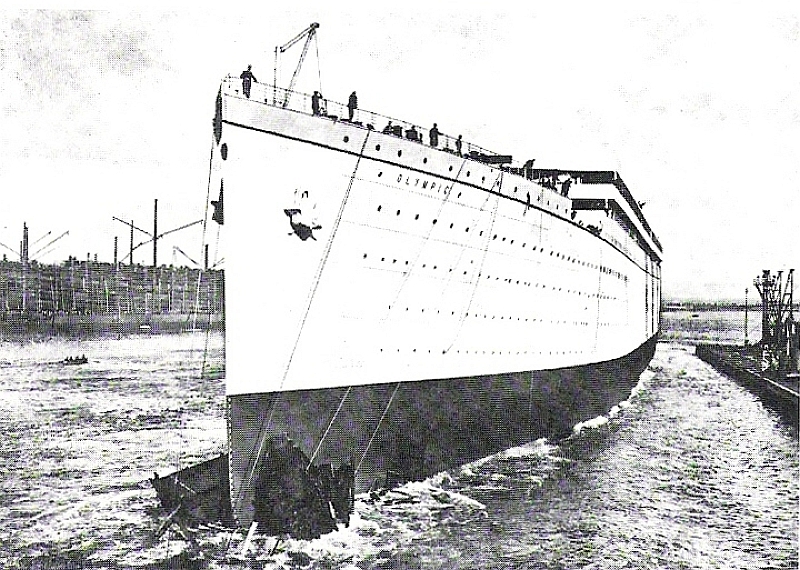 I minute and 2 seconds after the launch commencement the Olympic is fully afloat!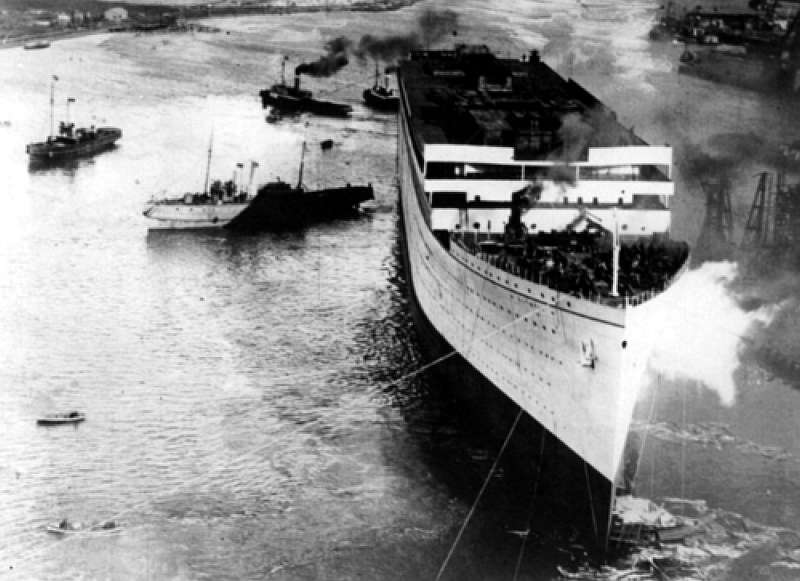 Lines are holding her back, but she is afloat and ready to be completed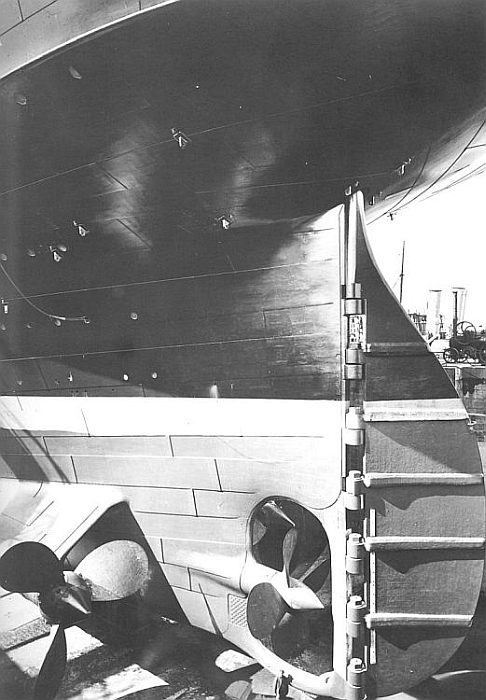 Here we see Olympic's giant screws and huge rudder after they having been fitted
Notes regarding the Photograph above: The diameter of the two outer propellers were - 7m - 23ft, whist the middle one, being the smaller one at 5.18m - 17 ft. The ships rudder was 78 feet 8 inches (23.98 m) high and 15 feet 3 inches (4.65 m) long, weighing over 100 tons, that it required steering engines just to move it. It was constructed by the Darlington Forge Company, Ltd., and was of the elliptical type, of solid cast steel, built in five sections.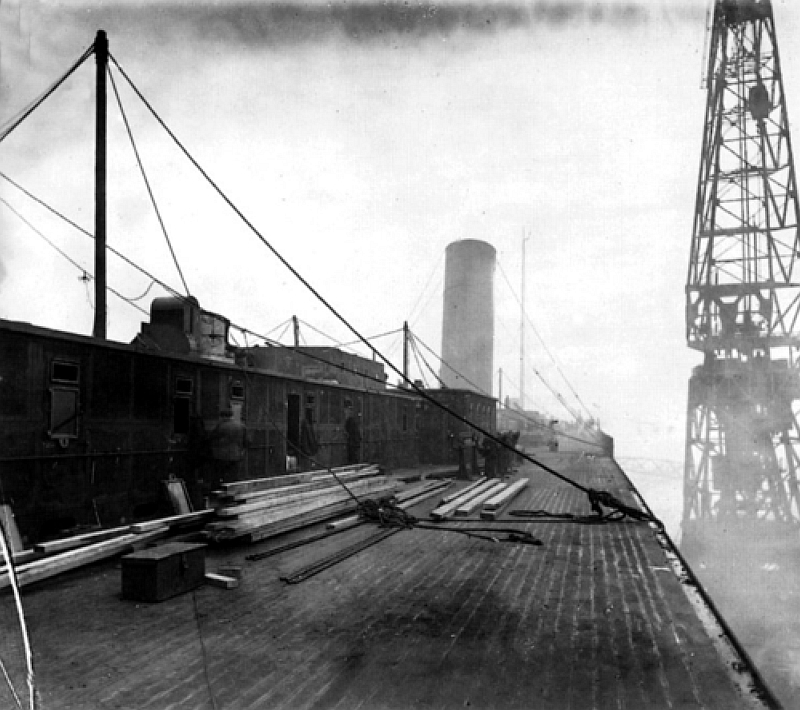 Still being fitted out, here we see sports deck port side where we see the 3rd funnel aft, but prior to funnels 1, 2 and 4 having been fitted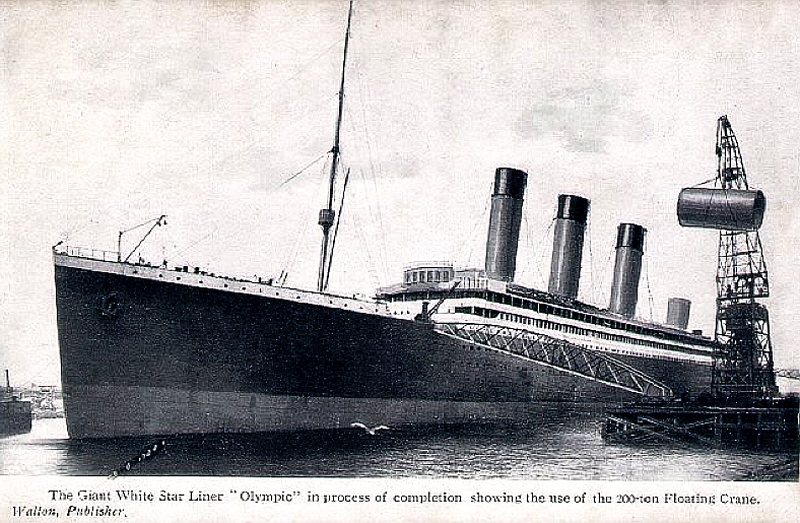 Her crowning glory almost complete as the 200 ton crane lifts the fourth funnel into place
The crane had been obtained from Germany at a cost of £30,000 and it was used to place the funnels on all three ships as well as other items
Seven months after the launching the Olympic had her sea trails and she had been completed on May 31, 1911. This proved to be a massive day for White Star Line for it just happened that on that very same day her sister the Titanic was being launched. However, the cost of building Olympic came to what was a massive amount for those days being US$7,500,000.
When she was completed the RMS Olympic was the world's newest, largest and certainly one of the most luxurious ocean liners and there was a great deal of full mage in the papers in England as well as in New York about the massive ship sailing the Atlantic. A special advance brochure had been released as well as postcards with illustrations of the ship.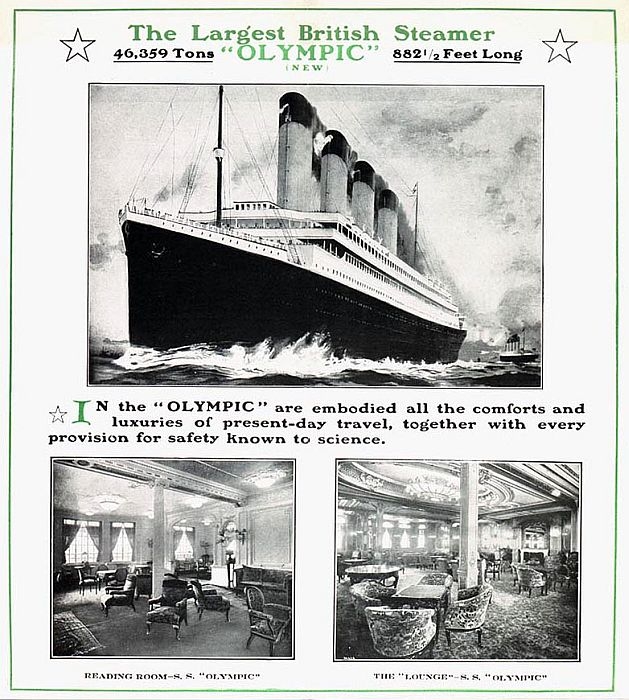 An early brochure of the RMS Olympic revealing her just completed glamorous interiors
Olympic's Interiors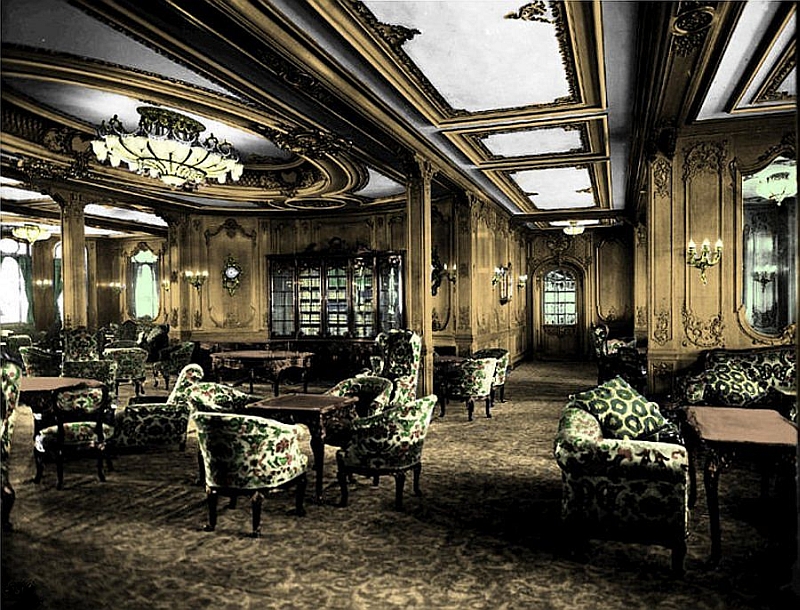 RMS Olympic's First Class magnificent First Class Lounge
This is a colourised version of the original black and white photograph
The artist who did the colourisation is unknown – *Please see the photo notes at bottom of page
For further interior details and photographs see Page Two.
There is another link at the bottom of this page
Due to her being the world's largest liner a special colour postcard was created proving that the RMS Olympic was in fact taller than New York's skyscrapers as well as the world's greatest and most ancient monuments, if they stood her on her aft deck (stern).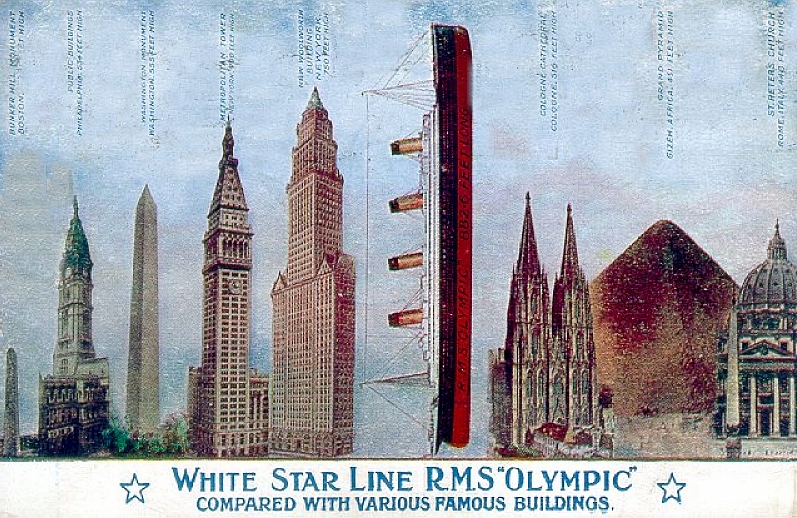 A postcard showing the size of RMS Olympic
RMS Olympic Maiden Voyage

On May 31, 1911 at 4.30 PM Captain Smith took the helm of his new ship and steered her through Belfast Lough and on to Liverpool, where she remained for a single day as she continued to Southampton the next day, arriving on June 3. Work commenced to stock up the ship and prepare her for her maiden voyage to New York in eleven days time. The ship was crewed and soon truckloads arrived with massive quantities of linen, fine china, silver and all the requirements for a fine ship, for all three classes as well as food and the all important load of coal. The ship was made ship shape and was soon spic and span, ready for inspections. Soon enough reporters board the ship and tour her taking photos for the world to see. Even a full time "Times" reporter boarded her for the maiden voyage being able to write a comprehensive story of what was let's face it a great event!
The great RMS Olympic departed Southampton on her maiden voyage bound for New York on June 14, with Captain Edward Smith in command. As he took this fine new ship out and across the Atlantic, he could never have imagined what awaited him just under a year later when he was in command of the new ship still being completed the RMS Titanic on her ill-fated maiden voyage.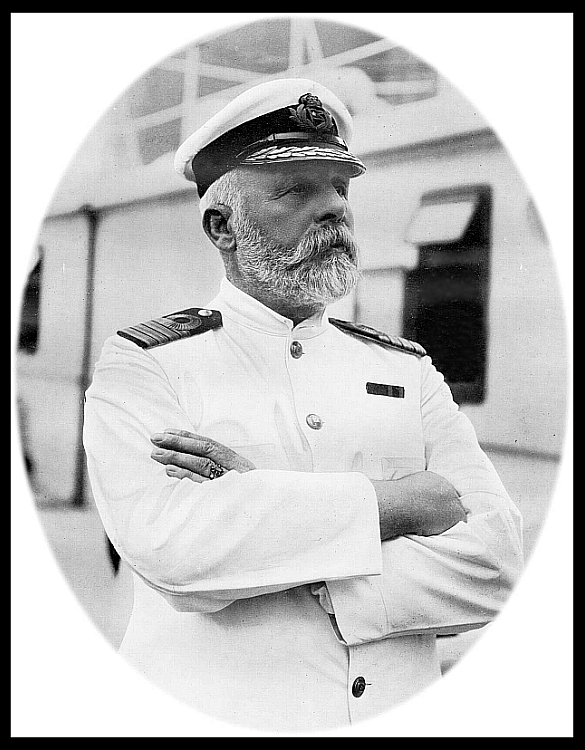 An official White Star Line photograph of Captain Edward J. Smith R.D. R.N.R.
Also aboard the Olympic for the maiden voyage was Mr. J. Bruce Ismay of the White Star Line, being the son of the Line's founder; as well as Harland & Wolff's Mr. Thomas Andrews, who was the nephew of Lord Pirrie. They were excited the way the Olympic handled, for she sailed like clockwork. The main reason Bruce Ismay had come onboard was to make any recommendations if any changes were needed for the Titanic. To sail from Southampton to New York the Olympic took 5 days 16 hours and 42 minutes. On some days, she would sail a good 540 miles, yet on other day she would only cover 430. Her average speed was 21.7 knots, which was the expected speed for her.
With Olympic's voyage having proved to be such a success and Bruce Ismay was extremely pleased and he advised his associate, Lord Pirrie that the Olympic was "a marvel" that by the time she had docked in New York the formal order for the third liner of the Olympic-class was placed.
Gigantic or Britannic?
It has always been said that the third ship was to be named the Gigantic and the story goes as thus: Before the Titanic disaster, she was to be named the Gigantic, a name which would seem to be in keeping with her sister's names. However, White Star Line later denied that she was to be called Gigantic and that late in May 1912 it was announced that she would be named Britannic, a name that was considered "lucky" due to the superb career of their first Britannic. I must say however, that the truth is that one way or another that the above has never been fully proved or disproved for that matter. But at some stage there was a poster printed in the 1900s that showed her clearly as the "Gigantic", but the question begs who printed it, for it does not say "White Star Line." Thus I will leave it open ended and for you to make up your own mind!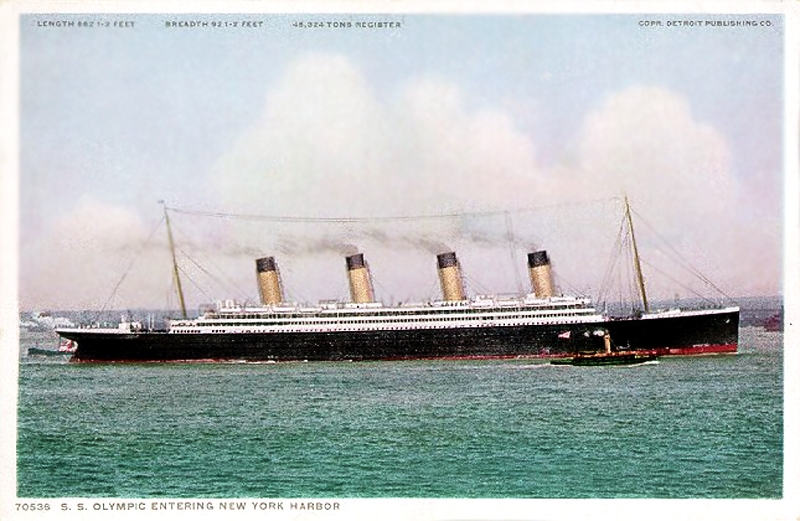 A colour postcard of the RMS Olympic arriving in New York, note that she also lacked lifeboats amidships at this stage
Just for interest: When the Olympic arrived in New York there was a considerable crowd looking at the new marvel of the sea and they were amazed at this huge ship, for they had never seen a passenger liner of that size. But it also seemed that other ships in New York harbour had not dealt with ships of that size either for some found it difficult to keep control in their berths as the massive Olympic passed by. For example the O. L. Hallenbach suffered considerable damage to her stern frame, as well as her rudder when the Olympic's propeller pulled her in. The Olympic docked at pier 59.
The Olympic departed New York at 12 PM on June 28, and returned to Southampton on July5, having completed her return voyage in a faster time having averaged a good 22.5 knots.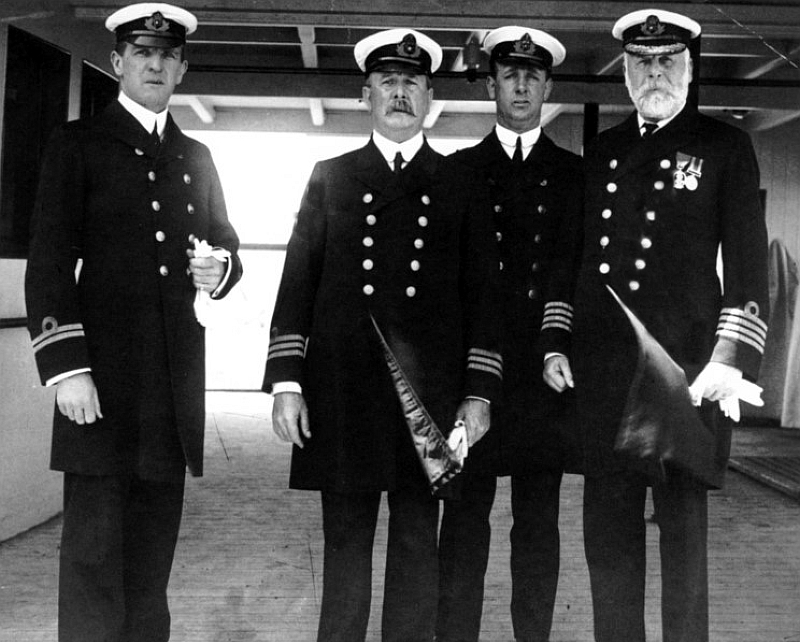 Officers on the Olympic – far left is William Murdoch and far right Captain Edward Smith, sadly both would die on the Titanic
Originally a White Star Line photograph
During the ensuing few months, the Olympic became so popular and famed on the Atlantic that her sister in building the Titanic was not given a great deal of attention, such as had been with the first of the class being the Olympic in 1911. We could ask, why? Well it could be because she was the second ship of the series of three. Of course it was only after the great tragedy she eclipsed the Olympic, even her other sister being the ill-fated war time casualty the HMHS Britannic's fame, all due to the massive loss of life on the Titanic and the media! It has been clearly stated that the "Titanic was unsinkable." The question I ask is this, "Did White Star Line ever make this claim?" At first it was plastered all over the Newspapers in 1912 and we have all heard it said over and over again in every single movie as passengers were heading off to the ship in their horse drawn carriages, etc. Well the truth is this, NO White Star Line never made such a claim, this rubbish was a total media upbeat and it has stuck to this day that people at large have began to believe it! For had it been true the "unsinkable" ship must have also applied to the Olympic and the Britannic, well considering that two out of the three sisters wend down for one reason or another, makes that proposition rather stupid, and the media, and film makers should he ashamed of themselves!
By September 20, 1911 RMS Olympic had already completed four return Trans Atlantic voyages and all had gone well and she had been the great success as expected. However, as she departed on her next voyage on that day things were to change her perfect run, for just as she was turning at Bramble Buoy and Egypt Point she was suddenly met by another ship, the HMS Hawke!
HMS Hawke's Collision with the Olympic
Olympic's fifth Atlantic voyage was not a great one to say the least, as she departed Southampton at 11.25 AM on September 20, 1911, with some 1,313 passengers on board. Then at 12.43 PM the Olympic reached West Bramble Buoy, where she turned to port and sounded her horn twice. One minute later she increased her speed from 11 to 16 knots.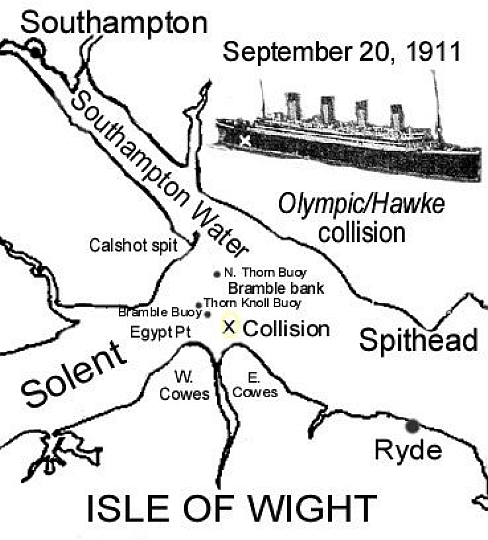 Then suddenly, even before the Olympic had finished signalling the cruiser HMS Hawke was off Egypt Point and it was obvious that both vessels were attempting to head down the same stretch of water, yet there was not sufficient room. In order to give the Olympic more room Commander William Frederick Blunt (Royal Navy) altered the Hawks position by five degrees. But still both ships collided with the HMS Hawke causing considerable damage to both ships. Captain Smith stated that the Hawke's bow reached as far forward as between the second and third funnel. But the Hawke crashed into the Olympic's side.
Although the Hawke managed to stay upright but she was very close to overturning. Both Captains ordered the watertight doors to be closed.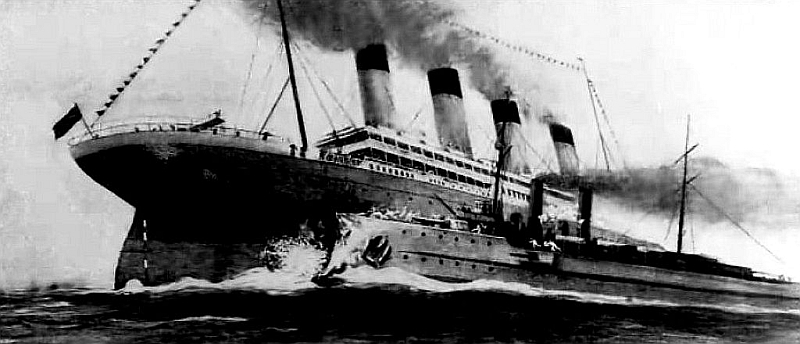 An illustration of the Olympic & Hawke collision
Artist unknown – *Please see the photo notes at bottom of page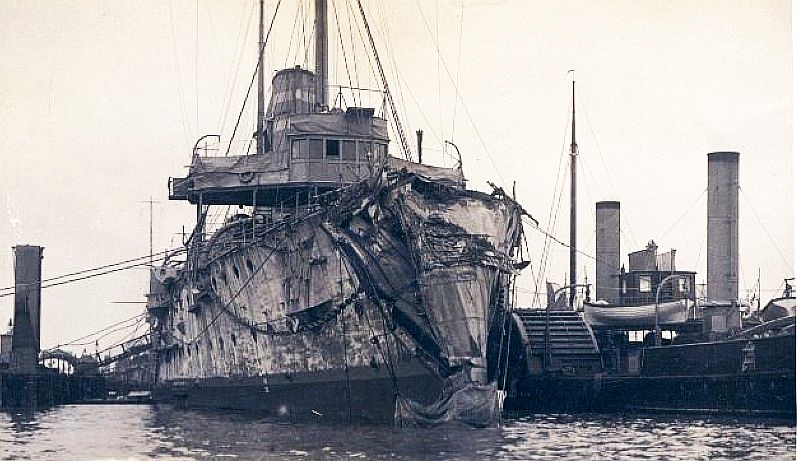 Here we see the HMS Hawke's badly damaged bow due to the direct impact of the collision
Photographer unknown – *Please see the photo notes at bottom of page
Thus the fifth voyage of the Olympic would go no further and passengers had to disembark at Osborne Bay and find alternative transport. The Hawke returned to Southampton for repairs.
It took some two weeks to repair the damage to the Olympics. The White Star Line wanted her to be back in service as soon as possible because she was the pride of the company. They would even delay the Titanic's maiden voyage if they had to. Just imagine if they had, maritime history would have been rewritten! By the way, the Titanic's propeller shaft was used to repair parts of the Olympic.
Olympic returned to service on November 20, 1911 and she recommenced her fifth voyage. For the next few months it was plain sailing. Several more trips were made successfully.
But then on the February 24, 1912 at 4:26 PM the Olympic suddenly shuddered and she lost a propeller. It meant that she had to return to Belfast for further repairs. The track record of the ship was not going too well.
Captain Smith made a total of nine return voyages to New York and then he was ordered to his new command. Captain Herbert James Haddock became the new Captain of the Olympic. Whilst Captain Smith being one trip off retirement and at this point at the pinnacle of his career was given command of the company's new liner the RMS Titanic.
Olympic's and the Titanic Disaster
RMS Titanic left Southampton on April 10, 1912 for her maiden voyage to New York, whilst the Olympic departed New York at 3 PM on April 13. There was considerable excited chatter amongst passengers and crew that the two ships would pass each other at sea. However, as fate would have it on April 14, 1912 at 11.40 PM the Titanic struck the iceberg and commenced to list.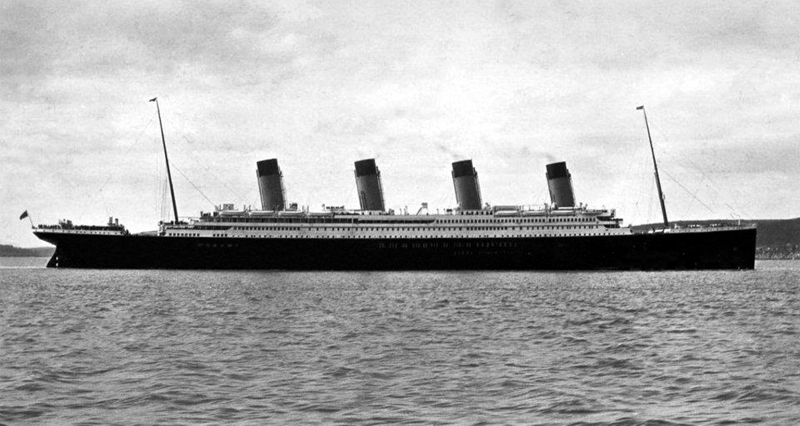 The RMS Titanic seen heading off to sea; her first and final voyage!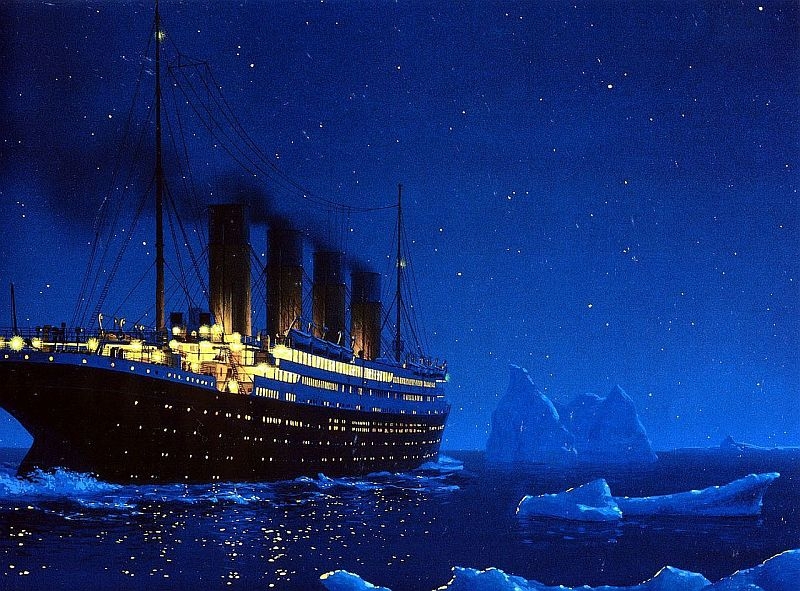 Artist impression of the impending doom awaiting a great White Star Liner!
Artist unknown – *Please see the photo notes at bottom of page
Forty minutes after the collision, Captain Smith ordered the distress signal to be sent to other ships in the area. Captain Haddock on the Olympic heard all the distress calls but did not realise the extent of the problem until about 1 AM the next morning.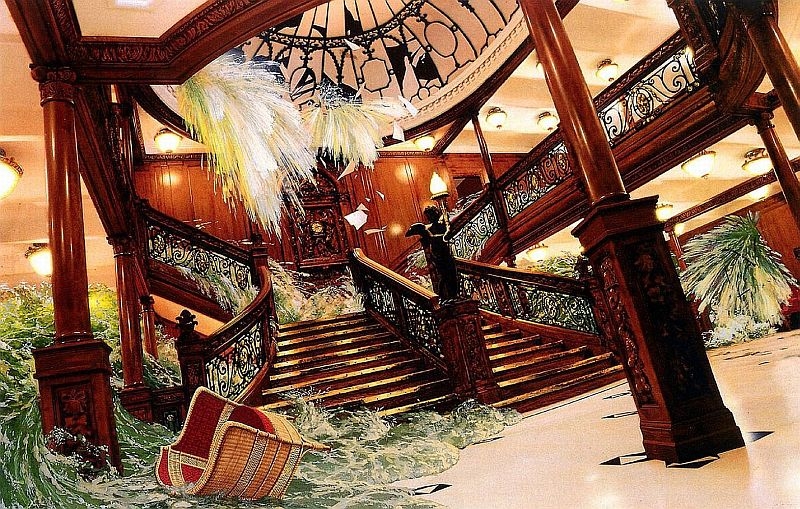 An artist impression of the disaster as the ships floods
Artist unknown – *Please see the photo notes at bottom of page
Captain Haddock realised that the Olympic was over 500 miles away the tragic scene, which was a full days sailing at full speed and he would be far too late. Yet Captain Haddock replied to the Titanic that he was "lighting up all possible boilers." Sadly, most ships that the Titanic had signalled were too far away and when the Titanic did sink there was only one ship close enough to assist, the SS Carpathia who did a superb job, but sadly it was already too late for the so many of passengers and crew who had perished!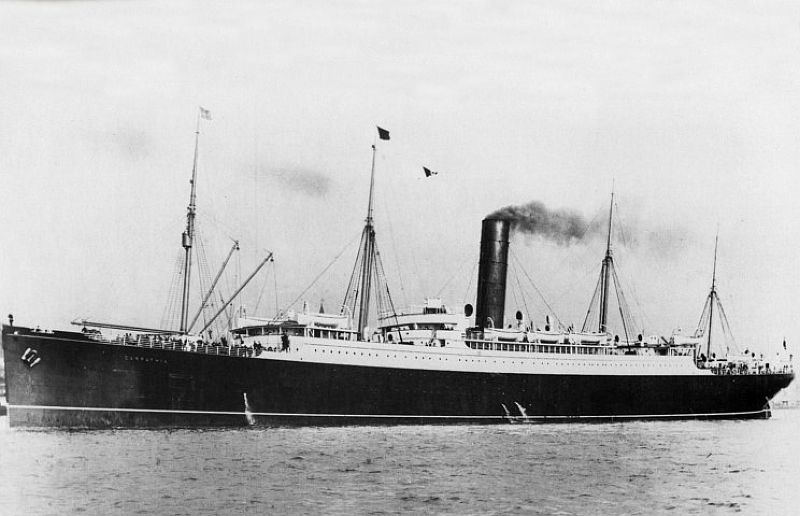 Here we see the SS Carpathia which became the great saviour of so many
The Aftermath of the Tragedy
Finally a decision had to be made that the Olympic had simply no choice but to continue straight to Southampton as she would be of no further assistance. She arrived on Sunday April 21, with most of her passengers being in a rather melancholic mood considering they had heard news of the tragedy. There may well have been passengers that have had friends or even relatives on the Titanic and thus they would have been eager to check the passenger lists posted by White Star Line.
Due to the tragedy, it was quickly decided just a few days after Olympic's return to Southampton, that she had to undergo some important safety alterations. Obviously, lifeboat capacity had been examined with scrutiny and thus she was fitted with an additional 24 boats and further crew to man them. Sadly many of the lifeboats on the Titanic left without being filled or manned by an able seaman.
The Board of Trade had to inspect the changes before she was to depart on another voyage and Captain Maurice Clarke was in charge of doing so, thus he gave the ship a vigorous inspection. He ran continues lifeboat drills trying out all the new davits and thankfully he was most impressed with the new improvements, as it took and average of 12.5 minutes to lower each boat.
The Olympic should have sailed on the 24th April 1912 but the voyage had to be postponed, which was not due to the Titanic disaster or adding the lifeboats and inspection, etc, but the ships crew refused to sail on a ship that had collapsible lifeboats. They insisted on conventional open type wooden boats and they simply did not care that Captain Clarke was satisfied that the Olympic was now safe. However, White Star Line would not accept the crews reasoning and decided they would obtain another crew. The Olympic was taken to a secure dock off Spithead whilst the company sought a new crew. But they found it a rather demanding task, thus a trade union delegation stepped in and offered a compromise. Apparently the debate was the safety of the collapsible lifeboats, for when they were in water for considerable time. It had been said that most collapsible boats on the Titanic had drifted off when the ship slowly sank and they queried, "Would this happen again?"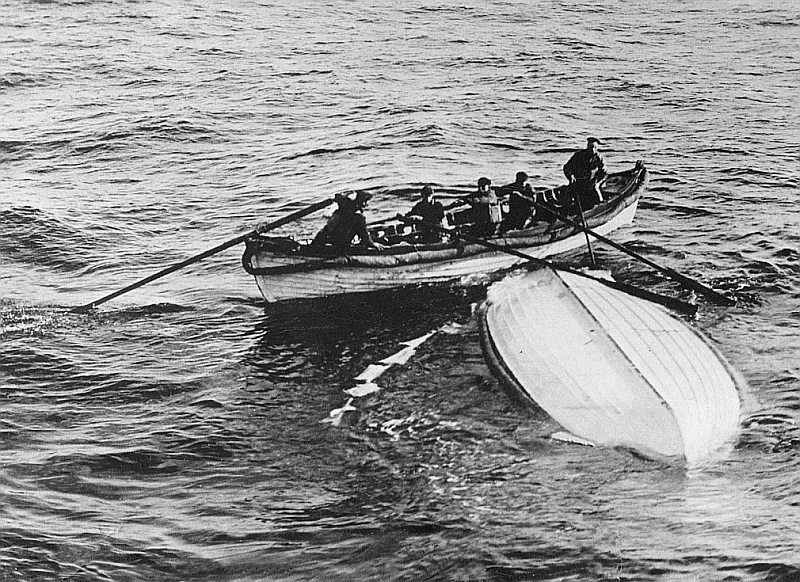 Here we see collapsible lifeboat number B that was found adrift by the ship
Mackay-Bennett during its mission to recover last of the bodies from the Titanic site area
Therefore some six collapsible lifeboats were lowered and left in the water for over two hours and they were then closely examined to see how much water they contained. Five out of the six were completely dry but the sixth had a small leak, but it did take two full hours for the water to appear. It could easily have been bailed out during use. It was agreed that the boats were indeed safe. The sixth boat was duly replaced and 168 new crew members joined the ship. Unfortunately, the original crew were not only dissatisfied with the lifeboats but with the new crew as they saw them as not only being inexperienced but undesirable to have around. Many were very angry and fearful about their future position with the company that well over 60 left their employ and looked for work with other lines.
Thus with the Olympic being two days behind schedule on April 26 at 3 PM White Star Line officially cancelled the voyage. The Olympic returned to Southampton so that her passengers could disembark. Her next scheduled Voyage was now scheduled for May 15, 1912. It gave the White Star Line sufficient time to find union approved crew as well as lifeboats.
On 22nd May 1912, the RMS Olympic arrived in New York once again. Then as soon as she docked Senator William Alden Smith, Chairman of the American Congressional Committee came on board as he was in charge of the American Enquiry in to the loss of the Titanic. Obviously he was checking the capacity of the ship as well as her safety features. He was shown various features, including the watertight doors and how the lifeboats worked. Mr Smith seemed satisfied. It must have been strange situation for Captain Haddock to have to face for it seemed that the whole world is watching him.
Refit 1912/13:
The Olympic continued to make several more return before she would head back to her builder Harland & Wolff in Belfast for extensive modifications.
These modifications included the addition of a new watertight bulkhead that divided her Electric Engine Room, as well as the installation of an inner skin running the full length of her Boiler and Engine Rooms, as well as the raising of several critical transverse bulkheads all the way to B Deck. During this refit, the Olympic was also blessed with few of the Titanic additional interior features, such as the delightful Cafe Parisian, which was located alongside the optional First Class super deluxe Ala Carte Restaurant. Upon completion Olympic emerged somewhat larger than the Titanic had been.
A note regarding the Ala Carte Restaurant:
The Ala Carte Restaurant was situated on B or Lower Promenade Deck and was for the exclusive use for First Class passengers only. This sumptuous restaurant was in addition to the already sublime First Class Main Restaurant on D Deck. However, to dine in one of the world's finest Restaurants there was an optional charge!
When the Olympic was launched this amazing venue was very quickly voted as being one of finest Restaurants in the world. The Ala Carte Restaurant was situated on B deck for the exclusive use for First Class passengers only and this sumptuous restaurant was in addition to the already sublime First Class Main restaurant on D Deck. Even though this was certainly high end dinning venue and it was therefore quite costly, however, meals were available from 8 am till 11 pm daily and all tables were always fully booked.
The Restaurant would be headed by one of Europe's, famed Restaurateurs and the kitchen would have one of the top rated Head Chef's and his staff were sourced from the finest "International Brigade" as there men from Italy, France, Swiss, Dutch, Belgium's, Spanish and of Course English, totalling some sixty eight staff ensuring the finest possible cuisine and the ultimate in service.
The Restaurant Manager believed in the principle that the customer is always right and every wish and whim must be pampered to. If we glance through the list of occupations of some of his men we can see a world of opulence and luxury, for example, besides some of the best qualified waiters there was the Roast Cook and his assistant Roast Cooks, Pastry Cooks, Fish Cooks, Soup Cook, Iceman, Entree Cook, Wine Butler, Waiters, Barman, Glassman, Carver, Maitre D' Hotel, Plate-men and of course a number of Page Boys to take messages and do all the running about as required.
Besides wonderful food, the Restaurant also offered some of the world's fines wines, champagnes and caviar, thus no wonder that the rich and famous queued up for the privilege of dining there and passengers who booked a table for the entire voyage at the time of booking were granted a reduction on their fare by White Star Line. In fact, Charlie Chaplin did just that and had his table for the complete voyage and he regarded the Olympic's Ala Carte Restaurant as his favourite Restaurant be it on land or at sea.
Refitted Olympic departs:
On March 22, 1913 the refitted Olympic departed from Belfast headed for Southampton and departed for New York on April 2, 1913.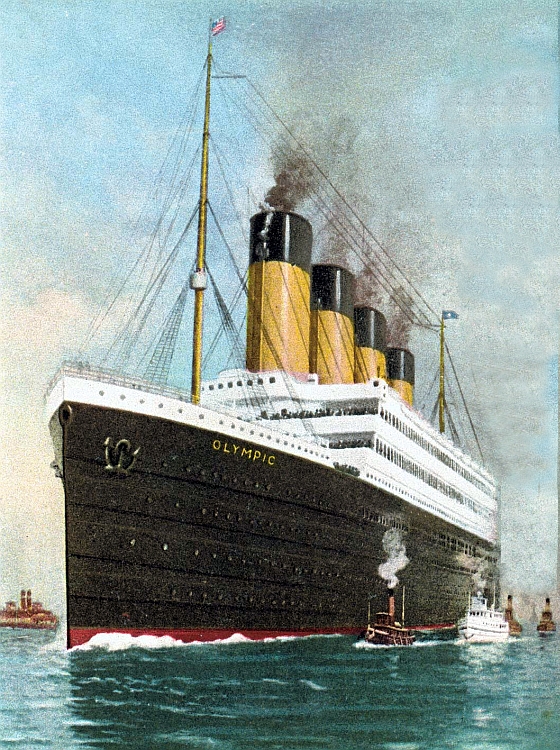 Painting of the modified & refitted RMS Olympic departing Southampton on April 2, 1913
Soon time passed since the tragedy of the Titanic and the Olympic certainly did not suffer from any problems, thus she proved to be the perfect ship for White Star Line, especially knowing that now she had been fitted with all the appropriate safety measures and thus the Olympic was gaining more and more popularity as time passed!
The War Years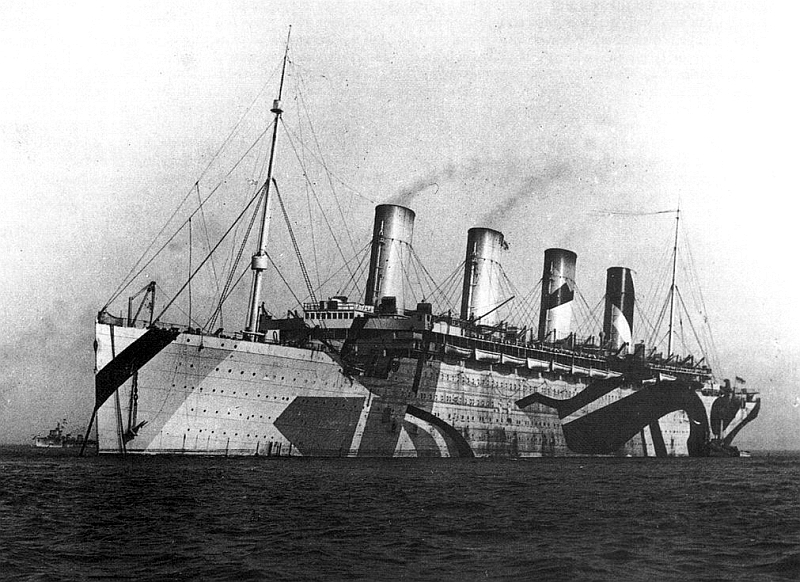 The Olympic seen in one of her pain jobs during the war years
With the war having been declared, the Olympic sailed on April 8, 1914, without any passengers, no mail or cargo from New York back to Liverpool. She was escorted part way by British cruiser HMS Essex, and she was met by cruiser HMS Drake just off the Irish coast. Although she did make several further passenger voyages, but these were between Liverpool and New York instead of Southampton.
She departed New York on October 21, with some 1,600 passengers on board. However on October 27, she was alerted by wireless that the battleship HMS Audacious had struck a mine off Toy Island and the Olympic rushed to the scene and managed to rescue 250 of the 900 seamen with other British warships having picked up the remaining crew, with only 2 crew members having perished. The HMS Audacious was wallowing helplessly and her stern awash, thus the Olympic attempted to take her in tow, but sadly the battleship could not be saved.
When the Olympic anchored in Lough Swilly, her passengers were not permitted to disembark until they had sworn to secrecy about the sinking of the HMS Audacious. However, for gratitude of the rescue, Captain Haddock was made a Commander of Merchant Ships based in Belfast fitted to look like battleships to confuse the enemy.
On 1st September 1915 the SS Olympic received a telegram requiring her for urgent Government service. It was time to prepare her for war and thus she sailed to Belfast, where she is taken out of service for conversion to a troopship. This would take 10 months, during which she is fitted with a 12 pound gun forward and a 4.7 inch gun aft.
For White Star to see their luxury ship being fitted out for war use is one of the biggest nightmares for the government will only pay a flat rate for the loan of a ship like the Olympic something like a miserable £23,000 per month and from this rate the shipping company would have to pay their staff and crew etc, they would often run at a loss as the White Star Line would soon find out. Secondly, market values of ships were never agreed to between the companies and the Admiralty. Questions about who would pay for the ship, should it happen if she sank. Did White Star need to obtain their own insurance? Well they decided to play it on the safe side and insure the excess amount themselves at their own expense.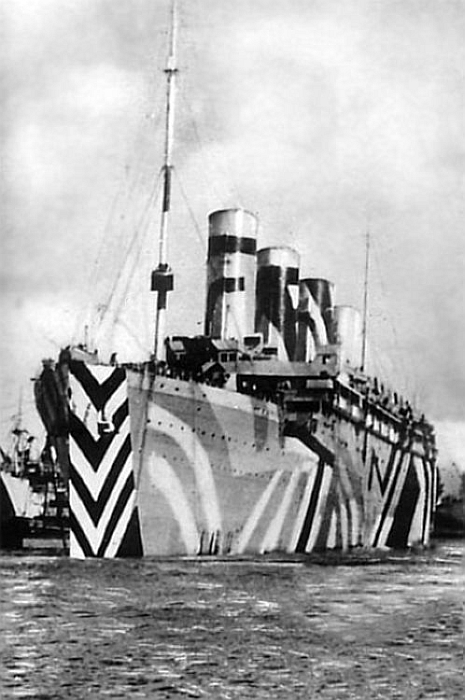 The completed HMT Olympic T2810 in her new paint job which was different on both sides of the ship
HMT Olympic was ready for service on the September 24, 1915. She was given the transport number T2810. Her job was to transport British troops to various countries. She sailed from England to the Eastern Mediterranean with 6000 troops. During the voyage, close to Malta there was an adventure on the way, for the French steamship Provencia had been torpedoed. and they rescued French sailors from a drifting lifeboat from the ship. Soon they were transferred to the SS Aragon. HMT Olympic returned to Liverpool from this voyage on October 31.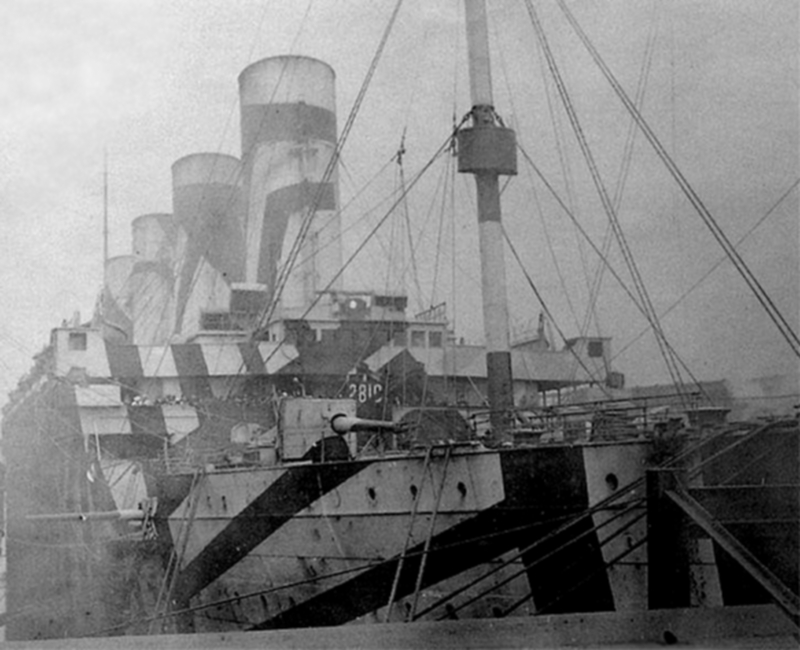 HMT Olympic is seen in port and note her transport number just below the Bridge
The Olympia made countless voyages to the Mediterranean as well as to Canada and New York. But the only other point of interest during her war years happened on the April 24, 1918 when Olympic was sailing on the English Channel, where after careful planning by Captain Hayes (who had replaced Captain Haddock) the German U-boat U103 was struck full on by the Olympic and it sank. Captain Hayes was awarded a DSC.
In November 1918 the German government surrendered and finally it was peacetime again. Although the war might well have been over but there were troops still posted all over the world and the Olympic continued to make the round trips, but only to bring troops home to England. Eventually in August 1919 she was decommissioned.
Olympic Post War Years
By August 1919 the Olympic was ready to be refitted and be restored as a luxury Trans Atlantic liner once again. Work was carried out from 1919 to 1920. Then on June 17, 1920 RMS Olympic was finally ready and a celebration party was held on board to celebrate the return of "Old Reliable." Soon the great ship departed, bound for New York on June 26. 1920.
As the great Olympic had returned she proved to be even more popular than ever before. Reports were given on how much passengers used the swimming baths and her Turkish bath. Even Silent Movie star Charlie Chaplin decided to sail on the great RMS Olympic and he was known for enjoying frequent card games in the smoking room!
Captain Hayes thoroughly enjoyed his last voyage on the Olympic on December 21, 1921, for he was given the command of the Adriatic. Now he was at his pinnacle of is career, just like Captain Smith had been before the loss of the Titanic. Hayes would be replaced by Captain Alec Hambleton who had been on the Adriatic. The Olympic sailed on as usual and with many government official, diplomats, dignitaries and super stars sailing on her, thus she continued to be a success story!
But then another incident occurred, for on May 22, 1924 the Olympic was involved for the second time in a collision, but this in New York City. Then she collided with was the Furness Bermuda liner Fort St. George, and the damage meant that the Olympic's entire stern frame would need to be removed and replaced. This was a huge repair job and an operation that had never been attempted on a ship of her size before, but it needed to be done for the Olympic to keep sailing long term.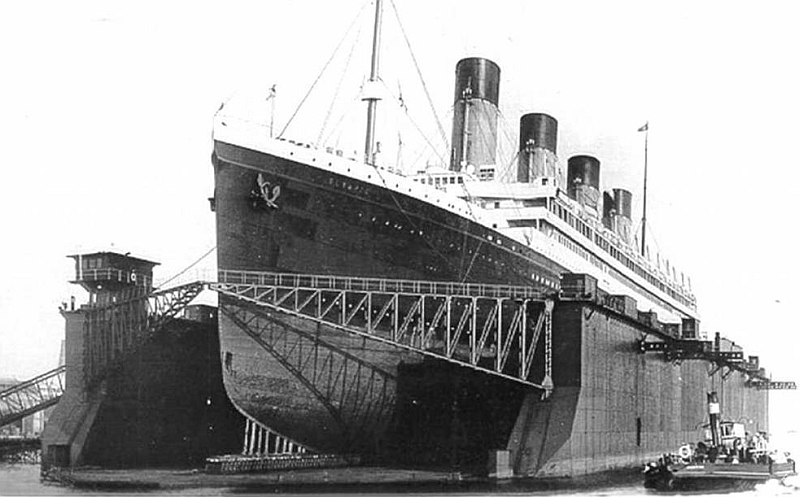 Olympic in Southampton's dry-dock for repair work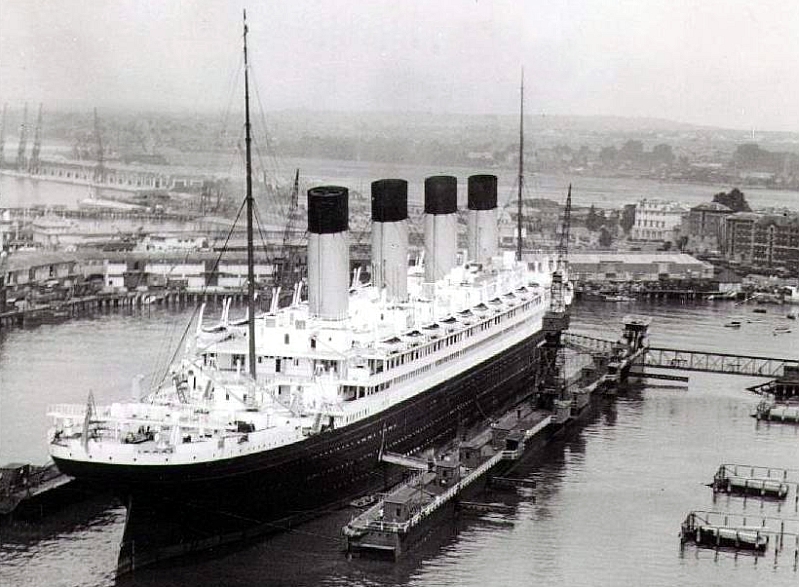 Work is completed and the Olympic is ready to be floated out and return to service
However, by 1930 it became clear that this good old girl was ageing rapidly, for back in 1927 work had been carried out to the bridge. And at this stage, the company was looking at a further repair cost at least another £100,000. White Star Line certainly did not want to spend that much on such an extensive job, thus some welding repairs were settled for.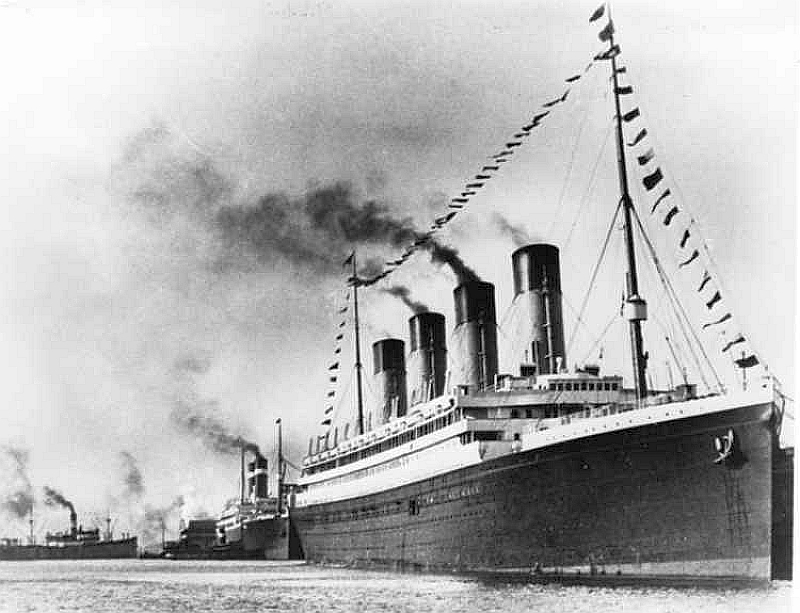 Olympic seen in 1931 – it has been said that this image was taken in Halifax, but this is doubtful
By 1931 further stress cracks had appeared near the funnels. The Board of trade would only certify the ship as safe for a period of six months and they would review the situation six months later. However, in March 1933, the Board of Trade did give the ship an all clear.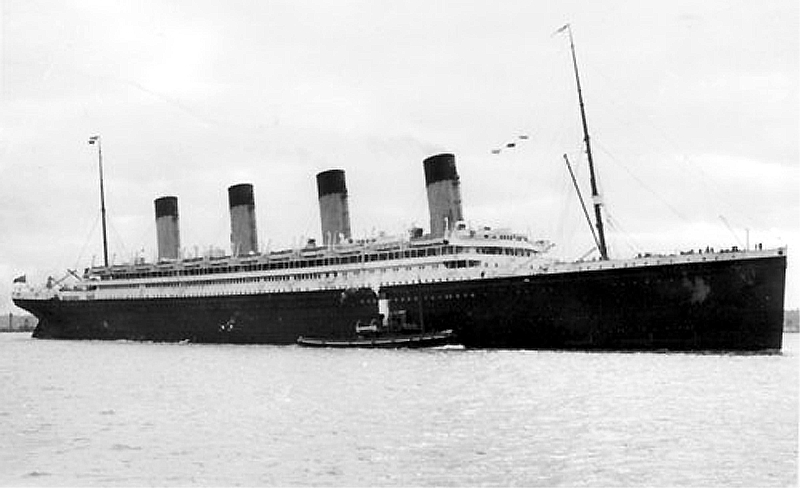 The Olympic is seen here flying both the White Star and Cunard flags from her aft main mast, thus this was taken in the early thirties, her final years
In the autumn of 1931 the White Star line and the Cunard Line merged. White Star Line's contribution to the merger was the giving of 10 ships, one of which was the Olympic, although White Star did suspect that the Olympic would not last that much longer.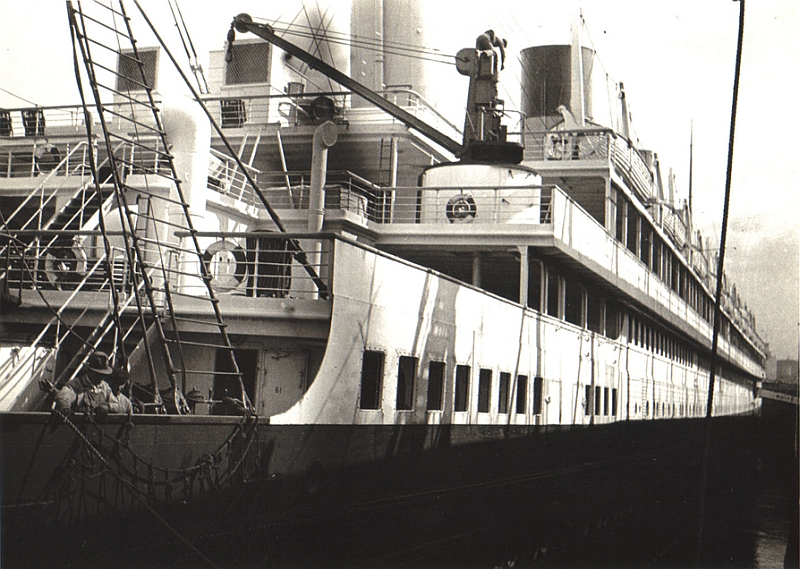 Here we look along her starboard side forward whilst the Olympic is in New York in 1934 heading towards her final days
Photograph by Everett Viez - USA, from the Rich Turnwald Collection
Then on the May 15, 1933 disaster struck as the Olympic under the command of Captain John Binks smashed into the Nantucket Lightship, and the lightship was completely destroyed! The sheer height and speed of the Olympic made it impossible for her not to cause damage to smaller ships. The ugly feelings of the Titanic were stirred up once more in the USA. Following the lightship incident the usual law suits flew up to a staggering US$500,000.
Although Olympic continued in service, but by now she had lost her gloss and worst still she was rapidly declining. Thus, in January 1935, it was officially announced that the Olympic would soon be withdrawn from service and be laid up, which happened on April 12. This once great and proud ship sat totally abandoned for just a little over six months. In September that same year the Olympic was sold for £100,000 to Sir John Jarvis of Metal Industries who then sold her to the Jarrow ship breakers of Thomas Ward & Sons.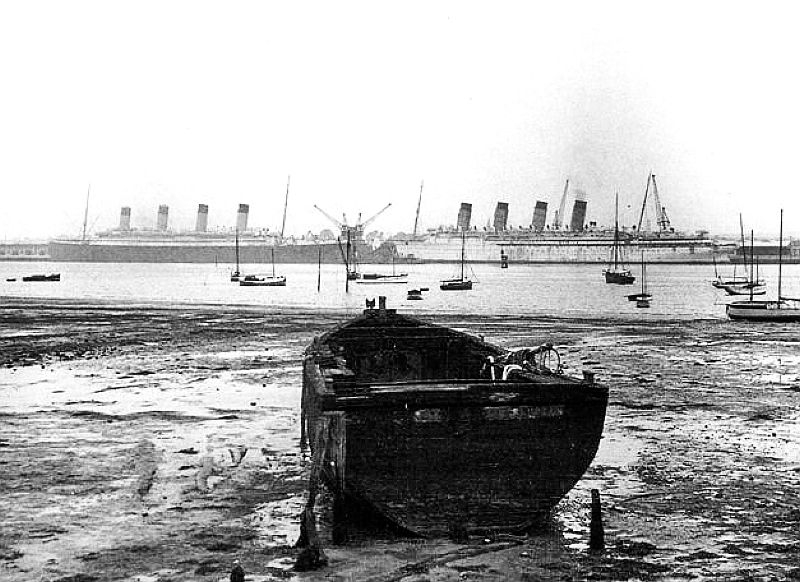 Here we see the Mauretania and the Olympic laid up in Southampton in 1935
Photographer unknown – *Please see the photo notes at bottom of page
As the once great Olympic sailed to that Jarrow graveyard in Scotland in October 1935 Chief Engineer McKimm, was very sad and he said, "I could understand the necessity if the 'Old Lady' had lost her efficiency, but her engines are as sound as they ever were."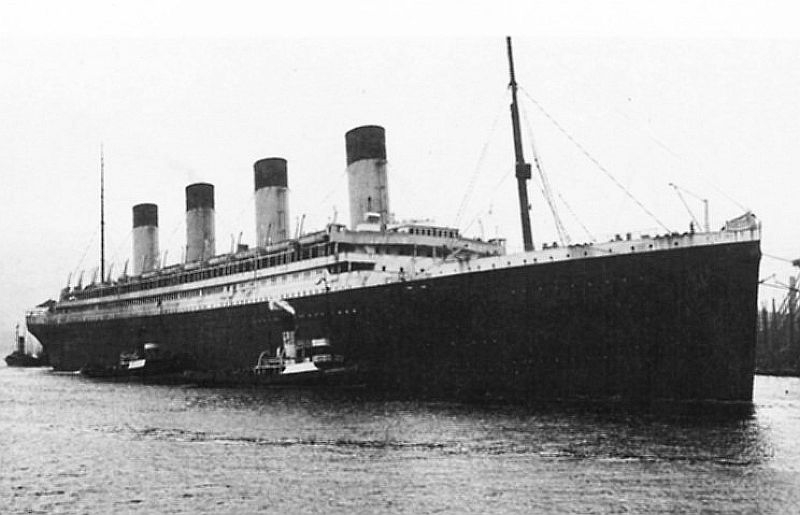 October 1935 - The Olympic is seen on the Tyne heading for Jarrow in Scotland to be broken up in October 1935
Photograph source - Thomas Ward
She arrived at the "Thomas Ward & Sons" breakers yards on October 13 and soon works on dismantling her commenced. However the work was not completed at Jarrow, for it ceased when they had stripped the ship down to her lower hull section. Being partially dismantled, she would need to be moved elsewhere for the work to be completed. Thus on September 19, 1937 what was still left of the Olympic, being mostly a section of her hull was towed to Inverkeithing also in Scotland, where the job of breaking "Old Reliable" up was finally completed, and in due course this once magnificent Grand old liner once hailed as being the world's largest and most luxurious passenger ship was no more but a wonderful memory!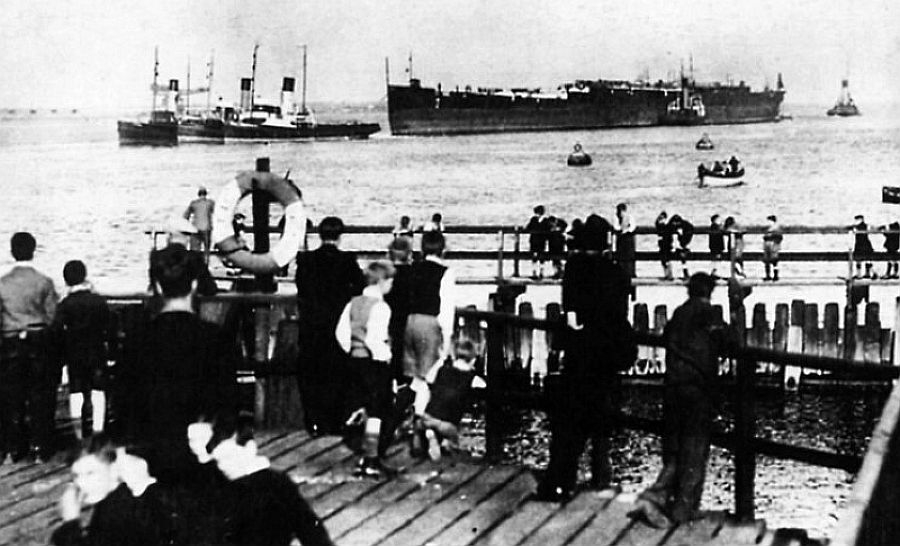 What is left of the once great ship's hull is being towed to Inverkeithing for breaking up to be completed
Photographer unknown – *Please see the photo notes at bottom of page
In Conclusion:
Tragically due to her sister Titanic sinking and tragic loss of life due to man's (White Star) stupidity the great and sublimely successful RMS Olympic has become the forgotten liner – WHY? All the emphasis is based on the Titanic, even though her other sister, the Hospital ship HMHS Britannic did her country proud, but she was also tragically lost whilst on duty for her country. But sadly the Titanic has even allowed this fine ship and her tragedy to be somehow minimised,
I find it very sad indeed that the ship that commenced the Olympic Class Trio and was such a great success for 24 long years, having served countless passengers as well in war service for her country having survived, is hardly ever remembered by the world, for people seem to be madly fixated by a disaster stories such as the tragedies, especially the Titanic! That is why I have not and never will write on the Titanic.
There is however a feature on the RMHS Britannic and a link is located at the bottom of this and Page Two as well as on our SITE INDEX.
Thankfully Parts of Her Remain to this day!
The great RMS Olympic had been in service for 24 years. When she was sold her magnificent interiors were stripped and sold off at a London Auctioneers of "Knight, Frank & Rutley." There were 4,456 lots. Sadly, the public were not permitted to view the items, but only see and read the descriptions in a catalogue, which cost two shillings and six pence. The sale lasted nine days and many of these items now grace restaurants, clubs, hotels and other establishments who were astute enough to purchase them at the time!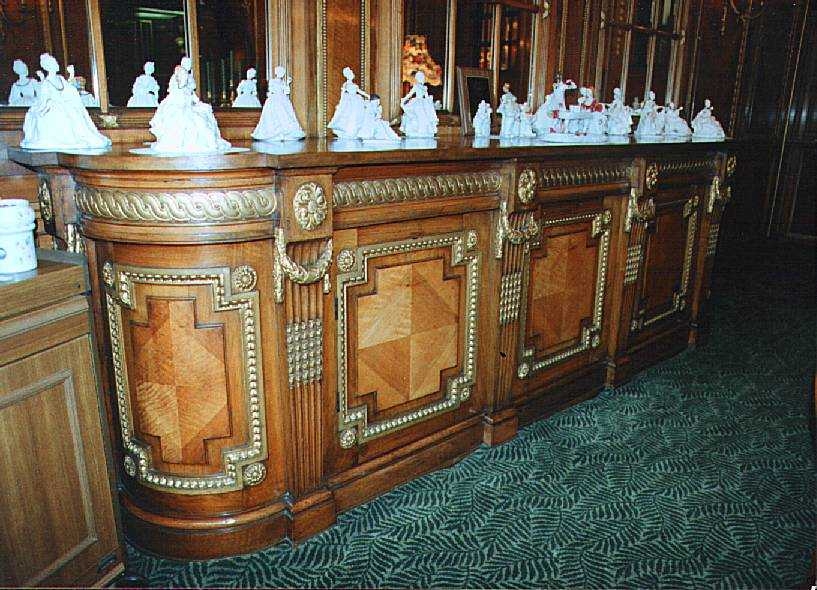 Here we see the Ala Carte's Restaurant Bar that is located somewhere in the UK
This photo was sent in by a supporter, but the photographer and location is unknown – *Please see my photo notes at bottom of page!
*****************************************************
Deck Layout complete with Public Rooms and other facilities:
Boat Deck: Bridge; radio room; officer's quarters; lifeboats; gymnasium. Outdoors there is the First and Second (far aft) open Deck space.
Promenade (A) Deck: First Class staterooms, Writing and Reading Rooms, The First Class Lounge and Smoking Room followed by the Verandah Cafe and Palm Court. Outdoors there is the First and Second (aft) covered Promenade Deck space.
Bridge (B) Deck: First Class suites, two First Class "Millionaire" Suites, First Class Ala Carte Restaurant and Café Parisien (added in 1913), and the Second Class Smoking Room.
Once the First Class passengers had boarded the Oceanic they were met by the impressive Grand Staircase, which was sixteen feet wide and it provided access to five decks and was some 60 feet high. The ceiling was a massive glass dome that contained an elegant chandelier. Page Two has a number of photographs of this magnificent stairwell.
Shelter (C) Deck: First Class Suites, Second Class Library, Third Class Social Room and Smoking Room, crew accommodations, cabins for maids and servants who accompanied many of the First Class passengers. First Class Barber shop, Doctor's office, Purser's office; hatches for loading the ship.
Saloon (D) Deck: First Class Dining Room; and Reception Lounge, Second Class Dining Room, First and Second Class galleys (kitchens) and pantries; first, Second and Third Class cabins, crew quarters, First and Second Class bakery and butcher shops, hospital.
Upper (E) Deck: First, Second and Third Class cabins, crew quarters, Second Class Barber Shop.
Middle (F) Deck: Aft - Third and Second Class and cabins, crew quarters, Third Class Dining room, Third Class galley, Third Class bakery and butcher shop. Forward - Swimming pool and Turkish bath.
Lower (G) Deck: First Class Squash racquet court, Post Office, food freezers and coolers, baggage rooms, cargo hold, crew quarters, some Third Class dormitories far forward.
Orlop Deck: Engine rooms, boiler rooms, coal bunkers, fresh water tanks, food storage, wine cellar, cargo and refrigerated cargo hold, baggage rooms.
RMS Olympic's Specifications:
Builder:                                                      Harland & Wolff, Belfast.
Yard Number:                                            400.
Launched:                                                 October 20, 1910.
Maiden Voyage:                                         June 14, 1911.
Tonnage:                                                   45,324 GRT (Gross Registered Tons) 1911 - 1913.
                                                                                 46,439 GRT 1913 - 1920.
                                                                 46,439 GRT 1920 – 1935.
Displacement:                                            52,310 tons at 34.7ft.
Length:                                                     882.9ft – 269m.
Breadth:                                                    92.6ft – 28.2m.
Draught:                                                    34.6ft – 10.54.
Engines:                                                    2 x four-cylinder coal fired steam reciprocating engines – Oil fired from 1920.
1 low pressure turbine engine to middle propeller.
Boilers:                                                      25 Double ended – 4 Single ended.
Funnels:                                                    4.
Screws:                                                     Triple - 51,000 IHP.
Speed:                                                      21 knots service speed – 22.5 knots max.
Passengers:                                               First Class: 1911 - 1,054 – from 1913 – 735.
1919 – 750. 1928 – 675.
Second Class: 1911 - 510 – from 1913 – 675.
                                                                 1919 – 500. 1928 renamed Tourist Class – 447.
Third Class: 1911 - 1,020 – from 1913 – 1,030.
                                                                 1919 – 1,150. 1928 – 382.
Crew                                                         860.
Passengers Decks:                                     8.
Masts:                                                       2.        
Displacement Tonnage?
The displacement tonnage, or rather the weight of seawater that a ship displaces, being an estimate of literal weight, rather than the enclosed space (GRT - Gross Registered Tons) of the Olympic has often been cited at 66,000 tons, which is wrong, yet it has even appeared on White Star literature by error. It is quite obvious that this figure is completely inaccurate. For we should ask what was Olympic's actual displacement, or the Titanic for that matter?
The weight of the ship would vary pending on her load status for example her load of fuel, cargo and provisions, etc.. Let's take the measurement of 52,310 tons (British tons of 2,240 pounds, or just over 117 million pounds) stated would apply to the ship with a draught of 34.7ft. But a draught of 27.105ft, she would displace 40,850 tons; at a theoretical rather deep draught of 36ft, she would still displace less than 55,000 tons. Thus, the Oceanic is the same as her sister Titanic at - 52,310 displacement tons at 34.6ft.
*****************************************************
Remembering the Olympic Class Trio
RMS Olympic, RMS Titanic and the RMS/HMHS Britannic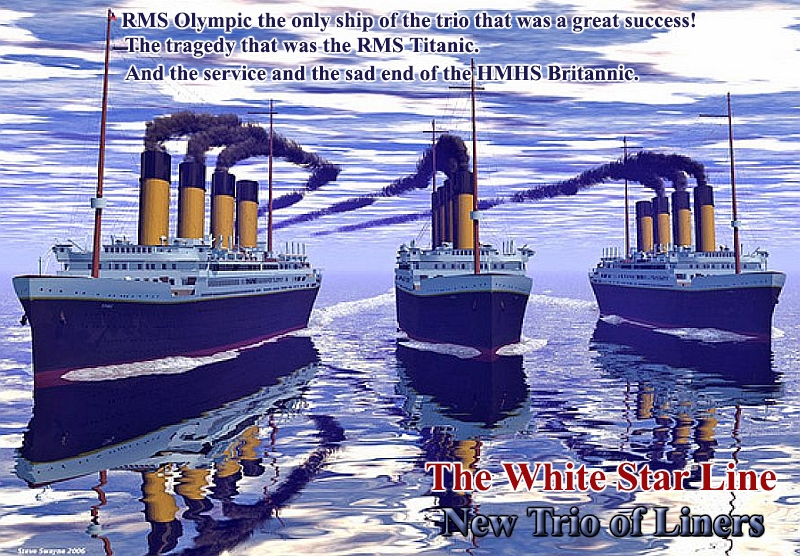 Artist of image Steve Swayne

Please Note: I intend adding another page in due course on the … HMT Britannic in due course.

Page One  …                      Olympic's History Page - in service 1911 to 1935

Page Two …                       Olympic's Interior Photographs (This Page)

HMHS Britannic …             The Britannic story - in service 1915 to 1916

**************************************************

Use the Back button on your browser or Close the Page to return to the previous page
or go to the - SITE INDEX

ssMaritime.com & ssMaritime.net

Where the ships of the past make history & the 1914 built MV Doulos Story

Also visit my …

"Save The Classic Liners Campaign"

Photographs on ssmaritime and associate pages are by the author or from the author's private collection. In addition there are some images that have been provided by Shipping Companies and private photographers or collectors. Credit is given to all contributors. However, there are some photographs provided to me without details regarding the photographer/owner concerned. I hereby invite if owners of these images would be so kind to make them-selves known to me (my email address may be found on www.ssmaritime.com only), in order that due credit may be given. I know what it is like, I have seen a multitude of my own photographs on other sites, yet these individuals either refuse to provide credit or remove them when asked, knowing full well that there is no legal comeback when it comes to the net. However, let us show these charlatans up and do the right thing at all times and give credit where credit is due!

This notice covers all pages, although, and I have done my best to ensure that all photographs are duly credited and that this notice is displaced on each page, that is, when a page is updated!

ssMaritime and associate pages are owned and © Copyright by Reuben Goossens - All Rights Reserved