Orient Line - R.M.S. Ormonde 1917 to 1952 - Page One
Please Note: Firefox and some other Search Engines may not be suitable
Use Google Chrome for this Web Page to load perfectly!

Please Note: All ssMaritime and other related maritime sites are 100% non-commercial and privately owned, thus ssmaritime is NOT associated with any shipping company or any other organisation! Although the author has worked and been involved in the passenger shipping industry for well over 60 years, but due to his old age and poor health, he was forced to retire. Yet, he has completed well over 1,550 Classic Liners, Passenger-Cargo Liners as well as humble converted C3 converted Migrant Liners, which has transported countless thousands of folk to the new world, as well on vacations'. Amazingly, ssmaritime.com has received 573.4 million visitors to date I trust the features online will continue to provide Classic Liner and Ship enthusiasts both the information they are seeking, but more so provide a great deal of pleasure and relive many happy memories!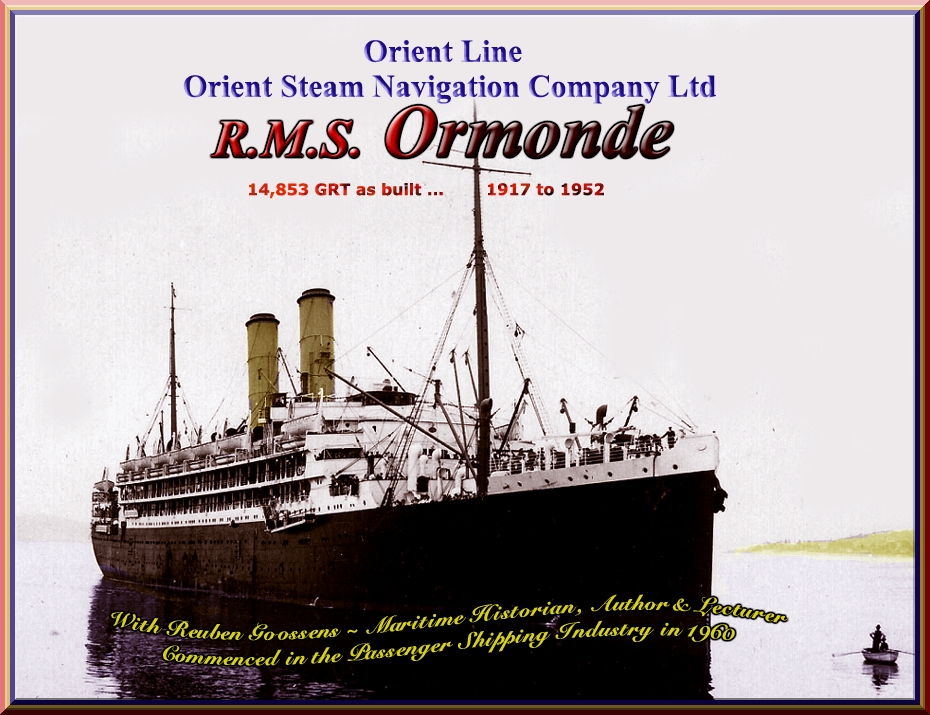 Please Note: Postcards, photographs & other images are either from the author's private collection or from my supporters.
Thus a very thank you to my ssmaritime supporters for sending me their wonderful images
Sadly, some of the images shown may not be of the highest quality, but they are the best that were available
Page One
1. Construction of a New Orient Liner:
With some six 12,000 GRT (Gross Registered Ton) liners already operating on the London / Australia service, Orient Line decided to build a ship of a relatively similar design, but slightly larger at almost 15,000 GRT. Thus, on October 21, 1913 the keel of the new Orient liner was laid in Yard 425 at the John Brown & Co Ltd, shipyards at Clydebank. However, with a war imminent all work was halted in August 1914 and the un-named ship remained unfinished in the yard.
Yet due to the war being very close, there was a demand for troopships thus early in 1917 work on the ship recommenced and she was completed with spartan quarters suitable for troops. On February 10, 1917 she was launched without a ceremony, or any fuss, and she remained un-named, and she was towed to the John Brown Fit-out berth where she would be completed.
Then in October 1917, she was officially requisitioned under the "Liner Requisition Scheme" as a Troop Transport ship. A month later, on November 3, 1917 the completed troopship was delivered to the Orient Line. On December 5, she was officially registered at Glasgow in the ownership of the Orient Steam Navigation Company Co. Ltd., London as Ormonde, with a tonnage of 14,853 GRT.
2. The Great War - World War One:
November 19, 1917 Troopship Ormonde sailed from Glasgow and she headed for Australia, she then operated a voyage filled with the "First AIF" Battalion to Egypt and the Gulf, and she returned to Sydney. In Sydney she boarded, amongst others, the 49th.Battalion and on March 2, 1918 the Troop Ship Ormonde departed Sydney and she headed via Africa for Southampton where she arrived on May 15, 1918. During 1918 and 1919 operated in rapid Mediterranean convoys and during the war she carried over 30,000 troops up to March 1919.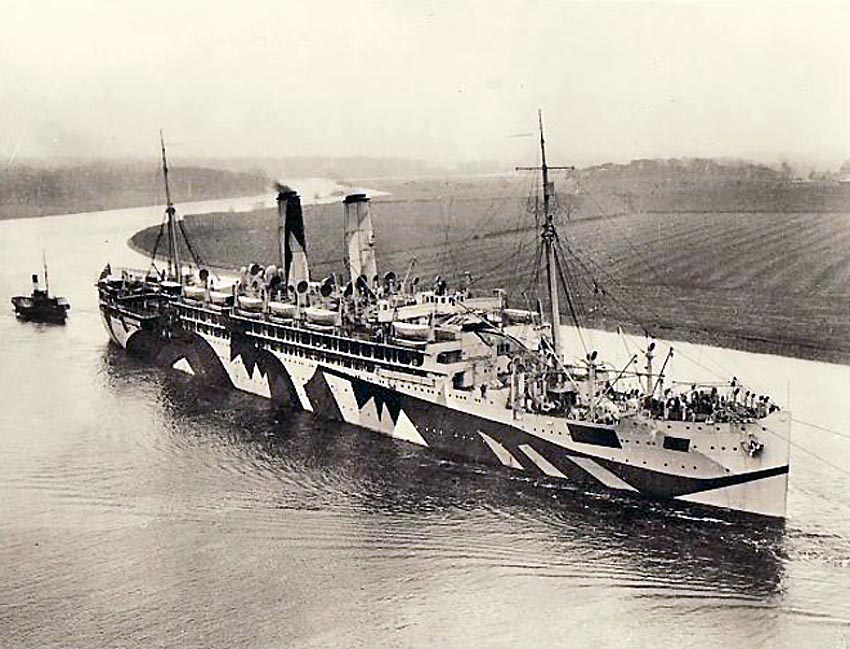 Troopship H.M.T. Ormonde is seen in Australia
Photo from the State Library of Victoria
During her service, the trooper, Ormonde was attacked on three occasions by U-boats, yet she survived each attack! H.M.T. Ormonde's last Government voyage departed on April 8, 1919 and she repatriated wives, and families of serviceman from India.
3. RMS Ormonde:
Once the H.M.T. Ormonde had completed her trooping duties on June 14, 1919 she returned to John Brown's Fit-Out berth at Clydebank where she would be completely refitted into what she was originally meant to be a fine Passenger liner! She was fitted with spacious Lounges, Saloons and Dining Rooms and accommodations for; 278 First Class, 196 Second Class and 1,017 Third Class passengers.
Her First Class Public venues were traditionally fitted out in true British style of the time, with rich timbers, marble, fine carpets, incorporating the best furnishings and the Main Lounge features a grand partially stained glass dome in the centre of the venue, as well as a grand stairwell going down aft of the room. The Dining Room was blessed with a great deal of light due to the many large windows, thus it was a bright and a fine venue to dine in. The ceilings were superbly embossed and the chairs were of the highest quality and ensured great comfort. Cabins also were well designed, offering from deluxe suites to twin bedded staterooms to single bedded cabins. Second Class public venues were similar to First Class, although of a somewhat lesser grandeur. Cabins also were of a high standard, but offering from single, twin, up to four berth cabins. Third Class was to say the least very humble, as this class was essentially for the migrant service, and although there were some four, six, and eight berth cabins, but also larger dormitories. Public venues were simple halls with bench seating and Dining Rooms very similar, bench seating with long tables.
Photographs:
Please note, these photographs come out of a very old catalogue that has both the Deck Plan of the Ormond, which can be seen on Page Two, and some of these images, others are also from my collection. I am sorry for their imperfect state, but it is better than nothing, and I have tried to improve them as much as was possible. I commence with First Class and then to Third Class as sadly I only have a single image of a Second Class cabin. Enjoy!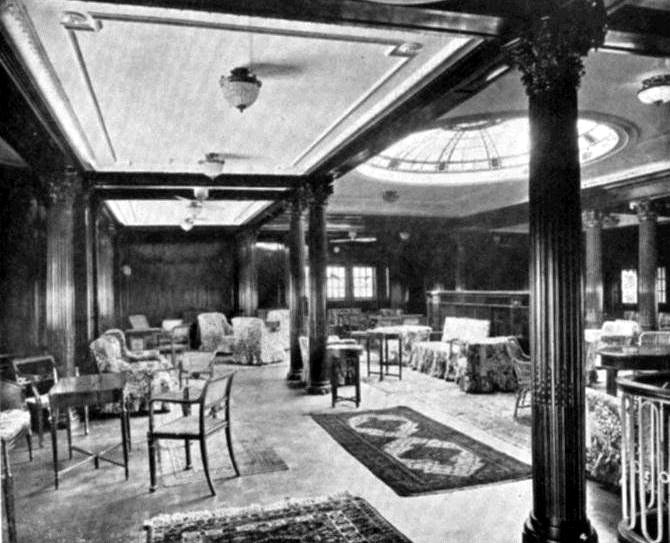 Above we see the First Class Main Lounge far forward on Promenade (B) Deck
Below we see the Dining Room forward on E Deck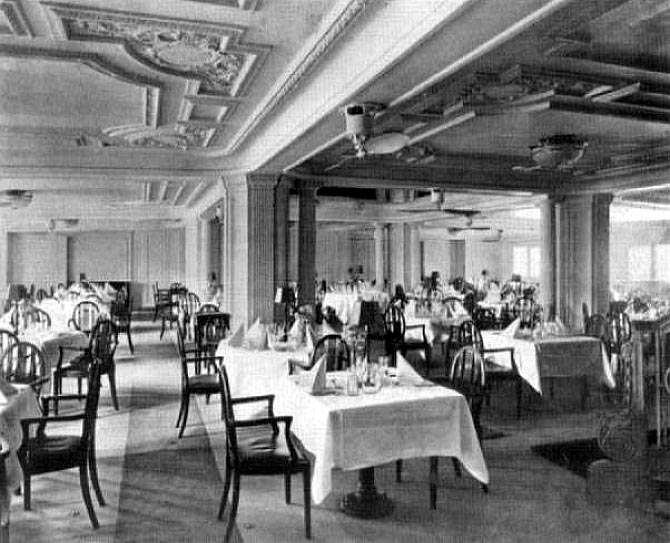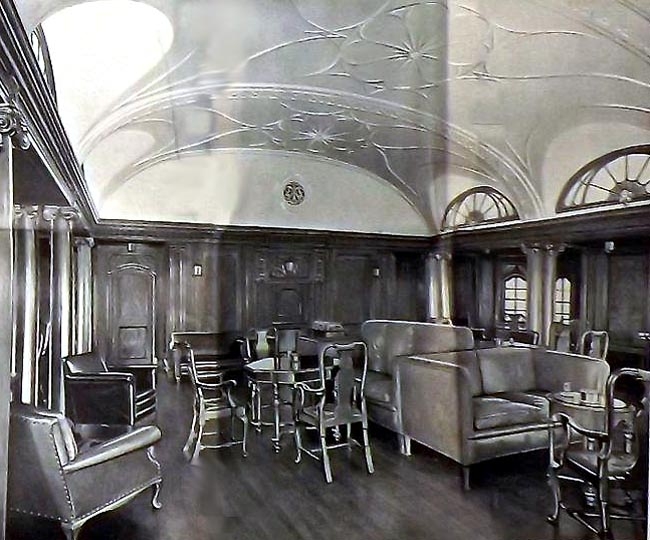 Above is the First Class Smoking Room aft on Promenade (B) Deck
Below is the Drawing room forward but just aft of the Lounge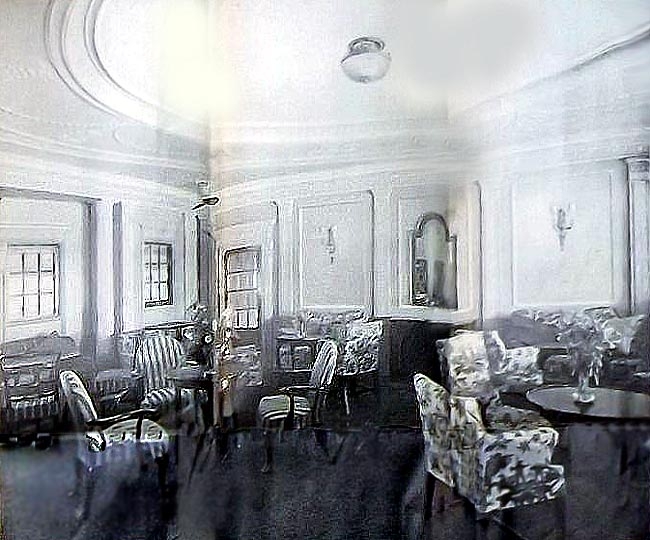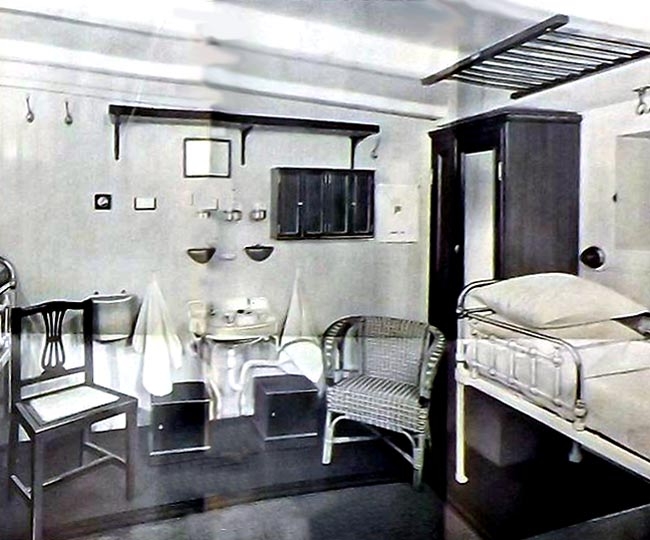 A typical First Class two bedstead cabin with a window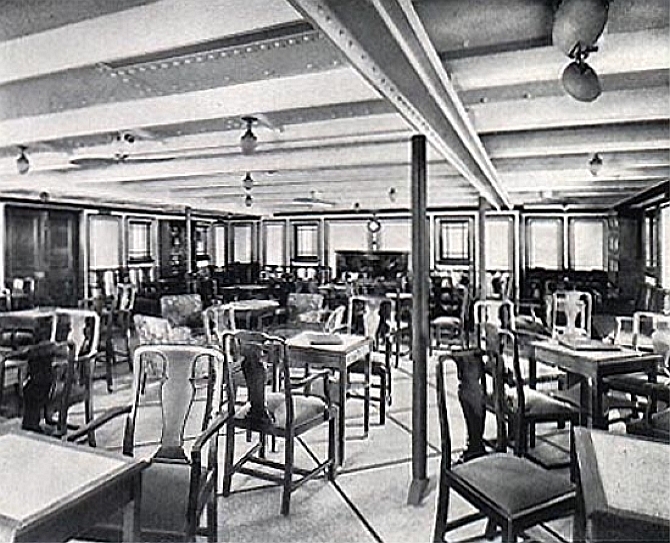 -
Above we see the Third Class Lounge aft on E Deck
Below the Third Class pleasant Dining Room aft on F Deck
Sadly to date, I have no photographs of any Second Class venues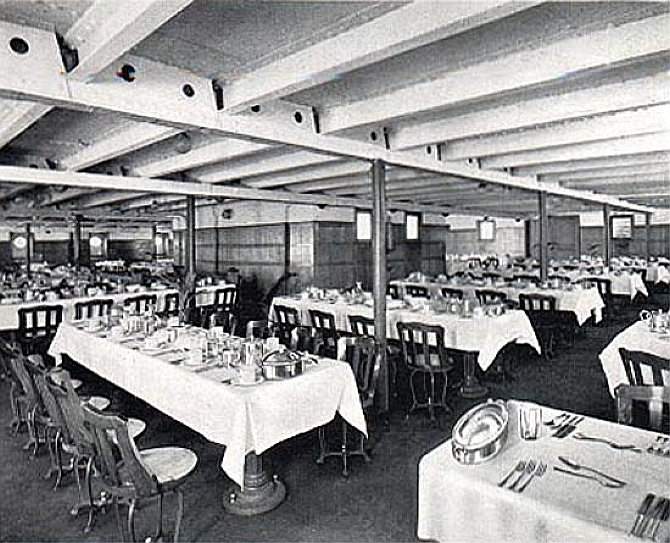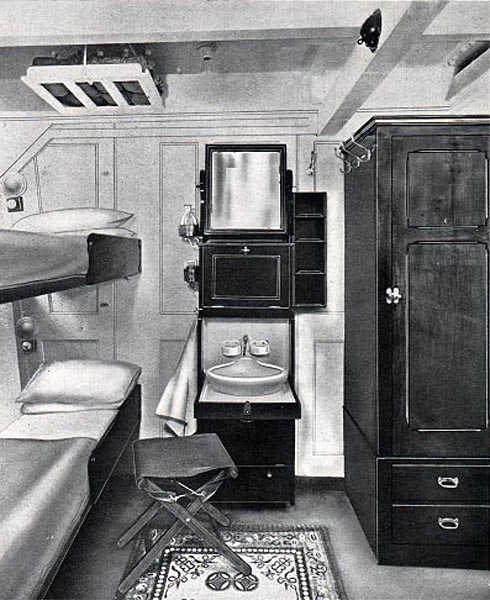 Above a Second Class two-berth cabin
Below a Third Class single bed cabin
They are amazingly similar, but you will note certain differences as the 2nd.class is superior.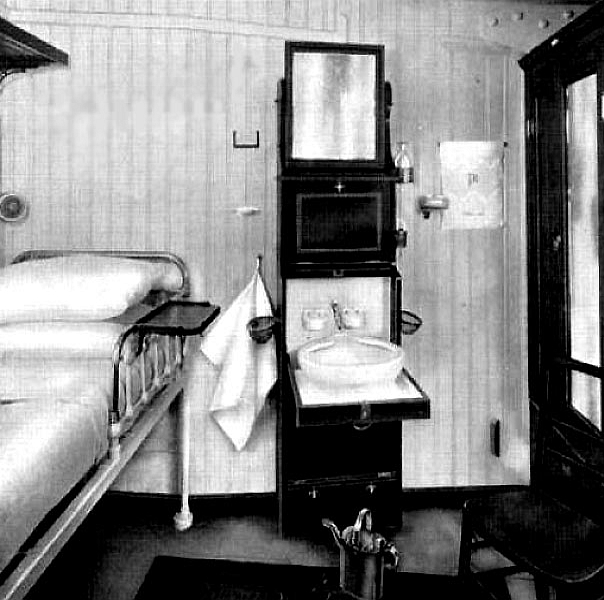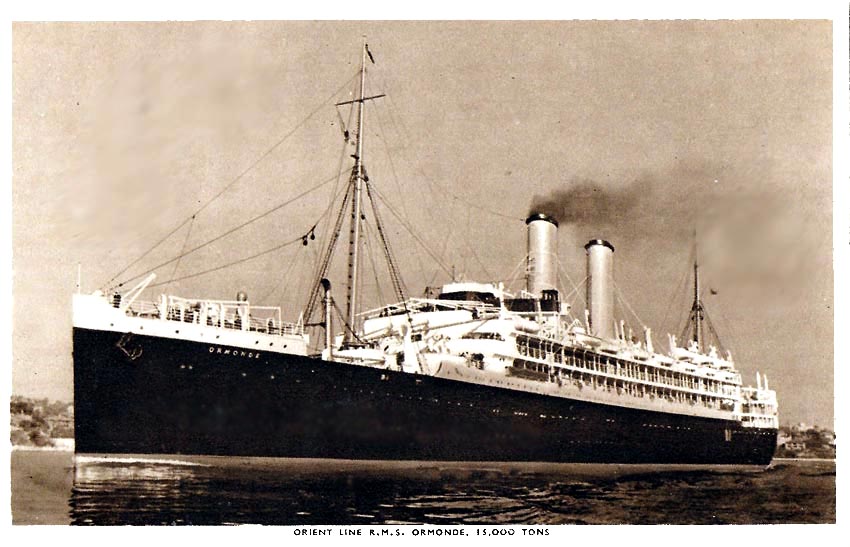 An early Orient Line postcard of the R.M.S. Ormonde
R.M.S. stands for "Royal Mail Ship" as these British ships operated a postal service
4. Her Commercial Maiden Voyage:
Having completed and finally the R.M.S. Ormonde was a full-fledged Passenger Liner, she departed on her first commercial "Maiden Voyage" on November 15, 1919 London to Brisbane. The R.M.S. Ormonde was the very first new passenger liner to enter the Australian service after the War! She rapidly gained a reputation for strength and ease of handling, both on the Australian service and later on cruises.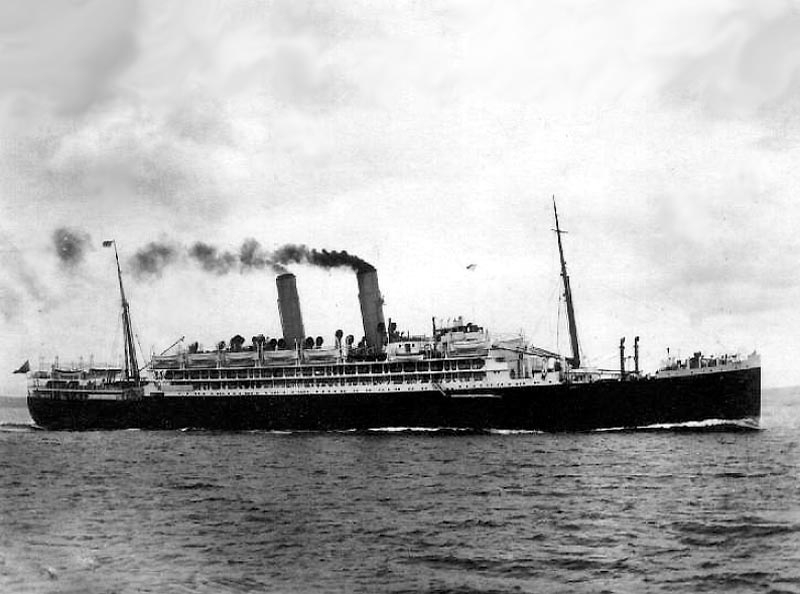 The R.M.S. Ormonde steams on her way to Australia
Her schedule was as follows: London (Tilbury), Gibraltar, Toulon, Naples, Port Said, Suez, Colombo, Fremantle, Adelaide, Melbourne, Sydney, Brisbane. Whilst her northbound voyages were with fare paying passengers, and in addition she would also make a call at Plymouth when required.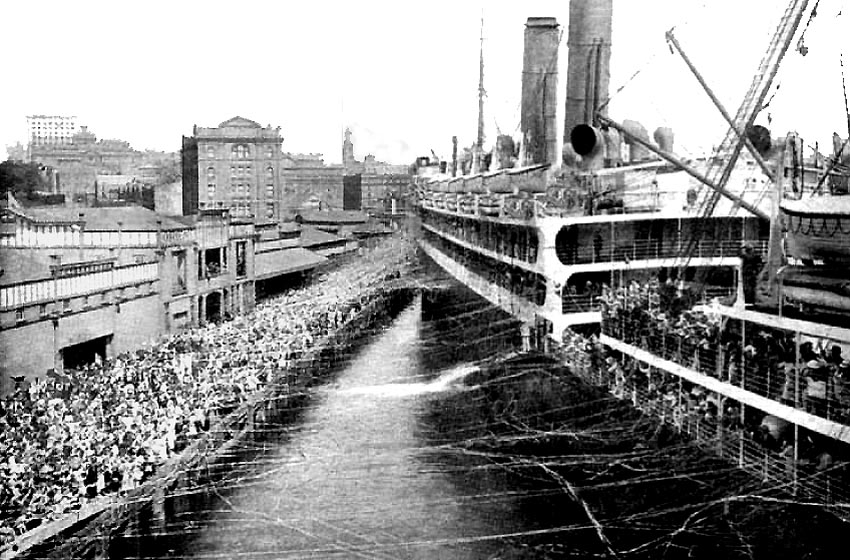 After the R.M.S. Ormonde having been north to Brisbane in Queensland, she returned to Sydney to collect
full-fare paying passengers and here we see her departure as family and friends come and wave goodbye!
On April 2, 1920 the 'Ormonde' struck the bank whilst in the Suez Canal, which damaged two blades of her port propeller, yet, she was able to continue to Colombo, Ceylon at a reduced speed. Having arrived there she was dry-docked, and her propeller was rapidly changed and she continued to Fremantle, and to Sydney and Brisbane.
In 1922 Orient Line offered the British public the very first programme of cruises to Norway on the almost new liner, R.M.S. Ormond, and the programme proved to be very successful and cruising would be continue throughout her lifetime.
5. A Time of Change:
Considering her the Ormonde was built as a coal fired ship, but Orient Line had decided to convert her to burn a more economical oil fuel, which was done in April 1923.
She returned to service and her new oil burning fuel system rapidly proved to be cost effective! The Ormonde just happened to be in Sydney on Australia's most special Day of the year in 1931, as it was "Foundation (or Regatta) Day" that just four years later in 1935 officially became known as "Australia Day" and is a public holiday. However, it was a long established custom to have a regatta of vintage vessels and yachts sail from Sydney Heads and sail under Sydney Harbour Bridge.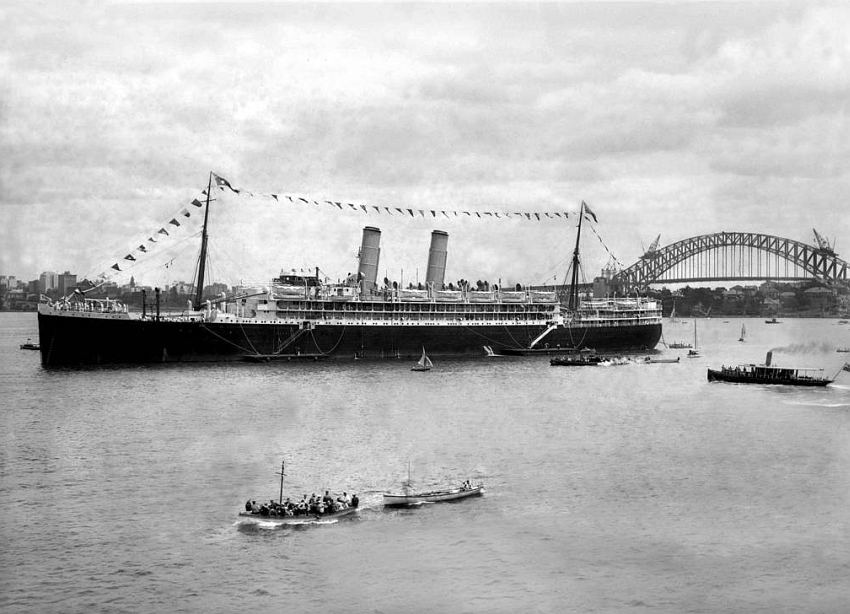 R.M.S. Ormonde is seen at anchor in Sydney Harbour fully decked out for the festive day, Monday January 26, 1931
Then the 'Ormonde' was given yet another change in 1933, as she was given a refit to become a One Class Liner, accommodating just 770 Tourist Class passengers and she was listed as being 14,983 GRT. She returned to duties, but this time operating together with the veteran R.M.S. Orsova, which commenced her maiden voyage on June 29, 1909.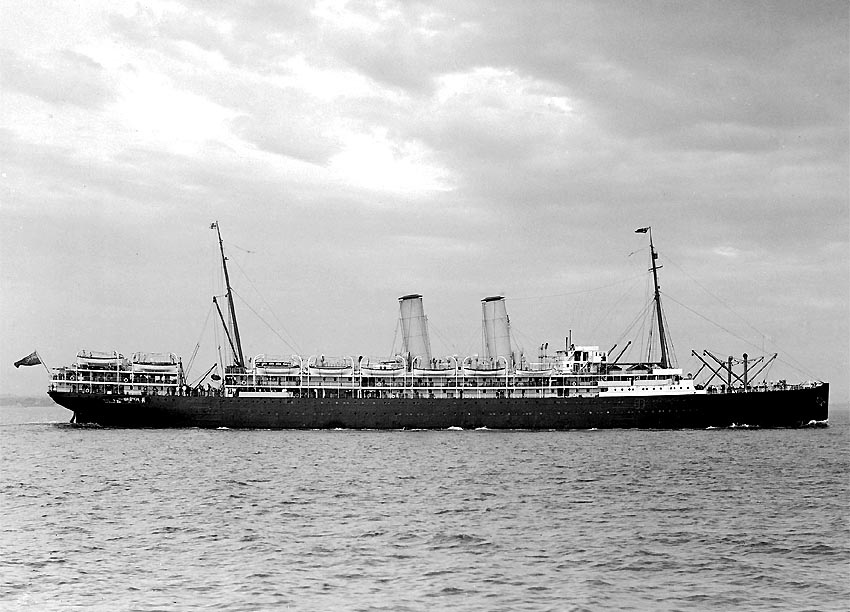 The 12,036 GRT – R.M.S. Orsova was sadly broken up just three years later in 1936
Their new schedule was as follows:
London (Tilbury), Gibraltar, Toulon, Naples, Port Said, Suez, Aden, Colombo, Fremantle, Adelaide, Melbourne, Burnie, Sydney, Brisbane. Her northbound voyage following much the same port, with the following alternatives; also visiting Plymouth, but occasionally via Hobart and Villefranche.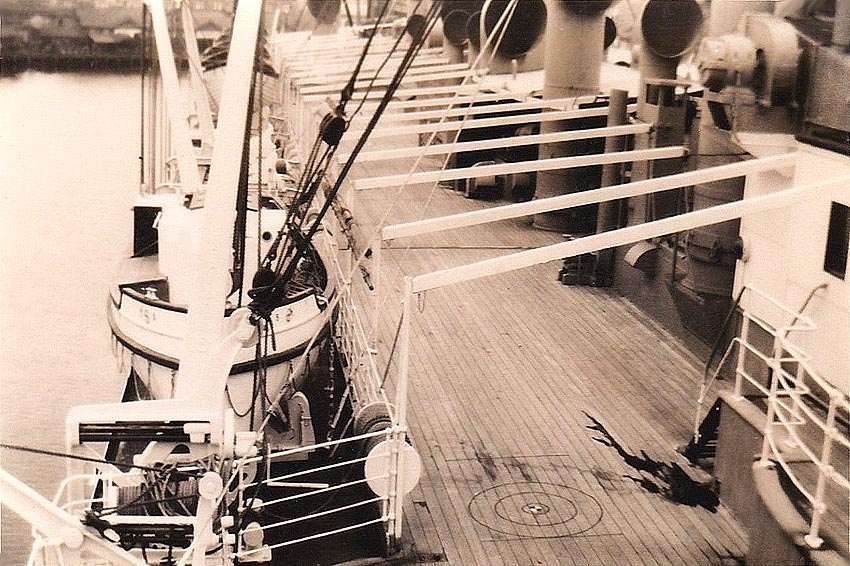 A fine view from the Bridge of the starboard side of A (Boat) Deck looking aft
Some three years later, on September 23, 1936 the RMS Ormonde caught small fire between Melbourne and Sydney and she put in to the old whaling anchorage at "Twofold Bay" and remained overnight and continued to Sydney the next day.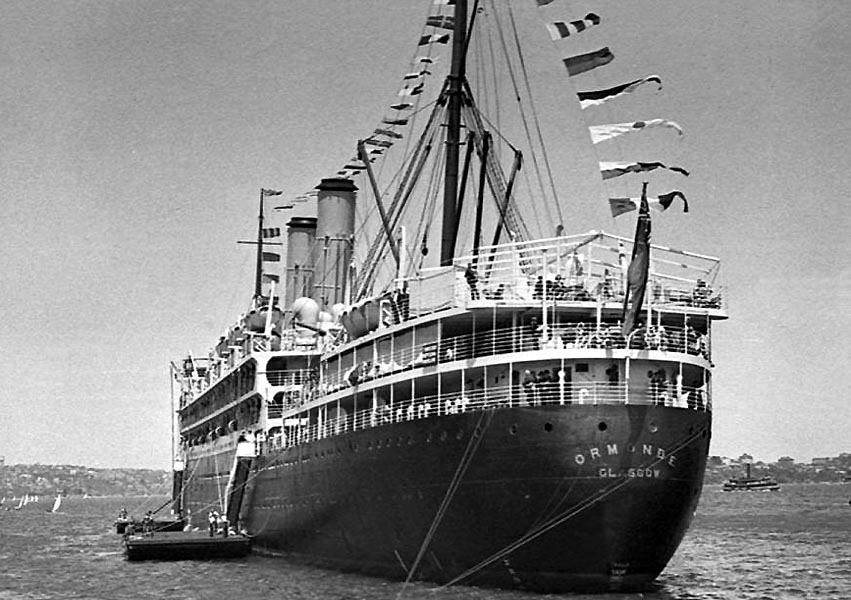 R.M.S. Ormonde is seen in Sydney Harbour late in the 1930s
This is a fine stern view of the ship!
Photographer is unknown - Please see the photo notes at the bottom of the page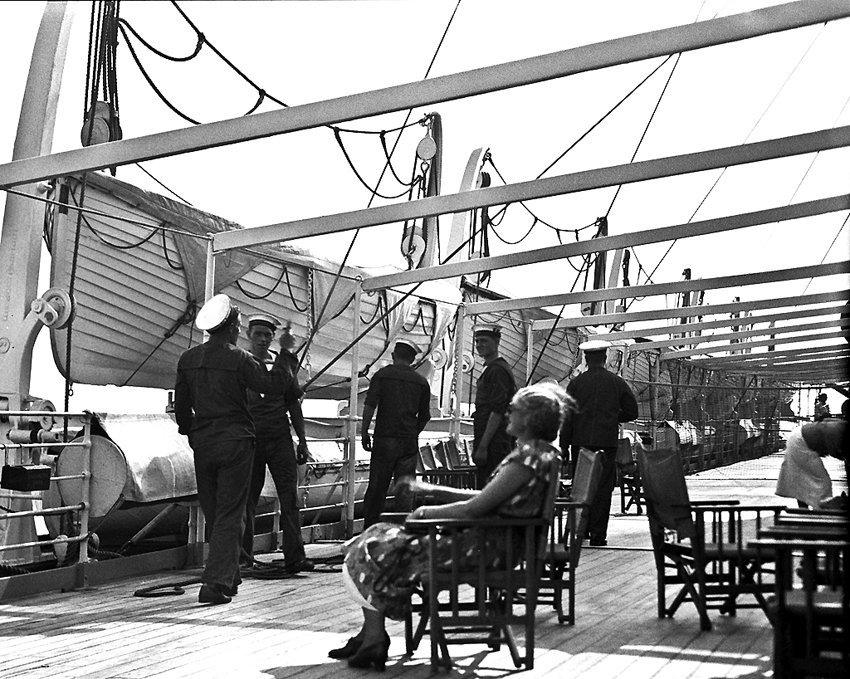 A superb photograph of her Sports Deck in her early days
Photograph was sourced from a glass negative purchased at an UK flea market
& is owned & kindly provided to ssmaritime by Fredrik Thorsen
6. World War Two:
November 1939 with World War Two commencing, she was once again called upon by the Admiralty, who requisitioned her to become a troop transport ship once again. She was again refitted at her builder's yards receiving 1,560 berths for troops.
She was despatched on May 30, 1940 to assist with the withdrawal from Narvik, north in Norway.  Then on June 16, 1940 she took on-board elements of British Expeditionary Force from St Nazaire, France. With was followed up in July by landing a Garrison in Iceland.
During 1941/1942 the H.M.T. Ormonde operated trooping services to South Africa, Egypt and India, as well as invasion exercises.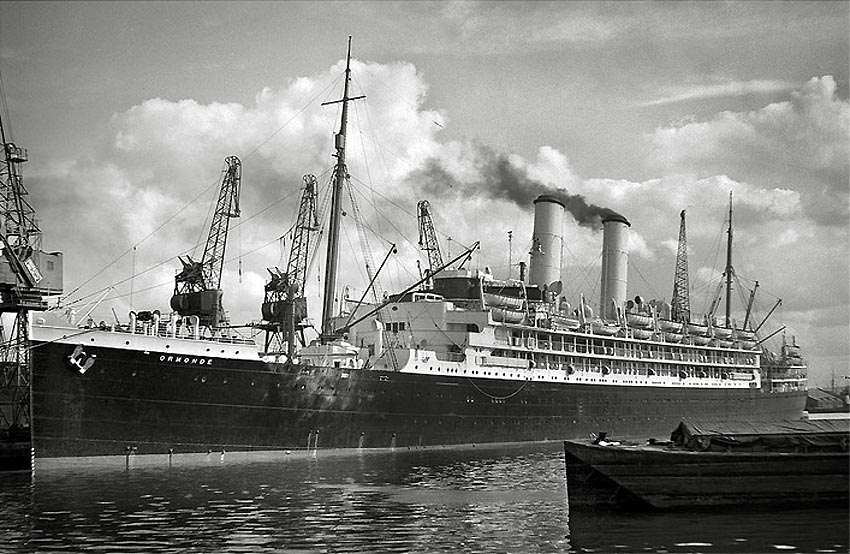 During WW2 she retained her regular black hull livery, as this photo was taken during the war
Photograph by & © John Currin
In November 1942 the H.M.T. Ormond landed troops in Algiers, Oran and Bone during "Operation Torch, and in July 1943 there were landings of troops in Sicily. The H.M.T. Ormonde continued her services with great efficiency! Next in 1945 the H.M.T. Ormond landed troops in Malaya and then she continued to repatriate prisoners-of-war from Burma.
7. Return to Commercial Services:
Having steamed over 300,000 miles and transported more than that 120,000 troops the H.M.T. Ormonde was released from government services and the head for the Cammell Laird shipyards at Birkenhead in April 1947. However, Orient Line had decided that they no longer wish to use her for regular services again, thus she was chartered to the British Ministry of Transport to operate her on government-supported emigrant voyages to Australia with a capacity of 1,052 One Class passengers. The complete refit came at a cost of £270,000.
On October 10, 1947 the R.M.S. Ormonde departed London bound for Australia with 1,052 migrants on board, and this being the first Liner to make a voyage under the joint agreement between the British and Australian Governments to transport British emigrants on chartered ships.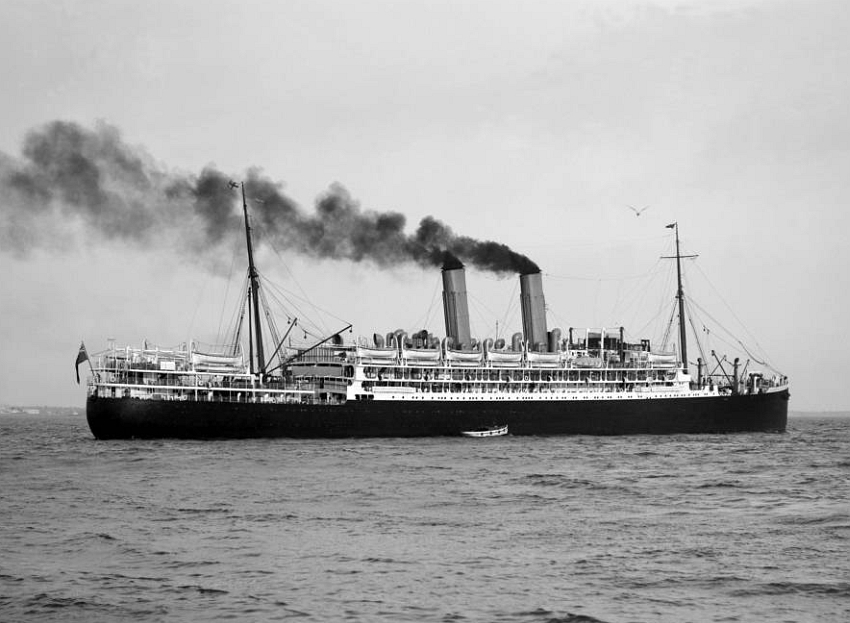 The R.M.S. Ormonde is seen here in the Port of Melbourne
Photo from the State Library of Victoria
Upon her return voyages to the United Kingdom she took full fare paying Tourist class Passengers at good fares, making her a popular choice and a good way to get to England!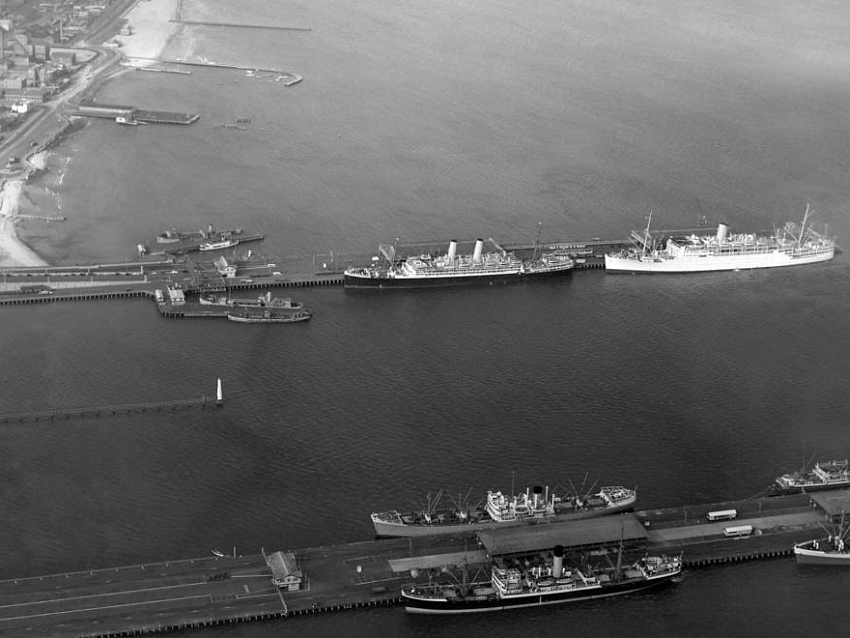 Here we see the Orient Liner R.M.S. Ormonde and the Peninsular Orient (P&O) Liner RMS Strathaird
berthed together at Station Pier Melbourne on February 28, 1948
Photographer is unknown - Please see the photo notes at the bottom of the page
In March 1950 the Ormonde was chartered to Dutch government to help evacuate their citizens who were escaping the troubled waters from Indonesia. In November she headed for Wellington New Zealand to collect New Zealand troops bound for the Korean War.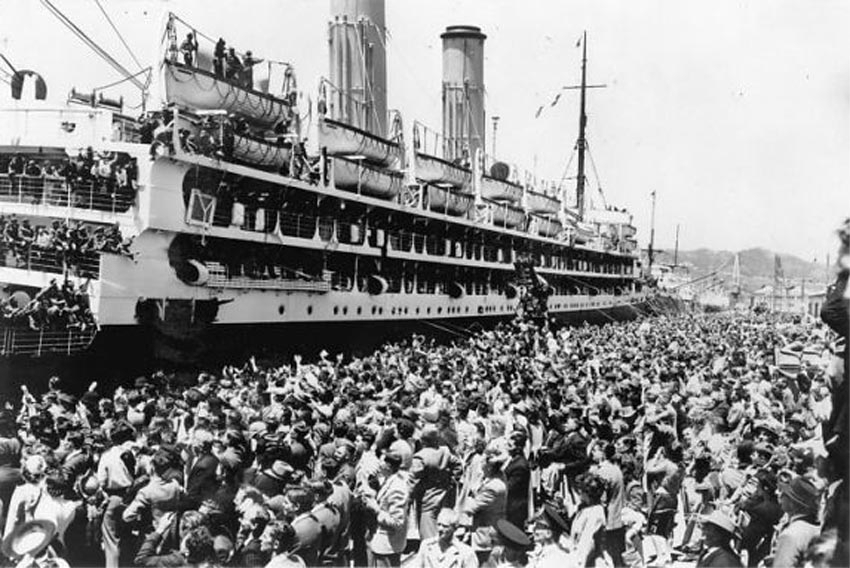 A large crowd farewell's the R.M.S. Ormonde at Wellington's Aotea Quay
as K-Force troops head for Korea in December 1950
Photo from the Alexander Turnbull Library, Wellington, New Zealand
However the Ormonde continued her regular line voyages to and from Britain and Australia until 1952.
8. Specifications RMS Ormonde:
Type:……………………………………….Passenger liner.
Namw:                                 R.M.S. Ormonde.
P&O Group service:…………………1918-1952.
Registered owners:…………………Orient Steam Navigation Company Ltd.
Managers:……………………………….Anderson Green & Company Ltd.
Operators:………………………………..Orient Line.
Builders:………………………………….John Brown & Co Ltd, Clydebank 1918.
Yard number:………………………….425.
Registry:………………………………….London, UK.
Official number:………………………141866.
Signal letters:………………………….JRQF.
Classification Society:…………….Lloyd's Register.
Gross Tonnage:………………………14,853 GRT as built.
1933:………………………………………14,983 GRT after refit in 1933.
Net Tonnage:………………………….9,053 NRT.
Deadweight:……………………………8,113 tons
Length:…………………………………..599.1ft - 182,5m.
Breadth:………………………………….66.7ft - 20.32m.
Draught:…………………………………27.4ft - 8.327m.
Propulsion:…………………………….4 Geared steam turbines, by John Brown.
Power:………………………….…………2,120 NHP, 15,000 SHP.
Propellers:………………………………Twin Screws
Service Speed:……………………….18 knots, Max 24.6 knots.
Passengers:…………………………….278 First, 196 Second & 1,017 Third Class.
1933:………………………………………779 Tourist Class.
1949:……………………………………..1,052 One Class.
Crew 1919:…………………………….497.
Cargo Capacity:………………………370,398 cubic feet - including …
……………………………………………….101,635 cubic feet Refrigerated Space.
Livery:…………………………………….Black hull, buff funnels, red boot topping.
Employment:………………………….UK to Australia service.
……………………………………………….Troopship operations WWI & WW2.
9. RMS

Ormonde's

Final Five Years:
Between October 1947 and the end of 1952, the RMS Ormonde operated 17 emigrant voyages, which saw a good 17,500 British emigrants come to Australia and the ship was a good old liner but her machinery was aging, yet the ship generally was in good shape, but Orient Line had commenced building magnificent new and much larger liners! Thus soon it was her time to say Good Bye.
The Ormonde departed London for her very last ever voyage to Australia on Thursday August 21, 1952 and she returned to the United Kingdom, arriving at Tilbury for the final time on Wednesday November 19, 1952.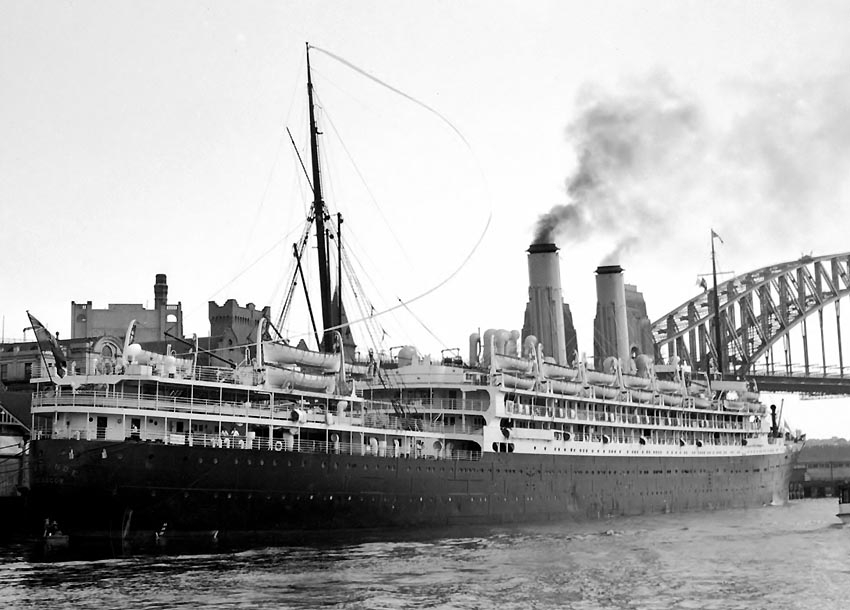 A sad departure as the Ormonde flew her long payoff pennant on November 19, 1952

Her long payoff pennant can be clearly seen flying from her aft Mainmast revealing her many years of service

The wonderful and a successful career of the RMS Ormonde was sadly over for upon arrival it was announced that the 35 years old liner had been sold to the "British Iron & Steel Corporation" to be broken up.

It was on Thursday December 5, 1952 she headed to Dalmuir with W. H. Arnott, Young & Co in charge, and demolition of the Ormonde was completed at Troon by "West of Scotland Ship Breaking Co Ltd" on Tuesday May 5, 1953.

Remembering a Fine Old Liner ~ R.M.S. Ormond!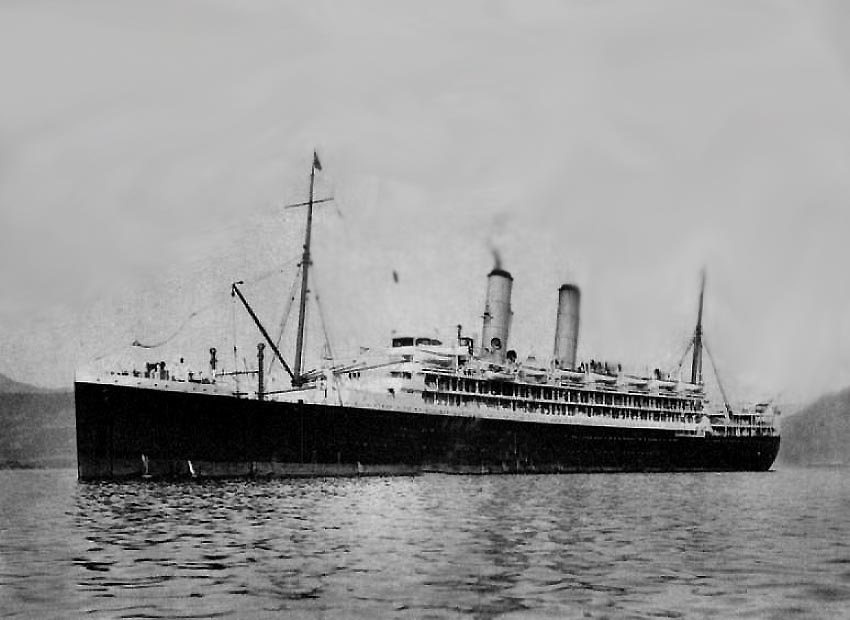 Go to Page Two for a copy of an Original RMS Ormonde Deck Plan

"Blue Water Liners sailing to the distant shores.


I watched them come, I watched them go and I watched them die."

****************************
R
emembering the Much …
Loved
R.M.S.
Ormonde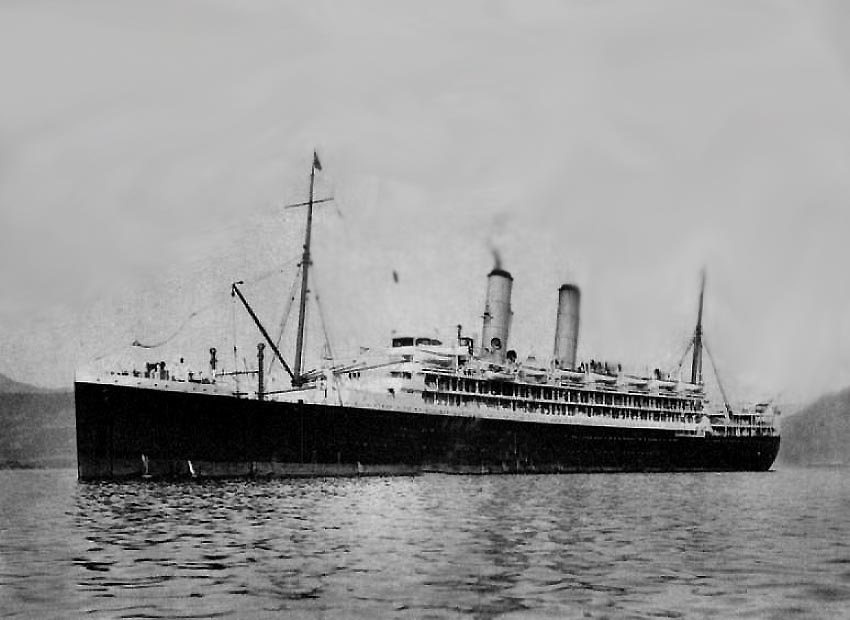 A photo of the fine older looking R.M.S. R.M.S. Ormonde.
*********************

Featuring over 1,550 Classic Passenger Liners, Passenger-Cargo Liners & Classic Cruise Ships!
Or ENTER HERE
For interest: Sadly an email service to ssMaritime is no longer available, due to the author's old age and chronic illness as well as being disabled, etc. In the past ssMaritime received well over 120 emails per day, but Mr. Goossens can no longer handle same. He sincerely regrets this!
*********************
ssMaritime.com & ssMaritime.net
Where the ships of the past make history & the 1914 built M.S. Doulos Story.
The Author has been in Passenger Shipping & the Cruise Industry for well over 60 years
In addition he was the founder of "Save the Classic Liners Campaign" in 1990.
Please Note: ssmaritime and associated sites are 100% non-commercial and the author seeks no funding or favours of any shape or form, never have and never will!
Photographs on ssmaritime and associate pages are by; the author or from the author's private collection. In addition there are some images that have been provided by Shipping Companies and private photographers or collectors. Credit is given to all contributors. However, there are some photographs provided to me without details regarding the photographer/owner concerned.
This notice covers all pages; although, and I have done my best to ensure that all photographs are duly credited and that this notice is displaced on each page, that is, when a page is updated!
ssMaritime is owned & © Copyright by Reuben Goossens - All Rights Reserved