R.M.S. Otranto 1925 to 1957
Please Note: Firefox and some other Search Engines may not be suitable
Use Google Chrome for this Web Page to load perfectly!

Please Note: All ssMaritime and other related maritime sites are 100% non-commercial and privately owned, thus ssmaritime is NOT associated with any shipping company or any other organisation! Although the author has worked and been involved in the passenger shipping industry for well over 60 years, but due to his old age and poor health, he was forced to retire. Yet, he has completed well over 1,550 Classic Liners, Passenger-Cargo Liners as well as humble converted C3 converted Migrant Liners, which has transported countless thousands of folk to the new world, as well on vacations'. Amazingly, ssmaritime.com has received 573.4 million visitors to date I trust the features online will continue to provide Classic Liner and Ship enthusiasts both the information they are seeking, but more so provide a great deal of pleasure and relive many happy memories!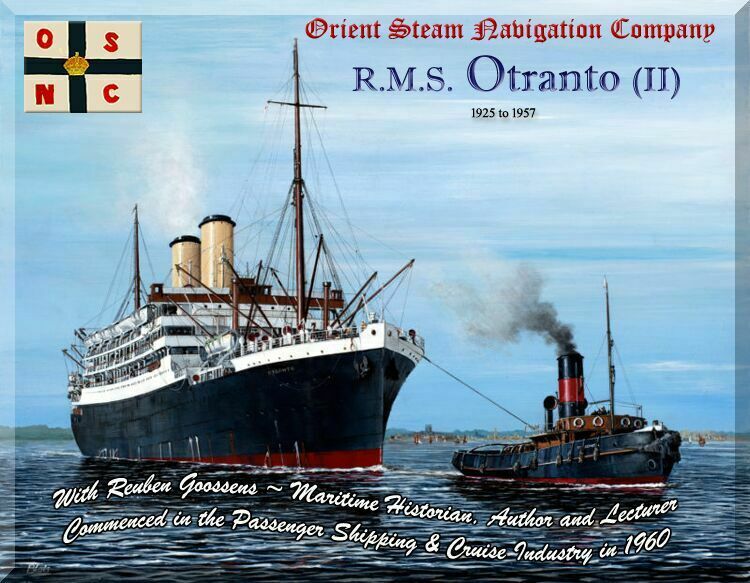 I have been advised that this fine painting is by UK maritime artist Derek Blois
You are welcome to visit his; Website
Originally the image was sent to me by David Stein of Caulfield Victoria, Australia.
Please Note: Postcards, photographs & other images are either from the author's private collection or from my supporters.
Thus thank you to my ssmaritime supporters for sending me their wonderful photographs & images.
I am sorry if some of the images shown may not be of the highest quality, but they are the best that were available
R.M.S. Otranto (I):
The first R.M.S. Otranto departed was constructed by "Workman, Clark and Company", Belfast, and she was launched on March 27, 1909 and completed on July 20 and this 12,124 GRT (Gross Registered Ton) liner departed on her maiden voyage from London (Tilbury) to Brisbane Australia on October 1, 1909.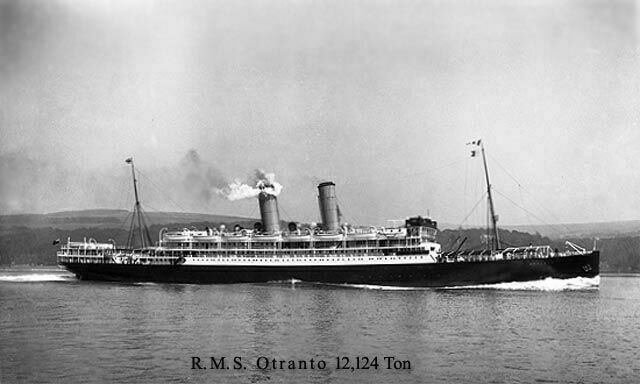 R.M.S. Otranto (I) seen in her early days arriving in Brisbane, Australia
Sadly she sailed on her passenger service just under five years when she was requisitioned to become an "Armed Merchant Cruiser" and then a "Troop Ship" during World War I until before being wrecked in 1918 due to a collision at sea during a wild storm.
*********************
R.M.S. Otranto (II):
R.M.S. Otranto was a fine Ocean Liner that was built for the Orient Steam Navigation Company in 1925. The "RMS' prefix of course stands for 'Royal Mail Ship', as she carried overseas mail under a contract between the 'Orient Line' and the 'Royal Mail".
For interest, both she and her earlier sister of the same name were named after the historic seaside town of 'Otranto' in the southern Italian province of 'Apulia'.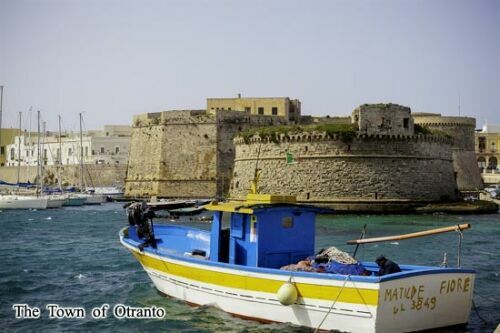 "Vickers Armstrong Ltd" was given the contract to construct the "Otranto" at their Barrow-in-Furness shipyard, then her first keel-plate was laid down in Yard No. 619 in late in 1924, and work commenced to build her and she slowly commenced to take shape.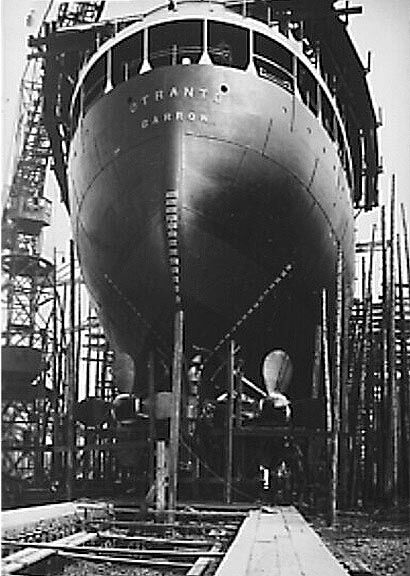 Above & below: two images of her stern, one was taken just after her propellers were fitted
The second was taken on the day of her launching and she was being made ready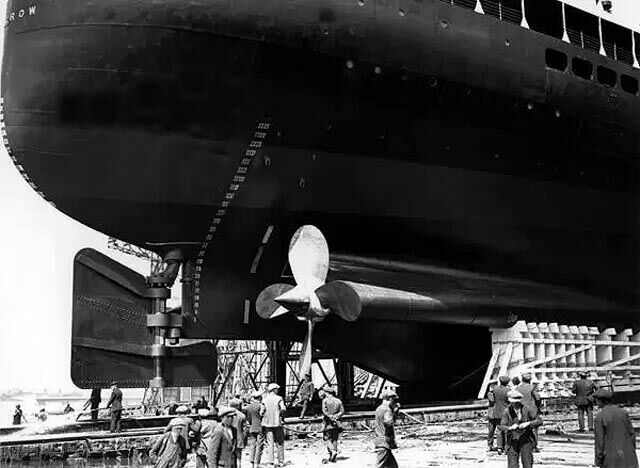 Thus on July 9, 1925, the big day had finally arrived and with a large crowd at hand she was officially launched and christened by Launched by Mrs L. C. Amery, the wife of the Australian Secretary of State.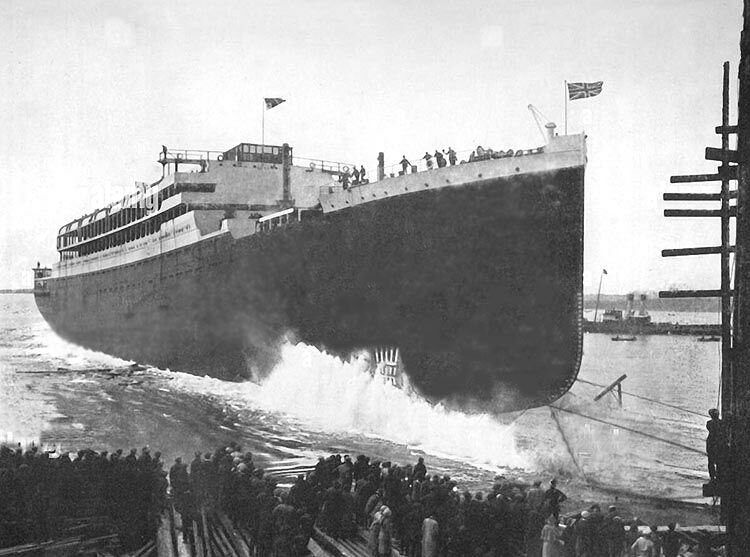 The "Otranto" slides down the slipway and enters the Mersey
As soon she had made her way down the slipway and had entered the Mersey River, and soon enough tugs took her under tow and she headed for the builders Fit-out berth where she would be completed and beautifully fitted out.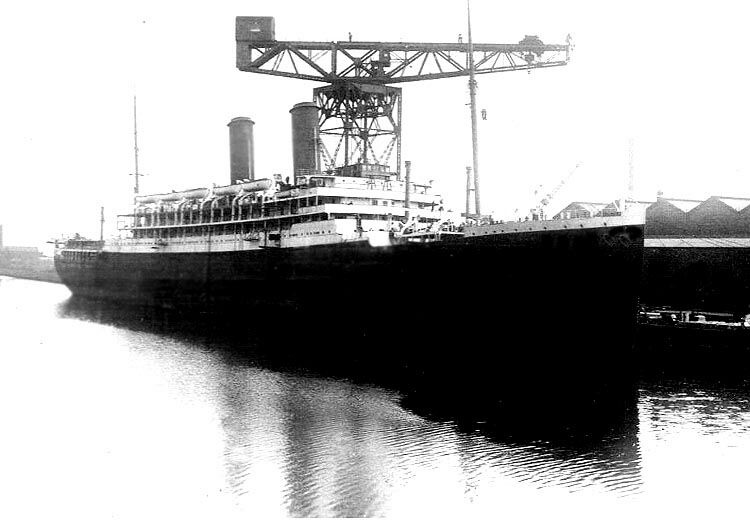 She is seen here at the Vickers Armstrong Fit-Yard's, slowly being completed, with her funnels fitted
When she was completed in the last month of the year, she headed out to sea, and she undertook her sea and speed trials where she achieved a maximum speed of just over 20.6 knots, after which she was delivered to 'Orient Line' at Tilbury (London) in December 1925.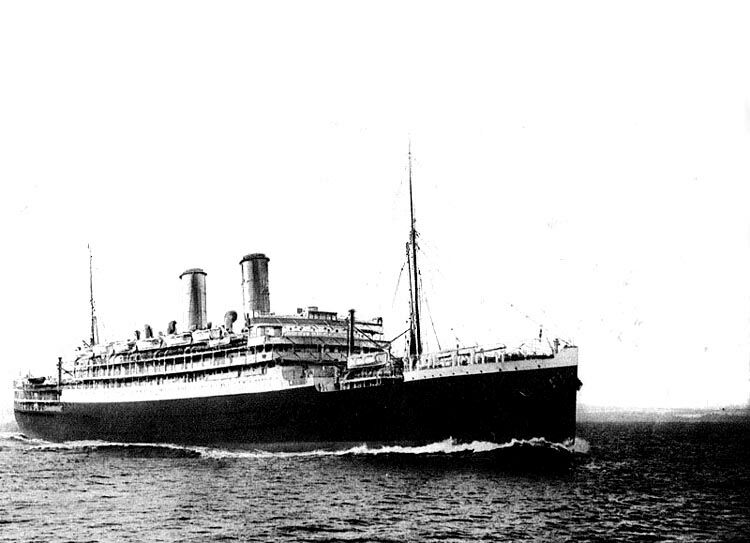 The "Otranto" is seen here during her sea trials
Maiden Voyage:
Whilst at Tilbury she was made ready for her duties, thus she was fully manned as it took all her staff to prepare her for that big day, as all her cabins and venues had to be made ready for the perfect voyage to Australia. Cargoes had to be loaded as did all her stores, food, drinks, so much was needed to be retained in her cool rooms and the ship had to be spotless for that big day, and of course she was!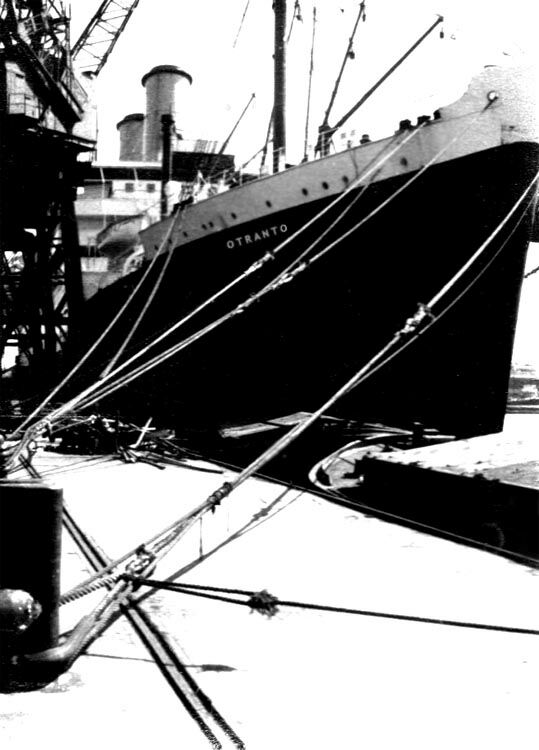 R.M.S. Otranto is seen at Tilbury
Then on January 9, 1926 the magnificent looking R.M.S. Otranto was filled with many happy people, although there were also those who were migrating so far away and they felt rather nervous, for they were leaving behind so many loved ones, and it was a huge step they were taking! But as the band played, it somehow brought a feeling of relief and joy to the occasion as she finally pulled away from the wharf and the last farewells were shouted, and finally as the ship had well left the port, every one either had returned to their cabins or went into one of the fine lounges on this beautiful ship for a drink and meet some of their fellow passengers! Thankfully dinner was also about to be served and that would be something to look forward to!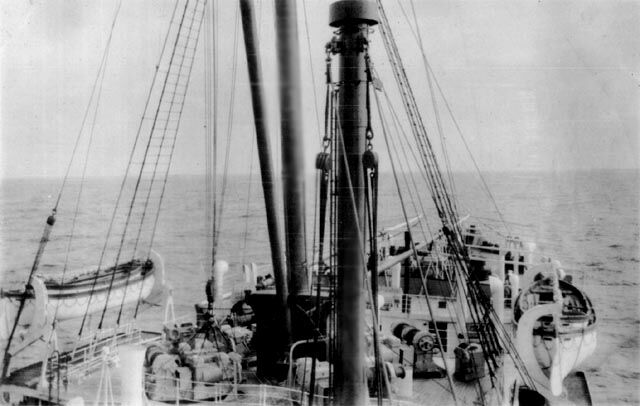 Her schedule was as follows: Tilbury to Toulon, Naples, Port Said, Aden, Colombo, arriving at Fremantle on February 3, 1926, after which she headed south, then east to Adelaide where she arrived on February 12, and then to Melbourne arriving on February 15.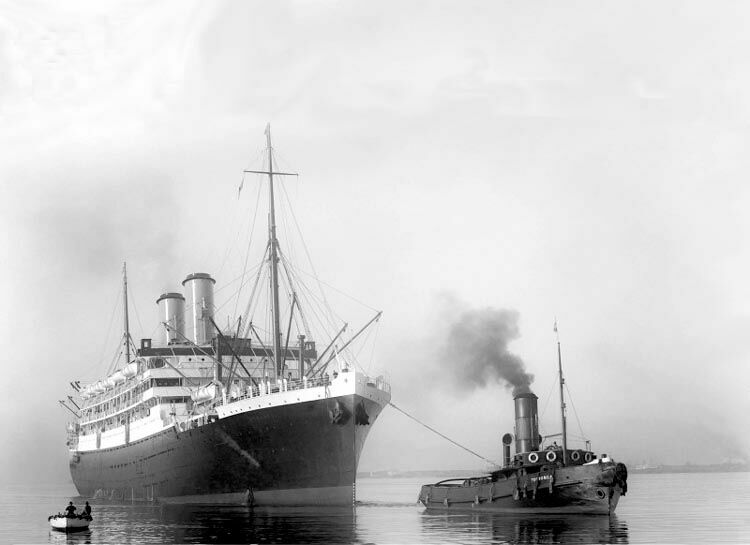 The R.M.S. Otranto arrives for her maiden visit to Melbourne on February 15, 1926
She departed Melbourne on February 16 and headed north bound for New South Wales and she arrived in Sydney on February 18, where she received a huge welcome by the public and the media.
The following is from "The Sydney Morning Herald" Friday, February 19, 1926.
R.M.S. OTRANTO.
Arrives in Sydney.
Triumph of Shipbuilding.
"Heralded as the most luxurious vessel coming to Australia, the new 20,000 ton liner 'Otranto' arrived in Sydney yesterday morning with 278 passengers for Sydney.
An inspection of the liner revealed further advances in the appointments of ships of her type, and the experience gained in her sister ships the Orama and Oronsay was in this respect been useful. A noticeable feature is the increased ventilation by the punkah louvre system, which is available throughout the ship from her magnificent saloons and the suites right down to the lowest-priced third-class cabins.
The scheme of decoration carried out in the first-class saloons are strikingly different from those of the Orama and Oronsay, for they attained the highest of standards. The first-class dining-room and foyer, designed in a free English classic manner, are decorated in tones of cream and grey, with golden bronze panels and mirror frames. The centre panel of the ornamented ceiling contains a group of sculptured low relief figures representing "The Flight of the Plants", the work of Messrs. Mortyn, of Cheltenham. Forming a frieze is a series of bronze gillies, with classic figure groups representing various subjects from Homer's Iliad. These were the work of the well-known sculptor Mr. Richard Garbe.
The Main Lounge, in which the general colour scheme is in cream and gold, is the centre of life on the ship, and la nearly 2,000 square feet in area, with bow windows on either side.
Other rooms reflect the same great care in their design and excellent completion".
The R.M.S. Otranto departed Sydney on March 21, and she arrived in her most northern Australian port in Queensland's capital of Brisbane on March 23, and she departed again late on March 24, for her return voyage to the UK, sailing via all the same Australian ports and then return via much the same route, but with some slight changes.
The Ship's Details, Interiors and Decks, etc:
She was a traditional Orient Line liner; they all had a black hull, red boot topping, and an all-white superstructure, except for the timber used up on the Bridge house area. Her Funnels were the traditional buff to yellow in colour and her masts were brown, Her 18 lifeboats were all white, although their number greatly varied in number at various times.
The 20,032 GRT (Gross Registered Ton) Royal Mail Ship (R.M.S.) Otranto was 632 ft - 192.6 m long and had a width of 75.2 ft - 22.9 m, and she accommodated 572 passengers in First Class and 1.168 in Third Class with seven passenger decks, and the ship had a crew of 470.
She was operated by six Parsons Single Reduction Geared Steam Turbines that developed 3,722 NHP. She had twin propellers driven through reduction gears by six steam turbines that between them developed Six double-ended and two single-ended (oil fired) boilers supplied steam at 215 lbf/in2 to the turbines. 56 corrugated furnaces with a combined grate surface area of 2,688 square feet (250 m2) heated her boilers.
She had a total of seven hold's, her forward holds were refrigerated cargo holds with 170,688 cubic ft of space, her other holds carried general cargo (bales) with space for 109,044 cubic ft.
The standard of accommodation offered on the "Otranto" established a new measure of comfort on the Australian passenger trade. She featured a high proportion of single berth cabins and great care had been taken to provide clutter free open deck spaces by ensuring that all machinery was well out of the way.
Her Passenger Facilities:
We will now take a tour of the ship as much as we are able, for there were only certain images available and I am delighted to present all that I have been able to locate over a period of 12 years, and with the help of kind shipping friends from around the globe!
As always I will commence from far forward and the top of the ship, and then slowly head aft and go down deck by deck. Although she was a two class ship, sadly I only have what would have been her First Class venues, and the Deck Plan I do have of her is a 1926 Cruise Plan, which is of course a One Class Plan where the Third Class Dining Room became the "Ball Room".
The Bridge:
Obviously far forward of the superstructure on the very top was the ships Bridge and above it (on its roof) was an outdoor wheel. Aft of the Bridge was the Chart Room.
"A" - Boat Deck:
This deck was also known as Games Deck. Di was the Captain's Quarters and office, as well as the First Mates' and Chief Engineer's and some other high ranking Officers Quarters and centre aft was the Wireless Office that was accessible to the passengers via a door from the deck.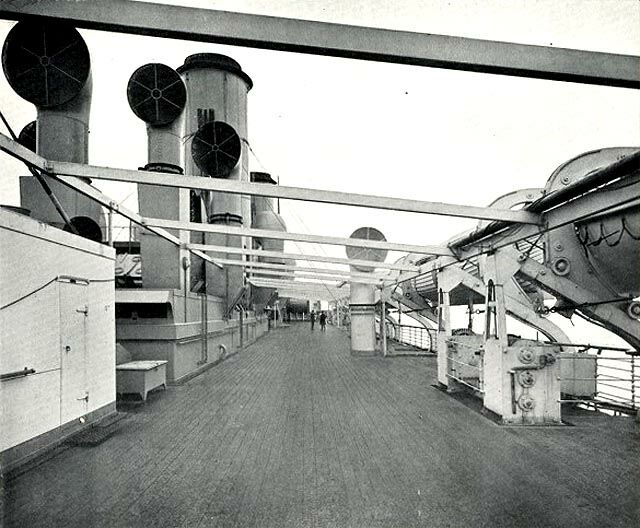 "A" - Boat - Games Deck as we can see was simply huge, thus extremely spacious
and thus a popular place to be for all sorts of activities as well as meeting people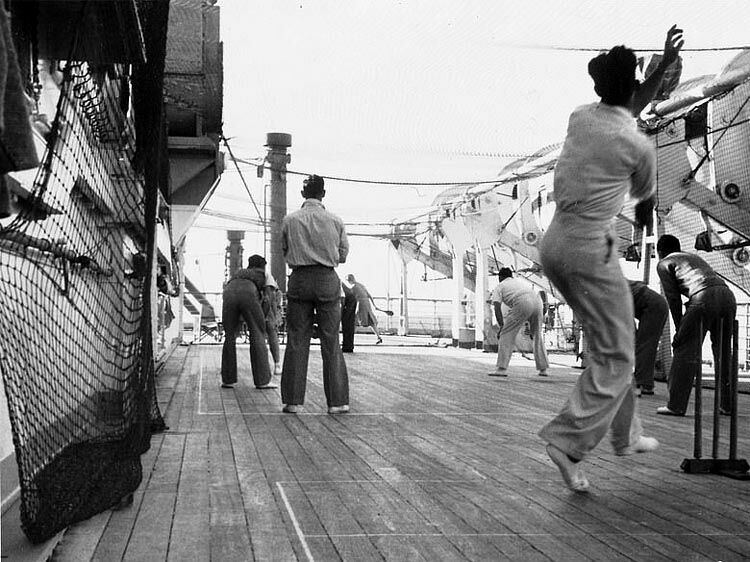 Games Deck is seen port side aft with a game of Cricket going on as well as another game further aft
"B" - Promenade Deck:
The Promenade Deck is a wide and a fully covered walk-around deck and the most popular deck space on board the ship, as it was well furnished for relaxation, especially whilst in the warmer climes.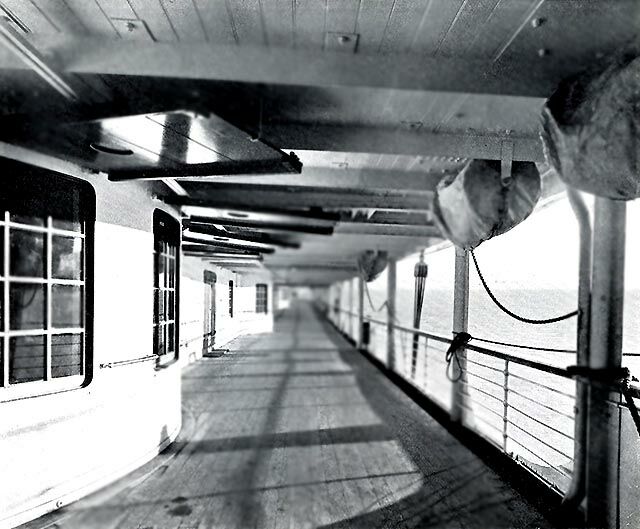 Portside Promenade Deck looking aft
Passengers enjoy their times here relaxing, reading, or chatting with friends, whilst friendly stewards would continually be at hand to serve them with all their wishes, etc, and of course their morning hot drinks and the popular hot Bouillon.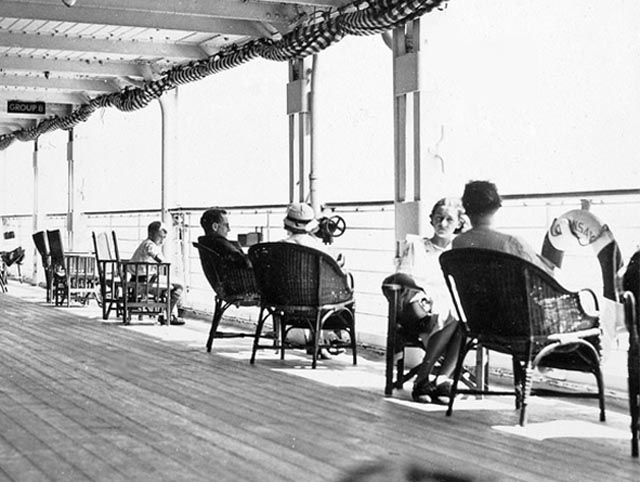 Passengers relaxing out on deck whilst the ship is on the Indian Ocean
We will now head inside through the double doors seen in the top promenade Deck photograph and amazingly you do not enter into a lobby, but you actually step right into the Main Lounge, as it occupies the entire front section of the ship, including the forward Main Stairwell and a single passenger lift, which sits right in the middle of the Lounge.
The Lounge:
Her Lounge is a good spacious 2,000 ft and it features countless grandiose Sienna marble columns and fine door architraves, all used with charming effect, contrasted agreeably with the general colour scheme of cream as well as tones of grew and the abundance of gold throughout the room. This was a simply stunning venue to say the least as the two images below will prove!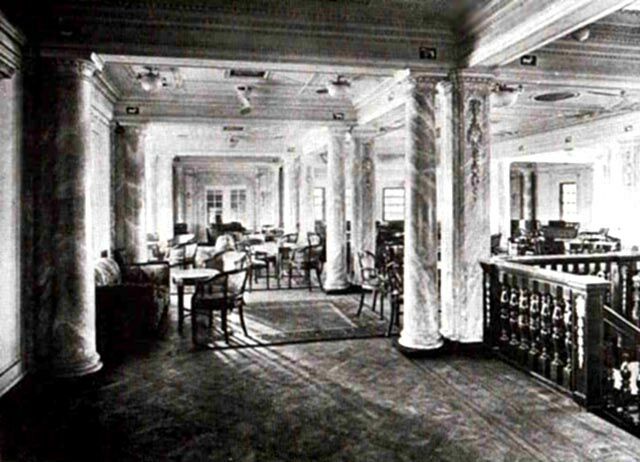 Note the door we entered can be just seen on the left (portside) and we are looking forward
And we can see the Main stairwell that goes down to the Dining Room of F Deck
Directly to the right of the stairwell (portside) is where the Lift (Elevator) is located
Sorry for the quality of this image!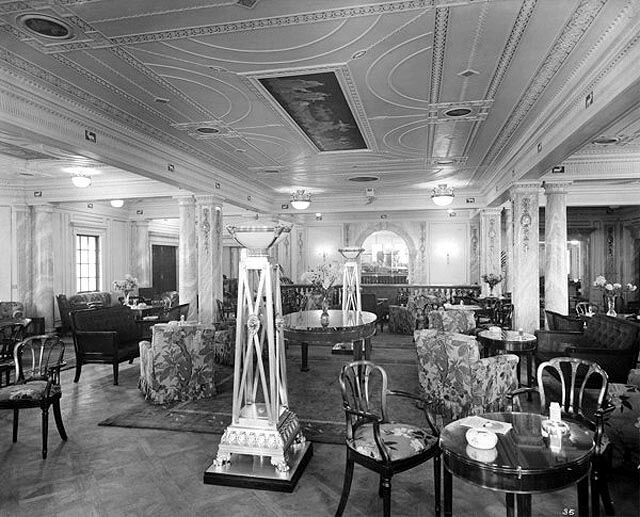 This is a view from inside the Lounge and it is looking to aft toward the Stairwell
It does reveal even more the beauty of this fine venue!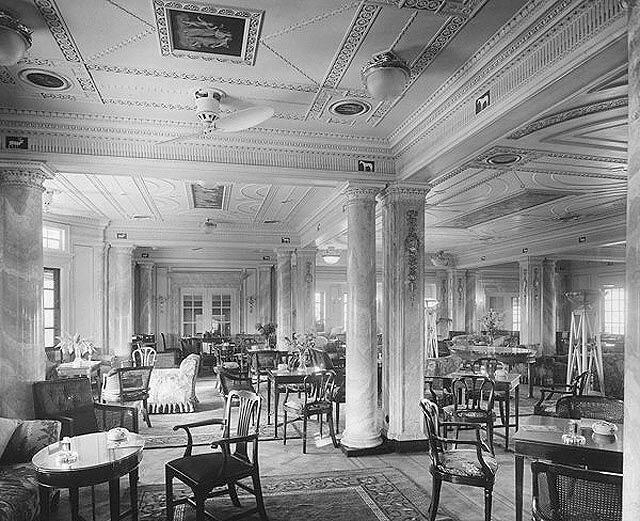 Here is another general view of the Lounge
What we are unable to see the aft section of the venue that wraps around the aft part of the ships housing and it looks more like three verandas wrapped on the portside, aft and the starboard side and is very attractive.

The Promenade Deck plan
The Next venue is simply known as the "Dancing Space", as it is an area that has deck planning and has folding glass doors along both sides that can be opened, pending the weather conditions. This area can also be used for other purposes, such as indoor games such as horse races, etc. In the very centre there is a fine timber stairwell but this one, only goes up one deck to "A" Boat Deck. Sorry there are no images available of the "Dancing Space".
The Next venue can be reached via the Promenade Deck, or from the lower decks via the aft stairwell that actually arrives in the Café behind the venue I will be showing you next, which is attached forward of the Café.
The Smoking Room:
There was no doubt about it, but this room was ever-so-very English in every respect. Its walls were panelled in broad panels of unpolished cedar wood, with touché of gilt in the enrichments. Large Bay Windows look out to both Port and Starboard. There is no doubt that this is a fine and a much loved venue indeed!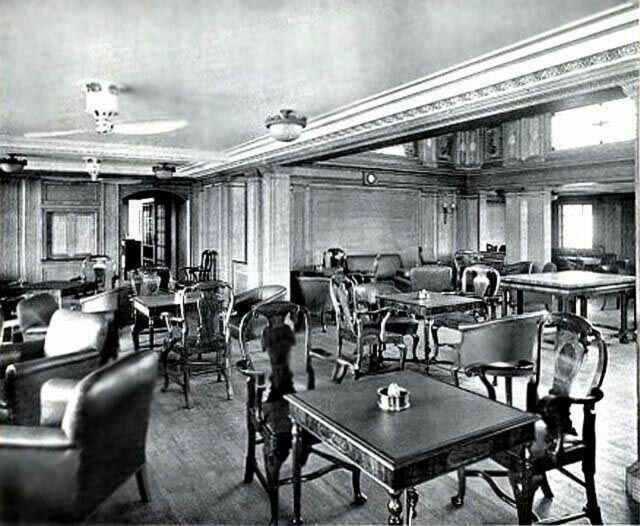 The Smoking Room and in the middle of the ceiling is a giant square dome
up into the Boat Deck with a stained glass feature
The Image above is looking aft towards the Café and the doors can be seen. On the Starboard side (right) is a window, that is the window to the service Bar, whilst on the portside is the Gent-facilities.
The Café: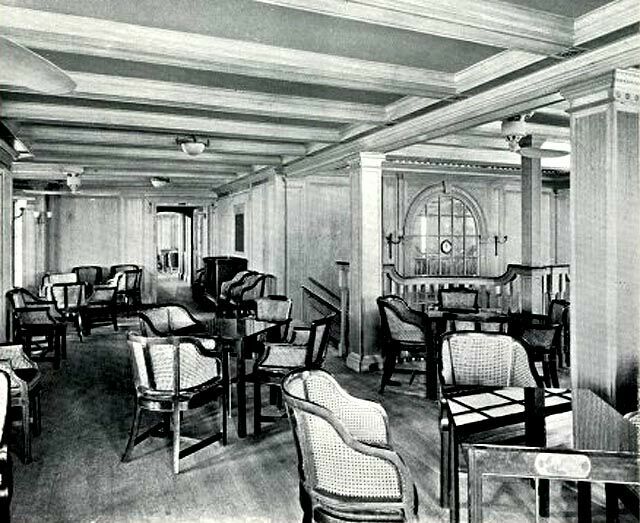 The Café -Looking forward on the portside into the Smoking Room with the aft stairwell visible.
This magnificent venue was sheltered from the sun and weather by its bay windows on either side of the ship and doors and windows on the aft side making as the Café is the perfect place to enjoy some light refreshments whilst enjoying a splendid view.
"C" Deck:
On this deck there is just one public venue and this is located far forward, the rest of this deck has cabins.

The Writing & Reading Room:
This is without a doubt a distinctively restful room, as it is quiet in its style of decoration. Chinese figure panels are cunningly introduced, and the Asian touch is echoed in the carvings of the columns and pilasters.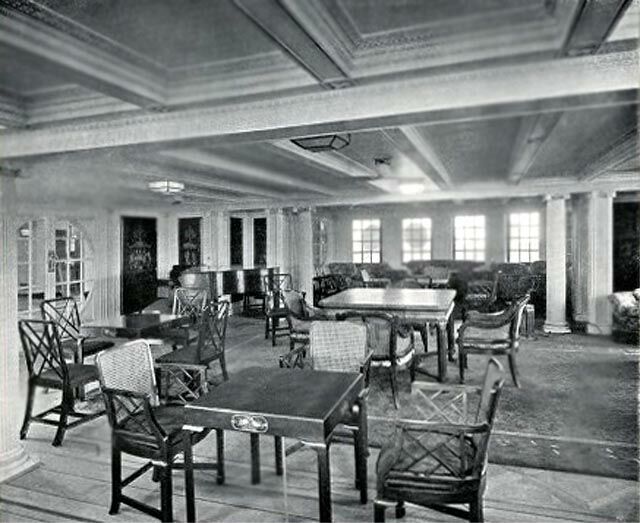 Looking to the Portside with the entrance to the right at the Lobby
This venue is both a reading and a writing room, and is also used at times as a card room
This and "D" deck had all the better cabins as well as 15 luxury Staterooms and 1 Grand Suite on the portside just aft of the forward lobby, the latter being all on "D" Deck. The rooms were well decorated and many were in fact single rooms, with the ones on the outside being twin bedded rooms. Of course all the passenger cabins were arranged according to the "the Inchcape plan", meaning that almost every single cabin aboard had a window or a porthole, providing ample light and fresh air.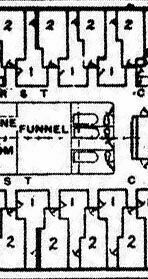 This shows how "the Inchcape Plan" works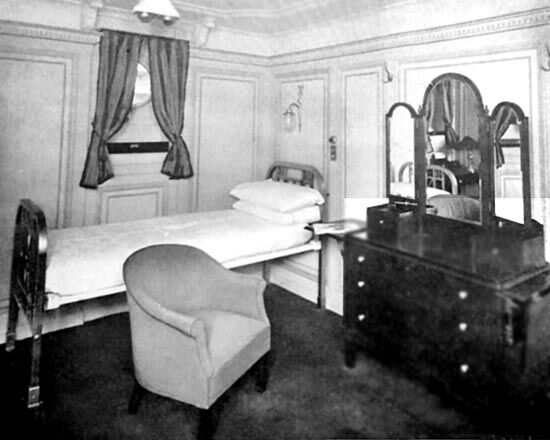 Twin bedded cabin with a private bath room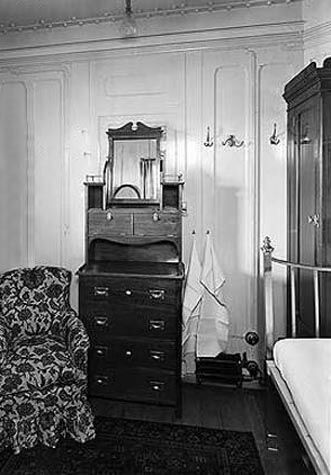 A Single bed cabin
At the aft Lobby on this Deck was the Pursers Office, and although many cabins had either a private bathroom, or two cabins having access to one bathroom between then, public facilities were available from  front to aft in the middle of the ship, WC's, private bath rooms and showers and wash rooms etc, all perfectly maintained at all times!
"E' Deck:
"E" and the lower decks were occupied by cabins, being from single bed to two bedded cabins, as well as two berth cabins, and three or four berth cabins, none with private facilities.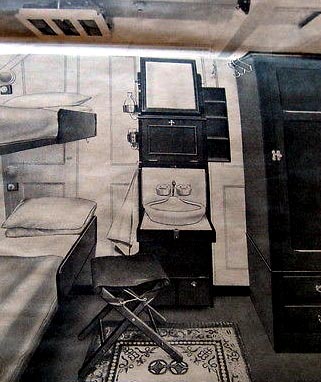 This is a Tourist Class two berth cabin from a later date on D Deck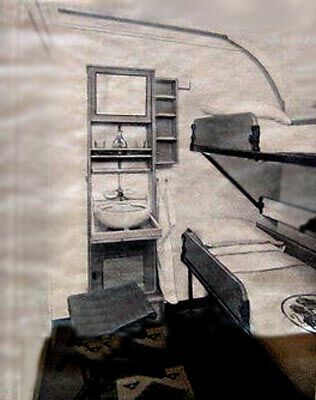 And here we see a Third Class two berth cabin
Directly aft of the starboard side cabins about two-thirds the length of the deck, is the Children's Dining Room.; A little further aft is the aft Stairwell, as well as the Ladies and Gents hair Saloons, as well as the Doctors reception and his office.
"F" Deck:

The Dining Room Lobby:
Having taken the Lift, or the forward Stairwell down to "F" Deck, you will have arrived at a staggeringly beautiful Lobby in front of the Dining Room, which is very spacious and beautifully furnished and along the starboard aft side is the Bar which is used for steward services only. And there are two grand double glass doors on either side into the Dining Room, which is to say the least nothing short from being spectacular!
The Dining Saloon:
This was a remarkably a fine venue, as it featured tints of cream, greys and gold. The centre part, carried up the height of the two decks, and it was decorated by broad pilasters supporting a deep enriched cornice and a richly ornamental ceiling. The chairs and tables were all in rich mahogany timber and came from a world famous manufacturer and the chairs were sublimely comfortable! Making this palatial dining venue very much like any of the grandest and finest top rated restaurants in the world!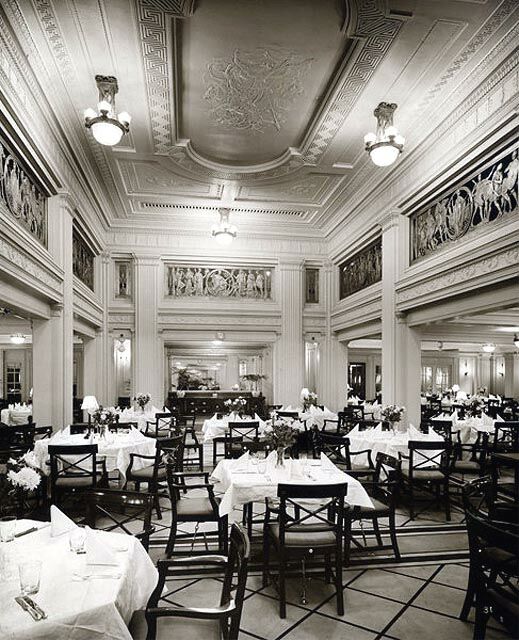 The spectacular Dining Room
The Dining Room and the Foyer was designed in a free English classic manner, are decorated in tones of cream and grey, with golden bronze panels and mirror frames. The centre panel of the ornamented ceiling contains a group of sculptured low relief figures representing "The Flight of the Plants", the work of Messrs; Mortyn, of Cheltenham. Forming a frieze is a series of bronze gillies, with classic figure groups representing various subjects from Homer's Iliad.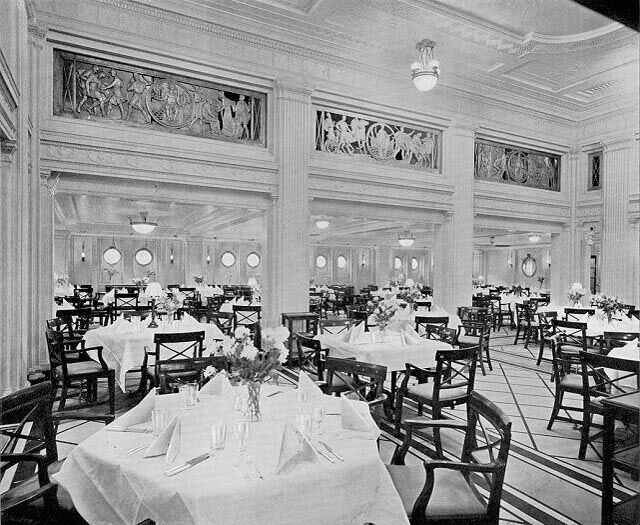 A view of those decorative gold panels
Seating in this elegant dining Room is either on tables for two, four, six or eight. For interest, portholes were a good 17 feet above the waterline.
Forward of the Dining Room Lobby there were a further 34 cabins, singles, two berth and twin bedded, all without private facilities.
Tourist (Third Class):
I do not have much information in regarding her original Tourist Class accommodations or the Public venues, as nothing seems to be available anywhere!, nor what became the One Class (Third Class) - Tourist ship of 1949, which is rather sad. I have just a single image, what is said to be her original Third Class Dining Saloon.
Dining Saloon:
The Dining Saloon like the First Class Dining Room further forward was also the full width of the ship on "F" Deck, and was mostly long tables but there were some smaller more intimate tables for six. The aft timber stairwell went down to aft located "G" Deck. But it was the third stairwell located far forward on this deck. The aft stairwell goes up as far as "D" Deck, and the middle one goes up into the Third Class Lounge on "F" Deck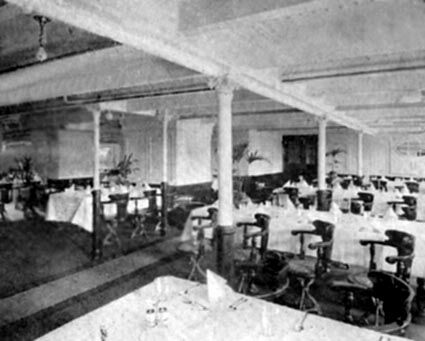 Third Class Dining Saloon

*********************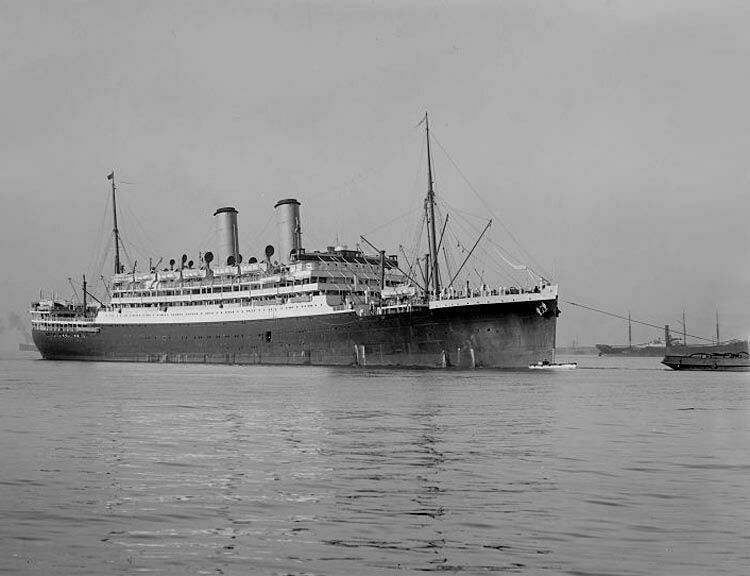 R.M.S. Otranto is seen arriving at Melbourne
"Otranto" the Cruise Ship:
Prior to her return from Australia, The Orient Line had been busy promoting their new Cruise season with their two new ships the S.S. Oronsay (which made her maiden voyage on February 7, 1925), and the brand new S.S. Otranto for 1926. And the poster can be seen below.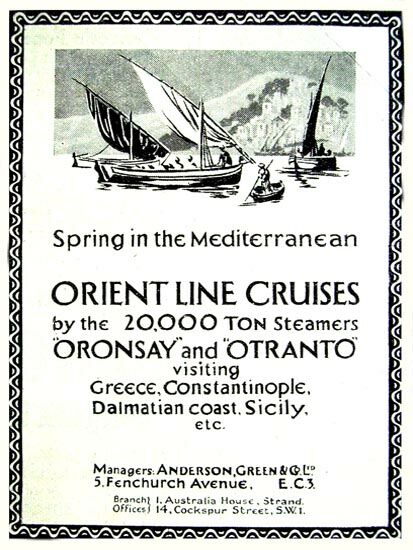 Having returned from her voyage to Australia, the "Otranto" was re-designated as a S.S. (steam ship) for she was not operating as a "Royal Mail Ship" whilst operating cruises, etc commencing from Immingham (Grimsby) UK. She commenced her first cruise in May 1926 to the Eastern Mediterranean as an all One Class ship, and on these cruises she would accommodate no more than 550 passengers.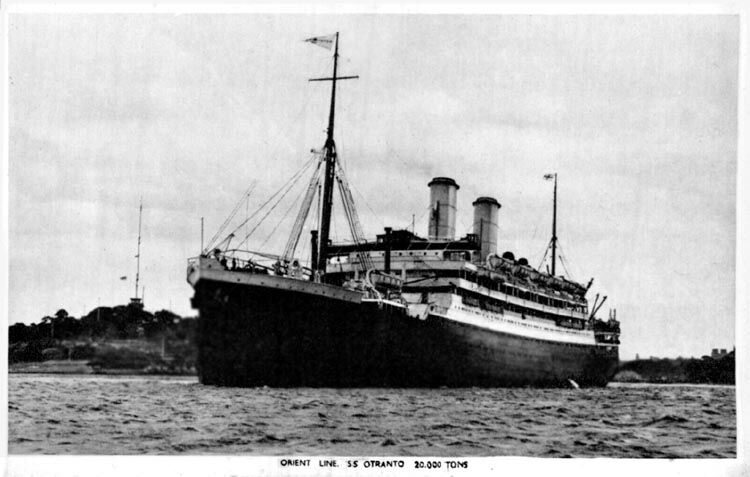 A post card of the S.S. Otranto the cruise ship
On May 11, 1926 she was cruising in Greek Island regions, and this day the weather was extremely bad, with torrential rain and poor visibility to say the least, she struck some cliffs near Cape Matapan at Cape Grosso. Sadly, there was no radar on board in those days, of course. Although her bow was badly damaged, fortunately she managed to reach Piraeus on May 13, under her own steam and all her passengers were discharged there, with very special arrangements having been made for them. She then was able to continue under her own steam and return to Southampton where she was dry-docked for repairs with her next cruise and sailing having to be cancelled.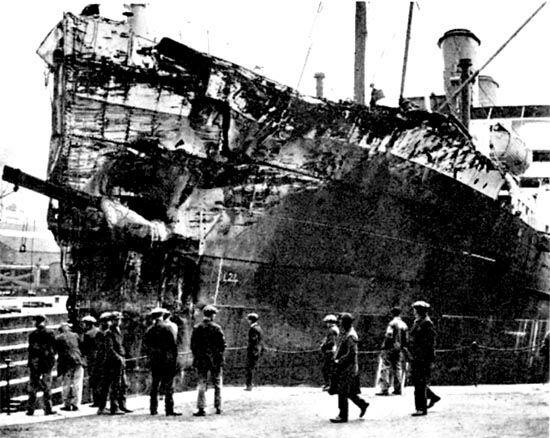 The "Otranto" in dry-dock having her bow repaired
After the repairs had been completed she returned to her line voyages to Australia once again.
Although she continued her annual cruises from Britain to the Mediterranean and in 1928 also several cruises to Scandinavia.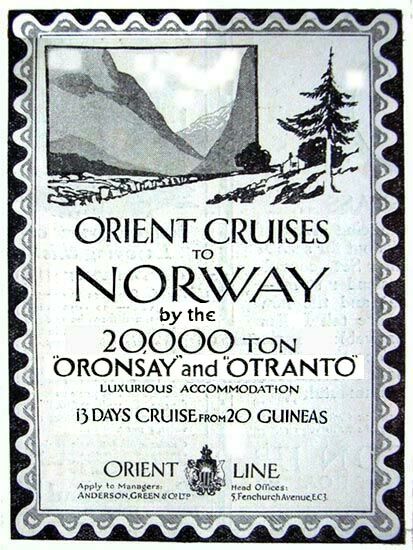 S.S. Otranto Cruise Poster
However, her bad luck struck again during another cruise on  August 11, 1928 when she became involved in a collision with a Japanese steamship, the "Kitano Maru", of the mouth of the Humber, having again commenced the cruise from Immingham on a cruise to Scandinavia, This accident happened on a beautiful sunny day, but it had all to do  with the rules of the road, so to say, for at sea it involves an understanding of the "stand on ship" ship and the "give way" ship in much the same way as the road traffic at the crossroads and roundabouts in some countries, where the rules are give way to the right.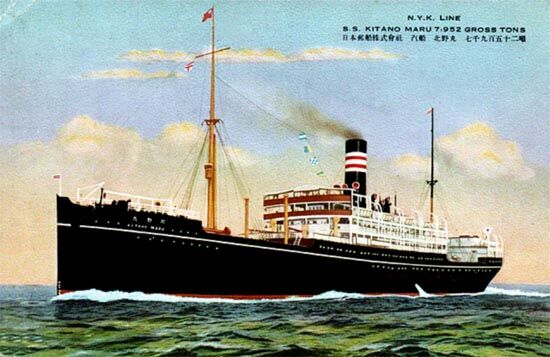 The long and the short of it was the Japanese ship obviously had no idea of ocean going rules, and the crew on the Otranto were forced to take evasive action at the very last minute when it became obvious that the other ship came charging at them. Thankfully there was only some light damage to the Otranto, although the Japanese ship was badly damaged, but there were no injuries.
The next morning on August 12, 1928 all passengers were discharged back at Immingham before she once again headed for Southampton for repairs.
However cruising continued to be very popular it continued on an annual basis.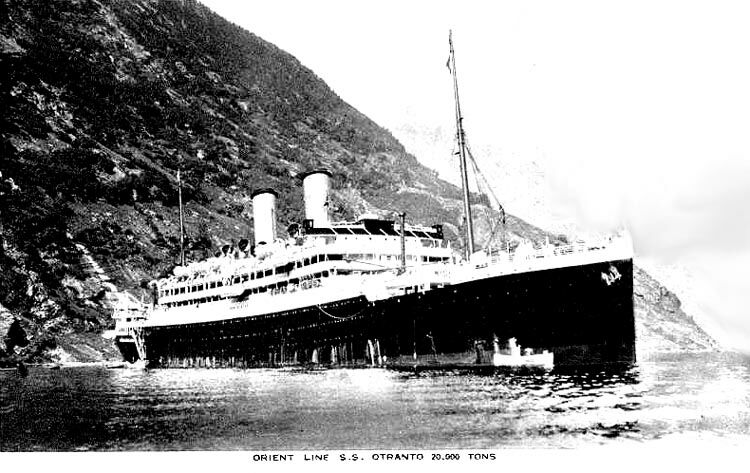 The S.S. Otranto is seen here at anchor whilst on a cruise in Scandinavia
In 1929 there was another schedule of four 20 day or longer cruises departing from Immingham (Grimsby) UK, to the Northern Capital's on June 22, 1929, then the Norway cruises, on July 13 & 27, and again the Northern Capital Cruise August 10.
During another voyage to Australia in May 1932, the R.M.S. Otranto played a part in the rescue of the passengers and crew of the French 17,359 GRT liner the M.S. Georges Philippar in the Gulf of Aden.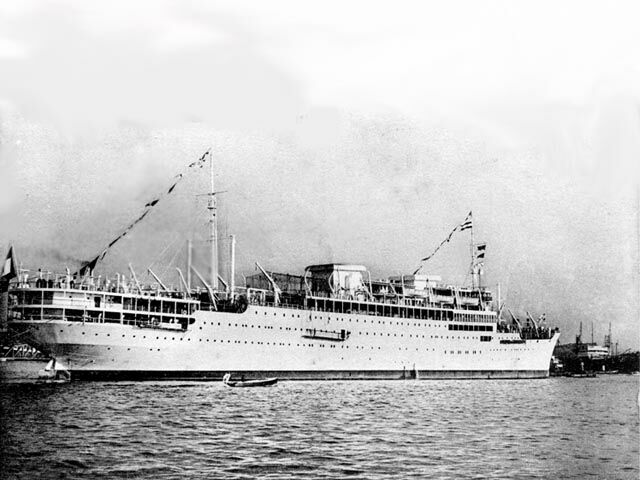 The M.S Georges Philippar caught fire and sank in the Indian Ocean
Amazingly this strange looking ship with those hideous flat topped square funnels, was retuning homeward whilst on her maiden voyage to Asia. Apparently on May 16, while "Georges Philippar" was 145 nautical miles (269 km) off Cape Guardafui, Italian Somaliland, a fire broke out in one of her luxury cabins occupied by Mme Valentin, when a spark from a faulty light fitting ignited the wood panelling and there turmoil on the ship and things did not go as they should have gone, and I mean fire-fighting with some sort of efficiency! The "Otranto" took on board passengers and some of the French and took them to safety.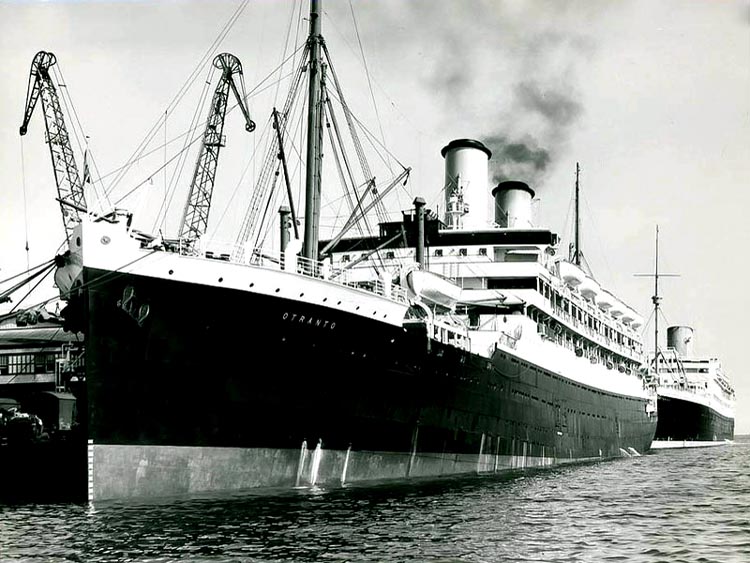 The "Otranto" is seen berthed at 'Station Pier' in Melbourne
She continued her line voyages, and in March 1933 the "Oranto made a visit to Hobart in Tasmania, very much like a short cruise extension at the end of her voyage from London. However later in her career Hobart would become a more regular port of call for her as she would collect fruit from this very fruitful Island! In 1933 she returned to the UK carrying 18,00 cases of oranges from Australia, being the largest consignment of citrus goods ever transported by a ship to that date. To combat the deterioration of this cargo, as well as the sweet smell heading up into the passenger areas, Orient introduced a unique ventilation system for the holds of all their 20,000 ton liners that was called "Ozoneaire".
Also in 1933 it had been decided that her route to Australia would have some new ports of call added and calls would also be made at Palma and Majorca on the Australian service.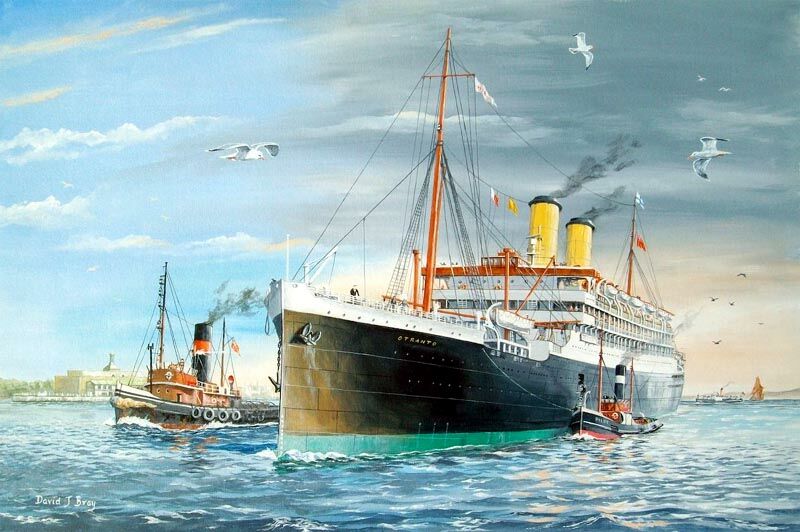 Painting of the R.M.S. Otranto arriving at Tilbury from Australia
Painting by maritime artist David J. Bray and you can visit his website at;
https://nauticalnostalgia.com/sea-breezes-otranto.
A Refit and Changes:
In 1935 she received a refit which saw her accommodations change drastically; From 572 in First Class and 1,168 in Third Class, to 512 First Class and just 476 in Tourist Class passengers, thus only a total of 988 passengers, instead of a total of 1740 passengers as built.
In May 1937, the S.S. Otranto was at the "Coronation Naval Review" in the Solent, carrying fare-paying spectators.
She continued her cruise duties and her busy line voyage schedule for the next two years, however, it became clear that there was a cloud on the horizon in Europe, and that war seemed to be most likely, and Britain officially declared war on Germany on September 3, 1939.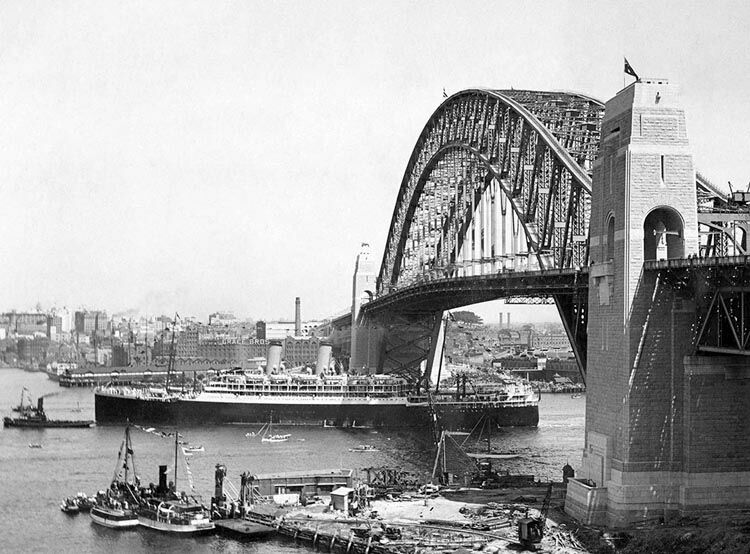 R.M.S. Otranto arrives in Sydney just as the war is being declared
World War Two:
And soon enough the R.M.S. Otranto would be involved, for in September 1939, she was in fact requisitioned in Sydney to carry Australian troops to the Middle East.
In 1940, being located back at the UK, but she then evacuated troops from France. And in September 1942, she rescued survivors of the 'Tuscan Star' from a lifeboat in the South Atlantic. November 1942, she landed Commandos and US Rangers at Algiers during the North African campaign, etc.
In February 1943, she was converted as a Large Assault Carrier and after exercises in the Gareloch sailed for Suez via the Cape.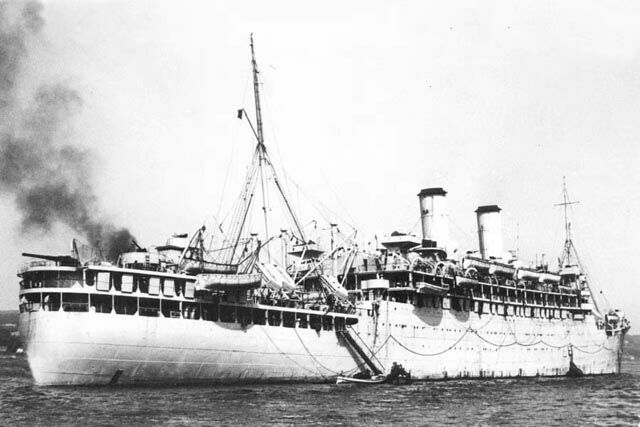 The Troopship H.M.S. Otranto
July 10, 1943 she took part in landings at Marzemi Beach in south-east Sicily. And she was later present at Salerno before reverting to trooping duties.
As an assault ship the "Otranto" assisted in the allied landings at Algiers (Operation Torch), Sicily (Operation Husky and Salerno (Operation Avalanche).
In November 1945, she repatriated British troops from the Middle East and later from India.
Although the H.M.S. Otranto" had been technically released, yet she was retained for trooping duties at the end of the hostilities in 1945, and she spent the next three years serving as a repatriation ship, relocating Allied service personnel between Europe and the Far East and New Zealand.
In January 1947, she was in Sydney Australia for a very specific voyage transporting Italian soldiers, who were Italian prisoners of war, as well as an Australian Guard of 46, and civilians numbering 523 up in the original first class section, of these civilian passengers, 200 of these were war brides travelling to the UK, and the passengers were very clearly told that they were not to fraternise in any way with the POW's should they ever meet, be it by accident, if they did, the punishment was simple they would be removed from the ship, it was as simple as that!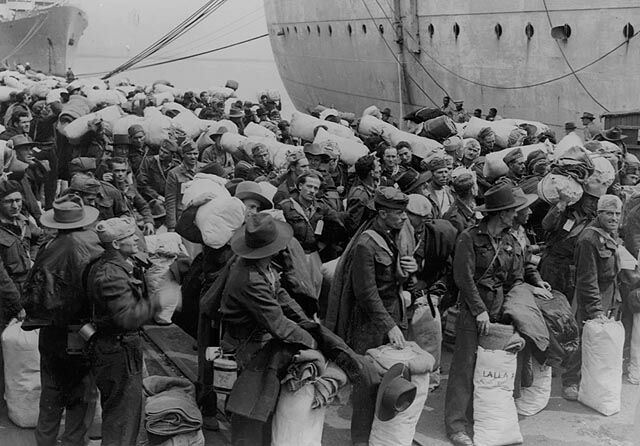 Italian POW's waiting to board the "Otranto" and head home for Naples, Italy
Australian guards and the 448 Italian POW's had boarded the "Otranto" at Sydney's Wooloomooloo Wharf on in January 1947, as had had her passengers on January 8. She departed quietly that afternoon and headed south for Melbourne arriving on January 12, where another 3,000 Italian POW's were rapidly boarded. After departing Melbourne, she headed for Fremantle where another 260 POW's boarded, thus when she departed Fremantle she had a total of 3,708 Italian prisoners of war on board. She arrived at Suez for refuelling on February 2, and at Naples on February 5. However, due to extreme weather conditions locally, this forced the "Otranto" to remain out at sea until the wild winds abated. In fact the gale force winds had already torn other ships at Naples Harbour right from their very moorings and the place was in chaos! But once the storm abated she was able to enter and they allotted a berth in order for her human Cargo of Italian soldiers to disembark. The voyage remarkably took just 27 days to Naples. Thereafter she returned to the UK and continued further duties for another year.
In June 1948, the "Otranto was released from Government service, during which she carried 145,448 troops, 10,076 prisoners of war and 3,181 civilians and she had steamed 335,655 mi or 540,169 km. And as we have seen, her very first WW2 engagement was her transporting the first Australian contingent of troops to the United Kingdom.
Back to Civil Duties:
The "Otranto" was the last ship to be officially returned to the "Orient Line" and soon as she was returned, she immediately sailed up the Mersey on June 8, 1948, to the "Cammell Laird & Co", at Birkenhead for her refit which came at a cost of UK£1¼ million pounds, half of which was paid for by the "Orient Line" and half by the "Ministry of Transport". This extensive overhaul and refit, would take just over 12 months. The biggest change would be that she would become an all One Class "Tourist" ship, with accommodations for 1,412 passengers.
On March 19, 1949 she was being refloated in the dry-dock, when she took a sudden 30 degrees list. Her crew on board got very busy with the pumps and slowly she righted herself. With the assistance of tugs she was taken alongside the Gladstone Dock where the final stages of her refit were completed. Internally she was certainly very much like a new ship, but externally she was very much unchanged except for her lifeboat layout which had changed.
R.M.S. Oranto was ready once more to recommence her pre-war role as a passenger liner, and she was once again made ready for her first post war voyage, which was quite an event!
The R.M.S. Otranto departed Tilbury on July 4, 1949 with a good crowd on board waving goodbye to all their loved ones and friends ashore as she slipped her moorings and she was indeed a fine sight as she left port.
But his time she would be operating a faster 26 day voyage sailing from Tilbury to Fremantle, her new schedule was a direct voyage to Port Said, then to Aden, Colombo, Fremantle, Adelaide, Melbourne and Sydney and Brisbane, etc. The reason being was that these voyages were more aimed at Government Assisted passengers from the UK to Australia and not as much as the tourist trade, although some tourists would of course still sail on her in the better cabins. The return voyages were of course based on the tourist trade and everything would be upgraded including ports, services, entertainment and menus, etc.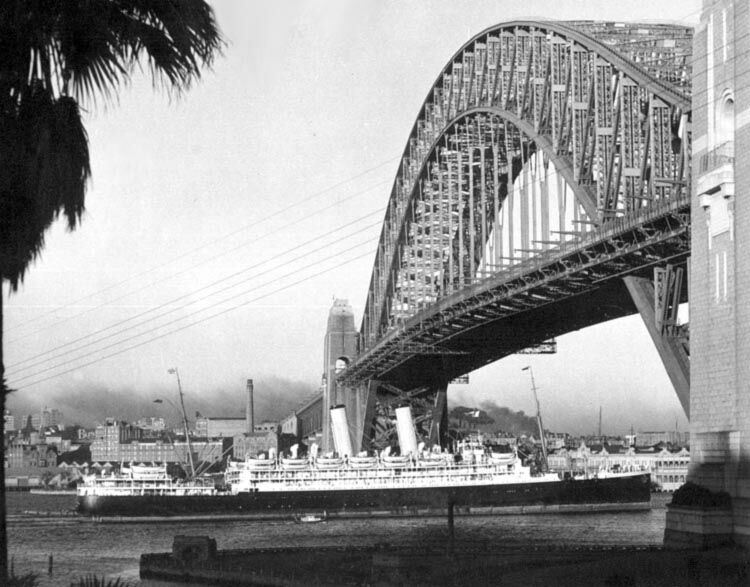 R.M.S. Otranto arrives at Sydney on August 19, 1949
She remained a popular ship in-spite of the newer ships coming in service, for the "Otranto" was a happy ship, and she had become known as a ship that rode the seas very well, which she did!
Thus she continued all her services, line voyages to and from Australia, and her European - Scandinavian and Mediterranean cruises, etc.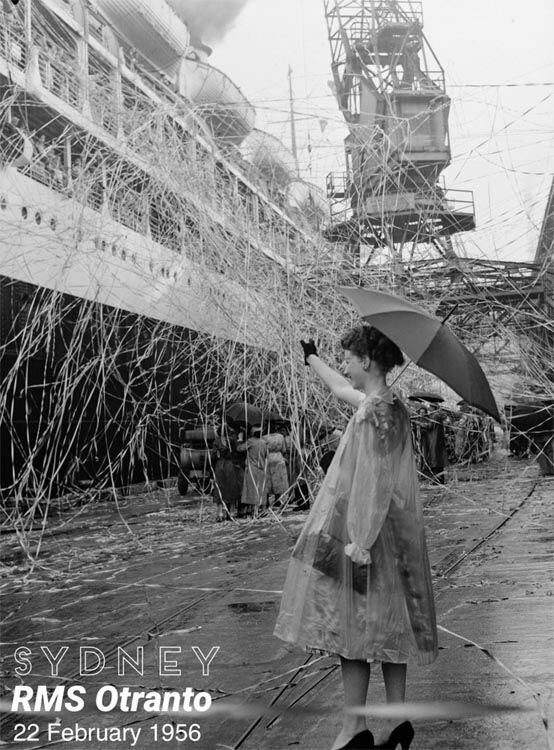 The R.M.S. Otranto is about to let go of her lines and soon all those streamers will break
and "Now is the Hour" will be playing as she departs and many will be off on their vacation
to Britain and Europe, etc, whilst some of the past migrants have decided to return home.
Having returned to Britain, she returned to another series of cruises, and they continued with their usual success. And after her cruise season was over it was back to her usual Australian duties.
However, in February 1957, the "Otranto" was delayed at Tilbury due to engine problems but with rapid repairs being made she finally departed on February 13. This voyage she had to sail around South Africa and make a call at Cape Town, due to the Suez Canal being closed.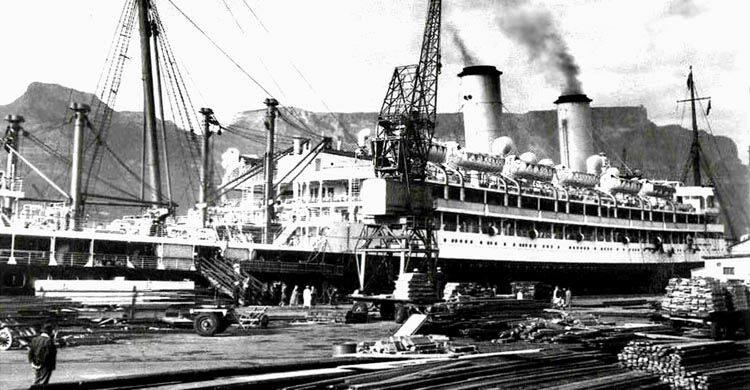 The R.M.S. Otranto is seen at Cape Town during her final voyage to and from Australia
However, her engine problems sadly recurred just she arrived in Adelaide, thus it was not surprising that on her return to Tilbury that her owners had decided to withdraw her from service, thus this turned out to be her very last official voyage ever.
However, she did manage to complete her schedule and visit Melbourne, Sydney and Brisbane etc, and she did have her final farewell as she departed late in April with her long white pennant flying from her aft mast as she departed Sydney for the final time as she departed heading home for Tilbury.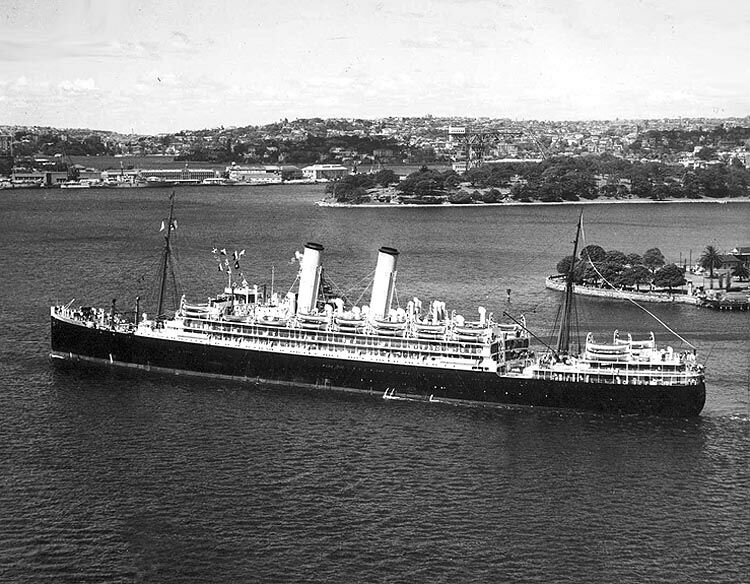 The R.M.S. Otranto departs Sydney for the final time with her long white pennant flying
When the "Oranto' arrived home her final passengers had disembarked the ship, as had most of her crew, and she was laid up locally and due to her mechanical problems, it was decided that the "Otranto" would be sold. And soon a buyer turned up who purchased her being the "British Iron and Steel Corporation" (BISCO).
Then on June 12, 1957, the "Otranto" slipped her moorings at Tilbury bound for the Faslane yard of the "Shipbreaking Industries Ltd" who soon commenced the demolition of the "Otranto".
This fine ship with well over 31 years of Line voyages as well as countless cruises behind her, not to forget her arduous war duties, thus she had served her owners and her country exceptionally well.
The wonderful R.M.S. Otranto had by now completed 128 line voyages to Australia and - from Australia back to the UK, or 64 full return voyages (Tilbury, Brisbane, Tilbury) during peacetime! And now, although the "Orient Line" had certainly built some fine new ships, but it somehow they were without a doubt, unlike these fine old girls, which had that unique kind of charm that was now sadly lost forever!
Please Note: Menus and items of Souvenirs & Memorabilia are located directly below the Ships Specifications & Details, etc.
Specifications & Details R.M.S. Otranto (II):
Name:                                   Otranto 1925 to 1988.
Type:                                     Passenger Cargo Liner.
Registered Owners:                  "Oriental Steam Navigation Company".
Ordered:                                Mid 1924.
Builders:                                Vickers Armstrong Ltd, Barrow-in-Furness shipyard.
Laid Down:                             Late 1924.
Yard No:                                619.
Launched:                              June 9, 1925.
Sea & Speed Trials:                  December 1925.
Delivered:                               After her Trials in December 1925.
Registered at:                         Barrow, UK.
Maiden Voyage:                       January 9, 1926.
Identification:                         146025.
UK Official No:                        KTMQ (until 1935).
Call Sign:                               GFKV (from 1934.
Classification Society:               Lloyds of London.
Tonnage:                                20,032 GRT, 12,031 NRT.
Length:                                  632.0 ft - 192.6 m.
Width:                                   75.2 ft - 22.9 m.
Draught:                                37.6 ft - 11.43 m.
Engines:                                 Six single-reduction-geared Parsons steam turbines to 2 shafts, by her builder, 20,000.
Boiler Details:                         Six double-ended and two single-ended (oil fired) boilers supplied steam at 215 lbf/in2 to the turbines.
Power:                                   3,722 NHP.
Propellers:                              Twin Screws.
Speed:                                   18 knots service speed,20.8 maximum speed.
Sensors & Processing:              Wireless Direction Finding systems.
Accommodations:
As built:                                 572 First Class & 1.168 Third Class.
1935:                                    512 First Class & 476 Tourist Class.
1949:                                    1,412 Tourist Class.
Passenger Decks:                    7 – "A" TO "G" Decks.
Crew:                                    470.
General Cargo:                        109,044 cubic feet.
Refrigerated Cargo:                  170,688 cubic feet.
Holds:                                    7.
Fate:                                     Sold for scrap, June 1957.
*********************
Menus, Souvenirs & Memorabilia:
1… Menus:
Interestingly on all her Menus she is always listed as the S.S. Otranto, rather than the R.M.S. (Royal Mail Ship). Only on the Children's Birthday Menu do they have her with the R.M.S. prefix, very strange?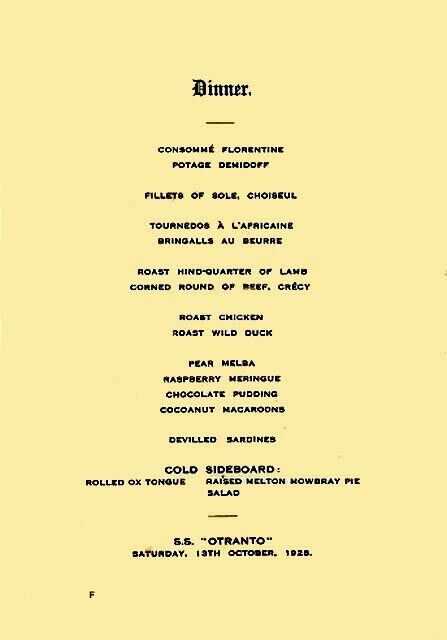 A Dinner Menu October 13, 1928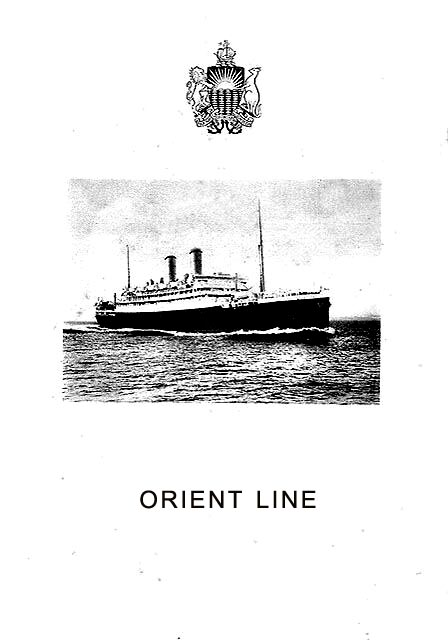 -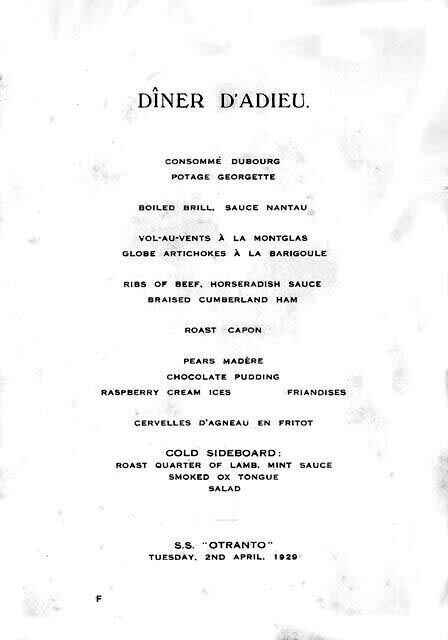 A Menu Diner D'Adieu April 2, 1929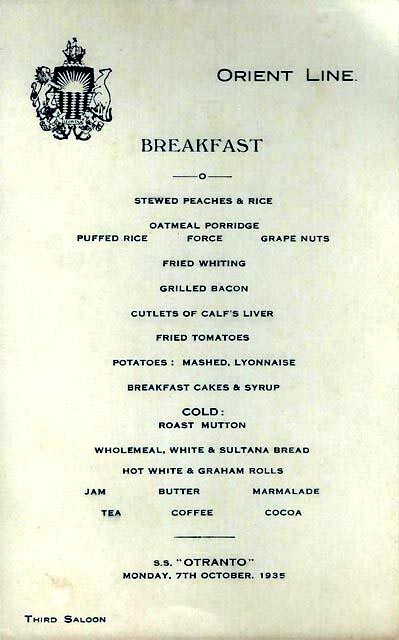 Third Class Breakfast Menu October 27, 1935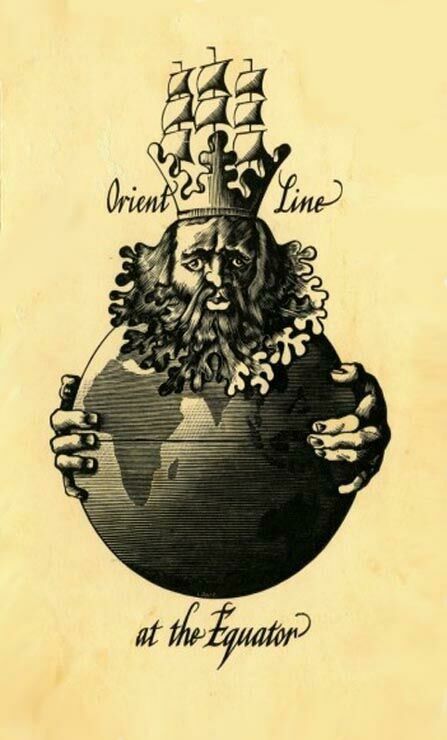 Above & below: Special Equator Dinner Menu cover January 29, 1935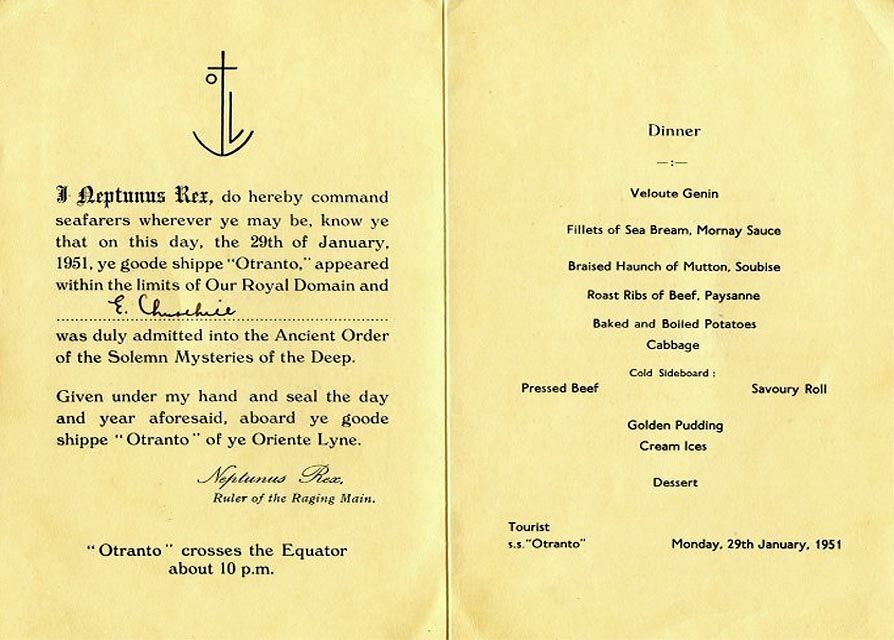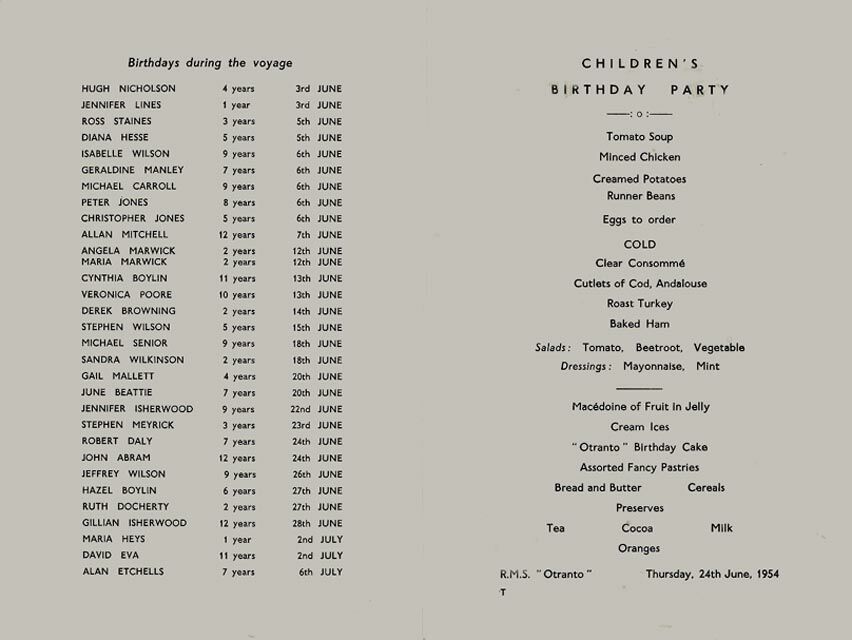 The special Children's Birthday Luncheon Menu June 24, 1954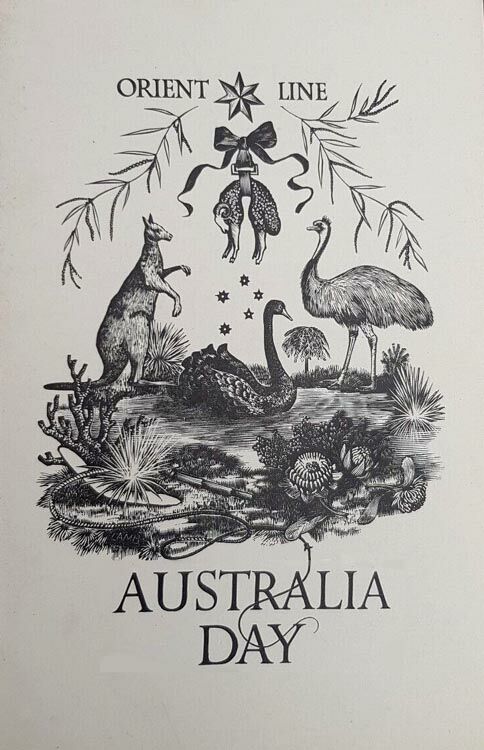 Above & below: A special menu celebrating The Australia Day Dinner on January 26, 1956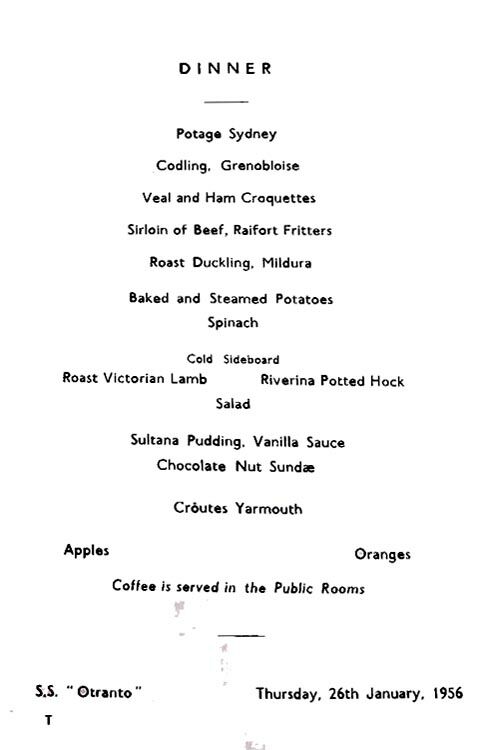 Above & below: A special menu celebrating New Zealand Day or Waitangi Day on February 6, 1956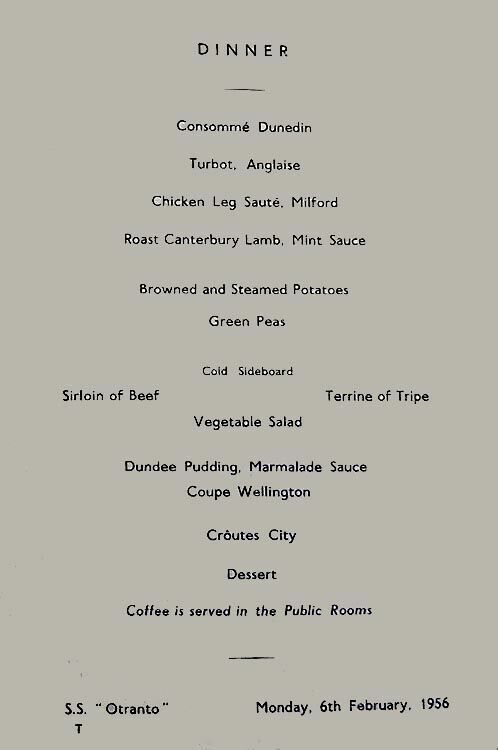 2… Souvenirs & Memorabilia:
The items shown below were either purchased on-board the "Otranto" when she was operating as a Cruise ship or a Liner during her 31 years in service, or some items may have been won as part of a competition, etc.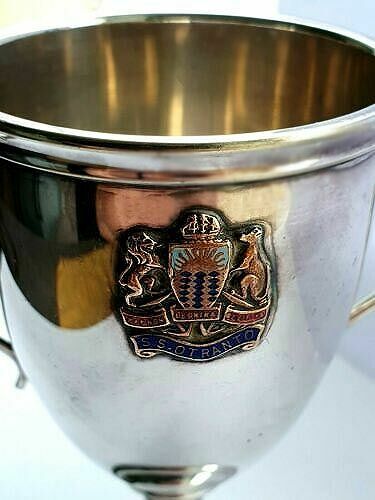 This is a Silver plated Trophy Cup won after a sports tournament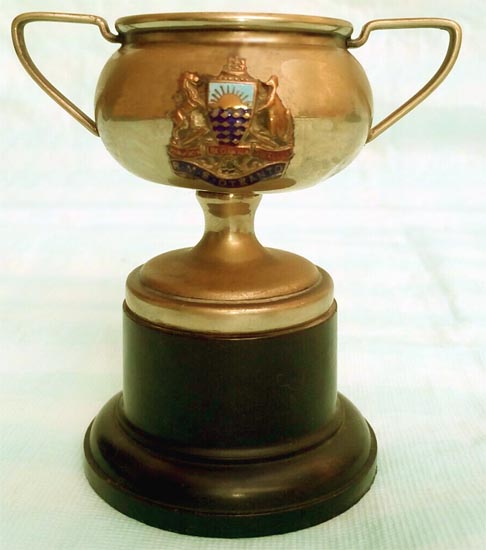 Above & below: This is a Gold plated Trophy Cup for a major tournament's first Prize winner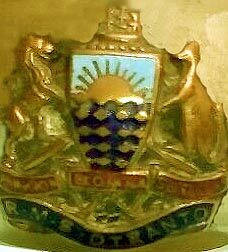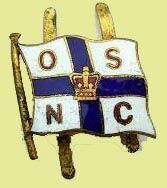 An original style 'Orient Steamship Navigation Company' House Flag Badge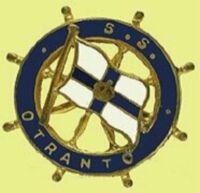 -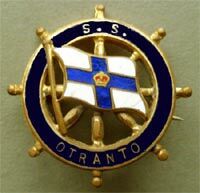 Two steering wheels with the 'Orient Line' House Flag
One is from a Line voyage thus the R.M.S., the other is from a Cruise thus the S.S.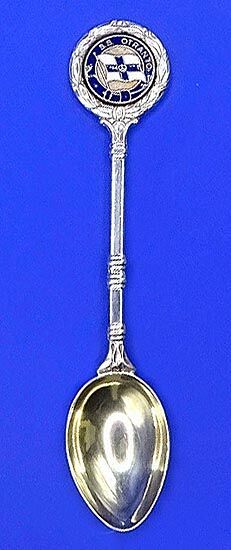 The typical souvenir, an "Otranto" Teaspoon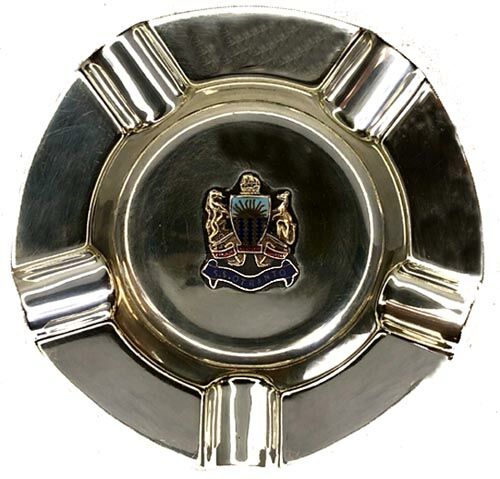 Above & below: An "Otranto" ashtray with a badge in the centre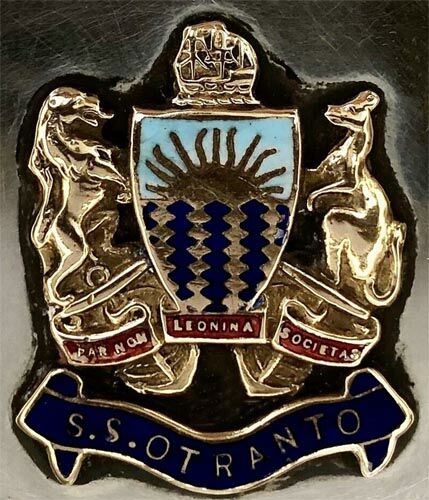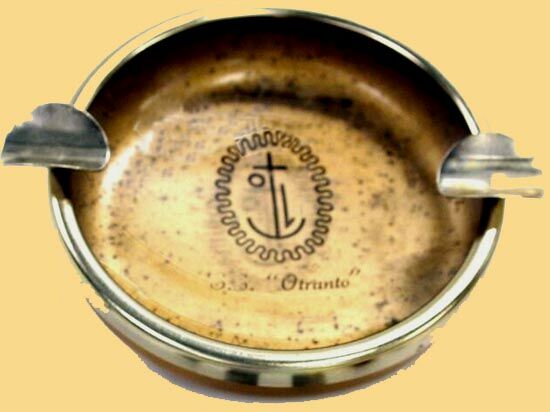 Obviously a heavily used ashtray from the R.M.S. Otranto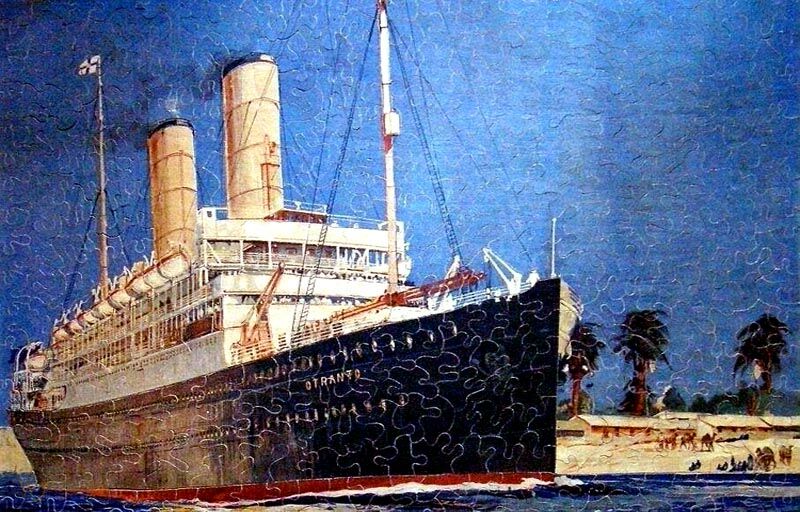 Finally, a photo taken of a completed puzzle of the S.S. Oranto
by an elderly lady who cruised on her in the 1920's
Sent in by her grandson, Jonathan Eldridge (Lichfield, Staffordshire, UK)
*********************
R
emembering the …
Orient Liner - R.M.S.
Oranto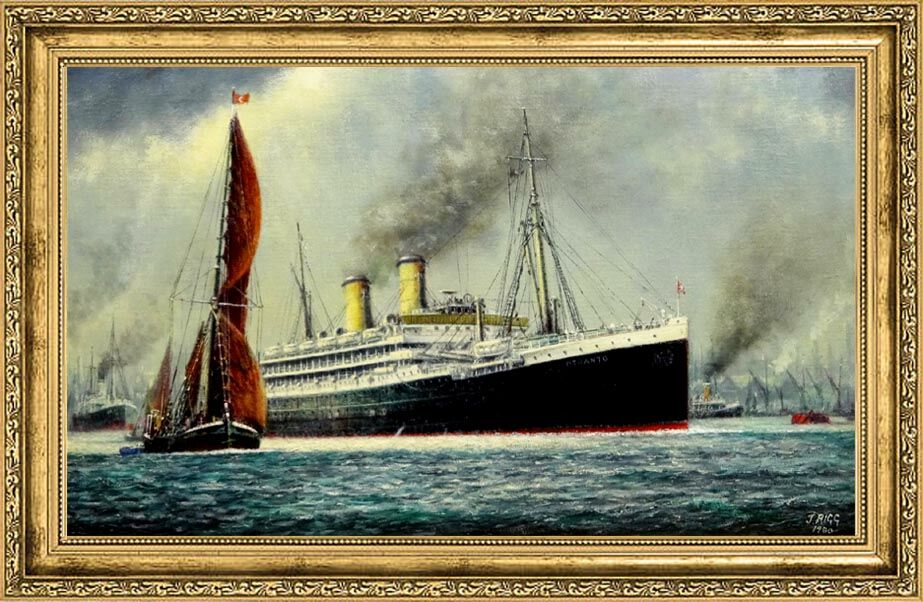 The R.M.S. Otranto is seen painted on the Thames and obviously by a master artist, a J. Rigg
A copy of this amazing painting was sent to me by a long standing UK supporter Oliver Kendrick
*********************
 "Blue Water Liners sailing to the distant shores.
I watched them come, I watched them go and I watched them die."

Featuring over 1,550 Classic Passenger Liners, Passenger-Cargo Liners & Classic Cruise Ships!
Or ENTER HERE
For interest: Sadly an email service to ssMaritime is no longer available, due to the author's old age and chronic illness as well as being disabled, etc. In the past ssMaritime received well over 120 emails per day, but Mr. Goossens can no longer handle same. He sincerely regrets this!
*********************
ssMaritime.com & ssMaritime.net (Offline)
Where the ships of the past make history & the 1914 built M.S. Doulos Story.
The Author has been in Passenger Shipping & the Cruise Industry for well over 60 years
In addition he was the founder of "Save the Classic Liners Campaign" in 1990.
Please Note: ssmaritime and associated sites are 100% non-commercial and the author seeks no funding or favours of any shape or form, never have and never will!
Photographs on ssmaritime and associate pages are by; the author or from the author's private collection. In addition there are some images that have been provided by Shipping Companies and private photographers or collectors. Credit is given to all contributors. However, there are some photographs provided to me without details regarding the photographer/owner concerned.
This notice covers all pages; although, and I have done my best to ensure that all photographs are duly credited and that this notice is displaced on each page, that is, when a page is updated!
ssMaritime is owned & © Copyright by Reuben Goossens - All Rights Reserved