RMS Parthia, Remuera & Aramac 1947 to 1969
Please Note: Firefox, iPhones, iPads & some other Search Engines may not be suitable
Use Internet Explorer & Old Google for this Web Page to load perfectly!
Click the logo above to reach the ssMaritime FrontPage for News Updates
With Reuben Goossens
Maritime Historian, Cruise'n'Ship Reviewer, Author & Lecturer
Please Note: All ssmaritime and my other related ssmaritime sites are 100% non-commercial and privately owned sites. Be assured that I am NOT associated with any cruise or shipping companies or travel/cruise agencies or any other organisations! The author has been in the passenger shipping industry since May 1960 and is now semi-retired, but continues to write article on classic liners and cruise ships in order to better to inform cruise and ship enthusiasts for their pleasure!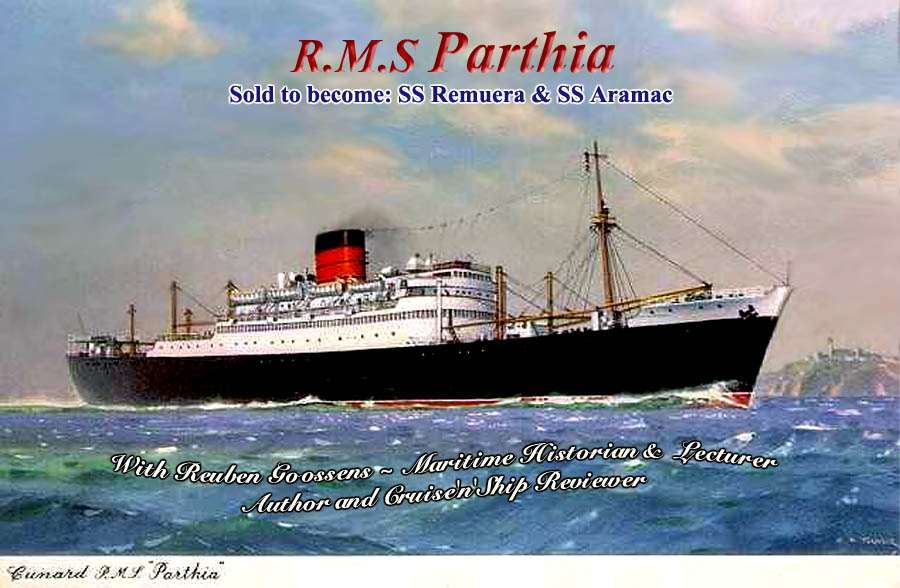 Please Note: Photographs & Images are from the Author's private collection, unless otherwise stated!
The all First Class Cunard Luxury Liner RMS Parthia was an amazing luxury Passenger Cargo Liner built for Cunard Line for the Liverpool to New York service. She was the first of a pair of identical ships to be built, although this ship was built by the famed Harland and Wolff Shipyards in Belfast, a company that had built some of the largest and the world's most famous grand liners!
Both ships were conceived at the conclusion of the war and plans were quickly set in motion the ship that would become the Parthia was ordered first to be built by Harland & Wolff, whilst the second, the Media would be build by John Brown & Co at Clydebank.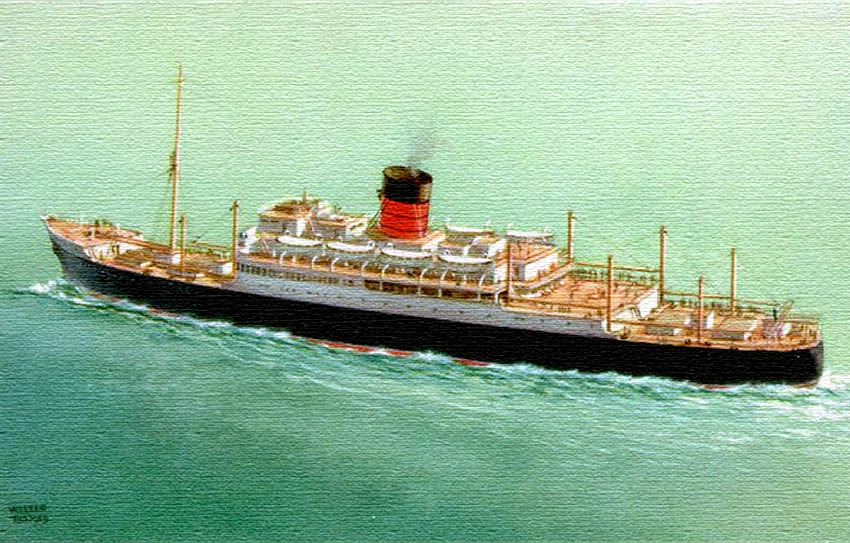 A Cunard postcard with an artist impression of their new RMS Parthia
The Parthia was launched on February 25, 1947 and was taken to her fitting out berth for completion, which was a rather slow process, for she was not completed and delivered early April 1948 having had her deep-sea trials, which proved successful reaching a speed of 18 knots service speed, but a top speed of 19.4 knots. Her Gross Registered tonnage was; 13,362 GRT. In Liverpool, she was manned with a highly specialised crew of 184 to pamper her 251 privileged passengers.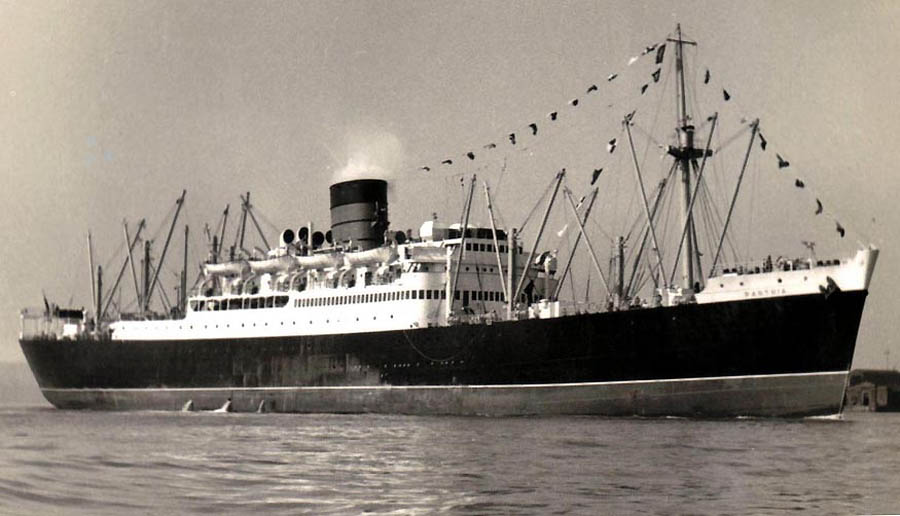 RMS Parthia seen as built with her Promenade Deck partially glassed-in
The RMS Parthia departed on her maiden voyage to New York on April 10, 1948 and she became known for her comfortable cabins and luxurious public rooms, however only her public rooms were fully air-conditioned, whilst cabins had air-forced ventilation.
Being a combination passenger-cargo liner, she had a considerable large cargo capacity, which was spread over six holds.
In November, 1950, the original bell from the steamer Parthia (I) was presented to the Cunard Line and it was installed on board the RMS Parthia, which was quite an honour! In due course during a refit, her Promenade Deck was fully glassed-in making her more suitable for the cooler North Atlantic weather.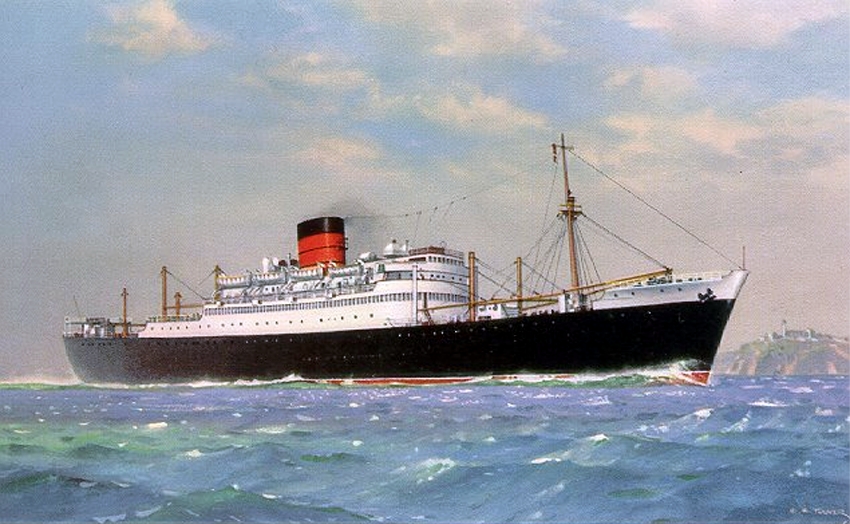 Postcard of the Parthia after her Promenade Deck was fully glassed-in
Due to the small number of passengers and the ships luxury and glamour, many Hollywood stars and other celebrities would sail on the Parthia again and again, one of the regulars was Kathryn Hepburn who simply loved the ship and she would always occupy the same suite. By sailing on these ships, they could avoid the crowds and these ships afforded more privacy and as passengers on this ship were all First Class, they understood the need of the better life, for they themselves desired the better life!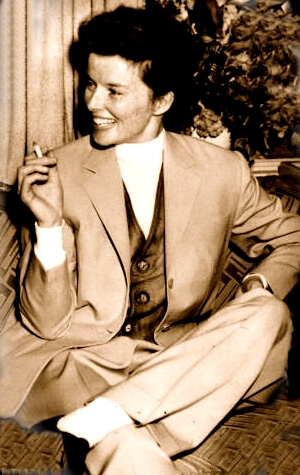 Miss Kathryn Hepburn is seen in her Suite on the day of departure from New York!
Parthia's Interior Photo Album
Photograph's are from the ssmaritime collection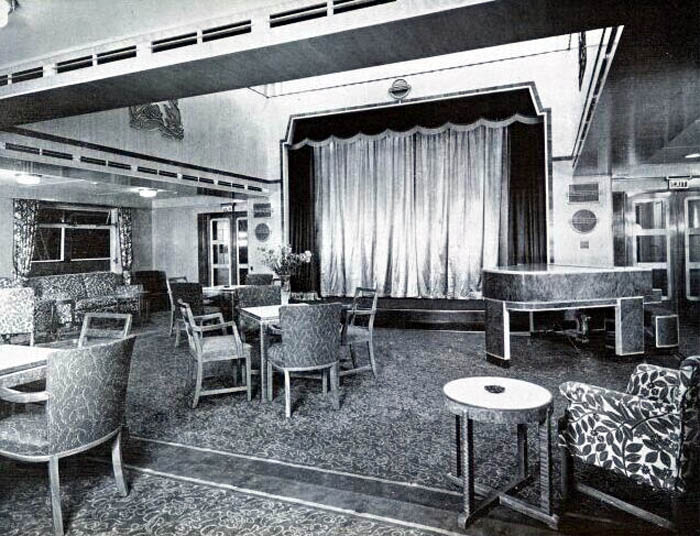 The delightful Main Lounge that also served as the cinema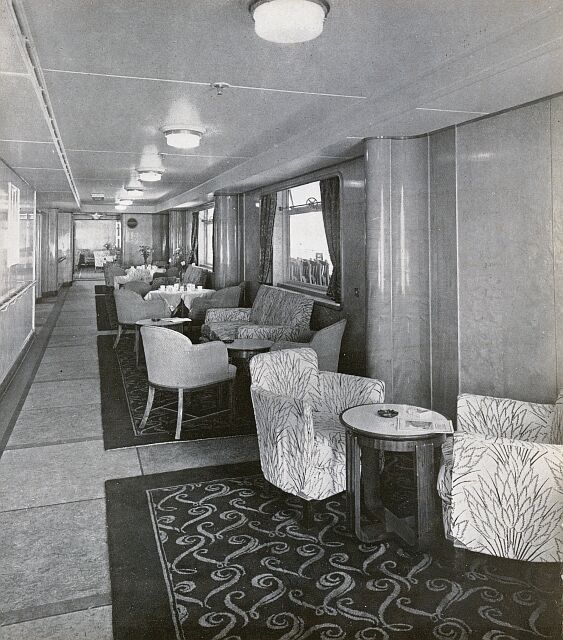 The Long Gallery took you from forward to aft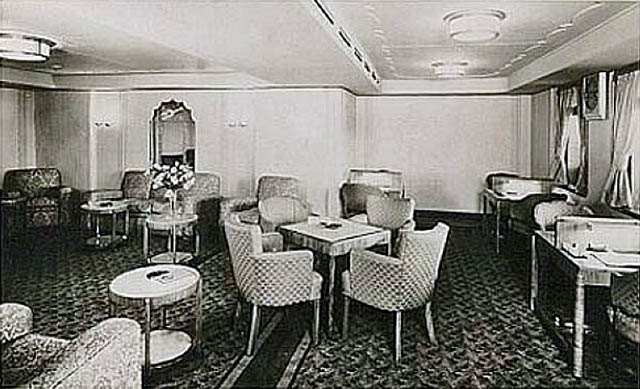 Writing and Reading Room, the place to write home, or just to relax and read a good book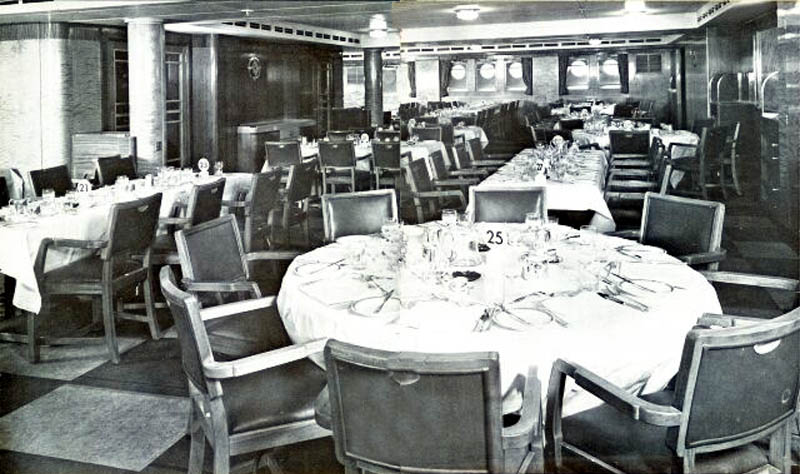 Dinning Room for fine cuisine and Curnard's excellent service!
Although the RMS Parthia was very successful during her first years, but slowly things commenced to change. She began to operate on both the New York and Canada service and the odd additional port would be added, but sadly her loadings began to slowly suffer. This had much to do, because she was a passenger cargo ship and with the additional ports of call the voyage between the UK and the USA would take longer and with the world being in more of a hurry, many passengers now tended to prefer the faster "express liners" as well as enjoying the high life at sea with the grander and fancy life of the much bigger ships now sailing the Atlantic! Thus sadly Cunard Line decided to sell the delightful RMS Parthia and they very quickly found a buyer!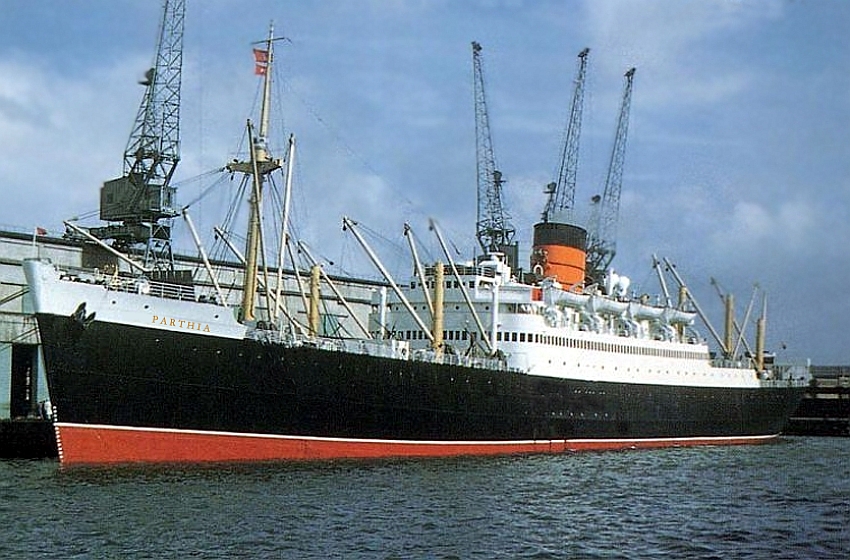 RMS Parthia seen toward her final days
The Parthia made her very last sailing for Cunard, from Liverpool to New York on September 23, 1961. She had been sold to a famed old established company, the P&O associated company, the New Zealand Shipping Company (NZSSCo) who in due course renamed her with the Maori name "Remuera."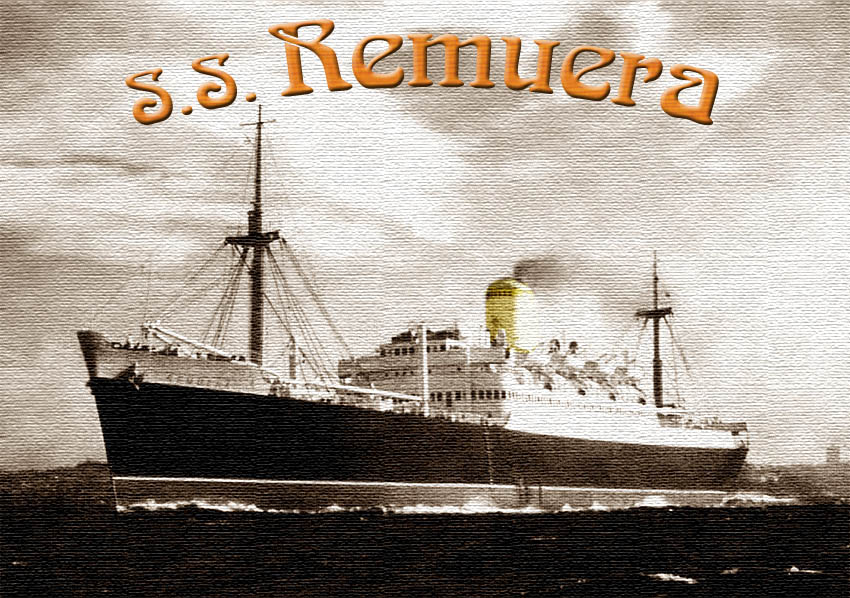 The ship was sent to A. Stephen and Sons shipyards in Glasgow for a refit that included having air-conditioning extended throughout the ship, as well as extending her Main Deck far aft thus adding new accommodations, such as two, four and six berth cabins on Main and B Decks. In addition the far aft king posts were removed and a main mast was fitted, giving her a well-balanced look! When completed she had a new passenger capacity of 360 in a One Class configuration. Her tonnage was registered as being 13,619 GRT.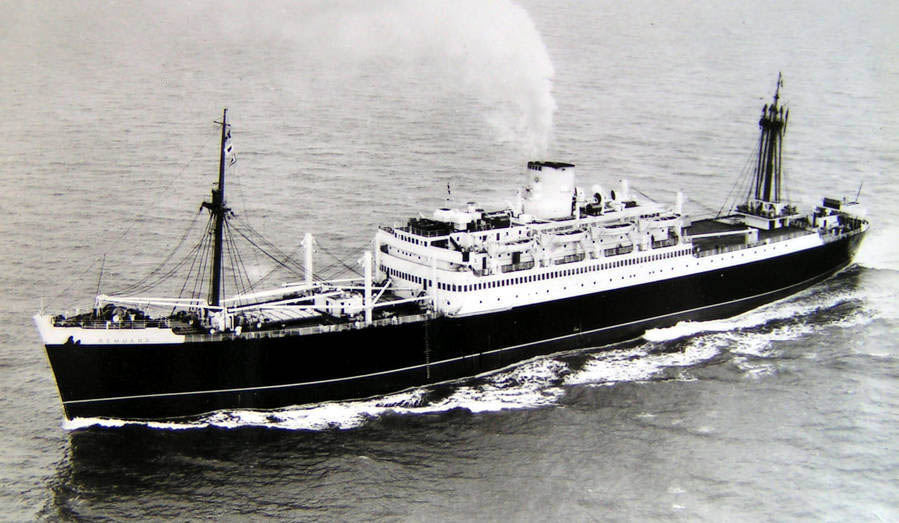 A fine aerial view of the SS Remuera during her early days
The fresh looking SS Remuera was eventually ready to commence her new duties in June 1962, joining the three other larger NZSSCo's motor ships, the superb ships the MS Rangitane, MS Rangitoto and MS Ruahine. This meant that she would always be the odd ship of the fleet, for she was the only steam ship and it would be this very fact that would see her have such a short life with the company, for the three other ships continued in service long after Remuera was sold, for as they were far more economical to operate! And made me wonder why NZSSCo obtained the ship in the first place for a much longer operation?
Ports of call: London via Willemstad Curacao, Panama and Papeete Tahiti to New Zealand (northern summer sailings were to Wellington; whilst winter sailings were to Auckland). Returning: Wellington or Auckland via Papeete Tahiti, Panama, Kingston Jamaica, Port Everglades Miami and Hamilton Bermuda to London.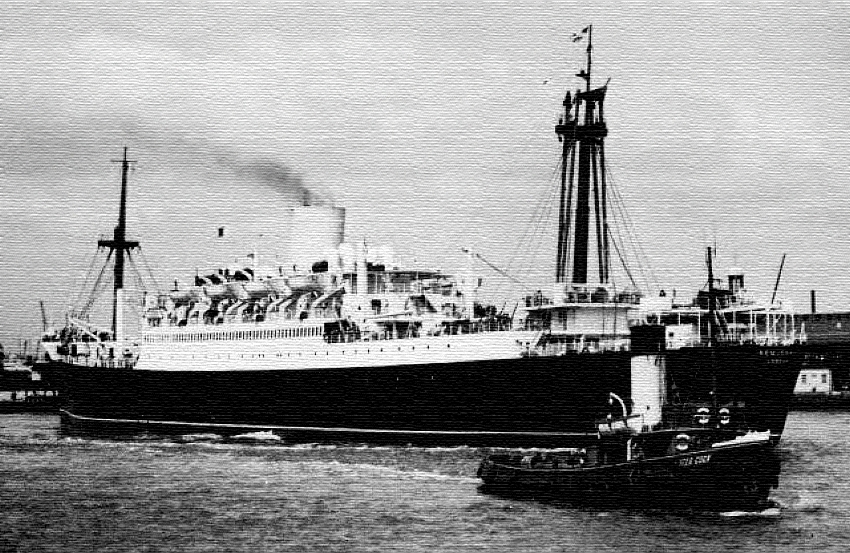 SS Remuera is seen early in her new career
SS Remuera commenced her maiden voyage on June 1, 1962 from London arriving in Auckland on July 27. For this special voyage, she continued to Wellington, Port Chalmers and Timaru, before heading back to England.
As I indicated earlier, the SS Remuera sort of became the "Misfit" of the fleet for several reasons: 1. she was the smallest ship however, she operated with the same number of passengers, thus passengers much preferred the three more modern and more spacious liners! 2. She was a steam ship thus always the odd one out and the reason she was sold so rapidly!
Whilst with the New Zealand Shipping Company she was fitted with a domed funnel top in order to aid smoke dispersion.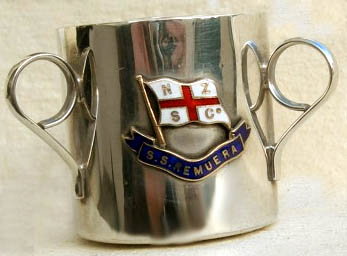 A souvenir silver mug that was for sale in the ships shop
Thankfully, her interiors were mostly untouched and her elegant interiors as seen above remained fully intact, rather having been modernised as it was done with so many other ships at the time. Thus she retained the delightful style of the old days, even though considering that the times had changed and she was attracting a younger clientele, thus it may have been a better a better business decision, if she had been internally modernised somewhat!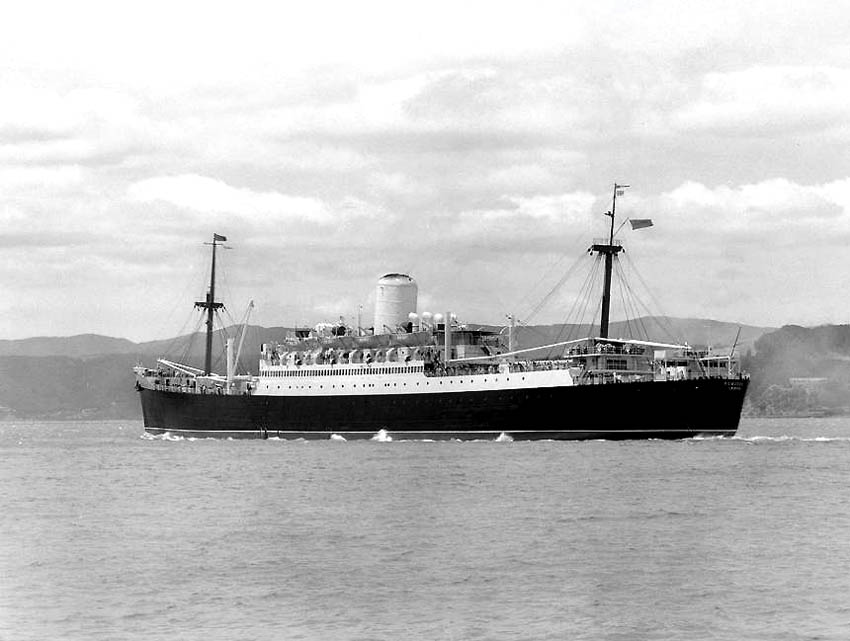 RMS Remuera is here seen with her new rounded funnel top added later
Photograph provided by David Fisher NZ, but photographer is unknown
*Please see the photo notes at bottom of this page!
But no matter how NZSSCo tried to make her a better ship and lower prices sadly, passenger numbers simply kept declining that the company was forced to offload the ship after just two short years of operation, whilst the MS Rangitane, Rangitoto and Ruahine continued to operate with good loadings and they continued in service for a number of years to come. Thankfully the Remuera was quickly taken over by another one of the other P&O associated companies late in 1964 to the relief of NZSSCo!
SS Aramac
On November 19, 1964 SS Remuera departed London for the very last time ever and she headed for Auckland New Zealand. As soon as she has disembarked all her passengers she crossed the Tasman Sea and headed for Melbourne Australia where she arrived on January 12, 1965. It was here she was officially transferred to her new owner the historic "Eastern & Australia Steamship Company" (E&ASSCo), a company that since the war had only been operating cargo services, and now decided to return to passenger operations once more! E&ASSCo decided to retain her interiors as she was for the Remuera was indeed of a very high standard and her lounges were perfect for the product the company were marketing!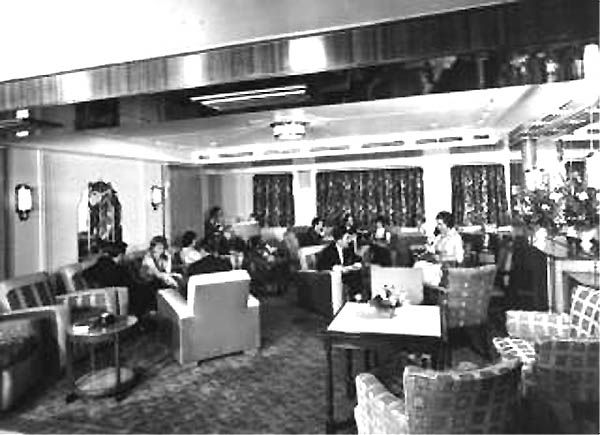 One of the ships Lounges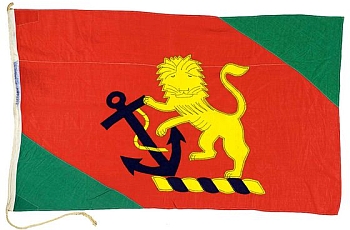 The "Eastern & Australia Steamship Company" flag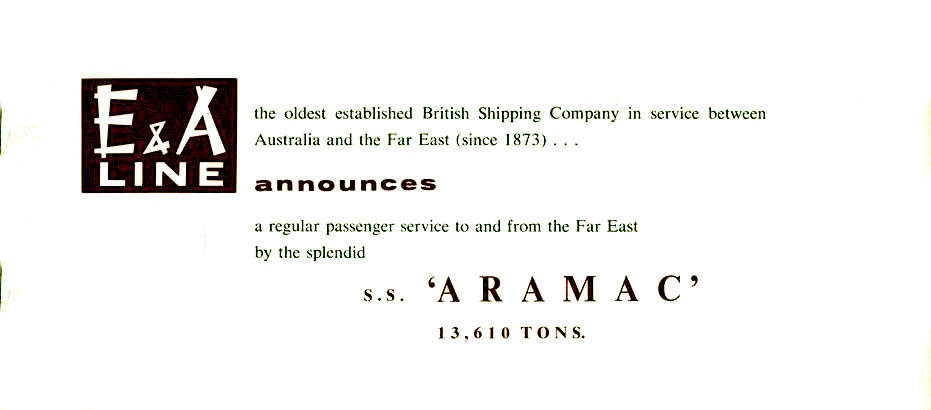 An Advance booklet containing information on the SS Aramac Cruises
Whilst In Melbourne she received her crew, was stored and had some work undertaken had her funnel painted black. Aramac's new voyages to Asia and Japan were advertised as circle Cruises, Melbourne/Melbourne, or from Sydney or Brisbane and advance sales were better than good and the ship continued to prove to be extremely popular! She departed Melbourne for her new Yokohama service on February 8, 1965.
Ports of call: Melbourne, Sydney, Brisbane, Yokkaichi, Nagoya, Tokyo (Yokohama), Kobe, Keelung, Hong Kong, Manila. Returning directly to: Brisbane, Sydney and Melbourne.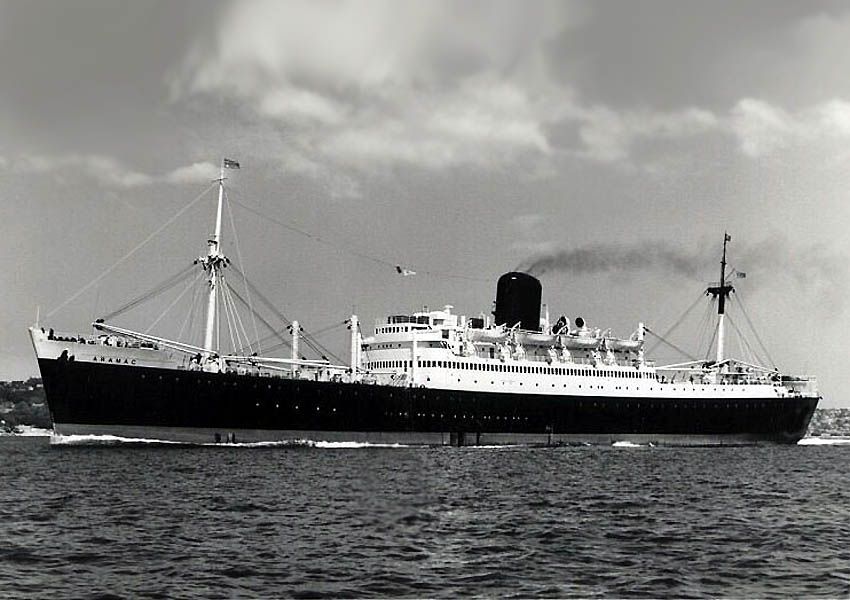 A fresh looking SS Aramac is seen departing Sydney for her first voyage to Japan on February 11, 1965
Photograph, I believe is By M. Walker - if otherwise please see photo notes below!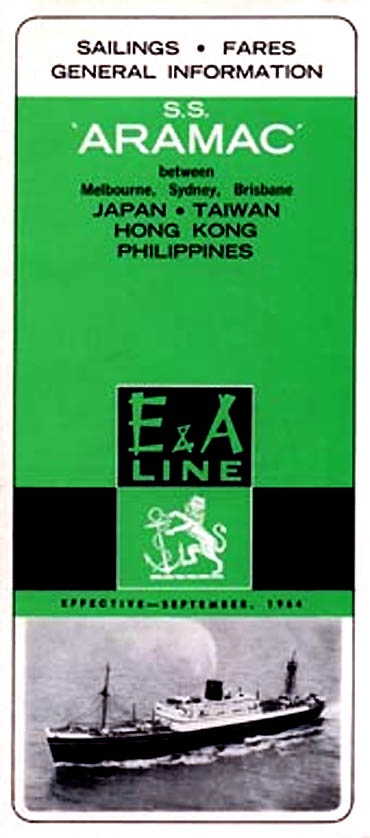 Aramac Sailing and Fares brochure 1965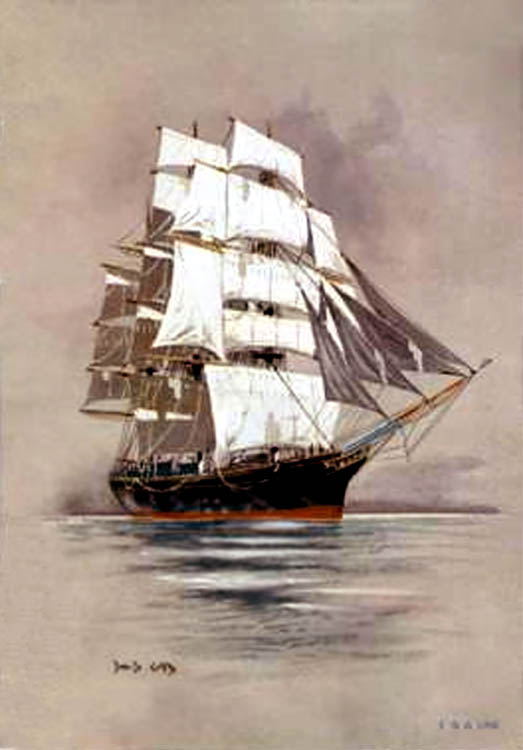 The cover of an Aramac Diner Menu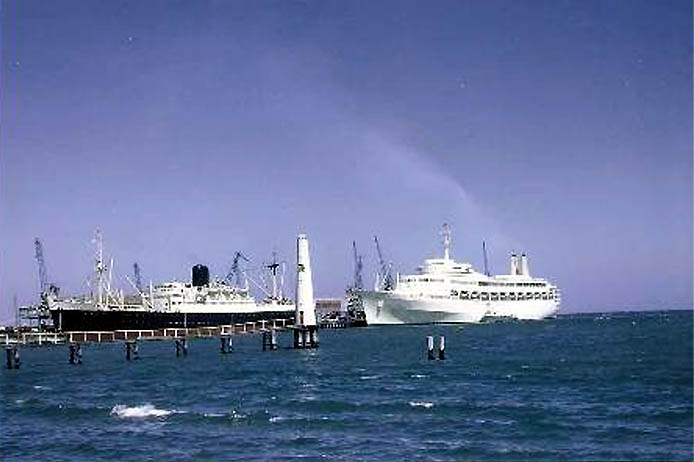 SS Aramac is seen at Station Pier Melbourne, with SS Canberra aft of her
Photographer unknown - *Please see the photo notes at bottom of this page!
In 1967 she was registered under the ownership the Federal Steam Ship Company, but returned to E&ASSCo in 1968.
Cruise services on the Aramac were so popular with her being usually fully booked and believe it or not, it was this very fact that strangely enough brought about her sad downfall, for the SS Aramac was replaced in 1969 by the more modern and very popular SS Cathay and she was joined by her sister the SS Chitral in 1970.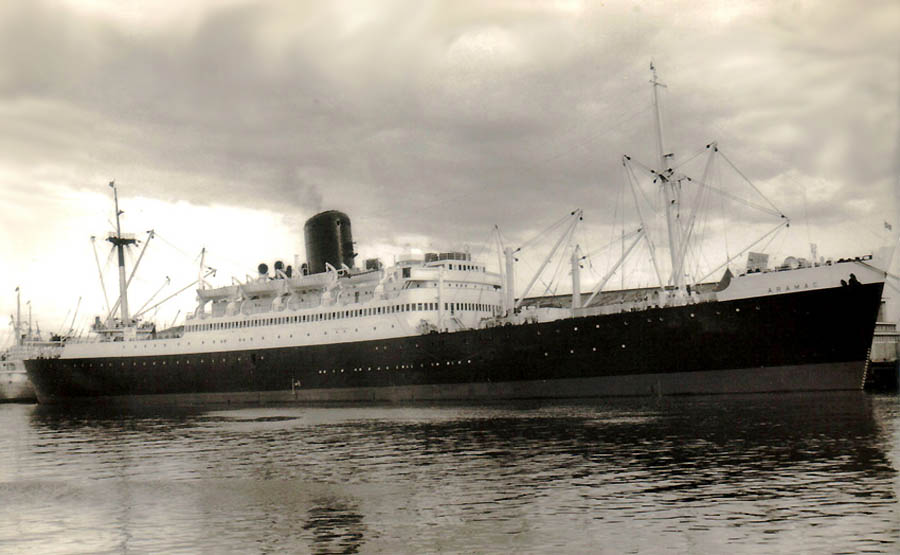 Another delightful photograph of the SS Aramac
Photograph from an A. Duncan print, from the Rich Turnwald collection
Thus, it late in 1969, after 21½ years of excellent service, the Luxurious RMS Parthia, SS Remuera and the extremely popular SS Aramac was sadly sold to the breakers. She did not have far to go as she made a one way voyage to Asia with a return voyage on the Cathay for her passengers, and the SS Aramac arrived at Kaohsiung Taiwan on November 22, 1969 to be broken up.
In conclusion; it is amazing that in her concluding years the ship was certainly at her very best and such a great success, for she was better than she had ever been before financially! But still, it was for that very reason she was disposed and only because of her age and being somewhat old fashioned she was sold to the breakers! But, there is no doubt that she was a delightful and a fine ship indeed!
Specifications:
Built: Harland & Wolff Ltd., Belfast.
Yard: 1331.
Launched: February 25, 1947.
Maiden Voyage: April 10, 1948.
Tonnage: 13,362 GRT
13,619 - 1962 SS Remuera
Length: 531.4ft – 162m.
Width: 70.3ft – 21.43.
Draft: 46ft – 14m.
Engine: Two sets of double reduction geared Parsons steam turbines – 15,000 SHP.
Boilers: Foster Wheeler watertube oil fired, working pressure of 450 lbs/sq in and superheated to 750 F.
Screw: Twin.
Speed: 18 knots.
Passengers: 250 First Class.
350 One Class – SS Remuera & SS Aramac.
Crew: 184.
220 – SS Remuera & SS Aramac.
*****************************
Remembering the SS Remuera ~ a Fine Passenger-Cargo Liner Indeed!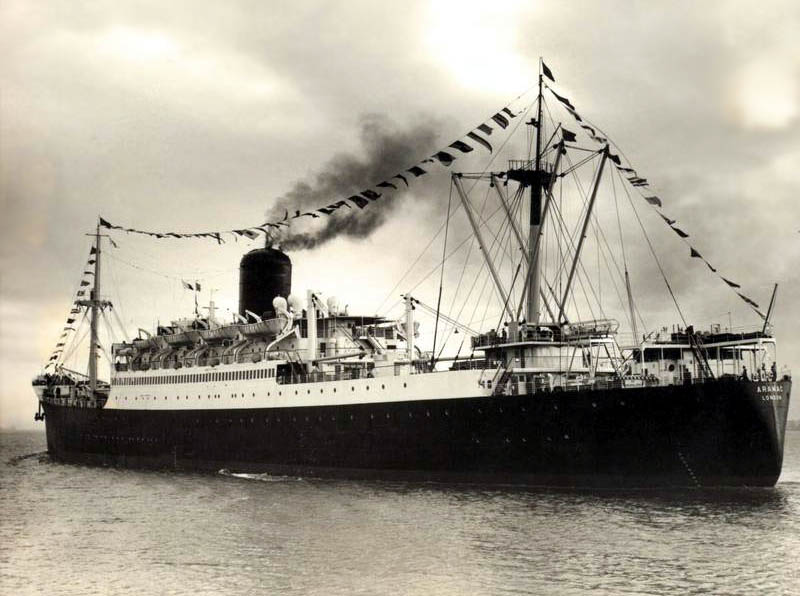 A fine view of the Aramac looking festive departing on one of her cruise to Asia
Also Read …
Malcolm's Story, covering his experience on SS Remuera's very last voyage to the USA & UK in 1964
Malcolm sails on SS Remuera's last voyage
Her sister, the RMS Media that was completely rebuilt into the ultra modern liner, the SS Flavia
************************
"Blue Water Liners sailing to the distant shores.
I watched them come, I watched them go, and I watched them die."
************************
ENTER OUR ssMaritime MAIN INDEX
Where you will discover well over 750 Classic Passenger & Passenger-Cargo Liners!
ssMaritime.com & ssMaritime.net
Where the ships of the past make history & the 1914 built MV Doulos Story
Photographs on ssmaritime and associate pages are by the author or from the author's private collection. In addition there are some images that have been provided by Shipping Companies and private photographers or collectors. Credit is given to all contributors. However, there are some photographs provided to me without details regarding the photographer/owner concerned. I hereby invite if owners of these images would be so kind to make them-selves known to me (my email address may only be found on www.ssmaritime.com), in order that due credit may be given.
This notice covers all pages, although, and I have done my best to ensure that all photographs are duly credited and that this notice is displaced on each page, that is, when a page is updated!
ssMaritime is owned & © Copyright by Reuben Goossens - All Rights Reserved