Please Note: Firefox and some other search engines are not suitable – Use "Internet Explorer" for this page to load perfectly!

Click the logo above to reach the ssMaritime FrontPage for News Updates & "Ship of the Month"

With Reuben Goossens

Maritime Historian, Cruise'n'Ship Reviewer & Author

Please Note

: All ssMaritime and other related maritime/cruise sites are 100% non-commercial and privately owned. Be assured that I am NOT associated with any shipping or cruise companies or any travel/cruise agencies or any other organisations! Although the author has been in the passenger shipping industry since 1960, although is now retired but having completed over 700 Classic Liners and Cargo-Passengers Ships features I trust these will continue to provide classic ship enthusiasts the information the are seeking, but above all a great deal of pleasure!

Cunard White Star Line

R.M.S. Queen Elizabeth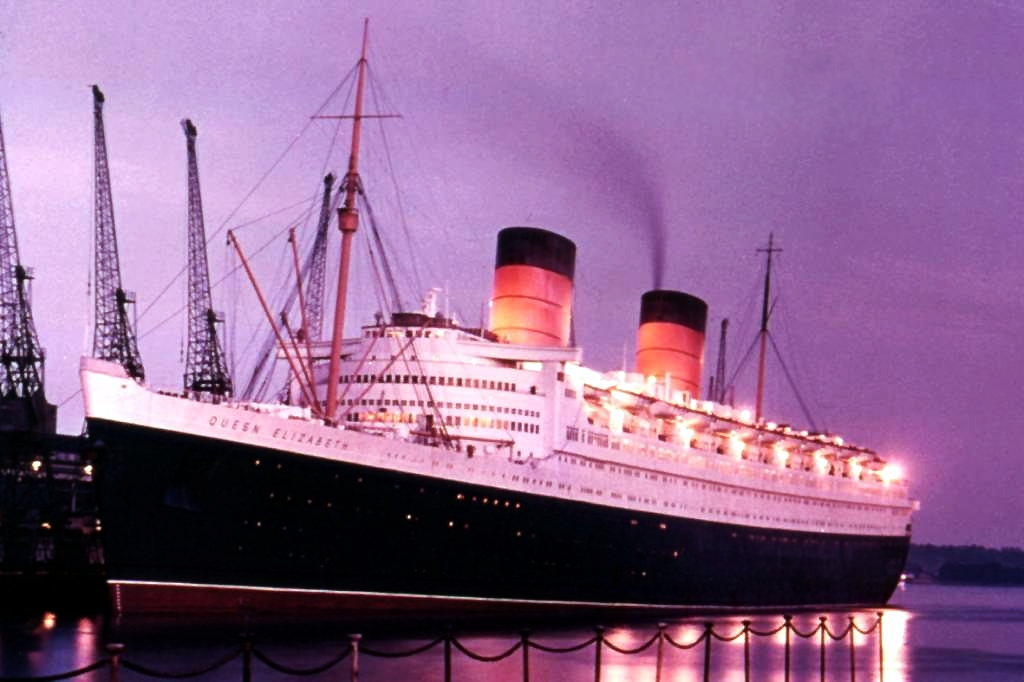 An evening photograph of the RMS Queen Elizabeth berthed at Southampton
Photographer is unknown - *Please see photo notes at bottom of page!
Page Two
<![if !supportLineBreakNewLine]>
<![endif]>
R.M.S. Queen Elizabeth Photo Page
PLEASE NOTE:
Photographs & images on this feature are from the author's private collection unless otherwise stated
This page is mostly devoted to the great Queen Elizabeth's interiors and there will be many photographs. These will be shown in several groups, such as original black and white images from her earliest days, followed with those after her refits that are mostly in colour. I am sure that this will give you an excellent insight to the great old girl!
I regret that some of the early black and white images are not of the highest of quality as I would like them to be, but they have been through some rough weather to say the least and I have done my best to make them as good as possible!
Part One – The Early Days: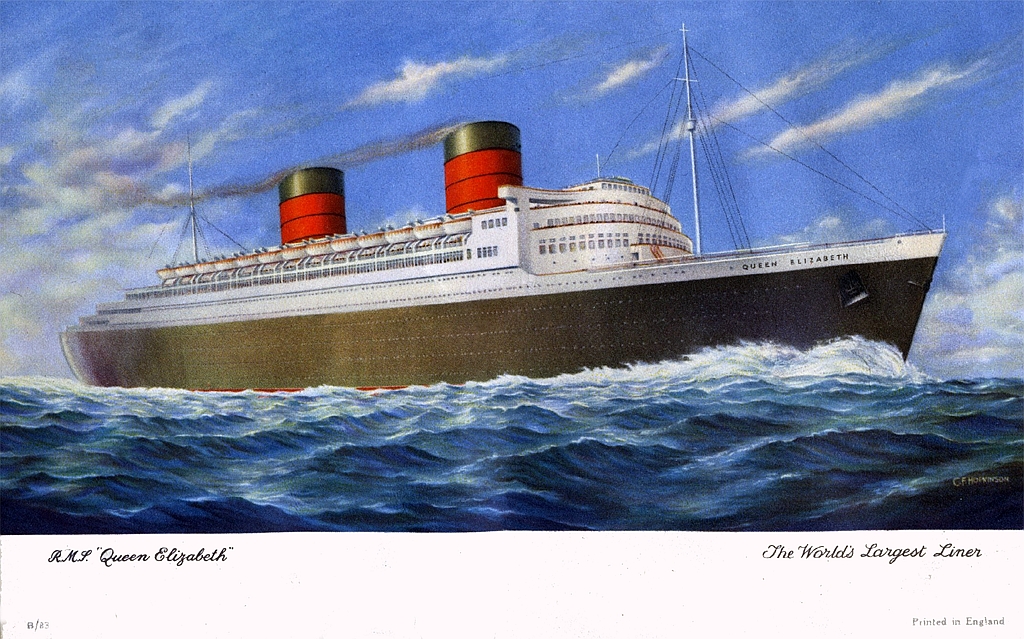 A postcard with an artist's impression of the great RMS Queen Elizabeth
1: First Class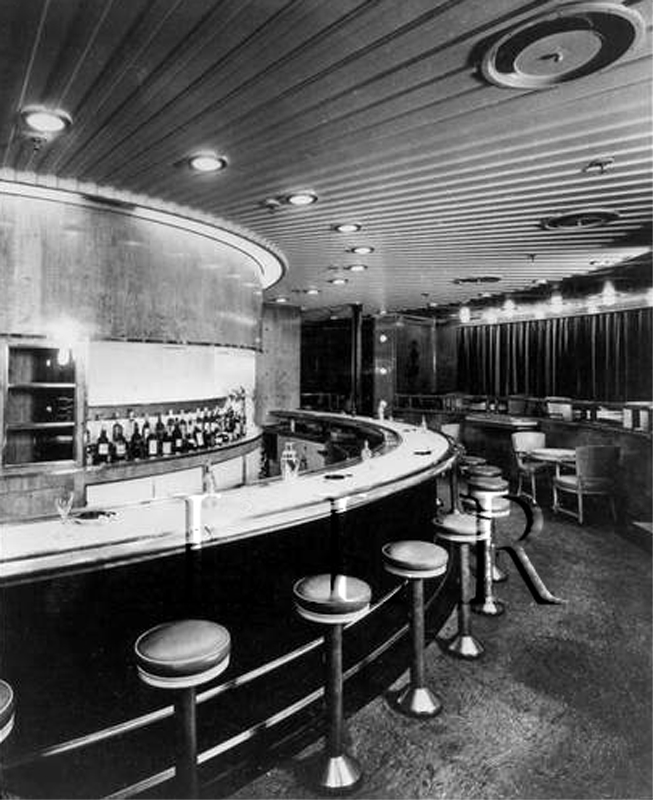 One of the most popular venues on board, the Observation Bar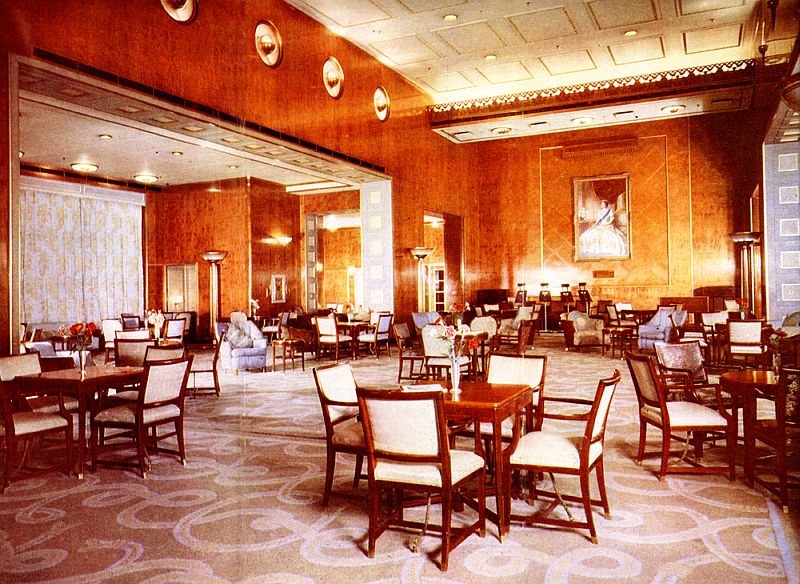 The Main Lounge was a large room with beautiful timbers, yet filled with colours, of pinks, blues, grey and several shades of cream
Furnishing's varied from comfortable upholstered sofas with low timber tables, as well as chairs with high tables
The rather rectangular room featured a painting of Queen Elizabeth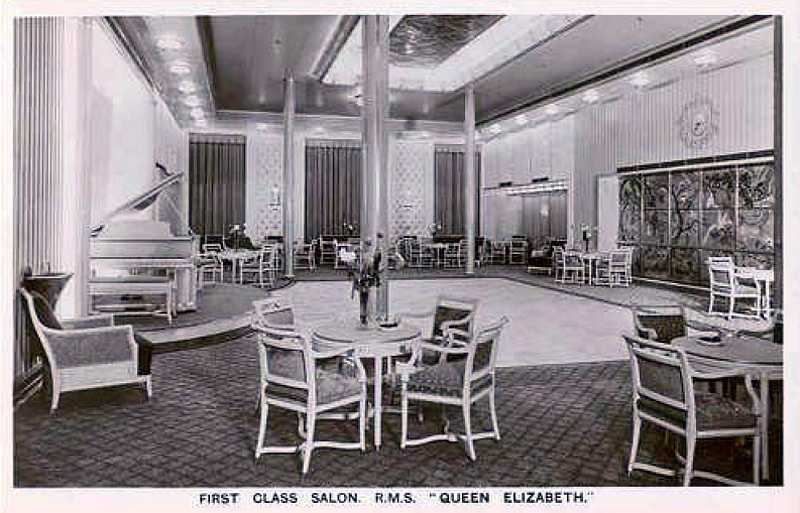 The venue, also known as the Salon was the main Ballroom and like the main lounge had great height
But it had a totally different atmosphere with a beautiful mural on the wall opposite the band stand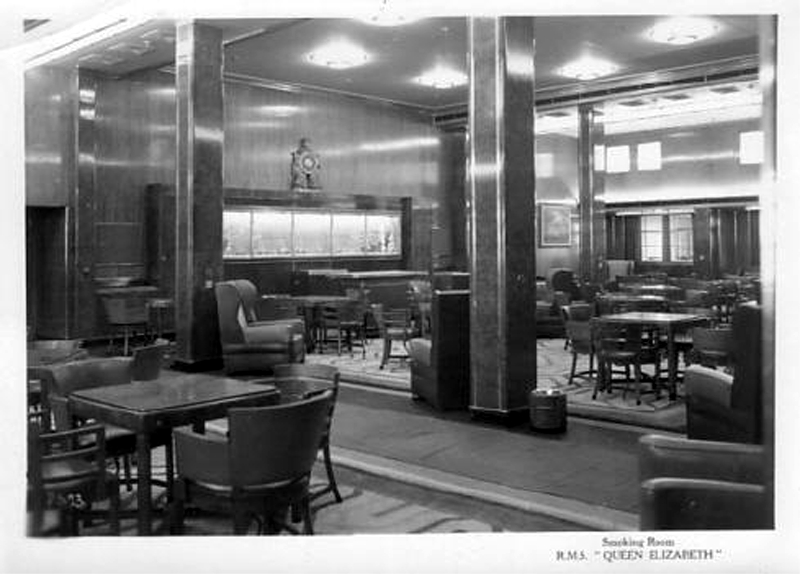 As all Smoking Room tend to go, they tend to have a darker feel about them with heavy furnishing's, complemented with tables and chairs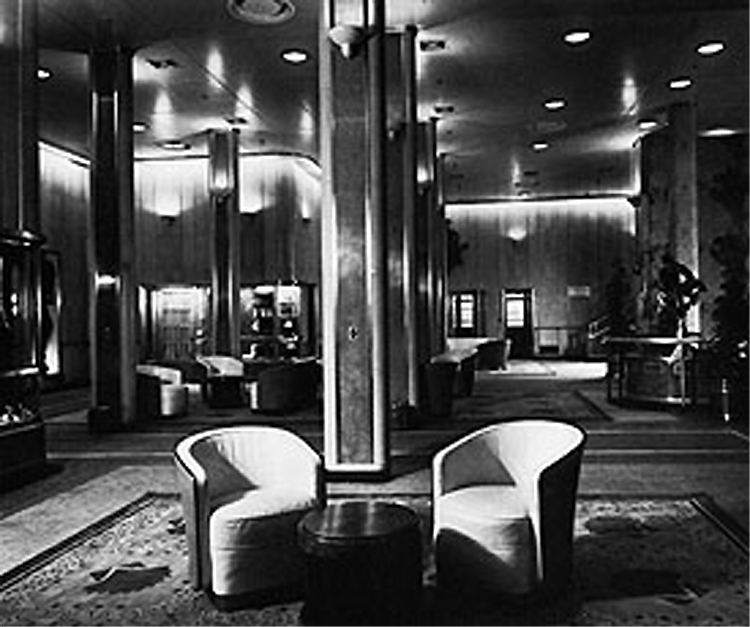 The Main Lobby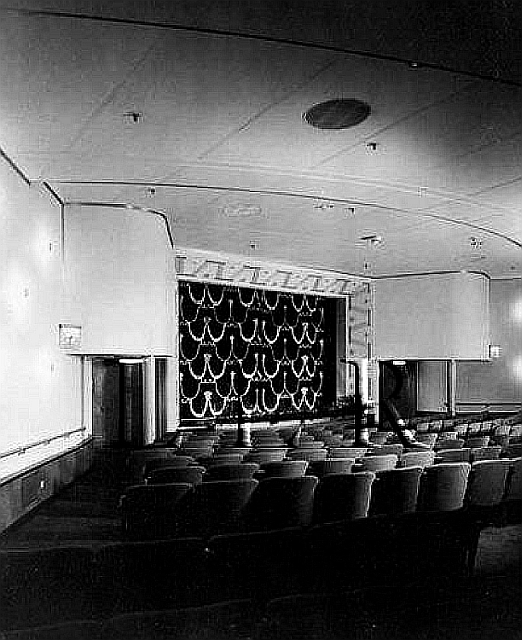 For ships to have a Cinema was quite a feature, but no Cinemascope as yet, and just black and white at first!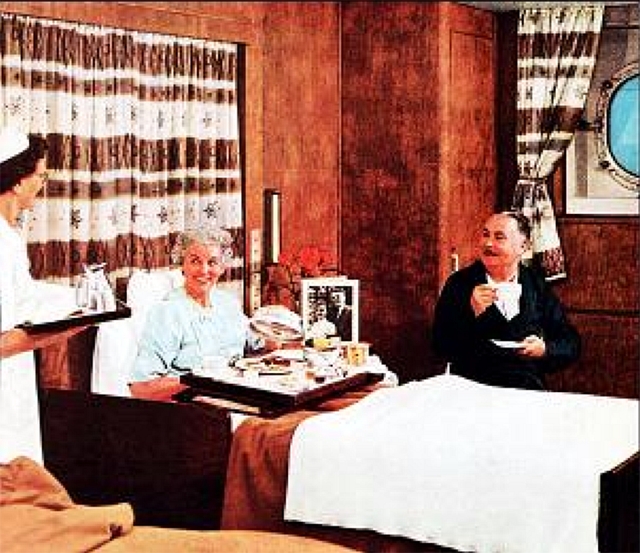 ---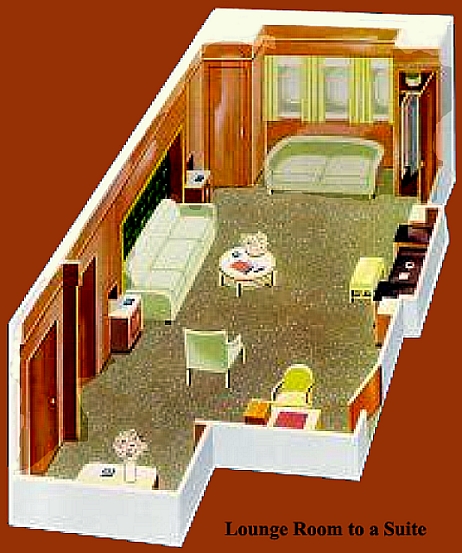 Here we see one of the Queens luxurious Suites on the left part of the bedroom that has a connecting door to their spacious lounge
Whilst the larger Deluxe Suite also have a large separate dining room, thus there arte three rooms, with options for one or two private staff cabins attached
2: Cabin Class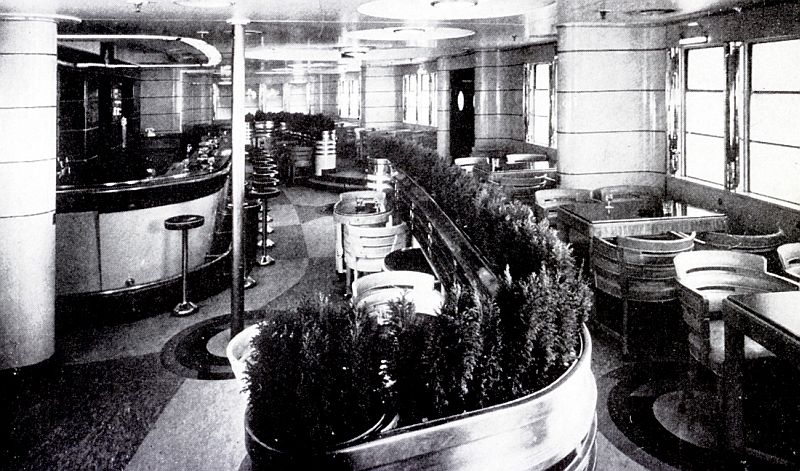 Cabin Class had some fine venues including the excellent Garden Lounge, being a light and a bright room and beautifully furnished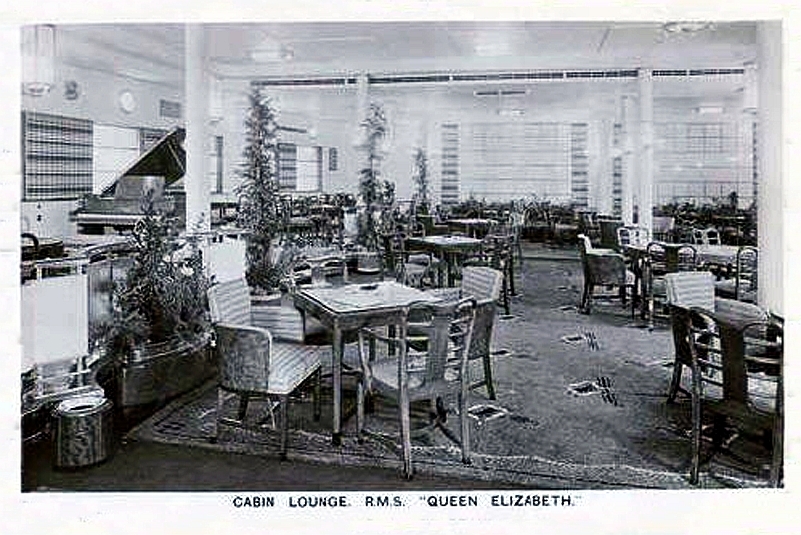 The Main Lounge unlike the First Class did not feature much timber, but it was not just a brighter venue, but also a spacious and a most pleasing room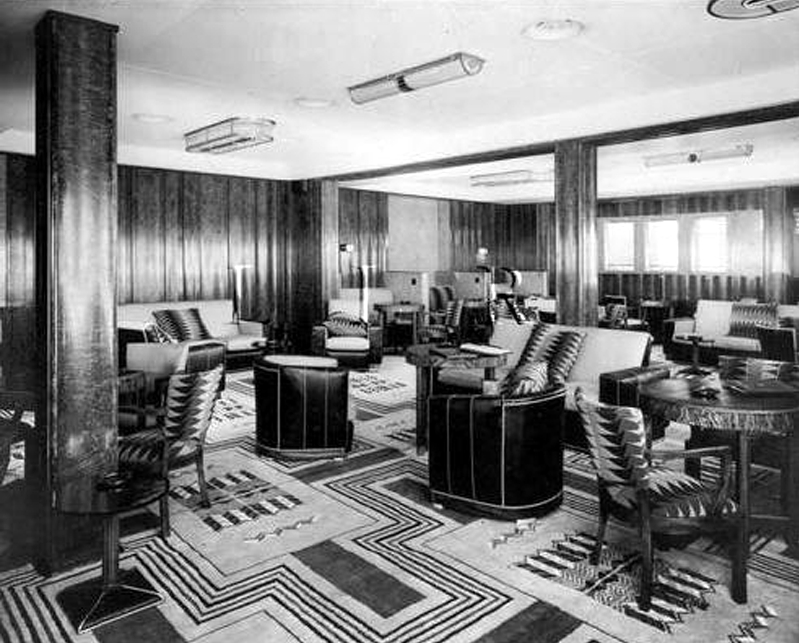 But the Smoking Room as we can see was more traditional with the timber walls, wall to wall carpeting
Comfortable sofas and arm chars and beautiful tables
3: Tourist Class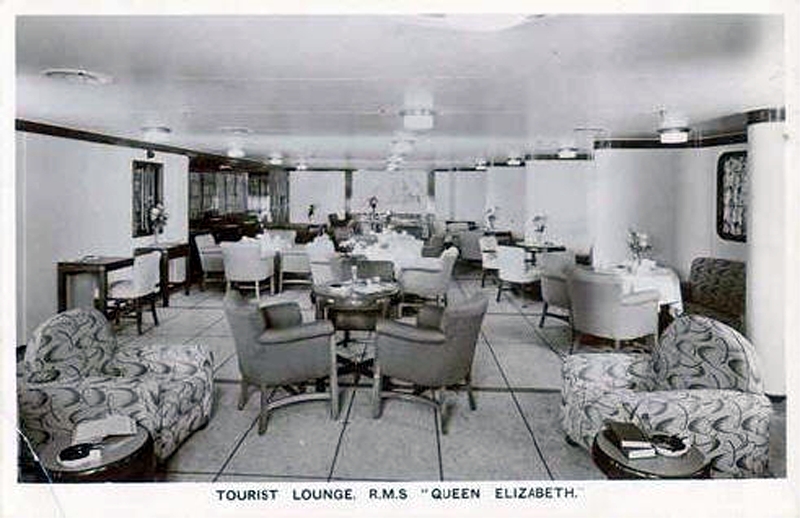 The Tourist Class Main Lounge was a smaller venue, but without doubt a most pleasing one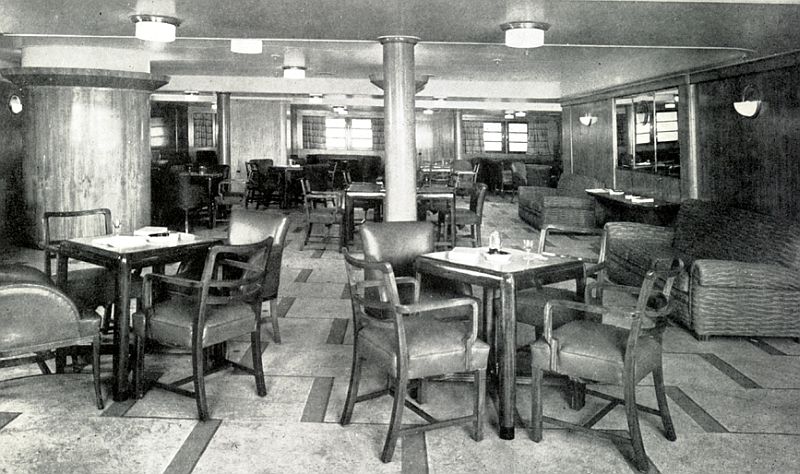 The Smoke Room reveals all the traditional timber features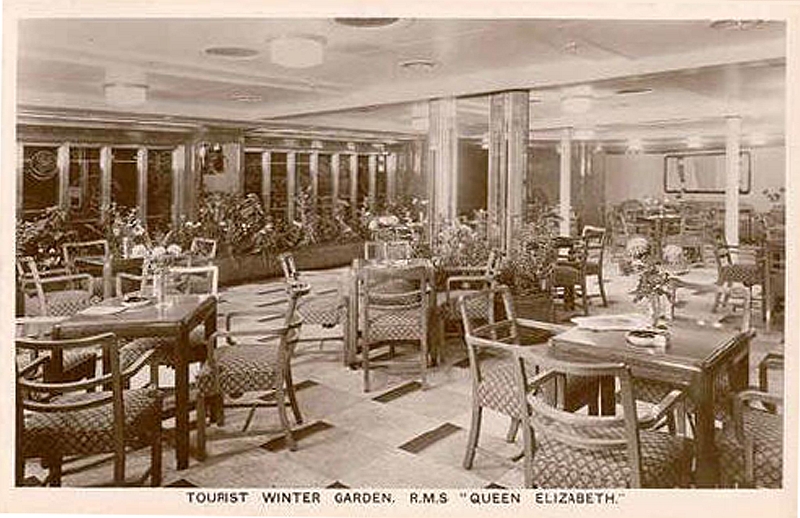 The Winter Garden with a huge window offering a fine view during the day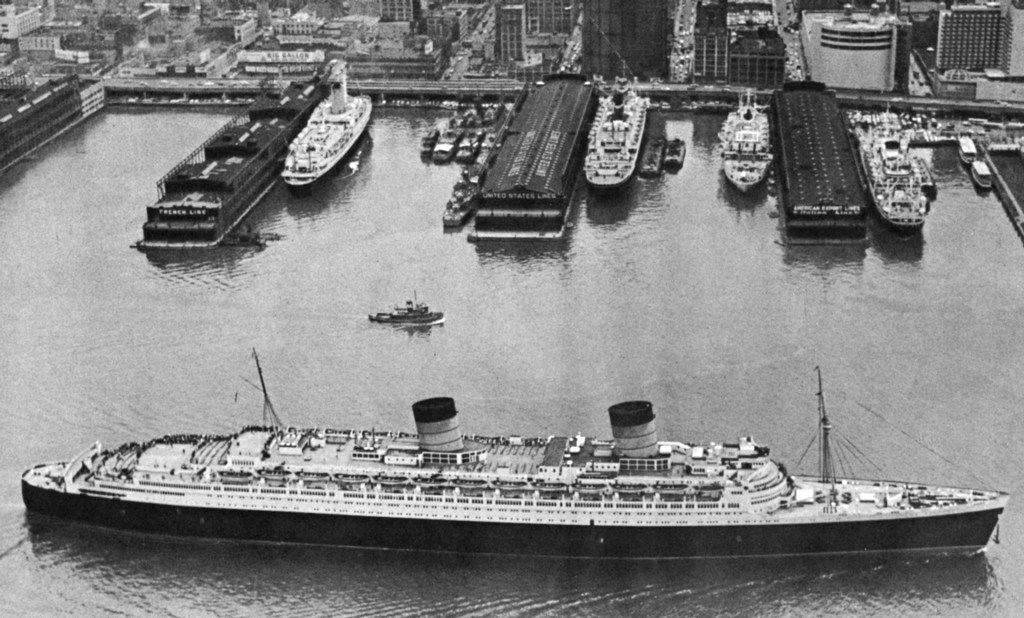 Here we see the RMS Queen Elizabeth depart New York with some fine liners such as the Bremen, America, Atlantic and Saturnia berthed just behind her
Part Two – The Refitted Queen:
1: First Class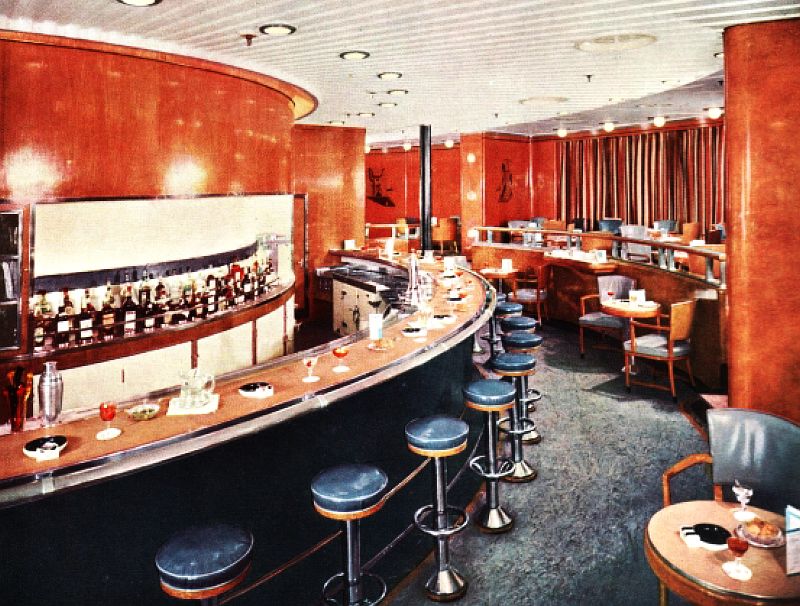 A superb view of the beautiful Observation Bar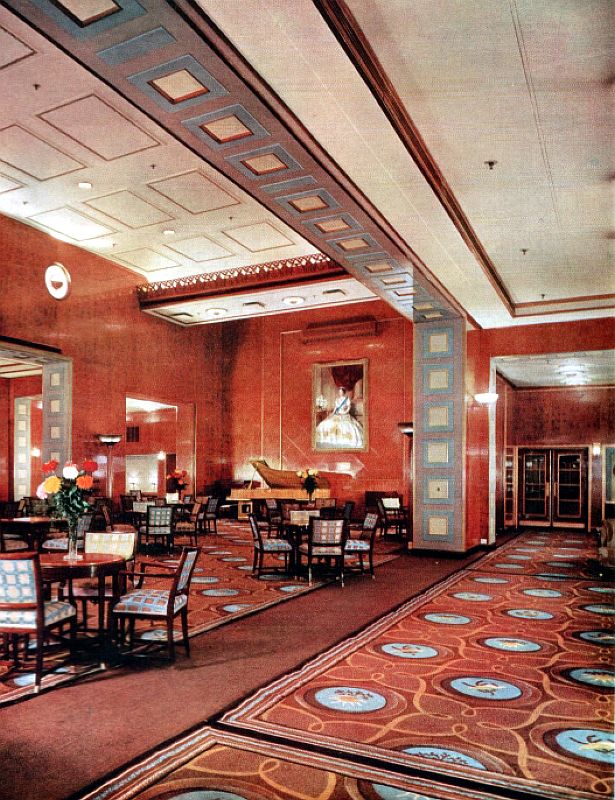 The Main Lounge has been re-carpeted, and all upholstery has been renewed with a new bandstand added and air-conditioning enhanced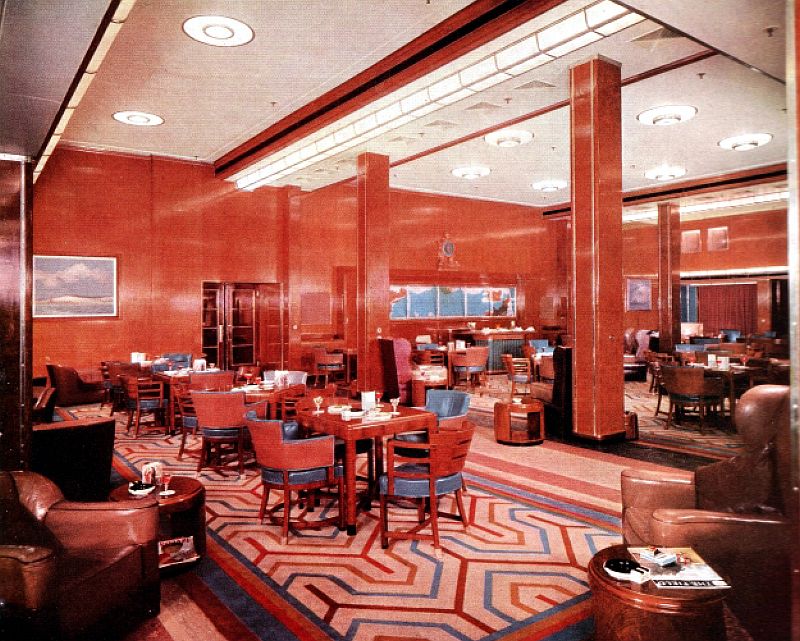 The Smoke Room also received new carpeting and upholstery as well as other improvements!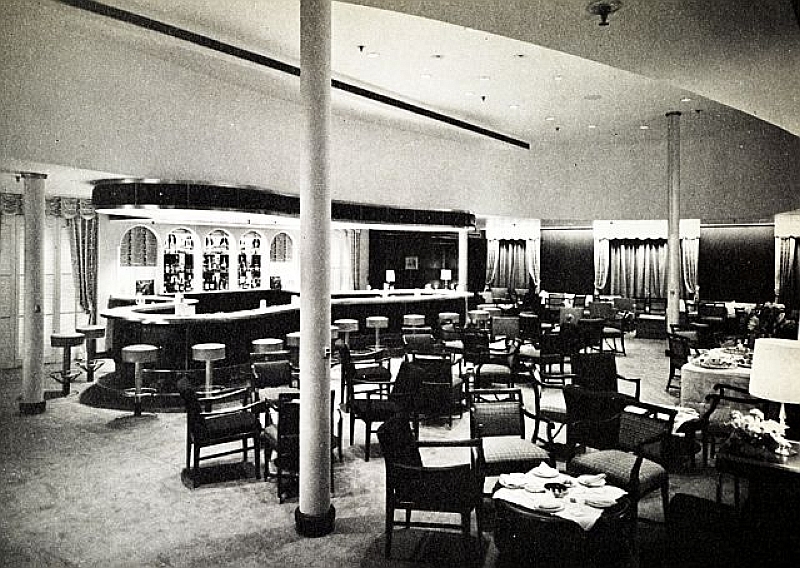 This is a brand new venue, the Midships Bar, which many staunch past Cunard passengers just did not like this venue as it was just too modern
Although, the younger generation and all the new cruise passengers simply loved this delightful venue, thus it became a hit after all!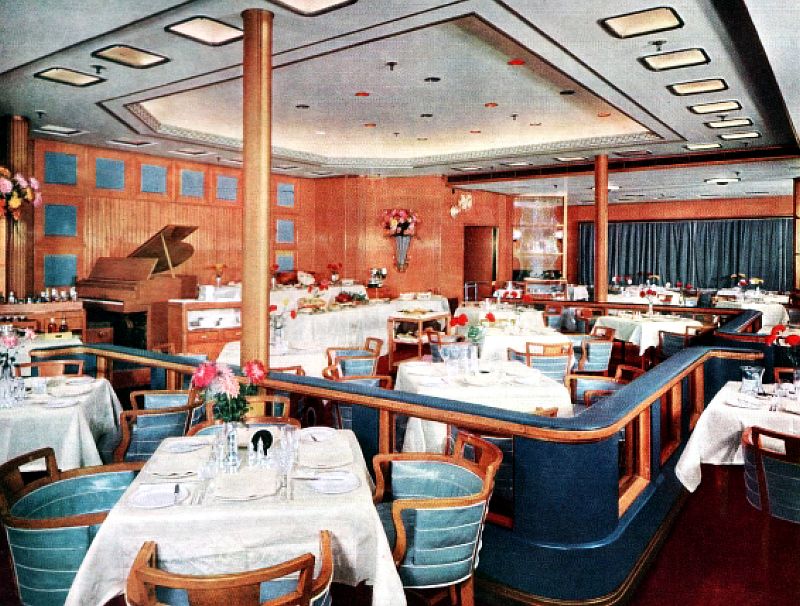 The ever popular Verandah Grill also received many new changes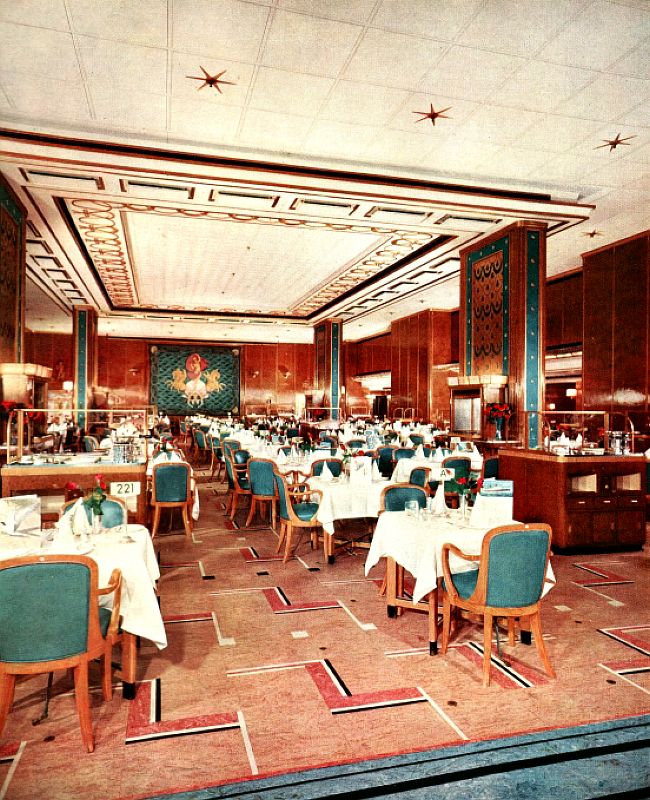 The Restaurant was always magnificent, but now it was even more sublime, with its new carpets and all the other touches!
2: Cabin Class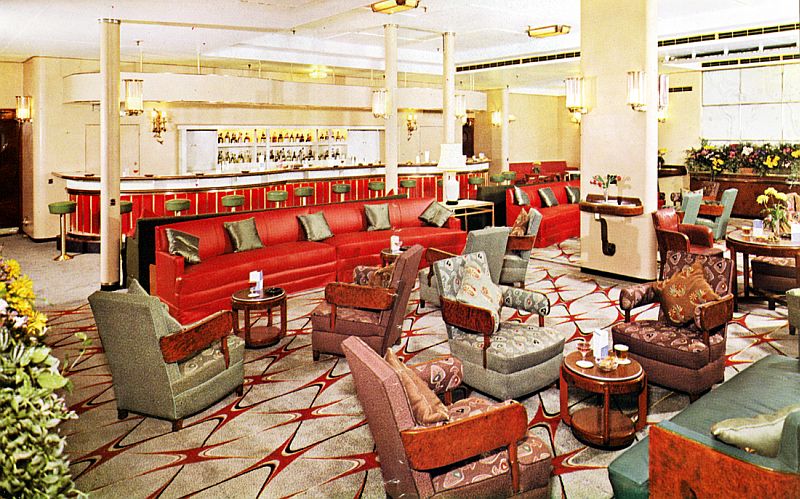 There is no doubt that the Cabin Class Main Lounge received a huge overhaul and is almost unrecognisable
from the original, although you know it is the same room from the pillars and flat room dividers, etc.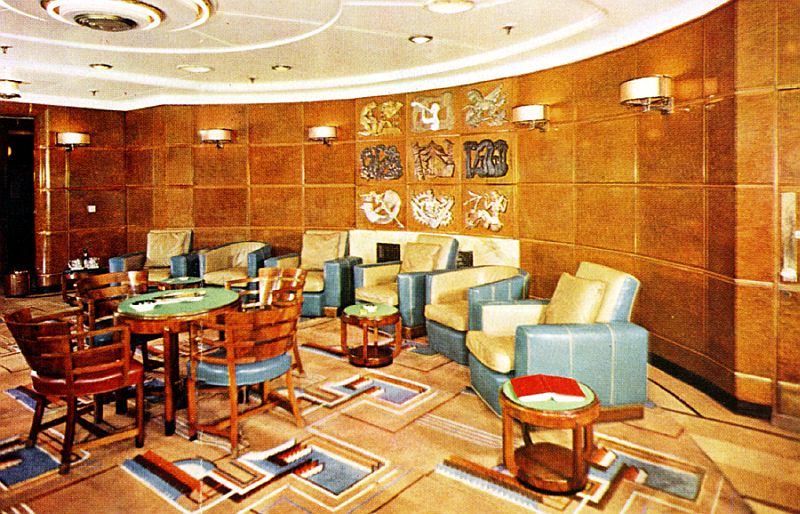 The Smoke- Room also received countless changes, new carpets and new leather chairs and the feature seen here
It certainly became a wonderful looking venue indeed; in fact it looked more like a First Class lounge!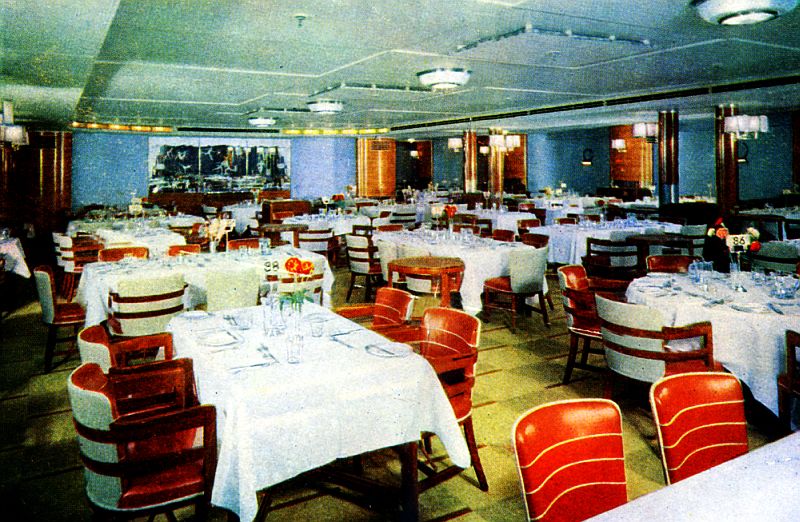 The Restaurant also looked simply wonderful, although blue does seem the colour of the times
3: Tourist Class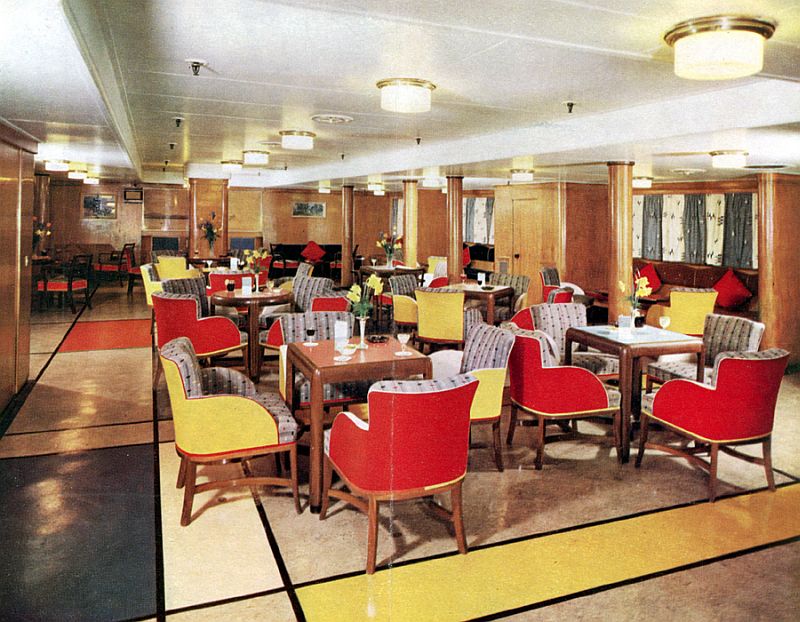 The smaller Tourist Class Main Lounge certainly has had a big lift and looks wonderful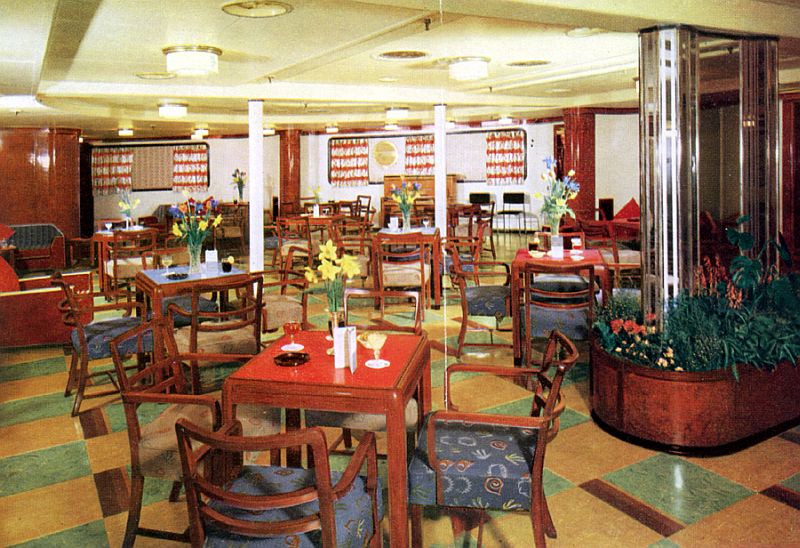 The Garden Lounge looking to starboard also looks sensational, with new flooring and all new upholstery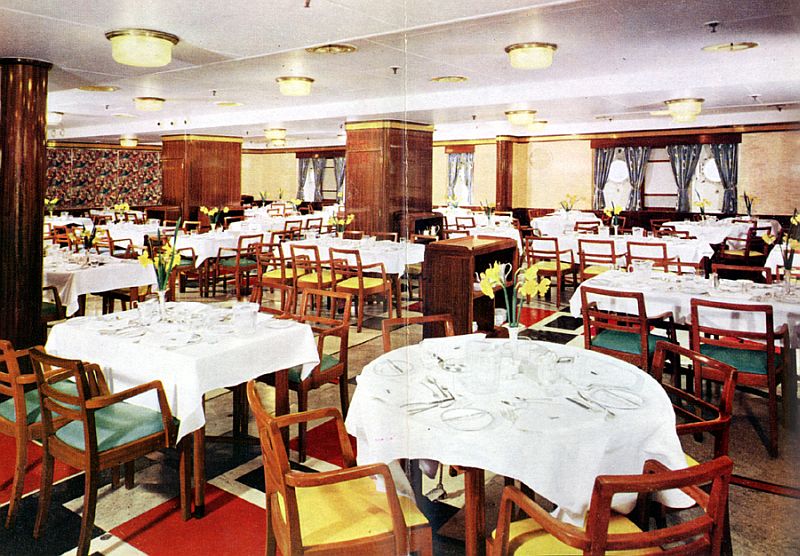 The Restaurant received a complete makeover, with timber added around pillars, a wall of flowers,
new flooring as well as colourful yellow and blue upholstery on the chairs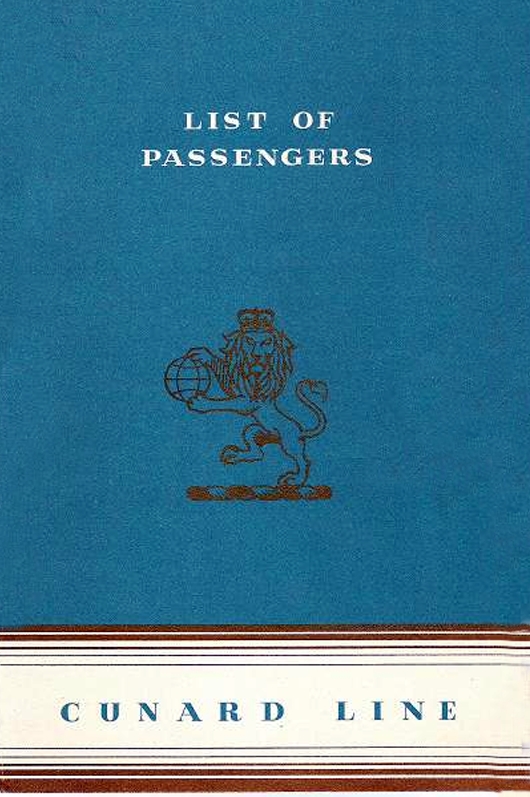 The front cover of a Cabin Class Passenger List
If you wish to view the R.M.S. Queen Elizabeth's' Deck Plan, may I suggest that you visit the following excellent Website on her,
but this one in particular features her entire deck plan!
http://www.rmsqueenelizabeth.com/DECKS.html
Please ensure that your pointer is pointed directly on the RED letters to open each deck - I did find that "C Deck" did not open!
***********************************
Part Three – Closing Images of the Queen: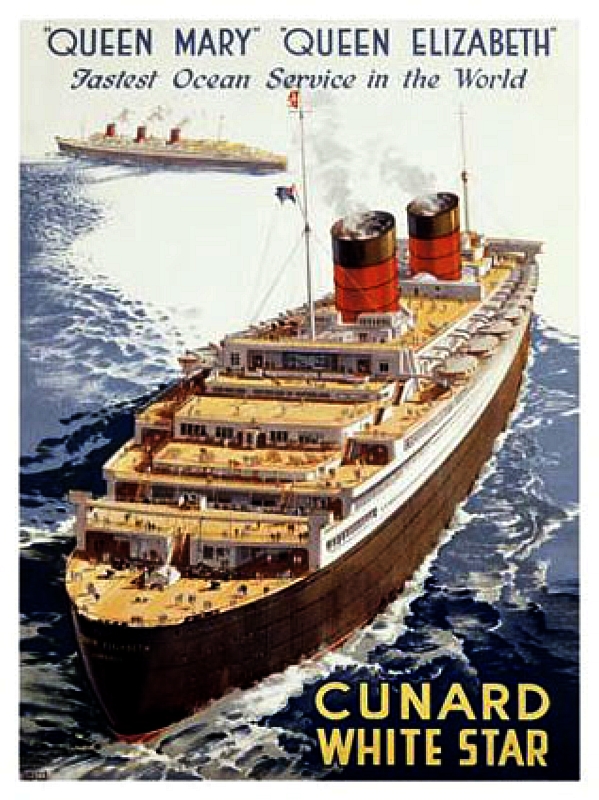 A popular early Cunard Poster featuring both the Queens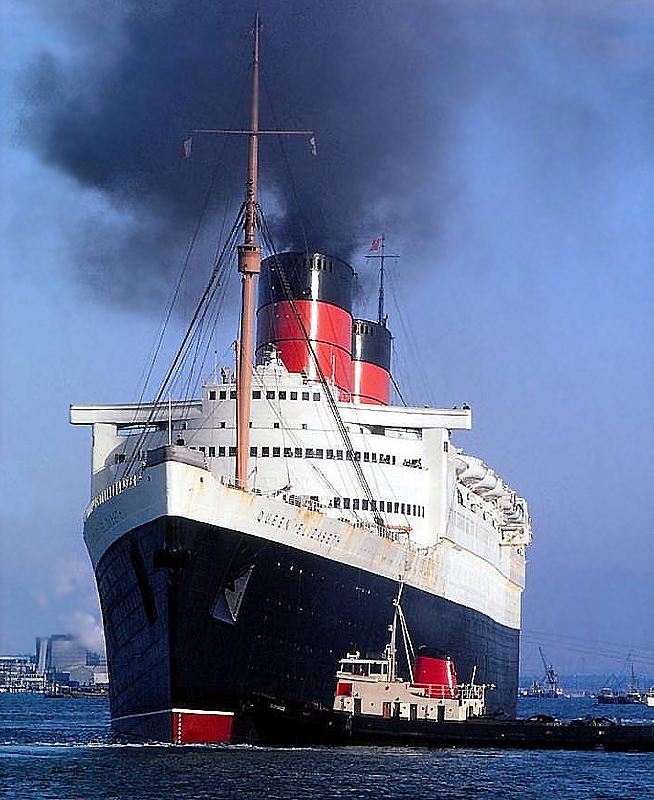 A fine bow on photograph of the RMS Queen Elizabeth seen sailing up the Solent
Photographer is unknown - *Please see photo notes at bottom of page!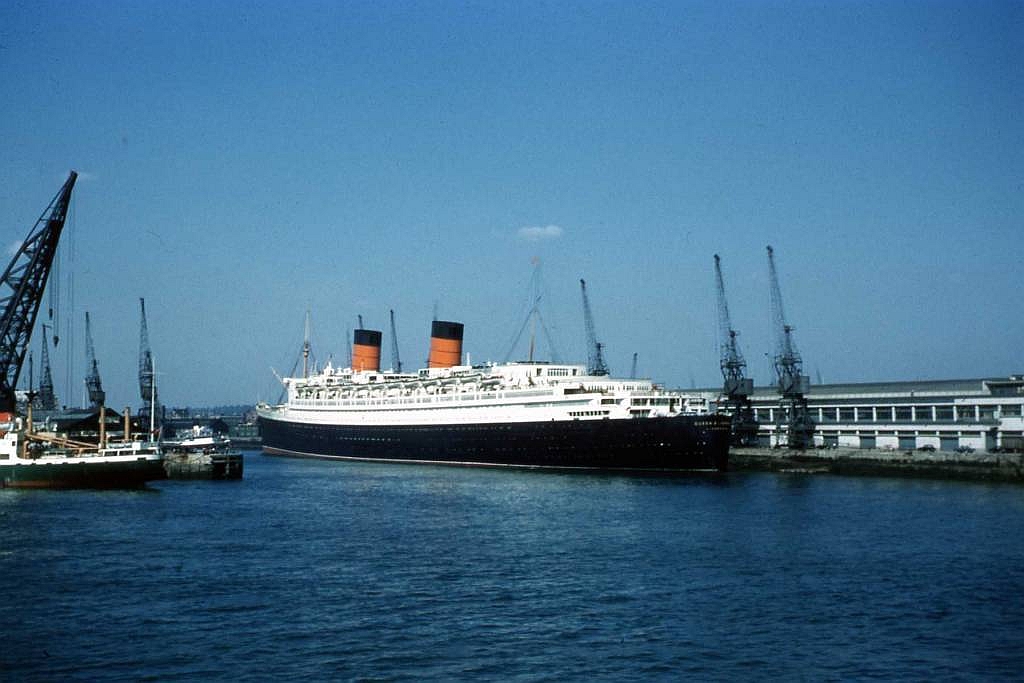 The Queen Elizabeth is seen berthed at Southampton's Ocean Terminal in the early 1960s
Photographer is unknown - *Please see photo notes at bottom of page!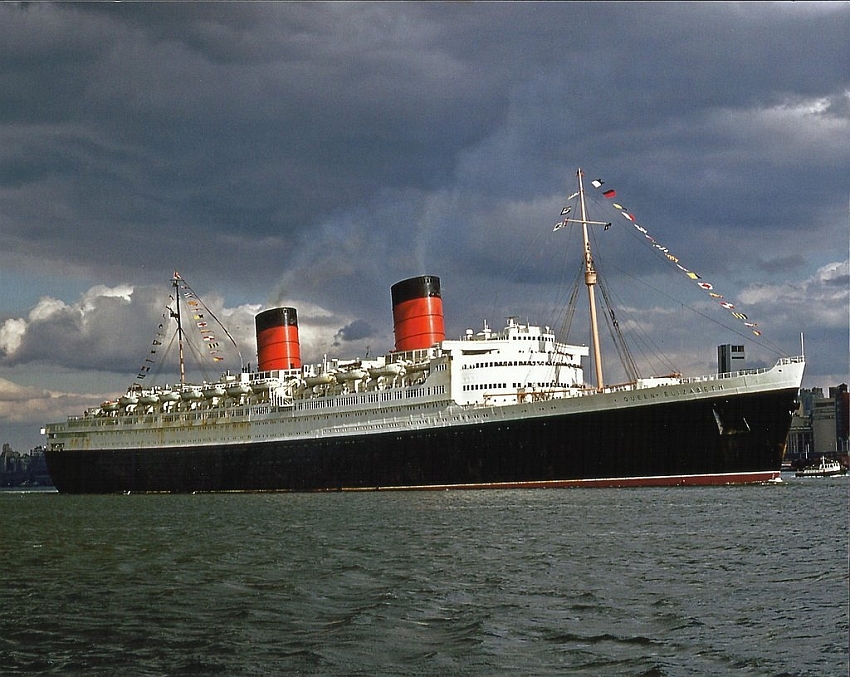 This is unusual; for Queen Elizabeth's gleaming white superstructure is interrupted directly at her aft funnel
For if you look closely you will note that there is a dividing line, and she is rather rusty thereafter!
What was the reason? It could be that this was her very last Atlantic crossing from New York to Southampton in October 1968.
After this crossing, she did return to New York, having been sold, she headed for Port Everglades!
This image was sent in by a supporter, by photographer is unknown - *Please see photo notes at bottom of page!
I trust that you have enjoyed the RMS Queen Elizabeth feature. Although I would have liked to include some of the interior images on the history page, but it would have made the page just too big, thus this makes it a better way of doing it, placing them all together and separating the original early images, from those from the later refitted liner!
As the author has retired, I am not able to add anything or answer emails. Sorry about that, but this is due to health problems! All the best and remember there are at least another 526 or more ships on ssmaritime.com!
INDEX:
Page One             The History Page with Images.
Page Two             Interiors & much more!
Page Three          Advertisements and Brochures.
"Blue Water Liners sailing to the distant shores.
I watched them come, I watched them go and I watched them die."
****************************
Return to the ssMaritime Main INDEX
Where you will discover over 700 Classic Passenger & Passenger-Cargo Liners!
ssMaritime.com & ssMaritime.net
Where the ships of the past make history & the 1914 built MV Doulos Story
Please Note: ssmaritime and associated sites are 100% non-commercial and the author seeks no funding or favours of any shape or form, never have and never will!
Photographs on ssmaritime and associate pages are by the author or from the author's private collection. In addition there are some images that have been provided by Shipping Companies and private photographers or collectors. Credit is given to all contributors. However, there are some photographs provided to me without details regarding the photographer/owner concerned. I hereby invite if owners of these images would be so kind to make them-selves known to me (my email address may be found on www.ssmaritime.com only), in order that due credit may be given.
This notice covers all pages, although, and I have done my best to ensure that all photographs are duly credited and that this notice is displaced on each page, that is, when a page is updated!
ssMaritime is owned & © Copyright by Reuben Goossens - All Rights Reserved