Please Note: Firefox and some other search engines are not suitable – Use "Internet Explorer" for this page to load perfectly!

Click the logo above to reach the ssMaritime FrontPage for News Updates & "Ship of the Month"

With Reuben Goossens

Maritime Historian, Cruise'n'Ship Reviewer & Author

Please Note

: All ssMaritime and other related maritime/cruise sites are 100% non-commercial and privately owned. Be assured that I am NOT associated with any shipping or cruise companies or any travel/cruise agencies or any other organisations! Although the author has been in the passenger shipping industry since 1960, although is now retired but having completed over 700 Classic Liners and Cargo-Passengers Ships features I trust these will continue to provide classic ship enthusiasts the information the are seeking, but above all a great deal of pleasure!

R.M.S. Queen Elizabeth

S.S. Seawise University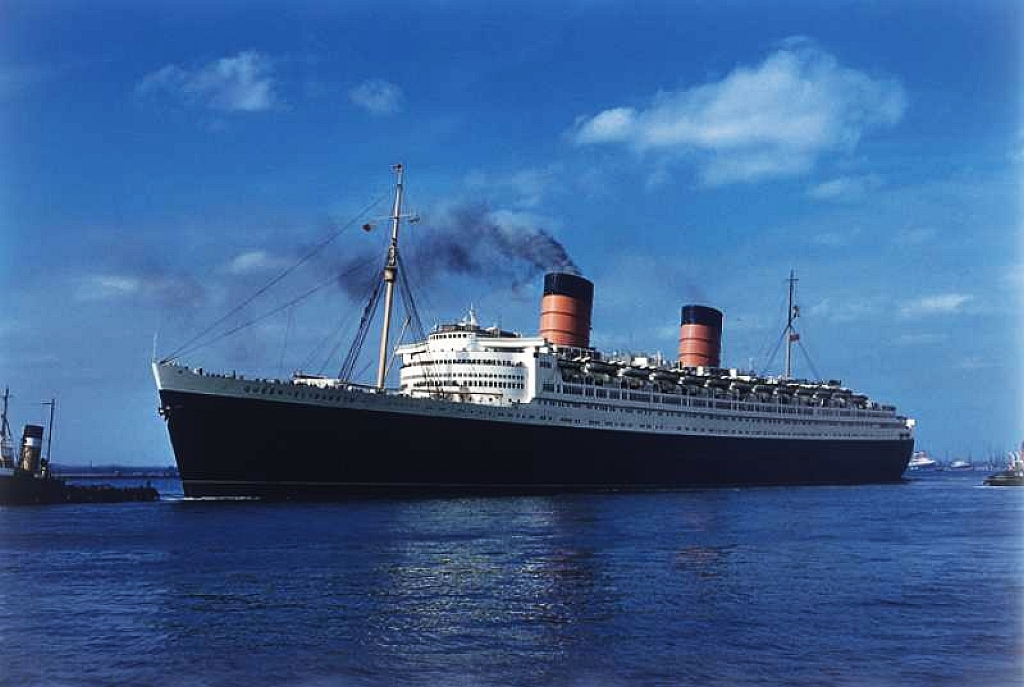 The great Queen was not just a great Trans Atlantic liner, but also a fine cruise ship as the brochures will show!
Page Three
Brochures and Advertisements
1963 & 1964 Queen Elizabeth / 1971 & 1972 Seawise University
PLEASE NOTE: Photographs & images on this feature are from the author's private collection unless otherwise stated
As my Queen Elizabeth pages clearly describe, she made many cruises and the Bahamas was obviously one of the most popular destinations. Below I am please to present one item from my collection, being a 1963 Cunard brochure that has the Queen Elizabeth operating three cruises from New York. Departures were on February 21 and 28, as well as one on March 6, 1963, all departed at 3.30 p.m.
These delightful short five night cruises offered two days at sea, as well as two full days in Nassau providing sufficient time to enjoy this delightful destination! The return would be on a Tuesday in the afternoon, having had a full day at sea the day prior, thus there was ample time on this five day and almost a full six day cruise to enjoy this superb ship!
Although the brochure also has a full Deck Plan, however due to it's rather large size it is difficult to scan, line all the pieces up and make it suitable to place it online. However, I will do so in due time, but it is a big job as there are many pages to do! But in the meantime enjoy the brochure and images from it that I separated. There is also the front and back cover of a folded "Atlantic Fare and Sailing Schedule" for February to December 1964.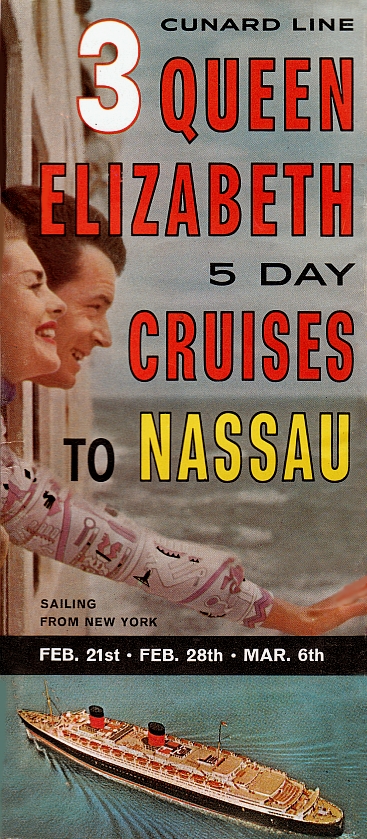 Cover of a five fold brochure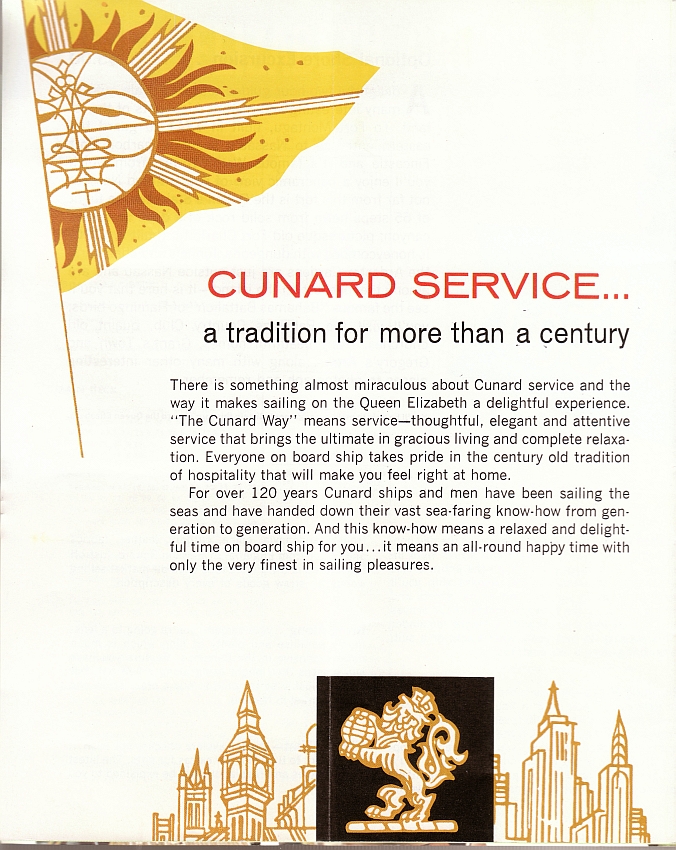 Opening two pages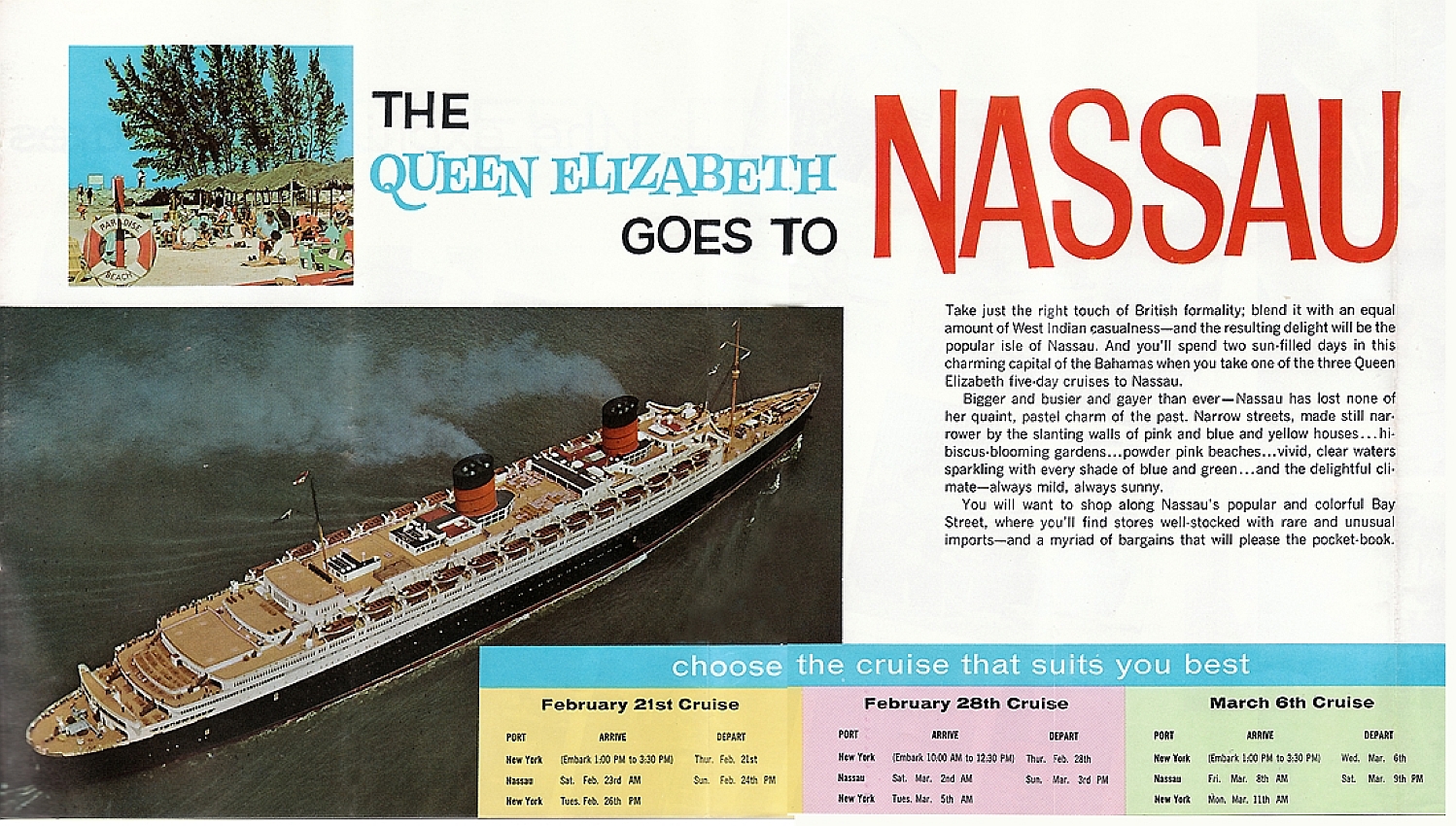 Four folds contains most of the cruise information, although at the rear of the brochure are all the conditions, etc. I have not included these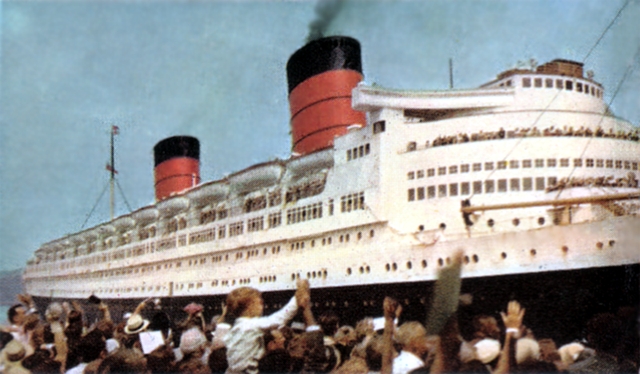 The Queen departs and a crowd waves her and her passengers farewell!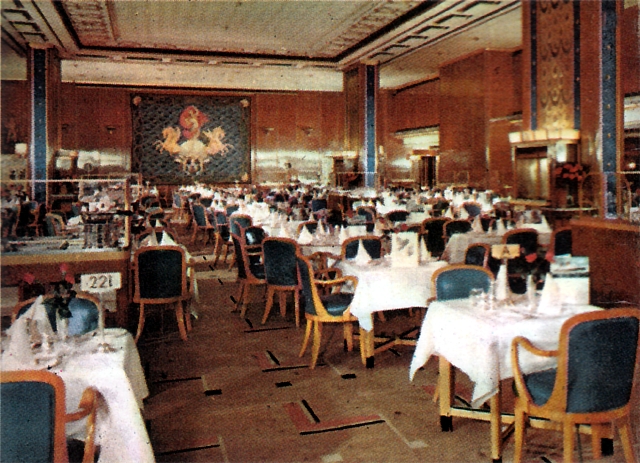 The Main Restaurant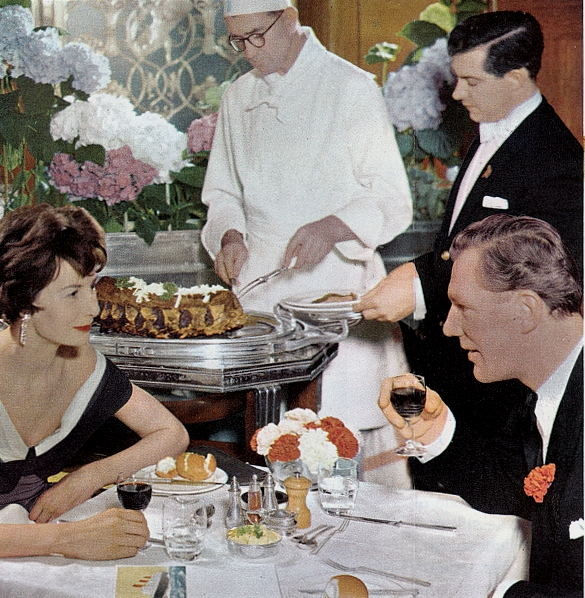 Grand dinning experience not seen these days!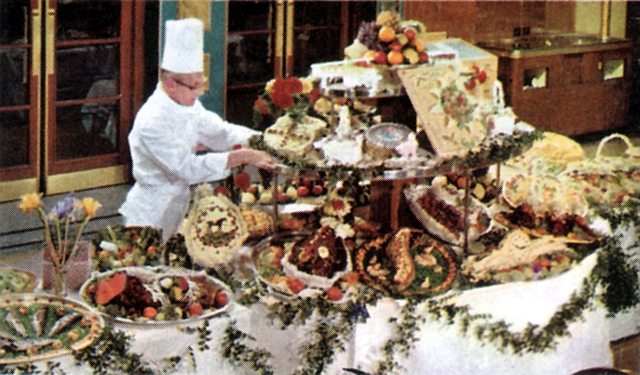 The Buffet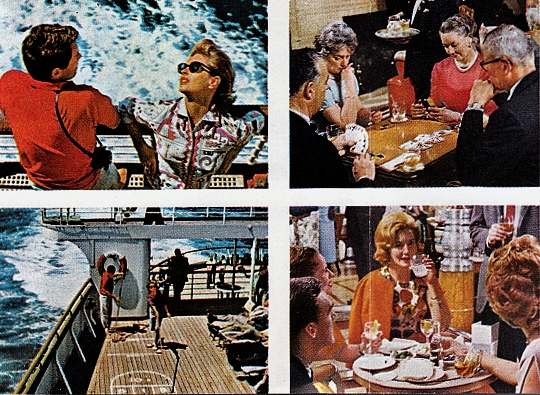 Four images from the brochure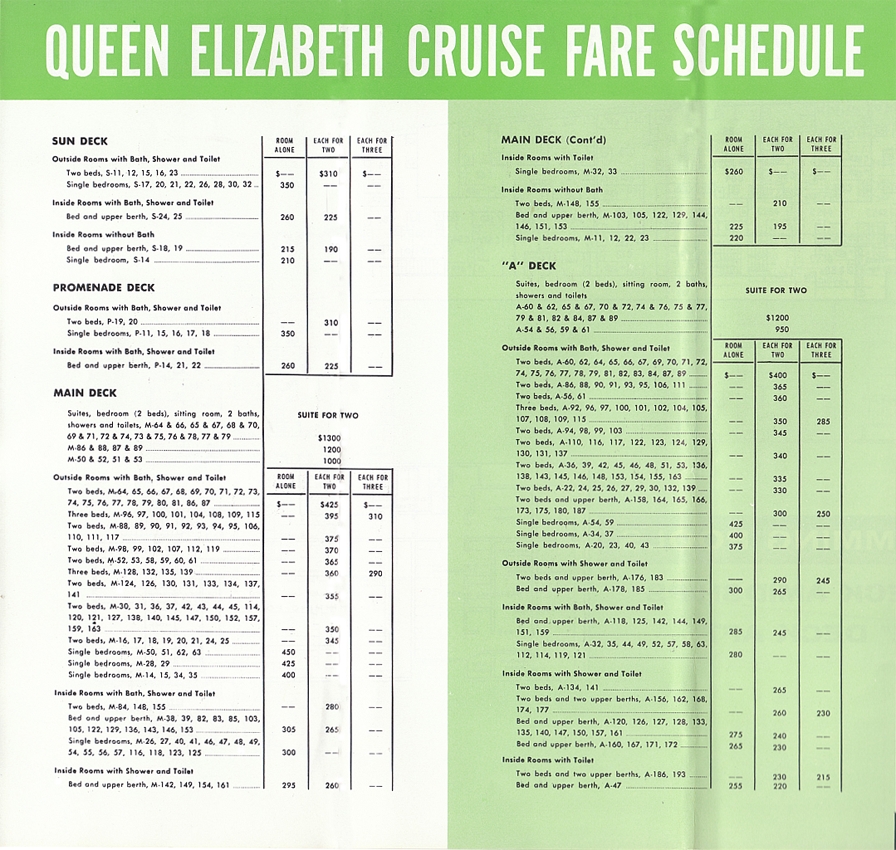 Above and below: Fares are shown that correspond to actual suite and cabin numbers, wish we could see that again these days!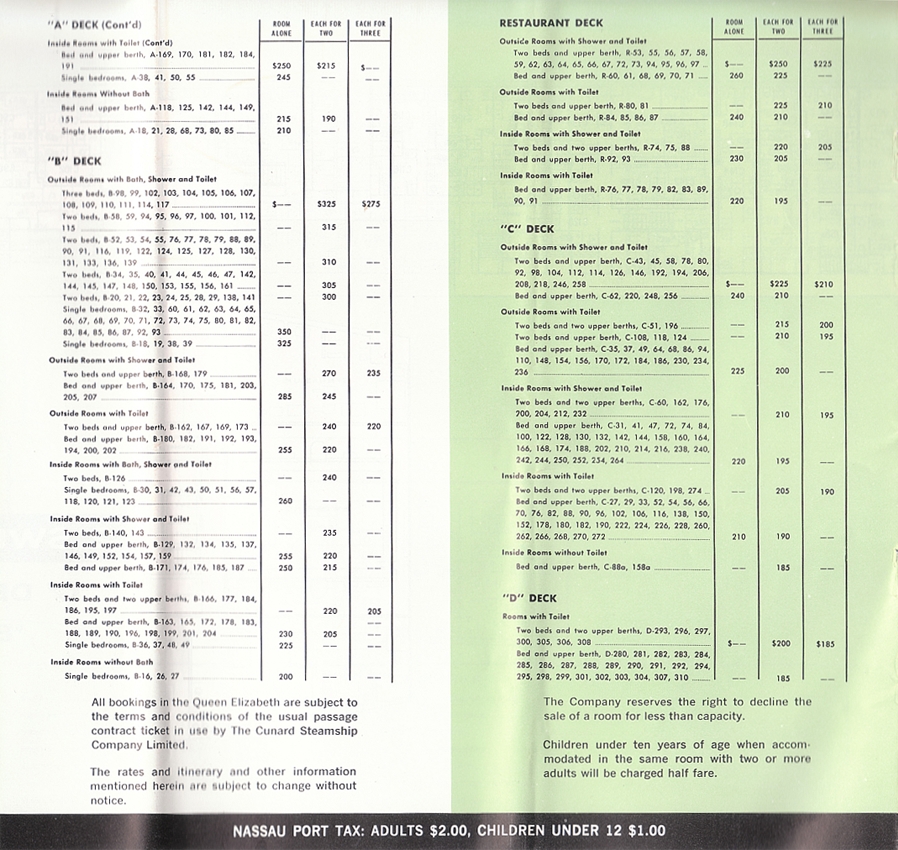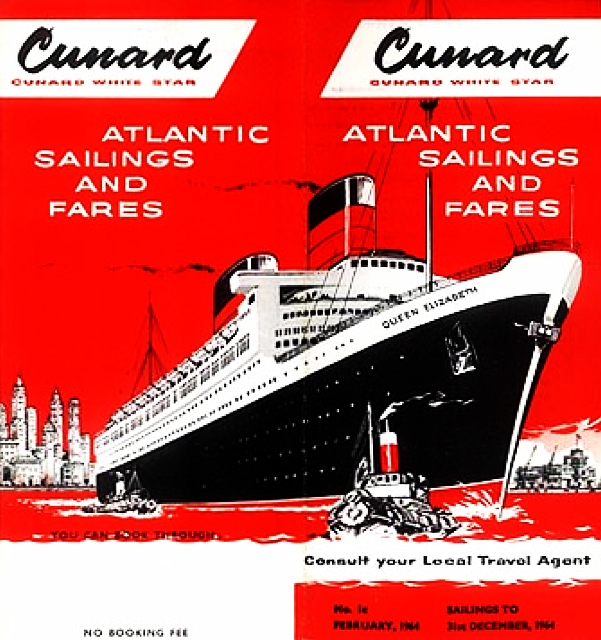 Here we see a Fare and Sailing Schedule for February to December 1964, after which she would cruise again in America
If you wish to view the R.M.S. Queen Elizabeth's' Deck Plan, may I suggest that you visit the following excellent Website on her,
but this one in particular features her entire deck plan!
http://www.rmsqueenelizabeth.com/DECKS.html
Please ensure that your pointer is pointed directly on the RED letters to open each deck - I did find that "C Deck" did not open!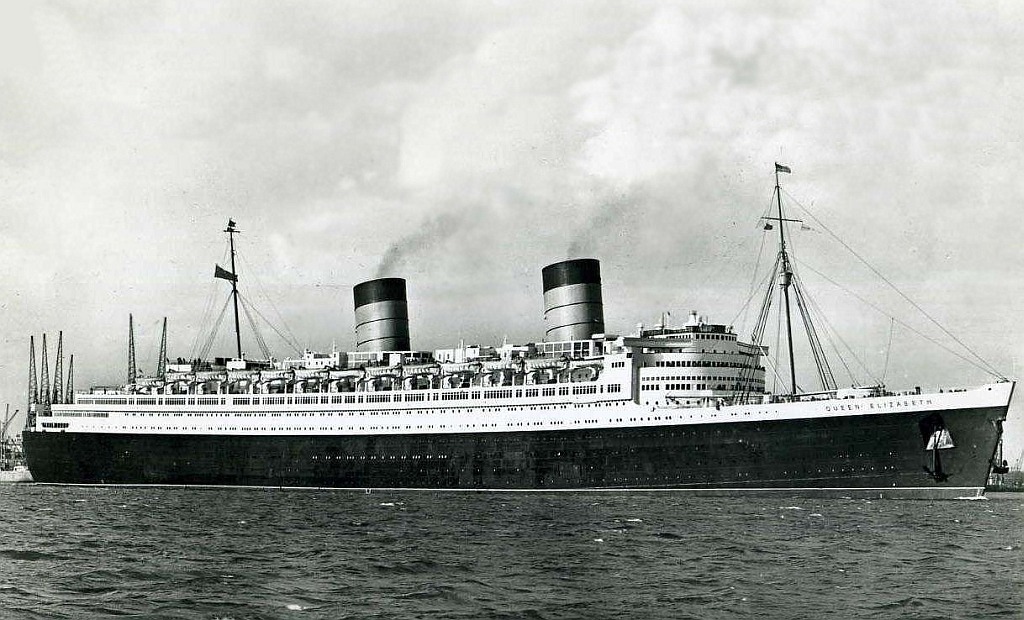 The beautiful queen just before she was about to head for Hong Kong!
S.S. Seawise University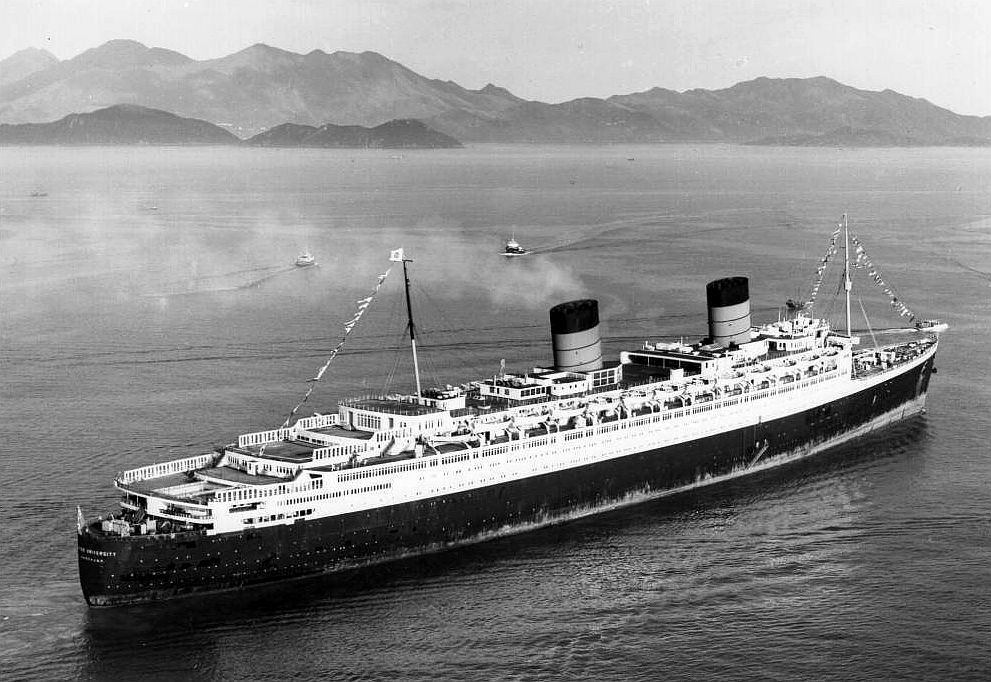 And here see the already renamed SS Seawise University arriving at Hong Kong in July 1971
Obviously Mr. C.Y. Tung the owner of the Orient Overseas Line, decided to release advance brochures long before the ship was completed and he would release a full colour brochure when she was complete. But as we now know that would never happen. But they commenced with three advance release brochures.
But Orient Overseas Line commenced with advertising in America for the Seawise University's maiden voyage being a Grand Circle pacific Cruise in 1971. The vast majority of their marketing was aimed at the American market for they were well aware the great love they had for the great Queen Elizabeth, and they would use the name whenever they could, ss can be seen from the advertisement below!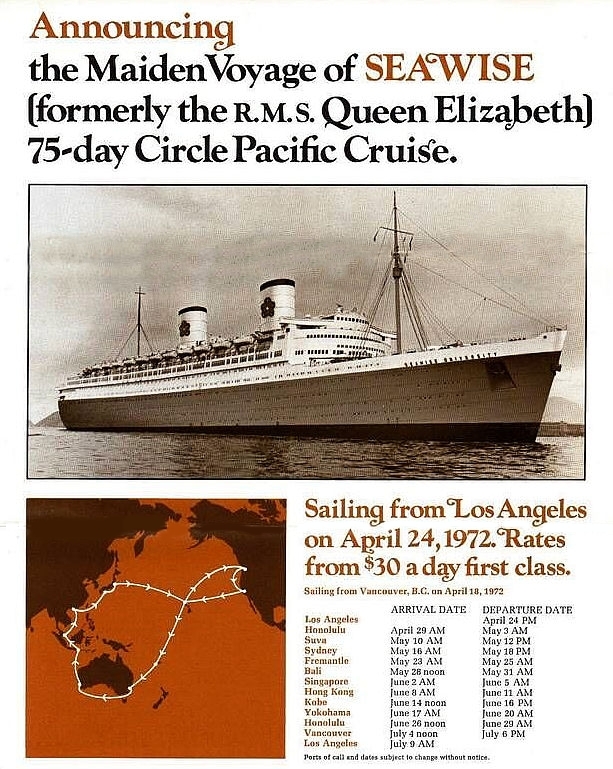 SS Seawise University advertisement
Two Seawise Illustrations from an Advance Brochure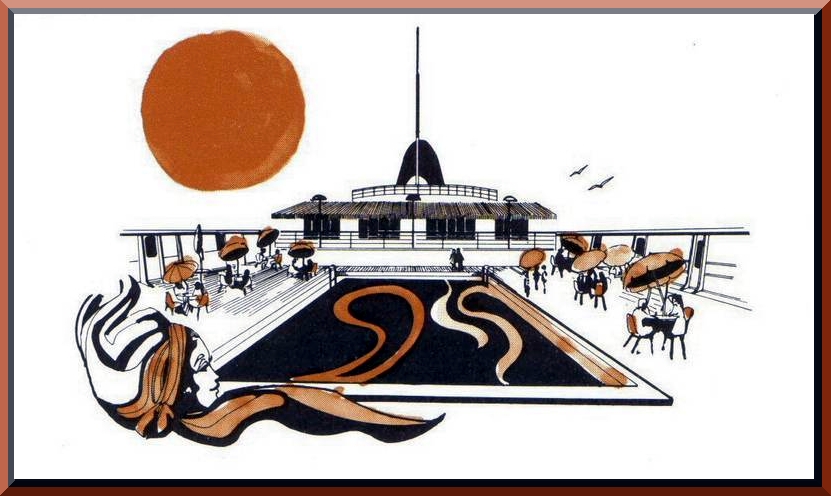 An rather artful illustration of the new pool deck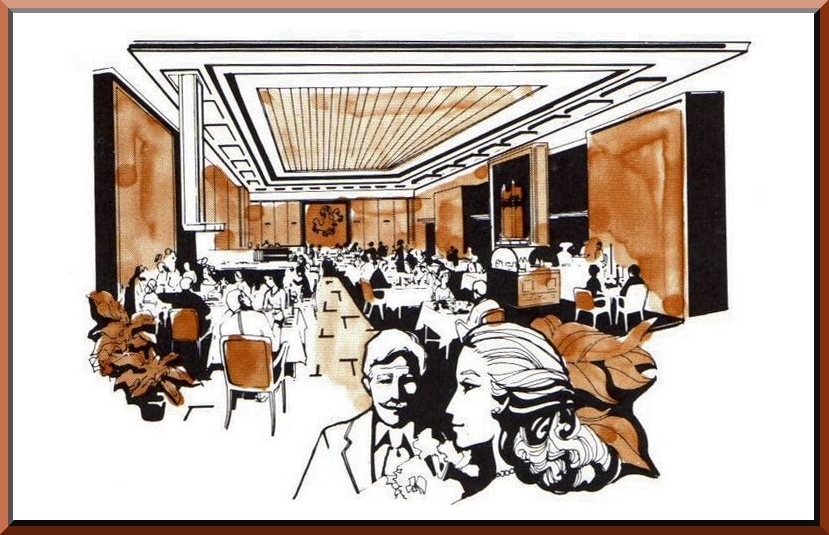 Although the Restaurant had received an refurbishment and plants and other touches added, but essentially it was unchanged!
In addition, below there are the two other brochures mentioned earlier; one for the second voyage in 1971 being Grand Around the World Voyage that would operate as follows:
Depart Los Angeles on September 3, 1971 and sail to New York, but the long way around, via – Honolulu, Pago Pago (American Samoa), Whangarei (New Zealand), Hobart (Tasmania Australia), Fremantle Australia), Bali (Indonesia), Singapore, Madras (India), Dar Es Salaam (Tanzania), Cape Town, South Africa, Rio de Janeiro (Brazil), Port of Spain (Trinidad), La Guairį (Venezuela, finally arriving in New York after an amazing voyage, had it ever happened, on December 23. Fares commenced from$2,975 for an inside two bed cabin with private facilities, to $8,800 for the deluxe multi roomed suites.
The second brochure features another "Circle Pacific Cruise" that contains the full itinerary and one way fares and they are shown on the itinerary below.

The cover of the folded Seawise University Deck Plan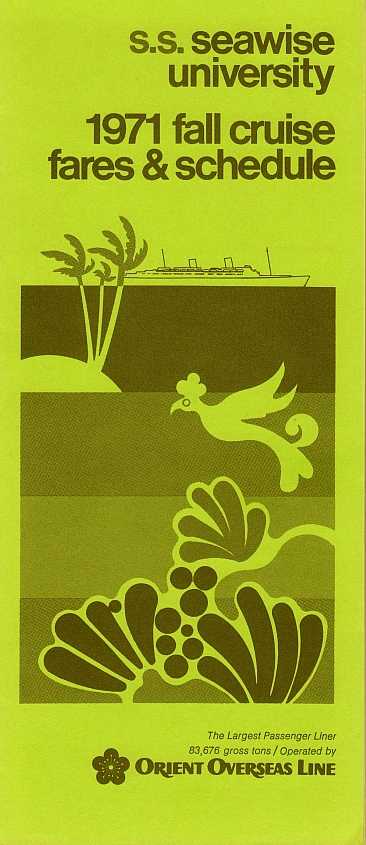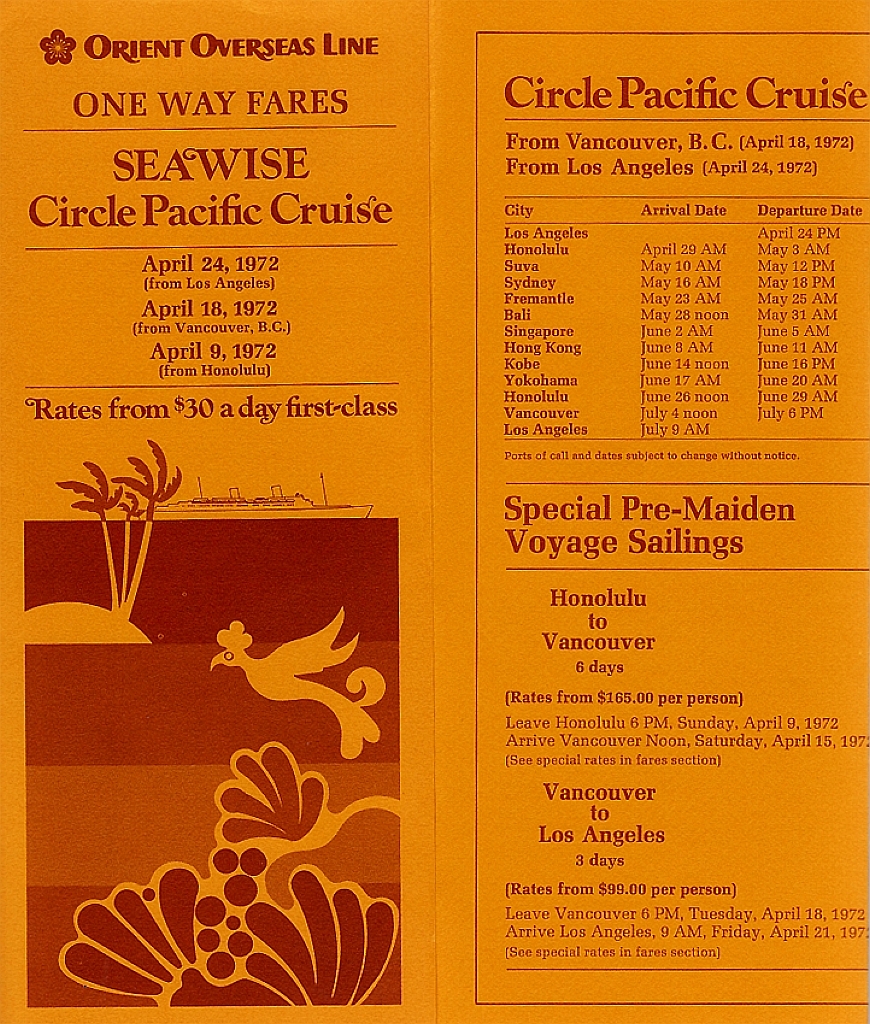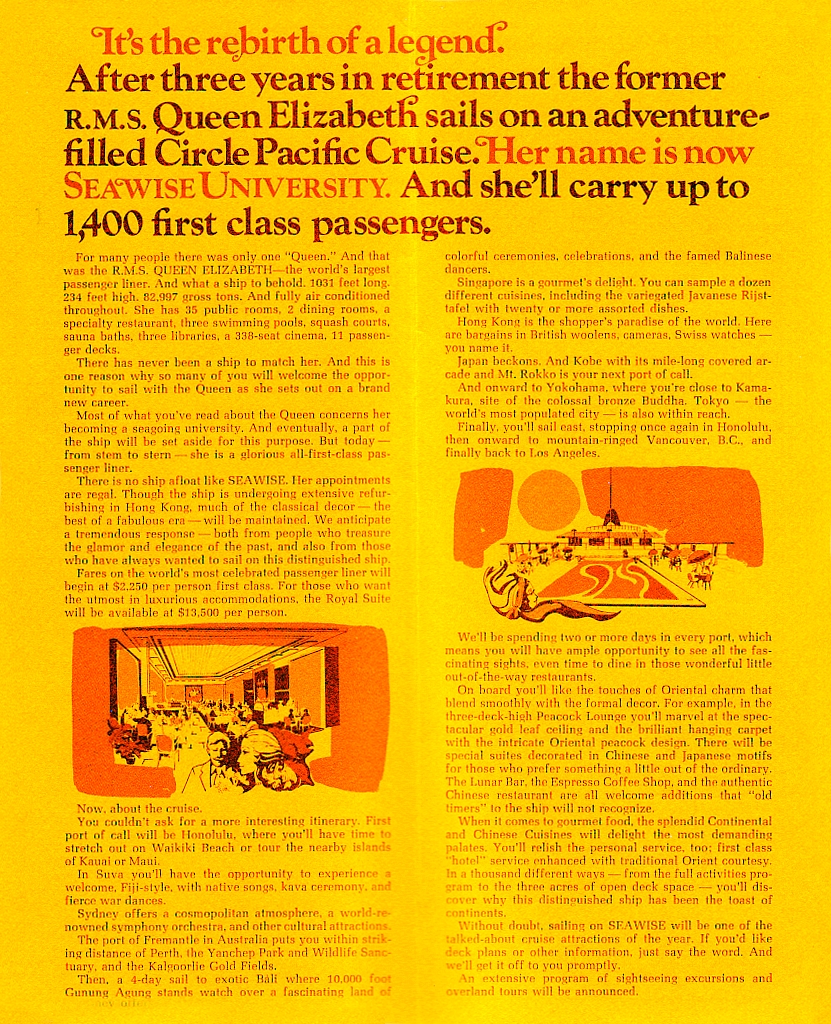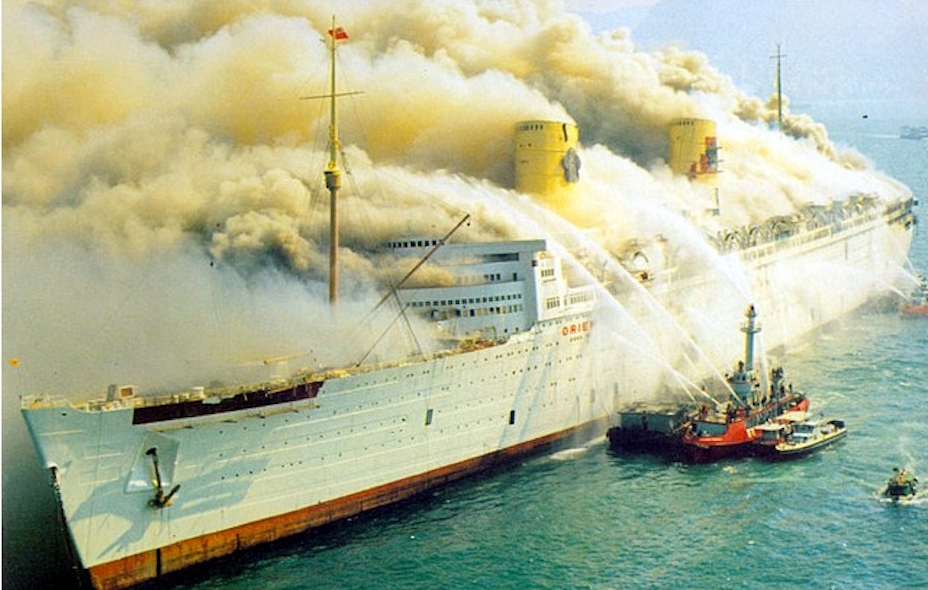 Seawise Queen is seen ablaze in Hong Kong Harbour – The Queen Elizabeth's sad demise
Her partial remains are now located under a Container Terminal, how tragic!
Photograph South China Morning Post
INDEX:
Page One             The History Page with Images.
Page Two             Interiors & much more!
Page Three          Advertisements and Brochures.
"Blue Water Liners sailing to the distant shores.
I watched them come, I watched them go and I watched them die."
****************************
Return to the ssMaritime Main INDEX
Where you will discover over 700 Classic Passenger & Passenger-Cargo Liners!
ssMaritime.com & ssMaritime.net
Where the ships of the past make history & the 1914 built MV Doulos Story
Please Note: ssmaritime and associated sites are 100% non-commercial and the author seeks no funding or favours of any shape or form, never have and never will!
Photographs on ssmaritime and associate pages are by the author or from the author's private collection. In addition there are some images that have been provided by Shipping Companies and private photographers or collectors. Credit is given to all contributors. However, there are some photographs provided to me without details regarding the photographer/owner concerned. I hereby invite if owners of these images would be so kind to make them-selves known to me (my email address may be found on www.ssmaritime.com only), in order that due credit may be given.
This notice covers all pages, although, and I have done my best to ensure that all photographs are duly credited and that this notice is displaced on each page, that is, when a page is updated!
ssMaritime is owned & © Copyright by Reuben Goossens - All Rights Reserved