Please Note: Firefox and some other search engines are not suitable – Use "Internet Explorer" for this page to load perfectly!

Click the logo above to reach the ssMaritime FrontPage for News Updates & "Ship of the Month"
With Reuben Goossens
Maritime Historian

, Cruise'n'Ship Reviewer & Author
Please Note: All ssMaritime and my other related ssMaritime sites are 100% non-commercial and privately owned sites. Be assured that I am NOT associated with any cruise or shipping companies or travel/cruise agencies or any other organisations! The author has been in the passenger shipping industry since May 1960 and is now semi-retired, but continues to write articles on classic liners and cruise ships in order to better to inform cruise and ship enthusiasts for their pleasure!
You have heard the whistles of the SS Rotterdam. Want to hear it again? Just click "Refresh"

Creation, Construction, Launching to Her Maiden Voyage

SS Rotterdam - History Part One

Photographs, postcards and images on this page are from the author's collection unless stated otherwise!

PLEASE NOTE:

This Eight Page SS Rotterdam V Feature has been completely updated as well had five brand new pages added. However, I wish to announce that this feature is in reality a new work is also my very last ever work that I will do for ssmaritime or for any other of my sites. I have done so for reasons that may be well known to many of my regular readers. Therefore, I have now fully retired and will sit back and I am joyful with what I have achieved and I trust that you will enjoy reading the well over 620 classic liners, and other ships that are online! Thank you for your wonderful support I has been greatly appreciated!

Best wishes,

Reuben Goossens.

Maritime Historian & Founder of the "Save The Classic Liners Campaign.

And the "Save The SS Rotterdam Campaign."

****************************
A summary in brief of the SS Rotterdam & the campaign that saved her:
The great SS Rotterdam, which is a greatly loved Trans-Atlantic Liner and also a popular luxury Cruise Ship, thankfully remains with us today and below is her story in brief:
The SS Rotterdam was the very last great Dutch "Ship of State" and there were many of the finest designers, workers and artists from throughout the Netherlands working on this great ship, both in her construction, fitting out process as well her superb décor. She had a long and a successful career with Holland America Line (HAL) from 1959 to 2000, but sadly as Carnival had obtained HAL in 1989 she remained in service for a number of years. But in 1995 I was advised that Carnival had clear plans to rid them selves of "that Old ship" and having made a flimsy excuse that it was too expensive to upgrade her to the required SOLAS requirements and sold her to Premier Cruises who upgraded her far less than Carnival had claimed and operated her renamed as the SS Rembrandt from 1997 to 2000. Sadly Premier went into Bankruptcy in September 2000! Regardless, the wonderful SS Rotterdam/Rembrandt spanned a wondrous forty-one years sailing oceans of the world. Full details of her history are of course below, as this is just a brief summery!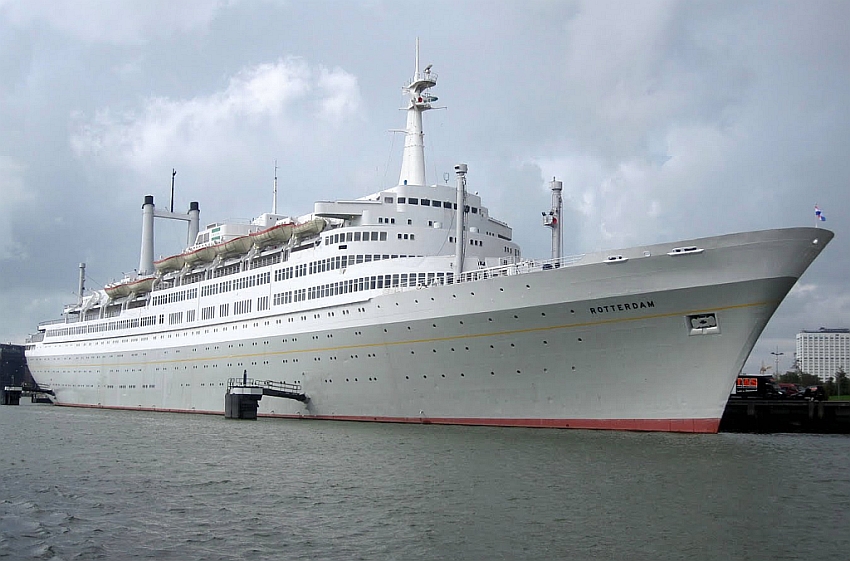 SS Rotterdam seen at her current permanent berth and owned by the "WestCord" Hotel Chain
Photographer is unknown – Please see the Photo Notes at the Bottom of the Page
The author is well known for his "Save the Classic Liners Campaign" but with Carnival having already control over Holland America Line and when I heard the news in 1995 of Carnival's desire to rid themselves of "that Old ship" my campaign went up a notch and my "Save the SS Rotterdam Campaign" commenced! However, at a later date an excellent Dutch Organisation "Stoomschip Rotterdam.nl" headed at the time by a dear friend Mr. Klaas Krijnen to whom I later handed over the campaign, but I continued the promotional side, as I had a massive worldwide support system with millions of readers and with individuals who would act on the campaign effectively! Thankfully the Rotterdam was officially saved and having been being completely restored, in 2005 the "Grande Dame of the Sea" slowly made her way up the River Maas in Rotterdam bound for her soon to be new berth, where she became a fine Hotel and popular tourist complex, come convention centre. Today Hotel SS Rotterdam is operated by "WestCord" being one of the giants of the Dutch Hotel Chains!
Today the SS Rotterdam is without a doubt the finest fully restored of the Classic Liners that remain today, for apart from her accommodations that required modifications, the rest of her has been restored to her original 1959 condition and to perfection! Therefore I am delighted to have been a part of saving this great Liner and Cruise Ship!
Reuben Goossens.
Maritime Historian, Author and Lecturer,
Commenced in the Passenger Shipping industry in 1960.
Founder "Save the Classic Liners Campaign" Commenced in 1995.
ssmaritime.com & ssmaritime.net have received over 505 million visitors.
****************************
SS Rotterdam

- 1957 to 1997:
Planning - Building - Launch & Fitting out the Rotterdam: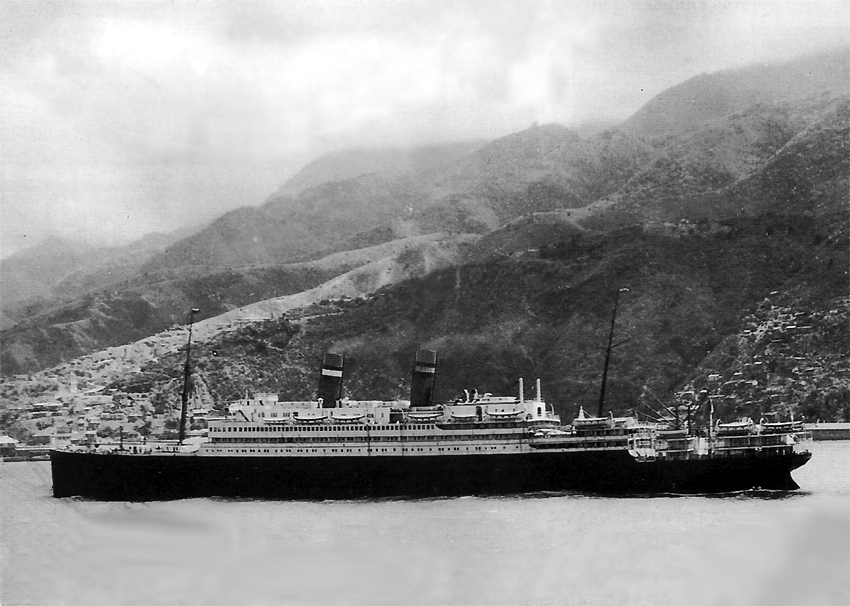 Here we see the 1908 built SS Rotterdam IV off the coast of Venezuela around the late 1930s
Holland America Line photograph from the author's private collection
Holland America Line (HAL) was well aware that they required a running mate for their popular liner, SS Nieuw Amsterdam. Thus as economic conditions had become favourable a new ship was built, being a smaller 24,294 GRT SS Statendam that was completed in 1957. This ship was remarkable for she gave the idea of the "horizontally divided ship" for her first Class was located up on Boat Deck, whilst Tourist occupied all of Promenade Deck, thus giving both classes, as was said the "Run of the ship."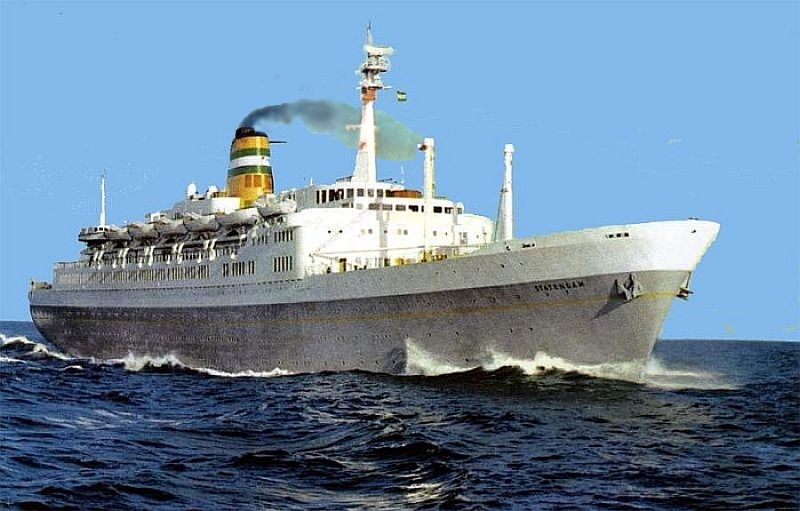 A postcard of the 1957 SS Statendam
Rotterdam's designers took this theme on a far grandeur scale and created a groundbreaking Two Class "horizontally divided ship" with movable partitions, thus being able to change passenger's numbers in First or Tourist Class. In order for passengers to move down to their Cabins and Restaurant on the lower decks, the designers created one of the most unique methods of doing so and I will explains this system down the page!
The magnificent SS Rotterdam would be the Fifth Ship to carry this proud name and today there is new cruise ship, a motor ship, the ms Rotterdam VI.
With plans completed and approved, it was on October 27, 1955 that Holland America Line (HAL) officially placed their order for their new ship to be built by the "Rotterdamsche Droogdok Maatschappij NV" or the "Rotterdam Dry Dock Company" in Rotterdam the Netherlands. After a great deal of preparation, on December 14, 1956 building commenced with "Hull number 300" and her keel being laid on this auspicious day. Two years later on December 14, 1958 she was officially named and launched with great fanfare by Her Majesty Queen Juliana with tens of thousands of people located on both sides of the river, as everyone desired to witness this great event! After entering the river she was taken to her fit-out berth and less than a year later she was completed!
SS Rotterdam was the last of the great Dutch Trans-Atlantic liners and she was crafted by some of the finest Dutch artisans, both in her construction and fitting out process.
In the four-year period, from being commissioned to delivery, the Rotterdam has been considered as being one of the greatest Dutch Passenger Liners ever built, however as for myself and to be honest, the vast majority of maritime experts worldwide, and these do include some of the greatest names in the industry, believe that the 1937 built SS Nieuw Amsterdam (2) was the most beautiful and perfectly balanced liner ever built as well as her interiors being some of the finest examples of Art-Deco and grand luxury seen on a liner, the ship that in her later years became a very popular cruise ship featuring a great hull with the traditional HAL gold ribbon running around it!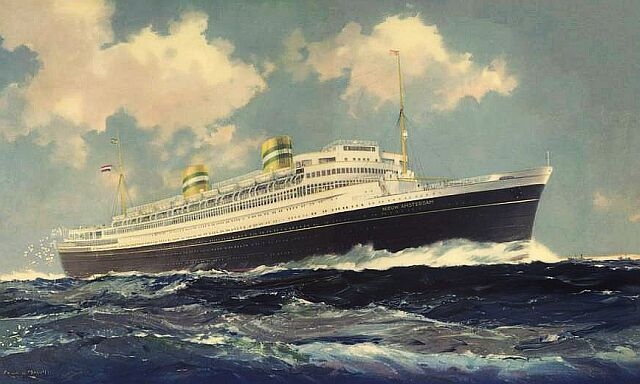 This was a postcard produced by HAL prior the SS Nieuw Amsterdam was completed
However, as this new modern liner was being built she was slowly taken shape, one that certainly became greatly loved. Dutch maritime architects created a ship design that was certainly greatly advanced for her time with a brand new "horizontal" public venue system and I will explain what is meant by this later. In addition a multitude of artists and interior decorators contributed to her excellent interiors that made the Rotterdam quite a work of art.
SS Rotterdam became known throughout the Netherlands as "The ship of Tomorrow, Today a Reality."
Photo Gallery; A ship in planning & construction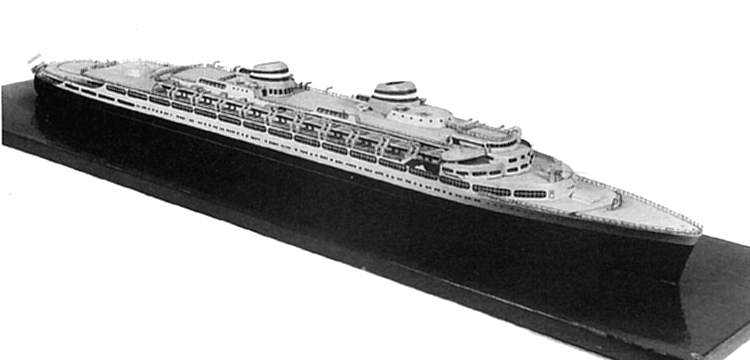 This was a model of an as yet unnamed liner, which was greatly based on the very popular SS Nieuw Amsterdam but it was a
more streamlined and a far more modern version for the 1950s. But it was rejected as a more futuristic & streamlined ship was required!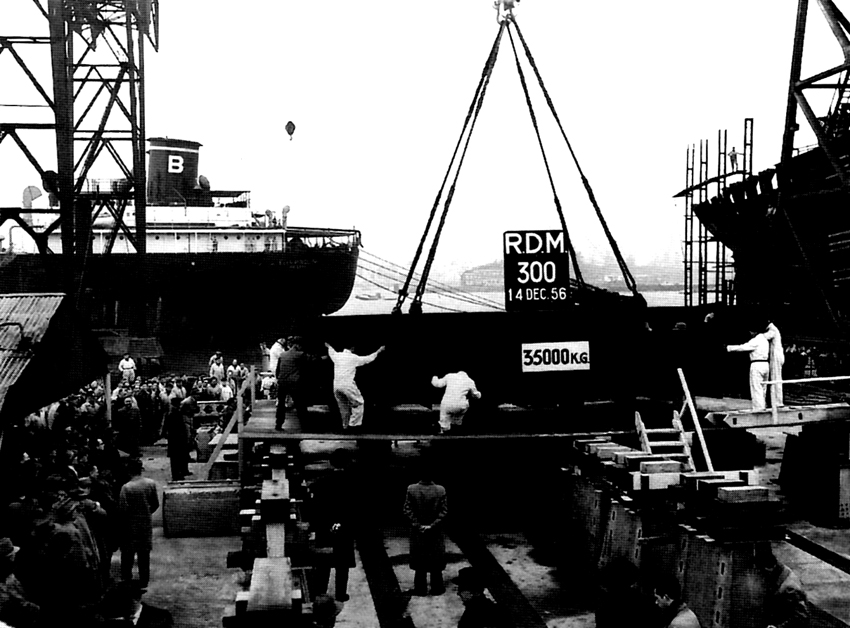 The laying of Rotterdam's keel in Yard 300 on December 14, 1956
The above and the 6 photo's below are all - A RDM Photograph – But from the authors private collection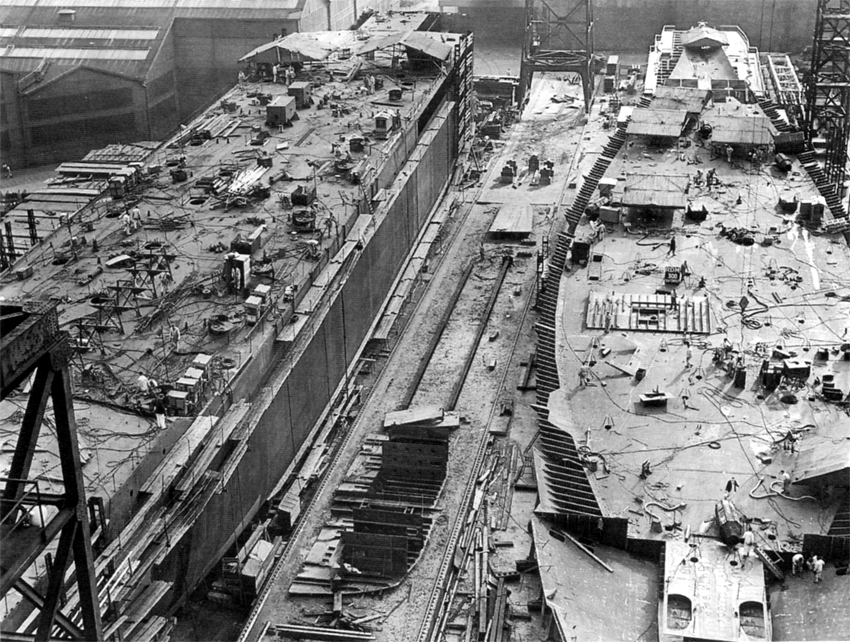 Her double keel being completed (February 26, 1957) and she is slowly building up
A RDM Photograph – From the authors private collection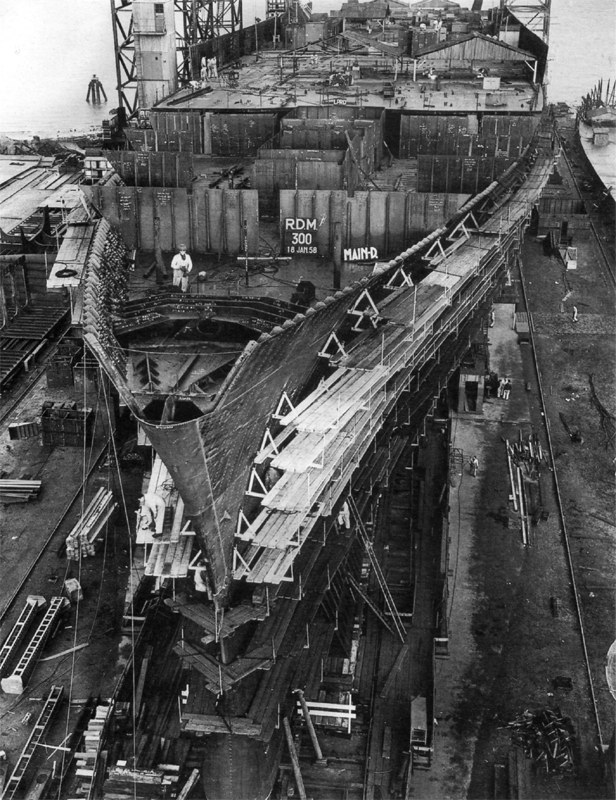 The Rotterdam is taking shape on January 18, 1958
A RDM Photograph – From the authors private collection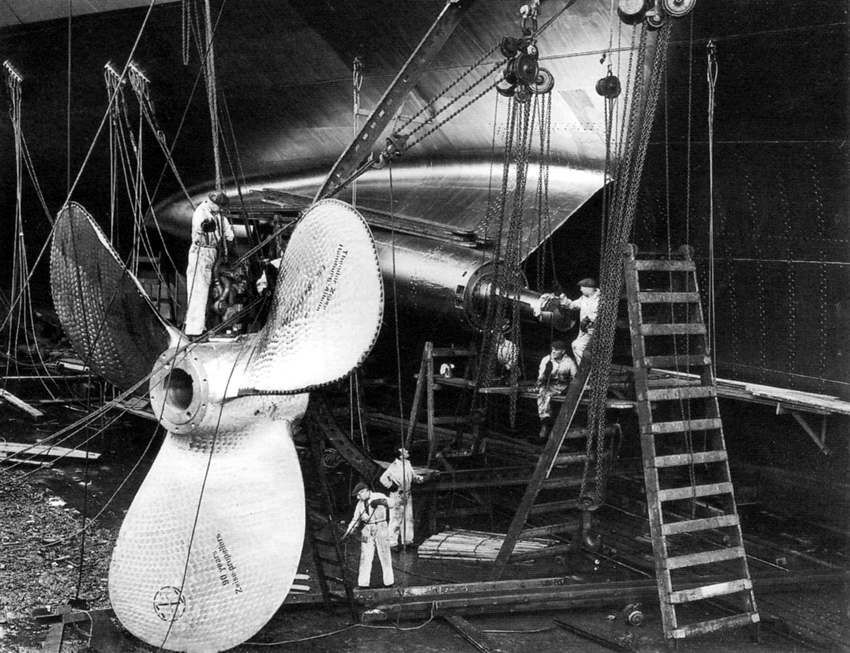 Her starboard propeller is being fitted on August 21, 1958
A RDM Photograph – From the authors private collection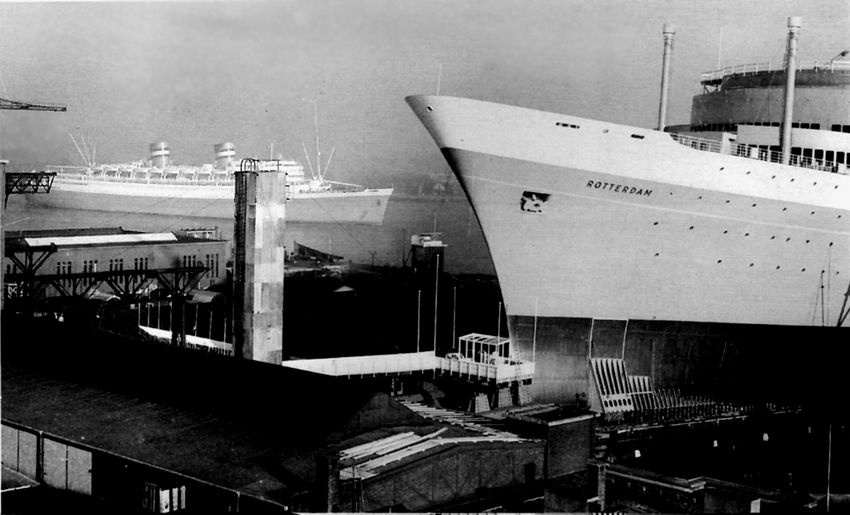 The Rotterdam is ready for her launching as the SS Nieuw Amsterdam arrives in September 12, 1958
A RDM Photograph – From the authors private collection
The Naming & Launching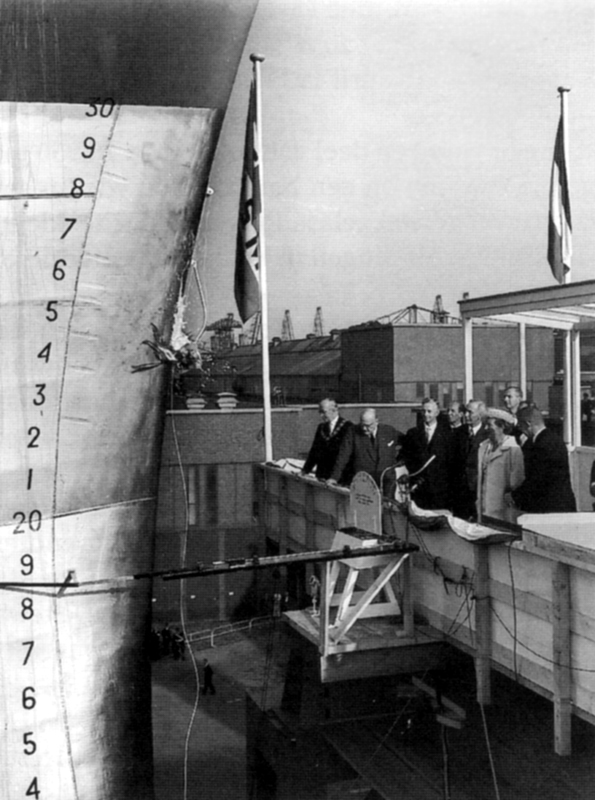 HRH Queen Juliana watches the bottle of Champagne smash and break against Rotterdam's hull
During the naming she wished the ship "I name you the Rotterdam and wish you a safe journey" on September 13, 1958
A RDM Photograph – From the authors private collection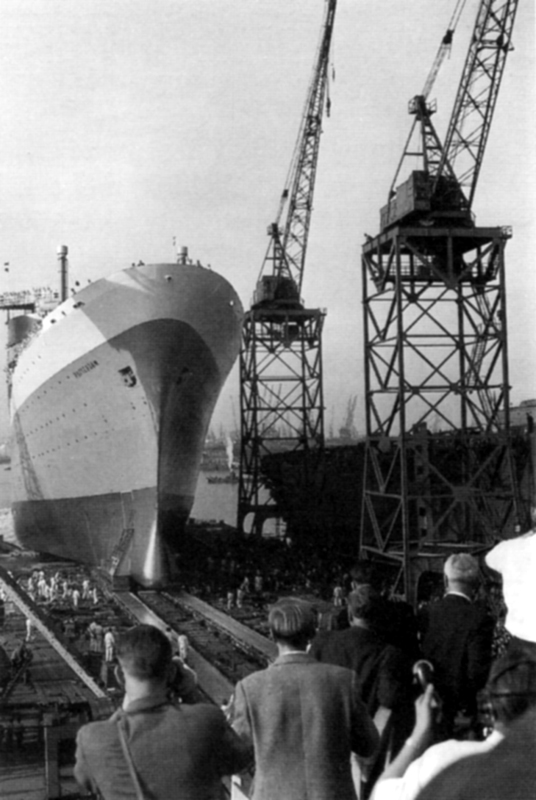 Here we see the SS Rotterdam slide down the slipway into the Maas River as the chains slow her speed
A RDM Photograph – From the authors private collection
Funnels & Livery:
Undoubtedly, at the time Rotterdam was considered to be controversial due to the lack of having a traditional funnel, she was given two side by side tall slender uptakes (flues) located aft of the ship, due to her machinery being located aft. Although the very first passenger liner to have her engines fitted aft was the revolutionary Shaw Savill liner SS Southern Cross and there was great controversy about the weight ratio, etc!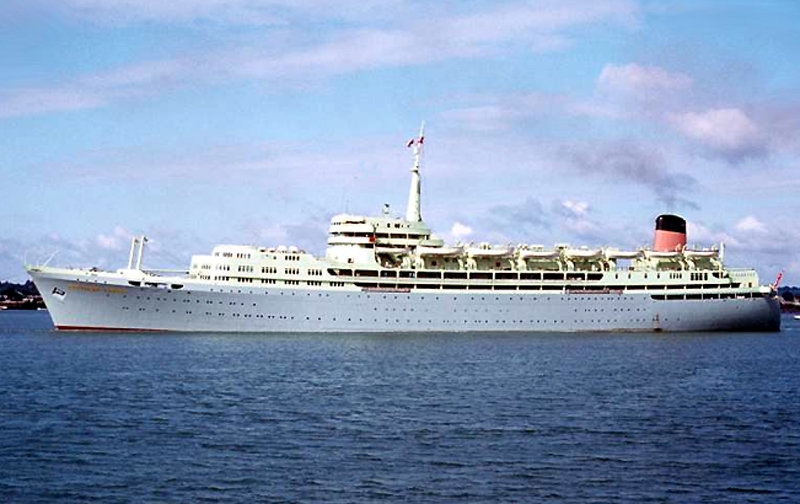 SS Southern Cross, the world's first 100% passenger liner for she did not carry cargo, except for baggage!
Although at first she was considered as being somewhat controversial, however as she was such a well-balanced ship, having long slender and graceful hull lines, that was perfectly balanced but sharply raked bow that gently flowed through to just below her forward superstructure. Her hull was in Holland America Lines new livery, being the grey hull with the traditional gold ribbon two decks down, thus on the grey part of the hull with an all white superstructure and as well as her Radar Mast. However her twin tall exhaust uptakes (funnels) aft were painted in a pale silvery grey colour as was the crossbar between them close to the top. The two exhaust outlets and the single mast with the navigation light, atop between the funnels were black. There were two King Posts forward and two aft and these were also in this grey colour.
The SS Rotterdam had two Whistles, one was located on the first crows nest level of the white Radar Mast, whist the second one was located two thirds way up the portside forward Kingpost! If you look at the photograph below you can clearly see small unit on the right side of the post! You were able to hear the sound of her horns (whistles) for a good 9 miles or 14.5 kilometres. Click refresh to hear her whistles again!
On what was originally considered an unusual centre housing topside amidships, where the regular funnel would normally be, was the location to show off the Company logo, for on the plain white sides there was painted the NASM official House standard (flag) that stood for; "Nederlandsch Amerikaansche Stoomvaart Maatschappij" or the "Netherlands American Steamship Company." The other standout colour on board was her 18 buff to yellow fibreglass lifeboats.

HAL's House Standard (flag)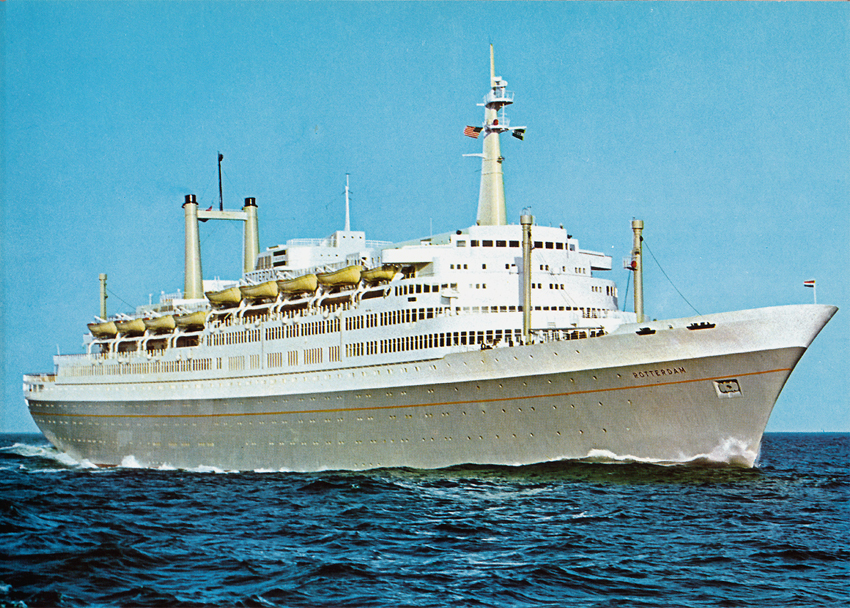 One of the early promotional photographs of the SS Rotterdam
There is a special page online with and advanced look at the Rotterdam, from a special limited brochure published
Thoughts Regarding her Design:
This superbly beautiful liner cost US$30,000 to build in 1959 and upon completion she was without a doubt a beautiful ship externally, as well as simply a piece of art internally! Besides her aft-situated machinery and twin exhaust slender stovepipes funnels, the Rotterdam was given perfect balance, with a central deckhouse being built atop her superstructure in the position where the traditional funnel would sit, except inside this deckhouse there was a modern and comfortable Skyroom with a view over the Sport Deck!
The SS Rotterdam was unique in many more ways that just her aft twin funnels, for she was air-conditioned throughout the ship and that included her crew's quarters. In addition, she was the only ship in the world to have two complete decks of 100% of public rooms, which were located on Upper Promenade Deck and Promenade Deck. The result being that the Rotterdam's Public venue layout was "horizontal" instead than the traditional "vertical" for as on most other passengers ships where first class is located from forward to amidships, whilst Tourist or Second Class is located in what one may call the less desirable stern section of the ship. However, to move between decks a special Central what They called it the "Secret Central Stairwell" was needed, and below is its story!
Secret Central Stairwell:
There is no doubt that Holland America Line are innovator's when it comes to amazing design, for they seem to have that speciality and a reputation for always that tends to be a radical departure from the norm in every new ship's design or their layout. On the Rotterdam this came to a point as there was a need for allowing her two classes' freedom of movement without having to meet each other, yet using the same stairwell. Thus how was this done?
This amazing feat was done by the means of a "trick" Main Staircase that was used together with six elevators (lifts). During her Trans Atlantic Voyages, the Rotterdam would operate as a First and Tourist Class ship are both classes were able to enjoy, what seemed like "Run-of the-Ship" privileges. This was also enjoyed when sailing on the predominantly Tourist Class recently, but smaller built twins the SS Ryndam, SS Maasdam and larger SS Statendam, on which the first class is confined to a single deck and they all had and small number of First Class passengers with lounge & Bar, etc on Boat Deck only.
But on the SS Rotterdam Classes were spread over various decks and a special means of movement was required! The unique idea of the "Secret Central Stairway" being a two-way system came to Mr. Willem H. de Monchy who is the joint President and Director of the Holland America Line several years earlier when he visited the Chateau de Chambord in the Loire Valley, France. The massive Chateau from the renaissance area has a central stairway that has two separate overlapping spirals and it was designed in order that a person going up the stairway would not meet anyone descending it.
Modifications of the stairwell provided optional exits and entrances that were used at the required decks at certain times, etc. This enabled a First Class passenger to proceed from their stateroom on A, B, C, or D deck to the public rooms topside, or to the Dining Room or Indoor Swimming Pool on the lower decks, without using the Tourist Class side. Tourist can enjoy the same advantage at different times.
Elevators have an automatic gear system designed to serve only one class or the other as is required to conform to the staircase arrangement. During cruises, when there is only one class on board the whole ship is open to everyone.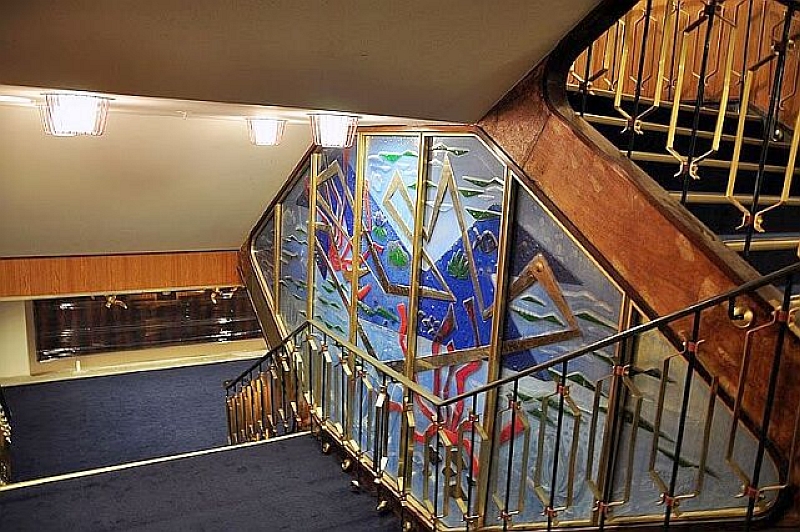 The famed Secret Central Stairwell
From the author's private collection
As built; SS Rotterdam accommodated 1,456 passengers, made up of 655 in First Class and 801 in Second Class and a crew of 776. However, whilst she was in a One Class cruise mode she would accommodate just 730 passengers.
Fit-Out at RDM, her Sea Trails and a Very Special Test Voyage:
There was a great deal of work done as her interiors were added and finished, as well as her stovepipe funnels fitted and she was made ready to sail. In October 1958 there was a great moment as the ships two sets of Parsons Steam Turbines had been installed. In May 1959 Prins Bernhard, the Queen's Consort, made an official visit to the Rotterdam and he was most impressed with HAL's new flagship ship as she was close to being ready! Soon she would enter one more time into dry-dock for her final paint job in May for the process was now very close to being completed.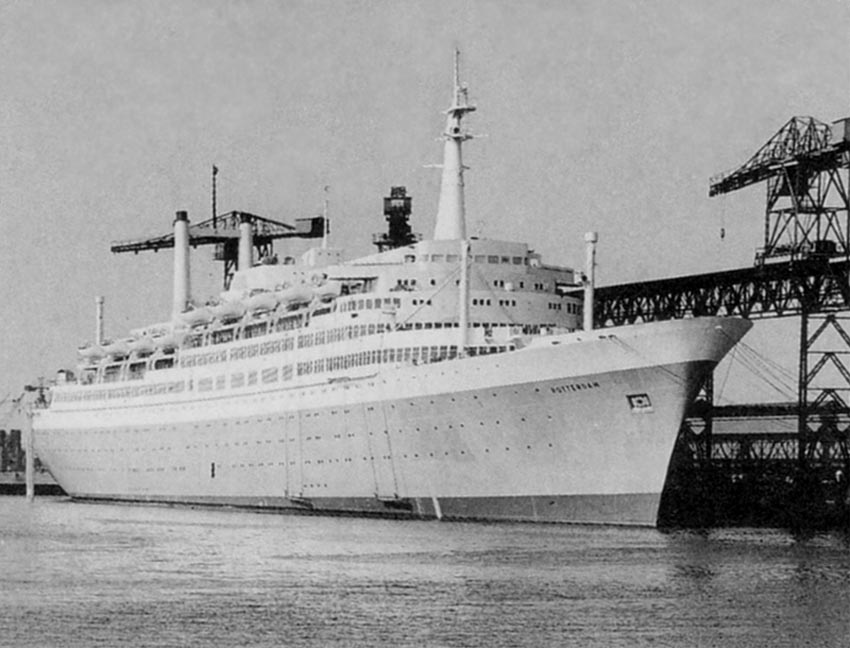 The Rotterdam is seen at her RDM fit-out berth early in 1959
A RDM Photograph – From the authors private collection
The Rotterdam having been completed a year after her naming and launching, she departed the RDM berth for her first sea trials on July 11, 1959 and then she returned to her berth. Next she went out again to the North Sea for her technical trails from August 1, continuing to the 6th, after which she returned to Rotterdam and the RDM berth once again.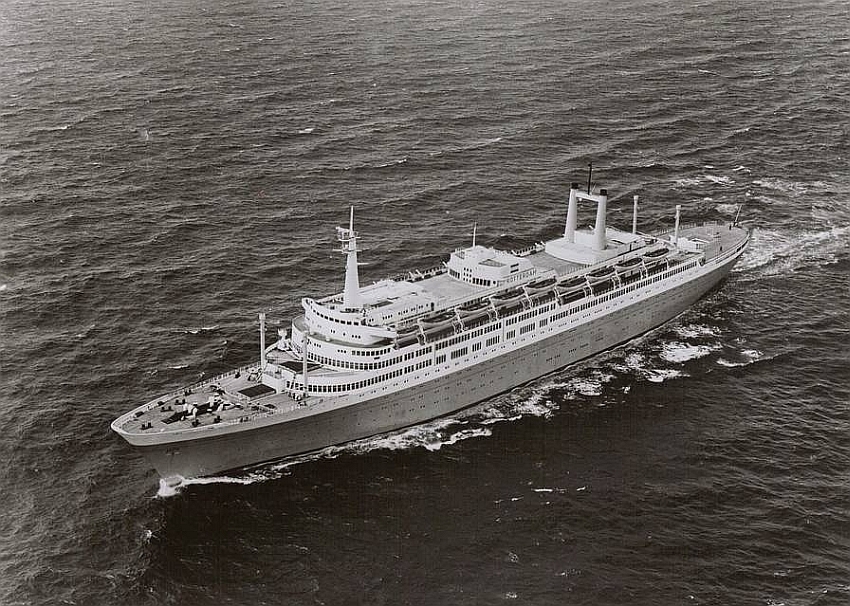 Above & below: SS Rotterdam seen during her sea trails on July 11 & August 1 to 6, 1959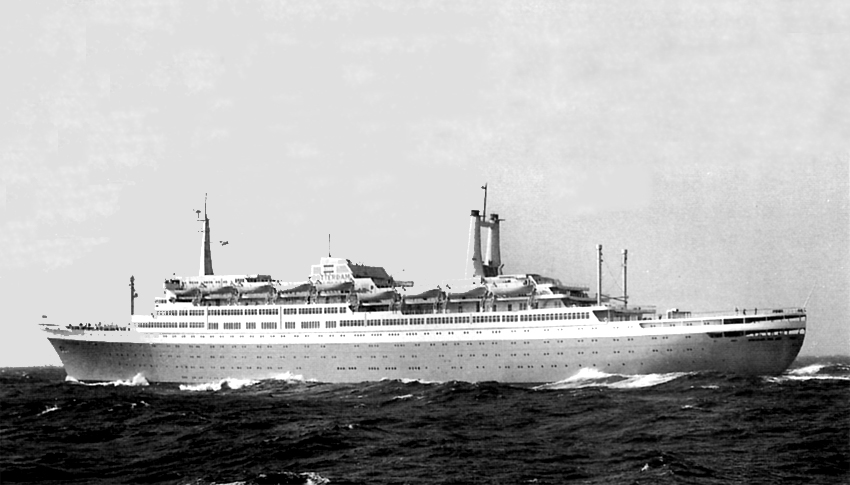 On August 20, the SS Rotterdam looked absolutely magnificent as she was finally berthed at the HAL official Terminal at the Wilhelmina Kade, having been there a day after completion of her sea trails. She also had been manned and fully stocked for that afternoon a very special event would take place as she would be heading out to sea once again for an overnight "Test Voyage" but this time with over 800 VIP Guests!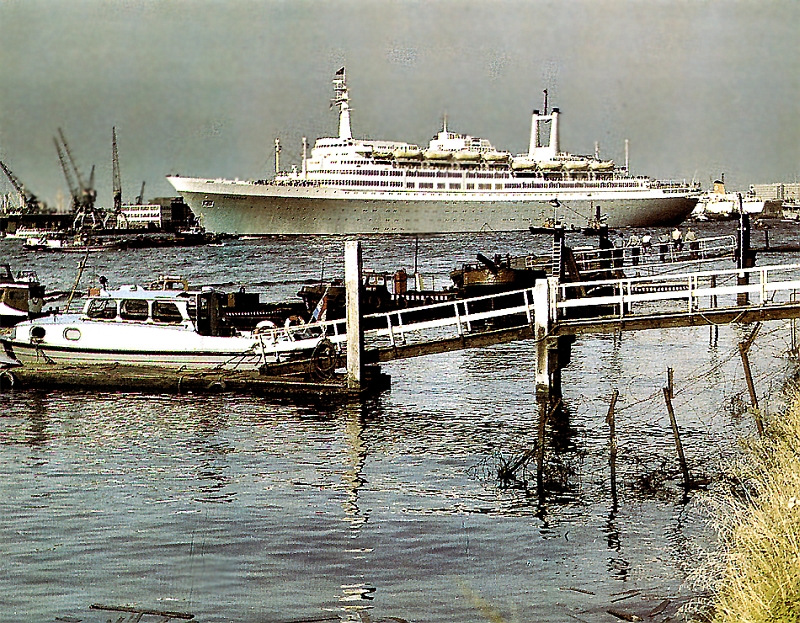 Here see the SS Rotterdam heading out on her "Test Voyage" and note that from the very top of her Radar mast is a very special flag!
It would be later in the afternoon of August 20, 1959 that Rotterdam locals who were still admiring this magnificent ship from across the river or closer by, noticed that suddenly the Royal Standard had been raised to the very top of SS Rotterdam's radar mast. This was because Her Royal Highness Queen Juliana of the Netherlands and her husband His Highness Prins Bernhard had boarded this magnificent new Liner. In addition, another 800 very important passengers (VIP's) had boarded her, many of these being Prime Ministers, Presidents, Premiers and countless of important industry and other guests from the Netherlands and around the world for the SS Rotterdam would depart late in the afternoon for a very special overnight "Royal Test Voyage."
In charge of this great liner was the Commodore of the Holland America Line fleet, Commodore Coenraad Bouman who was a wonderful man, whose family I used to know personally. Whilst the ship had departed and it was still daylight, there was an official handing over ceremony topside when the Queen took part in raising the HAL House Standard (flag) to below the Royal Banner and making the handover of the ship between "Rotterdam Drydock Company" and HAL official with a Royal seal of approval!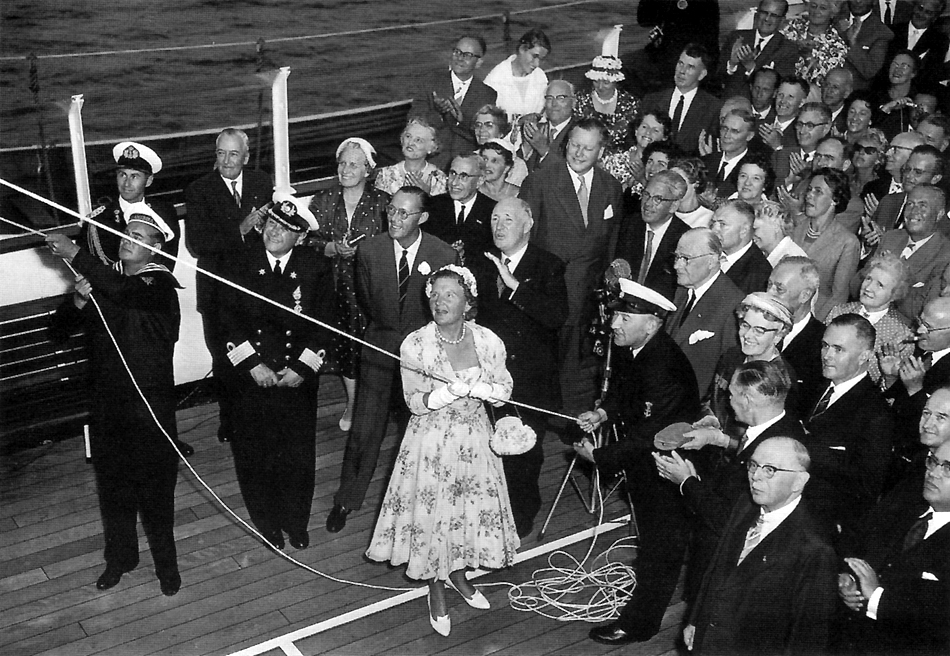 Here we see a smiling Queen Juliana assisting in the raising of the HAL House Standard
Prins Bernhard is on the Queen's left with Commodore Bouman standing next to him
Obviously there was a festive, yet a most luxurious party atmosphere on board and at Diner the Menu contained some of the finest foods to be found in some of the worlds grandest restaurants, all served with some of the most amazing wines. All this was being served in the two deck high grandiose golden Dining Room of this fine ship!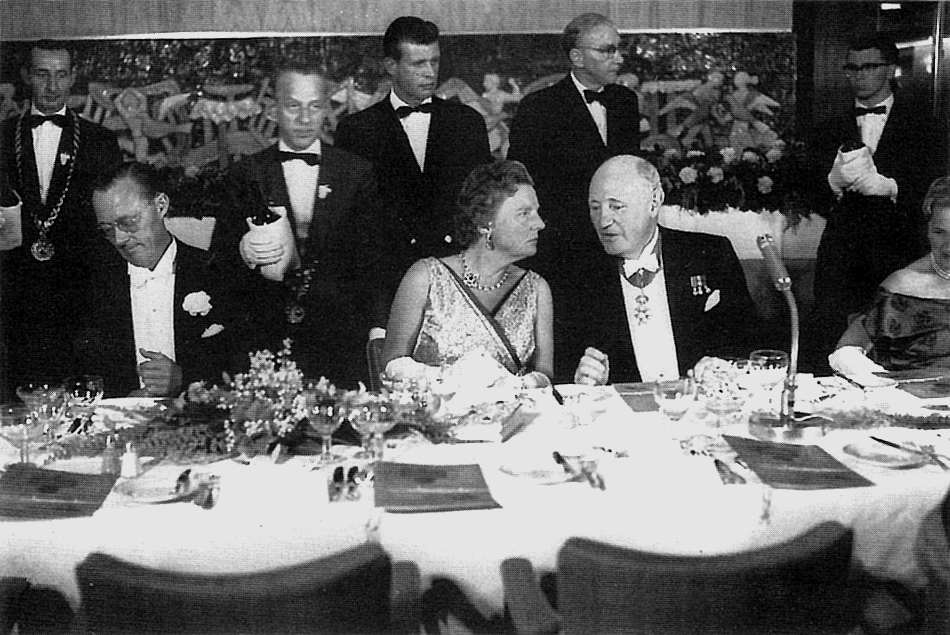 HRH Queen Juliana & her husband Prins Bernhard (left) with the Director of HAL Mr. De Monchy in the Dining Room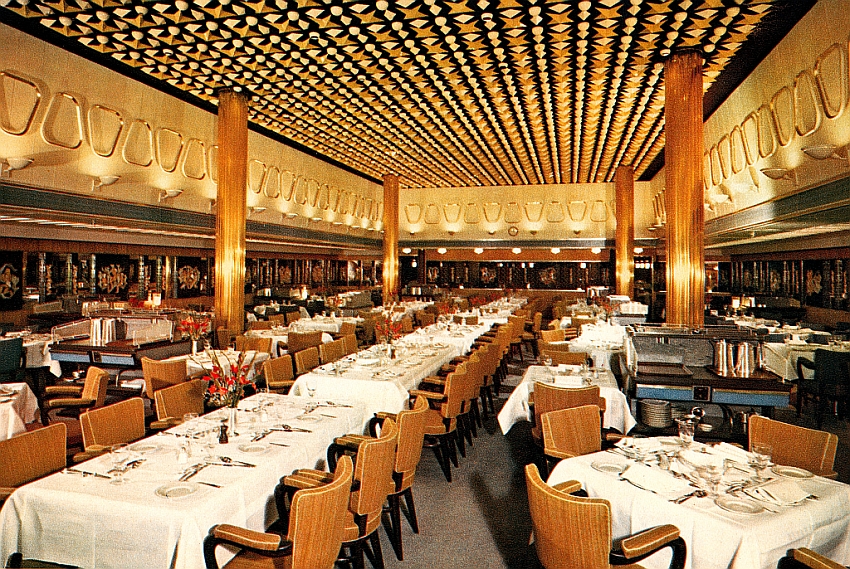 SS Rotterdam's magnificent Dining Room in all its grandeur
After a successful overnight voyage, with all systems, kitchen & galleys, service boarding and disembarkation, etc, having worked to perfection under severe pressure, and with everyone on board being more than impressed and agreed with the HAL slogan that had become so popular throughout the Netherlands that the Rotterdam was without a doubt; "The ship of Tomorrow, Today a Reality!"
On the 21st.at 9am sharp (being on time is so traditionally Dutch) she had not only returned to the HAL Wilhelmina Kade but she was tied up and the gangways were fastened. The ship was now officially a Holland America Line vessel as the Queen and the Ship Builders had handed her over during the Mini Voyage!
With the ship now looking in all her glory and having had a Royal mini voyage, her builders plaque had been fitted and it was placed forward and cantered, at the deckhouse of her funnels.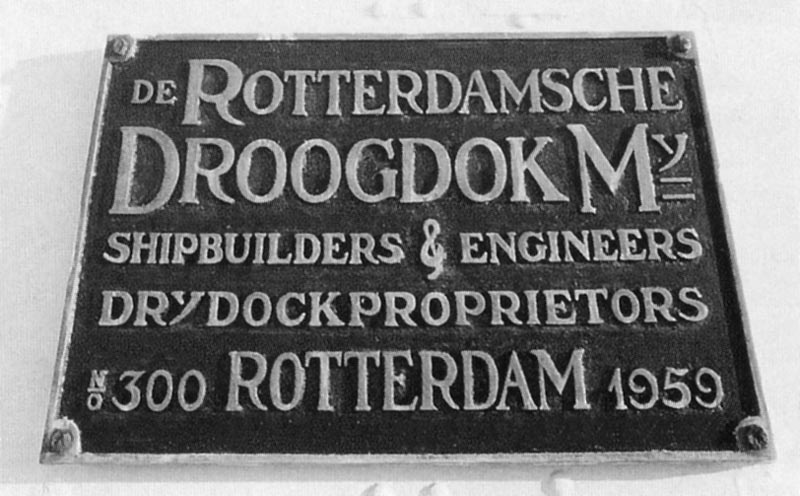 The Builders Plaque forward of the deckhouse below her funnels
HAL Image
Her Maiden Voyage:
Having been delivered and all official duties completed just a little under a month later on Thursday September 3, 1959 SS Rotterdam was ready for her maiden voyage, which would be her first to New York, sailing via Le Havre and Southampton! Passengers in Second Class would board her between nine and ten in the morning and they would be followed by First Class passengers between ten and eleven in the morning. This would give everyone sufficient time to settle as the Rotterdam was due to depart at 12.15pm sharp.
Once again the SS Rotterdam was blessed by hosting a member of the Royal household, this time the Crown Princess Beatrix who later became Queen of the Netherlands when her mother abdicated, which is the Norm in the Netherlands, and today she has also abdicated and her son is the King, HRH King Willem Alexander of the Netherlands.
Her Father, Prins Bernhard escorted his daughter on the Rotterdam and sailing with her was the Minister of Foreign affairs, Mr JMAH Lund as together they would take part in a promotional and other special official functions. During the voyage the Princess had a wonderful voyage enjoying much of the ships facilities, including playing shuffleboard with Mr. Lund on Sports Deck forward of the amidships Skyroom!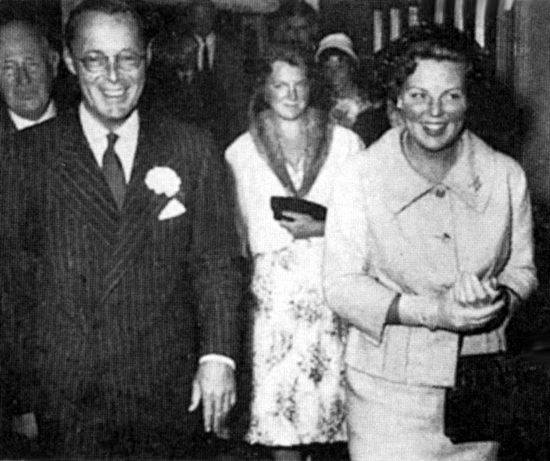 ---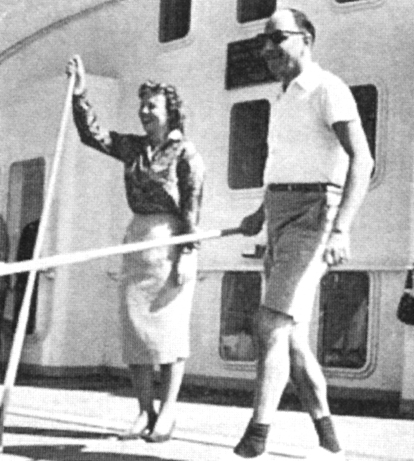 Above: Crown Princess Beatrix and her Father, the Queens Consort Prins Bernhard board the Rotterdam
Below: Princess Beatrix and Minister Lund play shuffleboard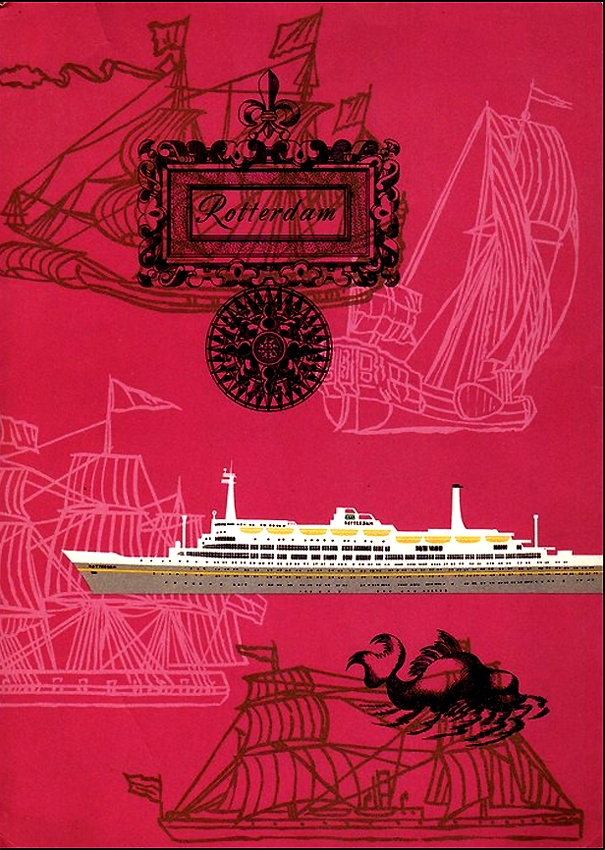 Above & below: a special Maiden Voyage Buffet Luncheon Cover and Menu
Of course, the cove features the SS Rotterdam and impressions of the Halve Maen and other Dutch vessels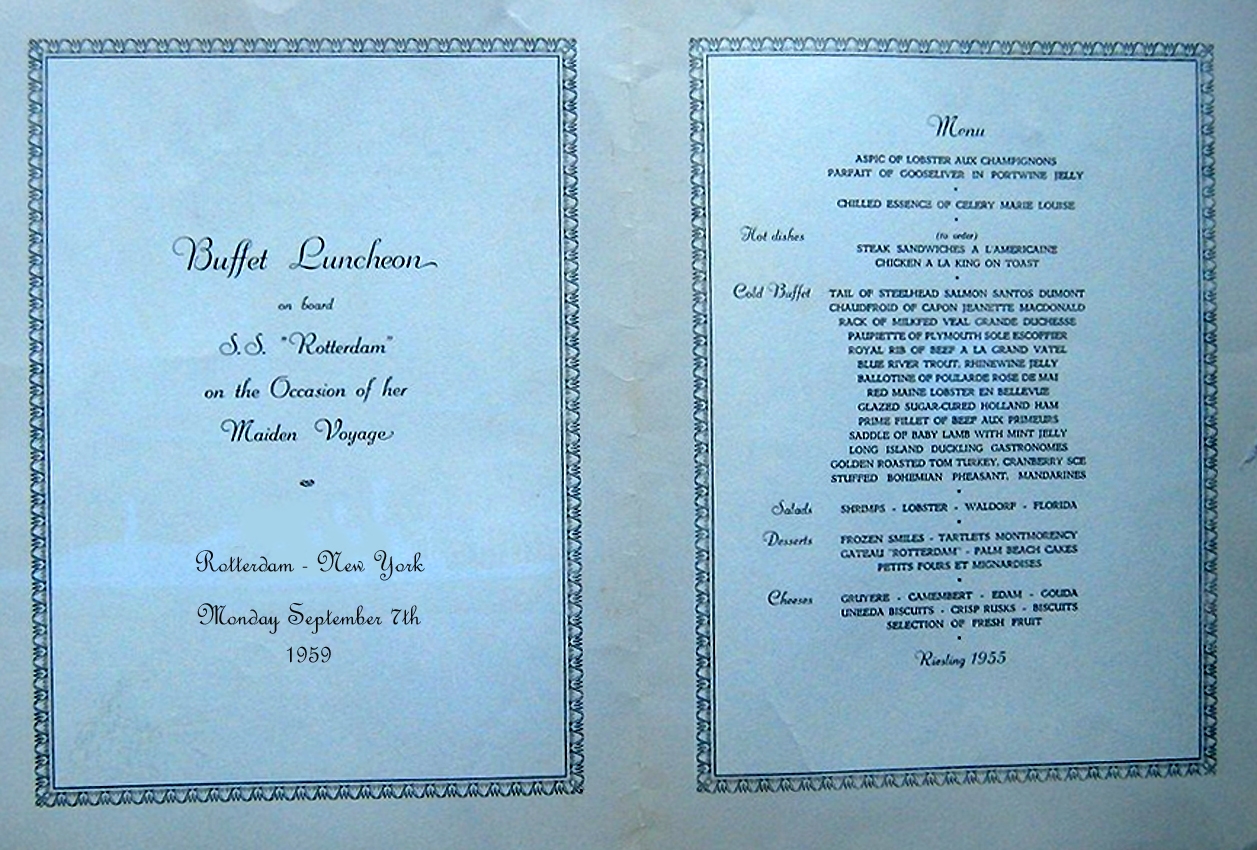 SS Rotterdam arrived in New York on September 11 and the there was no doubt that the American's know how to create a show as they gave the new Dutch liner a grandiose welcome with a large number of tugs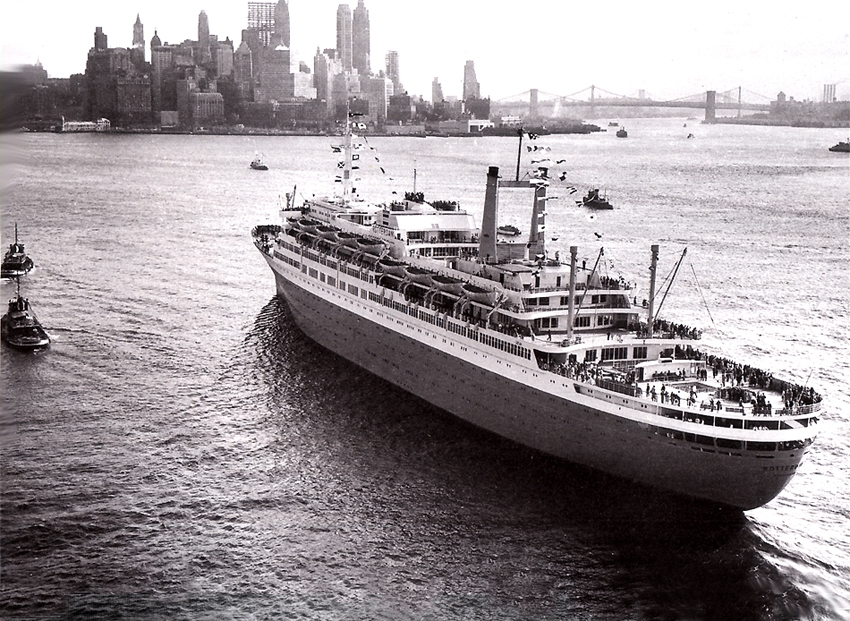 The SS Rotterdam arrives in New York September 11, which just happens to be an auspicious day
Amazingly, the Rotterdam's arrival in New York coincided with New York State's celebration of the 350th anniversary of the arrival of the Dutch sailing vessel owned by the "Dutch East India Company" Halve Maen (Half Moon) but under the command of Henry Hudson as he discovered the Hudson River, which he named after himself, and the place that became known as Nieuw Amsterdam that was later renamed New York City. The Halve Maen anchored close by Staten Island, being not far from Bedloe's Island on September 11, 1609 and these days the Statue of Liberty proudly stands in that island. The SS Rotterdam on her maiden voyage sails past this very same spot 350 years to the day!
The little Halve Maen ("Half Moon") is a vessel that remains featured together with the massive bow of the SS Nieuw Amsterdam of 1937 on the Holland America Line logo to this very day!

HAL Logo showing the grand bow of the SS Nieuw Amsterdam and "Dutch East India Co" sailing ship, the Halve Maen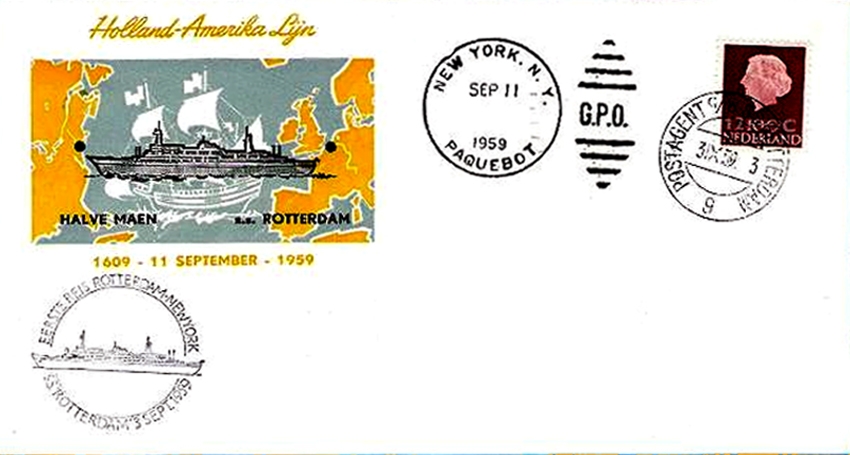 This special envelope was issued by HAL for philatelic enthusiasts for collection, as it was the 350th.anniversary of the arrival of the
Halve Maen the day SS Rotterdam on her maiden arrival at New York on September 11, the very same day as the historic vessel!
The Author overall thoughts about the SS Rotterdam:
With the huge success of the Test Mini Voyage mentioned on this page, she was certainly ready for her maiden voyage and she soon departed on her successful maiden voyage and commenced her official career!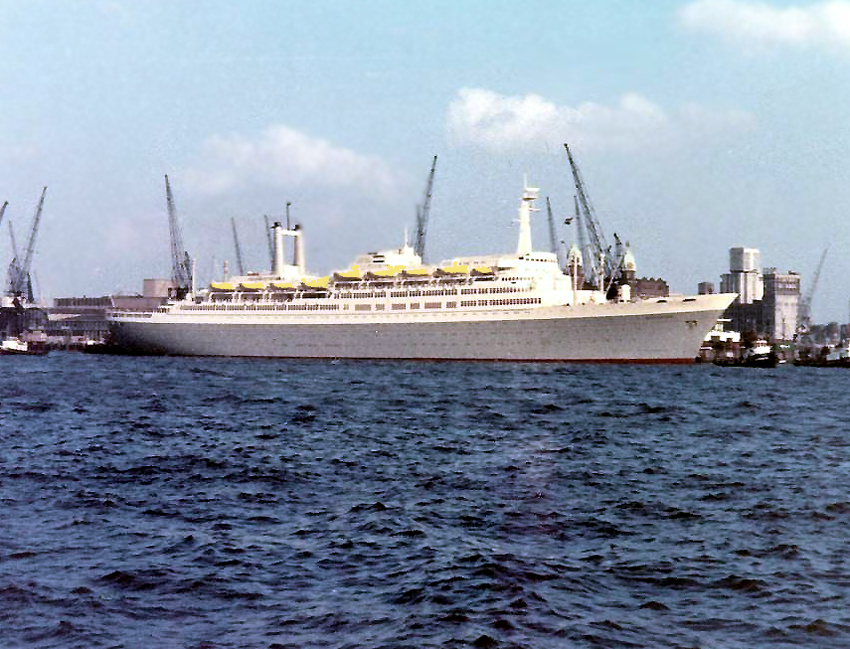 The Rotterdam is seen tied up at the HAL Wilhelmina Kade being made ready for her maiden Trans-Atlantic voyage
Being such a well built ship and perfectly laid out she proved to be a popular ship throughout all her days, both as a liner and a one-class cruise ship. In addition we know well that she outlived the vast majority of Trans-Atlantic liners and most other International liners as well as more modern Cruise Ships for that matter and the SS Rotterdam sailed successfully for an amazing 48 years!
Her side by side aft funnel controversy was certainly short lived, for soon this design idea became the norm with ships, such as the famed 1961 P&O liner SS Canberra that also had her engines aft and was fitted with side by side upright exhaust stacks and this time there was no controversy! The reason being, the new trend had already been set by the great Trend Setter that Elegant Dutch Liner, the SS Rotterdam which was known was as "The ship of Tomorrow, Today a Reality" as well as being the "Grande Dame of the Seas!"
First & Tourist Class Mini Photo Album
The photographs below were taken by Holland America Line Promotional Department prior to the ship having been made ready to sail
Thus many venues look rather bare, especially in Café de la Paix where the Bar had not been stocked as yet.
Not even the ashtrays were placed on the tables and yes, sadly, smoking in those days was still the norm!
First Class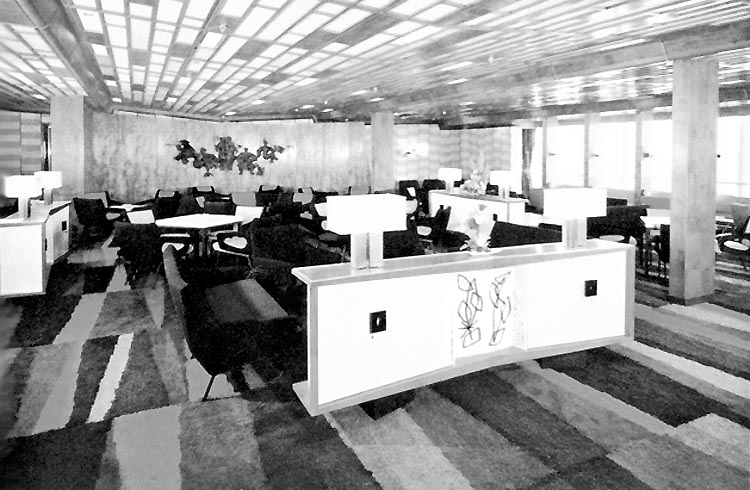 The beautifully designed Smoking Room, looking aft and located on Upper Promenade Deck
This series of photographs are by Holland America Lines Promo department in 1959
But have been part of the Author's private collection since 1960
Tourist Class
Sun Deck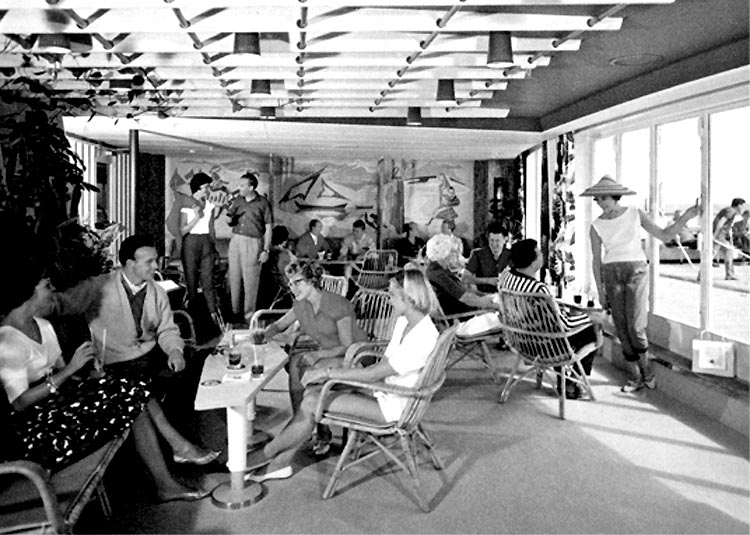 The delightful Sunroom with a view aft over the Tourist Sports deck there was a spiral stairwell down to the venue below
Boat Deck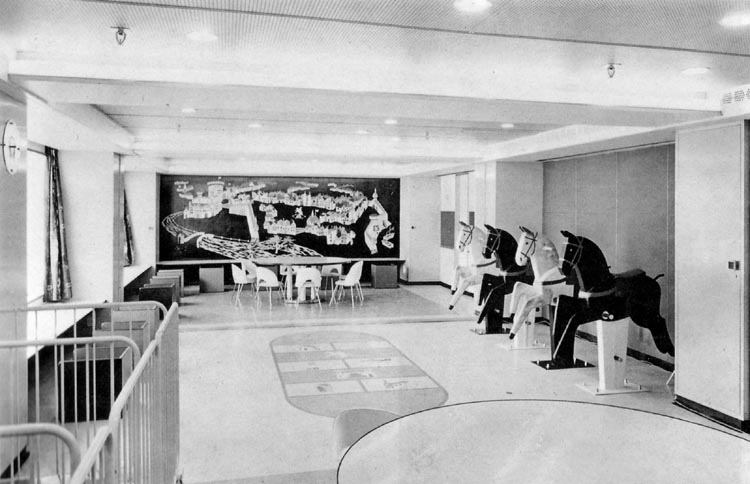 Amidships starboard side was the Children's Playroom, available to both First & Tourist Class
First Class reached it via lifts or the "Central Secret Stairwell" - cabins were just forward
Tourist Class reached it via stairs from the Sun Room Above or the Central Stairwell
Promenade Deck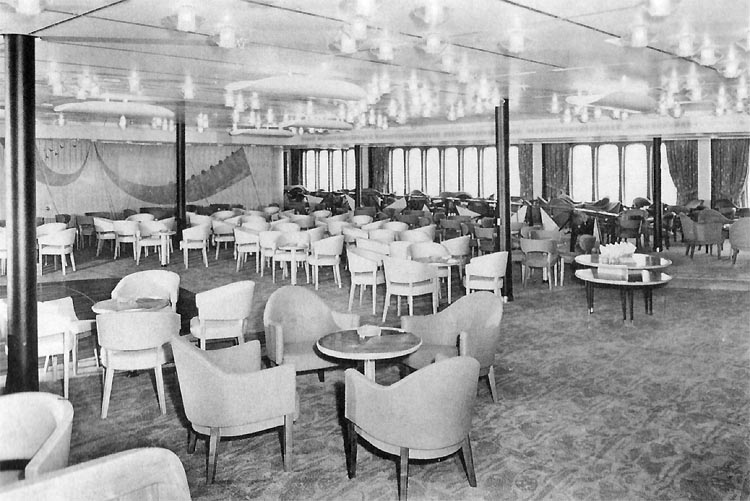 The spacious and elegant Queen's Lounge was located just aft of the largest Cinema at sea, it was a popular dance venue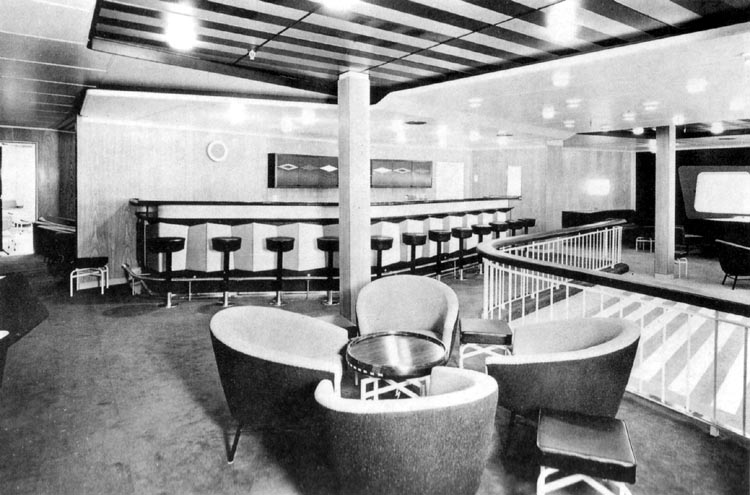 Far aft was the delightful, but a bare looking Café de la Paix with its spacious stripped dance floor. Just through the two glass doors
on both sides of the Bar was the aft "Verandah" being a popular place for a coffee and a snack overlooking the Pool and Lido Deck!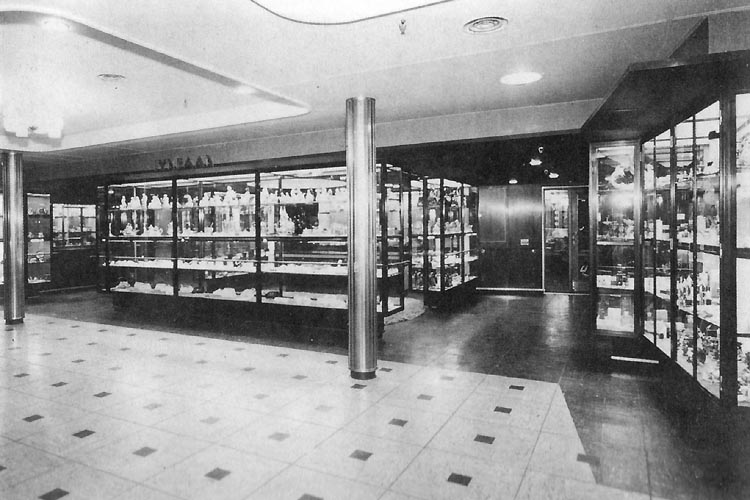 The Lijnbaan is the popular Shopping Centre, which is named after Rotterdam's new and modern Chopping Centre named - the Lijnbaan

being one of the first large open air Shopping Malls ever, for the Nazis had completely flattened this region and much of the city

centre on May 14, 1940. The Netherlands had always been a Neutral nation, yet this was certainly not respected by this evil enemy!

There is no doubt that I greatly love the SS Rotterdam, and I did love it when she returned to her dark blue hull, for it was a return to the old HAL days. Yet sadly when Carnival took over HAL I knew that things would change for the worse, but thankfully, HAL did set in stone a good number of strict rules and they are very important and they remain in place to this day. These things can be discovered on my cruise pages and I suggest that you visit one of my cruise reviews at; ms Oosterdam 2014 Review. Although the ship is certainly no SS Rotterdam, or even in the style of my more favoured S-Class (S for Statendam) or R-Class (Rotterdam Class), but her interiors are superb and she has over U$1. million worth of fine and historic art that fills the ship and her lounges have a blend and old style gracefulness to sheer beauty in modern design, which is so typical HAL. I just loathe her Carnival designed Vista Class boxlike exterior! But, onboard the service, cuisine, entertainment and the standards onboard were supreme!

Reuben Goossens.

Specifications - as built

:

Built: 1959 - Rotterdam Dry Dock Co.

Call sign: PHEG.

IMO: 5301019.

Tonnage: 38,675 GRT (gross registered tonnes).

Length: 749ft - 228.2m.

Beam: 93.6ft - 28.7m.

Draught: 29.8ft - 9.04m.

Height, keel to

top of radar mast: 201.10 ft - 61.52m.

Engines: De Schelde Double Reduction Geared Triple Expansion Steam Turbines – 38.500 SHP.

Screws: Two.

Shaft Horsepower: 38.500 SHP.

Service speed: 20.5 knots – Max 22 knots.

Passenger Decks: Ten.

Passengers: 655 First Class, but a number of cabins being interchangeable.

. 801 Second Class.

Cruising: 730 One Class.

Crew: 776.

For many more details – Go to Part Seven!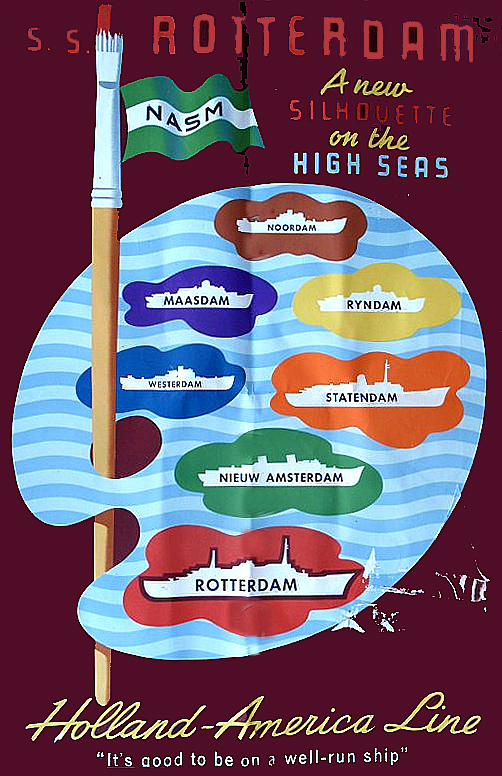 One of HAL's Posters featuring their Big Three ships and two other Passenger Liners the Ryndam & Maasdam
As well as Passenger-cargo liners MS Noordam & Westerdam that carried up to 150 passengers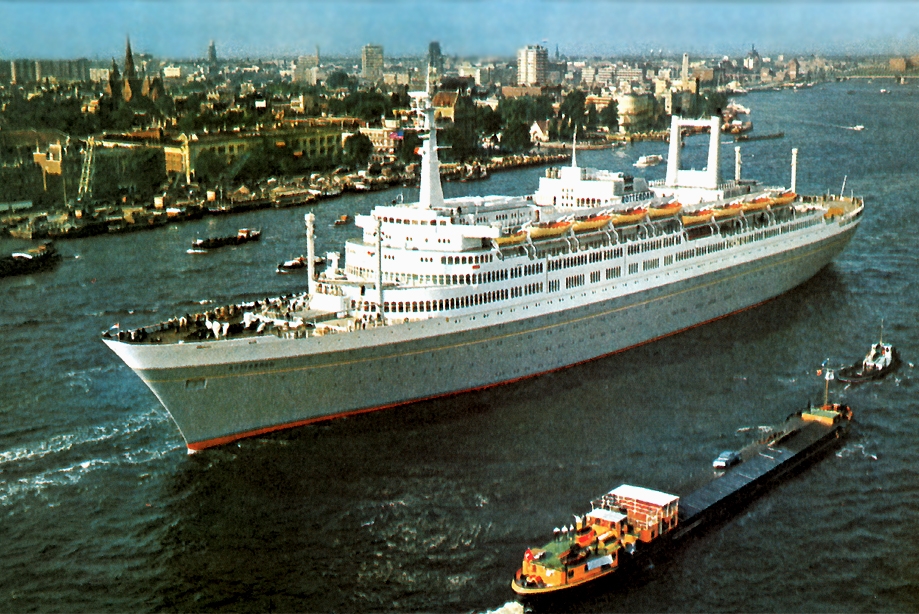 SS Rotterdam departs for Le Havre, Southampton and across the Atlantic bound for New York!
I wish to point out once again:
This Seven Page SS Rotterdam V Feature is being completely updated. Page One, Two & Four & two Brochure pages are now online, whilst the others will follow as they are completed and therefore I thank you for your patience, as due to health issues, I am no longer as fast as I used to be.
Reuben Goossens.
****************************
SS Rotterdam INDEX:
Part One: Construction & her Maiden Voyage Sep 3, 1959 - This Page.
Part Two: Her Grey Hull days - Sep 1959 to 1971.
Part Three: Her HAL days & Premier Cruises days - 1972 to 2000.
Part Four

: Brochure - Page One.
Part Five: Brochure - Page Two.
Part Seven: SS Rotterdam 1959 Specifications & Engine Room photos by Klaas Krijnen.
Part Eight: Saving the Rotterdam 1995/97 - 2009.
****************************
Visit our ssMaritime Main INDEX
Where you will discover well over 600 classic liners!
ssMaritime.com & ssMaritime.net
Where the ships of the past make history & the 1914 built MV Doulos Story
Also visit my
"Save The Classic Liners Campaign"
Please Note: ssmaritime and associated sites are 100% non-commercial and the author seeks no funding or favours of any shape or form, never have and never will!
Photographs on ssmaritime and associate pages are by the author or from the author's private collection. In addition there are some images that have been provided by Shipping Companies and private photographers or collectors. Credit is given to all contributors. However, there are some photographs provided to me without details regarding the photographer/owner concerned. I hereby invite if owners of these images would be so kind to make them-selves known to me (my email address may be found on www.ssmaritime.com only), in order that due credit may be given.
ssMaritime is owned & © Copyright by Reuben Goossens - All Rights Reserved