Please Note: Firefox and some other search engines are not suitable – Use "Internet Explorer" for this page to load perfectly!

Click the logo above to reach the ssMaritime FrontPage for News Updates & "Ship of the Month"
With Reuben Goossens
Maritime Historian, Cruise'n'Ship Reviewer & Author
Please Note: All ssMaritime and my other related ssMaritime sites are 100% non-commercial and privately owned sites. Be assured that I am NOT associated with any cruise or shipping companies or travel/cruise agencies or any other organisations! The author has been in the passenger shipping industry since May 1960 and is now semi-retired, but continues to write articles on classic liners and cruise ships in order to better to inform cruise and ship enthusiasts for their pleasure!
SS Rotterdam History
SS Rotterdam - History Part Two
Please Note: Photographs, postcards and images on this page are from the author's collection unless stated otherwise!
Please Note:
If you arrived at this page via a search engine: Please read Part One first!
PLEASE NOTE: This Eight Page SS Rotterdam V Feature has been completely updated as well had five brand new pages added. However, I wish to announce that this feature is in reality a new work is also my very last ever work that I will do for ssmaritime or for any other of my sites. I have done so for reasons that may be well known to many of my regular readers. Therefore, I have now fully retired and will sit back and I am joyful with what I have achieved and I trust that you will enjoy reading the well over 620 classic liners, and other ships that are online! Thank you for your wonderful support I has been greatly appreciated!
Best wishes,
Reuben Goossens.
Maritime Historian & Founder of the "Save The Classic Liners Campaign.
And the "Save The SS Rotterdam Campaign."
****************************
Rotterdam
's Service Record:
Trans-Atlantic & Cruises:
Having been delivered after her Sea Trails, etc., she was manned with officers and crew and fully stocked and made ready for her maiden voyage from Rotterdam on September 3, 1959 to New York City!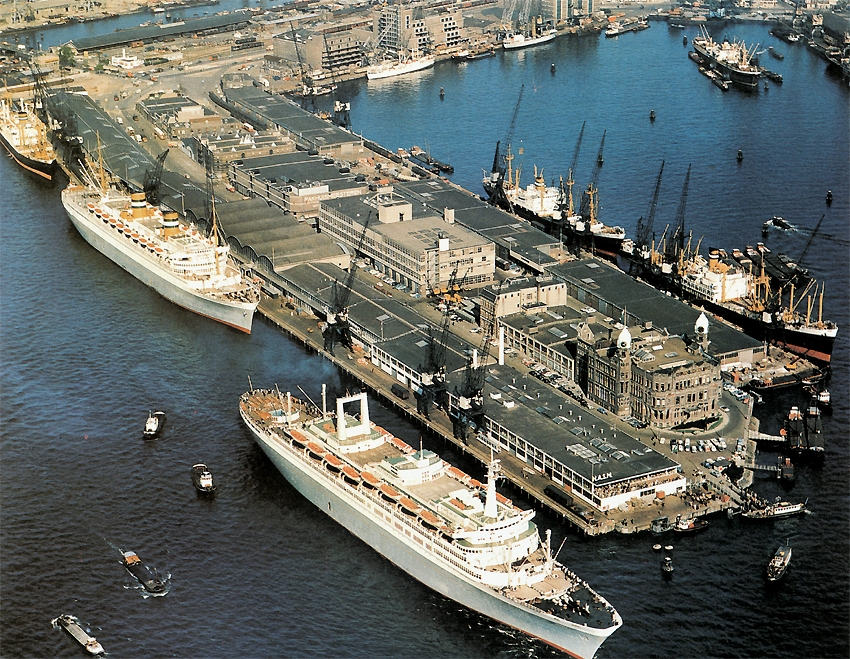 SS Rotterdam departs the HAL Terminal at the Wilhelmina Kade, with the great SS Nieuw Amsterdam (1938)
still berthed aft of her. There are also three of the companies Passenger-Cargo Liners one aft & two on the other side
Holland America Line built the SS Rotterdam as a dual-purpose ship, a Trans-Atlantic liner as well as a most effective cruise ship! It was due to the brilliant design of the SS Rotterdam that she was able to continue sailing long after the Trans-Atlantic trade collapsed due to the air traffic having taken the vast majority of ocean travelling public, due to cheap fares and speed! Thus, the Rotterdam was ready for cruise duties even in 1959!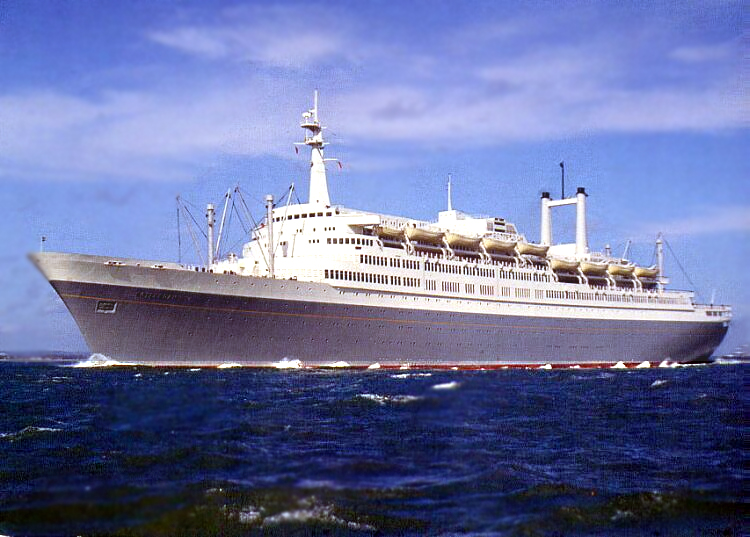 A wonderful photograph of the "Grande Dame of the Sea" SS Rotterdam during the early 1960s
Arriving in New York for the fourth time on December 8, the Rotterdam was about to undertake her very first cruise being a 49 day around South America departing on December 11. Upon her return to New York on January 29, 1960 on this cruise she had covered a good 14,878 miles. However, she would now be made ready for an even greater event, being a 75-Day 17 port "Four Continents Cruise" departing on February 1, 1960, which was the beginning of many Grand World Voyages for this great ship!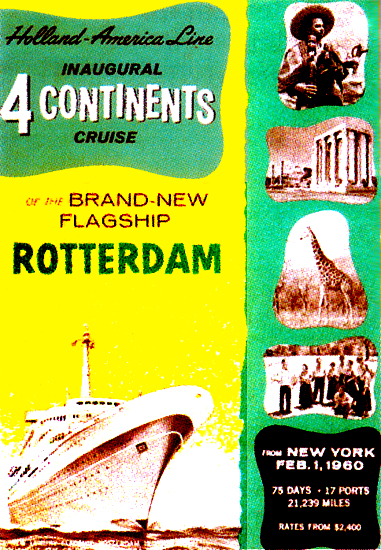 The very first extensive Cruise brochure, they would become far more elaborate and expensive later!
In April the Rotterdam returned to New York and she resumed with her Trans-Atlantic voyages but later in the year she recommenced her American based cruises, both shorter and extended voyages, all of which proved to be popular, including the ever popular "29 Day Rio de Janeiro & West Indies Christmas & New Year Cruise" Departing on December 9, 1960.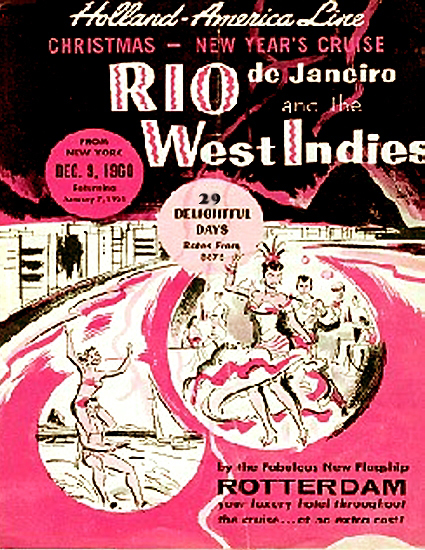 Brochure for the December 1960 Rio de Janeiro & West Indies Christmas – New Year Cruise
After her 1960 - 1961 American cruise season the SS Rotterdam returned to Rotterdam and she made 10 voyages westward and 10 eastward calling at Le Havre and Southampton in both directions.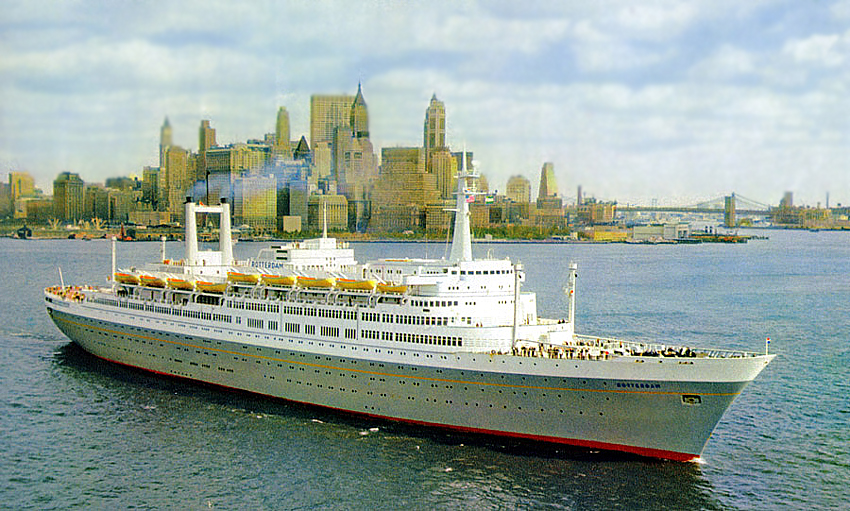 The elegant SS Rotterdam departs New York for Le Havre, Southampton and Rotterdam
We met Commodore Coenraad Bouman on Page One as he took the ship on her trails, as well as that famed test overnight voyage with HRH Queen Juliana and her husband Prins Bernhard onboard, as well as her maiden voyage, and apart for a vacation, he had been with the Rotterdam all that time! However, this wonderful man decided that it was time and in October 1961 he retired with honours, and many on board would miss this well respected and much liked man greatly as would the countless passengers who really liked him!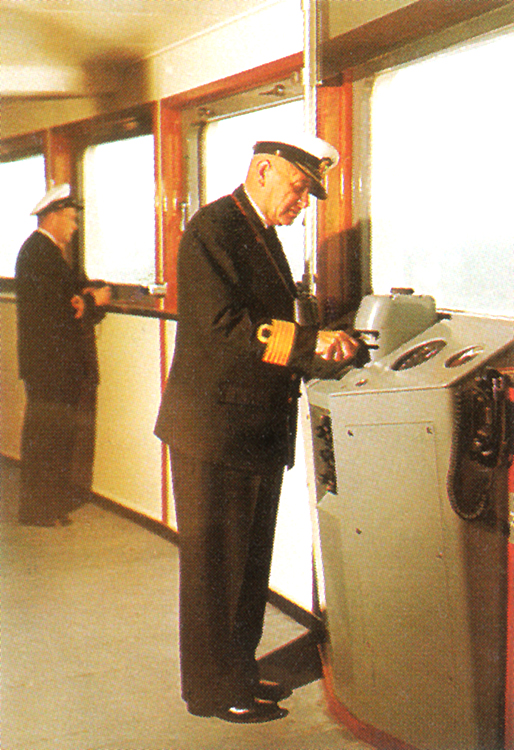 HAL Fleet Commodore, Coenraad Bouman is seen on the SS Rotterdam's Bridge where he has been for three years
Both in 1961 and 1962 in February – April, the SS Rotterdam operated an 80 Day "Cruise Around the World" and thus the advertising campaign was obviously "Around the World in Eighty Days," after the famed and popular movie! Both cruises were booked out with wealthy Americans. Sailing from New York she crossed the Atlantic Ocean calling at various ports, as well as the Mediterranean Sea, the Suez Canal to India. Taiwan, Hong Kong and Japan, Hawaii, California, Mexico returning via the Panama Canal to New York.
Time for a Refit:
Her cruises continued with ongoing success and in 1965 she undertook another 80 Days Around the World Voyage, but later that year in October she headed for the Rotterdam Dry Dock Company and into the "Prins Bernhard Dry Dock" where she would undergo a refit for her regular maintenance.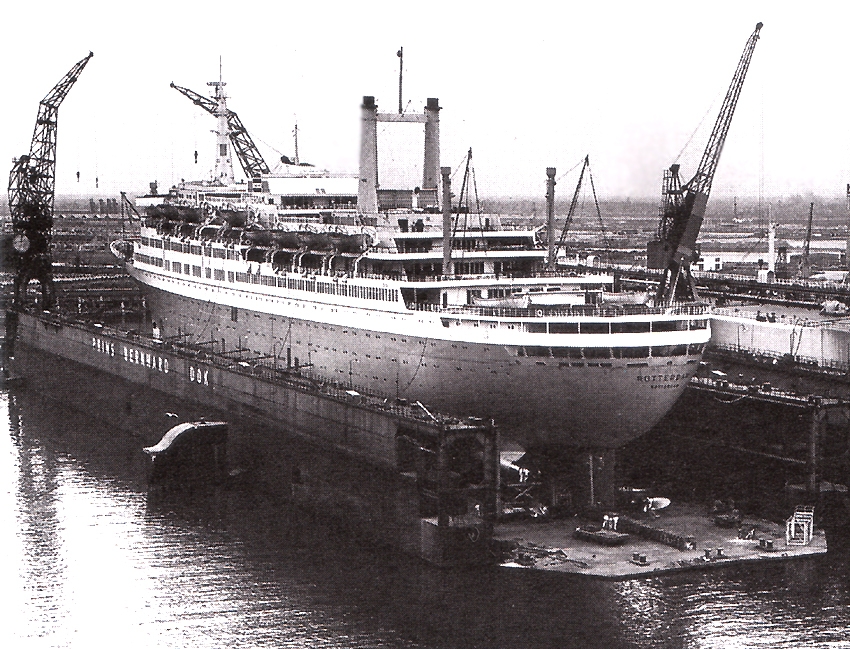 The Rotterdam in the RDM dry dock receiving her refit in October 1965
There were a number of changes made, such as; up on Boat Deck, new cabins were added by removing the Children's Playroom, which seldom was used being up so high. Then down on Promenade Deck two brand new and more pleasant Children Playrooms were built, one for each class. But the most popular addition was located Promenade Deck was a brand new venue for Teenagers called "The Place" where they could dance using a jukebox and there were a host of activities available.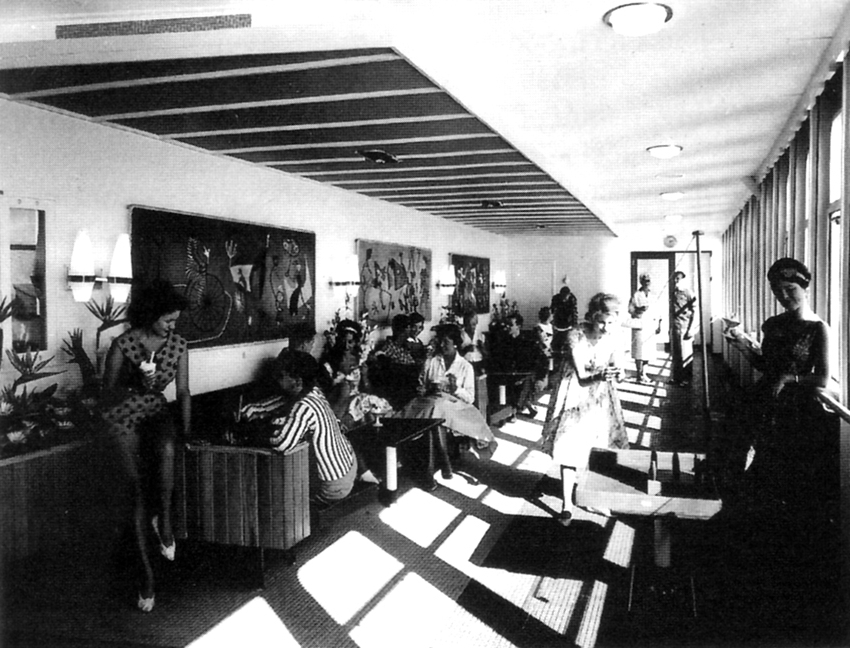 "The Place" created for the younger generation was placed on the Atlantic Promenade next to the Theatre
The Place was located far forward portside and this photograph is looking aft
Next to "The Place" was a brand new TV Studio installed, that would provide TV shows throughout the ship. In addition, the ever-popular Skyroom, located amidships topside was given a bar and a small dance space. The cost of this refit was a good 1.3 million Dutch Guldens, which was a great deal for the day!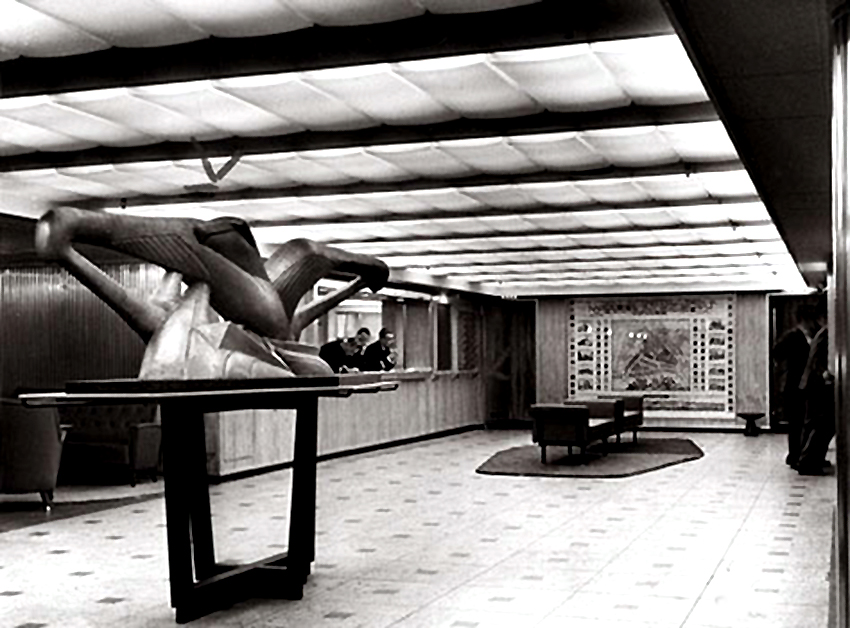 Two Sculptures (one along the right wall) and Wall Art in the Reception part of the Main Foyer
SS Rotterdam was completed and she headed off on a short trail run out to sea and returned to the HAL Terminal to get ready as five days later she was due to commence a series of nine westward Trans-Atlantic voyages until the end of the year and before she would commence cruising again!
1966 was a busy year for the Rotterdam with Trans-Atlantic voyages and cruises, as was 1967 but her days plying the Atlantic was coming to an end as were many of the great liners, as some were being sold off, or like the Rotterdam being used for more and more cruises. In 1967 SS Rotterdam would undertake her seventh world cruise, and this time it was another popular "80 Days Around the World Voyage" which was again a huge success!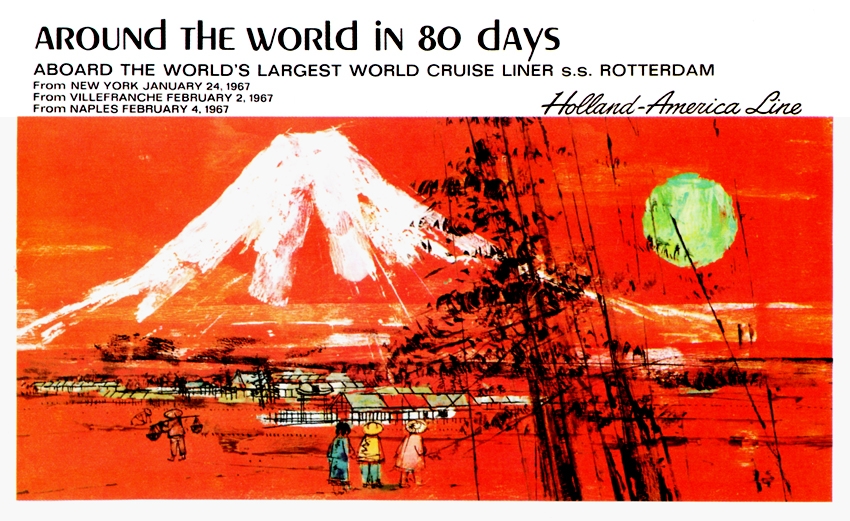 The Beautiful Japanese inspired 1967 - "80 Days Around the World" Cruise Brochure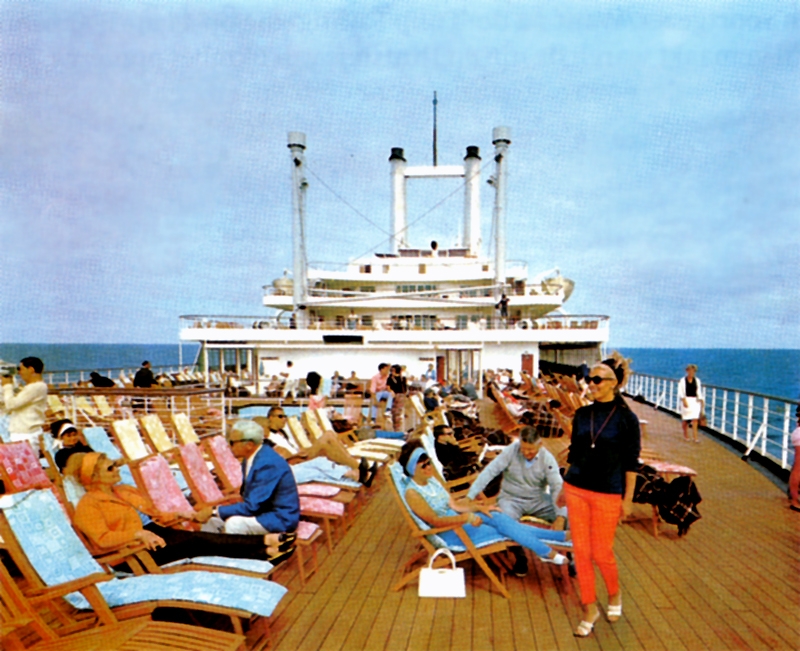 During the cruise there were many tropical days & the aft sundeck and swimming pool would be a popular place to be
The Rotterdam was used frequently in New York for Gala Events being mostly for fund raising where Royalty and some of the greatest movie stars would be present and these events would raise hundreds of thousands of dollars each time, be it for cancer or other vital causes. The reason the Rotterdam was chosen was very much due to the great amount of superb artwork on board, be it wall carvings, paintings, sculptures and so much more for Holland America is and has always been famed as having their ships filled with the very best art that can be found and that is still the same to this day!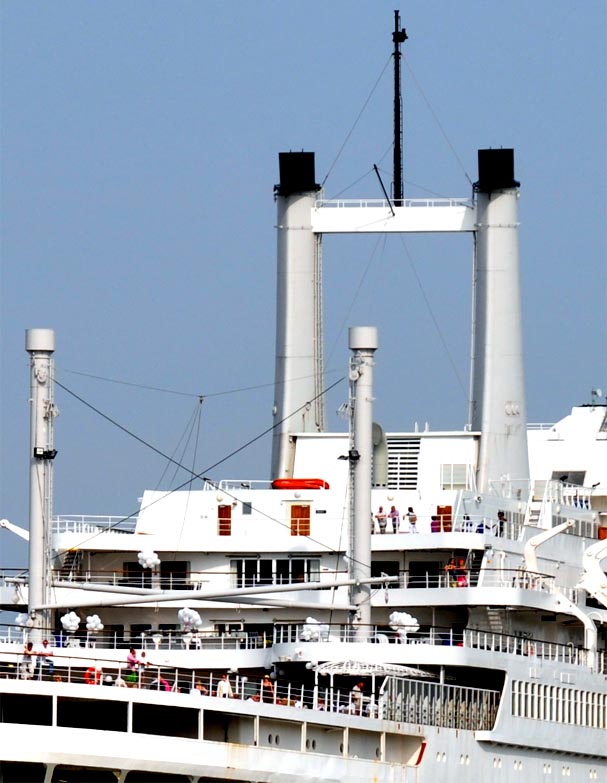 A fine view from astern of the ships unique twin stovepipe funnels, that set a trend for many other ships in the future!
SS Rotterdam the Full-Time Cruise Ship:
Considering that the Trans-Atlantic passenger loadings were slowly changing mostly due to the modernisation of the Jet Age with the more efficient and fast Boeing 707s and DC8, that were flying across the Atlantic and commenced to offer new cheaper "Excursion Fares." Thus in due course this would have an effect on shipping companies who were now competing with the efficiency of speed, combined with greatly reduced airfares, for previously travelling by air had been extremely expensive and was considered only for the rich! Thus all Shipping Companies opted for superior service and cuisine and improved facilities!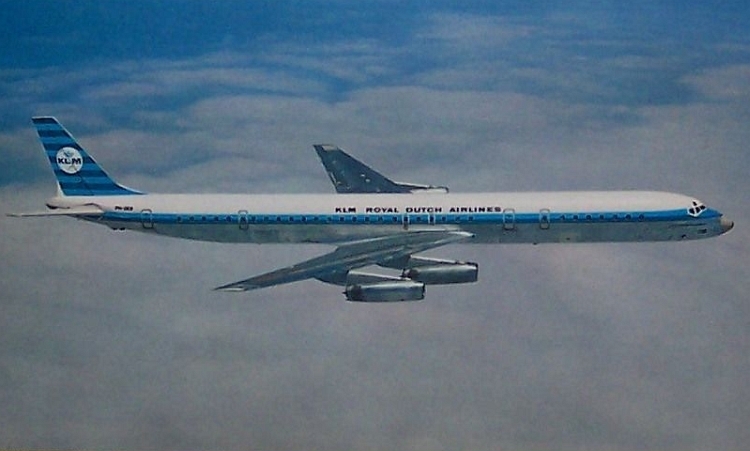 KLM (Royal Dutch Airlines) Super DC 8-63 able to carry 269 passengers
Thus, it was in 1968 that HAL announced that the "Big Three" Ships in its fleet, being the; SS New Amsterdam II, SS Statendam IV and the SS Rotterdam V, would be operating on even more cruises than previously and that they would commence a refit on the Rotterdam.
On October 3, 1968 the SS Rotterdam arrived in Rotterdam from New York on her final official Trans-Atlantic voyage on October 3, 1968 and after her passengers had disembarked at the HAL Terminal she departed and headed for the RDM Ship Yard where she would be converted into a cruise ship.
The ship would see a good number of changes from topside to the bottom, as up on Sun Deck some 12 new cabins were added, whilst on A Deck it was just 1 new cabin, and on B Deck there were another 37 cabins added. There was a great deal of new carpeting was laid throughout the ship including in areas where there had not been any carpeting in some stairwells.
There would be a major renovation made to the popular Café de la Paix located far aft on Promenade Deck as it was about to become the brand new spacious Lido Restaurant. Included was the portside verandah and a new Lido Terrace was created together with a new Lido Deck! Outdoor dining would be partially under a new covered area! With the Lido Deck and the swimming Pool surrounds being completely redesigned it very much resembled a modern playground, thus perfect for a modern, late 1960s luxury Cruise Ship!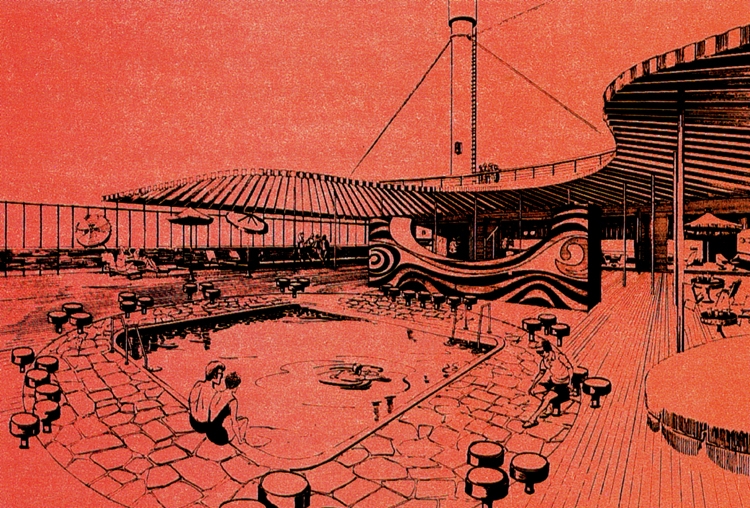 The designer's idea of the new Lido Deck
The now registered 37,783 GRT SS Rotterdam, she departed on November 30, 1968 for a regular North Sea trail, which was obviously successful and she returned to Rotterdam. This great Dutch "Grande Dame" SS Rotterdam departed on December 9, and headed for New York City and temporarily continued to operate as an occasional Trans-Atlantic Liner but mostly as a Cruise Ship!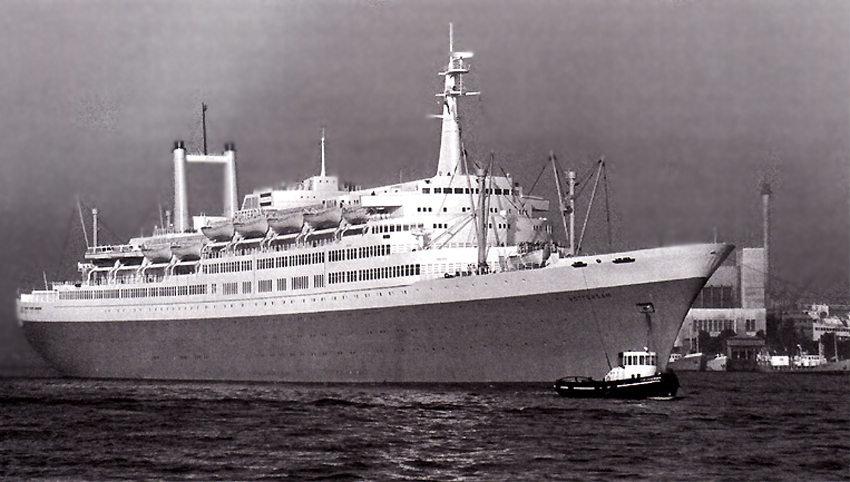 The SS Rotterdam is seen after her extensive two-month refit with RDM into a one-class ship
Note the new glass windows shielding the Lido Deck and the Buffet outdoors dinning area that is partially covered
Photograph by and copyright © Bert Lamers- the Netherlands
Farewell to Rotterdam, the Netherlands!
Considering as by 1971 crossing the Atlantic by air had become relatively inexpensive and certainly a much faster means to travel between point one and two, it slowly sent a very clear message to HAL and the company sprang into action! It meant the end of the Trans-Atlantic voyages for "The Grade Dame of the Sea."
However with a good number of voyages and cruises behind her since her previous major refit, she returned to her homeport for the very last time in 1971 and she would have her final maintenance at the RDM Yards in Rotterdam. SS Rotterdam departed from the "Holland America Line" Passenger Terminal at the Wilhelmina Kade Rotterdam, having been her homeport since 1959 for the very last time on October 6, 1971.  It was a tragic day for the people of the Netherlands! Thousands of citizens of Rotterdam stood either quayside or across the Maas River where they had an excellent view of their much-loved ship and the SS Rotterdam would in fact *never return to her homeport as a Holland America Line ship again! Although the ship did return a good twenty-seven years later but that was after she had been sold to Premier Cruises and had been renamed SS Rembrandt!
Thus, the SS Rotterdam headed across the Atlantic for her new home in the United States of America where she would now be home ported and operate as a full-fledged One-Class Luxury 5 Star Cruise Ship!
*Never: She never came back to Rotterdam as an operational Holland America Line ship only when the Premier Cruise ship the SS Rembrandt called in during a cruise in 1998. Later after having been laid up and saved from the breakers, today she is home in Rotterdam, having been completely restored and operating as a floating hotel and a tourist complex – See the relevant page on the Index!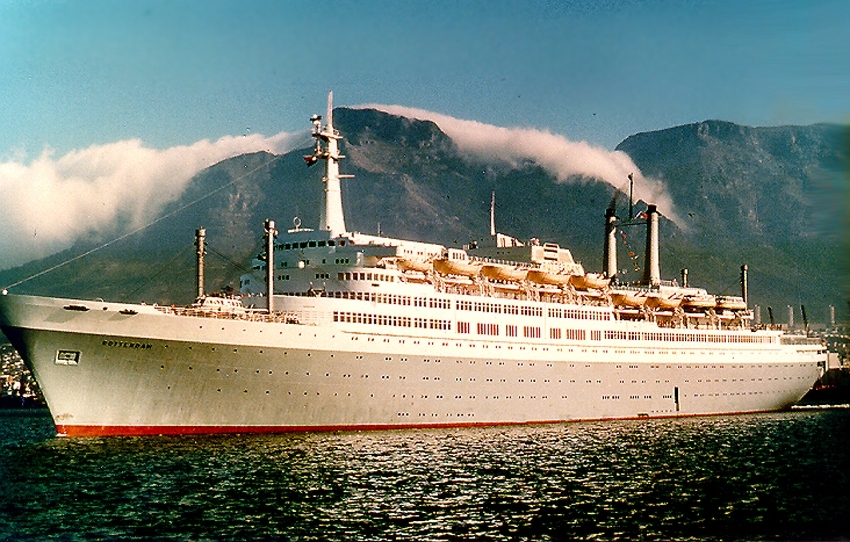 The SS Rotterdam seen in Cape Town during one of her Grand 80 day World Voyages in her original livery
© Ian Shiffman - http://home.worldonline.co.za/~snai/indexmain.html - used with permission
The Rotterdam was certainly a greatly adored cruise ship by Americans and cruise lovers from all over the world and a good number of Australian cruise regulars also loved this wonderful traditional Dutch luxury Cruise Ship. During her ongoing annual "Around the World Voyages," then as well as in the future, many Australian's would partake of lengthy sector voyages during her annual "Around the Word Voyages."
On Page Three we will look at the SS Rotterdam when in 1972 she received a whole new look with that deep blue hull, but sadly, it was just five years later that one of the most loved ships in the world was sold to Premier Cruises and genuine Holland America Line cruise lovers were filled with a great hatred for HAL's new owners, that American who was taking everything over and destroying so much that was good, one of the most disliked names in the industry, Carnival Cruises, or Group/PLC! But that is another story, which has been the destruction of everything that has been really good in shipping, which has slowly been destroyed by this money hungry organisation, I would like to use another word, but I will be nice!
****************************
SS Rotterdam INDEX:
Part One:             Construction & her Maiden Voyage Sep 3, 1959.
Part Two:            Her Grey Hull days - Sep 1959 to 1971 - This Page.
Part Three:          Her HAL days & Premier Cruises days - 1972 to 2000.
Part Four

:            Brochure - Page One.
Part Five:            Brochure - Page Two.
Part Seven: SS Rotterdam 1959 Specifications & Engine Room photos by Klaas Krijnen.
Part Eight:           Saving the Rotterdam 1995/97 - 2009.
****************************
Visit our ssMaritime Main INDEX
Where you will discover well over 600 classic liners!
ssMaritime.com & ssMaritime.net
Where the ships of the past make history & the 1914 built MV Doulos Story
Also visit my
"Save The Classic Liners Campaign"
Please Note: ssmaritime and associated sites are 100% non-commercial and the author seeks no funding or favours of any shape or form, never have and never will!
Photographs on ssmaritime and associate pages are by the author or from the author's private collection. In addition there are some images that have been provided by Shipping Companies and private photographers or collectors. Credit is given to all contributors. However, there are some photographs provided to me without details regarding the photographer/owner concerned. I hereby invite if owners of these images would be so kind to make them-selves known to me (my email address may be found on www.ssmaritime.com only), in order that due credit may be given.
ssMaritime is owned & © Copyright by Reuben Goossens - All Rights Reserved