Please Note: Firefox and some other search engines are not suitable – Use "Internet Explorer" for this page to load perfectly!
Click the logo above to reach the ssMaritime FrontPage for News Updates & "Ship of the Month"
With Reuben Goossens
Maritime Historian, Cruise'n'Ship Reviewer & Author
New Zealand Shipping Company, Ltd
R.M.S. Ruapehu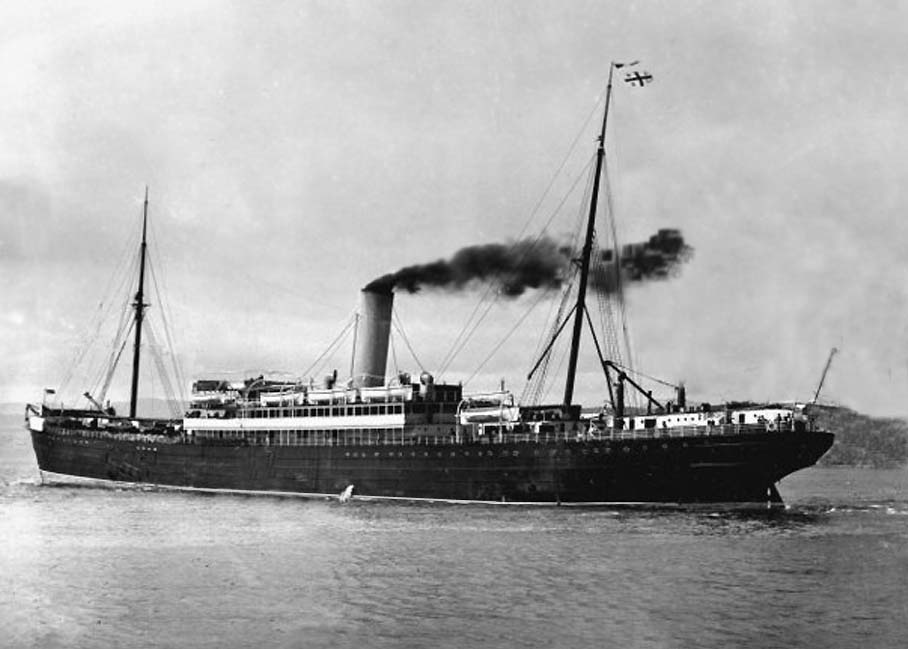 The wonderful 1901 built liner RMS Ruapehu seen here departing Wellington New Zealand
This photograph was taken later in her life, but note the forward mast and how it changes!
Please see the bottom of the page re photo credits!
The RMS Ruapehu was built by William Denny & Bros at Dumbarton Scotland for the New Zealand Shipping Co, Ltd., (NZSSCo). She was 7,705 GRT (Gross Registered Tons) and as built she offered accommodations for 340 passengers, in three classes as well as steerage.
Commenced early in 1900, she was launched on February 21, 1901 and after a rapid fitting out process of her interiors, she ran her sea trails and was duly delivered to the NZSSCo in London on April 18, 1901.
Here we see a very early photo of the RMS Ruapehu – Note the foremast
Her First and Second Class public rooms were fitted out in a high quality and well furnished, whilst the cabins were known to offer from supreme to good comfort. Although little is known about the Third Class, but knowing the NZSSCo they would have been of a relatively good standard!
As stated earlier, the RMS Ruapehu offered accommodations for just 340 passengers, being 40 in First Class, 50 Second Class and 80 Third Class, however there was also space 170 Steerage passengers, but they shared the Third Class public facilities. Steerage passengers were berthed in temporary quarters in the 'tween-cargo-decks. However, the NZSSCo decided remove steerage just five years later in 1906 as they felt it was no longer required, thus from that time until her final days she accommodated just 170 passengers in three classes.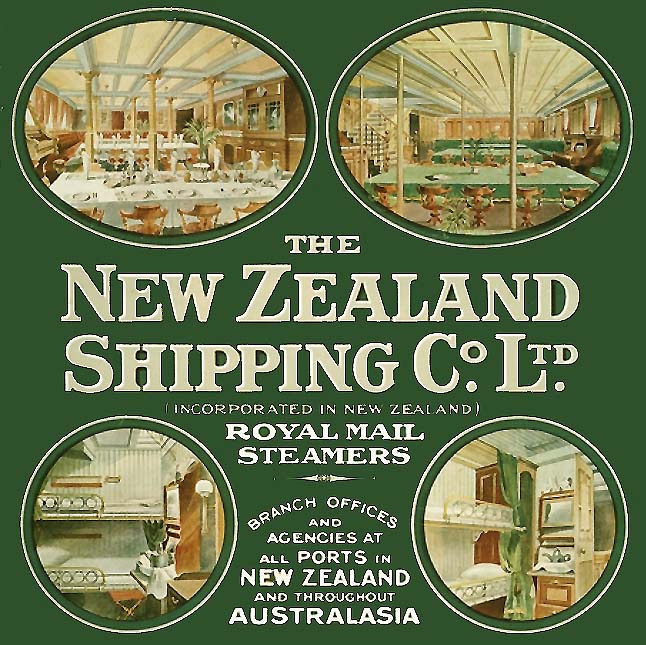 This was released in 1910 and shows some of the accommodation styles of the day
The Ruapehu had been advertised to make her maiden voyage from London to New Zealand in April 1901; however she did not enter her official duties with NZSSCo until December of that year. This was entirely due because the Ruapehu had been chartered by the Allan Line who had paid an excellent, if not a superb price, to operate the ship for five return voyages to Canada. For this service Allan Line temporarily renamed her SS Australasian. Upon conclusion of the charter, in November she was returned to the NZSSCo in London and her original name was restored, and was made ready for her very first halfway around the world voyage.
RMS Ruapehu departed from London with great fanfare on December 5, 1901 for her official maiden voyage to Wellington New Zealand She sailed via Cape Town, several Australian ports, Auckland, arriving at her destination Wellington New Zealand where she was made very welcome!
She sailed on without any mishaps and she proved to be a reliable, good and a sturdy ship. In 1906 the steerage section was removed and she was now just a three-class ship.
In 1911 she had further changes as she became a two-class ship and she now carried just Second and Third Classes, with First class moving into the original First Class section and Third Class now occupied both Second and the original Third Class areas, thus giving far more space and superior facilities. Now they paid according to their cabin level of comfort and location.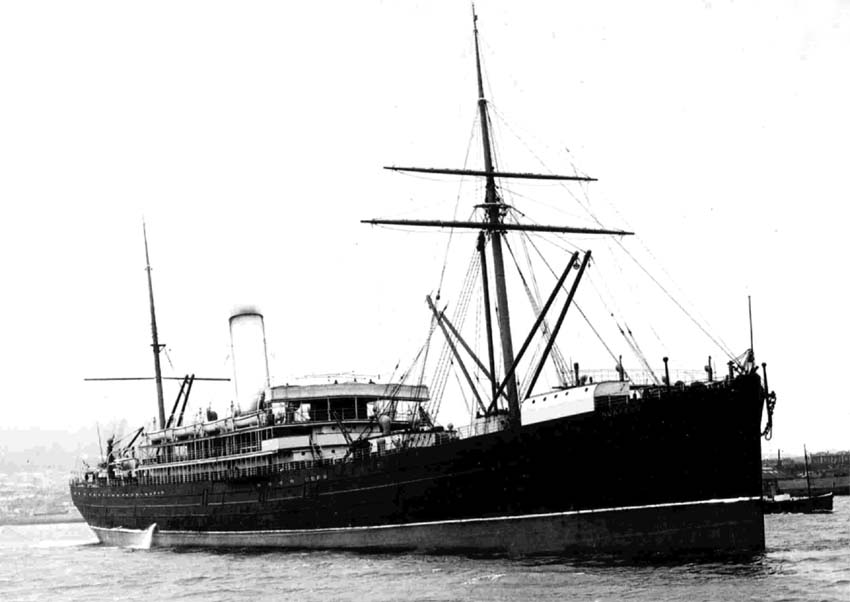 Here we see a slightly later (pre WW1) photo of the RMS Ruapehu with her raised and open-air bridge
that could be covered and her forward mast has already changed
She sailed on and passengers enjoyed the good life of this quite charming ship until World War One, when like every British liner worldwide the Ruapehu was seconded by the British Admiralty and she became a troop ship and she was designated HMNZT 79, meaning "His Majesties New Zealand Troopship #79." Thankfully she was one of the fortunate ships, as she operated throughout WW1 and sailed the globe without being harmed. She transported troops from countless nations. It is recorded that her longest serving officer on board was Captain J. C. McCarthy and the NZSSCo Ship's Master was A. W. McLellar.
Details: in October 1914 she departed Port Chalmers with the Otago Mounted Rifles Regiment. (First Squadron), the Otago Infantry Battalion (minus 2 Companies and Machine Gun Section), as well as some 31 Officers, a Naval Transport Officer, Medical Officers, a Chaplain. There were another 785 troops and 244 Horses. From here she headed for Wellington and on October 16, 1914 she departed Wellington New Zealand filled with Troops and horses bound for Alexandria, Egypt.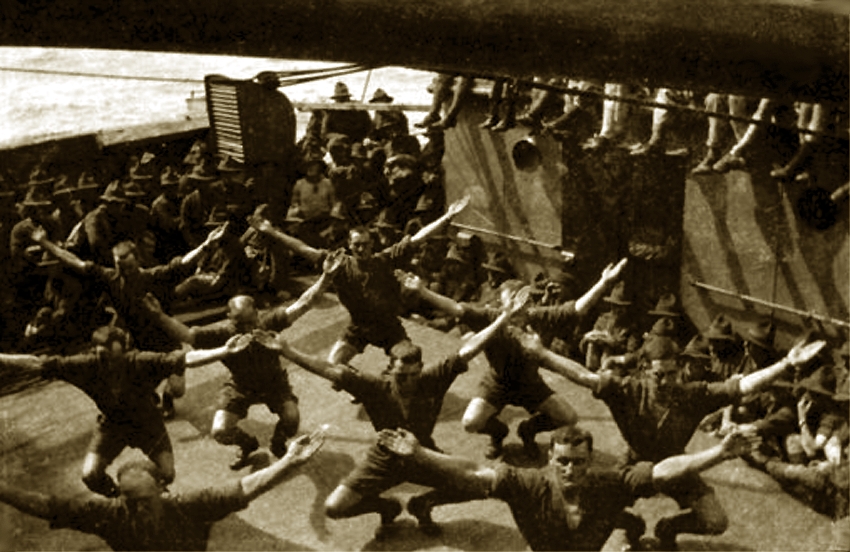 Troops exercise up on deck
The weather is hot and the troops prefer to sleep on the ships decks
On November 1, 1914 she joined with the first convoy at King George's Sound at Albany of the coast of Western Australia in transporting the First Detachment of the Australian and New Zealand Imperial Expeditionary Forces. Several years later on March 14, 1917 the HMNZT 79 departed New Zealand with (part) of the 23rd Reinforcements NZ Expeditionary Force (roll No.57) in conjunction with the Shaw Savill liner, HMNZT 80 Corinthic, having a combined total of a good 2,094 troops on board the Ruapehu under command of Captain J C McCarthy, and the Ruapehu arrive din Devonport England on May 21, 1917.
Then with the fighting over, from June 1917 through to May 1919 she was taken up under the British Admiralty's Liner Requisition Scheme.
When she was returned to her owners after the war, she was completely refitted and restored to her original beauty, if not better, and upon completion she resumed her regular duties, sailing from London via Cape Town, Australia to Wellington.
Although not covered as yet, the Ruapehu suffer a number of fires and there was a bunker fire whilst she was in Auckland on October 12, 1917 whilst trooping, but it was distinguished rapidly and no real damage was caused. Then a fire broke out in a storeroom whilst in dry-dock in the Royal Albert Dock in London on December 3, 1918, this was followed by another fire in her 'tween deck at Lyttelton on October 13, 1920.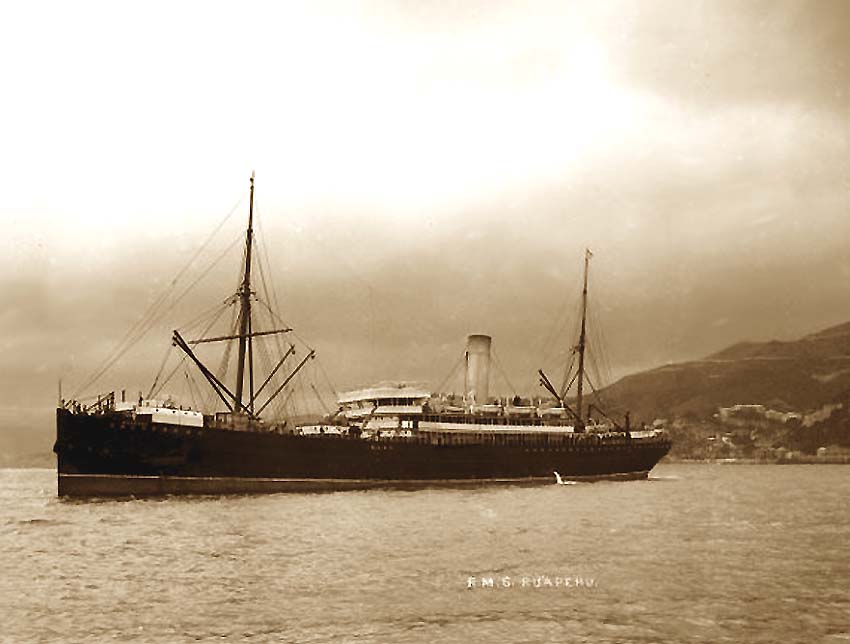 The Ruapehu is seen here arriving in Wellington and again has the forward mast changed
However in 1921 the NZSSCo had decided to change their schedule as there was a new and a far more economical route and she now departed from London and sailed via the Panama Canal across the Pacific to Auckland concluding at Wellington, which was by far a faster as well a smoother service! However, whilst she was undergoing a refit on May 15, 1921 whilst she was in dry-dock at Millwall, London yet another fire broke out in her No.3 hold due to a spark and it rapidly spread to both holds number 1 and 2, as well as the bridge. This fire did considerable damage and the ship required considerable repairs before she could commence her new service via the Panama Canal.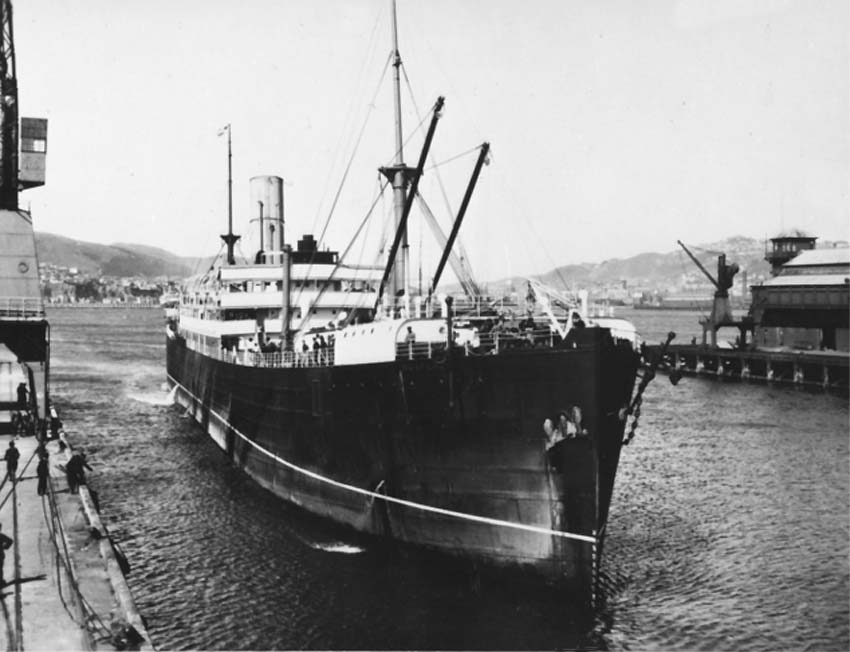 A fine bow photograph of her in her latter days, and note further changes to her mast!
However, as is with all good ships, being a good 29 years old it was decided that her career was finally over that she would be sold. Thus the RMS Ruapehu, the ship that had served the NZSSCo well, as well as countless service men, she departed London on December 20, 1930 for New Zealand on what would be officially her final return voyage to Wellington.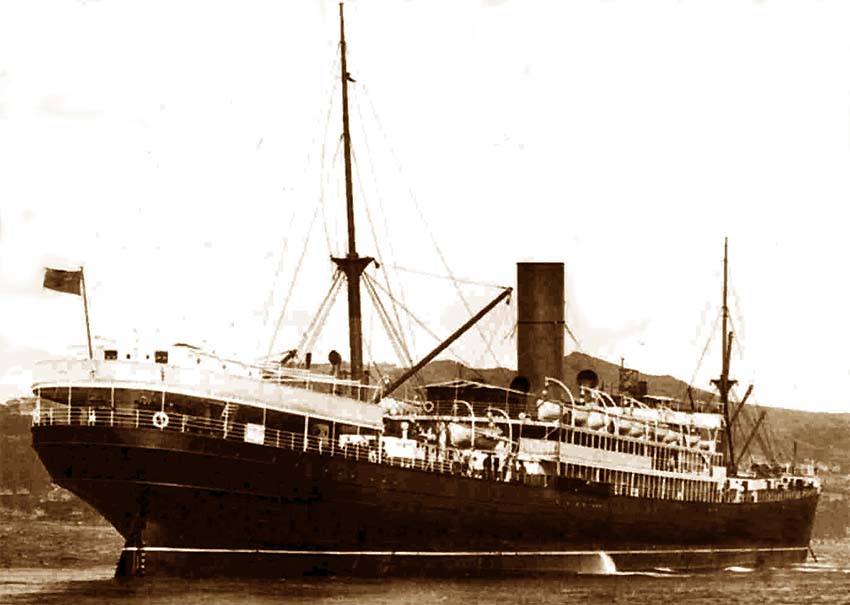 The RMS Ruapehu is seen arriving on her last voyage to Wellington
Upon her return to England the Ruapehu was laid up at Falmouth UK on April 29, 1931 and she was sold on August 5, 1931 for £5,000 to SA Cant di Porto Venere, being Italian ship breakers and she soon departed with a skeleton crew having been stripped of all her furnishings, etc., and upon her arrival at Savona, breaking up commenced quickly. But, she would not give up easily, for on September 10, that year whilst breaking up had commenced the Ruapehu had broken loose during a storm and she damaged a wharf in Savona harbour. Take that for damaging me, for the old girl obviously did not give up that easily!
RMS Ruapehu Specifications.
Owner:                            New Zealand Shipping Company Co, Ltd.
Type of Ship:   Passenger and Refrigerated Cargo ship.
Other Names:                   SS Australasian - whilst with the Allan Line.
IMO:                               111357.
Call Sign:                        SHBP.
Built by:                          William Denny & Bros, Dumbarton Scotland 1901.
Yard Number:                   639.
Launched:                       February 21, 1901.
Delivered:                       April 18, 1901 (chartered to the Allan Line).
Maiden Voyage:   December 5, 1901 for NZSSCo.
Tonnage:                         7,705 GRT.
.                                     4,934 Net tons.
.                                     9,320 Deadweight.
Length:                           457.40ft - 139.42m.
Breadth:                          58.30ft - 17.77m.
Draught:                         27.6ft – 8.41m.
Propulsion:                      2 x three cylinder triple expansion steam engines, 5,045 IHP by Denny Bros.
Screws:                           2.
Speed:                            14.3 knots at trails.
Passengers:                     1901 – total of 340 - 40 First, 50 Second, 80 Third & 170 Steerage.
.                                     1906 – total of 170 - 40 First, 50 Second, 80 Third.
Cargo Capacity:                8,013 cubic metres (283,000 cubic feet) refrigerated.
Current status:                 Sold to be broken up on August 5, 1931.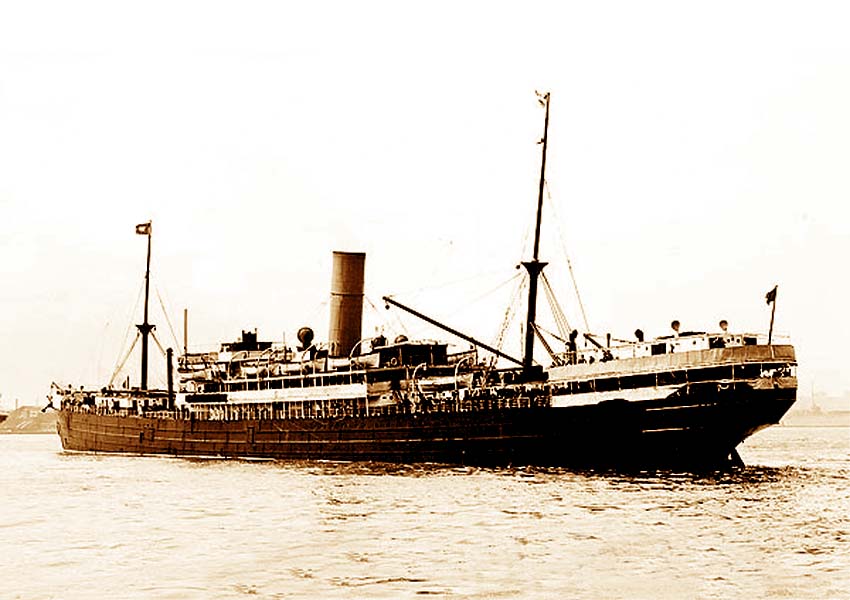 The RMS Ruapehu is seen departing Melbourne packed with passengers
****************************************
Use the Back button on your browser or Close the Page to return to the previous page
or go to our
INDEX
Who is the Author of ssMaritime?
Commenced in the Passenger Shipping Industry in May 1960
ssMaritime.com & ssMaritime.net
Where the ships of the past make history & the 1914 built MV Doulos Story
Also visit my …
"
Save The Classic Liners Campaign
"
Photographs

on ssmaritime and associate pages are by the author or from the author's private collection. In addition there are some images that have been provided by Shipping Companies and private photographers or collectors. Credit is given to all contributors. However, there are some photographs provided to me without details regarding the photographer/owner concerned. I hereby invite if owners of these images would be so kind to make them-selves known to me via my email address at; rg@ssmaritime.com,  in order that due credit may be given.
This notice covers all pages

, although, and I have done my best to ensure that all photographs are duly credited and that this notice is displaced on each page, that is, when a page is updated!
ssMaritime is owned and © Copyright by Reuben Goossens - All Rights Reserved