Shaw Savill S.S. Ocean Monarch 1970 to 1975, ex Canadian Pacific R.M.S. Empress of England 1957 to 1970
Please Note: iPhone, iPad & Firefox and some other Search Engines may not suitable
Use "Google Chrome" for this page to load perfectly!

Click the logo above to reach the ssMaritime FrontPage for "Ship(s) of the Month"
With Reuben Goossens
Maritime Historian, Cruise'n'Ship Reviewer & Author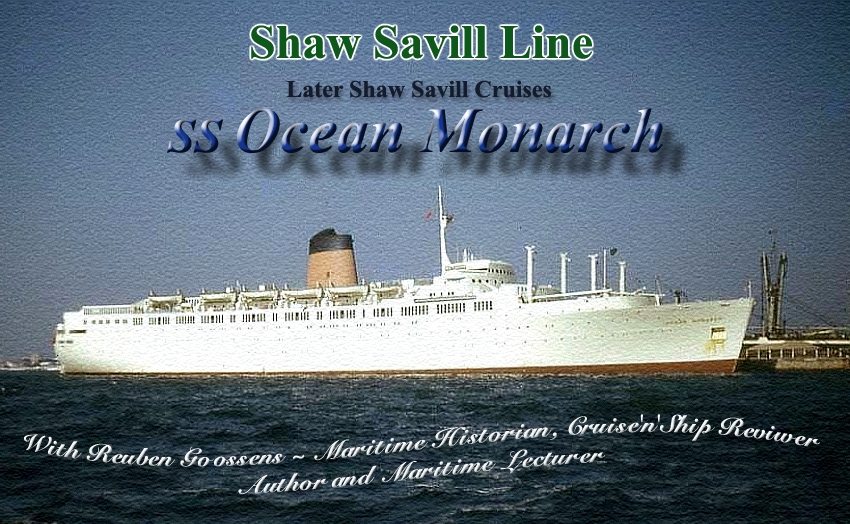 Page Two
S.S. Ocean Monarch ~ History - 1970 to 1975
Her Maiden Voyage to Australia:
With the R.M.S. Empress of England having been sold to Shaw Savill Lines on April 1, 1970, she was officially renamed S.S. Ocean Monarch on April 4, thus she had now lost the prefix R.M.S.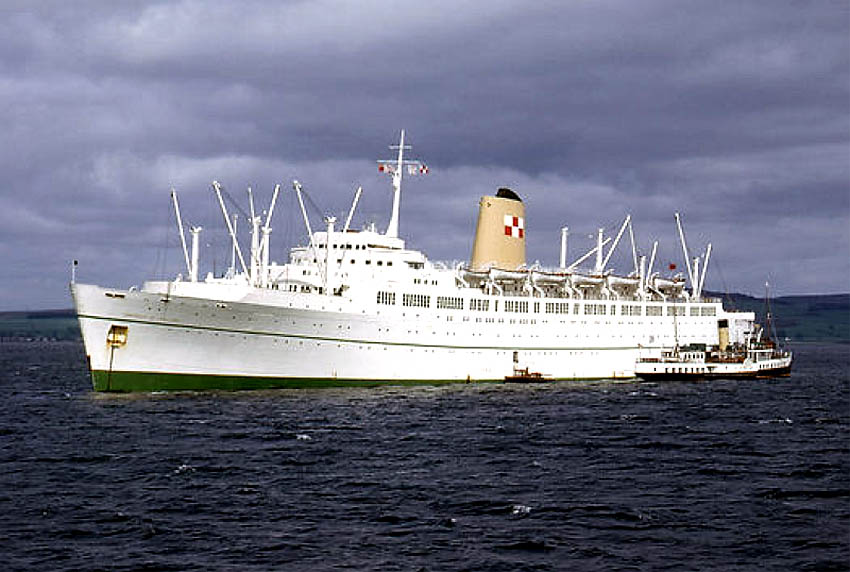 The R.M.S. Empress of England seen in her early days
Shaw Savill had decided to send her straight to Australia without any changes, except repainting her funnel to the traditional Shaw Savill livery and painting the broad green band white. During this time the ship was prepared and stocked up and crewed and she departed Southampton on April 11, just ten day after having taken delivery of her. This would be a one way line voyage to Sydney Australia, where she arrived on May 15.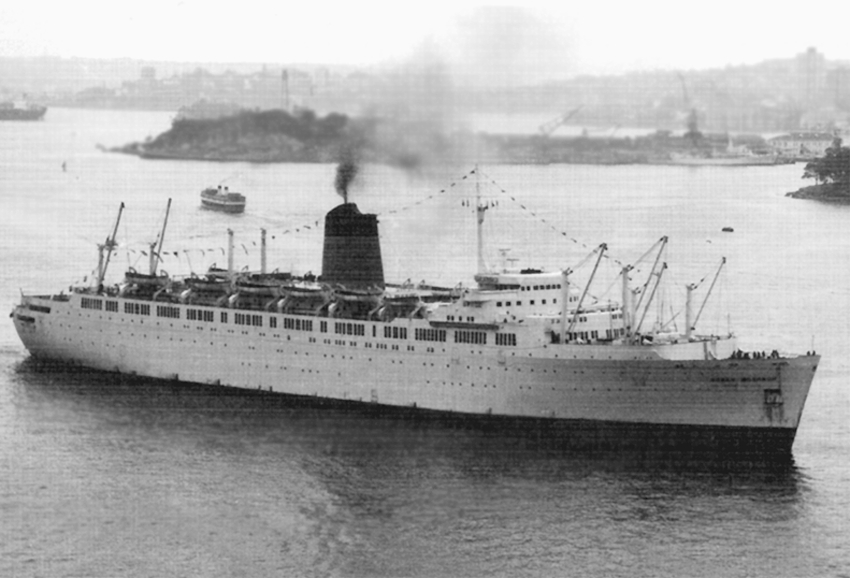 A photograph from a Sydney newspaper, showing the Ocean Monarch arriving in Sydney on her
maiden arrival on May 15, 1970. Note that her aft decks have not been altered as yet!
She remained in Sydney for a number of days, sufficient to prepare her for two 39 day cruises to Japan and taken onboard were some Australian staff to operate some of the entertainment duties and other services for the Australian passengers. She departed on her first cruise to Japan on May 22, and these cruises were scheduled because the very popular "Expo70" that was on at that time. Upon completion of the cruise the Ocean Monarch returned to Sydney and then on June 27 she departed for the second cruise to Japan! Next she sailed on her next line voyage home to Southampton arriving in England on August 11, and she was sent to Cammell Laird Shipyards for an expensive rebuild and extensive refit.
Rebuilding an Empress!
Shaw Savill had decided to give her this complete overhaul and turn her into a suitable cruise ship a cost of £2 million with the work done at Cammell Laird's Birkenhead Yards. The Cammell Laird project manager, William Cooke, stated:
"The conversion is an extremely big job and has to be carried out in a comparatively short time. I would like to say that our chances on improving on the schedule are slim compared with our chances of over-running it!"
The Ocean Monarch arrived at Birkenhead on September 17, 1970 and the work commenced starting with the removal of the ships cargo holds and the major cargo handling gear, in addition there was an extensive re-design of the ship's stern, adding new aft decks that would include a well designed Swimming Pool, including a children's wading pool an excellent Lido Deck with a Bar.
Lounges: Directly below the new Lido Pool and Deck there was the brand new spacious "Tavern" that had a very long Bar hugging the lower pool tank. The Tavern served in the evening as a Discotheque and the ships Night Club. Whilst on the starboard side there was a Coffee Bar as well as a BBQ.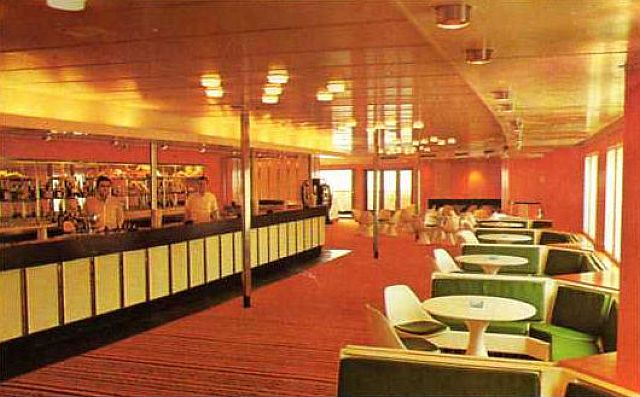 This is "The Tavern" – It had a dance floor, band stand and so much more
Obviously, this proved to be one of the most popular venues on the ships, day and night! Most of the original Empress Lounges and her dining rooms were refreshed, but remained mostly much like they were!
Accommodations: Internally additional cabins were added and other accommodations were refitted. Considering that like all Shaw Savill ships, the Ocean Monarch had become a One Class ship, after her refit she now accommodated 1,372 passengers whilst on line voyages, but just 1,250 whilst she was cruising.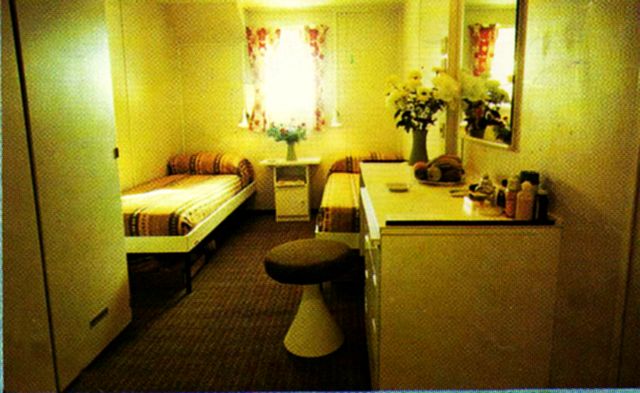 Here we see one of the new built two berth cabins with private facilities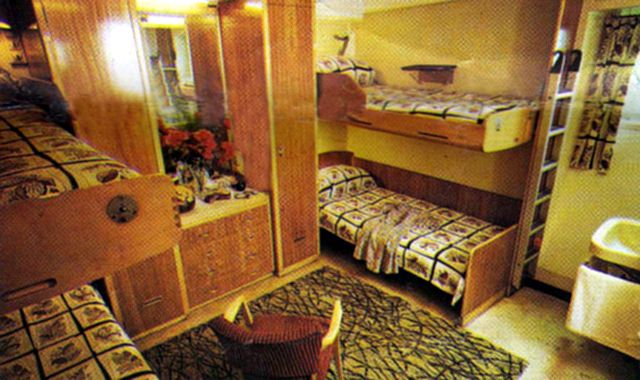 This is one of the original four berth cabins (almost unchanged), which can be sold as a twin
or a three berth as well, but it has no private facilities
For more interior and exterior photo's go to Page Three!
Sadly, the refit took much longer than it had originally been stated by Cammell Laird as she should have been ready to sail in June 1971. But due to the delay the original UK cruise program had to be cancelled
However, the work on the Ocean Monarch was constantly slowed down with problems, such as Union unrest and thus ongoing strikes. She was due to be ready to depart on her very first cruise on April 23, 1971, but this would not eventuate and she was finally completed and ready to sail on September 17, 1971. Tragically as a result Shaw Savill were forced to cancel seven out of the eight cruises they had planned for the UK summer and due to this they lost a massive £12 million in revenue. In addition, the final cost of the ships refit had also doubled to £4 million, and Cammell Laird had had made a loss of around £1.25 million on the job, due to their own underestimation of the refit costs, but also due to the slowing of the work due to the ongoing union strikes that impeded the work. How typically British of those days!
Thus, the Ocean Monarch was able to operate just a single cruise departing Southampton on October 16, 1971, being her maiden cruise to the Mediterranean as a newly renovated cruise ship!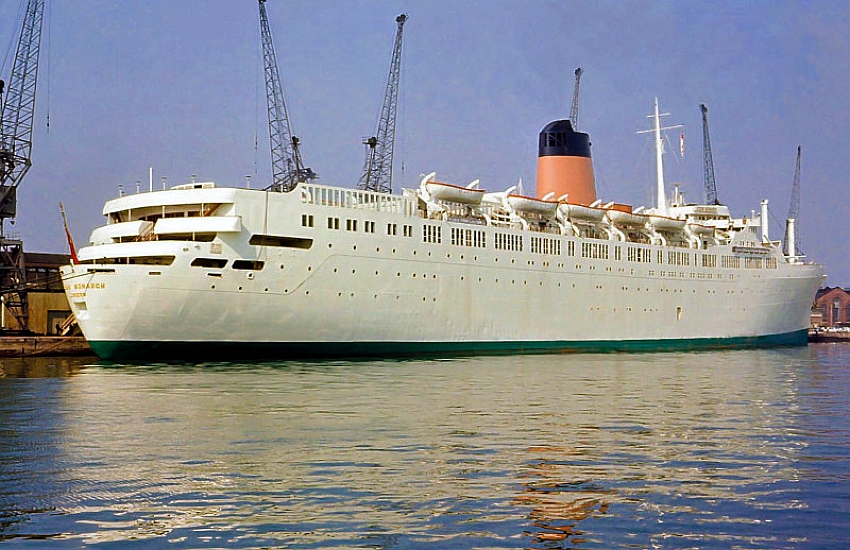 Here we see the newly built up stern of a gleaming white Ocean Monarch ready to depart
Completion: Having returned she departed Southampton on November 5, 1971, sailing via Barbados, Curacao, Panama, Acapulco, Los Angeles, Vancouver, Honolulu, Tokelau, Fiji and Auckland to Sydney.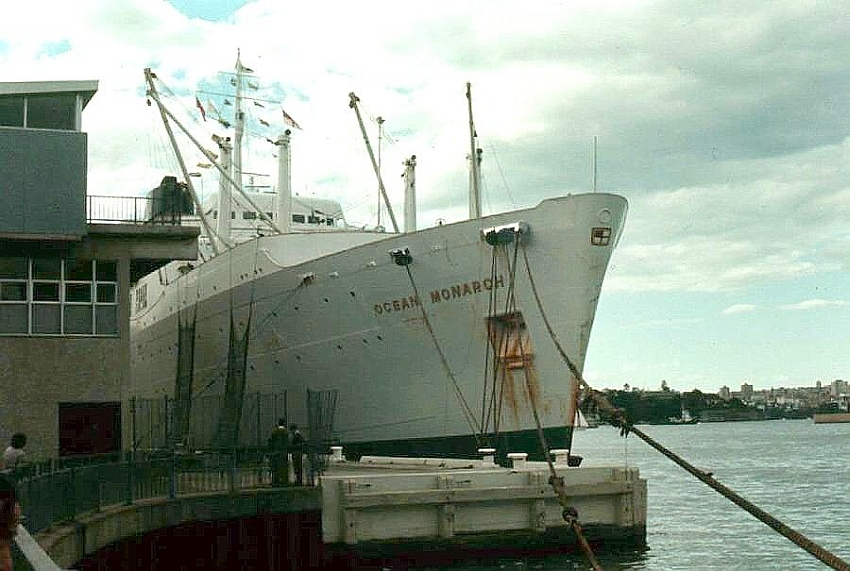 The bow of the Ocean Monarch at Sydney's International Passenger Terminal in 1971
For the next five months she operated cruises out of Sydney. During this time the SS Ocean Monarch operated a most popular series of cruises and continued until April 1972, when she was due to return to Southampton. Upon arrival she operated a series of cruises during the northern summer. Then in October 1972 she returned to Australia in order to recommence her popular New Zealand and South Pacific cruises series.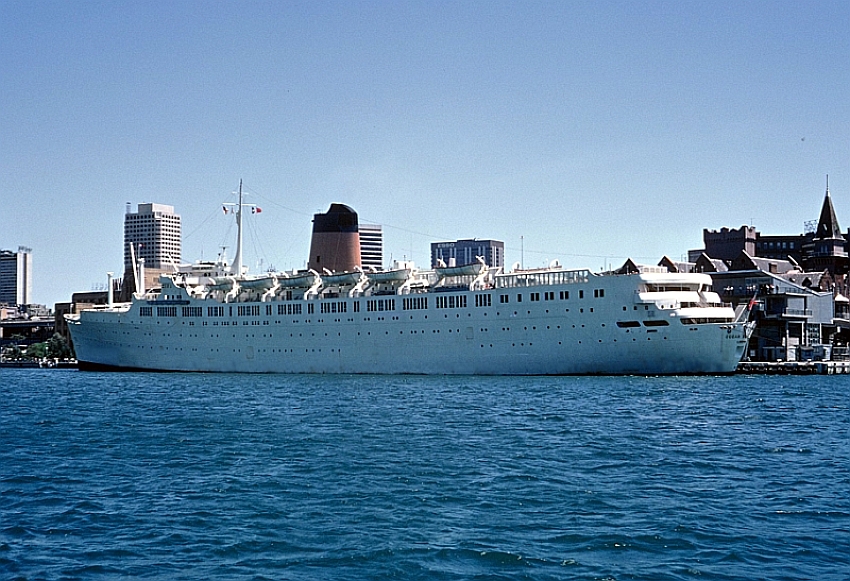 Here we see the SS Ocean Monarch at Sydney's International Passenger terminal
Photograph taken by & © Mr. Dennis McMillan, provided by Scott McMillan
She had been originally scheduled to make just two long cruises from Sydney, but Shaw Savill changed their mind, as shorter cruises had become far more popular and these were more financially viable. Thus the schedule was rapidly changed whilst she was still on her way to Sydney to operate a far longer season of shorter cruises from 1972 to 73. But for some reason this did not please a good number of the crew and having undertaken a cruise, and then just prior to departure of another on January 22, 1973 some 191 stewards, pantry men and seamen walked off the ship.
The New Zealand McMillan family were onboard having been on the last cruise and the elder of two sons, Scott wrote:
"We were onboard during our later cruise when the crew went on a mass strike and remained mostly on the wharf in Sydney. We lived in Auckland, thus whilst the Australian passengers had already disembarked, we remained on board with the other Kiwis, as our cruise had three more days to go across the Tasman Sea. I remember well watching the disgruntled crew on the wharf at Circular Quay for several days as they threw beer and soft drink cans and bottles right at the ship. I recall how disappointed I was to see some of these crew members that we had come to know well during the cruise and they were acting in this despicable manner. Finally, Shaw Savill decided to send us home by flying us back to Auckland on a Qantas DC8."
For this reason the Ocean Monarch could not depart and she remained in Sydney for three days in port, when she departed for her next cruise she left all the crew that had staged the strike behind and they were all flown back to Britain and a new crew had been flown to Sydney. However, during the cruise the passengers were more than happy to assist with some of the chores that were needed some assistance, as the new crew were as yet untrained, and the passengers did this because they stated; "this is the Australian way". The Captain ensured that special events and parties had been planned and everyone received special gifts. All the passengers came home loving the Ocean Monarch even more, for not only did they have a wonderful cruise, but a new and a special experience, one of a lifetime!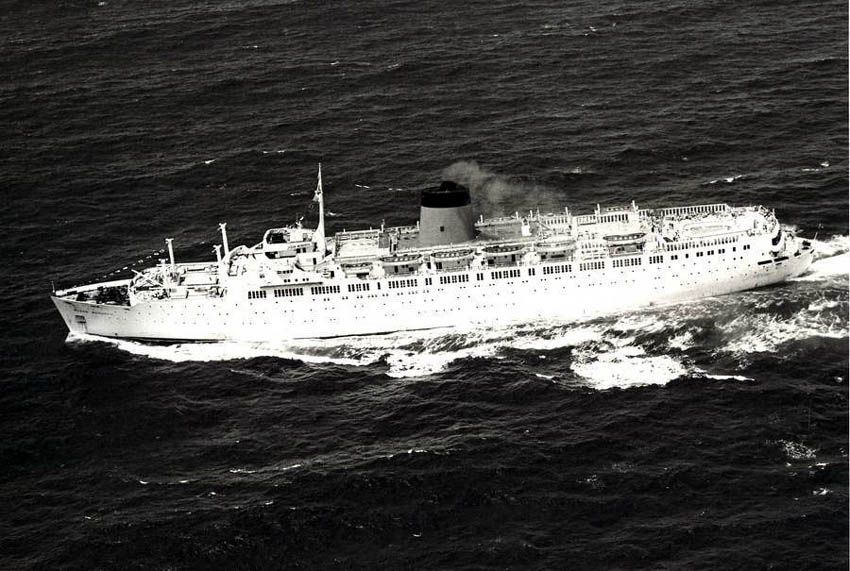 This is a delightful Shaw Savill Publicity poster of the SS Ocean Monarch that was sent to agents
Please respect my © Copyright as the poster is my property!
Being so large, having photographed it I have placed a slightly larger version online for you to enjoy!
Click the IMAGE to see it
When the photograph appears click on it once and it will enlarge again
By the time Ocean Monarch returned to Sydney from the aforementioned cruise, Shaw Savill had decided to base the Ocean Monarch in Sydney Australia and operate a new series of cruises out of Sydney around the South Pacific throughout 1973 and well into 1974. These cruises would visit a variety of Pacific Islands as well as frequently visit Auckland New Zealand as well operate several 14 night return Sydney to New Zealand Cruises.
But sadly, the old girl began to suffer from frequent problems, mostly her with her boilers, but also with certain other engine problems, but thankfully the ships excellent engineers managed to keep her going, well at least for most of the time, but with great difficulty! Shaw Savill eventually decided for her to return to the UK.
Her Final Year:
This occurred in May 1974 as the Ocean Monarch departed Sydney and headed to Southampton from where she operated another series of UK based cruises, but her schedule was again disrupted due to further boiler problems, which as I had stated above had been ongoing for some time, but at least this time she was close to home. But it appeared that it had now become so bad not even the ships engineers could handle it. These problems would finally seal her fate, yet, at first it seemed that she had been repaired and the SS Ocean Monarch being a ship that was really "not too well" but Shaw Savill decided to send her to Australia once again in November 1974, and having arrived in Sydney she recommenced a new series of cruises.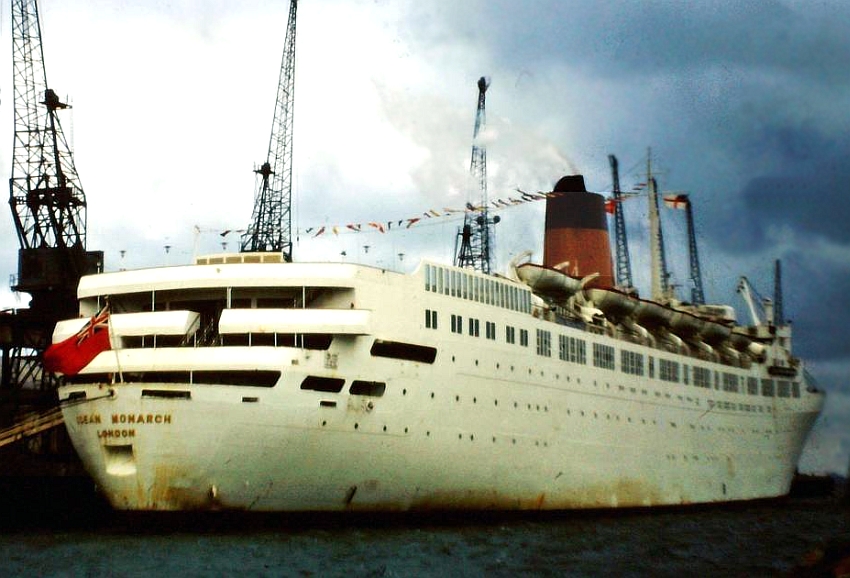 SS Ocean Monarch back in Southampton looking somewhat rusty
Yet Shaw Savill felt that she was ready to head Down Under
But she did not last very long in Australia this time, the truth being, and us in the know, we knew that it was going to come sooner or later that her mechanical failures would reoccur again and it certainly did very early in 1975. that caused a cruise to be cancelled. Obviously it was a great disappointment to so many who had booked on her, for let's face it; she had become essentially a very popular ship! She went into a Sydney dry dock for temporary repairs. However, popular with the public she may have been, but The Ocean Monarch was very much the ship that destroyed Shaw Savill, for they spent a fortune on purchasing her, refitting this ship making her ready to be a worthy Shaw Savill cruise ship, she was popular in Australia, but not in the UK and she had endless engine and boiler problems, that I have not even spoken off in this feature.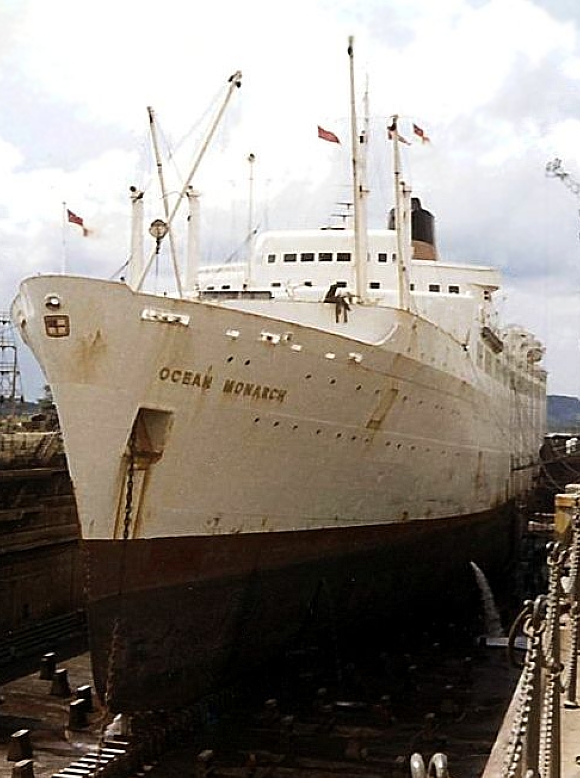 Here a sad looking Ocean Monarch is seen in Dry-Dock in 1975
The end has come for the SS Ocean Monarch!
With emergency work completed, the once great RMS Empress of England, SS Ocean Monarch was able to sail again, but Shaw Savill Line had been advised that she needed a great deal of further major work and with this in mind, Shaw Savill ordered her to come home to Southampton. With the SS Ocean Monarch due to depart departed Sydney on April 26, 1975. the Overseas Passenger Terminal was crowded with those who had come to say goodbye to sailing passengers. But sadly, some of the British crew disgraced themselves for they commenced to throw cans and worse still glass bottles as well as other missiles from the decks of the ship, and many hit the balcony of the terminal even hitting the spectators there. The police was called and they boarded the ship to restore order and the ship was detained overnight. The offending crew was locked up, and the ship departed on April 27, for the very last time ever and she slowly sailed through Sydney Heads and she left a memory of being a greatly troubled ship and how she ended her final days here in such humiliation!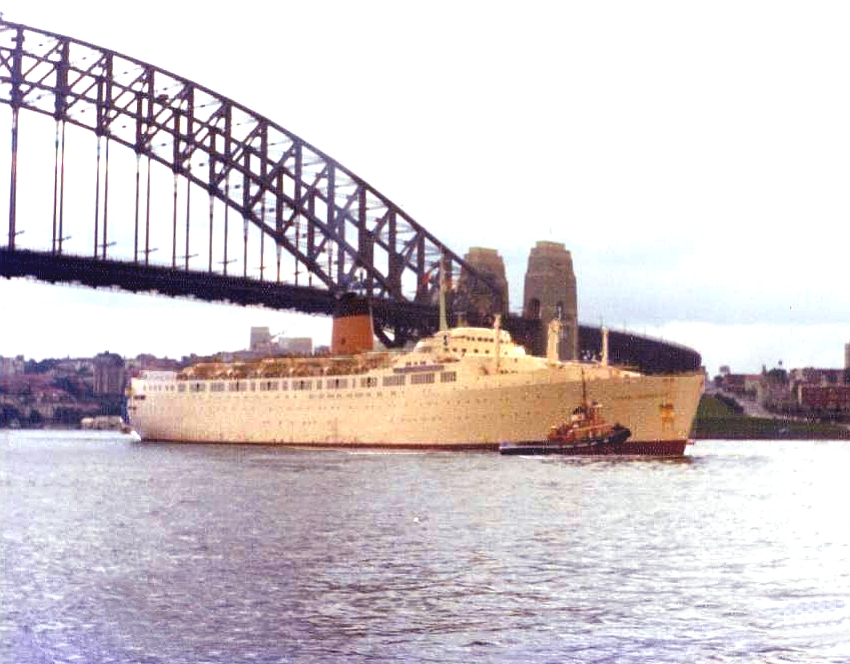 A sad farewell to the a not such an old ship as she finally departs Sydney for the very last time on April 27, 1975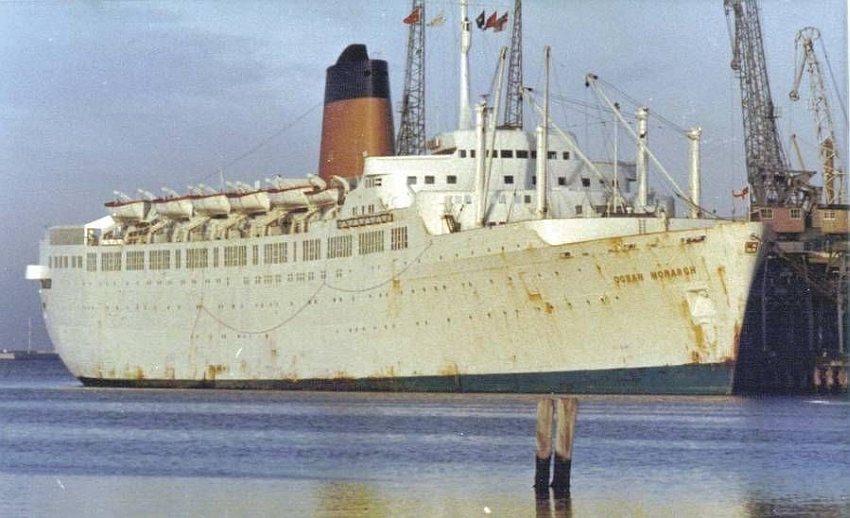 A most miserable looking Ocean Monarch seen whilst on her final legs and sadly looking a mess!
Following the Ocean Monarch's arrival at Southampton on June 5, 1975, the ship had been sold to Taiwanese ship breakers and she departed Southampton just eight days later, on June 13, and reached Kaohsiung on July 17. Upon arrival she was handed over to "Chi Shun Hwa Steel Co Ltd," and they commenced breaking her up on October 12, 1975.
Farewell "Great White Empress" and Ocean Monarch, for since her original maiden voyage of the Empress of England to the Ocean Monarch being broken up the once fine, yet a sad but much loved ship was just 18 years old!
However, the SS Northern Star was much worse, as she was a disaster from the day she was built 1962 and she was sold to the breakers in November 1975 and duly broken up, aged just 16 years. More on the Northern Star in my Closing Comments below.
Amazingly the Northern Star's earlier sister, SS Southern Cross of 1954 which Shaw Savill sold in 1973 having obtained the Ocean Monarch and the Northern Star soon to arrive, thereafter she sailed on under various names until sold to ship breakers in 2003, aged a remarkable 49 years. The truth is she could have sailed on for at least another 15 years as I had an excellent buyer for her with ample funds available, but by the time we made the offer to her owner within 24 hours, he had already signed a contact with the breakers. The ex Southern Cross was in top condition and at that time in SOLAS condition, and she would have passed her next inspection with some minor updates, as she had been fully been kept updated along the way!.
Closing Comments:
SS Ocean Monarch had been Shaw Savill's second last major passenger liner as the SS Southern Cross, as I already stated was sold in 1973, and then there was the much newer but a sad and the ever ailing SS Northern Star, which was sold to the breakers in the same year as the Ocean Monarch, but in November of 1975. The truth is that Shaw Savill had just run out of funds to maintain their ships, between the ailing Ocean Monarch which cost them a fortune, being due to her parts being very expensive, and because when Shaw Savill had the Northern Star built, they made certain major errors in regard their engineering departments, in order to save money and did not have back up's and used inferior pats and to be honest much worse. That stupid decision cost them far more in the long run, and this stupidity destroyed this once great company! Some may say, "How dare you say this." Well below you will find the proof from the horses' mouth!
Speaking at Shaw Savill's Annual General Meeting in June 1975, Shaw Savill's Chairman Lord Beeching spoke about the situation of having to sell the Ocean Monarch:
"Ships such as the Ocean Monarch inspire a strong sentimental attachment, and I am sure that many of our shareholders will regret her passing, just as we do. Nevertheless, it must be said that from a financial point of view the Ocean Monarch's disposal gives rise to nothing but a sigh of relief. She has become a loss-making worry, and there can be no surer way of improving profitability than by withdrawing her from service."
Reuben Goossens.
Remembering a Beautiful, but a much Troubled Cruise Ship & Liner!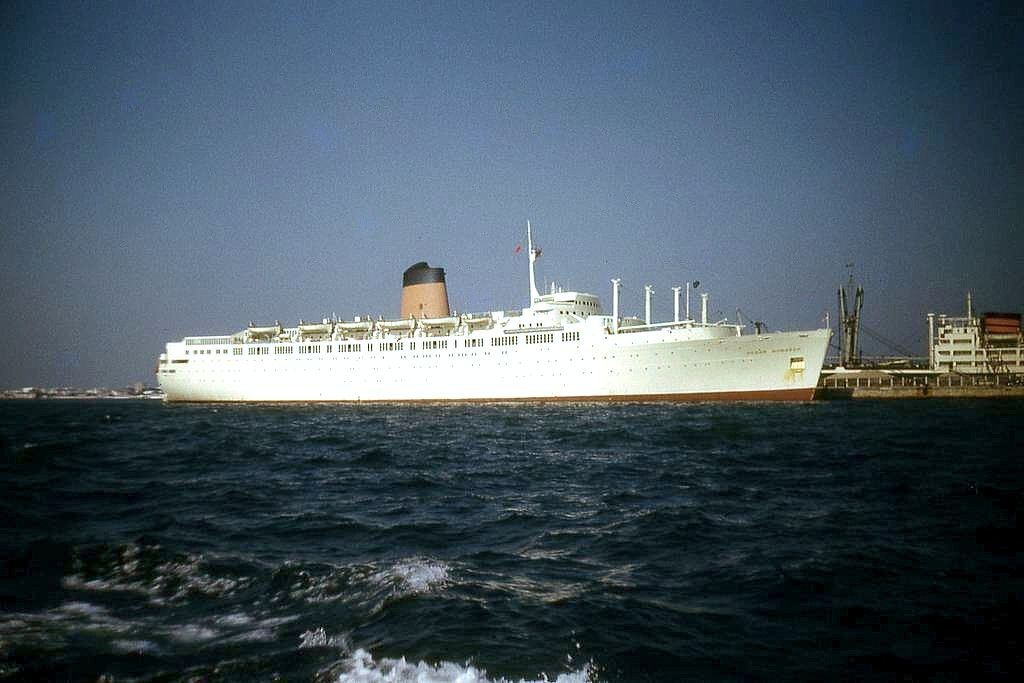 SS Ocean Monarch seen in her better days!
SS Ocean Monarch Specifications:
Built as:                                   Empress of England.
Built at:                                   Vickers-Armstrongs, Newcastle.
Yard:                                       155.
Launched:                                May 9, 1956.
Maiden Voyage:                        April 18, 1957.
Tonnage:                                 25,585 GRT (Gross Registered Tons).
    "                                         13,725 Net
    "                                         8,910 D.W. (Dead weight).
To Shaw Savill:                      April 1, 1970.
Renamed:                                Ocean Monarch on April 4.
Maiden Voyage:                        April 11, 1970 to Australia.
Tonnage:                                 25,971 after refit completed in September 1971.
Length:                                    640ft – 195m.
Beam:                                     85.3 ft – 25.9m
Draught:                                  29ft – 8.83m.
Engines:                                  Six Steam D.R. Steam Turbines from the builder.
Screws:                                   Twin 30,000 SHP.
Speed:                                     20 knots service speed, max speed 21 knots.
Passengers:                              1,327 One Class passengers on line voyages
Z                                            1,250 One Class passengers during cruises.
Decks:                                     Six passenger decks, plus two top decks for crew only.
Crew:                                      464-480.
Air:                                         Fully Air-Conditioned.
Stabilisers:                               Denny-Brown stabilisers.
***********************************
INDEX
:
Page One:             RMS Empress of England - History & Photo's.
Page Two:             SS Ocean Monarch - History & Photo's - This Page.
Page Three:          SS Ocean Monarch - Photo Page.
Page Four:            SS Ocean Monarch - Deck Plan.
***********************************
"Blue Water Liners sailing to the distant shores.
I watched them come, I watched them go and I watched them die."
Return to the ssMaritime MAIN INDEX
ssMaritime.com & ssMaritime.net
Where you will discover over 1,300 Classic Liners & the 1914 built MV Doulos Story
The Author has been in Passenger Shipping & the Cruise Industry for some 60 years!
Also visit the …
"Save The Classic Liners Campaign"
Please Note: ssmaritime and associated sites are 100% non-commercial and the author seeks no funding or favours of any shape or form, never have and never will!
Photographs on ssmaritime and associate pages are: by the author or from the author's private collection. In addition there are some images that have been provided by Shipping Companies and private photographers or collectors. Credit is given to all contributors. However, there are some photographs provided to me without details regarding the photographer/owner concerned. I hereby invite if owners of these images would be so kind to make them-selves known to me (my email address may be found on www.ssmaritime.com only), in order that due credit may be given.
This notice covers all pages: although, and I have done my best to ensure that all photographs are duly credited and that this notice is displaced on each page, that is, when a page is updated!
ssMaritime is owned & © Copyright by Reuben Goossens - All Rights Reserved