Please Note: Firefox and some other search engines are not suitable – Use "Internet Explorer" for this page to load perfectly!

Click the logo above to reach the ssMaritime FrontPage for News Updates & "Ship of the Month"
With Reuben Goossens\
Maritime Historian, Cruise'n'Ship Reviewer & Author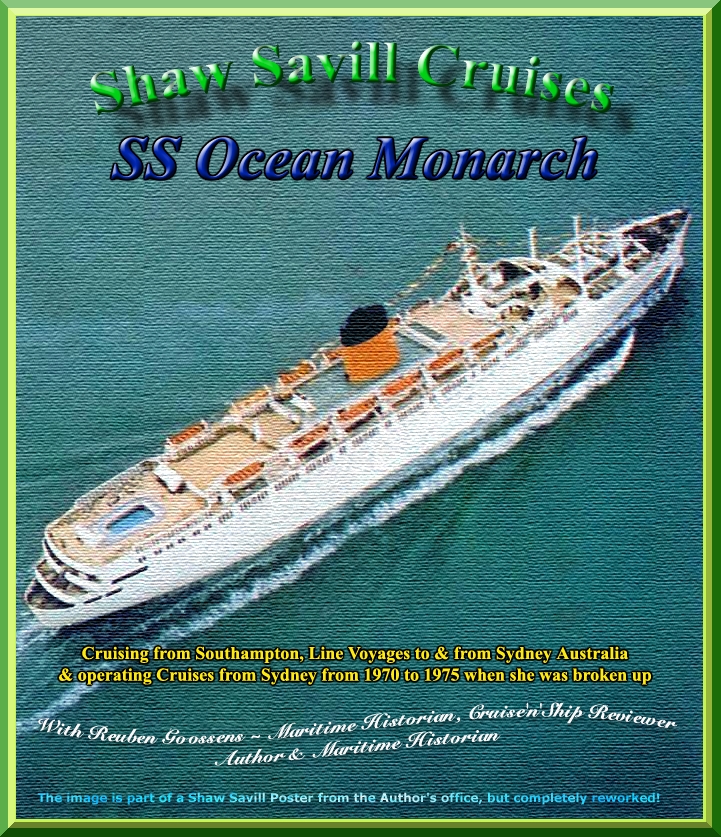 Page Three
SS Ocean Monarch ~ Photo Page
This page will feature a mixture of photographs of the SS Ocean Monarch, sourced from several brochures as well as some kindly provided to me by a past passenger Scott Craig, for which I am most grateful! I trust that these images somehow will bring the feeling and the atmosphere of this popular ship in Australia and New Zealand come alive again!
It was so sad that she was a greatly troubled ship, both with her crew and ongoing union problems as well as her never ending engine and boiler breakdowns, which ended her days at sea all too son, for she had to be sold to be broken up at just 18 years of age, meaning she was simply too young. I have sailed on a ship just recently that was built in 1948 and she is in better condition than most brand new ships on the sea today, not an inch of rust on her anywhere, and I have sailed on two world voyages on her and she is amazing! This ship, built as the Swedish liner MS Stockholm, yes the very same one that had that collision with the Andrea Doria, will sail on for many years as yet, even though she is already 65 years old! Thus, loosing a ship that is just 18 years old is a disaster!
If you have any good interior photographs I would appreciate you sending some to me at rg@ssmaritime.com.
Enjoy!
Reuben Goossens.
1 … Brochure Images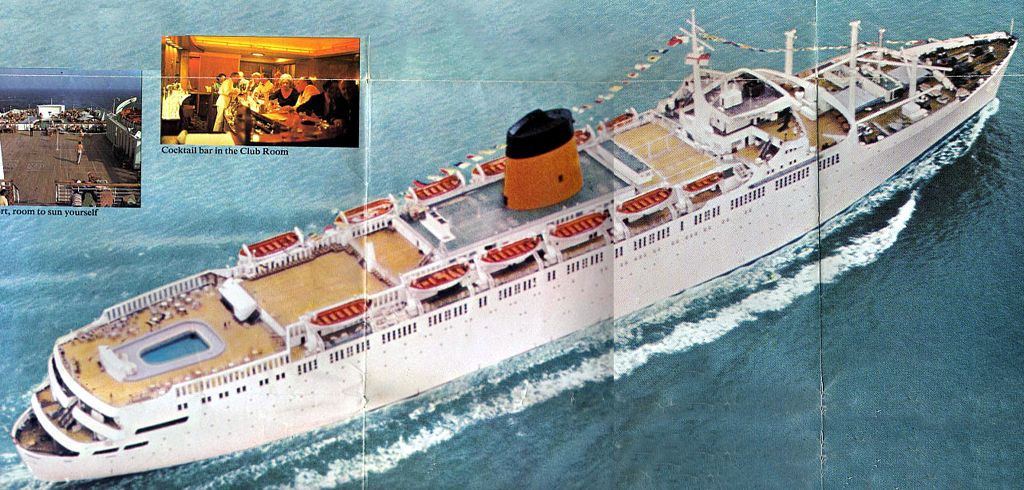 The inside of a folded brochure reveals a great shot of the ship and the ample deck spaces onboard the Ocean Monarch
As well as brilliant new aft Lido Pool, Deck and Bar, that can be seen with the shade cover on the portside
All the following are located on Promenade Deck, unless mentioned otherwise.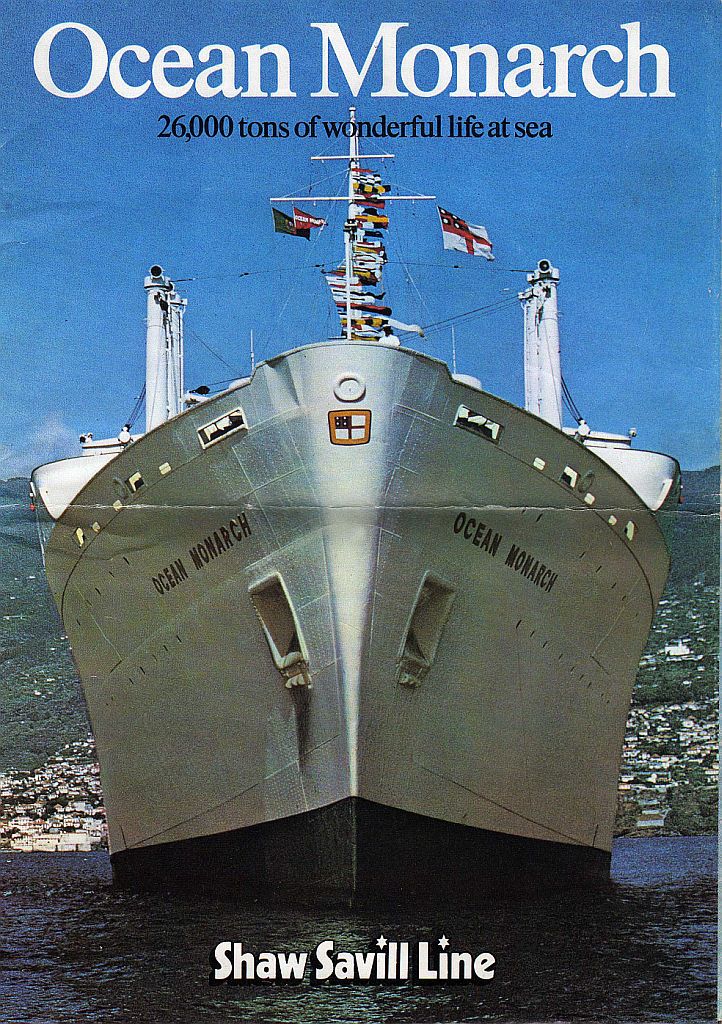 The first brochure cover states "Shaw Savill Line"
the all future brochures it will be "Shaw Savill Cruises"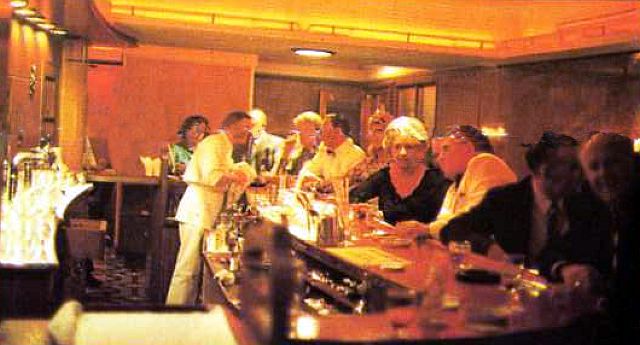 The Club Room and Bar is located far forward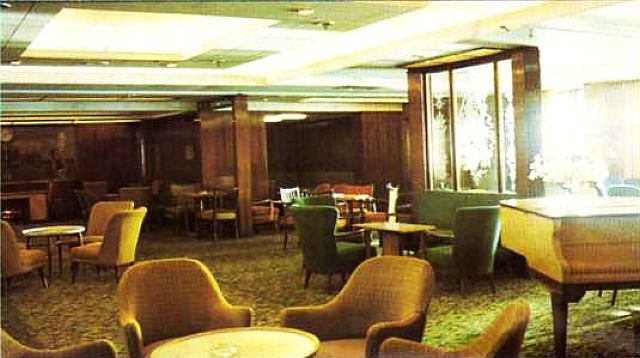 One of the main Lounges – Hampton Court
Located aft near the Cinema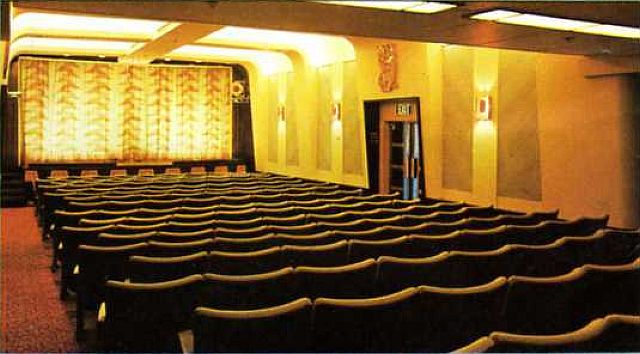 The Cinema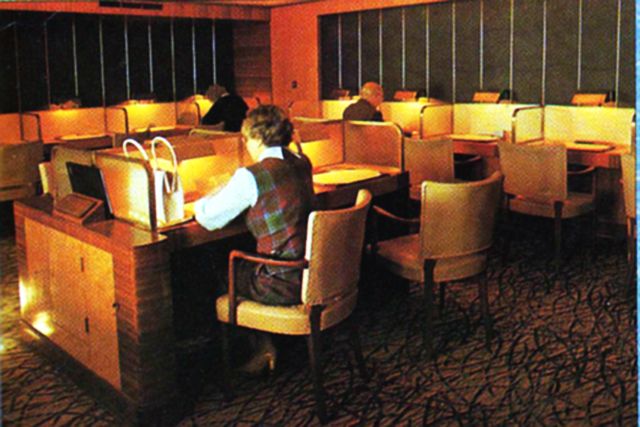 Above & below:
The Library and Writing Rooms are located on both sides of the Cinema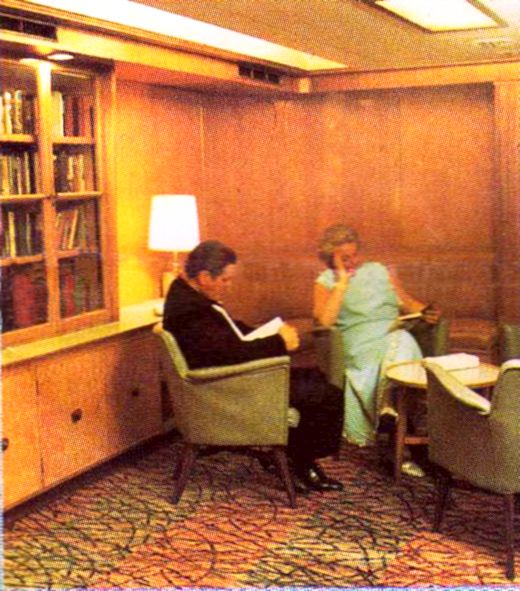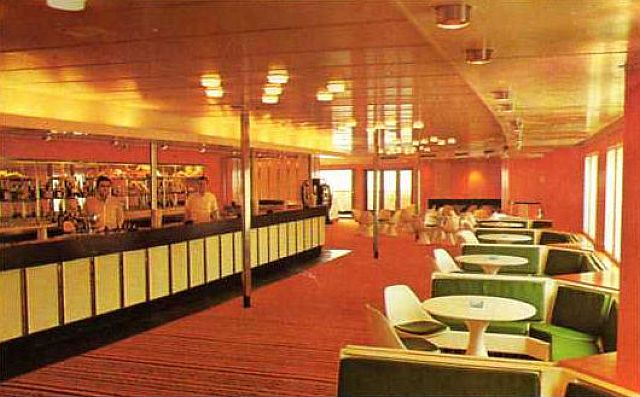 The ever popular "Tavern"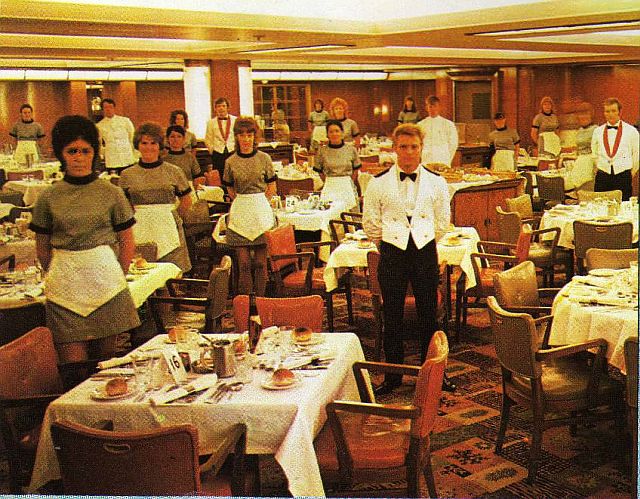 The Atlantic Restaurant located forward on C Deck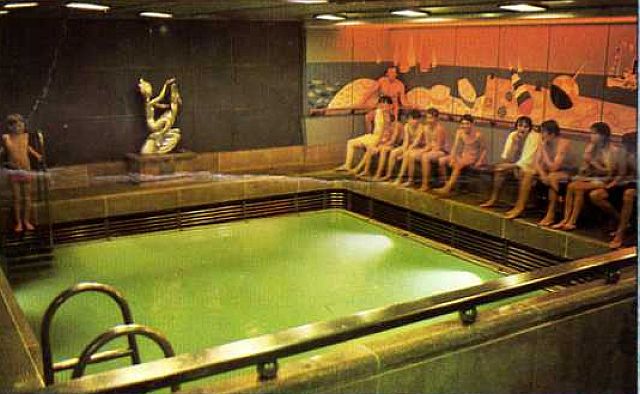 The indoor pool on D Deck
We now head out on Deck.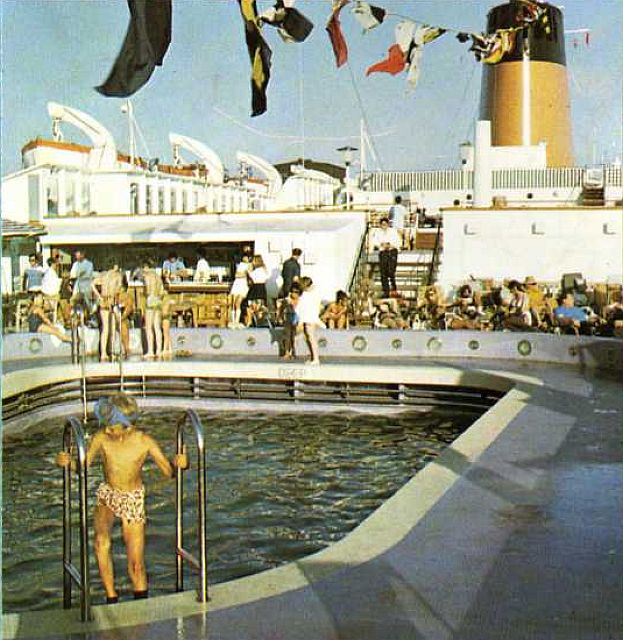 The superb Lido Pool and deck looking forward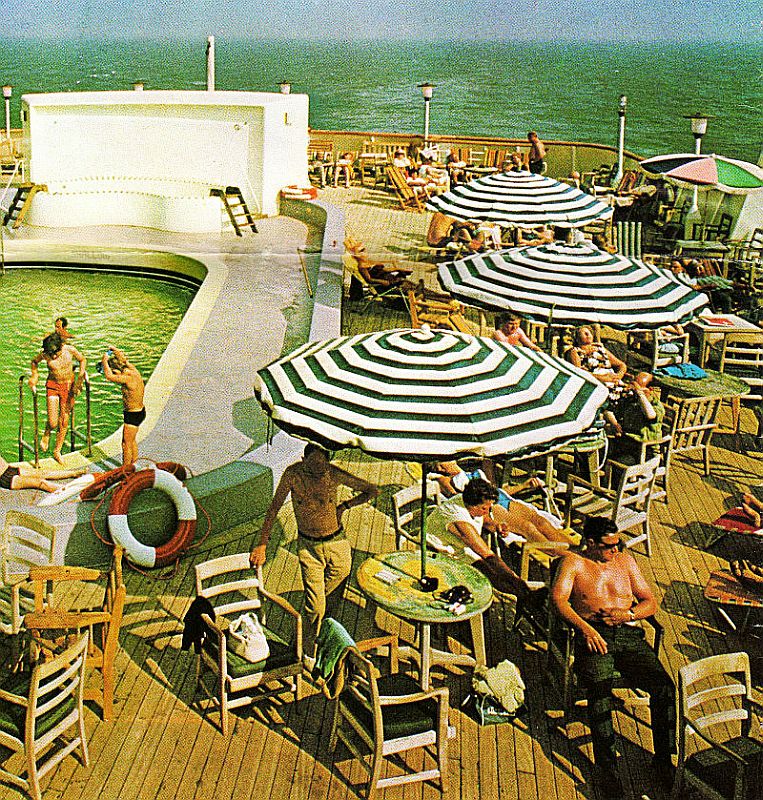 Lido Pool and Deck looking aft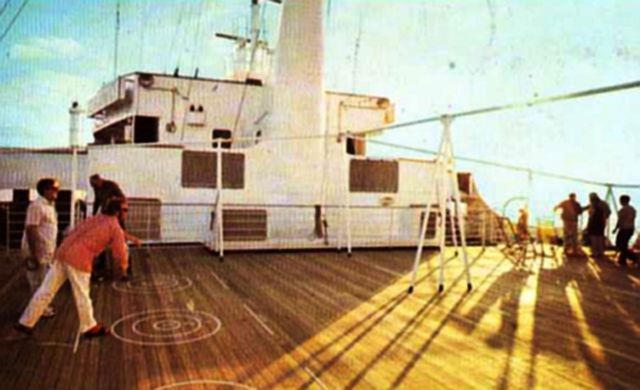 Above & below: Sports deck located forward and aft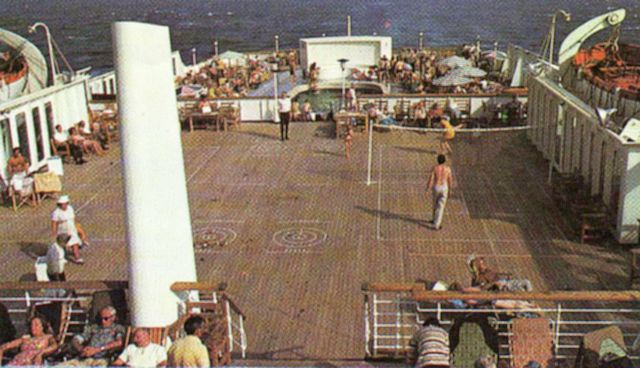 Accommodations.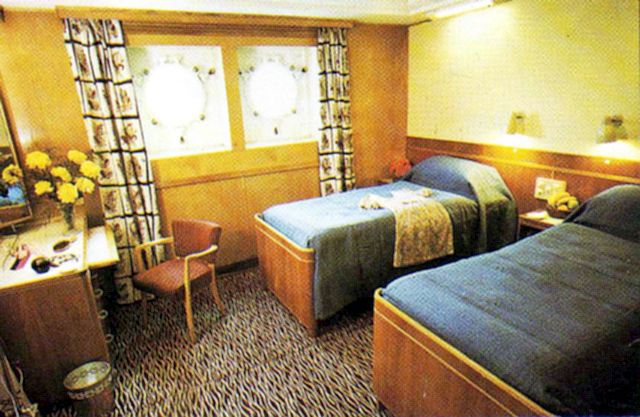 This is a Deluxe twin bedded outside stateroom with private facilities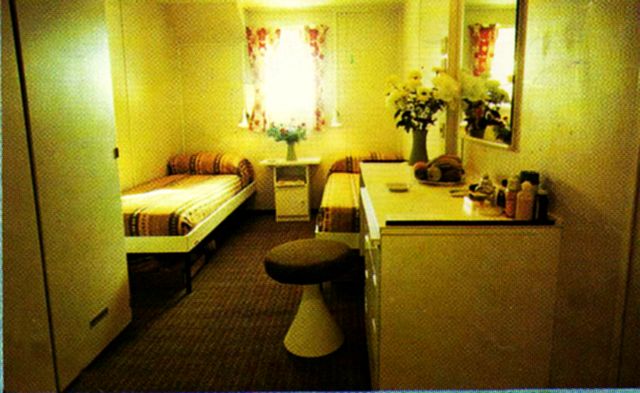 One of the newly built outside twin bedded cabins with private facilities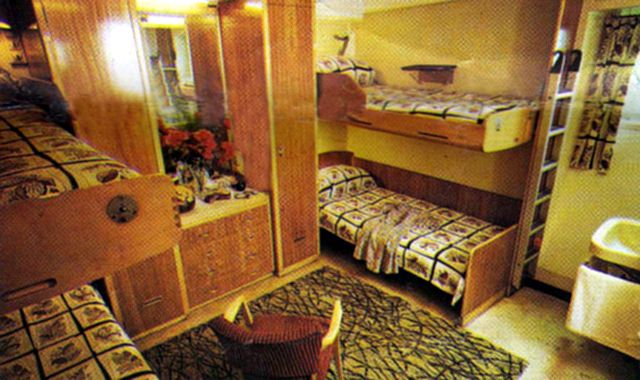 An almost unchanged "Empress" four berth cabin without private facilities
This cabin did have a port hole, but there many more that were inside cabins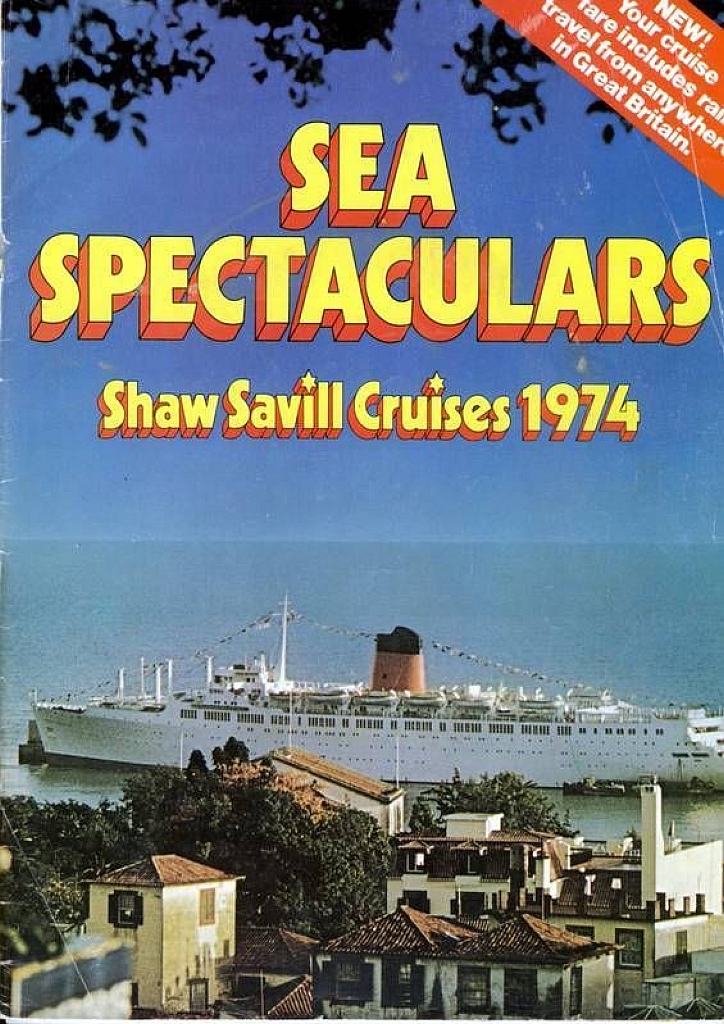 This is the cover of the very last UK cruise brochure ever released
2 … Photographs & Story by Mr. Dennis McMillan & Provided by Scott McMillan ©.
Below is a story from Scott McMillan, who has also written several excellent cruise reviews for the author's other site "cruise-australia.com" regarding his cruises on P&O's Pacific Jewel and Royal Caribbean International's Rhapsody of the Seas.
During his younger years his parents Dennis and June McMillan, took him and his brother Craig on a number of cruises, including one on the Russian ship MS Shota Rustaveli and several on the SS Ocean Monarch. Thus, the photographs presented below, will show the boys at different ages, somewhat smaller and larger!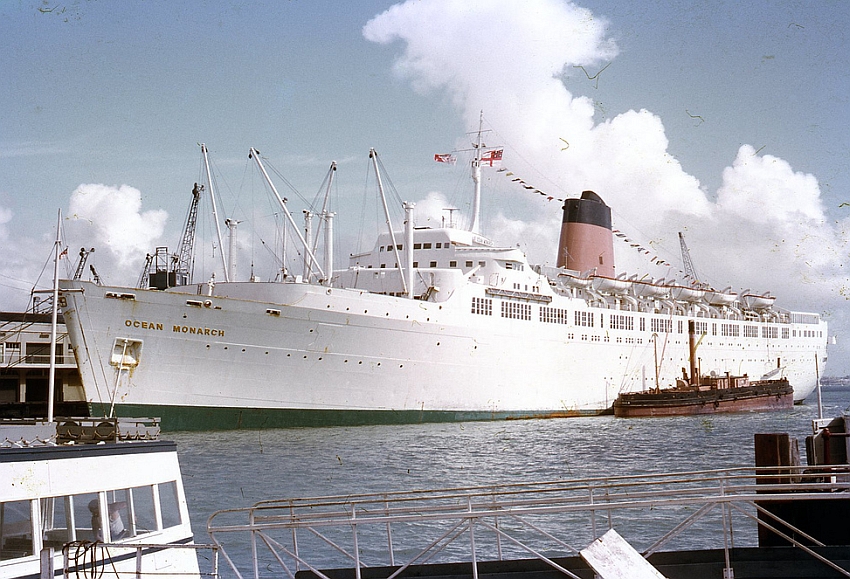 SS Ocean Monarch is seen in Auckland
Photograph was provided by David J. Boyd of New Zealand!
But the photographer is unknown – See the photo notes at the bottom of page
There was no doubt that the McMillan's loved the Ocean Monarch and had a really wonderful time on this ship, except for one major scene that took place when they were due to depart Sydney for their home port Auckland, where they lived at the time. But their voyages had some other interesting points! I will let Scott explain.
"I believe it was on our earlier cruise we had broken down mid Pacific, but as the sea was like a millpond with not a wave, a ripple or breath of wind, I assume that the Captain and his engineers took advantage of the calm seas and decided to stop engines for repairs! I may be wrong but I'm positive it was for one whole day if not almost for two. I recall that it was very hot and I remember everybody headed atop to sleep up on deck, as there was no air-conditioning onboard during this time!
We were onboard during our later cruise when the crew went on a mass strike and remained mostly on the wharf in Sydney. We lived in Auckland, thus whilst the Australian passengers had already disembarked, we remained on board with the other Kiwis, as our cruise had three more days to go across the Tasman Sea. I remember well watching the disgruntled crew on the wharf at Circular Quay for several days as they threw beer and soft drink cans and bottles right at the ship. I recall how disappointed I was to see some of these crew members that we had come to know well during the cruise and they were acting in this despicable manner. Finally, Shaw Savill decided to send us home by flying us back to Auckland on a Qantas DC8."
Scott McMillan.
PS: I believe that I will receive more from Scott at a later date!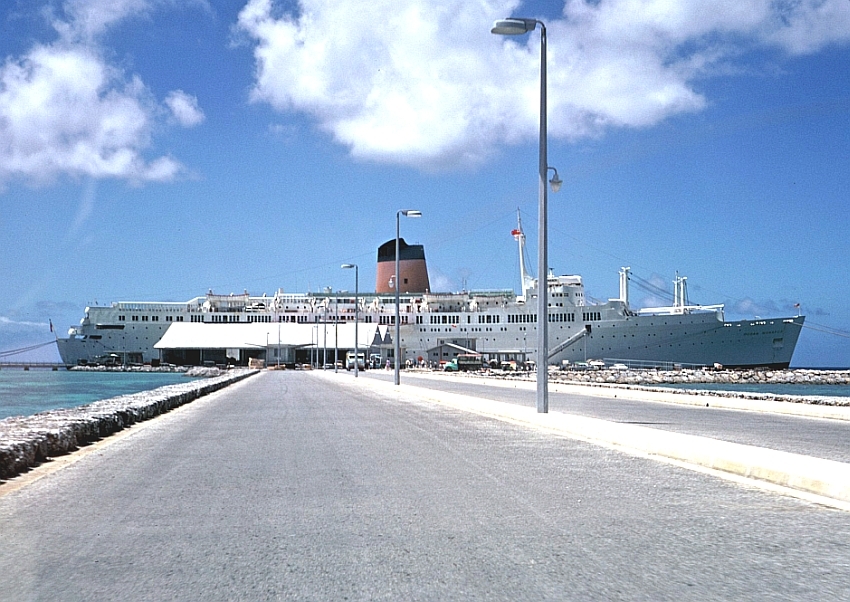 The gleaming white Ocean Monarch is seen at Nuku'alofa in Tonga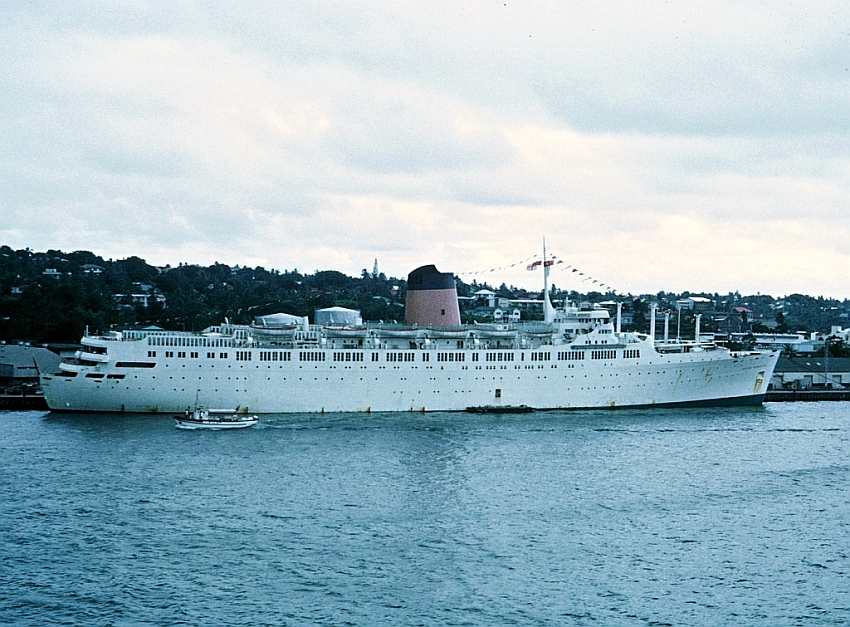 The Ocean Monarch has arrived in Suva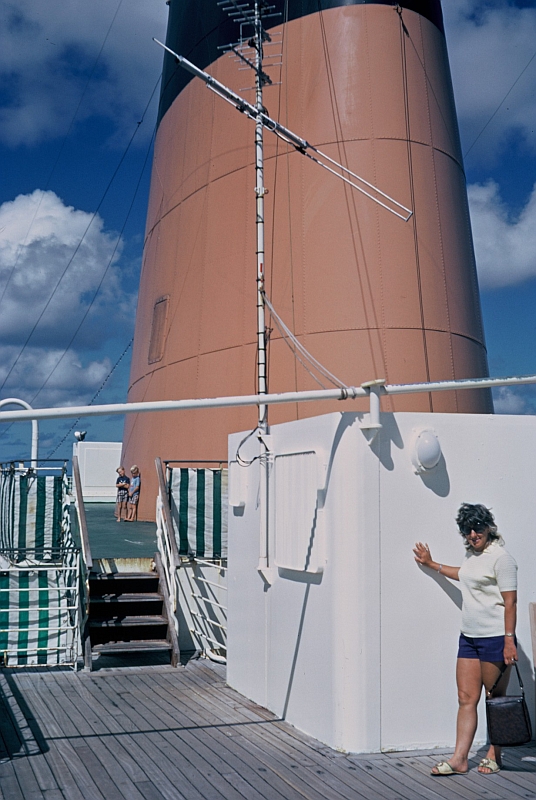 Scott's Mother June is seen in the foreground as she sneaks up on her sons Scott who is leaning on the funnel and his brother Craig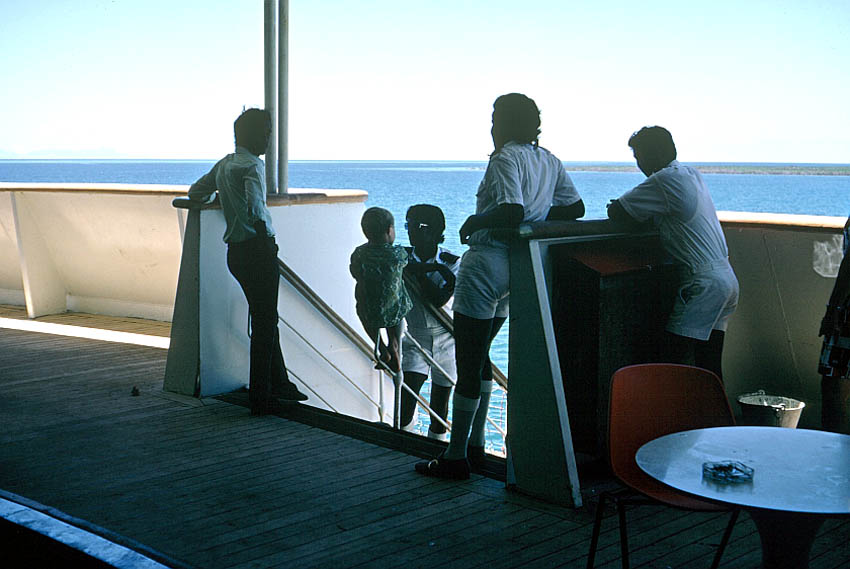 Here we a younger Scott chatting with some of the crew during an earlier cruise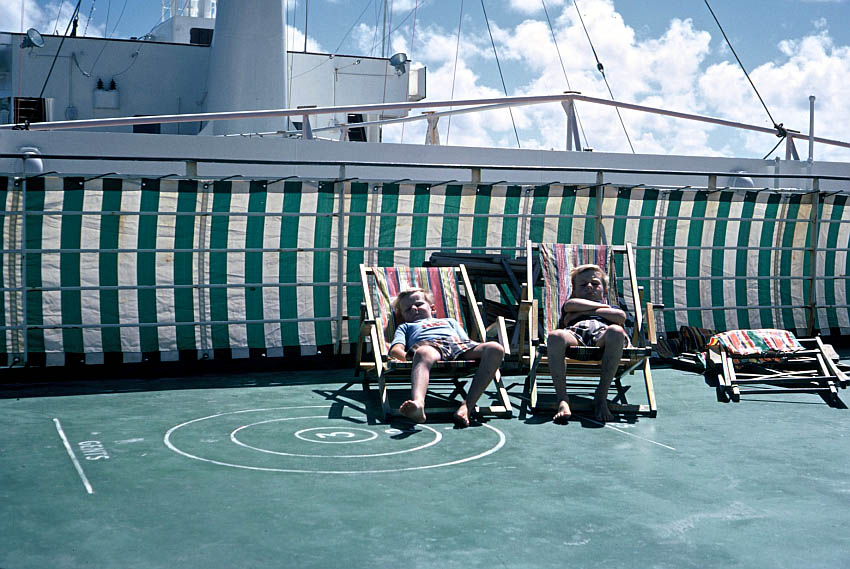 How tiring a life at sea must be! Craig (left) and Scott (right) take a nap on deck!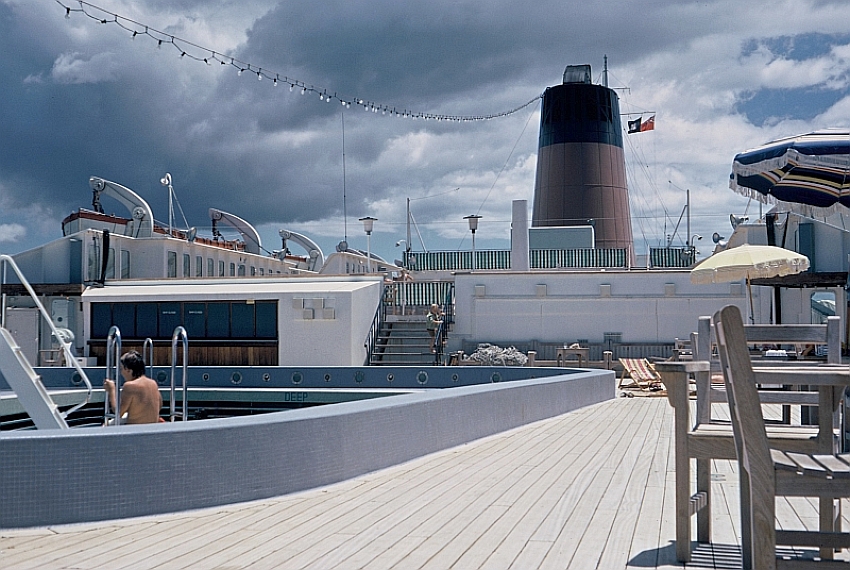 Ship is in port, thus the bar is closed and no people around
so young Scott's is seen heading off for a quiet swim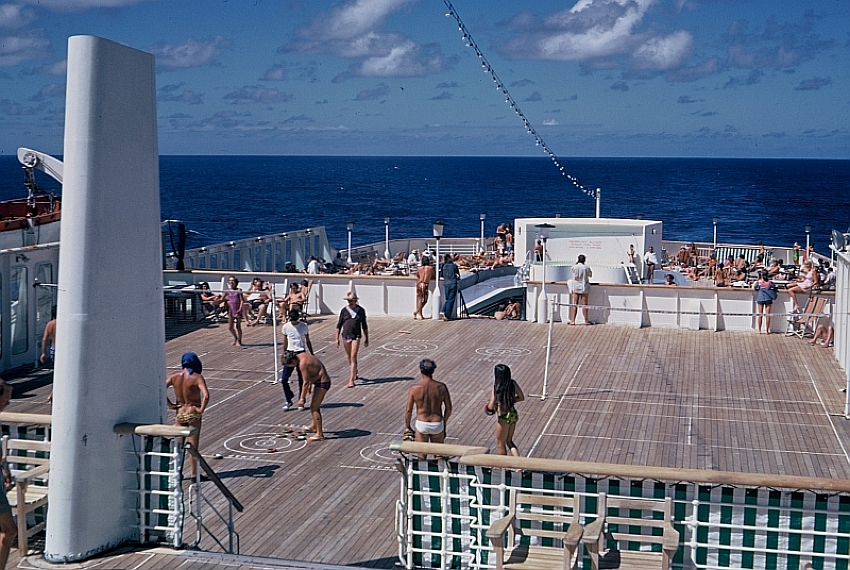 Looking over the aft Sport Deck and Lido Deck
Scott (bending forward) is playing deck quoits with Craig (arms on hips) looking on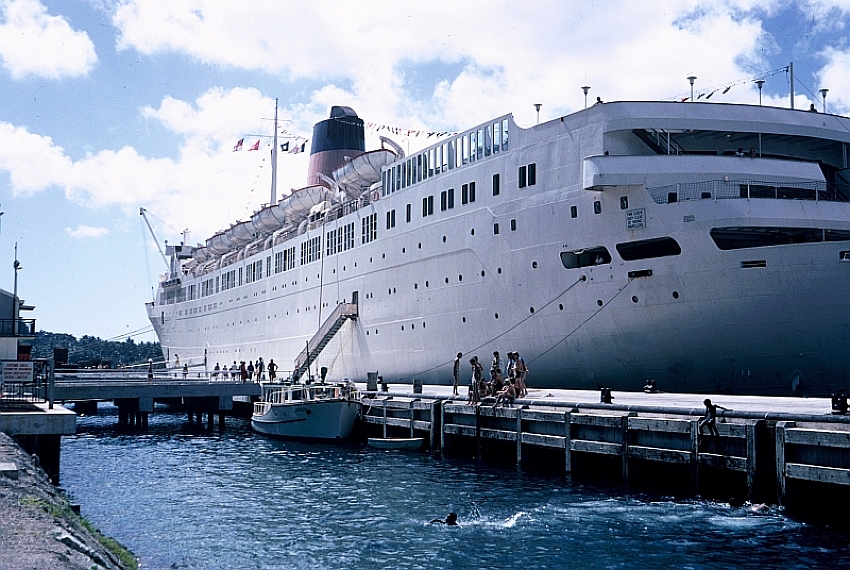 The Ocean Monarch in Port Vila Vanuatu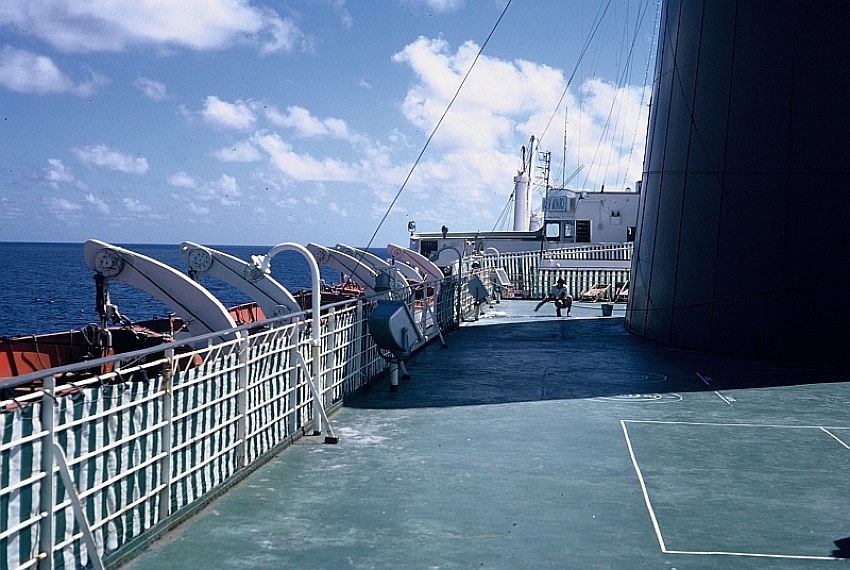 Above & below: two scenes from Sports Deck, amidships and one far forward with Scott jnr!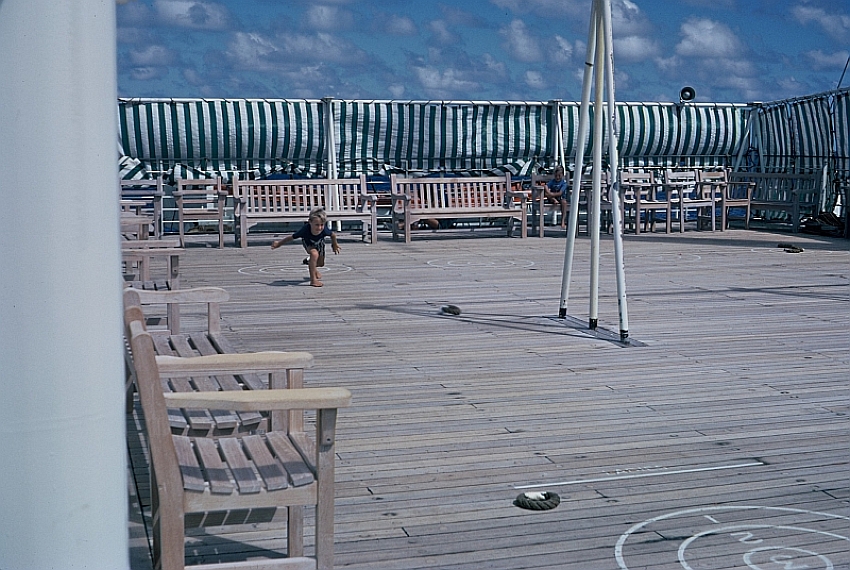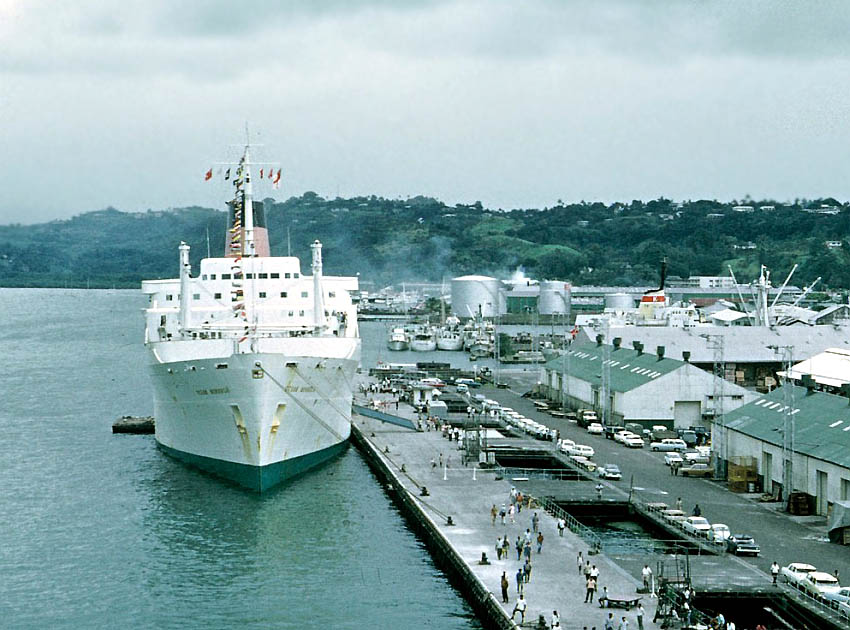 Ocean Monarch seen in Suva, but taken from the stern of the Russian cruise ship, Shota Rustaveli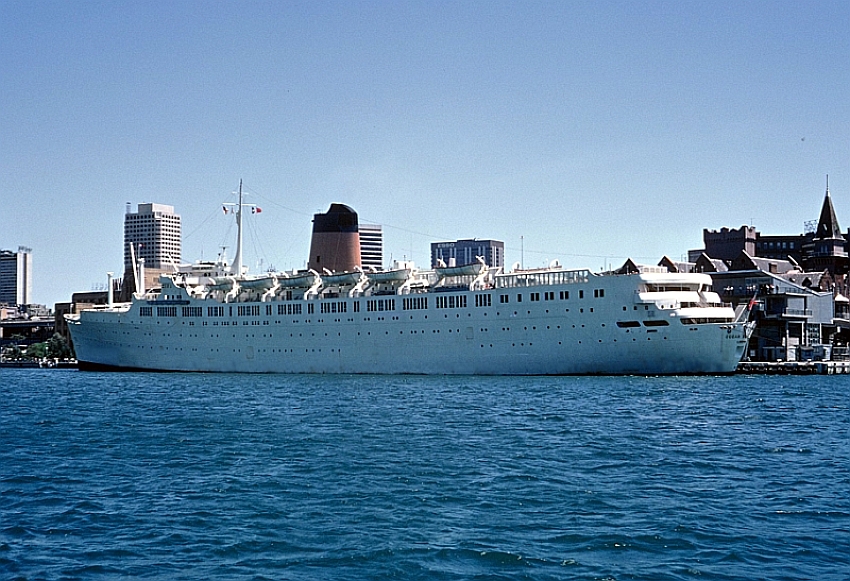 Here we see the SS Ocean Monarch at Sydney's International Passenger terminal during the crew strike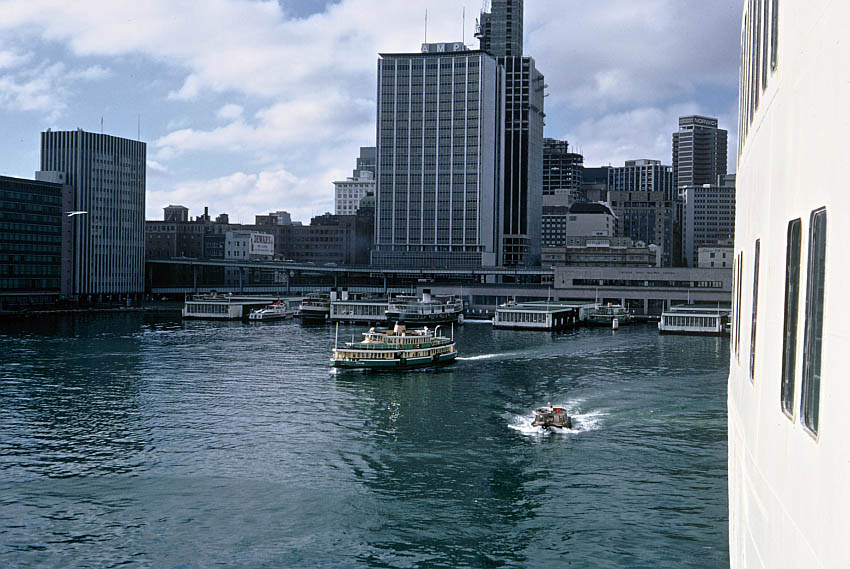 Yes, we are still in Sydney. But instead of remaining on the ship to Auckland, we were flown home on a Qantas DC8
3 … Other Images of the SS Ocean Monarch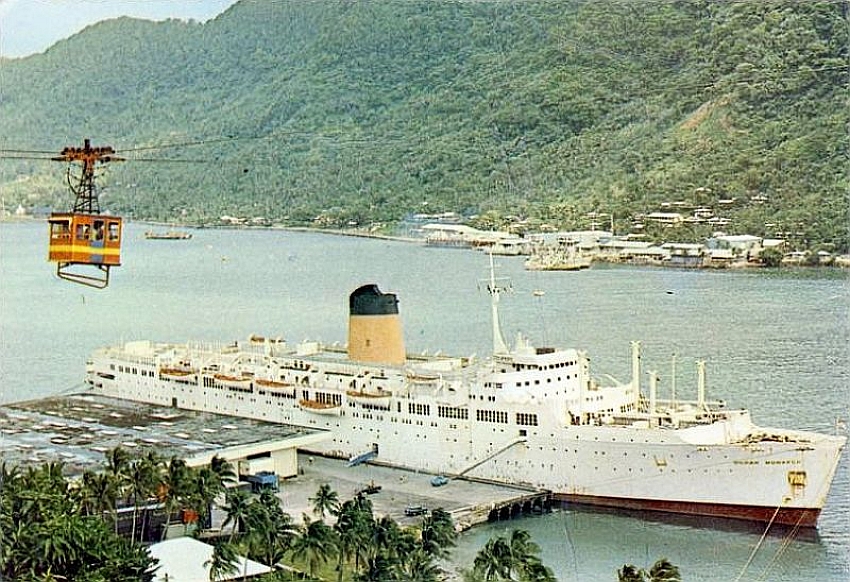 The ocean Monarch is seen in Pago Pago, American Samoa
From the author's collection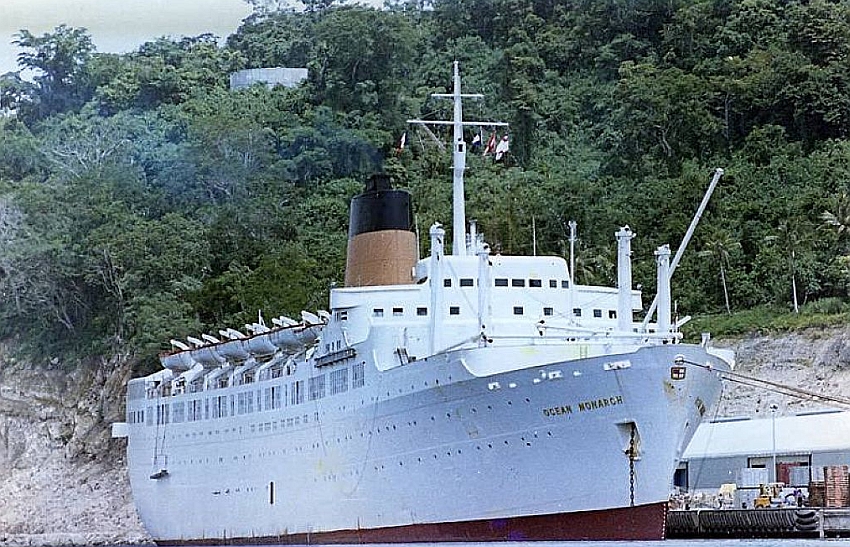 She is seen here at Port Vila in 1971
Photographer unknown
That completes the Photo Page Three. To enhance the experience of reliving the experience of this cruise ship, especially for those who have sailed on her, why not view her Deck Plan on Page Four. See the index below.
***********************************
INDEX
:
Page One:           RMS Empress of England - History & Photo's.
Page Two:          SS Ocean Monarch - History & Photo's.
Page Three:        SS Ocean Monarch - Photo Page - This Page.
Page Four:          SS Ocean Monarch - Deck Plan.
***********************************
Return to the  ssMaritime MAIN INDEX
Who is the Author of ssMaritime?
Commenced in the passenger Shipping Industry in May 1960
ssMaritime.com & ssMaritime.net
Where the ships of the past make history & the 1914 built MV Doulos Story
Also visit my …
"Save The Classic Liners Campaign" page
Photographs on ssmaritime and associate pages are by the author or from the author's private collection. In addition there are some images that have been provided by Shipping Companies and private photographers or collectors. Credit is given to all contributors. However, there are some photographs provided to me without details regarding the photographer/owner concerned. I hereby invite if owners of these images would be so kind to make them-selves known to me in order that due credit may be given. I know what it is like, I have seen a multitude of my own photographs on other sites, yet these individuals either refuse to provide credit or remove them when asked, knowing full well that there is no legal comeback when it comes to the net. However, let us show these charlatans up and do the right thing at all times and give credit where credit is due!
This notice covers all pages, although, and I have done my best to ensure that all photographs are duly credited and that this notice is displaced on each page, that is, when a page is updated!
ssMaritime is owned and © Copyright by Reuben Goossens - All Rights Reserved