Please Note: Firefox and some other search engines are not suitable – Use "Internet Explorer" for this page to load perfectly!

Click the logo above to reach the ssMaritime FrontPage for News Updates & "Ship of the Month"
With Reuben Goossens\
Maritime Historian, Cruise'n'Ship Reviewer & Author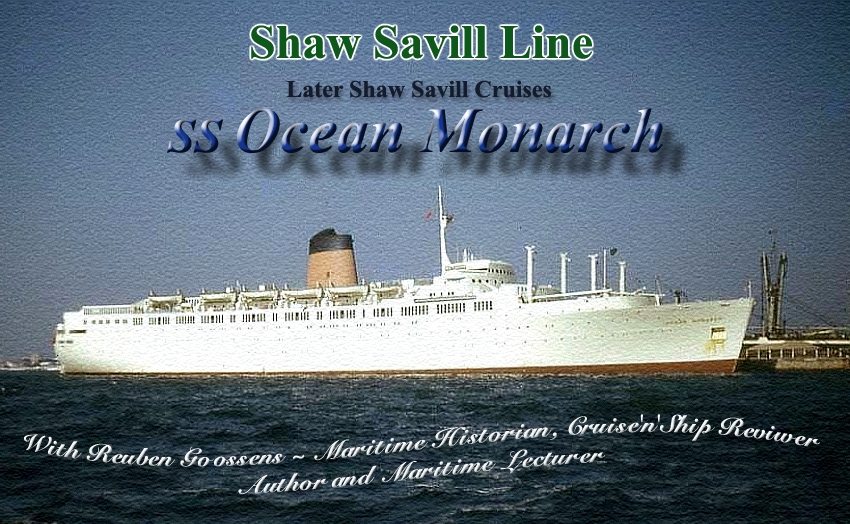 Page Four
SS Ocean Monarch ~ Deck Plan
This page completes the RMS Empress of England and SS Ocean Monarch feature. This ship spent 13 years with Canadian Pacific Lines and there were good times as well as difficult times which were mostly due to airlines taking over most of the trade across the North Atlantic, but she did swell cruising.
Then she was sold to Shaw Savill UK, she was troubled from the very beginning for she became far too costly with a massive delay in her refit into a cruise ship at the ship yard. This would cost Shaw Savill a massive £12 million Pounds loss due to the ship being delivered many months late and she was unable to operate her UK cruise season bar one, which placed the company a long way behind financially. In addition the ships five years with them operating line voyages and cruises from Sydney Australia where she was very popular, and England, where she was not as popular, but she did reasonably well. However, she was plagued with crew and maritime union problems as well as ongoing engine and boiler breakdowns, which eventually destroyed the ship, but more-so Shaw Savill's passenger services as you can read on Page Two!
If you arrived at this page via the search engine and would like to commence at Page One, or Two - Go to the index below.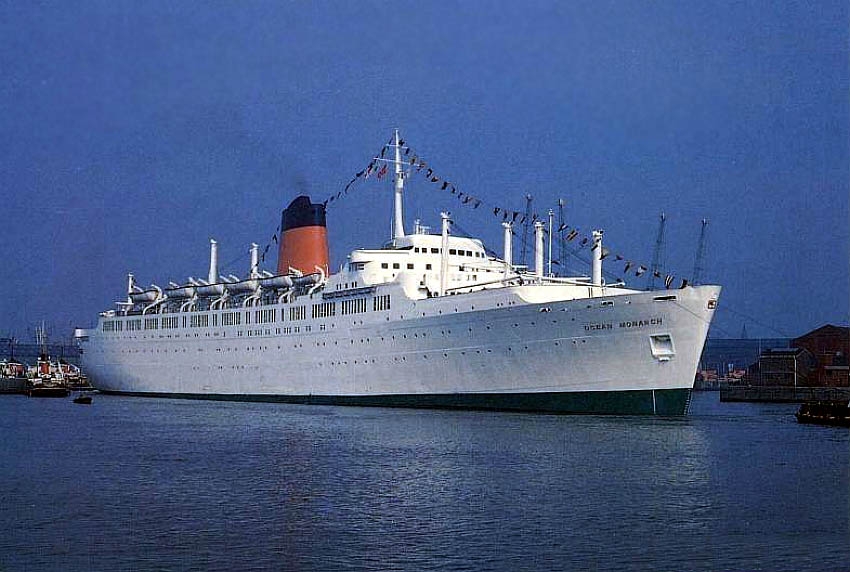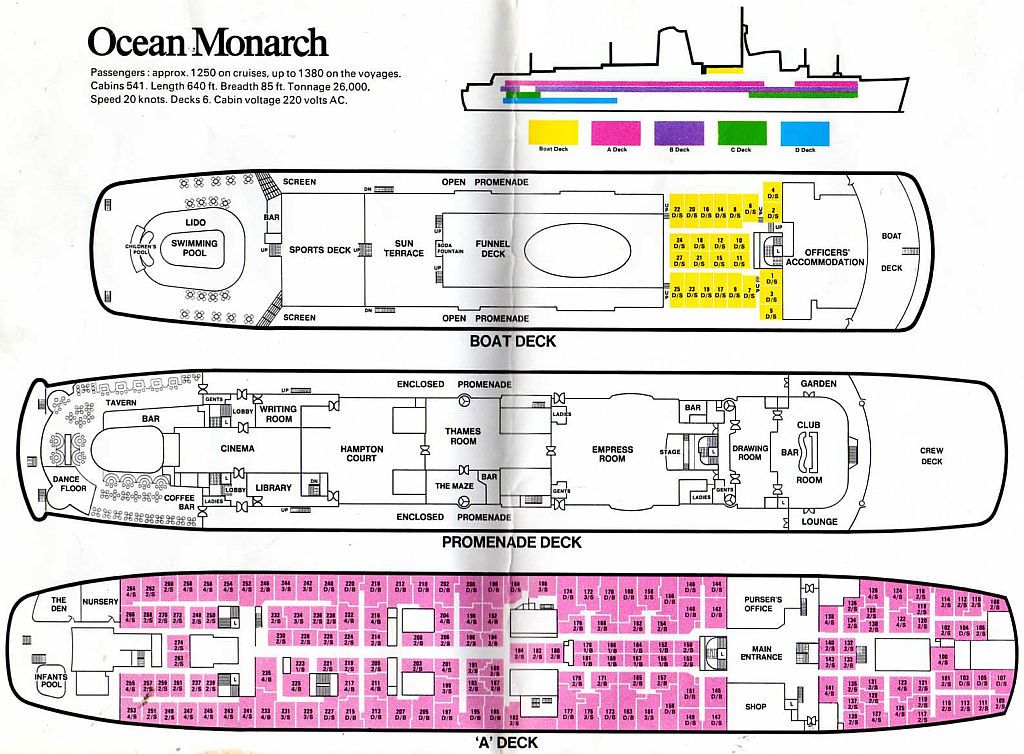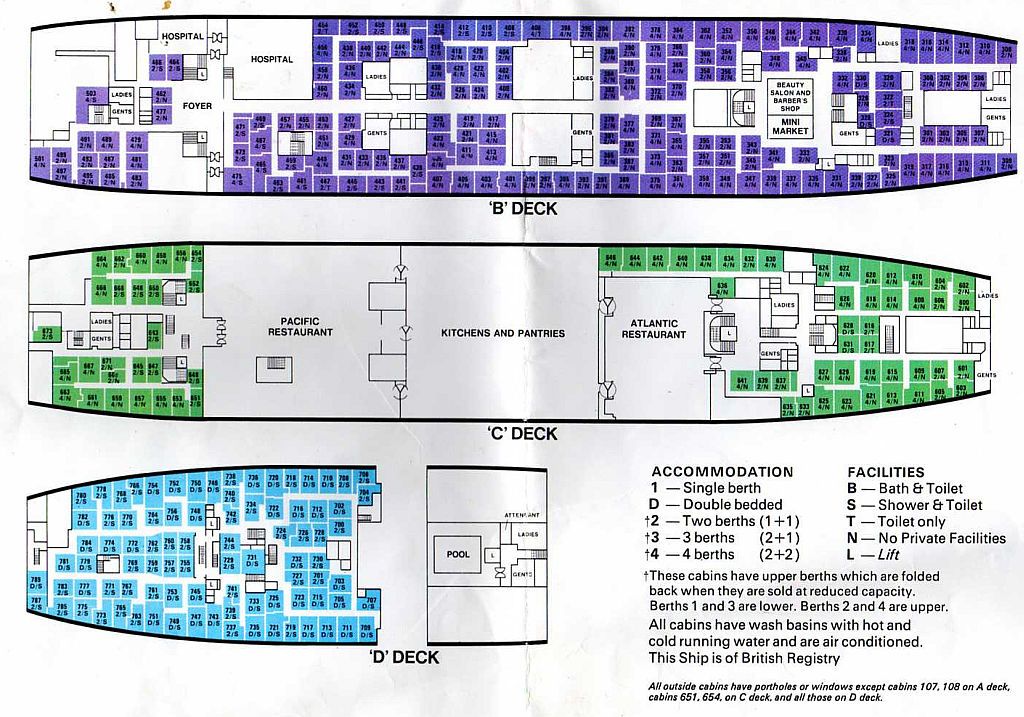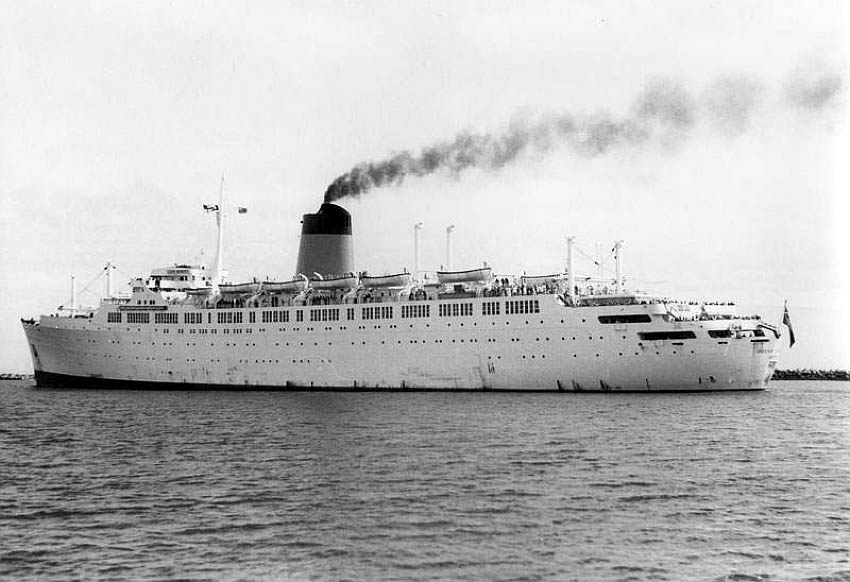 The SS Ocean Monarch is seen here in the Adelaide's (South Australia) outer harbour
***********************************
INDEX
:
Page One:           RMS Empress of England - History & Photo's.
Page Two:          SS Ocean Monarch - History & Photo's.
Page Three:        SS Ocean Monarch - Photo Page.
Page Four:          SS Ocean Monarch - Deck Plan - This Page.
***********************************
Who is the Author of ssMaritime?
Commenced in the passenger Shipping Industry in May 1960
ssMaritime.com & ssMaritime.net
Where the ships of the past make history & the 1914 built MV Doulos Story
Also visit my …
"Save The Classic Liners Campaign" page
Photographs on ssmaritime and associate pages are by the author or from the author's private collection. In addition there are some images that have been provided by Shipping Companies and private photographers or collectors. Credit is given to all contributors. However, there are some photographs provided to me without details regarding the photographer/owner concerned. I hereby invite if owners of these images would be so kind to make them-selves known to me in order that due credit may be given. I know what it is like, I have seen a multitude of my own photographs on other sites, yet these individuals either refuse to provide credit or remove them when asked, knowing full well that there is no legal comeback when it comes to the net. However, let us show these charlatans up and do the right thing at all times and give credit where credit is due!
This notice covers all pages, although, and I have done my best to ensure that all photographs are duly credited and that this notice is displaced on each page, that is, when a page is updated!
ssMaritime is owned and © Copyright by Reuben Goossens - All Rights Reserved