V.N.S. - S.S. Friesland / Abbekerk 1946 to 1971
Please Note: Firefox and some other Search Engines may not be suitable
Use Google Chrome for this Web Page to load perfectly!
Click the logo above to reach the ssMaritime FrontPage for News Updates & "Ship of the Month"
With Reuben Goossens
Maritime Historian, Cruise'n'Ship Reviewer, Author & Maritime Lecturer
Please Note: All ssMaritime and other related maritime sites are 100% non-commercial and privately owned, thus ssmaritime is NOT associated with any shipping company or any other organisation! Although the author has worked and been involved in the passenger shipping industry for well over 60 years, but due to his old age and poor health, he was forced to retire. Yet, he has completed well over 1,435 Classic Liners, Passenger-Cargo Liners as well as humble converted C3 converted Migrant Liners, which has transported countless thousands folk to the new world, as well on vacations'. I trust the features online will continue to provide Classic Liner and Ship enthusiasts both the information they are seeking, but more so provide a great deal of pleasure and relive many happy memories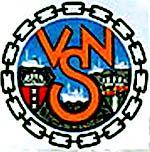 "N.V. Vereenigde Nederlandsche Scheepvaartmaatschappij"
"United Netherlands Navigation Company Ltd"
S.S. Abbekerk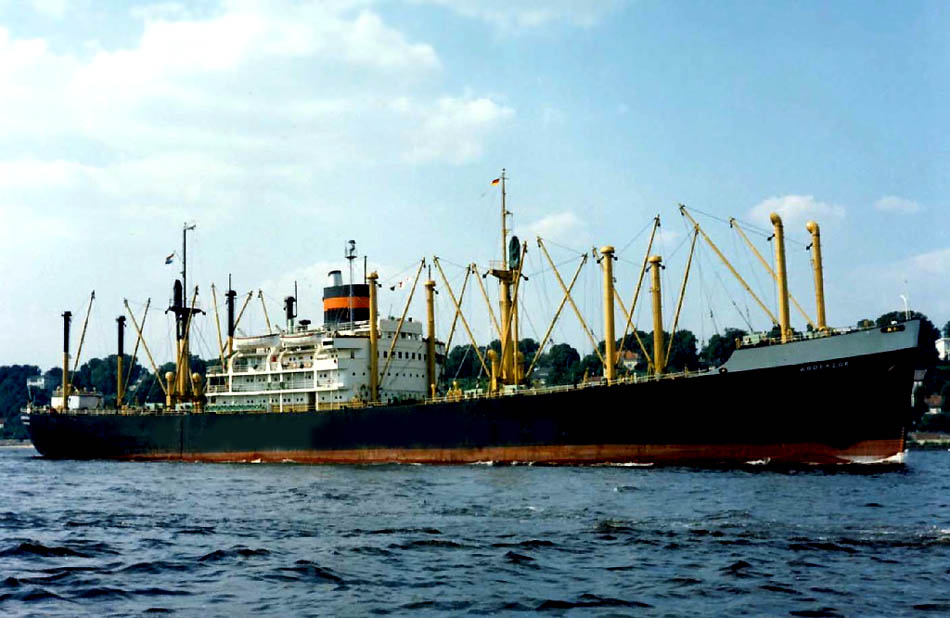 The ship was one of the countless traditional C3 Class ships built during WW2 in the United States, and in 1945 there were a good number of ships ordered to replace the countless European wartime losses. And considering the previous Abbekerk was a victim of the war, a new ship was ordered by the British War Office, on behalf of the Dutch Government in mid 1945 and her keel was laid down by Sun Shipbuilding in Pennsylvania USA on September 27, 1945.
When her hull was completed and her superstructure sufficiently completed she was launched and officially named "Friesland" on March 3, 1946 and fitted out and completed alongside the ship builders fit out berth.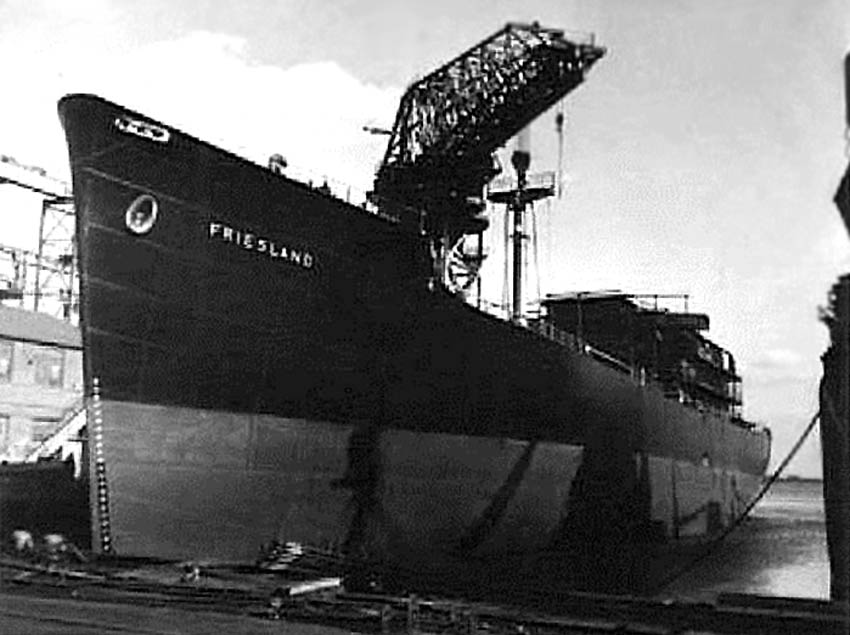 Here see the SS Friesland being launched on March 3, 1946
Upon completion she undertook her deep sea trails and she attained an excellent 17 knots, thus she headed for the Netherlands and she was delivered to her owners; "VNS," or "N.V. Vereenigde Nederlandsche Scheepvaartmaatschappij" The Hague, who added her to their extensive fleet on September 17, 1946. As I already indicated, she was part of the "War Reparations Deal" as so many Dutch ships had been lost during a long and tragic World War 2!
The Friesland commenced sailing mostly on the Rotterdam to Australia service via the Suez Canal and return. However, at times she also operated from Rotterdam to East Asia, or to East Africa, the occasional voyage to the Persian Gulf, India & Pakistan or to South America. Thus this ship during her many years had a varied career. Not to forget her voyages via South Africa.
It was in March 1947 VNS officially renamed her "Abbekerk" and she continued to sail successfully for the company on the Australian/New Zealand service and the other destinations as mentioned above for the next twenty-four years.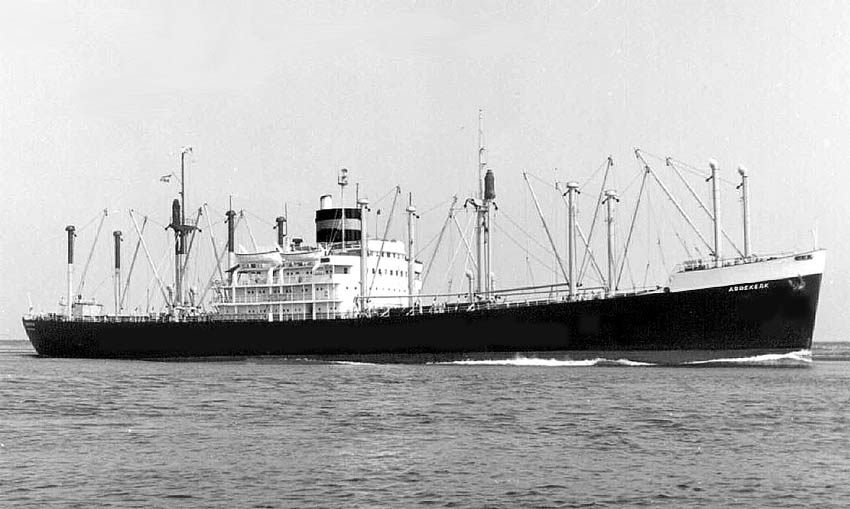 A fine view of the just renamed SS Abbekerk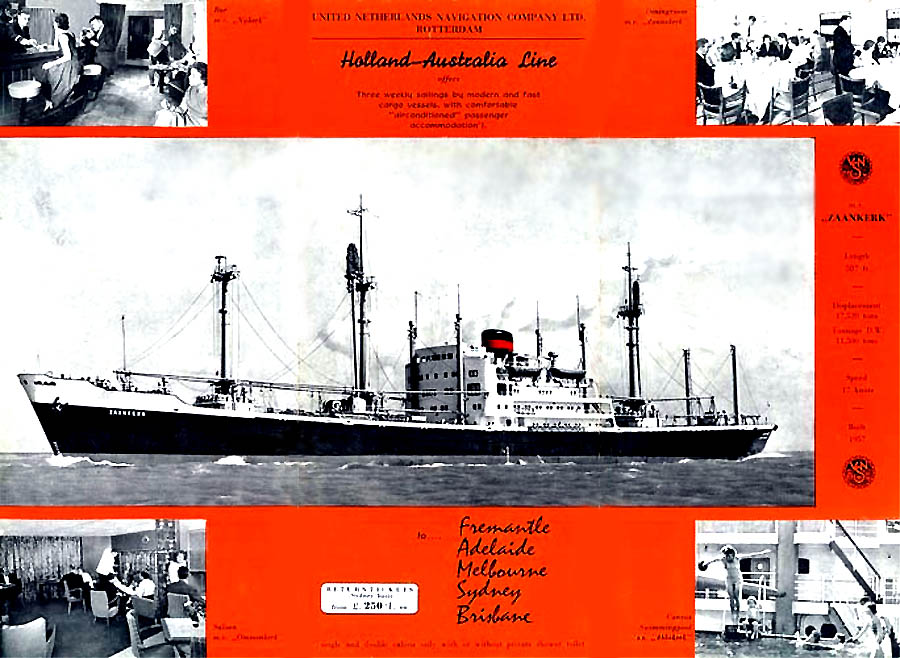 A VSN brochure, but named, Holland America Line – The ship shown is the MS Zaankerk
Although the SS Abbekerk was essentially a cargo ship, yet she offered three decks of excellent passenger facilities in her amidships superstructure. She had accommodations for 12 passengers in considerable comfort in twin bedded cabins with private facilities as well several single cabins all having portholes.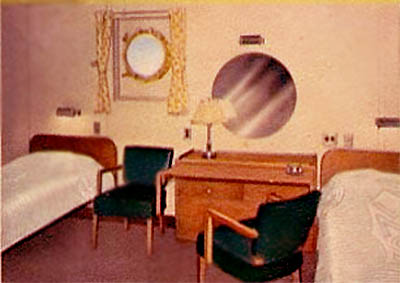 A typical twin bedded cabin
Located forward, directly under the Bridge a delightfully furnished Lounge with the Bar having traditional bar stools along the aft wall, which was seldom seen on a smaller passenger-cargo ship with just 12 passengers. The venue was furnished in a traditional style of the 1950s style. The furnishings had floral upholstery that matched the curtains on the windows. The lower walls were lined with fine walnut as were much of the fittings, although the bar and the entrance were made out of what I believe was teak. The room offered fine views forward and to the side of the ship considering the venue had good-sized windows.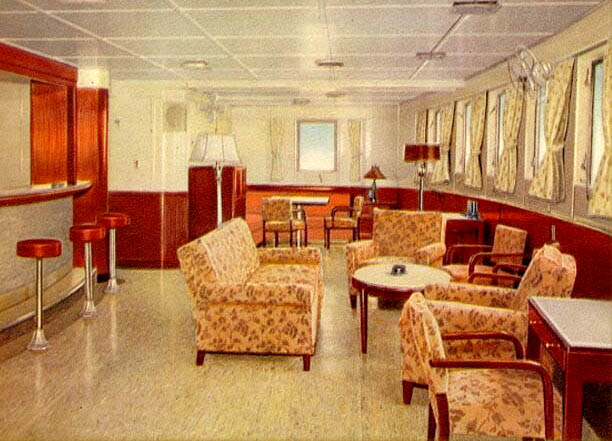 The ships delightful lounge and bar
The Dining room offered square and round tables and had comfortable seating. Although the room was in general quite plain, but with the use of a large mirror, a well placed clock and dark brown velvet chairs did give the venue a pleasant and a warm look. However, the only light that entered the room was through the portholes.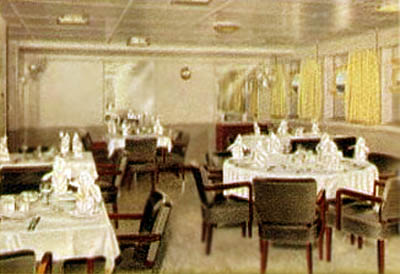 The Dining Room
Far aft on Boat Deck, being the same deck as the Lounge located far forward was the ever popular Veranda. This area was covered and on each side there were a small number of floor to ceiling windows that provided some wind protection on windy days. There were ample sun lounges as well as space to play various games, etc! However, further below, the staff would erect a canvas swimming pool when the ship reached the warmer climes and it was very well used!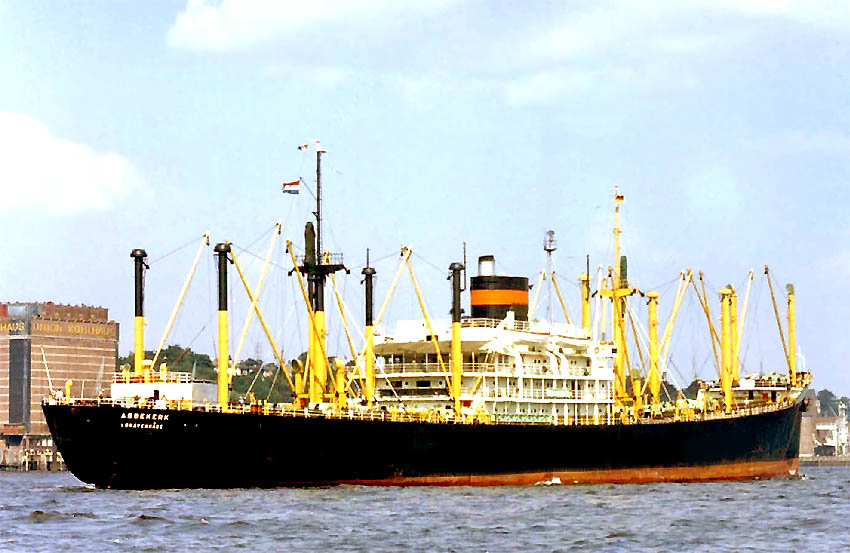 Note the Verandah and the tall protective windows and the overhead covering can be seen on the photo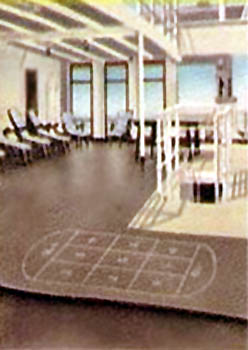 A fine view of the Verandah
Fun at the Canvas Pool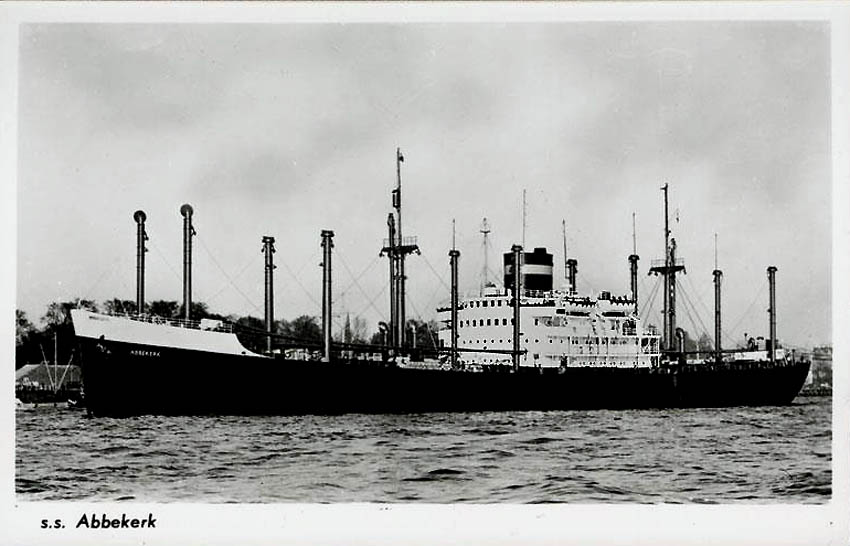 A VNS released postcard of the SS Abbekerk
Her most popular service was as follows; Rotterdam, Le Havre, Marseilles, Genoa, Port Said, Suez, Aden, Fremantle, Adelaide, Melbourne, Sydney, Newcastle, Brisbane and Auckland. Although there are no actual details of her ports for her return leg, but obviously during the Suez crisis when the Canal was closed, she sailed via various ports in South Africa.
The SS Abbekerk continued sailing for VSN until July 1970 when she was sold to Royal NedLloyd of Rotterdam, however just a year later the ship was sold to a Taiwanese Company "Zui Fat Steel & Iron Company., Ltd." Not long later she departed and sailed for Asia, and she arrived at Kaohsiung Taiwan on January 4, 1972 and was broken up in due course.
Specifications - SS Abbekerk (3):
Built by:……………….Sun Shipbuilding & Dry-dock Company, Inc, Chester-Pennsylvania USA.
Yard:………….…………555 in 1946.
Type:……………………C3-S-A5.
IMO:…………………….5000768.
Call Name:……………PCBJ.
Launched:…………….March 3, 1946.
Delivered:…………….September 17, 1946.
Tonnage:……………..8,336 GRT & 12,056 DWT.
Length:………………..150.6m - 494.1ft.
Breadth:………………21.25m - 69.8ft.
Draught:……………..8.89m - 29.1ft.
Propulsion:………….2 Westinghouse Steam Turbines, 8500 BHP.
Propellers:…………..One.
Speed:………………..17.5 to 17 Knots.
Passenger Decks:.3.
Passengers:………..12.
Crew:………………….52.
Sister Ships:……..SS Rondo, Rotti, Roepat, Radja, Limburg, Overijsel, Zeeland, Utrecht & Andijk.
Two fine Memories of the Abbekerk!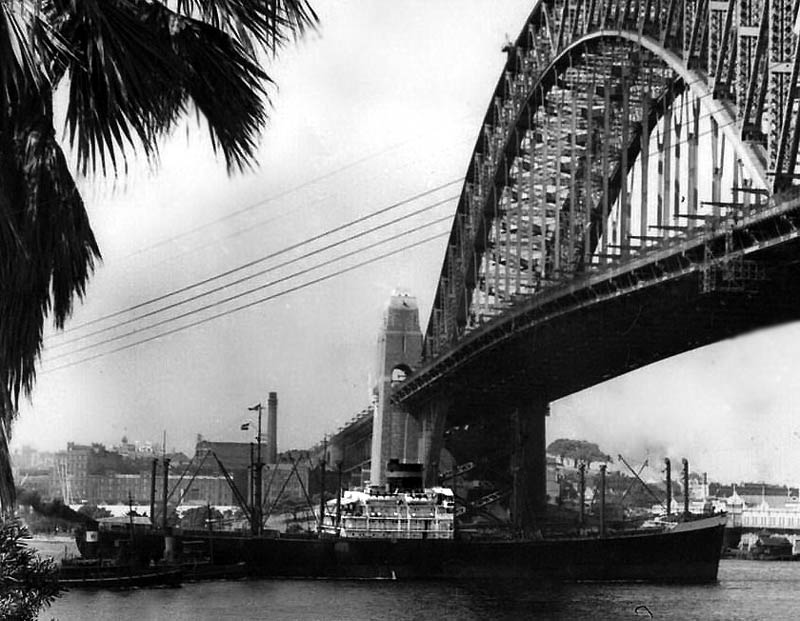 The SS Abbekerk is seen arriving in Sydney Australia early in the morning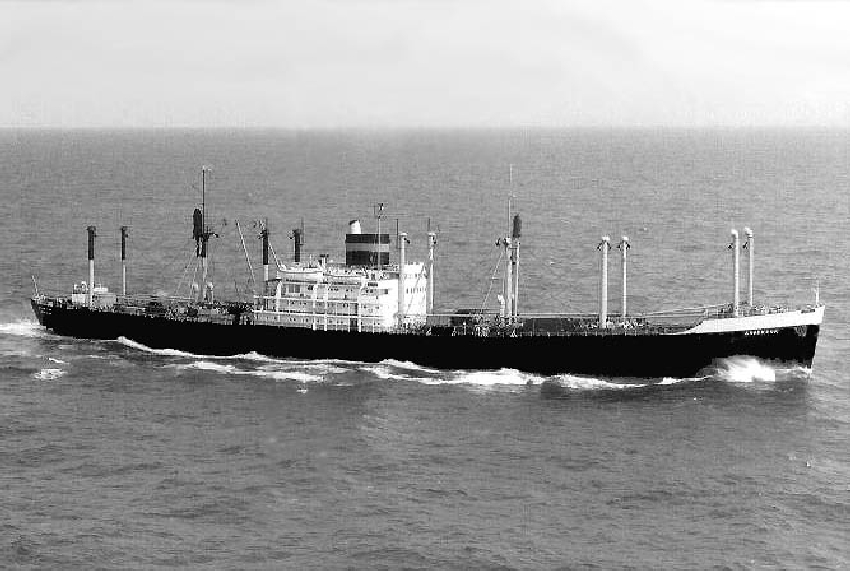 In conclusion SS Abbekerk is seen at sea going at full speed ahead
Ships Plan
Provided with thanks, by Arjan van Mourik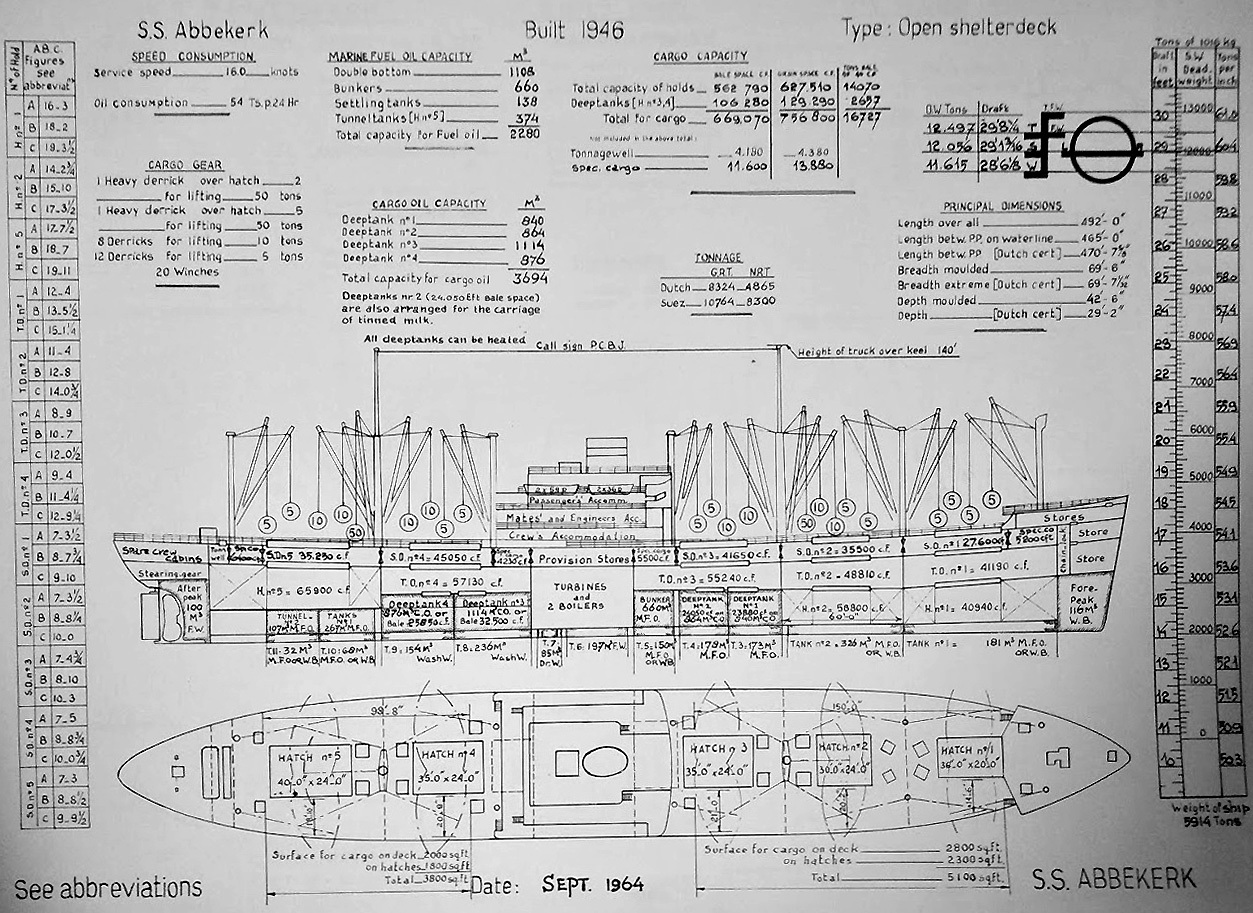 *******************************

V.N.S. & Fontein Ships Index

:

.                          SS Abbekerk a delightful V.N.S. 8,336-ton passenger-cargo ship.

Also Read …         About the delightful larger V.N.S. "Fontein" series of liners.

Page One:             The Fontein Trio of Ships history of the M.S. Klipfontein trio of ships

Page Two:             Visser Family Voyage to South Africa on the Jagersfontein in 1965.

Page Three:           M.S. Randfontein (2) of 1958 page.

Page Four:             Fontein ships Photo Page memorabilia and brochures, etc.

 "Blue Water Liners sailing to the distant shores.
I watched them come, I watched them go and I watched them die."

****************************

Visit our ssMaritime Main INDEX

Where you will discover over 1,435 Classic Passenger & Passenger-Cargo Liners!

For interest: Sadly an email service to ssMaritime is no longer available, due to the author's old age and chronic illness as well as being disabled, etc. In the past ssMaritime received well over 120 emails per day, but Goossens can no longer handle the same. He sincerely regrets this!

ssMaritime.com & ssMaritime.net

Where the ships of the past make history & the 1914 built MV Doulos Story

The Author has been in Passenger Shipping & the Cruise Industry for well over 60 years

In addition he was the founder of "Save the Classic Liners Campaign" in 1990.

Please Note: ssmaritime and associated sites are 100% non-commercial and the author does not seek funding or favours and never have and never will.

Photographs on ssmaritime and associate pages are either by the author or from the author's private collection. In addition there are some images tographs that have been provided by Shipping Companies or private photographers or collectors. Credit is given to all contributors, however, there are some photographs provided to me without details regarding the photographer or owner concerned. But I have done my best to provide credit at all times.

ssMaritime is owned & © Copyright by Reuben Goossens - All Rights Reserved