Ybarra Lines M.S Cabo San Roque 1957 & the Cabo San Vicente -1959
Please Note: Firefox and some iPad's or iPhone's, etc are not suitable
Use Internet Explorer or Google for this page to load perfectly!

Click the logo above to reach the ssMaritime FrontPage for News Updates & "Ship of the Month"
With Reuben Goossens
Maritime Historian, Cruise'n'Ship Reviewer, Author & Maritime Lecturer
Please Note: All ssMaritime and other related maritime/cruise sites are 100% non-commercial and privately owned. Be assured that I am NOT associated with any shipping or cruise companies or any travel/cruise agencies or any other organisations! Although the author has been in the passenger shipping industry since 1960, although is now retired but having completed over 700 Classic Liners and Cargo-Passengers Ships features I trust these will continue to provide classic ship enthusiasts the information the are seeking, but above all a great deal of pleasure!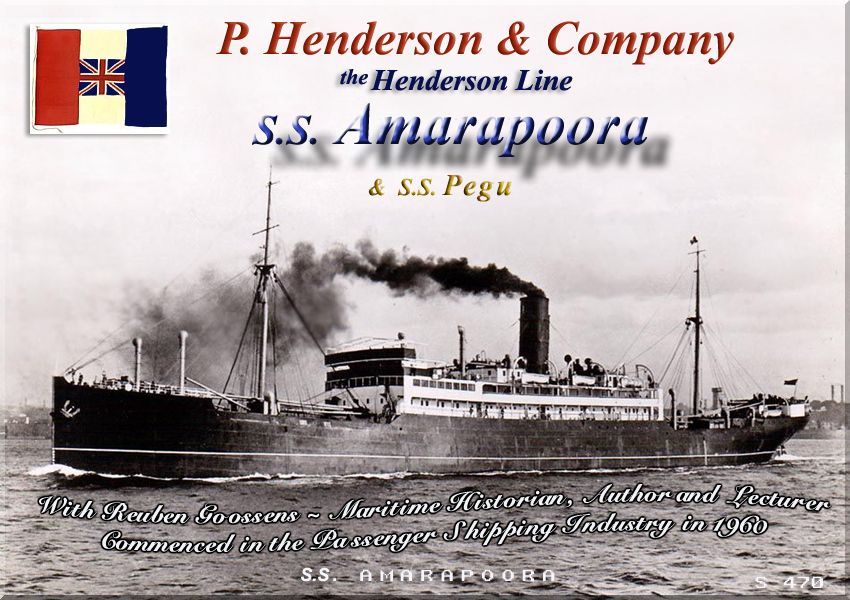 On this special feature, I will cover two ships from a company that many may well never have heard off, yet in many ways they were quite remarkable in their own way! The first is the S.S. Amarapoora (IV) completed in July 1920, and her somewhat smaller sister the S.S. Pegu (IV) completed in December 1921. However, their stories will follow this somewhat little known company's background below, which is quite comprehensive, and I hope interesting? But, you will be surprised how much you really knew about Henderson's than you realised, for she is closely associated to some very famous British shipping names!
This page is in Four Parts; Part One; Company background. Part Two; S.S. Amarapoora.
Part Three; S.S. Captain Hobson. Part Four; S.S. Pegu.
Part One
Company Background
P. Henderson & Co from 1834:
"P. Henderson & Company", which later became better known as just "the Henderson Line", was a ship owning, and/or a management company based in Glasgow, Scotland and operating to Burma (today known as Myanmar). Patrick Henderson started business in Glasgow as a merchant at the age of 25 in 1834. He had three brothers. Two of them were merchants working for an agent in the Italian port of Leghorn; and the third, George, was a sea captain with his own ship
The brothers together invested in their first ship, the Peter Senn, and the business grew from there. Sadly Patrick passed away in 1841, and the business was taken over by his brother, Captain George Henderson. In 1848 George took into partnership a young man who had great capabilities, Mr. James Galbraith who rapidly expanded the operation from being merchants, to actual ship owners as well as ship managers.
The company even commenced trading to New Zealand in 1854 operating sailing ships transporting Scottish emigrants to Dunedin in the South Island of New Zealand as well as carrying the Royal Mail.
Albion Shipping Company:
Then it came about that in 1860, there was very little cargo laden in New Zealand bound for Scotland making the voyages very costly, as cargo is a valuable income. Therefore, P. Henderson & Co commenced voyages to Burma with reasonably regular schedules. This new business thankfully became such a success it was decided to raise further capital they would seek out several suitable new partners. This occurred and it formed the "Albion Shipping Company Ltd" as the ship owners, but the ships would be managed by P. Henderson & Co.
S most ship lovers will well know, the Albion Shipping Company became the dominant British company on the New Zealand trade, and they were holders of the Royal Mail contract.
When in 1869 the Suez Canal was opened, it ensured that all ships would a more economic voyage, especially on voyages to Asia, therefore in 1870 P. Henderson & Co., commenced a steamship service from Glasgow, Liverpool to Burma. At that time there was no mail contract available on this service as all mail generally went via India.
In 1874 the British & Burmese Steam Navigation Company Ltd (BBSN) was formed to increase capital and spread the risk of the Burmese part business as it the company grew from using sailing ships to the use of more expensive and larger steamships. BBSN also took over the fleet of steamships on the Burma service, and appointed P. Henderson and Co., as managing agents. The majority of shares in the new company were taken up by P. Henderson partners and their associates. In addition, ships' masters were also encouraged to up take shares.
P. Henderson and Co., pioneered the first frozen meat shipment from New Zealand to London in 1882, using refrigerated sailing ships, because at that time there were no coal loading facilities available en route, and thus a steamship had large coal bunkers that they took up too much valuable cargo space.
Shaw, Savill & Albion Line:
Steam ships rapidly increased trading possibilities and at that time, capital requirements were unavailable to P. Henderson or the Albion Shipping Company to fulfil on their own, therefore in 1882, the Albion Shipping Company amalgamated with Shaw, Savill & Co., to form the Shaw, Savill and Albion Company Ltd. After the amalgamation, P. Henderson & Co., continued as managers and loading brokers for the newly created company in Glasgow. The British and Burmese Steam Navigation Company Ltd remained as a ship owning company along with another member of the group, the Burmah Steam Ship Company Ltd.
James Galbraith who had been the driving force of P. Henderson & Co., sadly passed away in 1884, and his death marked the end of an era of private capital, of pioneering and of expansion into countries that were once unknown, and technologies.
P Henderson Losses:
In 1905 the P. Henderson cargo ship the SS Ava sadly ran aground and she was totally wrecked some 9 nautical miles or 17 km from Maulmain, Burma. Henderson's managed to replace her with a new SS Ava, which was built two years later, but sadly her career was also cut short, for during WW1, she tragically disappeared during January 1917 with the loss of all 92 persons aboard. Amazingly there is not any information available!
In that very same year P Henderson lost another ship to enemy action. This was the 1913 built, 6,348 GRT passenger-cargo liner the SS Pegu (3) which was on a voyage from Rangoon to Liverpool, but on July 8, 1917 U-boat SM U-57 torpedoed the SS Pegu off Galley Head, Ireland. But on this occasion thankfully, all but one of those aboard survived. Then, just after the Armistice with Germany, P Henderson lost another ship on December 19, 1918 being the passenger-cargo ship SS Tenasserim (3), which was destroyed by fire in Rangoon.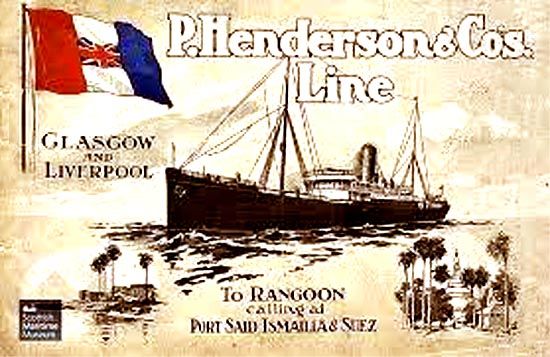 A P. Henderson line poster from around 1919
However, during the 1920s & 30s P. Henderson commenced to build a number of new ships, including the SS Pegu (IV) being a sister ship of the Amarapoora (IV) I will covered towards the end of this page.
PS: Sadly P. Henderson suffered far greater losses during the WW2 and they lost five passenger-cargo liners as well as three cargo ships with tragic loses of life, but also some miraculous survivals!
Elder, Dempster Lines:
In 1947 Elder, Dempster Lines decided to charter the P. Henderson's fleet, but five years later in 1952, Elder, Dempster decided to take over the company and continue a complete modernisation of the Henderson fleet, constructing new motor ships, which continued until 1961.
It was in 1965 that "Ocean Steamship Company" acquired control of the Elder, Dempster group. But then in 1967 the Six Day War erupted and Egypt closed the Suez Canal. The Ocean SS Co was forced, and at that time fuel costs were sky high, thus they decided to discontinue their Burma serves, and they transferred Henderson's final three ships back to Elder, Dempster. By 1970 all stock had been moved to Elder, Dempster's name, and sadly for the very first time since 1834 the "Henderson" name had vanished from shipping register.
Part Two
S.S. Amarapoora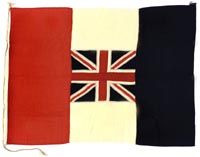 This is the "P. Henderson & Company" House Flag
Construction & Specifications:
The S.S. Amarapoora was built at a cost of £406,960 by William Denny & Sons, Ltd, Dumbarton in Yard N° 1062, for the Scottish P. Henderson & Company of Glasgow, but later the company became better known as "the Henderson Line". Her keel was laid down in early in 1919, but then on April 20, 1920 she was named "Amarapoora" and launched and taken to her fit-out berth.
The 8.084 GRT (Gross Registered Ton) S.S. Amarapoora had a length of almost 142 meters and her width was just over 18 meters. And she had a service speed of 13 knots. Her livery was as follows; her hull was painted Black and her Boot Topping being Maroon having a narrow white dividing line, and a white superstructure and topped with a tall slightly tilted black funnel. Her two tall Masts, Derricks and Ventilators and Masts were painted aluminium Grey. Being a typical Passenger-Cargo Liners, she had seven holds with space for 525,340 cubic feet of cargo. Her power plant contained; triple cylinder expansion steam engines constructed by the builder. However, her boilers were able to burn either oil or coal, but in 1929 she was converted to use pulverised pellets being an experiment on behalf of "Yarrows Ltd", but soon she reverted to coal as these pellet tests proved to be unsuccessful.
Accommodations & Maiden Voyage:
The S.S. Amarapoora provided all First Class accommodations for 146 passengers, with the ship having a crew of 142. On Promenade Deck was her Main Lounge, Smoking Room, a Library and writing Room, with the Veranda far aft. Amidships were the best of the accommodations, with the rest, as well as the Dinning Room, being one deck down on Shelter Deck being one deck down.
When her fit out was completed in July 1920 she undertook her speed trails and achieved a good 14 knots. She was then delivered to her owners. And she commenced her maiden voyage from Liverpool to Burma and return.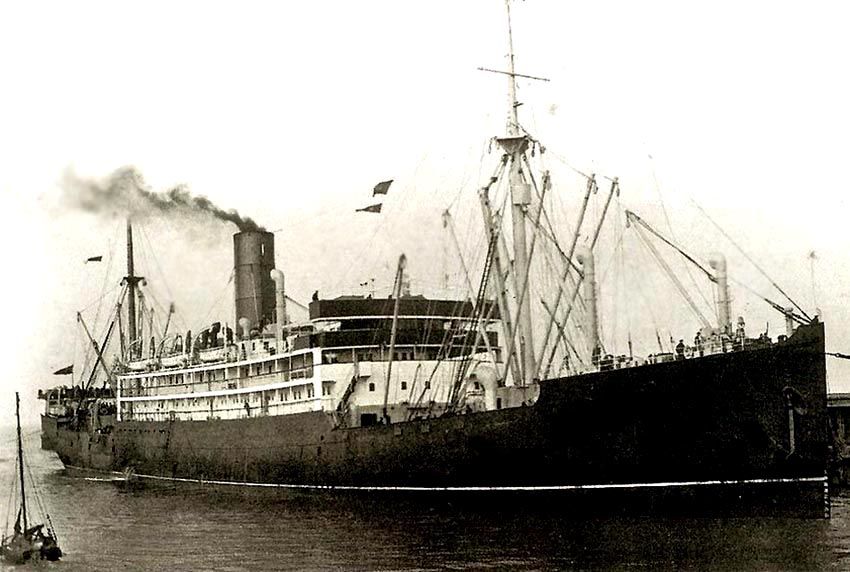 Here we see the S.S. Amarapoora as built, berthed later in the 1920s
The S.S. Amarapoora and her sister the S.S. Pegu, which were built much at the same time, but due to delays the Pegu was delivered towards the end of 1921, were built especially to serve on the Liverpool to Rangoon run.
Refitting the Amarapoora & the Pegu:
In 1935 the Amarapoora was given a considerable refit, which saw the promenade Deck forward section glazed in and her passenger accommodation was reduced to just 124 First Class, but offering more single and twin bedded cabins. In addition her public rooms also received extensive refurbishments, and she came out of this refurbishment a better ship! Around that same time the S.S. Pegu also received a similar refit. Upon completion, a massive advertising campaign commenced, as the three images below will attest to!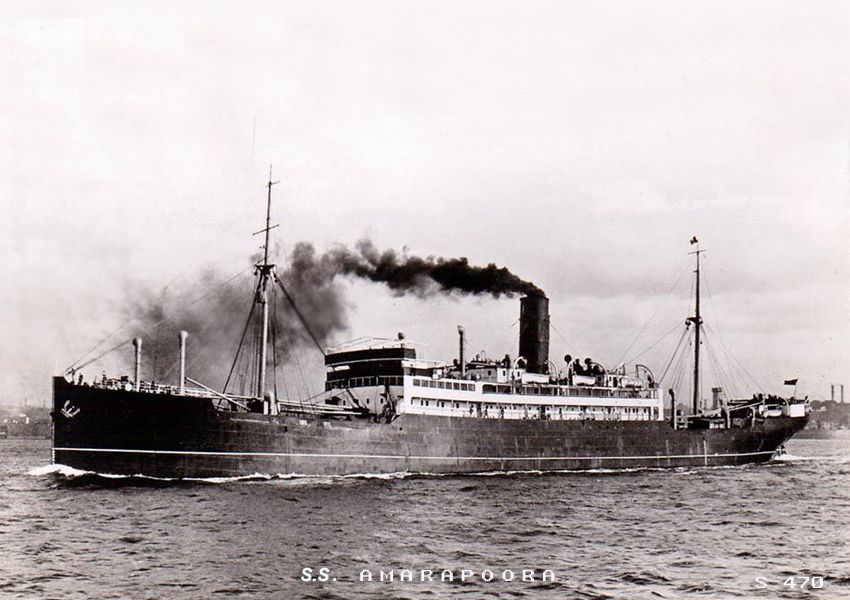 A postcard of the S.S. Amarapoora after her refit, revealing her newly partially glazed in promenade Deck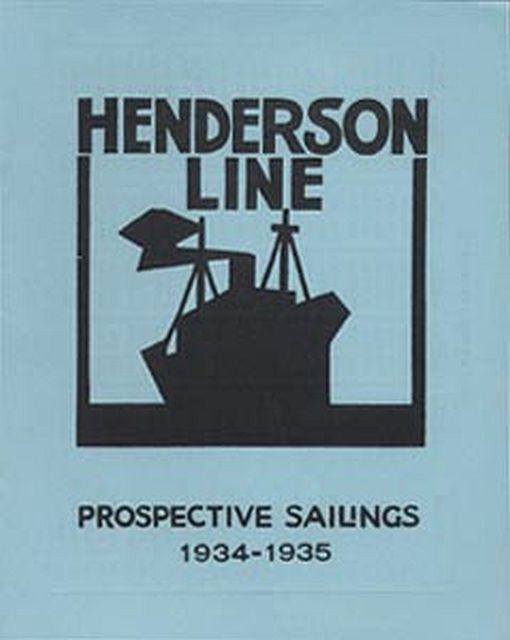 The above schedule reveals that both the S.S. Amarapoora and the S.S. Pegu sailed on the following schedule: Liverpool, Gibraltar, Marseilles, Port Said, Port Sudan, Rangoon, whilst on their return voyages they also called at London and then to Liverpool.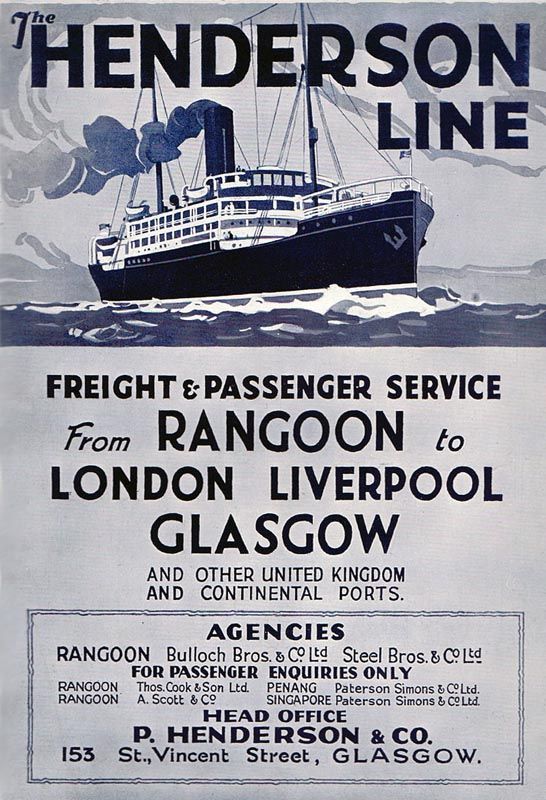 A promotions Agency poster for the Henderson Line
HMHS Amarapoora:
In 1939 preparation for WW II the Royal Navy requisitioned the S.S. Amarapoora and converted her into a hospital ship, which also saw her aft lower superstructure being extended aft. She then became the HMHS Amarapoora, and was equipped with 503 beds, with a medical staff of 103 persons, and a crew of 121.
She became the base hospital ship off St. Margaret's Hope & Scarpa Flow, both located off the Orkney Islands (Scotland). But in April 1940 she took part in the evacuation from Norway, transporting some 3,063 patients.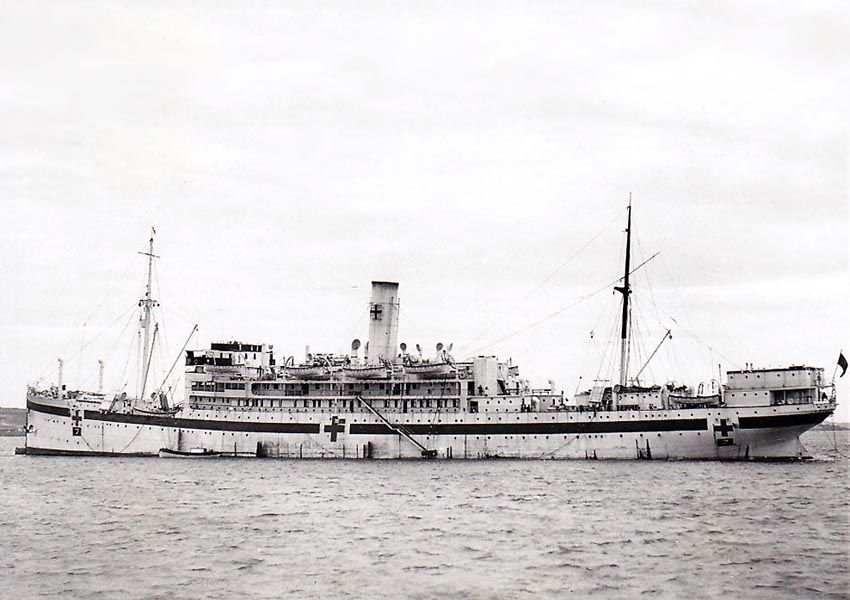 HMHS Amarapoora is seen here at Scarpa Flow
Photograph is courtesy - IWM 368
Then in October 1942 she was involved in "Operation Torch," carrying many wounded from North Africa to the United Kingdom. In addition, she was present at the Salerno landings in September 1943, and she was one of the three hospital ships attacked from the air, which had her having to resulting in her withdraw to Bizerta.
Then she was sent back to the Clyde, in November 1943, where she received another refit, in addition she was fitted with air conditioning, as well as an additional 100 beds, after which she returned to service.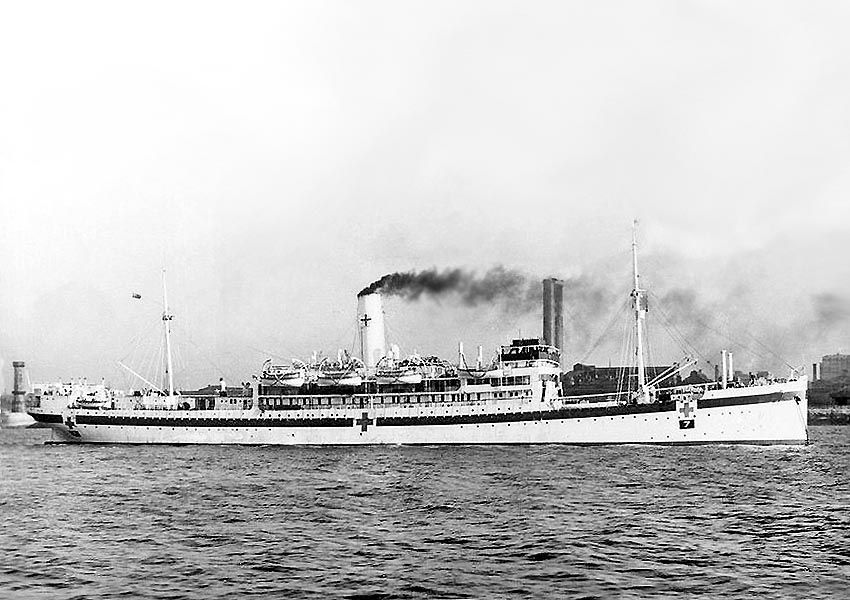 HMHS Amarapoora is seen here after her 1943 refit
In August 1946 she was officially paid off by the Royal Navy, but she was taken over and owned by the "Ministry of Transport" (London), in order to transport French nationals from Saigon to Toulon, Dutch from Indonesia to the Netherlands and pilgrims from the Levant to Jeddah. In addition, she also repatriated German prisoners of war as well as their wounded. Her hospital ship role concluded in 1948.
S.S. Amarapoora Refugee ship:
In 1948 she was sent to the Clyde shipyards were all her wartime hospital fittings were removed and she was now converted into an austere ship suitable to transport up to 650 displaced persons, as the ship had been chartered by the "International Refugee Organisation" (IRO).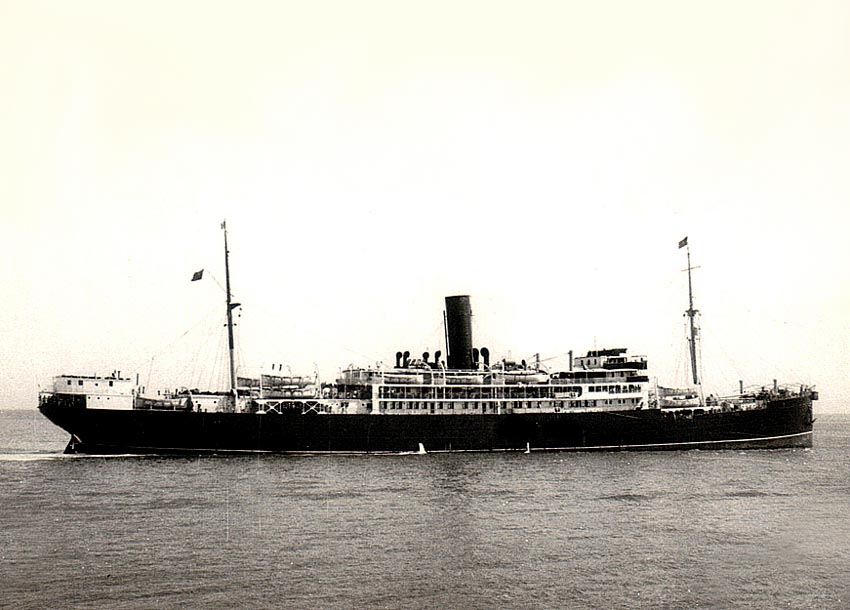 S.S. Amarapoora is looking her old self, but her accommodations were now very humble
S.S. Amarapoora departed Naples on March 19, 1949 with 617 displaced persons on board. Many of these were from Germany and Eastern Europe, most had been awaiting their departure in the "Bagnoli Camp" in Italy and they were happy to be finally on their way to Fremantle in Western Australia (WA). They arrived at Fremantle (port for the capital City of WA, Perth) on April 19, 1949, and 491 adults and 125 children disembarked and commenced their new lives in Australia. Her next call to Fremantle was on July 22, of that year, having departed Europe late June.
Then she departed Genoa on August 1, 1950 for her second voyage to Australia, and she continued to make a number of further voyages when she also visited Sydney on October 20, 1949, and Newcastle on April 24, 1950.
The S.S. Amarapoora departed Genoa for her final voyage to Australia on August 1, 1950 with 634 refugees on board, she arrived at Newcastle on September 15.
Time for a Change:
When the IRO charter concluded, the Ministry of Transport offered this fine 32 year old girl to the New Zealand Government for migrant duties.
Part Three
S.S. Captain Hobson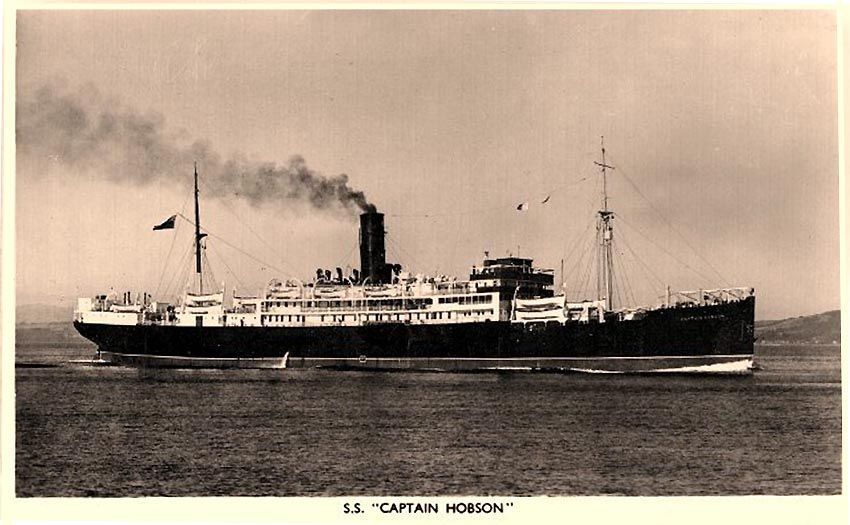 An early release of a S.S. Captain Hobson postcard
Refitted for a New Life:
In 1951 the renamed S.S. Captain Hobson headed to Alex Stephens Sons in Glasgow, in 1952, where she would be refitted to become an assisted Passage scheme migrant liner sailing from the U.K. to Wellington New Zealand. Her public venues were updated, with basic accommodations installed for 584 passengers. Her Gross Registered Tonnages was upon completion 9.306 GRT.
Interior Photographs:
Below are two photographs of the ships Lounges. These postcards were kindly provided by Johan van Omeren from Wanganui NZ. He told me that his Mother in Law's family had sailed on the Captain Hobson from Glasgow in 1957. But they had to travel being all pre-arranged from Holland to the ship in Glasgow. Apparently they had quite enjoyed their "first ever big ship experience, even though they said that her accommodations were not very glamorous", but they did tell the family, "It was certainly great value for the money we had paid!" Thank you Johan for the story and the postcards!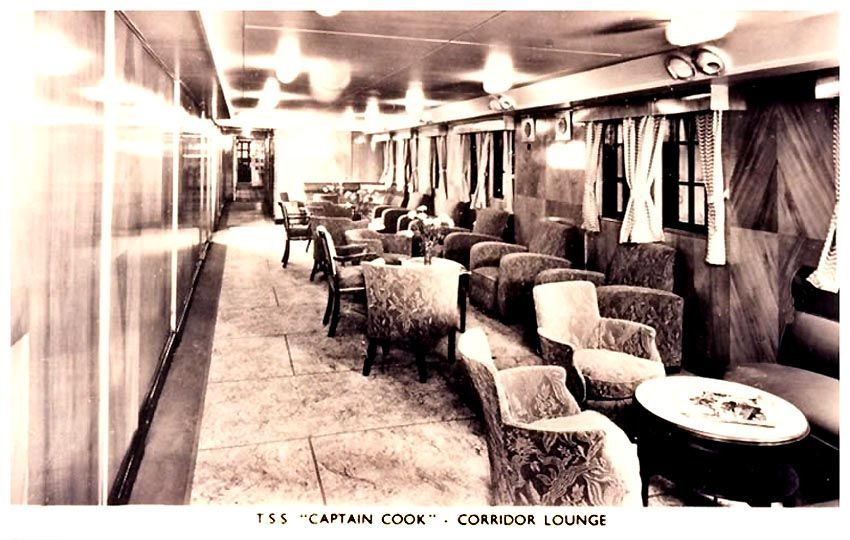 Here we see the refurbished "Corridor Lounge"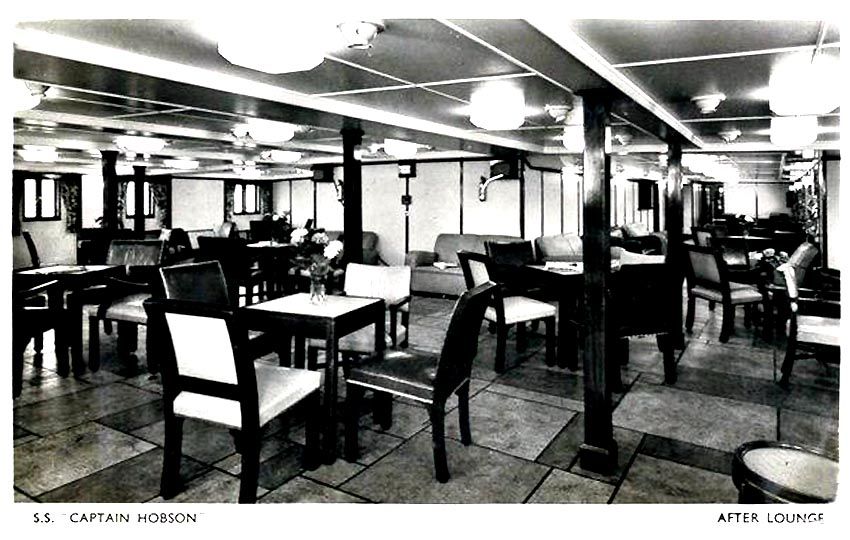 And this is a more traditional looking After Lounge
Upon completion she was officially renamed S.S. Captain Hobson S.S. Captain Hobson, and registered as having a tonnage of 9.306 GRT, but as in all her previous years, she remained registered n Glasgow. The ex Amarapoora was of course owned by the "Ministry of Transport" (London), however after all these years, she remained managed and crewed by Henderson's.
Maiden Voyage and her Story to her End Days:
S.S. Captain Hobson departed Glasgow on her very first voyage on July 15, 1952 heading across the Atlantic, transiting the Panama Canal, with stops for bunkering, then via Tahiti to Wellington New Zealand, arriving on August 31.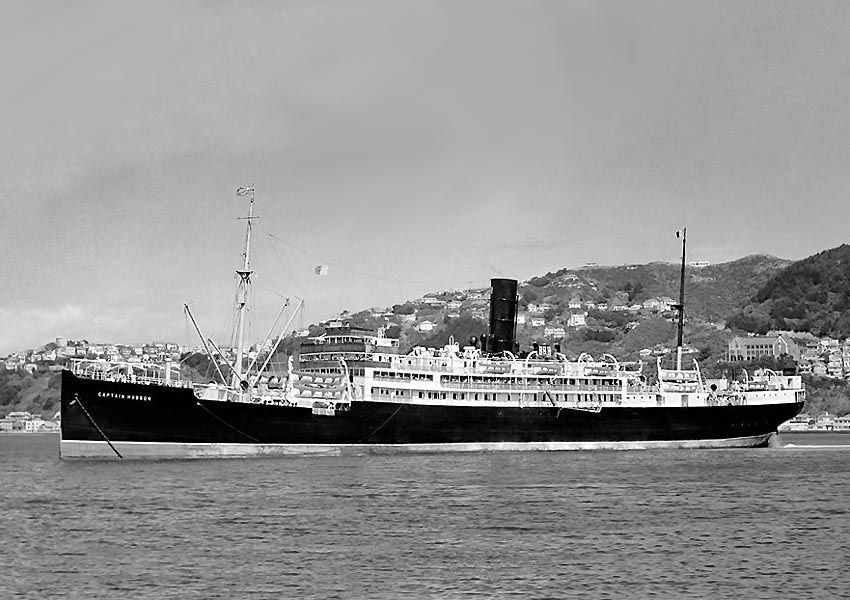 A brand new looking liner, the S.S. Captain Hobson seen in Wellington Harbour

She continued her Glasgow to Wellington service, until when she was in Wellington in August 1953 she was requested to divert and sail from Wellington to Hong Kong, where should collect British troops, taking them home. During the next two years she would repeat this special Hong Kong/Asian Trooper service. However, in July 1955 the Captain Hobson reverted to usual Glasgow to New Zealand service once again, but just over a year later, in August 1956 she was called upon by the Ministry of Transport to return to trooping duties due to the Suez crisis.

Four months later in December of 1956, the S.S. Captain Hobson returned to her New Zealand Migrant duties, and all was well and fine. But this was not going to last for trouble lay ahead for this fine Lady of the Sea!

The S.S. Captain Hobson departed Glasgow in April 1957, on board she 590 migrants bound for Wellington. The voyage went well, however on June 12, just two days out from arrival in Wellington (or 570 miles out in the Pacific); the ship was suddenly disabled when her high pressure cylinder of her Main Engine simply fractured! Thankfully the Port Line cargo ship the Port Macquarie happened to be close by, and she came straightaway to assist. A line was connected, and the Captain Hobson was taken in tow, being taken not to Wellington, but Auckland being the Port Line ships destination, arriving on June 18, 1957.

In Auckland, only temporary repairs could be made, and she slowly limped home to the UK. A new cylinder was fitted, and soon the S.S. Captain Hobson returned to her regular duties.

Then came the time for SS Captain Hobson's twelfth, but sadly also her final voyage to New Zealand. She was officially scheduled to depart Glasgow on May 16, 1958, however she did not leave until around May 28.

Whilst crossing the Atlantic she encountered engine trouble, although thankfully she was not far from Curacao and SS Captain Hobson somehow managed to limp into Willemstad Curacao where repairs were undertaken which took around 10 days. Upon completion she continued to Wellington sailing via Panama, Pitcairn Island, with the Captain Hobson arriving in Wellington early in July 1958.

For her passengers the extended voyage became more like an extended vacation, although as the voyage continued the majority of the migrants aboard where getting very low on funds and they were more than glad to arrive at their destination - Wellington.

Please Note: I wish to thank

Terry Maynard for information of Captain Hobson's final voyage to New Zealand.

After all her passengers had disembarked in Wellington, sadly the Captain Hobson was placed on the market, and she was briefly laid up in Wellington and placed on the market. It was soon realised that there was no interest in the 38 year old liner, therefore, with there being no buyers in the southern hemisphere she was moved to Bombay and was again laid up awaiting to be sold.

SS Captain Hobson was sold In December 1958 to P.D. Marchessini & Company Ltd., however they rapidly resold her to Okushogi & Company of Osaka, being Japanese ship breakers. The S.S. Captain Hobson headed for Osaka in March 1959 where she was duly broken up aged a remarkable 39 years having been a Grand Old Lady of the Sea!

Specifications 1. S.S. Amarapoora 1920 & 2. S.S. Captain Hobson:

Owners:                1. Burmah S.S. Co. Ltd., & P. Henderson & Co., Glasgow.

.                          British & Burmese S.N. Co., 1935.

Owners:                Ministry of Transport (London) 1946 - 1951

.                          2. New Zealand Government 1951 -1958.

Managed by:          P. Henderson & Co, from 1920 to 1958.

************************

Built By:               1. William Denny & Bros, Dumbarton.

Yard N°:                1062.

IMO N°:                144211.

Launched:             April 20, 1920.

Completed:            July 1920.

Tonnage:              1. 8.084 GRT. 5.045 NRT.

.                          2. 9.306 GRT.

Engines:               Triple cylinder expansion steam engines 550 NHP, by the builder.

Propellers:             Single.

Speed:                  13 knots service speed - 14 knots maximum.

Length:                 465.8 ft - 141.97 m.

Width:                  59.3 ft - 18.07 m.

Draught:               30.5 ft - 9.1 m.

Passengers:           1. 146 as built.

.                          1. 124 after refit 1935.

.                          1. 617 post war 1948.

.                          2. 584 - 1952.

Crew:                   142 to 160.

Cargo:                  7 Holds with 525,340 cubic feet of cargo space.

Broken Up:            2. Osaka Japan in 1959.

   

************************
Part Four
S.S. Pegu IV.
In the 1920s the Burmese S.S. Co. Ltd., and P. Henderson & Co., had a number of new ships built, including the S.S. Amarapoora, which was completed in 1920, but at the same time they also built the fourth ship to be named the S.S. Pegu, which was completed in 1921.
S.S. Amarapoora's sister was built also built by William Denny & Bros, Dumbarton in Yard N° 1140, and she was named "Pegu" and launched on December 14, 1920 for the Burmese Steamship Co. Ltd, and was managed by the "P. Henderson Co."
Like her sister the 8,084 GRT S.S. Pegu IV also had one funnel, two masts, a single screw and had a speed of 13 knots. She accommodated 150 First Class passengers in a one class configuration. Hr specifications in general are almost the same as her sisters, jus very minor differences;
Her length was 466 ft - 142 m, her width being 59.3 ft - 18.07 m, and her draught was 30.5 ft - 9.1 m. Her IMO N° was 144260.
However, having been taken to her fit-out berth a big problem ensued, as a joiners strike broke out and it seemed that it was going to continue for a very long time. It was for that reason she was sent to Le Havre where she would be completed, and thus she was delivered late, in fact, she was not completed until December 24. 1921 being a massive 16 months late!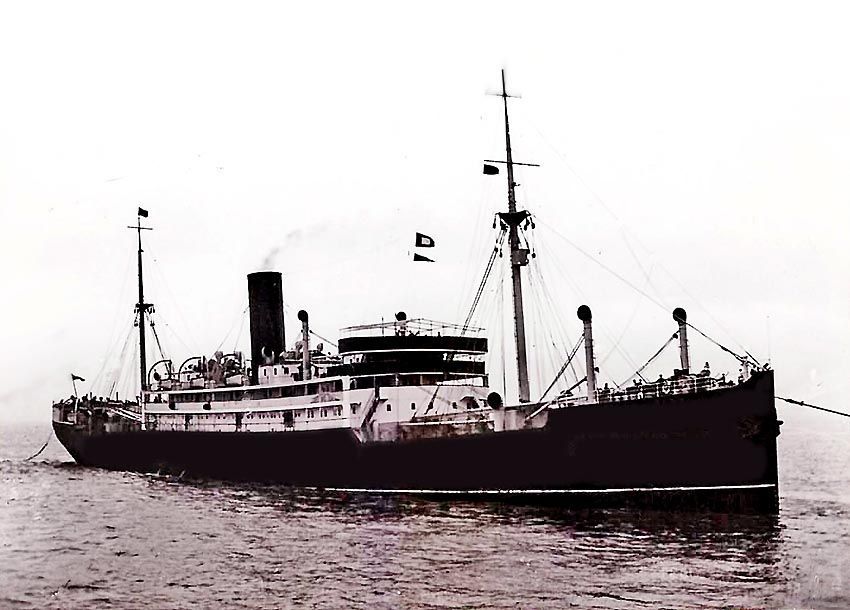 S.S. Pegu IV is seen here in her early days departing under tow and the aft tow line has just been dropped
SS Pegu, like her sister, was used on the Glasgow, Liverpool, and Birkenhead to Burma service. But in 1927 she was used as a pilgrim ship on the Rangoon to Jeddah service.
Just like her sister, in 1935 SS Pegu received a refit and she had her lounges refitted as well as her passenger capacity reduced to just 124. In that same year, the company was renamed the "British & Burmese SN Co Ltd."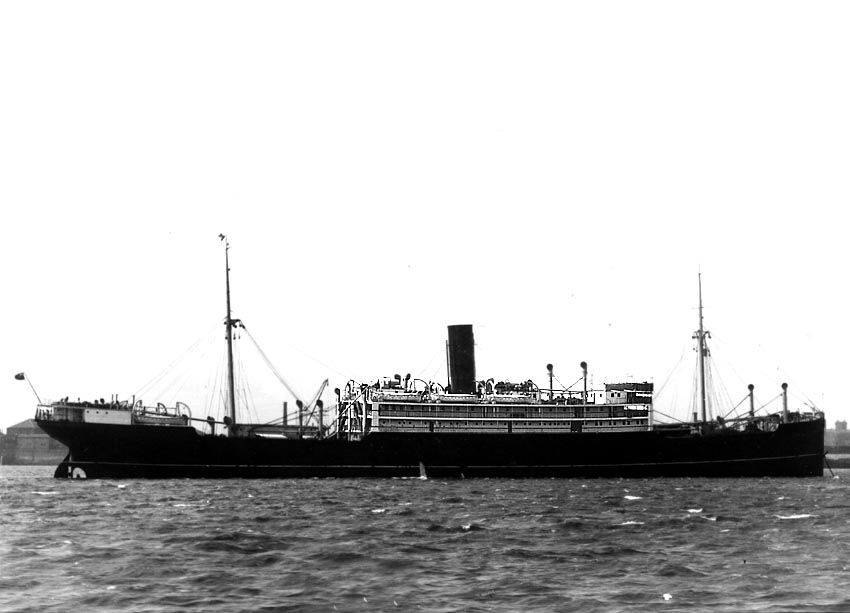 A fine view of the S.S. Pegu, seen after her 1935 refit

But sadly in 1939 tragedy struck this fine ship, for on December 24, 1939 whilst she was en-route from the Clyde to Rangoon carrying general cargo, she had her buoy lights extinguished as a wartime measure, and suddenly she was grounded near "Beta Buoy". She was refloated on December 26, but then, sadly she struck the revetment wall and she broke in two. The stern section broke away and it listed separately and sunk, whilst a section of the bow remains visible to this day. Due to being declared a complete loss all salvage was obviously abandoned.

************************

"Blue Water Liners sailing to the distant shores.
I watched them come, I watched them go, and I watched them die."

************************

ENTER OUR ssMaritime MAIN INDEX

Featuring over 1,084 Classic Passenger Liners, Passenger-Cargo Liners & Cruise Ships!

ssMaritime.com & ssMaritime.net

Where the ships of the past make history & the 1914 built MV Doulos Story

Photographs on ssmaritime and associate pages are by the author or from the author's private collection. In addition there are some images that have been provided by Shipping Companies and private photographers or collectors. Credit is given to all contributors. However, there are some photographs provided to me without details regarding the photographer/owner concerned. I hereby invite if owners of these images would be so kind to make them-selves known to me (my email address may only be found on www.ssmaritime.com), in order that due credit may be given.

This notice covers all pages, although, and I have done my best to ensure that all photographs are duly credited and that this notice is displaced on each page, that is, when a page is updated!

ssMaritime

is owned & © Copyright by Reuben Goossens - All Rights Reserved