S.S.  America 1940 - 1967 Photo Page
Please Note: Firefox, iPhones, iPads & some other Search Engines may not be suitable
Use Internet Explorer & Google for this Web Page to load perfectly!
Click the logo above to reach the ssMaritime FrontPage for Ships of the Month & News Updates
With Reuben Goossens
Maritime Historian, Cruise'n'Ship Reviewer, Author & Lecturer
Please Note: All ssmaritime as well as my other related maritime & cruise sites are 100% non-commercial and privately owned sites. Be assured that I am NOT associated with any shipping or cruise companies or agencies or any other organisations! The author has been in the passenger shipping industry since May 1960, but although retired and unwell, I occasionally attempt to write an article now and then, in order to bring enjoyment and pleasure to ship enthusiasts past passengers and crew.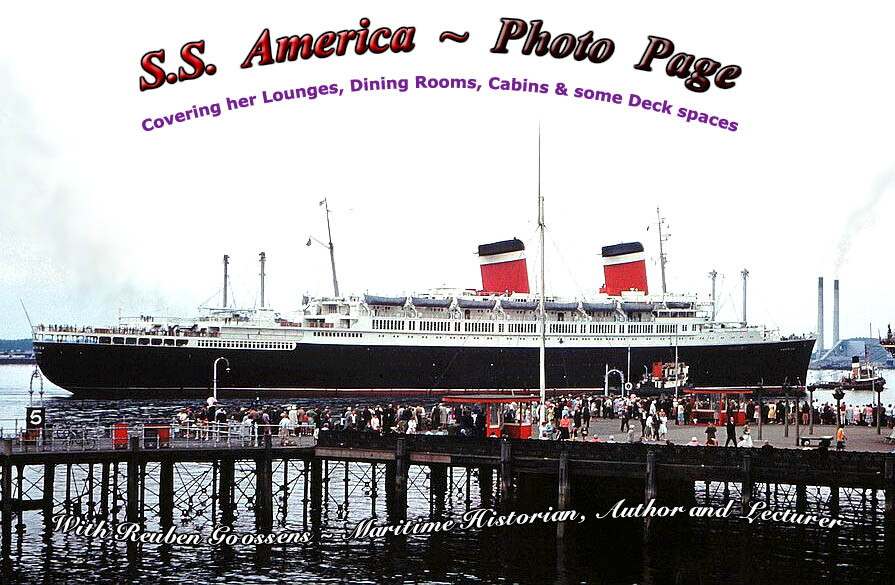 SS America ~ Page Two
This page will cover most of this great Liner's interiors as well as a few of her outdoor spaces, although they are far and few between, thanks to the poor overall weather conditions of the Atlantic. But, during the summer there were reasonable days, for those who lived in the Northern more cooler climates and then there were certainly opportunities to head out as the S.S. America did have some of the most spacious open decks available for sun baking and sports, etc! If you will view Page Three that has her full Deck Plan, you can see this!
I shall be showing the photographs in her three classes, and these are: 1940 Cabin Class Tourist Class and Third Class, then in 1946 that became First Class, Cabin Class and Tourist Class. Finally in 1960 she became a two class ship and it was just, First Class and Tourist Class.
However, all the above does seem most confusing, thus on this page I will use the 1946 Trans-Atlantic designation, which she in reality designed for. Thus, the classes on this page are as follows … First Class, Cabin Class and Tourist Class. I feel that this will simplify things!
Although there is a good range of photographs on this page however, should you have any Images to contribute to honour this wonderful liner, please contact me at rg@ssmaritime.com.  Please Note, I do not have passenger or crew lists available, just an image of one single cover, thus please be so kind and do not ask me anything regarding passenger lists, for those emails will be deleted. Sorry, but I am in principle retired and this is a private non commercial maritime site to bring joy to millions of my readers!
Reuben Goossens.
Maritime Historian, Author & Lecturer & Cruise'n'Ship Reviewer.
Working & Involved for almost 60 years in the Passenger Shipping Industry.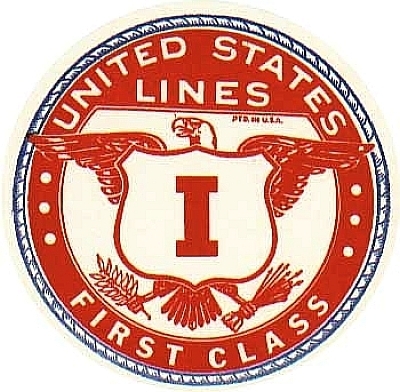 A traditional First Class label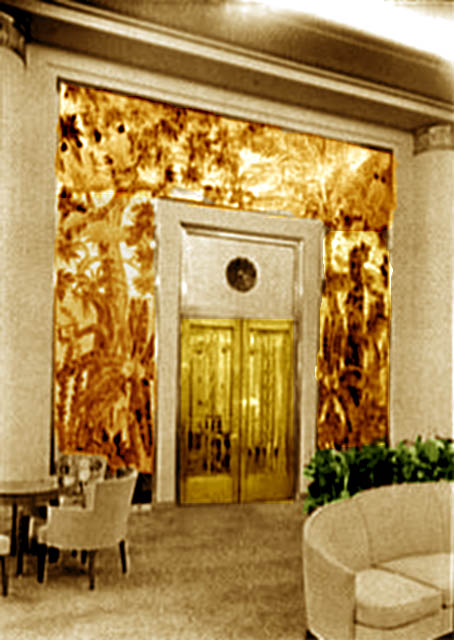 Above & below: A series of views of the elegant Cabin/First Class Main Lounge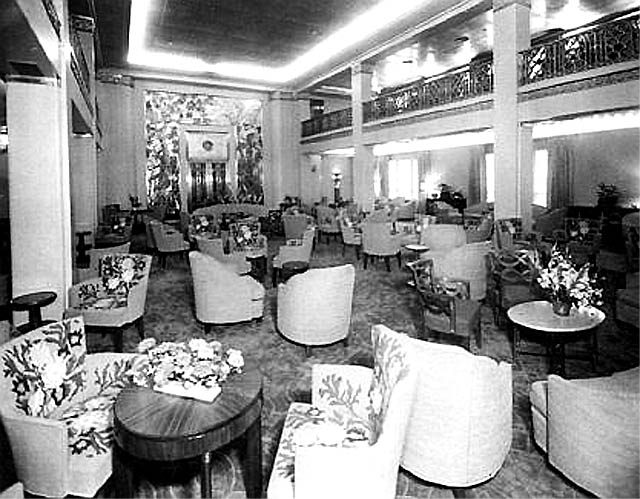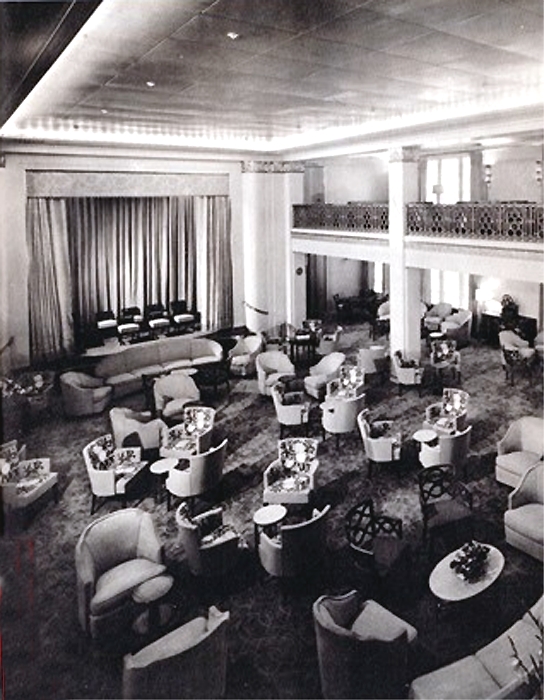 Looking towards the aft stage and band stand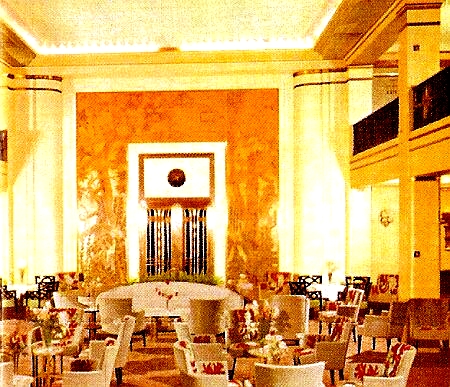 Another look at the forward doors and the surrounding mural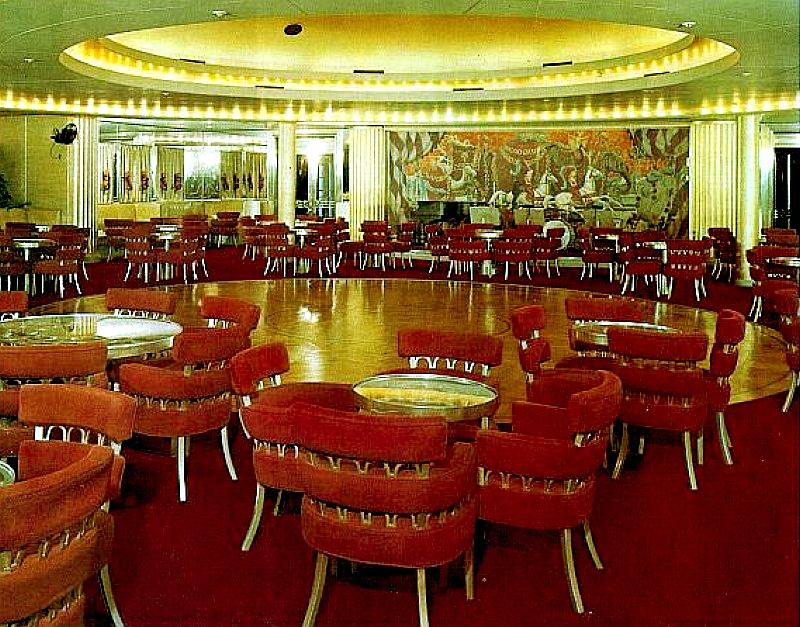 The rich gold and red Cabin/First Class Ballroom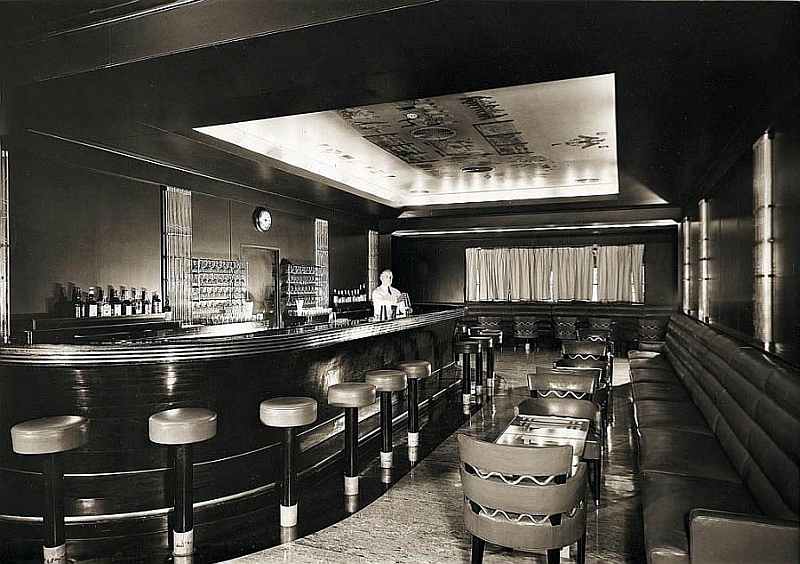 This Bar was in all rich leather and had a beautiful art ceiling centre piece, and was an elegant room!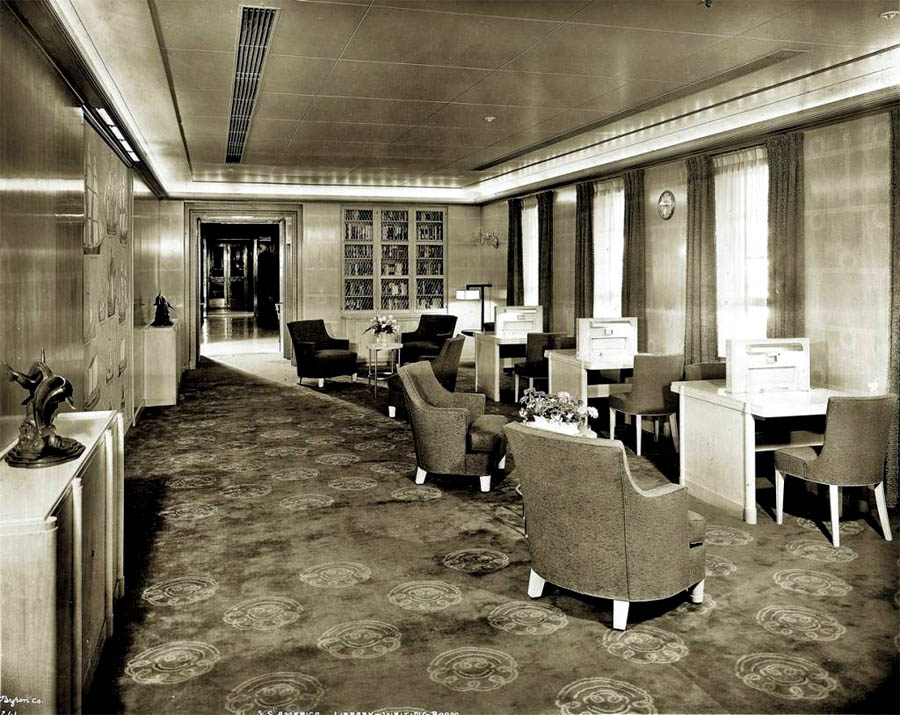 The Cabin/First Class Library, Reading and Writing Room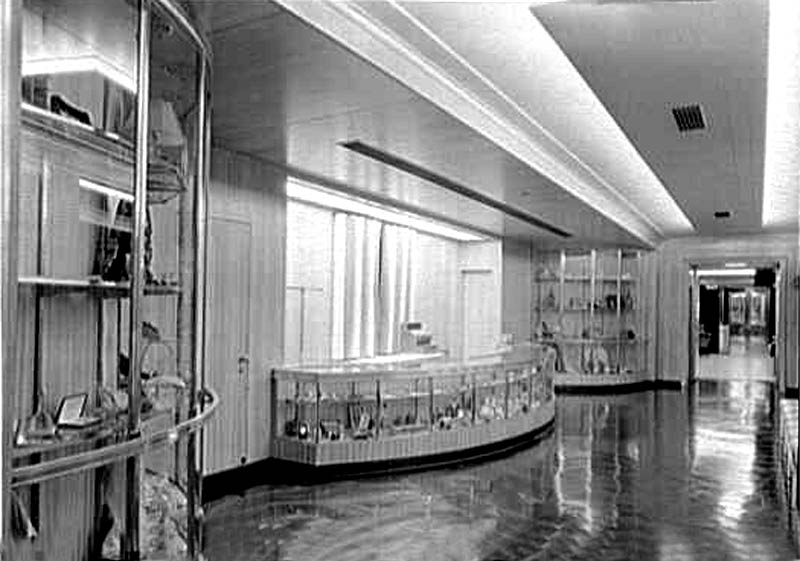 The Cabin/First Class Shop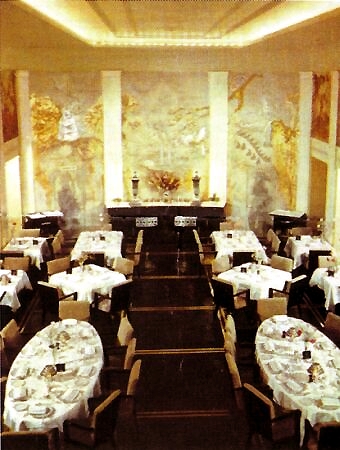 Above & below: the sublime Cabin/First Class Restaurant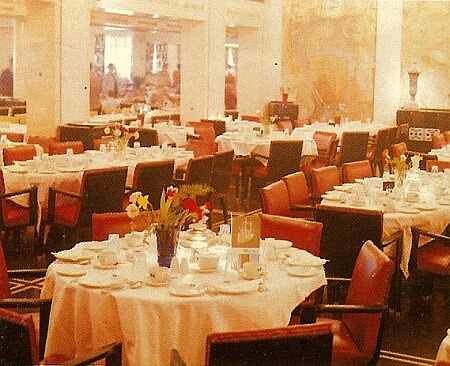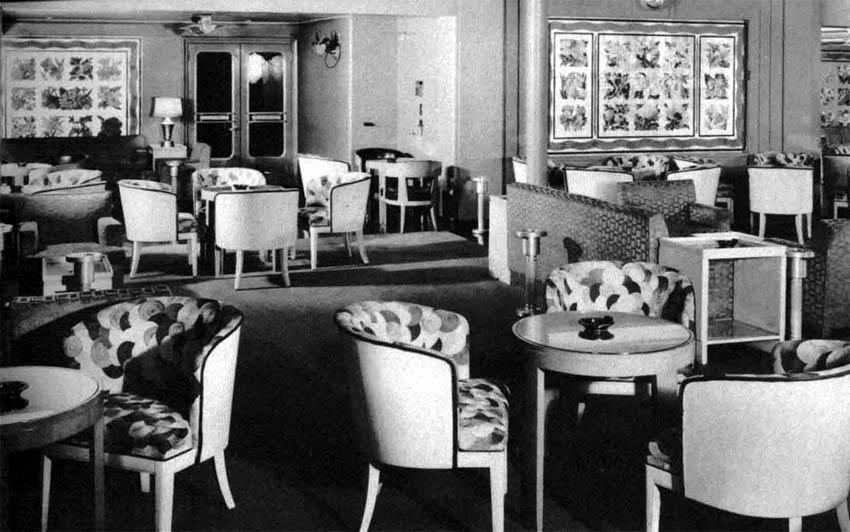 SS-America-Tourist-Main-Lounge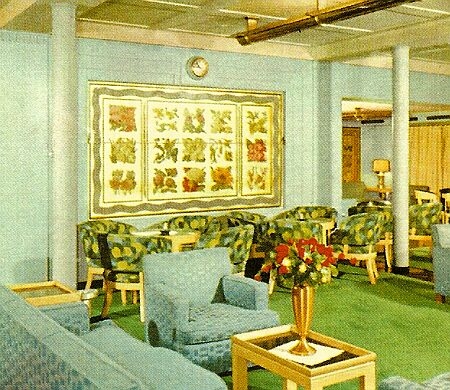 Above & below: Here we see avery comfortable, elegant, yet a colourful Cabin Class Main Lounge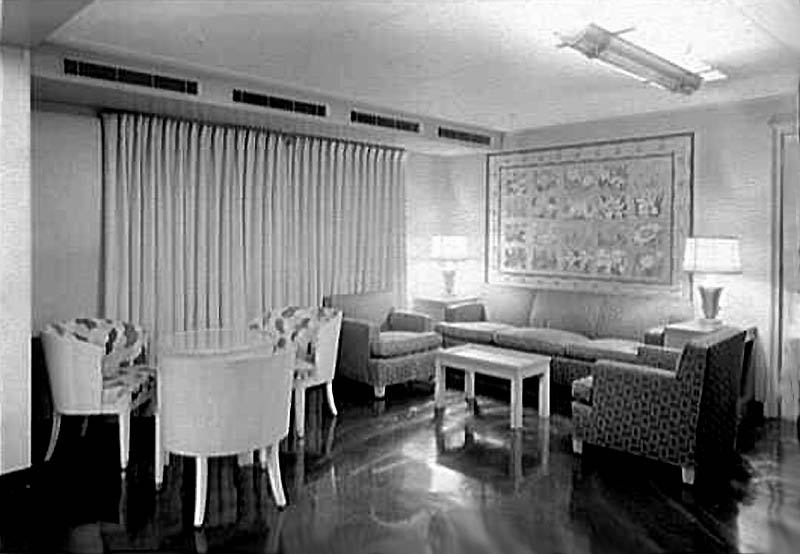 A corner of a Tourist Class Lounge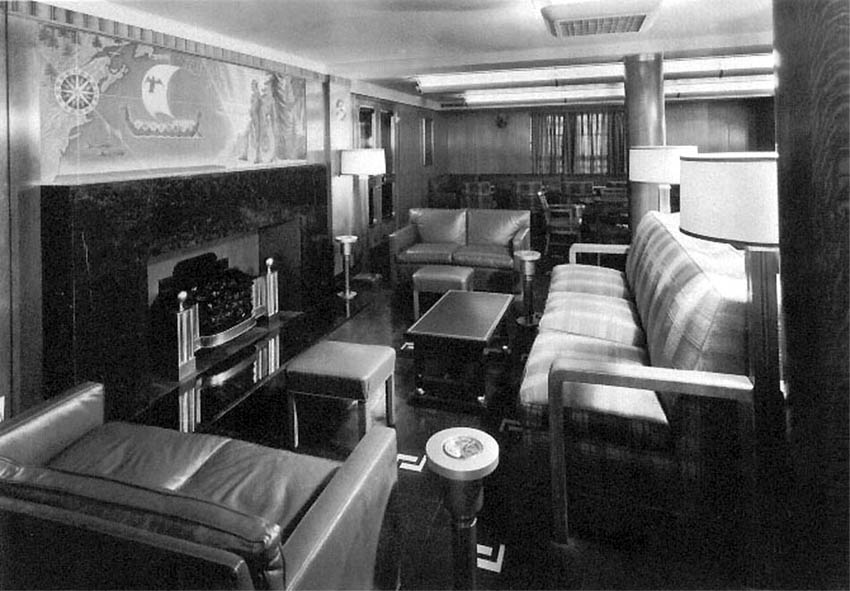 Above we see the superb Smoking Room and below the bar section of the room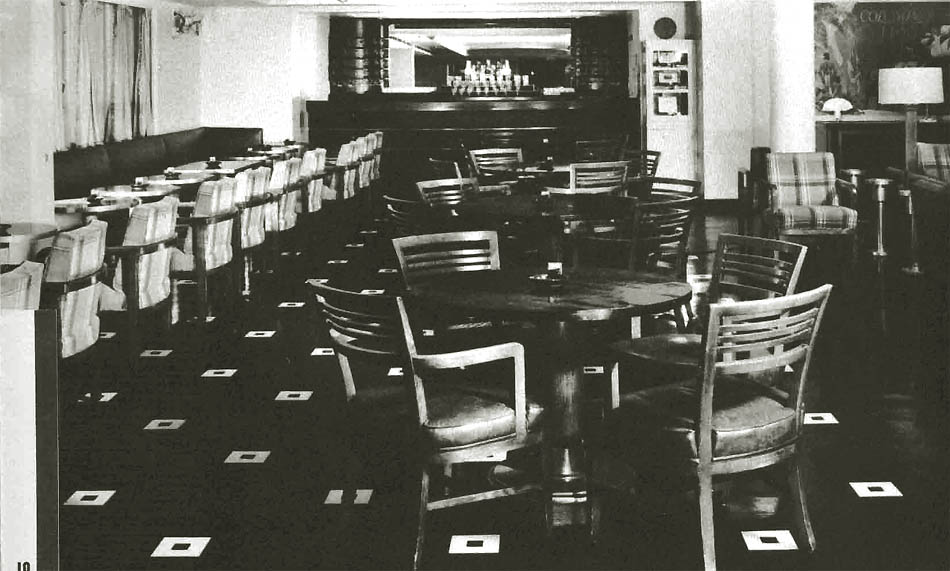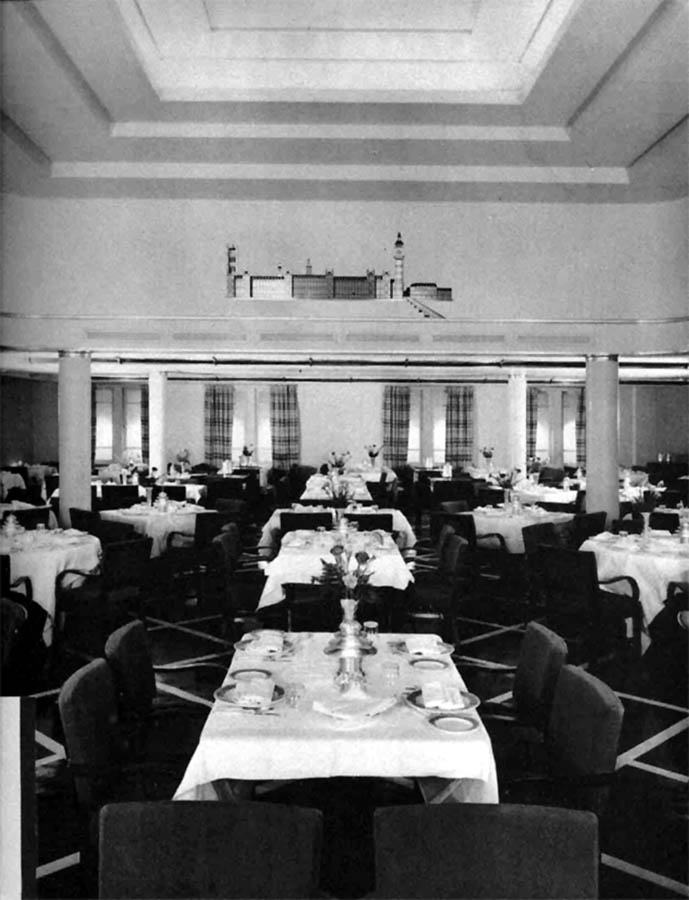 Above & further below: The Tourist/Cabin Class Dining Room
As the Promo stated … "In this beautiful air-conditioned Dinning Room you will satisfy the hearty appetite that brisk sea air and your daily activities will stimulate. The cheerful environment makes every meal a pleasurable event - Immaculate white linen, gleaming china, glistening silver, fresh flowers and soft indirect lighting.
Elaborate menus afford a wide choice of appetizing foods of the lighting. Elaborate menus afford a wide choice of appetizing foods of the highest quality expertly prepared by skilled chefs and served by trained stewards. Special menus are available for children. Tables are of varied sizes to accommodate large or small groups." From an US Lines brochure.
Some of the delights on offer on the Cabin Class Gala Dinner was as follows:
Beluga Malossol Caviar, Canape or Smoked Irish Salmon.
Roast Maryland Turkey, Chestnut Stuffing, Giblet Gravy, Cranberry Jelly.
Baked Sugar-cured Yorkshire Ham, Pineapple Sauce.
Prime Cut Sirloin Steaks, Mushrooms Sauce.
Clara Barton Salad, Special Dressing.
Strawberry Sundae, Petits Fours.
Tunis dates, fresh Fruit basket Cheese and toasted crackers Demi Tasse.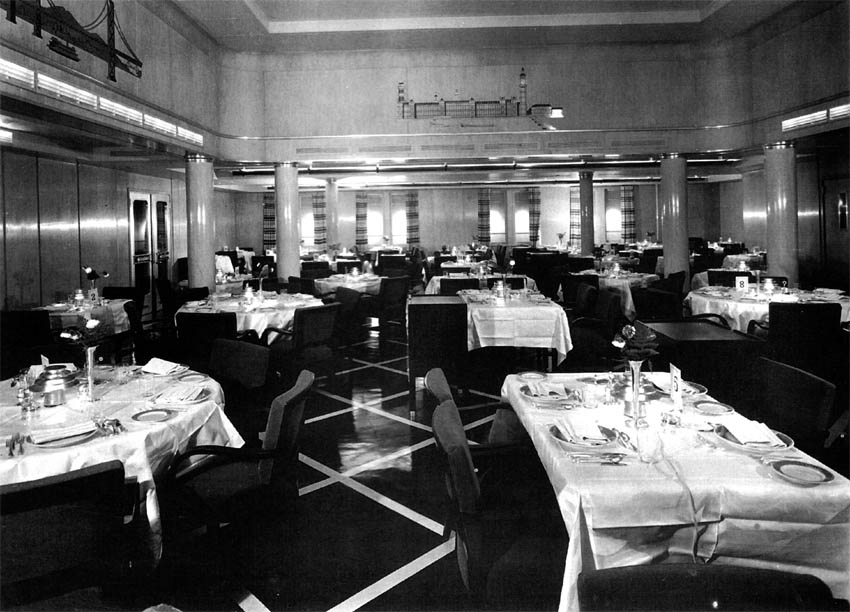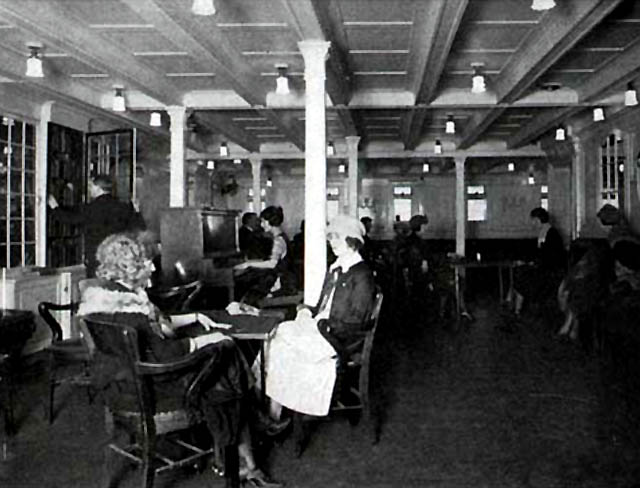 Above & below: The Third Class Lounge and the Third Class Dining Room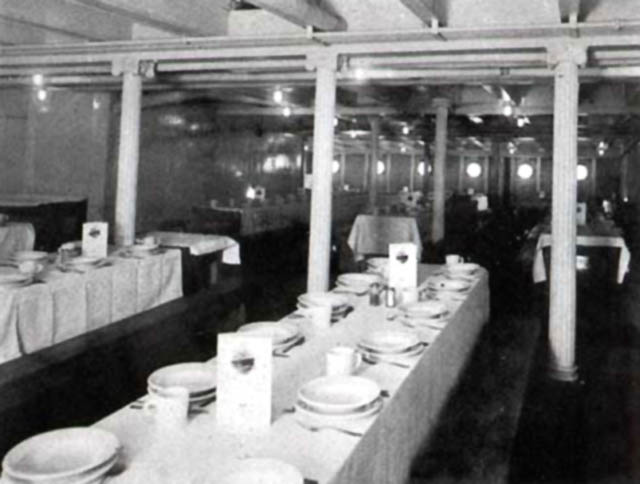 Accommodations: Her Cabin/First Class accommodations were obvious well above the average, for the S.S. America was more of a floating luxury resort, that offered all the refinements and conveniences of any of the finest hotels. Cabin, later First Class obviously had the prime location onboard, being located amidships, and far away form the vibrations of the propellers or the waves slamming onto the bow! No, here it was all peaceful and very elegant!
All First Class cabins and suites were not just spacious, but were beautifully fitted out and well decorated and having the best of materials and all had private facilities! Even the most basic cabin, if there even was one, had ample seating on comfortable lounge chairs, two to three portholes providing ample light and a good view of the skyline! And every possible convenience in the cabin one could possibly desire, as sell as your steward at hand at all times!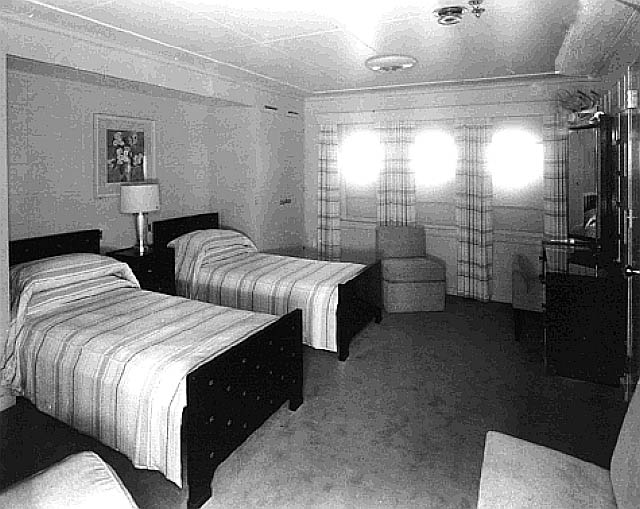 A regular Cabin/First Class Stateroom on Main Deck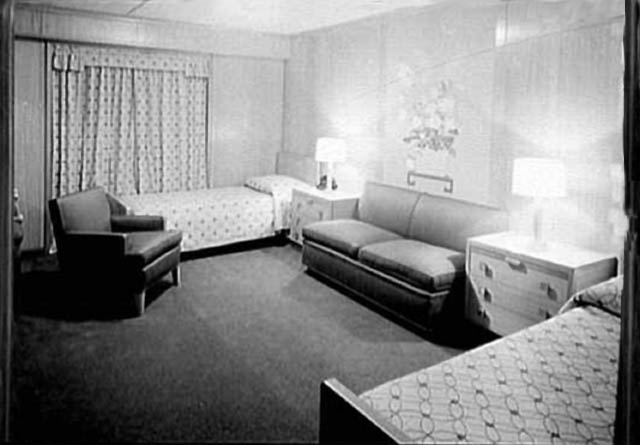 A spacious De-luxe Stateroom on Upper Deck, U-62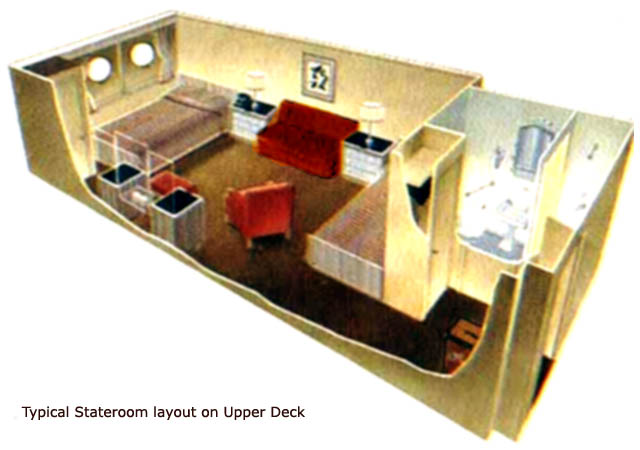 De-luxe Stateroom layout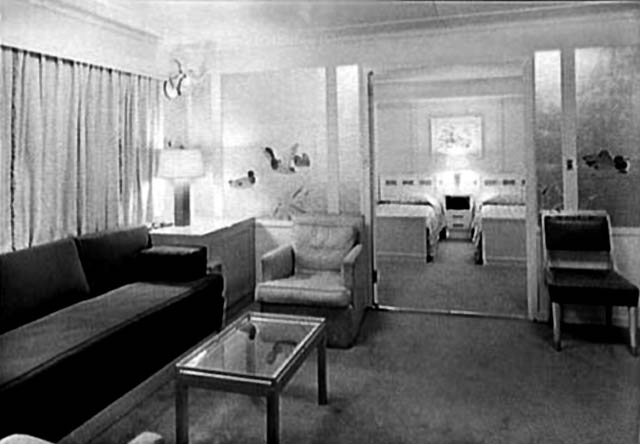 De-luxe Suite on Upper Deck, U-49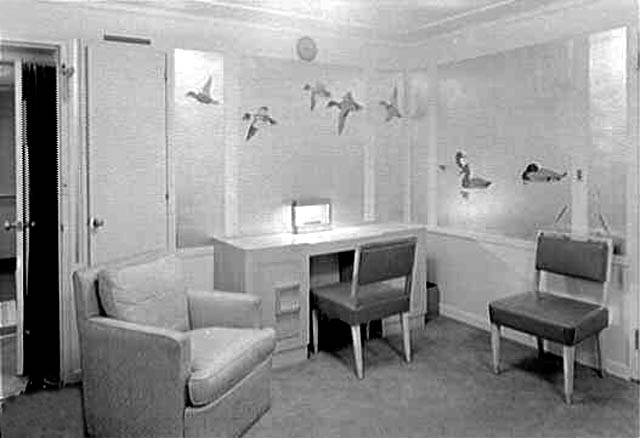 A corner of the Suite with the desk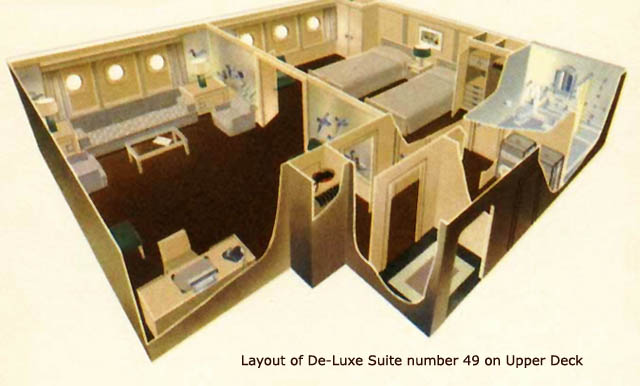 The overall layout of this fine Suite
However Tourist, later Cabin Class cabins were also spacious and very comfortable, and amazingly well appointed. In addition, most cabins be they located on the inside or outside with portholes had private facilities.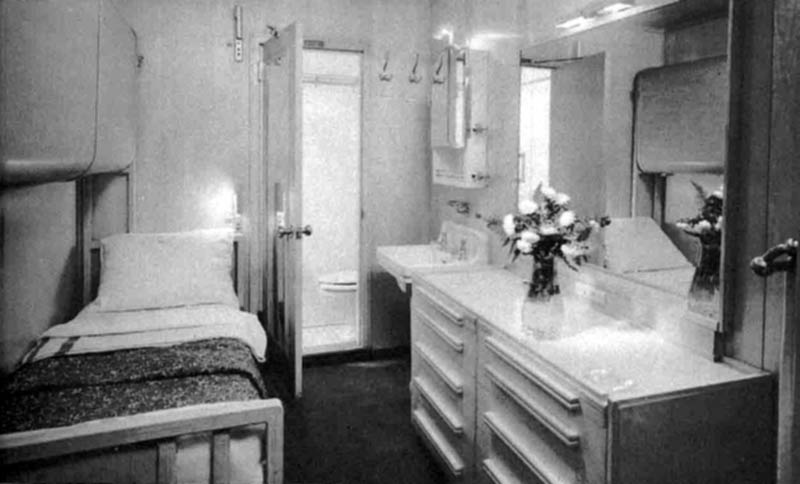 Here we see a typical Tourist Class single or two-berth cabin on B deck, having private facilities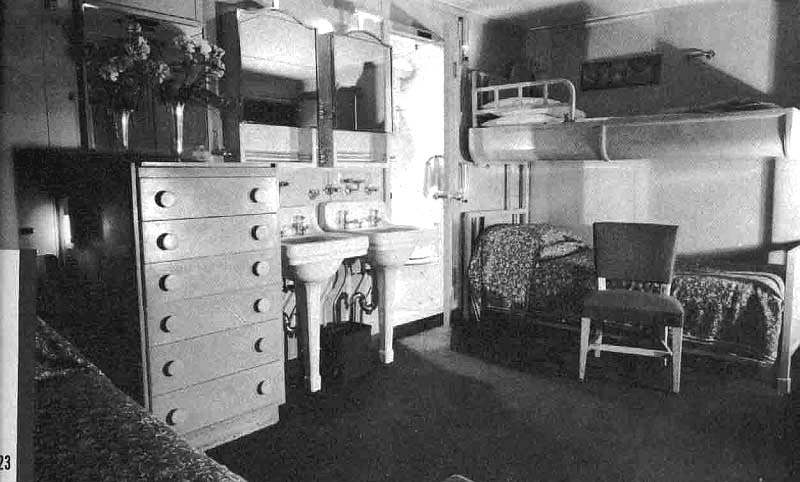 Here we see a twin, three or four-berth cabin with private facilities, and these can be found on various decks
Obviously the Third Class cabins were all located in the forward sections from Upper, down top C Deck and consisted of mostly of four berth cabins, as well as six and eight berth cabins. The cabin shown below, being an outside cabin had a single porthole, yet everything else in this room was in multiples. For this room had 4 berths, and then there were two of everything else, such as two dressers, two wardrobes, even two wash basins with hot and cold water, whilst the bath and toilets were located along the corridor! However, these cabins offered comfort and great value!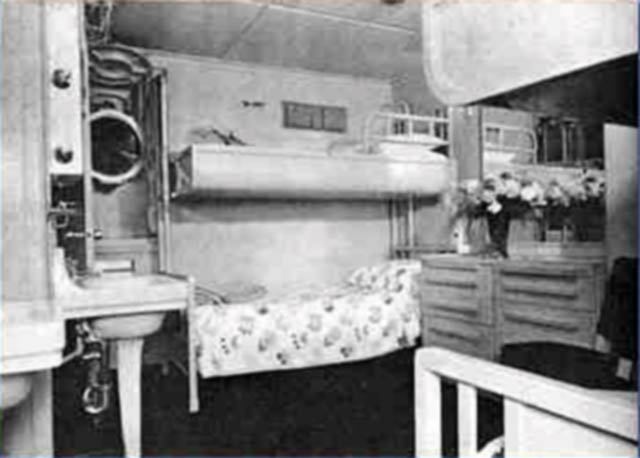 A typical four-berth cabin located on B Deck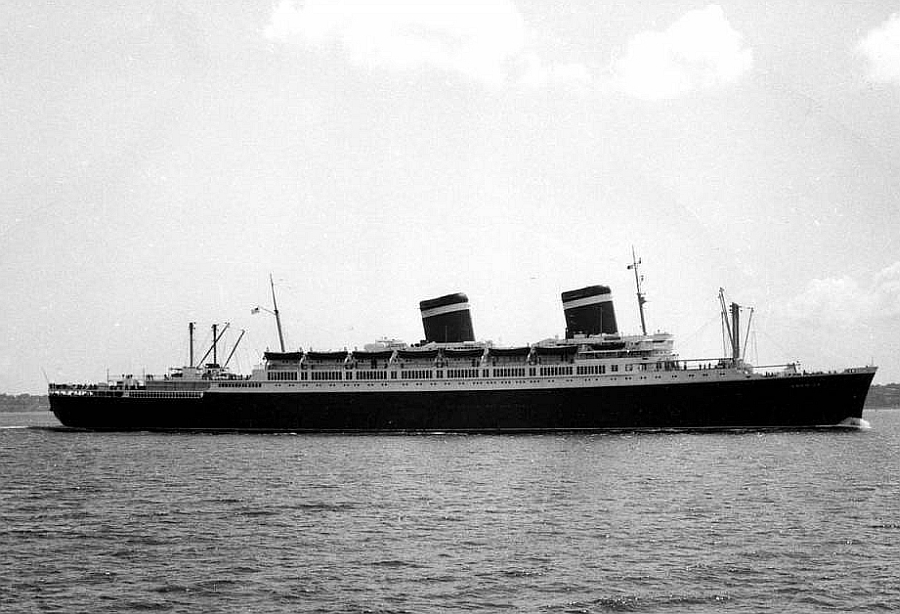 A Great Liner, the kind we sadly we no longer see these days!

***********************************

S.S. America & Australis INDEX:

Page One ……………….S.S. America History Page 1940 to 1967.

Page Two ……………….Photo Page.

Page Three …………….1940 Deck Plans.

S.S. Australis INDEX:

Page Four ……………….S.S. Australis History Page from 1964 to her sad end in 1994.

Page Five ……………….Brochure & Photo & Page One.

Page Six ………………….Brochure & Photo Page Two.

Page Seven …………….Deck Plans.

Other Chandris Ships INDEX:

SS Patris …………………Ex Union Castle Lines RMS Bloemfontein Castle.

SS Ellinis ………………..Ex Matson Lines liner SS Lurline.

SS Britanis ……………..Ex Matson Lines SS Monterey, but renamed Lurline & Matsonia.

Please Note: Not all pages have been updated and completed as yet.

***********************************

 "Blue Water Liners sailing to the distant shores.
I watched them come, I watched them go and I watched them die."

Return to the ssMaritime MAIN INDEX

ssMaritime.com & ssMaritime.net

Where the ships of the past make history & the 1914 built MV Doulos Story

Also visit the …

"Save The Classic Liners Campaign"

Please Note: ssmaritime and associated sites are 100% non-commercial and the author seeks no funding or favours of any shape or form, never have and never will!

Photographs on ssmaritime and associate pages are by the author or from the author's private collection. In addition there are some images that have been provided by Shipping Companies and private photographers or collectors. Credit is given to all contributors. However, there are some photographs provided to me without details regarding the photographer/owner concerned. I hereby invite if owners of these images would be so kind to make them-selves known to me (my email address may be found on www.ssmaritime.com only), in order that due credit may be given.

This notice covers all pages, although, and I have done my best to ensure that all photographs are duly credited and that this notice is displaced on each page, that is, when a page is updated!

ssMaritime is owned & © Copyright by Reuben Goossens - All Rights Reserved