S.S. Andes 1913-1929 - S.S. Atlantis 1929-1952
Please Note: Firefox and some other Search Engines may not be suitable
Use Google Chrome for this Web Page to load perfectly!

Please Note: All ssMaritime and other related maritime sites are 100% non-commercial and privately owned, thus ssmaritime is NOT associated with any shipping company or any other organisation! Although the author has worked and been involved in the passenger shipping industry for well over 60 years, but due to his old age and poor health, he was forced to retire. Yet, he has completed well over 1,550 Classic Liners, Passenger-Cargo Liners as well as humble converted C3 converted Migrant Liners, which has transported countless thousands of folk to the new world, as well on vacations'. Amazingly, ssmaritime.com has received 7.57 billion visitors to date I trust the features online will continue to provide Classic Liner and Ship enthusiasts both the information they are seeking, but more so provide a great deal of pleasure and relive many happy memories!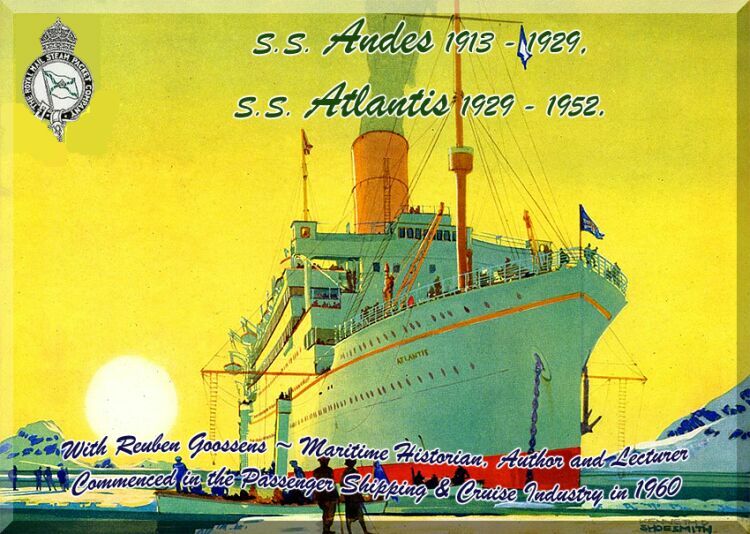 She is seen here as the "Atlantis" the Cruise Ship post 1929
The fine art-work is by Kenneth Shoesmith I am told, and this work,
and others were sent to me, with thanks by Phelim Ceallaigh (Ireland).
Please Note: Postcards, photographs & other images are either from the author's private collection or from my supporters.
Thus thank very much too all my wonderful ssmaritime supporters for sending some of their wonderful
photographs for I could not have not have completed this feature to my satisfaction.
I am sorry but some of the images shown may not be of the highest quality, but they are the best that were available
Page One
Brief Introduction:
I am positive that the "Royal Mail Line" ('RML') liner the "Andes" of 1939 was very well known during her glorious career. However, most likely very few will even know there was a ship with the very same name, being the wonderful hard working S.S. Andes of 1913. In fact for thirty-nine years this fine liner and cruise-ship, which also served the 'RML' and the country, giving invaluable service in two World Wars under both the White and Red Ensigns.
Of course most will remember the R.M.S. Andes of 1939, which entered straight into WW2, and she was a troopship from 1939-1945. The then operated as a liner with a black hull and it was only in 1959, she was converted to a luxury all white cruise ship without any cargo whatsoever and she sailed unto 1971.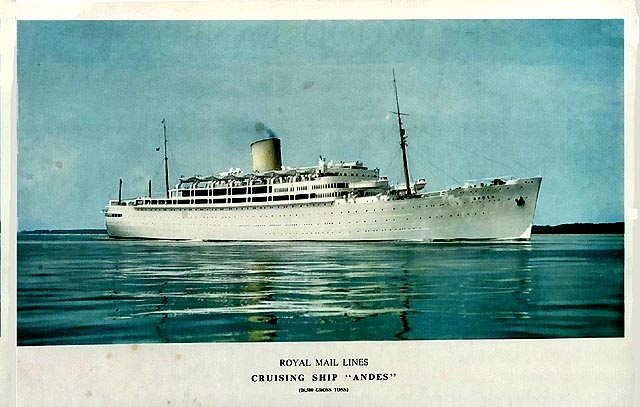 RMS Andes (2) Cruise ship completed in 1939 entered the war, then a liner
1959 refitted into a luxury Cruise Chip
Thus when people hear about a ship named the "Andes" they always seem to remember this, but not the great heroic predecessor the S.S. Andes (1) which was a most remarkable ship indeed!
The S.S. Andes was a ship of 15,620 gross tons and her keel was laid at "Harland & Wolff's", Belfast yard in the latter half of 1912. The order was originally placed by the "Pacific Steam Navigation Company", but whilst the hull was still on the stocks the "Royal Mail Line" took over the responsibility for completion prior to her launching. Three years previously they had acquired complete control of "Pacific Steam Nav Co", and ships had been interchanged between the two companies.
*********************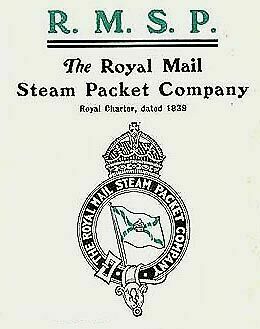 Above: The "Royal Mail Line" Logo and House Flag
Further details:
The "Andes" was one of four ships built for 'RML' who operated an accelerated service between the UK and the River Plate, her sisters being the "Arianza", "Alcantara" and "Almanzora". Of the four sisters, the career of the S.S. Andes was the longest, whilst that of the 'Alcantara' was cut very short by the World War One. The passenger accommodation on all the ships was much the same and they carried basically 380 First Class, 250 Second Class and 700 Third Class passengers.
The "Andes" Was a coal-fired ship with triple screws, powered by two sets of triple expansion engines, with the exhaust steam driving a steam turbine which was connected to the central propeller shaft. As well as her having considerable passenger areas, she was also fitted with large refrigerated spaces for cargoes of frozen meat from South America.
The "Andes" was launched on May 8, 1913 by Viscountess Craigavon and once the unfinished ship was in the water she was taken in tow to her fit-out berth for completion.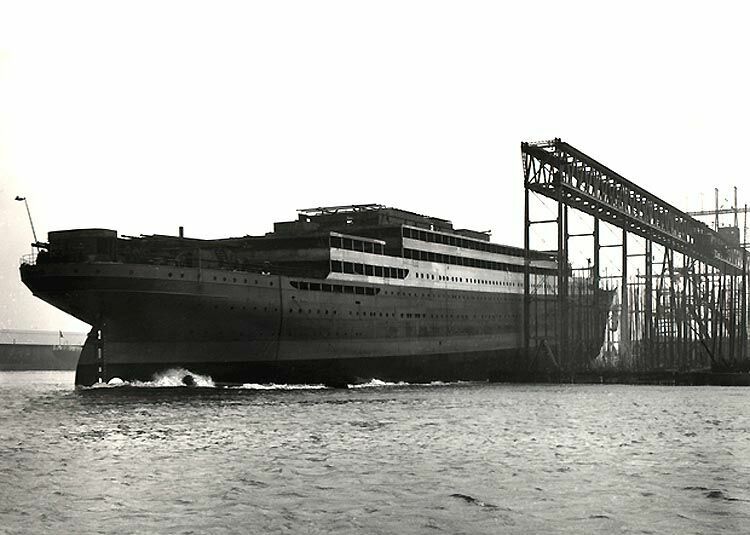 Her Launching on May 8, 1913
When finished she headed out for her Sea Trials, which was successful, and then a little later on September 11, 1913 she was delivered 'RML' at Belfast.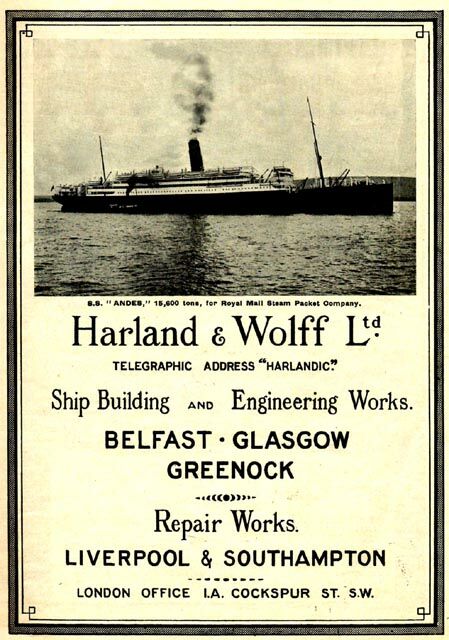 A Harland & Wolff Poster with a view of the completed S.S. Andes in early September 1913
It was quite traditional for passenger-cargo ship in those days to have their Bridge, and their Chart and Radio room, Captain's Office, and his quarters as well as his major officer's accommodations in this separate section from the main superstructure.
Her Maiden Voyage:
Having arrived at Belfast, she was made ready for her Maiden Voyage, with all cabins being made up to perfection, food loaded and stored in cool rooms and the right compartments to keep food and other items as fresh as possible. Bar needs were well stocked, and the new crew were well trained to ensure the guest's would receive the best dinning experience and service possible!
On September 26, 1913 the S.S. Andes departed Belfast for her maiden voyage to Rio de Janeiro and Santos in Brazil, and then to Montevideo in Uruguay followed by Buenos Aires in Argentina.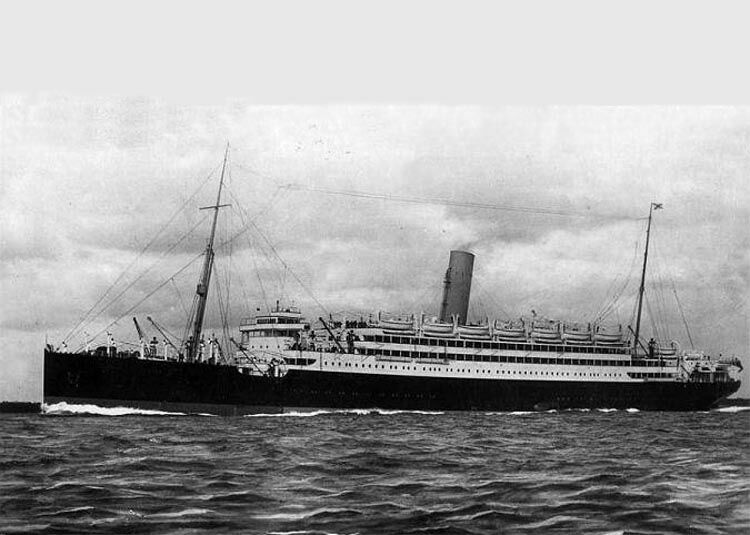 The new S.S. Andes is seen during her maiden voyage to South America
Less than twelve months after her entry into service, tragically the World War One broke out, but for the first seven months the S.S. Andes continued her River Plate services from Southampton, which was of course a vital trading area for the UK.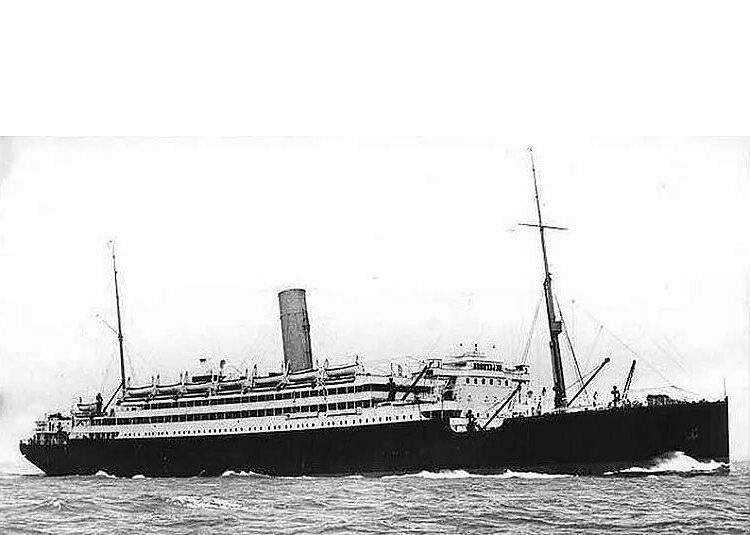 S.S. Andes is seen at full speed at sea
*********************
World War One:
However, in March 22, 1915 she was officially requisitioned by the Admiralty and sent north to Birkenhead to be converted for service with the Royal Navy as an 'Armed Merchant Cruiser'.
The H.M.S. Andes M.82 was commissioned into the Royal Navy on April 22, 1915 and she was commanded by Commander C.W. Trousdale RN. She had a ship's company of 340, three of whom, including Commander Trousdale, were regular RN officers. Most of her officers were RNR, and many of them had belonged to her peacetime complement. It was May 26, 1915 before her refit was finished and she was ready to leave Birkenhead for patrol duties with the 10th Cruiser Squadron.
She had been armed with eight six-inch guns and two six-pounders, as well as Maxim machine guns and depth charges. Her hull, superstructure and funnel had been painted battleship grey, and with four of her six-inch guns placed on the forecastle she looked more like a warship than an ocean liner. Unfortunately, like all the converted liners her high hull and superstructure made a very easy target, a fact which was to send her sister, Alcantara, to the bottom of the Norwegian Sea. Consisting of twenty-four converted warships, the 10th Cruiser Squadron was to play a most important role in the economic blockade of Germany. Its duty was to challenge and stop any ships in the area between the north of Scotland and Iceland and, in the summer months, north of Iceland as well. The "Andes", with her sister ships, was based at Liverpool and she remained with the 10th Cruiser Squadron until December 1917, when all the ships of the force were dispersed to other duties.
Exactly seven days after departing from the Mersey on her first patrol, the "Andes" intercepted her first neutral vessel when she stopped the S.S. Bretagne and sent her into Kirkwall under an armed guard. During the summer of 1915 she regularly intercepted ships, and she remained in patrol with only short breaks in Liverpool and at Busta Voe, which was a coaling station. In November that year she underwent a two-week refit at Liverpool, and Christmas that year was spent at sea in the northern waters between Iceland and northern Scotland, as was the New Year. On February 24, 1916 she intercepted the Norwegian American liner S.S. Kristianiafjord, which was sent into Kirkwall with an armed boarding party. Two days later the "Andes" sent the S.S. Baden in to be searched. On November 29, 1916, the "Andes" was on patrol line '0' off the Norwegian coast with the "Alcantara", her sister ship. The two ships were roughly fifteen miles apart and in position 610.45'N/00,58E, after having received information from intelligence sources that a German armed auxiliary cruiser was to attempt to break through the blockade. In view of this, extra lookouts had been posted throughout the two ships and in other ships on the patrol line.
At about 9 am that day the lookouts on board the "Alcantara" sighted smoke in a north-westerly direction and almost simultaneously the "Andes" signalled, "Enemy in sight, steering north-east." There was some confusion over the exact position of the mystery vessel, but at 9 am the "Alcantara" intercepted what appeared to be a Norwegian cargo ship. The vessel was flying the Norwegian flag at the stem and had the flag painted on her sides, as was the custom with neutral shipping. The name Rena was painted on her bows and, in response to signals, she stated that she was on a new service to and from Rio de Janeiro to Trondheim, which seemed to be in order. By 10 am the two ships were some 2,500 yards apart and boarding boats were being swung out on "Alcantara" when the Norwegian flag was hauled down and hitherto concealed 5.9 in guns were uncovered forward and aft. Almost immediately one of the enemy's guns opened fire smashing the boarding party's boat. "Alcantara" returned the fire and a full scale action ensued. By 10.50 am the enemy ship was on fire and out of action, but unfortunately the "Alcantara" was also listing badly and obviously was sinking. At 11 am she sank and thirty-five minutes later the "An" and the light cruiser "Comas" (a sister to the Ulster-based RNVR ship Caroline) arrived on the scene and opened fire on the German ship. At 1 pm that day the enemy ship sank and both vessels searched for and picked up survivors. The German ship was in fact the heavily armed raider 'Greif' and she had left Kiel some fifty-six hours previously, bound for the Atlantic on a raiding voyage.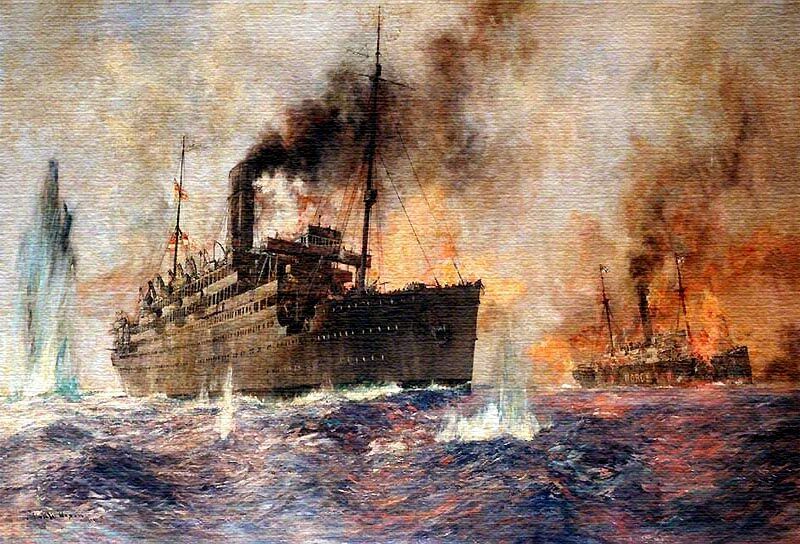 H.M.S. Andes is seen whist she was under fire for a short time,
but she was safe with her excellent ammunitions
By 3.37 pm that afternoon all the survivors had been rescued and the ships were able to resume their patrol. Three days later the "Andes" steamed into Liverpool with its German prisoners, including one officer. After this she made day patrols from Liverpool until the end of that month when she once again joined the Northern Patrol. The "Andes" continued these duties until December 1917 when she left Liverpool for Murmansk in Russia. In the aftermath of the revolution in that country a number of British seamen from the S.S. Glodale had been trapped in Murmansk together with a few Royal Navy personnel. After embarking these men the H.M.S. Andes now (MI52) left the Russian port on January 14, 1918, bound for the Clyde where her passengers were disembarked. Following her voyage to Russia the "Andes" was transferred to Devonport from where she made a cargo voyage in convoy to Halifax. In April 1918 the H.M.S. Andes now (MI30) left Glasgow for, which was a familiar route for this former Royal Mail Line ship. After two round voyages to South America and one to New York, she was laid up in Brocklebank Dock, Liverpool where she was given a refit. This was completed on November 10, 1918, the day before the Armistice, and two days later she left for her final voyage under the White Ensign, to Bermuda and New York, arriving back in Liverpool on December 18, 1918 where she discharged her cargo and ammunition. Although she continued her duties until being discharged in 1919.
Her wartime captains were as follows:
Commander Charles W. Trousdale; March 23, 1915 – December 9, 1915. (He left ship sporadically on sick leave).
Captain George B. W. Young; May 26, 1915 – June 15, 1918.
Acting Captain Cyril T. Hewlett-Cooper; June 15, 1918 – January 10, 1919.
For further details of her activies view: https://www.naval-history.net/OWShips-WW1-08-HMS_Andes.htm.
The S.S. Andes was paid off for re-conversion into a passenger liner once again.
*********************
Back to Civil duties:
In the spring of 1919 the S.S. Andes was back in the yards being refitted into being a passenger ship once again and repainted into the "Royal Mail Line's" livery once again. Then on November 4, 1919, she returned to the South American trade for a full ten unbroken years, sailing her usual Southampton River Plate service which she was built for, but what was not known yet she would become a ship that would eventually sail the globe extensively later in her days!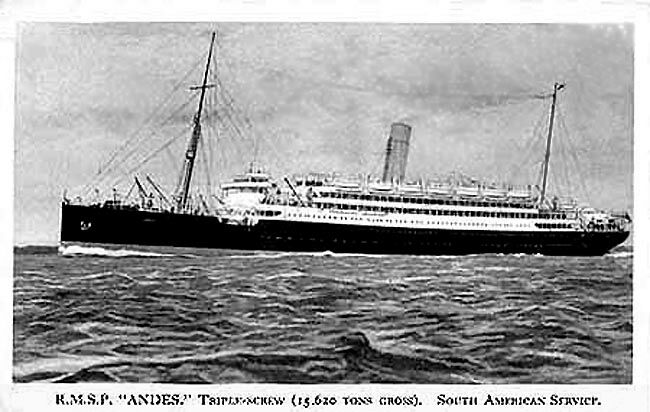 She is back on her old service for the next ten years
However, Royal Mail Lines late in 1929 it was decided that the "Andes" would be converted for a completely new service as it had been decided that she would make a great Cruise Ship, and thus she went into dry-dock at Liverpool where a huge transformation began.
Her grand refit included her accommodation had been altered to carry just 450 First Class passengers only, and in keeping in with her new role, a new swimming pool had been built amidships up on the Boat (F) Deck. Also her hull was painted white with red boot topping and her single funnel was painted in an all buff colour. But more than all that, she had also been converted to burn oil fuel and what more, her name was changed to "Atlantis" and she was now registered at being 15,135 GRT.
*********************
S.S. Atlantis Interiors"
Sadly as you may well have noticed, I have not managed to find any images of the interiors of the "Andes" of 1913, (and frankly none of the Atlantis) but there are some pictures of her as the S.S. Atlantis the Cruise Ship thanks to a good friend I have not heard of for countless years. If we look closely at the public lounges etc, and even the cabins, we will note that much of it hails back to her origins, thus it will show something of her earlier days.
Strangely enough they changed her entire deck layout, It is usually Boat Deck,  Promenade Deck, Lower Promenade Deck, A to C Deck, etc, or whatever Deck. But On the "Atlantis" they turned it upside down the top deck was F Deck, and from there it went down to A Deck, which was most unusual!
Please Note: All Interior images where kindly provided by old time ssMaritime supporter; Liam Barker (UK) –Many thanks for your ongoing support!!
F Deck:
Of course on most ships this deck would have been called Boat Deck. This deck had two Main Passenger facilities, 1. The Tennis Court and 2. The Spectacular Wintergarden.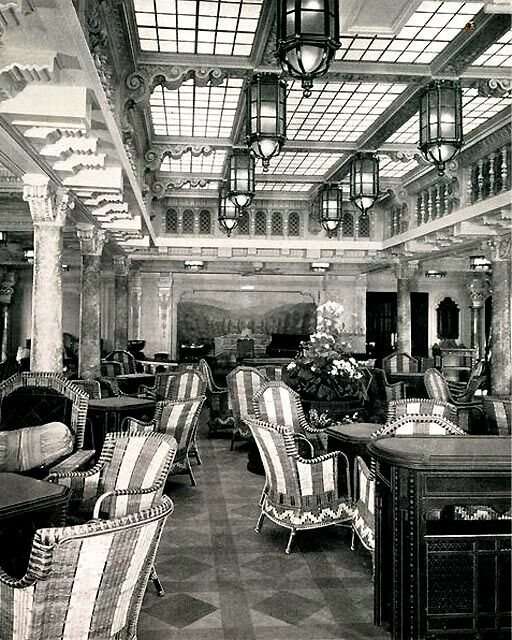 The magnificent Wintergarden located on this deck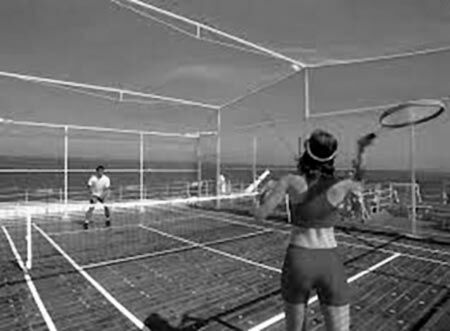 I have to admit this is not the actual tennis court on the "Atlantis"
as I actually chose it for it is only a guide of what it would have looked like in general
E Deck:
This deck featured a wide and a spacious Promenade Deck. The forward part was fully glazed in, and partly along the sides. The promenade deck was 500 ft long. Aft there was a bridge over to the aft section which contained the Games Deck. But the Promenade did have shuffle board games painted on the deck, and here would be other game played.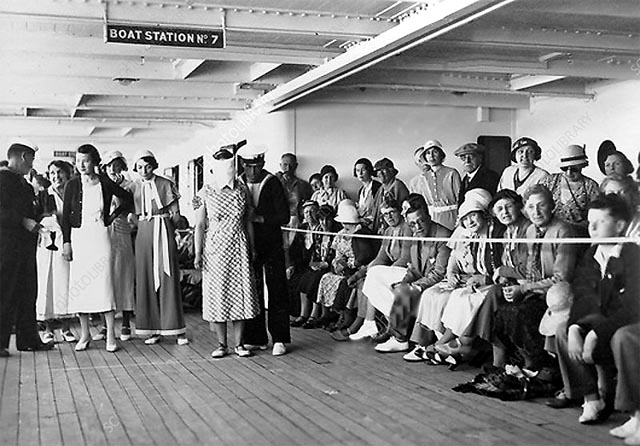 Here we see some of the crew playing a special game with the Ladies on board
Far forward inside was the magnificent main Lounge, with inlaid fine timber floors overlaid the finest Persian carpets. The room's décor was at its finest the ceiling alone was simply stunning and the magnificent hanging glazed lights were simply out of this world. Aft of the room was a Stage for the ships band and there was a Grand Piano and space would be made for dancing.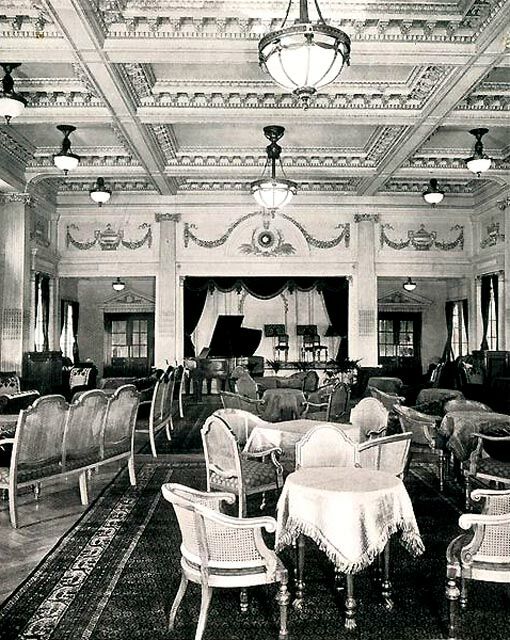 The Main Lounge forward on E - Promenade Deck
Aft of the Lounge was a spacious Lobby and a large Staircase going down. There were doors out to the Deck. Amid to aft of the ship were seven outside cabins and four inside cabins, being mostly singles and some two berth cabins.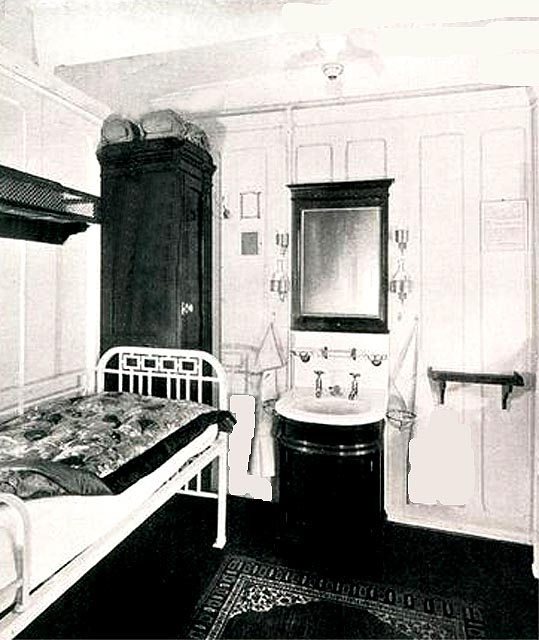 A Single berth Cabin without a private bath on this Deck
However, far aft of these cabins was the Smoking Room which is typically clad in dark timbers, with four dark carved column's holding up the wonderful decorative ceiling which centrally domed with another wonderful light fitting. The doors forward go to the cabins, and in the centre is the stairwell down. Doors aft go to the Terrace. On each side of the terrace are stairs going up to F Deck.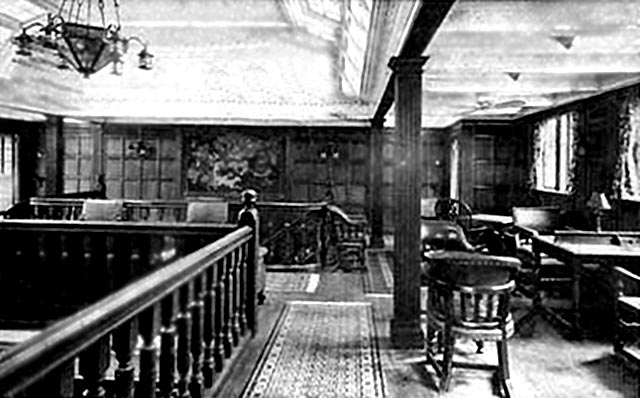 The Smoking Room
D Deck:
Again this deck was fully covered and was also a good promenade deck, but generally not as busy as the one above which was more popular.
Although this Deck like the one above also was a covered Promenade Deck although being somewhat shorter at 350 ft long, but the uncovered section went on; 1. There was one new and a very popular feature to the Cruise Ship, and that is the new outdoor Swimming Pool located between the passenger superstructure and the Bridge and Officers superstructure forward, although this pool was relatively small, compared to the indoor pool it was a wonderful and very popular location. 2. In addition the covered deck, this deck also continued uncovered right up to the stern where there was the children's play room which was a fine facility.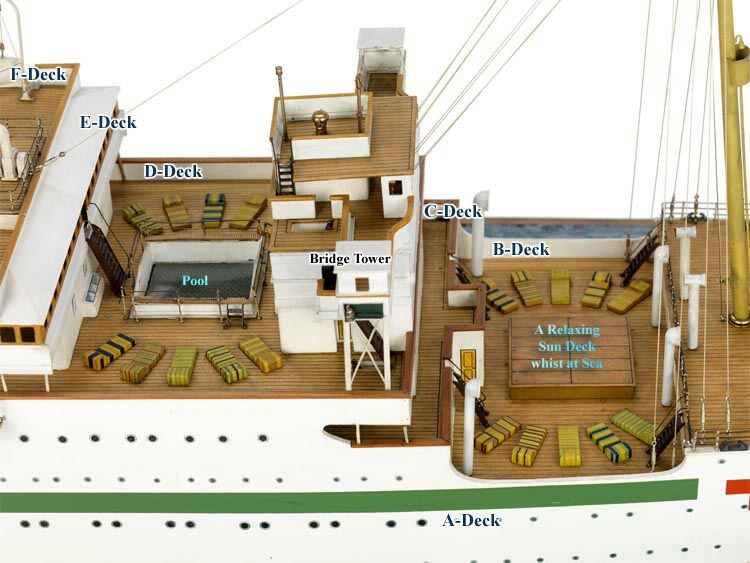 This is not only a good and the only available view of this Pool
But it now also shows all of the ships 6 Deck locations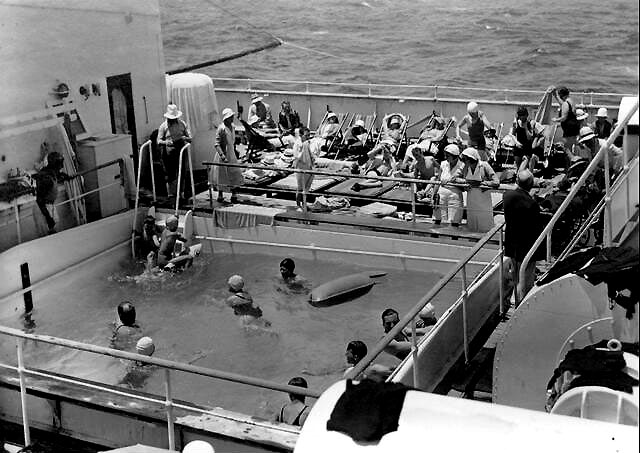 Here is an actual view of the forward Pool on D Deck
Internally this deck obviously there were many cabins, both single bed and twin bedded cabins most do not have private facilities.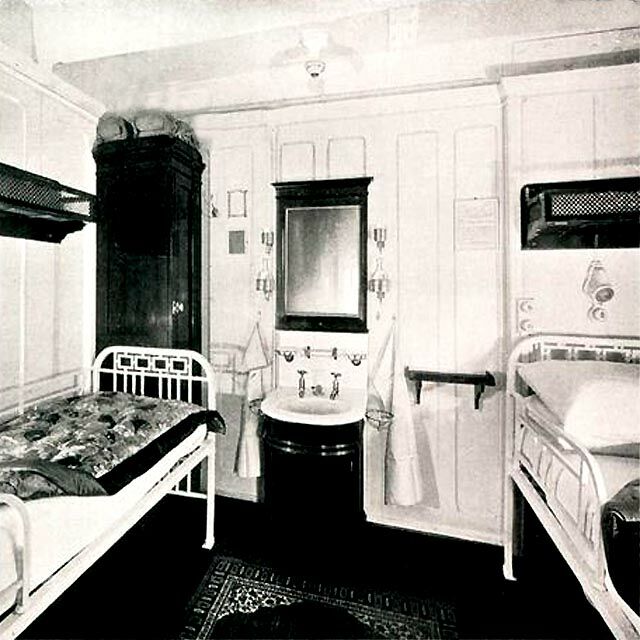 An outside two bedded cabin without a bathroom on D deck.
But here also there are shops at the forward lobby, and beauty parlours and men's hair dressers, etc.
C Deck:
This deck offers a range of far superior and larger cabins including multi room deluxe Suites. These suites have private entrances a lounge, dining room, bed room, a hallway and a spacious bathroom with every possible facility, as well as a trunk room.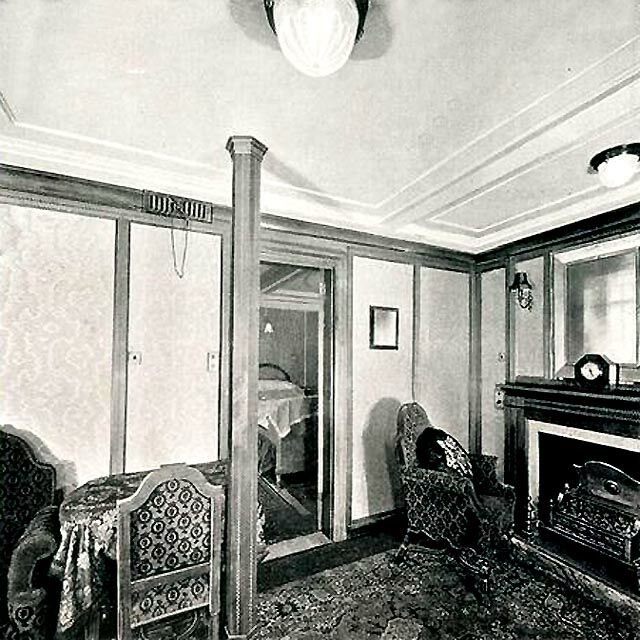 The deluxe Suites available on C & B Decks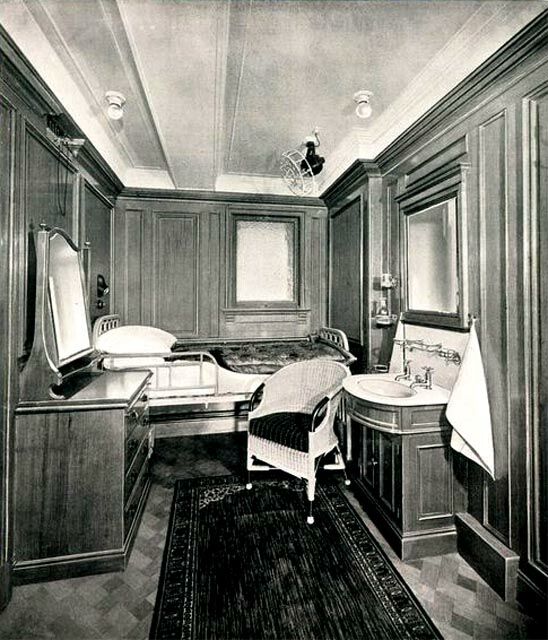 This is a deluxe Single Stateroom on C & B Decks
Far aft of this deck in a smaller separate superstructure, was a very spacious Gym with instructors with special sessions or private sessions available if desired by the guests. There was a host of equipment to suit everyone.
Just for interest aft of the Main passenger superstructure situated in the middle of the ship (side to side) was the doctors Surgery and his Waiting rooms, etc. the ship even had an operating room for any emergency. At the forward Lobby you would also find the Pursers Office.
B Deck:
This deck was the official Boarding Deck. All this happened at the forward Lobby and the double steel hull doors would open wide and the new guests would board with great anticipation of their new experience of a wonderful ocean holiday! Obviously this was the grandest of all the Lobbies on the ship with finest furnishings and decor.
Apart from that this deck had very same spacious deluxe staterooms and suites as the deck above, with almost all having a private bathroom, except several smaller rooms far forward.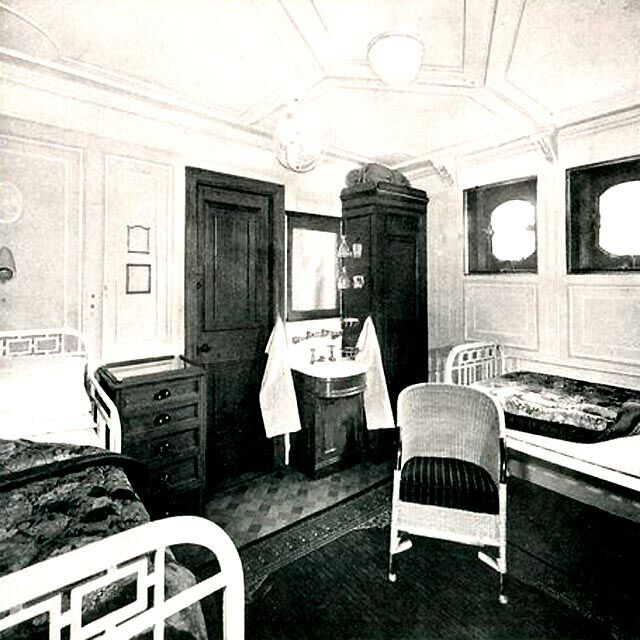 A Two Berth Cabin with a private bath
A Deck:
Starting from forward we located the ships Dining Room which is reached via the main forward staircase.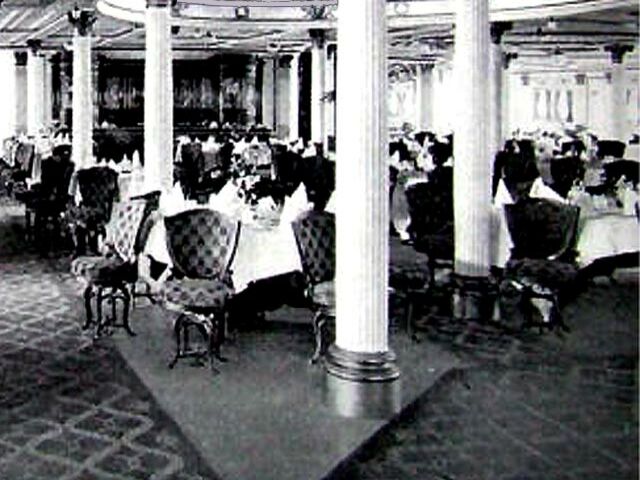 This is the Dining Room that looks very traditional and elegant
Lower Deck:
As far as I am aware the ship had an indoor pool, and all I know that it was on a lower deck forward somewhere near the Dining Room region.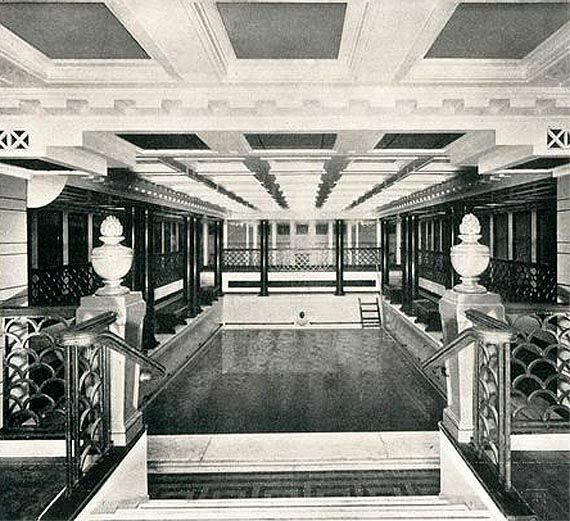 This would have been the same pool that was installed on the S.S. Andes in 1913
*********************
Cruising from Southampton as Atlantis: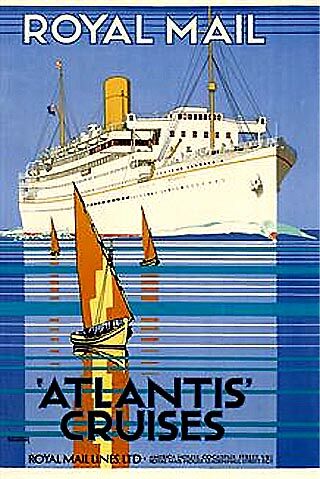 Pre departure promotional "Atlantis" Cruise Promotional Poster
From early 1930, the "Atlantis" was based mainly at Southampton being her home for her cruise duties, although she also sailed occasionally from London and Liverpool.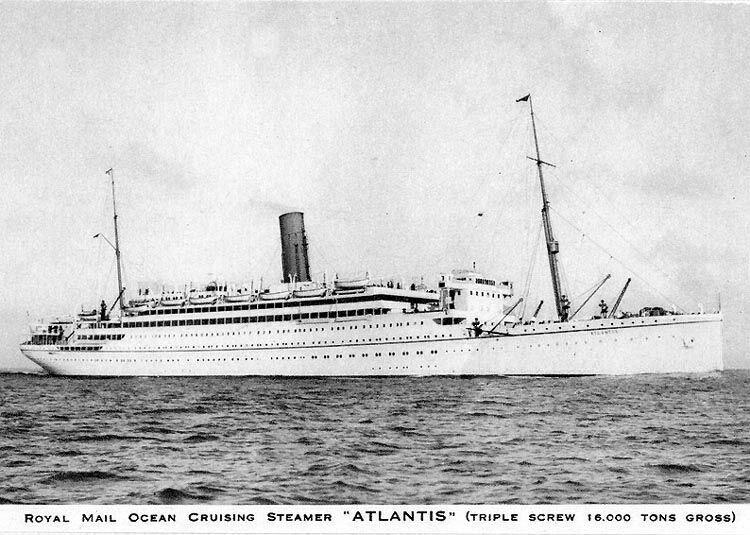 This an early release Royal Mail Line Postcard of the fine looking S.S. Atlantis their new Cruise Ship
She cruised to the Mediterranean, the Norwegian Fjords and the Northern Capitals, as well as to the West Indies, South America and to the Pacific Ocean. There was no doubt that she quickly built up a reputation for being a ship of sublime comfort and it was well known that during those inter-war years she was one of Britain's most popular Cruise Ships!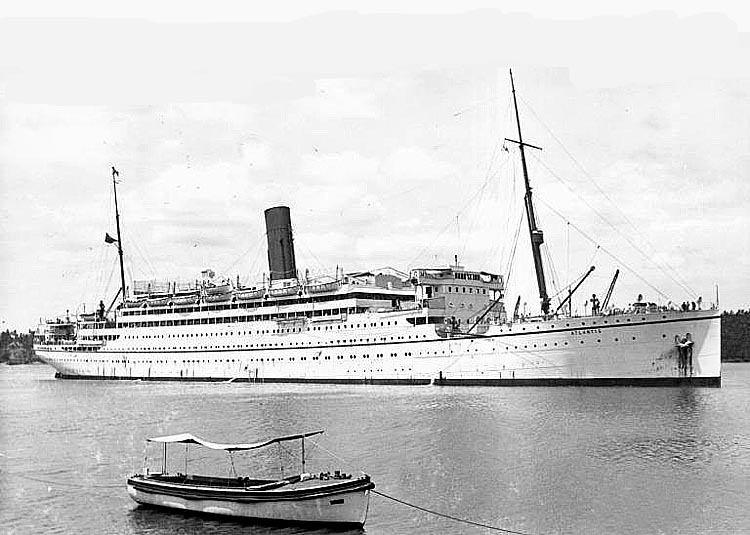 A delightful looking white Cruise Ships, the SS Atlantis was proving a huge success
Photo provided by Liam Barker (UK).
On completion of the much loved Norwegian Fjords cruises, she would return to Tilbury sailing leisurely back to Tilbury, UK.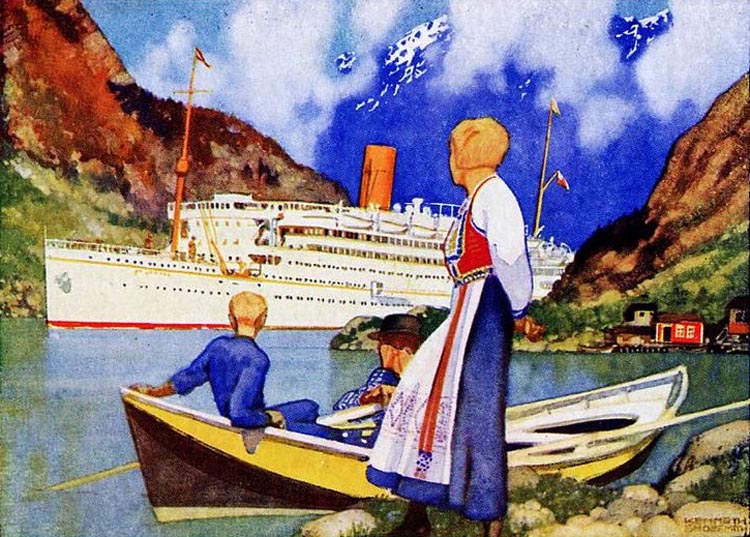 A delightful piece of artwork of the S.S. Atlantis at anchor in a Norwegian Fjord
The fine art-work is by Kenneth Shoesmith I am told, as this work was
sent to me with thanks by Phelim Ceallaigh (Ireland)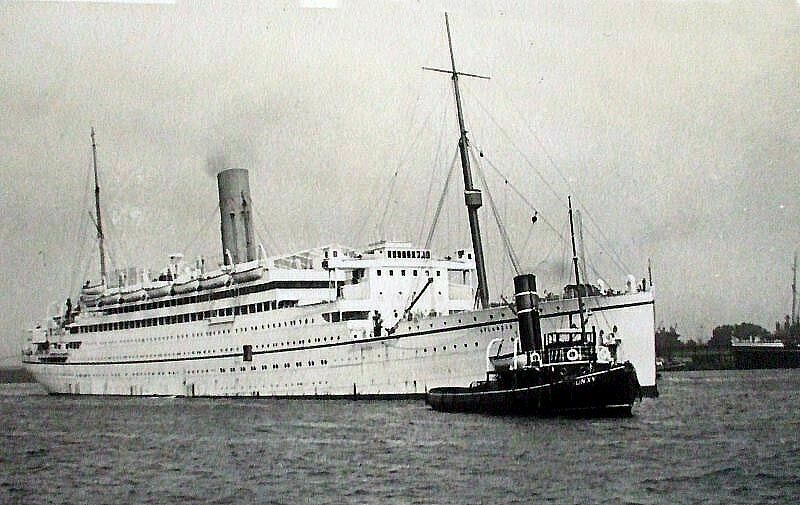 S.S. Atlantis arrives at Tilbury on July 19, 1935
After disembarking her passengers at Tilbury she would embark a new very special group of passengers. I will explain why.
In the summer of 1935 the "Atlantis" made a special cruise to coincide with the "King George V's Silver Jubilee Naval Review" just off Spithead. Therefore just upon completion of the greatly loved Norwegian Fjords cruise, she returned to Tilbury arriving on July 15.
After disembarking her very happy passengers and a little after the ship had been made passenger ready a whole new group boarded her for a very special departure, she sailed that day for the Solent, arriving the following day. After the amazing review was over she took her guest's for a cruise to the Channel before returning to London on the morning of July 18, 1935, and then she prepares for her next cruise north to Norway. Thus she had a very busy cruise schedule. In January 1939 she operated a very successful cruise to the West Indies.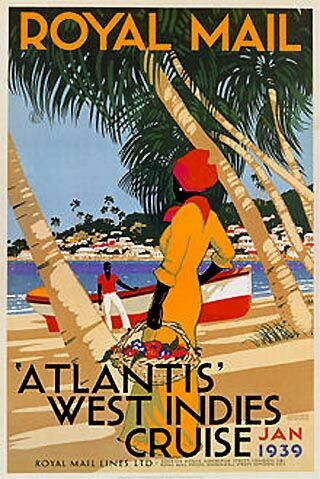 The 'Royal Mail Line' Poster publicising "Atlantic's" West Indies cruise 1939
Trouble in German Waters:
Four years later, when war clouds were once more looming over Europe, the "Atlantis" was again cruising to the Fjords and the Baltic ports. She left London on August 12, 1939 and the voyage took her to Oslo; Copenhagen, Helsinki and Stockholm. On August 22, she was in Danzig, which was of known as an 'open city' and it seemed to be the object of Hitler's latest aggression. The night of 23-24 August 1939, Germany and the Soviet Union signed a non-aggression pact, known as the Molotov-Ribbentrop Pact. And with the rise in tension in Europe, together with reports of German troops massing on the Polish border, yet soon enough the British Admiralty urgently recalled the S.S. Atlantis back to London, thereby ending her cruise series. Thus a call to Hamburg was obviously cancelled and the ship returned via the Kid Canal, actually transiting the waterway on August 23. At Brunsbuttel, which is at the western end of the canal, German police and customs officials boarded the ship to confiscate all films and photographs from passengers and crew. It was a clear sign of the deteriorating situation even between Britain and Germany thus the worsening political crisis between the UK and Nazis. From the Kid Canal the "Atlantis" returned to London at the end of August 1939 she was immediately officially requisitioned by the UK's Government. She was schedules to operate a cruise to the West Indies
*********************
Second World

War Hospital
Ship:
The Atlantis' role in the Second World War was very different from her function in the previous war, and she was sent to Southampton for conversion into hospital ship with a Pennant No 33. She had 400 hospital beds and a medical staff of 150, which included dental officers, and she was initially based at Alexandria, Egypt.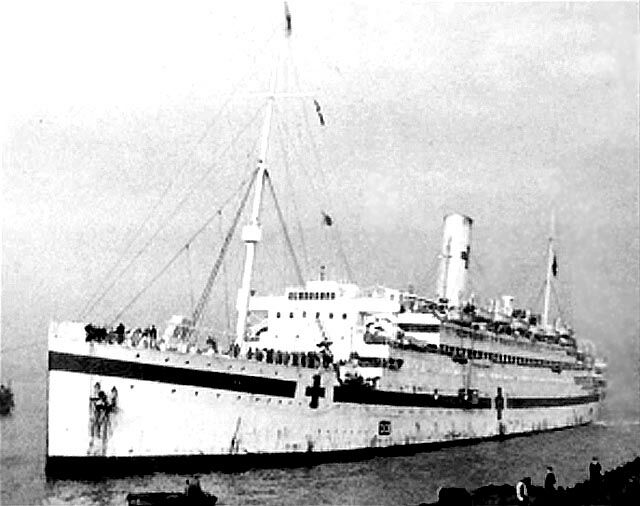 H.M. Hospital Ship "Atlantis" (33) (1939 to 49)
Thank you James Francis for sending this photograph!
The Model was made by one of her Sailors and it can
be seen at the Merseyside Maritime Museum
This photograph was provided with great thanks by Phelim Ceallaigh (Ireland)
In the spring of 1940 she was back in European waters for the brief campaign in Norway, and on June 8, 1940, in company with a ship named "Oranza" and the aircraft carrier "Glorious", she left Harstad with wounded service personnel on board. Unfortunately, the ships were intercepted by a force of German warships led by the 'Scharnhorst', 'Gneisenau' and the 'Hipper'. Both the "Oranza" and the "Glorious" were sunk, but the H.M.H.S. Atlantis (33) was ordered to keep radio silence and she managed to continue her voyage.
During the summer of 1940 all fighting on the mainland of Europe ceased and the "Atlantis" moved back to the Middle East for a campaign which started with the Italian invasion of British Somaliland. In early 1941 she was present at Madagascar for the British invasion of the Island, transporting the casualties to Hospital's in Durban.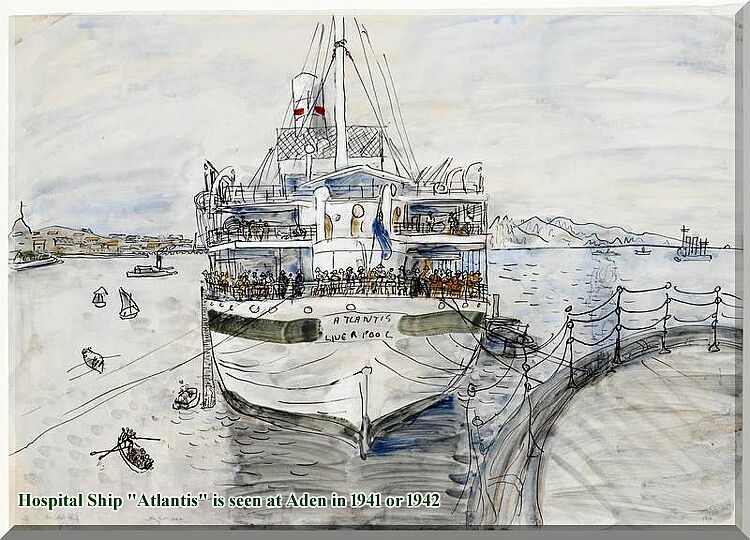 Atlantis in Aden Harbour, 1941 or 42
Thanks Abdul Rasheed for this delightful colourful drawing (Yemen)
 Sadly the artist is unknown
Seventeen months later she was back in Liverpool when, on October 1, 1943, news leaked out that negotiations were going on through the neutral Swedish government for an exchange of Allied and German POWs. Shortly after this came the official announcement that the "Atlantis" and the "Empress of Russia" were on their way to Gothenburg with German prisoners. They arrived in the port on the afternoon of October 19, 1943, and the German ships "Rhegen" and the "Meteor" brought British POWs into the port.
Over the next two days the exchange of personnel was completed and all the ships, both British and German, left Gothenburg at dawn on October 21. It turned out that negotiations had been going on for two years and, despite the early leaking of the news, they were successfully completed. All the prisoners were sick or wounded and many of them were disabled. Amongst the men aboard the "Atlantis" were seventeen US service-men who had been taken to Gothenburg by train.
H.M.H.S. Atlantis (33) mercy mission ended in Liverpool on Tuesday October 26, 1943, when she arrived alongside the Princes Landing Stage with 790 repatriated Allied servicemen. The people of Merseyside gave them a rapturous welcome and the first man to disembark was the well-known 'Capt Ernest Halloway', a merchant navy officer who was blinded when his ship was attacked by a surface raider. There were over 100 stretcher cases, and the first of these to be carried ashore was a cheerful young US airman, who had been shot down over Germany. It must have been very moving to see all the men looking so bright and cheerful when all were destined for long courses as a hospital rehabilitation ship.
The ship's new voyage took her back to the Middle East and to Algiers in North Africa with Canadian nurses. Just over a year later, in early 1945, she made several voyages between the UK and New York with sick and wounded American troops.
Her Hospital Livery was removed and in 1946 she headed off to Australia once again, and we will see her berthed at Melbourne Quay, in September 1946, below ...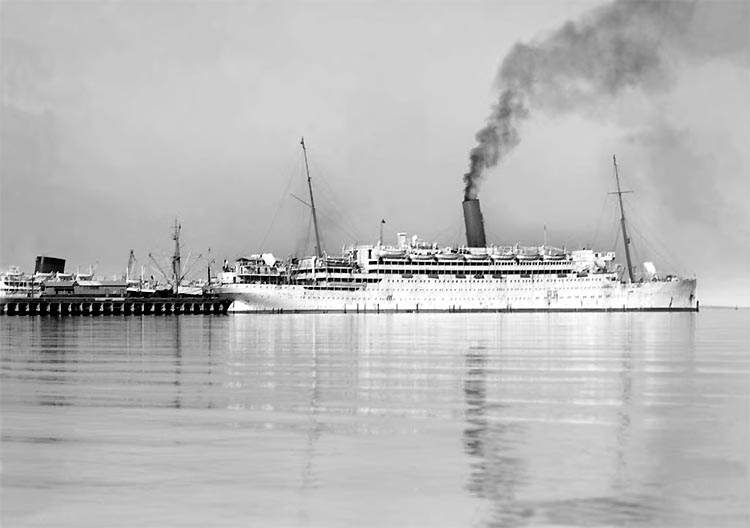 The "Atlantis seen in Melbourne, Australia in September 1946,
And we also a part of the R.M.M.V. Stirling Castle on the other side of the wharf
Thank you Peter (AU)
Following the end of the Second World War, the "Atlantis" remained in her role of hospital ship but in November 1946 she was sold outright to the government.
The high cost of conversion work for such an elderly ship had obviously influenced the decision to keep her in government service, and she remained managed by the 'Royal Mail Line'. For the next twelve months the "Atlantis" continued to carry invalid servicemen, including many from military hospitals in South Africa.
*********************
S.S. Atlantis the Emigrant Ship:
However, early in 1948 she was chartered by the New Zealand government for the transportation of emigrants from the UK to that country, and her hull was painted black once again.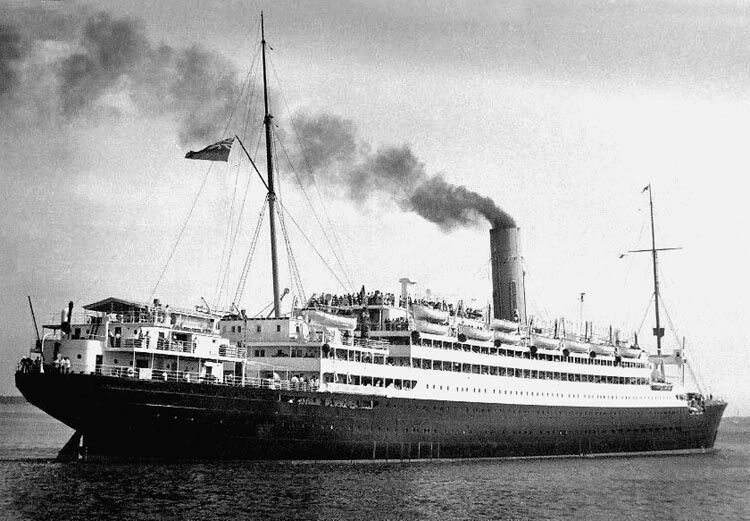 A photo taken of her the day before arriving in Wellington, NZ on May 19, 1949
Photograph was kindly provided by James Franks of Palmerston North where I lived for a while back in 1958-59
I have not heard from you for years my friend, many thanks!
On a homeward voyage in 1950's she transported Dutch families of the Royal Netherlands Army from newly-independent Indonesia back to the Netherlands. During the twenty-eight day voyage, some sixty-two babies where born. Many of the children were given the first name 'Atlantis,' while the ship was given the nickname the 'stork ship' by the passengers.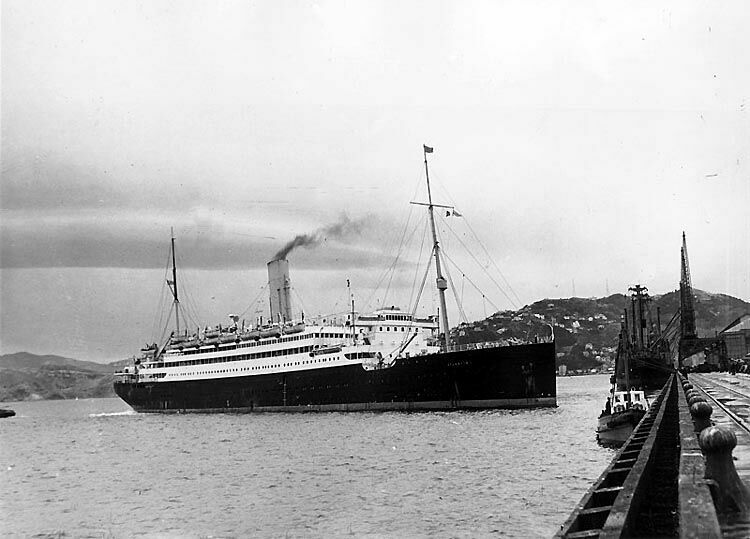 The "Atlantis" arrives at Wellington Harbour of New Zealand in 1951
Provided by my friend James Franks, thanks mate!
Just over twelve months later, in November 1951, Atlantis was repatriating British servicemen's families from the Suez Canal Zone, as outbreaks of violence forced the government to evacuate the wives and children and move the troops into heavily guarded perimeters in the Ismailiya area. She arrived in Southampton at the end of a voyage from Egypt on the afternoon of Friday November 23, 1951, with 800 women and children on board. She made one more voyage from Liverpool to Port Said with 900 troop reinforcements. She had been due to sail on December 30, 1951, but she was greatly troubled with mechanical problems in the engine room.
After nearly thirty-nine years of faithful operation, her old machinery had slowly worn out, and following her return to the UK, she was laid up in the Clyde and placed on the market and she was sold to the breakers.
In March 1952, she was towed to Faslane where she was duly broken up after 39 years at sea having had to work so very hard for so long.
*Below I will reveal in short the many services she operated in during her 39 year's:
1. 1913 to 1915 - The River Plate Service - "Andes".
2. 1915 to 1918 - Armed Merchant Cruiser       "    .
3. 1918 to 1929 - The River Plate Service         "   .
4. 1929 to 1939 - Refitted into a Cruise Ship & renamed - "Atlantis".
5. 1939 to 1946 - Hospital Ship                                            "     .
6. 1948 to 1952 - Australia & NZ Emigrant Ship                      "     .
7. 1952 she was sold to be scrapped in Scotland                     "     .
*********************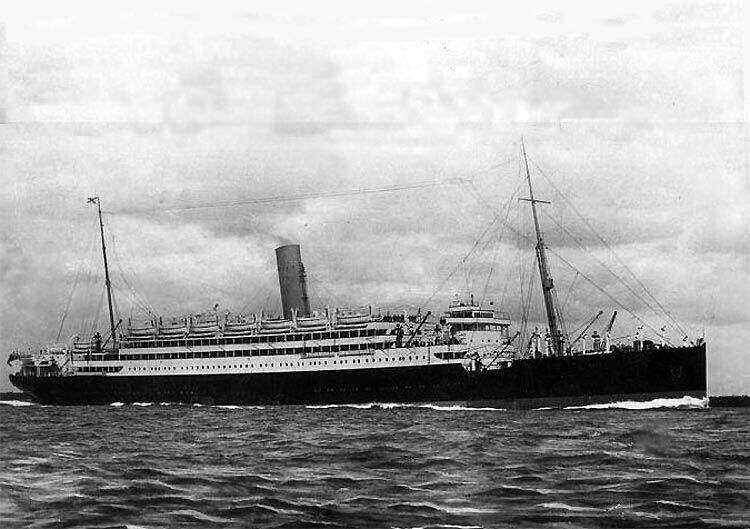 A fine ship that had two names S.S. Andes & S.S. Atlantis and six very different services
Specifications & Details of the "Andes" & "Atlantis"
:
Usually the extensive list of Specifications and other important Details would be located here, but as this is a large page I have decide to place it on Page Two which will provide maritime and other ship enthusiasts a great deal of information on this Grand Old Dame of the Sea, she will always be remembered as having been a rather special ship, as she was so greatly loved by so many!
*********************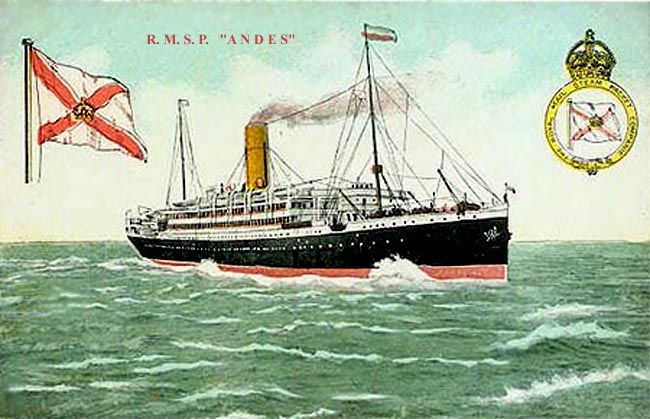 A delightful artist impression of the 'Royal Mail Line' Postcard of the "Andes" before WW1.
In conclusion: During her 39 year career the S.S. Andes / S.S. Atlantis had operated uninterrupted services as an Express Liner, an Armed Cruiser, a Luxury Cruise Ship, a Hospital Ship, and a Troop and an Emigrant carrier. Now that is surely a great record for just one old ship, for she has certainly served her owners well.
R
emembering the

Delightfull

…
S.S. Andes & later the S.S. Atlantis
There is no doubt about it she never looked better with her stunning white cruise livery!
She is seen here at Stockholm Harbour for her guests to have a wonderful day.
The fine art-work is by Kenneth Shoesmith I am told, as this work was
sent to me by with thanks by Phelim Ceallaigh (Ireland)
Enter S.S. Andes - S.S. Atlantis - Page Two
This Page has a Deck Plan of the S.S. Andes, an 'Atlantis Menu from 1936
As well as various souvenirs from the ship!
*********************
"Blue Water Liners sailing to the distant shores.
I watched them come, I watched them go and I watched them die."

Featuring well over 1,550 Classic Passenger Liners, Passenger-Cargo Liners & Classic Cruise Ships!
Or ENTER HERE
Amazingly; ssmaritime.com has received 7.57 billion visitors to date
Last update: January 24, 1922
For interest: Sadly an email service to ssMaritime is no longer available, due to the author's old age and chronic illness as well as being disabled, etc. In the past ssMaritime received well over 120 emails per day, but Mr. Goossens can no longer handle same. He sincerely regrets this!
*********************
ssMaritime.com & ssMaritime.net - (no longer online).
Where the ships of the past make history & the 1914 built M.S. Doulos Story.
The Author has been in Passenger Shipping & the Cruise Industry for well over 60 years
In addition he was the founder of "Save the Classic Liners Campaign" in 1990.
Please Note: ssmaritime and associated sites are 100% non-commercial and the author seeks no funding or favours of any shape or form, never have and never will!
Photographs on ssmaritime and associate pages are by; the author or from the author's private collection. In addition there are some images that have been provided by Shipping Companies and private photographers or collectors. Credit is given to all contributors. However, there are some photographs provided to me without details regarding the photographer/owner concerned.
This notice covers all pages; although, and I have done my best to ensure that all photographs are duly credited and that this notice is displaced on each page, that is, when a page is updated!
ssMaritime is owned & © Copyright by Reuben Goossens - All Rights Reserved