White Star Line / Shaw Savill Lines - SS Athenic I, Corinthic I & Ionic II
Please Note: Firefox and some iPad's or iPhone's, etc are not suitable
Use Internet Explorer or Google for this page to load perfectly!

Click the logo above to reach the ssMaritime FrontPage for News Updates & "Ship of the Month"
With Reuben Goossens
Maritime Historian, Cruise'n'Ship Reviewer, Author & Maritime Lecturer
Please Note: All ssMaritime and other related maritime/cruise sites are 100% non-commercial and privately owned. Be assured that I am NOT associated with any shipping or cruise companies or any travel/cruise agencies or any other organisations! Although the author has been in the passenger shipping industry since 1960, although is now retired but having completed over 700 Classic Liners and Cargo-Passengers Ships features I trust these will continue to provide
White Star Line / Shaw Savill Lines
SS Athenic I, Corinthic I & Ionic II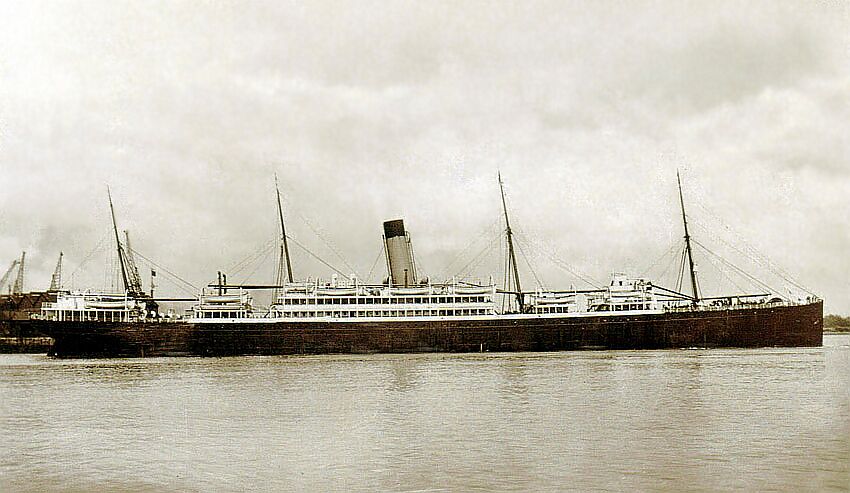 This fine photograph shows the stately looking SS Athenic just prior to being sold to the Norwegians in 1928
Please Note: All photographs and postcards on this page, except those marked otherwise, are from the author's porivate collection
This page covers three fine ships that were built for the combined companies of White Star & Shaw Savill Lines, operating passenger and cargo services to and from New Zealand.
These three large liners where known as the "Athenic's, because the SS Athenic was the first of the class to be built. They were especially designed to operate on the profitable London to New Zealand service for at least thirty years, which the latter two of these three ships achieved.
Although these ships are generally known to be Shaw Savill liners, they were actually built for and by the White Star Lines house builders being the famed Harland & Wolff Shipyards in Belfast, Northern Ireland. However, looking at these ships it does become quite obvious that these ships greatly influenced many later Shaw Savill liners.
Whilst these ships were being constructed and completed, during 1902 and 1903 the White Star Line would be absorbed by a company owned by that famed billionaire Banker Mr. J. Pierpoint Morgan. "International Mercantile Marine" (IMM) was formed by him with a capital of £24,000,000 in order to purchase the assets of "White Star Line" and its managers "Imrie and Ismay & Company."
J. P. Morgan and his son Jack Morgan are known for their glamorous yachts all named Corsair and the most famed of these is the last one being one of most glamorous super yachts ever built, the 91.4 m / 300ft SS Corsair IV – You will find my feature on her very interesting as it covers the yacht from the Piermont days to her conversion into an ultra deluxe but sadly a doomed cruise ship!
Regardless the White Star management changes, these three great liners would continue to sail Down Under to New Zealand as Shaw Savill Liners!
************************
Part One: Building – Launch & Maiden voyage
SS Athenic I:
Call sign: TDNC - official registration number 115239.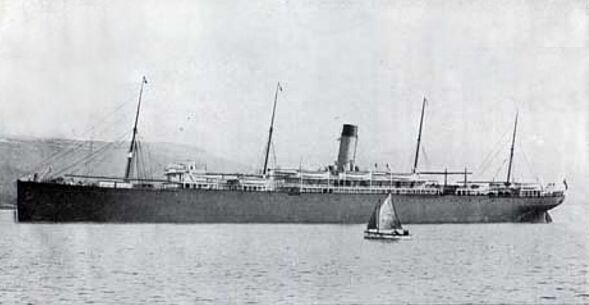 SS Athenic seen as built
Athenic was the first to be launched of the trio by Harland & Wolff on August 17, 1901, and was delivered to her owners on January 23 1902 having had her deep sea trials.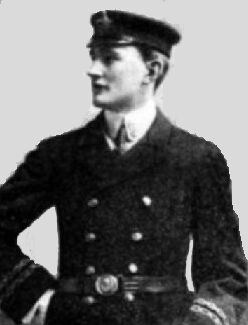 On the maiden voyage was third Engineer, Wallis Vincent Browne
Provided by John Davis (NZ), a distant relative of Mr Browne
SS Athenic departed on her maiden voyage from London to New Zealand on the February 13, 1902, sailing via the Canary Islands, Cape Town, Hobart - Australia to Wellington. She returned to England sailing around Cape Horn, Rio de Janeiro, Las Palmas, Plymouth and back to the Thames to London.
************************
SS Corinthic I:
Call sign: TLWJ - official registration number 115296.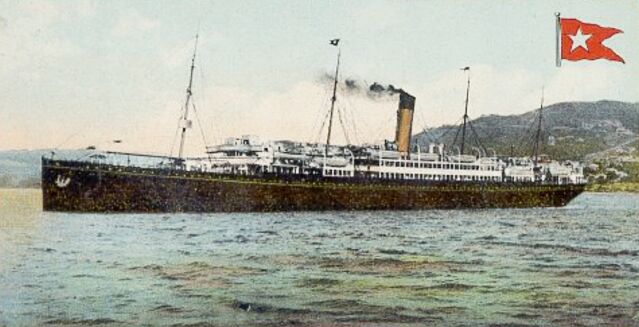 A rare colour White Star postcard of the SS Corinthic
Corinthic was launched next on April 10, 1902, and was completed in November and then undertook her sea trials and was duly delivered to her owners. She departed on her maiden voyage from London to New Zealand on the November 20, 1902. Her schedule was the same as SS Athenic, sailing via Cape Town to Wellington and returning to London around Cape Horn.
************************
SS Ionic II:
Call sign: TSFH - official registration number 115337.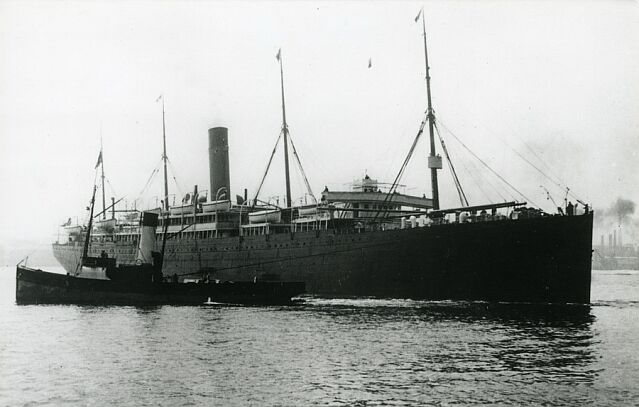 SS Ionic seen in 1903
Ionic, being the last of the Athenic series was launched on May 22, 1902, and she was completed and delivered in December. She departed on her maiden voyage from London to New Zealand on January 16, 1903, also sailing via Cape Town to Wellington and returning to London around Cape Horn.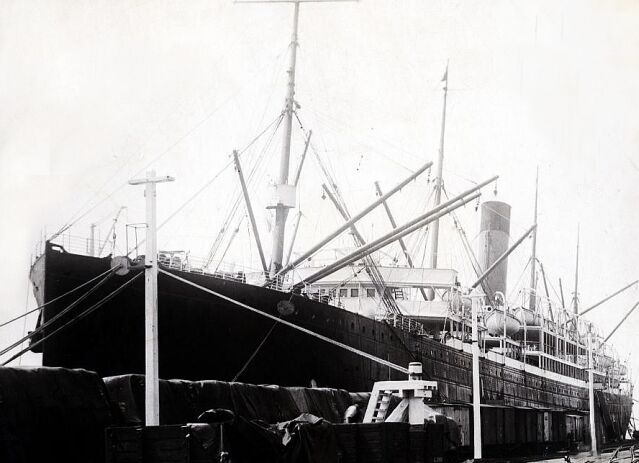 SS Ionic in port
************************
Part Two: Ships general details and descriptions
These were large ships for the time and had accommodations for 688 passengers in three classes, with Third Class being mainly mostly used for the assisted emigrant trade, whilst both First and Tourist classes servicing the general tourist and transportation trade. Unusual for the time, these ships had just one tall buff-coloured, black topped smokestack, four masts, twin screws, 4 decks, and they was fitted with a unique feature, machinery to refrigerate the especially insulated cargo holds. They also had water ballasts. They had quadruple expansion engines with 8 cylinders of 22, 31½, 46 & 66 inches diameter each pair, and stroke 48 inches. Their engines were built by Harland & Wolff, delivering 604 nominal horsepower giving the ship a service speed of 14 knots.
As already indicated, in addition to transporting passengers these three sisters had considerable cargo spaces, including massive insulated cargo holds that were capable of carrying up to 98,800 carcases of frozen lamb. In addition their general cargo holds provided an additional 8,375 tons for dry cargoes, although around 2,340 tons of space was reserved as a coal bunker. The ships daily consumption was around eighty tons of Welsh or ninety-two tons of Westport coal. Thus for their outbound voyages these ships carried general cargoes in all holds, then for the return voyage from New Zealand her insulated holds were converted and refrigerated for the frozen meat bound for England.
***********************
Part Three: WWI & the "Liner Requisition Scheme"
SS Athenic. The time came that World War I had started Athenic was located in Wellington and soon became involved. On September 23, 1914 she was in Lyttleton (Christchurch) on the South Island of New Zealand, where the "Canterbury Mounted Rifles" would board the SS Athenic that day as they arrived on the wharf.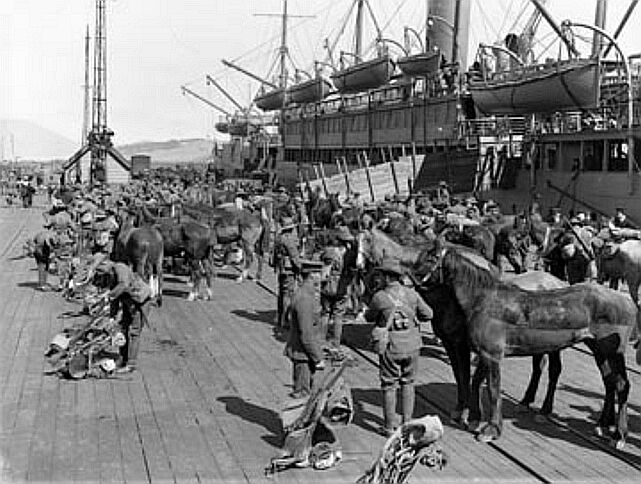 Canterbury Mounted Rifles ready to board the Athenic
New Zealand Mounted Rifles Org - www.nzmr.org
Above we see the men dismount their horses and stow their packs. The Athenic is ready to take them on board and the horse Shute can be seen at her side, which is ready to take the horses to the horse-boxes down below, although some would be housed on deck. All animals had to remain standing in their stalls for the entire voyage to Alexandria, Egypt. This ship took both the 8th South Canterbury and 10th Nelson Squadrons on this voyage.  She sailed across the globe, sailing per convoy by way of Wellington, Hobart, Albany, Colombo, Aden and finally arriving in Alexandria to disembark the soldiers on December 3, 1914. SS Athenic was designated at that time as being HMNZT 11. She was the largest troop ship ever sent from New Zealand transporting New Zealand forces to the Middle East.
During this time it was decided by Shaw Savill to alter her schedule and she would now sail from Wellington to London leg via the Panama Canal, rather than sail via Cape Horn as in the past, and this service remained in place after the war ended.
An interesting wartime event occurred early in 1916. The German raider Moewe seized the British collier Westburn on February 8, 1916, whilst she was on her way from Cardiff to Buenos Aires. On board was a load of Welsh coal. On board the Moewe were all the prisoners that the Moewe had collected so regularly from various captured ships, and these were transferred across to their latest acquisition, and the Westburn was sent to Santa Cruz where they were all released. On February 28, 1916 Athenic took on board many of the British prisoners of war at Santa Cruz, that had been on board Moewe and Westburn, the latter had by then been scuttled.
But, due to her frozen meat-carrying capacity, the Athenic was retained in commercial service during World War I, even though she was taken up under the "Liner Requisition Scheme" (whilst she was berthed in Wellington) between 1917 and 1919. Thus during this time she would often carry troops from New Zealand to England in her Third Class accommodations on the homeward leg.
With the war finally over the Athenic was returned to Shaw Savill in 1919 and she recommenced her normal commercial within the next year. Although there was a change made to her and her sister's schedules, for from now on until these ships concluded services, the Athenic trio would depart London carrying only cargo and proceed to Southampton where she would take on her passengers for the voyage to New Zealand.
On May 3, 1920, she went to the rescue of a ship in trouble rescued and some eighty passengers and crew from the American, Munson Lines, SS Munamar that had run aground near San Salvador. All those who had been rescued were later landed at Newport USA.
************************
SS Athenic Photo Gallery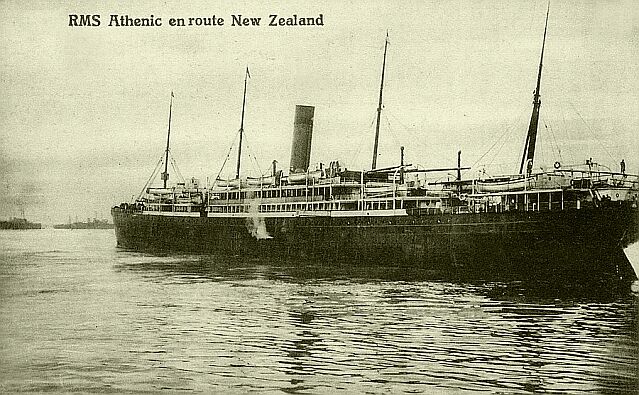 This Shaw Savill Line Postcard designates her as the RMS Athenic, but she was always designated as just "SS"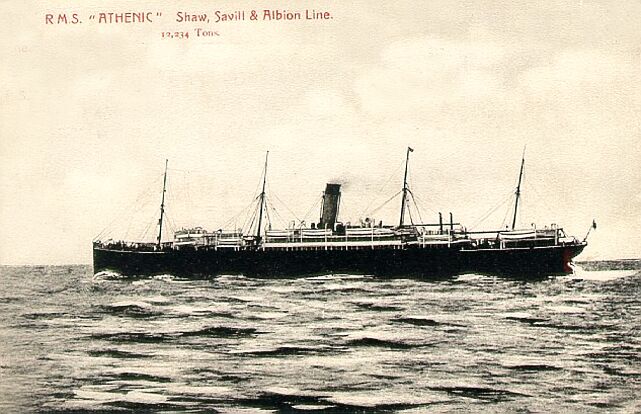 Another Shaw Savill postcard
************************
SS Corinthic was also taken over by the "Liner Requisition Scheme" in 1917. However, unlike the Athenic's voyage in September 1914, the Corinthic only carried troops in the Third Class section of the ship and regular passengers in First and Second Classes as she basically retained her regular services with additional ports as required.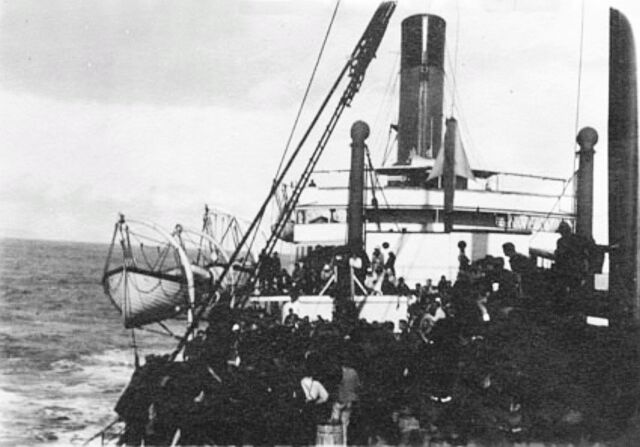 SS Corinthic during the war years. This voyage she departed Wellington on April I, 1917
Sent in by John O'Connor of NZ
SS Corinthic was returned to her owners late in 1918 and after an overhaul she was also returned to service and commenced sailing on January 20, 1920.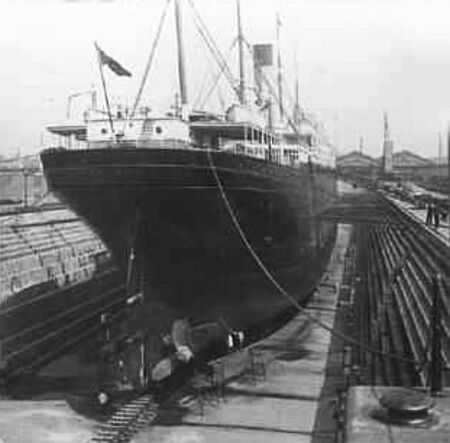 SS Corinthic seen in dry-dock in 1920 during her refit, being made ready for passenger services
The Dunigan family sail on SS Corinthic to New Zealand in 1922:
The following details were provided by Jennifer Howard who is in the process of obtaining further information on the family history and the voyage for that matter. Thus, should there be a reader that may have any further information re this voyage, or corrections, please contact the author by using the email link at the bottom of the page.
As SS Corinthic departed a cold Southampton late afternoon on February 9, 1922, as husband and wife James and Elizabeth Dunigan were looking forward to their voyage and to a new life that would await them as they would arrive around six to six and a half weeks later in Wellington New Zealand. Travelling with James (53 years) and his wife Elizabeth (51 years) were their three children, Jessie aged 29 (Jennifer Howard's Grandmother), James aged 19 and Betty the youngest at 5 years of age.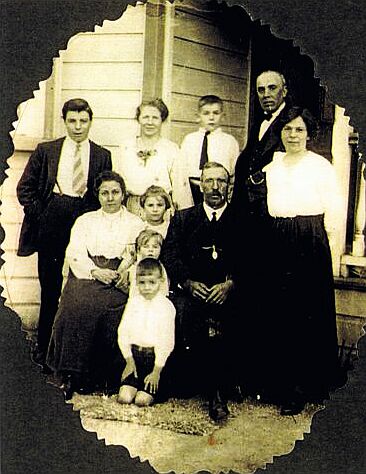 Description of the photograph above: James Dunigan (Jnr) was born in 1902 is standing on the left he is seen with his hand in his pocket. Elizabeth Dunigan, born in 1870 is seated on the left. James Dunigan (Snr) was born in 1868 is seated on the right. Jessie Dunigan, approx 29 years, is seen standing on the right next to her father. Elizabeth Dunigan (Jnr) is approx 5 years of age and she is standing between Elizabeth Snr and James Snr, directly in front of the standing NZ woman, behind the two other children.

More will be added to this story in due course.

************************

SS Ionic

. In 1914, at the beginning of World War I, Ionic was also requisitioned for troop transport for the New Zealand Expeditionary Force and in 1915 a German torpedo missed her by less than 15 yards, whilst she was sailing through the Mediterranean. Ionic was returned to Shaw Savill management for refurbishment late in 1918 and on January 31, 1919, she returned to her former New Zealand passenger service via the Panama Canal. In 1927 Ionic came to the aid of the crew aboard a French fishing vessel, the Daisy, which had run aground in Grand Banks.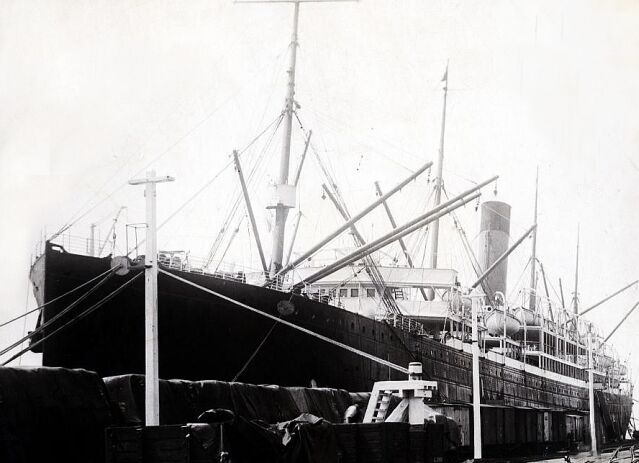 SS Ionic seen just after the war
************************
Part Four: Their final Days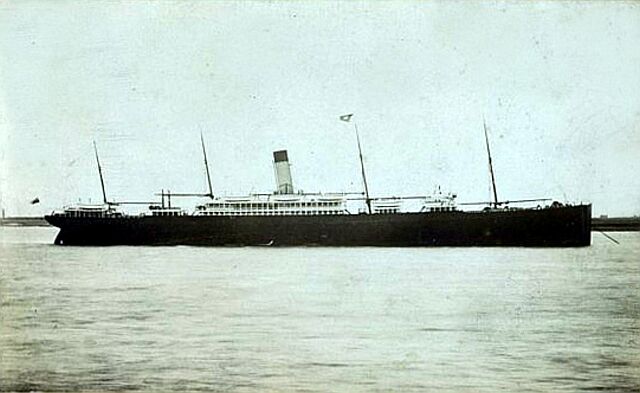 SS Athenic. In 1926, the now prefixed RMS Athenic became a two class ship offering Second and Third Classes only. She continued her voyages, however she was sold in May 1928 to the Norwegian Company Brunn & von der Lippe of Tronsberg who extensively rebuilt her Tyne side and renamed her Pelagos and she became a whaling factory. Her conversion proved so successful that a number of other half sisters were purchased such as the Runic, Medic and Suevic and in due course they all joined her in the whaling industry.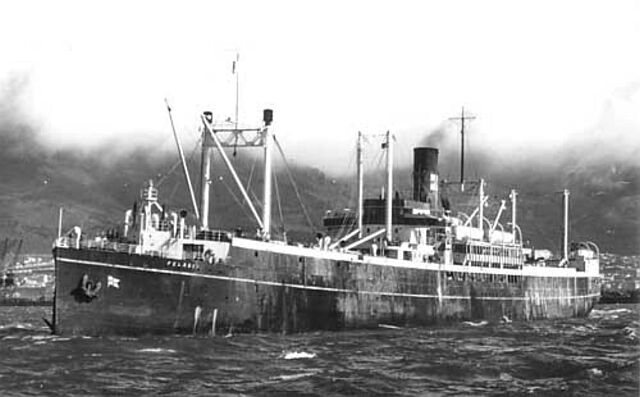 SS Pelagos, ex Athenic certainly had the longest career of the trio, although it was certainly an eventful one!
Twelve and a half years later she was captured by the German Raider SS Pinguin on January 15, 1941 along with other factory ship, one depot ship and eleven whale catchers. SS Pelagos was converted to become an oil tanker to refuel German U Boats and she was attached to the 24th submarine flotilla based in Norway. On October 24, 1944, U Boat U-69 torpedoed her, which was an act of spite by the Germans, and she sank to the bottom of the harbour at Kirkenes. A year later on the bottom the Norwegians raised her and she was completely refitted and placed back into service for another good eighteen years. Eventually the SS Palagos, ex Athenic now aged 61 years, was sold to be broken up in Germany by Eckardt & Company of Hamburg in 1962. There is no doubt that this was a well built ship having lasted this long and having survived the bottom of the harbour for some twelve months!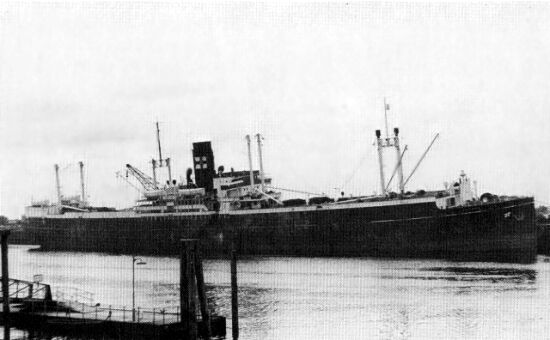 Pelagos seen after her eventful life and now at the breakers in 1962
************************
SS Corinthic. In 1923 she rushed to the Newfoundland schooner Marguerite Ryan, which was in trouble and rescued her crew. Then in 1926 there is that famed story of how the Corinthic raced the New Zealand Shipping Co (NZSC) Liner Remuera from the UK to Wellington and how both ships kept each other in sight all the way. The truth is they were both winners as they both matched each others speed and arrived much at the same time, but Remuera did dock first, but that had nothing to do with speed, rather than the dockworkers taking her first.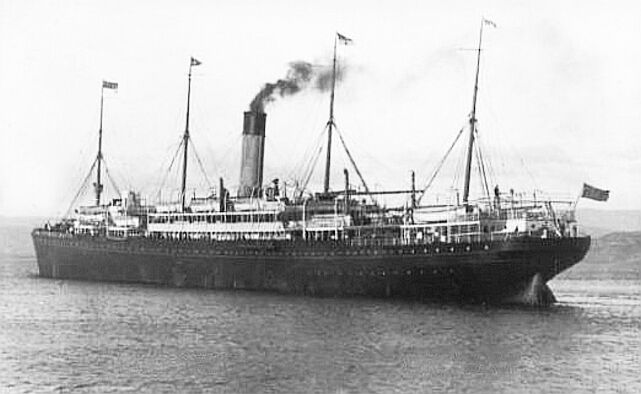 SS Corinthic sets sail
It was decided by Shaw Savill to dispose of her and thus she commenced her final return voyage to Wellington on August 14, 1931. In December of that year she was sold to Hughes Bolckow's, who in due course broke up at by them at Blyth.
However, as I have been advised by Mr. Malcolm Scott of Blyth Northumberland that many of her fittings were purchased by the local Masonic Club and these superb items survive to this day.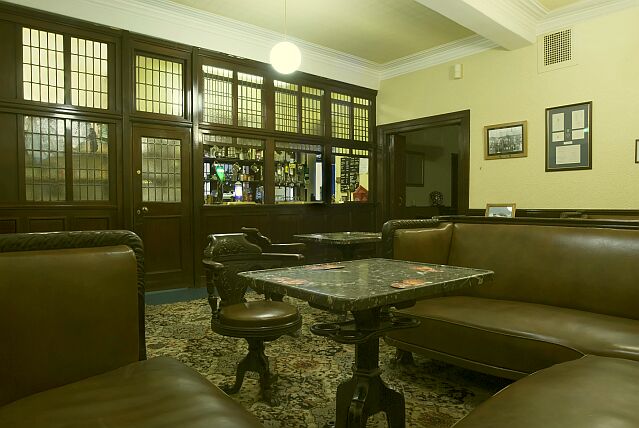 The Members Bar at the Blyth Masonic Club was originally the
SS Corinthic First Class Smoking Room Bar, including the furnishings
Photograph by & © 2010 Mr. Bill Coulson – Blyth Northumberland - UK
Fittings include the superb First Class Smoking Room Bar, as well as tables, chairs and other items of seating, the clock from the bridge, a set of beautiful double doors, ash trays, hat and coat stands and yardage of oak panelling. In addition there is even a superbly decorated (hand painted) window that has been fitted in the Ladies cloakroom.
Below is the original text of a meeting aboard or "at" the SS Corinthic and the ship breakers yard on December 29, 1939.
Text of Minute dated December 29th 1931.
"Meeting of the General Committee at S/S Corinthic, Hughes Bolckowes, Ship breaking Yard, North Blyth.
W.Bro. W.B. Fletcher, in the chair, also present J. J. Robson, J. R. Parsons, J.R. Bilton, Jas. Hutchinson, T. Cooks and W.B. Parsons with Mr. Stockdale,
Architect and Mr. Jas. Macdonald from Shipyard.
The Committee inspected the furnishings and appointments in the first class smoke room of the S/S Corinthic and agreed to purchase these for £75. Also the whole of the seating in the Drawing room for £15 and such oak panelling as required at 1/- per sq. foot.
Mr. Macdonld gave a rough estimate of £35 for taking out smoke room Furnishings, removing same to Shipyard making ready for putting into new Building and storing same until Building was ready.
It was agreed to give this work to the Cowpen Shipyard and Dry Dock Co."
Notes:
1) spelling and punctuation as in minute.
2) W. B. Parsons and J. R. Bilton were the joint secretaries of the Blyth Masonic Hall and the Blyth Masonic club. W. B. Parsons was an Auctioneer.
3) J. R. Parsons was a Solicitor and legal adviser to Blyth Masonic.
4) Wm. Stockdale was a Mason from North Shields who was engaged as the architect for the extension of the Blyth Masonic Building.
5) The building work took place in 1932, as part of this work the fittings referred to in the minute were used in fitting out the Bar.
I am most grateful to Mr. Malcolm Scott of the Blyth Masonic Club for his cooperation to this feature, and his superb photographs of which only the first is being shown at this stage, but more will follow soon. It is good to know that a substantial piece of maritime history remains with us to this very day, and those who are able can visit the club and experience the elegant surroundings that the more wealthy passengers experienced on a fine liner the SS Corinthic between 1902 and 1931!
Thank you Malcolm for sending the photograph and information, your contribution is certainly greatly appreciated!
Reuben Goossens.
************************
SS Ionic had her last refit before the Cunard-White Star merger was completed in 1929 and she was converted to a two class ship, accommodating Cabin and Third Class passengers. Then in 1934 after White Star Line and Cunard Line merged, SS Ionic was sold to the Shaw, Savill & Albion Line. Although Ionic retained her name, her prefix SS was now changed to RMS.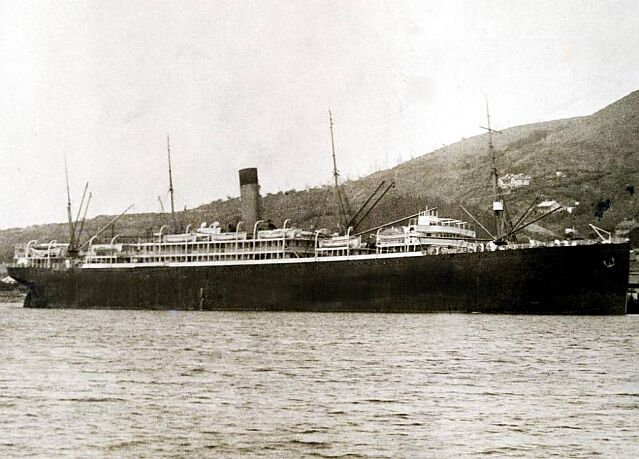 SS Ionic is seen in the port of Bluff, New Zealand
In 1936 it was decided to sell RMS Ionic after 32 long years of faithful service. During her long and successful career she made a remarkable 79 round voyages to New Zealand and it is recorded that she clocked up at least one two million miles and transported over a million tons of cargo! She was sold to Japanese ship breakers in Osaka and she steamed from London to Japan under her own power in January 1937.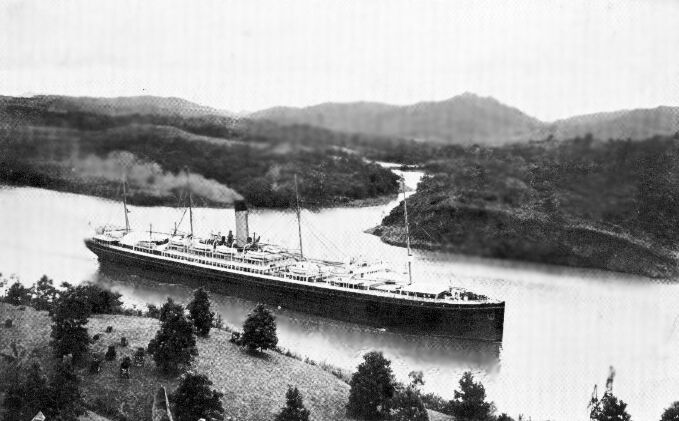 RMS Ionic transiting the Panama Canal during her latter years
************************
Part Five: SS Athenic, Corinthic & Ionic Specifications
Built:               1901/02 by Harland & Wolff Shipyards Belfast, Northern Ireland
Yard                Athenic - Yard 341
Launched         Launched August 17, 1901
   "                  Corinthic – Yard 343
   "                  Launched April 10, 1902
   "                  Ionic – Yard 346
   "                  Launched May 22, 1902
Tonnage:         Athenic - 12,234 GRT (Gross Registered Ton)
                      Corinthic – 12,231 GRT
                      Ionic – 12,232 GRT
Length:            157.1m (516ft)
Width:             19.3m (63.3ft)
Draught           9.4m (31ft)
Engines:          Harland & Wolff Quadruple-Expansion Steam engines, 4,800 IHP
Screws:           Twin
Speed:             14 knots.
Passengers:      66 to 121 First Class -       Interchangeable
                      81 to 117 Second Class -              "
                      450 to 500 Third Class -        "
Crew:              158 to 200
Livery:             Black hull with red boot topping, white superstructure
                      buff funnel with a black top
************************
Memorabilia:
1… These three ships were so greatly respected in New Zealand, that when it had been announced that the last of the Athenic's, the RMS Ionic was to be sold, the Mayor of Auckland asked Shaw Savill if the ships bell could be presented to the City as a memento when the ship would be in New Zealand during her final visit. Today, this superb piece of memorabilia is located in the "Auckland War Memorial Museum." The RMS Iona's ships bell as well as a now somewhat faded photograph of the ship is on show and it is worthwhile visiting! PS: I have contacted the Museum and I hope to obtain a photograph of the bell!
2… In addition I will include with a tea caddy from the SS Corinthic I featuring the Shaw Savill flag and the ships name.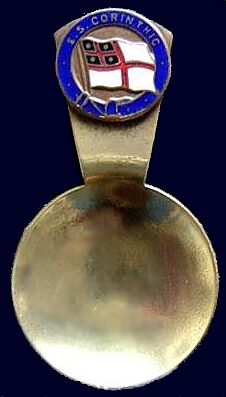 An original SS Corinthic Tea caddy
Below is the way we like to Remember these Great Liners!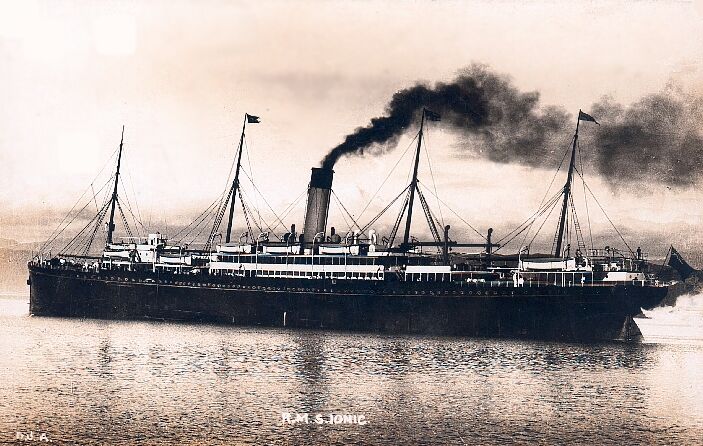 Out of the Athenic's trio, the RMS Ionic sailed the longest as a fulltime liner to New Zealand
These ships provided such great memories and it the beginning of many fine ships to come!
The following are all my Shaw Savill features on ssMaritime.com
1... SS Athenic Class Ships – These three fine liners built in 1902/03
2… QSMV Dominion Monarch – Shaw Savill's Grandest Dame ever built!
3… SS Corinthic Class Liners – Four fine ships built in 1947/48.
4… SS Southern Cross – A 23 webpage feature on a revolutionary passenger liner!
************************
"Blue Water Liners sailing to the distant shores.
I watched them come, I watched them go, and I watched them die."
************************
ENTER OUR ssMaritime MAIN INDEX
Featuring over 1,116 Classic Passenger Liners, Passenger-Cargo Liners & Cruise Ships!
ssMaritime.com & ssMaritime.net
Where the ships of the past make history & the 1914 built MV Doulos Story
Photographs on ssmaritime and associate pages are by the author or from the author's private collection. In addition there are some images that have been provided by Shipping Companies and private photographers or collectors. Credit is given to all contributors. However, there are some photographs provided to me without details regarding the photographer/owner concerned. I hereby invite if owners of these images would be so kind to make them-selves known to me (my email address may only be found on www.ssmaritime.com), in order that due credit may be given.
This notice covers all pages, although, and I have done my best to ensure that all photographs are duly credited and that this notice is displaced on each page, that is, when a page is updated!
ssMaritime is owned & © Copyright by Reuben Goossens - All Rights Reserved