Moore-McCormack SS Brasil
Please Note: Firefox and some other search engines are not suitable – Use "Internet Explorer" for this page to load perfectly!

Click the logo above to reach the ssMaritime FrontPage for News Updates & "Ship of the Month"
With Reuben Goossens
Maritime Historian, Cruise'n'Ship Reviewer, Author & Maritime Lecturer
Please Note: All ssMaritime and other related maritime/cruise sites are 100% non-commercial and privately owned. Be assured that I am NOT associated with any shipping or cruise companies or any travel/cruise agencies or any other organisations! Although the author has been in the passenger shipping industry since 1960, although is now retired but having completed around 680 Classic Liners and Cargo-Passengers Ships features I trust these will continue to provide classic ship enthusiasts the information the are seeking, but above all a great deal of pleasure! Reuben Goossens.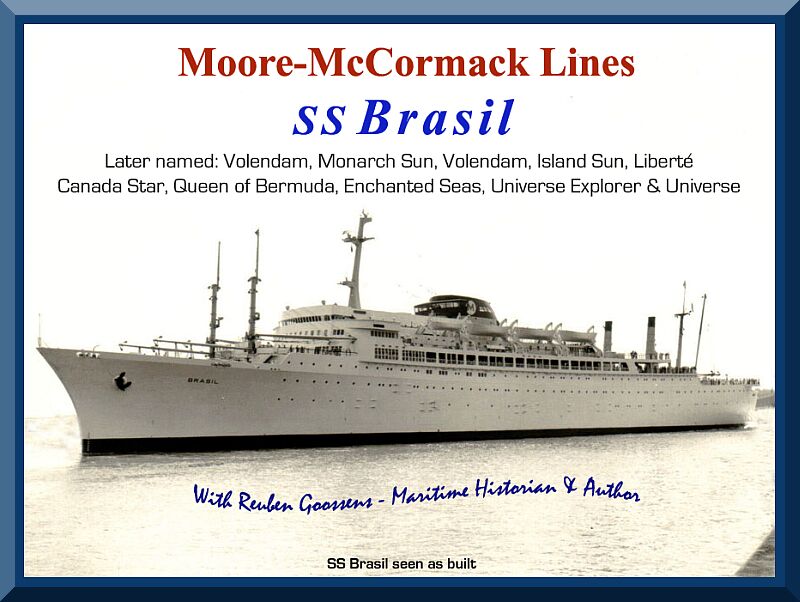 Please note: Images on this page, except those marked otherwise, are from the author's private collection
SS Volendam to Enchanted Seas
Introduction
SS Brasil, a ship that became the Universe Explorer, was without a doubt a magnificent Classic Liner, even though she had seen some rebuilding with decks added, thus she became a somewhat changed ship from the one that was originally launched on December 16, 1957. During her 46 year history SS Brasil had a varied life as can be observed by her many name changes such as the Holland America Lines SS Volendam through to the Enchanted Seas and this time of her career is covered on this page. There is no doubt that during her time of service, this superbly built liner and cruise ship served not only her original owner, Moore-McCormack well, but also served all her other owners extremely well.
Holland

America Days
Due to the ever declining passenger numbers in the shipping industry, Moore-McCormack made a decision to dispose of the two sisters and both ships, the SS Brasil and SS Argentina were sold in 1972 to the famed Dutch shipping company, Holland America Line, which was officially founded in 1972 with their first new ship SS Rotterdam.
Brasil and the Argentina were purchased by the famed Dutch shipping company, Holland America Lines and both ships were comprehensively refurbished in Bremerhaven, Germany at Lloyd-Waft Shipyard. This saw the removal of her main (aft) mast, including their forward and aft derricks and their two holds, making her a 100% passenger ship.
SS Brasil was renamed the Volendam and was registered at 23,395 tons (British tonnage), with accommodations for 739 passengers, whist the SS Argentina was renamed the Veendam and was registered at the same tonnage. Both soon entered cruise duties.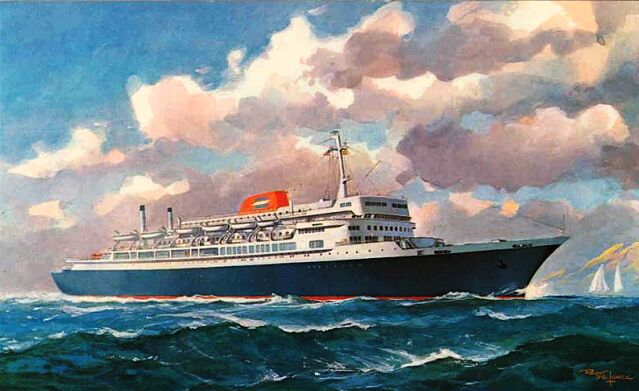 Holland America's first postcard of the SS Volendam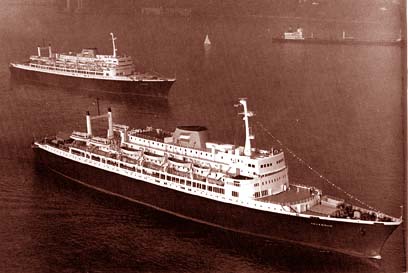 Holland America's Volendam (front) and her sister the Veendam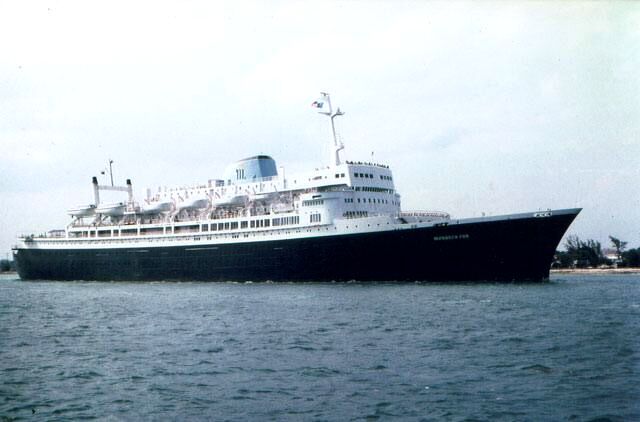 Here she is seen as the SS Monarch Sun
They were both operated by Monarch Cruise Lines under a charter agreement and the ships were renamed, with the SS Volendam becoming the Monarch Sun and the Veendam the Monarch Star. However, Monarch Cruise Lines proved to be so successful that the company was taken over by Holland America in 1978, and both ships returned to their Holland America names again - Volendam and Veendam.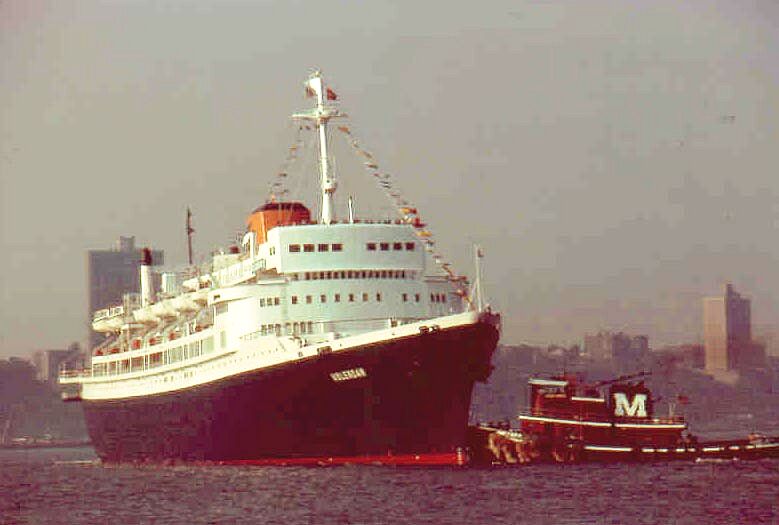 SS Volendam arrives in New York seen during her final days with HAL
The photographer is unknown – Please see the photo notes at the bottom of the page
In 1983 the SS Volendam was sold to Banstead Shipping that had its offices in Panama. Then in 1984 she was renamed Island Sun but remained laid up, but was used as a hotel ship in Quebec, Canada. In1984 she was moved to Newport News near Philadelphia, where she was laid up until 1985 when she finally was sold to become a full time cruise ship again.
However, in May 1984 SS Veendam was sold to the Island Navigation Corp, or the Bermuda Cruise Line and she was renamed to Bermuda Star. Please Note: SS Argentina's details and final years can be found on "Page One" via the Index at the bottom of the page.
************************************
Holland America Lines sold the Volendam in 1985 to American Hawaii Cruises who renamed her SS Liberte and in December of that year she departed on her first series of cruises Tahitian Islands.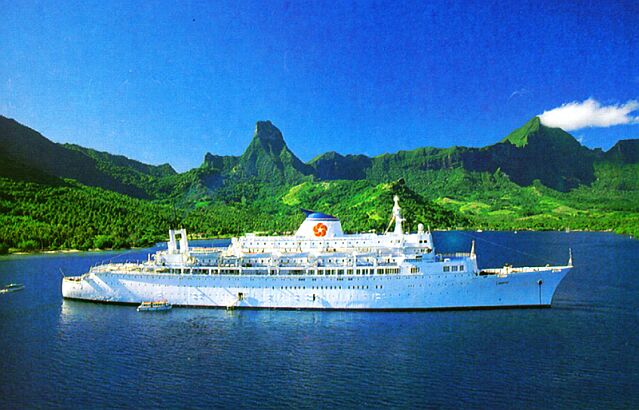 SS Liberte seen here in Tahiti – and as we can see she had her original all white livery again
In 1987 the Bermuda Star Line purchased her and they renamed her Canada Star, however, by June 1988 she was renamed again Queen of Bermuda and commenced her first cruise from Philadelphia on June 11.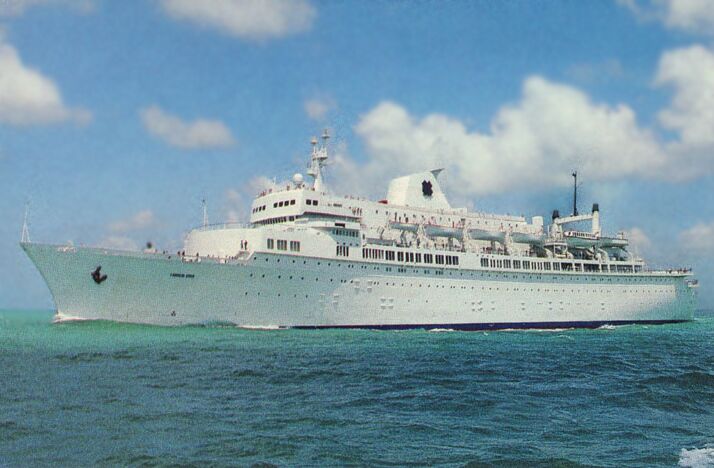 She is seen here as the Canada Star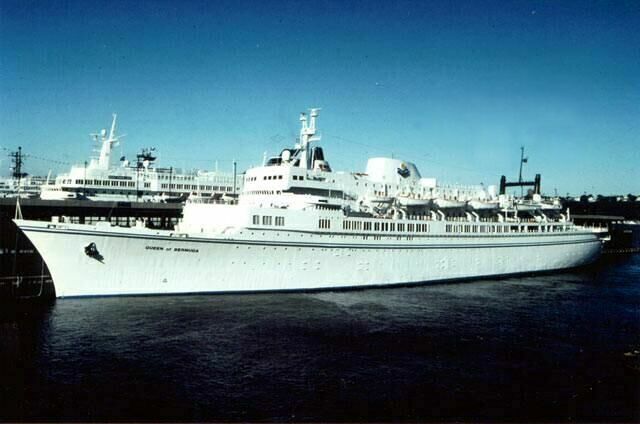 SS Queen of Bermuda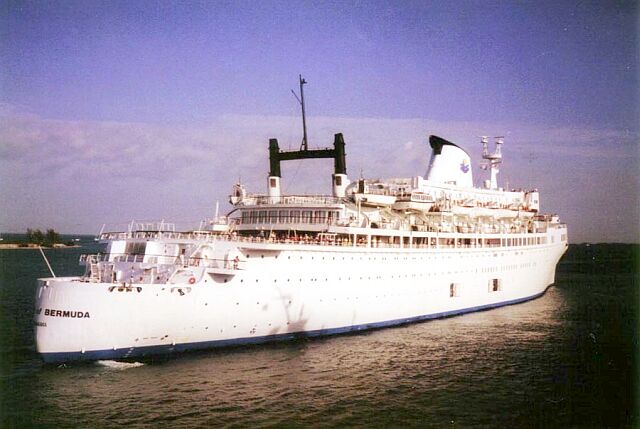 A fine stern view of SS Queen of Bermuda
She operated under the name of SS Queen of Bermuda for three years, but in November 1990 she was taken over by Commodore Cruise Line who had consolidated with Bermuda Star Lines and they renamed her Enchanted Seas.
In 1991 she was fully upgraded to SOLAS specifications, however in 1993 she was sold once more, but the Brazil Caribbean Shipping Company did not rename her.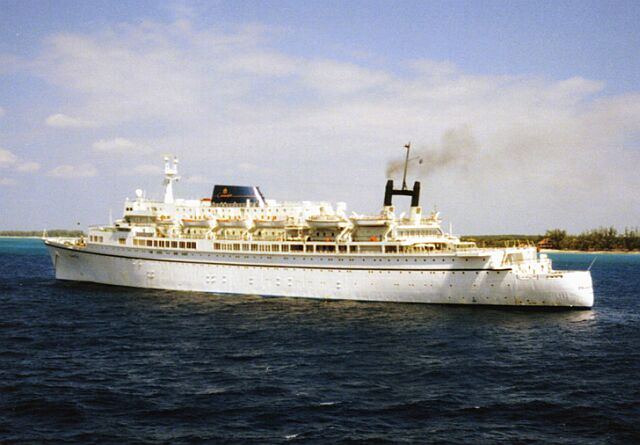 A delightful photograph of the Enchanted Seas

They retained the Enchanted Seas for the next two years until 1995, when she would finally be renamed and have a long term name once again when she was sold to the American V-Ships / Azure Investments, a company that came out of the famed Italian "Sitmar Lines", and she was renamed SS Universe Explorer.

The SS Universe Explorer was the name that would remain with her until her final days and was chartered to New Commodore Cruise Lines. However, the ship was to be managed and operated by the International Marine Carrier.

*The SS Universe Explorer story continues on "Page Four" - See the links below on the ships Index.

****************************************

SS Brasil & Argentina to SS Universe Explorer INDEX:

Page One:          SS Brasil & Argentine's history.

Page Two:         SS Brasil & Argentina's Deck Plan.

Page Three:       SS Volendam to Enchanted Seas.

Page Four:         SS Universe Explorer / Universe.

Page Five:          SS Universe Explorer Deck Plan.

"Blue Water Liners sailing to the distant shores.


I watched them come, I watched them go and I watched them die."

****************************

Visit our ssMaritime Main INDEX

Where you will discover more than 680 Classic Passenger & Passenger-Cargo Liners!

ssMaritime.com & ssMaritime.net

Where the ships of the past make history & the 1914 built MV Doulos Story

Please Note: ssmaritime and associated sites are 100% non-commercial and the author seek's no funding or favours of any shape or form, never have and never will!

Photographs on ssmaritime and associate pages are by the author or from the author's private collection. In addition there are some images that have been provided by Shipping Companies and private photographers or collectors. Credit is given to all contributors. However, there are some photographs provided to me without details regarding the photographer/owner concerned. I hereby invite if owners of these images would be so kind to make them-selves known to me (my email address may be found on www.ssmaritime.com only), in order that due credit may be given.

ssMaritime is owned & © Copyright by Reuben Goossens - All Rights Reserved