Moore-McCormack SS Brasil
Please Note: Firefox and some other search engines are not suitable – Use "Internet Explorer" for this page to load perfectly!

Click the logo above to reach the ssMaritime FrontPage for News Updates & "Ship of the Month"
With Reuben Goossens
Maritime Historian, Cruise'n'Ship Reviewer, Author & Maritime Lecturer
Please Note: All ssMaritime and other related maritime/cruise sites are 100% non-commercial and privately owned. Be assured that I am NOT associated with any shipping or cruise companies or any travel/cruise agencies or any other organisations! Although the author has been in the passenger shipping industry since 1960, although is now retired but having completed around 680 Classic Liners and Cargo-Passengers Ships features I trust these will continue to provide classic ship enthusiasts the information the are seeking, but above all a great deal of pleasure! Reuben Goossens.
SS Universe Explorer
Previously: Enchanted Seas, Queen of Bermuda, Canada Star, Liberte, Island Sun,
Volendam, Monarch Sun, Volendam, Brasil Broken up named SS Universe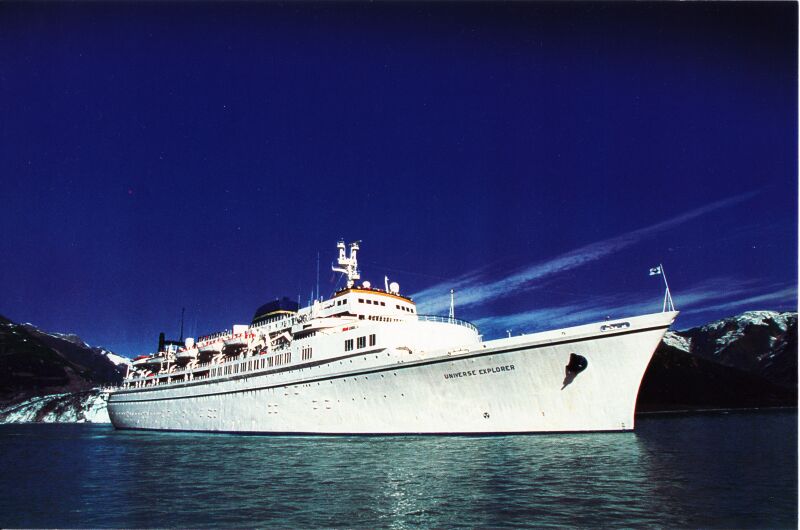 Large postcard of the magnificent SS Universe Explorer
The author has 7 copies for sale (23 X 15CM)
Originally published by World Explorer Cruises
Please note: Images on this page, except those marked otherwise, are from the author's private collection
In 1995, the American V-Lines … Azure Investments purchased SS Enchanted Seas from the Brazil Caribbean Shipping Company and renamed her Universe Explorer a name that would remain with her until her final days.
She was given an extensive refit preparing her for a unique new role that would last until her final days. This new role would see her operate a college program under the auspices of the University of Pittsburgh.
The shipboard modification began in October 1995 and in January 1996 she departed on her first voyage named SS Universe Explorer, which was a regular, call it a shakedown cruise of the Caribbean a ship filled with happy American holidaymakers. Upon her return she departed in February for her first official Education voyage. After two further education voyages Universe Explorer undertook another vacation cruise, having her filled once again with happy vacationers rather that a ship full of students.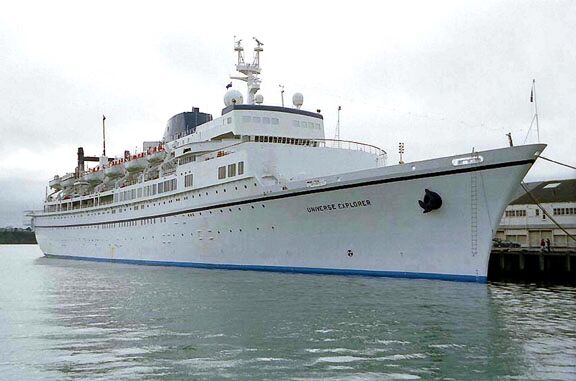 SS Universe Explorer seen during her latter days
Photo by & © Trevor Coppock
During her new career she would be under charter to the New Commodore Cruise Lines. However, the ship was managed and operated by the International Marine Carrier.
On July 23, 1996, SS Universe Explorer departed Vancouver for an Alaskan cruise. However, four days into her cruise, on July 27, she suffered a fire in the ships laundry and tragically five members of the crew perished due to smoke inhalation. In addition a further 55 crew and 1 passenger were treated for injuries. Her damage was extensive and it added up costing US$1.5 million to repair. She returned to Vancouver were she underwent her repairs.

A magnificent view of a magnificent ship
Photo: Prof. Dennis F. Galletta
By late in 2002, the Universe Explorer was operated by World Explorer Cruises and operated education duties under the banner of "Semester at Sea."
SS Universe Explorer is a comfortable and appealing ship. Obviously by modern standards she may be considered small, yet she had all the facilities of a fine ship of the day. However, unlike many of the mega ships in operation at the time, she was a friendly and an intimate ship, which has made her much sought after. Registered in Panama the Universe Explorer was a comfortable 23,879 tons, her stabilisers and a draft of 28 feet, she was a superb sea going ship no matter the weather conditions! Something the giants of the sea these days would yern for, as sadly they are but giant floating boxes, hotels that bob up and down!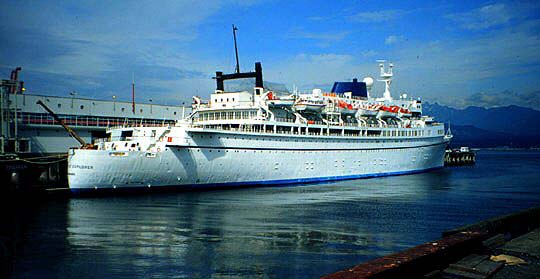 Universe Explorer accommodated up to 731 guests in 369 staterooms. Her nine decks had a vast variety of public rooms including two restaurants, cocktail lounges, a main show lounge, fitness centre, library, a computer centre, spa, shop, medical facilities. Like all classic liners, she was blessed with an abundance of sheltered and open deck space.
Universe Explorer Mini Photo Album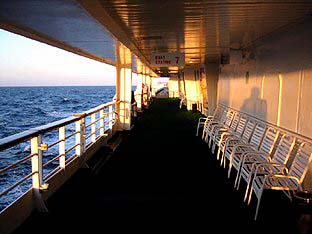 ---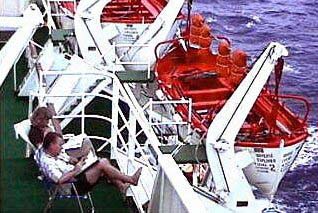 Her traditional Promenade Deck ------- Relaxing on Boat deck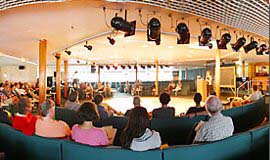 ---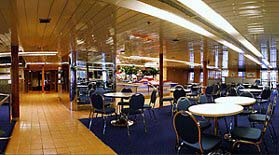 Main Lounge and Showroom ---------- The Buffet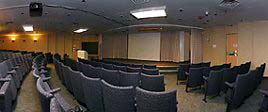 ---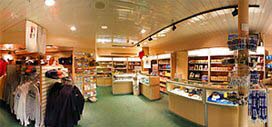 Cinema ------------------ Shopping Gallery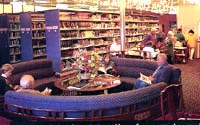 The Library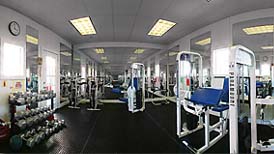 ---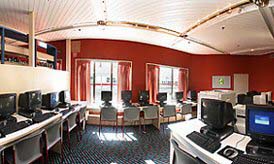 The Gym ------------------- Cybernet@sea
Cabins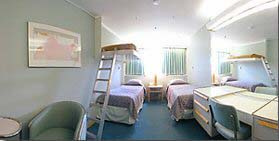 Outside twin/three berth cabin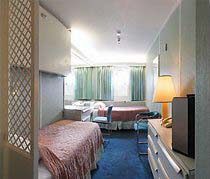 ---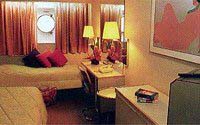 Outside twin/three berth cabin    --- Outside twin bedded room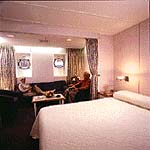 -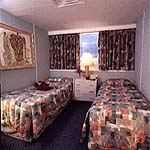 -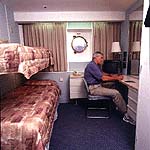 -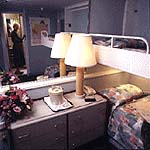 Left to right: A Suite - Outside Twin - Outside Two berth cabin - Inside two berth cabin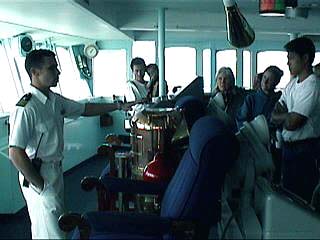 A visit to the Bridge
Photo © Prof. Dennis F. Galletta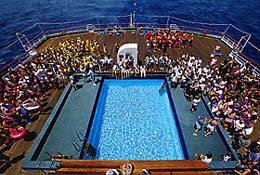 The Pool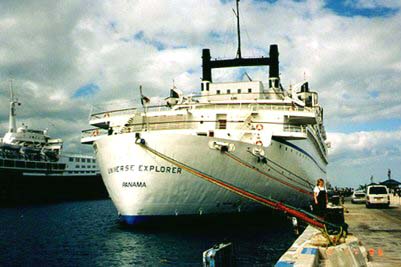 SS Universe Explorer and SS Southern Cross on the left (portside)
Above we see the Universe Explorer berthed alongside another famed Classic Liner, the Imperial Majesty Cruises SS OceanBreeze, built in 1954 as the Shaw Savill Lines Southern Cross, which was broken up in 2004.
Mid 2004 it was decided to give the Universe Explorer a comprehensive refit in Hong Kong that would include the creation of a very special Lounge in the style of the old Moore McCormack days, something that cruise lovers who had a true sense of history were really looking forward to, and it was much heralded! However, tragically it was not to be, for suddenly the news came that the end for this fine ship was nigh!
As seen in a superb photograph below, the SS Universe Explorer departed Seattle for the her final time on April 28, 2004, for this magnificent ship simply would never return, although she was due to come back looking better than she had ever done before, but great disappointment was about to hit all who dearly loved this ship!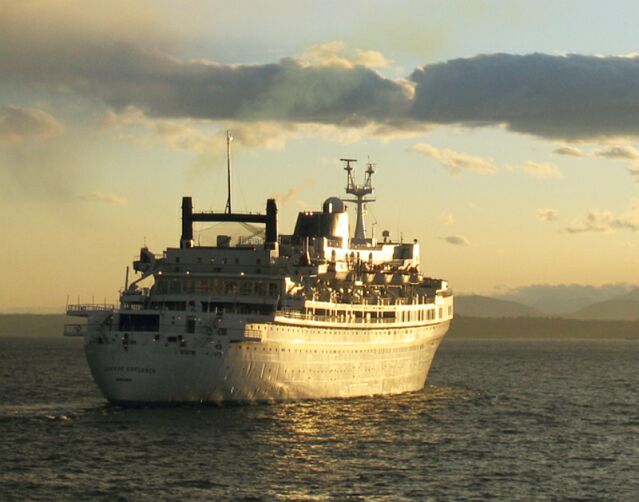 Past passenger Chase Wiles took this photo of her departing Seatle
For her final voyage on April 28, 2004, bound for Hong Kong
Photograph by and © Chase Wiles - USA
Whilst she was undergoing a comprehensive refit in Hong Kong in August of 2004, and she was scheduled to return to cruising and operating the University at sea, etc., suddenly her owners "Azure Investments" decided to sell all because of a dispute between them and the ship's charters, "World Explorer Cruises." However, it must be said that there were also a good number of problems found that would have been costly to repair, and this was part of the final dispute, and the ships problems whilst she was in Hong Kong, and it sadly this caused her final demise, even though she could have been easily repaired and sailed on, if her owners were willing to spend that little extra, for the author even had a buyer for the ship at the time as well as a charter, yet Azure just went ahead and sold her for scrap!
SS Universe Explorer was sold on November 9, 2004 to "Rikkan Shipping Inc" of Monrovia, being an agent for Indian breakers, and she departed Hong Kong on November 19, with the first part of her name "Explorer", thus she was named "Universe" for her final voyage to the breakers yards in India.
She was beached at Alang on December 7, 2004 and was broken up during the first five months of 2005, thus this fine and one the last of the great American Liners was lost! However, thankfully the SS United States continues to survive.
Reuben Goossens.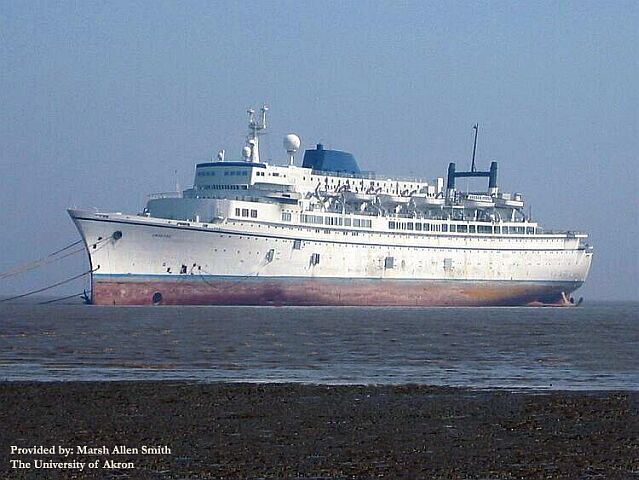 Above and below, we see the SS Universe beached at Alang early in 2005 before external breaking up commenced
Photo provided by March A. Smith – University of Akron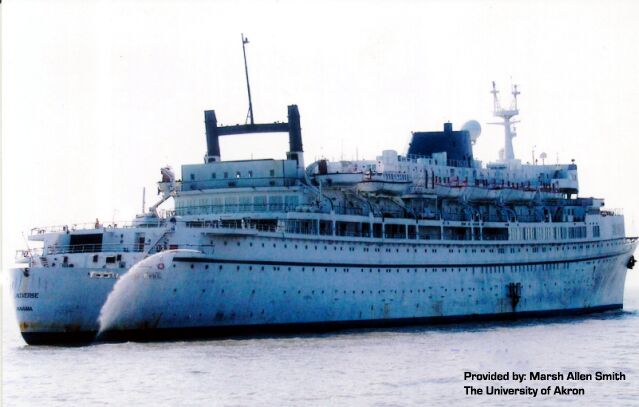 ****************************************

SS Brasil & Argentina to SS Universe Explorer INDEX:

Page One:          SS Brasil & Argentine's history.

Page Two:         SS Brasil & Argentina's Deck Plan.

Page Three:       SS Volendam to Enchanted Seas.

Page Four:         SS Universe Explorer / Universe.

Page Five:          SS Universe Explorer Deck Plan.

"Blue Water Liners sailing to the distant shores.


I watched them come, I watched them go and I watched them die."

****************************

Visit our ssMaritime Main INDEX

Where you will discover more than 680 Classic Passenger & Passenger-Cargo Liners!

ssMaritime.com & ssMaritime.net

Where the ships of the past make history & the 1914 built MV Doulos Story

Please Note: ssmaritime and associated sites are 100% non-commercial and the author seek's no funding or favours of any shape or form, never have and never will!

Photographs on ssmaritime and associate pages are by the author or from the author's private collection. In addition there are some images that have been provided by Shipping Companies and private photographers or collectors. Credit is given to all contributors. However, there are some photographs provided to me without details regarding the photographer/owner concerned. I hereby invite if owners of these images would be so kind to make them-selves known to me (my email address may be found on www.ssmaritime.com only), in order that due credit may be given.

ssMaritime is owned & © Copyright by Reuben Goossens - All Rights Reserved