Moore-McCormack SS Brasil
Please Note: Firefox and some other search engines are not suitable – Use "Internet Explorer" for this page to load perfectly!

Click the logo above to reach the ssMaritime FrontPage for News Updates & "Ship of the Month"
With Reuben Goossens
Maritime Historian, Cruise'n'Ship Reviewer, Author & Maritime Lecturer
Please Note: All ssMaritime and other related maritime/cruise sites are 100% non-commercial and privately owned. Be assured that I am NOT associated with any shipping or cruise companies or any travel/cruise agencies or any other organisations! Although the author has been in the passenger shipping industry since 1960, although is now retired but having completed around 680 Classic Liners and Cargo-Passengers Ships features I trust these will continue to provide classic ship enthusiasts the information the are seeking, but above all a great deal of pleasure! Reuben Goossens.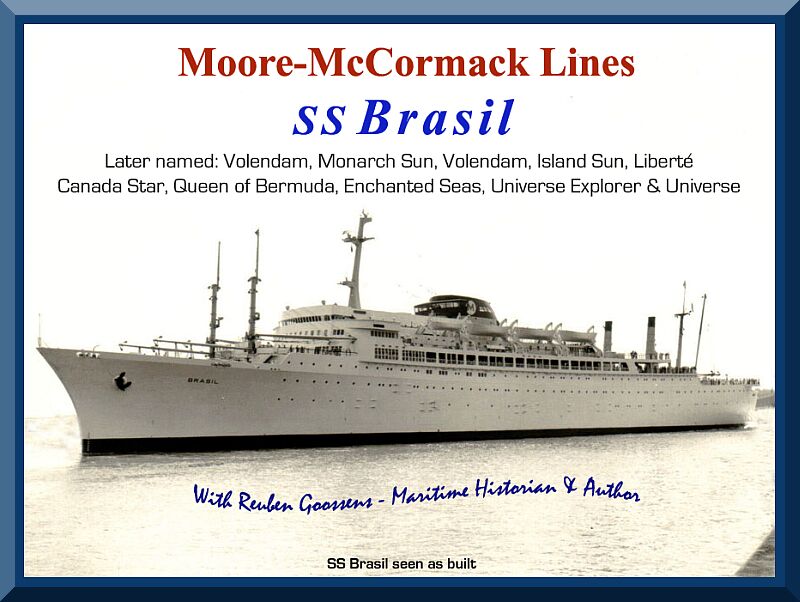 Please note: Images on this page, except those marked otherwise, are from the author's private collection
Introduction
SS Brasil, a ship that became the Universe Explorer, was without a doubt a magnificent Classic Liner, even though she had seen some rebuilding with decks added, thus she became a somewhat changed ship from the one that was originally launched on December 16, 1957. During her 46 year history SS Brasil had a varied life as can be observed by her many name changes. However, there is no doubt that during her time of service, this superbly built liner and cruise ship served her original owner, Moore-McCormack and her many new owners extremely well, and during her long service she had only one sad mishap that occurred in 1996, on July 27, she suffered a fire in the ships laundry and tragically five members of the crew perished due to smoke inhalation. This will be covered on the SS Universe Explorer - "Page 4."
When the Universe Explorer was still sailing the seas until 2004, and up to that date she was one of the very *last all American built steamships in operation, making her a true Classic Liner, a ship that had a close bond with the United States of America! Although she was beached in December of that year to be broken up, after 45 excellent service! Her sister the
SS Argentina – A fine forerunner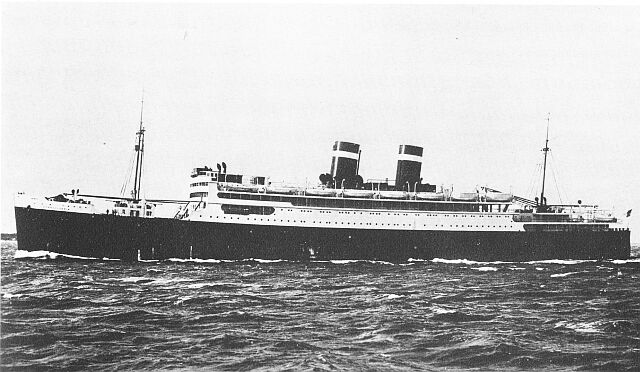 The 20,526 GRT SS Pennsylvania is seen here as originally built
Moore-McCormack were operating the much loved SS Argentina, which was originally built as one of three twin funnelled "Panama-Pacific Liners," built as the SS Pennsylvania in 1929. She accommodated 285 in First and 366 in Tourist Class.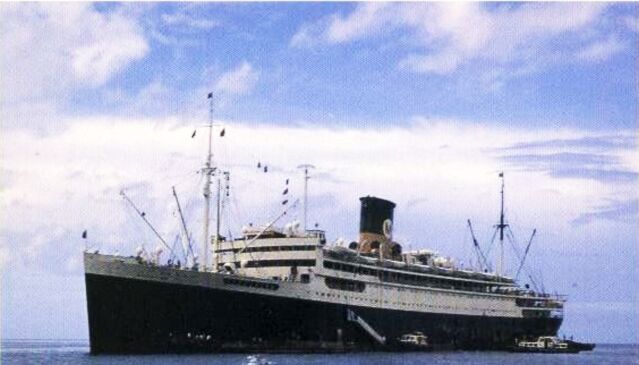 SS Argentina built in 1929, sold for scrap in 1964
In 1937 she was rebuilt to operate exclusively on the South American service and she became a single funnelled ship, giving her a more modern look and upon completion in 1938 she was renamed Argentine accommodating 500 passengers and was registered at 20164 GRT. Having operated as a trooper during World War II, in 1947 she returned to her New York - La Plata service once more, having received a refit. She remained very popular, but the time came that the company was considering upgrading their fleet!
Thus, Moore-McCormack Lines decided to replace the now aging SS Argentina and they had decided on two new ships to be completed in 1958, with the stipulations that they would have to be genuine "luxury ocean liners." Later during their careers these ships would become full time cruise ships. Eventually the SS Brasil, by then named the SS Universe Explorer, would become the very last, all American built passenger ship to sail much in her original external form when she was owned by her original owners, Moore-McCormack Lines.
SS

Brasil's

Grand History
In September 1955 the United States Federal Maritime Board made a decision that the Federal Government should contribute US$20 Million toward the cost of building two new steamships for Moore-McCormack Lines. The company had already sought bids from several yards and the best had come from Ingalls Shipbuilding Corporation in Pascagoula, Mississippi who would build two new 15,000-ton combination passenger/cargo ships at $24,444,181 per ship. On July 6, 1956, the yet unnamed ships keel was laid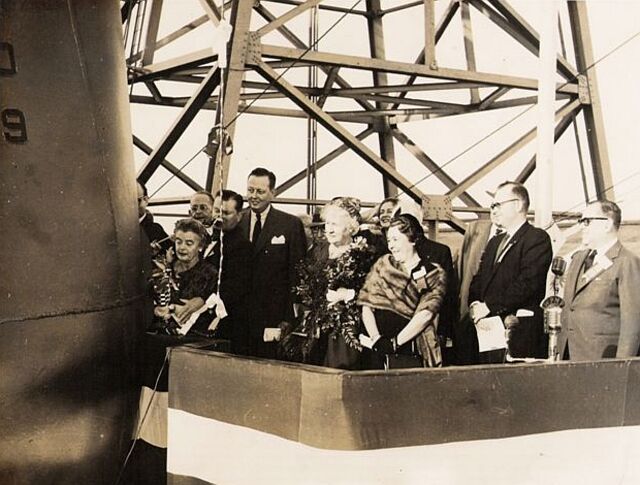 The official party at the launching of SS Brasil
SS Brasil was launched by the wife of Moore-McCormack's Chairman of the Board, Mrs. Emmet J. McCormack at 1500 hours on December 16, 1957. However, her owners desired to name her in the American fashion "Brazil" with a "Z," but apparently the Brazilian Government had requested if they would name her the official way "Brasil" with an "S," thus she officially was christened SS Brasil and was under U.S. registry. She was 14,984 GRT, accommodated 553 passengers, having a cargo capacity of 315,000 cu. ft. Having been launched she moved to her fitting out berth to be made ready and later made her deep sea trials successfully!
She was delivered to her owners on September 4, 1958 and departed on her maiden voyage from New York to Buenos Aires, Argentina eight days later on September 12. In command of the ship was the Commodore of the fleet, Commodore Thomas N. Simmons. However, after only several voyages, in November the Commodore left the ship and headed for the builders of Brasil's sister ship, SS Argentina, which was nearing completion.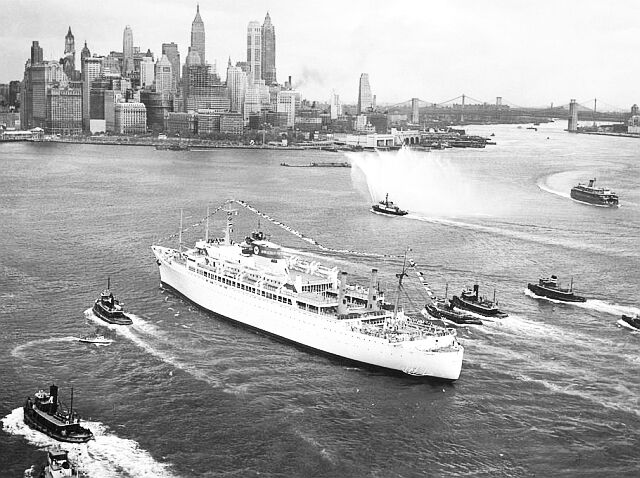 Above and below SS Brasil arrives in New York on her maiden voyage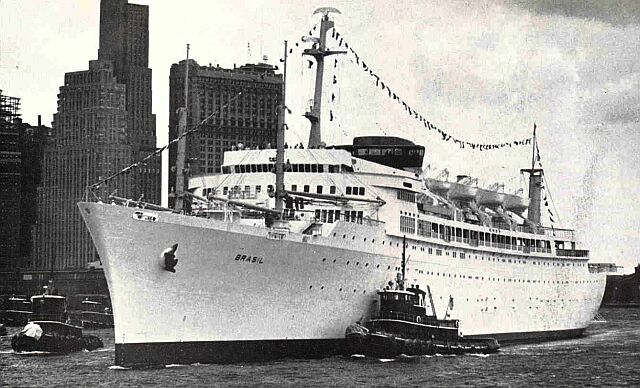 SS Brasil and her sister Argentina were popular all first class cruise ships with an excellent reputation
Note the original lookout forward of her dummy funnel, which was later replaced by an observation lounge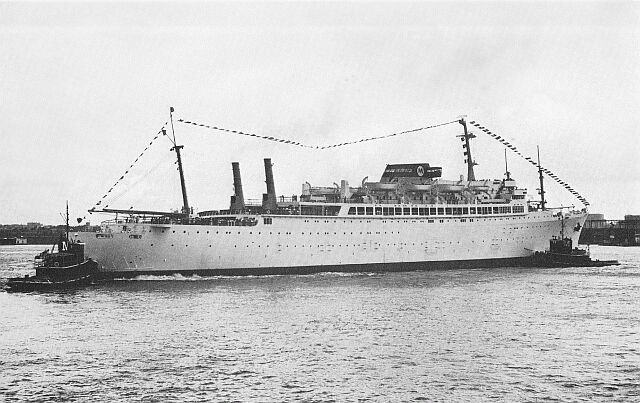 SS Brasil seen on her maiden voyage in September 1958
SS Brasil and her twin sister SS Argentina, which was launched in March 12, 1958, and delivered on December 9, and departed on her maiden voyage on December 12. These ships were both built and designed to operate month-long round voyages from New York to Trinidad, Rio de Janeiro, Santos, Montevideo, and Buenos Aires, with an occasional visit to Port Everglades.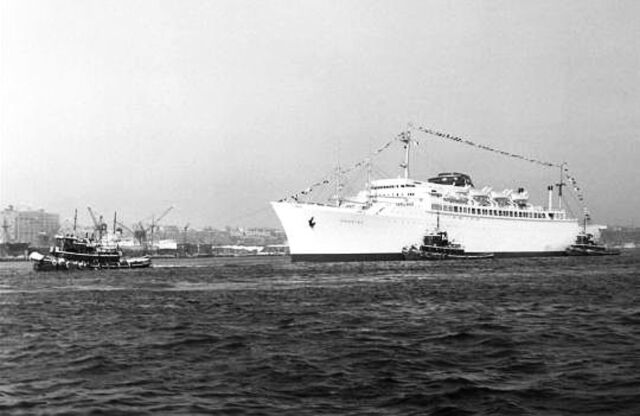 Here we see the SS Argentina during her maiden voyage in December 1958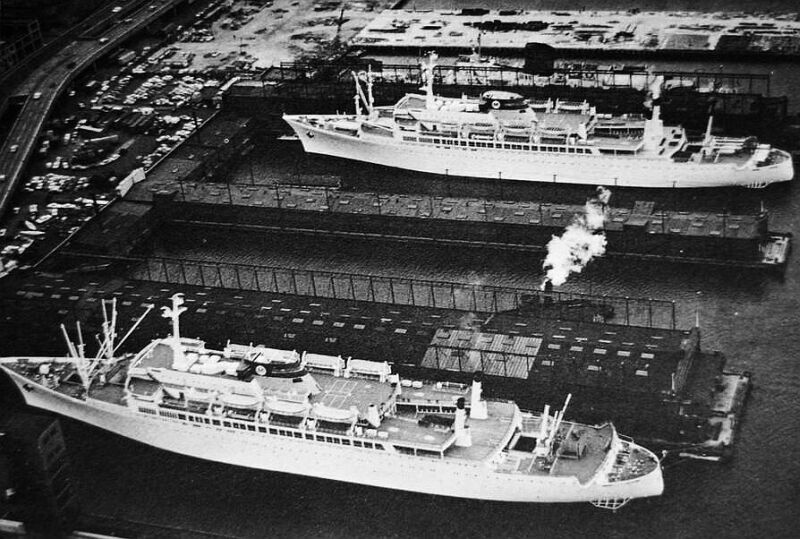 The sisters, SS Brasil & Argentina (top) seen together at New York
As ships the Brasil and her sister the Argentina were considered to be quite unique, as both had a dummy funnel with two stacks located aft of their superstructure. The dummy funnel originally housed a glass-roofed solarium. Overall these ships were attractive looking ships, and she had pleasant public rooms, with unusually large staterooms as well as two swimming pools, considering that these ships had a considerably small passenger loading.
Interior Photo Album & Brochure
Black & white interior shots below were provided by Shirley Delaney of Newport USA
They came from a Moore-McCormack package she purchased at a market & I am most grateful to her!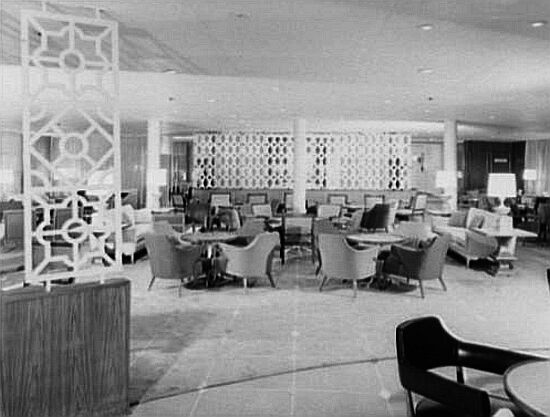 The Main Lounge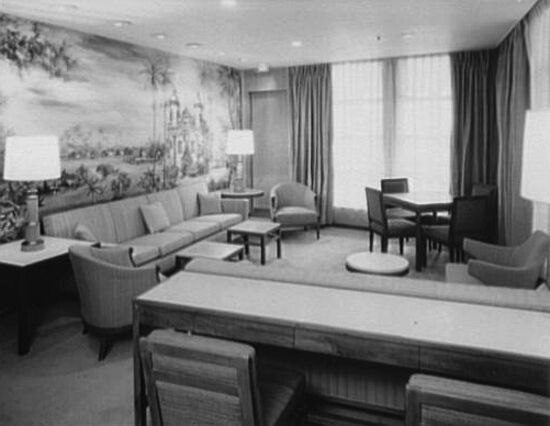 The Library and Reading Room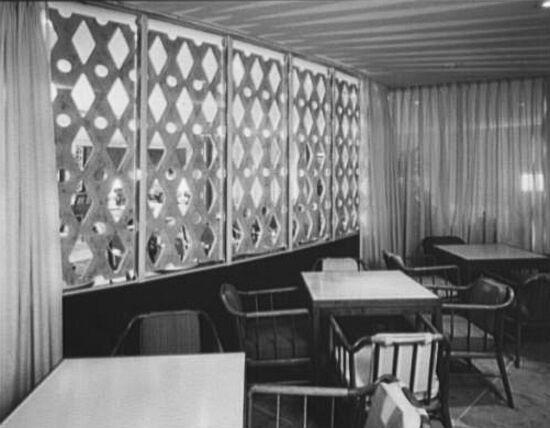 The Card Room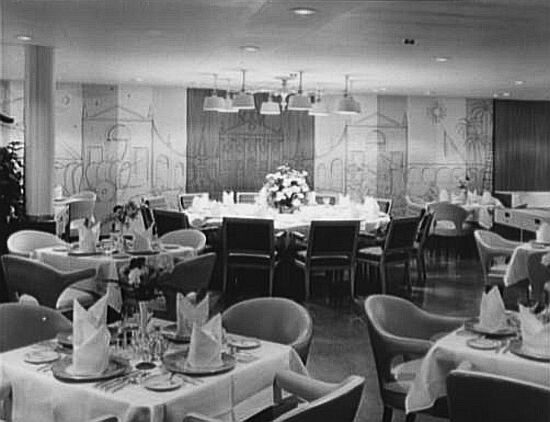 Dining Room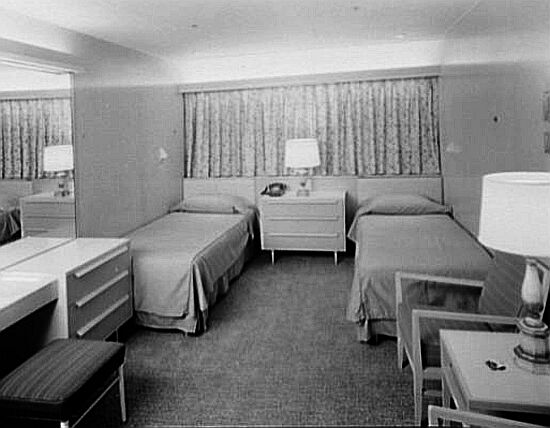 Twin bedded Stateroom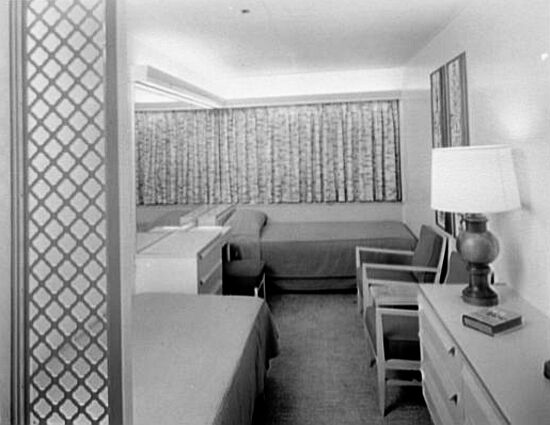 Twin bedded stateroom
The 1962/63 rebuilding program
SS Brasil headed for the shipyards where a multi million rebuilding program was undertaken at the Bethlehem Steel Shipyards at Baltimore the SS Brasil was first in 1962, followed by the SS Argentina in 1963. Both had two new decks were added atop of the ship, named Sun and the Navigation decks. These contained new accommodations for 163 passengers. In addition there were new public facilities added and several of the other public areas were enlarged to handle the new cruise venture. Upon completion SS Brasil departed on her very first cruise complete with her new upper decks in June 1963, looking like a brand new ship and yet she was not even five years old!
With their superstructure changed so dramatically the rebuild tended to change their profile greatly, and it was said that they looked somewhat awkward and top heavy. Although it did not take long before ship lovers came to realise that these were still superb and excellent ships, regardless of the alterations that had been made and the improvements by far outweighed the outward appearance!

SS Brasil looking splendid in this ocean-going shot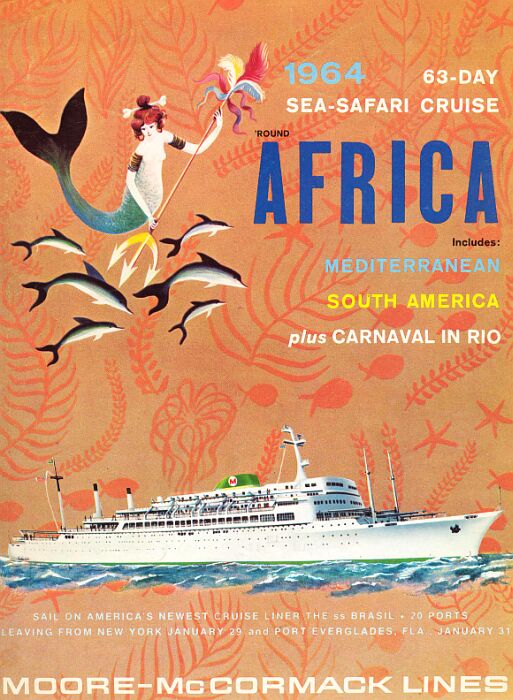 A wonderful brochure of SS Brasil's 63 day grand cruise in 1964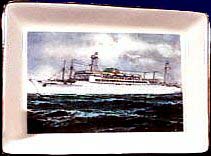 A souvenir plate from the 1964 Sea Safari Cruise
SS

Brasil

specifications with additional spec's:
Builder:                              Ingalls Shipbuilding Corp., Pascagoula USA
Yard:                                  467
Built for:                             Moore McCormack Lines – New York
Launched:                           December 16, 1957 (Mrs. Emmet J. McCormack)
Delivered:     September 4, 1958
Maiden Voyage:     September 12
Tonnage:                            14,984 GRT (US-Gross Registered Tons) as built. Then: 15,257-tons in 1963 / 23,395-UK-tons in 1973 / 15,631-tons in 1976 / 15.334-tons in 1978 & finally 23,879-UK-tons in 1982.
Length                                188m / 617ft
Width                                 26.2m / 86ft
Draught                              27.3ft
Propulsion                           General Electric DR Geared Turbines
Screws                               Twin – 35,000 SHP
Service speed                      21 knots – Max 24 / End of career 18 knots
Passengers                          1958 to 1963: 394 / From 1963: 557 first class
                                         At the end of her career as the Universe Explorer - 731 one class)
Passenger decks                   9
Crew                                  401 One Class (At the end of her career as Universe Explorer – 365)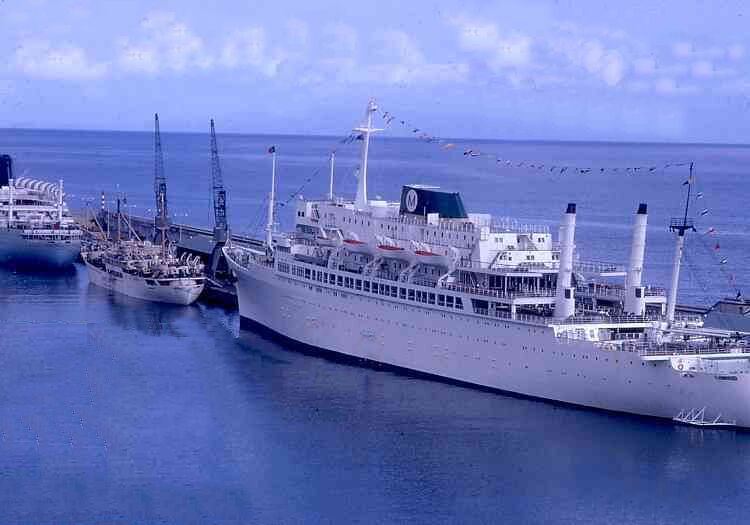 SS Brasil seen at Funchal

The photographer is unknown – Please see the photo notes at the bottom of the page

Brasil continued cruising until 1972, when sadly due to the declining passenger numbers in the shipping industry, Moore-McCormack made a decision that saw the SS Brasil laid up in Baltimore on September 5, 1969, whilst the SS Argentina continued cruising until 1972, when both ships were sold to Holland America Line.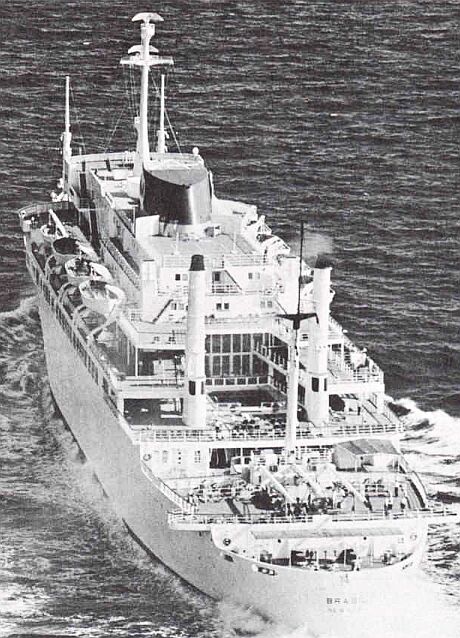 A fine aerial stern photograph of SS Brasil from the air – But times were changing!
What happened to the SS Argentina – This is her closing story!
After having been operated by Holland America Line from 1977 as the SS Veendam and briefly as the Monarch Star, then back to Veendam, she was sold in 1984 to the Island Navigation Corp, operating as Bermuda Cruise Line who renamed her SS Bermuda Star and she continued cruising until September 1990.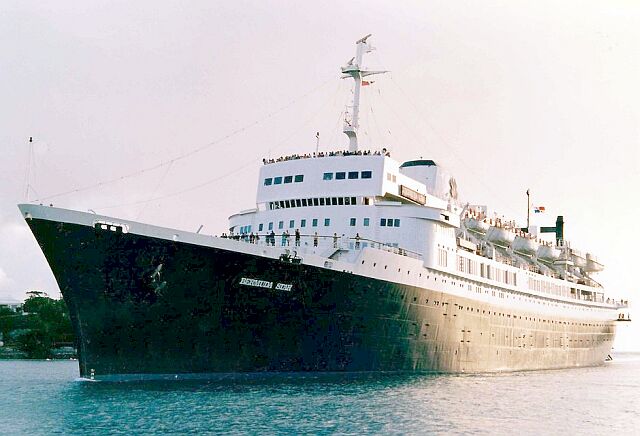 Bermuda Cruise Lines - SS Bermuda Star
The photographer is unknown – Please see the photo notes at the bottom of the page
She was sold in 1990 to Commodore Cruise Lines who renamed her Enchanted Isle. Early in 1994 she was laid up in St. Petersburg she was used as a hotel for a short time and for the purpose she was renamed Commodore Hotel. Then in August of that year she returned to Enchanted Isle again, but little is known about her duties thereafter.
In 1995 she came under the ownership of the New Commodore Cruise Line, and retained the name Enchanted Isle and recommenced her cruise duties. However New Commodore Cruise Lines went into bankruptcy in December of 2000 and the ship was laid up at Violet, Louisiana, USA, close to New Orleans.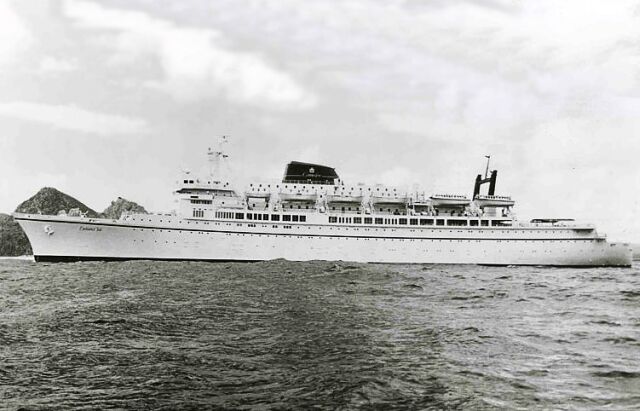 SS Enchanted Isle
In July 2003 she was sold to the Global Marketing Company who renamed her New Orleans, but then on October the 2nd.she departed Violet, Louisiana and ship lovers discovered that she was bound for the breakers in India. She arriving at the breakers yards on December 9, 2003, and the end of the newer of these two fine American ships had come! The end of the SS Brasil however was not that far off!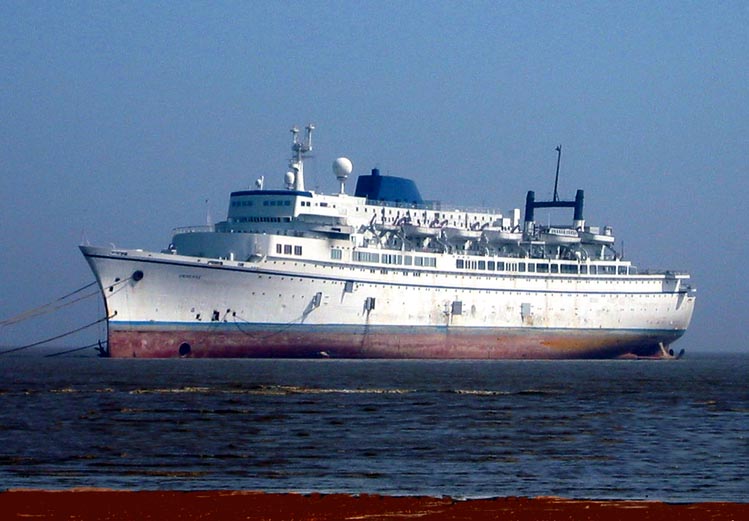 Renamed the "Universe for the voyage to Alang India, we see her beached and her dismantling underway in 2005

Photograph R. Shah Alang, India

This feature on an excellent ship is continued over the next four pages. I trust that you enjoy this feature, especially if you have sailed on the SS Brasil or the SS Argentina!

The SS Brasil story continues on "Page Three" - See the links below on the ships Index.

****************************************

SS Brasil & Argentina to SS Universe Explorer INDEX:

Page One:          SS Brasil & Argentine's history.

Page Two:         SS Brasil & Argentina's Deck Plan.

Page Three:       SS Volendam to Enchanted Seas.

Page Four:         SS Universe Explorer / Universe.

Page Five:          SS Universe Explorer Deck Plan.

"Blue Water Liners sailing to the distant shores.


I watched them come, I watched them go and I watched them die."

****************************

Visit our ssMaritime Main INDEX

Where you will discover more than 680 Classic Passenger & Passenger-Cargo Liners!

ssMaritime.com & ssMaritime.net

Where the ships of the past make history & the 1914 built MV Doulos Story

Please Note: ssmaritime and associated sites are 100% non-commercial and the author seek's no funding or favours of any shape or form, never have and never will!

Photographs on ssmaritime and associate pages are by the author or from the author's private collection. In addition there are some images that have been provided by Shipping Companies and private photographers or collectors. Credit is given to all contributors. However, there are some photographs provided to me without details regarding the photographer/owner concerned. I hereby invite if owners of these images would be so kind to make them-selves known to me (my email address may be found on www.ssmaritime.com only), in order that due credit may be given.

ssMaritime is owned & © Copyright by Reuben Goossens - All Rights Reserved