Panama Pacific Line - S.S. California, S.S. Virginia, & S.S. Pennsylvania
Please Note: Firefox & Google Chrome other search engines may not suitable
Please use Internet Explorer - Google for this page to load perfectly!

Click the logo above to reach ssMaritime FrontPage & "Ship of the Month"
With Reuben Goossens
Maritime Historian, Author, Cruise'n'Ship Reviewer and Maritime Lecturer
Please Note: All ssMaritime and other related maritime/cruise sites are 100% non-commercial and privately owned. Be assured that I am NOT associated with any shipping or cruise companies or any travel/cruise agencies or any other organisations! Although the author has been in the passenger shipping industry since 1960, although is now retired but having completed over 700 Classic Liners and Cargo-Passengers Ships features I trust these will continue to provide classic ship enthusiasts the information they are seeking, but above all a great deal of pleasure!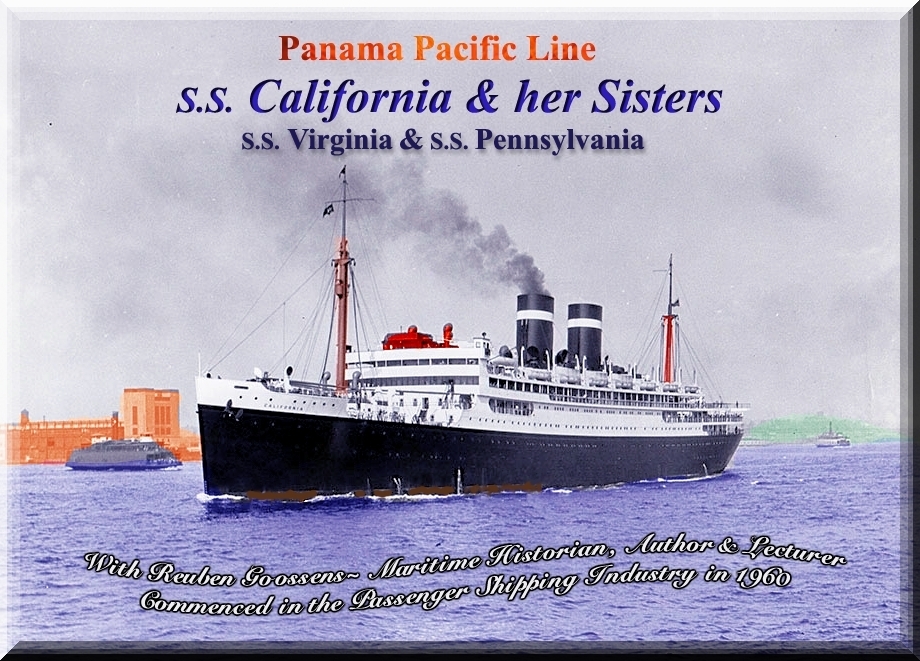 Photograph from the Author's private collection
Page One
A Brief Introduction to …
The "Big 3"
<![if !vml]>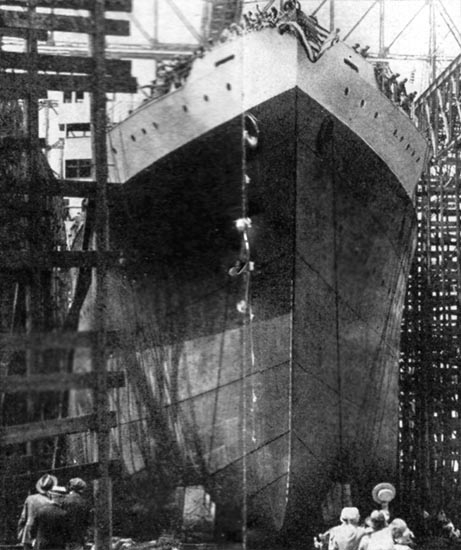 <![endif]>The "American Line Steamship Corp" in mid 1920s decided to build three elegant two funnelled sister ships, being the S.S. California, Virginia and the Pennsylvania. All three ships were built at Newport News Shipbuilding & Drydock Co., Ltd., in Virginia and were designed to operate vacation voyages as well as to carry cargo from New York to San Francisco. The American Line Steamship Corp was part of the: "J. P. Morgan International Mercantile Marine Co."
Once the ships were completed passengers would generally sail one-way by sea, and return home by rail! Although these ships, known as The "Big 3" proved to be very popular, but due to various circumstances and problems, sadly their direction changed too early in 1937 when changed to the ships were made, and again in 1938 having been rebuilt with just one funnel, a changed passenger loading, and a new South American service and each ship was given a new name as we will discover on Page Two, where their story continues!
*****************************
Ship Construction Details:
The identical trio of ships were built by the Newport News Shipbuilding and Drydock Company at Newport News.
1 … California was *launched on October 1, 1927 and delivered to American Line on January 13, 1928, and made her maiden voyage on January 28 1929. *Mrs. Roland Palmedo the wife of businessman Roland Palmedo sponsored the launch of the SS California.
The launching of the California on October 1, 1927
Photograph from the Author's private collection……..
2 … Virginia was launched on October 18, 1928 and delivered to American Line early in December, and made her maiden voyage on December 6, 1928.
3 … Pennsylvania was launched on July 10, 1929, delivered early December and made her maiden voyage December 10, 1929.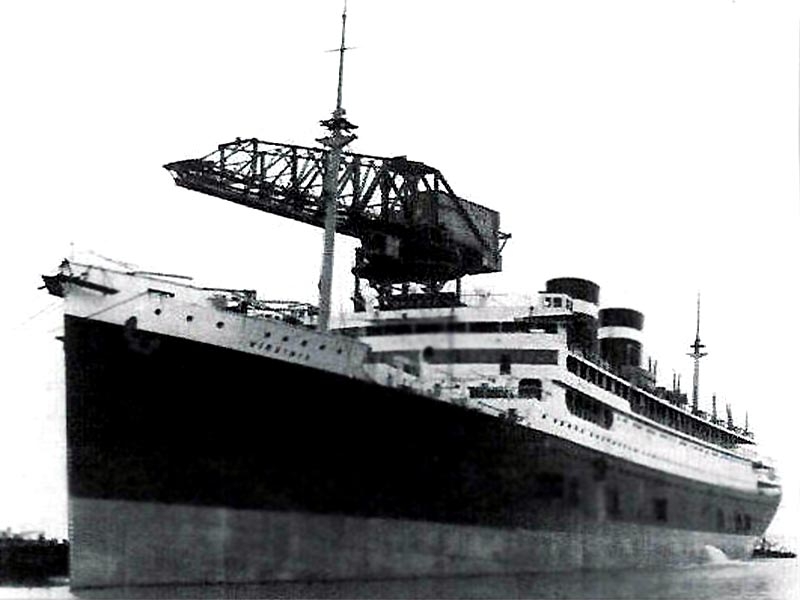 The SS Virginia is seen at her Fit-Out Berth
Photograph from the Author's private collection
<![if !vml]>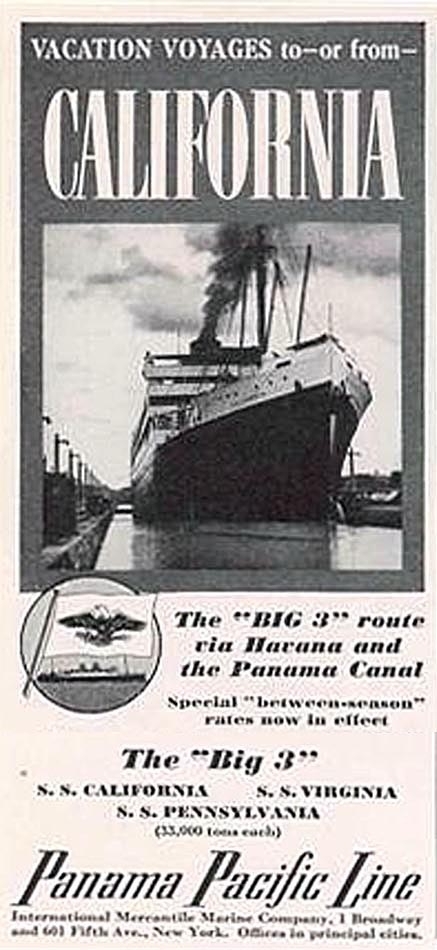 <![endif]>
*****************************
Ship Specifications:
SS California Yard no 315: Length: 601ft - 183.2m. Breadth: 80ft - 24.5m. Tonnage: 20, 325 GRT, 32,450 Displacement. Power: Turbine - Electric; Screws: Twin. Speed: 17 knots, Max 19.95 knots. Passengers: First Class 384, Tourist Class 363. Crew: 350.
SS Virginia Yard no 326: Length: 613ft - 186.8m. Breadth: 80ft - 24.5m. Tonnage: 20,773 GRT, 32,816 Displacement. Power: Turbine - Electric; Screws: Twin. Speed: 17 knots, Max 18.5 knots. Passengers: First Class 385, Tourist Class 365. Crew: 350.
SS Pennsylvania Yard no 329: Length: 613ft - 186.8m. Breadth: 80.4ft - 24.5m. Tonnage: 20,526 GRT, 32,816 Displacement. Power: Turbine – Electric. Screws: Twin. Speed: 17 knots, Max 18.5 knots. Passengers: First Class 385, Tourist Class 365. Crew: 350.
Note: All three ships were registered in New York United States!
Upon completion the three sisters entered the fleet of American Lines' subsidiary, "Panama Pacific Lines."
*****************************
These three fine ships were hailed by Panama Pacific Lines as their The "Big 3" and their "New Fast all American Built Electric Ships." There was no doubt at all, they were indeed beautifully designed with sleek lines and a long flowing Promenade Deck, being well balanced with their two funnels and two tall masts.
At the time the ships were being promoted as being 33,000 tons, however that was a Displacement tonnage, for their Gross Registered Tonnage averaged at 20,450 GRT, which was a very good indeed. However, at the time, they were the world's largest ships that had electric propulsion. Thus they were able to sail without noise and any vibration, making ocean travel in those days such a joy!
All three steamships had oil-fired furnaces heating their boilers to power two steam turbo generators that ran at a constant 2,800 RPM. These supplied current to their 18-foot (5m)-high electric propulsion motors, which had a combined rating of 2,833 NHP or 17,000 SHP. The turbo-generators and propulsion motors were built by General Electric, which was the world's pioneer of turbo-electric propulsion, having supplied the turbo-generators and electric motors for USS New Mexico, the World's first turbo-electric ship, a decade earlier.
The SS California was equipped with submarine signalling apparatus and wireless direction finding equipment, and from about 1934, she was also equipped with a gyrocompass.
All First Class accommodations were air-conditioned in addition some of the First Class superior cabins had Private Facilities, with a full bath.
At first the ship's two funnels were going to have a red base and a blue top with a white dividing band. But, this was simplified to an all black funnel with a white band located up higher.
Part of an advertisement of The "BIG 3"
Image from the Author's private collection
*****************************
Below is an advertisement which was placed in a magazine promoting the SS California and Virginia in 1928, the SS Pennsylvania would be completed later in 1929.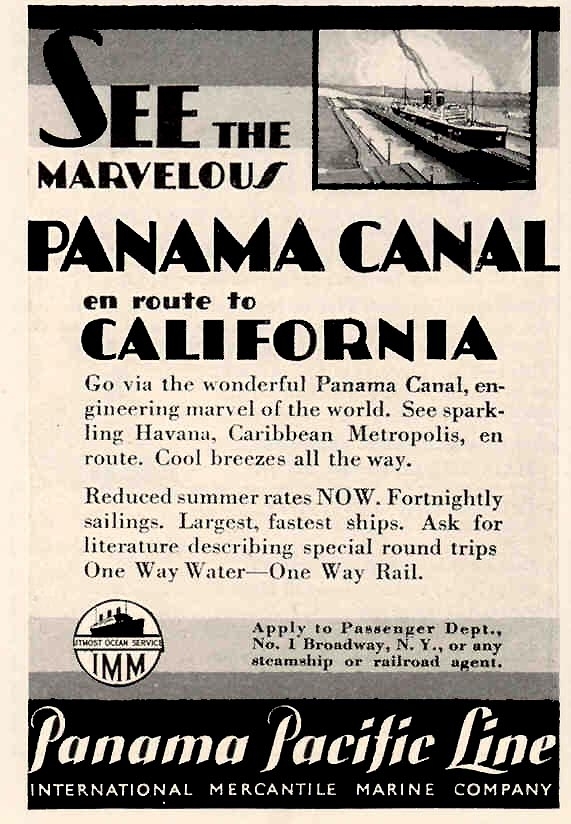 SS California and her sisters SS Virginia, and SS Pennsylvania would commence their month long return voyages from New York and did this on a staggered basis and the operated on the following schedule:
Departing: New York and sail to the first port of call Havana Cuba, then to Colon on the Atlantic side of the Panama Canal. They would then transit the Panama Canal and stop at Balboa at the Pacific side of the Canal, next port of call was San Diego and Los Angeles, concluding at to San Francisco. After an overnight stay, the return voyage was via the same ports to the ships homeport - New York.
In addition to passengers and general cargo, The "Big 3" were also subsidised to carry mail for the "United States Postal Service."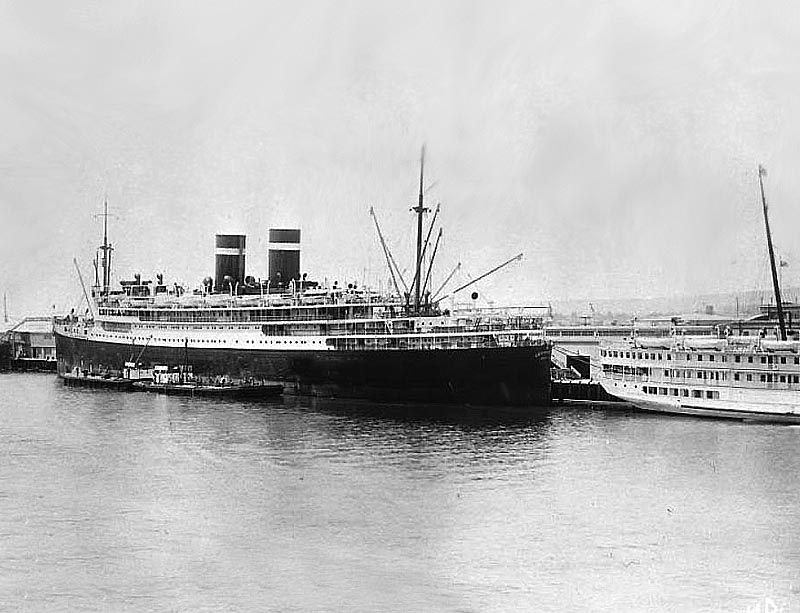 The California is seen berthed in Los Angeles harbour - seen astern of her is the stern of the 1906 built SS Yale
Photograph from an unknown source - Please see the photo notes at the bottom of the page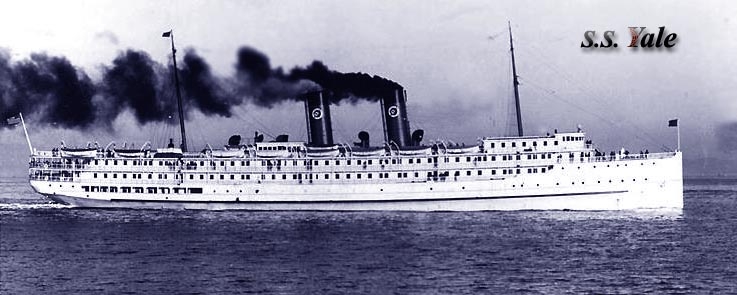 The historic SS Yale is seen at sea, sailing from Los Angeles to San Francisco
Photograph from the Author's private collection
Once the Panama Pacific Liners arrived in San Francisco, passengers would disembark and they would either take the train to their hometown, which would have been pre-arranged and booked by Panama Pacific Line, as they had a special fixed rates available to them for their guests. Alternatively, passengers were also able to take their "automobiles" with them aboard, as all three ships had a drive on, drive off garage facility, and therefore they could drive home.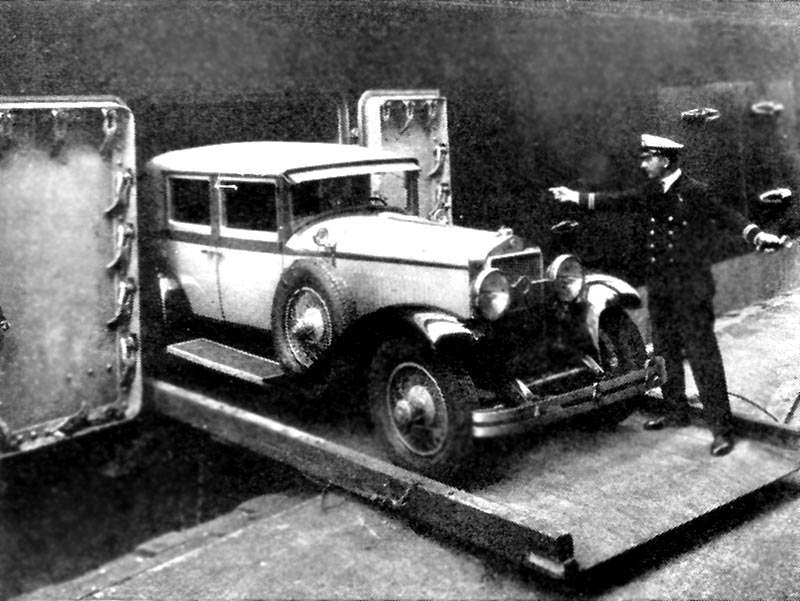 Each of the three ships had its own ramp for passenger cars to enter the ships garage
Photograph from the Panama Pacific Line brochure
Then there were those passengers who simply loved shipboard life so much that they preferred to opt on taking the full return voyage, regardless of the port they joined the ship. These people simply enjoyed a life of sheer luxury aboard these amazing liners, for these fine ships did offer luxury cruising at its very best in the 1920s and 1930s!
The Onboard Facilities:
There is no doubt that the two classes onboard were both well catered for, as each had excellent facilities, such as Main Lounges and Dance facilities, Smoking Rooms, Veranda Café, Library's, Reading and Writing Rooms, as well as elegant and spacious Dining Rooms that offered the very best cuisine possible. Whilst outdoors there were spacious Promenade and Sports Decks and there were also two built in Swimming Pools, one for each class on each ship, and that was very rare for those days!
On the California Class ships, all "Rooms" as Panama Pacific Line preferred to call them (or cabins) were located outside, for there were no inside rooms at all! Thus every Room had either one or two portholes, alternatively a window.
First Class Rooms and Suites were beautifully appointed, whilst deluxe Rooms and Suites had Private Facilities, although being a First Class passengers did provide the additional luxuries of shipboard life, especially those superior Rooms with a bathroom. However, if a passenger did not occupy a cabin with a private bath, they could apply to the "Bath Steward" and he would arrange for a set time each day for the Guest to use a nearby, specially prepared bath.
In Tourist Class there was a choice of Three berth, Twin bedded, Two berth, or Single Rooms, all featuring hotel style beds and if applicable an upper Pullman for the two berth or a third berth, a wardrobe. Each Room would have a dresser with a chair, wardrobes, a china basin, a mirrored cabinet for toiletries, and an electric fan. Nearby there would be spotless facilities!
Fares commenced for a One Way voyage from New York to San Francisco or visa versa, were as follows; First Class commenced from US$275.00, whilst a Tourist Class commenced at $135.00. Fares included a berth and all meals early morning tea, morning Bouillon, afternoon tea, supper, and on special evenings, Midnight Buffets, the use of all sporting equipment, and all the shops facilities. Most passengers would undertake the voyage one way and then return per train across the United States back to their hometown, which Panama Pacific Line would book for them at a special fixed rate!
For passenger outdoor comfort, deck chairs and steamer rugs could be hired for just US$1.50 each for the entire voyage, whist chair cushions could be hired for $1 each for the voyage.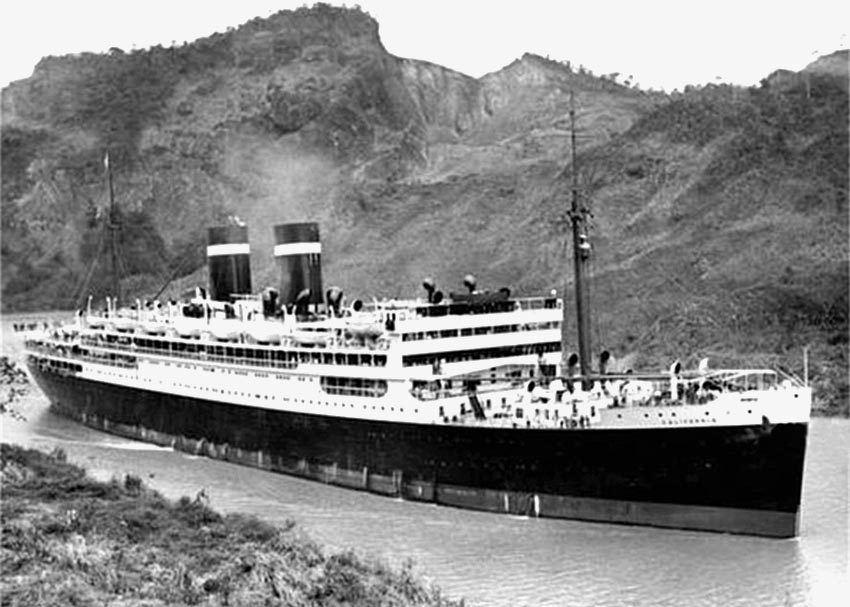 The SS California is seen transiting the Panama Canal
    Photograph from the Author's private collection
In regard the Photo Gallery below, all images have been sourced from an original 1929 Panama Pacific Line brochure, which is part of my private collection, and sadly the quality in some cases are not as good as I would wish them to be. However, I am sure that you will be happy to view the interior of these three fine ships! Other images that are not from the brochure on this page will be noted below the image as can be seen above.
Photo Gallery: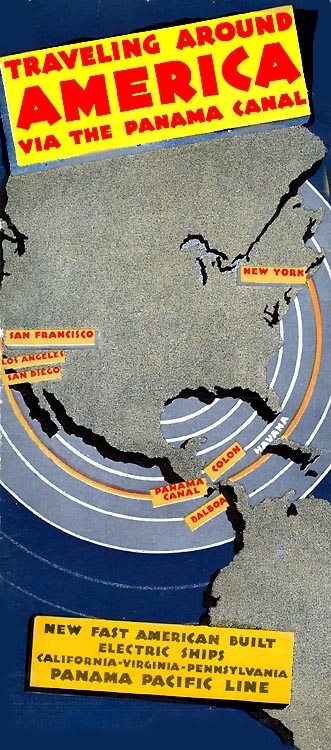 The original 1929 brochure cover
First Class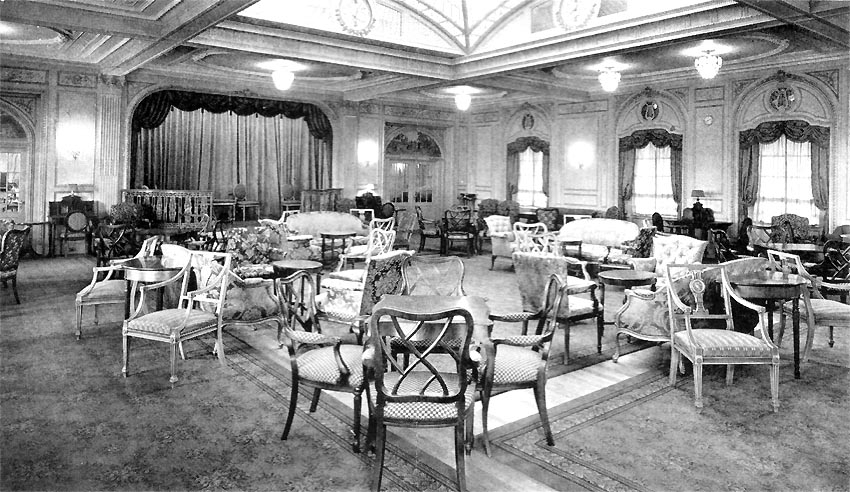 The Main Lounge & Ball Room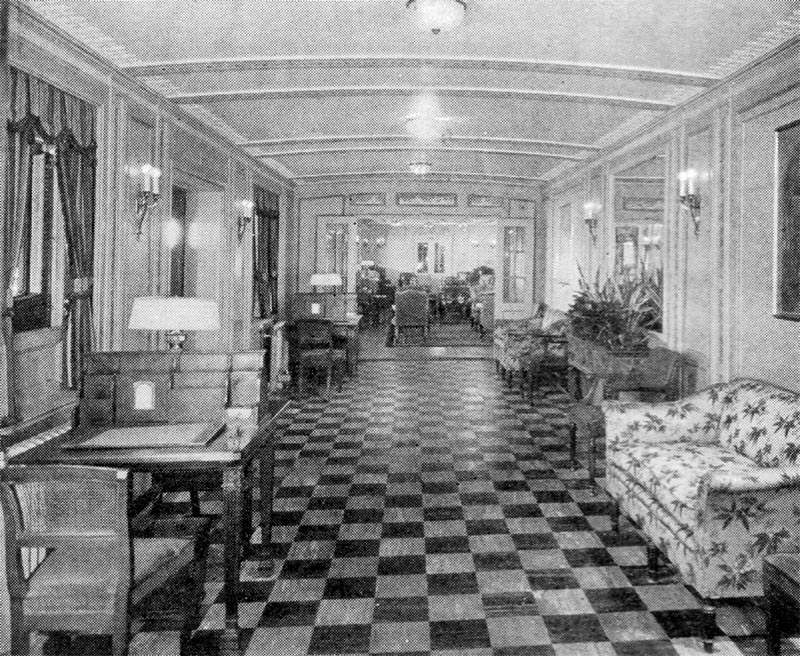 Looking forward on the portside through the Writing Room towards the Main Lounge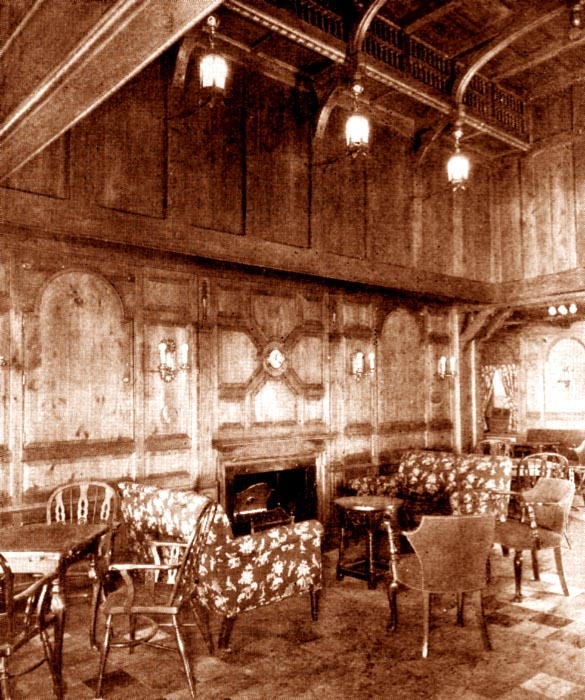 The Smoking Room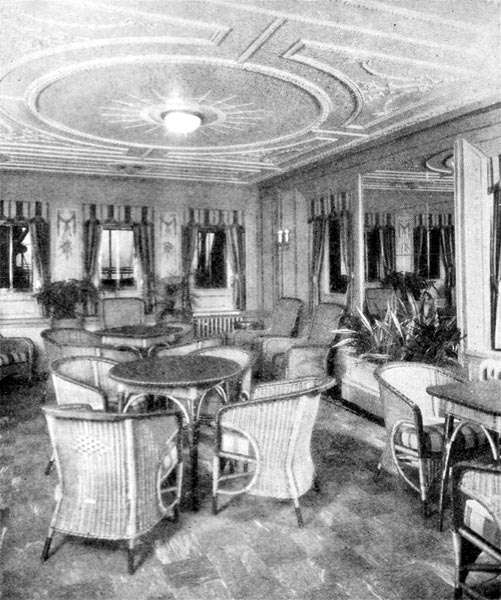 The popular Veranda Café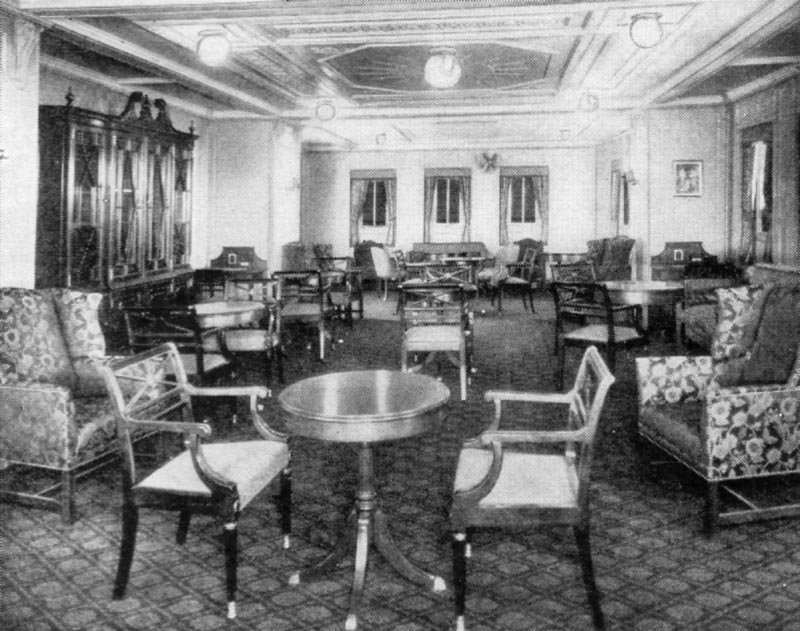 The Library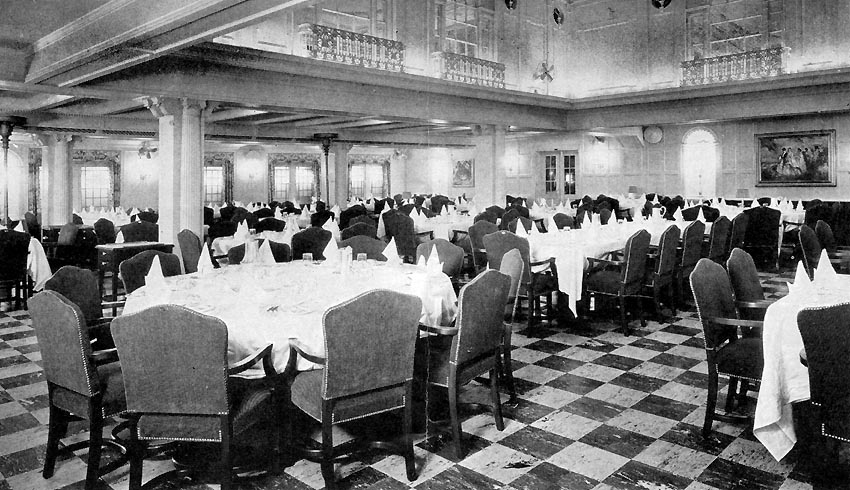 The magnificent multi level Dining Saloon, also was famed for the sublime cuisine!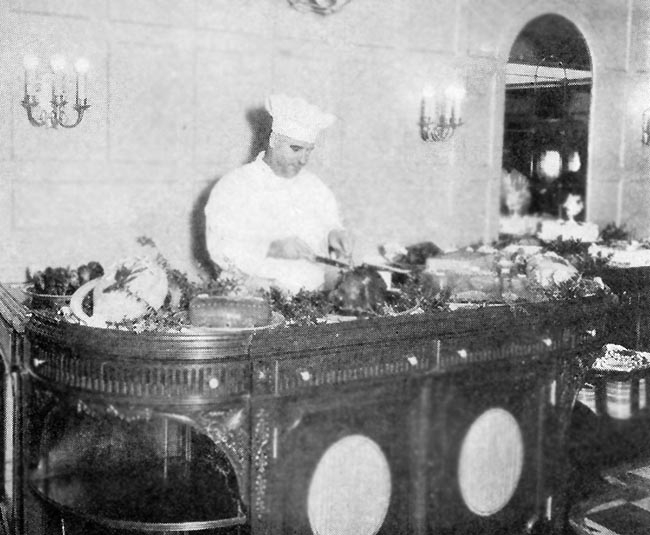 When there was a Buffet, the Carvery was very popular!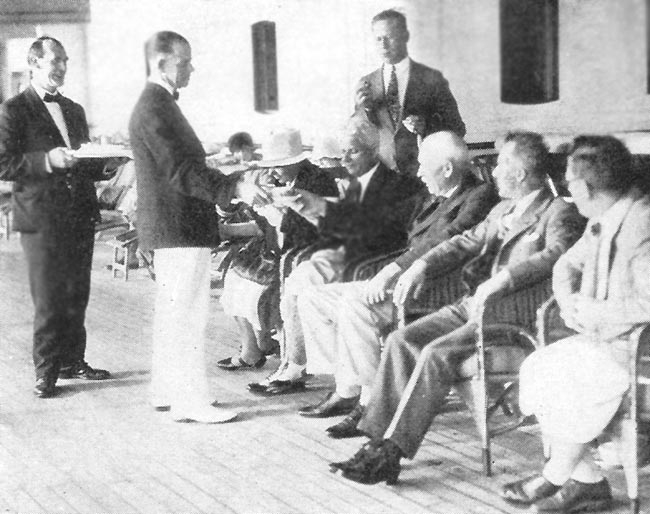 Tradition that is forgotten these days, Bouillon is served at 11am out on Deck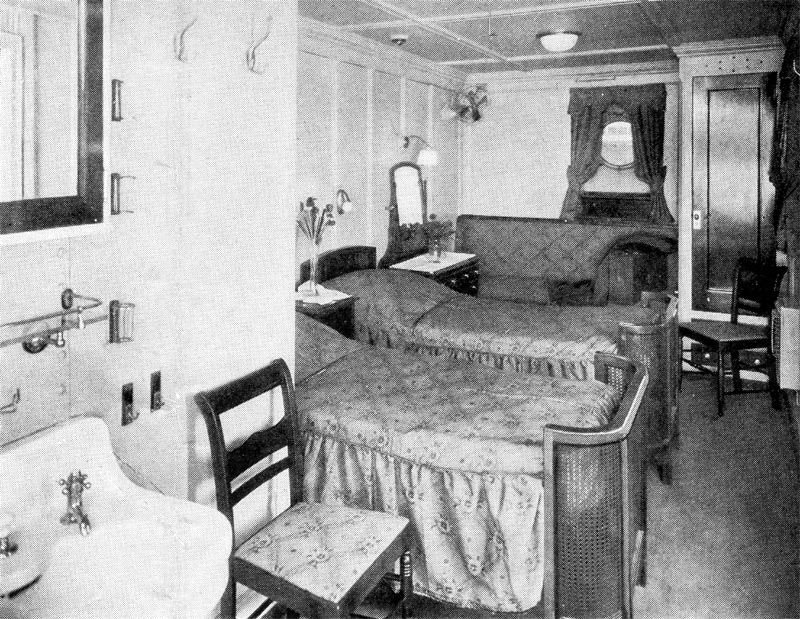 A Deluxe twin Room with a sofa, a full bath and WC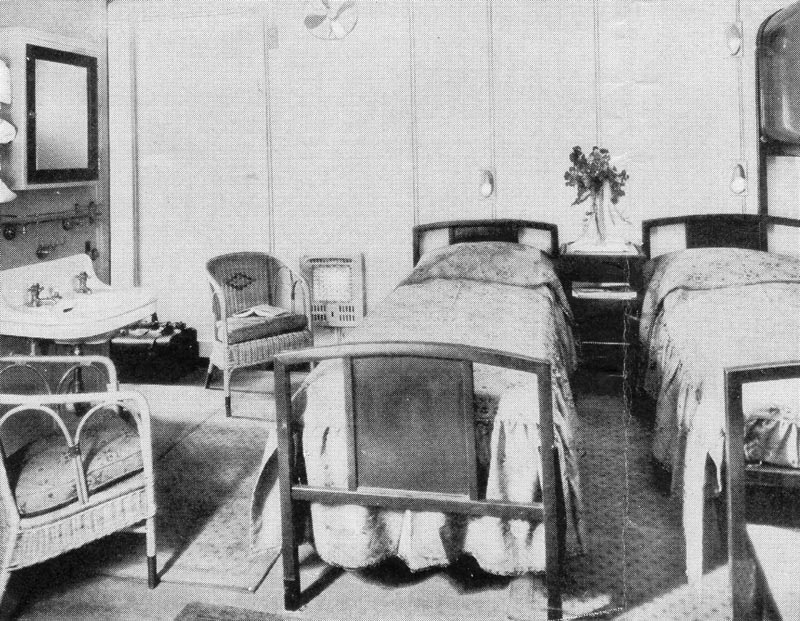 A spacious twin bedded room, with a sofa that can be used as a third bed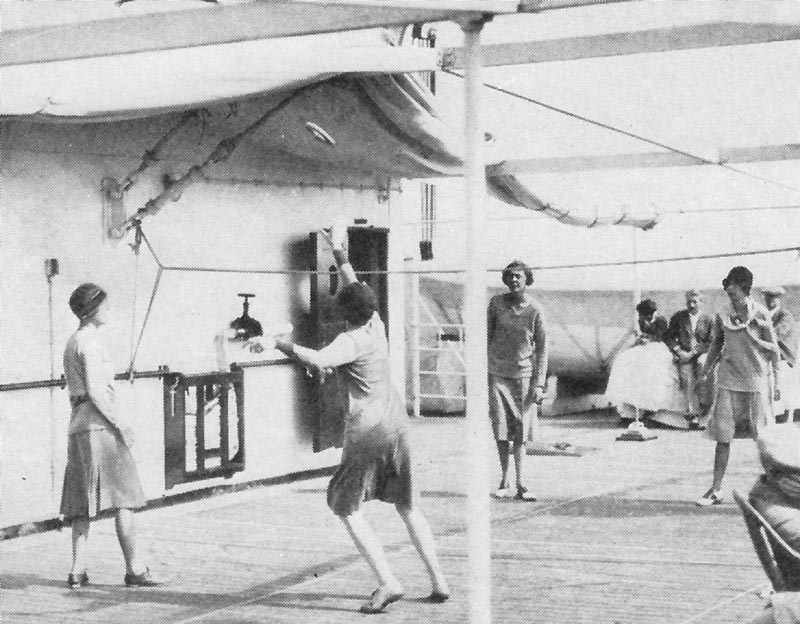 Playing Deck Tennis up on Sports Deck aft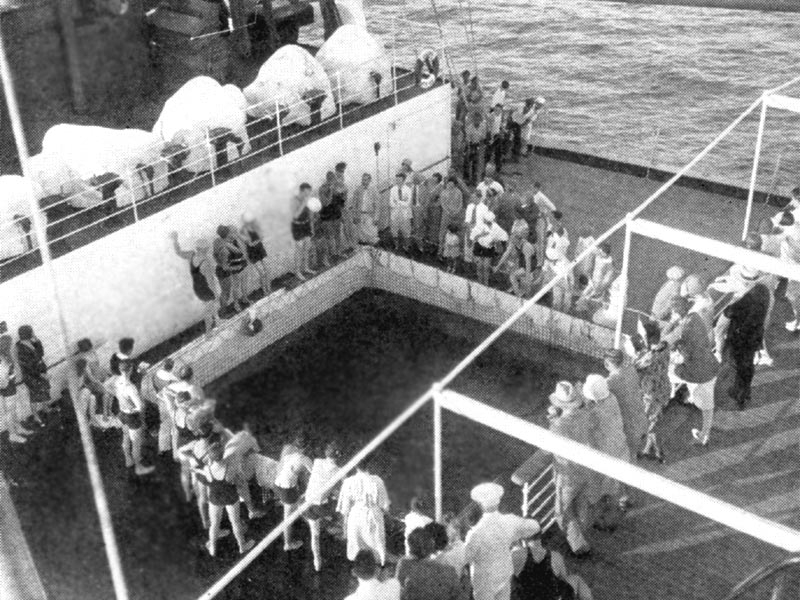 Here we see one of the ships two built in pools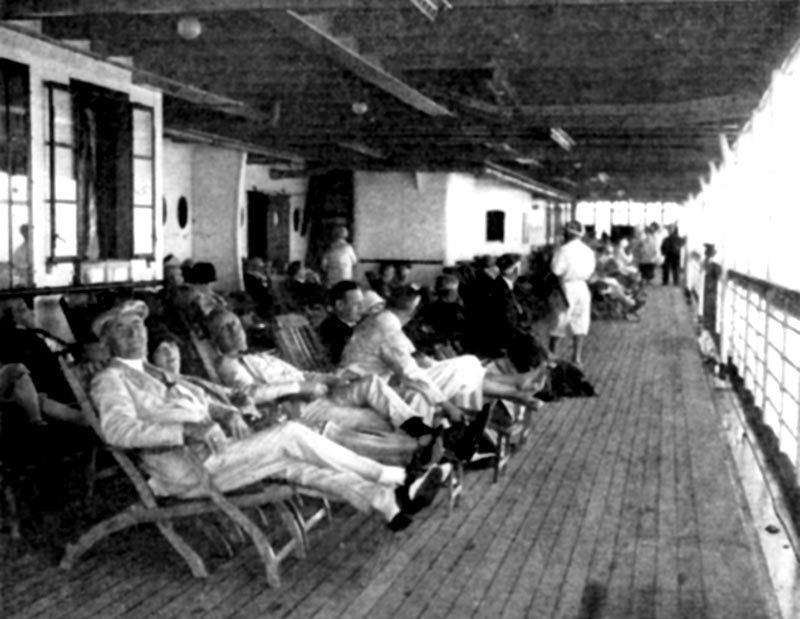 Relaxing on Promenade Deck aft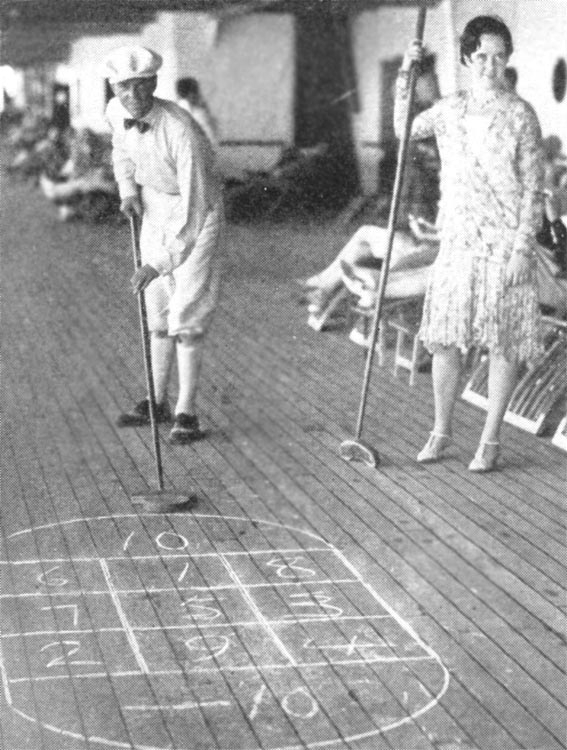 A game of shuffleboard anyone?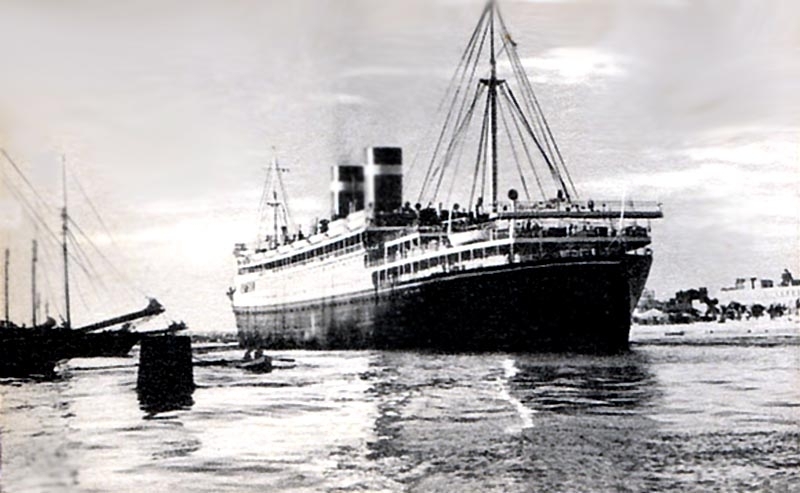 A 1928 postcard of the SS California
Postcard from the Author's private collection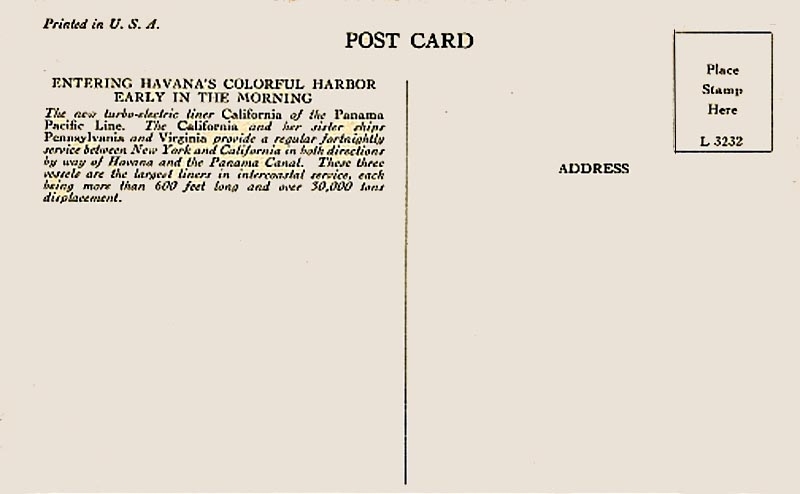 The back of the above postcard
Postcard from the Author's private collection
*****************************
Tourist Class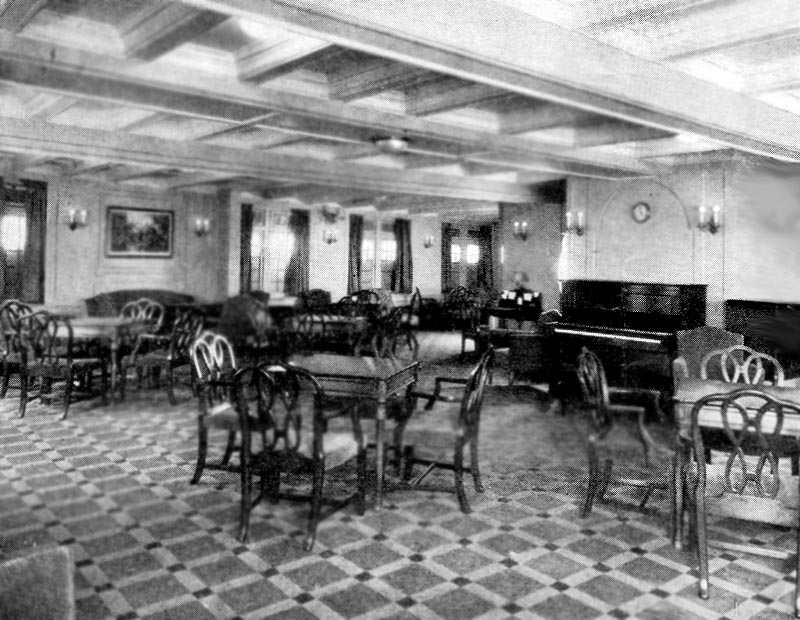 The Main Lounge was well appointed and also had a piano as well as a "phonograph" (record player)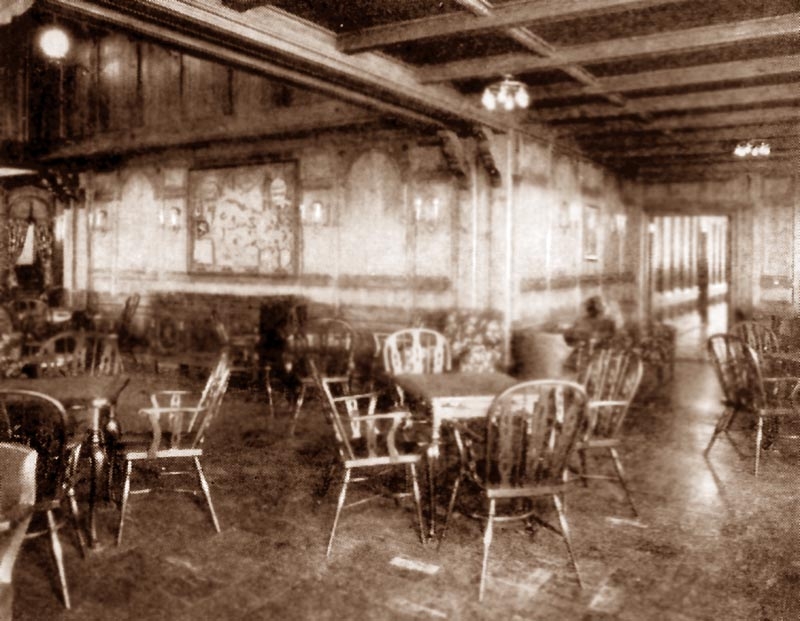 The Smoking Room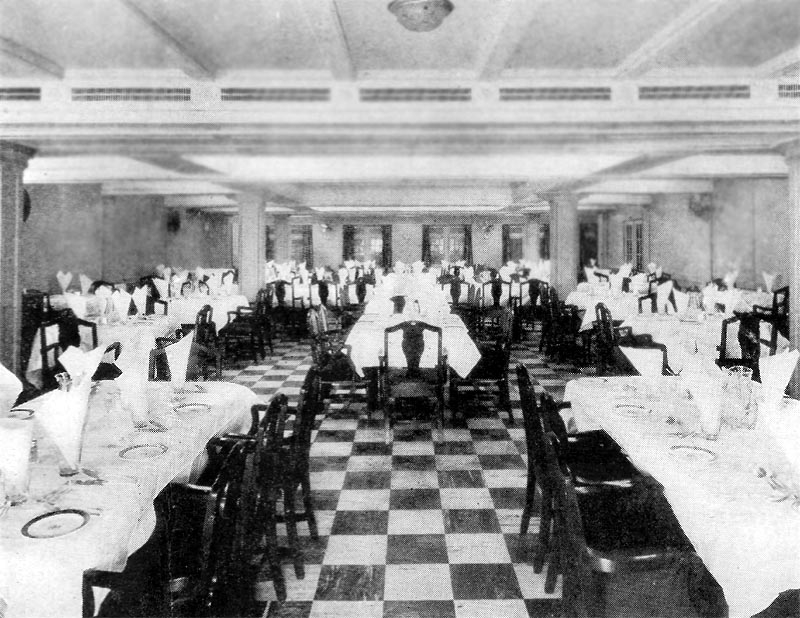 The Dining Saloon spreads right across the ship and is a pleasant venue and offered the very finest of cuisine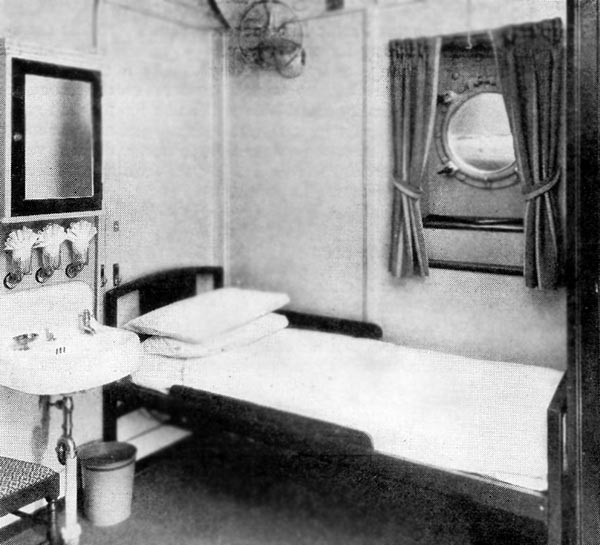 A single bed cabin with a porthole and all the standard facilities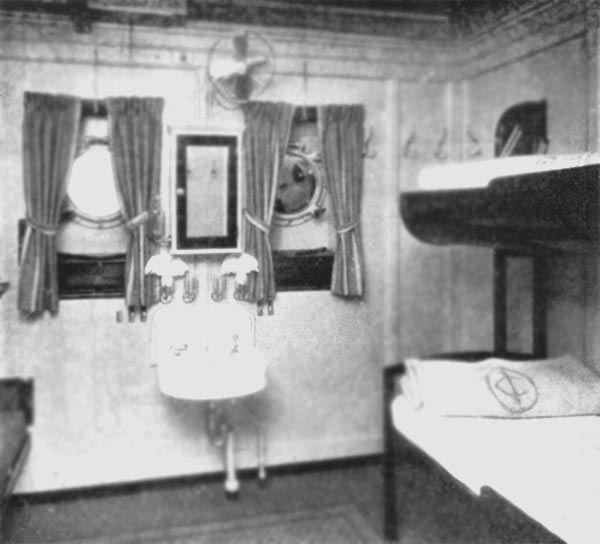 This cabin could be sold as a single, or a two berth as the sofa on the left wall could
be made up as a bed, also as a three berth cabin, as there was an upper Pullman bed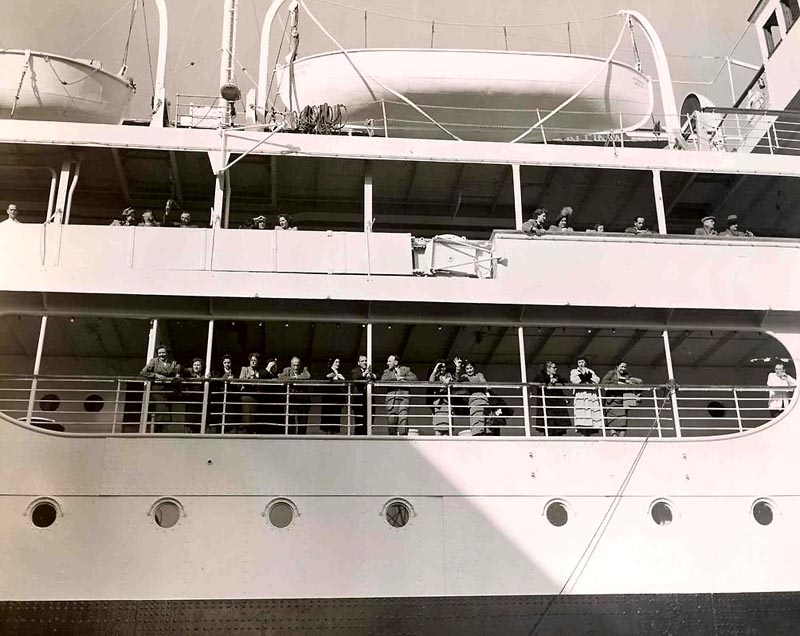 Here we see the SS California ready to depart New York
Photograph from an unknown source - Please see the photo notes at the bottom of the page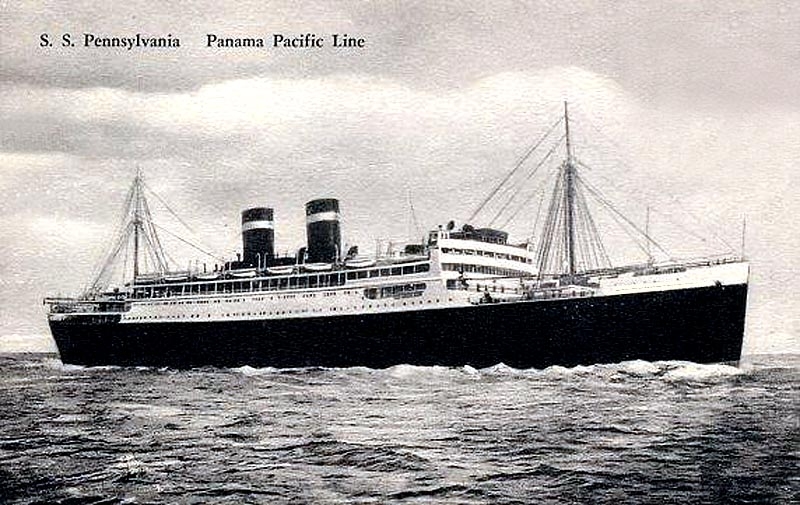 A fine postcard of the SS Pennsylvania
Postcard from the Author's private collection
*****************************
For convenience and registration costs, the three ships were reregistered under a different American Gross Registered tonnage. The first being the Virginia and the Pennsylvania in 1933, and the tonnage was 18,298 GRT and 18,200 GRT respectively. The California followed in 1934 and she was now registered as being 17,833 GRT.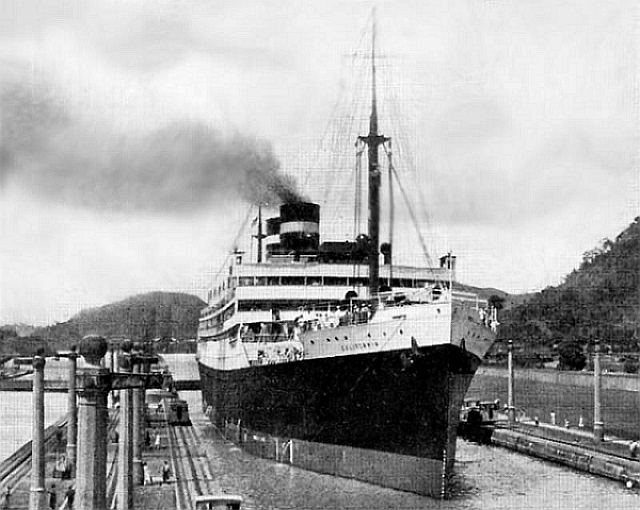 -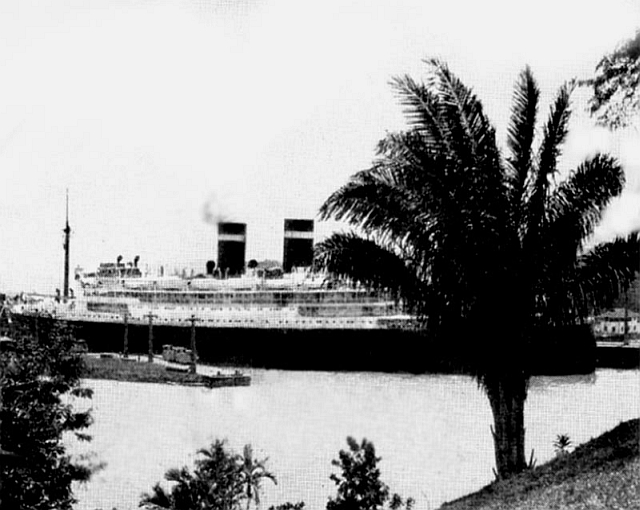 Left: Here we see the SS California in the Panama Pedro Miguel Locks
Right: This is the SS Pennsylvania passing through the Miraflores Locks
Photographs from the Panama Pacific Line brochure
Panama Pacific Line's "Big 3", the California, Virginia, and Pennsylvania were very successful for the company's New York to San Francisco service, however, by the mid 1930s sadly the depression had began and passenger loadings were beginning to suffer. Then to make things worse, in March 1936 an unofficial strike aboard the California commenced, whilst she was in port at San Pedro, Los Angeles. This strike was completely without the sanction of the "International Seamen's Union," and it in due course this upheaval led to the foundation of what became the "National Maritime Union."
The crew refused to set sail even after their captain had ordered them to let go of the mooring lines. Among the crewmembers included a good number of Communist Party leaders, including a Joe Curran who later became a maritime labour leader. Thus, this strike had a massive effect in the maritime industry for the future to this very day! The dispute itself was all about wages and overtime, and although the strike only lasted for three days, but sadly Panama Pacific Line somehow never recovered from it.
In June 1937 the United States Congress withdrew all maritime mail subsidies, which by then included a total loss of $450,000 per year for Panama Pacific's three liners. Then to make things worse still it was announced in 1937 that at the beginning of March 1938 that Panama Canal tolls had been revised, and it would be increasing Panama Pacific's costs by at least $37,000 per year.
Because of these cost increases and ongoing labour difficulties management of Panama Pacific Line with regret decided to discontinue their New York to San Francisco service and removed their three magnificent liners from service.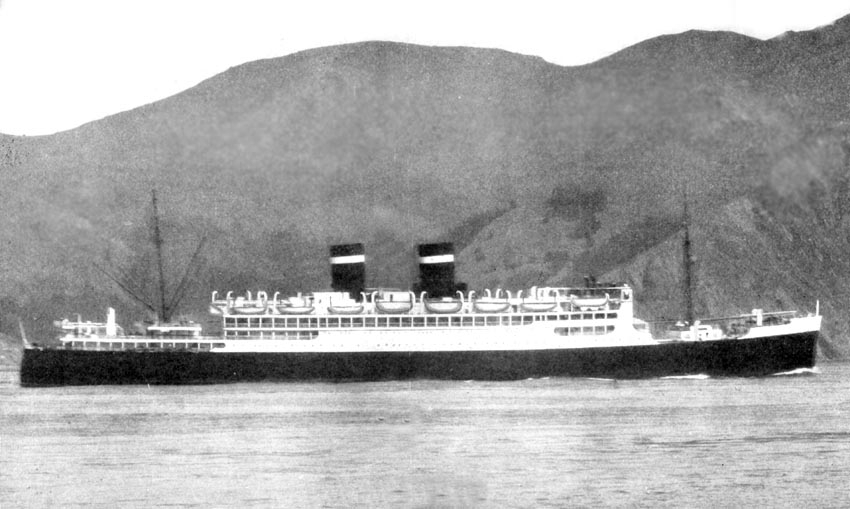 The still beautiful SS California seen in 1937 just prior to her final voyage
Photograph from the Panama Pacific Line brochure
Although the SS California was the first ship to enter service, she was the last ship of the trio to conclude her duties with Panama Pacific Line, and she joined her sisters the SS Virginia and Pennsylvania in New York at the beginning of May 1937, awaiting her new duties.
A little earlier, whilst President Roosevelt was on a voyage to Buenos Aires, he did notice there was a lack of American flagships. Therefore, as soon as he returned to the United States he decided to rectify that situation by making a decision, which soon created what became known as the "Good Neighbour Fleet!"
The American Line sold The "Big 3" to the "United States Maritime Commission" in 1937 and they commenced a new and a fruitful life with new names for well over twenty years, including service during World War 2.
Concluding Thoughts:
As we have read above, the Panama Pacific Line operated a wonderful and popular service, which was obviously greatly loved by the American public as well as those who came to the USA from further afield. Thus why did these three ships only last for a mere nine years?
The sad truth is timing. Had these fine ships not been manned by an American crew and if the ship was registered in a foreign port, these ships could have gone on for many more years! But sadly amongst crew there were some Communists, who caused a great deal of trouble, for they led the strikes onboard the SS California. This, combined with the American Congress who withdrew all "maritime mail subsidies" which certainly did not assist their American shipping industries, therefore, it was both Communism and the US Congress who in the end destroyed this fine and well run "Panama Pacific Line" and their amazing New York to San Francisco service! The ships were all sold to the "U.S. Maritime Commission" to be rebuilt and refurbished for a new role and renamed; SS Uruguay (California), Brazil (Virginia) & Argentina (Pennsylvania).
Go to Page Two, for the continuing story of these three fine American liners, covering their pre War service and their time as Troopships,, known as "USAT's" or "United States Army Troopship"! Page Three covers their time after the conclusion of their WW2 service and they were given a comprehensive refit and all three ships return to service, until they are finally laid up and  sold to be broken up. They were replaced just four years later by two ultra modern far more efficient liners, being the sleek and glamorous SS Brasil & Argentina in 1958.
Page One …         SS California, Virginia & Pennsylvania - 1928 to 1938.
Page Two …         SS Uruguay, Brazil & Argentina - 1938 to 1946.
Page Three …       SS Uruguay, Brazil & Argentina - 1946 to 1964.
Also Visit …          SS Brasil & Argentina of 1968
"Blue Water Liners sailing to the distant shores.
I watched them come, I watched them go and I watched them die."
****************************
ENTER OUR … ssMaritime Main INDEX
Where you will discover well over 700 Classic Passenger & Passenger-Cargo Liners!
ssMaritime.com

& ssMaritime.net
Where the ships of the past make history & the story of the 1914 built MV Doulos
If requesting Passenger or Crew Lists or Sailing Schedules, I am sorry your email will be Deleted!
I receive hundreds of requests and I simply do not have any lists or schedules available.
Please Note: ssmaritime and associated sites are 100% non-commercial and the author does not seek funding or favours and never have and never will.
Photographs on ssmaritime and associate pages are either by the author or from the author's private collection. In addition there are some images and photographs that have been provided by Shipping Companies or private photographers or collectors. Credit is given to all contributors, however, there are some photographs provided to me without details regarding the photographer or owner concerned. Therefore, I hereby invite if owners of these images would be so kind to make them-selves known to me; my email address can be only be found at www.ssmaritime.com in order that due credit may be given.
ssMaritime is owned & © Copyright by Reuben Goossens - All Rights Reserved