Empresa Insulana de Navegacao S.S. Carvalho Araulho 1930 to 1973
Please Note: Firefox and some iPad's or iPhone's, etc are not suitable
Use Internet Explorer or Google Chrome for this page to load perfectly!

Click the logo above to reach the ssMaritime FrontPage for News, Updates & "Ship of the Month"
With Reuben Goossens
Maritime Historian, Cruise'n'Ship Reviewer, Author and Lecturer
With almost 59 Years in the Passenger Shipping & Cruise Industry!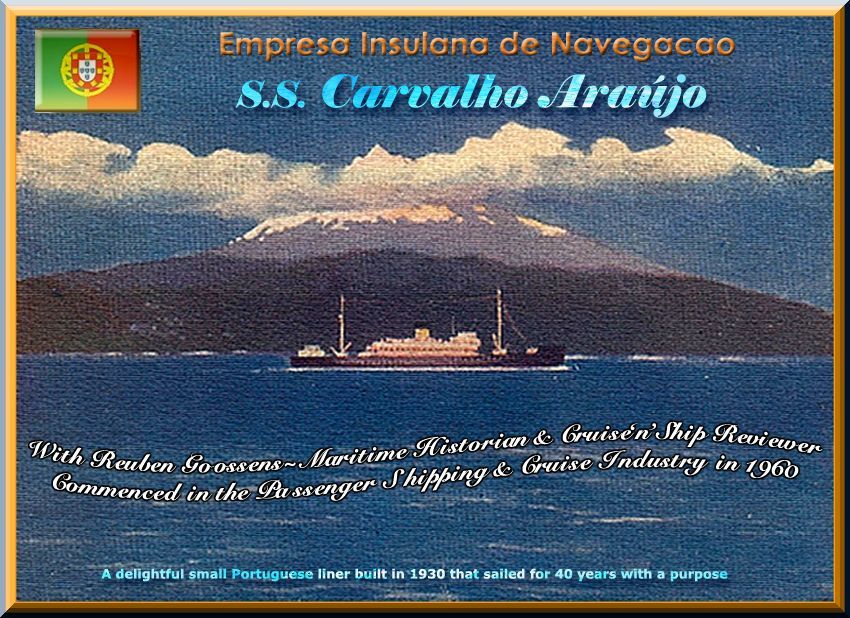 S.S. Carvalho Araújo was exclusively built for the Lisbon Madeira & the Azores service
All Photographs (except those marked otherwise) are from the author's private maritime collection
S.S. Carvalho Araújo was an outstanding small Portuguese liner, which was built in the early 1930s. She transported passengers in style as well being able to move migrants and refugees in comfort. I am well aware that she may seem to be a relatively insignificant liner in certain ways, but believe me she was a very special small passenger and cargo liner indeed. I am sorry that at this time I have no interior photographs of her, but there is a good number of her at sea, at anchor or in port, etc.
I felt strongly that she needed to be added to the list of many classic liners I have online. I trust that you will enjoy reading the fascinating maritime Portuguese history as I have a good number of ships from this great maritime nation online, such as the SS Vera Cruz, SS Santa Maria (both 1953), TS Infante Dom Henrique (1961) SS Funchal (1961) and the TS Principe Perfeito (1961). And of course there were many more I have not even covered, but at least here is one of their earlier ships from 1930.
Reuben Goossens.
Maritime Historian, Author, Lecturer and Cruise'n'Ship Reviewer.
The Enduring S.S. Carvalho Araújo: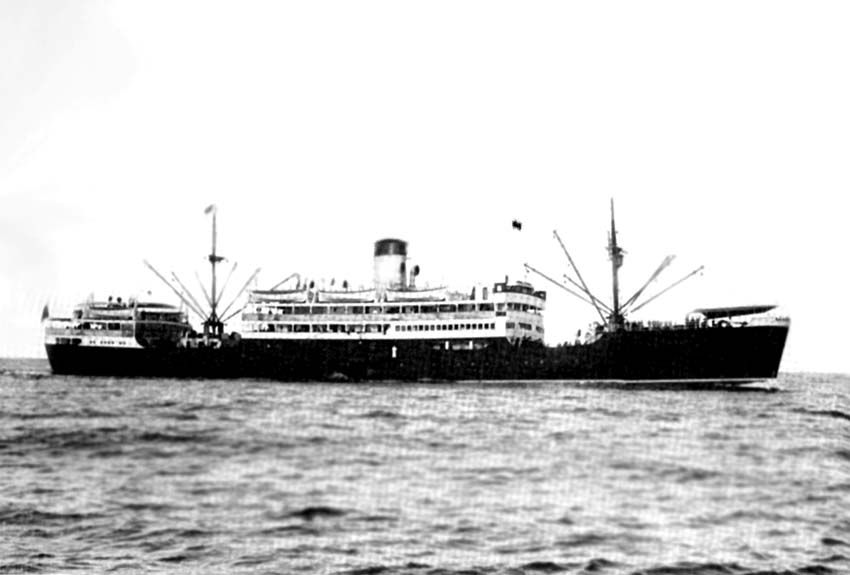 A new S.S. Carvalho Araújo is seen at bound for the Azores
This delightful small Portuguese liner was completed in 1930 and she sailed for a good 41 years with a purpose. The SS Carvalho Araújo was one of the ships that served the Azores the longest and she certainly proved to be one the best the most reliable ships on this service, as well as having a spell serving as a troop ship. As a passenger liner, she made countless month long return voyage from Lisbon to Madeira and the various Islands of the Azores and return. She is also greatly loved by many French Jewish refugees as she transported some 140 Jewish individuals in comfort from Lisbon to Baltimore late in 1942. In addition, she also operated as a Portuguese troop ship during her final year of operation, and thus this is her story!
Construction:
The Portuguese company "Empresa Insulana de Navegacao" (EIN) of Lisbon ordered a new ship to be constructed to replace their 2,557 Gross Ton, 1905 built liner the S.S. Sao Miguel which was sold in 1931 to "Companhia Colonial de Navegaceo" (or "Cia Colonial") who renamed her "Guine", she was finally broken up in 1950 aged 45 years. However in 1928 plans was already well on the way for EIN's new liner, which would be a larger and a vastly updated and improved version of the S.S. Sao Miguel.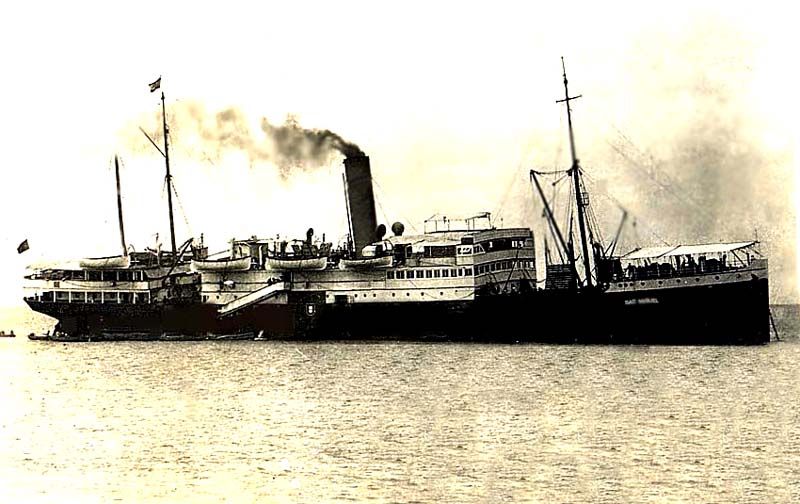 A view of the S.S. Sao Miquel
Sent in by Joseph V. Johnson USA, but source is unknown "Please see Photo notes at bottom of page
Cantieri Navale Trieste, Italy commenced to construct the new ship in 1929 and the machinery installed onboard were two British (Kincaid) built steam triple expansion engines operating twin screws giving her an estimated service speed of 12 knots. S.S. Carvalho Araújo was considered to be a beautiful and a well balanced ship for her day.
Launched & Maiden Voyage:
With her hull and part of her superstructure completed, the Carvalho Araújo was launched on December 18, 1929, and once in the water she was towed to her fit-out berth where she was completed and fitted out. When completed early in March 1930, she headed out for her sea trails, which were successful and she achieved a maximum speed of 14 knots. With her trials and final inspections completed, she departed Trieste in order to be delivered to her owners in Lisbon where a fine looking 4,568 GRT (Gross Registered Tons) S.S. Carvalho Araújo" arrived on March 19, 1930.
However, there is a discrepancy with records available in relation to the date of her Maiden Voyage, and this seems to be due to problems at the time with recruitment of a respective crew. Some records state that she commenced her first voyage to Madeira and the Azores on April 23, whilst another states that it defiantly was in May, and this was from a more official source, but no actual date was provided.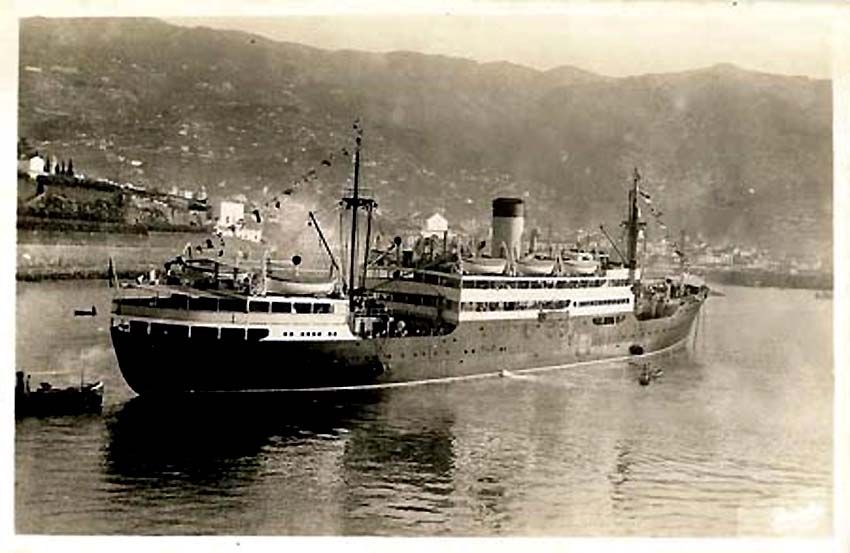 A company postcard, it is said that this is a view of her arriving at one of her ports of call during her maiden Voyage
Her schedule in her early days was as follows: She departed Lisbon and headed first to Madeira, Then the Islands of the Azores; Santa Maria, Sao Miquel, Tercceira, Graciosa, Sao Jorge,, Pico and finally Fayal. On her return voyage calls were made to the Portuguese Islands of; Corvo and Flores then returning to Lisbon.
S.S. Carvalho Araújo Interiors:
Accommodation wise, she offered Deluxe Rooms for 10 passengers, as well as 68 passengers in First Class Accommodations, all being outside cabins with windows having twin beds, with the First Class cabins having an additional third upper bunk available if so required. The First Class Dining Saloon was located below the Bridge on Upper Deck, with all the First Class cabins directly aft. On promenade Deck, there were the Main Lounge also being Ball Room, a Grand Foyer, followed by side Galleries and the Smoke Room and a Verandah Café aft.
Second Class: Accommodations were mostly located within the superstructure on, or below the poop section far aft of the ship. There also was a Smoking Room and the Dining Saloon.
Third Class: We need to remember that this class was mostly used by locals within the Azores Islands, and they would sail basically between the Islands overnight or several nights. Thus the cabins were somewhat basic and they were all located in the foc'sle part of the ship; they did not have any actual lounges, but ample covered deck space above, and only had excess to the crew's canteen.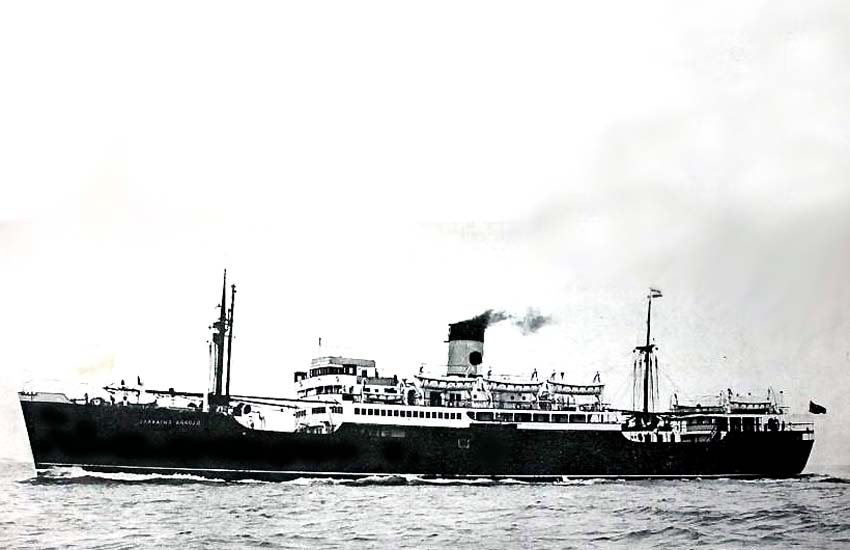 Again the S.S. Carvalho Araújo is seen at sea
Dignitaries Carried on the Carvalho Araújo:
During her many voyages she carried a good number of Dignitaries, such as the President of Portugal, General Antonio Óscar Fragoso Carmona who visited the then Adjacent Islands, the archipelagos of Madeira and the Azores who visited the then Adjacent Islands, the archipelagos of Madeira and the Azores. Then in August 1941, S.S. Carvalho Araújo carried Father Cruz, Francisco Rodrigues da Cruz who was a major figure in the Roman Catholic Church at that time, he repeated this crusade in July 1942.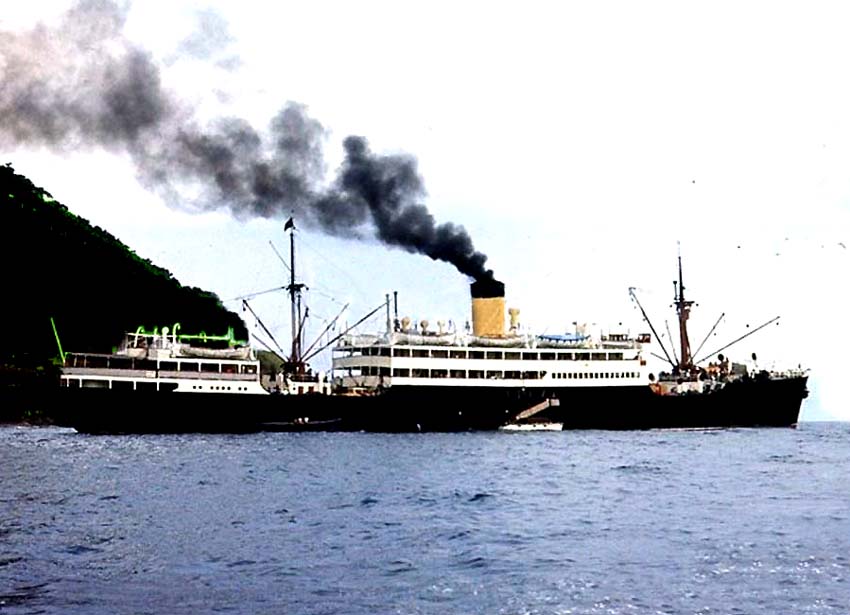 An excellent photograph of this fine ship seen at anchor whilst she is in the Azores
<![if !vml]>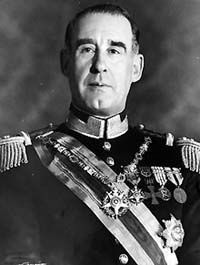 <![endif]>In July 1957, the Carvalho Araújo departed Lisbon with the then President General Francisco Higino Craveiro Lopes and his entourage. We should understand that at that time the doctorial Prime Minister António de Oliveira Salazar was about to remove the President from power, and thus he encouraged him, or as was stated "he sent him" to visit the islands of Madeira and <![if !vml]>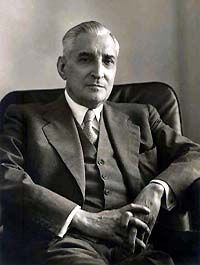 <![endif]>the Azores to get him out of the way. The President visited Faial on July 24.
                                                                               President General Francisco Higino Craveiro Lopes
Prime Minister António de Oliveira Salazar
"Salazar" had chosen General Lopes as the regime's presidential candidate back in 1951 to succeed the late Óscar Carmona. But considering at that time the electoral system was completely rigged in favour of Salazar's 'National Union', this made Craveiro Lopes' election a foregone conclusion. He was elected unopposed after the only other candidate withdrew even before the Election Day. As I do not know a great deal regarding Portuguese political history, but I do know that the President Lopes was gone by early in 1958 and that thereafter he made various attempts' to overthrow Salazar, but always failed. Ex President, General Francisco Higino Craveiro Lopes passed away in 1964.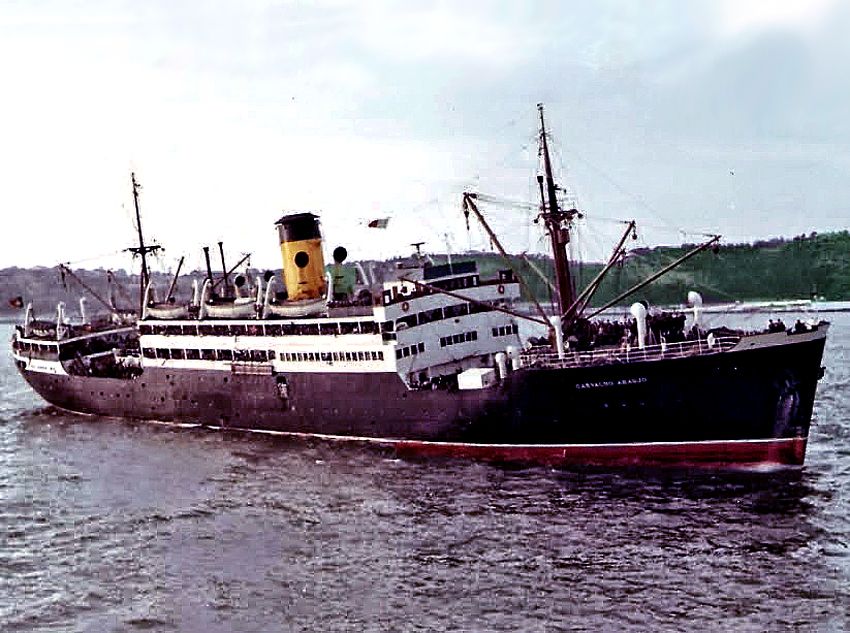 Here we see her turn to port (left) as she heads for her anchorage
In July 1962, S.S. Carvalho Araújo also accommodated the new President Vice Admiral Americo de Deus Rodrigues Tomás as well as his entourage, and he visited the Horta District.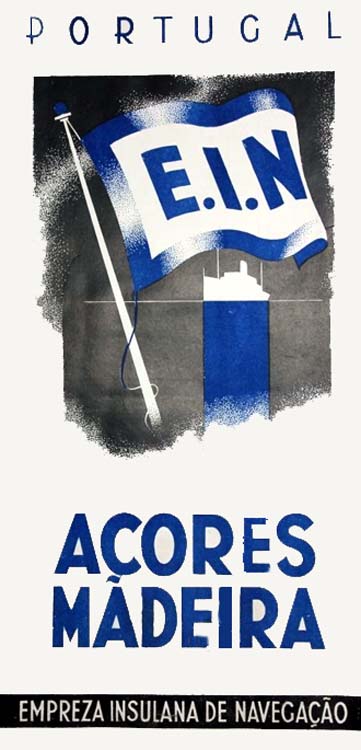 Cover of a 1950's schedule and fares for the Carvalho Araújo
In addition, we must not forget that during this wonderful ship's distinguished career sailing between Lisbon, Madeira and the Azores she provided more than just a passenger service to the people of the islands of the archipelagos called on. For the S.S. Carvalho Araújo indeed carried passengers but also a great deal of vital cargoes in her holds, to all the islands called on from Lisbon.
WW2 and Financial Difficulties:
As war came about the S.S. Carvalho Araújo was emblazoned on both sides of her hull stating clearly that she was a Portuguese ship in large white lettering.
Special voyages to America by the S.S. Carvalho Araújo and the Mediterranean by the SS Lima during the 1940's improved the financial situation of EIN.
A Very Special Mission: With World War 2 ongoing, many Jewish people had moved to France and there were those who escaped north to Portugal. It was arranged by the Government that in September some 140 Jewish refugees would board the S.S. Carvalho Araújo on which they were provided the best of accommodations available and she headed for the United States. The "United States Holocaust Memorial Museum" records that the ship arrived at Baltimore Maryland on November 2, 1942 where all her very special passenger disembarked. This was one of the rare occasions she missed one of her regular scheduled voyages to Madeira and the Azores, being very rare indeed! But, good deeds certainly needed to be done and the Jewish community to this day remembers what the S.S. Carvalho Araújo did for the Jewish people in a time of great horror!
On November 30, 1941 a British merchant ship the SS Ashby who had become a straggler from the main Convoy OS-12", was suddenly hit at 19.26 hours aft by one of two G7e torpedoes from the U-Boat 43 and she rapidly sank by the stern within 4 minutes some 170 miles south-southeast of Flores, Azores.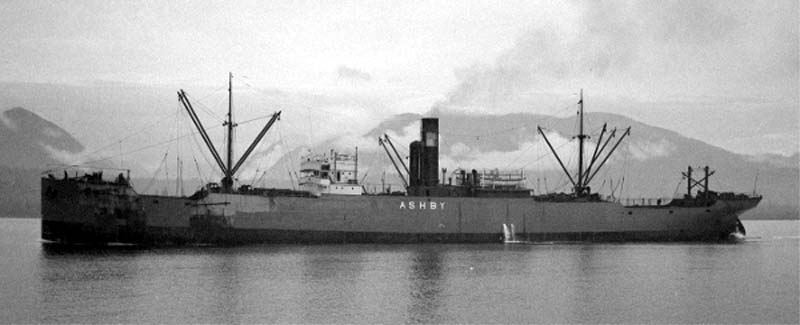 SS Ashby
The master Tom Valentine Frank OBE, and eleven crew members and five gunners were lost. Thankfully 28 crew members and five gunners having been rescued by the Portuguese destroyer the Lima (D 333) were put ashore at Fayal, and there they were transferred and to the S.S. Carvalho Araújo which transported them to Lisbon.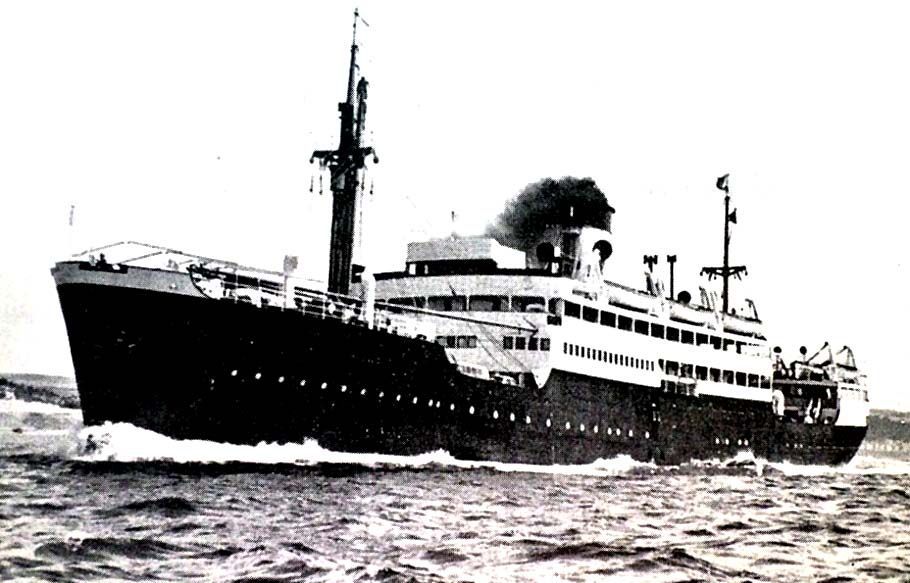 She is seen here in choppy seas
When in August 1945 when a document known as "Dispatch 100" was issued by the Portuguese Government to reorganize the Portuguese shipping industry they decided to update the merchant fleet, and therefore six new ships were planned for EIN. But the S.S. Carvalho Araújo continued to sail on for a further 26 years.
S.S. Carvalho Araújo Final Days:
Finally the time came that the now much loved and most reliable S.S. Carvalho Araújo completed her very last round voyage to the Azores, when she returned home to Lisbon on March 2, 1970. It was a sad occasion, but now there were a good number of new liners that had taken over the service, but also, sadly ocean travel was slowly diminishing due to the arrival of the Boeing 747 Jumbo Jet and it was the cruise industry that was growing, and even the newer ships were updated and entered the cruise market, and were sold in due course, such as the very popular SS, later he MV Funchal built in 1961, but entered her cruise duties in 1973.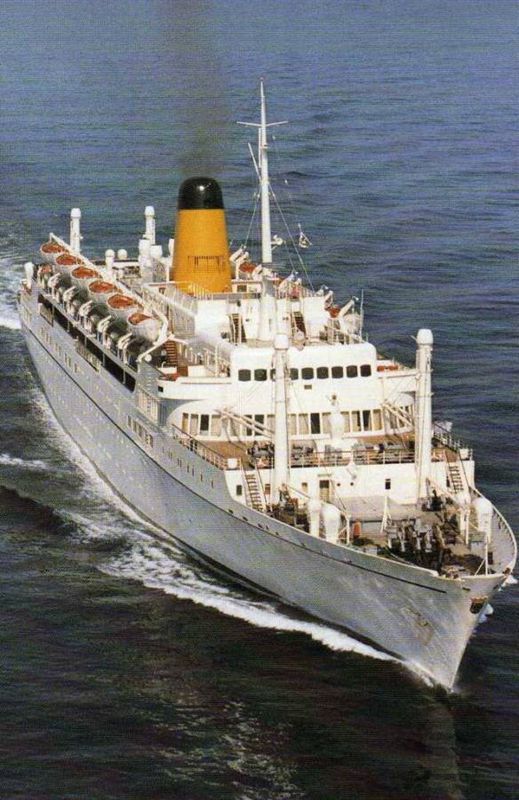 MV Funchal is seen having just been painted all white for her new cruising role in 1973
However, although the S.S. Carvalho Araújo had concluded her regular services, she quickly commanded for a new temporary role that would last for around seven months, and she officially became a Portuguese troop ship transporting troops to Guinea on the northern West Coast of Africa. She made regular return voyages during her final seven months and at the conclusion, she returned to Lisbon.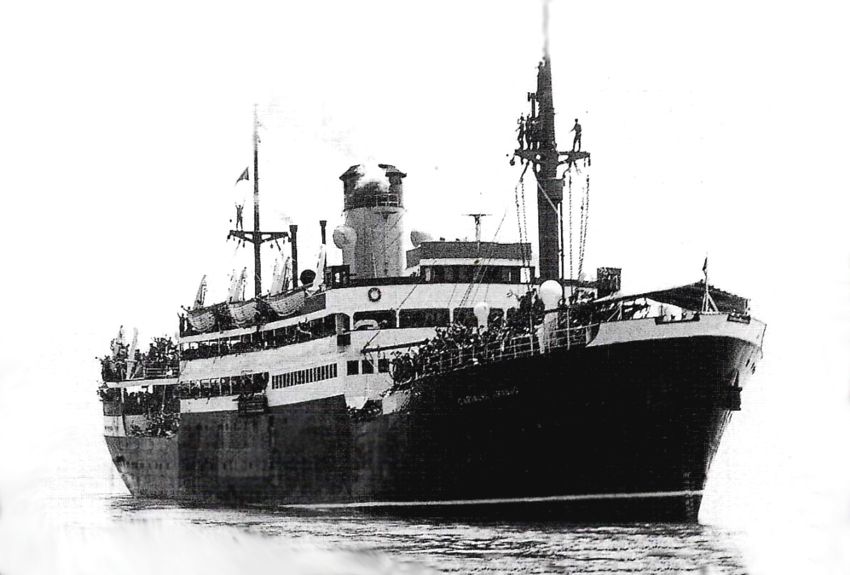 The Carvalho Araújo is seen here as a Portuguese troop ship to Guinea
She returned to Lisbon on January 8, 1971 but now sadly her days as a ship sailing the seas were finally officially over and the still beautiful looking S.S. Carvalho Araújo was laid up in the Tejo River until she was sold to Spanish breakers who in due course, on March 1, 1972 changed her name to "Marcéu". However she remained laid-up for almost another 18 months. Then SS Marcéu suddenly, without any notice left Lisbon without any fuss or notice, under tow on October 20, 1973 and she was bound for Aviles, Spain, where she arrived on October 27, 1973.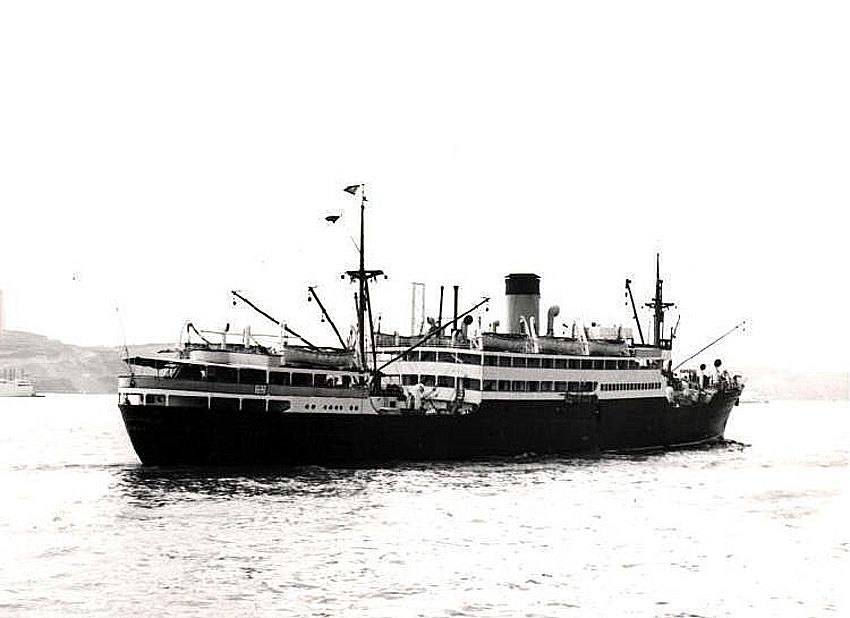 S.S. Carvalho Araújo seen departing port
However, considering that she was such a well and a strongly constructed ship it took the breakers almost 12 months to demolish her, being one of their most costly jobs on record at the time!
In Closing:
There is no doubt at all, that during the twentieth century, there has never been a liner that has served the Azoreans with such efficiency, with amazing regularity and length of time such as the S.S. Carvalho Araújo, and she did this also throughout World War II, with just the odd exceptions, but this was only because she was transporting Jewish and other WW2 refugees from the horrors of the Holocaust, and she departed Lisbon and headed to Baltimore in the USA. S.S. Carvalho Araújo proved to be an amazing and a greatly loved ship and although not well known around the world, but I felt that it was time, that you came to know this gem of a ship!
SS Carvalho Araújo Dimensions - 1961 to 1972:
Builder:       Cantieri Navale Trieste, Italy.
Launched:       December 18, 1929.
Maiden Voyage:     April 23, 1930 the (most likely date).
Tonnage:              9,824 GRT (Gross Registered Tons).
Length:                 370 ft - 112.77 m.
Breadth:                50 ft – 15.24 m.
Draught:               23.9 ft – 7.3 m.
Engines:               Two Steam British (Kincaid) built steam triple expansion engines.
Propellers:             Two.
Service speed:       12 knots service speed, 14 knots maximum.
Passengers:           10 Deluxe, 68 First, 76 Second & 78 Third Class.
Crew:                   90.
Remembering a Fine Small, but Enduring Liner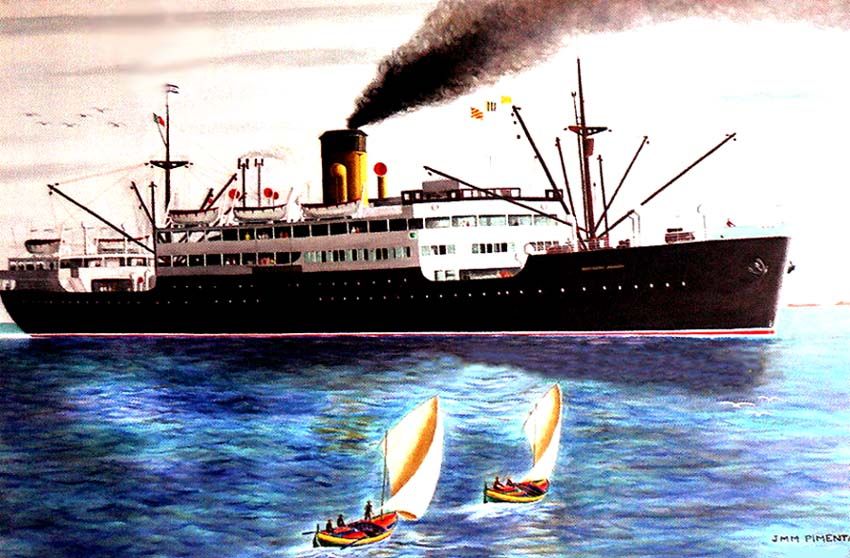 An artist's impression of the S.S. Carvalho Araújo
A watercolour by J.M.M Pimenta
There are features online on ssMaritime.com of the following Portuguese liners:
SS/MV Funchal / TS Santa Maria / TS Vera Cruz
And the delightful TS Infante Dom Henrique
Use the Back button on your browser or Close this Page and return to the previous page
or visit the ssMaritime.com MAIN INDEX
**********************
ssMaritime.com & ssMaritime.net
Where the ships of the past make history & the 1914 built MV Doulos Story
Featuring over 1,116 Classic Passenger Liners, Passenger-Cargo Liners & Cruise Ships!
Also visit my …
Save The Classic Liners Campaign
Photographs on ssmaritime and associate pages are by the author or from the author's private collection. In addition there are some images that have been provided by Shipping Companies and private photographers or collectors. Credit is given to all contributors. However, there are some photographs provided to me without details regarding the photographer/owner concerned. I hereby invite if owners of these images would be so kind to make them-selves known to me, my email address is rg@ssmaritime.com in order that due credit may be given.
This notice covers all pages, although, and I have done my best to ensure that all photographs are duly credited and that this notice is displaced on each page, that is, when a page is updated!
ssMaritime is owned and © Copyright by Reuben Goossens - All Rights Reserved