Thorneycroft P&O's S.S. Chusan 1950 to 1973
Please Note: Firefox and some other Search Engines may not be suitable
Use Google Chrome for this Web Page to load perfectly!

Please Note: All ssMaritime and other related maritime sites are 100% non-commercial and privately owned, thus ssmaritime is NOT associated with any shipping company or any other organisation! Although the author has worked and been involved in the passenger shipping industry for well over 60 years, but due to his old age and poor health, he was forced to retire. Yet, he has completed well over 1,435 Classic Liners, Passenger-Cargo Liners as well as humble converted C3 converted Migrant Liners, which has transported countless thousands of folk to the new world, as well on vacations'. I trust the features online will continue to provide Classic Liner and Ship enthusiasts both the information they are seeking, but more so provide a great deal of pleasure and relive many happy memories!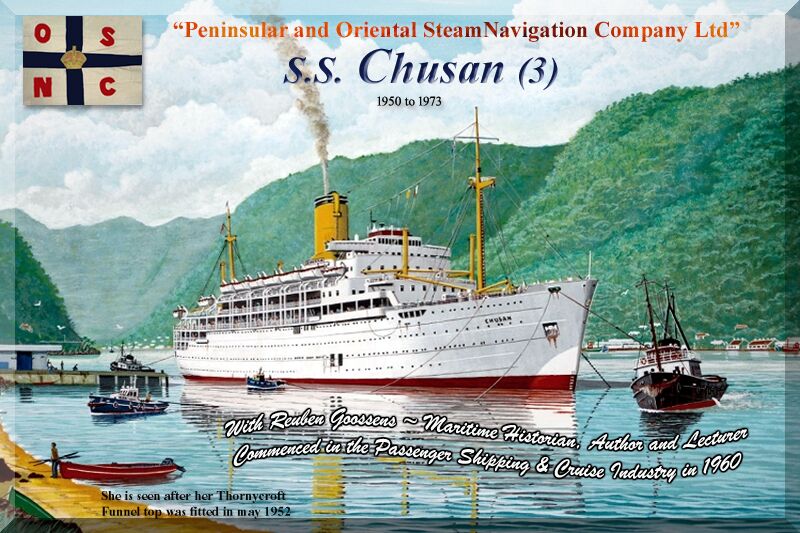 Please Note: Postcards, photographs & other images are either from the author's private collection or from my supporters.
Therefore a very big thank you to three very special ssmaritime supporters for sending me their wonderful photographs.
I am sorry but some of the images shown may not be of the highest quality, but they are the best that were available
Page One
Introduction:
The "Peninsular and Oriental Steam Navigation Company" in 1836 was founded and it first operated from London to Spain, Portugal and the Mediterranean.
In 1845 P&O services were extended to Singapore and the Far East and in 1852 they started a bi-monthly Singapore to Australia service with their new steam-sail ship the "Chusan. Fares to Australia for first class fare was £60 - £70 and second class was £35 - £40.
Thus the S.S. Chusan of this feature is in fact the third ship to carry this proud name and below I will briefly show the first two Chusan's and then continue with the ship in question
The Barque Chusan (1):
The first vessel to be named "Chusan" was a Barque-rigged steamer completed in 1852 and she was 699 GRT (Gross registered Tons). She was fitted with an 80 hp engine, which was capable of giving her a speed of 9 knots. However, with the aid or her sails, it was said that she was capable of 14 knots.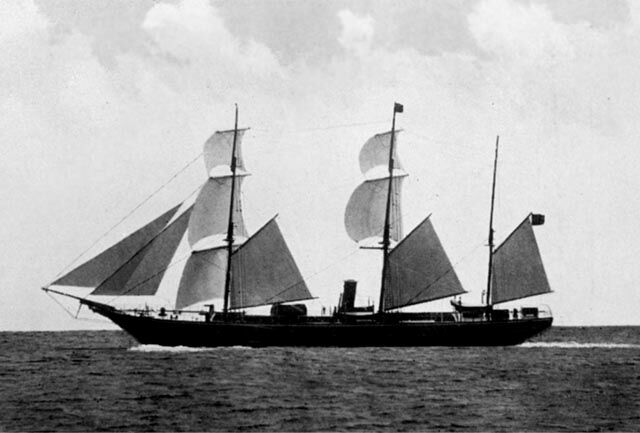 "Chusan" (1) is seen on her maiden voyage to at Sydney and she is
under the command of Captain Henry Down
The "Chusan" was the first ship to carry mail from the 'United Kingdom' to 'Australia' under contract to the 'Chancellor of the Exchequer'. On the first inaugural voyage, she departed Southampton on May 15, 1852, and she arrived in Sydney on the August 3, 1852. Her arrival was greeted by huge crowds at the dock as it was a great event for her voyage had taken just 80 days, compared to the usual 121-130 days.
For this noteworthy event, a subscription Ball and Supper was arranged, and more than this an especially "Chusan Waltz" had been compassed to mark the occasion.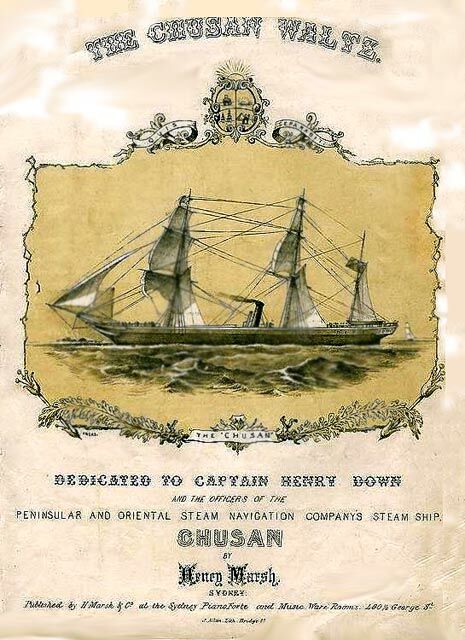 Here we see the cover of "The Chusan Waltz" by Henry Marsh
With new ships being built, the "Chusan" concluded her days with P&O in 1861 when she was sold to another shipping group.
S.S. Chusan (2):
The second "Chusan" was built by 'Caird & Co' of Greenock and she was a 4,490 GRT steam ship which was completed for P&O in 1884. She was placed on the Indian service and she departed London on September 24, 1884, bound for Calcutta.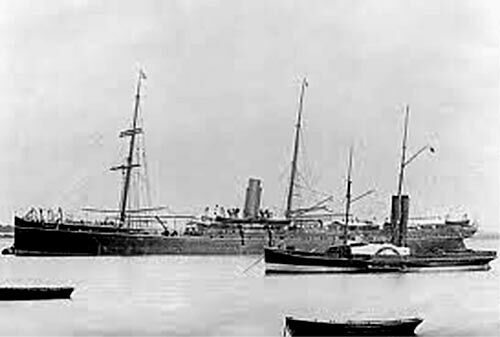 S.S. Chusan (2)
Her passenger accommodation was most comfortable, although less ornate than the P&O's ships that operated on the Australian service, although she did have electric lights throughout, and she was a favourite with her passengers.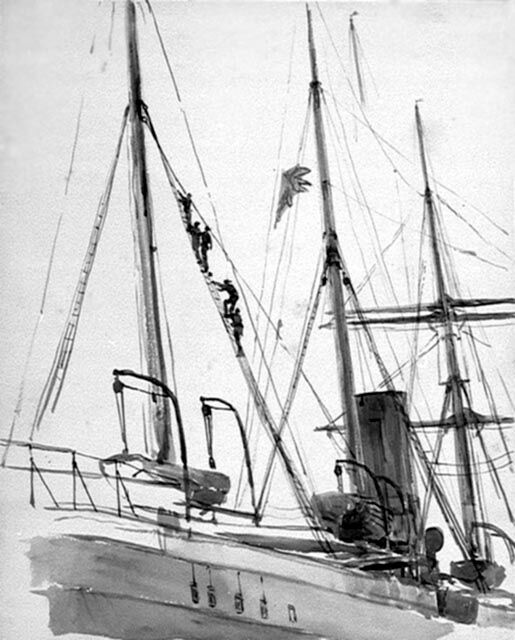 A drawing of the S.S. Chusan (2)
S.S. Chusan (2) had a service speed of 14 knots, and she accommodated 111 First Class and 42 Second Class passengers. In 1902, she was transferred to the Far East service, before being sold to an Indian company in 1906.
*********************
S.S. Chusan (3):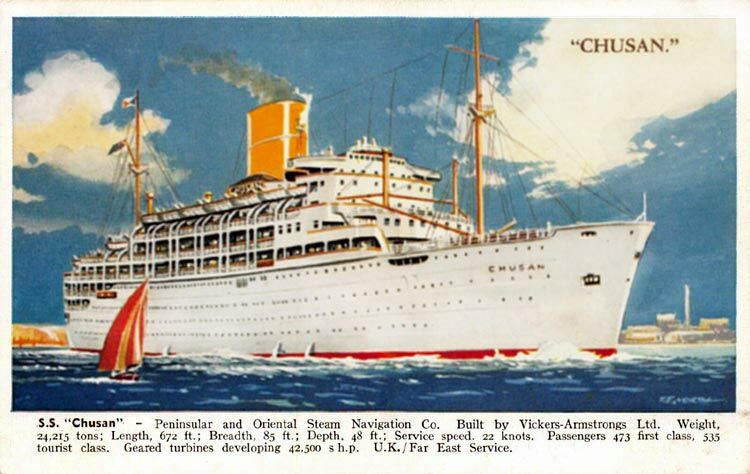 A pre completion postcard released by P&O of their new liner the S.S. Chusan (3)
The S.S. Chusan (3) was a British Ocean Liner and a much loved Cruise Ship, built especially for the "Peninsular and Oriental Steam Navigation Company's" Indian and Far East Service in 1950. She was named after a small Island 'Chusan' just off China. She was a slightly smaller version of the 1949 completed, 27,955 GRT (Gross Registered Tons) S.S. Himalaya, whilst the "Chusan" had a Gross Registered tonnage of 24,215.
Although the "Chusan" may have been somewhat smaller than the "Himalaya", having been built for the P&O Company's Far Eastern service, yet she was just as impressive. In addition, her interior features were very similar and she was just as impressive as her larger forerunner and to do justice to this delightful and elegant liner it was only right that on this feature I will provide her with a thorough description, etc.
She was built as a replacement for the RMS Viceroy of India, lost in the Second World War. She was 672.6 ft - 200 m long. The Chusan is said to have brought new standards of shipboard luxury to India and the Far East.
The "Chusan" was ordered in May 1946 and was built by Vickers Armstrong Ltd., Barrow, with her keel being laid in February 1947, in Yard N° 964. Construction continued at a good pace and it was expected that she would be launched mid the next year.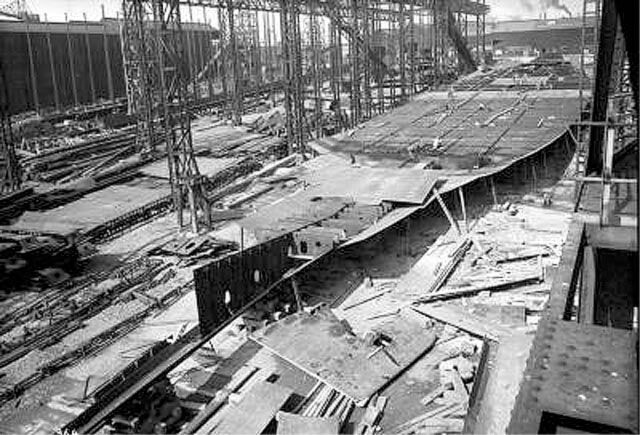 Here we see her double keel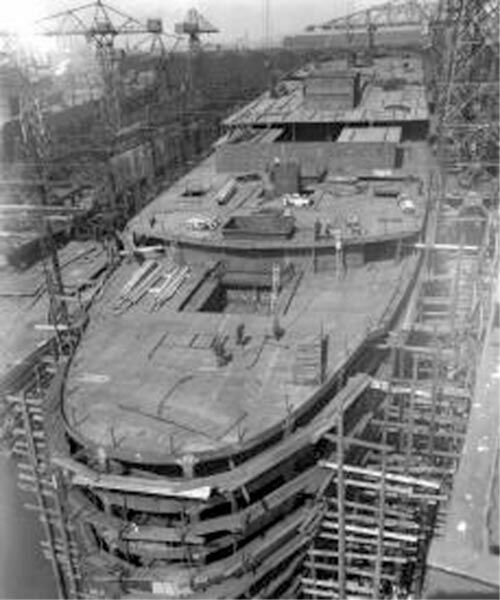 But her we see her getting closer to her launch date
The big day had finally arrived, and the "Chusan" was launched on June 28, 1949 by 'Viscountess Bruce', being the wife of 'Viscount Bruce' of Melbourne who was also a P&O Director. As the ships slid down the slipway the band played "Eternal Father" but then suddenly the thousands of spectators held their breath for around ten seconds for the "Chusan" had suddenly rolled precariously to starboard the very moment as the entered the water. But thankfully a sigh of relief came as she righted herself and rocked to and fro in the water, As soon as she was fully afloat, tugs took her in tow and she was taken to her fit-out berths, where the "Himalaya" was also being completed, as she would be delivered to P&O in August. The "Chusan" was in fact the very last passenger liner to be built for P&O by 'Vickers Armstrong Ltd'.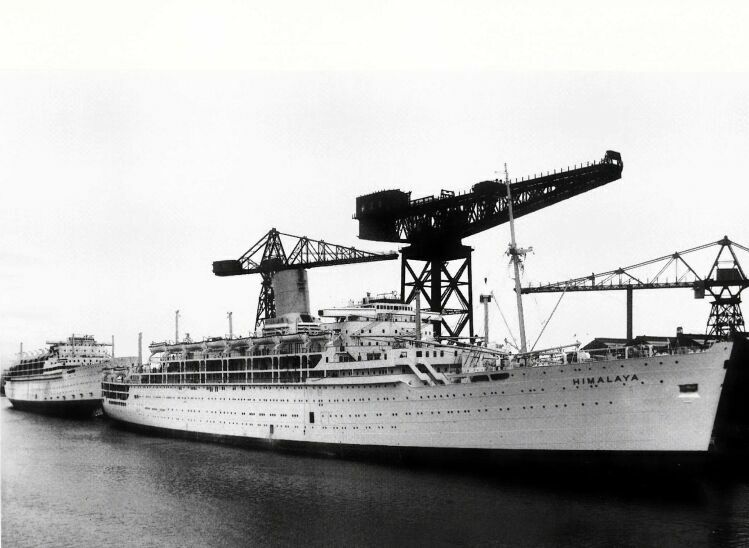 The "Chusan" has just been berthed at her fit-out berth and is seen
aft of the almost completed S.S. Himalaya on June 28, 1949
She was fitted with Denny Brown 'hydrofin automatic stabilizer's', which had been manufactured by 'Brown Brothers & Co Ltd' of Edinburgh in conjunction with 'William Denny & Brothers Ltd' of Dumbarton.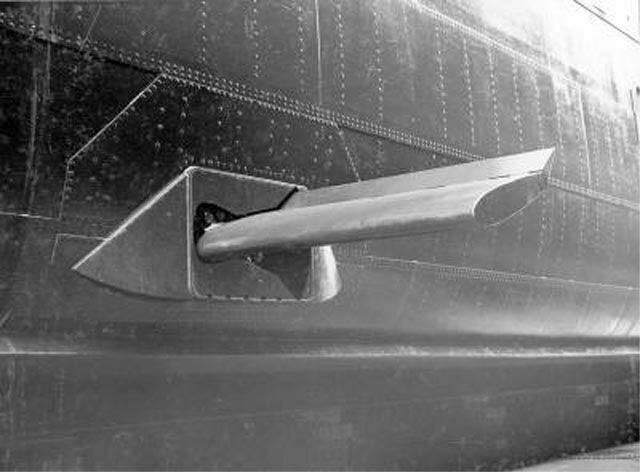 A 'Denny Brown hydrofin stabilizer' seen on the port side looking to aft of the hull
Speed Trials and Delivery:
With the S.S. Chusan completed she departed the Barrow shipyard on June 6, 1950 and she headed for Liverpool, from where she undertook her speed trials in the Firth of Clyde on June 9, which was successful. On board were countless important guests and other official guests, who would tour the ship and have lunch and experience the best of this fine new liner, as well as something quite unexpected.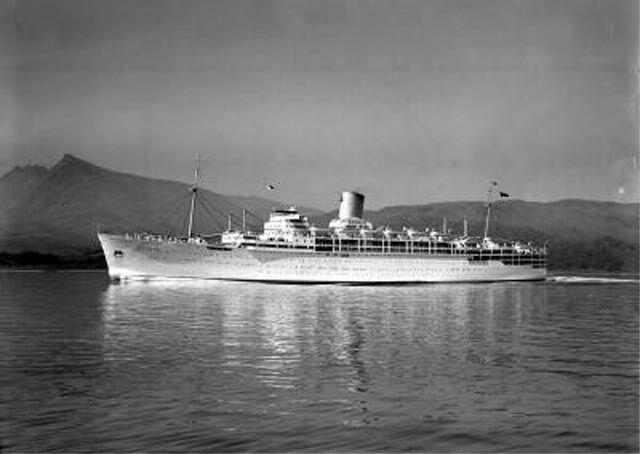 The S.S. Chusan is seen during her speed trials on the Firth of Clyde on June 12, 1950
During her trial official's of 'William Denny & Brothers Ltd' were on board, and thanks to them came that unexpected surprise for at the appointed time, during perfectly smooth seas, the S.S. Chusan was forced to roll 12 degrees as can be seen below. All to prove the efficiency of her Stabilisers.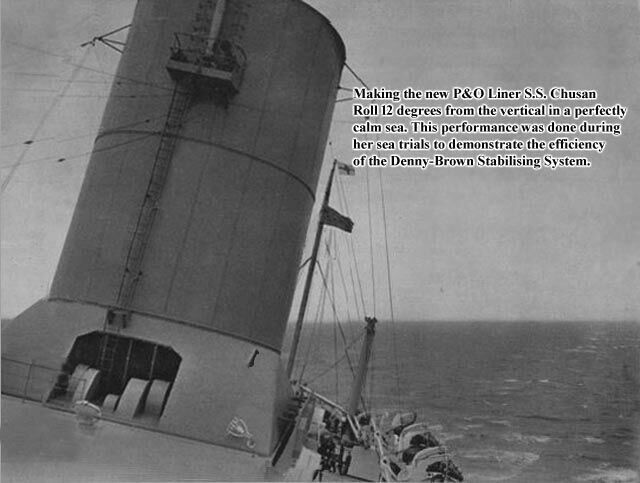 The delightful S.S. Chusan was delivered to P&O at Southampton on June 14, 1950. Amazingly, she was the largest and the last ship to be built for P&O's Far East Service and of course a notable feature of this ship was that she was the first passenger ship to be equipped with anti-roll stabilizers, and she was also air-conditioned in her First Class Dining Room and all First Class Cabins.
A Ship with not

One

, but Two Maiden Voyages:
One would have thought that she would be off on her maiden voyage on her regular service, but that was not the case for the "Chusan". For she would first make two "shake down" voyages, both being First Class only trips with the first being of a week length sailing to Lisbon, Casablanca and Madeira, etc. S.S. Chusan's second voyage was a nine-day cruise from Southampton to Madeira and Lisbon, which departed on July 1, 1950.
Then finally was her official Maiden Voyage N°1 which departed on September 15, 1950 being her first voyage from London but she only went as far as Bombay India, sailing via the Suez Canal. But of course the "Chusan" was expressly constructed for the Hong Kong & Far East service, and would in fact happen on her next voyage!
And that voyage was officially classified as Maiden Voyage N°2 as she departed London on November 7, 1950, and this time she finally headed for Bombay, Colombo, Singapore, Hong Kong, Shanghai and Yokohama. This would be the first call to Japan after World War 2 by a P&O liner.
From here on she continued on her official Far East service, along with the S.S. Corfu, S.S. Carthage, and the S.S. Canton.
The full route being as follows: London, Southampton, Gibraltar, Marseilles, Port Said, Aden, Bombay, Colombo, Singapore, to Hong Kong, Shanghai & Yokohama - and return
*********************
Now the S.S. Chusan is finally operating on her official service, but it is time that we take a look at the ship herself as well as a look at her interiors!
Some Ship's Information:
The S.S. Chusan was a white liner, with red boot topping, and her funnel and masts and derricks were buff to yellow and she was 646.5 ft - 197.05 m in length.
She was powered by a set of double reduction geared steam turbines by her builders, which developed 42,500 SHP and steam was supplied at 525psi, and 850°F by four controlled superheat 'Foster Wheeler' boilers.
Four turbo-generators supplied electrical power for heating and lighting throughout the ship and there were two emergency diesel generators. A Distillation plant was fitted and this provided water for the boilers as well as domestic use.
Her twin screws had her sail at a service speed of 22 knots, although during her speed trials she managed to achieve an excellent 25.13 knots maximum.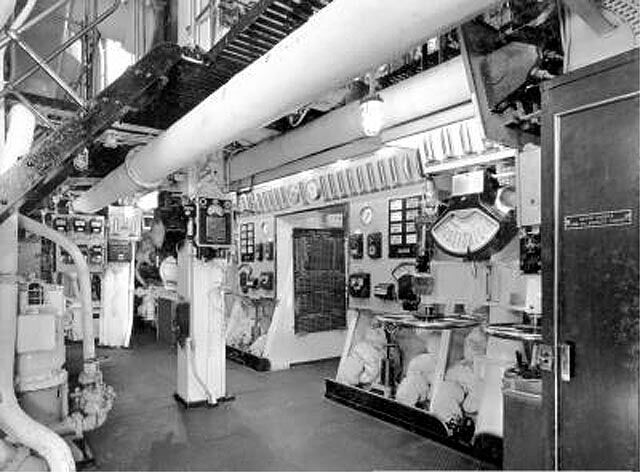 The Engine Room and the Starting Platform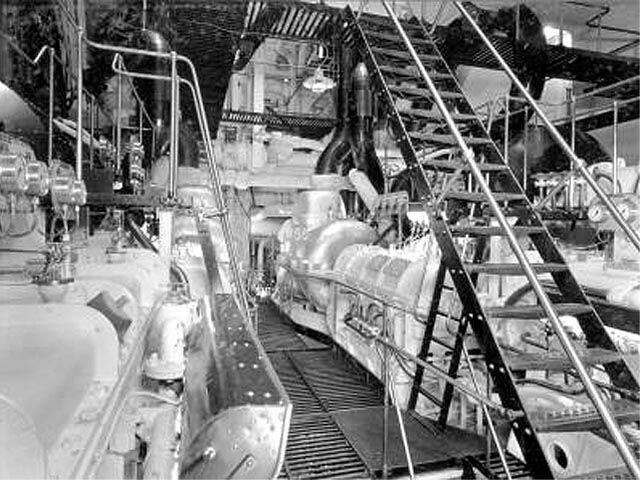 An overall view of the Engine Room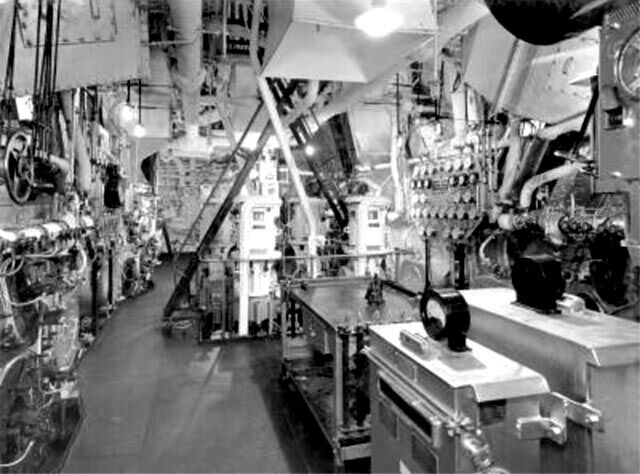 A view of the Boiler Room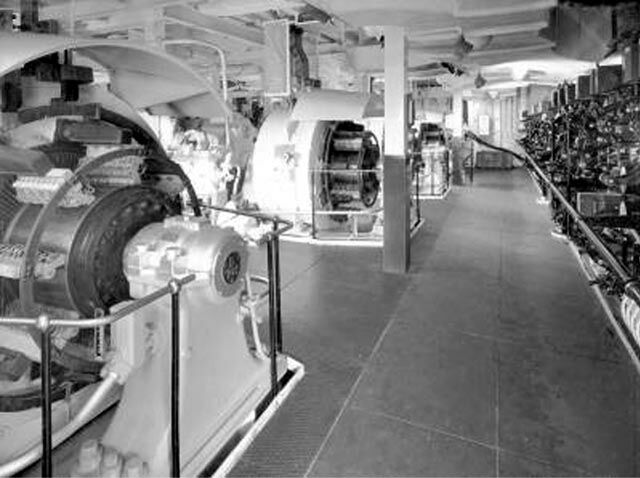 The Generator Room
Total complement on board, passengers and crew were 1,598 people. Being a total of 1,035 passengers, made up of 475 passengers in First Class, and 551 in Second (Tourist) Class with an able crew of 572. As built she had 12 lifeboats up on Boat Deck, 2 aft on Promenade Deck and 2 aft on A Deck. In addition she had seven holds capable of holding 423,845 cu-ft of bales and 22,505 cu-ft insulated capacities.
*********************
We will now board her and take a look at her interiors as well as her deck spaces, etc. As always I will commence topside and start from forward and slowly head aft.
First Class
Bridge & Accommodation Decks:
The forward topside deck we obviously find the ships Bridge, as well as the Chart Room, the Radio Office, the Captains Office and quarters, etc, as well as the First Officers quarters, etc.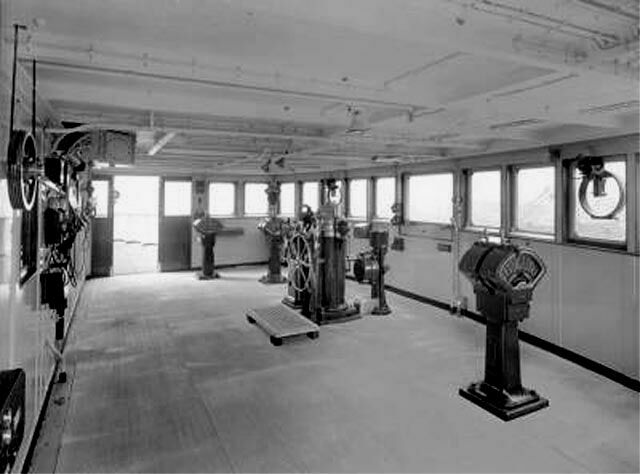 In those days the Bridge was certainly simpler than bridges these days, but they were certainly efficient!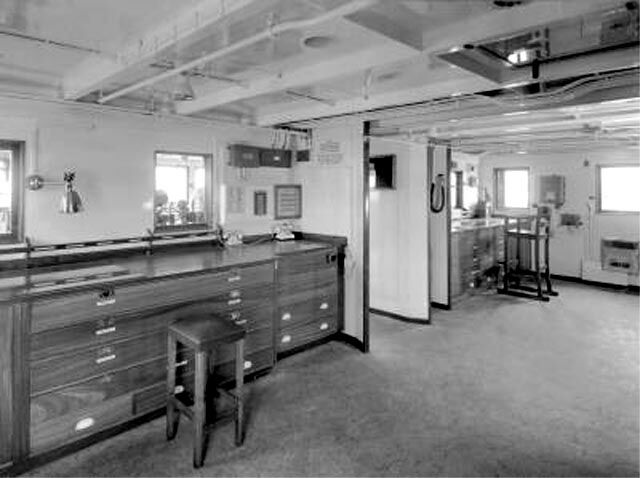 The Chart Room was located aft of the Bridge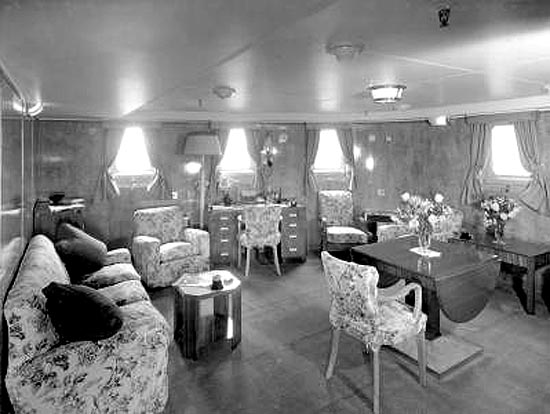 The Captains Day Room below the Bridge on the port side with windows overlooking the Foc'sle
His private quarters was on the starboard side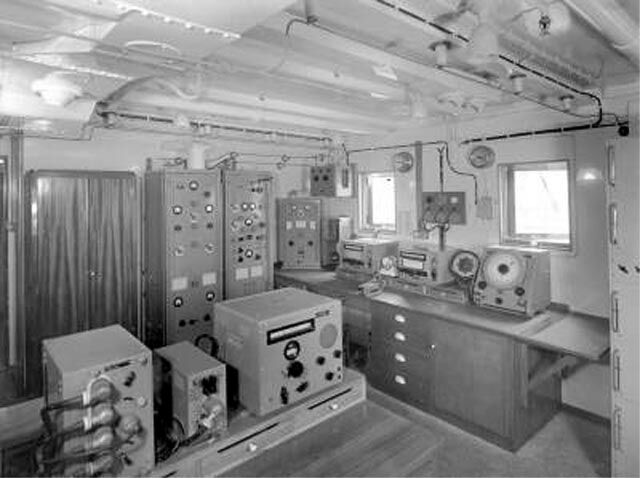 The Radio Office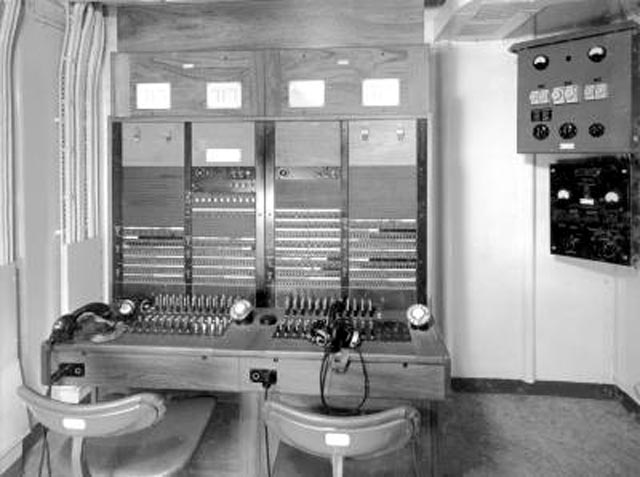 The Telephone Exchange
You will note that all the above photographs were taken whilst she was still at her fit-out berth being completed
Boat Deck:
If looking at the ship from ashore, it was obvious of her clean lines of her upper works, which were enhanced by the complete absence of ugly large ventilating cowls as on most ships in those days. All her necessary air-intakes were neatly incorporated in the deckhouse sides. Again this provided a huge completely unencumbered area of the Boat Deck for her First Class Guest's leisure and recreation! Just as on the "Himalaya" there was ample protection from any unpleasant winds as guests would be behind glazed screens, which commenced from the forward deckhouse for a long 60 feet aft., although these screens could also be slid open when the weather was pleasant.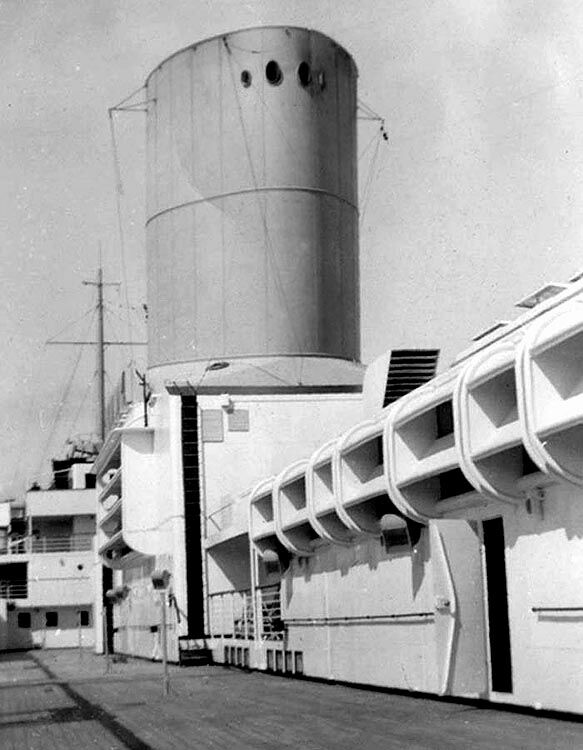 Boat Deck looking toward the forward deckhouse with the Bridge atop
Of course Boat Deck was the centre for the every possible kind of sport that was available on the ship, be it shuffle board, deck tennis, quoits, and other organized activities.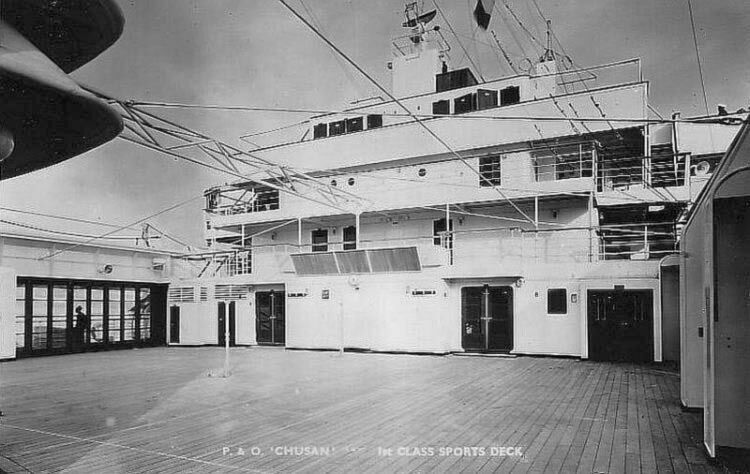 Sports Deck and note the glass doors at the side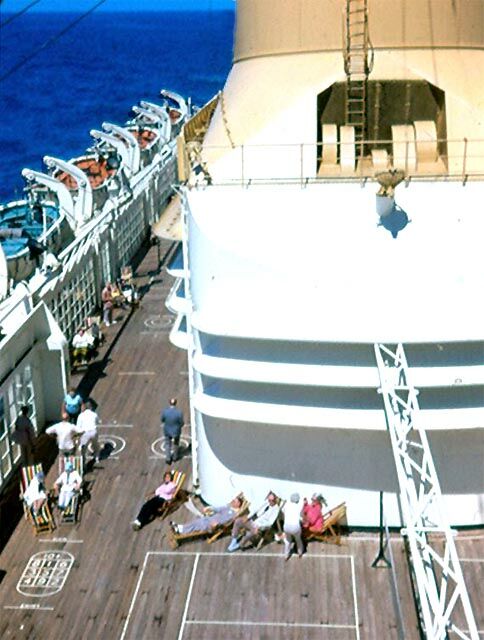 A full colour view from aft of the Bridge Deckhouse along Boat Deck
Promenade Deck:
Far forward was the Children's very own area, including a delightful Playroom, with every possible facility possible, including private facilities and a very large safe outdoor deck play area.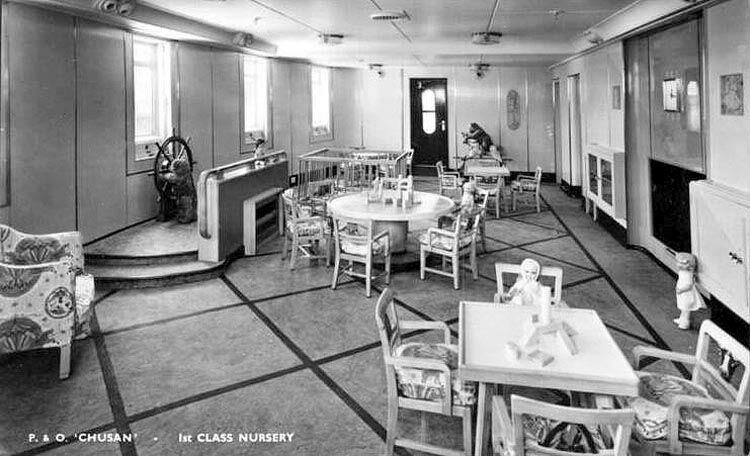 The Children's Playroom (Nursery)
We now arrive at the main part of the First Class section of the Promenade Deck, which contains all of her delightful Public Rooms. Each venue was decorated and furnished by the very best designers, such as 'Waring & Gillow Ltd' and 'Maple Ltd' of London, and 'H. H. Martyn & Co Ltd' of Cheltenham and each venue had that traditional warm English charm!
The Library and Writing Room:
The plan of this most elegant venue was determined by the large curved sweep of the forward bulkhead, where there was a large painting depicting an Italian-style arcaded colonnade. The carpets and curtains as well as the upholstery fabrics were mostly in shades of blue and blue-grey. There were large windows forward on both sides as well as along the sides provided ample light into the venue during the day, although it was superbly lit by the excellent ceiling lighting in a beautiful curved centre, as well as the various highly polished stainless steel light fittings throughout the venue.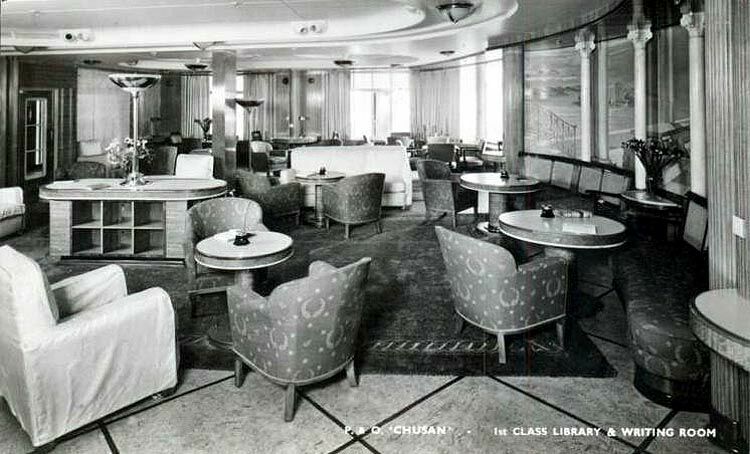 The magnificent Library and Writing Room
The aft doors at both sides of the venue gave access to the lobby, which had the Main Stairwell and two Lifts, as well as side doors out to the full walk around Promenade Deck.
The Main Lounge:
Obviously, this is the principle room and it offered an attractive feature at either side as there were huge casement windows fitted with comfortable sofas round drink tables and two deep comfortable armchairs.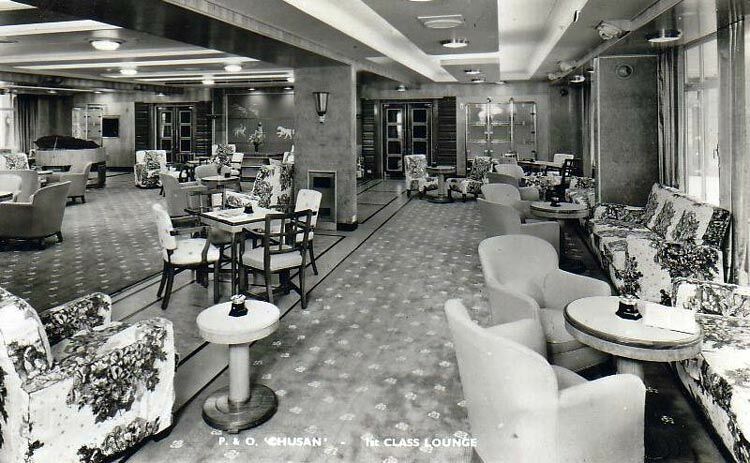 The beautiful ever so British Lounge
Other outstanding points of interests were the central panels that adorned the forward and the aft bulkheads, as there were some beautiful painted motifs that depicted incidents of the life of the 'Kublai Khan', as was related in 'Marco Polo'. The timber work on the walls and columns were delicate and some of the finest timbers were used as can be seen in the photograph. The tapestries contained a floral pattern or plain pure wool grey upholstery.
ON both sides of the venue there were two short passageways which lead directly into the spacious Ballroom.
The Ballroom:
This venue looked more like a huge indoor deck space. The sides of the venue had folding and sliding glazed screens.
The venue was furnished with garden style cane furniture, thus it had that casual feel, the raised bandstand was located against the forward bulkhead and there was a host of raised multi-coloured concealed lighting.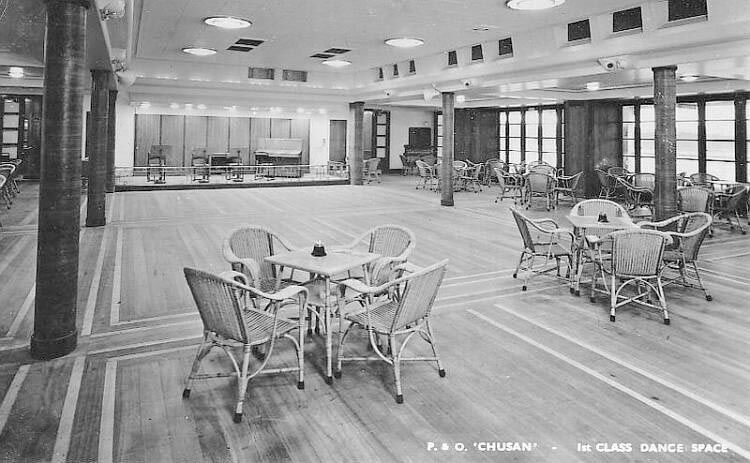 The Ballroom could also be used as a cinema and for horse racing and all kinds of other games and entertainments, etc.
Aft of the Ballroom, again on either side where there was a stairway down to A deck on each side of the ship, and this was the second stairs for the First Class. Although the forward grand stairwell went both up to Boat Deck and all the way down to D Deck, these two stairs only went down as far as C Deck. Otherwise the doorway did lead directly into the
Verandah Café:
A delightful intimate room with a Bar located on the forward bulkhead which had a glass wall looking aft toward the Swimming Pool. It was the perfect place for a drink, or a cup of tea or coffee.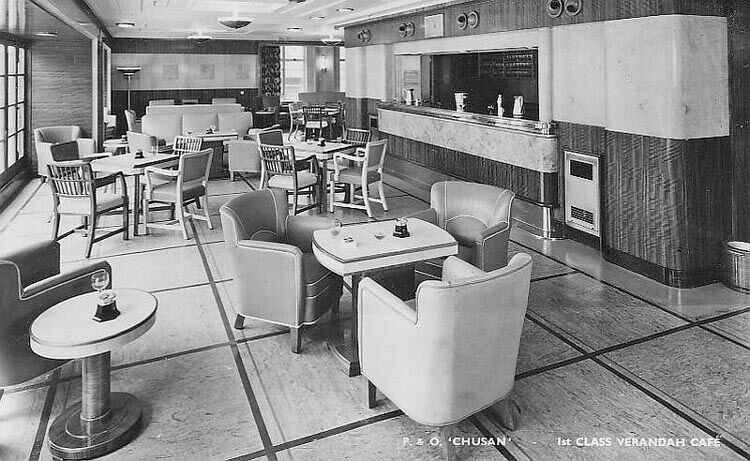 The delightful Verandah Café
The aft screens took the form of folding and sliding glazed screens giving passengers an unobstructed view of the sports being played as well as the pool.
Swimming Pool: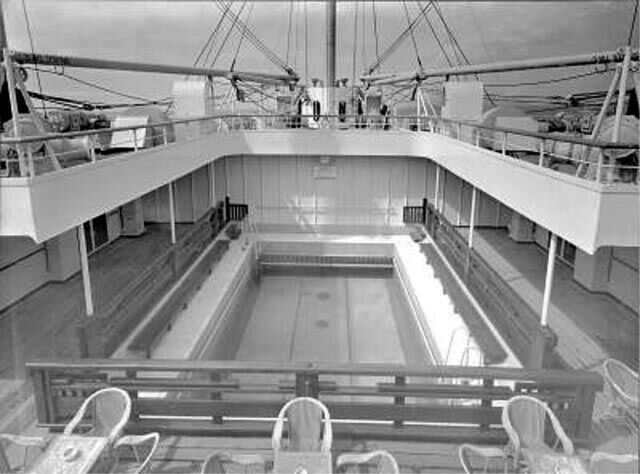 The Swimming Pool with the dressing rooms
Promenade Deck:
The Promenade Deck is a fine fully covered wide deck with a delightful glass enclosed Verandah on both sides far forward, fully furnished in a casual style, both being rooms that had to say the least a grand wiew, be it at sea or whilst arriving in port!
No matter where one is seated on the Promenade, morning tea, coffee or that ever popular hot bouillon is always welcome, as is the always present friendly P&O waiter ready to take you order for whatever you request may be, he will get your favourite drink and he always made sure it is just as you like it!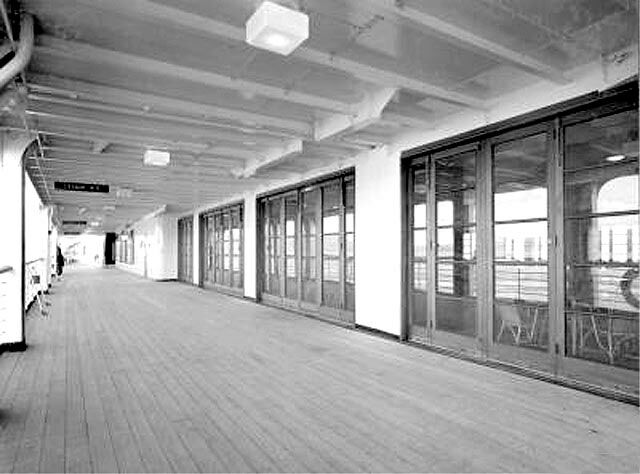 The Promenade Deck is seen on the starboard side looking aft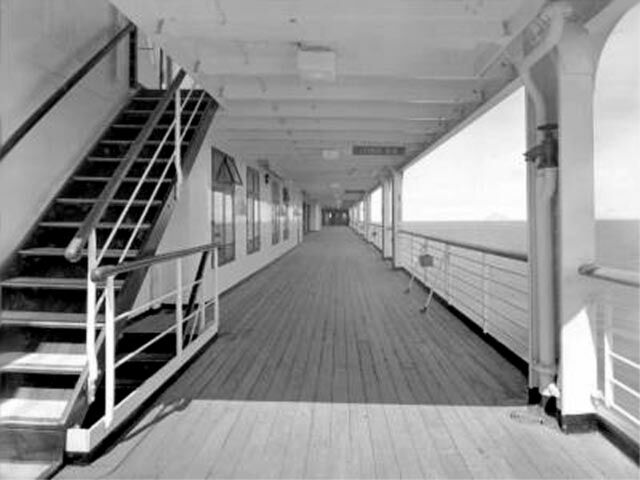 The Promenade Deck is seen on the portside looking forward
A Deck:
As we come down to A Deck via the forward Main Stairwell we arrive at the main Lobby and the most obvious is the Ships shop which is located forward in the centre on the of the hallway. The shops has all the passenger's needs, as well as souvenirs, etc, and some clothing needs. Directly forward on the shop is the Ladies Boutique, and the Men's Hairdresser.
Before I continue with the accommodations, I will just show a fine photograph of her Foc'sle with a view looking back towards the Bridge.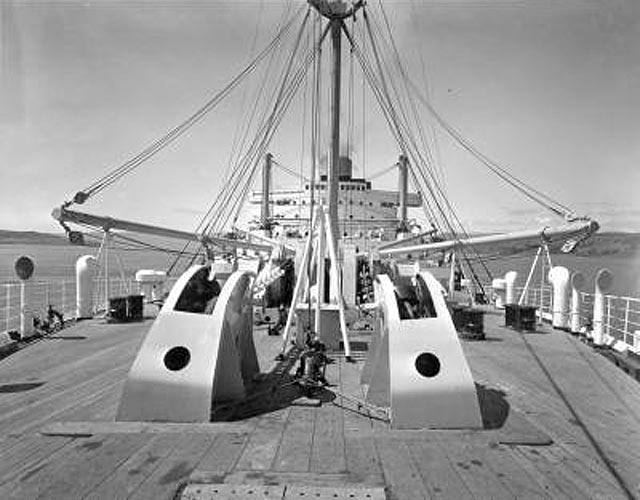 A view from her anchors to Chusan's superstructure
The rest of this deck contains a wide range of accommodations, from single bed and twin bedded cabins, some with private facilities, whilst those without facilities use of ample public facilities nearby.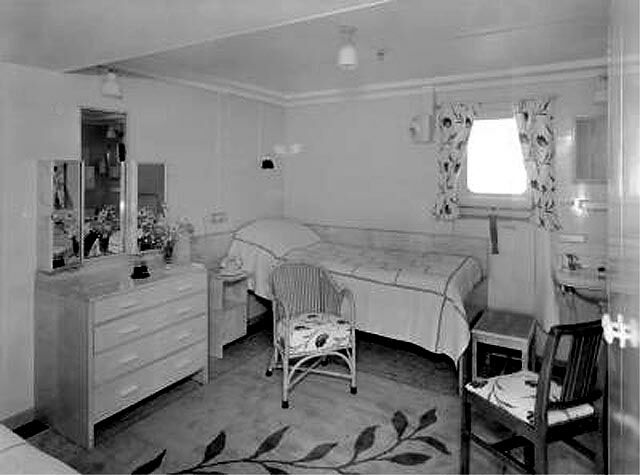 A Twin bedded Cabin with Private Facilities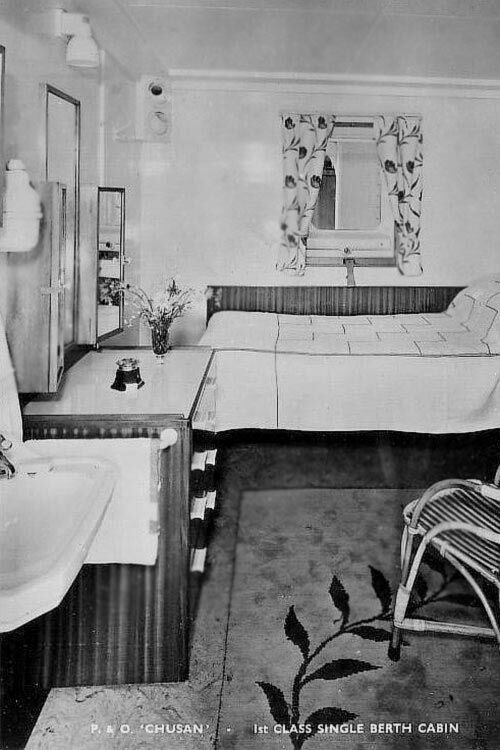 A Single bed Cabin
Of course, A Deck was another full walk around fully covered deck, although it was narrower than Promenade Deck above, but a pleasant deck indeed!
B Deck:
This deck has many further cabins but also two very fine Suites and several deluxe State Rooms. The two Suite are located precisely amidships one on each side and they have a fine Lounge outside with four very large windows and a separate Bedroom with a spacious full bathroom as well as a trunk, suitcase room.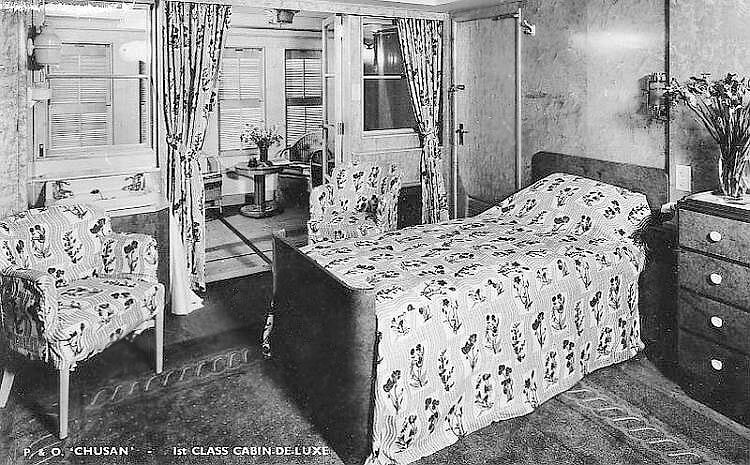 Above & below: The two identical De-Luxe Suites on B Deck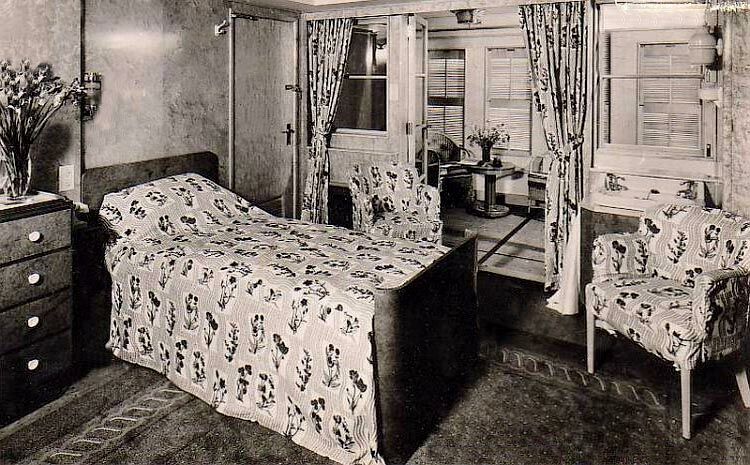 Directly forward of these suites are four (two on each side) Luxury Staterooms, that had additional features to regular cabins, as well as a full bathroom.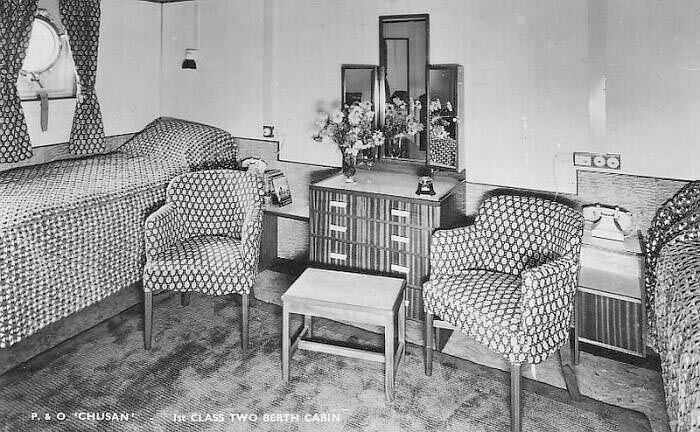 Beside all the extra features, they also had twin portholes
The only other facility on this deck was located aft of the First Class section and was located along the aft bulkhead in the centre of the ship and that was the large Pursers Office.
C Deck:
This was another deck with various cabins, but on this deck was the Ships Doctors surgery and waiting room located aft, as well as the hospital, etc. Whilst far forward on the port side were a good number of administration offices. I will add a view of another interesting location that is off limit to passengers, like the Foc'sle and that is the mooring deck located far aft of the ship.
D Deck:
The Main Lobby was also the Main Entrance Hall, thus was usually the very first part of the ship passengers would see, except when they would board via the Promenade Deck of course, which did happen.
But the main venue on this deck was one of the most important ones on the ship, for it was the Dining Room.
The Dining Saloon:
The fully air-conditioned Dining Saloon was located amidships and it occupied the full width of the ship and could seat 274 passengers at tables of two, four or six. There was an extension on the portside aft for the use as a private Dining Room, or as a Children's Dining Room.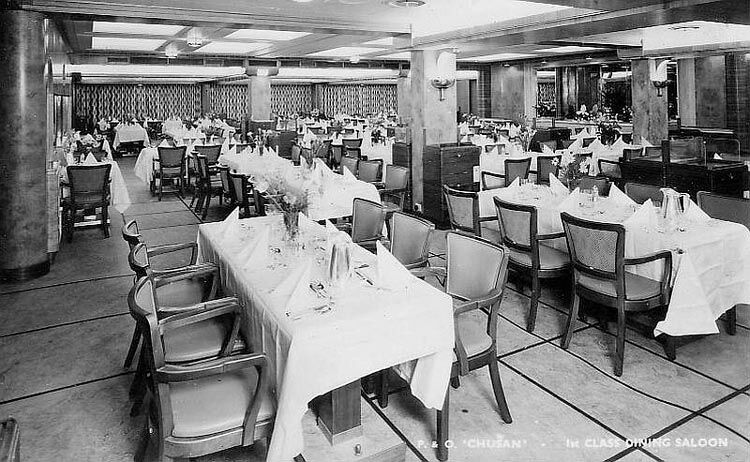 The Dining Saloon
The venue's wood panelling was superbly finished in Australian walnut, and there was contrasting Barry ash. There was extensive use of mirror and glass at the forward end, and it was simply beautiful and the room had a delightful charm!
Deck Plans can be seen on Page Two (Link at the bottom of the page):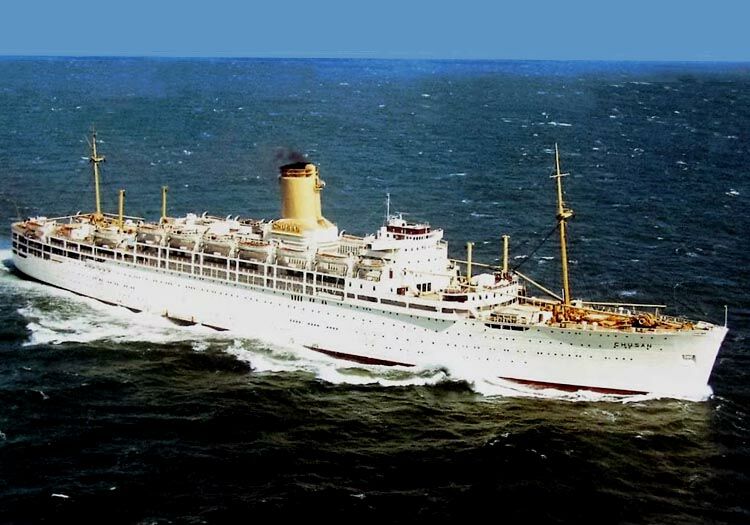 Here we see the S.S. Chusan during the early 1950's at sea sailing at full speed
*********************
Second (Tourist) Class
The 551 Second Class passengers were accommodated over six Decks from Promenade down to E Deck and it had an excellent range of Public Venues, and a good range of cabins.
Promenade Deck Aft:
The aft section of Promenade Deck was set aside for games and recreation. Sadly I have no images of this section.
A Deck:
Out on this fully covered deck, as far forward as passengers can go were two shops, the one on the portside was the Hairdressers shop, and the one on the starboard side was the ships general shop, offering everything one could desire.
On the forward section there are two venues on each side of ships service space, and on the portside was a Gallery, come Games & Card Room and on the starboard side was the Library and Writing Room. And again I am sorry but there are no photographs available. Directly aft of these was the Second Class, later Tourist Class Main Stairwell that also had a lift in the middle. The stairs led up to Promenade and all the way down to E Deck. Doors on either side led out to the Promenade Deck which was spacious and here also on both sides were stairs that went up to Promenade and down to B Deck.
The Main Lounge:
The Lounge was beautifully decorated, for again like in many of the ships venues, the wood panelling was superbly finished in Australian walnut, and it again featured throughout this venue. Whilst there were also some paneling that was painted in a soft pale-green with a white sycamore trim.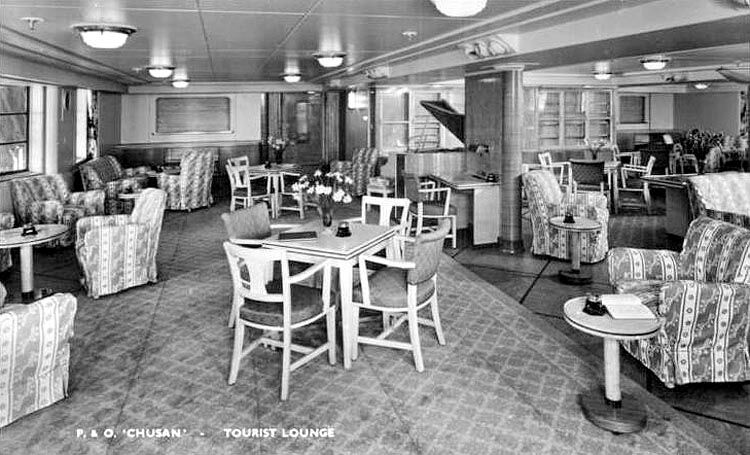 The Lounge
The Sofas and Lounge chairs were upholstered in soft coral colours, whilst all the tables and other timber furniture had been made of Mahogany and Sycamore. The venue also had a Grand piano off centre and music would be played by one of the band members, or by a musical passengers. The Lounge was serviced by stewards from a bar that located forward on the port side and there was a pantry on the starboard side for snacks in the evening. The rear of the Lounge there were three large windows on each side looking out to aft and the Swimming Pool.
The Pool:
Directly aft of the Lounge was the Swimming Pool and its space and changing rooms etc.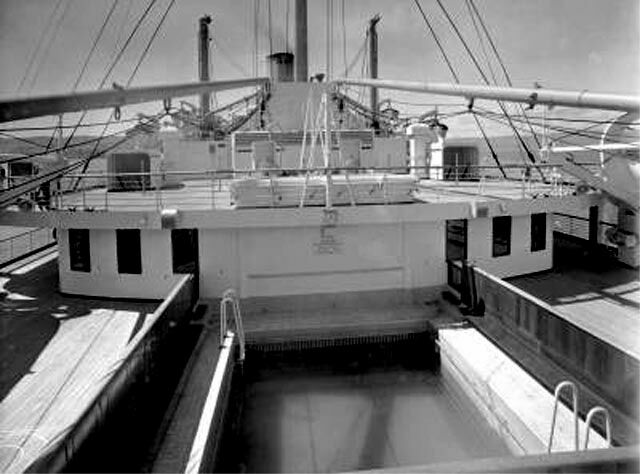 The Swimming Pool
B Deck:
As we come down to B deck we will first go forward as always, for there we will find the Pursers Office, being the same as the one of First Class, but the aft section was for this Class.
Between the Pursers Office and the Lobby and Stairwell there are a good number of cabins made up of two berth and four berth cabins all with shared facilities, and before reaching the Lobby close by was a most spacious and a very popular venue!
The Ballroom:
This venue was without a doubt very similar to the one upstairs, a timber floor, a bandstand forward with party lights everywhere, etc, and glass sliding doors at the side. But sadly there is no photograph available, but it is much the same as the one in First class.
The next venue is the Smoking Room
Smoking Room:
This fine room was paneled in betula and straight-grained ash, with the straight section and the forward end in a tan coloured hide aft with a fire place. The Bar serviced by stewards was located on the starboard side aft of the room.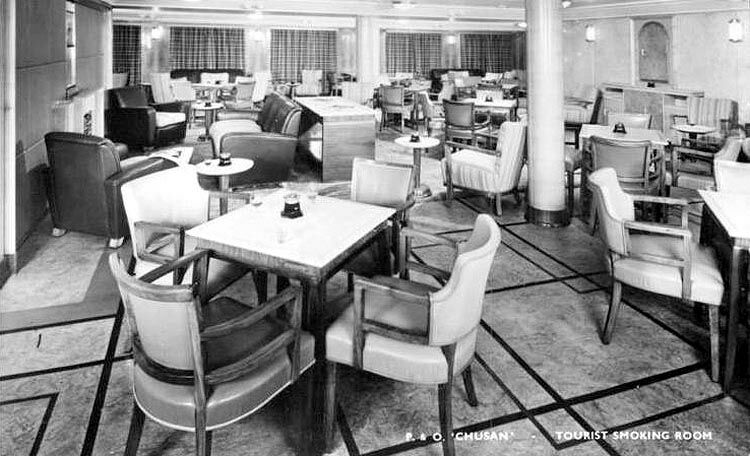 Another spacious covered Promenade Deck was also located here on B Deck.
C Deck:
First (Tourist) Class cabins were all located on B, C, D and E Decks and they were either two or four berth cabins, all being comfortably furnished.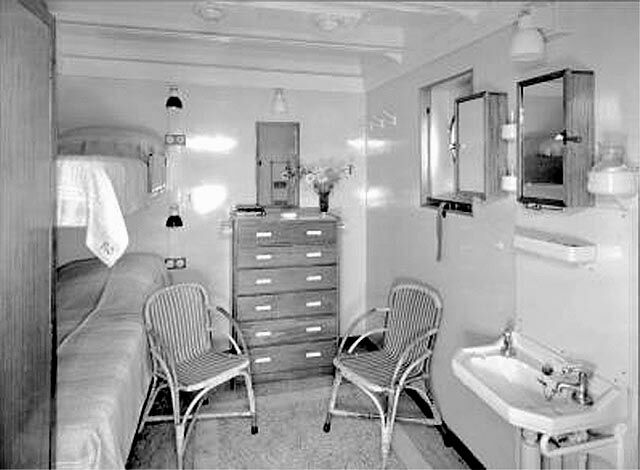 A typical two berth cabin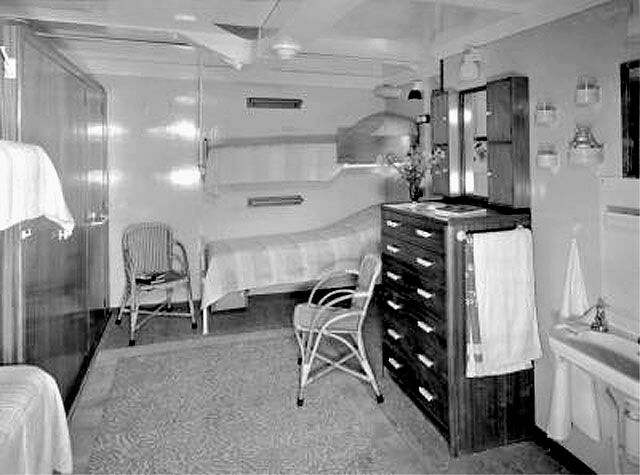 And here is a four berth cabin
The Children's Playroom:
Aft of the passenger deck was the playroom for the children and it was well equipped with every possible facility. On both sides there was a safely net enclosed covered play deck.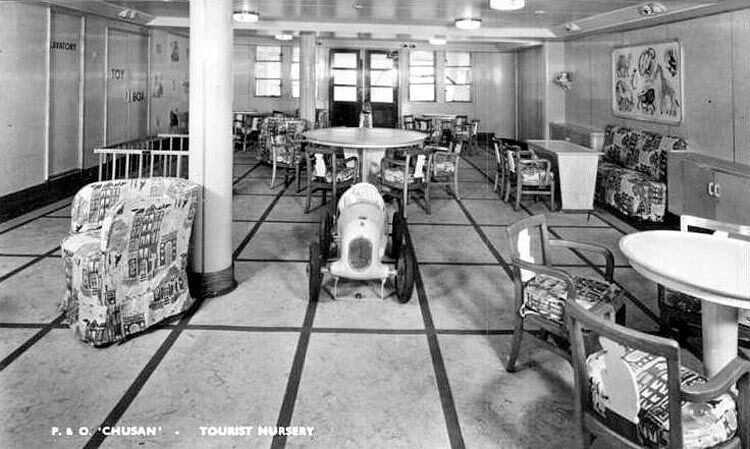 The Children's Playroom
Far aft is a Crew only space, known as the Mooring Deck, just like at the bow it is the location where the ships lines are thrown ashore for the ship to be tied up to be moored safely.
The Mooring Deck
D Deck:
The Dining Room:
This venue was located forward of the deck and it seated 274 passengers and it was beautifully paneled in olive ash burr and contrasting pastel blue leather-covered panels arranged at the forward and aft end of the room.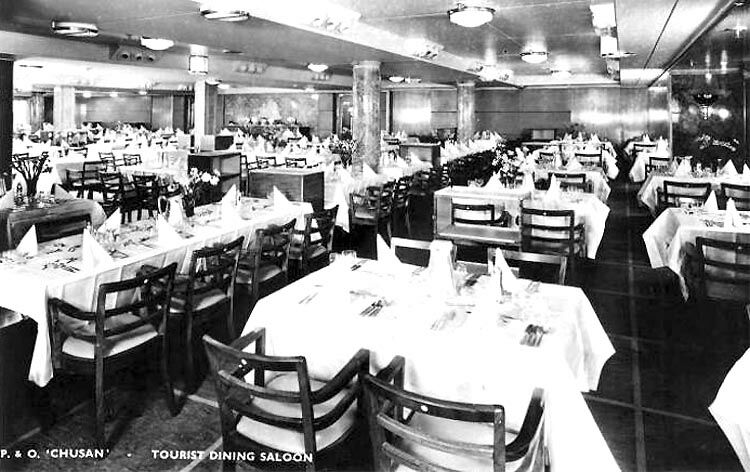 The Dining Room chairs had open slatted backs and were upholstered in blue leather to match the wall panels.
E Deck:
This deck actually had the largest number of cabins and although they started further forward, from around the main stairwell they continued along the portside almost as far as where the First Class Dining Room would have been above.
Deck Plans can be seen on page Two (Link at the bottom of the page):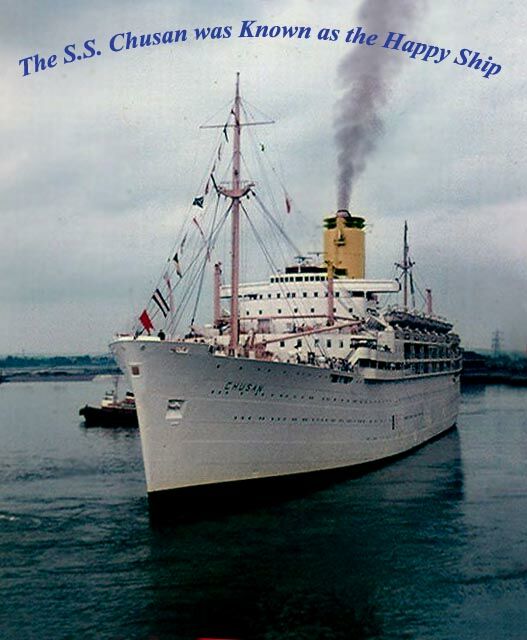 The S.S. Chusan became much loved and known as "The Happy Ship"
She is seen here after June 1952 and her funnel extension
*********************
Crew Spaces:
Of course the crew also had their spaces be it for the offices, the general crew, or the wonderful and the ever popular Goanese Cooks and stewards that P&O had on board for so long! They also had their own galley and mess rooms, etc!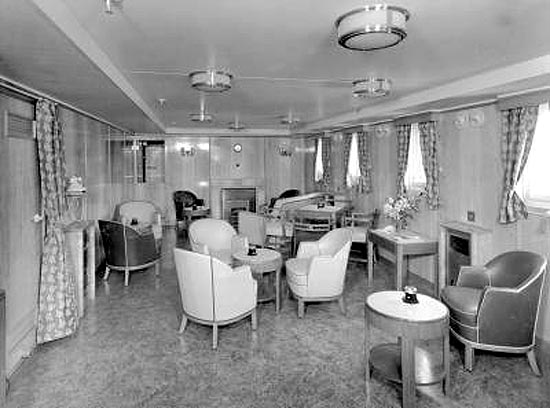 The Ward Room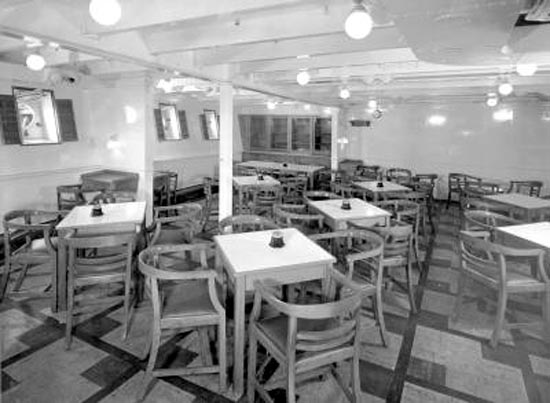 The crew Recreational Room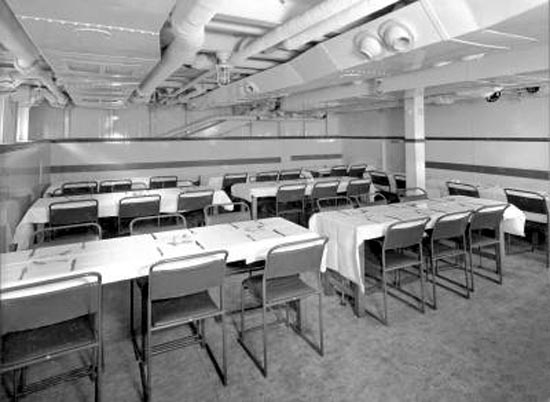 The general crew Dining Room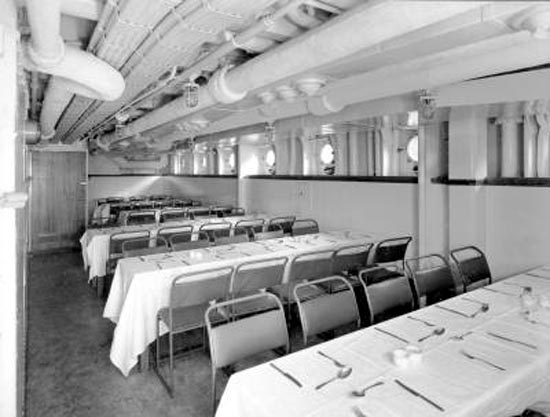 The Goanese Dining Room as they had special dining needs (Currie anyone?)
*********************
Back to Services and Events:
With the S.S. Chusan having settled on the Hong Kong & Far East service, she soon became a much loved ship in the region and became known as the "Happy ship" and being the smaller and more intimate version of the "Himalaya" which of course was also doing very well on her own merits!
In December 1951 the "Chusan" carried the first group of Malayan student teachers to England to commence their training at 'Kirkby College' in Lancashire. The voyage commenced in Hong Kong, and she collected student teachers in both Singapore as well as in Penang on December 12, she arrived in London on December 31, 1951.
Then when the "Chusan" returned to London on June 3, 1952 and all her passengers had disembarked, she headed for the 'King George V Dock' and berthed there. The reason she was there was that it had become obvious that something had to be done to take care of the abundance of soot and smut ending up on her decks, thus the "Chusan" was fitted with a 12 ft 'Thorneycroft' funnel top, which was done at the dock by "R&H Green and Silley Weir Ltd". After which she headed into the nearby dry-dock and she received her first major hull service, as well as being fully repainted.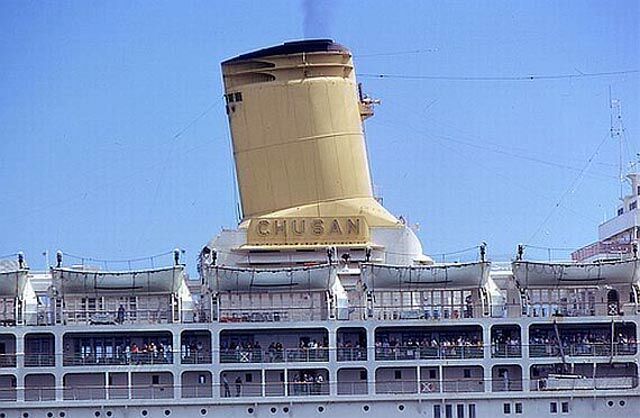 The finished funnel
There was no doubt that her new 'Thorneycroft' funnel proved to be a huge success, so much so that the S.S. Himalaya received her 'Thorneycroft' funnel extension a year later!
A Collision with a Freighter:
Whilst the S.S. Chusan was in the English Channel off the Goodwin Sands on July 12, 1953, she accidentally collided with a freighter the S.S. Prospector. The collision tore a 26 ft – 7.92 m breach in her hull and thus she was forced to return to Tilbury where she remained for two days of rapid repairs before she could return to her voyage.
A Grand World Cruise:
In April 1954, S.S. Chusan became a cruise ship one again, but this time she would head off on a 92 Day "Grand Around the World Cruise", being a first for P&O, but as we all know it was certainly not the last, and the author has been on many of these cruises since the 1960's!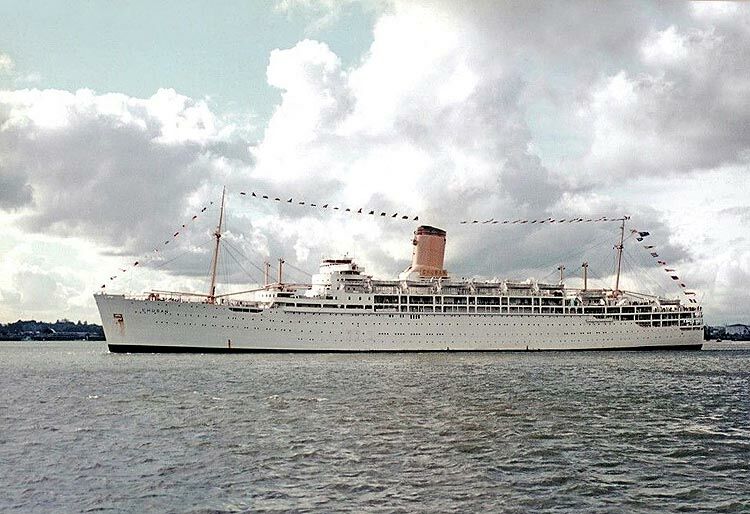 Above & below: "Chusan" during her World Cruise in 1954 at sea and at Colon Panama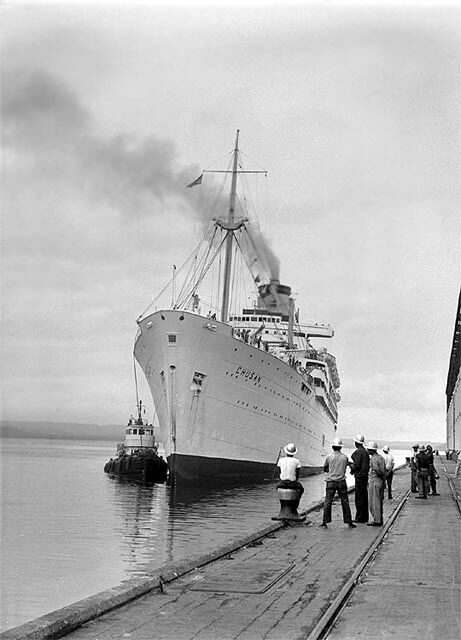 But then in March 1955, another incident occurred, which involved bringing a smallpox-infected passenger to Port Said, Egypt. Then there was a bomb hoax during a 'Mediterranean cruise' that occurred on September 2, 1955, and the "Chusan" had to return to Naples to be searched.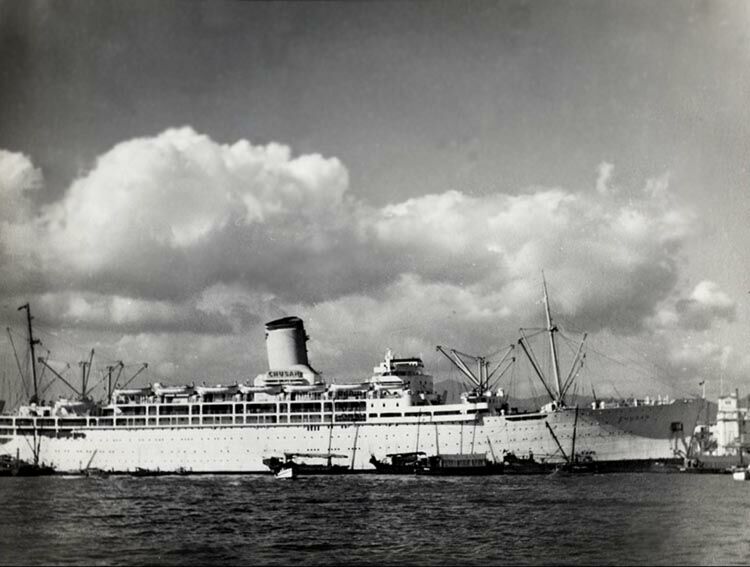 S.S. Chusan is seen docked at Kowloon, Hong Kong around 1958
Photograph provided by Hoi-Hun (HKG
Then the S.S. Chusan was given a refit at 'Harland & Wolff Ltd', at Belfast, from December 1959 until March 1960, which involved the installation of air conditioning throughout the ship. In addition her passenger capacity had been altered to 464 in First Class and 541 in Second Class.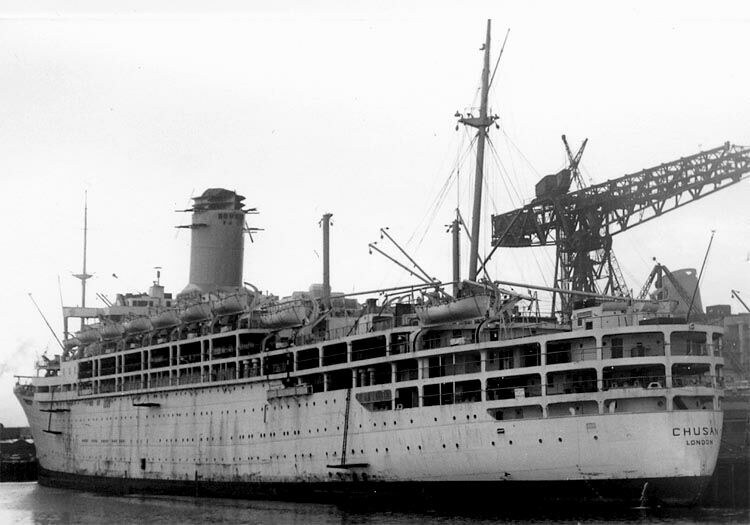 She is seen undergoing modernisation at 'Harland & Wolff Ltd', Belfast,
She was transferred to P&O-Orient Lines in May 1960. The "Chusan" was removed from the Far East passenger service and she operated cruises, until she was again transferred to a regular services, but this time she was placed on the Australia to Yokohama service, with an intermediate port of call at Hong Kong.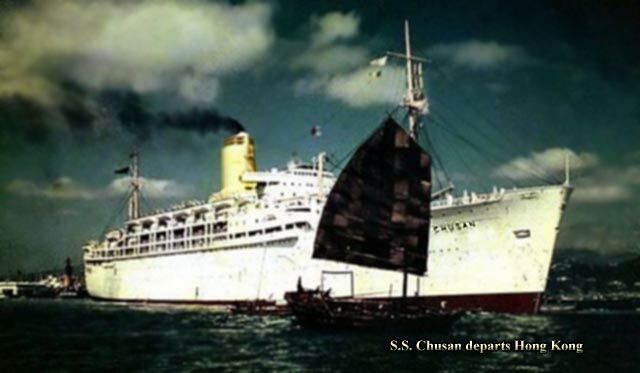 A dramatic photo of the Chusan departing Hong Kong
Again thank you Hoi-Hun
In October 1966, she was again transferred back to P&O Lines, and her passenger capacity was again changed to 455 in First Class and 517 in Tourist Class.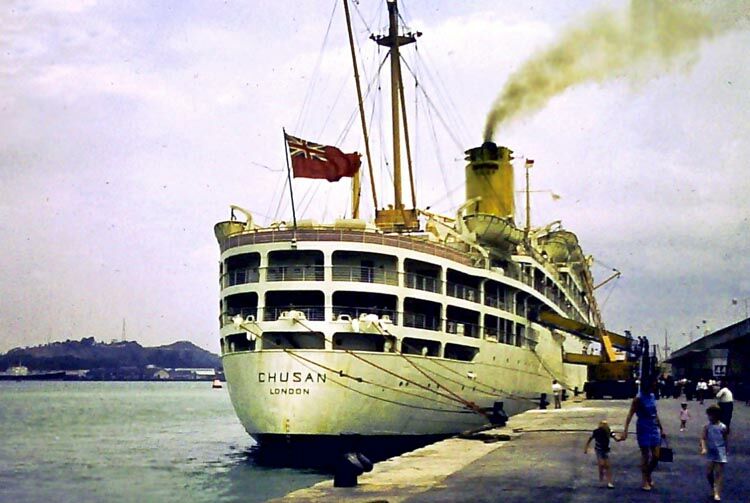 S.S. Chusan is seen at Singapore in 1969
End of her Indian Voyages:
Then came the final voyage ever to India, and with this voyage in January 1970, P&O's association with India came  to a conclusion, for it was "Chusan's" very last ever voyage for P&O voyage on the London to India service. There was great commotion at Bombay's Ballard Pier whilst she was there, for everyone had heard that this was the companies' final visit ever on their liner service. S.S. Chusan departed from Bombay's Ballard Pier on February 8th, 1970 to a huge crowd having come to say farewell!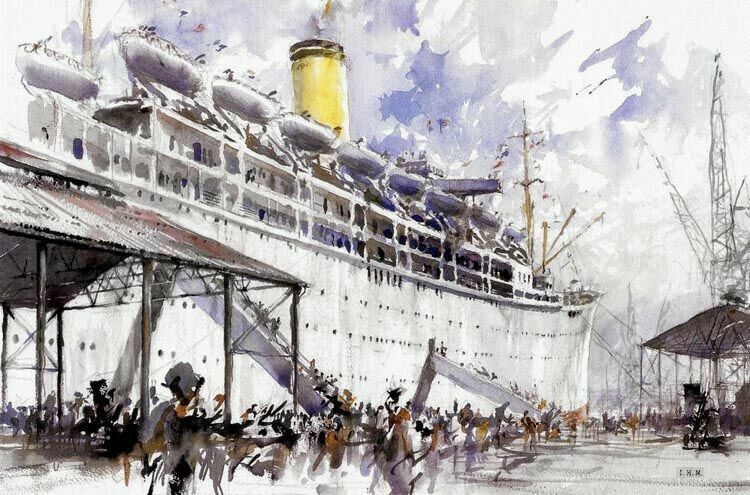 A fine watercolour by the maritime artist, Ian Marshall of the "Chusan" seen
alongside Bombay's Ballard Pier with a huge crowd ashore saying goodbye to her
Whilst she was docked in Southampton in July of that year, a fire occurred in her funnel uptakes which were quickly handled by her excellent crew.
Cruising from Cape Town:
She was then transferred to the P&O Passenger Division in 1971, and from December of that year to January 1972, she operated on P&O's first cruises commencing from Cape Town, South Africa.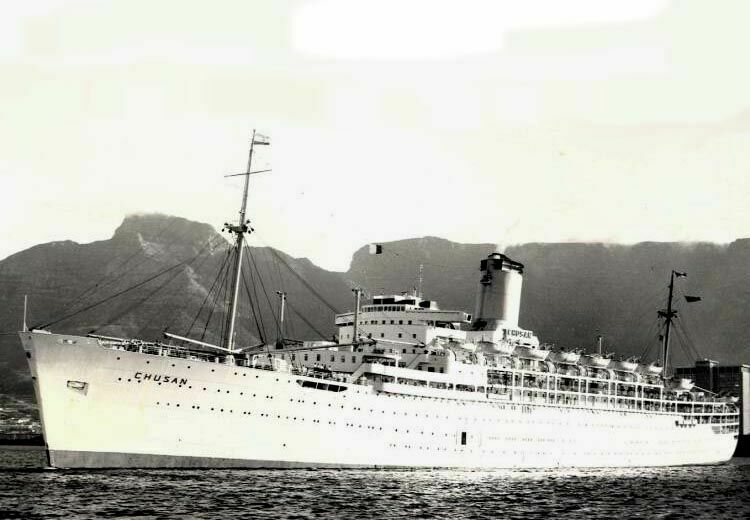 S.S. Chusan is seen departing Cape Town for a 25 day Cruise to South-America on December-11 1971
Her Final Days:
On March 26, 1973, S.S. Chusan arrived back to Southampton at the end of her final commercial voyage. She was retired from service very soon thereafter and she was sold to Taiwanese firm - "Mitsui & Co".
She departed from Southampton on May 12, 1973, and she sailed for Kaohsiung, Taiwan where she arrived on July 1, 1973.
However on July 4, 1973, 'Mitsui & Co' resold the "Chusan" to a local breaker's yard "Chou's Iron and Steel Company Ltd" and having taken possession of the "Chusan" they commenced demolition on her on September 19, 1973.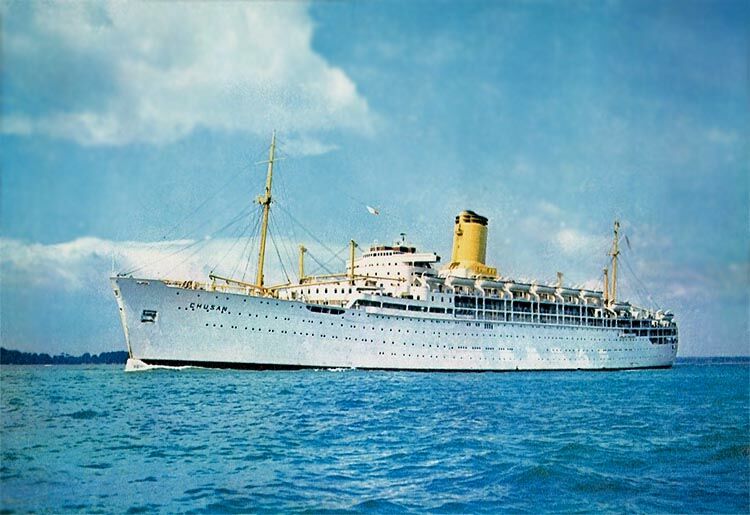 Remembering the delightful S.S. Chusan with this official P&O postcard released around 1953
This fine Liner and Cruise Ship that was so lovingly known as "The Happy Ship" had served P&O and her guests with great honour and most admirably throughout her 23 year career!
The S.S. Chusan Index is located below the Remembering the Delightful S.S. Chusan & her Image below it.
*********************
R
emembering the
D
elightful …
S.S.
C
husan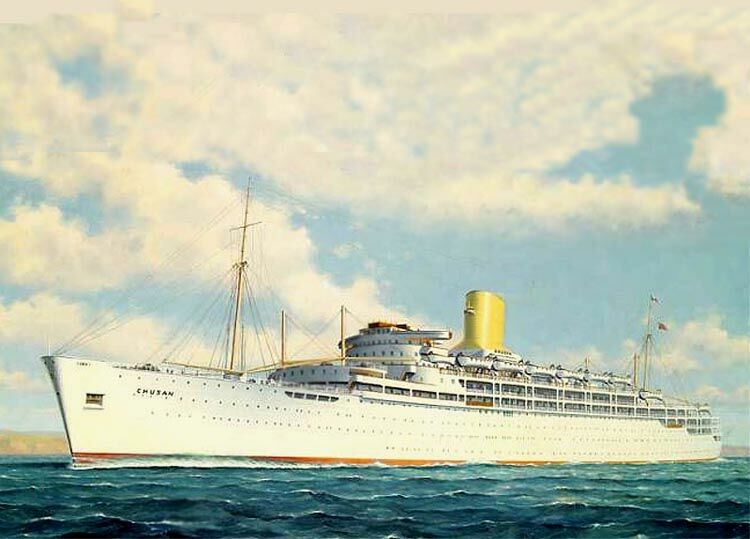 A fine painting of the S.S. Chusan is seen as built in 1950
As this beautiful work was sent to me by a supporter some time back, but sadly the fine artist is unknown
*********************
S.S. Chusan INDEX:
Page One - Construction, Two Maiden Voyages & her Interiors and her services to 1973 (This page).
Page Two - Deck Plans, Souvenirs, and the Ships Specifications.
"Blue Water Liners sailing to the distant shores.
I watched them come, I watched them go and I watched them die."

Featuring over 1,435 Classic Passenger Liners, Passenger-Cargo Liners & Classic Cruise Ships!
And since going online we have received an amazing 562.8 million visitors to date
Or ENTER HERE
For interest: Sadly an email service to ssMaritime is no longer available, due to the author's old age and chronic illness as well as being disabled, etc. In the past ssMaritime received well over 120 emails per day, but Mr. Goossens can no longer handle same. He sincerely regrets this!
*********************
ssMaritime.com & ssMaritime.net
Where the ships of the past make history & the 1914 built M.S. Doulos Story.
The Author has been in Passenger Shipping & the Cruise Industry for well over 60 years
In addition he was the founder of "Save the Classic Liners Campaign" in 1990.
Please Note: ssmaritime and associated sites are 100% non-commercial and the author seeks no funding or favours of any shape or form, never have and never will!
Photographs on ssmaritime and associate pages are by; the author or from the author's private collection. In addition there are some images that have been provided by Shipping Companies and private photographers or collectors. Credit is given to all contributors. However, there are some photographs provided to me without details regarding the photographer/owner concerned.
This notice covers all pages; although, and I have done my best to ensure that all photographs are duly credited and that this notice is displaced on each page, that is, when a page is updated!
ssMaritime is owned & © Copyright by Reuben Goossens - All Rights Reserved