Please Note: Firefox and some other search engines are not suitable – Use "Internet Explorer" for this page to load perfectly!

Click the logo above to reach the ssMaritime FrontPage for News Updates & "Ship of the Month"
With Reuben Goossens
Maritime Historian, Cruise'n'Ship Reviewer, Author & Lecturer
Please Note: All ssmaritime and my other related ssmaritime sites are 100% non-commercial and privately owned sites. Be assured that I am NOT associated with any cruise or shipping companies or travel/cruise agencies or any other organisations! The author has been in the passenger shipping industry since May 1960 and is now semi-retired, but continues to write article on classic liners and cruise ships in order to better to inform cruise and ship enthusiasts for their pleasure!
SS Conte DI Savoia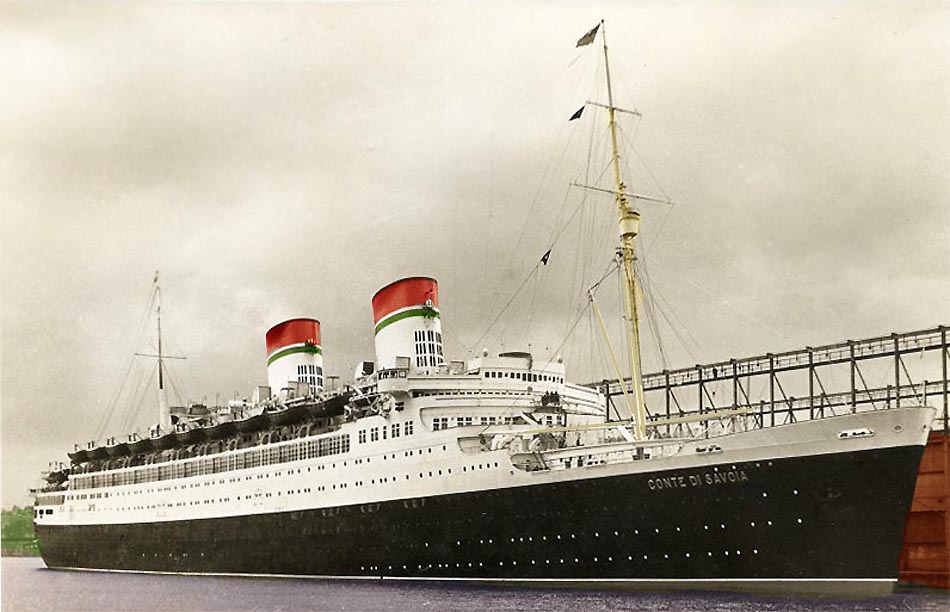 The long and sleek Italian Liner SS Conte Di Savoia is seen berthed in New York
Photographer is unknown - *Please see photo notes at the bottom of the page, thank you!
This Page Contains Many Photographs!
Photographs are from the Author's Private collection, or as otherwise stated
Regarding SS Rex and the SS Conte Di Savoia:
The first thing we should understand is this, that these two ships are certainly not identical sister ships as is assumed by so many. In fact each ship was originally ordered by two very different shipping companies and the SS Rex was built in Genoa, whilst the SS Conte Di Savoia was built in Trieste near Venice. It should also be noted that the SS Rex is a good 65 feet longer and she is somewhat wider than her so-called sister, plus she is has an additional 2,560 GRT (Gross Registered Tons! They differed in tonnage, external sure structure, interior layout as well as countless other features.\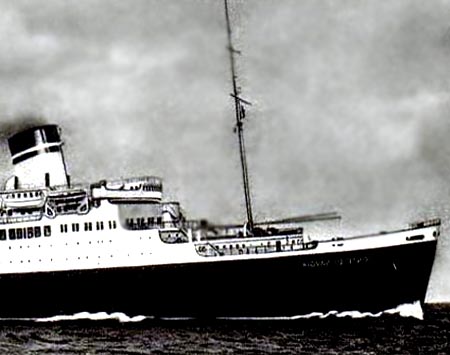 ----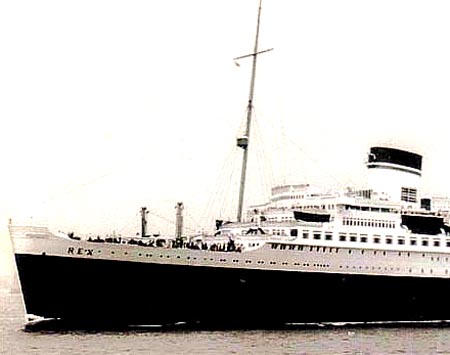 Above left we see the Conte Di Savoia and on the Right is the Rex, and as you can see their forward
superstructures are very different indeed, where the Rex even has a lifeboat forward of the Promenade Deck!
Yet there were also a good number of similarities that gave them a look of similarity; however they were remained very different ships to the end. In addition the Conte Di Savoia was the first liner to be fitted with a triple "Sperry Gyroscopic Stabilizing" plant, assisting her in reducing the ship rolling during bad weather whilst on Atlantic crossings!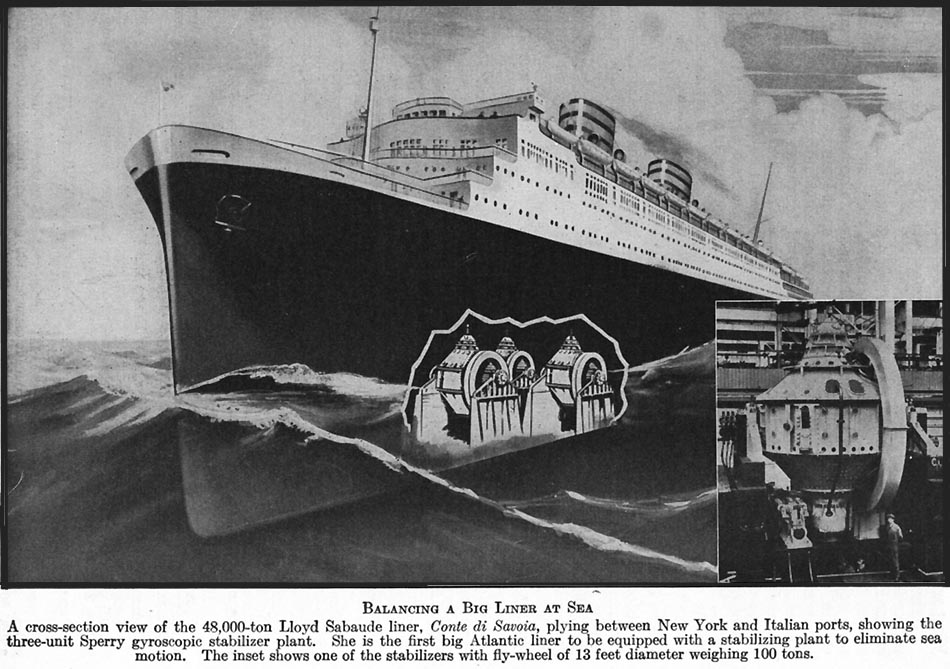 The advertisement revealing details of where the plant was located
But after three Italian big Trans-Atlantic shipping Companies were forced to merge in October 1931 and both ships were completed for the Italian Line, and as they commenced their maiden voyages just two months apart, they are somehow treated as sisters! Although I treat them as very separate ships and as I tend to think that the SS Conte Di Savoia was the superior ship of the two, a far superior designed liner, but she was also a revolutionary ship of the two liners built, and therefore I will be only writing about this great Italian Lady alone, for so many have already covered the Rex and have forgotten the most beautiful of the two the sublime SS Conte Di Savoia!
Beginnings:
Early in 1929 plans for a new ship was already in hand and this would be the companies, being "Lloyd Sabaudo's" grandest new liner, and in April of that year a meeting was held in Turin of the company's stockholders who collectively agreed to this new 48,500-ton liner. It was also decided that she would be built by one of Italy's great ship builders "Cantieri Riuniti Dell'Adriatico" in Trieste near Venice. This Italian Shipbuilder was well known for having built some of the finest and grandest Italian liners known and the SS Conte Di Savoia would be yet another great Italian maritime stunner! However she would be the largest ship ever to be built by the company as the largest ship they had ever built previously was another liner for Lloyd Sabaudo, being the 25,661-ton SS Conte Grande completed in 1928.
The keel of the future "Conte Di Savoia," was laid down in Constructed in Yard number 783 on October 4, 1930, and not September 3, as some sources have it! Construction continued in a well-mannered Italian fashion and she slowly rose up and her glorious bow stood tall as she getting close to her launch day! But already Lloyd Sabaudo was bust promoting their new grand Liner!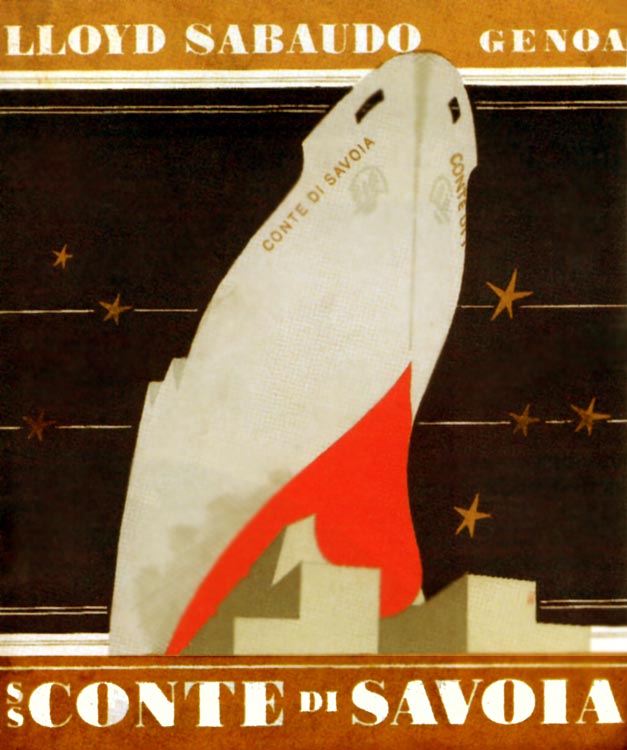 Lloyd Sabaudo's advance brochure of their new luxury liner
A Year after her keel laying, on October 18, 1931 she was officially named by Marie José of Belgium, who was the last Italian Queen and she watched this great ship slowly slide down the slipway into the water.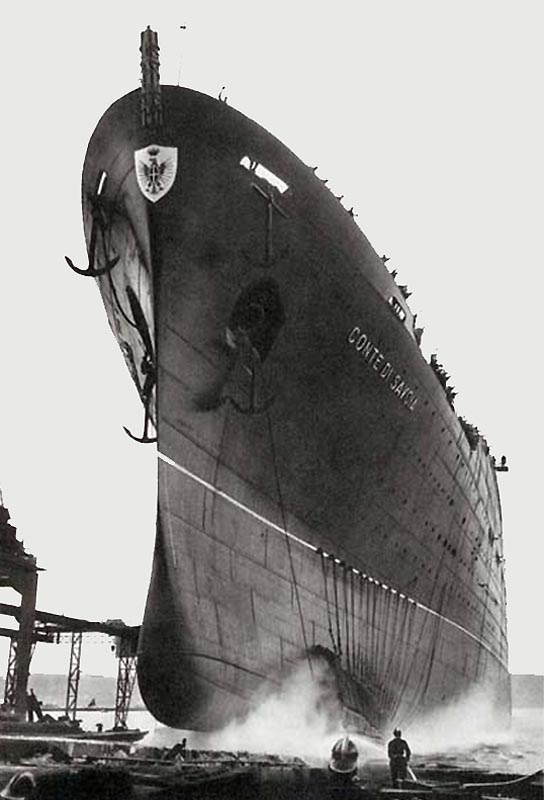 Here we see her beautiful bow go down the slipway as she enters the water on October 18, 1931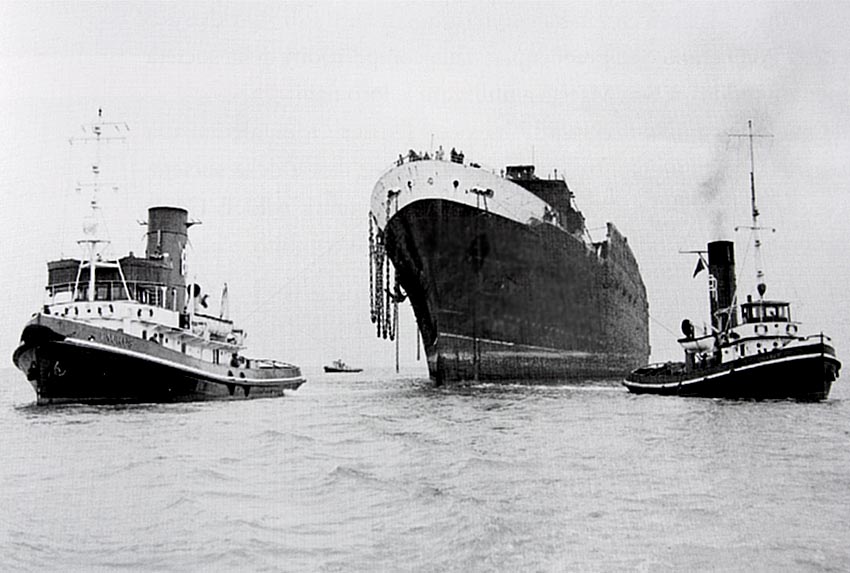 Having been launched, she is taken under tow and taken to her fit-our berth
She was then towed to her Fit-Out berth for completion, which was now undertaken for "Italia Societa Anonima di Navigazione" or the "Italia Line" as she had been by then transferred.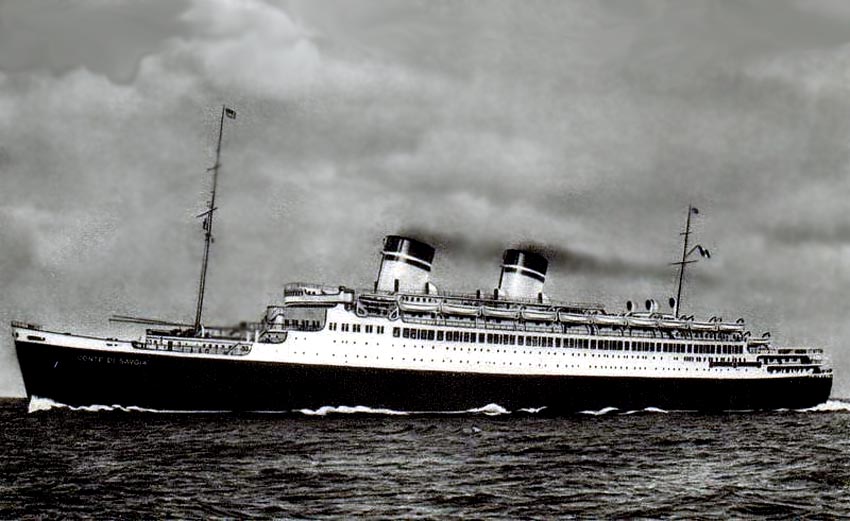 A postcard of the SS Conte di Savoia
She was finally fully completed late in September 1932 and thereafter she undertook a series of deep sea trails, with the final one on October 14, and the great ship was delivered to her owners in Genoa several days thereafter giving them time to get the ship fully stocked and manned for her role as a full time Trans-Atlantic Liner with accommodation for 2,200 Passengers. When ready the magnificent new SS Conte Di Savoia departed on her maiden voyage from Genoa to New York on November 30, 1932.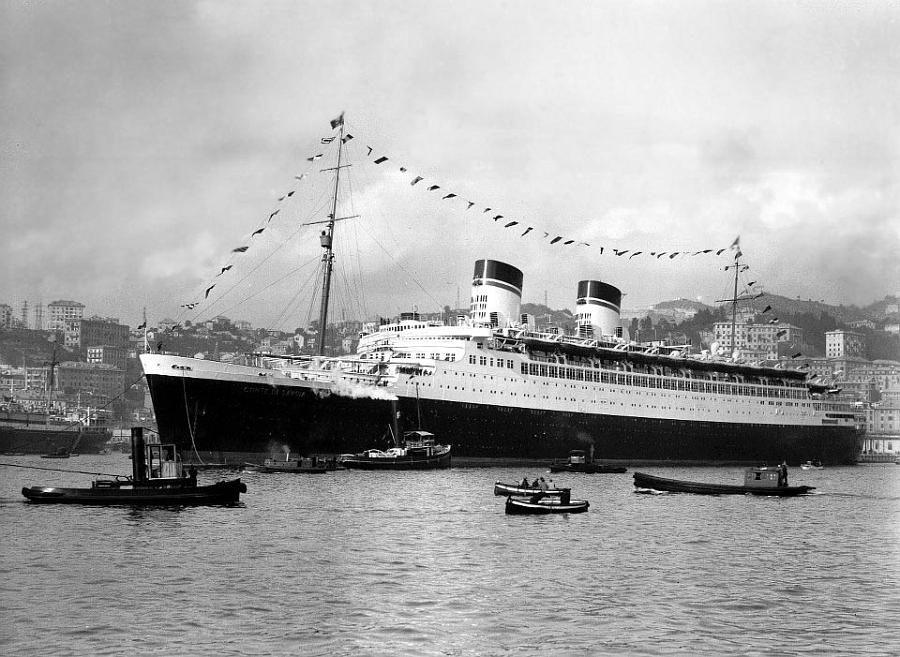 Here we see the SS Conte di Savoia departing Genoa on her maiden voyage on November 30, 1932
General Specifications:
Being a steamship she had been given four powerful Parsons geared turbines powering Quadruple screws, giving her 130,000 BHP that gave her an impressive speed of 27.3 knots with a maximum speed of an amazing 29.5 Knots.
This beautifully designed 48,502 Gross Registered Ton Liner was 248.3m - 815ft long, a beam of 29.3m - 96.1ft and a draught of 9.5m - 31.2ft.
SS Conte di Savoia accommodated passengers in four classes with a total capacity of 2,200 guests, and this was made up as follows: 500 First Class, 366 Second Class, 412 Tourist Class, and 922 Third Class passengers, she had a Crew of 786.
Her Story and Passengers - 1932 to 1939:
She operated regular her services across the Atlantic in conjunction with the SS Rex and other ships of the Italia Line and both ships were admired wherever they went for the sheer beauty!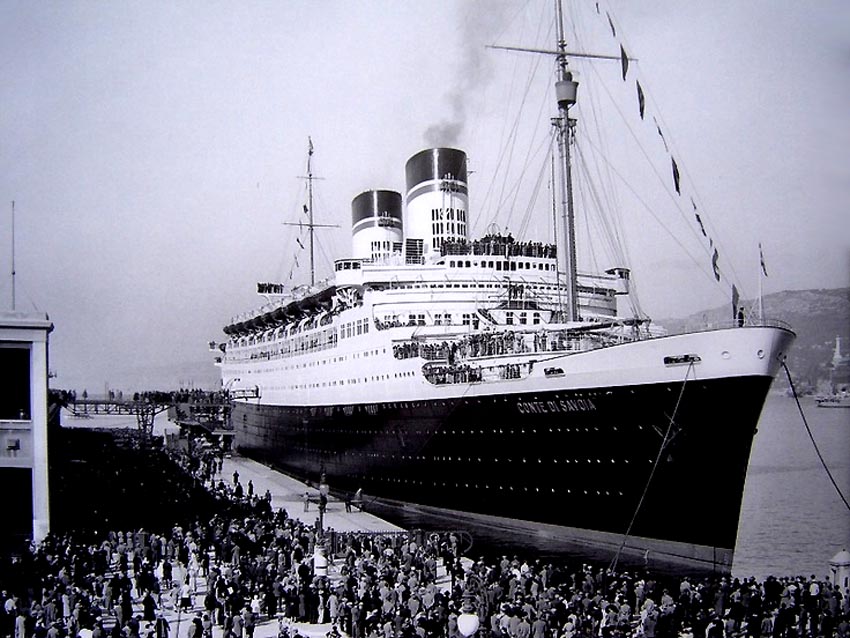 The elegant Conte di Savoia is about to depart once more from Genoa and head for New York
The SS Conte di Savoia had her share of famous people sail on her from Statesmen, Movie stars and directors, be they Italian or American and even the Pope's emissary. However one of that days greatly admired movie stars was Douglas Fairbanks Jnr who sailed to Genoa in 1933.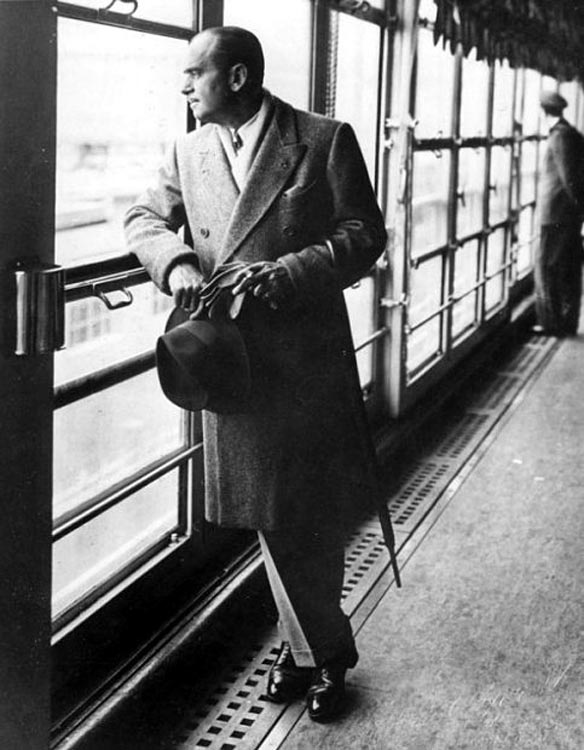 Douglas Fairbanks Jnr over looks Genoa as he arrives in February 1933
Cardinal Eugenio Pacelli, who would be the future Pope Pius XII, visited the United States for two weeks during October and November in 1936 in the official role as "Cardinal Secretary of State and Camerlengo of the Holy Roman Church." Cardinal Pacelli was the highest-ranking Roman Catholic official ever to visit the United States.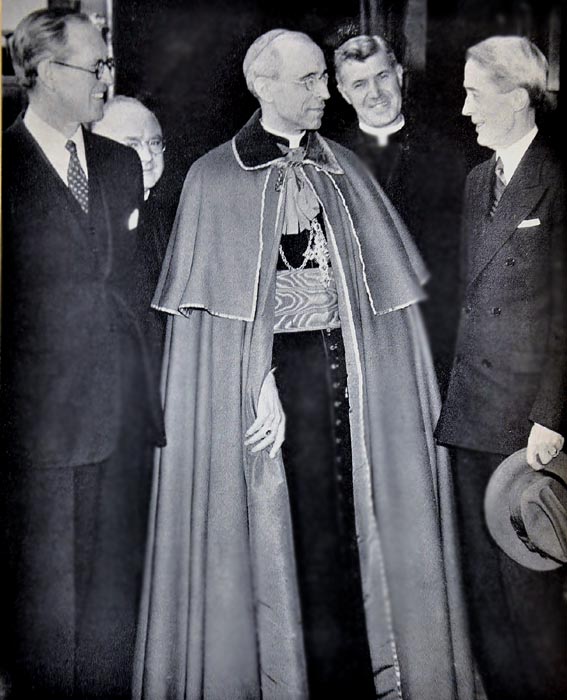 The Cardinal is seen in Washington with Joseph P. Kennedy Snr (standing left)
Bishop Stephen Donahue (standing right behind) and an unknown person of importance
Cardinal Pacelli departed Naples on October 1 aboard the SS Conte di Savoia and he was joined by Mr. Fulvio Suvich who was the Italian ambassador to the US as well as Prince Marcello Gentili del Drago, the secretary of the Embassy. Pacelli arrived in New York on October 8, and he met with Cardinal Patrick Joseph Hayes and the Apostolic Delegate Amleto Giovanni Cicognani, along with many other Catholic bishops.
Pacelli met with Mayor Fiorello H. La Guardia and former Governor Alfred E. Smith and countless others having visited Boston, Philadelphia and Washington D.C., where he met President Roosevelt and he addressed the National Press Club.
On November 6, SS Conte di Savoia was berthed at Pier 59 and Cardinal Pacelli and his entourage boarded ready for their voyage home. Pacelli arrived home and back in Rome on November 14, where he was received by Pope Pius XI to whom he reported on his very successful American visit!
First Class Photo Album:
A short introduction:
What made the SS Conte di Savoia so interesting were her unique interior décor. There was no doubt that Lloyd Sabaudo desired to introduce a classic style in a more glamorous way, in order to contrast to the new fashion of the time. Many of new liners such as Ile de France, Bremen and White Star's third Britannic tended to highlight the current popular new Art Deco style, whilst the Conte di Savoia very proudly exposed her gilded interiors being a reminder of genuine style and class. For an example her famous grand "Colonna Lounge" was all finished in fine marble and these venue-amazed passengers with its high ceiling decorated with a massive murals. However, along the sides of this giant venue were some of the most amazing Roman style statues that stood on pedestals, and the large double doors were classical style and very high. Other venues were more in style with the time of building, but remained that classical and luxurious feel! Besides her interiors, she had a massive amount of Deck Space, such as a wonderful Promenade Deck and of course huge sports Decks top side! Although, this album only covers First Class, all classes were well taken care off and each had excellent facilities!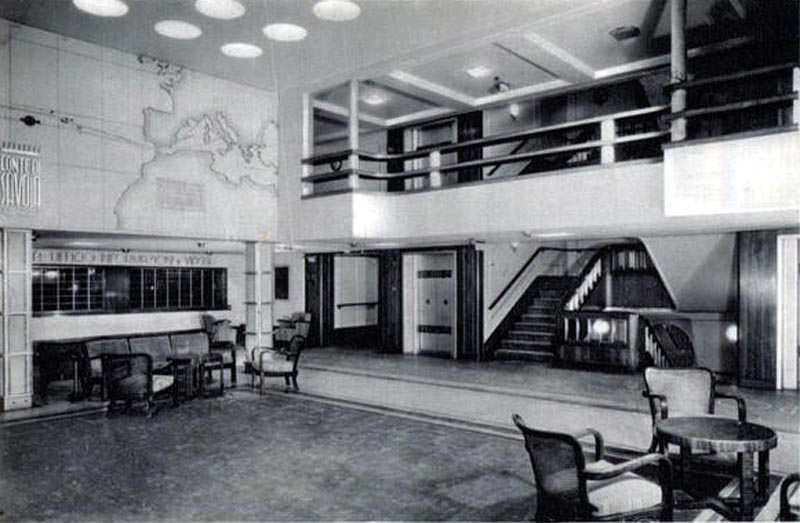 As passengers would board it was this venue that would greet them, before they would be escorted to their accommodations
Accommodations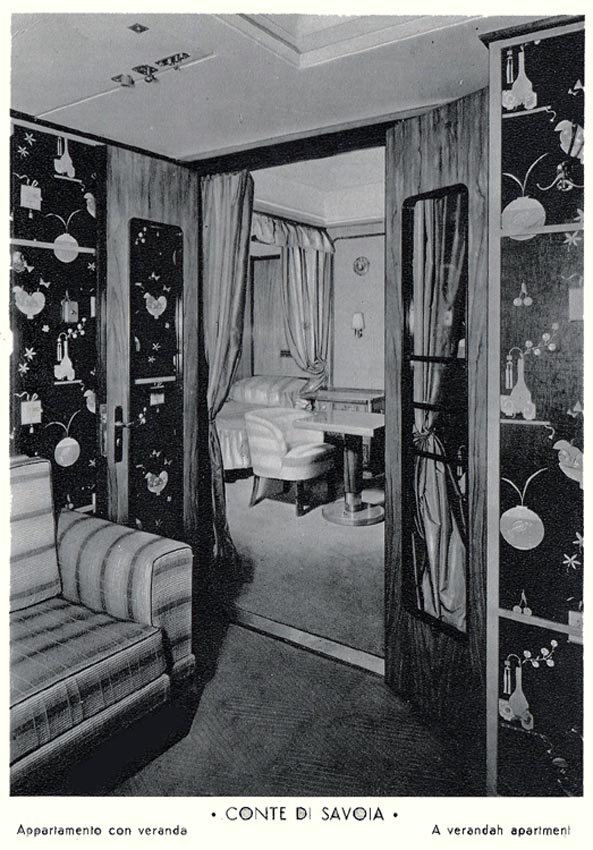 The finest suites aboard the Verandah Apartments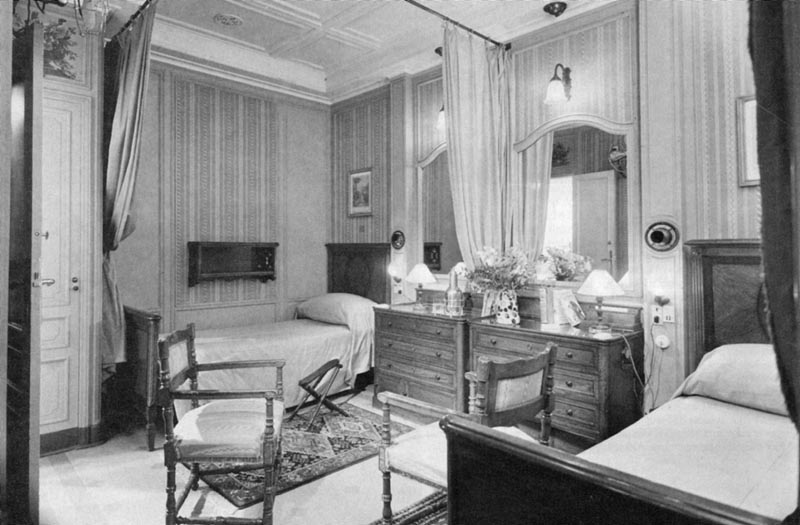 And this is just one of the superb cabins available on this luxury liner
Public Venues
The Grand Colonna Hall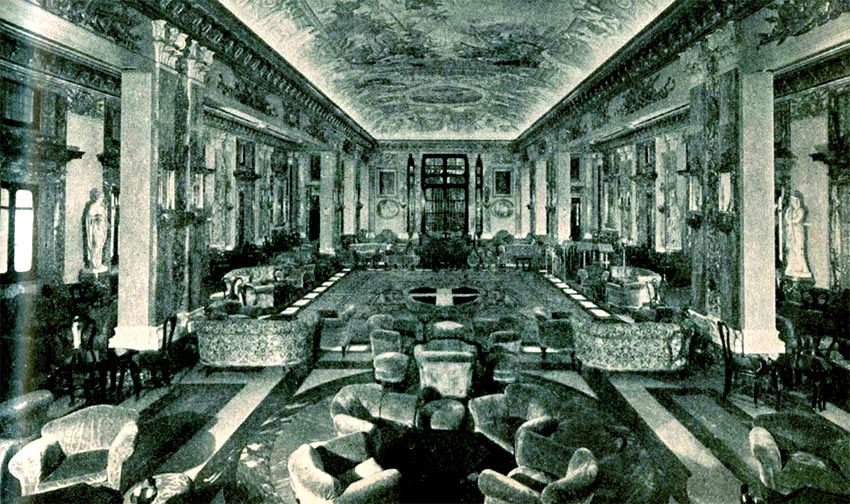 Above & below: This is the grand Colonna Hall and it was the ships most striking public venue. This superb Hall took its name and the spirit of its decorations from the Gallery of the seventeenth-century Colonna Palace located in Rome. You will note that the Nave is flanked by two aisles and it is decorated with fine marble pilasters, classical sculptures, friezes and delicate cornices in the style of the seventeenth century. But if we look up to the ceiling we will see a staggering and the huge reproduction of the painting from the Colonna Gallery originally by Lucchesini that he did of the Battle of Lepanto. The total floor area of this venue is 5,915 square feet, and it was a good 24-foot high!
For passengers who discovered this grandiose venue for the very first time, it just simply astounding and when they spent time here in this Grand Hall, they somehow felt like they were in the heart of a Royal Palace rather than on board a luxury liner that had only just been built!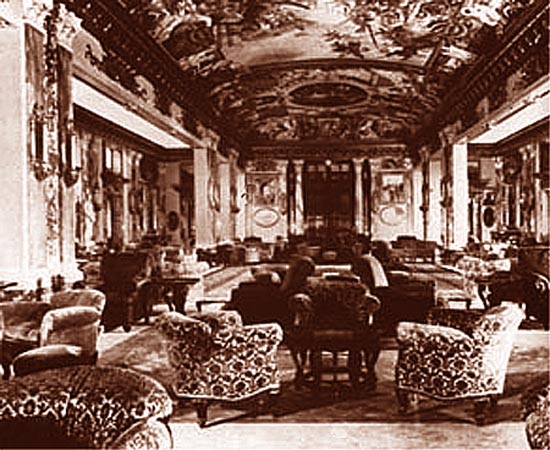 Here is a smaller view of the "Colonna Hall", but it provides a very different angle and it is a better image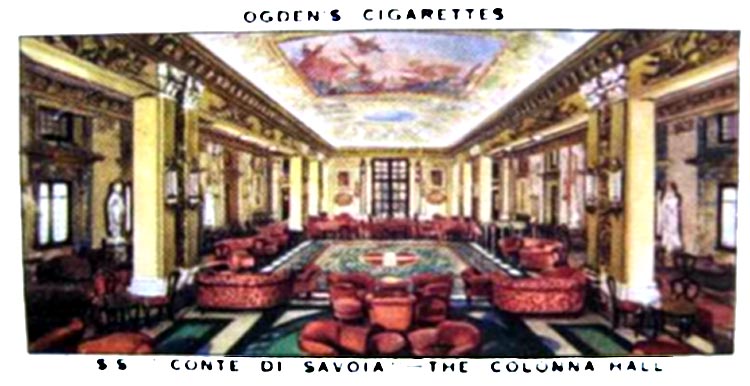 This is an "Ogden's Cigarette card" of the Colonna Hall. Children loved to collect cards; I recall it well, as I did be it much later!
However, this card does give us an idea of some of the colours of this grand Hall!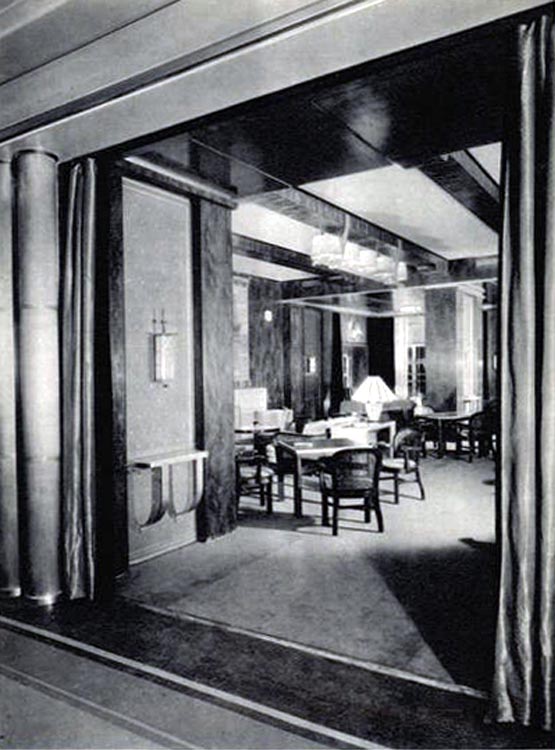 Entrance to one of the Lounges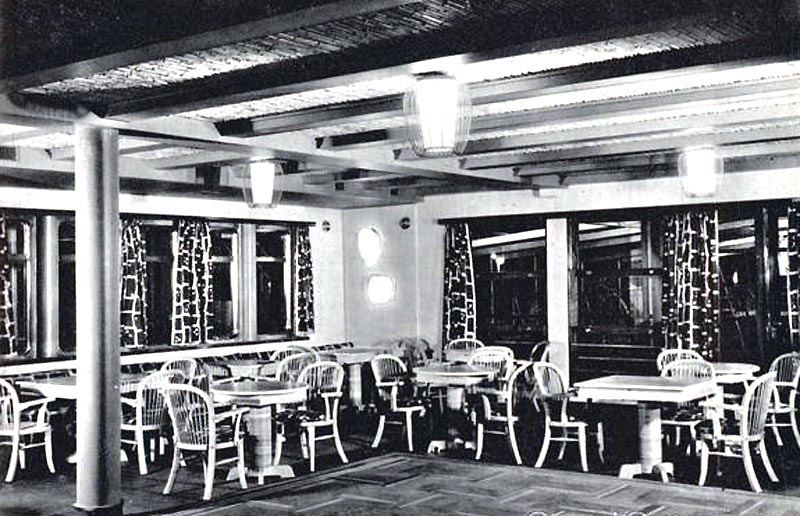 A more relaxed Bamboo Bar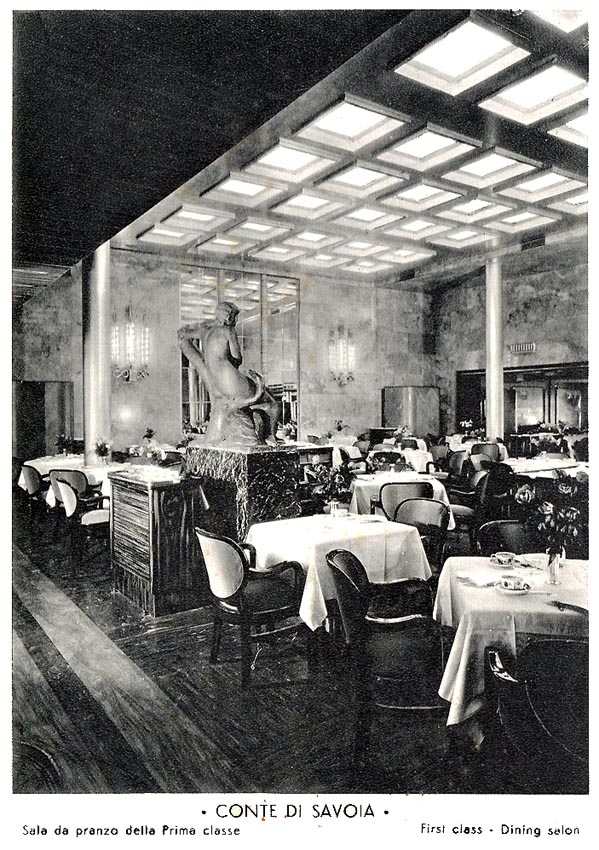 And the last major First Class venue is the elegant two deck high Dining Salon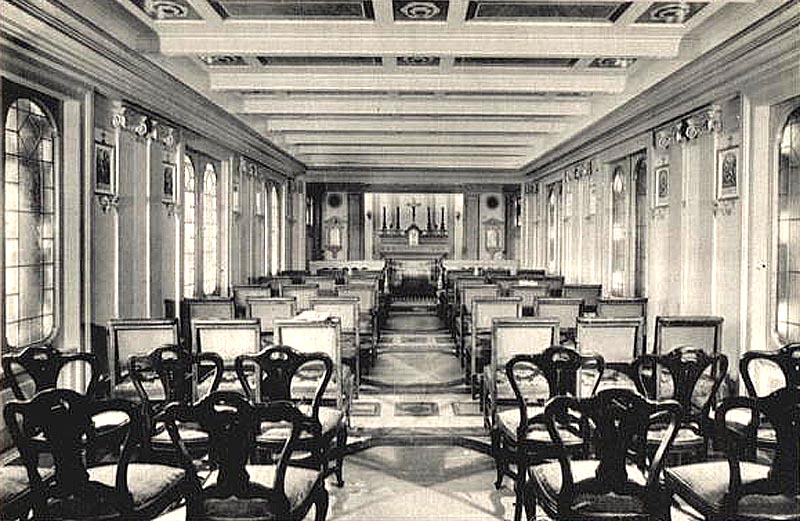 Here we see the spacious ships chapel
Deck Spaces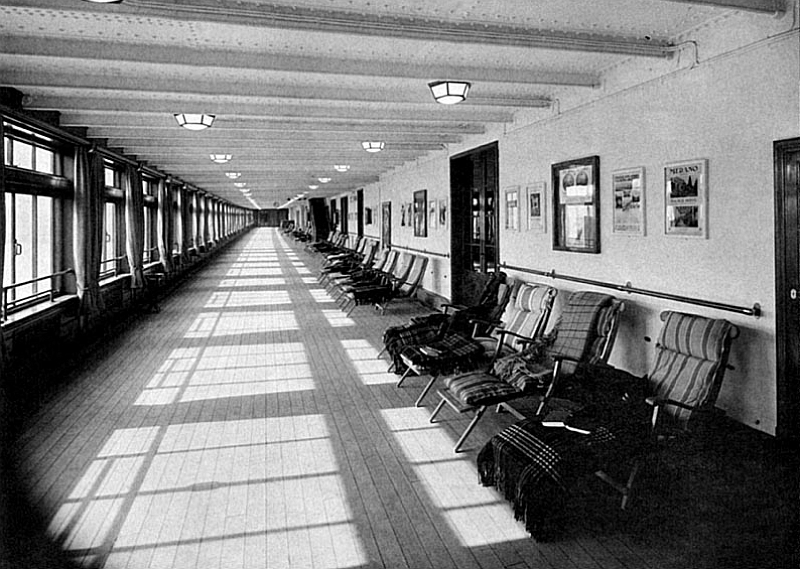 Above & below: Two views of the wide and spacious glass enclosed Promenade Deck, which was common on
all Trans-Atlantic Liners, whereas ships sailing to Australia had wide open decks due to sailing through the tropics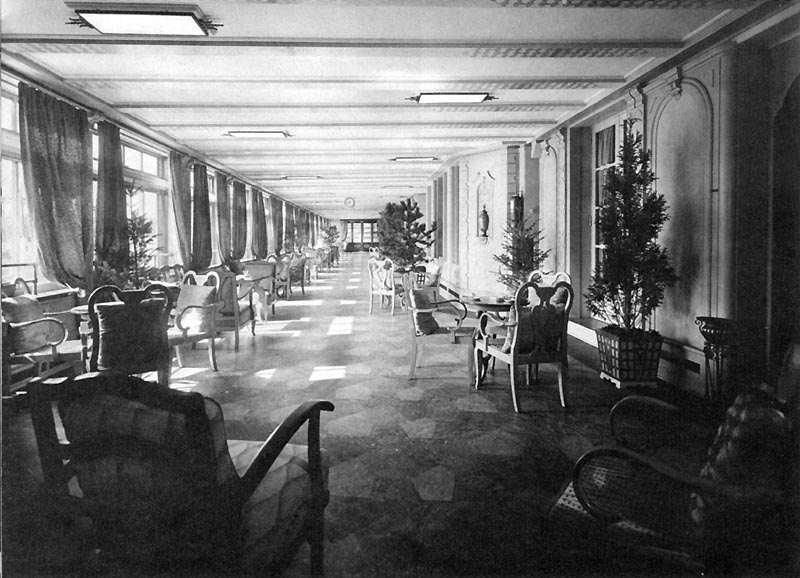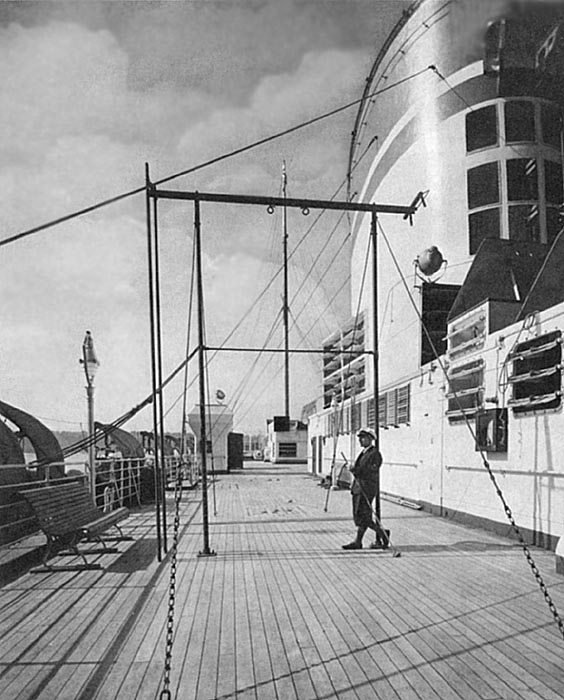 Above & below: Two views of the ships sports decks, one a photo of her forward deck, the other an illustration of the aft deck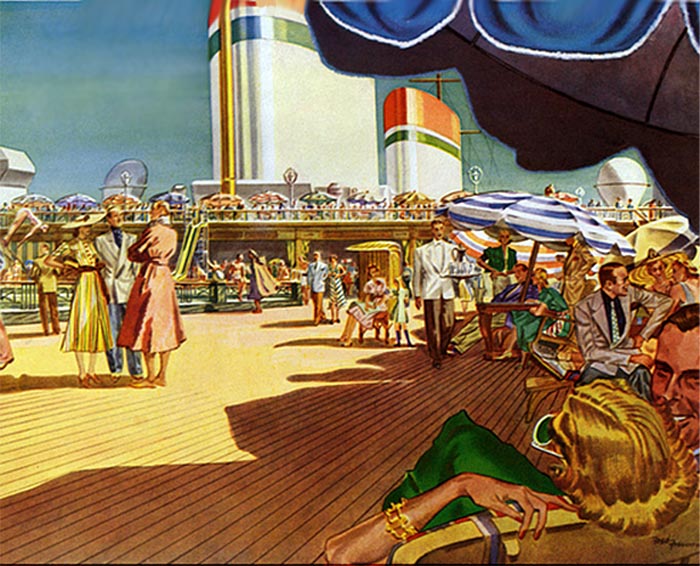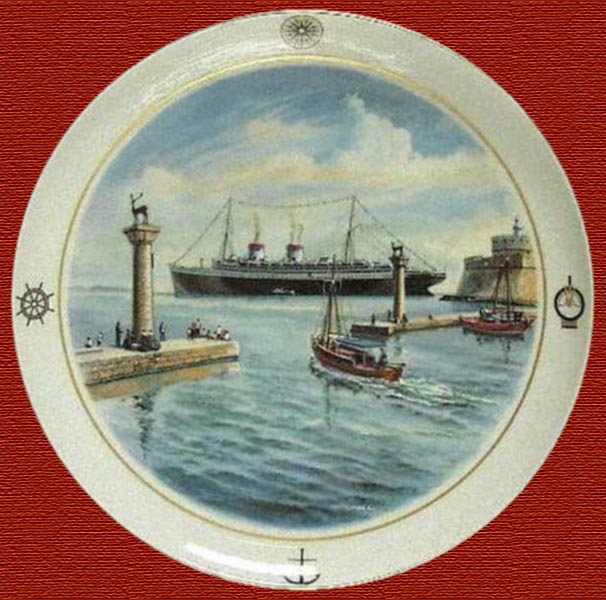 A souvenir plate purchased on the ship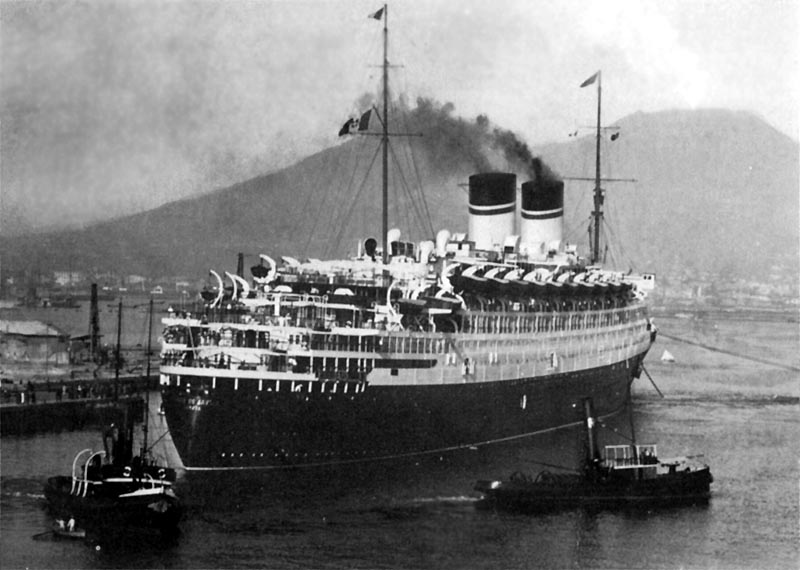 An excellent stern view of the SS Conte di Savoia
WWII 1939 -1950: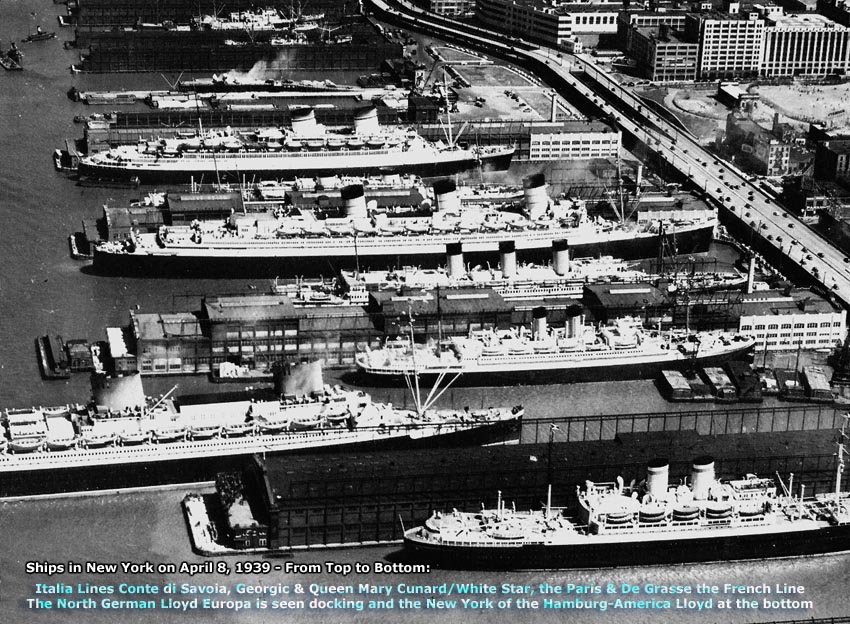 As we can see here the SS Conte di Savoia is berthed in New York on April 8, 1939
After this voyage she would have the Italian flag added to her livery!
But then came World War II and ships from most Allied countries had long been called into action and had been converted into troop or hospital ships. The Conte di Savoia was used for a very short time to transport Eastern European, as well as Greek, English and Italian emigrants to the United States and I have a copy of a partial manifest of a sailing that departed from Naples on February 21, 1940 and the ship arrived in New York on the 29th. During this time she had an Italian flag painted amidships covering the white part of her lower superstructure!
1940 Passenger List One / List Two – Naples to New York
Please Note: When one of the Images opens, it will reduce, but just click on it and it will enlarge to its original large size!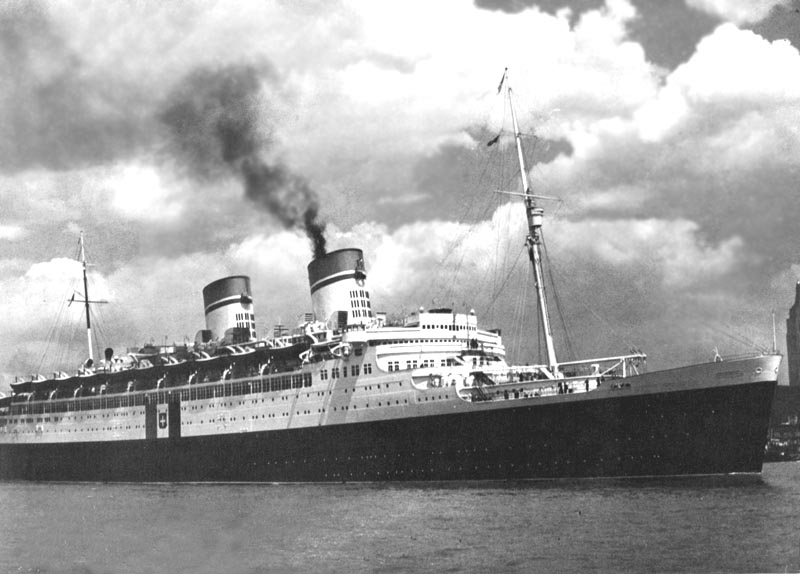 SS Conte di Savoia is seen with the Italian flag on her side, which was there as Italy was still neutral
That was until mid 1940 when Mussolini joined Adolf Hitler and his murderous campaigns
However, Italy joined the Nazis and the war in June 1940, thus all services came to an end and all of the Italian passenger fleet was either converted to be troop or hospital ships, but not so with the Conte di Savoia!
She was sent to Malamocco near Venice where she was laid up in a lagoon and she became a dead ship, completely shut down and covered up and rather poorly camouflaged with trees pained along her hull and superstructure as she lay in.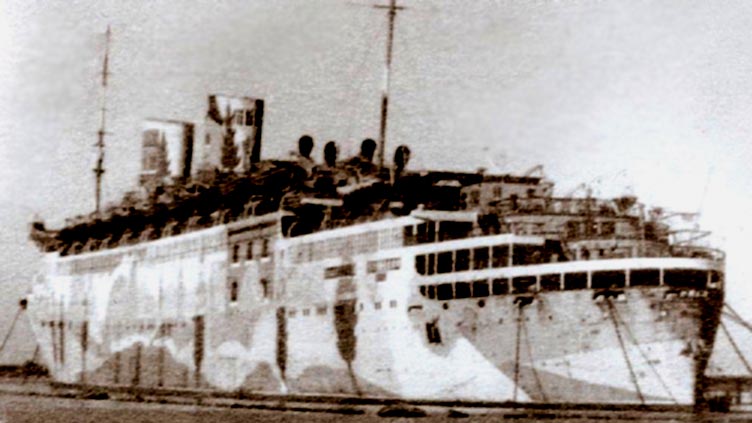 Was this tree camouflage a joke, well it certainly did not save her in the end!
There were rumours around 1943 that she would be converted into an aircraft carrier, but that was never happened! Then, suddenly on September 11, 1943 a British aircraft spotted her and this beautiful, but now an enemy Italian liner was bombed and being without any means of defence, she caught fire and sank in the shallow lagoon waters.
In 1945, when the was finally over the new government decided to raise the badly damaged and burned out hull of the Conte di Savoia on October 16, in order to commence her rebuilding. There were considerations to use her on the South American migrant service operating as a One Class -l Third Class passenger ship. However, due to a severe shortage of funds, as well as other problems that arose at the time, sadly the project had to be shelved.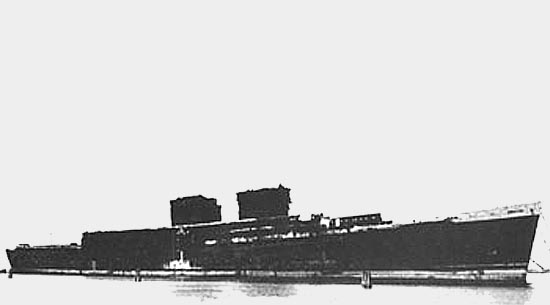 She was a burnt out wreck and had toppled on her side in the lagoon and was wrecked, she is seen here having been raised
But she remained a tragic sight to behold for what had been once a great Trans-Atlantic liner!
In due course, it was with sadness that this once great and proud Italian liner, SS Conte di Savoia was considered to be far too expensive and too difficult a task for the Italia Line to rebuild in any form and thus her hull was sold to be broken up by ship breakers at Monfalcone in 1950.
The SS Rex final says:
Although I am not covering the SS Rex at this time, but during the European spring of 1940, the same time as the Conte di Savoia, she was also laid up, but the Rex was moved to near Capodistria Bay south of Trieste where she remained for over four years. But then on September 8, 1944, the SS Rex was attacked by 12 Royal Air Force Beaufighters of the 272 Squadron and she was left listing badly as well as on-fire having been struck by some 59 rockets and many shells. Then a second attack came later that day by a further 12 RAF Beaufighters but this time they were from the 39 Squadron as well as the South African Air Force 16 Squadron and this resulted in the once great SS Rex listing badly to the point to her completely falling over on her side and sinking in the shallow water! Parts of the ship were salvaged by the Yugoslavians after the war, as this territory was now in their hands and certain parts are displayed in various places.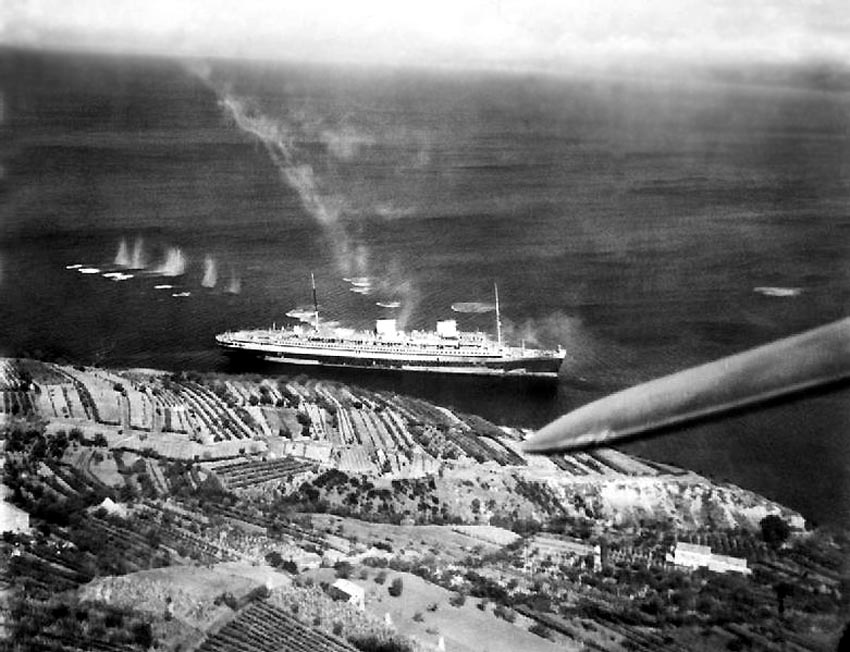 SS Rex is seen being attacked the first time by British RAF Beaufighters; please note the shots that hit the water
Memories of the Great and a Beautiful SS Conte di Savoia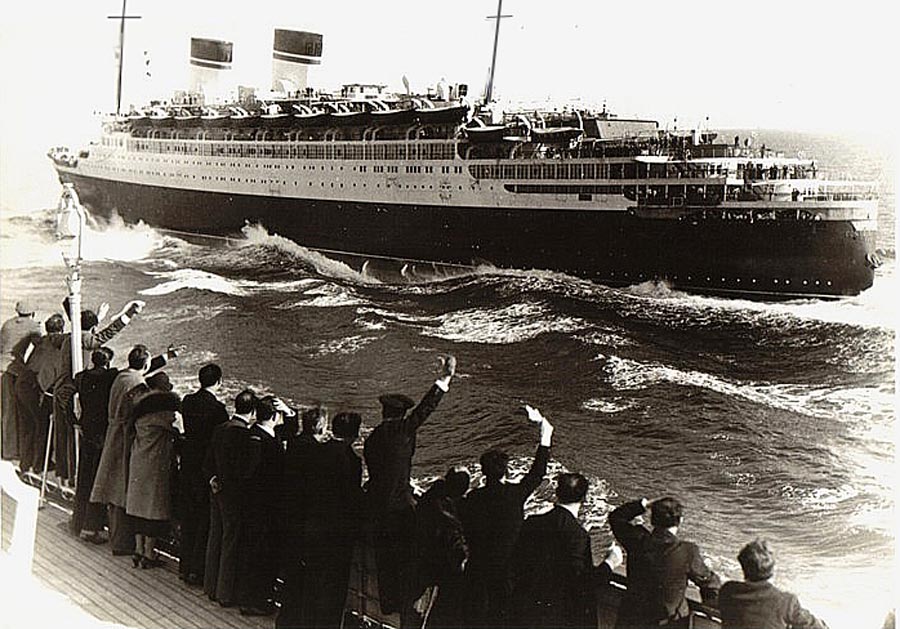 The SS Conte di Savoia is seen from the aft decks of the SS Rex as she passes by as she was returning to Genoa from New York

****************************************

Return to the ssMaritime Main INDEX

ssMaritime.com & ssMaritime.net

Where the ships of the past make history & the 1914 built MV Doulos Story

Also visit my

"Save The Classic Liners Campaign"

Please Note: ssmaritime and associated sites are 100% non-commercial and the author seeks no funding or favours of any shape or form, never have and never will!

Photographs on ssmaritime and associate pages are by the author or from the author's private collection. In addition there are some images that have been provided by Shipping Companies and private photographers or collectors. Credit is given to all contributors. However, there are some photographs provided to me without details regarding the photographer/owner concerned. I hereby invite if owners of these images would be so kind to make them-selves known to me (my email address may be found on www.ssmaritime.com only), in order that due credit may be given.

This notice covers all pages, although, and I have done my best to ensure that all photographs are duly credited and that this notice is displaced on each page, that is, when a page is updated!

ssMaritime is owned & © Copyright by Reuben Goossens - All Rights Reserved